Your garden fence isn't an area that commonly used as a place for decoration but today we're here to change your mind.
A simple fence can be transformed into something fun and quirky with some simple interventions like paint, purchased wall decals or lights. Even better however, is the oppourtunity to flex your DIY muscles and make your own decorations that are personal to you, fun to make and often eco friendly if you use materials that you already have at your disposal. Upcycling is a new design trend that uses objects that may be thrown away as waste and give it a new lease on life; fence décor is the perfect setting for these innovative creations.
41 Great Ideas for Decorating Your Garden Fence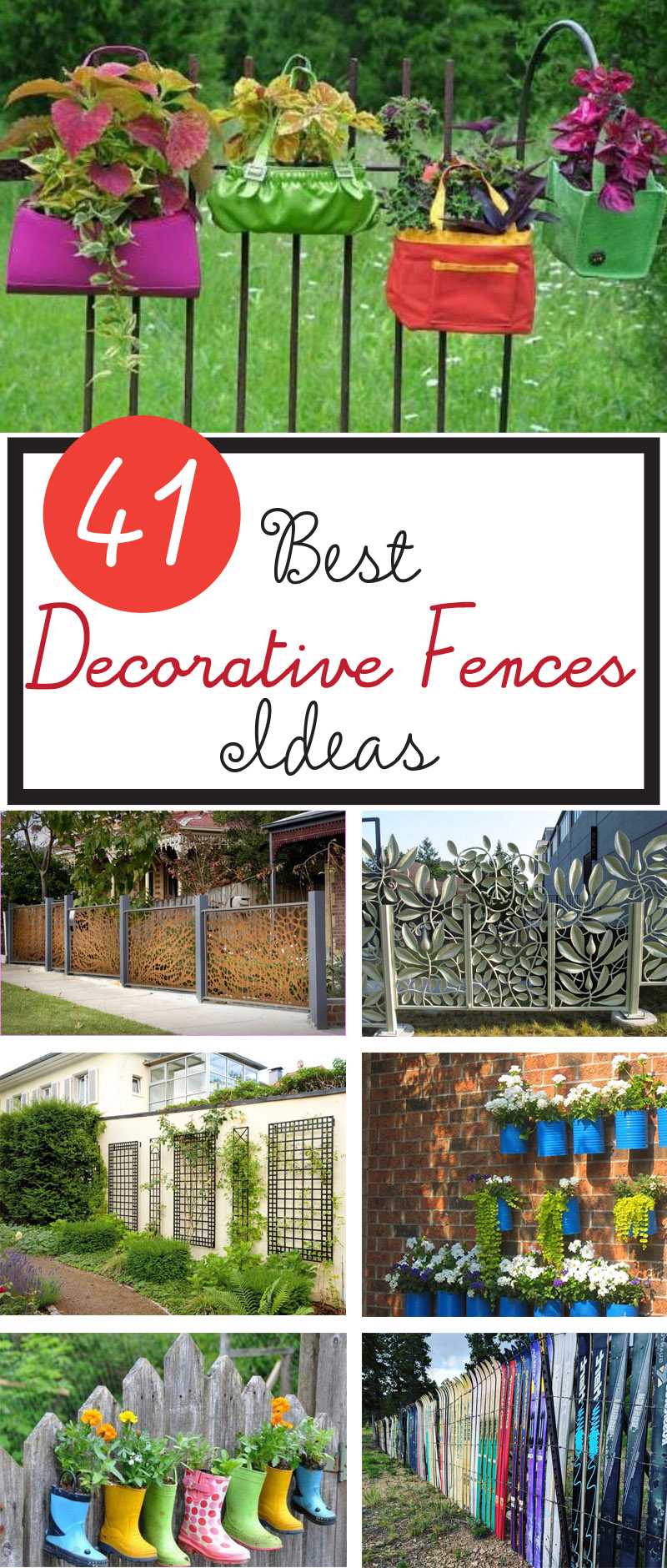 So if you're looking at your fence thinking that it could do with some sprucing up here are:
1. Colourful Wooden Birdhouses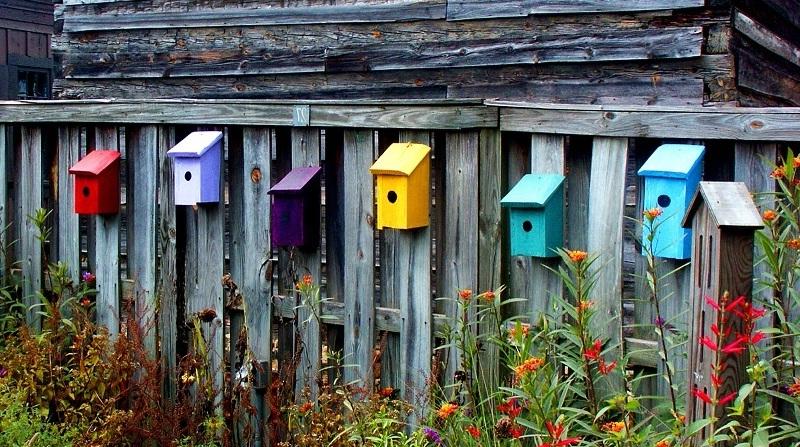 If you want to encourage nature to make itself at home in your garden these adorable little birdhouses are perfect for you. This collection of houses is easy to DIY at home using wooden offcuts if you want your design to be more eco friendly. They are easily customizable using different coloured paint or stains that can be bought from any hardware store. Hanging at different heights on the weathered timber fence they look quirky and eclectic and makes your garden look far more fun. Once they've been hung all you need to do is wait until bird roost in them and you're on your way to creating your own healthy little eco system in your own garden.
2. Outdoor Blackboard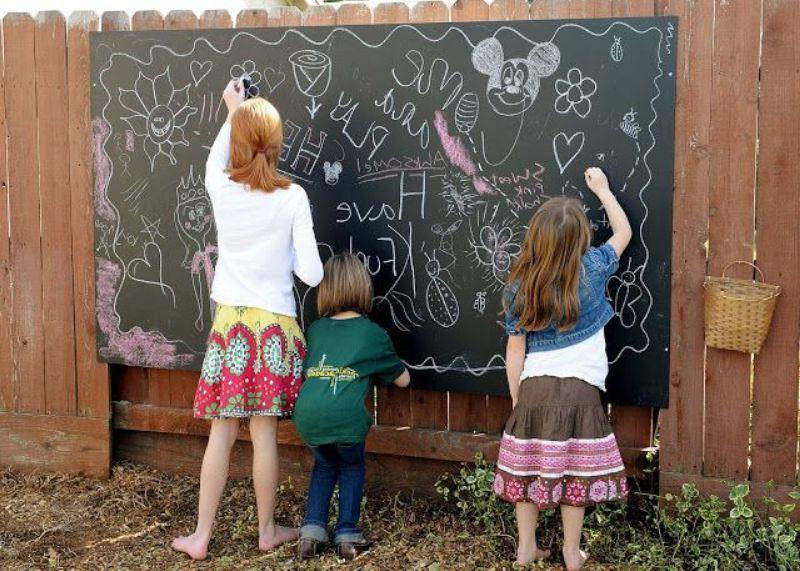 This outdoor blackboard is a piece of fence decoration that is fun for any age. It is also really simple to execute by either hanging a cheap chalkboard on the fence or even painting the wooden panels themselves with chalkboard paint if you prefer to DIY it. This simple intervention creates a cute place for kids to create art while spending time outdoors bathed in sunshine. During the rainy season the board will be naturally wiped clean, ready for some new art the very next day.
3. Car Tyre Planters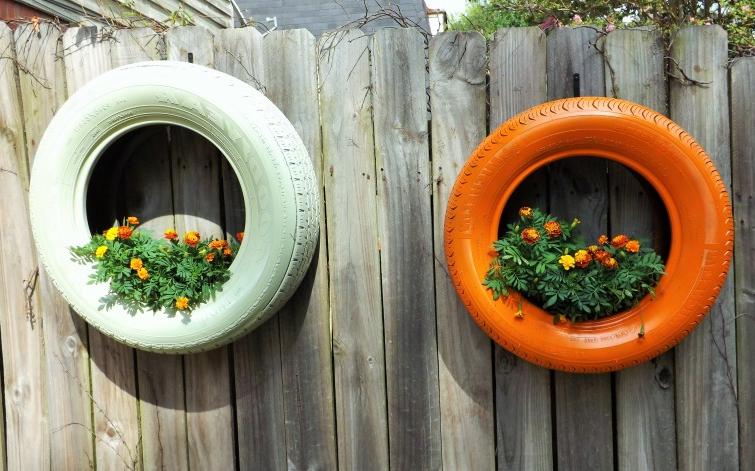 These simple hanging tyre planters are a great upcycling project to tackle that is eco friendly and also bring some plant life and colour into your garden in an unexpected place. All you need to do is simply spray paint some old car tyres, drill some holes in the bottom for drainage, fill them with soil and plant with colourful flowers. These may be heavy so be sure that your fence is sturdy enough to hold them and use some sturdy hooks to mount them onto the fence.
4. Cartoon Characters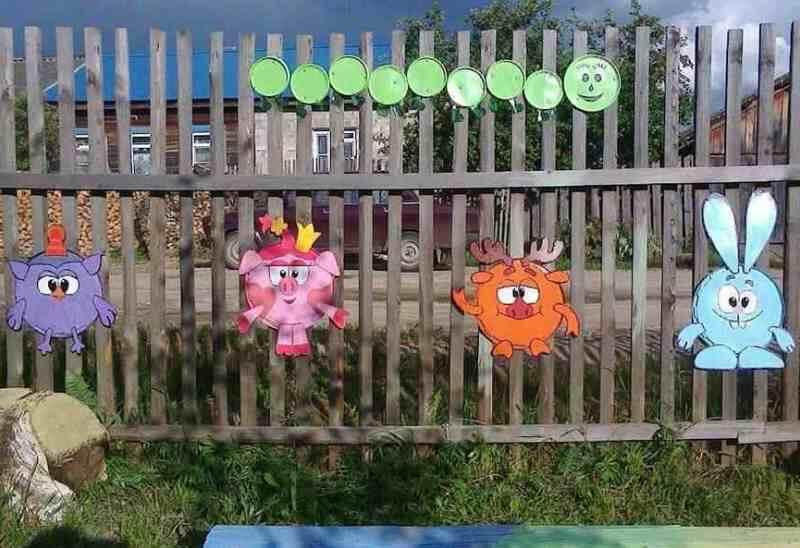 This cute little series of colourful little cartoon creates a fun little backdrop to your children's outdoor play area. This cartoon theme could be DIYed yourself if you are artistically inclined or simply purchased from toy or craft stores and simply hung on hooks. The little characters are lightweight, sweet and bring some bright colour into your garden that makes it a place your children will love spending time.
5. Colourful Empty Frames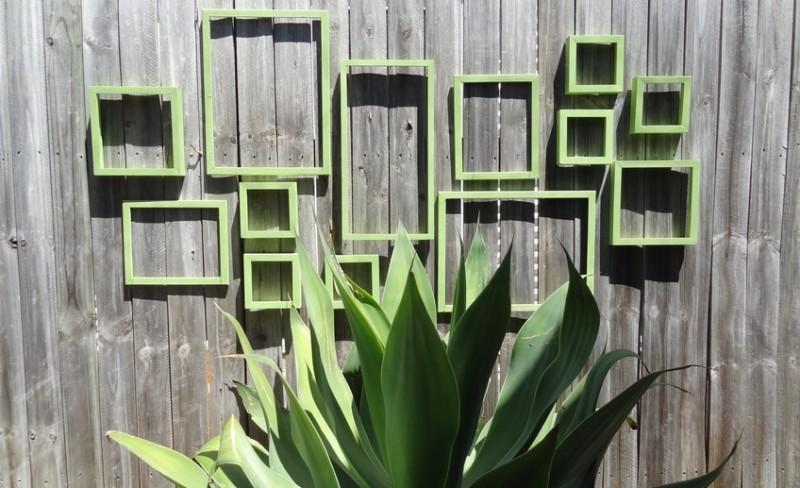 This graphic colourful design is a simple DIY to execute at home using very few materials. All you need are some old frames that you can pick up from thrift stores, spray paint and some basic hooks to create an eco friendly upcycled showstopper. By using empty, repurposed frames of different shapes and sizes hung at different heights creates an abstract collage that pairs perfectly with pot plants.
6. Hanging Fairy Lights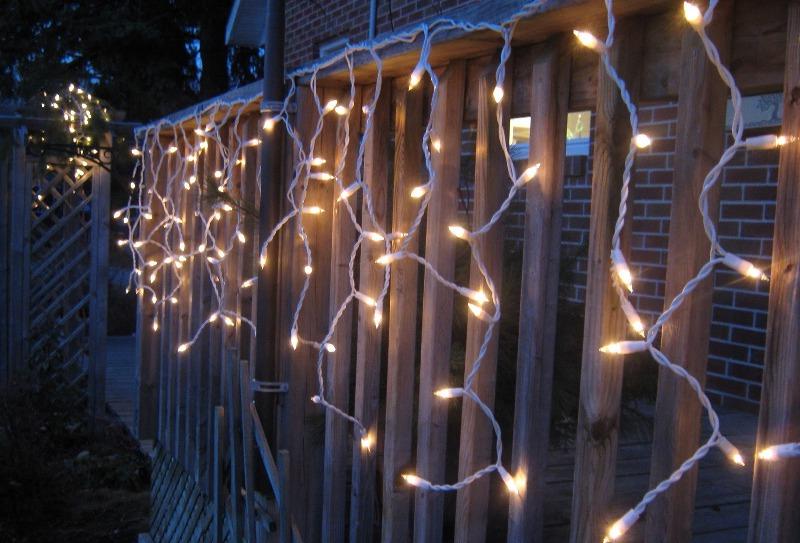 Creating an ethereal ambiance in your garden is easy using a set of affordable fairy lights. Strings like these can be bought from any hobby store or hardware store and come in a variety of bulb sizes and hanging styles so you can tailor the look to fit your aesthetic specifically. The lightweight cables can be secured with hooks or even cheap cable ties to fasten them along the top of the fence. These can either be run into the house and plug into an outlet or you can use a battery powered version. This type of decoration is easy, classic, beautiful and requires zero DIY skills to achieve.
7. Toy Story Inspired Scarecrow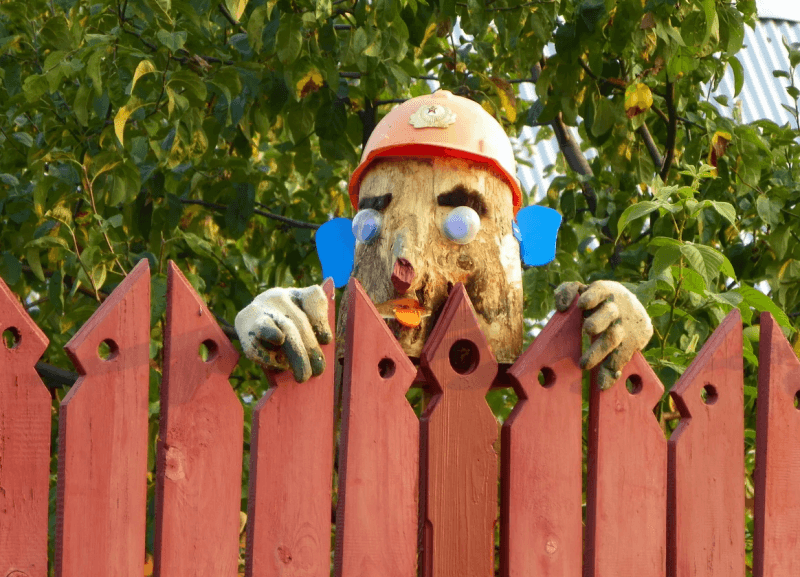 This slightly ominous little fence topper is a fun DIY scarecrow that you can construct at home as a project to do with your kids. This scarecrow in particular has been designed to resemble Mr Potato Head from the beloved Pixar movie series Toy Story by merely using upcycled materials that you already have around the house. The little fence potato head has been created using acrylic paint, a felled wooden log, an old children's dress up hat and a pair of old gardening gloves. This is the perfect example of how easy it is to create your own upcycled décor while spending very little money and reducing your household waste.
8. My Little Pony Fence Paint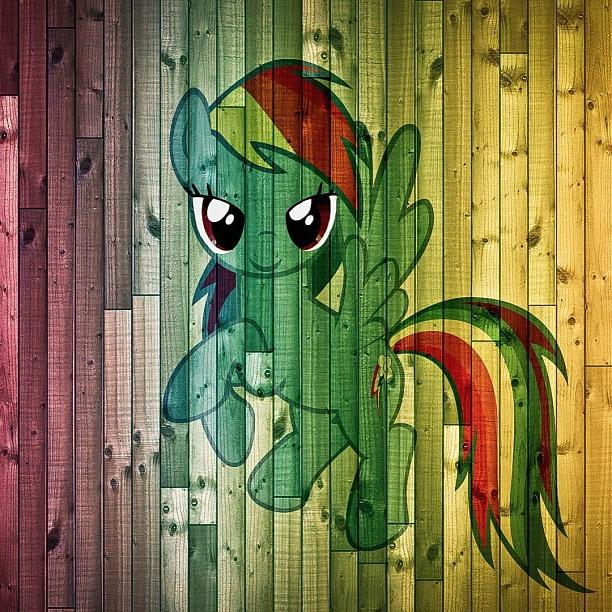 This vibrant My Little Pony design shows how easy it is to transform your plain timber fence using tinted stains to paint whatever character your child likes the most onto the inside of your fence. You can do this yourself if you have the artistic skill or use a stencil bought from a hobby shop or online. This stain painting is a colourful and fun addition to your garden for your children, which will encourage them to play outside and not just watch My Little Pony (or their other favourite cartoons) indoors all day.
9. Upcycled Old Door Screen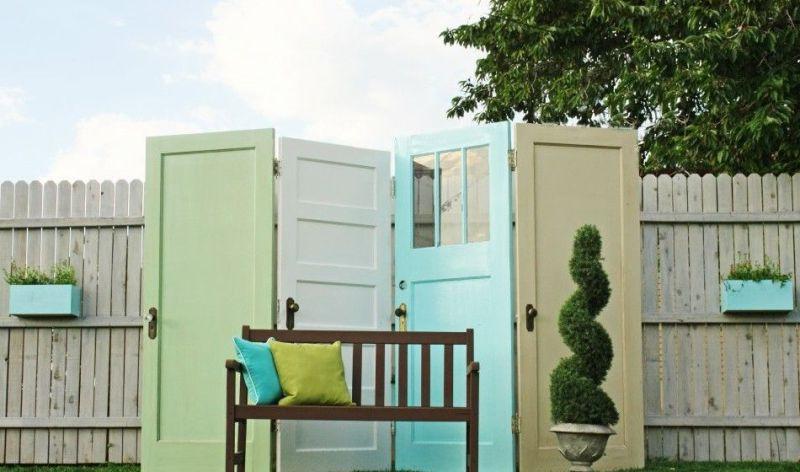 This unique garden screen is created using a quartet of doors hinged together and placed in front of the fence to break up the monotony of the pickets. This is a project that you could DIY using old doors that you sand down, painted to your liking and hinge using materials that can be found at any hardware store. The final step, if this screen is going to stay outdoors, is to seal them so they can withstand the elements. In addition to the doors little planter boxes have been mounted on the fence on either side of the screen and painted in the same teal as one of the doors to create a cohesive garden aesthetic.
10. Give Your Old Purses New Life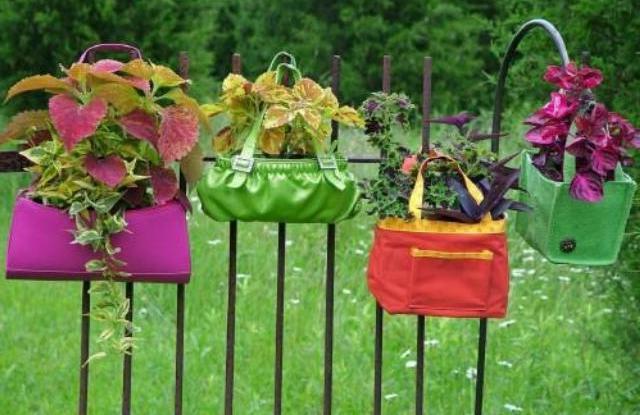 These quirky little planters are an eco friendly and fun way to give some unwanted everyday objects a new purpose in life. These upcycled old backpacks and handbags have been transformed into planters with very little effort due to their built in benefits. They come with a readymade hanging mechanism in the handles and the porous fabric allows for drainage without needing to puncture any holes in them. All you need to do is fill them with soil, plant a different plant in each then simply hang on the fence and enjoy!
11. Whimsical Flutter of Butterflies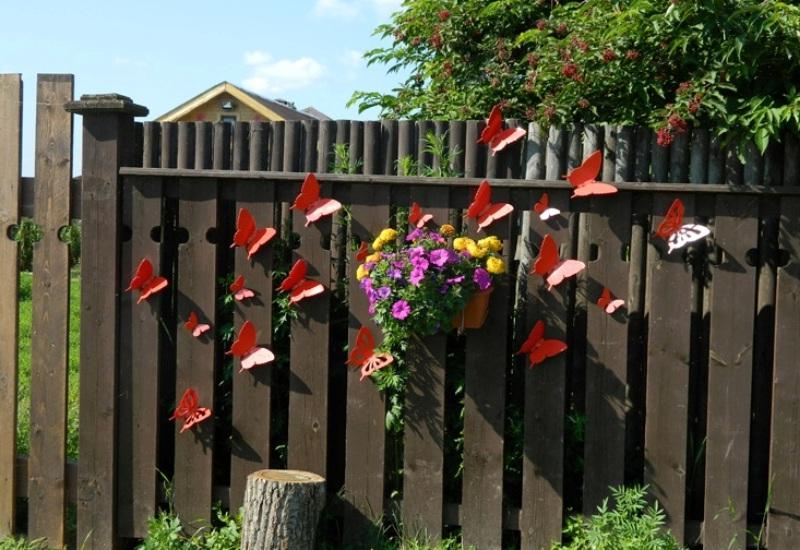 If you want to infuse your space with a whimsical vibe these three dimensional metal butterflies are right up your alley. Frozen with their wings fluttering, these little insects can be mounted onto the timber fence in an eclectic way that makes it appear that they are taking flight across the timber surface. They can be painted a bright colour to imitate their live counterparts and add even more colour. The winged insects can be combined with a planter full of bright flowers that has been mounted to the timber structure to finish off this magical scene.
12. Rusted Organic Fence Panels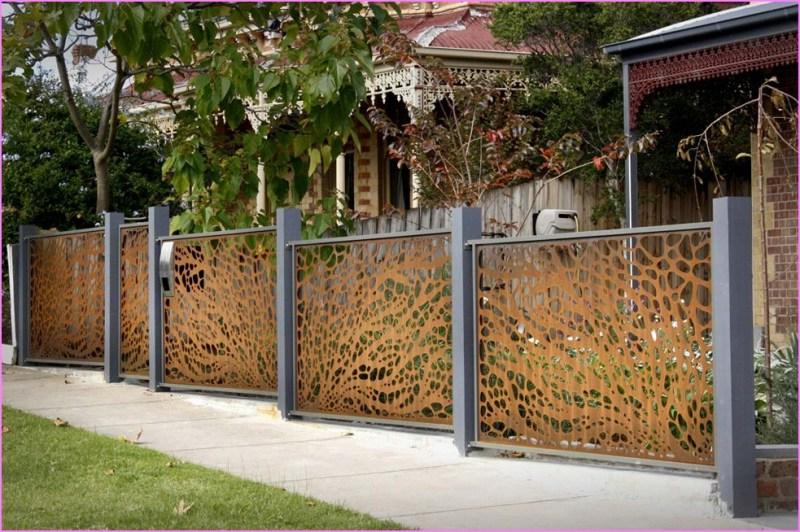 In this case this suburban home has used the fence itself as décor. Between each cool grey fence post stretch thin metal panels that are treated to look rusted and protect it from the elements. The stunning metal sculptures have been permeated by uneven, amorphous perforations that resemble an organically growing underwater plant. The design, besides being beautiful, allows glimpses into the garden beyond and creates a communication between the garden and the neighbourhood beyond.
13. Hanging Wicker Planter Baskets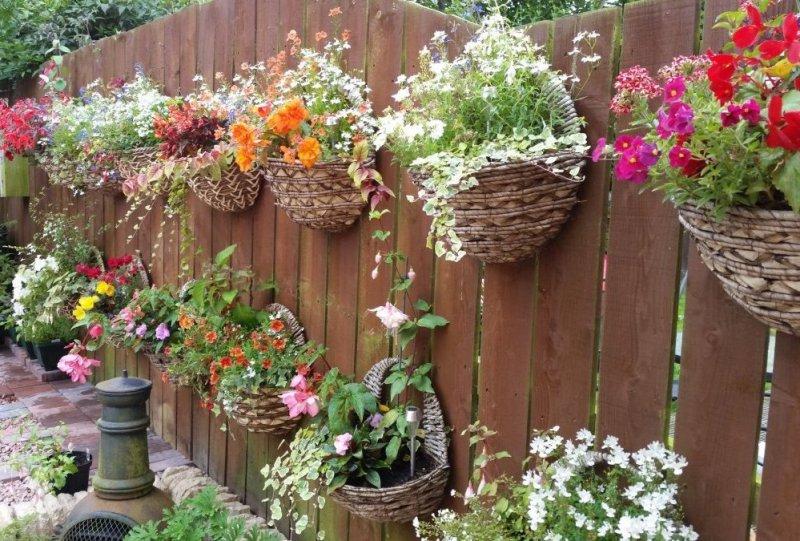 This fence has been transformed into a whole wall full of natural colour and beauty. This effect is created by two levels of wicker hanging planters with a variety patterns of woven patterns. Hung on waving timber fence the baskets are filled with soil and planted with plentifully flowering plants so that in the summer the baskets overflow with blooms.
14. Plastic Bottle Lid Mosaic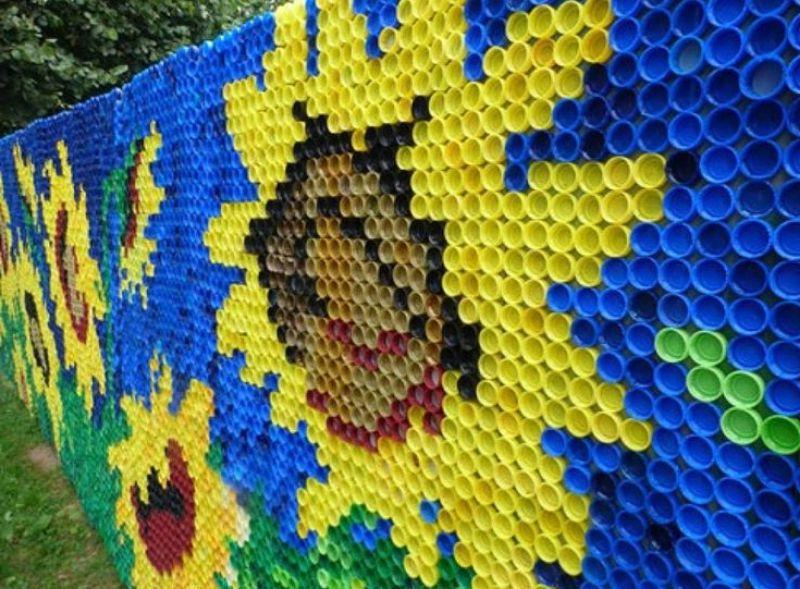 This stunning brightly coloured mosaic takes eco friendly upcycling DIY projects to a whole new level. This lightweight decoration is ambition but totally doable at home. The biggest task will be collecting the bottle tops themselves but after that all you need is a design and some adhesive. The result of your labours will result in a stunning mosaic that brightens your home and promotes recycling all at the same time.
15. Colourful Upcycled Hub Caps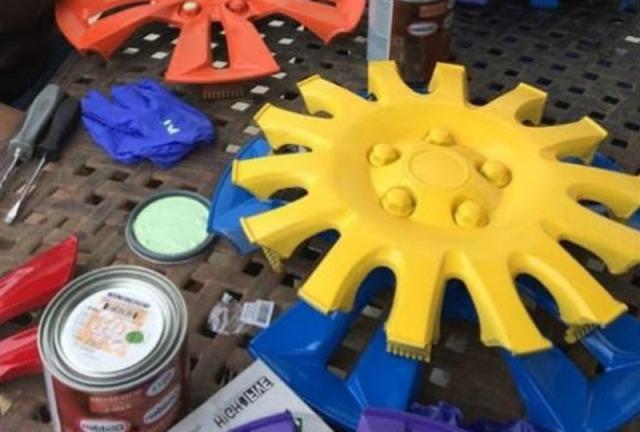 Instead of getting rid of your hubcaps the next time you need to replace them why not keep them for a DIY fence decoration. This eco friendly design is creative, cheap and very easy to execute. All you need to do is trim down any excess material, spray paint them, hang them from small hooks and paint on a little stem. By using different shaped hubcaps painted a series of different colours and hung at different heights you can create a three dimensional wall mural all the way along your fence.
16. Forged Leafy Fence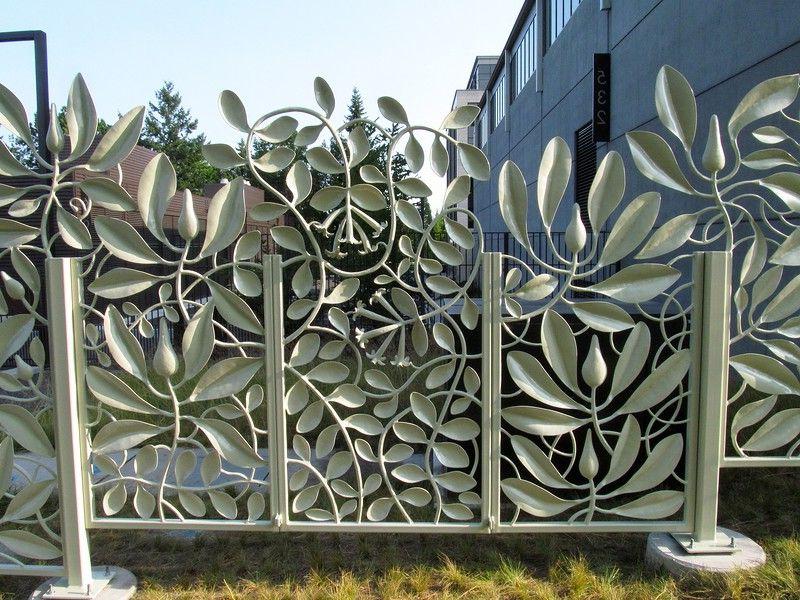 The gorgeous floral fence is the decoration all on its own. The stunning forged wrought iron has been painted a very pale mint green to enhance the stylized leave design and make them appear almost soft looking. Apart from the colour the variety of different three dimensional leaves that curve like a real leaf transforms a mere fence into a piece of dramatic sculpture.
17. Small Plastic Lid Pattern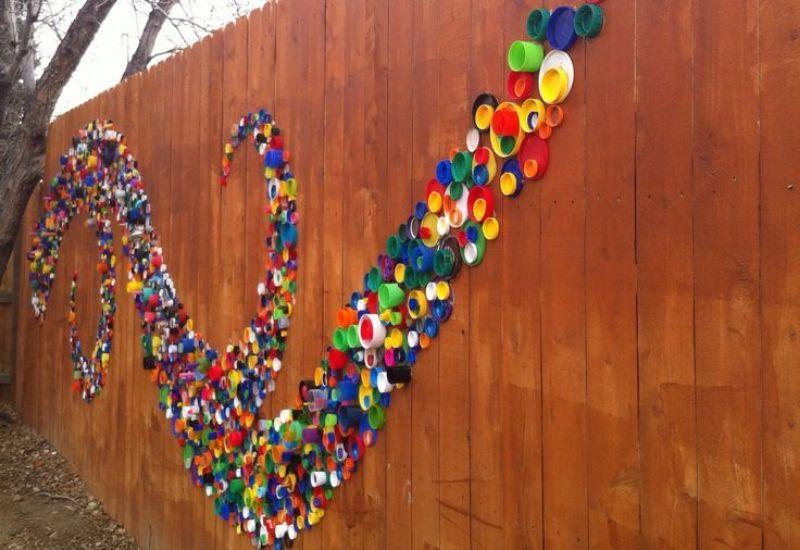 Using a similar idea as the upcycled lid mosaic in example 14 but in a more minimal style. This design allows you to use plastic lids from anything regardless of the shapes and layer them inside one other to create layers of contrasting the colours. The beautifully textured swirling pattern adds a completely unique adornment to the plain timber wall that forms its canvas.
18. Ten Green Bottles Hanging on the Wall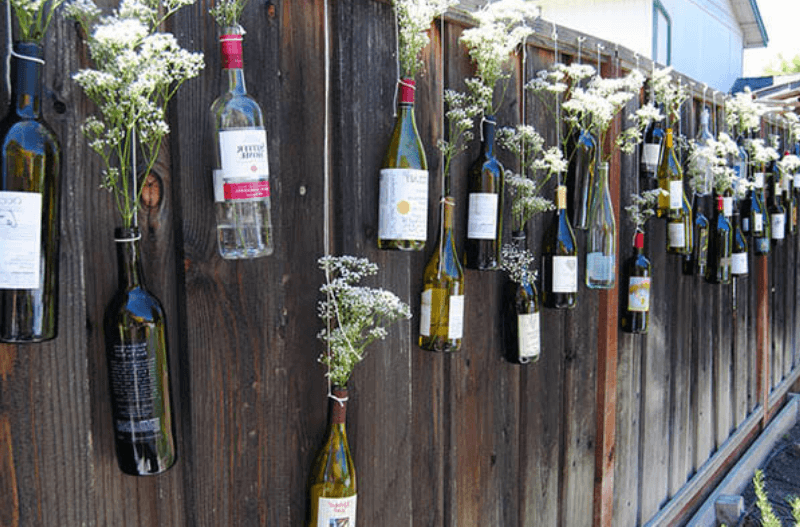 This quirky fence décor allows you to express your passion through your garden design. By saving your wine bottles as you finish them you can add to your fence décor bottle by bottle. Each piece is made up of one wine bottle hung with a piece of string filled with water and a spray of babies breath that function as outdoor flower vases. Each bottle has then been hung at different heights for visual interest. The beauty of these is that you can fill with any foliage or flower that you can find in your own garden. This is the perfect example of how DIY décor can be both eco friendly and fun.
19. Hanging Layers of Pot Plants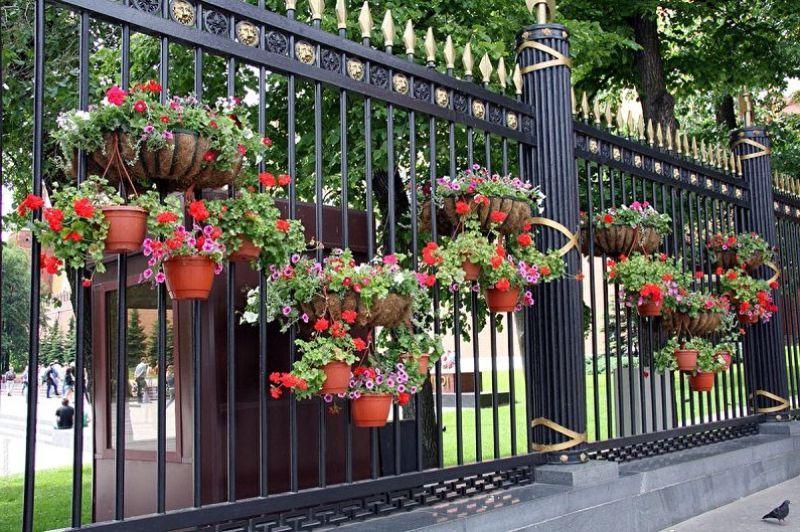 This traditional black and gold forged fence could look austere and unapproachable but it has been made more attractive and far more approachable using hanging flowerpots. Each panel features two different pot designs: metal baskets filled with grassy growing medium and plastic terracotta pots hung around them at different levels. When the flowers bloom the pots overflow with blooms and pour colour over the black framework.
20. Galvanised Steel Trellis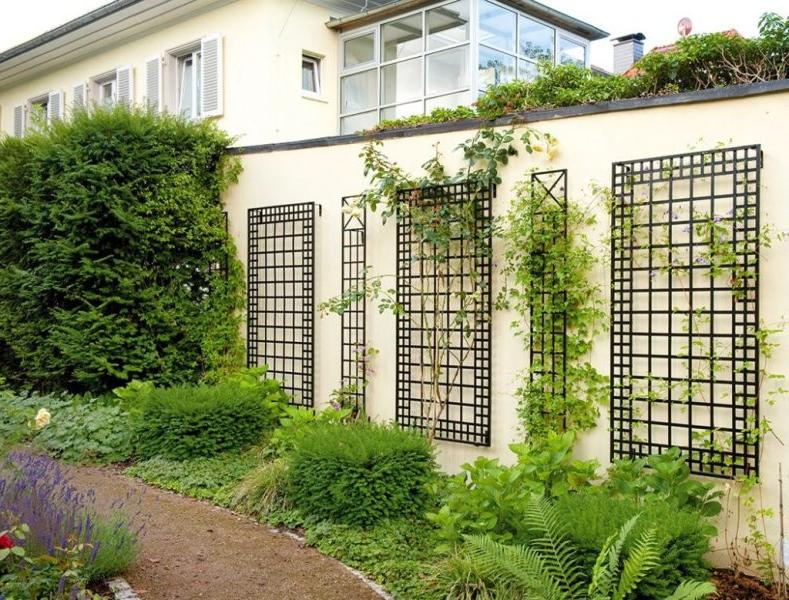 This delicate triplet of large galvanized steel trellises with slim columns of the same design between is a sophisticated take on the fence decoration we've seen so far. Trellises like this are lightweight and can be purchased from any garden centre and hung relatively easily. The chic checkerboard pattern allows creepers to grow across its surface to add texture to the plain cream surface along and lets nature take over.
21. Crocheted Flowers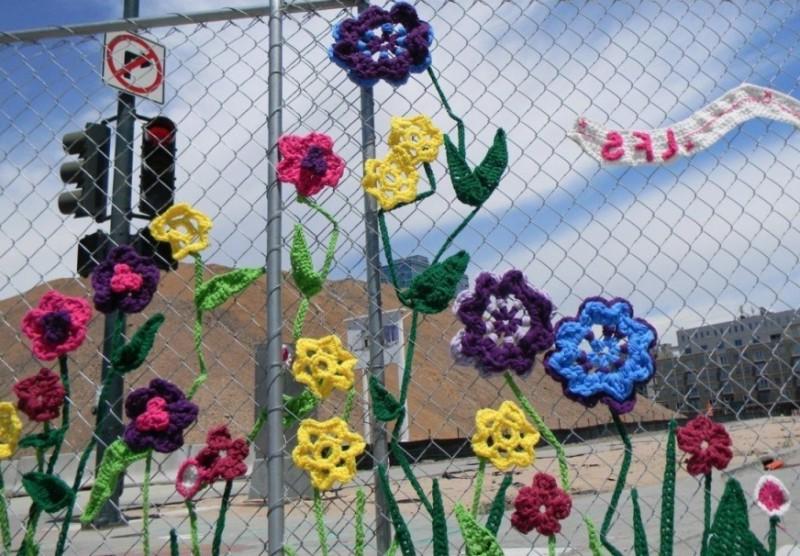 If you are a crochet master or just want the motivation to teach yourself a new skill these stunning crochet flowers are a quirky way to decorate your garden fence. This style allows you to customize the colours, flower shape and positioning on the wire mesh fence. Using this style of decoration on a fence by a busy road, especially made out of wire mesh means that the decoration will delight you and everyone who happens to drive past at the same time, brightening a strangers day without even knowing it.
22. Wall of Warping Mirrors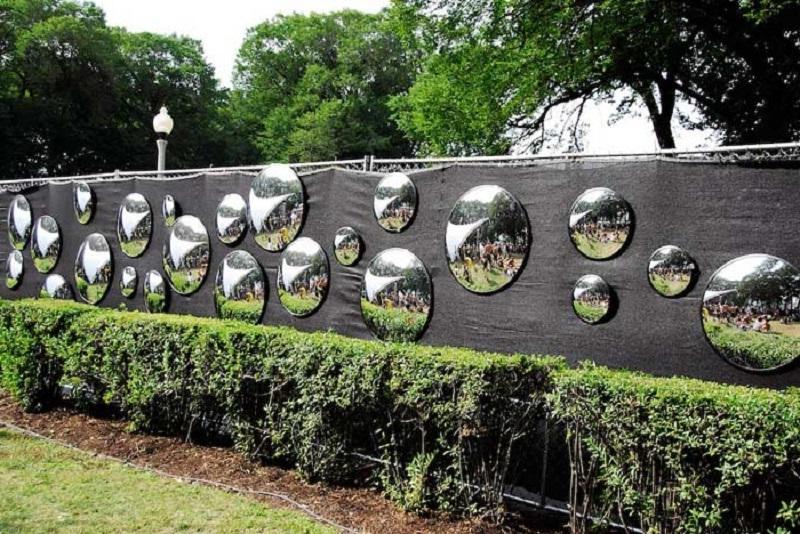 This futuristic fence décor cleverly uses a series of convex mirrors of different sizes hung at different heights that run along the fence like bubbles against a backdrop of black shade cloth. Both of these items you can purchase easily at a garden centre and are relatively easy to hang, especially on a wire mesh fence. The curving mirrors reflects the occupants of the garden beyond resulting in a trippy and fun feature. The whole display is underlined with a neatly trimmed square hedge that runs along its length.
23. Bright Upcycled Can Planters
These hanging tin can planters are another eco friendly, upcycled DIY project that you can achieve with a small budget. All that is needed is a collection of large coffee cans, acrylic paint and some sturdy hooks to nail into the wall. Then you just need to punch a few drainage holes through the bottom, fill with soil, plant, hang and there you have it, your own vertical garden. You can change up the colours, stick to one statement colour or get creative with some fun patterns. The beauty of this design is that you can increase the size of your planter as you collect more cans.
24. Wire Mesh and Wooden Block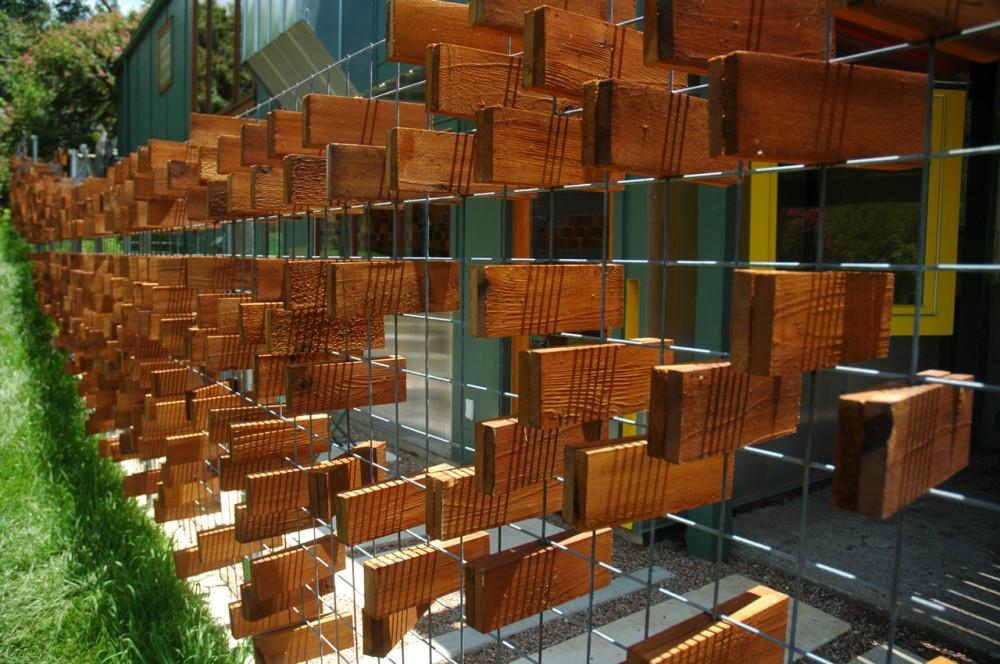 This simple square wire mesh fence around this contemporary home has taken the fence and its decoration and them fused to become one. Small rectangles of timber with slots cut into them have been slid on the fence in a completely irregular manner to create a rich texture that changes depending on the angle you view it from. This simple yet impactful décor plays off the contemporary style of the house in an immensely satisfying way.
25. Upcycled Old Wellington Boots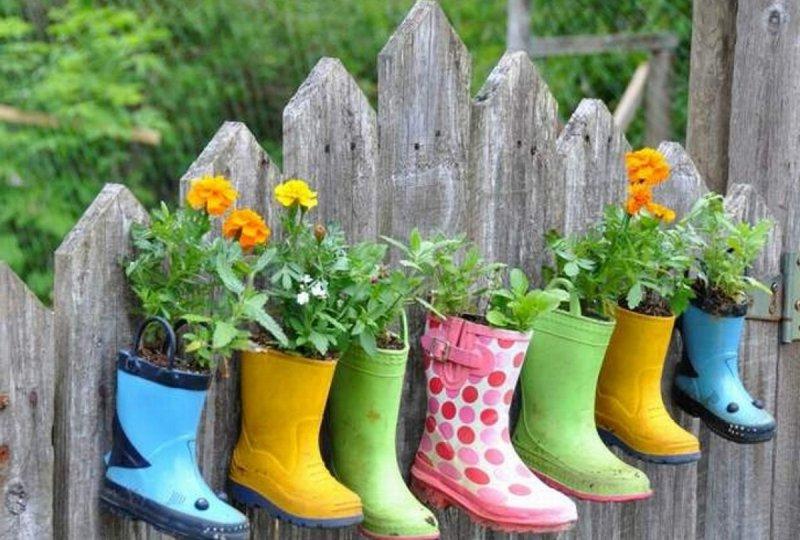 This fun and super easy DIY project uses upcycled old wellington boots to create a quirky wall planter to decorate the pointed wooden fence. This design is lightweight and ecofriendly since you are using materials that are already as your disposal. The look is cute, easy to hang and personalized specially to you and the ones you love most. The beauty of this design is that you can always be adding more as you or your kid's grow out or wear out another round of shoes.
26. Horseshoe Fence Topper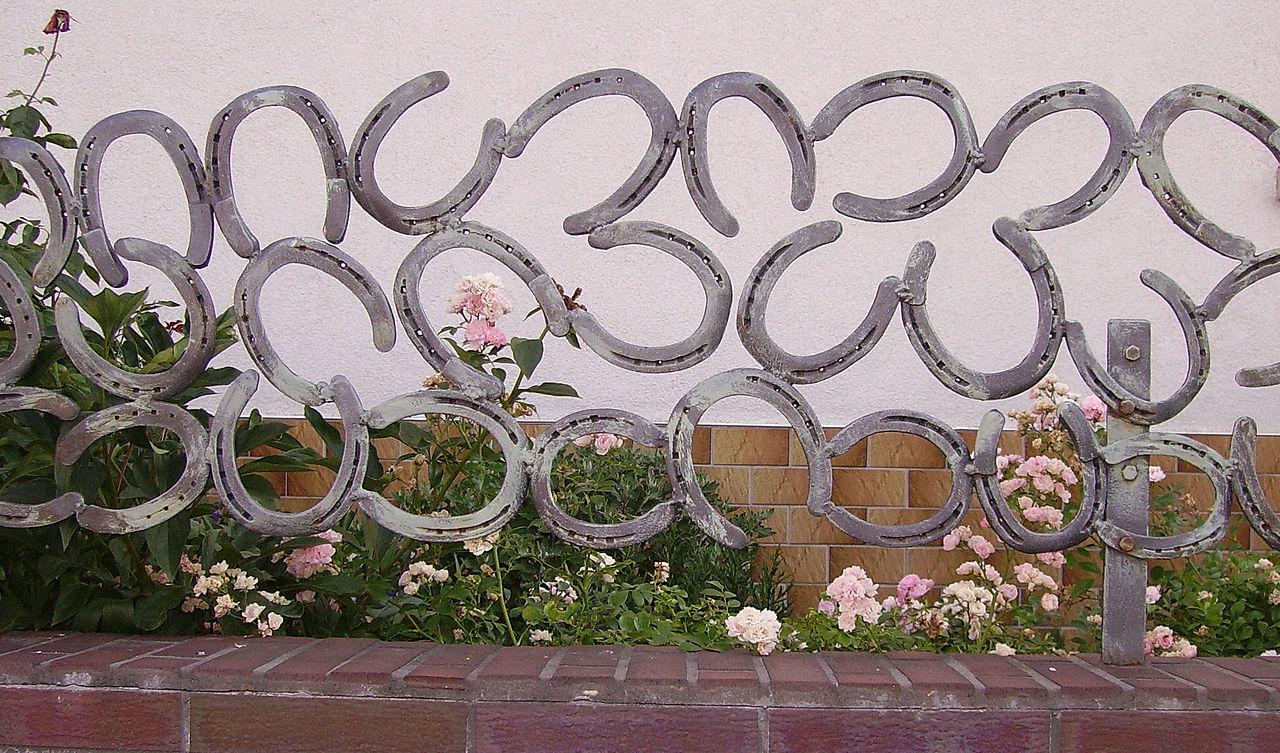 This novelty brick fence topper is another example of how to show your passion through your garden design. You can either collect the horseshoes yourself overtime if you spend time with horses or search them out in junk stores. The horseshoes are then spray painted and welded together in panels in a haphazard arrangement to create this topsy turvy design held up by vertical iron posts. The design is original and a real talking point for any new visitors to your home.
27. Waterproof Colourful Flowers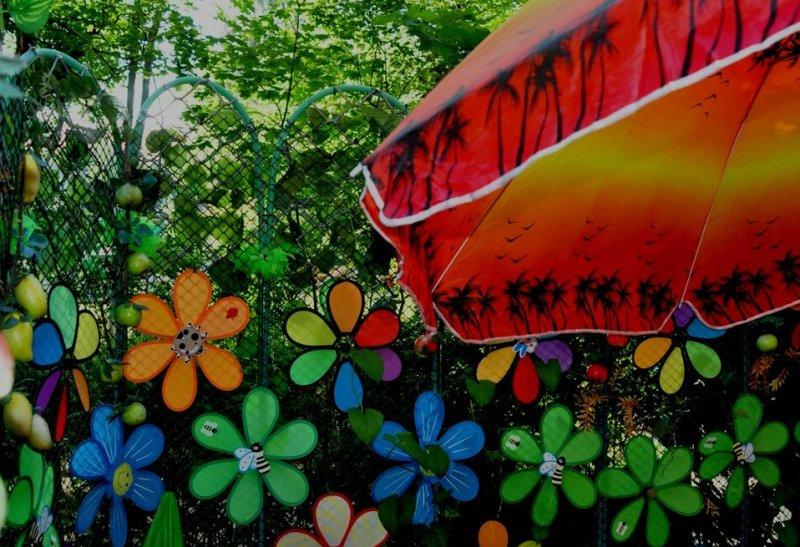 This child-like fun fence décor makes use of readymade large scale flowers made of a waterproof fabric within a plastic framework so they can withstand the elements. The luminous blooms are perfect for this setting on a mesh fence with dense foliage beyond, which acts as the ideal backdrop for them. This style of fence decoration adds a quirky atmosphere to your garden that is a great fit for households with children.
28. Plastic Bottle Fence Pattern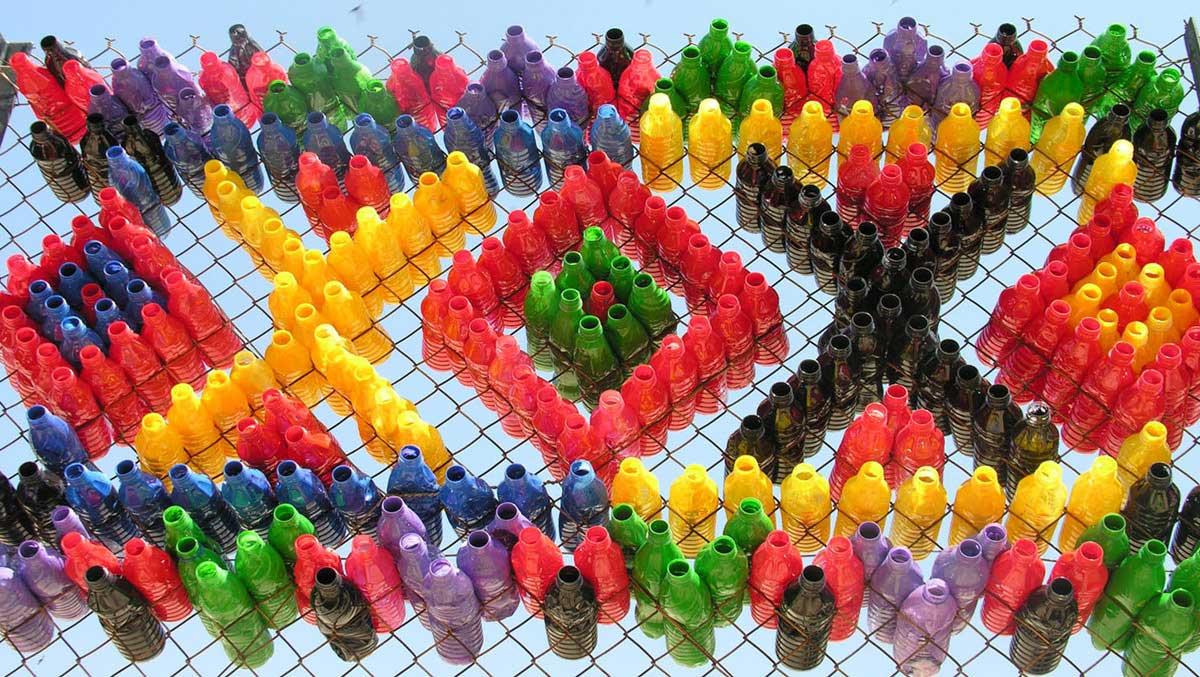 As an alternative to the bottle cap mosaics we've seen in previous examples, this uses the bottles themselves to create a bold graphic pattern. This upcycling project has, yet again, used a wire mesh fence as a base with the bottles jammed into the gaps in a strategic way to make the traditional fence something new and different. The design has grouped the different coloured bottles together and cleverly utilized negative space in order to produce this stunning pattern.
29. Recycled Wine Bottle Fence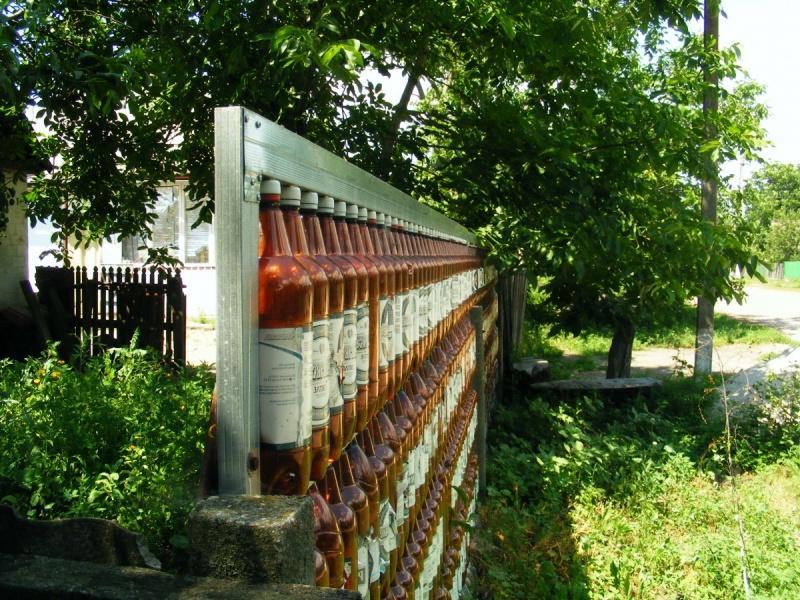 Like example 18, if you really love wine this fence is for you since you can collect your wine bottles as you drink them and transform them into your very own DIY glass fence. The uniform bottles are glued firmly within a timber frame that results in a cohesiveness that is incredibly aesthetically pleasing, a look that is helped along by the light reflecting off the glass and its rich colour. If you already drink wine anyway this style is cheap, easy and eco friendly way to reduce your household waste.
30. Hanging Vintage Plates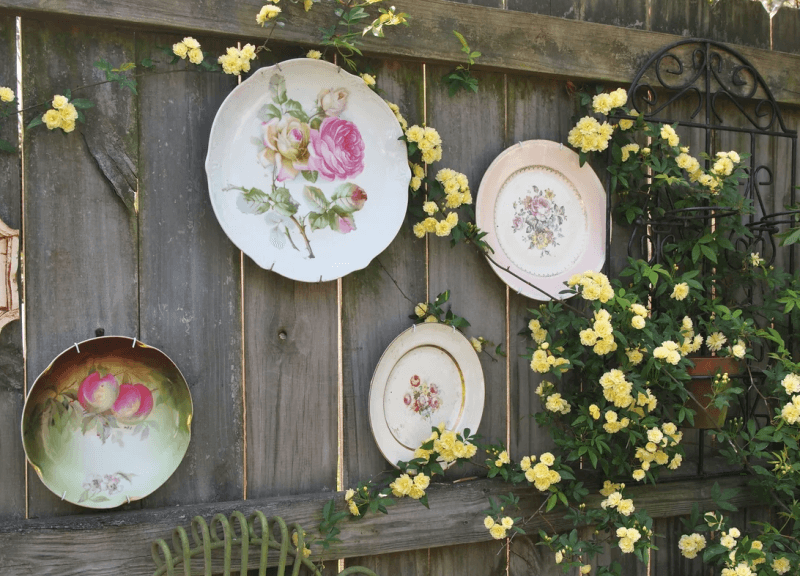 This vintage fence decoration takes a style commonly found in your grandmother's living room and moves it outside to switch it up and create a shabby chic style that stands out against wooden fence. A creeping plant with papery yellow flowers grows out of a wrought iron planter hanging from the fence making its way around the plates, fusing nature with the vintage plates.
31. Fencski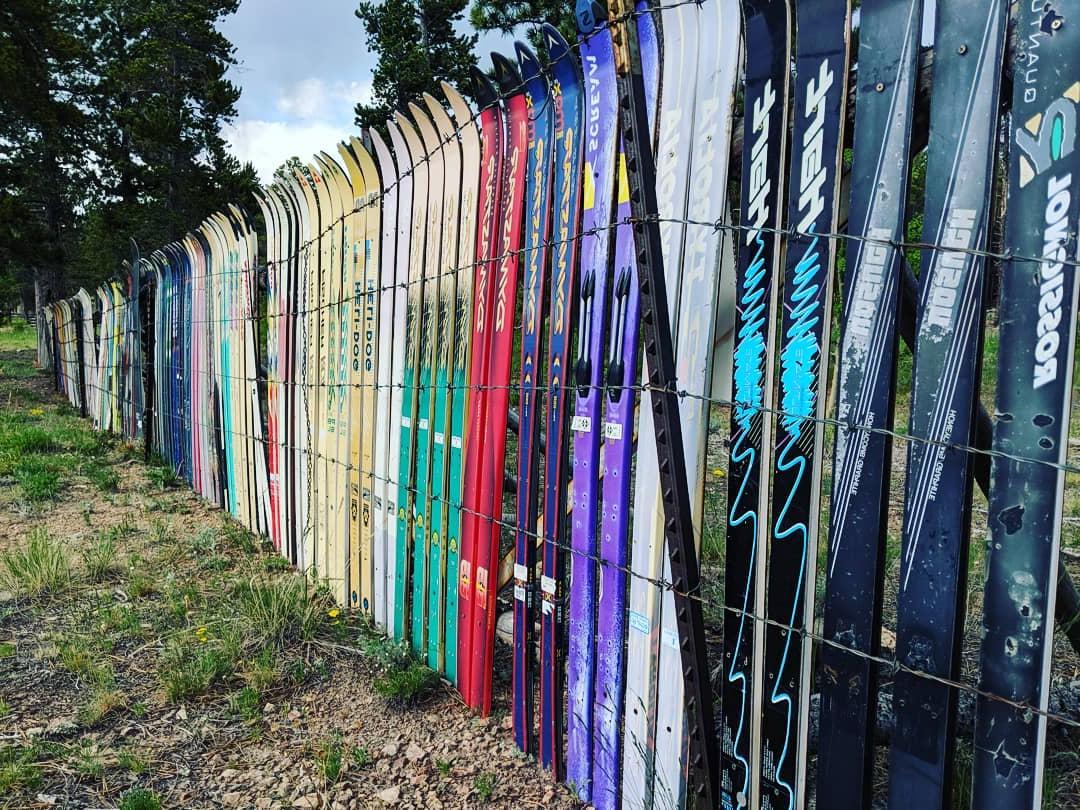 This completely unexpected fence is yet another oppourtunity to express your passions through your fence design. The base of this display is a simple wire fence held up by galvanized steel fence posts with matching sets of old skis running along its length. By using upcycled old skis you can create a design that is eco friendly and completely unique. The original colours and design of the skis have been left untouched which creates a kaleidoscope of colour that changes along the length of the fence to great effect. A fence of this style would be great advertising for a ski rental shop since no one that drives by could help but notice this statement perimeter.
32. Colour Crocs Planters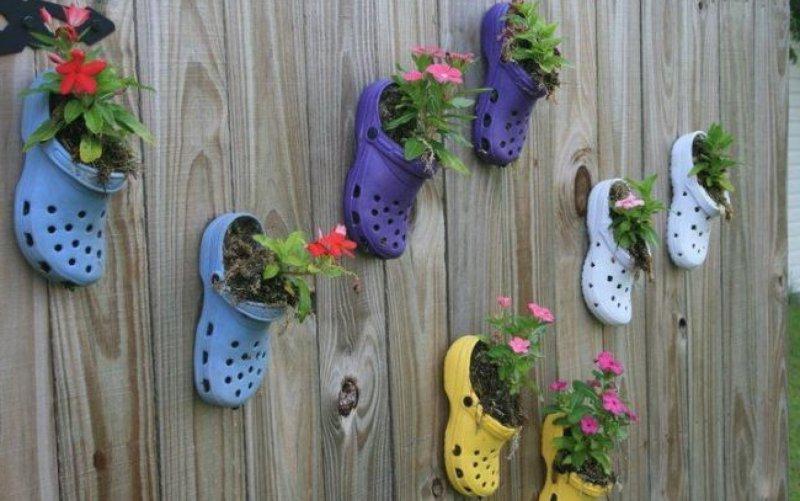 In another fun version of the vertical fence garden this clever design uses upcycled old Crocs of different colours to create small single plant planters that walk their way down the wall. The material of the shoes are lightweight, waterproof and comes with drainage holes built in, which makes them the perfect planters, all you need to do is fill them with soil and plant them with bright flowers. These little shoe planters produce and effect that is colourful, cute, quirky and eco friendly as an added bonus.
33. Large Painted Mural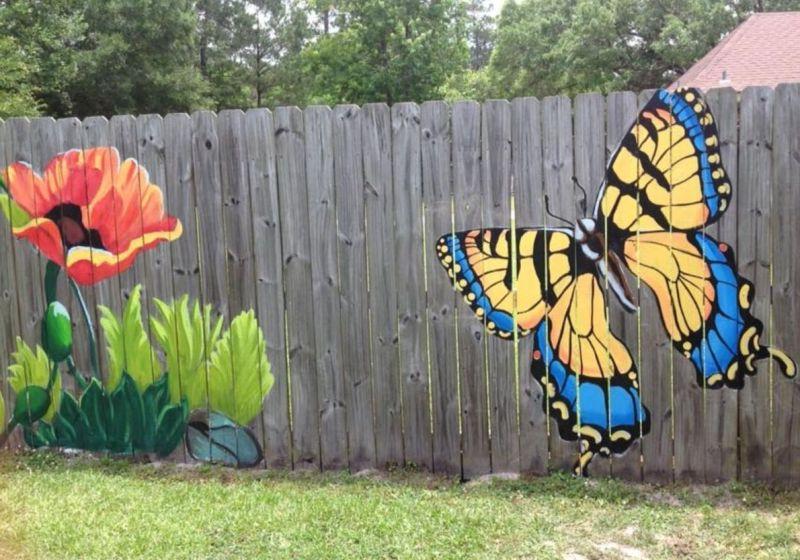 Beautiful dramatic wall murals aren't only reserved for indoors or graffiti, they can also transform a simple timber fence into something colourful and new. The brightly coloured butterfly and poppy design stands out against the weathered timber in a very pleasing manner and pays homage to the setting it finds itself in. This is a DIY project that you can adjust to suit your skill set by using premade stencils or painting free hand if you are so bold. The only thing to keep in mind when undertaking a project like this is that you will need to use wall paint so your mural won't fade when its exposed to the elements.
34. Stylized Tree Decal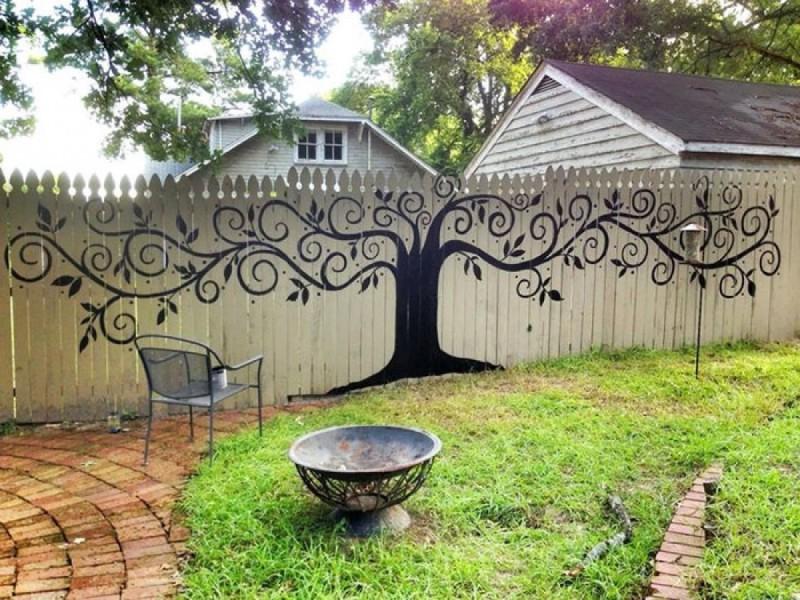 This swirling stylized tree is a cheap and easy DIY that simply uses paint like the example above to break the pale grey monotony of the rounded picket fence. The stylized design, rendered in an inky black, features a thick trunk, twisting branches and leaves that run along the fence to create a beautiful backdrop to the garden and sets it apart from your average backyard.
35. Nail and String Art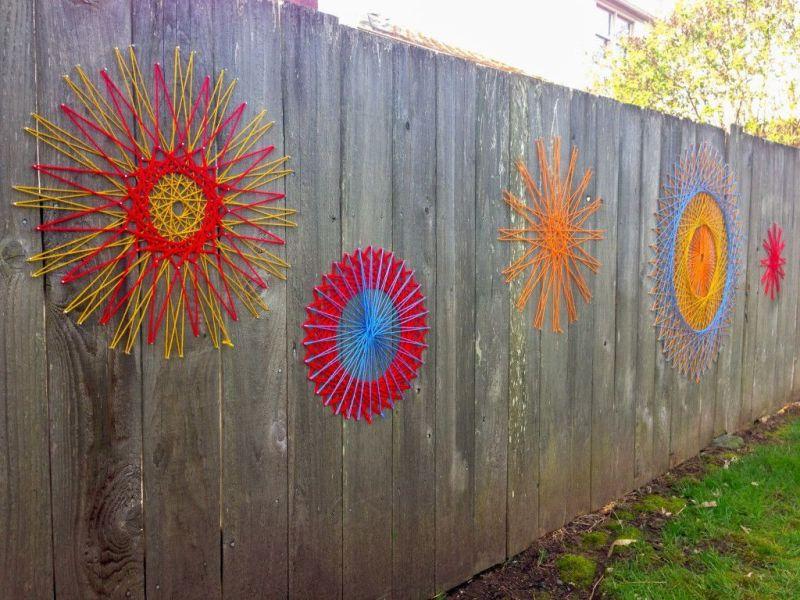 This vibrant fence design takes nostalgic childhood string art and takes it to a whole new level. If you haven't tried this before it simply involves hammering little nails strategically into the wood and using tension to stretch coloured strings between them and create these stunning symmetrical patterns. These other worldy wheels are dotted unevenly across the weather lichen covered wall in different colours and sizes to create a look that is unpredictable and exciting. If you tackle this project yourself, which is totally doable, you use different shapes strings and colour combinations to make the design unique to you.
36. Surfboard Fence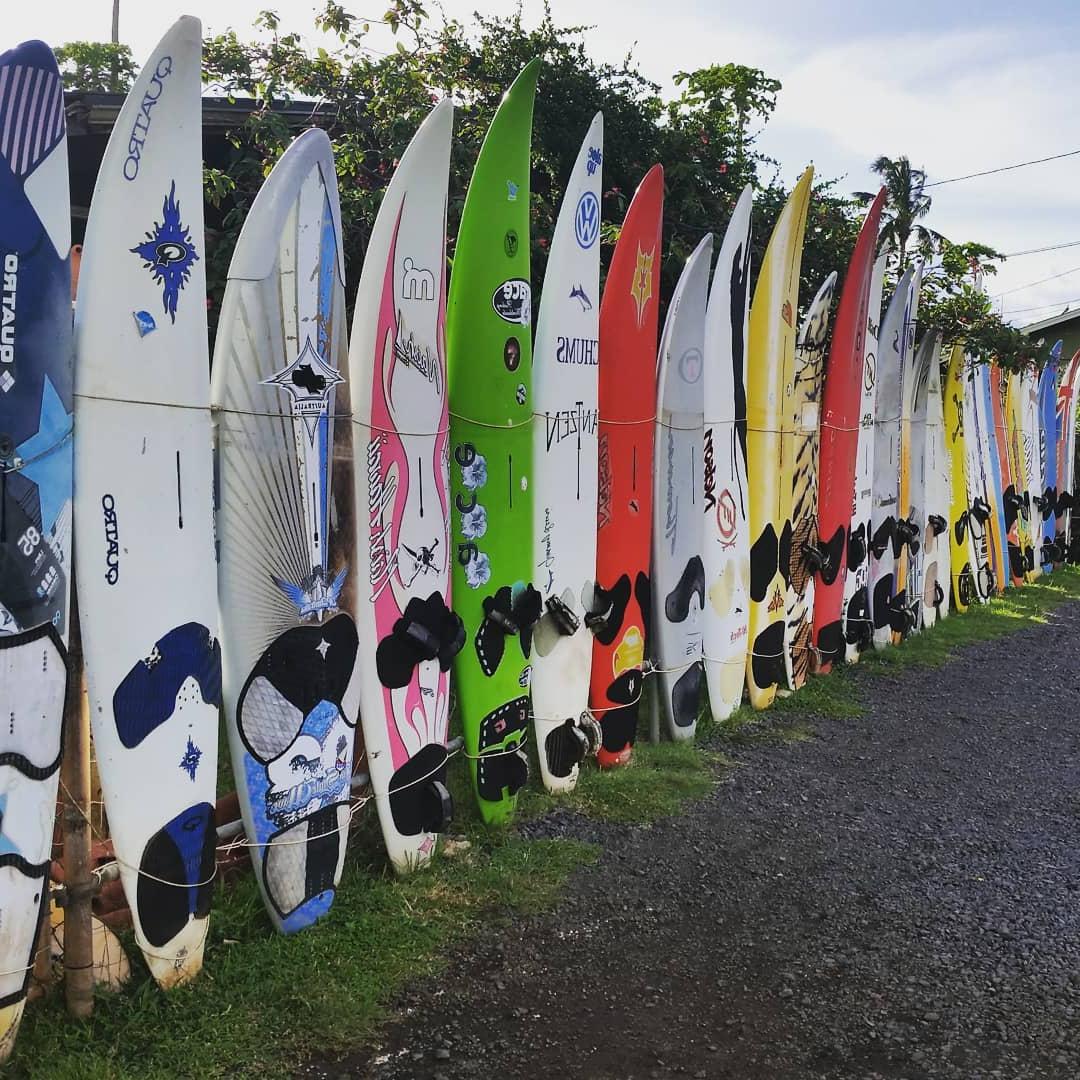 In a similar vein to the ski fence in example 31 this eco friendly upcycled fence makes your love for surfing impossible to ignore. Surfboards have to be replaced over time as they wear out or get damaged so this saves on a lot of waste while looking cool and weird at the same time. The boards are supported by a wire and bamboo frame that ties them together and forms a dappled coloured boundary that changes from board to board. Again, like with the skis, this would be perfect for outside a surf shop by the coast.
37. Textured Flooring Fence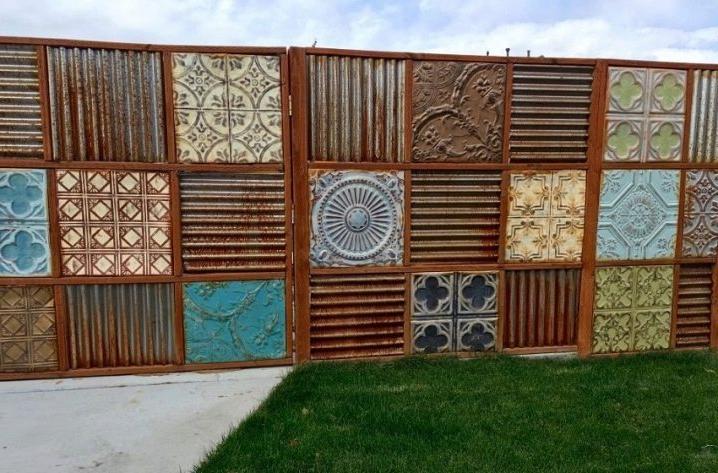 This shabby chic fence has taken traditional floor and roofing materials and taken them out of context to form this stunning piece. Alternating panels of corrugated iron and ceramic tiles form the large mosaic set within a steel frame that has been treated to look rusted. Each ceramic tile is completely different with their own detailed designs and statement colours broken up by the rusted corrugated iron sheets that alternate between vertical and horizontal for some textural richness.
38. Ornate Vinyl Fencing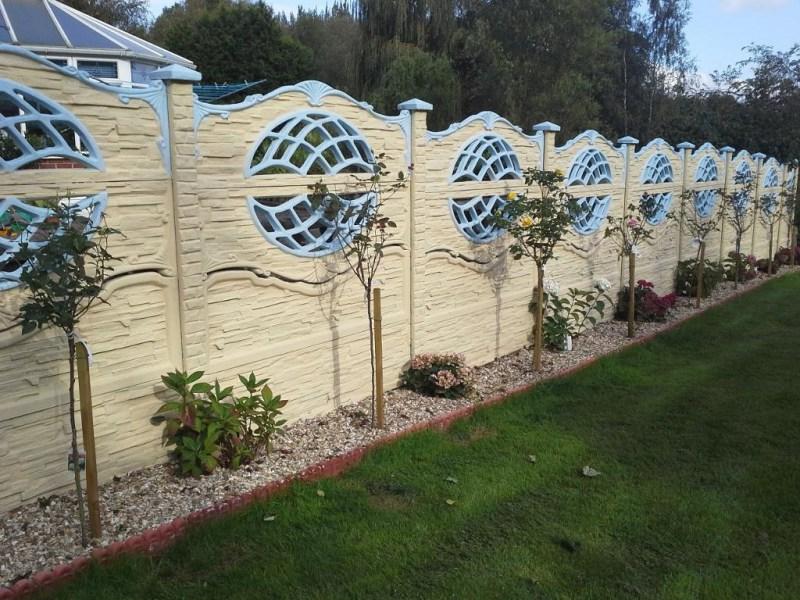 In this case this buttercup yellow and baby blue fence has the decoration built into the wall panels themselves. The imitation brick wall consists of slim panels that undulate between slight columns accented by baby blue along the top. The main feature is the large round cut out at the centre where the top of the wall flows up. The curving hemispheres allow permeability between properties with a fence that is lightweight and not bulky at all.
39. Vertical Garden Planter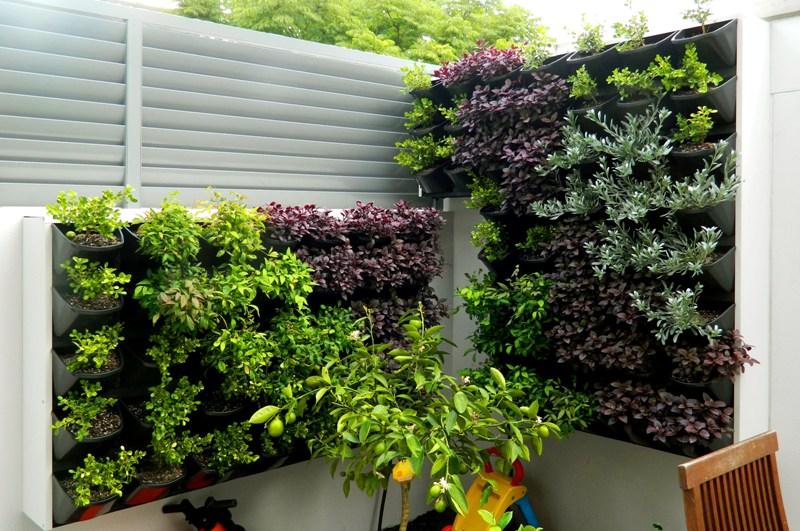 This fence mounted premade vertical wall planter is perfect for small houses or apartments without a garden. This corner of greenery is simple to mount yourself and then all you need to do is fill them with soil and plant! Even though this is premade you still have freedom to customize your look depending on what you plant in each pot from an entire wall of succulents, different coloured flowers or herbs depending on what you're trying to achieve.
40. Faux Window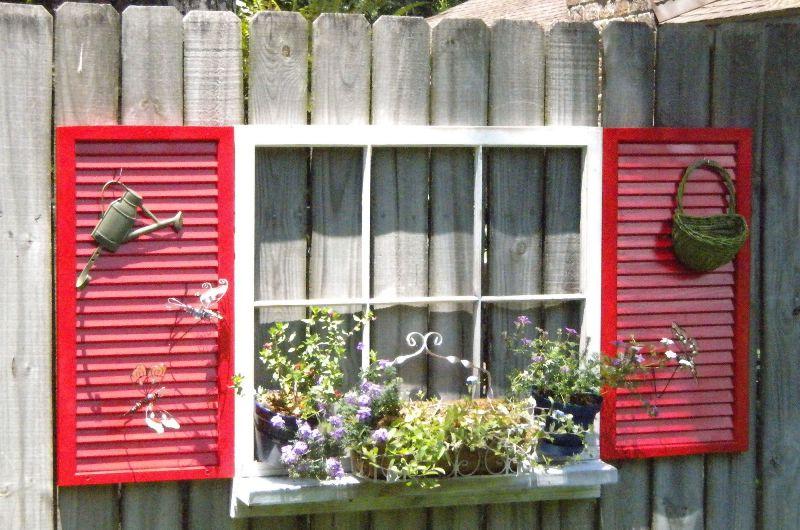 This rustic little fence decoration is created by upcycling a reclaimed window frame and vintage shutters and mounting onto the fence with a view of the weathered timber. The old timber has been given a makeover with a fresh coat of paint in white and bold red and decorated with garden themed ornaments like dragonflies and a little watering can. The whole scene is finished off with a built in 'window box' full of flowers sitting on the window sill.
41. Timber Planter Box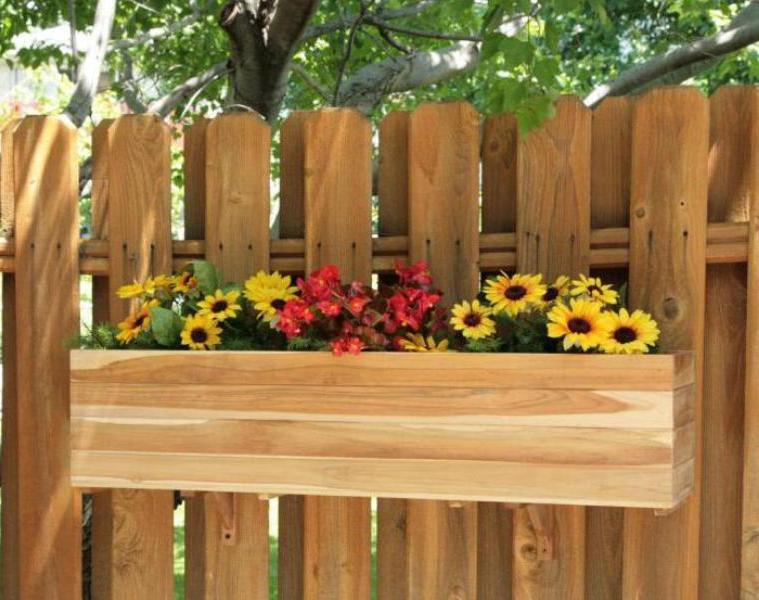 Keeping it sweet and simple, this timber fence has been adorned with a mounted timber planter box hung from the traditional pickets. This clean style of planter box is easy to DIY and is perfect for making use of timber offcuts to make it even more eco friendly. The brightly coloured flowers planted inside it breaks up monotony on the neutral timer and would be ideal if you don't have a lot of space to plant flowers.
Conclusion
Well, if that list doesn't inspire you to give your garden fence an upgrade I don't know what will, From simple painted patterns to actual Mr Potato Head scarecrows, you can really let your imagination run wild!
Some of the fence decoration seen here forms the fence itself through innovative steel designs that are almost sculptural while others have uplifted a boring wire fence into a graphic pattern simply using plastic bottles. Whatever your budget or style, you can make this work for you.
So go on, why not make a weekend of it, maybe even get your kids involved, and give your garden fence a glorious makeover.