Woven baskets have been around as a quaint piece of useful décor for decades and they're not going anywhere anytime soon. These beautiful items are made of flexible grasses, paper or even plastic bags, which makes them ideal for upcycling and revamping project that you can make at home.
28 Woven Baskets to Add Some Pizzaz to Your Home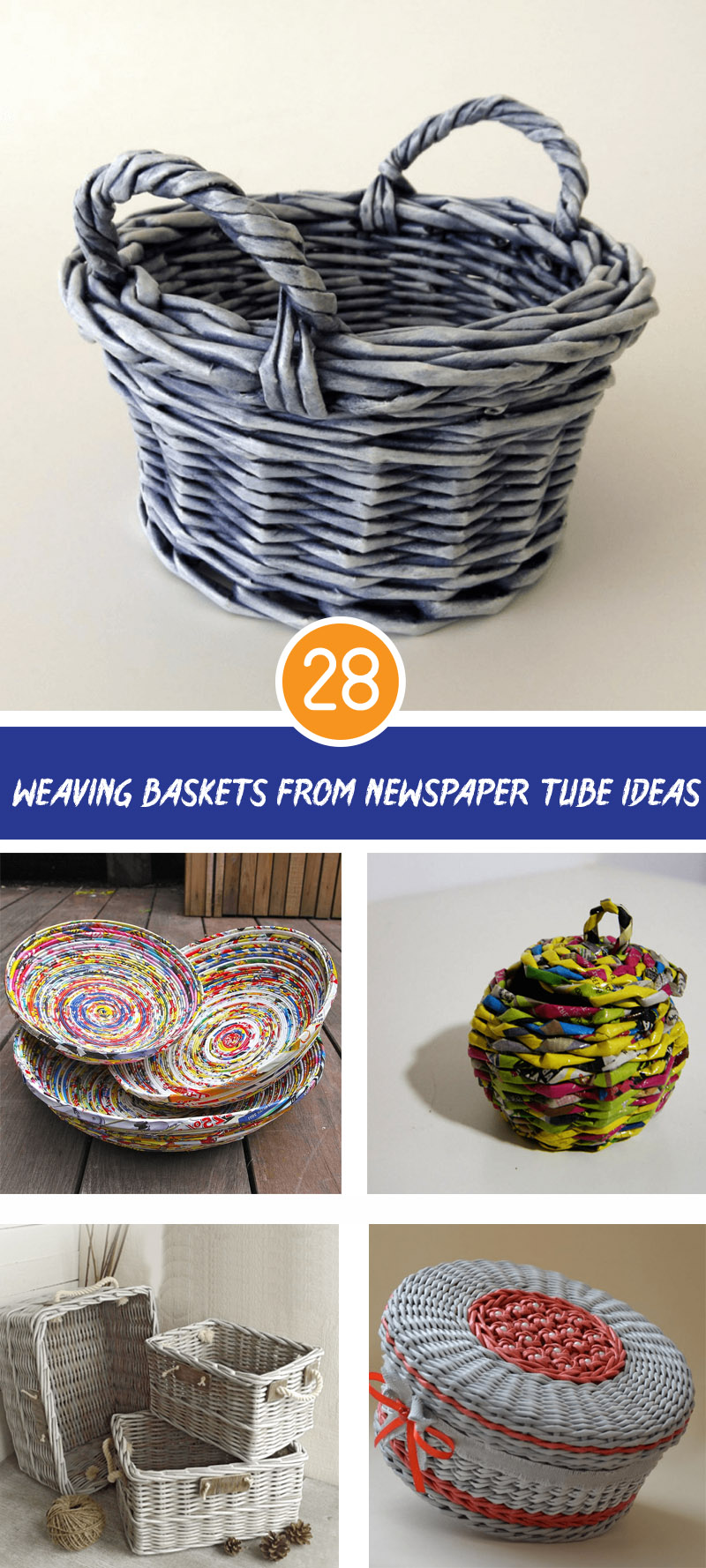 If you want to challenge yourself and make your own baskets they are a craft that you can hone over time using materials that are around your house to make a piece that is eco friendly and super cute at the same time. They are all based around a structure that has vertical elements protruding from the base that you can use as a framework for your weaving. The base can either be made of a wooden solid base or woven as part of the piece (which we'll show you in example 23) depending on your skills and the look you want to achieve. If you're revamping an existing basket the only additional materials you'll need in some paint, sponges and maybe some trim to add a little personal touch. Whatever your style or skill levels, woven baskets can be adapted to suit you and make your house feel a little more homey and personal to you.
So if you want to try your hand at decorating with some handmade or transformed baskets then here are:
1. Woven Newspaper Baskets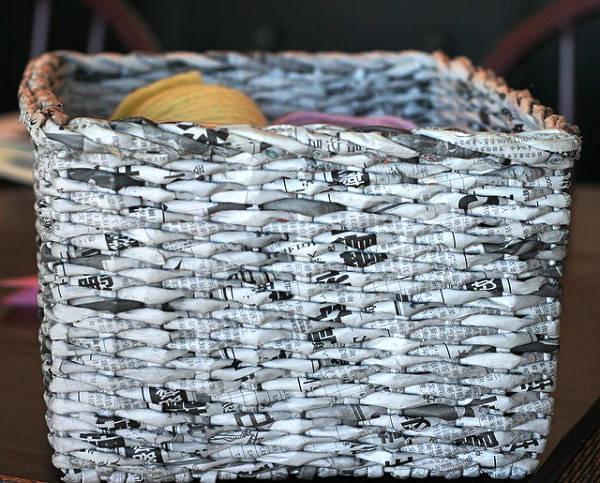 This little rectangular basket is made of thin tubes of rolled up newspaper, making it the perfect upcycling project. The newspaper tubes have to be prepped before hand so they are tightly wound but still flexible enough to weave with ease. The typeface of the newspaper has created a rich black and white pattern in addition to the weaving texture itself, which layers pattern beautifully. These tubes have been woven into a dense rectangular little basket with rounded edges around a little frame to keep it rigid and finished off with a braided edge to seal the design off.
2. Two Toned Woven Basket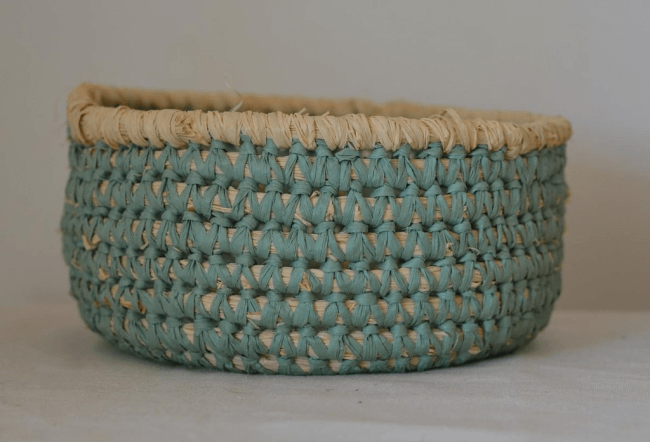 This dumpy little basket has been woven out of two different tones of the same flexible grasses to create a layered multi coloured pattern across the body of the little round piece. The natural grasses that can be made from several different plants that lends themselves well to being dried because they become flexible rather than brittle. This is a simple shape that you can DIY with a tutorial and teach yourself a new skill while gaining a storage basket into the bargain.
3. Painted Woven Mat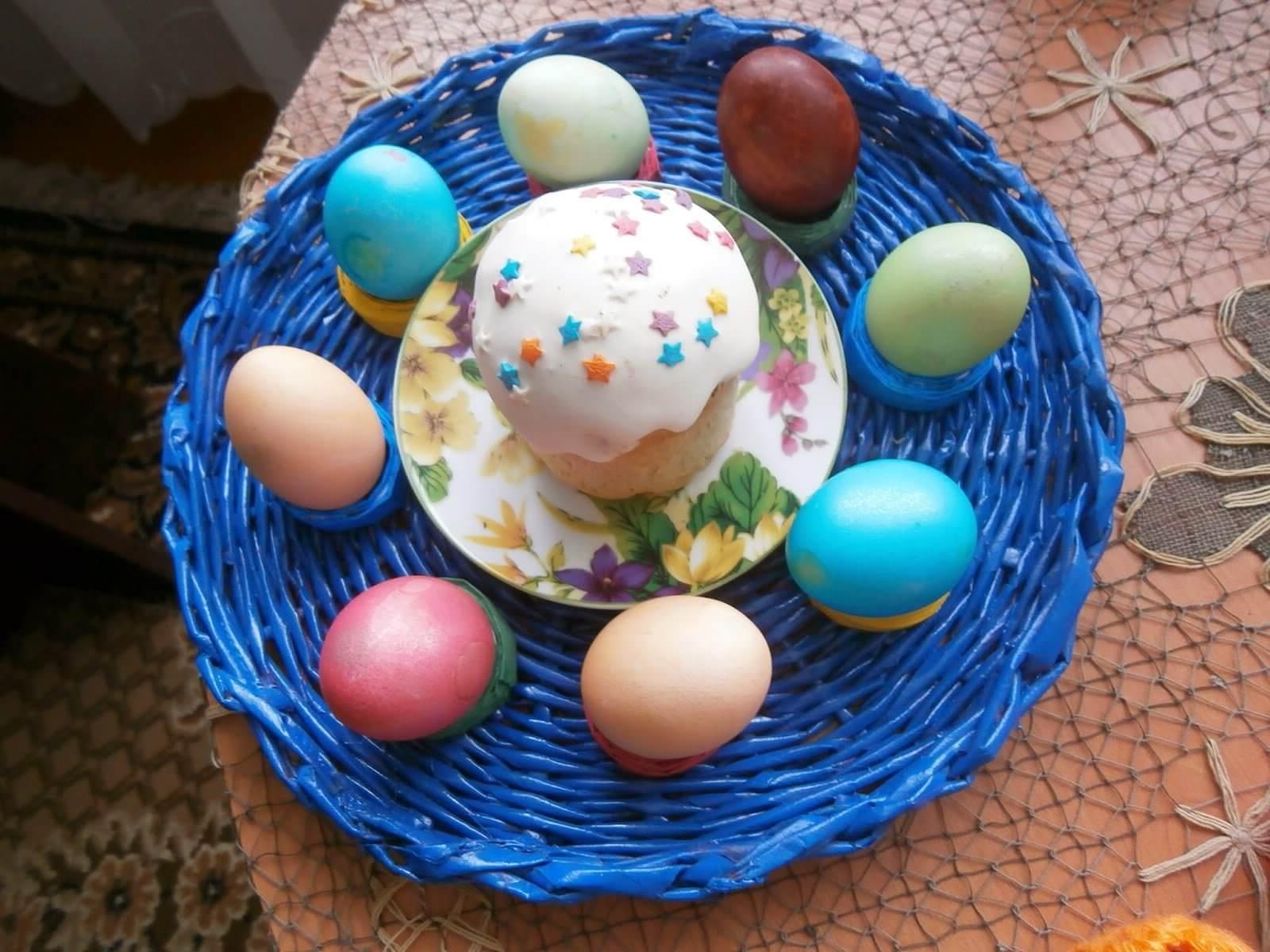 This simple circular mat with a braided grass lip is a great beginner's weaving project that can be mixed up to by painting it a bright colour. These are a great DIY that you can get your kids involved in while you practice. If you get on a roll you could even make a full set of upcycled place mats to use for your children in a series of bright colours for a fun piece of décor.
4. Painted Wooden Rods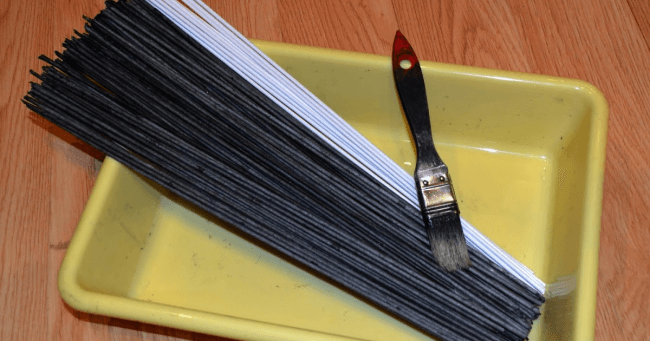 Another material that is ideal for weaving are flexible natural fibre rods can be tinted before weaving them. You can weave with them first and paint them afterwards but if you want an even colour coverage painting them first like this is your best option because you won't leave gaps or lose the weaves translucency. Tinting is the preferred to paint in this instance because the tint won't crack as the fibres are woven with one another and they let the texture of the grasses shine through. These supplies can be bought at any hardware or hobby store for relatively cheap.
5. Tiny Hand Woven Basket
Weaving baskets doesn't have to be a big cumbersome project, sometimes small scale projects like these colourful little woven cups are just as fun. This little creation has been woven using very fine raw natural fibres in carefully woven layers around a circular frame. It has then been painted carefully by hand after weaving in a complex pattern in bright contrasting colours. This is a quick project that you can weave to make a coordinated set for some really beautiful storage.
6. Little Woven Paper Basket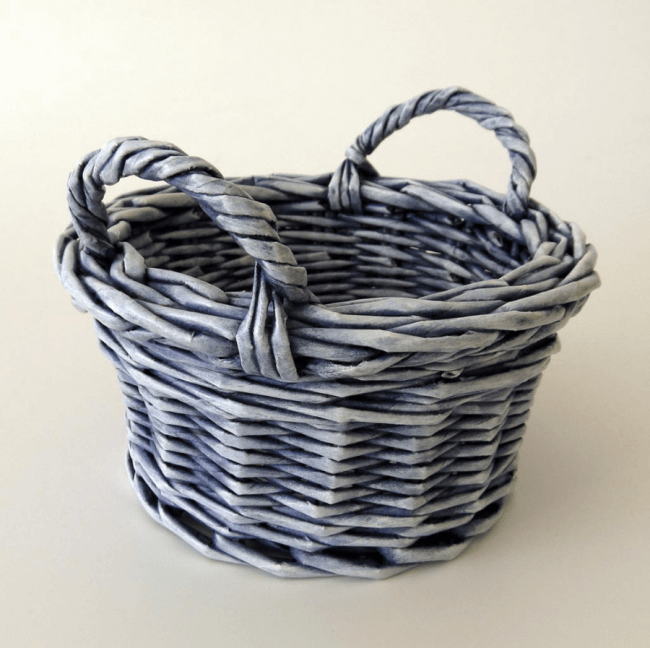 This chunky little basket is a project that requires need more experience with weaving. If you don't have those skills just yet you can buy something like this from a local artist or thrift store and revamp it to suit you. The structure uses rolls of paper of various sizes that have been unevenly stained before hand to add to the richness of the layers. Larger, thick rolls have been woven around the top and base with a thinner weave making up the body to create a piece that is beautiful and sturdy.
7. Decorative Woven Desk Organizer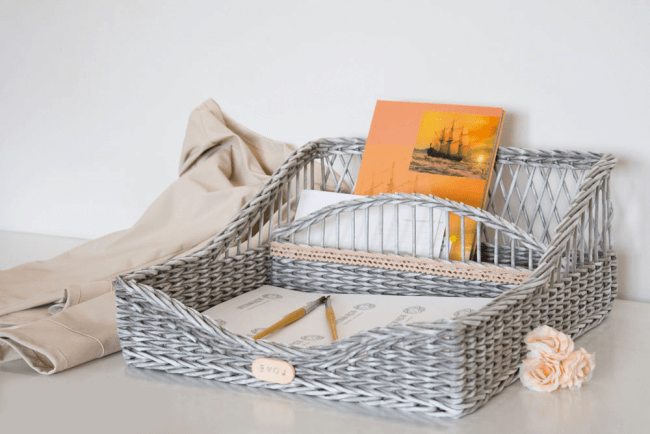 This elegant two tiered woven basket in a pale grey hue is a twist on the traditional basket using the same set of skills. A braided edge runs around the edge and over the delicate curve that makes up the divide between the storage area and the space for your notebooks. The uneven panels of closely woven fibres work alongside the areas with a more open weave to contrast the textures in the multi use spot.
8. Hand Painted Woven Basket
This large hand woven basket is a little bit uneven but this quirk has been fully embraced and given a new breath of life using paint in a masterful way. After the basket was woven and painted the white paint creates joins between some pieces of the weave to create a solid surface that is easier to paint on further. The corner design is then painted on so that it grows elegantly over two sides of the basket with beautiful hand painted roses and foliage blossoming around the corner to create this stunning piece of art.
9. DIY Paper Woven Baskets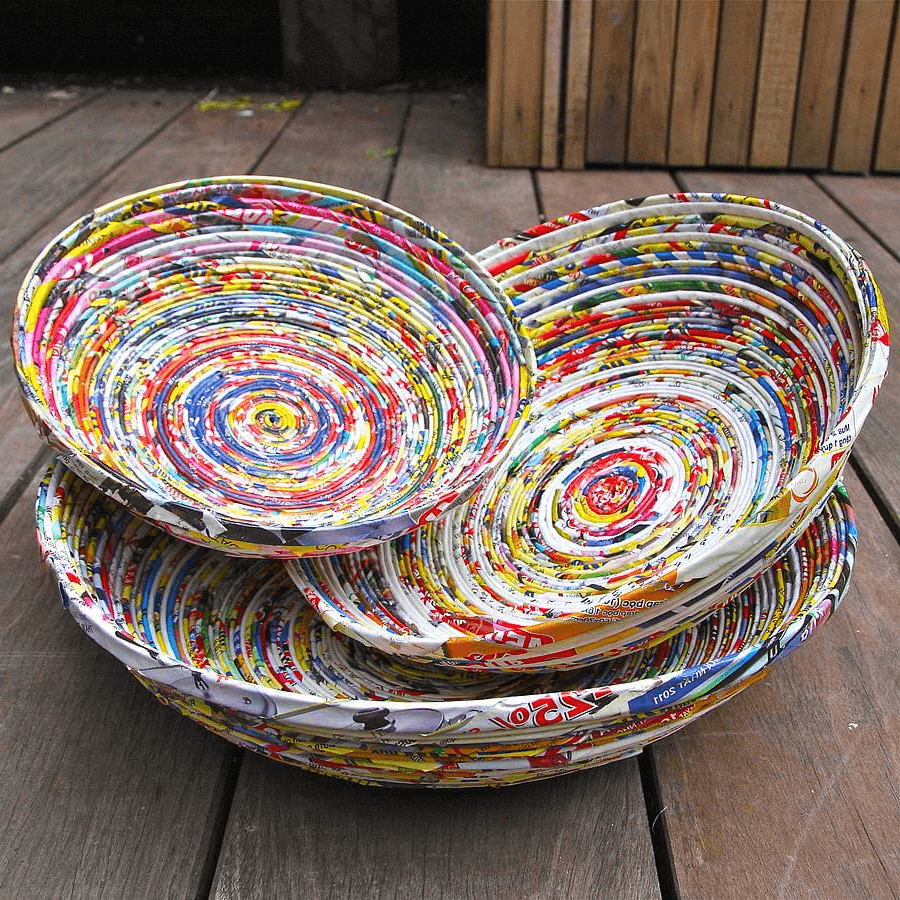 This series of shallow woven bowls have been hand woven using a slightly more water resistant material by utilizing the glossy pages of sales pamphlets that no one ever knows what to do with. The shiny pages have been rolled into really thin tubes that are woven from the centre out in spirals or swirling colour. This is a quintessential upcycling project that reduces your family's household waste while createing bowls that are beautiful and eco friendly all at once.
10. Colourful Laundry Basket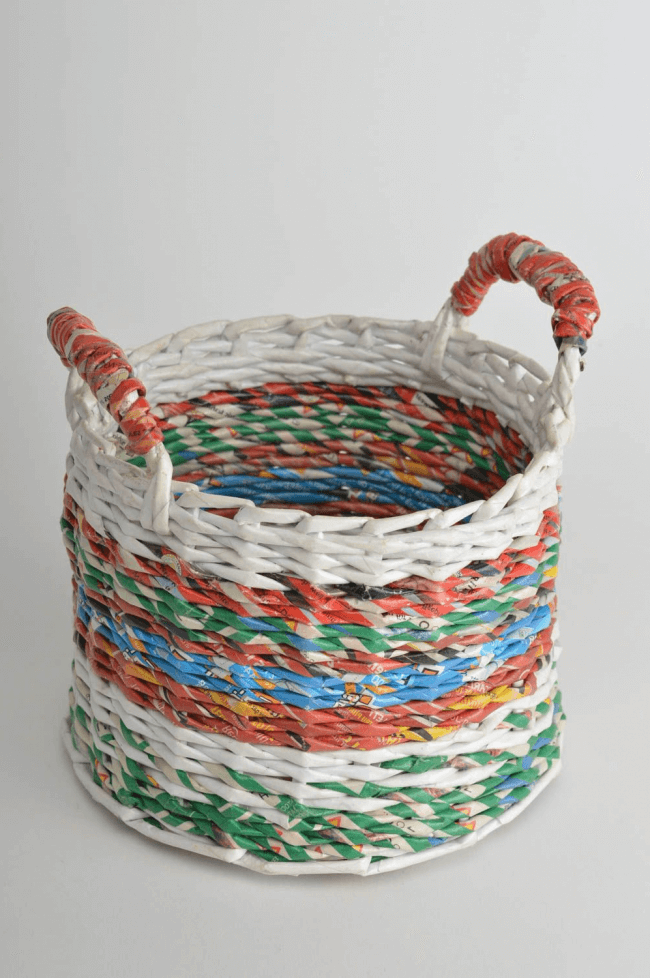 If you think out of the box weaving can be used to make so many unexpected objects like this paper that has been woven into an eco friendly upcycled laundry basket. The rolls of paper have been woven into a cylindrical basket with some rings left the original colour and others painted white to break it up. This must be stored outside the bathroom to prevent too much exposure to moisture.
11. Weaving Details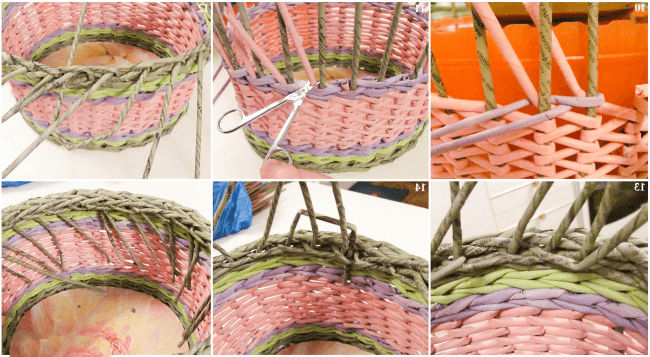 Here we can zoom in and get a close look at this weaving technique that transitions between many different coloured grasses. The multi coloured strands have been woven around a sturdy frame you need to build first using a piece of reclaimed timber and some strong vertical grasses. This style can be used with a whole host of weaving materials and very few tools beside your hands. This may look complex but it will get faster and easier as you get more experience.
12. Tiny Woven Paper Pot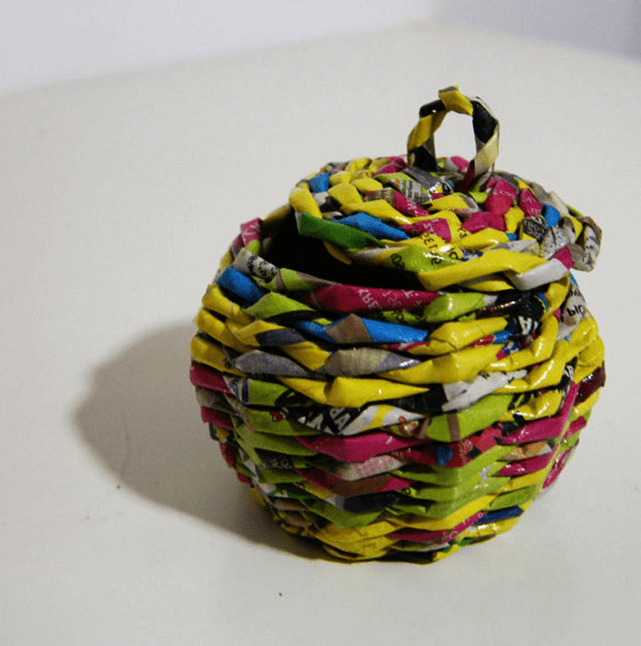 This tiny quirky little pot is a very cute and useful decoration that you can make yourself as a beginner. The most important part is choosing the materials, like these glossy magazine pages, featuring colours that you want to highlight in your design. This is a easy beginner weaving project because it has no straight edges to be limited by or show up all of your errors as you learn.
13. Colours and Trims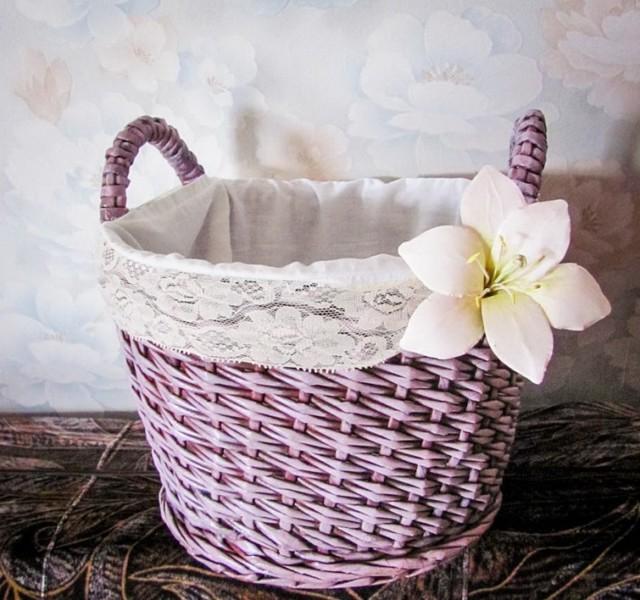 This larger woven basket is a premade brightly coloured piece that you can personalize using found or bought items and a lick of paint. Once you have carefully and sparingly painted the basket and allowed it to dry fully you can line the inside with thin white fabric before the real design begins. To completely personalize this design it has been edged with a rim of lace and decorated with a realistic looking fake flower to make the design feel more you.
14. Upcycled Supplies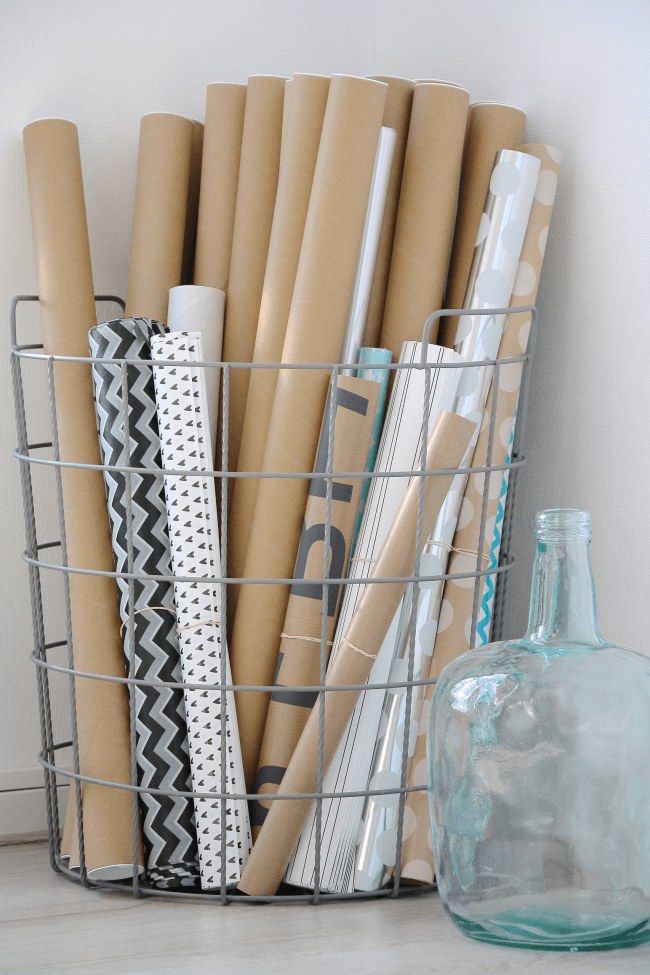 Once you start crafting its hard to have too many materials on hand so if you want to start weaving make sure you keep any cardboard inners and spare wrapping paper and storing them in a neat wire mesh basket until you're ready. This way you will always have supplies and reduce your household waste while you craft.
15. Vintage Woven Box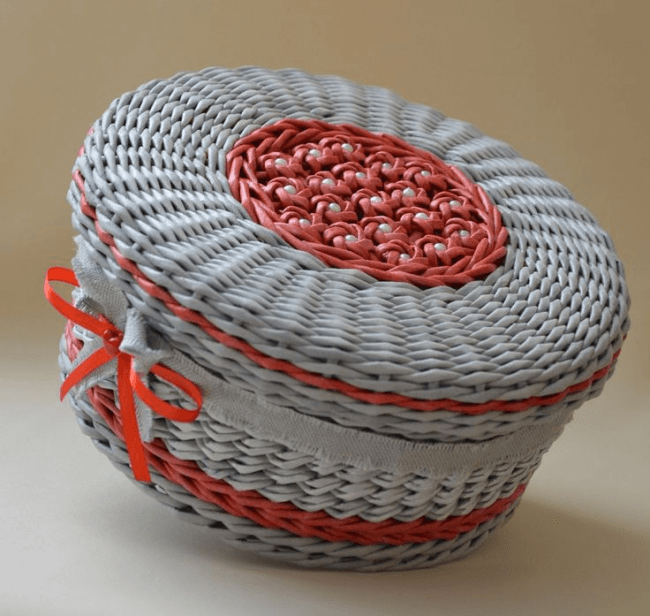 This vintage crafted little woven box has been expertly woven using two shades of stained grasses. Beads have been woven into the centre surrounded with red grasses adorn the tightly fitting lid while the sides are embellished with two ribbons in the same shades. This little box is something you would find in your grandmother's house, which imbues your space with a charming, homey feel.
16. Painted Woven Baskets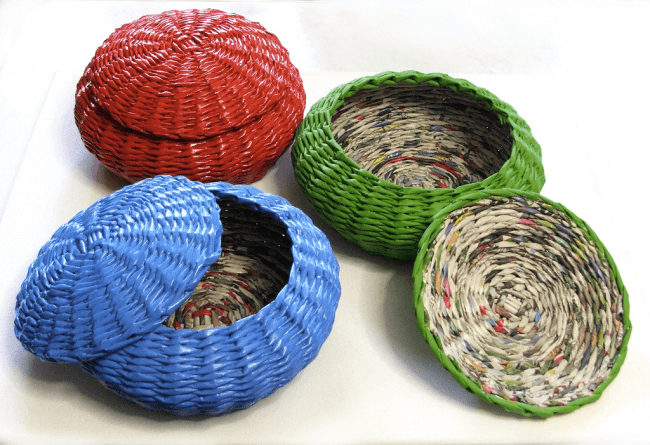 This trio of little baskets has been made out of woven twists of newspaper, which reduces waste and looks really cute at the same time. This is a completely upcycled and therefore eco friendly design that is a great starter DIY weaving project. If you want to conceal the material when they're closed, because they are paper, they can easily be painted with spray paint or acrylic in colours that suit your interior to add a pop of colour.
17. Simple Newspaper Basket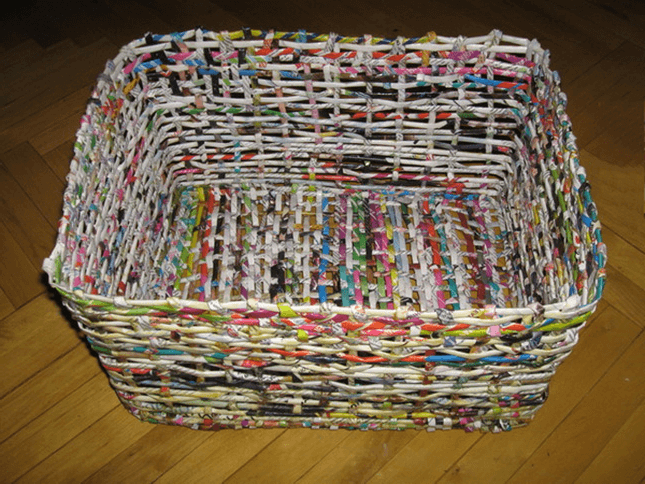 This simple DIY woven basket is constructed from twisted twines of newspaper that have been woven around a rectangular framework of the same material. This is another project that is totally eco friendly and waste free because it uses materials that are lying around the house. Very densely packed rolls form a solid base and prevent things from escaping while a looser weave has been used on the sides to add an element of transparency.
18. Delicate Woven Trinket Box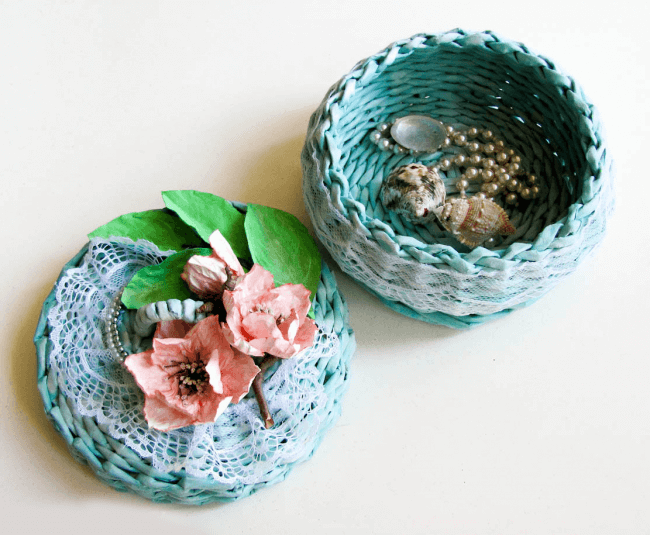 This intricate little trinket box is a leveled up style that can be bought or executed by those of you that have become very skilled at weaving. This can be made out of woven paper or flexible grasses and painted a delicate pale blue to hold jewelry in a vintage fun style. The top has been decorated with some lace, beads and fake flowers to make its very reminiscent of a bygone era that is endlessly charming.
19. Matching Set of Grass Baskets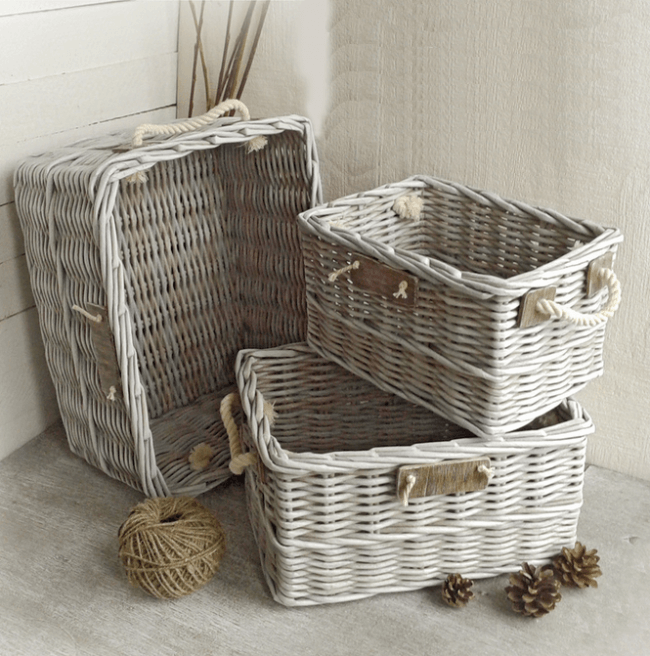 This useful trio of rectangular baskets has repeated the same design in varying sizes to use throughout your space to keep your aesthetic cohesive even down to your storage. The baskets are constructed from white stained sturdy woven grasses with wooden plates on each end, anchoring the woven ships rope handles in place. This design is hard wearing and long lasting while providing your space with a rustic feel.
20. Cerulean Paper Sea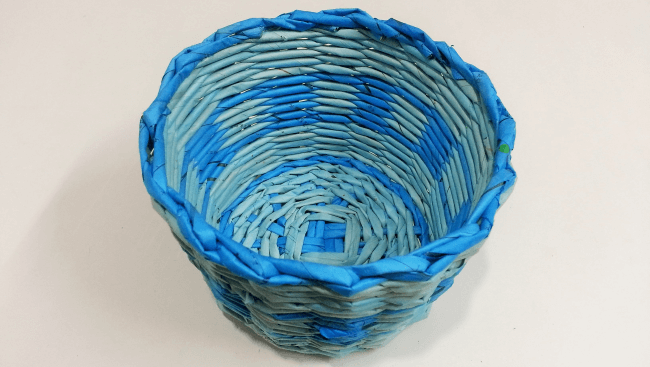 This cute little basket has been woven from two shades of twisted paper in two different shades, royal blue and a bright teal to create this stunning bright mosaic of azure. The basket features a reinforced base with a conical shaped frame built in. This is a very simple starter design that can be used as a planter or a pencil holder.
21. Rustic Square Weave Basket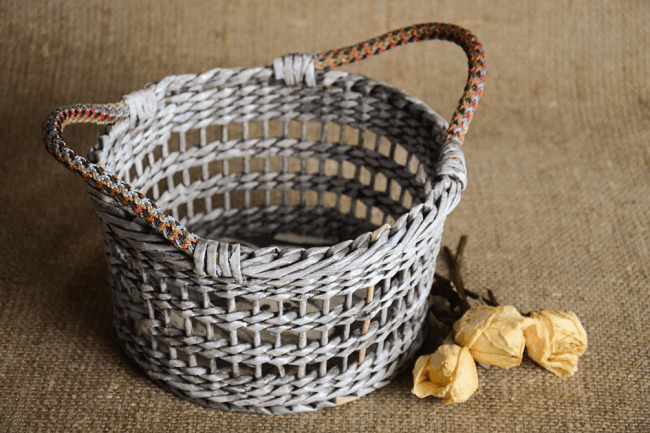 This gorgeous open weaved basket is built on a framework of thin grey grasses that are built around a wooden base that is woven in at the bottom. Thicker elements run horizontally to create a very opaque weave that pairs well with the hessian rug. Climbing rope handles on each side have been woven in place vertically to hold it firmly in place and blend in visually with the design.
22. Tubular Paper Box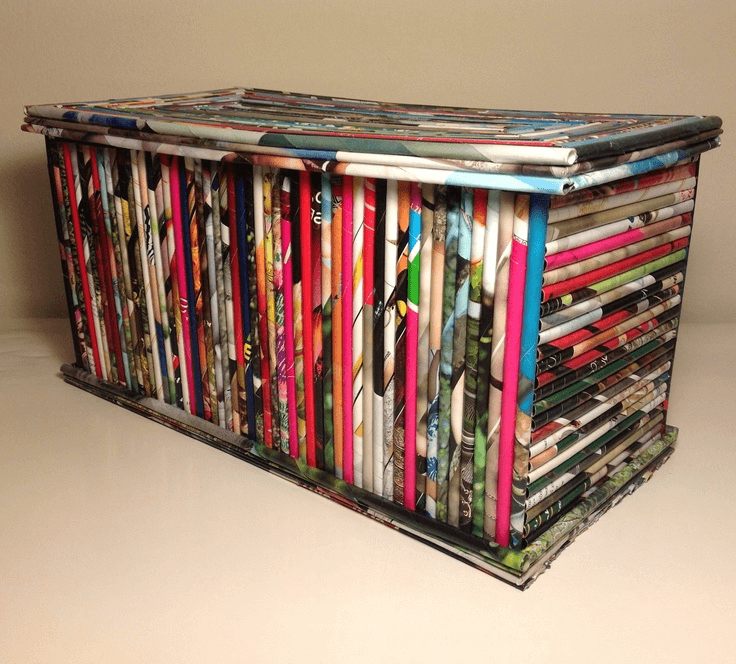 This solid, tubular box is made of thin tubes of paper that have been chosen from a glossy magazine in bright colours. The distinct tubes running vertically on the long sides and horizontal on the short sides with a fitted lid made of the same material. This is graphic, cohesive and fun while also being an achievable upcycling project that you can execute at home.
23. DIY Little Round Basket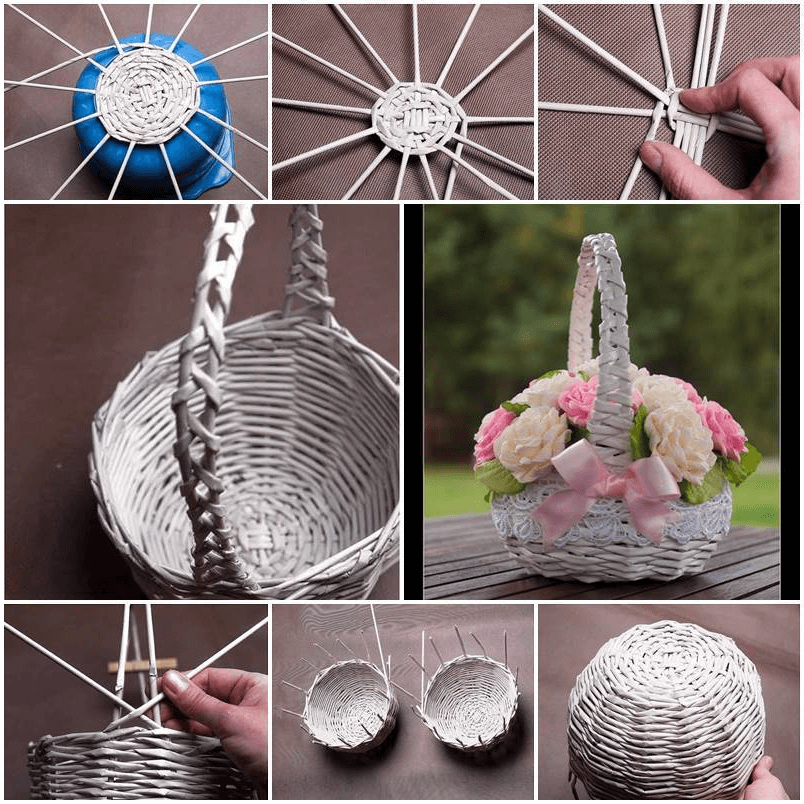 This is a simple step-by-step showing how to weave a solid base that leads to a frame that sets you up for further weaving. The handle has been formed by two pieces of grass that is then woven into the design to make it look seamless. This may look complicated when the piece is finished but if you see it from the beginning you can see that it is just a repeated process that just requires a little patience and time.
24. Tiny Snail Basket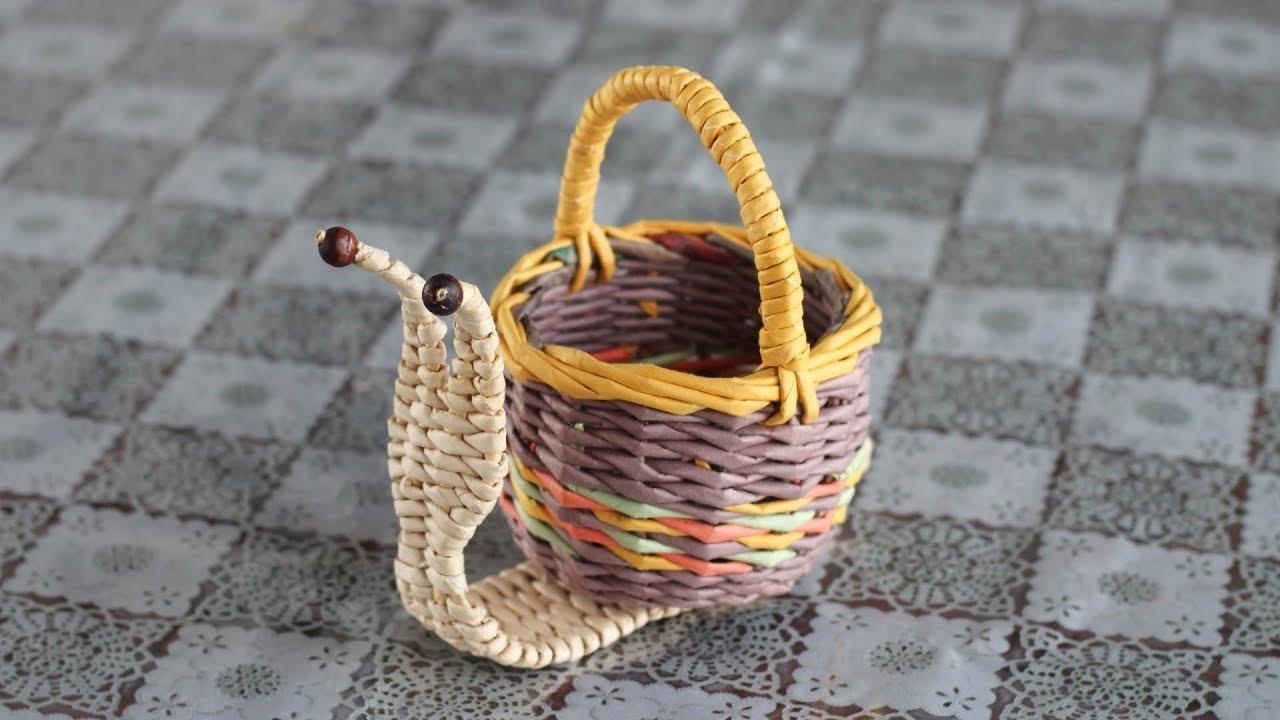 This adorable little snail is completely woven with a tiny woven basket as a shell. The design has been artfully executed using a collection of stained natural grasses to highlight the details from the snail's eyes and foot to the colourful little basket in vivid shades with a bright yellow basket handle and lip. This is artful and delicate piece of paper art that adds a whimsical feeling to anywhere is stands.
25. Elegant Outdoor Storage Basket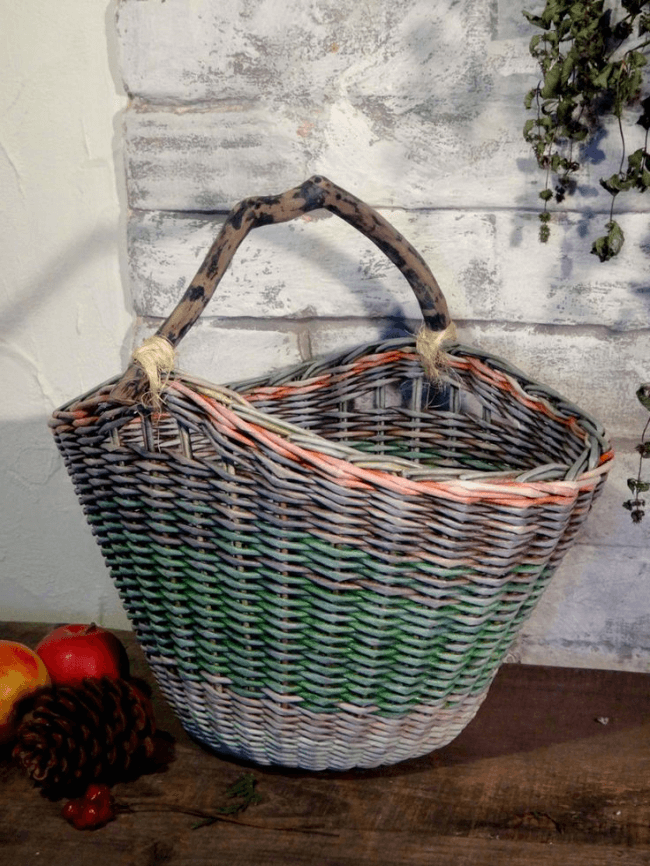 This is a large woven basket that could decorate an outdoor patio full of grasses or beside the couch to hold blankets for a more hygge look. The body of the basket is made of multiple colours of grasses that blend into one another to create the watercolour like finish. The handle has been made from a piece of reclaimed wood that is painted, weathered and tied to the basket with twine as the perfect rustic finish.
26. Woven Bathroom Storage Baskets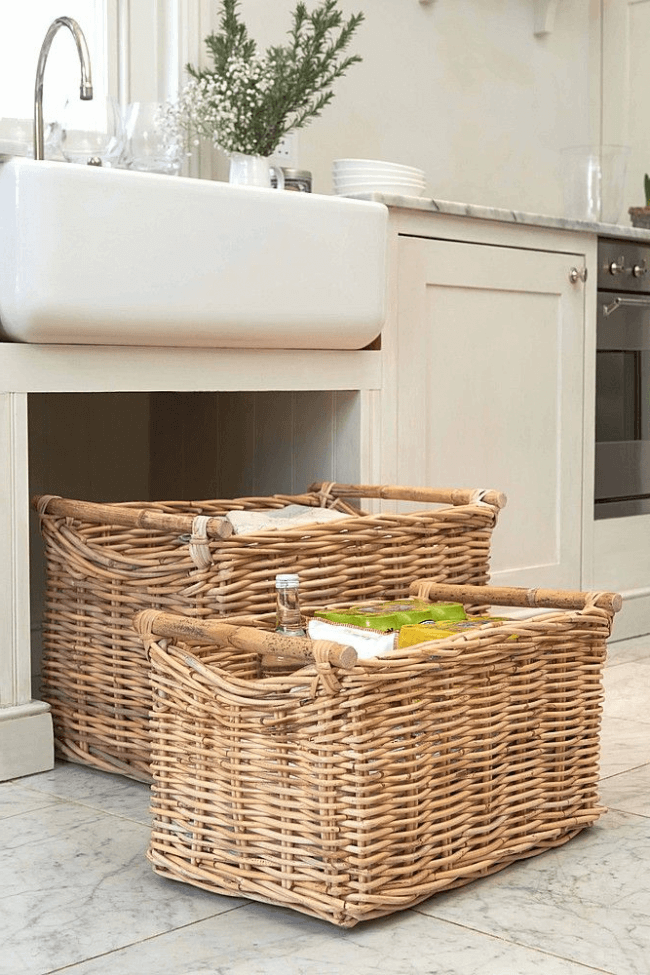 This pair of rectangular woven baskets is in two different sizes based around a rectangular timber frame and base, which are filled with all the bathroom supplies you need in a cohesive and beautiful way. The woven grasses bring the colour and texture into the white space and slide elegantly into the recesses below the sink to perfectly utilize the minimal space.
27. Revamping Woven Baskets with Paint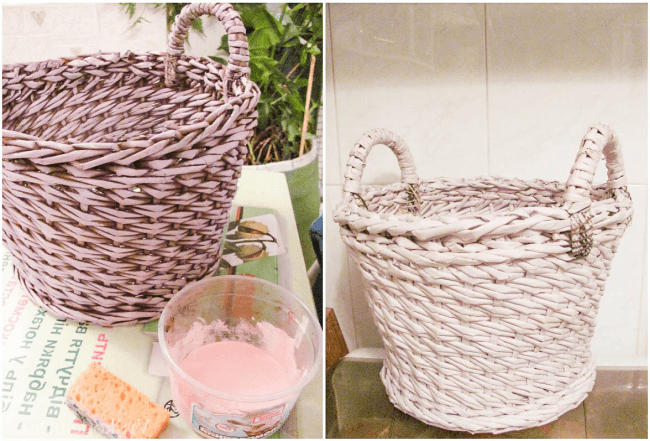 The easiest way to revamp an existing woven basket is with humble paint. The thin white glaze applied is best applied with a sponge in layers, leaving them to dry fully in between. When painting in this manner be sure not to fill in all the gaps of the weave so you don't lose the beautiful texture of the weaving. If it is too thick it will also flake off over time or crack. Choosing to customize a piece allows you to fix the basket up to fit the colour scheme and aesthetic of your home perfectly.
28. Prepping Little Paper Tubes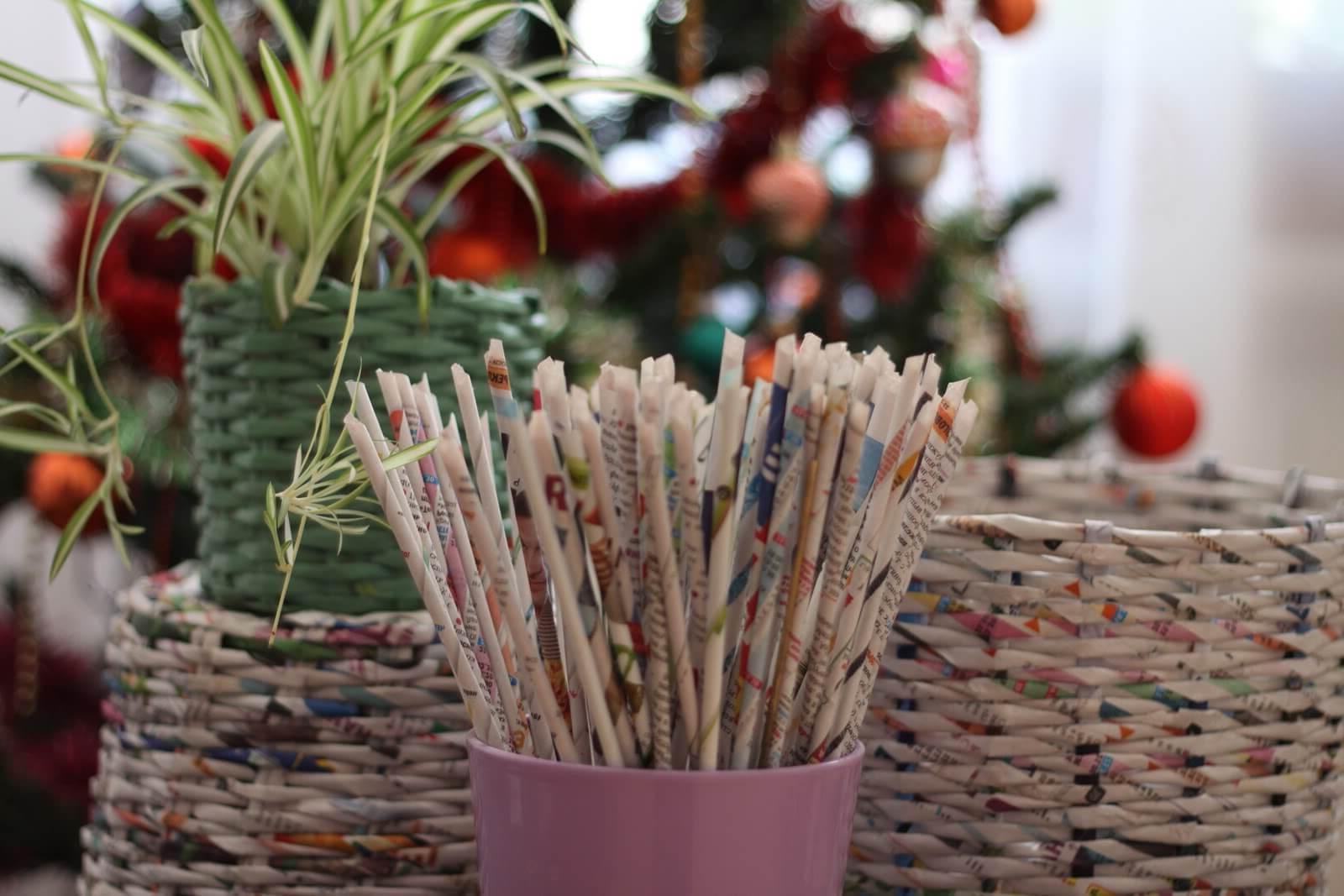 If you want to make this a hobby then you need to practice so in your spare time why not roll yourself a collection of paper straws while you watch TV or just relax. This means you will always have a good stock so you won't get stopped in your tracks when you're on a weaving roll. This process all on its own is repetitive in the most calming way, which is a gift in itself even before the weaving begins.
Conclusion
Well, if all that glorious crafting doesn't inspire you to make your own I don't know what will! These classic woven baskets are functional, they look really cute and you can make them using supplies already lying around the house. Both homemade and bought baskets are made from waste or natural materials, which makes them eco friendly, something that is very important in the current climate disaster that we find ourselves in.
So go one, why not test your boundaries and try teaching yourself the wonderful, calming skill of weaving to create your own woven creations.