Wrought iron is a material that is often used outdoors due to its strength and hardy qualities, which makes them ideal for exterior entrance doors. Their impenetrable qualities they will be very low maintenance and will keep any unwelcome guests out and keep your family safe. However where this material really shines is, when it comes to doors like these, is their sculptural decorative qualities.
27 Beautiful and Hardy Wrought Iron Doors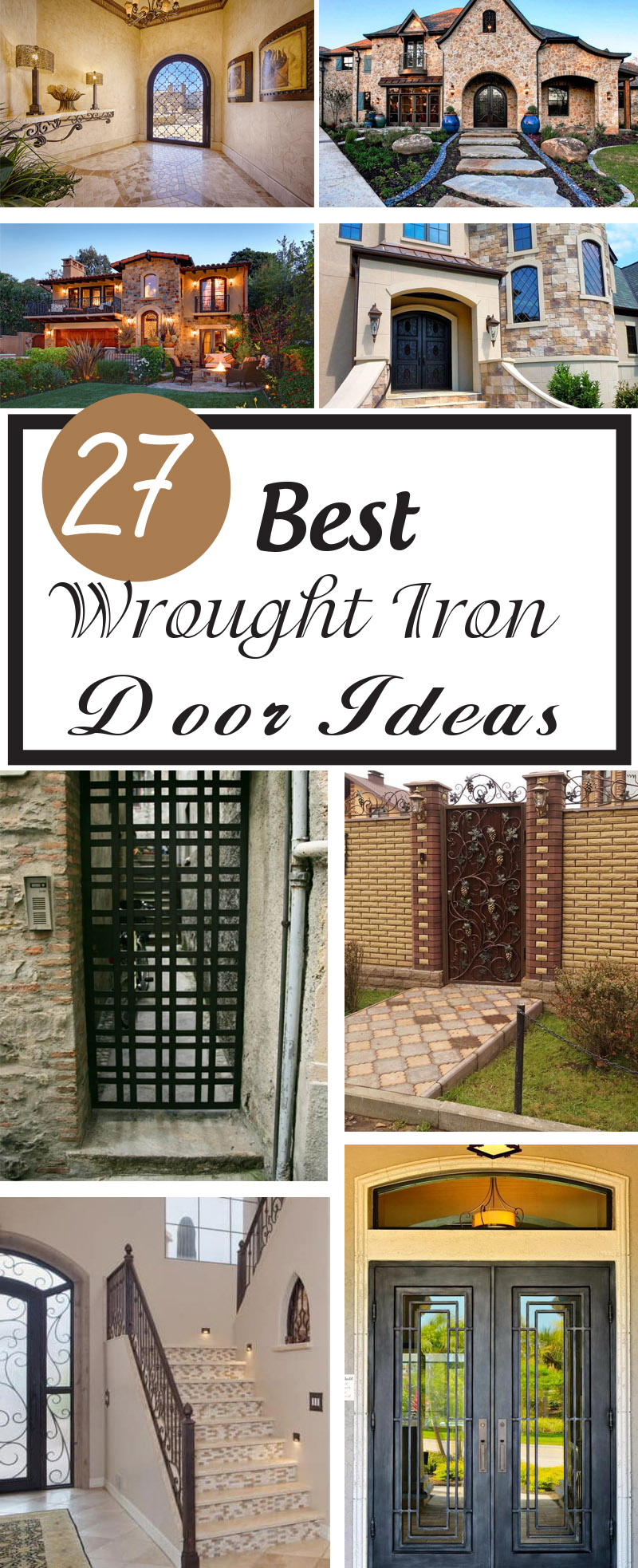 This material can be cast into many different shapes, from big and chunky to thin and decorative and that can be taken advantage of to create decorative frameworks and details that can make a door more impenetrable yet delicate all at the same time. Wrought iron is also really beautiful when combined with other materials such as exposed stone and moulded masonry to create a more layered rustic look.
So if you want to find out how to use wrought iron to create an entrance that makes an impression here are:
1. Glamorous Mansion Doors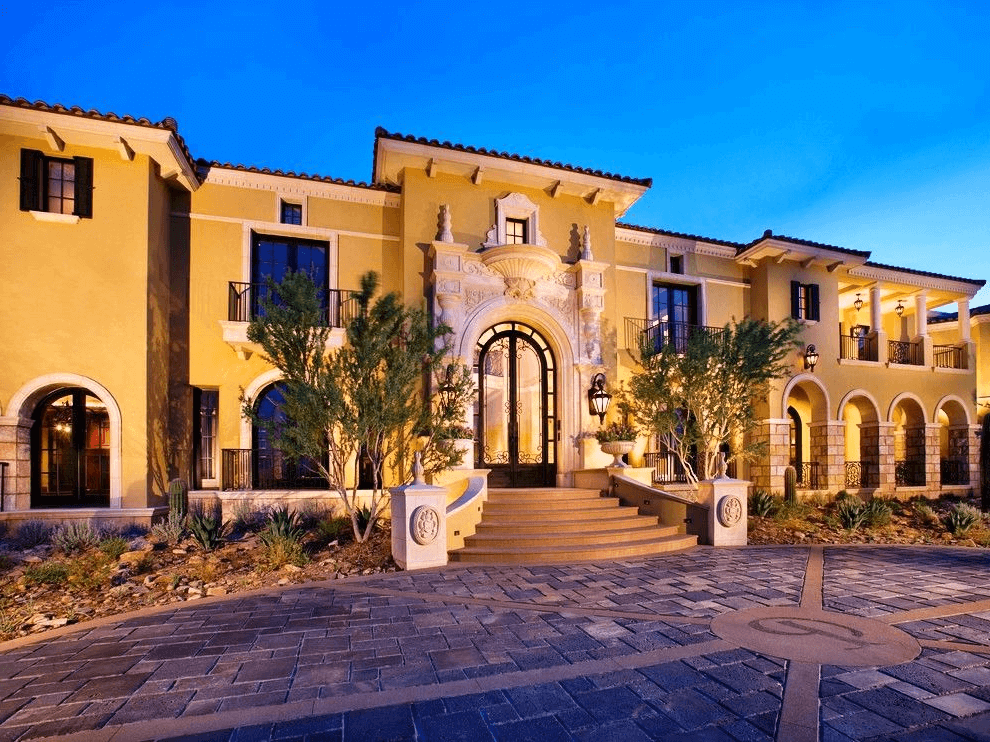 At the top of a swooping staircase surrounded by dramatic and intricately detailed mouldings the black art deco style wrought iron door takes centre stage. The double volume arched wrought iron door has tall, curving glass inserts in the doors and in small rectangles around the frame, letting you see through to the lavish interior. This is a perfectly fitting entrance to such a dramatic house whose shape coincides with archways along the façade.
2. Wrought Iron Castle Style Doors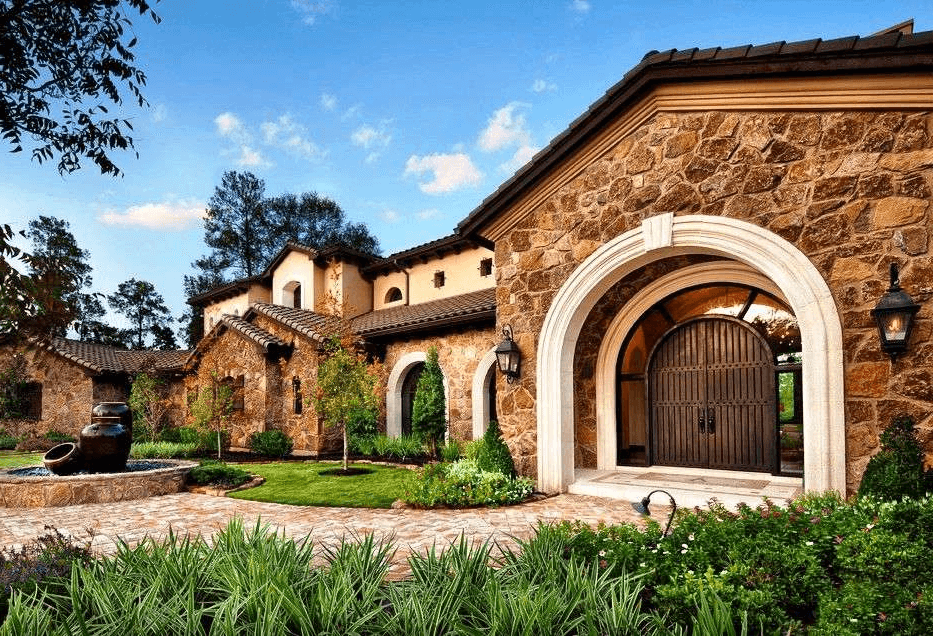 This whole house is designed to be elaborate, palatial and hark back to the material used by the luxurious houses of old, exposed stone. Set inside a double arched portico the solid wrought iron door looks like a door it wouldn't look out of place on a Game of Thrones set. The surface is textured and paneled with windows running around the edge of the curving shape to make the entrance feel less heavy. The layered portico, arching doorways and dramatic home makes the door fits in with it's setting completely.
3. Art Deco Wrought Iron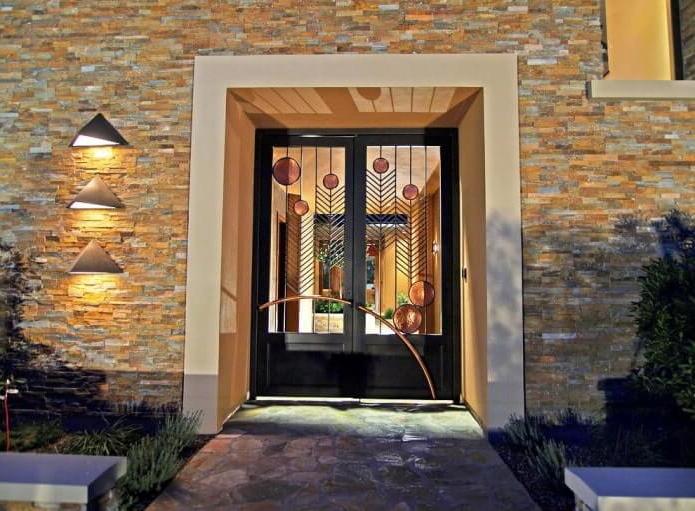 A black wooden door has been used for the simple doorframe with two windows taking up the majority of the door leaves. Wrought iron has been used in black and copper tones to decorate the doorway in a delicate geometric pattern. One curving tubular wrought iron handle has been split in half and stretches across both doors. This is a great example of how to utilize wrought iron and its stunning decorative qualities in a way that is cheaper than a fully wrought iron door.
4. Arched Wrought Iron Entrance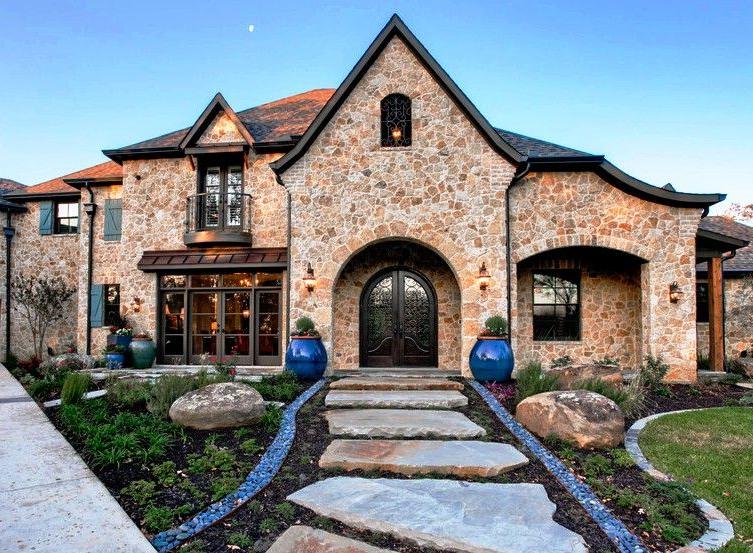 Like in example two, a wrought iron door has been paired with exposed stone to great effect. Huge paving stones lead you up to an arched portico with an arched wrought iron door nestled inside. The hardy material has been used for the whole door in a solid form to form the door leaf inset with glass panels which are covered in little thin details that make their way across the glass. This creates a door that is beautiful while being strong and impenetrable.
5. Intricate Wrought Iron Pattern Work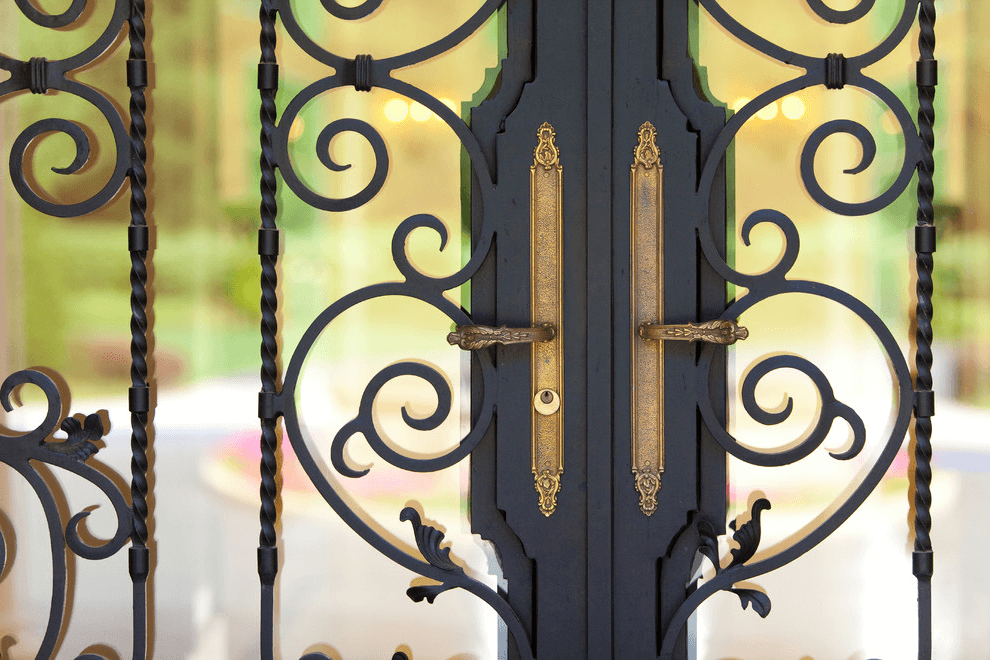 Wrought iron is a material that is so strong and hardy yet in this example we see that it can be used to create something delicate. Wrought iron has been used for the thin frame inset with large glass panels but it is also used for the long gilded handles and the detailing across the glass's surface. The delicate thin elements take the form of twisting rods, intertwined curlicues and little realistic looking leaves adorning the junctions.
6. Wrought Iron and Timber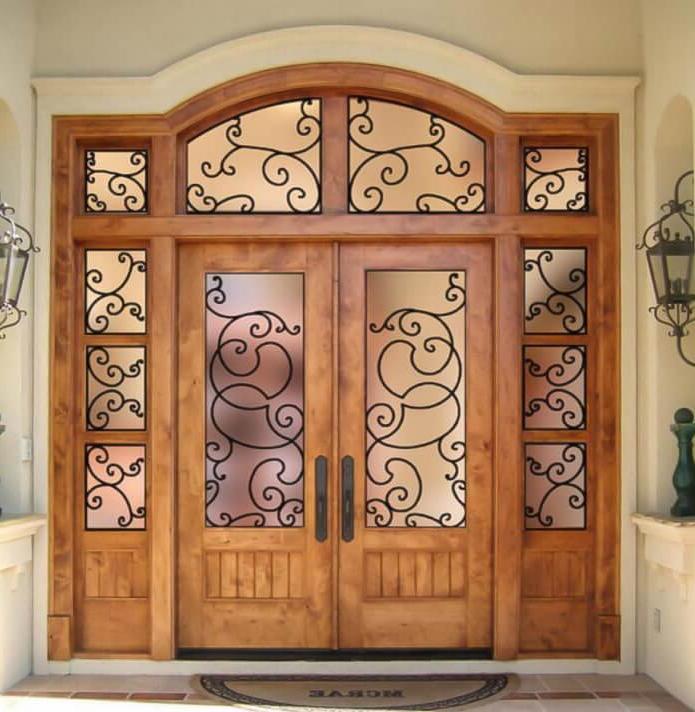 This glamorous entrance to a large house has a pair of large doors with sidelights on either side and a top light curving overhead. The whole door is a traditional timber frame with glass inserts that decorated by wrought iron curlicues across every facet of the door. Without the wrought iron this door would be imposing but boring, however the delicate metal pattern work makes this doorway far more special. The swirling patterns and curlicues cover the surface of the glass in stunning organic patterns that are perfectly symmetrical across the surface and makes the whole entrance writhe in gorgeous patterns.
7. Tudor Rose Lacework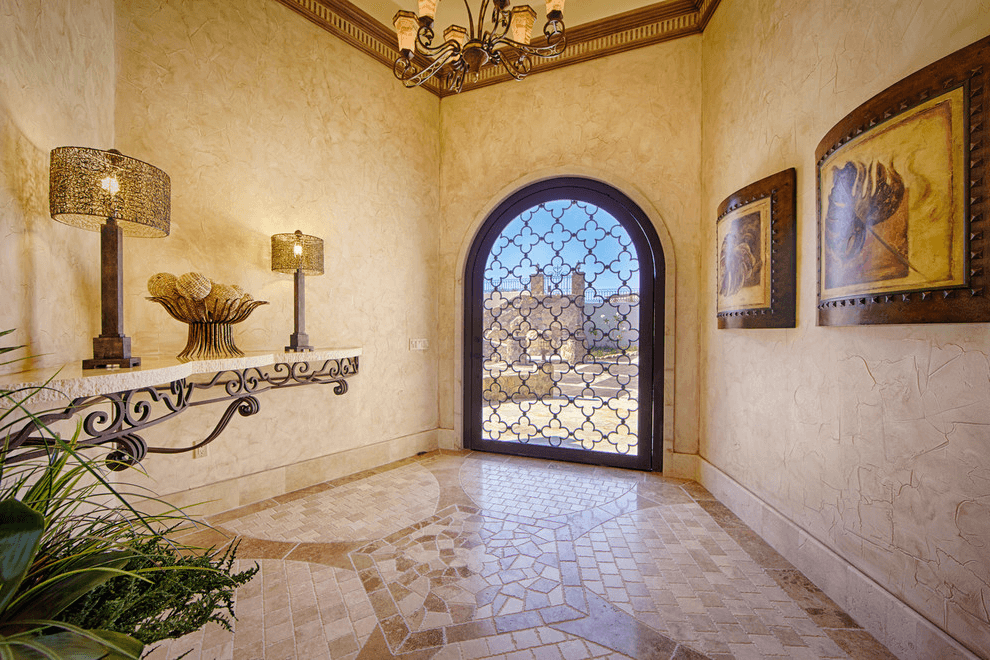 This dramatic hallway is entered through an arched wrought iron door with a thin black frame filled in with a huge piece of curved glass. The glass is decorated by a very thin lacework of tudor rose patterns across the whole surface. This kind of door is the best of both worlds because the huge expanse of glass lights up the hallway beautifully while being strong and hardy because of the wrought iron. It also fits in smoothly with the ostentatious interior and only adds to the stunning space.
8. Gothic Wrought Iron Doors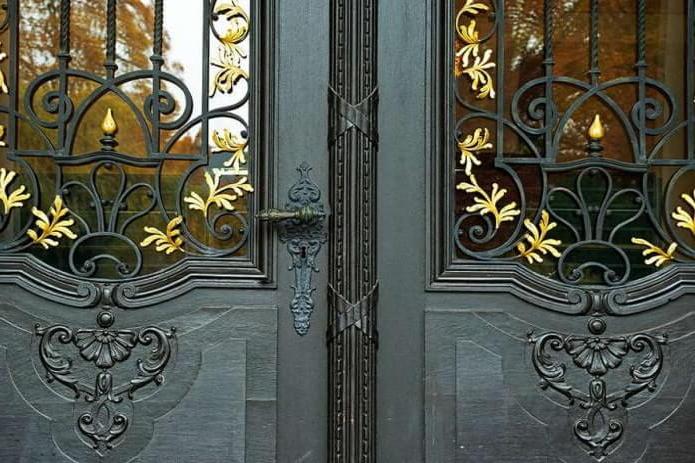 This gorgeous set of austere wrought iron door wouldn't look out of place in a gothic mansion. The faintly green tinted door leaves are embossed with decorative detailing that run all the way around the frame of the door, under each window and around the ornate handle. The glass inserts in the leaf of each door are further decorated with wrought iron in the form of small details in swirls and twisting rods amplified by golden leaves.
9. Swirling Wrought Iron Detailing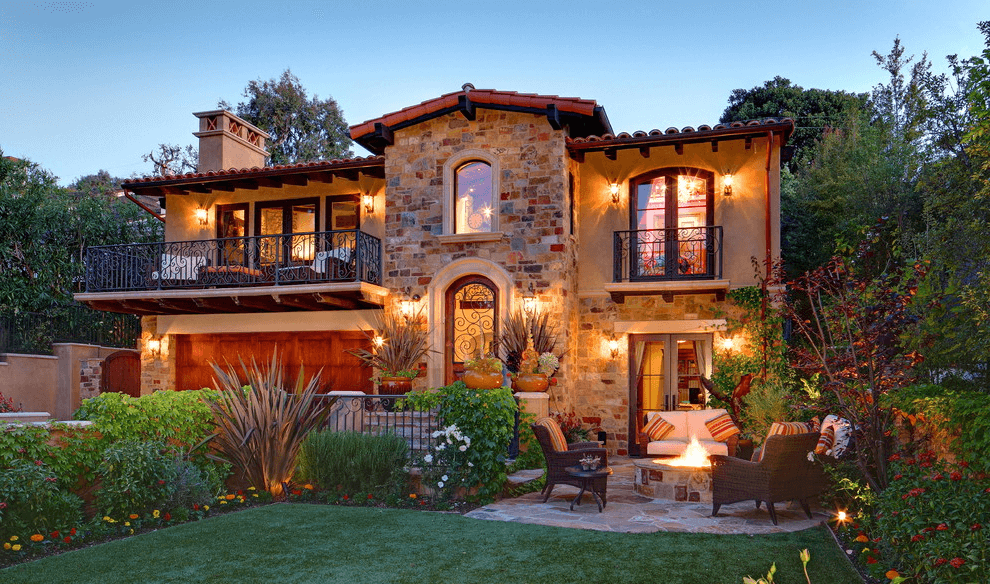 Yet again, in this massive mansion, wrought iron has been paired with exposed stone for a truly luxurious yet rustic aesthetic. The timber front door has a large glass panel and an arched top panel that is very elegant. The whole glass surface has been decorated with swirls of very thin wrought iron to add texture in contrast to the rough texture of the exposed brick walls. The wrought iron is continued into the balustrades of the balconies on the second floor to tie the whole piece together.
10. Little Wrought Iron Details
Like the example above, this exposed stone mansion has chosen to accent its front door with fine wrought iron pattern work. The traditional arched double leaved door is in a dark timber that frames gold tinted glass panels. The surface of the glass is covered in twists and curls of wrought iron to create two symmetrical panels inspired by organic shapes. This is a beautiful example of how to use wrought iron in a delicate decorative way.
11. Tuscan Inspired Pedestrian Door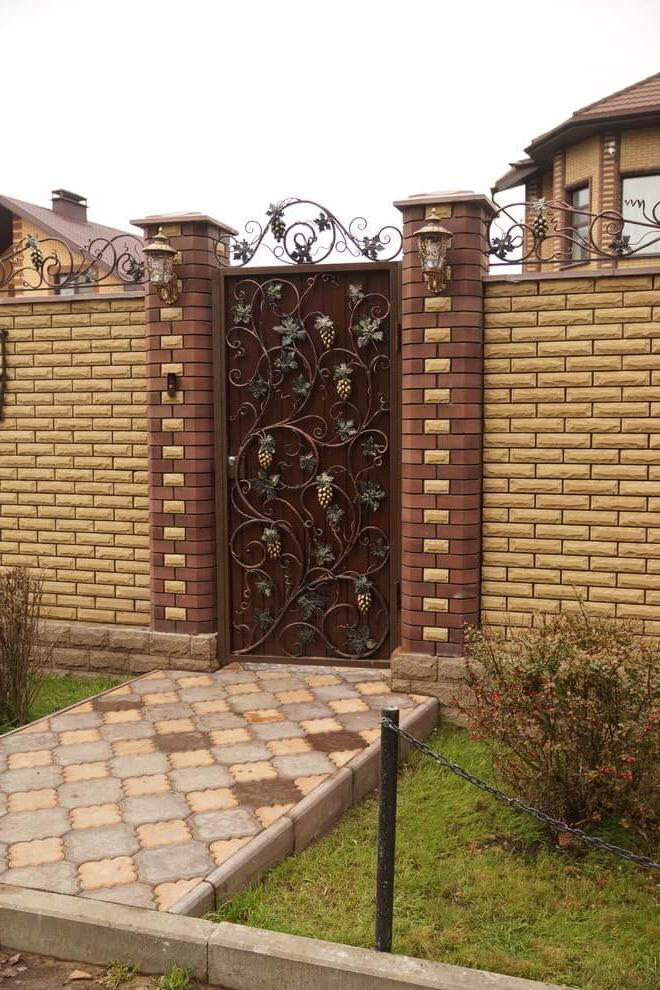 Instead of the front door wrought iron has been used this time for decorate the pedestrian door to your home. The door is timber backing with tall brick fence posts on either side. The wrought iron takes the form of a stylized grape vine complete with leaves and bunches of grapes that twist across the surface. This twisting vine pattern carries on above the door and along the top of the brick wall to add a whimsical and beautiful little detail to your boundary.
12. Luxurious Arched Entrance Door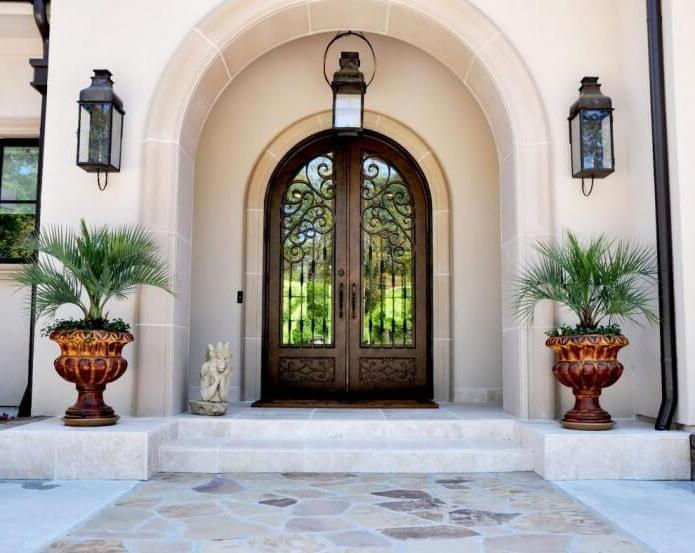 This grand entrance sits inside another arched stone portico with an austere arched door flanked by urn shaped planters. The tall arched timber door is decorated with wrought iron twisted rods at the bottom that expand into intertwining twists at the top across the top of the glass panel. Wrought iron has been introduced in a secondary location through the matching trio of lanterns that hang above and alongside the door, tying the incredible entrance together.
13. Art Deco Wrought Iron Door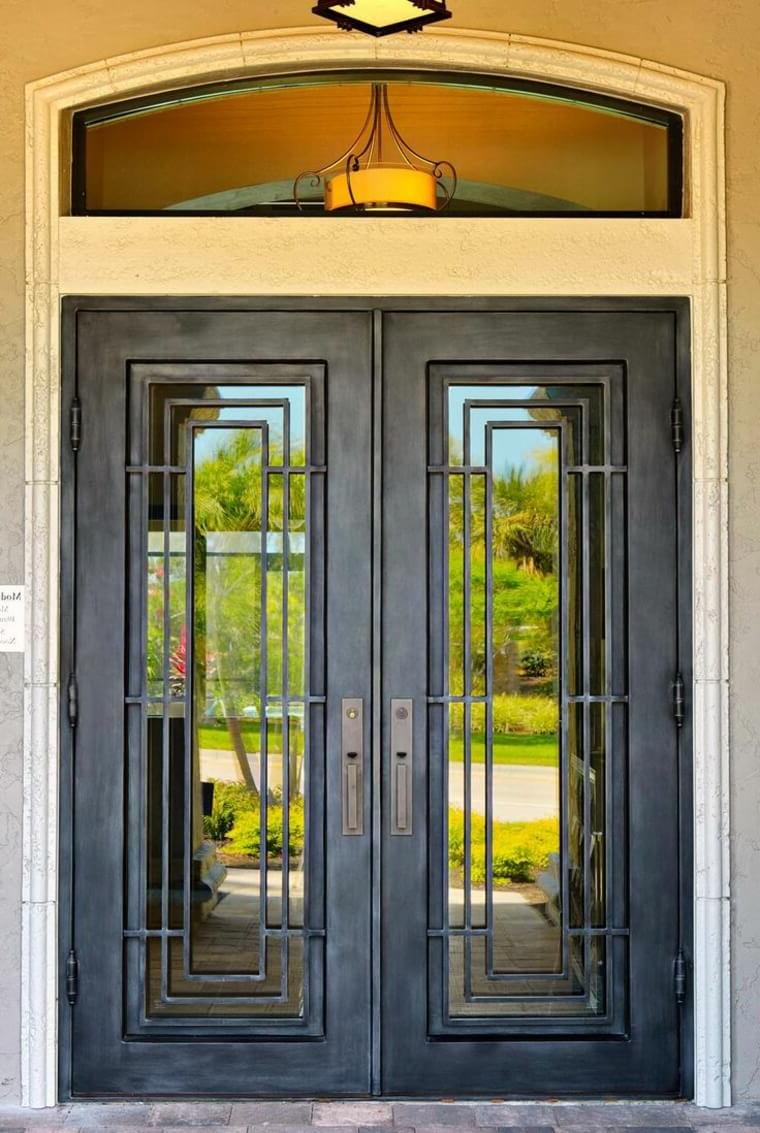 This entrance oozes retro art deco style with this double leaved wrought iron door. The intricacy of the door features a thick frame around each one holding long thin panes of glass. The design is detailed with classic art deco geometric patterns across the edge of the surface to make a grand entrance in a 20s style. The whole design is finished off with long thin wrought iron door handles that fits with the long thin design of the doors but in a slightly different shade.
14. Minimal Wrought Iron Framework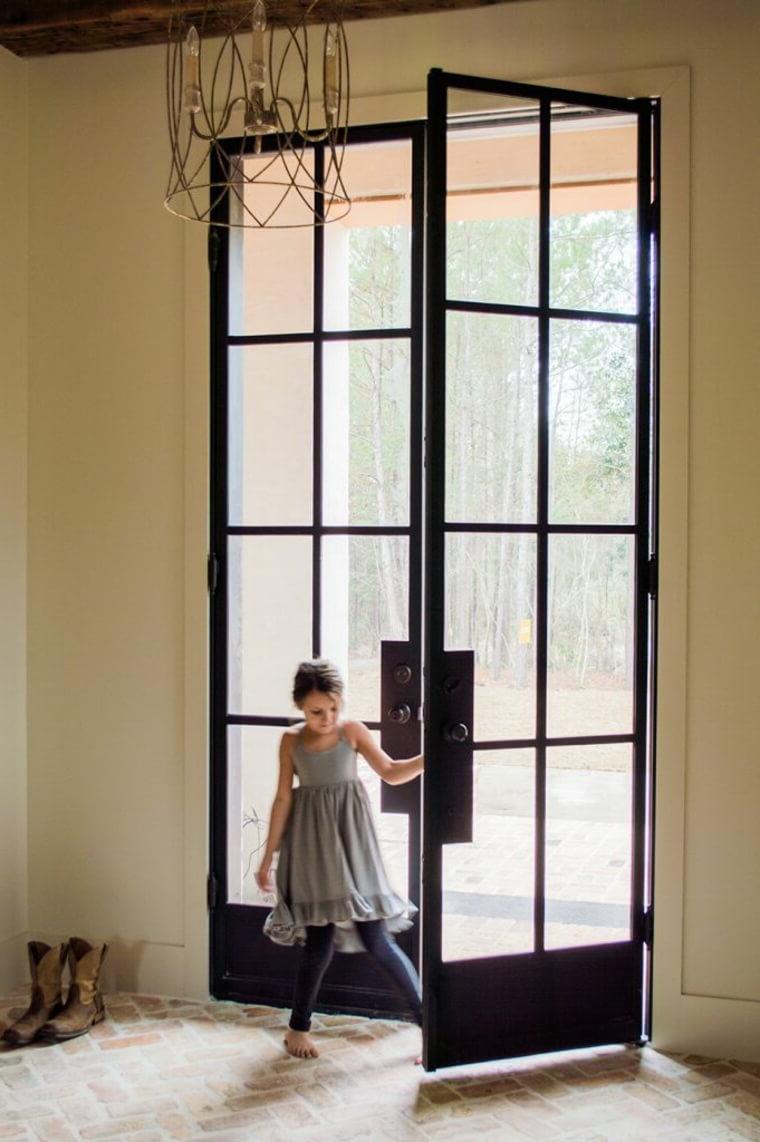 This rustic home used wrought iron in a more simplistic manner with a French door style entrance door in a very fine frame. A fine metal frame with a thick base that both holding eight panes of glass between fine window frames creates the two leaves. The two round handles are mounted on black wrought iron panels that combine to form a central point in the simple door. This design may be simple but it is hardy and will stand the test of time due to the strength of the material.
15. Wrought Iron Decorative Screen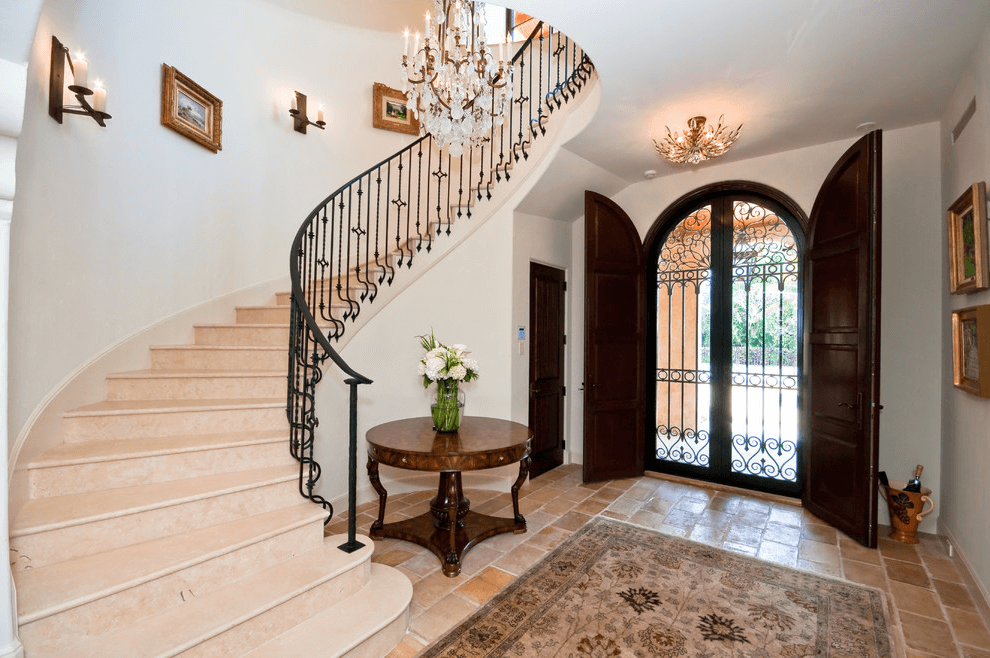 The wrought iron of this whimsically twisting balustrade is continued through the space and out the front door to decorate the double leaved double layered doors that curve over the top. When the heavy timber doors are opened from the inside they reveal the décor that is on display to the public. The permeable wrought iron screen is made of twisted rods with curlicues at the bottom and an organic flowery explosion at overhead as you walk through the doorway.
16. Embossed Double Leaved Door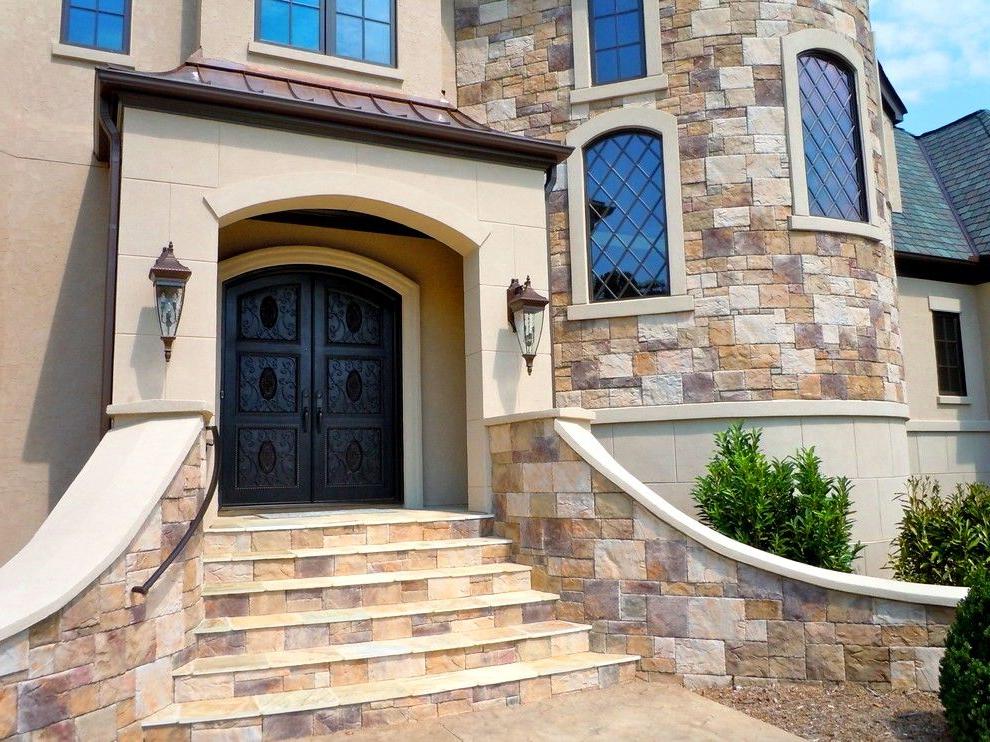 This wide dramatic entrance door is approached by an elegant set of exposed stone steps, making every entrance glamorous. The thin wrought iron sheets that make up the door leaves have been divided into six panels that are embossed with a rich pattern in a subtle yet stunning way. The contrast of this dark pattern work against the exposed stone combined with little portico makes this old entranceway exude the aura of an old style that speaks of old manor homes.
17. Oak, Stone and Wrought Iron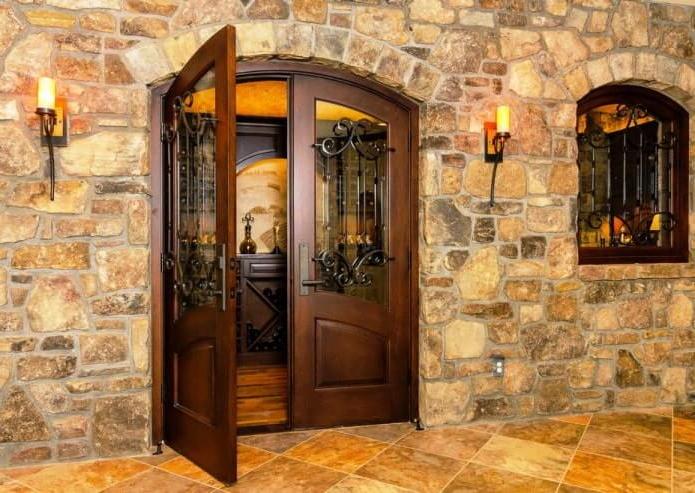 Again wrought iron has been used contrasted with exposed stone to create this almost medieval inspired entranceway. An arched doorway with a matching window is each surrounded in a thick oak framework with glass inserts. Wrought iron takes Rods of twisting, knotted wrought iron that joining on either end with twisting curlicues that fill the slanting glass panels.
18. Fantastical Entrance Door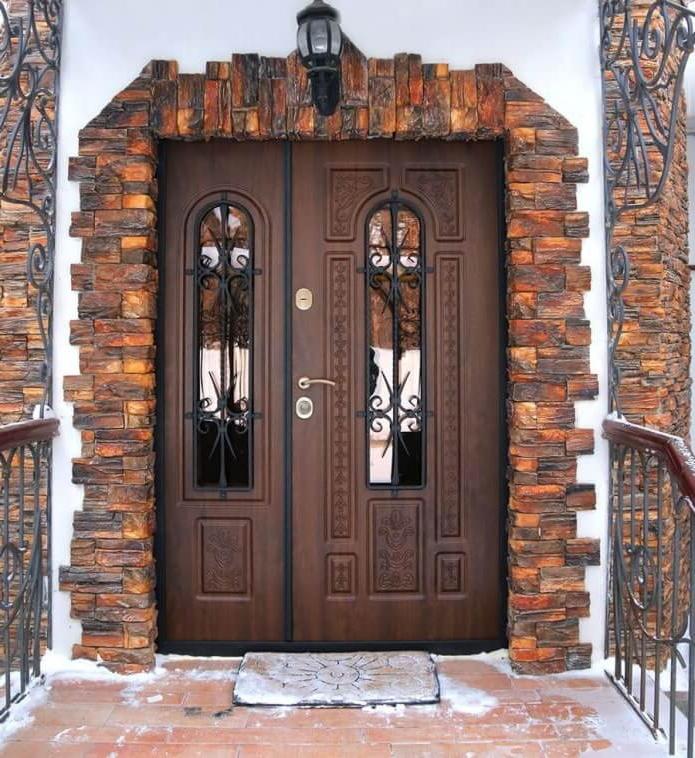 This dramatic, even fantastical, entranceway has been amplified using wrought iron from the balustrades to the lacework, which forms a tunnel to the beautiful door. Set within a stone faced surround the front door is made of timber with one sidelight, both of which are decorated in wrought iron. Each of the wooden panels have matching arched niches filled with glass and wrought iron curlicues, which finishes off this mysterious rustic entrance.
19. Iron Mesh Street Door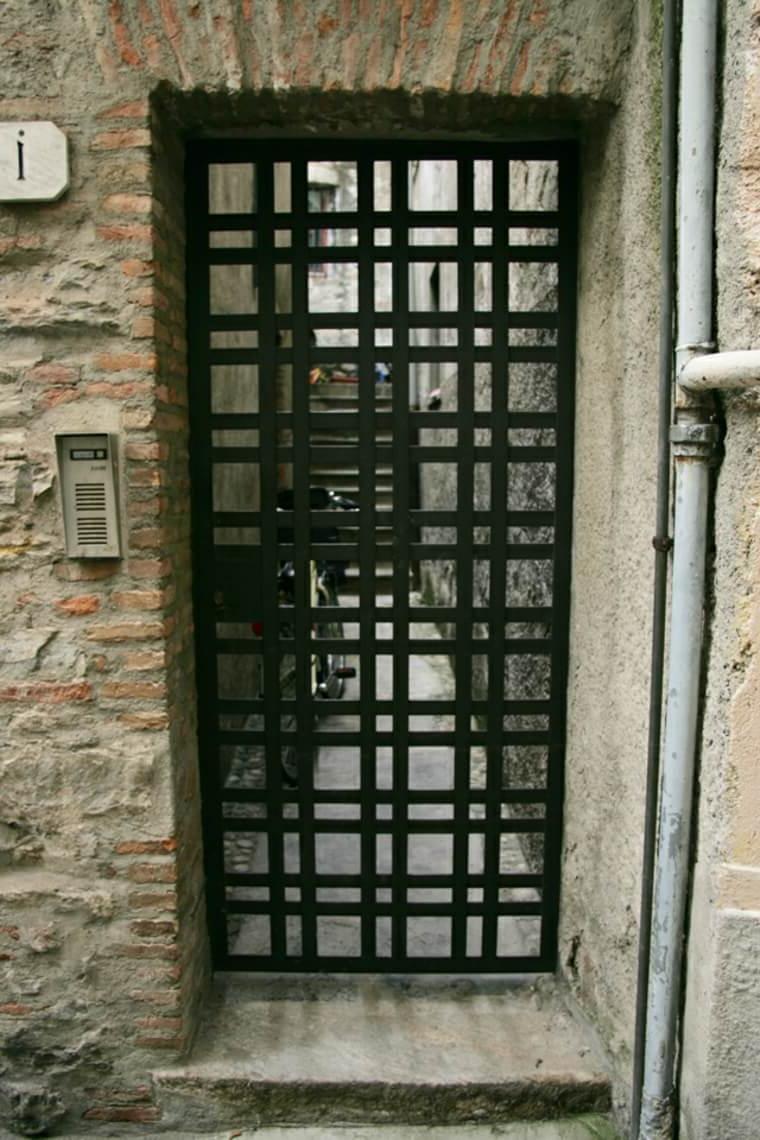 This slim street door is made of a flat black wrought iron mesh that is minimal yet beautiful through its graphic pattern. The material is hardy and safe so no one can access the private alleyway from the street without you letting them in personally. The gate has been paired with an exposed brick surround that results in a really contemporary, shabby chic entrance to your home.
20. Wrought Iron Portico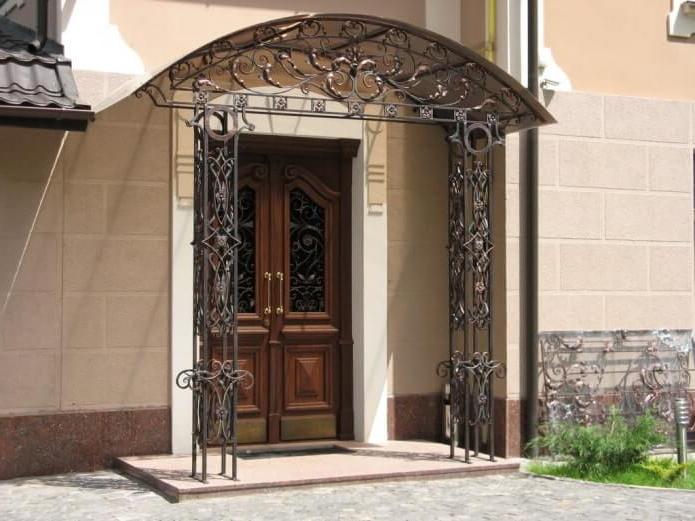 Unlike some of the examples we have seen before the wrought iron isn't hiding in the portico, it has become the portico. Two square wrought iron columns hold up an intricate archway, both of which are detailed by intertwining wrought iron patterns in a symmetrical pattern. Each column is entwined with wrought iron lacework that is mirrored on the other side with curlicues and gilded leaves adorning the archway overhead.
21. Little Narrow Wrought Iron Door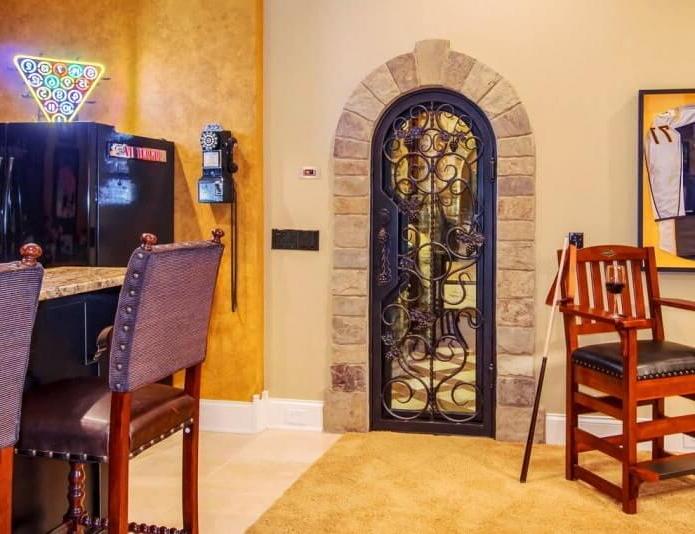 In this vintage style bar this little doorway has been designed to look as if it was an original feature. The narrow little niche has an exposed stone surround with a chunky wrought iron door like one that could be found in an old medieval building. The tiny door is covered in large twisted curls that flood the surface within the thick wrought iron frame with a mirrored surface behind it that reflects the twisted ironwork back into the room beautifully.
22. Fantastical Arched Doorway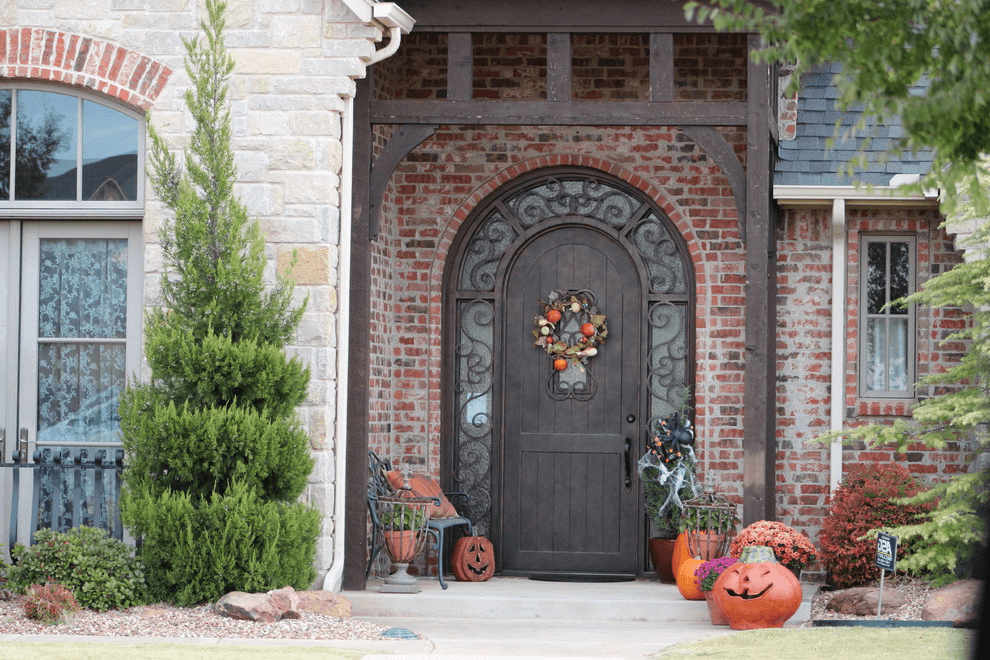 In this idyllic suburban home the entrance door is a weathered arched timber piece with a curved wrought iron handle. To match the fixtures, a curving window in a wrought iron frame to create rustic detail framing the door. The window is made from frosted glass and decorated with twists and curls that create a whimsical niche within this exposed red brick home. This is a great example of how easy it is to collaborate wrought iron with other traditional building materials to achieve a chic, rustic style.
23. Wrought Iron Entrance and Cellar Doors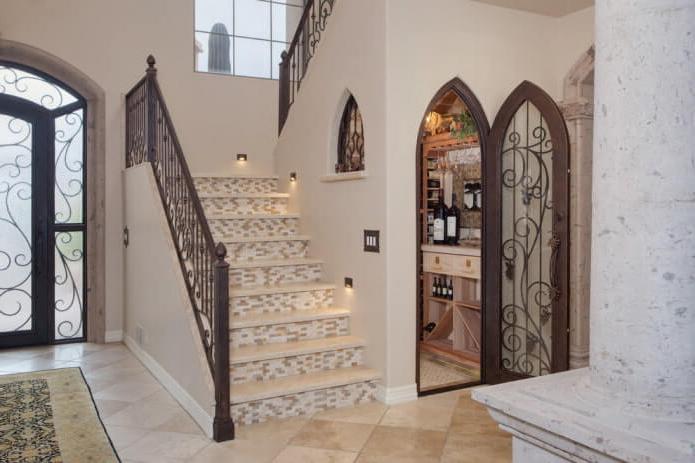 Wrought iron has been used to decorate this entire hallway from the front door to the staircase balustrade and the little cellar door and window. The front door is entirely frosted glass with a chunky wrought iron doorframe and an arching glass surround. The entirety of the glass is covered in delicate curlicues that spread across the glass in an almost organic way. The wine cellar has a wrought iron pointed doorway that sits beside the staircase with a similar curlicue style to the front door decorating the glass surface with the addition of thin vertical elements.
24. Magical Arched Doorway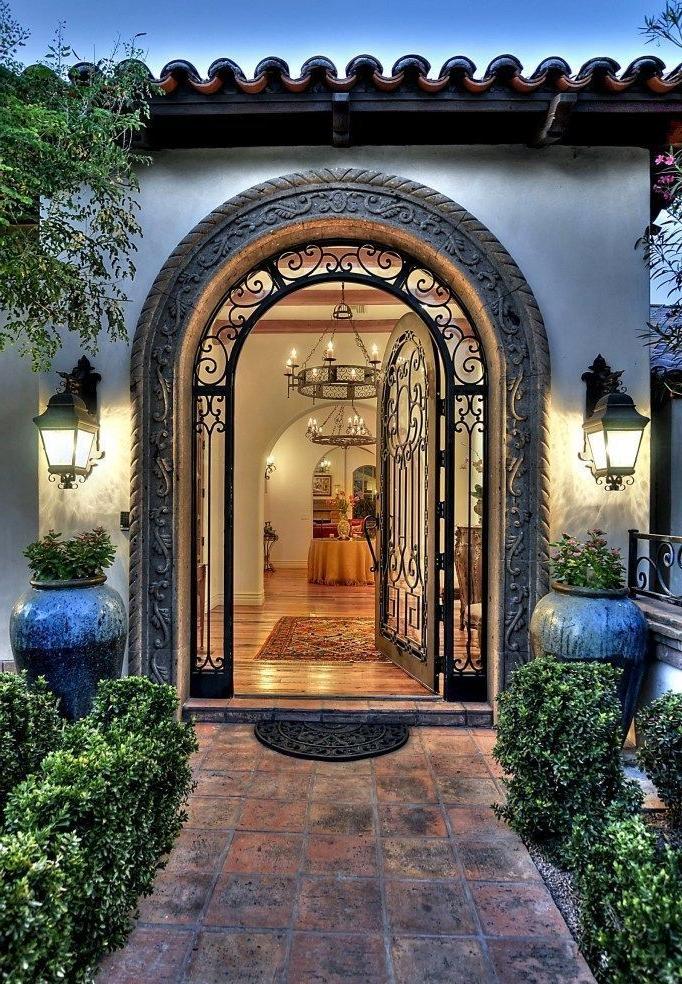 This idyllic doorway looks like the entrance to a Disney princesses house with its whimsical details and dramatic lighting. The door has a thick frame that is adorned with wrought iron curls in swirling symmetrical patterns. To add another layer of magical texture the door is framed in glass that has been further highlighted using curling wrought iron. To add one more finish touch the huge arched doorway is framed with a moulded archway that is rich in detail.
25. Vintage Classic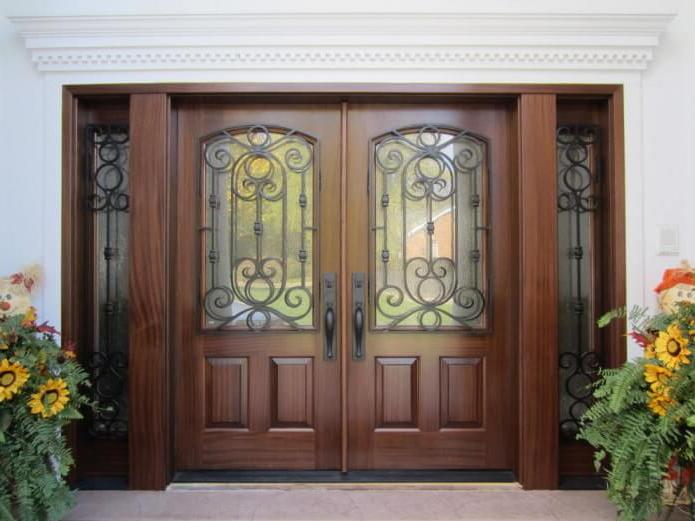 This is a very classically luxurious entrance with clean white walls and wide doorway surrounded by planters. The double leafed timber door has sidelights on both sides, which both have classic glass and wrought iron panels in them. The wrought iron forms both the curling handles and swopping curlicues and pattern work over the glass inserts in both the door and sidelights. Finish it off with a moulded white architrave and you have one dramatic entrance.
26. Exposed Brick and Wrought Iron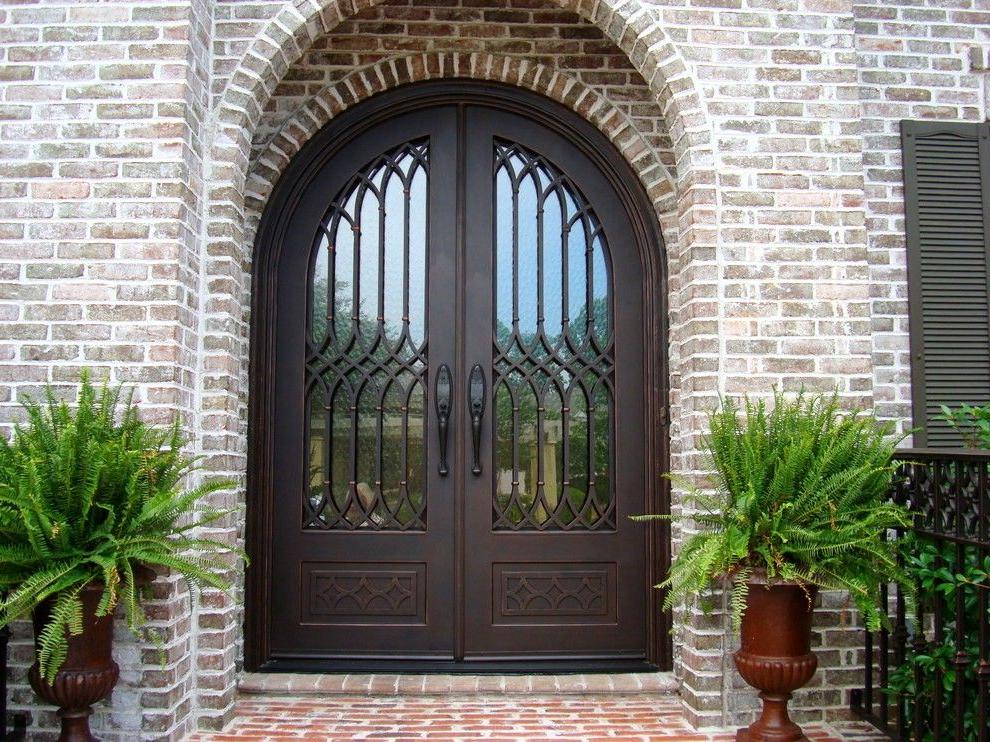 In a style that is classic to these glamorous brick mansions the entrance way is formed by a layered arched portico with a large arched wrought iron door nestled inside. Each wrought iron door leaf is embossed with patterns at the bottom with arched glass inserts in each panel. The glass has been adorned, yet again, with intertwining ironwork that runs in and out across the glass. The whole look is finished off with a large pair of wrought iron handles at its centre.
27. Luxurious Asian Inspired Entranceway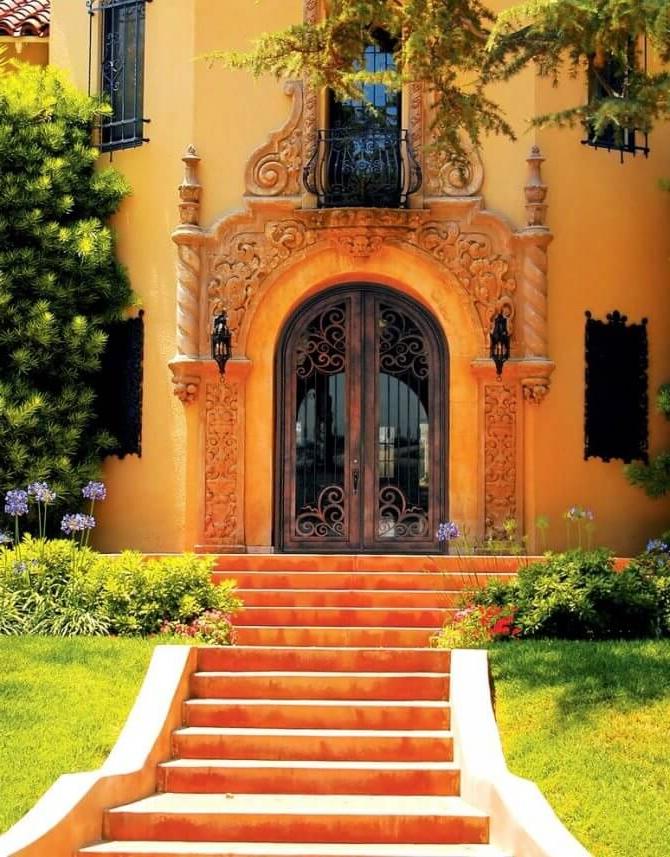 This beautiful entrance starts at the foot of a grassy slope where you mount a red hued staircase to the entranceway that culminates in the dramatic wrought iron door. The stunning arched doorway has a red hued frame that holds dark tinted glass inserts with swirling patterns at the top and bottom. The surrounded mouldings arch in the same shape to highlight the doorway with intricate carvings that twist across two stories with coordinated wrought iron wall sconces on either side.
Conclusion
And there you have it, some really stunning entrance doors that show off wrought iron in all its varied, beautiful forms. Each of these doors in unique in their own right and show you how its possible for you to style your entrance to suits your style perfectly.
These doors are strong, safe and decorative so they check every box when it comes to designing a doorway that is useful and makes an aesthetic statement all at once.
So the next time you want to upgrade your front door, why not consider wrought iron to solve all your problems in one stunning door.