Newborn babies are a happy addition to the family, especially if there are no children in the home. They bring the air of joy and innocence in the household, while the first children make it more unique. In such cases, the parents need to arrange for all the relevant baby items as they may not have these beforehand. Surely this time of buying and collecting various wearables and accessories for your child is enjoyable and has a charm of its own, yet there must be a proper planning of what to buy and what to leave. Sometimes parents do tend to buy unnecessary things in excitement and love of the new arriving member of the family. So it is imperative to pick and choose while making a list of essentials.
Check Out List of 25 Amazing Cots For Babies

One such item you must buy as a first-time parent is the table for changing baby's clothes and diapers. It is essential to have a suitable place in your house where you can conveniently change your child's wearables. This requirement intensifies when it comes to changing diapers as for the first year or so, you would be doing this activity several times a day. Doing it on your bed bears the risk of getting the bed sheet messy. Any tough or flat surface chosen for your baby to lay down while changing diaper can make the little angel uncomfortable. So a nice baby changing table can save you and your baby from many problems.
Another important aspect is to make this additional furniture aesthetically pleasing with the theme of its locale. So various home interior design techniques can be applied to get your baby's very own changing space beautifully decorated. Here are a few ideas for your baby's changing table.
1. A Traditional Setting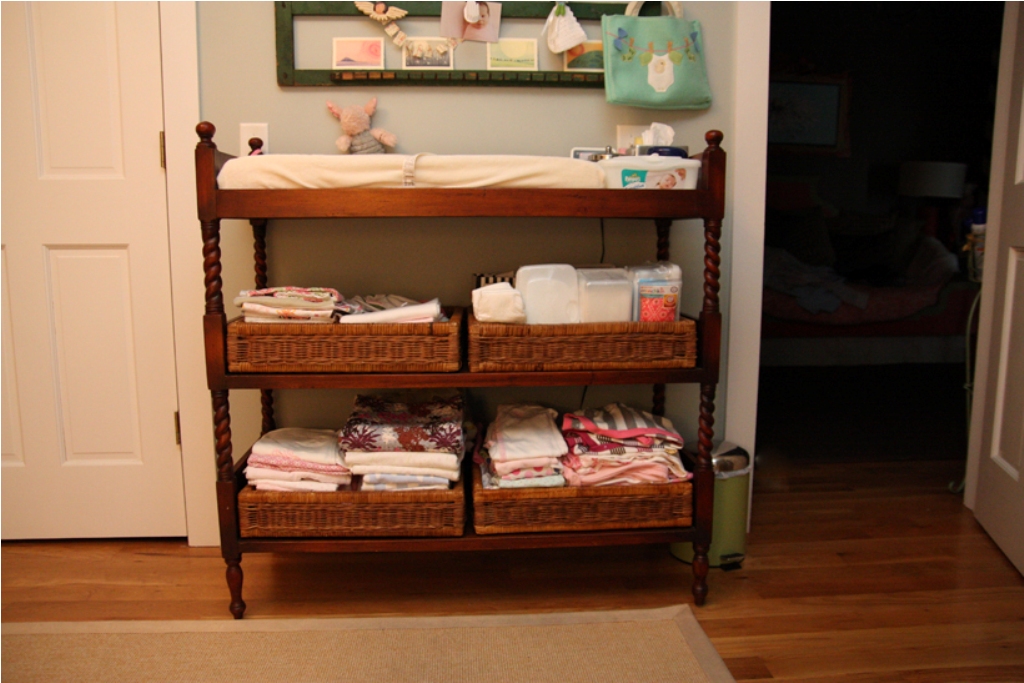 A robust multipurpose table is intelligently utilized for your baby's changing place. This classical wooden stronghold is well versed with add-ons to convert it into a beautiful and cozy place to pamper your little angel. The traditional baskets in the shelves help you in organizing your baby's stuff, while you lay your child down on the comfortable mattress placed on the top. This smart solution is comprehensive yet compact. So it would not require much of your precious indoor space and can be accommodated in unused places, such as the small area between the doors in this case.
2. Adorable Stairs of Buckets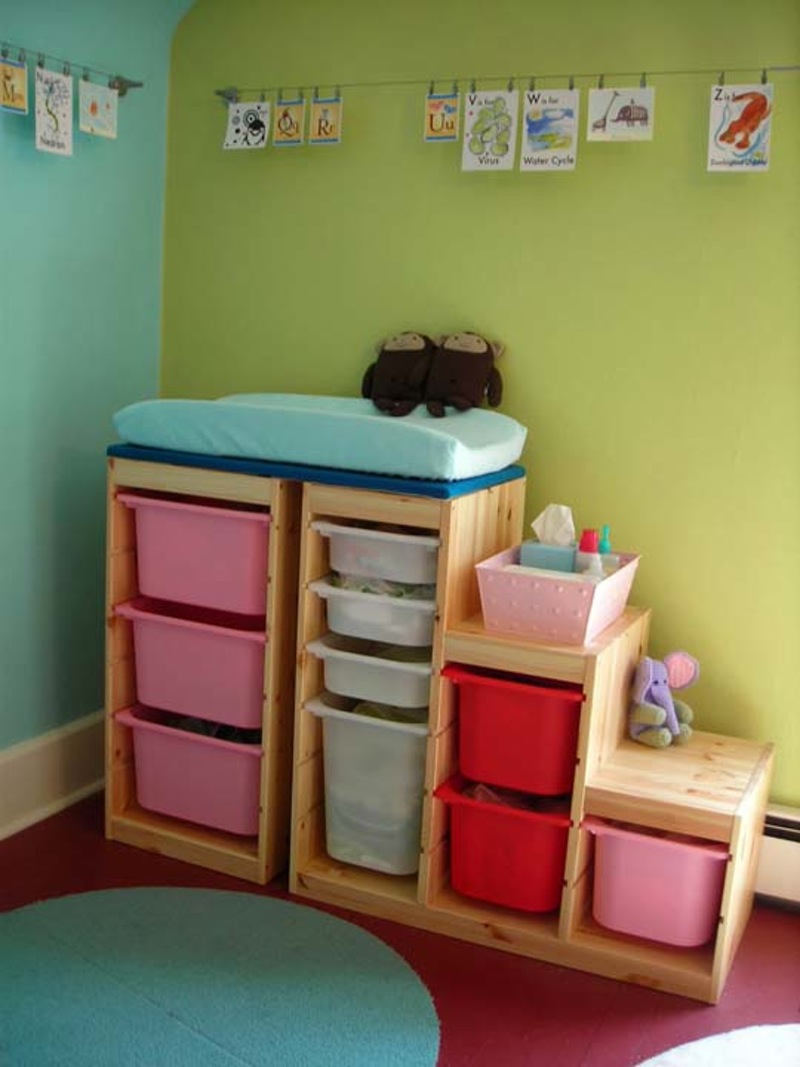 Kids are always attracted towards bright and catchy colors. So filling the best baby changing table design with a lot of adorable colors can turn the work into an overwhelming experience for the both of you. This table has an unusual but creatively stylish designed with simple plastic buckets are being used for storage. The stepped table gives a new style statement to an already multihued location and exhibits a funky feeling along with enhanced efficiency and usability.
3. White For Your Angel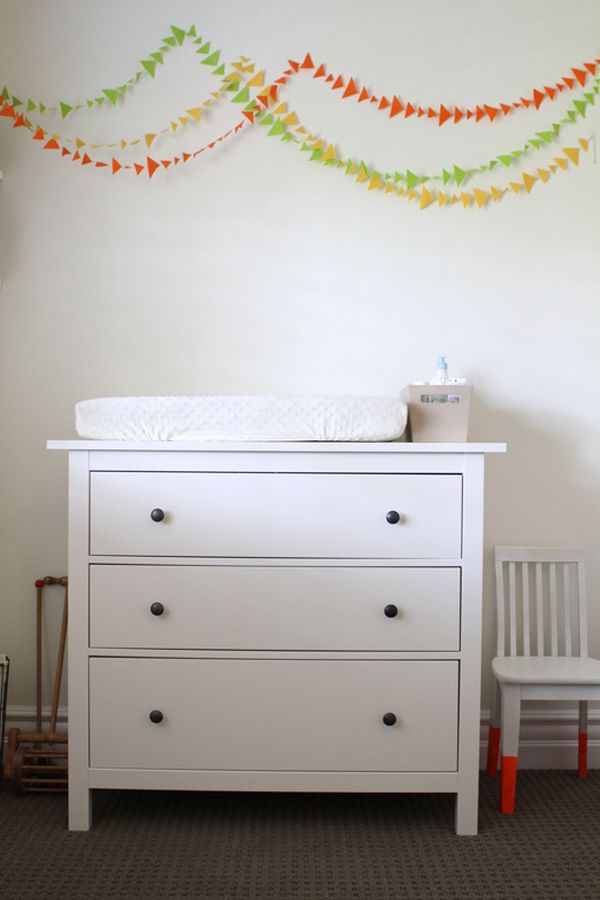 It is not necessary to spend hefty amounts of your hard earned money on buying new furniture. You can always improvise to convert your possessions into something you are in need of. The standard closet table with large drawers is a perfect piece of furniture for changing your kid's diapers and clothes. The mattress on the top is accompanied by a small bucket to hold accessories required by your baby during the changing process, while the large and deep drawers enhance the storage capacity for the wardrobe of the little one.
4. Change and Read Side by Side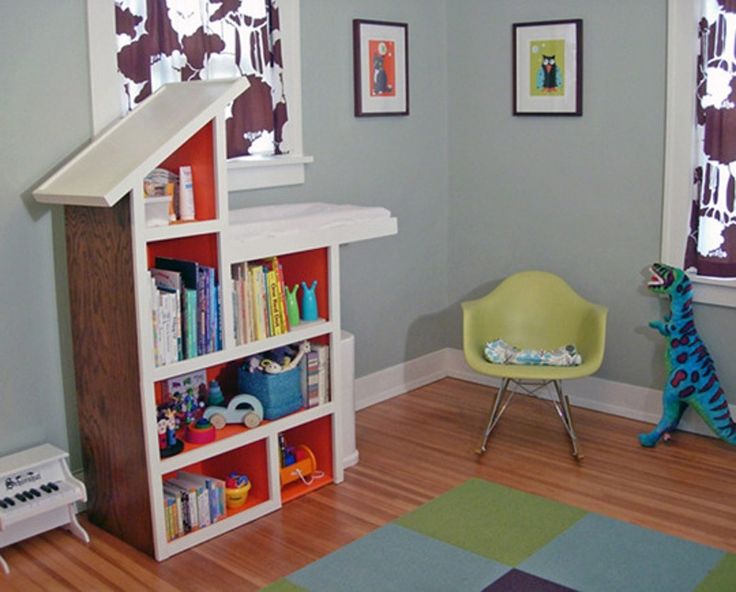 Another alternative way to set up a best baby changing table is to modify an already existing reading table into a dual purpose nook where you can read a book or have your baby dressed up. So rather than buying a dedicated piece of furniture and finding a place for it in your house, a modification like this can save your day with style and swagger. With this selection, you will have an option of changing your baby's diapers both vertically and horizontally.
5. Pink Elegance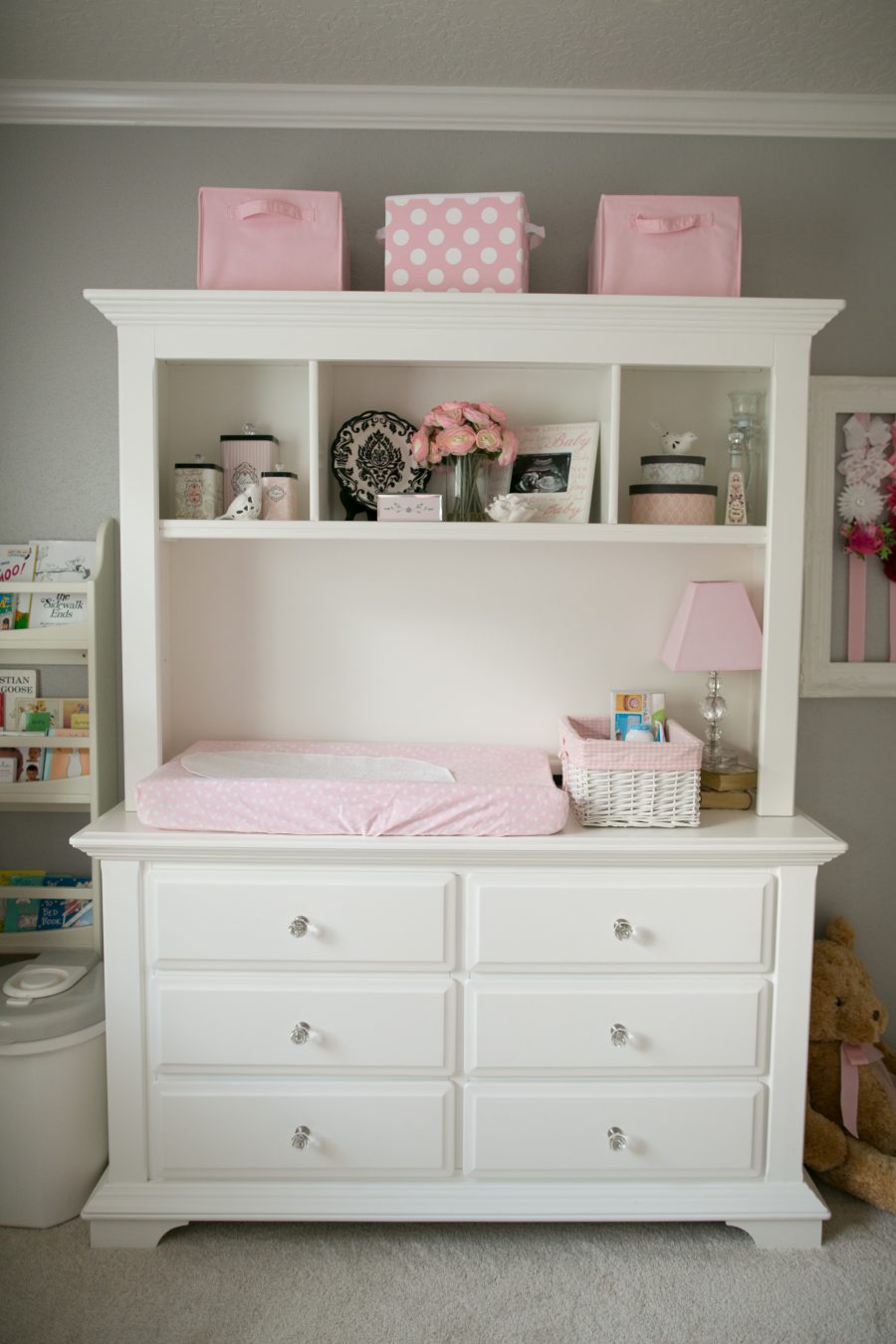 Some of you must have a bulky dressing table which was quite popular and usable in older days. If such a piece of furniture is lying uselessly in your garage or store room, then it is time to dust off. You can convert the out dated wooden giant into a very useful place for changing your baby's diapers. Some drawers are available for keeping the belongings of your neonate safe and organized, while the shelves on the top can be used to place books, or just you can enhance the decor of the locale by placing a few artifacts.
6. Stunning Green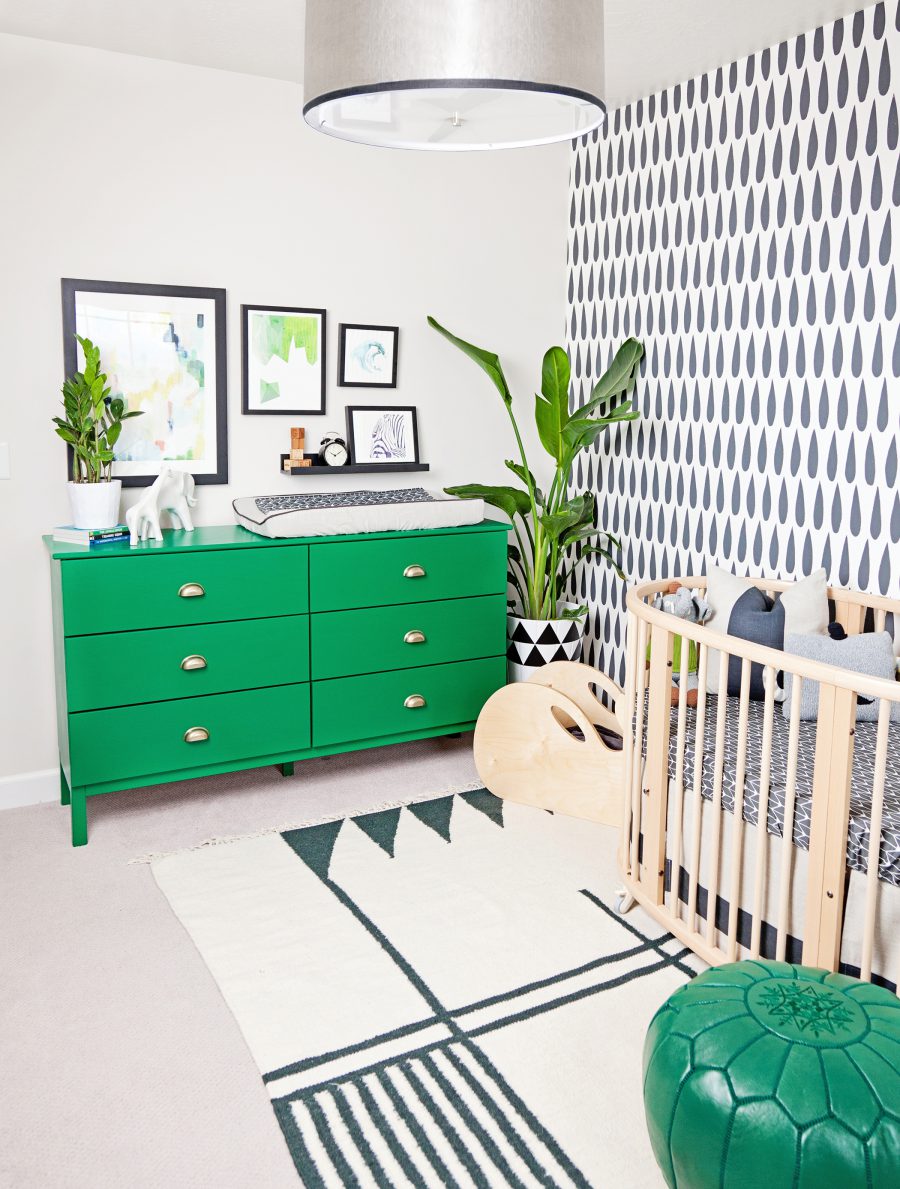 A conventional dressing table with large drawers can be worked around to end up with a beautiful piece of décor for your baby's nursery. This baby changing is the table is a traditional table used to store clothes and other stuff. Converting in to a child's dresser needs no rocket science, rather just give it a catchy bright green color, and it becomes the highlight in the view of the locale.
7. Nursery with Contemporary Chic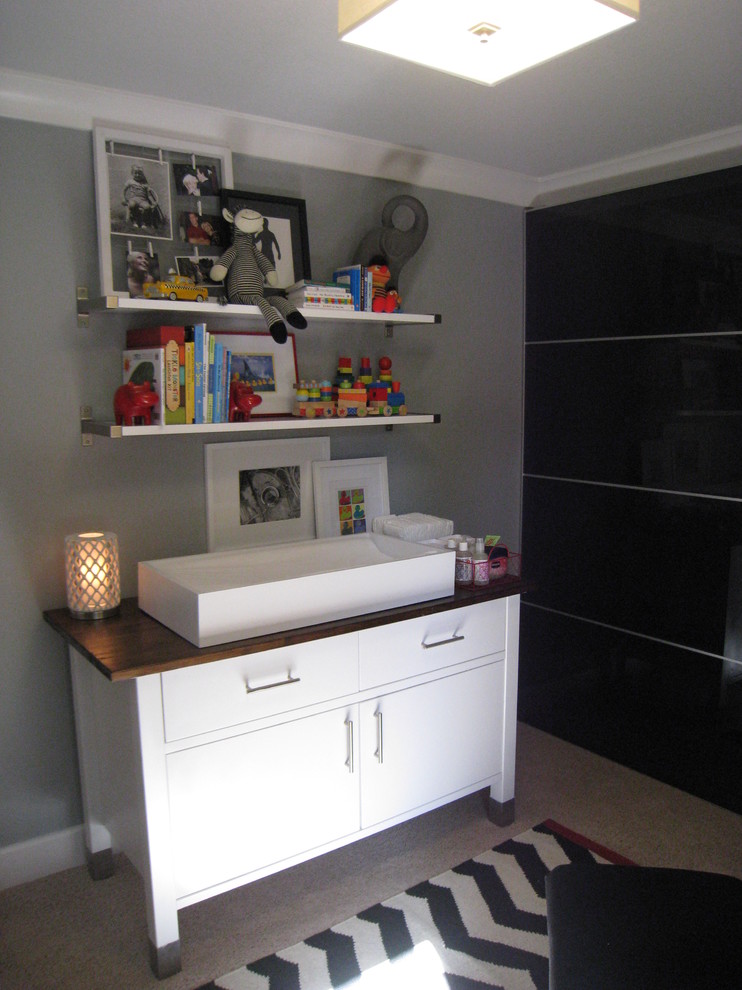 Modern interior designing techniques, especially when it comes to furniture, emphasize on the needs of compactness and enhanced usability due to the ever increasing cost of indoor space. This changing table fulfills the criteria quite efficiently. The sleek and stylish outlook of the baby's corner is beautifully topped by the adorably populated shelves above the table. A couple of drawers with a large cabinet underneath can hold many accessories for the little champ. The contrast of black and white both on the rug and in the color scheme of the table gives a voguish perspective.
8. As Rough As it Gets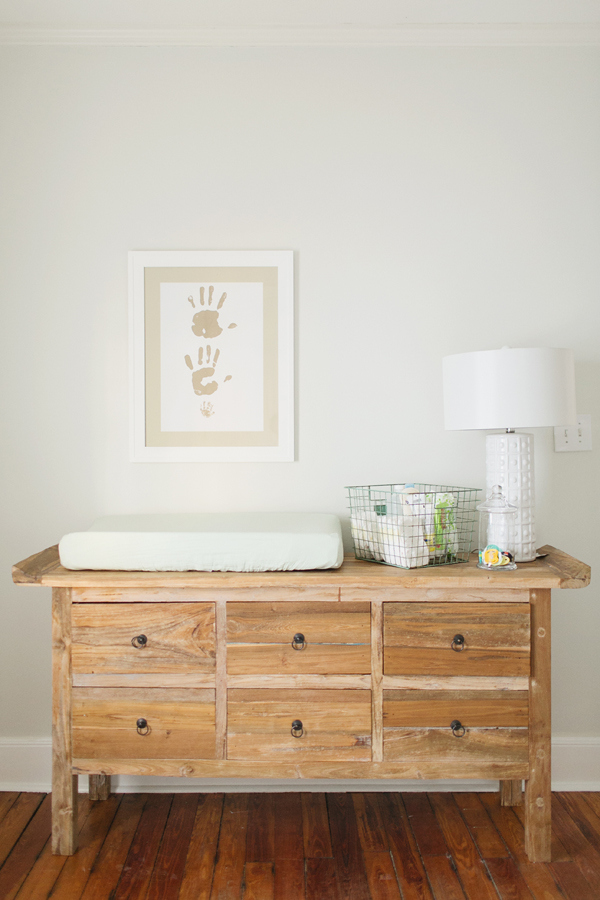 Some people like their home interior decor more roughed up and crude rather than sleek and refined. Baby changing table being an integral part of a household having a kid also follows the general theme. For such parents with love of raw wooden furniture, this table can work wonders. The robustness and toughness are evident from the first look and gives the furniture more strength in its looks, while a simple theme based on milky white color softens the overall feel of the baby's dresser.
9. Simplistic Serenity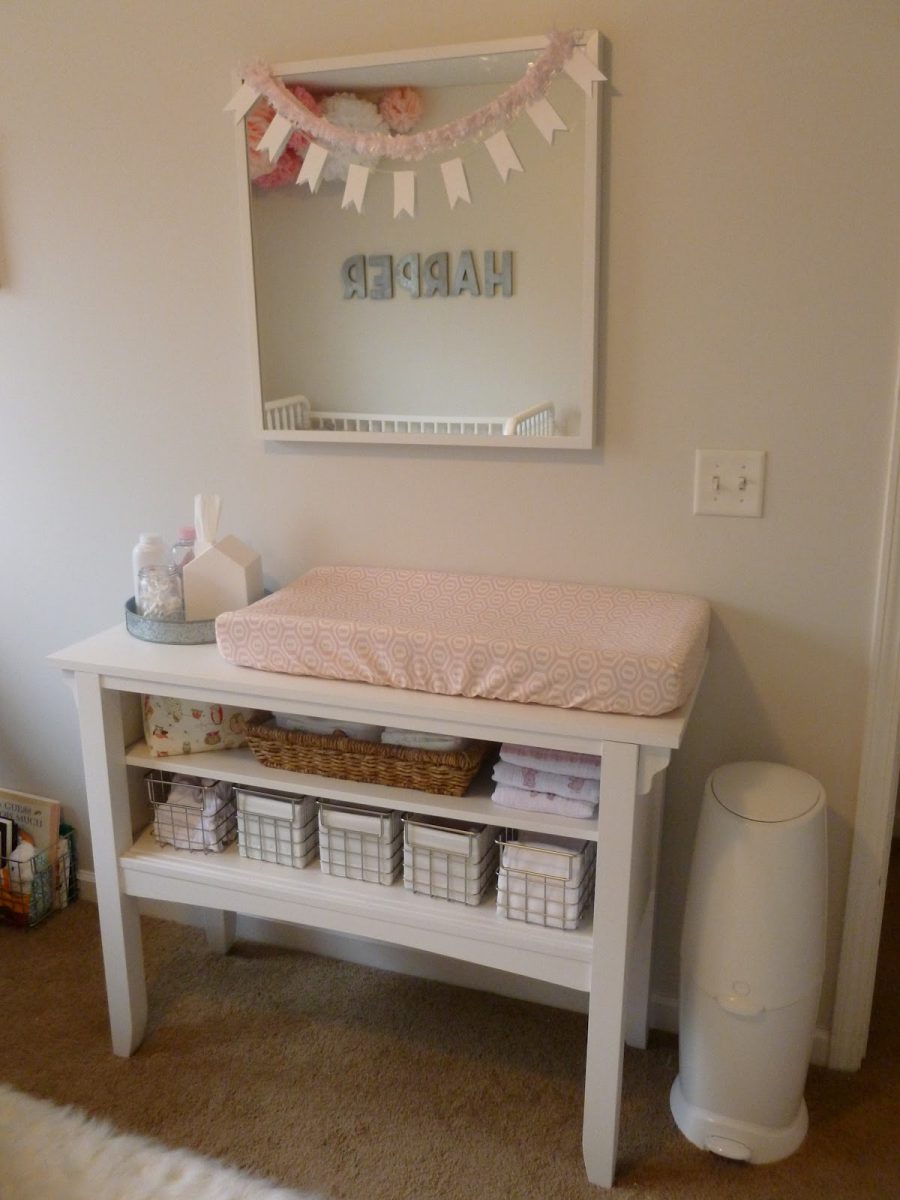 Most of the sofa sets and bedroom furniture packages come with a multipurpose side table. You can turn that piece of furniture into the baby changing spot. If you do not own such an item, it is easy to find and economical to buy. More importantly, it will not find its place in store room once you would be done with neonatal care phase as it will give you multiple options to be utilized. Metallic wire racks offer a simple and viable solution to hold your baby's diapers and add to the overall calmness and peacefulness of the locale.
10. Innovative Add-ons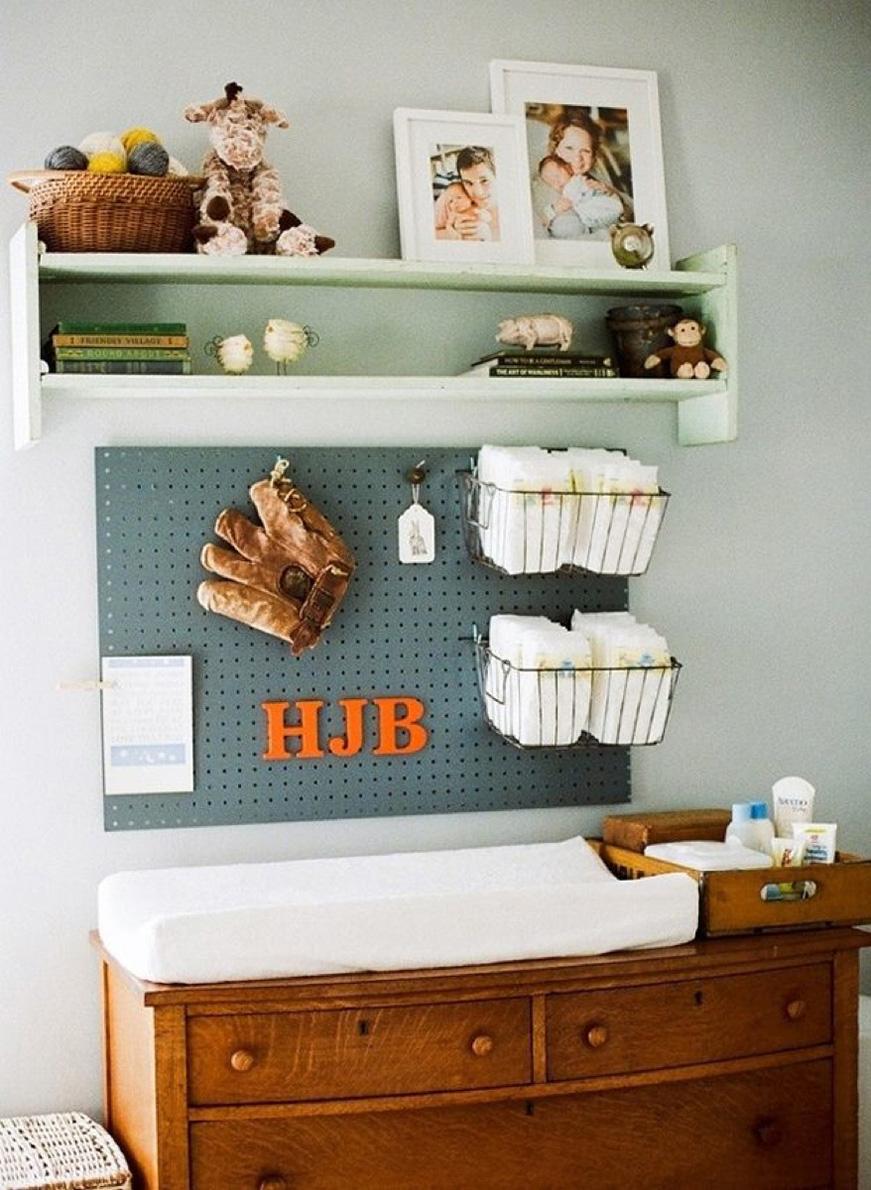 It is always recommended to add some tools and tricks to make the task in hand easier. The changing table is accompanied with a peg board attached to the wall. It can provide you with endless possibilities when it comes to add-ons, which can be decorative as well as add to the functionality of the system. The metallic wire racks are nicely hanged on the peg board to provide ease of access to the diapers. The centrally curved changing pad is an add-on which provides better safety to your laying child with support from either side.
11. Sleekness with Masculine Touch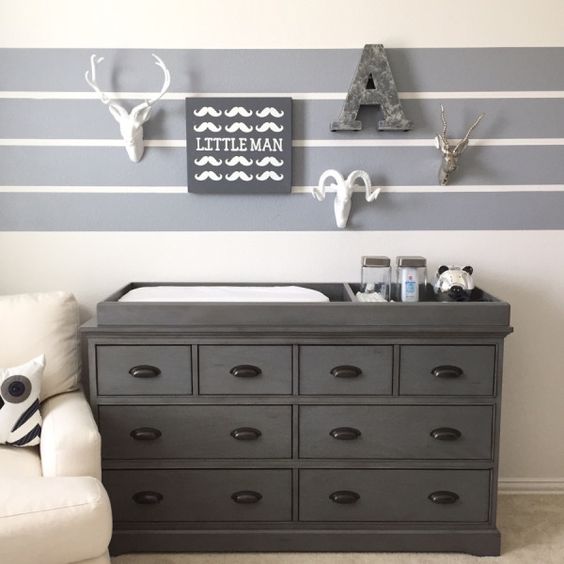 The baby changing table can also be depicted and molded according to the gender of the user. This design is especially created for the baby boys. The gloomy gray color fills the environment with the necessary masculine aura, while the artwork in the background enhances the customization of the locale for the little champ. The Same pattern can also be followed on the feminine side of the kid's fraternity with the use of softer colors like pink and light blue.
12. Style it Yourself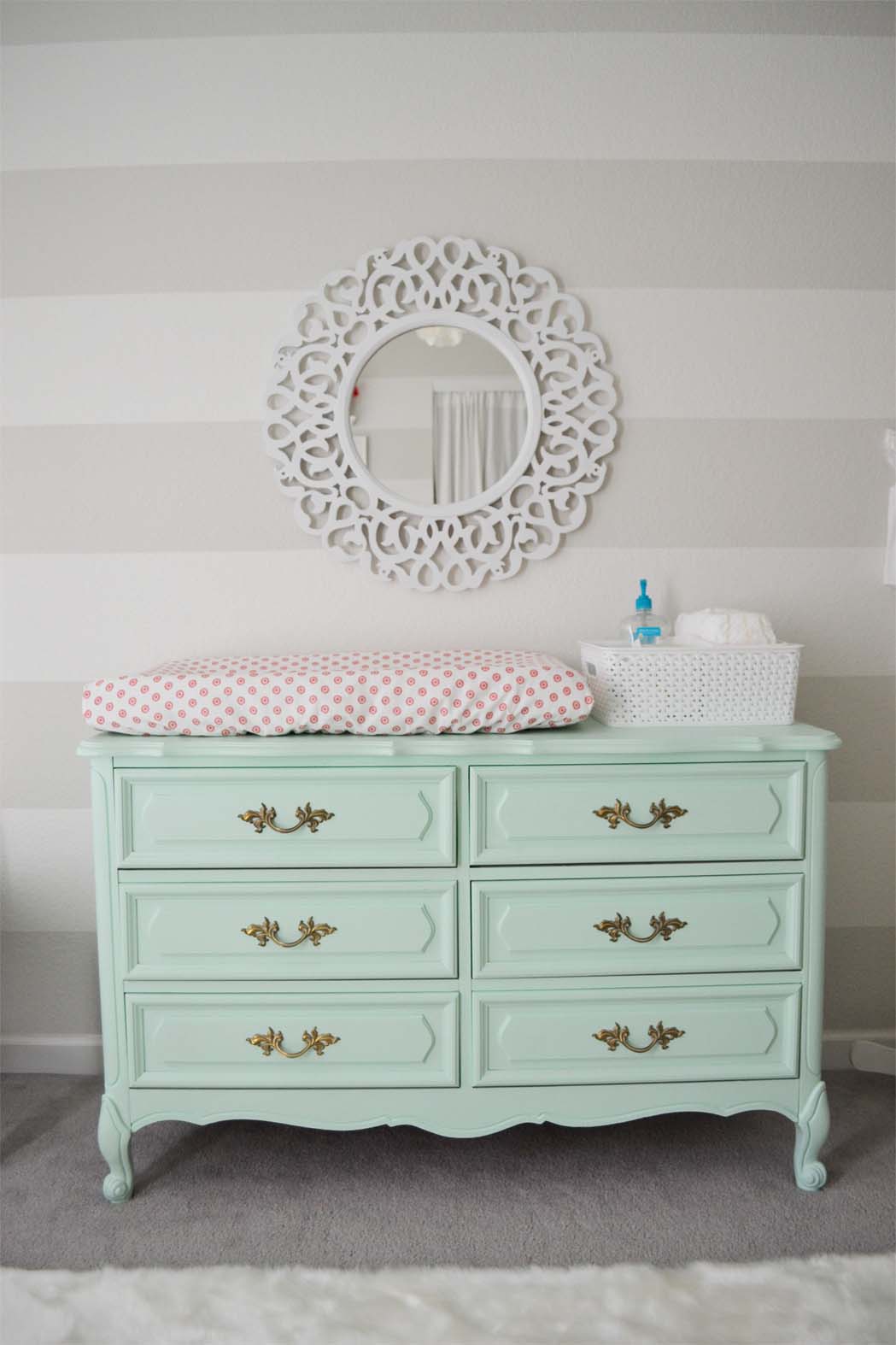 A little improvisation on your possessions can bring endless possibilities when it comes to effective utilization of resources you have. Furniture from the old days used to be sturdy and stout. You can always bring such a durable item into use with a little work on its appearance and make it more pleasing aesthetically. The table is repainted, and some necessary accessories are added to complete the design of a lovely baby changing table. The mint green color stands out in an overall simple setting with a modish mirror frame.
13. Modernized Sophistication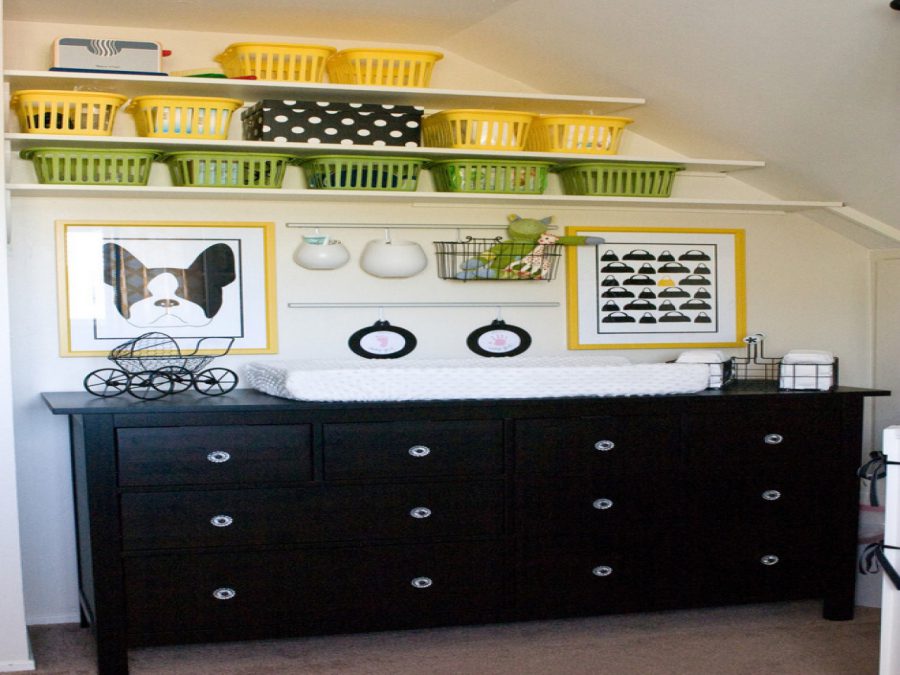 For stylish and fashionable trend conscious moms, the baby changing table must be a little more than just a piece of furniture. The large dark painted wood table with a lot of drawers allows the mummy to have various organization options. But that is not all when it comes to storage space, the bright and lively colored baskets placed on the top of the shelves brings this place to life. A couple of adorable paintings along with a few decoration pieces enhance the aesthetics of the locale.
14. Inside the Closet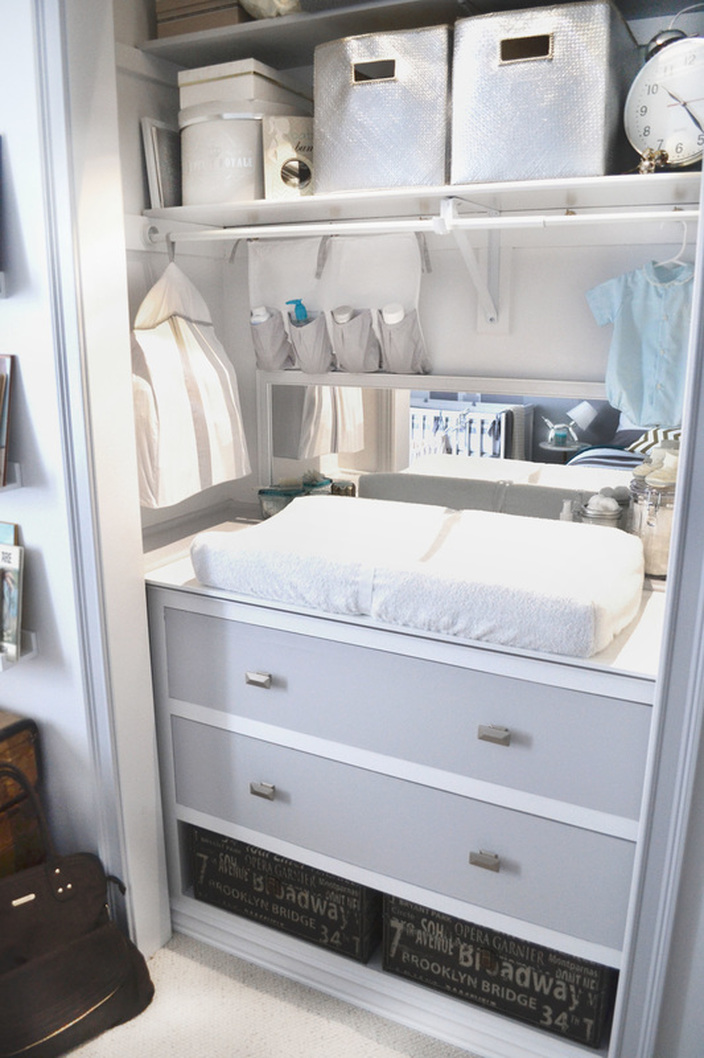 Some parents do not want to sacrifice space in the nursery or the children's room for a changing table and prefer to have it for their baby to play and move around. An extraordinary design idea for such cases is to build the changing area as a part of their closet. This not only saves their space and money but also saves time and offers convenience with better organization options, as they have a whole closet at their disposal for storing and displaying their child's belongings.
15. Rugged Gardening Table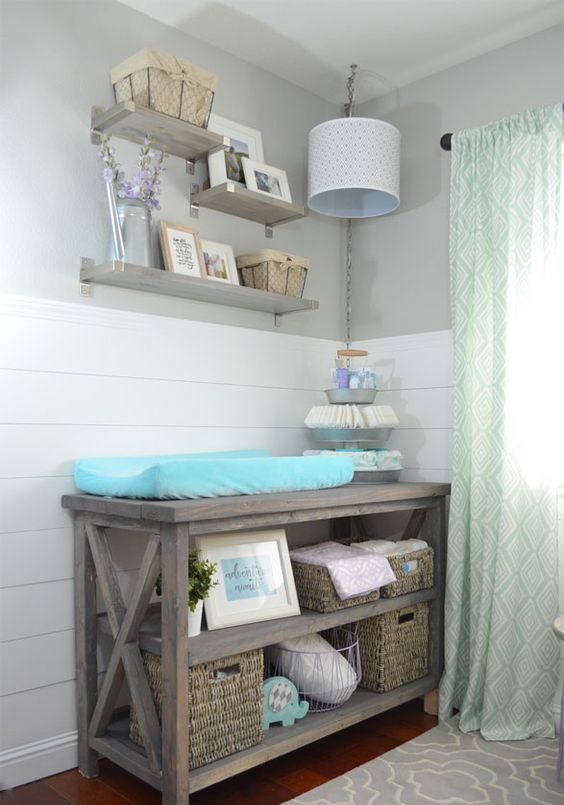 Sometimes, the alternative approaches bring a new flavor and creative touch to the setting. This simple gardening table is a wonderful example of the versatility of use and flexibility in adoption for a piece of furniture. Open shelves underneath the table top offer you with multiple cloth storage options. The turquoise changing pads add the necessary color to the overall provincial setting.
16. A New Perspective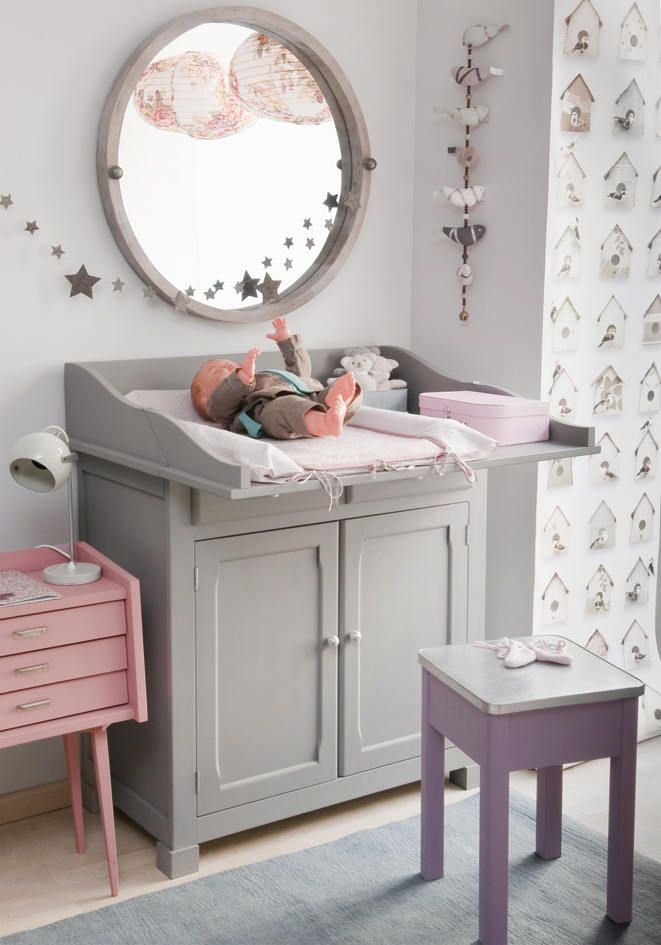 Almost every baby changing table offers the option of laying your baby horizontally. This design idea is unique in this perspective. It has the dimensions which allow you to vertically align your neonate while changing the diaper and clothes. This technique has a better changing experience for you with increased convenience. You may have to sacrifice more space away from the wall, but for some parents, this trade off is worth it. This simple changing table accompanied by an uncomplicated round mirror is decorated with an adorable array of stars and a nice hanging ornamental design.
17. Maintaining Secrecy
Some families are not so comfortable with displaying their place of changing diapers and baby's clothes, as the locale can be a little messy and you need to keep it arranged and organized all the time. So there comes the solution in the form of innovation. This baby's changing and dressing table has the option to be hidden the door after usage, keeping all the accessories hidden. So it would look like a classical closet, enhancing the aesthetical aspect of the space. When you are done with your baby sitting days, this innovative piece of furniture can be conveniently used as a proper adult dressing table cum closet.
18. Cute Little Hangers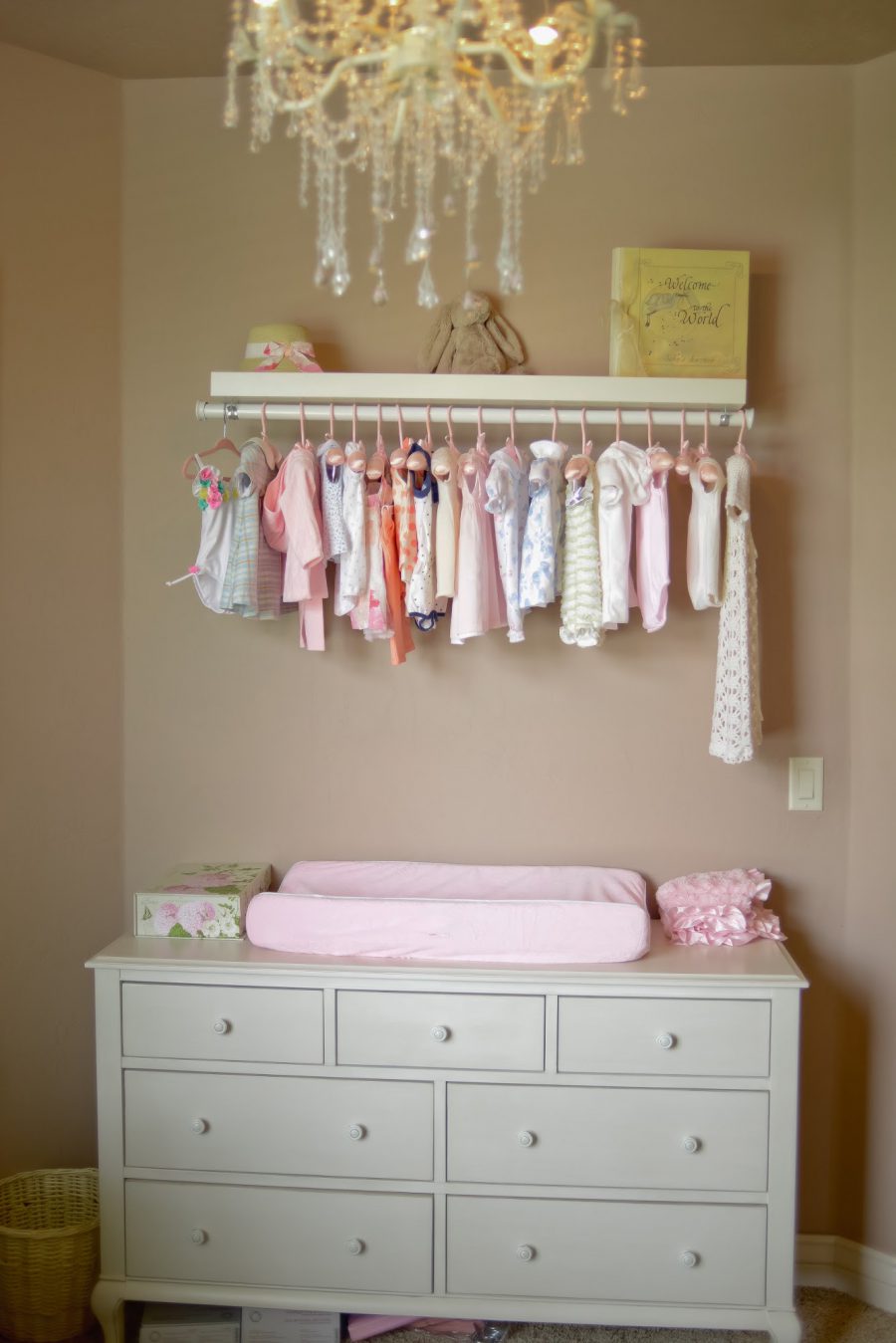 The accessories and add-on items which complement the baby changing nook and add to the convenience are also as important as the table itself. This simple baby changing table is beautifully decorated with the lovely clothes hanging above it, making it a splendid sight.
19. Stylish Cubicles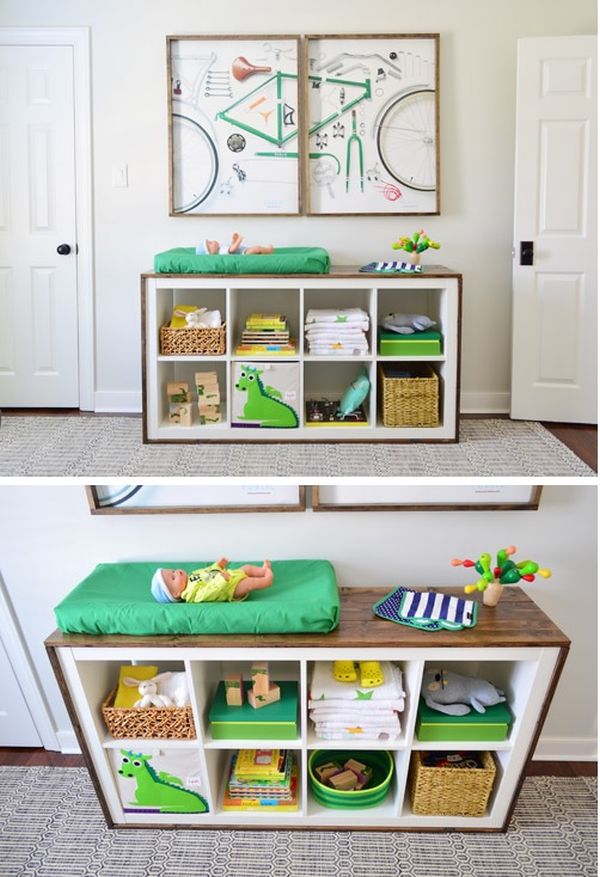 Some creative moms prefer to style their baby changing "nook" rather than buying a special table and copying a trendy theme. This design is an inspiration for all those babysitting parents. These open cube-shaped cabinets are part of a simple and elegant table which is multipurpose when it comes to utility and aesthetics. With green being the obvious theme color, the changing pad matches well with the painting on the single drawer. The drawer space is ample for your little angel's possessions, while the painting in the background makes the mood of the location lighter and funky.
20. Flip Down Dresser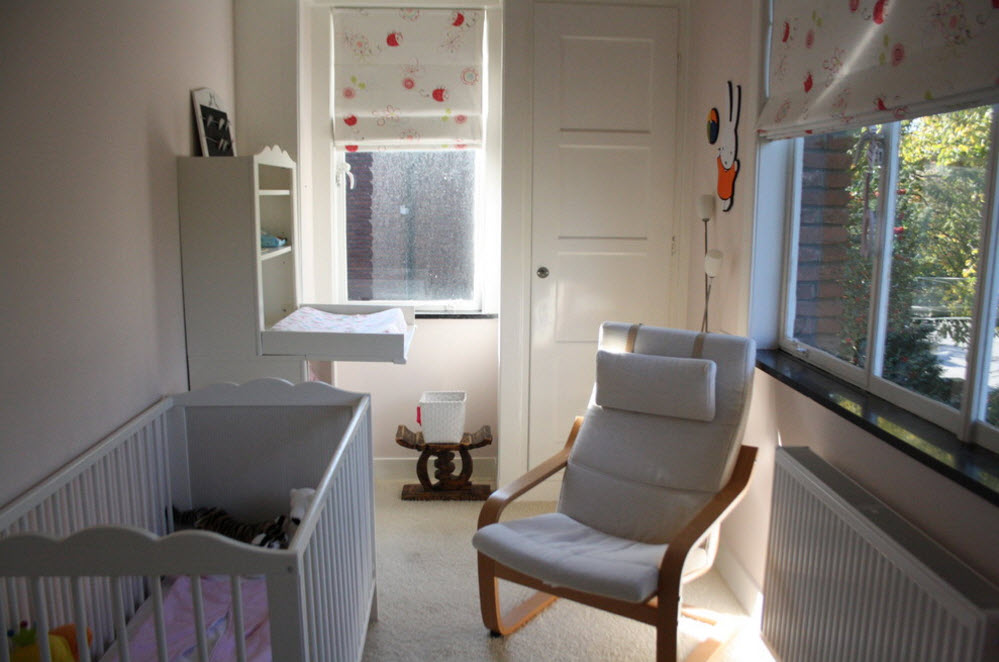 With covered area of the house becoming more and more precious with ever rising prices of real estate, there are not many options but to design and arrange your home interior with sophistication and urbanity. If you are having the same special issues, then you must opt for this baby changing table with a flipping tray for placing changing pad. It will not occupy a huge dedicated floor area of the nursery, and at the same time, it allows you to use the changing pad both horizontally and vertically as per your convenience.
21. Elegantly Sophisticated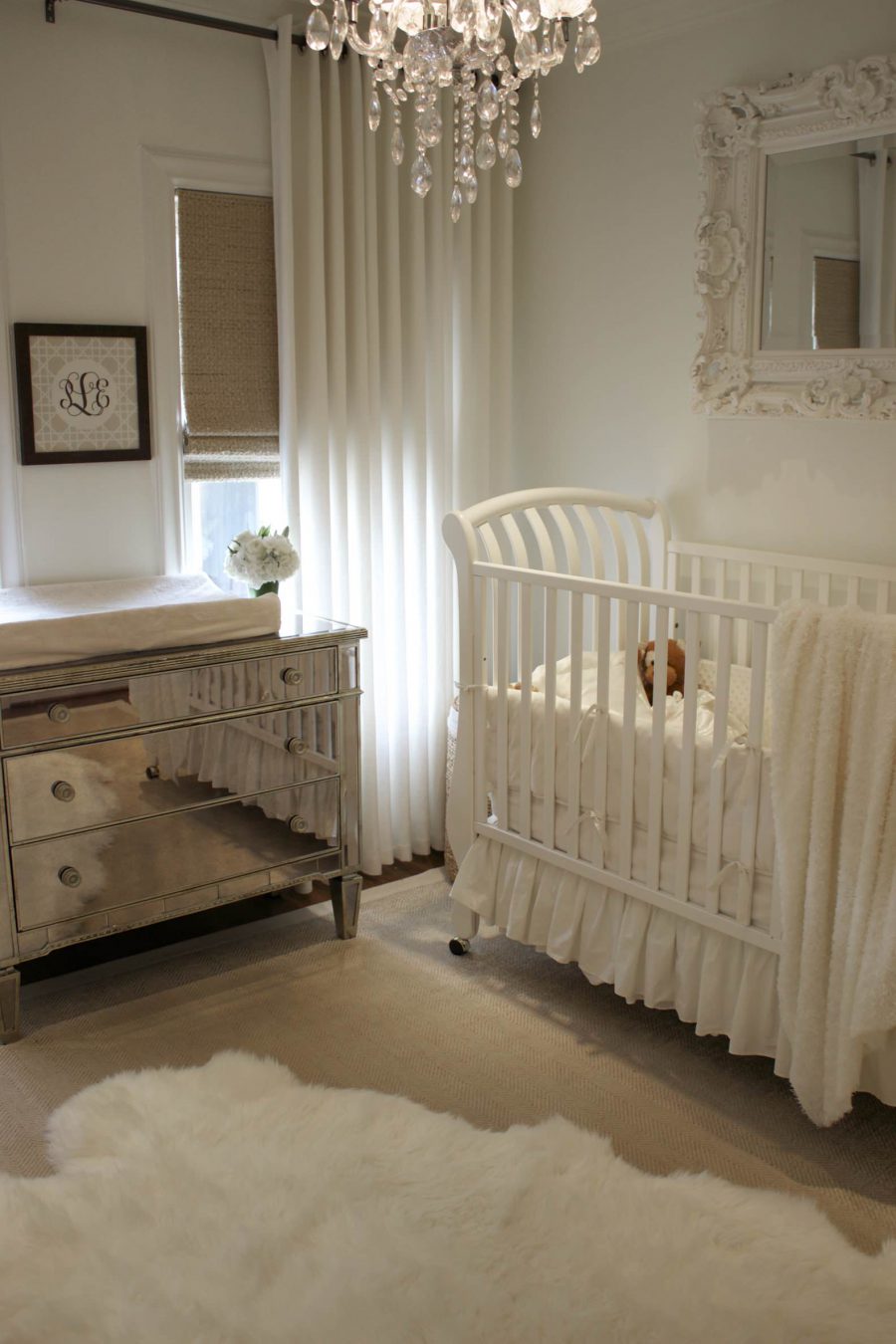 The baby changing table can not only provide you with utility and convenience, but it can also add to the décor of your child's nursery and define the theme of the locale. This gorgeous dresser is a perfect beauty enhancer and works perfectly to help you dress up your little angel conveniently. The stylish mirrored drawers can hold a large baby collection of goodies and give a modish look to this elegant setting. A simple baby changing pad on the top of the dresser ensures the combination to be decent and not too showy.
22. The Shades of Sea Green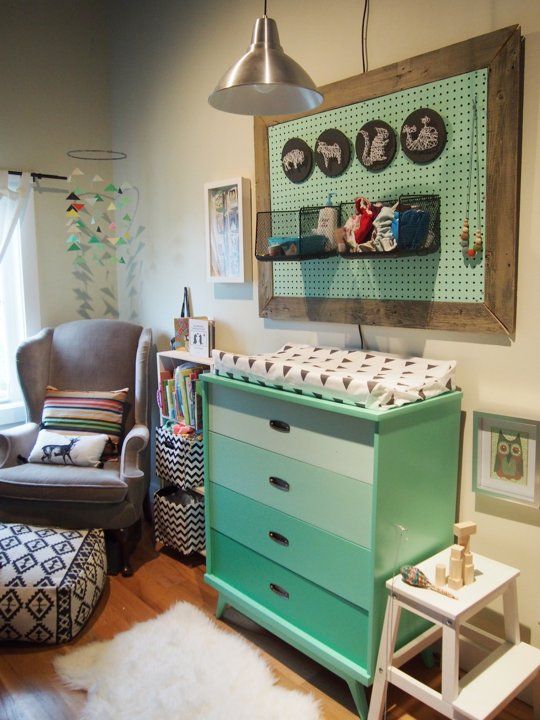 The best baby changing table needs not to be a large piece of furniture with a huge storage space. A sophisticated table with reasonable storage options can do the job for you and your loved little angel. This table is unique in its color scheme as sea green color is nicely displayed in several shades, resulting in a simple solution and a splendid piece of decor for the nursery.
23. Convenient on the Wheels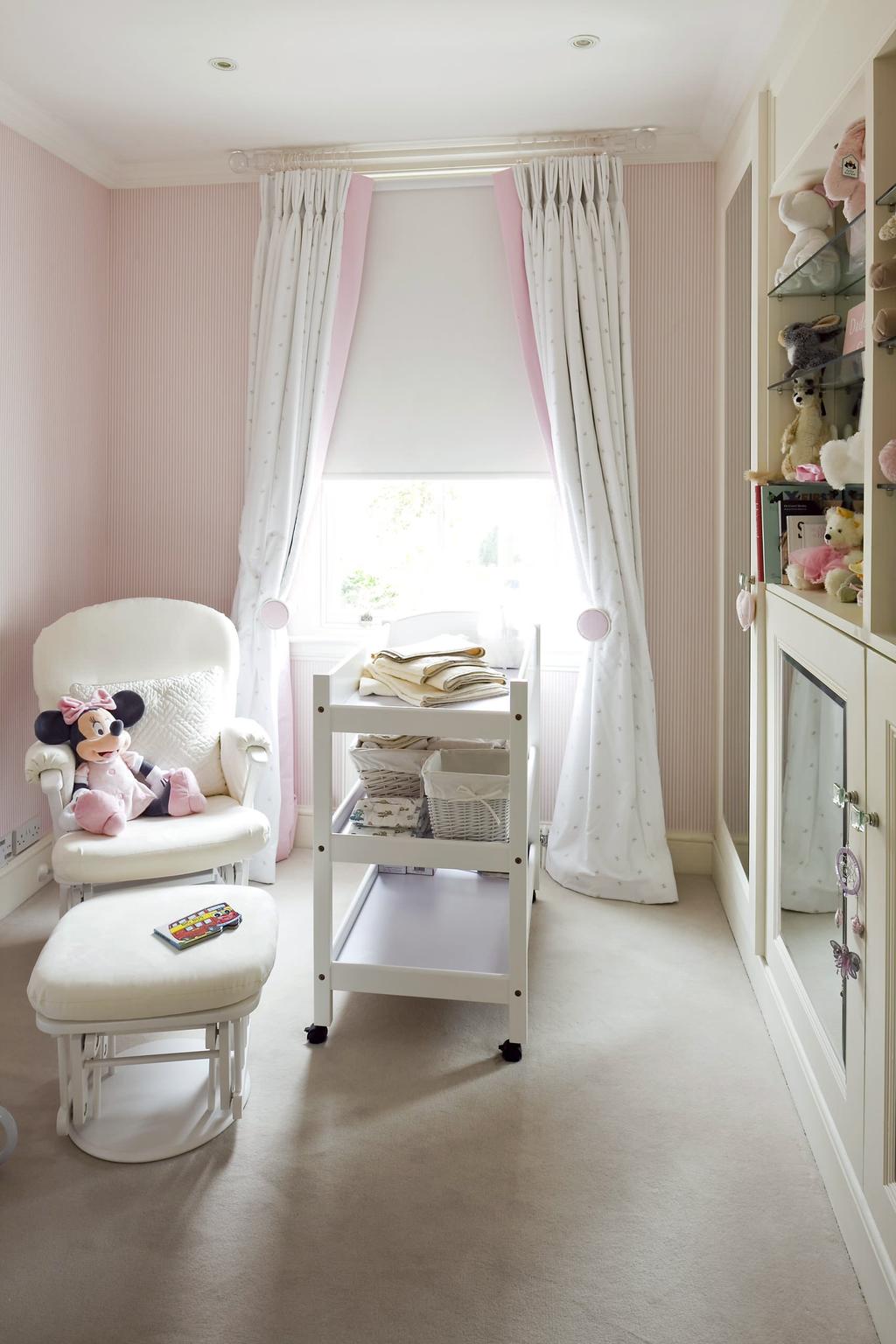 With mobility comes convenience. Same is the case with baby changing tables. Fixing a spot for your baby's changing location is a more disciplined and by the book approach. But the innovation of having wheels underneath the changing nook brings some interesting possibilities on the table. Now you can move that table anywhere around the house and do the job on your little angel in any corner of your home according to your and the child's convenience.
24. Neonatal Corners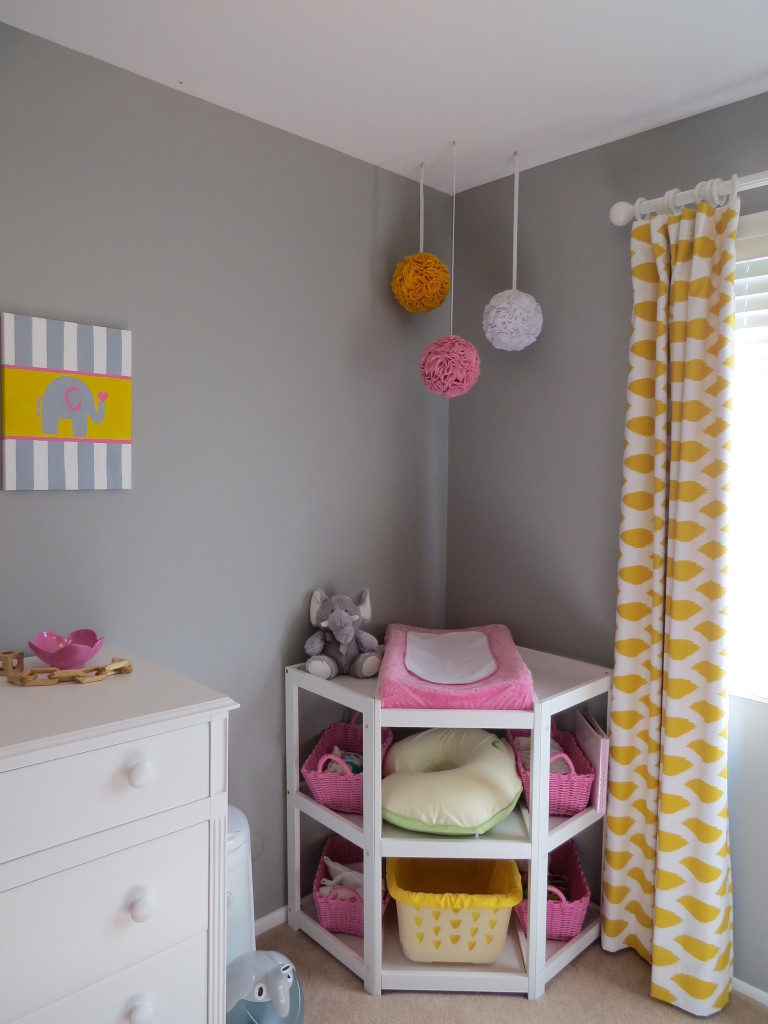 A cozy and delightful corner in the nursery room or anywhere in the house is a perfect place for building and setting up your baby's cloth and diaper changing nook. This simple five-sided table fits nicely into a small floor space and offers substantial utility and usability. A couple of baskets and adorable baby item containers placed underneath the table top add to the organizing space, while a simple and comforting changing pad completes this wonderful setting.
25. DIY Creativity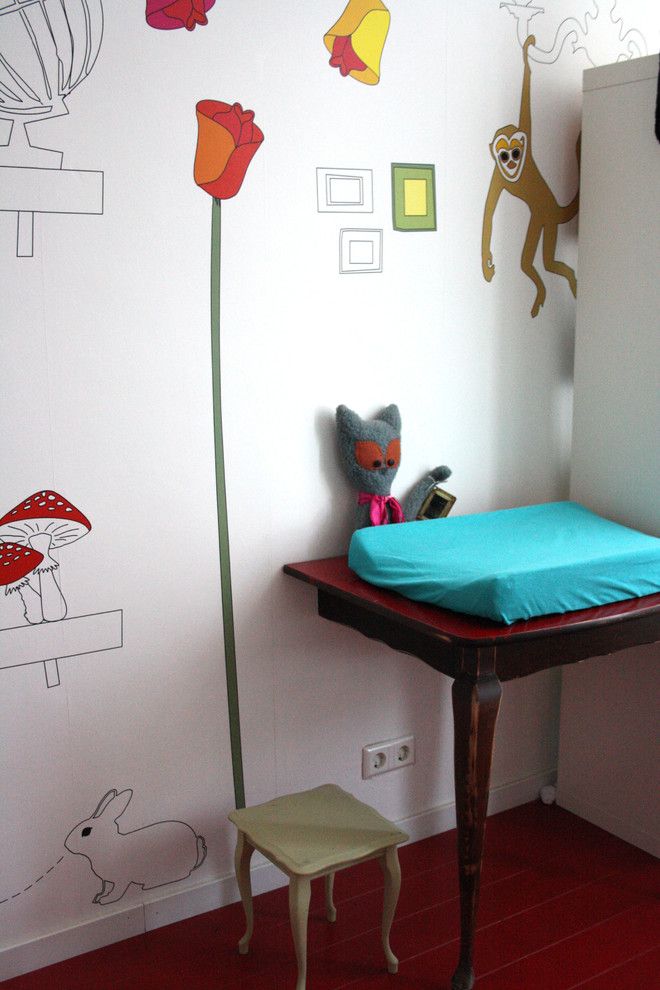 It always fells nice to put to use an old piece of furniture and make your very own design idea for a home interior. A vintage wooden table is innovatively modified into a stylish wall mounted baby changing table which not only serves the purpose quite comprehensively but also adds to the casual beauty of the locale with a funky and adorable artwork in the back drop. The space on the wall is well utilized and used as a canvas to display the creation of an artist, enhancing the beauty of an otherwise plain and simple view.