The concept of shoe storage is not as old as the history of cloth closets. In ancient times, you would have hardly found a person with possession of more than two pairs of shoes. Only the elite class used to have multiple options when it comes to footwear. With passing time, people started using different shoes for various purposes. In modern times, the fashion industry has been the driving force behind uncountable models and various designs of shoes specific to use for different walks of life. So you have formal footwear for your workplace, comfortable joggers for the morning workout, snickers for more casual activities and cozy slippers to move around conveniently inside your home.
Check Out The 50 Best Clever and Creative Shoe Storage Ideas For Small Spaces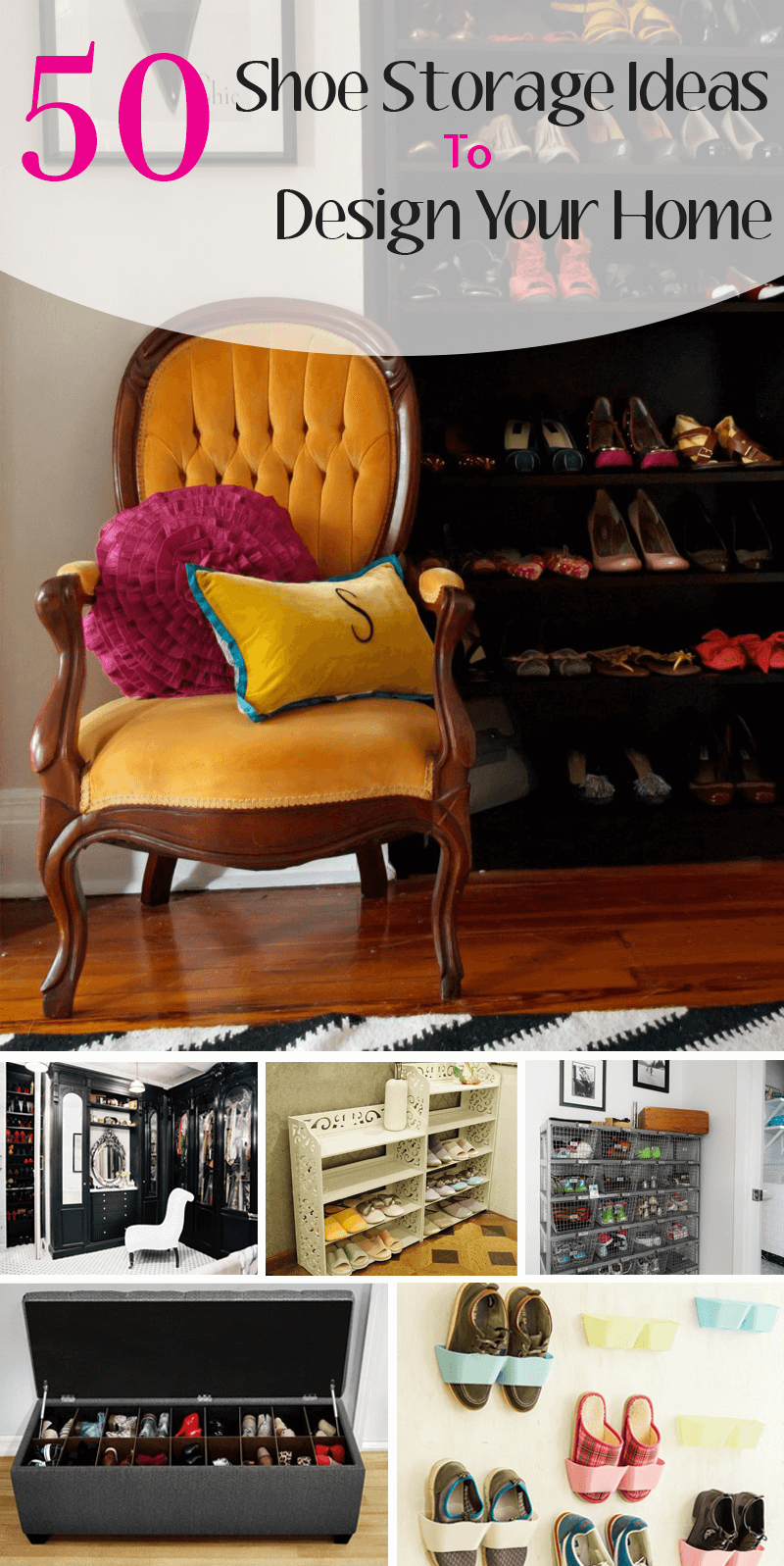 Also, there are multiple designs for every kind of shoes available in the market. Even there is a variety of colors and prints on offer to match with the clothes you're wearing. So this results in an extensive collection of shoes at your disposal. This leads to the necessity of a place in your house where you can organize your footwear. Space should be large enough to store all your shoes, keeping them in a singular and central location to maintain the cleanliness and tidiness of your household. At the same time, they should be properly displayed so that you may find the pair of your choice at the hour of need conveniently without wasting any time. This requirement of organization intensifies when you have a large family as the collection tends to get out of your hands in most of the cases. If you don't have a proper shoe storage option, your house can be made to feel cluttered.
Another issue you can face while finding the footwear organizer is the limitation of space available for dedicated storage. You may not be willing to sacrifice a lot of space for proper display of your vast collection of shoes. This demands the storage ideas to be innovative and smart, as you would not want your moon boots, sneakers, wedges and running shoes to be stacked in the form of a pile in the corner of your house or at the bottom of your closet.
There are a variety of shoe storage ideas and designs available on the internet from where you can select a shoe storage scheme for your collection. But the problem you can face is that the layout you have a crush on may not be possible to fit in the available space. This issue can be addressed by taking the measurements of the room you have at your disposal. On the contrary, you can let your imagination go wild to fabricate the design of your own. In this article, we present to you the wonderful world of shoe storage delights to choose from or get inspired.
1. Funky Shoe Boxes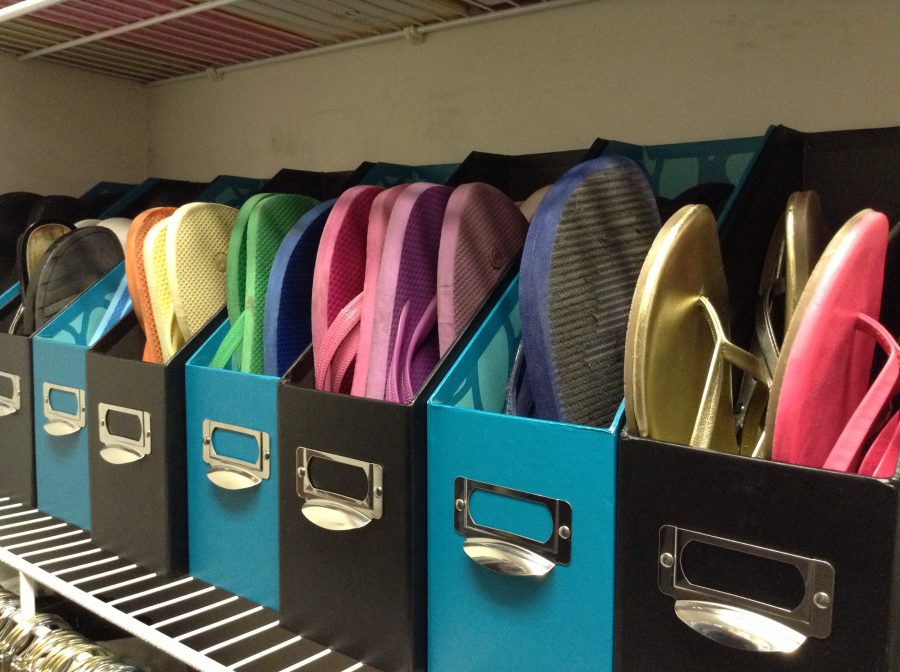 Sometimes it may not seem appropriate to store your sandals and flats in a showy and outrageously lavish closet. For such casual wear of yours, a simple storage strategy would be more suitable. These alternatingly colored storage boxes present an ideal solution to such footwear which is required mostly when you plan a trip to a beach or going shopping in a mall. Although they consist of same sized boxes, yet their utility enhances because they result in a convenient organization strategy.
2. The Dark Fantasy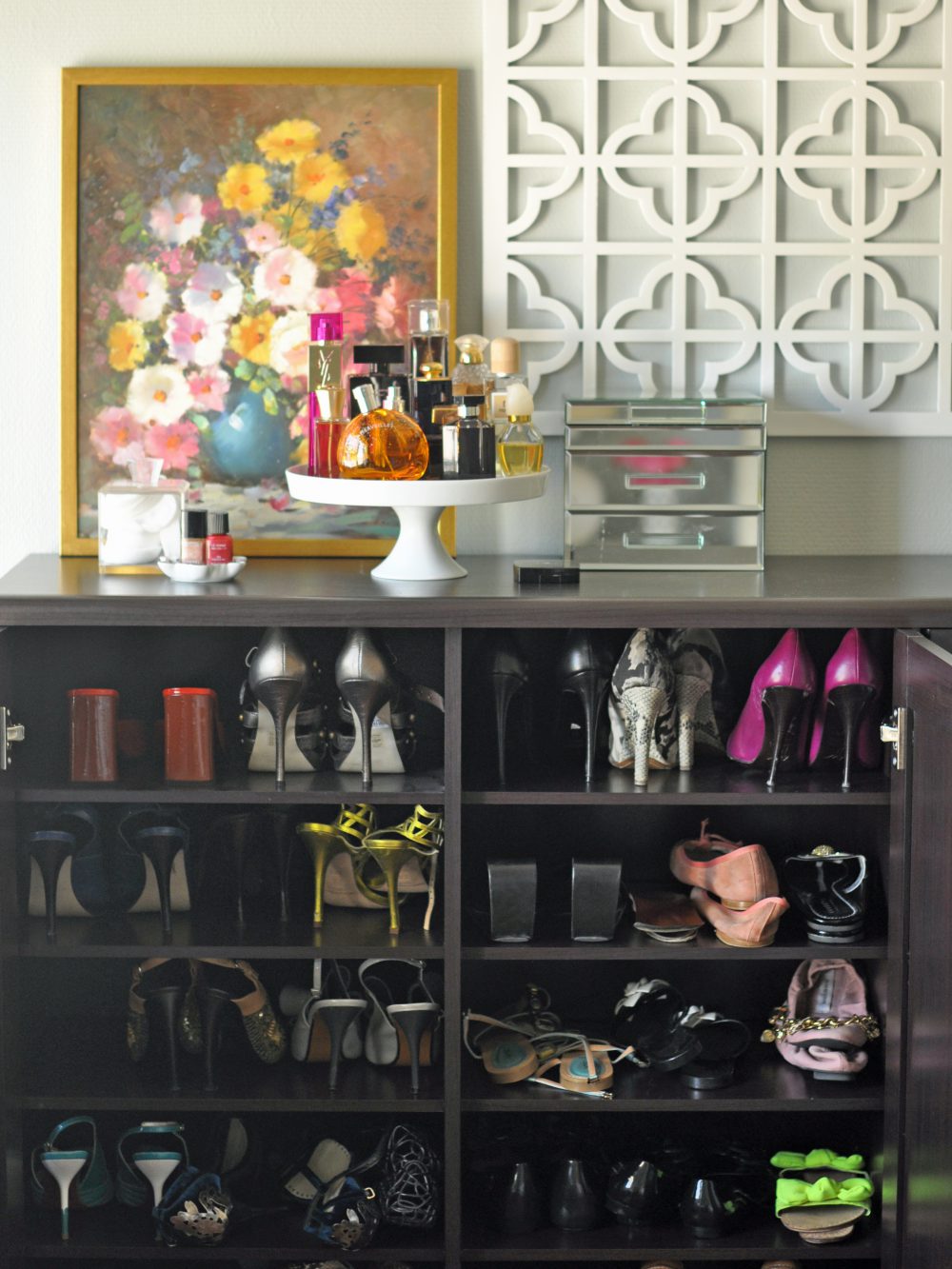 If you have a small floor and vertical space to spare for your shoe collection, then this design idea is the right choice for you. The depth of this cabinet is smartly set to make sure that all sizes of shoes can easily be accommodated. But at the same time, the area occupied by this sophisticated storage is reasonable for most of the smaller households. The dark colored paint of the cabinet gives a bold fashion statement along with the contrasting milky white color of the background. There is ample space on the top of the cabinet to place artwork and decorative pieces.
3.  A Proper Showcase Display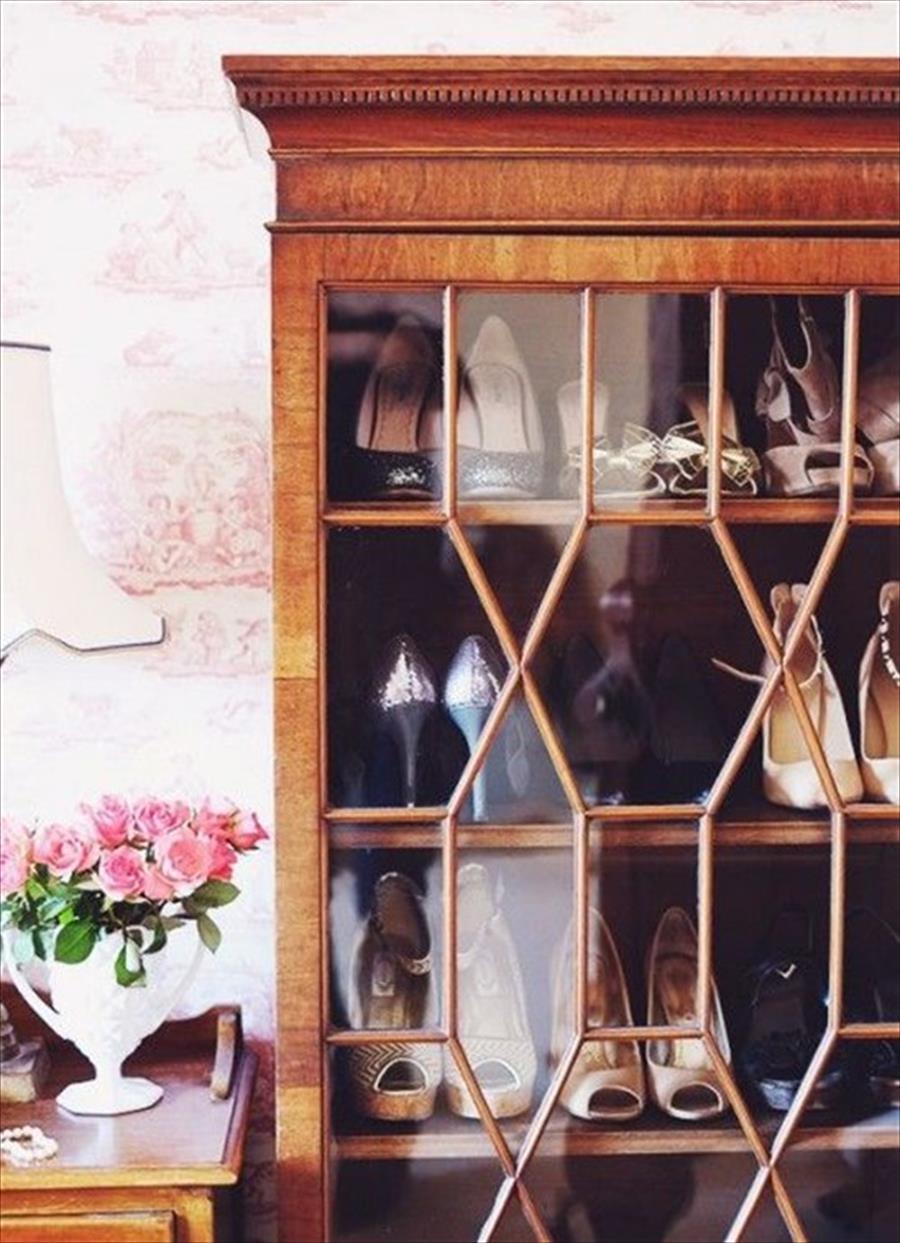 Conventionally, the showcase is used to display a collection of ornaments, precious cutlery and other precious belongings of yours as a home decor. This trend can be smartly employed for storage and display of your exquisite footwear, as done in this shoe storage design. You can increase the value of your precious Prada and high heels by giving them the royal treatment which is a secure and beautiful space. Although it is an expensive option with the by default inefficiency in the use of available space, yet the splendid sight of your favorite formal footwear behind the glass gives you an unprecedented joy.
4. Pink; The Shade of Feminism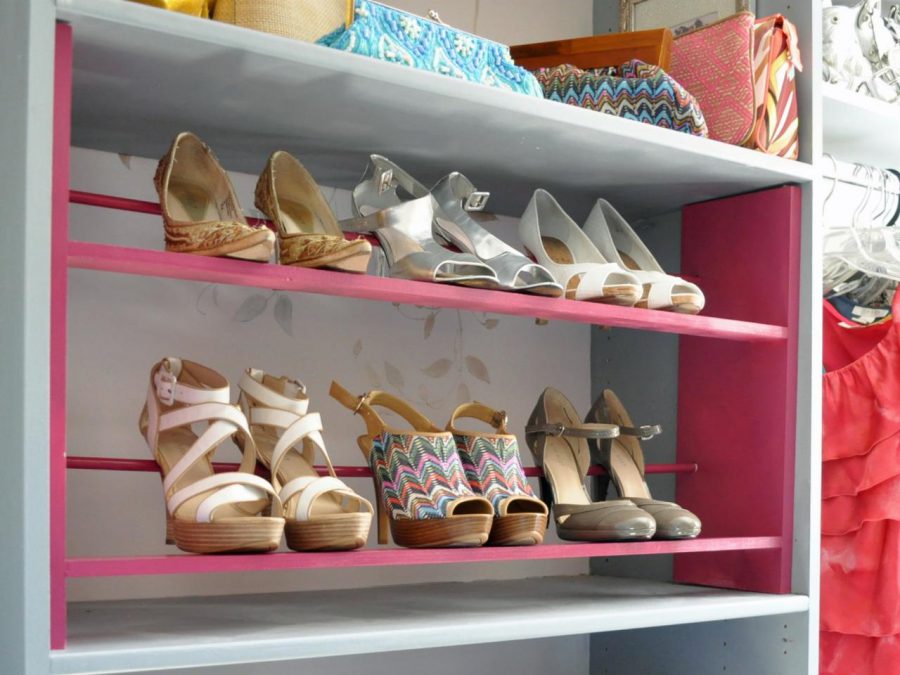 A simplistic design layout for your shoe storage can make your life simple and straight forward. These adorable open shelves have different sizes in terms of height to cater for high heels and other medium sized shoes. Actually it is a simple open cabinet retrofitted with the pink wooden structure. You will find it easier to organize your shoes and at the same time, it gives a wonderful display to your closet. The pink color signifies the space to be owned by a female.
5. Racks Behind The Door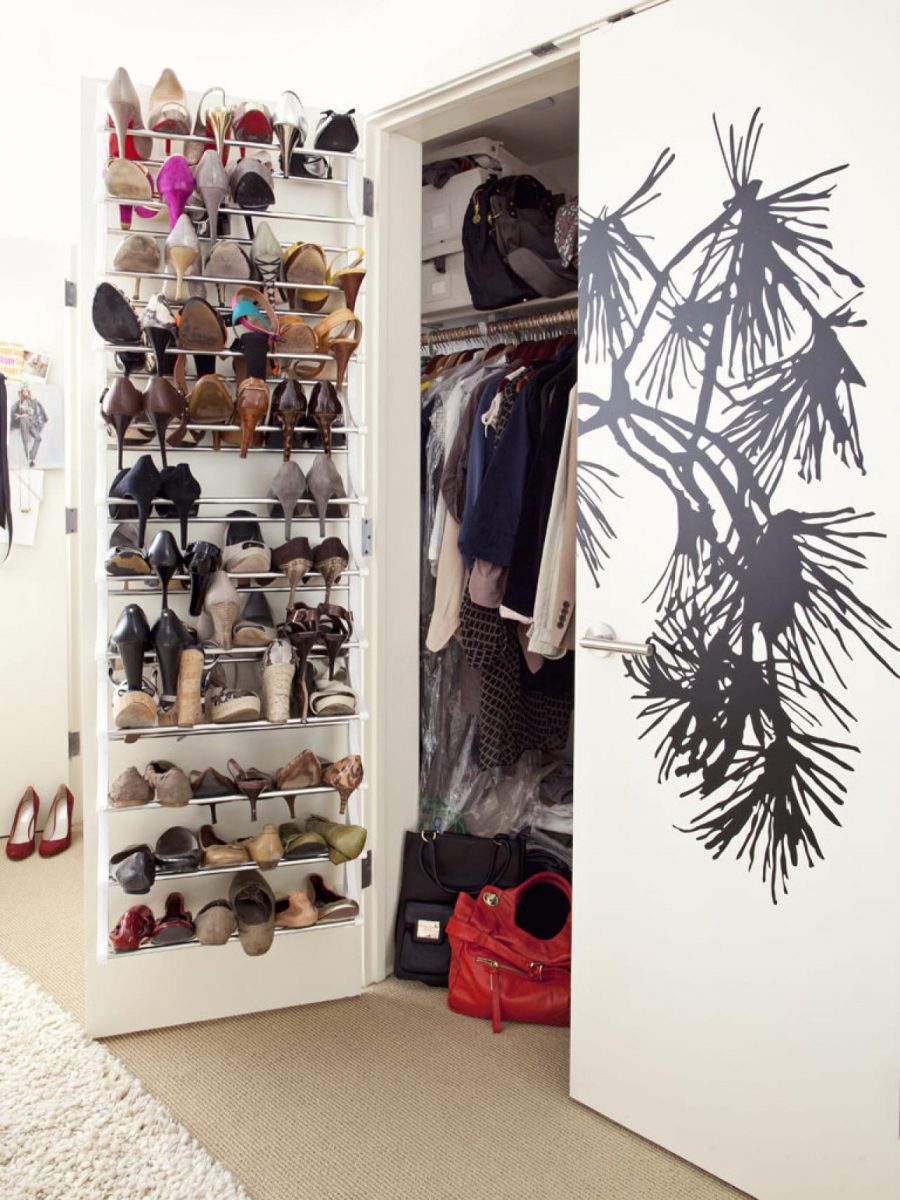 If your closet is already filled with your vast collection of clothes and other accessories and it is your only possible shoe storage, then this idea can make your life easier than before. The shoe holders are efficiently installed behind the door and can accommodate a large number of your footwear. The reason being the racks tightly placed without wasting any space. One issue can be the falling down of shoes on opening and closing the door. So this type of storage is more suitable for shoes with heels.
6. Conventional Cabinets for Shoe Display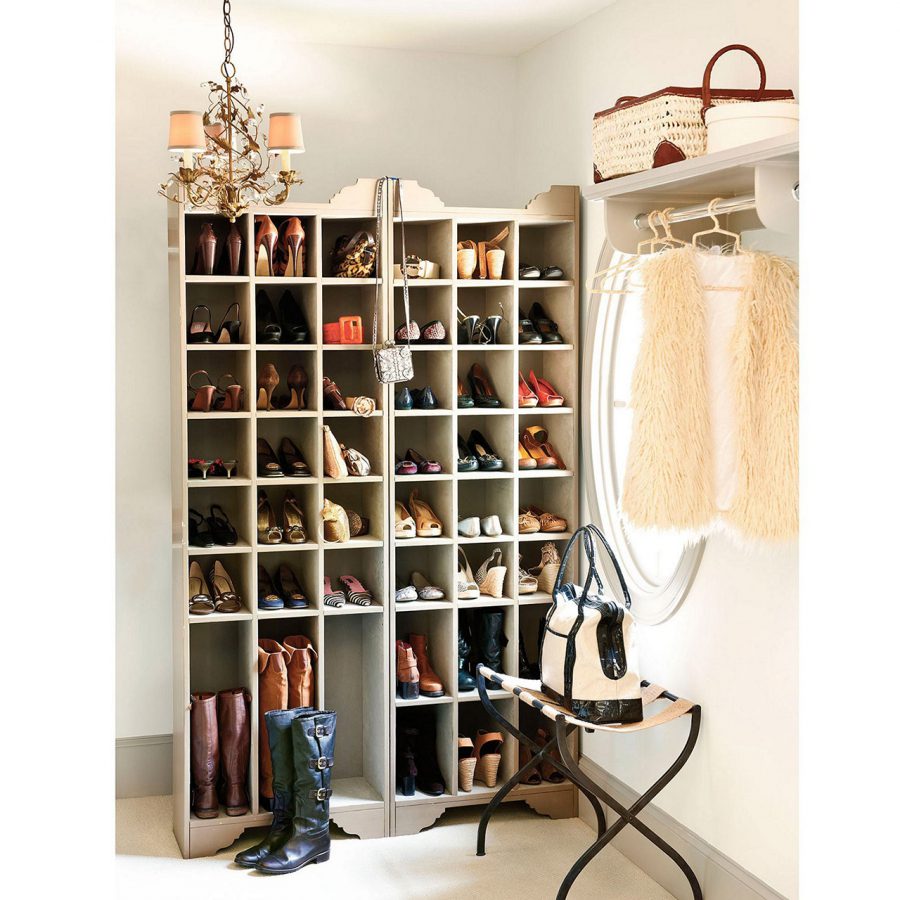 Sometimes going back to the roots can result in very effective and efficient designs which present perfect solutions along with the aesthetically pleasing outlook. Such is the case with this shoe storage design idea. For this model, you may need a larger space and a higher budget, but the results give you the full value of your money. This elegantly designed cupboard is well illuminated by natural light filtering past an adorable oval shaped window. A stylish bench placed alongside is for changing and trying your shoes.
7. A Separate Room for Footwear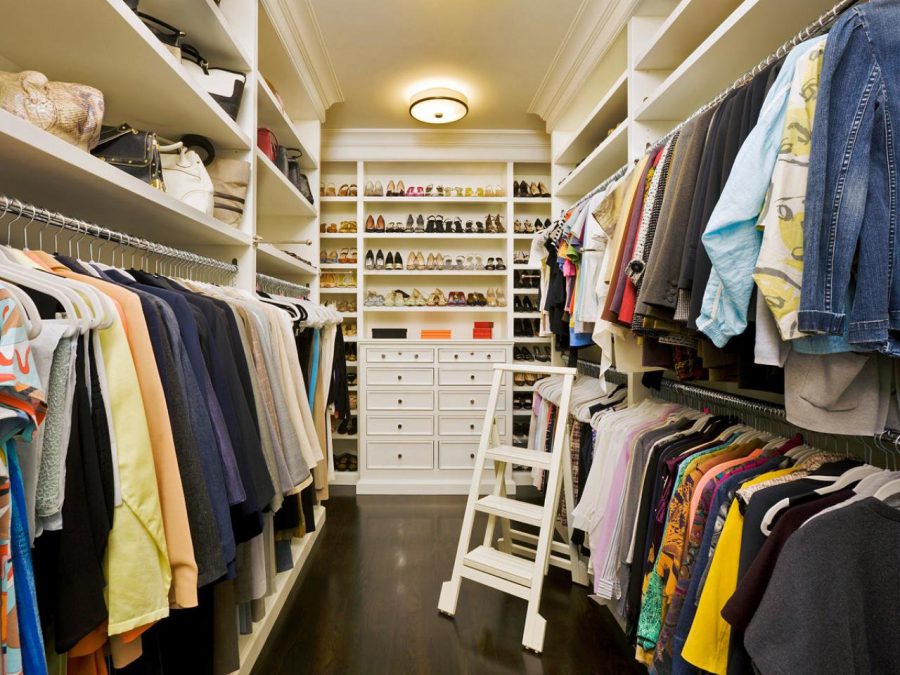 In most of the traditional wardrobe storages, you will find the stored items intermingled with each other in the same closet. So you may find your shoes, clothes, bags and other accessories ended up in the same cabinet. For better organization, the place for shoe storage could be built separately. This walk in closet looks well sorted out as there is a whole showcase specified for show display only. It looks aesthetically more pleasing as you can find symmetry in the view. At the same time, you would know where to find the desired footwear.
8. Adorable Ladder For Kid Shoes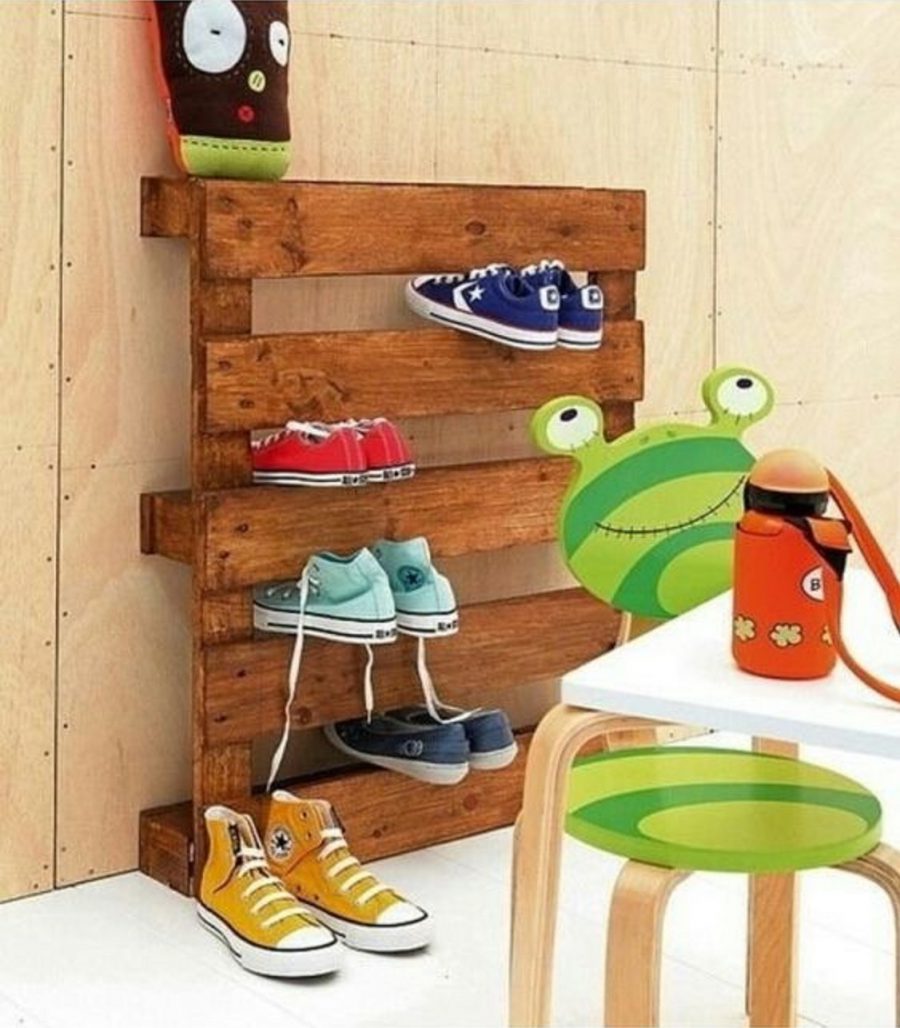 You cannot motivate your kids towards the organization of their storage spaces without adding the elements of playfulness and fun. This beautiful ladder for shoe storage for your children is a perfect item to add to their room. Your kids can conveniently place their casual footwear into the spaces and learn how to put their belongings in the right area. The addition of this functional space to your kid's room also adds the feeling of enhanced room décor.
9. A Footwear Library Inspiration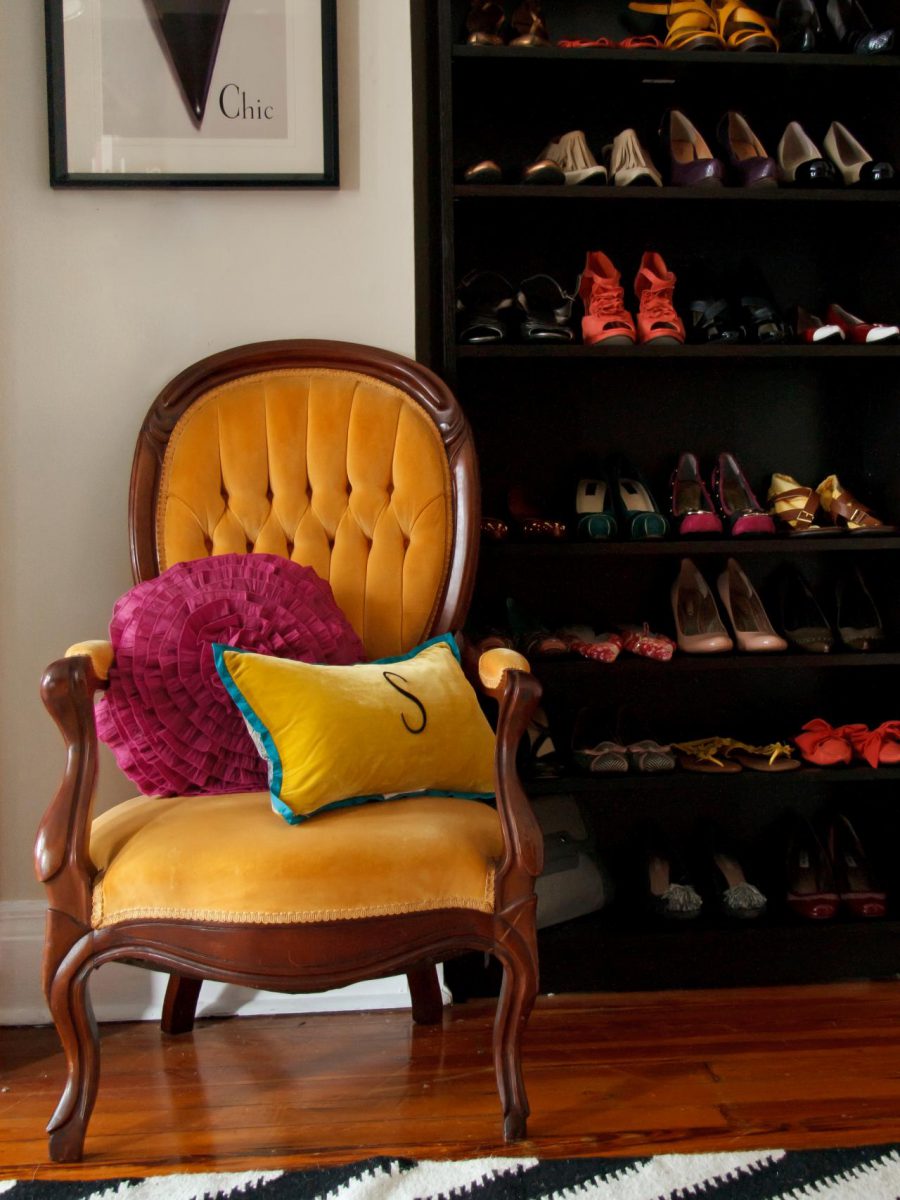 The inspiration for shoe storage can be taken from anywhere, be it your closet layout or your bedroom décor. This design idea is based on the mini library established by book loving people in their bedrooms. The shelf being placed in the bedroom gives you convenience of usage and saves your time from going especially to your closet. The sober sitting arrangement with a modern design outlook supplements the usability of the storage along with enhancing the beauty of the locale. Wooden flooring underneath and adorable cushions on the chair makes it a splendid sight.
More Shoes Storage Ideas On The Next Page …