Home is where a person wants to take comfort and rest after spending a whole hectic day. Everyone has a favorite spot at their home where he feels more comfortable and like to spend more leisure time there. These spots can be a comfortable couch, hammocks, rocking chairs or some few cozy furniture items where you feel more relaxed.
Hammocks are equally likable by adults as well as kids. Kids used swing and play on it whereas it is a popular place for adults to do gossip. Most people like to spend their leisure time on it.
25 Amazing Hanging Hammocks Which Will Add Luxury In Your Daily Life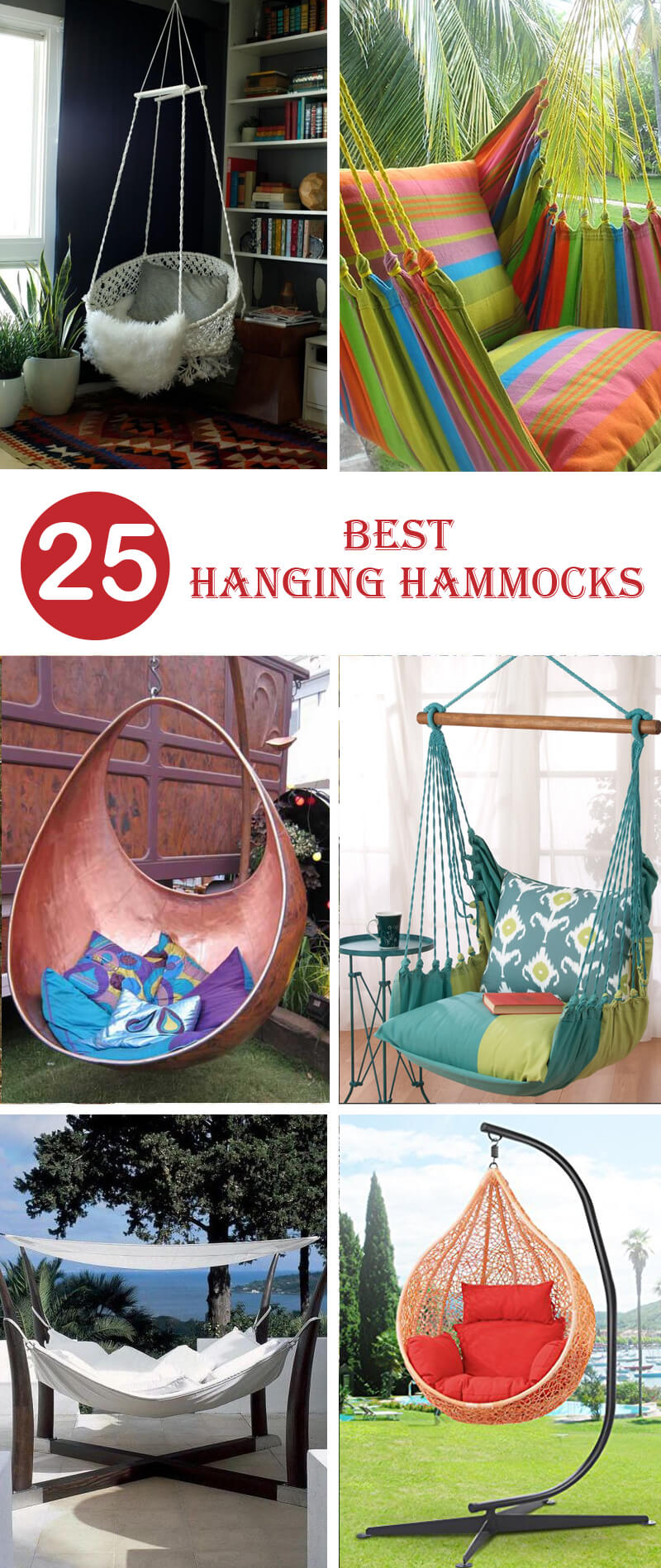 If you are thinking to add a hammock in your home then there are few factors you should consider before buying a one. Opt for a large size of hammock if you have a big family. Don't go for something very fancy if you have small kids. Decide before whether you want a hammock inside or outside of your house or a two in one package.  Hanging it outside means you have to select a strong material hammock so that it would not get affected by rain and dust. So opt for a one which has a stand with it which can be easily portable.
Also there are different suspension ideas for the hammocks. Generally there are two type of hammocks; one which have stand-alone option and others are just swinging i.e. knotted between two points.
Selection of a good place for a hammock is very important. It creates an appealing and cozy places to read, sleep or relax in your garden, and reassures you to stay longer outside breathing fresh air. Hammocks are ideal for turning garden designs into relaxing oases retreats and enhancing welcoming sensation to backyard ideas.
Hammocks come in various shapes like rounded, oval or square. It allows to form pleasant backyard ideas and harmonize your garden decorations adding attraction and comfort to outdoor living spaces in summer. It does not limit to enhance your outdoor setup beauty but its addition inside home also as pleasing in both weathers. After all everyone prefers to spend more time inside home. Whether you are adding it in your living room, or in your bedroom, make sure to choose one which have strong fabrics, and to purchase them from a trustworthy source to avoid any accident.
Colors also play a big role in in what manner a room looks and feels. Using light colored furniture gives a larger, spacious and bright space. While dark colors gives a cozy and relaxing ambiance. It is better to blend hammock colors with the room furniture. If you are using printed texture then lining will gives the illusion of width and length in the room.
Here are 25 best hanging hammocks which you can consider to make yours more beautiful and different.
1. Make New Traditions
Adding a hanging hammock bed or chair to your garden design gives a fascinating and eye-catching centerpiece for summer backyard ideas. It brings more comfort into your garden design and beautifies your garden landscaping. There is a general concept that outside hammocks are hanged with or between two trees. But if you want to add uniqueness and style then this design is a perfect match for you. This boat shaped hammock is made from boat and bent in a comfortable curved shaped to give a different look. It will definitely add up a beauty in your lawn. It has an in-built stand with it, in case there is no nearby tree. This style is perfect for big lawns.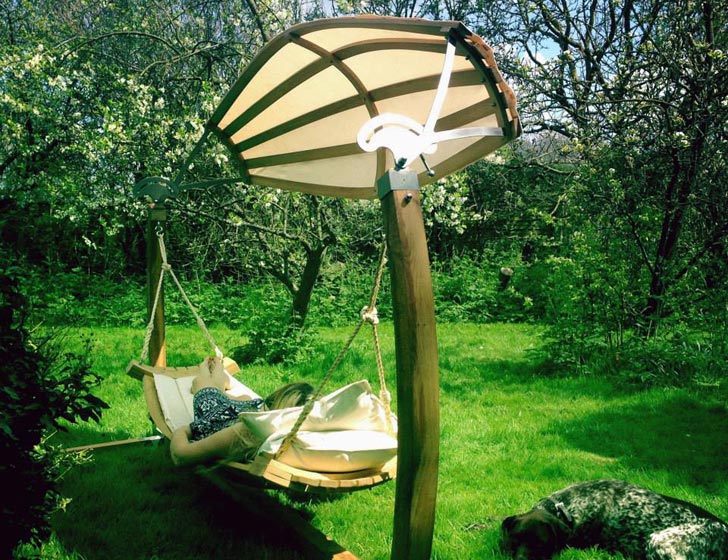 2. Add a Stylish Touch
Metallic furniture adds a touch of style and elegant look to the setup. They are more durable as compared to wood and rope material. Their defined cuts and curves give a classy and gorgeous look to your place. This modern hammock can be placed inside and outside as well. Its curvy looks will brighten a neutral looking room or if placed outside it will catch attentions of your guest first. Metal furniture adds up a sleek, modern look without compromising toughness. In terms of safety, metal furniture is flame-resistant which makes it less dangerous. They are weather resistant and can be kept outside without considering their wear and tear off.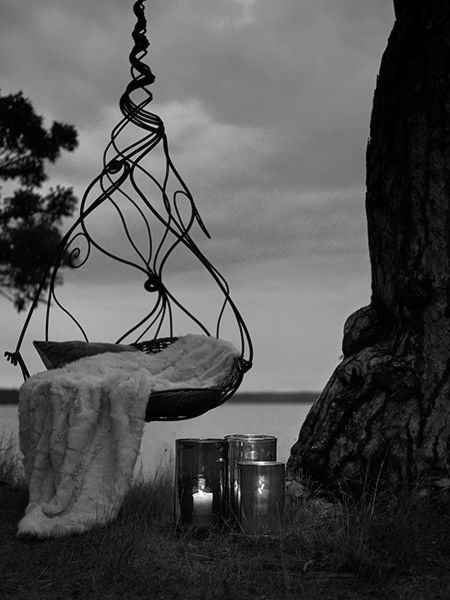 3. Make 'Living in the Forest' Environment
Give yourself a treat by creating a setup of small pond with this simple wooden hammock yourself. This will add the element of serenity and peace in your garden. It will be a soothing place to enjoy natural surroundings, beautiful garden designs and add flair to backyard ideas, thus giving yourself a comfort retreat. This type of hammock is perfect for a brunch or a Bar b q party and gives a feeling of a camping vacations.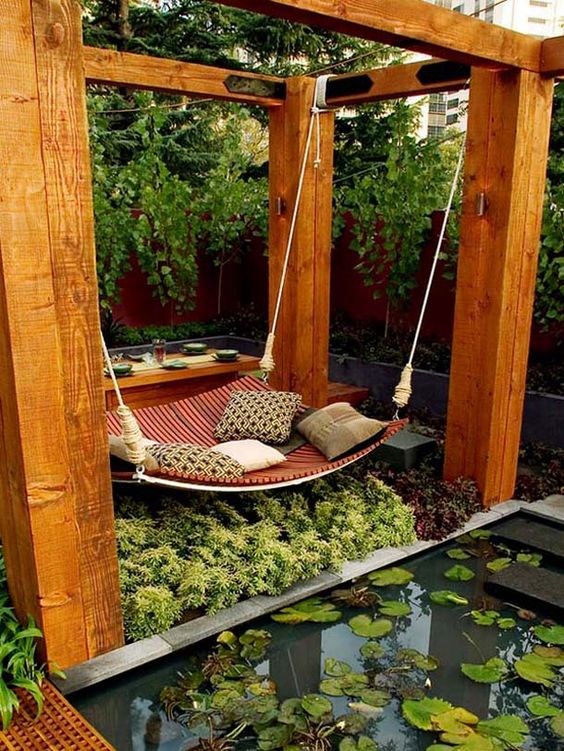 4. Add Elegance to Your Room
This elegant looking hammock is perfect for your living room. It will adds an element of grace and neatness automatically. This cool colored hammock will give a calming effect and will help in relieving stress naturally.  Also the natural fabrics used in the hammocks gives true relaxation. Hammocks made with natural fabrics and fibers adapt to your body shape and provides a better surface to lie on. This is a perfect spot to enjoy a good book with a cup of coffee.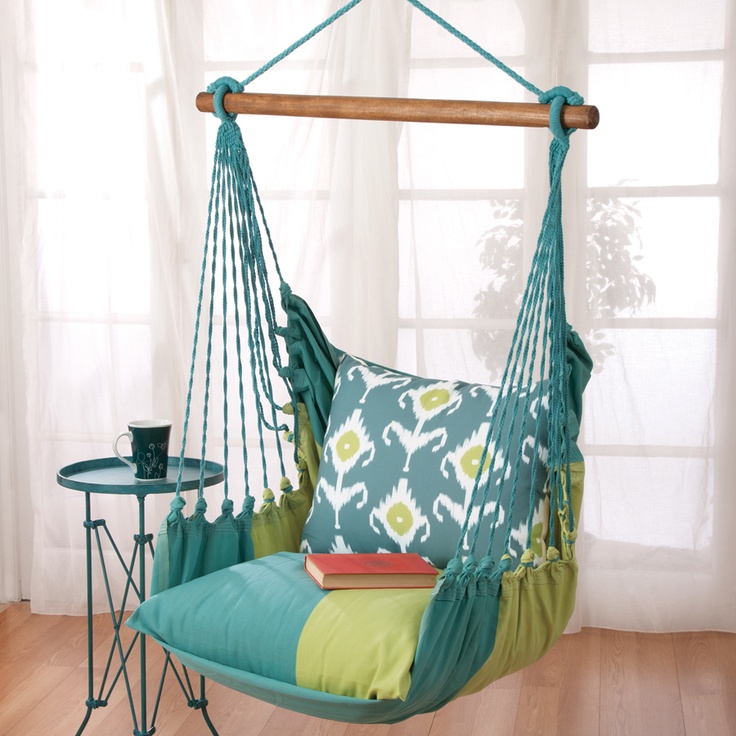 5. Colorful Hammocks
Colors gives the feeling of life and can easily make one fresh in low times. Colorful furniture adds life to the neutral room. This colorful hammock is perfect for both inside/outside placement. Due to its bright colors, it can easily absorb dust in it and will give stylish look in your lounge. You can further enhance its beauty by adding a floral pattern cushion on it. Although a fresh and bright color combination and design makes a statement piece in a home, make sure not to suppress the room with this single accessory. Because colors do affect human behavior and mood.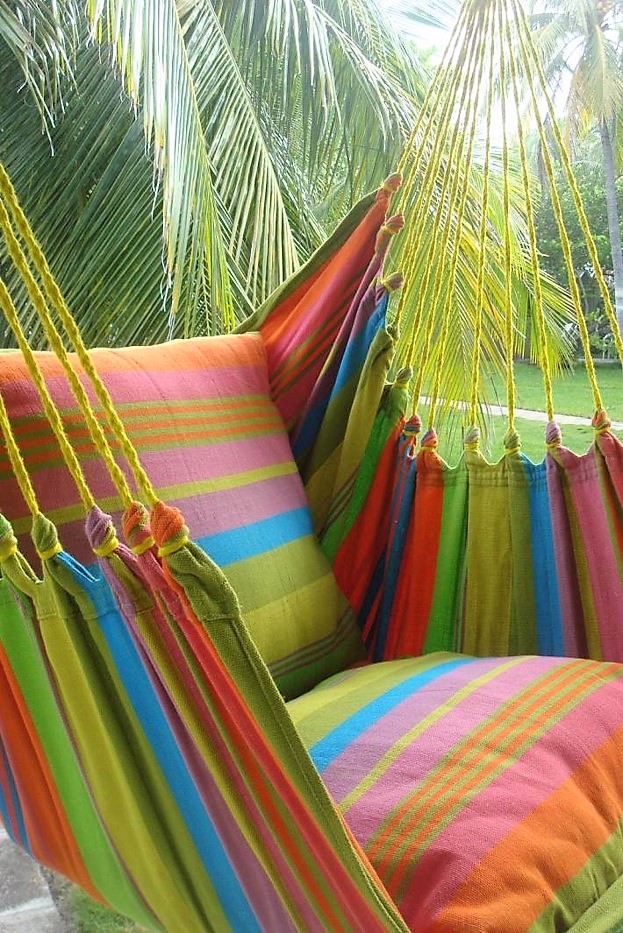 6. Comfort All The Way
This hammock is defining complete definition of term comfort where you will forget all the tensions and worries of the life. This type of setup is perfect for relaxation exercises like yoga or meditation where it provides an alternative to sitting on a yoga mat or a cushion. A comfortable hammock helps in reducing the stress on your spine and joints, thus reducing inflammation and reduces pain. Doctors also suggest that defying gravity on a mildly swinging seat is good for a human body after a long day.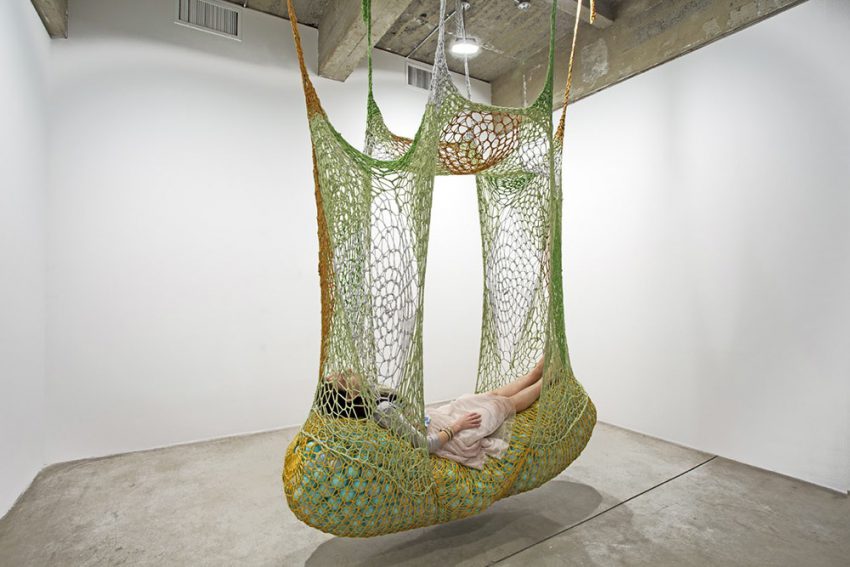 7. Sofa Style Hammock
Traditionally hammocks are considered as an add-on furniture in outdoor spaces, such as your porch, terrace, balcony, patio, summer house, or garden. However, now they are creating an access into interior design too. And a great one that is. Change your lifestyle by changing your lounge two seated sofa with this cozy sofa style hammock. It has a stand with it which makes it easy portability. Make it part of your library and your lazy bones will love this. It is a good replacement to extra sofas and couches.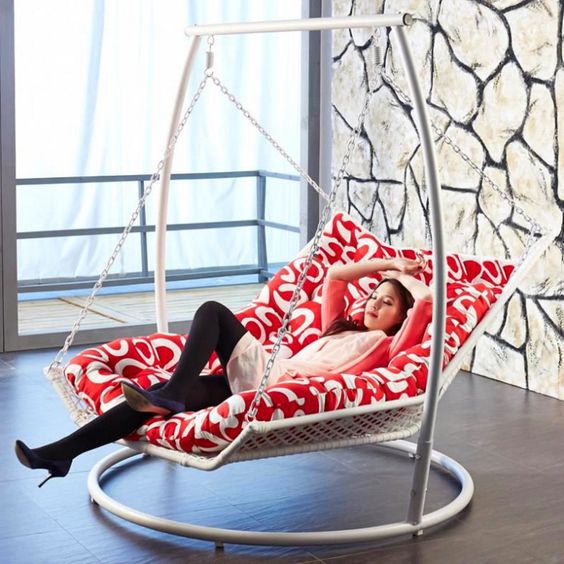 8. Swing For Children
Hammocks are most popular in children and parents as well as it keeps children busy for a long time. In many parts of world babies sleep in hammocks from birth. It is believed that soft swinging activates the sense of security and the development of the brain in infants. While toddlers love to do adventure and this stimulates the sense of adventure and entertainment for them. Choose stuff for the hammock carefully and the suspensions should be close enough to ensure safety. A thicker and more durable hammock will increase comfort with the passage of time and will remain good after washings.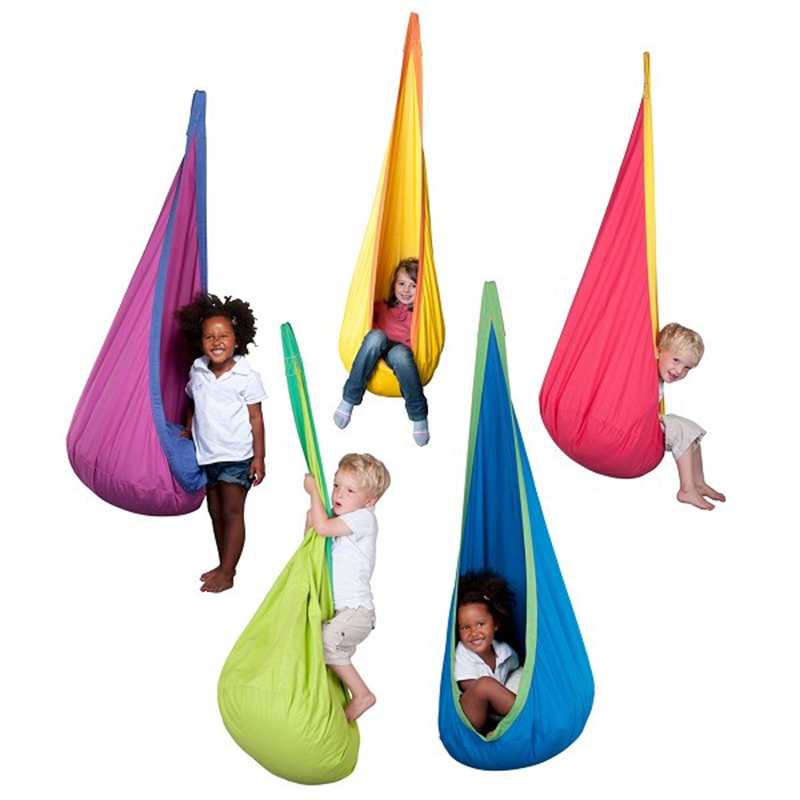 9. Spacious Hammocks Make Everyone Happy
If you have a big family then you need a big space to hammock together with all loved ones. Spacious hammock is the best choice and will keep everyone happy as multiple people can get relaxed at the same time. Furthermore, a centrally placed hammock is a beautiful centerpiece for you spacious room. Be sure to hang it relatively low so that it cannot take over view of the entire room. The comfort of this family sized hammock is matchless. You can even make it a real treat by adding soft memory foam mattress to enjoy the time. If you are using light color fabrics then be sure to keep them sparkling and clean, as a dirty hammock will straightaway fade its entire beauty.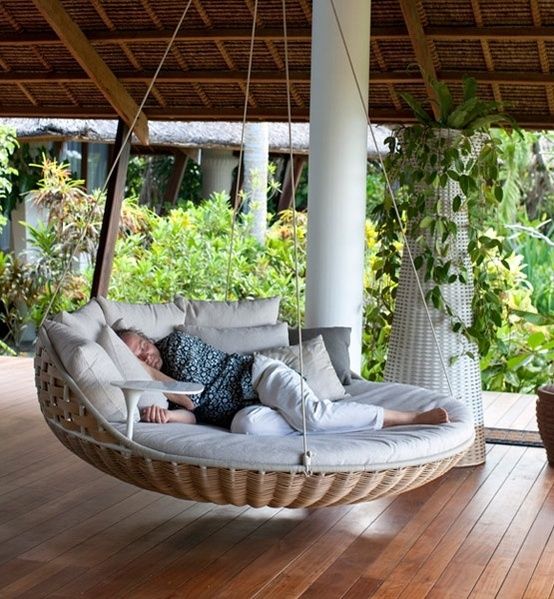 10. Hammock with a Stand
Sometimes you need a regular pattern hammock with a stand to give not so unorganized look. It comes with a stand, thus it provides comfort, convenience and easy portability. The stand also gives the look of neatness in the room as furniture without legs sometimes give untidy look. The colors of seat can be changed according to the theme of the room or your personality.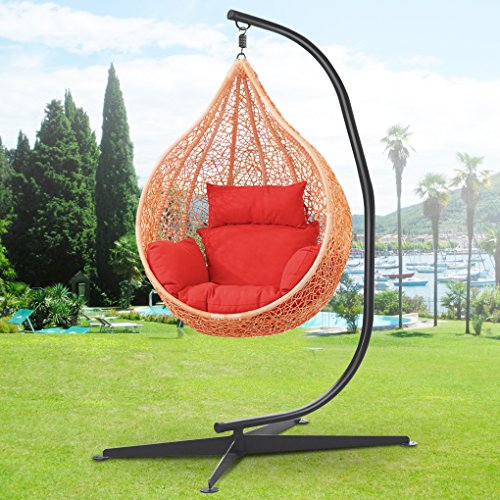 11. Stylish Hammock with a Stand
Enhance style to your room with this distinct piece. Replace your old styled hammock with this new trendy looking hammock. Its base is made up of solid wood and designed to last for generations. Indoor hammock beds are gradually considered as a great substitutes for mattresses and typical beds due to the extraordinary comfort and compact design, as well as their matchless manifestation in a bedroom, are likable to folks.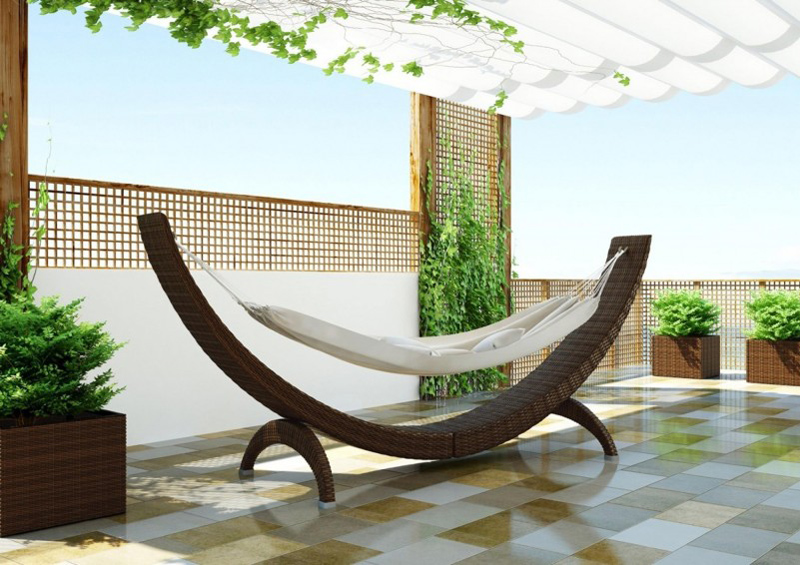 12. Copper Colored Hammock
Take a bold step by adding this copper coated hammock. It looks attractive, giving a contemporary look to your home. To make it stand out, all it takes is a good polishing to give it added charm and character. It is a great space-saver, as it has no stands thus disassembling means it can be stored anywhere.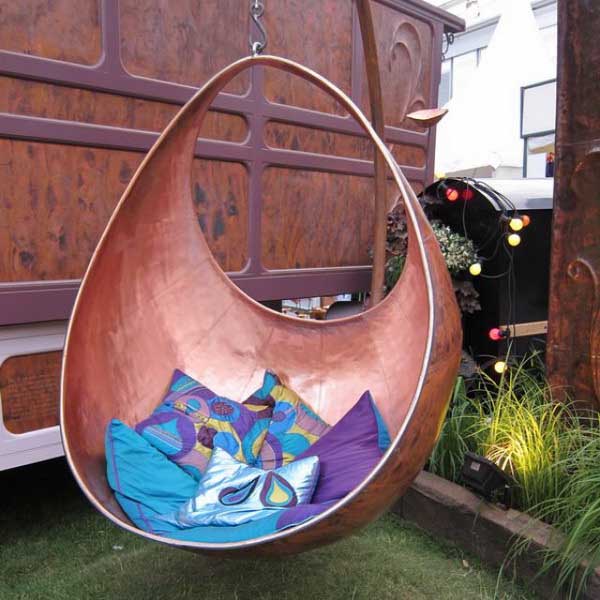 13. Jute Hammock
An outdoor area is certainly not considered complete without a place to sit and relax. A hammock is one of your best choices. It's a excellent place to relax and take a nap. Fixing a hammock doesn't involve a lot of tools, and moving it to a different location is very easy. This jute hammock is best to enjoy the outside view after waking up.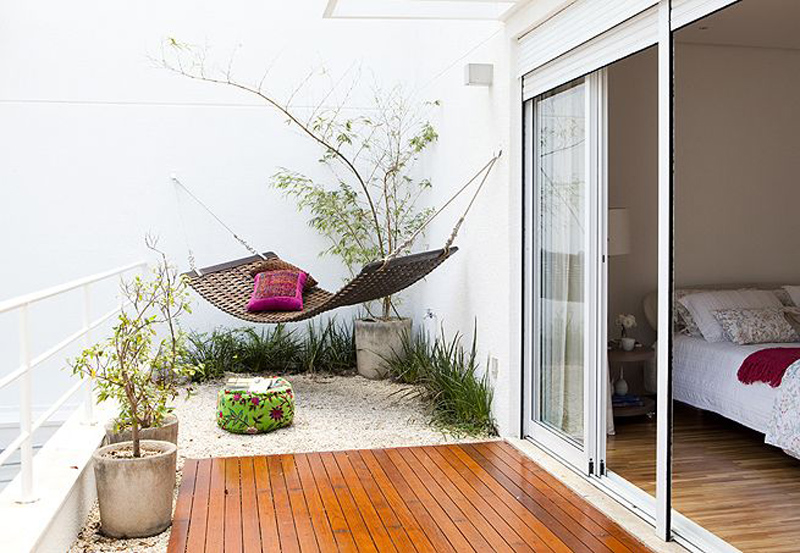 14. White Net Hammock
Color affects people in several means, subject to age and gender. Certain colors incline to get a similar reaction from most people; the differences come from the shades or tones used. Add a white net material hammock to give a neutral look in your room. It is perfect for small spaced room. Its effect can be change by adding colored cushions. Best place to hang it outside or near the window, so that a person can stimulate his energy level by only swinging on it.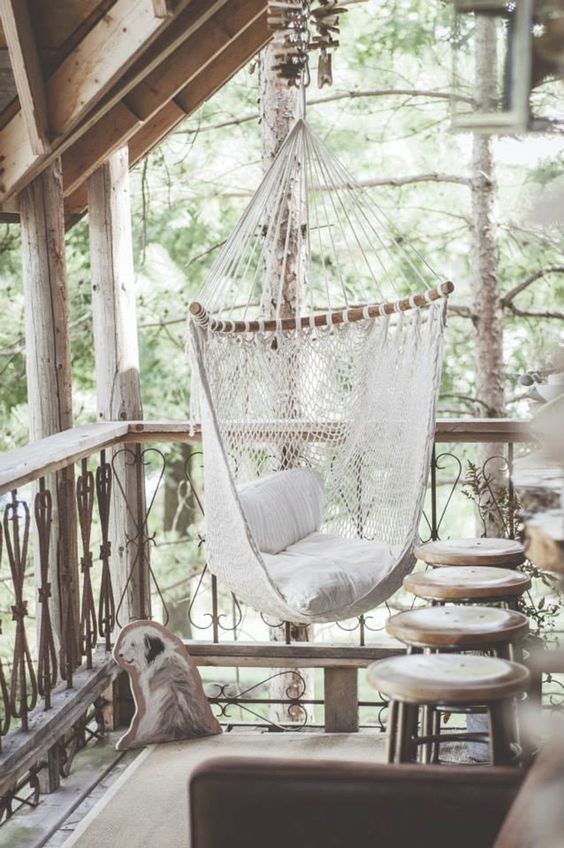 15. Triple Seated Hammock
Enhance your artistic skills by adding this triple seated hammock in your outdoor space. It gives look of two conjoined wheels at the first glance. Chill out in this modern hammock to enjoy your day as they are the perfect image of relaxation. When you have to enjoy relaxation time, do not consider sitting on a couch anymore.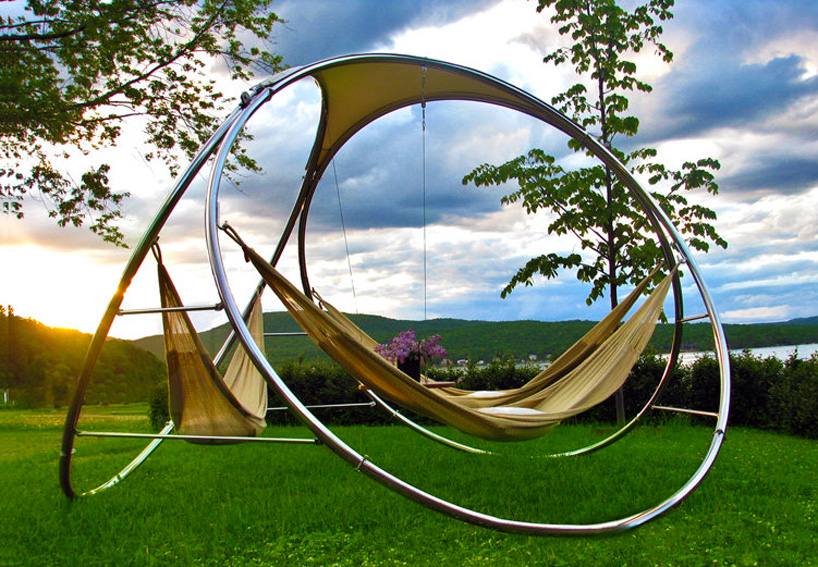 16. Colorful Crochet Hammock
Crochet hammocks offer a relaxing way to swing off all your concerns. Although they look hard to make. Though they look elegant, you can crochet them easily at home with your own choice of colors. Make them all colorful or simply elegant white; the choice is all yours. Crochets are a fanciful method to add a candid and classic look to your hammock and living room.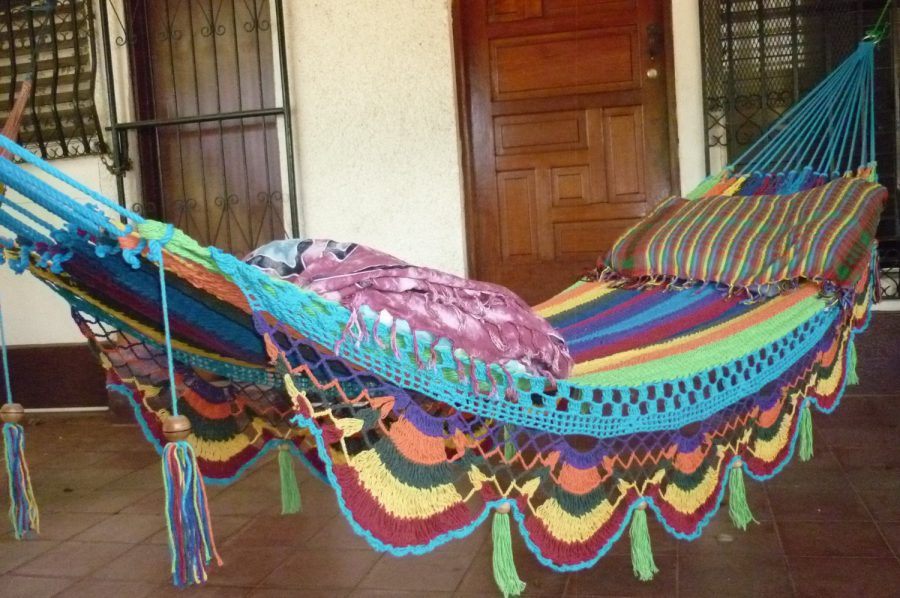 17.  Isolated Couch
If you like some isolation then this hammock is perfect for you. It is equally likable among children as well as they can hide their play activities inside. Relaxing in isolation can give you up a feeling of serenity and peace inside. It can easily mimics a small library for book lover's soul. You can free your mind and body after a long busy day by sitting in hanging bed like this and just relax and enjoy. Moreover constant and gentle swinging through hammocks help in stimulating your mind which improves ability to concentrate and focus on tasks like reading or writing.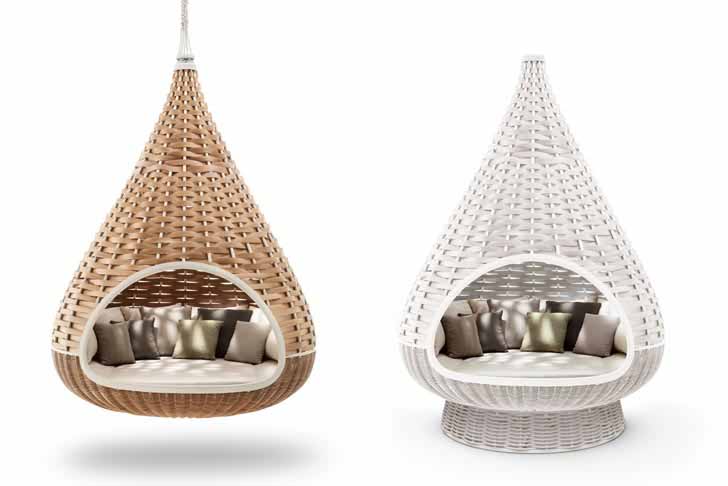 18. DIY Hammock
One of summer's great wishes is relaxing in a hammock, just sleeping, reading, or doing nothing at all. But first, you need a hammock; you can make it on your own by replacing seat of your traditional hammock with stand with wooden pieces. Although it takes effort and time to make but believe me at the end the result worth a lot. Soften the space by adding more cushions and hanging the drapes down, an added rug underneath also serves the better purpose.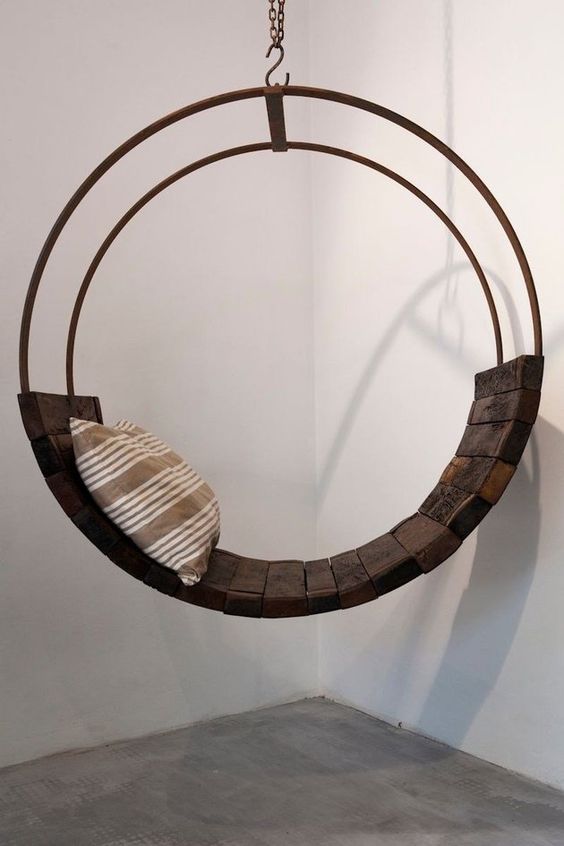 19. Mommy and Baby Both Happy
As hammocks are equally famous in children as well as adults, this is a two in one hammock which will make both happy. While adults enjoy on big chair, babies enjoy on swings under supervision. If you want to avoid drills on walls then this hammock with a stand is a better option.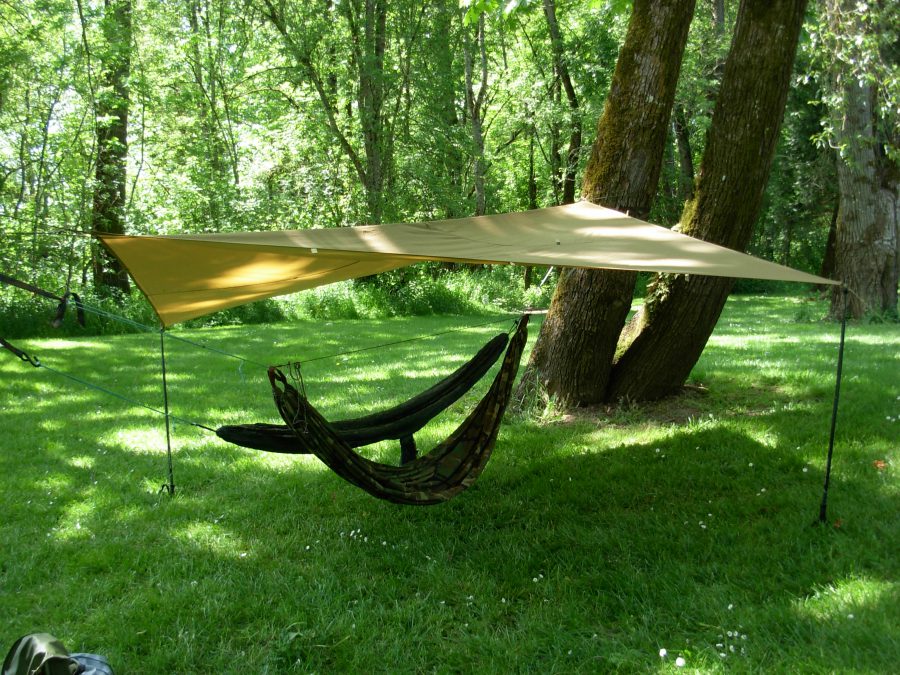 20. Small Sized Hammock
This graceful well designed hammock is ideal for small spaces. It can be placed in corner of a room to give a relaxing look. Be sure if you have a small room, it is better to mount the hammock at the corner or bottom of the room to make sure it does not capture view of the entire room.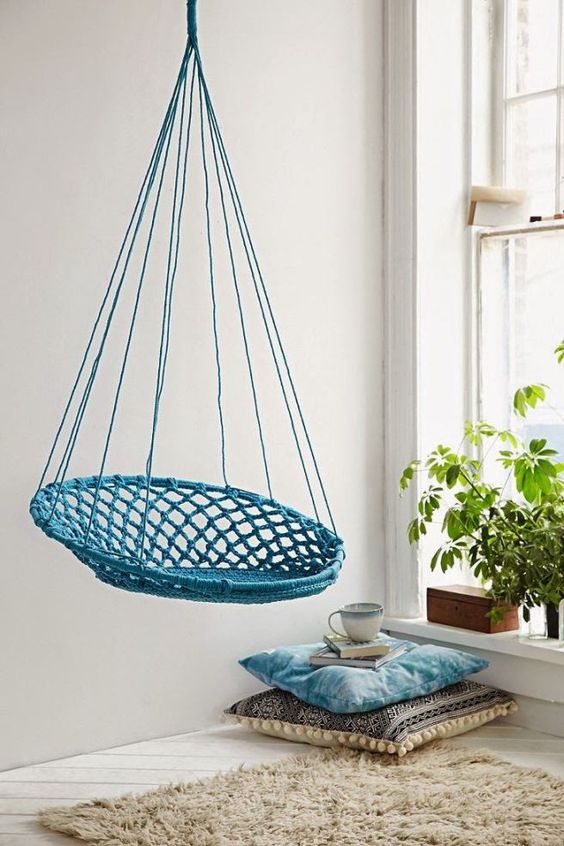 21. Add Accessories
Hammock is a best thing associated with rest, comfort and relief for peaceful weekends. Varying your hammock look with pillows and a throw-ins is a reasonable and bright ideas for personalized, creative and comfortable home decor. Although small hammocks are not much comfortable but adding cushions to it make them cozier and also bring a touch of elegance to your room. It is human nature to relax by gently swinging on hammock as it promotes muscle relaxation because they gently mold around your body shape thus reducing problems with the pressure points, suggested by doctors as well.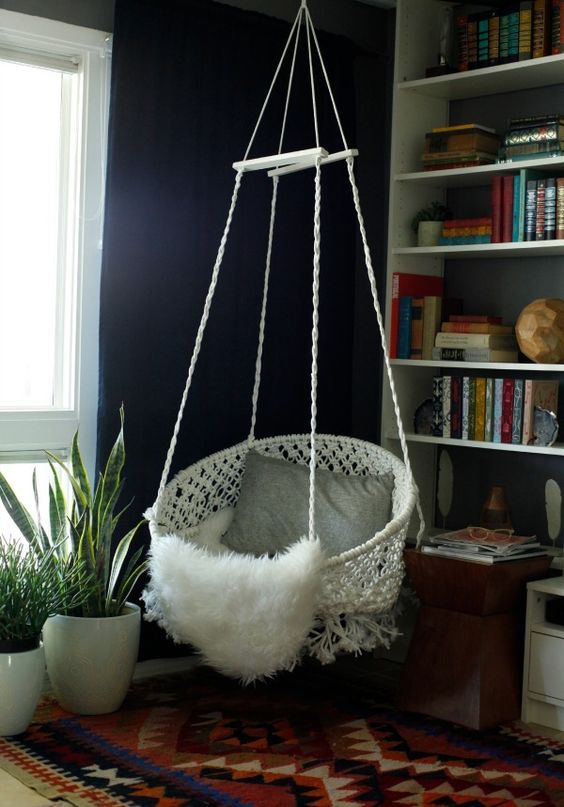 22. Rocking Chair Hammock
This colorful hammock is a compulsory element for children rooms. They can easily swing on it without complaining. There is the right hammock out there for whatever space, budget, idea or taste. Be sure to keep a strict eye on safety, especially if children are using it.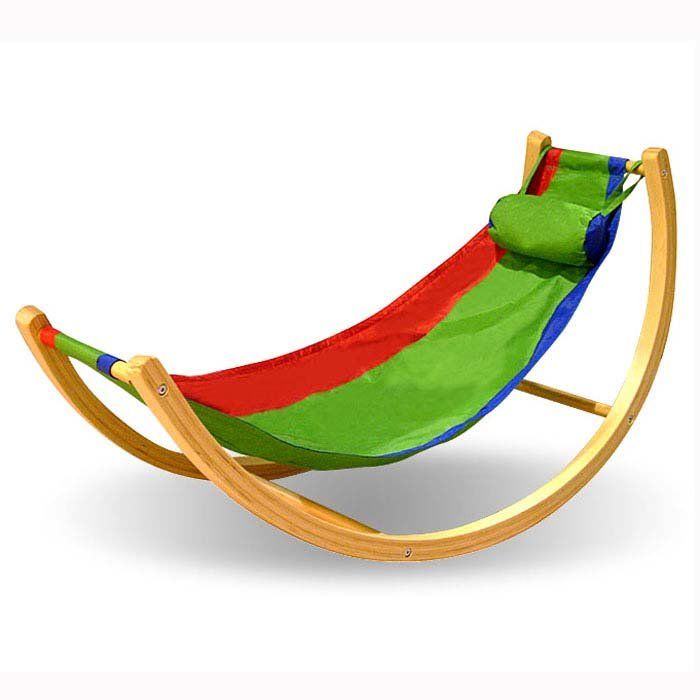 23. Family Hammock
This huge hammock is equally popular in children as well as youngsters. It gives opportunity to come and relax together thus giving the feeling of family and enjoying picnic parties together.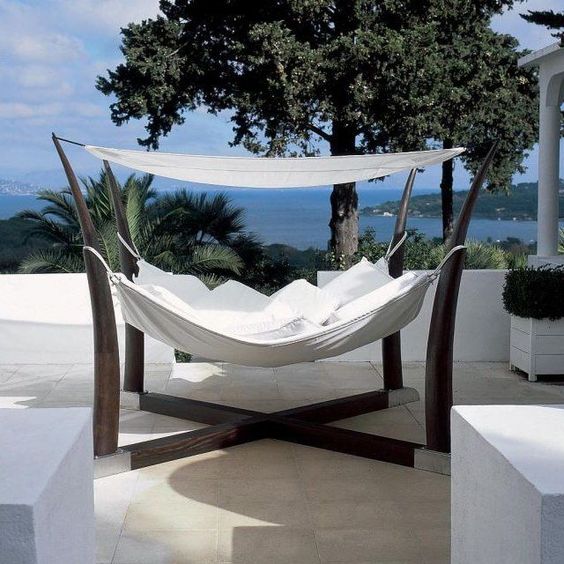 24. Summer Hammock with Stand
Stylize simple looking hammock with this new design. It gives an inside of your artistic nature. When climbing into a hammock, get ready to be lulled away from the everyday tensions and anxieties of the world. Clasped and supported, comforted by its rhythmic rocking.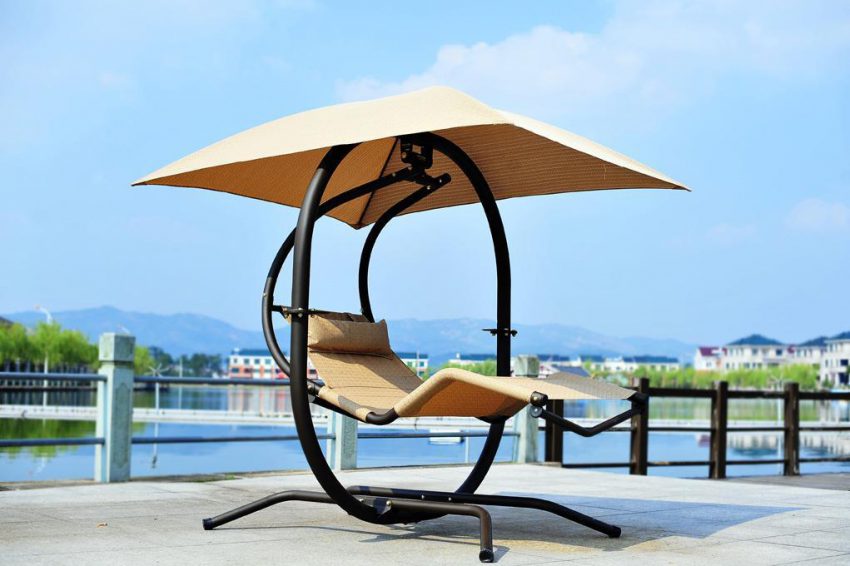 25. All Around Awesome
Sometimes you want to satisfy your inner adrenaline by swinging on adventurous looking hammocks. This is a simple looking hammock with more height.