20. Fairy Garden Container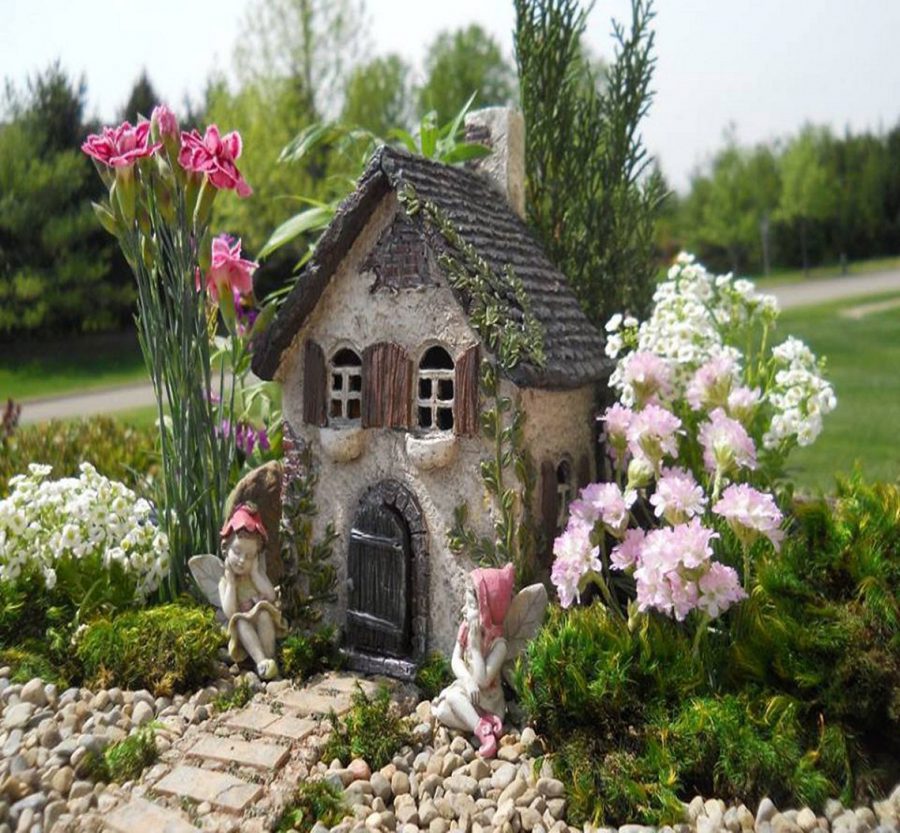 Looking at this small old house tells a fairytale that includes two fairies who enjoy in their tiny garden while admiring the giant flowers around their home. Already interested in realizing this idea? Go ahead and start realizing it today. You can use a container for placing the small house you can make out of the wooden box and plant low-growing flowers among the decorative pink stones that match the fairies' outfits. A mini garden like this spreads harmony and will embellish your yard or patio in a creative and magical manner.
21. Fairy Garden Flowerpot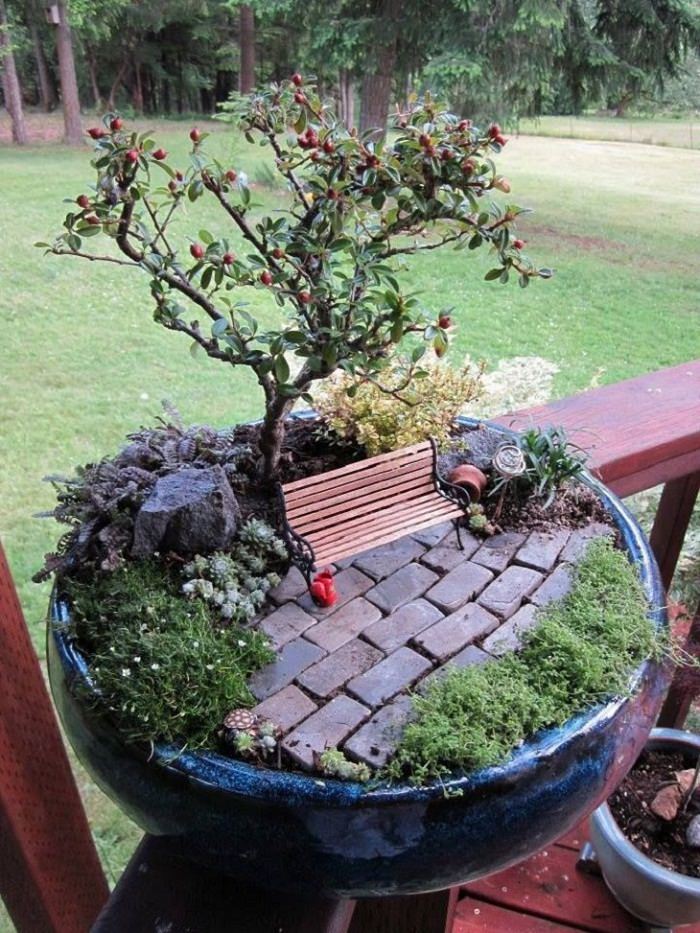 Place decorative flat stones like the ones in the photo inside a freestanding large pot and plant a few low-growing plants. You can add a tiny plastic apple tree and give the whole garden a striking appearance. Don't forget to also add some decorative details and enjoy your new fairy garden you can place in your yard, patio or porch.
22. Fairy Garden Idea For Fall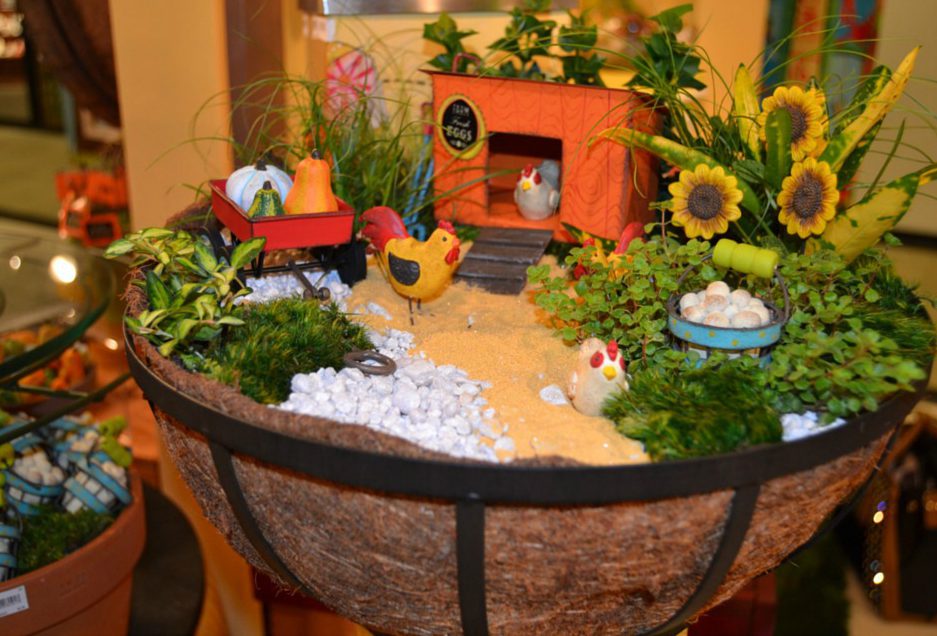 Fall is the most beautiful seasons that decorate the world without our help with its yellowed leaves and colorful landscapes. In honor of this charming season, we've come up with a charming idea for landscaping a fairy fall garden. It includes a freestanding pot, tiny sunflowers, cute chicken toys and a hen house. Although this garden is decorated in farmhouse style, it will definitely embellish your home or yard in a modern and creative manner during autumn days.
23. Fairy Garden Idea In A Pot
This isn't just another fairy garden idea in a broken pot but a remarkable one that will embellish your garden in a creative and unique manner. A special feature of this design is the broken pieces of the pot resembling grassy stairway to the mini fairy garden that includes an old-fashioned house and two angels decorating the place. Although it seems complicated, once you start realizing the idea, you will see how simple it is. All you need to is to let your fantasy to do its thing and enjoy your tiny fairy garden after.
24. Fairy Garden Ladder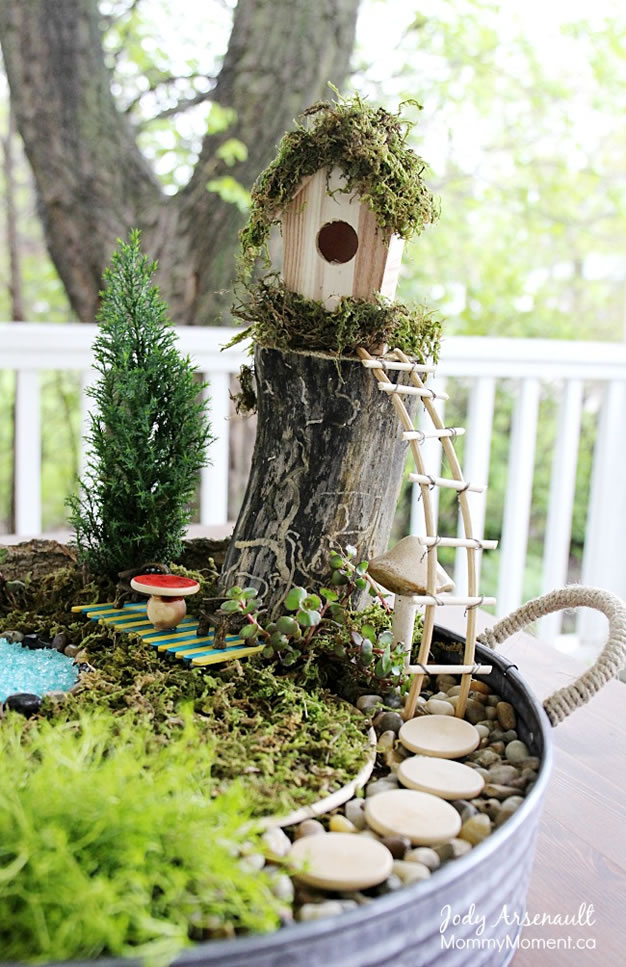 By realizing this idea, you will not only embellish your garden but also create a home for the birds because this design includes a tiny bird house and a ladder that's bonding the house with the walking path made of decorative stones placed in a DIY pot. You can add a few decoration such as mushrooms or grass on the roof of the house and enjoy your new unique fairy garden.
25. Fairy Garden Mushroom House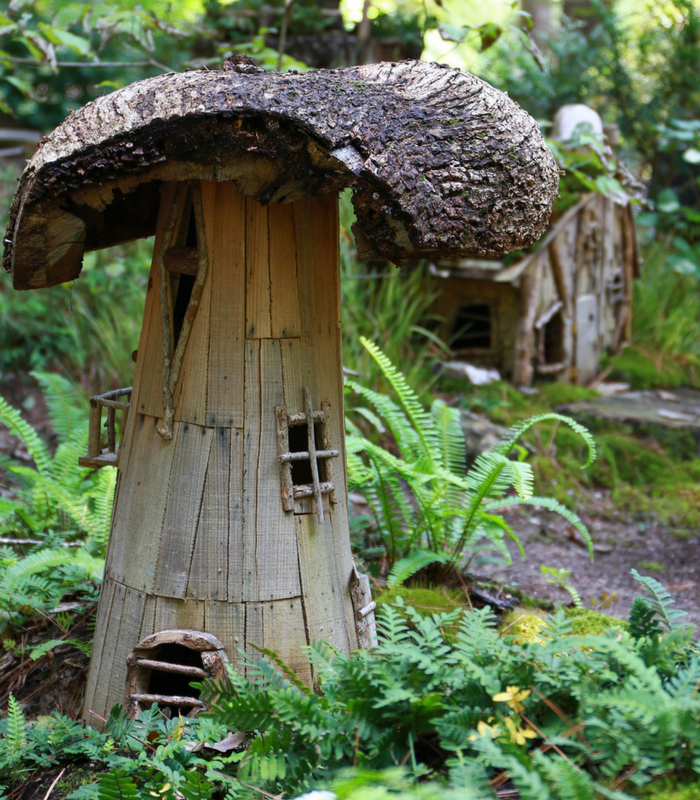 If you were looking for a unique decoration for your garden than this mushroom house is the perfect choice for you. It will give your garden a striking appearance and will embellish the entire space in a creative manner. You can make it from pieces of wood and use a wooden bark as a roof of the mushroom house. Easy to realize and it won't cost you any money. Either you place it in a corner of your yard or among the plants in your garden, this mushroom will definitely impress your guests and neighbors.
26. Fairy Garden Small House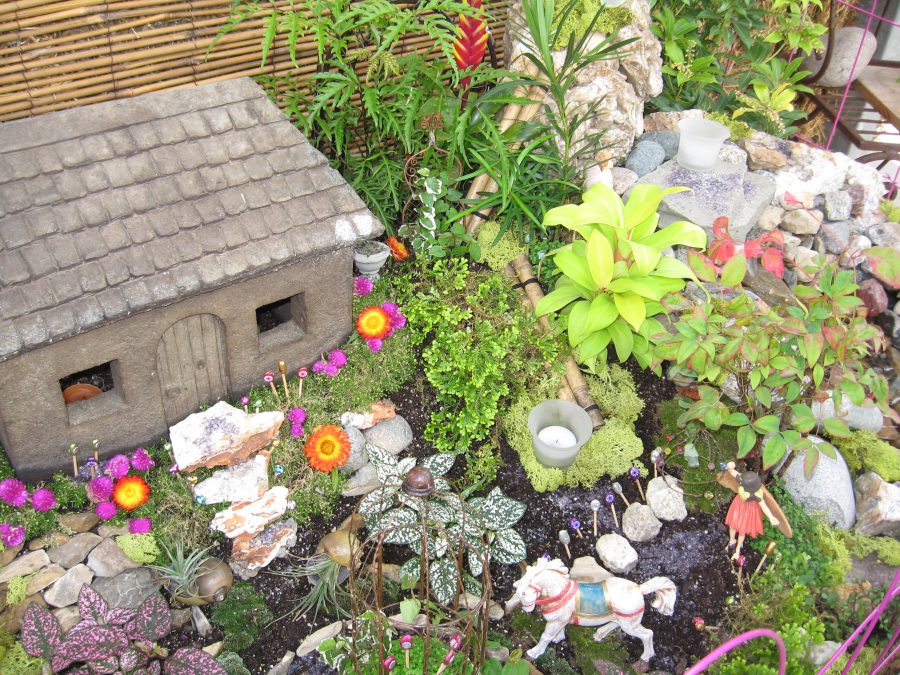 A small cement house with a walking path made our of simple stones, decorations such as angels, horses, and candles placed among the low-growing flowers and plants are the main features of this fairy garden. You can build it in a container or a larger flower pot and embellish your garden in a creative manner. There's no one who won't admire your creativity.
27. Fairy Tree Garden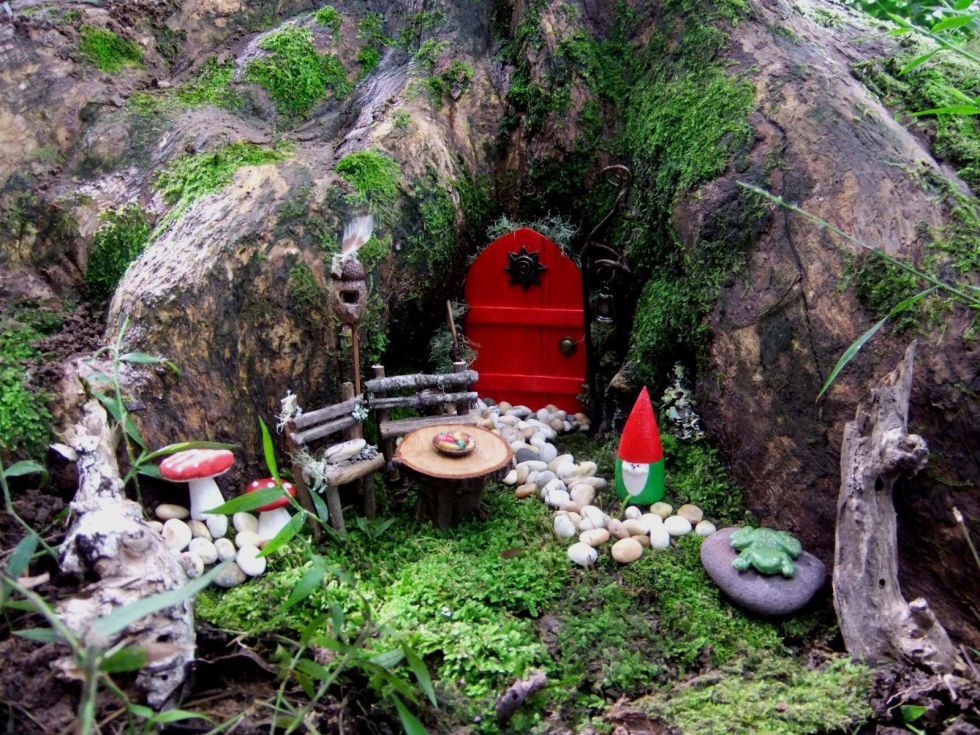 Another design idea including a tree in your garden, however, this one isn't less beautiful than the previous. It also includes a wooden red door that illustrates a home of a dwarf that is placed nearby and enjoys his tiny fairy garden decorated with stones, mushrooms and tiny wooden table with two wooden chairs. Impressive and easy to realize, this design will embellish your yard.
28. Gorgeous Fairy Garden
Embellish your garden with this fairy garden build in a container or a larger freestanding pot consisted of a small tree, grass and wooden table and chairs all enclosed with elegant white fences. Already interested in realizing this idea? Feel free to 'steal' it today.
29. DIY Miniature Fairy Garden Design Ideas With Aquarium
If you seek for something unique you can place inside your home as an ornament resembling a garden, then this fairy garden builds in the aquarium is the perfect choice for you. Buy a cheap aquarium or use an old one you have at home and fill it wit dark decorative stones, plastic plant decorations and a cute elf that will give the bowl a striking appearance. After you can place it somewhere in your living room and enjoy your unique fairy aquarium garden.
More DIY Miniature Fairy Garden Decor Ideas On The Next Page…