Everyone dreams of owning a home theater because watching a movie in the comfort of our home can't compare with watching a movie in the cinema surrounded by unknown faces. Although visiting the cinema with friends, family or your partner can provide a great experience, owning a home 'cinema' sounds more appealing. Who doesn't want to stay in their pajamas and watch movies in a cozy home theater wherever they feel like it? Or invite some friends over and enjoy the escape of reality while watching a good movie? We already know the answer to these questions, however, not all of us own a home that's large enough for placing a theater. For those who own a smaller but lovely home and still dream of having a private theater, we're here to help with our innovative and helpful ideas which you can easily realize. Others with large available space – feel free to use our ideas and remodel or install your movie theater in your home today. Scroll down and check out these 50 creative home theater design ideas and pick the one that wins your heart at first sight. No matter which one you chose, we promise you will be happy with the outcome at the end of the day. Get some popcorns and let's get started!
Check Out the 50 Best Home Theater Design Ideas of 2018 For Your Home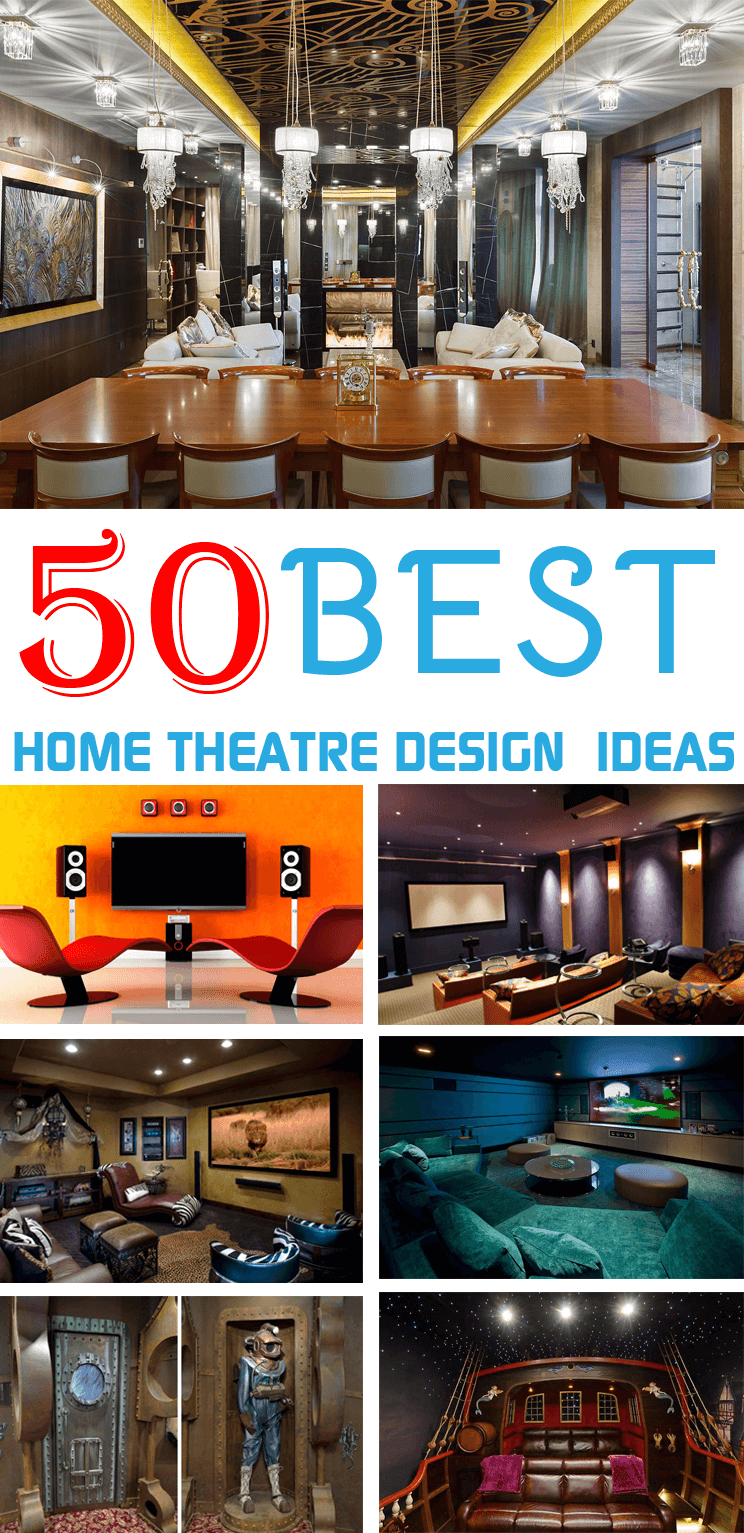 1.  Aliens Home Cinema Room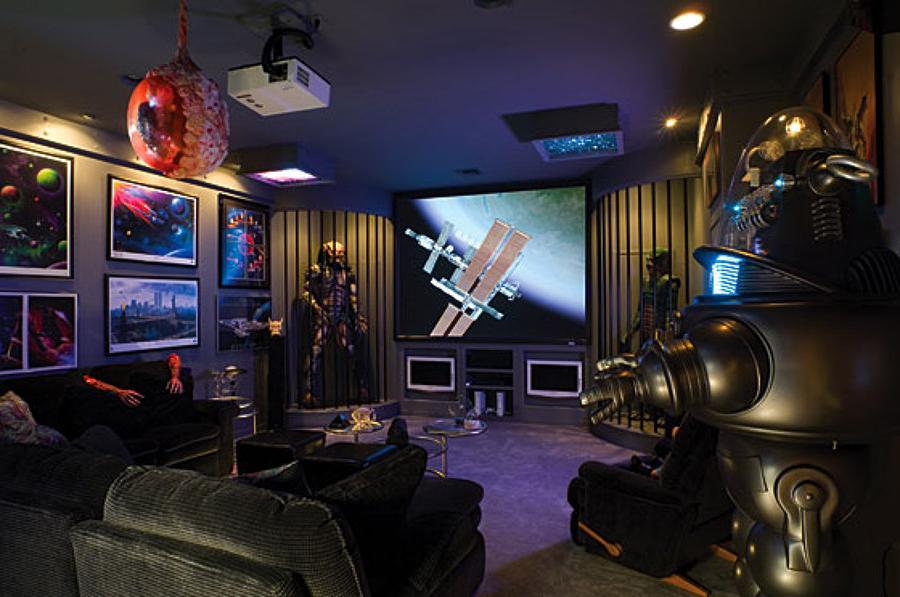 Tired of living in this world? Why don't you create your private world with a big TV screen in an alien style that will make you feel like you're living on a different planet? Owning one of this cinema rooms is perfect for those who have children and want to keep them amused until the movie starts playing. It's also perfect for those who own a large available basement or a larger room in the house. Like what you're seeing? Feel free to 'steal' this idea and arrange your own cinema room in this entertaining alien style. Once you install it, make sure you chose the right lighting and carpet to complete your new stylish space.
2. Aladin Entertainment Room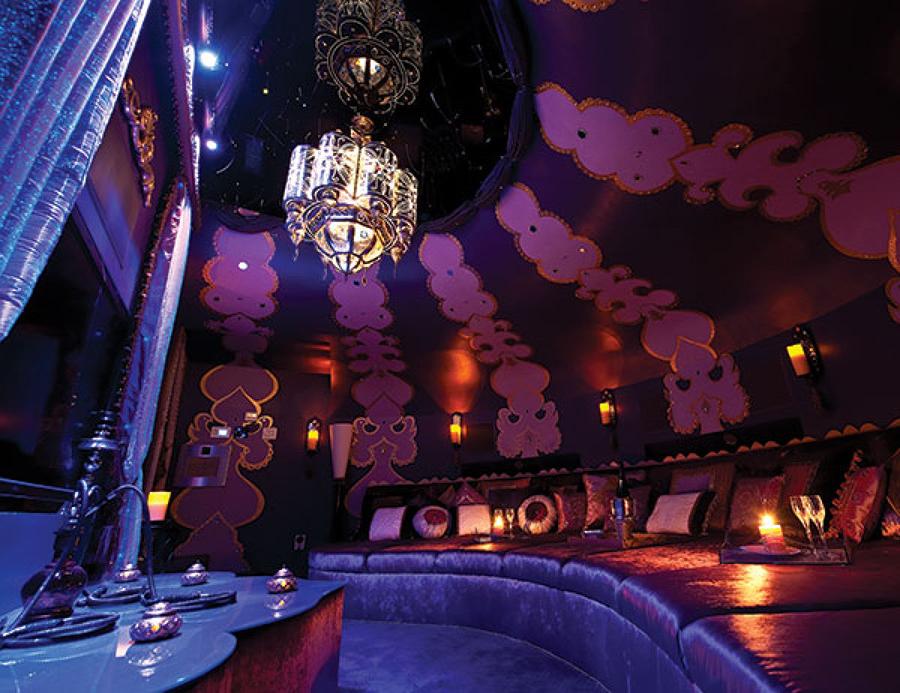 Are you ready to create your own entertainment room with a big flat screen in an Arabian style where you can spend one thousand and one nights watching your favorite movies? If yes, the Aladin style will perfectly meet your desires and imagination. Just looking at the violet silk sofas and spectacular details, such as the jewelry chandelier and perfect lighting will make you wanna stay inside until forever or maybe watch a romantic movie with your Jasmin or Aladin. A large basement won't be necessary for installing this type of entertainment room because it's definitely smaller than the first one we presented. A medium-size home theater design idea should be perfect for installing a private cinema like this one.
3. Amazing Home Cinema Room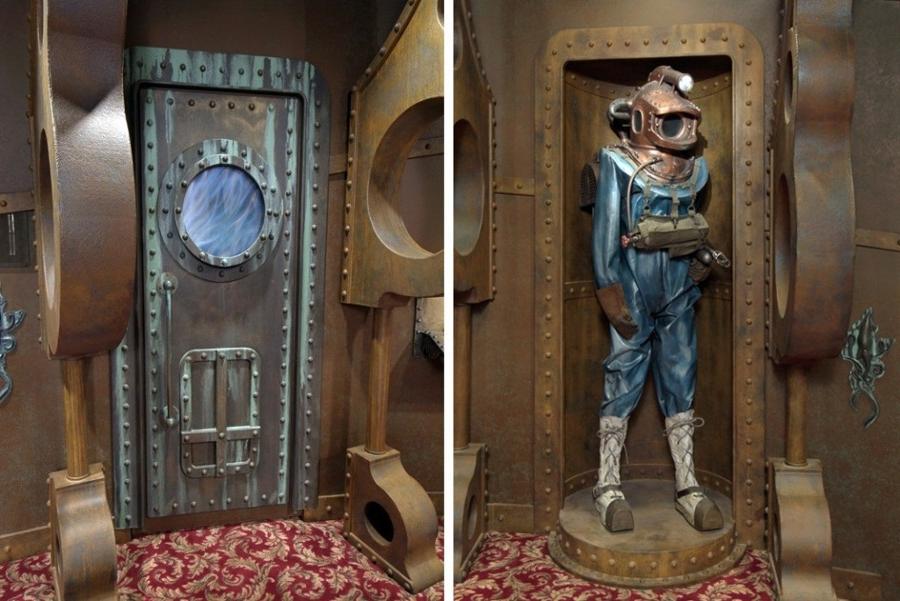 Who wants to own a submarine cinema room like the one we present on the photo? Perfect for gamers or people who love to play with unique and extraordinary landscaping. Those who decide to install an amazing home cinema like this one will definitely impress their friends or make their children happy. Entering a room like this will make you escape reality and get lost in your favorite movie together with your favorite people. Just make sure you chose the proper lighting and carpet that match this extravagant weird landscaping for your new cinema room.
4. Amazing Media Room Lighting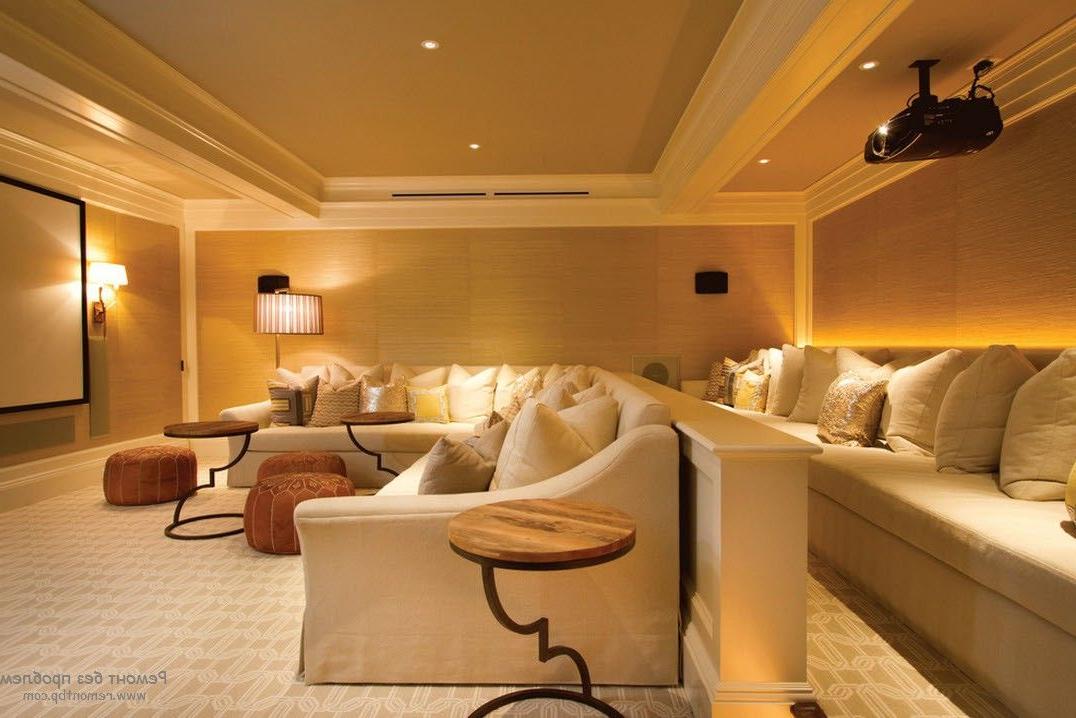 Aside from the landscaping, the lighting plays a big role in the quality of your media room. Once you chose the perfect lighting, you're on a half way of creating the perfect private cinema. While some prefer darker atmosphere for their home theater, others enjoy watching a movie in a brighter place. Are you one of the people who prefer watching movies in cinemas that are brighter illumination? If yes, the media room we provided is the perfect choice for your new private cinema. Feel free to 'steal' it and realize it today. However, don't forget to also choose a carpet and furniture in a brighter tone that will complete your new perfectly enlightened cinema room.
5. Animal Themed Entertainment Room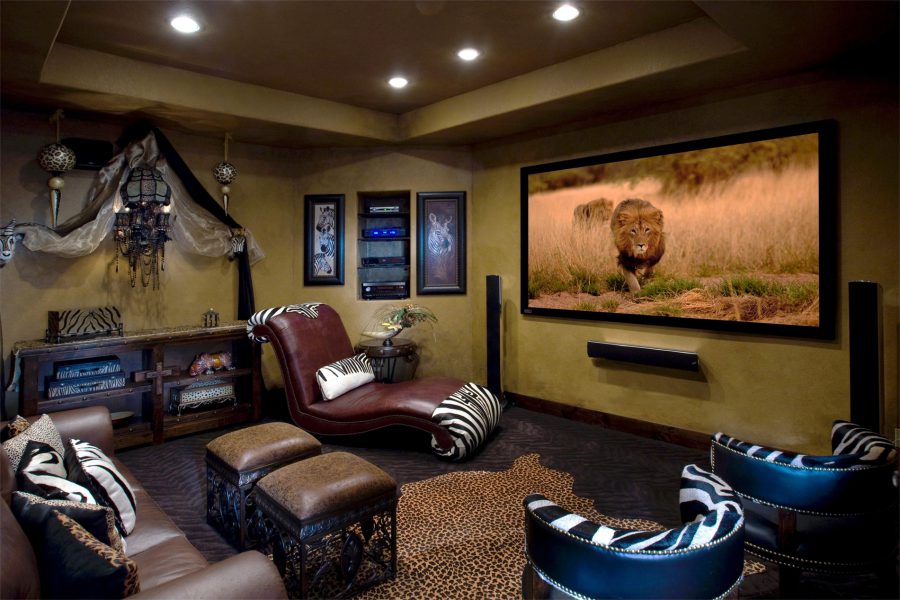 Exotic animal-themed entertainment room for animal lovers who enjoy watching a good movie from time to time. Are you an animal lover who prefers an exotic and more extravagant landscaping? Chose this example we provided and create your own wild kingdom where you can enjoy some quality time with your friends or family. Aside from the armchairs with zebra print, adding a leopard printed carpet will complete the entire interior and embellish the space even more.
6. Basement Home Theater Design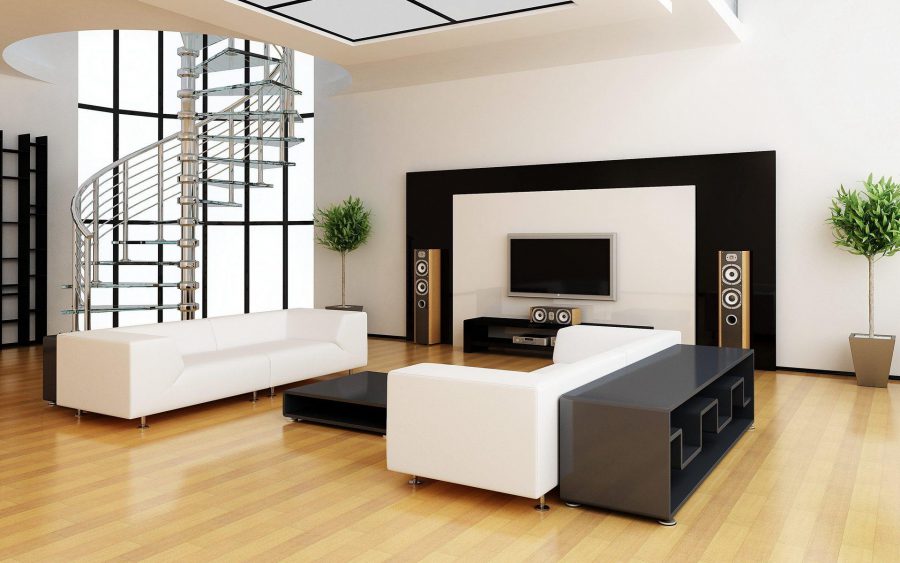 Own a large basement you don't know how to use it? Why not create the perfect home theater and watch your favorite movies on a flat TV screen together with your friends or family? Sound appealing? Chose the idea we presented on the photo and turn your basement into a modern home theater. By choosing this idea for a private cinema you will mark your home in a unique manner and definitely increase its value.
7. Turquoise Colored Basement Media Room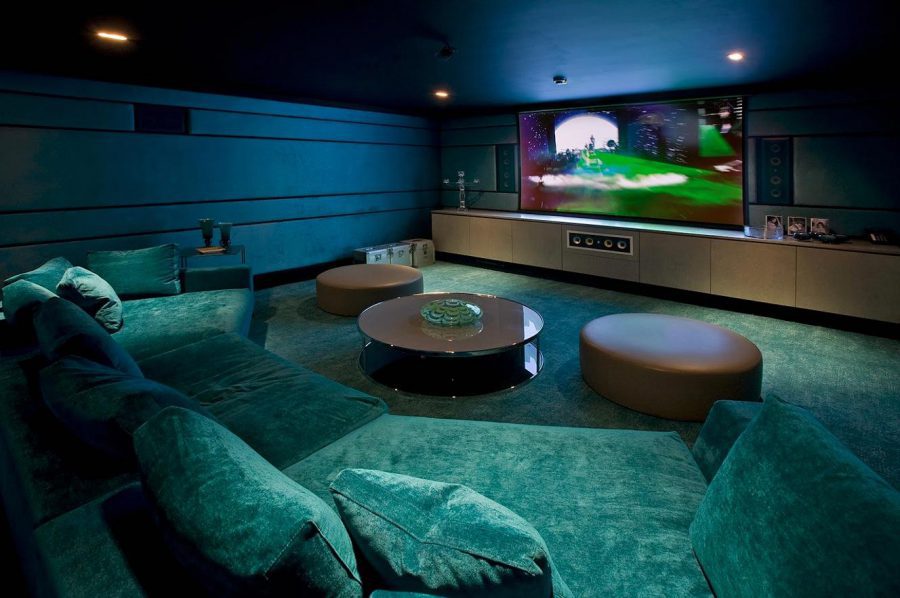 Are you a fan of luxury landscaping and wish to create your own media room where you can spend the nights in your pajamas watching your favorite movies? If yes, this turquoise colored cinema room installed inside a basement will certainly meet your imagination. Aside from the turquoise colored furniture, make sure you chose the lighting in a similar tone and create a comfy relaxation atmosphere.
8. Black Colored Entertainment Room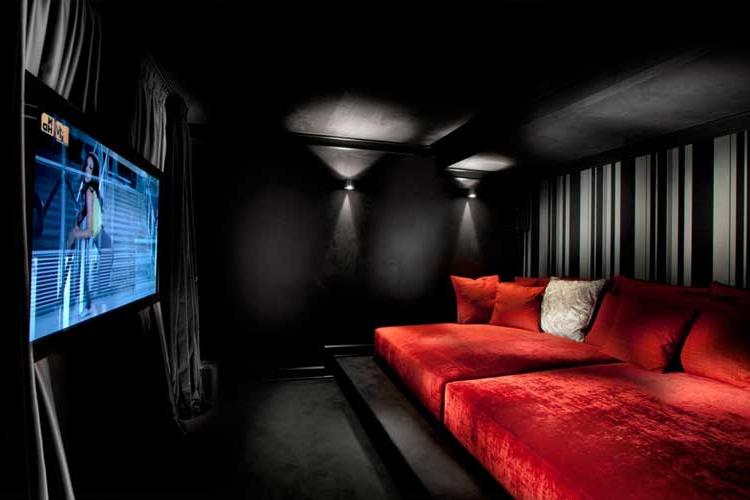 A small entertainment room which you can install in some fo your free rooms or smaller basement. The black colored walls and floors wrap the entire room in comfort, while the red colored bed gives the place a more sophisticated look. Consider choosing a minimal lighting and keep the room's atmosphere darker. By doing that, you will enjoy some quality time spend in your new private cinema.
9. Contemporary Home Theater Room With Crown Molding Design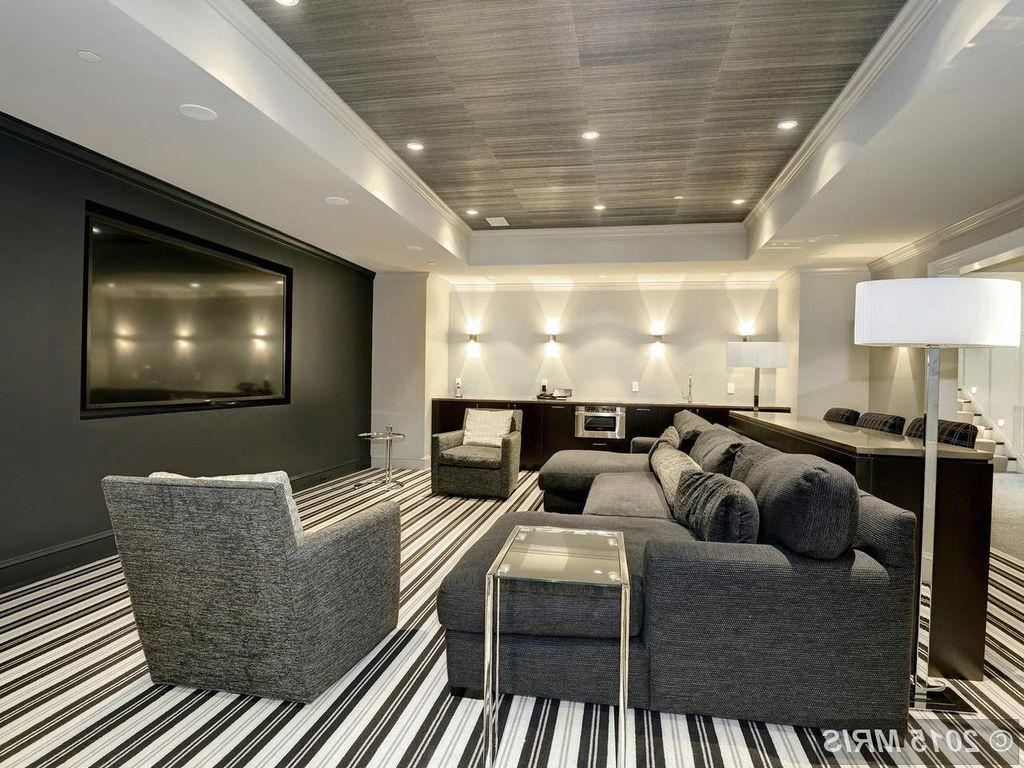 Contemporary home theater room like this one will perfectly meet the desires of those who seek to find their ideal bright cinema design with crown molding. Choosing white colored walls and gray furniture, while keeping the background of the flat screen dark will create a perfect spot for watching movies. Owning a theater room in a modern style like the one on the photo will definitely embellish your home, impress your friends and increase the value of your house, no matter where you install it.
More Home Theater Design Ideas on The Next Page…