Every man needs his own private space where he can escape the world temporarily or hang out with his friends from time to time. And where can a man completely turn off from the world and focus on himself if not in his man cave? Man caves are quite popular today. Although we imagine men spaces as untidy and unorganized, you might get surprised when you see a man's cave today; not that they are clean and organized but also decorated with style.
However, for those the 'beginners' who want to create their own cave today but they can't come up with an actual idea on how to arrange the space according to their needs and desires, we've prepared the 50 best man cave ideas and designs. Usually, men caves are built inside a basement, garage or by turning one of the free rooms in the house into a private spot for resting, gaming or drinking beer and watching football with friends. Keep reading and chose the one cave that suits you and your living conditions. Although landscaping your cave may seem as an exhausting task, you might get surprised how landscaping your space can be fun once you pick one of our tested creative ideas.
Check Out the 50 Best Mind Blowing Man Cave Ideas and Designs That Surprise You

1. Man Cave With A Billard Table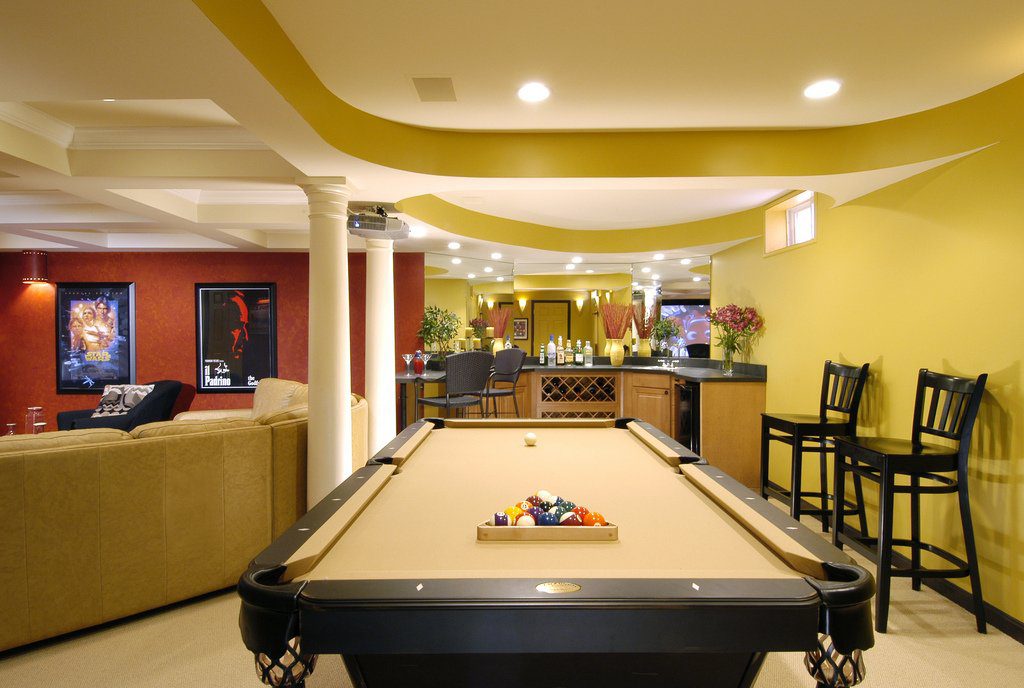 Although men caves are always dark and gloomy, we took the liberty of presenting you a wide and light man cave that's arranged with style. Aside from the carefully chosen furniture and lighting, this cave includes a wide billiard table that's always welcome in a man's cave. Adding an elegant black bar like the one on the photo with simple high chairs will complete the entire outlook and turn your man cave into a sophisticated, modern resting spot where you can relax alone or invite some friends over and grab a beer.
2. Amazing Wine Cellar Man Cave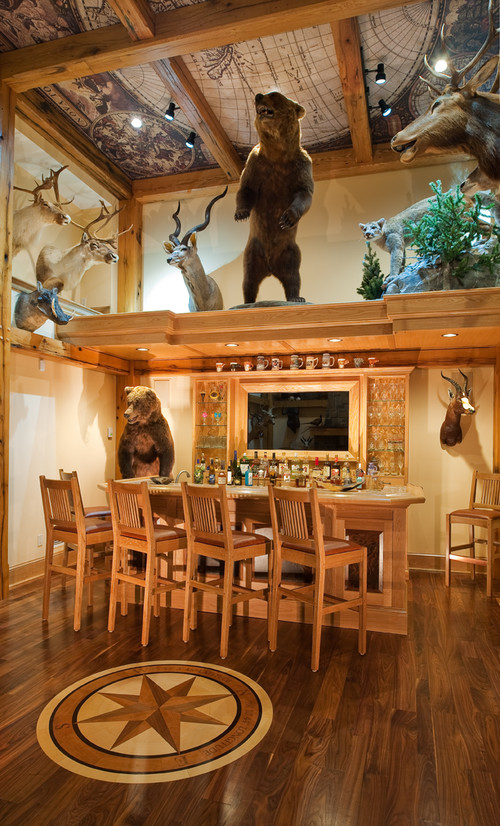 Are you a hunter addict? If yes, then this amazing man cave with beer and deer decorations will certainly fit your lifestyle and meet your taste. Aside from the unique decorations that mark the room in a creative manner, there's also a wine cellar in the center of the place with a small wooden bar and a few high chairs that will serve as a perfect accessory during male nights. Although most of the men caves are placed inside a basement or garage, this particular idea can be realized in a larger available room of your home.
3. Man Cave With A Striking Bar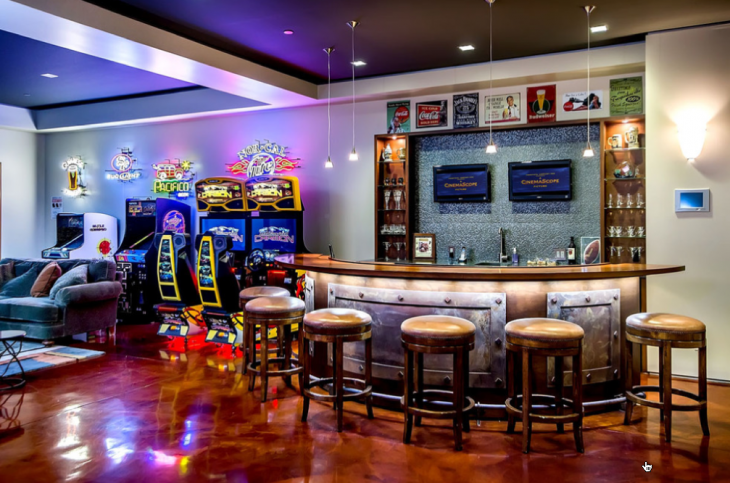 Are you dreaming of owning a man's cave with your own bar like the one we see in nightclubs? Are you interested in installing a bar in your resting spot that will give your cave a striking appearance? Feel free to use this idea and create the man cave of your dreams. Adding a bar will definitely make you and your friends happy because you will be able to enjoy a homemade relax party in your comfortable cave every night instead of pushing with all those people in the nightclubs. Chose the perfect blue lighting that will resemble the atmosphere of a night club and add a few high chairs that will perfectly match the rest of the furniture you chose for your new favorite resting and partying place.
4. Antique Sink For A Man Cave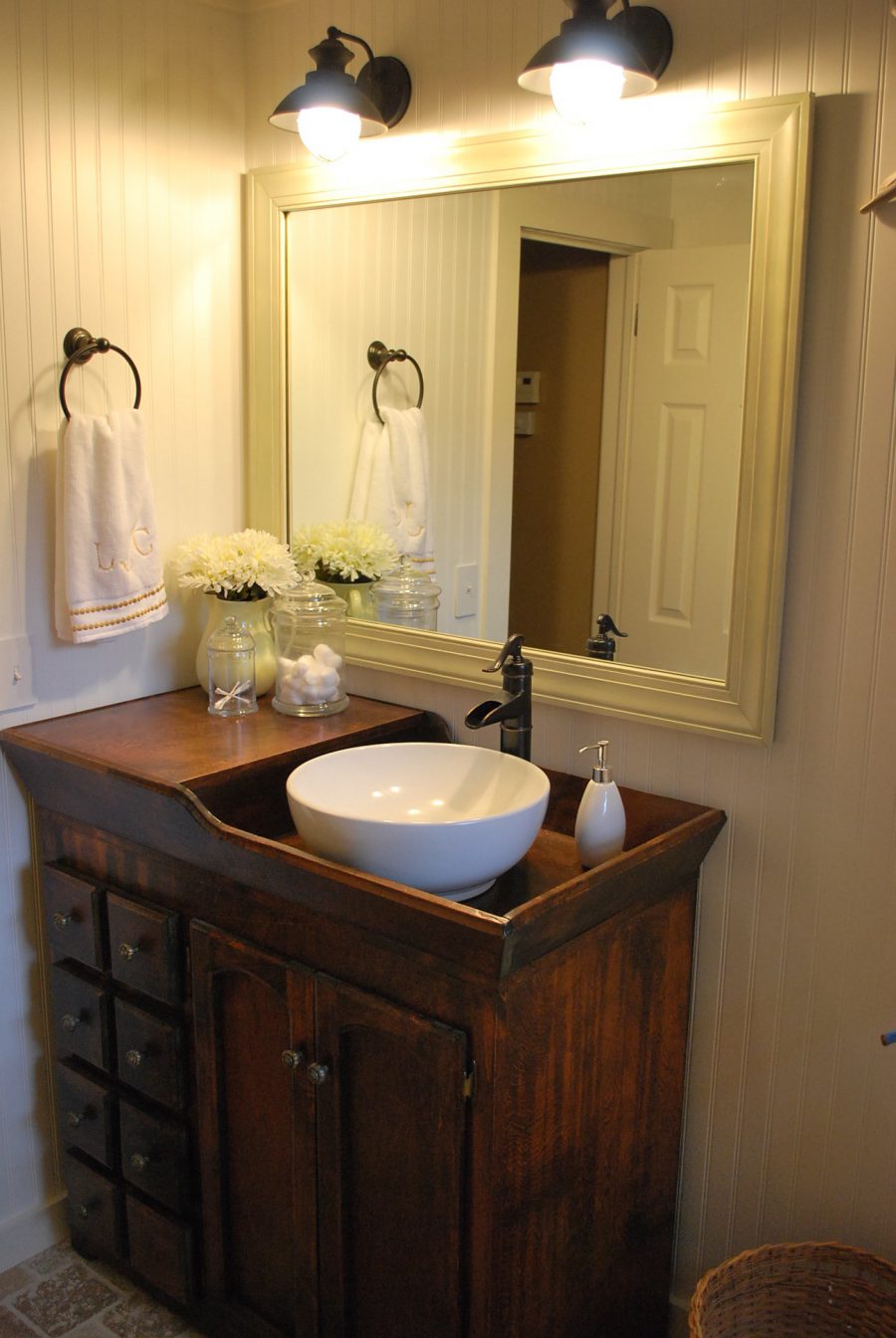 Although some may think that men don't care about bathroom landscaping, actually they do and we're here to help them. Were you looking for a traditional and simple yet beautiful sink for your man's cave bathroom? What you say about choosing the antique sink built from dark wood and embellish your cave in a classy manner? Your fellows will love your new bathroom sink and you can use this design to help you arrange or rearrange your whole cave in the well-known cozy antique style.
5. Automotive Man Cave Ideas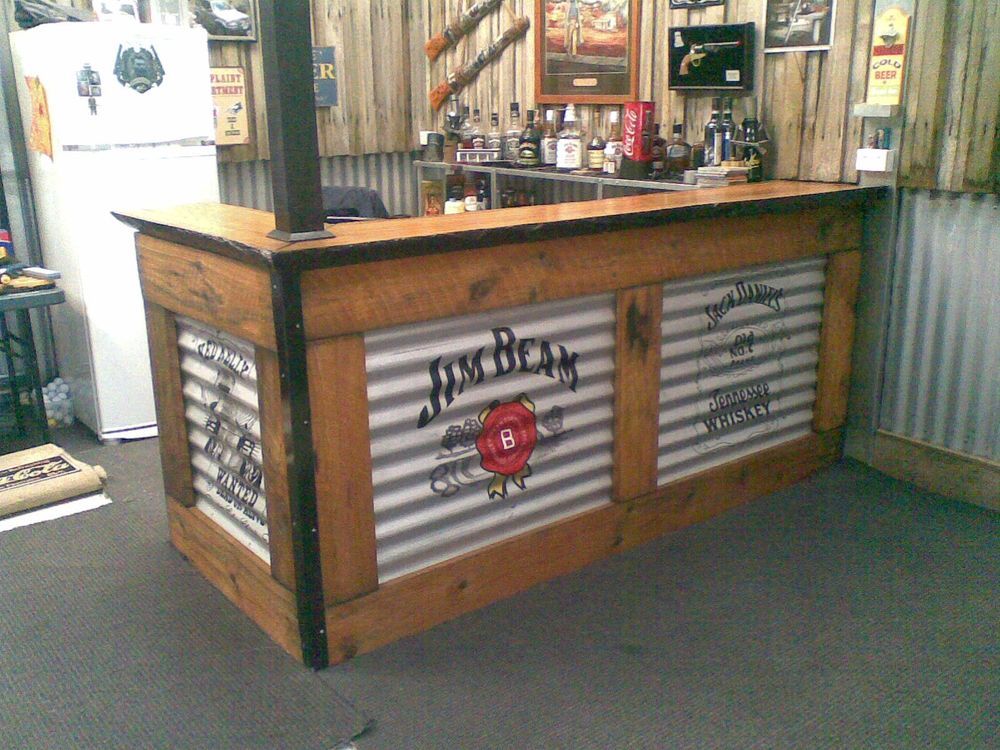 Are you one of those traditional automotive guys who enjoy the simplicity and the smell of vehicles in the morning? If yes, this man cave in automotive style will perfectly fit your personality and lifestyle. You can arrange it in a small basement, however, a garage seems more suitable for this type of cave – we leave that choice to you. Feel free to use the idea and arrange your cool automotive man cave with casual bar and simple furniture starting today.
6. Extravagant Bar With Dining For A Man Cave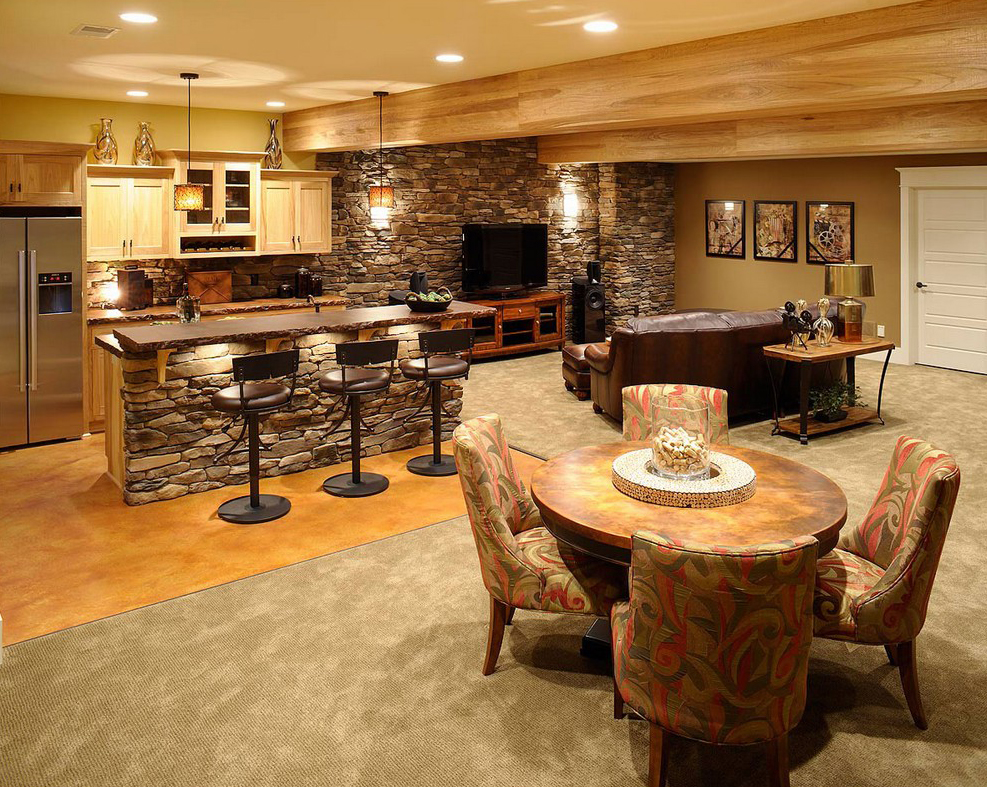 For those who want to feel like they're resting in a living room, this extravagant landscaping that resembles a living room will certainly meet their needs and imagination. Including a dining and a bar decorated with stones, this man cave will become your favorite hanging out spot. Have in mind that you will spend the most of your spare time here than in the real world once you install a cave like this. Aside from the classy bar and the comfortable furniture, the place is arranged with perfect lighting and decoration that meets the taste of every man who wants to arrange his space with style.
7. Basement Man Cave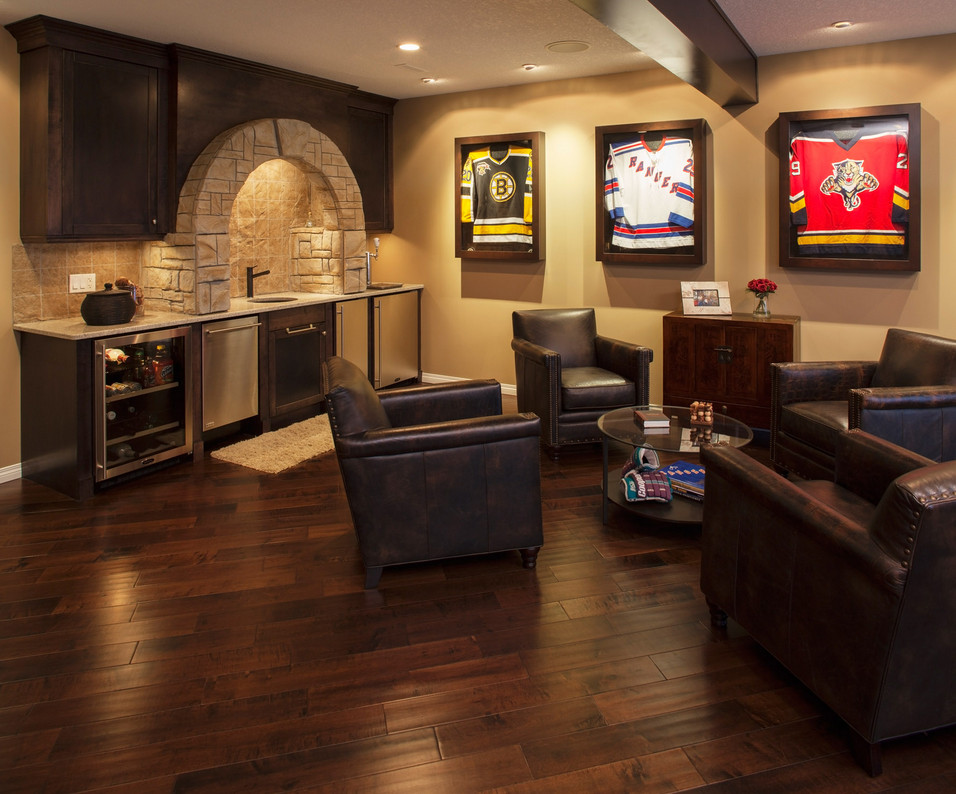 Basements are a common choice when it comes to picking up location for a man's cave and caves built inside a basement are usually dark and gloomy. This one definitely meets the original look of a basement cave with its dark wooden floor, comfortable leather furniture and minimal lighting that gives the cave a cozy tone. Aside from this, the cave is arranged in a sports style with jerseys hung on the walls and represent a great idea for sports addicts who will use their cave for watching games with their friends.
8. Basement Man Cave With A Movie Theater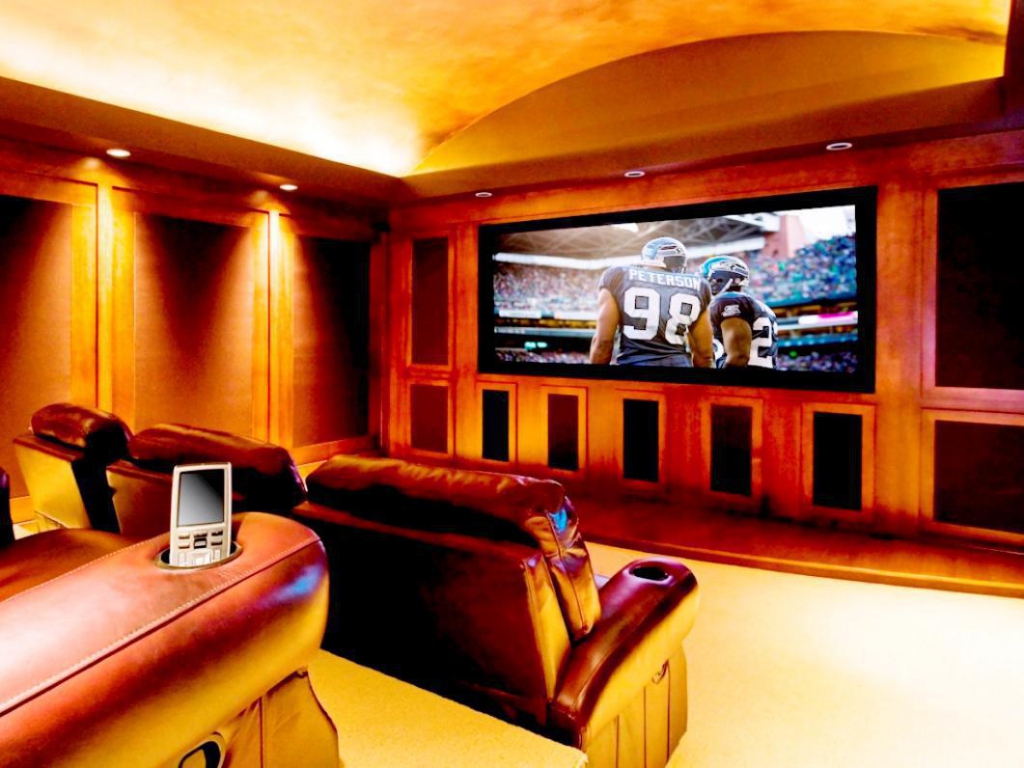 Similar to the previous basement cave, however, this one has something that will make every movie freak happy – home theater where you can also watch your favorite games in a large resolution. Perfect for male nights spent in relaxation, with a beer in your hand, while sitting on the brown leather armchairs. Although it seems simple, this cave will become your favorite hanging out spot and a place where you can hide from the world and gather your thoughts, at least temporarily.
9. Basketball Court Man Cave
A cave man including an improvised basketball court is just perfect for basketball lovers who wish to spend their spare time sweating with the ball instead of resting. Aside from using this playing room for playing games with your friends, you can also bring your kids and spend some quality time together inside your secret basketball cave. Outside the court, you can notice a spot where you can take a break from the game and chill out. A cave like this can perfectly fit a large basement or larger garage.
More Basement Man Cave Design Ideas On The Next Page…