30. Japanese Style Fairy Decor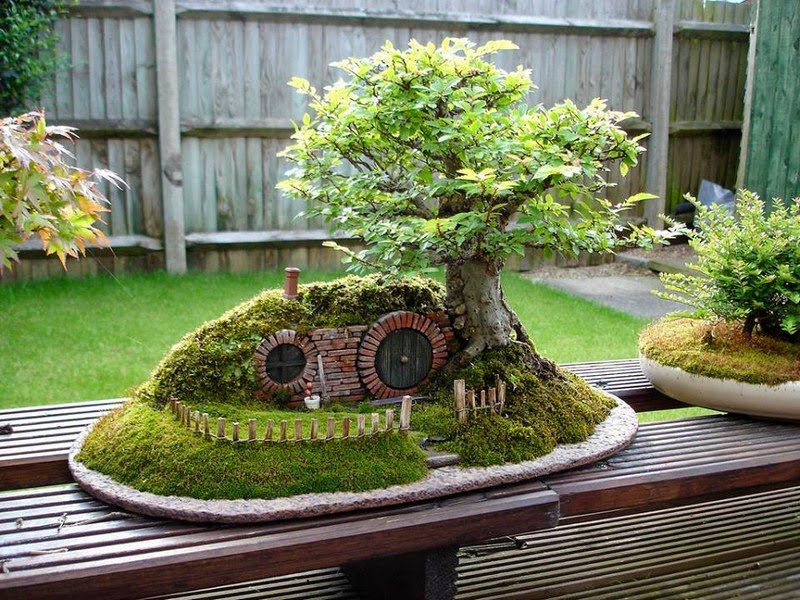 Arranging your garden in Japanese style means arranging with class. The fairy garden décor we presented on the photo captivates with its clear and natural appearance. Those who are a fan of the Japanese style can follow the example and create the fairy garden of their dreams consisted of a unique tiny brick house with a grassy yard, a small adorable tree, and a simple wooden fence. You can build it on a stone tile and place it somewhere available in your yard or garden embellishing your yard or garden in the Japanese manner.
31. Magical Fairy Garden Design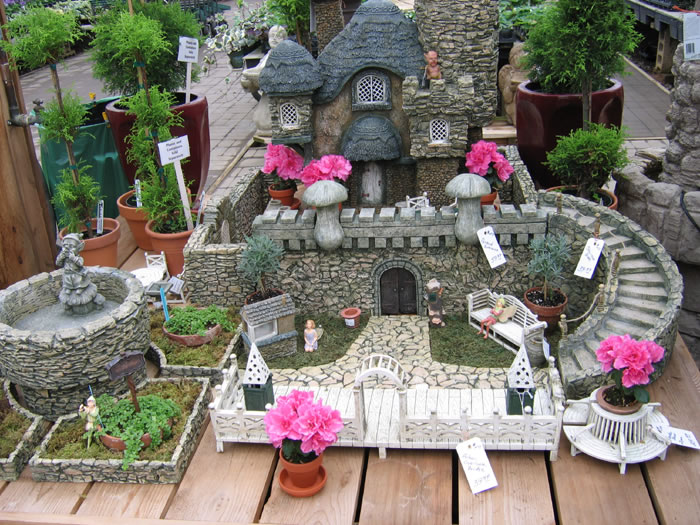 Are dreaming of creating your magical fairy garden that will captivate with its beauty and charm? Open your eyes and get to work because we found what you've been looking for – a simple yet unique magical fairy garden consisted of the tiny grassy yard, low-growing plants, decorative bench and a fairy welcoming a deer inside her lovely home. Sound appealing? Feel free to 'steal' this idea and realize it starting today.
32. Marvelous Fairy Garden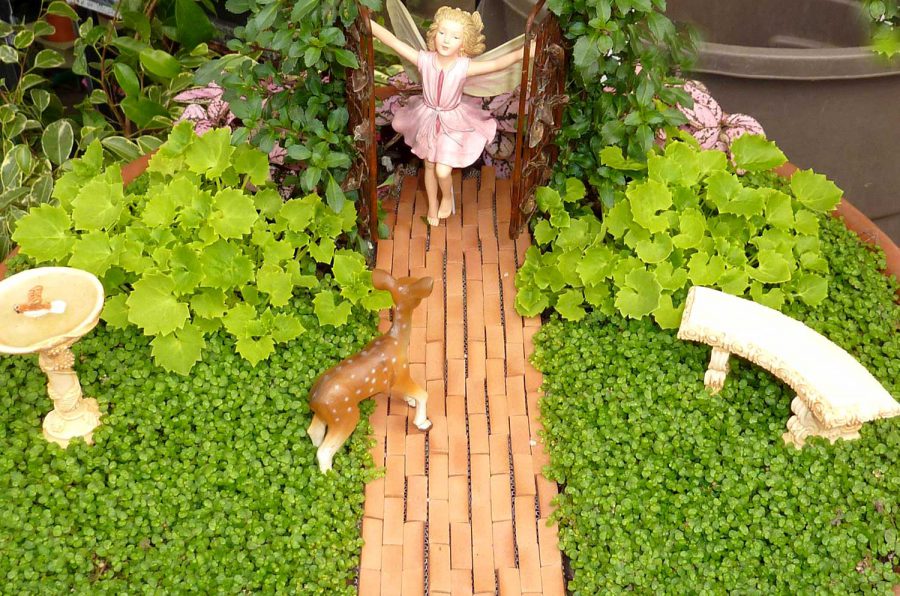 Seems like houses of fairies are most common when it comes to landscaping a garden because of their magical and charming appearance just like this one. Unlike the previous one, this is a stone house that's larger and consisted of more decorative details, such as tiny flowerpots and many other everyday objects you can find in every yard today. Although it seems complicated, once you start building, you will realize how simple it is, and not to mention that you will be extremely satisfied with the outcome at the end.
33. Mini Summer Garden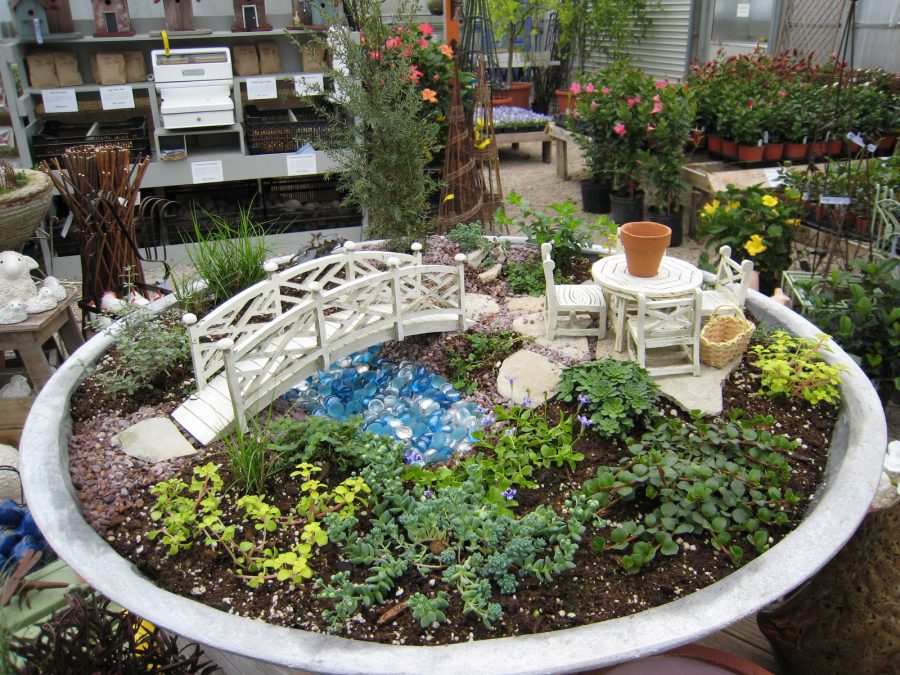 Summer is here, so why not build a mini summer garden in its honor and embellish your yard in a creative manner? Just follow the example on the photo and fill a freestanding pot with ground and plant low-growing plants. After, you can a wooden bridge over an improvised river with blue decorative stones and enjoy your new mini garden. Your guests will definitely be impressed by your creativity and refined taste in landscaping once they see this beauty.
34. Miniature Dining With Fence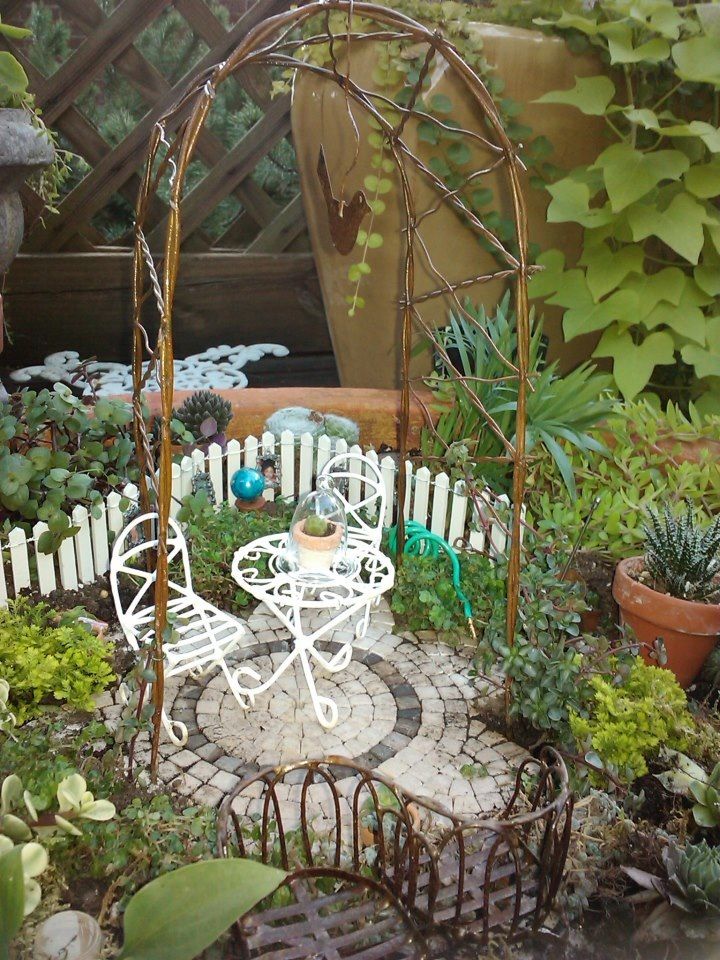 An adorable miniature dining with a fence with a heartwarming tone that will embellish your garden in a simple yet stunning way. This dining will remind you of your own yard that will come alive right before your eyes each time you look at it. A perfect decoration for your home or yard, no matter where you place it.
35. Miniature House With Coral Stones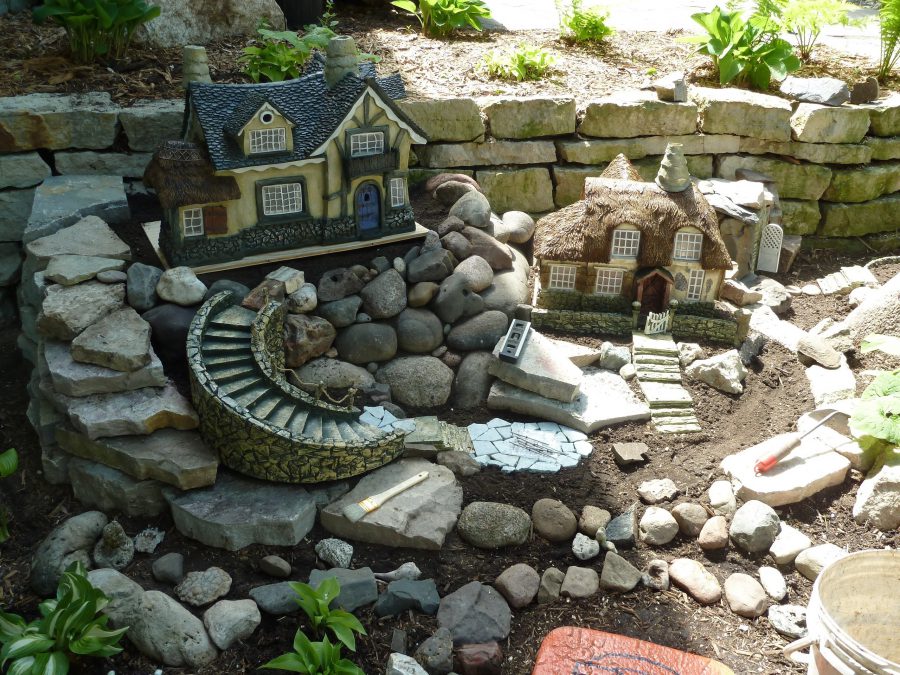 If this miniature house with coral stones doesn't win your heart, nothing else will. Just looking at this design makes you wish the house with coral stone turned into a real house and become your own living spot. Simple decoration that captivates with its clear and unique outlook. Don't hesitate on using this idea for your garden and embellish your space in a beautiful manner.
36. Miniature Furniture Design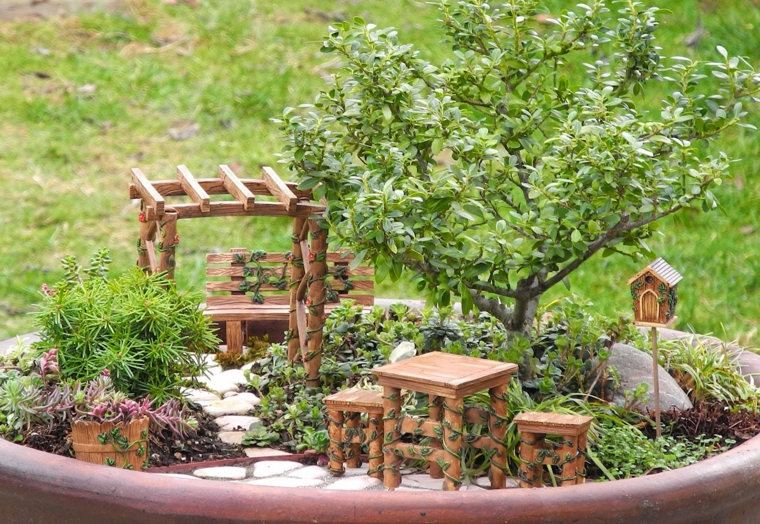 Another charming wooden design for your mini garden. You can never go wrong with choosing this design because wooden decoration will always be modern. Just follow the example of the photo and create this miniature furniture for your fairy garden that will impress your guests and leave you neighbors jealous. It's simple yet original and won't cost you much time and cash.
37. Pallet Fairy Design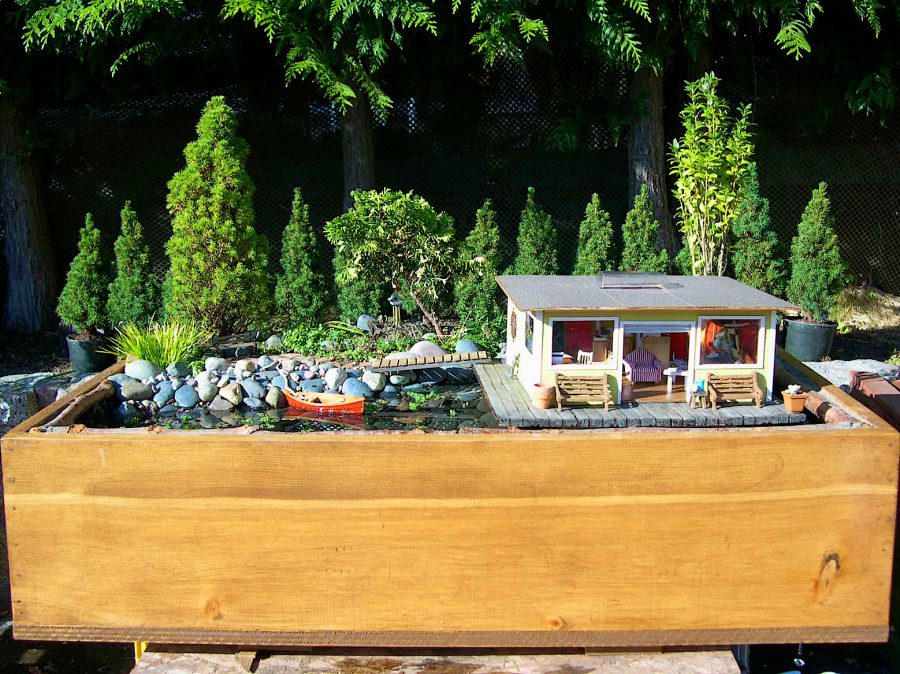 Use a pallet to create a fairy garden that will win everyone's heart with a little help from the tiny cottage and small boat floating the 'river' nearby. Nothing like the previous ideas you've seen – this design is unique and includes improvising a river. Although it seems a little complicated, once you start building this interesting fairy garden, you will see it's easier than you thought.
38. Pathways Front Of House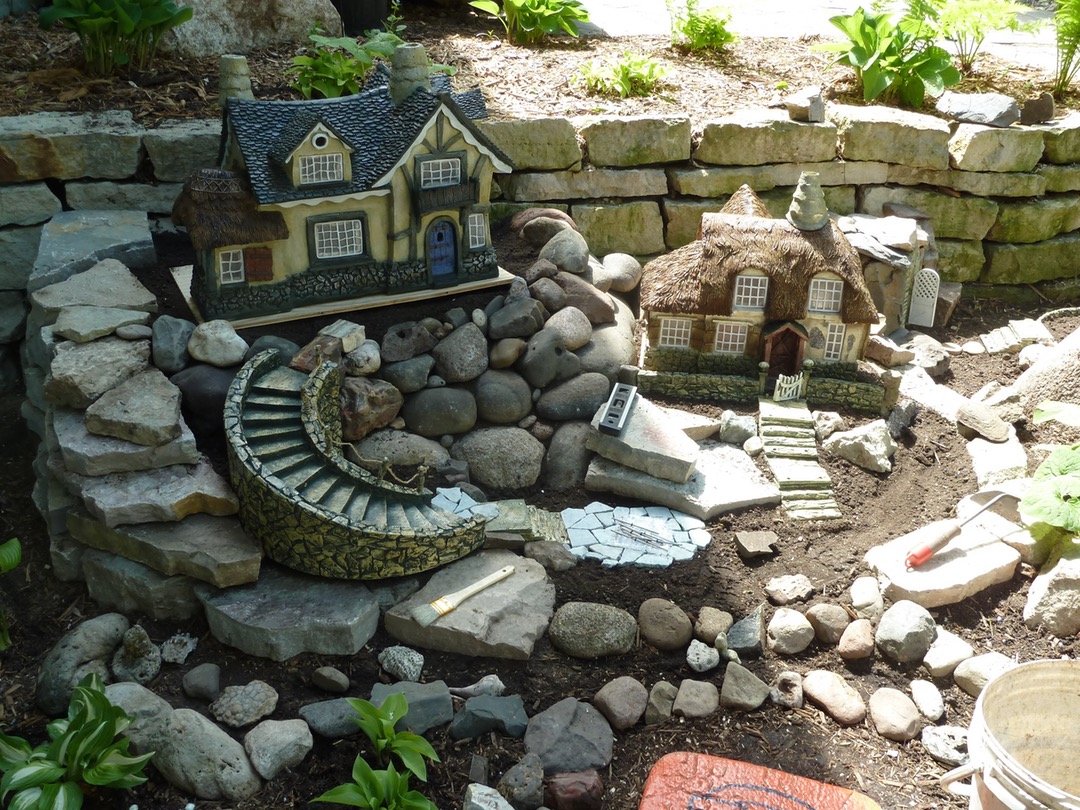 Easy to put together, this fairy garden consisted of many charming stone pathways will win your heart at first sight. Reflecting the real natural settings, this fairy garden will impress your guests and become the main topic of gossip in your neighborhood. Everyone will come to see the mini charming garden and admire your creativity.
39. Pot Decoration For Fairy Garden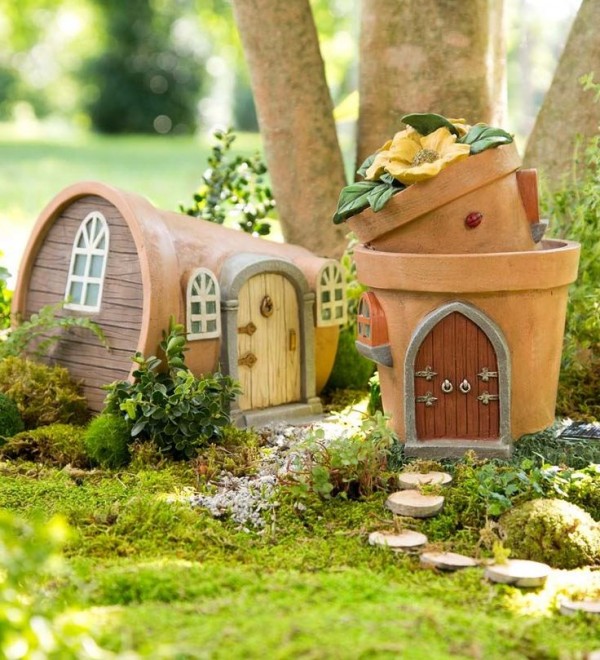 Another pot decoration for your fairy garden, however, this one isn't broken but embellished in a creative manner with a door build on the front. It's a decoration that will perfectly fit a simple garden arranged in a creative manner. Already interested in realizing this idea? Take one of your most beautiful pale brown pots and decorate it following the example of the photo. After you can place it among the trees in your garden or on your porch and embellish your yard.
More Decorative Miniature Fairy Garden Ideas On The Next Page…