DIY Miniature Fairy Garden Designs are the new gardening trend that offers a different and fun point of view when it comes to landscaping your beloved garden. They can be placed in small containers or flower pots and embellish your garden in a creative that reflects the atmosphere and marvelous beauty of natural environments.
With capturing delightful details which create a pleasant and eye resting place, the miniature fairy gardens are definitely a 'must have' detail in your garden. Aside from being charmingly beautiful, the fairy gardens are easy to build. You can use wooden boxes, tin buckets, concrete bowls, wicker baskets, wooden wheelbarrows or baby tubs.
Already interested in embellishing your garden with a miniature fairy garden which will highlight your refined taste in landscaping but has not idea what kind of design to chose? We're here to help. Scroll down and check out these 50 DIY miniature fairy garden design ideas.
 50 Best DIY Miniature Fairy Garden Design Ideas To Decor Your Garden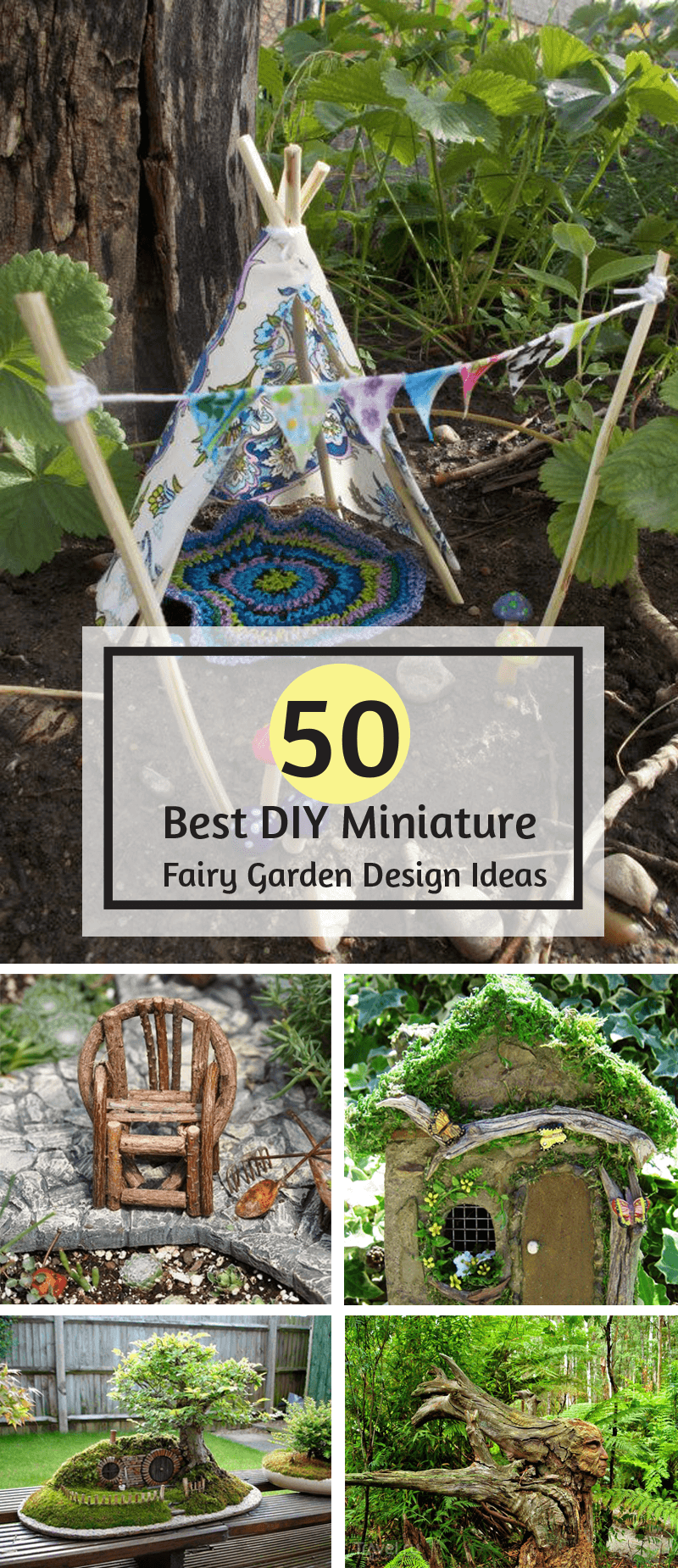 1. Amazing Fairy Garden With Cute Fairies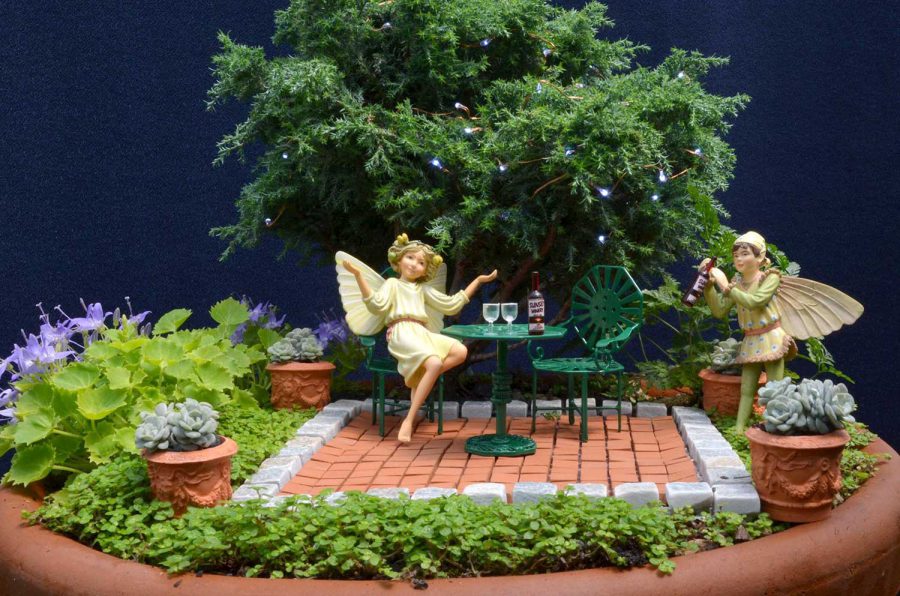 You can never go wrong by choosing cute series for your miniature garden like the ones we presented on the photo. The female fairy is sitting on a tiny green chair with an empty bottle of wine on the table, while the fame fairy brings another bottle so they can enjoy the pleasant atmosphere of your unique mini garden decorated with low-growing plants and flowers placed inside a large flower pot that will embellish your garden or patio, no matter where you place it.
2. Boat Shape Door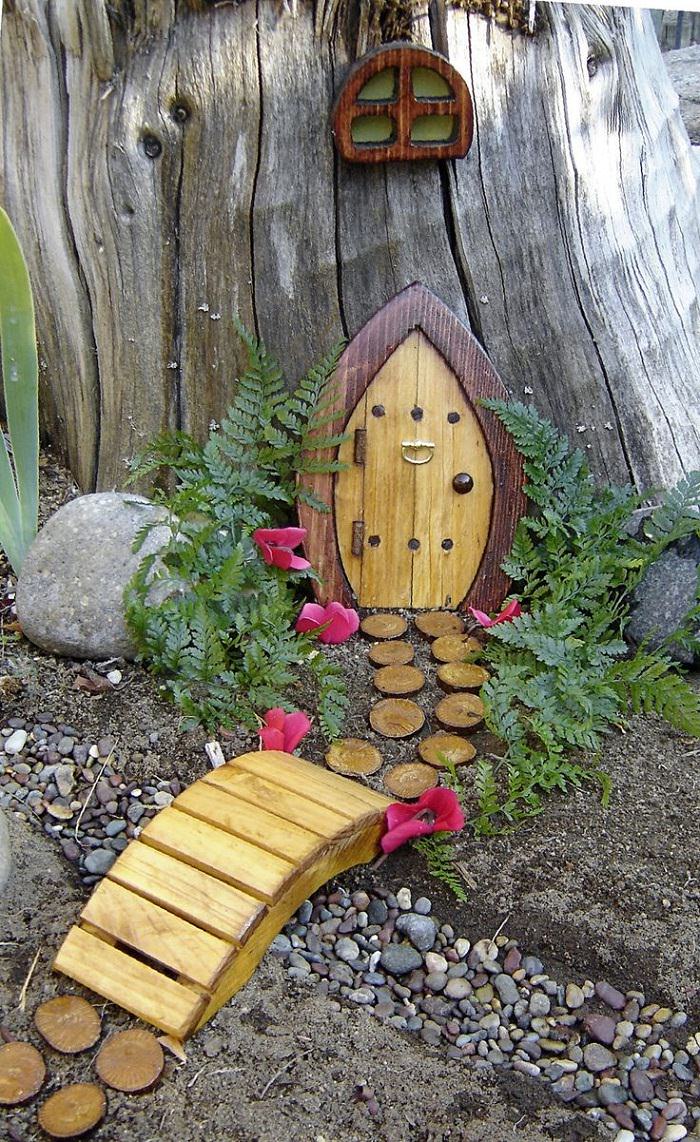 For those who own a tree in their garden, we've come up with the perfect idea on how to decorate it in a creative manner and embellish your garden. Create a boat shape door on the bottom of the tree which will illustrate the tree as a home for tiny creatures that live in your yard. Adding a walking path from circled woods and a wooden bridge will mark this mini garden in a unique manner. Your guests and neighbors will be thrilled by your creativity.
3. Broken Clay Pot Fairy Garden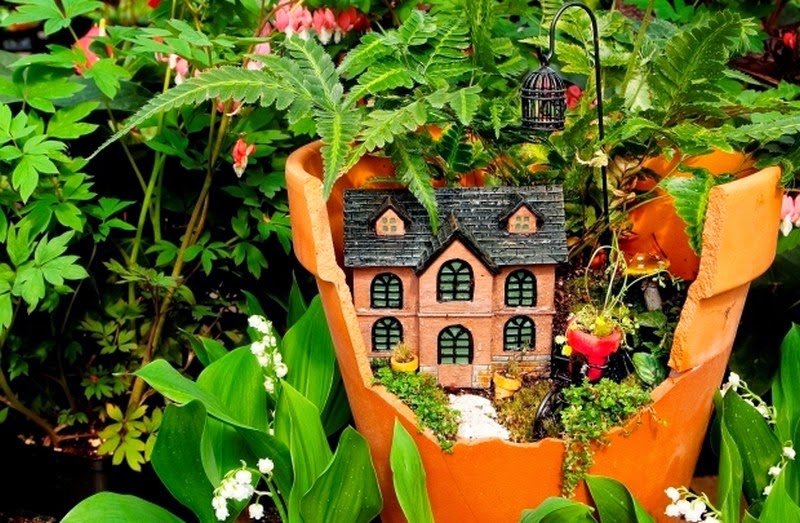 There's nothing more easy and simple than using a broken clay pot as a decoration for your new fairy garden. Just take a broken clay pot, plant it with flowers and place a tiny house inside. You can place it in the heart of your yard or in some corner in your home. Eiter way, this mini fairy garden will definitely turn your house into a much warmer and creatively designed place.
4. Butterfly House Fairy Design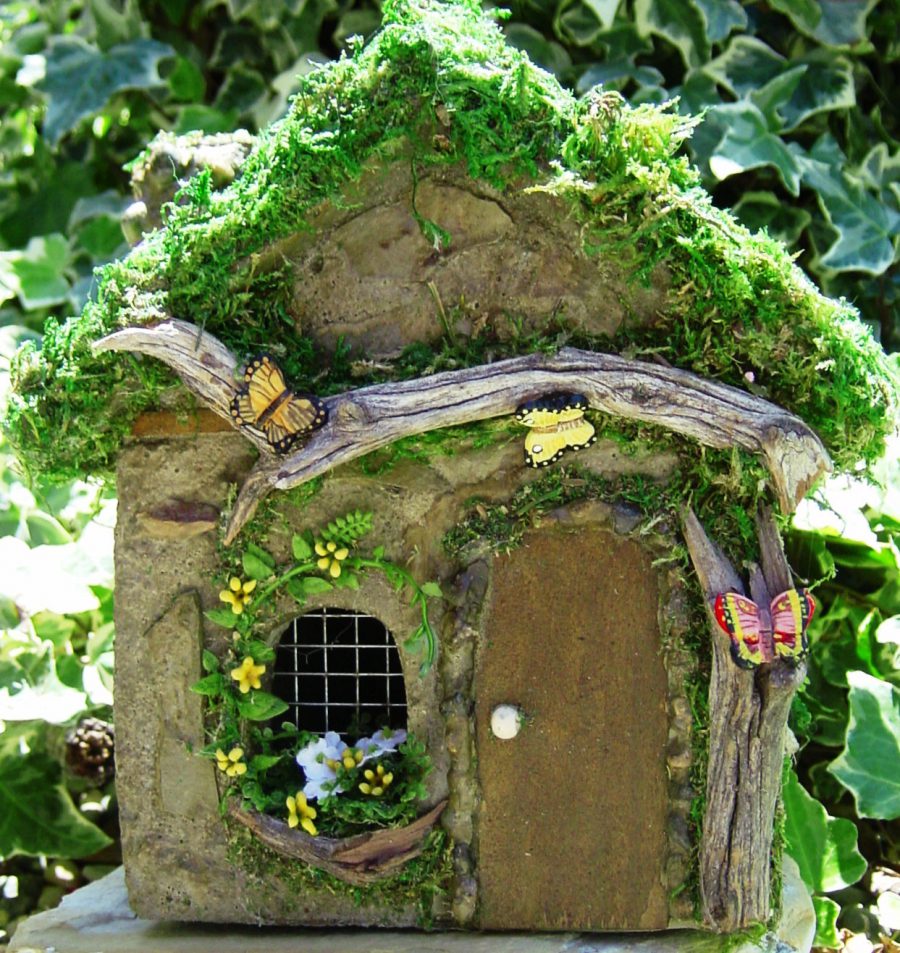 You can easily create a house like the one we presented on the photo by using the wooden box. After you can wrap the roof of the tiny house in plants and add a few butterflies and small plastic flowers to give your new garden decoration a striking appearance. Creative, easy to make and a beautiful manner to embellish your garden or yard.
5. Castle Design In A Pot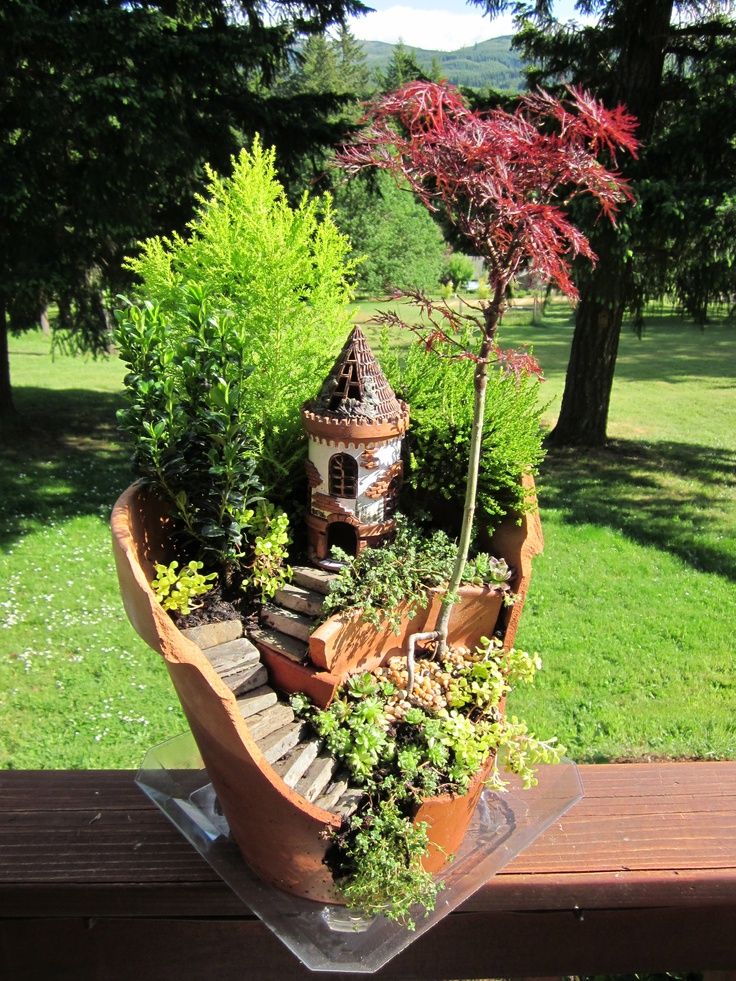 Another idea for landscaping your garden by using a broken pot, however, this one is broken on purpose and decorated with a tiny castle inside. The broken parts of the pot are decorated with wooden wrapped stairs illustrating the entrance of the charming castle. Adding a few plants, as well as the small tree will give the whole pot an impressive and irresistible appearance.
6. Tipi Fairy Garden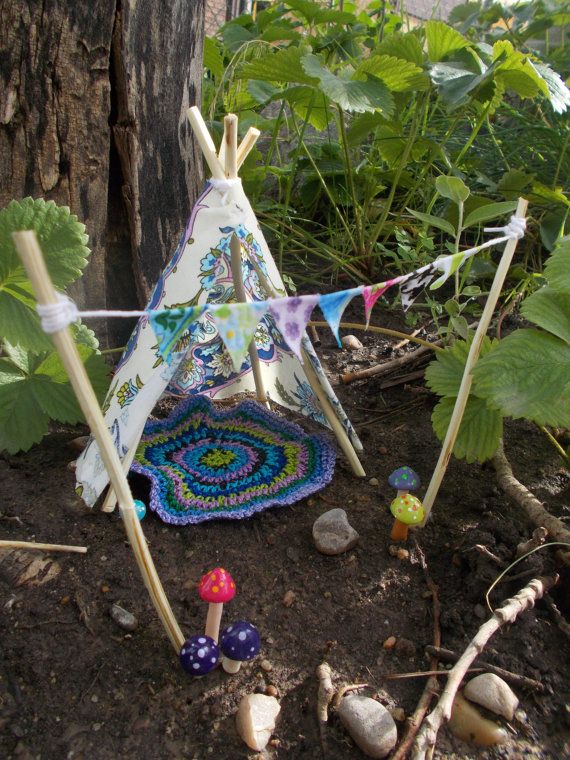 Nestled in the bushes and trees of your garden, this tiny fairy garden will remind you of the Indian world because of the tipi made from colorful material and wooden sticks. The few mushrooms are responsible for the realistic appearance of this miniature garden. For those who seek to find a simple, cheap yet creative idea for garden landscaping – this is the one.
7. Halloween Fairy Garden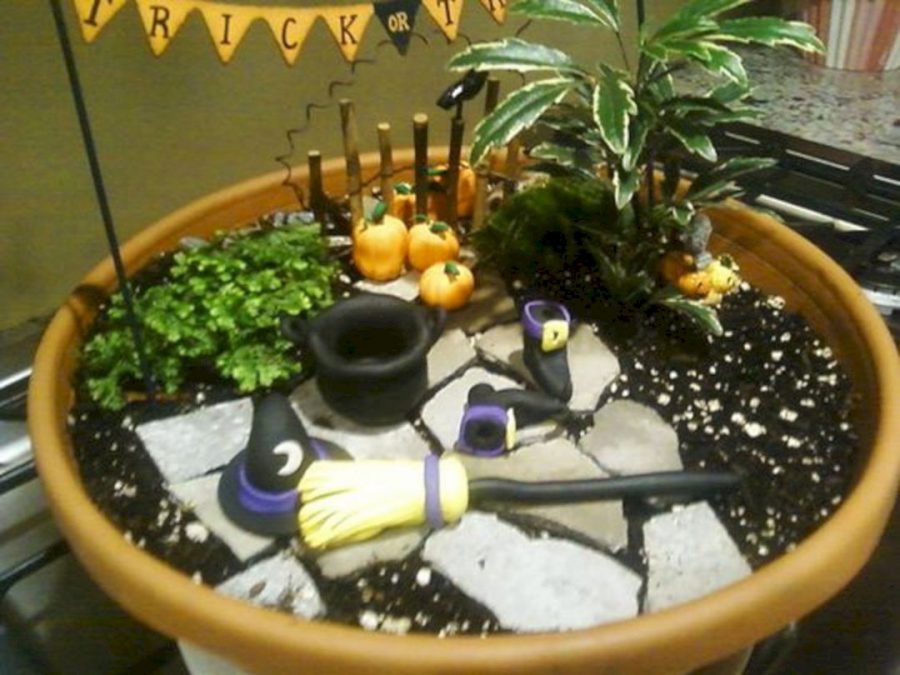 We all know that Halloween is a holiday known for scary masks resembling witches, vampires or some other remarkable costumes that mark this period of the year. However, the one detail you can't imagine Halloween without are the pumpkins. Not only that people use them as a decoration for Halloween but some of them use pumpkins to decorate their fairy garden in a 'scary' and comic way, such as the one we presented on the photo. You can create the pumpkins and the other decoration Halloween details from plasticine and place them inside a flower pot with decorative stones. We doubt there will be someone else with better and more creative decoration than you during the next Halloween.
8. Colorful Pathway With Egg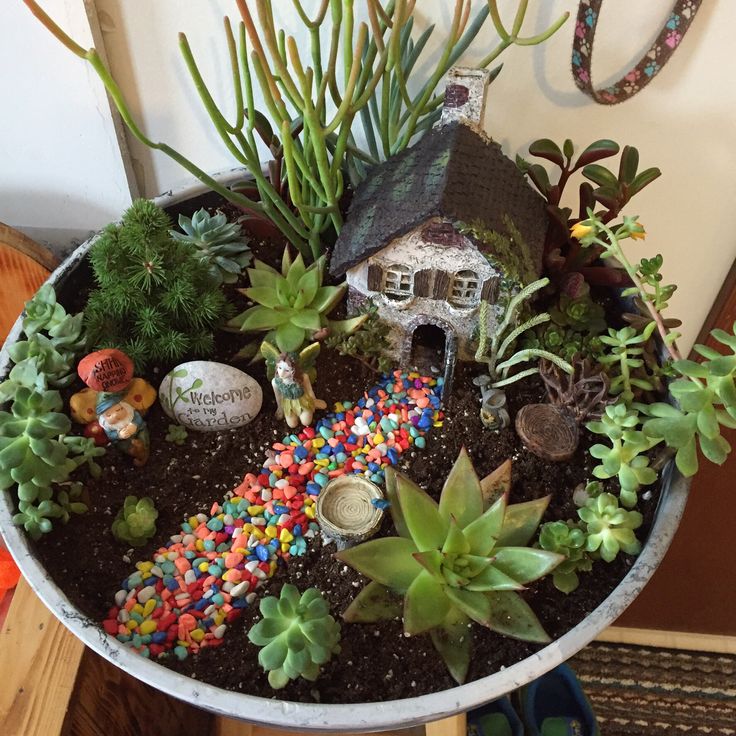 For those who are looking for something colorful and charming at the same time, this fairy garden placed inside a pot with low-growing plants, colorful pathway made from tiny decorative stones and a cute little house is just perfect for you. Adding an egg with a welcoming inscription will give the whole garden a warm tone and will embellish your home in a creative manner. Feel free to place it inside your house instead of your yard because a decoration like this is always welcome in every home.
9. Color Design With Garden Accessories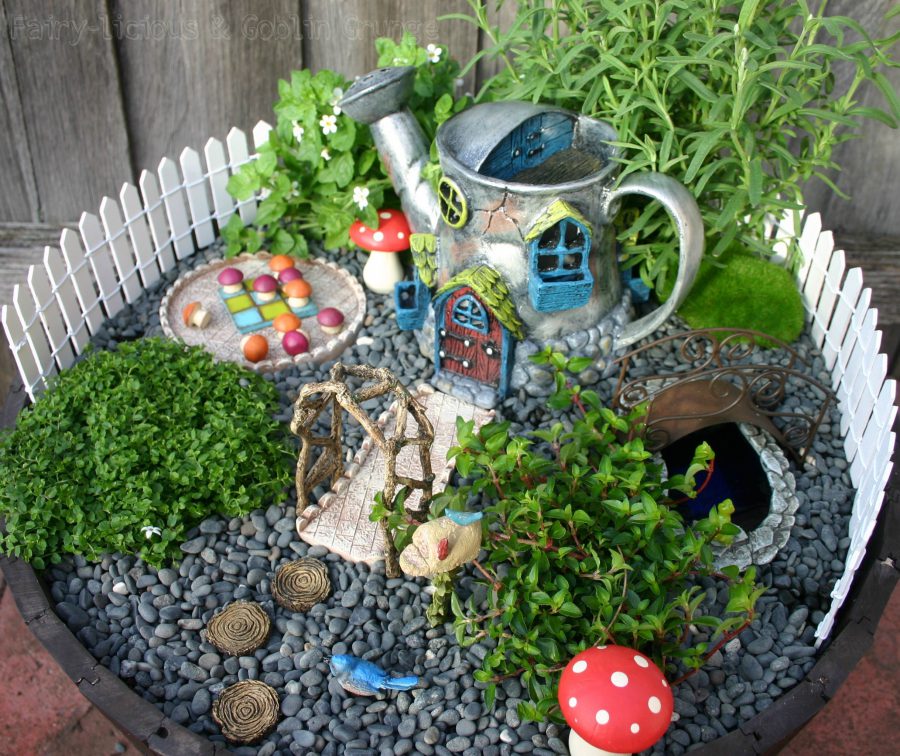 Another charming idea for your fairy garden with colorful accessories, such as cute mushrooms, elegant white fences, blue tiny animals, wooden decorations and gray decorative stones around a DIY sprinkler house. You can use a large flower pot for realizing this idea or a large container. Perfect decoration for your yard or patio. Your friends will admire your creativity and your neighbors will get jealous once they see this mini fairy garden.
More DIY Miniature Fairy Garden Design Ideas On The Next Page…