40. Double folding mesh toy storage ideas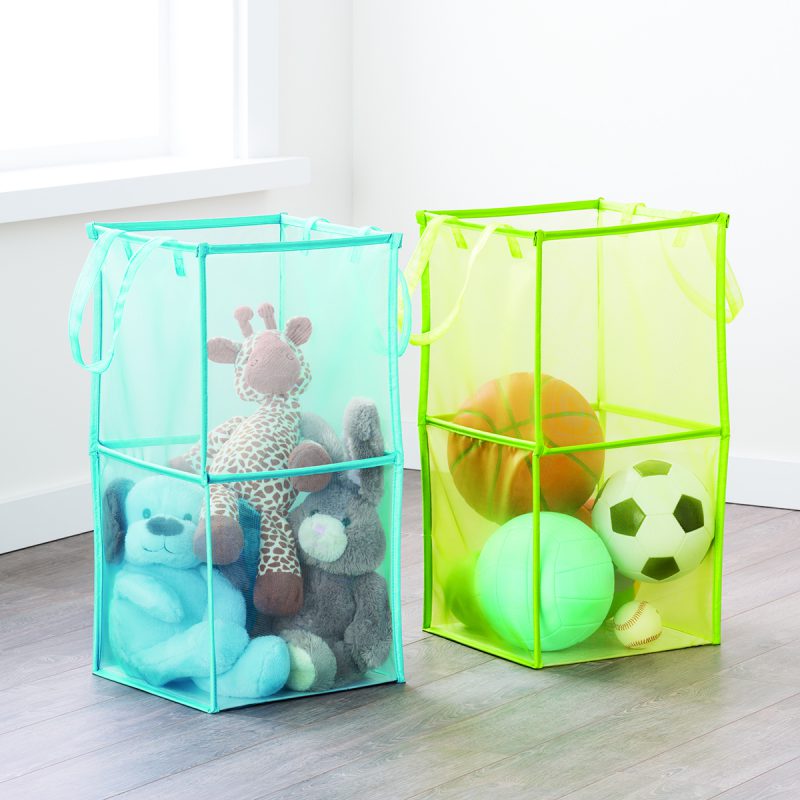 Open wire mesh baskets are great toy storages for both boys and girls, they are super portable which makes it easy to carry from one room to another. They are really easy to clean and can be used in absolutely any room of your choice.
41. Bags toy storage ideas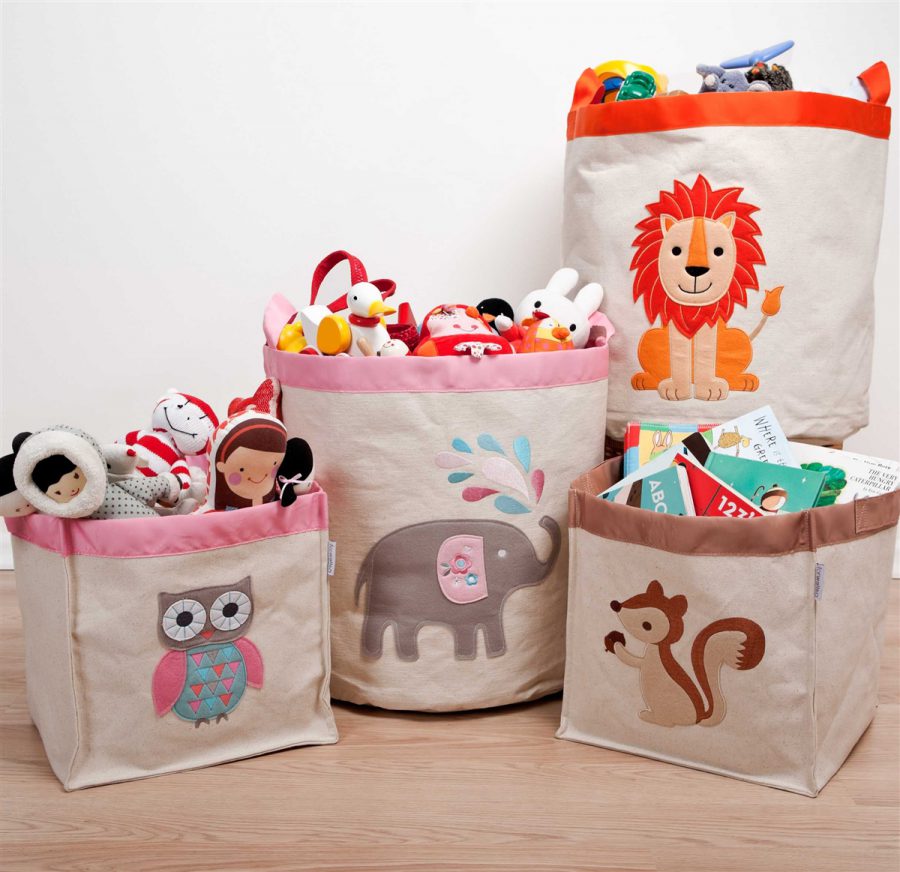 The large toy storage bags are detailed with very cute kiddish cartoons that any kid will love. Bags are very simple but they are also overly functional as they house toys of all sorts and various sizes. They will look good in your child's room.
42. Bench toy storage ideas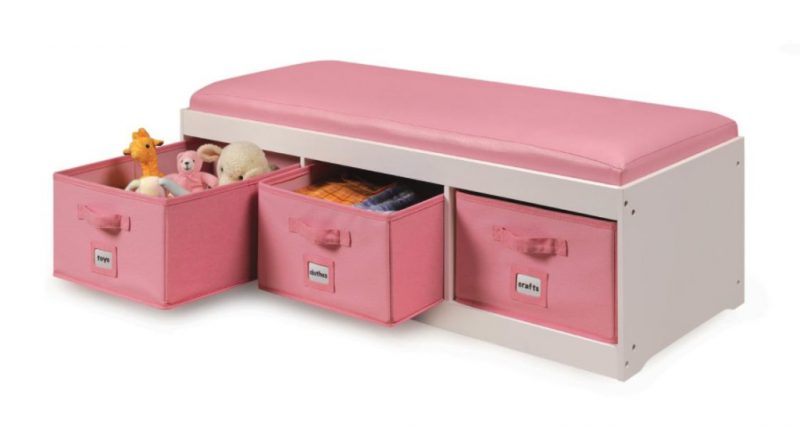 This pretty white and pink bench will look absolutely amazing in any girl's room but I love it more because of its unique functionality. On top it features a very well padded comfortable seat but below the seat it is also made with three storage compartments. In these compartments there are storage boxes that kids can easily pull out just the way drawers are pulled out in case they need to remove any toys. This is the best way to utilize the amount of space you have in your however small it might seem.
43. Beautiful toy storage ideas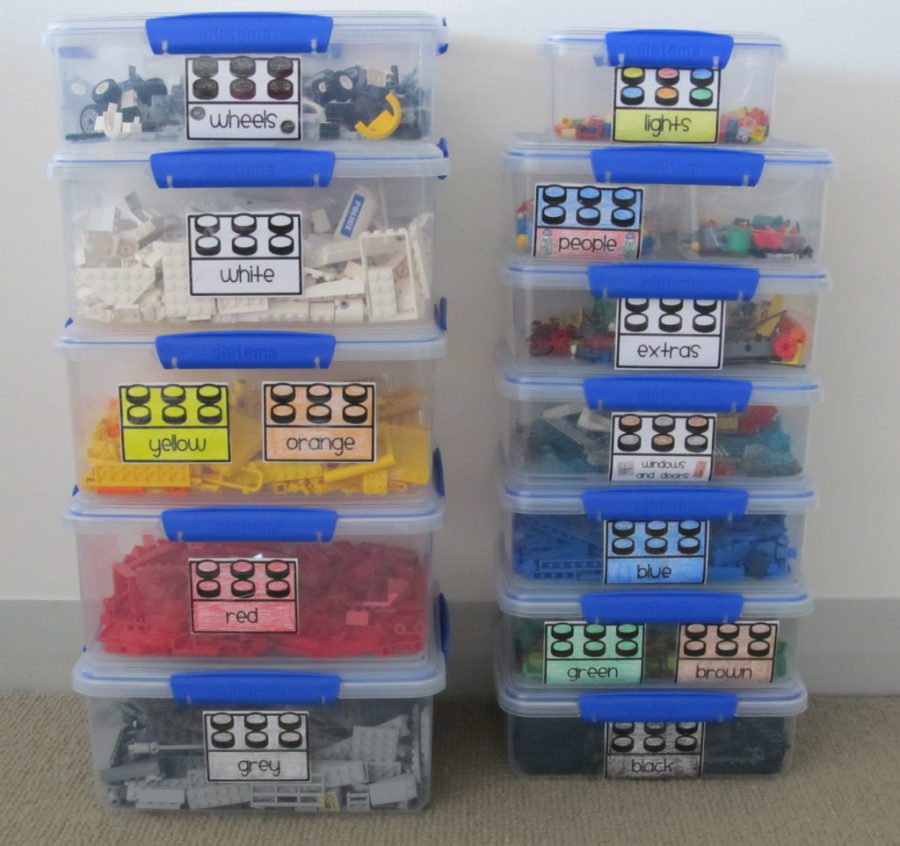 There are so many ideas that you can use for toy storage and these containers are one of them. This se of different size transparent containers is ideal for storing small toys, preventing them from getting lost while at the same time making them easier to find when you little one needs to play. For better organization and a more attractive look it is best that you arrange the toys in colors and label each one of the containers according the particular color. These can be used for kids of all ages starting from infants.
44. Single toy storage ideas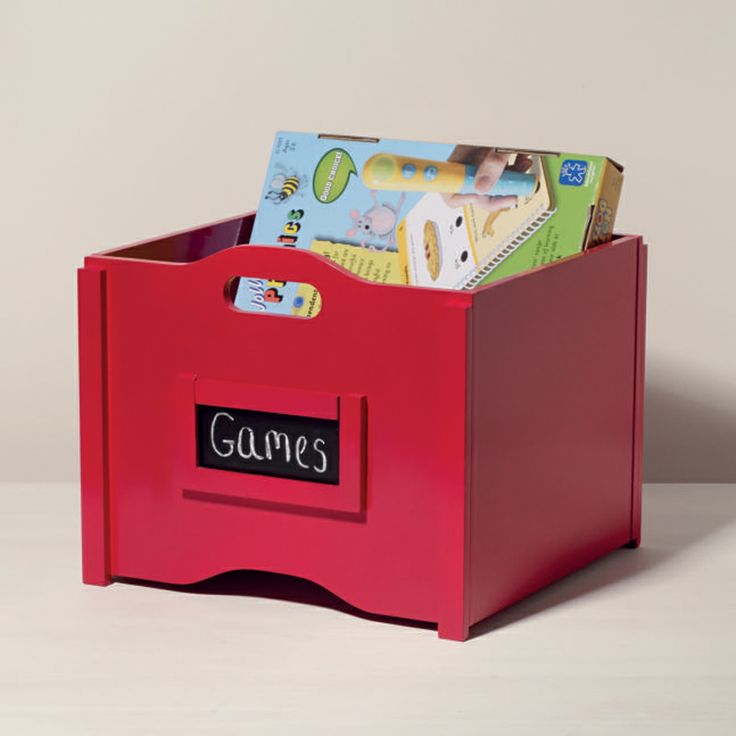 Single toy boxes or crate are actually my favorite toy storage for the simple reason that after play time you don't have to clean up the clutter on your own, but rather you can just instruct you little one to gather up their mess and quickly throw it all into the single box. This toy box doesn't even have a lid so which makes it even easier to access. Additionally it is beautifully designed and finished with a fine and smooth red color that gives it a very appealing look.
45. Intricate cubic toy storage ideas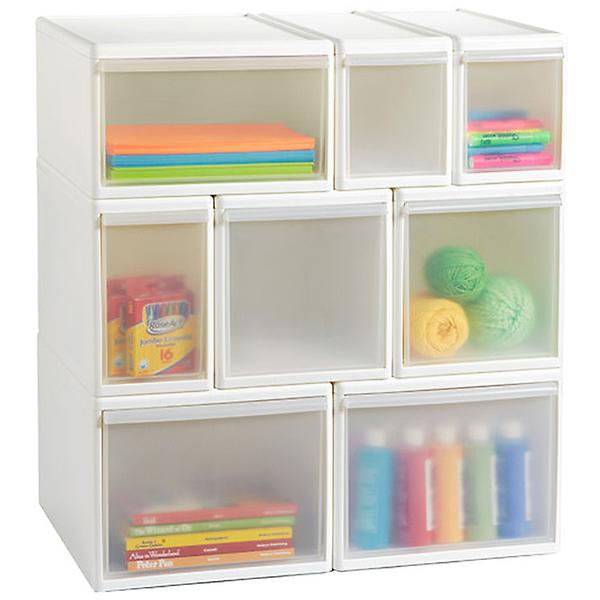 These modular transparent drawers can easily be stacked together into any combination of your choice given their various sizes whereby some are wide, others are narrow and other just medium. They allow you to make either a vertical or horizontal arrangement depending on what you want.
46. Toy storage ideas for girl's bedrooms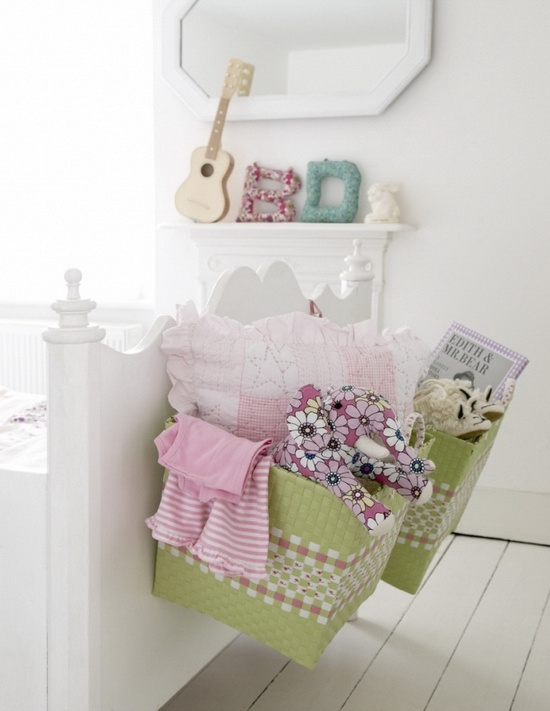 Add a touch of style to your princess' bedroom with these toy baskets, to utilize space they are at fixed either at the back or front of the bed. Whether your girl is playing around the room or on her bed, she can always reach out for the baskets to throw her dolls and all other toys inside the baskets. It is important to secure the baskets well on to the bed so that they are firm enough to hold the toys without collapsing.
47. DIY toy storage ideas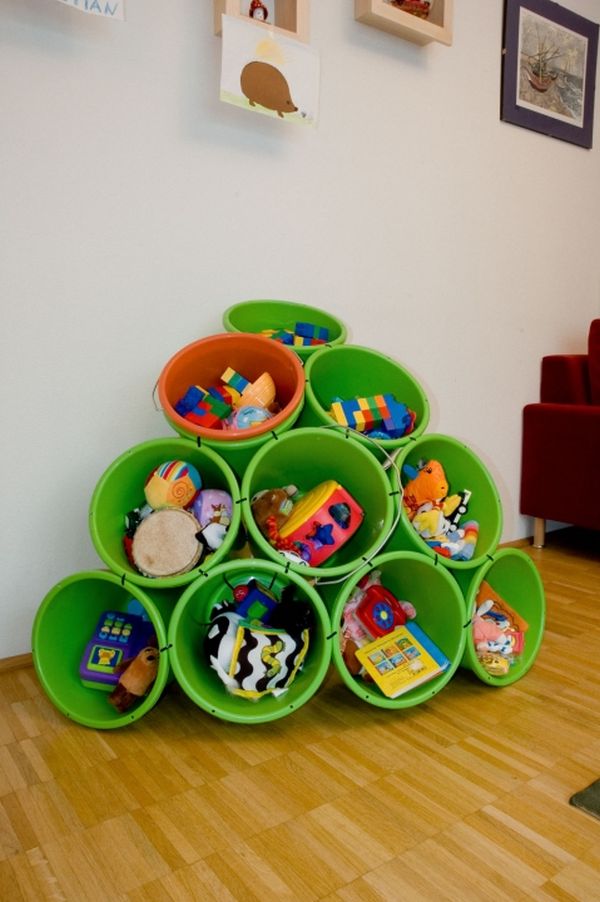 You can make your own storage using a pile of buckets and save your money for something more constructive. You simply have to gather a pile of bright colored buckets, in this image they used lime green buckets but you can choose any color that your child loves the most. These buckets feature pre-drilled holes though which ropes are passed to tightly tie all the buckets together. These buckets are tied in a form of a pyramid and it is quite easy to throw toys inside when kids finish playing or remove them when they want to play however not all toys can stay inside of these buckets.
48. Two tire cabinet toy storage ideas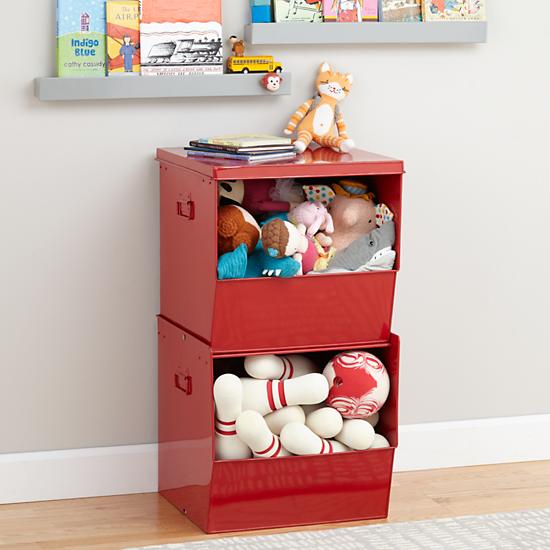 Here is a two tire metallic stackable metal bin, this toy storage is made of high quality long lasting steel. Both the top and bottom bin have plenty of space and they are half open to make it easy to stack toys inside and keep them in there without sliding out, some toys can even be placed on its top. It looks good in red but it is available in several colors for you to easily make your favorite choice.
49. Stackable toy storage ideas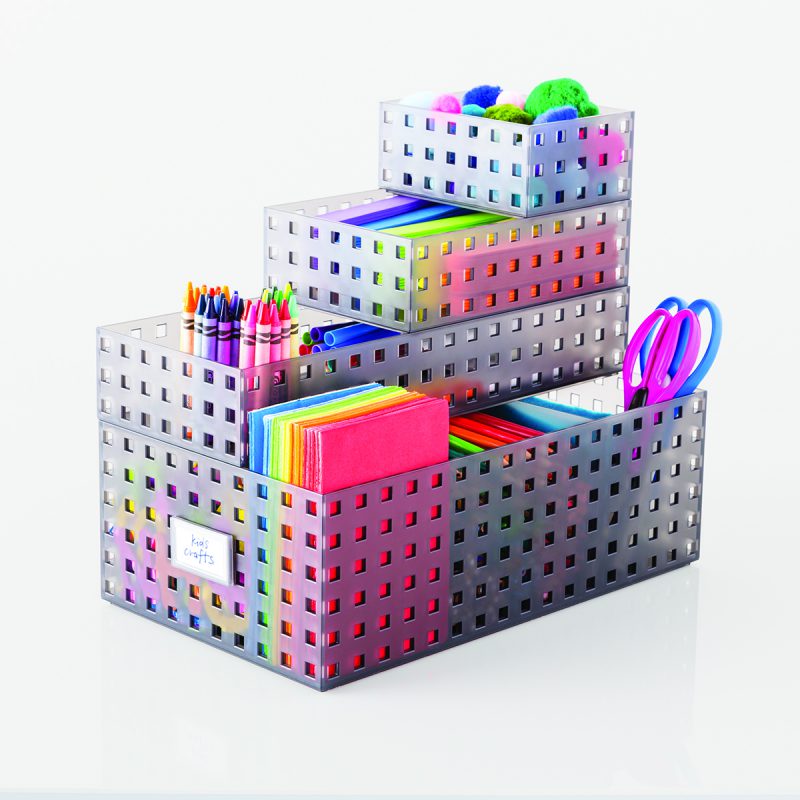 With their amazing quality, these polystyrene bins can be joined together to create the perfect storage for lots of kids toys. They are very flexible which allows you to change them into any design that you feel best pleases your little one.
50. Games toy storage ideas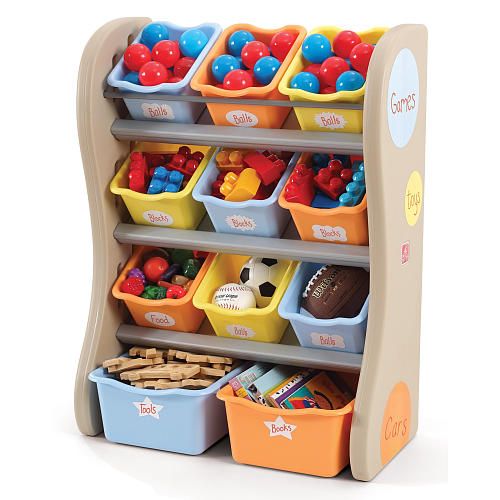 This toy organizer offers bins of different sizes therefore it caters for all storage needs, it can store all kinds of toys and the bins are removable which makes cleaning up a real breeze.
Check Out The Video Portrait of 50 Best Toy Storage Ideas That Every Kid Want To Have