20. Toy storage ideas for the study room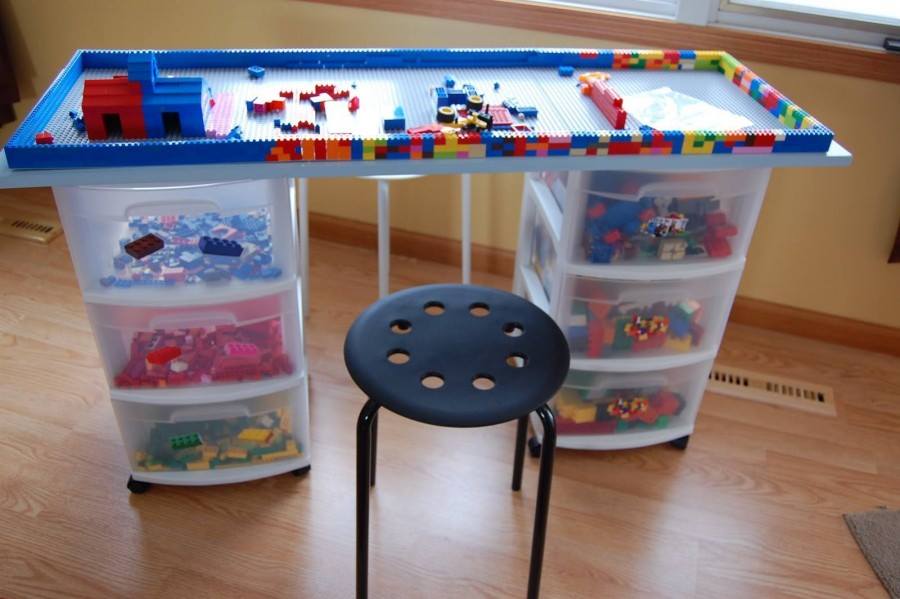 Kids at all stages enjoy playing with block sets and I can guarantee that there is no better way to keep the blocks safely stored other than this Lego table with stackable containers. This is not only for storage but can also be used by kids while they play. If you have a very young kid you can help them out this table together however the older kids really enjoy building up the table on their own. With those beautiful colors, this is without a doubt the perfect storage idea to put in your child's study room.
21. Toy storage ideas for toddlers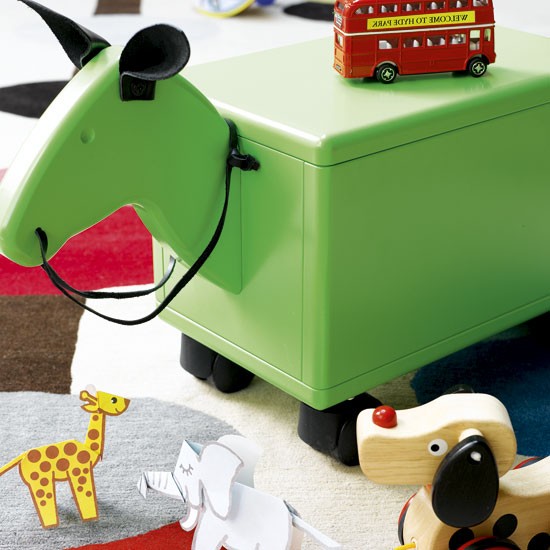 Put a smile on your toddler's face with this toy storage box designed in form of a horse, any toddler will fall in love with this toy storage reason being it looks exactly like one of his or her toys. It features smooth wheels which make it super easy to push around the room and opening its lid exposes you to the hidden storage space. Such creative storage ideas can be used as part of child's play story therefore you will have shot two birds with one stone.
22. Toy storage table ideas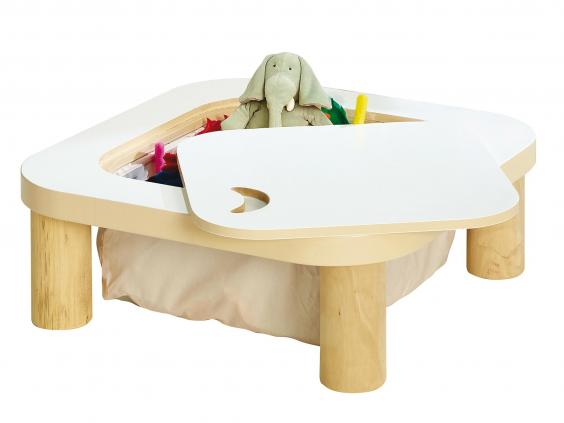 Maybe you have come across a variety of storage tables but I bet you haven't come across one as unique as this one. This is incredibly sturdy wooden table is designed with a large storage area underneath yet it can at the same time be used as space from which they can practice several leaning activities such as drawing and writing. With the quality of wood it is made with, this table is guaranteed to offer its usefulness for a very long period of time.
23. Incredible toy storage ideas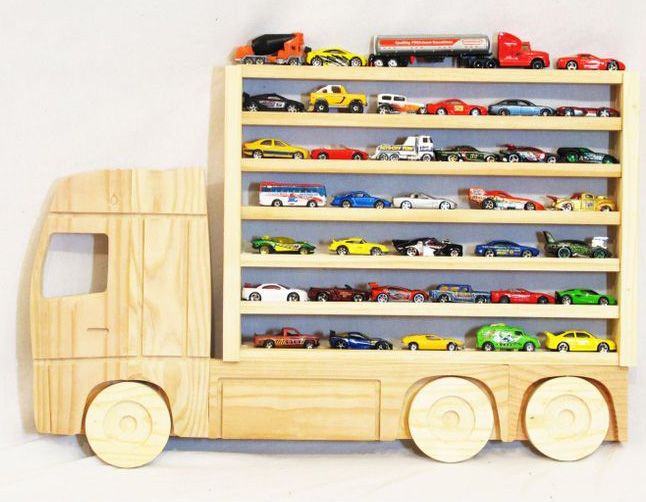 Knowing how much your little boy might love cars and own a good number of them, I thought getting a vehicle as storage for his vehicles would such a great idea. Made from smooth wood, this toy storage is cut out in shape of a car with shelves at the back where your little boy will pack his all his small cars. This is a very cool toy storage that can be placed absolutely anywhere in the house though it must lean against the wall to ensure that the cars don't end up falling out.
24. Simple toy storage ideas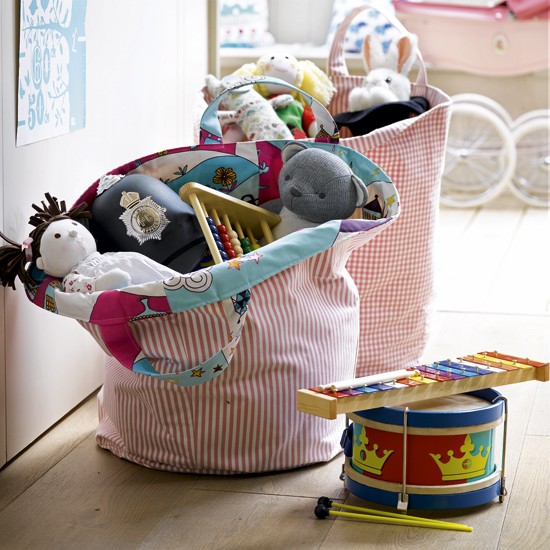 There is absolutely no need for you to strain and waste a lot of money on those overly expensive toy storages ideas when you can get yourself these simple bags at a very affordable price. These soft fabric bags have beautifully colored handles and they are large enough to accommodate all your kid's toys apart from the really huge ones. They fit well in the wardrobe or better yet you can stock them in one corner of your child's room. You will need about two or three of these bags depending on how many toys your child has.
25. Container toy storage ideas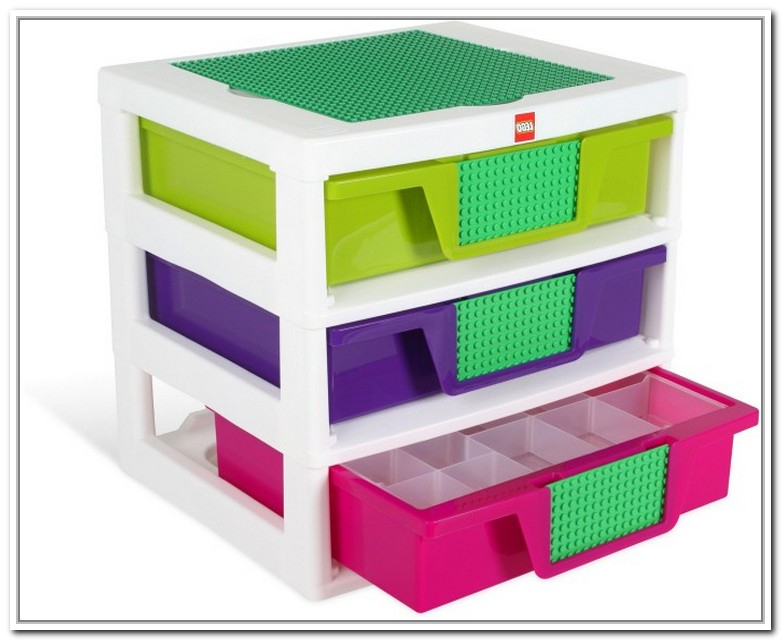 Containers are the commonest and one of the most affordable toy storages you will find on the market and this is why I have included this particular one on this list. It is beautifully designed with slide out trays and smaller cubes inside of the trays for simpler arrangement of toys. If any toys don't fit inside the containers you can place them at the top or better yet your little one can use it as a table. They are made of exceptional quality plastic material which ensures durability and long lasting use.
26. Off floor toy storage ideas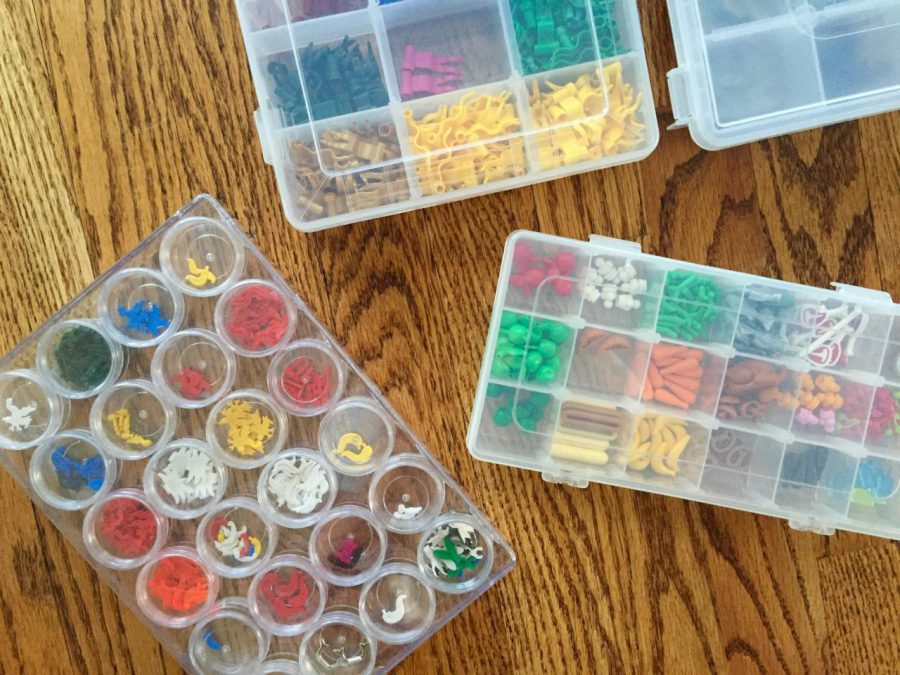 The best way to always keep your floor mess free is by going in for off floor toy storage ideas just like the one featured in the picture above. This a great idea for girls who usually play with dolls, make up kits, combs and other such toys. This hanging toy holder is made with different transparent pockets, each with enough space to hold either two or three small toys. As soon as your child learns how to pick or drop a toy in there you will never complain about toys messing up your home again.
27. Bathroom toy storage ideas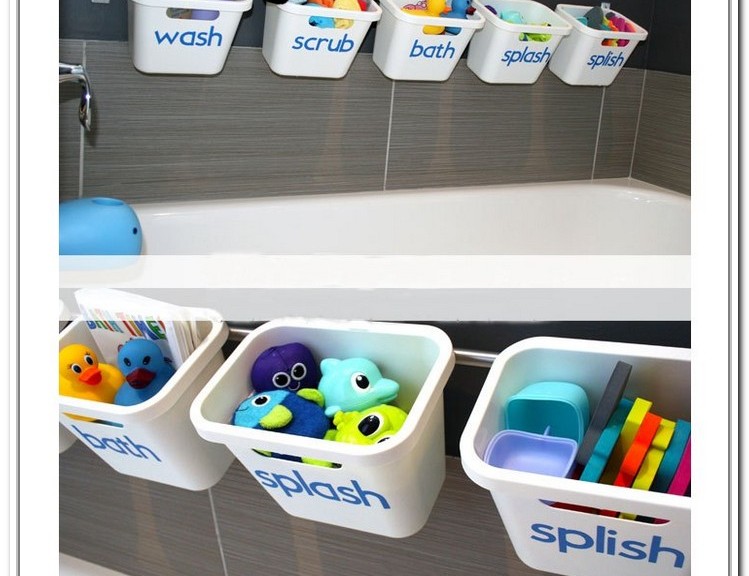 For some kids bathing time is actually a night mare however here I am providing you with a very nice trick to make them love their bathing sessions. The beautifully labeled buckets are meant to be hang around the bath tab to make it easy for kids to reach out for a toy while they take a bath. Besides keeping the toys in perfect order, these buckets also make the bathroom look very stylish and modern. Whether you have boys or girls, it doesn't really matter as this storage idea is ideal for both sexes.
28. Over the door toy storage ideas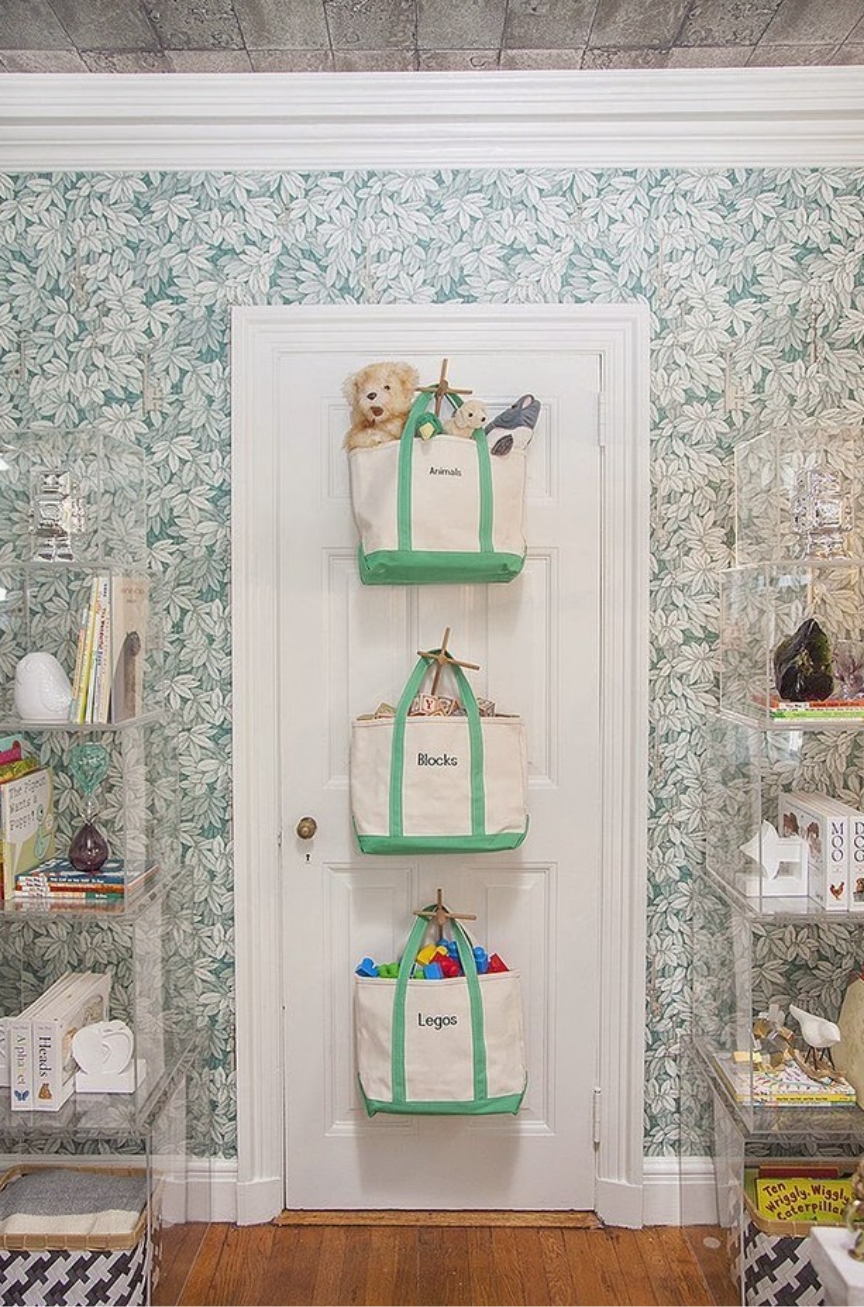 It is likely that you will have these tote bags in your home and not use them for anything not knowing that they can actually make the perfect storage for your kid's toys. All you need to do is have the bags labeled so that your baby will know which bag contains the toys they would like to play with and when play time is over you can simply hang them somewhere for example on the door like in this picture or on the wall. As you hang the bags up, keep in mind that they must be easy for kids to reach especially the younger ones.
29. Toy storage ideas for teens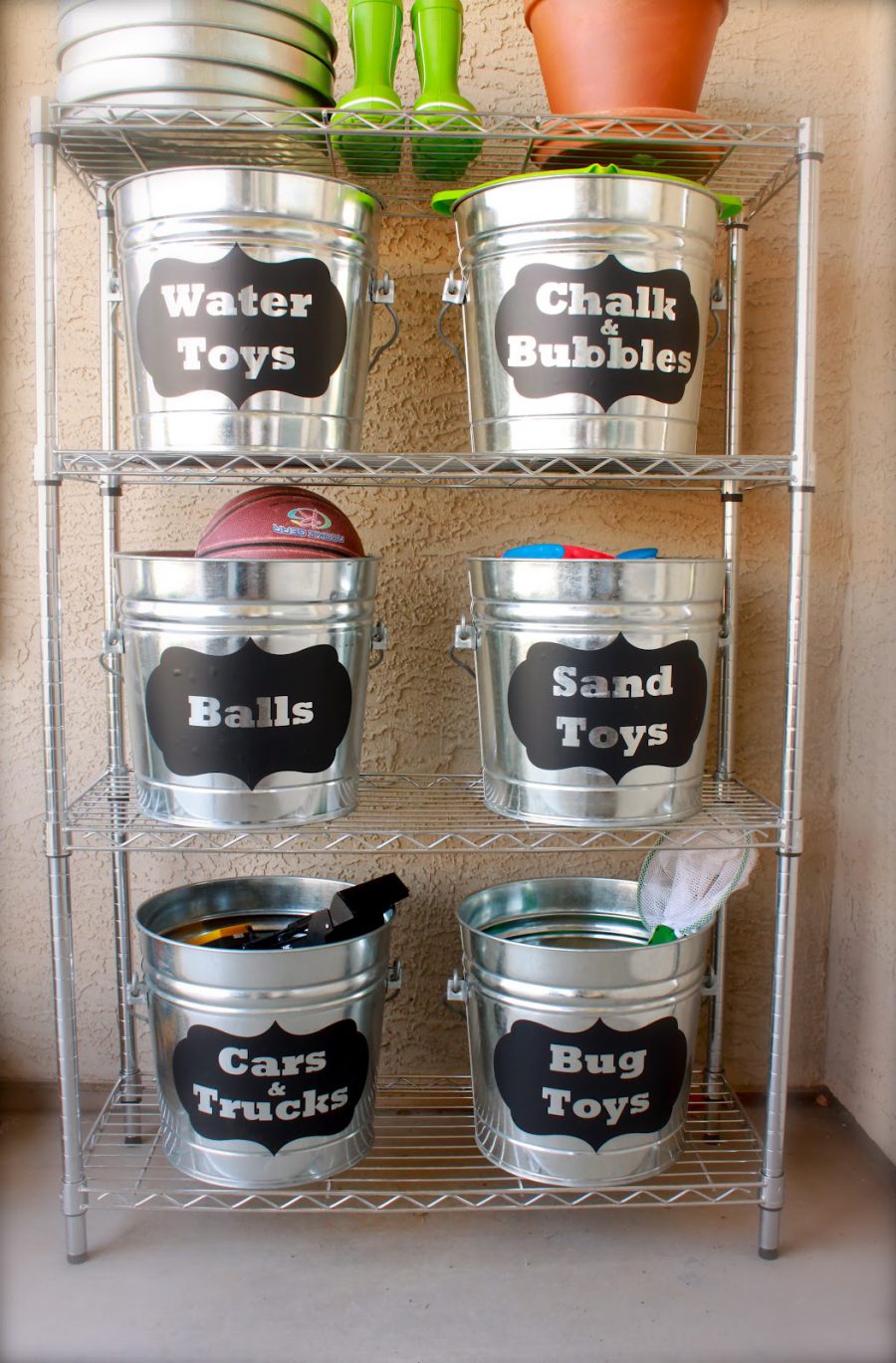 For as long as your kid is older than eleven years, you know that you can't get her the same toy storage as that of your four year old she will need something appropriate of her age and this wooden table will be such a great choice. The table features four sturdy legs with wheels so it can easily be moved around, three drawers and spacious tires where crates and baskets fit. I also love its warm brown finish and high quality construction.
More Unique Toy Storage Ideas On The Next Page…