30. Doll wardrobe toy storage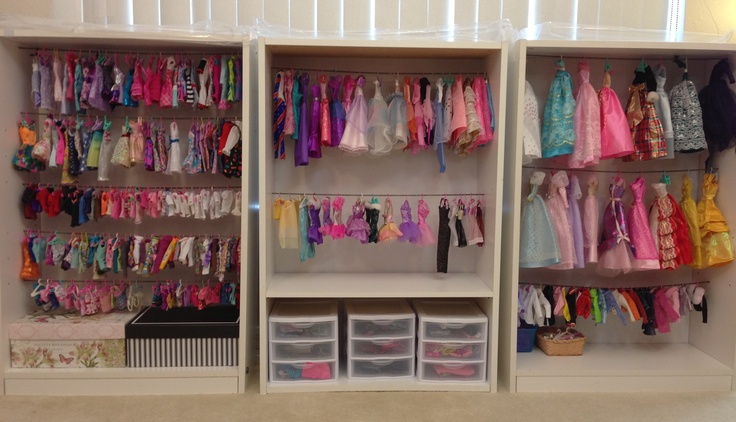 Don't let her throw her doll's tiny clothes everywhere in the room when she can have them beautifully displayed in a doll wardrobe. For a child who loves dolls, I guarantee that this doll wardrobe will be a dream come true. We love the versatility if this wardrobe as it can accommodate clothes on hangers, baskets, containers and so many other toys that kids love to play with. This will be perfect for storing all of your little girl's items including both the big and small toys. And the most interesting thing about it is that when she grows older she can simply take the doll clothes out and still use the wardrobe for whatever she likes because it can as well be turned into a book shelf.
31. Outdoor toy storage ideas
The perfect custody for all those large toys that you can't keep inside the house is finding shade for them outside the house and here I have included the excellent outdoor toys storage. Having this shelter in your home will keep your garage and house completely free of kid's toys and you can use it for storing other important items. It is constructed more a like a dog house, with double doors and windows for proper aeration on its inside. This outdoor shelter can placed wither in the garden or in the compound.
32. Stool toy storage ideas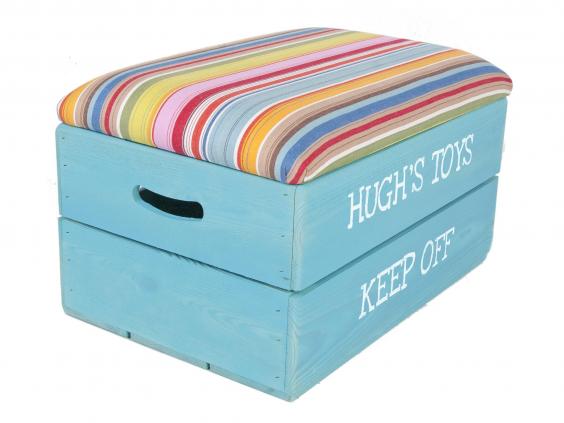 With the combination of a very attractive colorful appearance and amazing quality, there is no doubt that you and your little one will fall in love with your new toy storage. This box doubles both as a stool thanks to its comfortable and well padded top and toy storage. It has well curved openings on the sides which make it easier to carry from one place to another. It is availed in ten different colors therefore you can easily take your pick depending on what your favorite color is or what will match best with the of the decor in your home.
33. Shelves toy storage ideas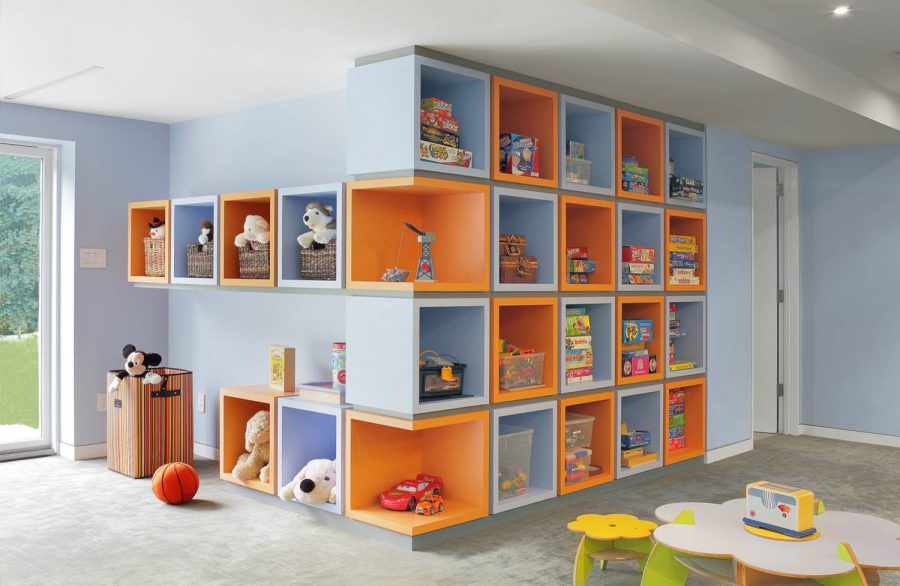 Whether it is in the bedroom or the living room, these simple shelves are the perfect addition to your home. Yes they appear very simple but they will keep your home well organized and looking elegant. They are already made with inbuilt tray like tires so you just have to make them lean against the wall and arrange the toys on, it is that simple. If you have kids that are eight years and above the taller shelf will be the better option while the shorter one can be used by younger kids to make accessibility easier.
34. Toy storage ideas for three year old girls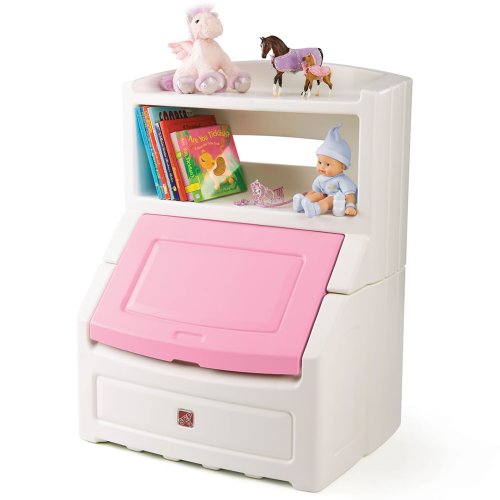 For story books, dolls and all other toys that you little one loves to play with this book case with storage will be a great pick. It has a single open shelf on the outside and very spacious storage with a sliding lid that offers quick accessibility of items. Its back panel helps to prevent books from dropping out and its assembly is quite easy.
35. Toy storage ideas for school going kids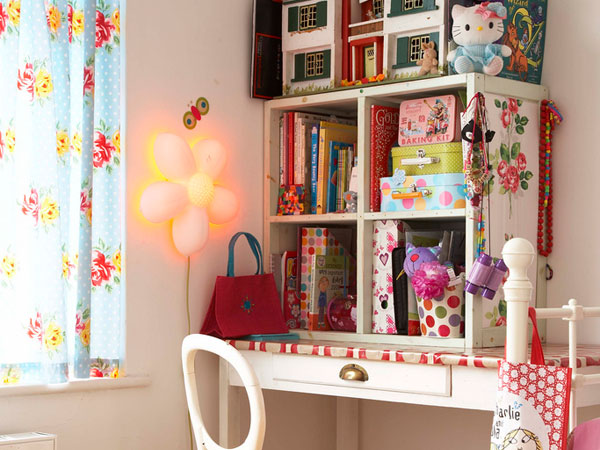 In this hive of cubic shelves your school going kids will find enough space to perfectly organize all her precious items including toys, books, jewelry boxes and all those other items that she treasures so much.
36. Fun toy storage ideas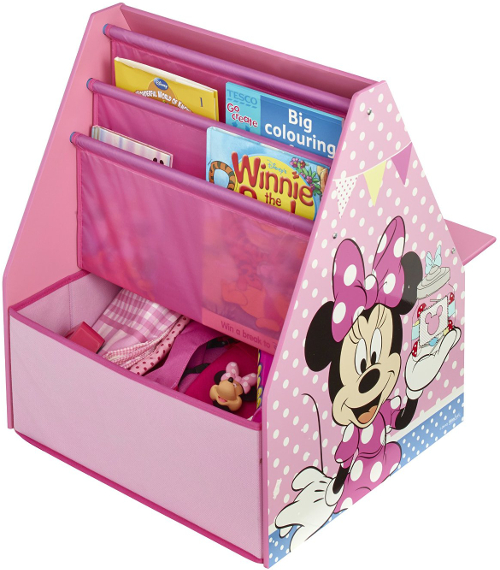 This compact unit combines both storage and play elements so you will purchase it with peace of mind that your kid will love it. It is made with a book case where she can keep all her books, a magnetic chalk board for drawing and writing and finally multipurpose drawer made of fabric for storing all other toys that she plays with.
37. Inbuilt toy storage ideas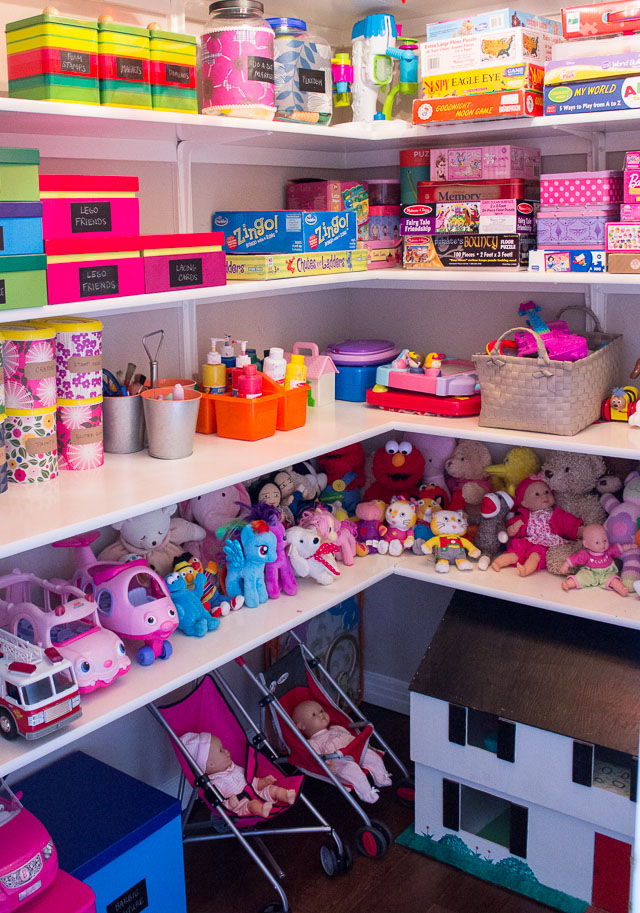 For families with more than two kids, this inbuilt toy storage idea is the most recommended as they offer a lot of space for a really wide variety of toys. The toy organizer is made up of wide shelves and left with large space at the bottom where the larger toys can be kept. Because of its white finish it will match perfectly with all decor in your home and with plenty of space it will work amazingly for all the kids in your home.
38. Crate toy storage ideas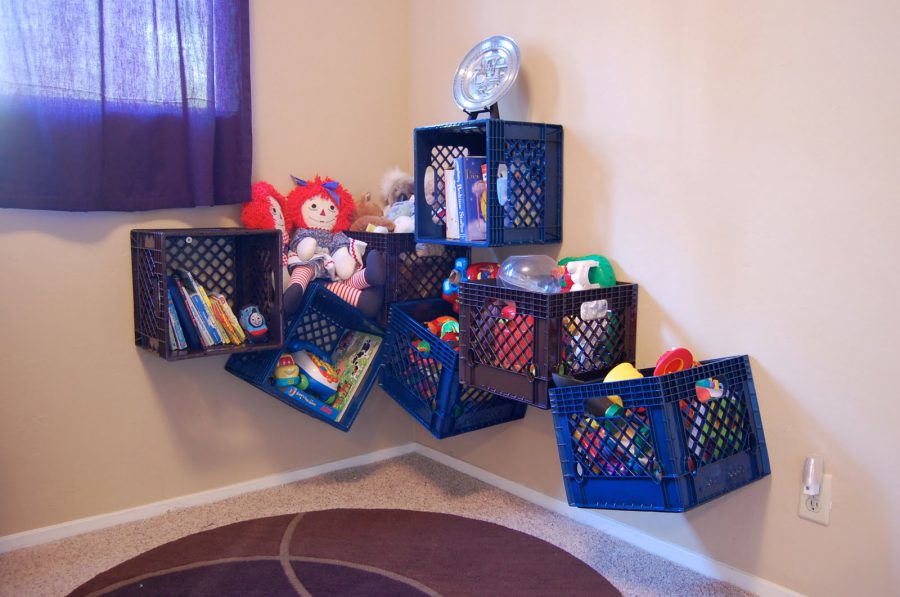 Like I always say as long as you are creative you will never fail to find the perfect storage idea for your child's toys. Milk crates were mainly used as book shelves back in the day however today they have popular again and I must agree they make such a cool storage idea. With this idea it is best to transform from the old ways of doing things and hang the crates up on the wall in a unique pattern instead of leaving them all scattered on the floor.
39. Under bed toy storage ideas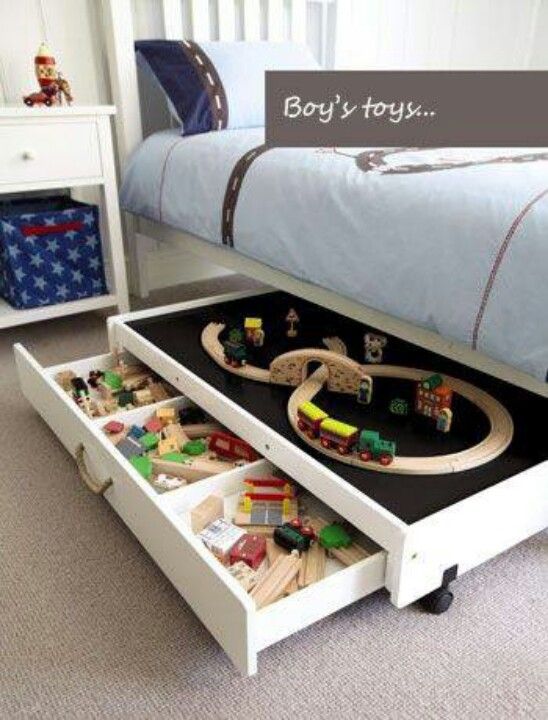 If space is your biggest problem then under bed storage is the best idea to go in for, these under bed drawers are a very essential way of utilizing space especially if it is already limited yet they help to keep the room very well organized. Some beds come with drawers built on while others don't but you if your boy's bed doesn't have them you can still purchase just like this one. It has wheels that make it easy to push under the bed or pull out and on the inside it is well sectioned for proper arrangement of various toys.
More Toy Storage Decor Ideas On The Next Page…