10. contemporary toy storage ideas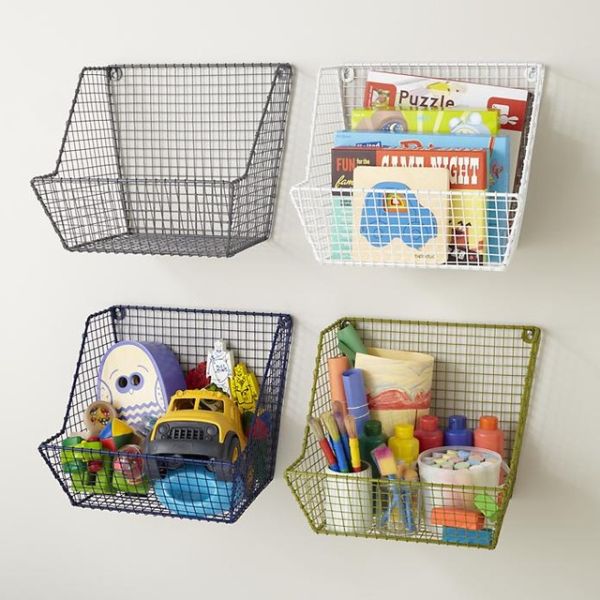 You can have the perfect storage for your child's toys while at the same time giving your house a very contemporary appearance with these wall hanging wire baskets. The baskets can easily be hang on the wall after kids are done playing and when they want to play again they can easily pull down any that contains the toys they want to play with. Instead of kids scattering so many different toys around the house they can play with just the toys in a particular basket at a given time which helps to reduce on the mess.
11. Wall garage toy storage ideas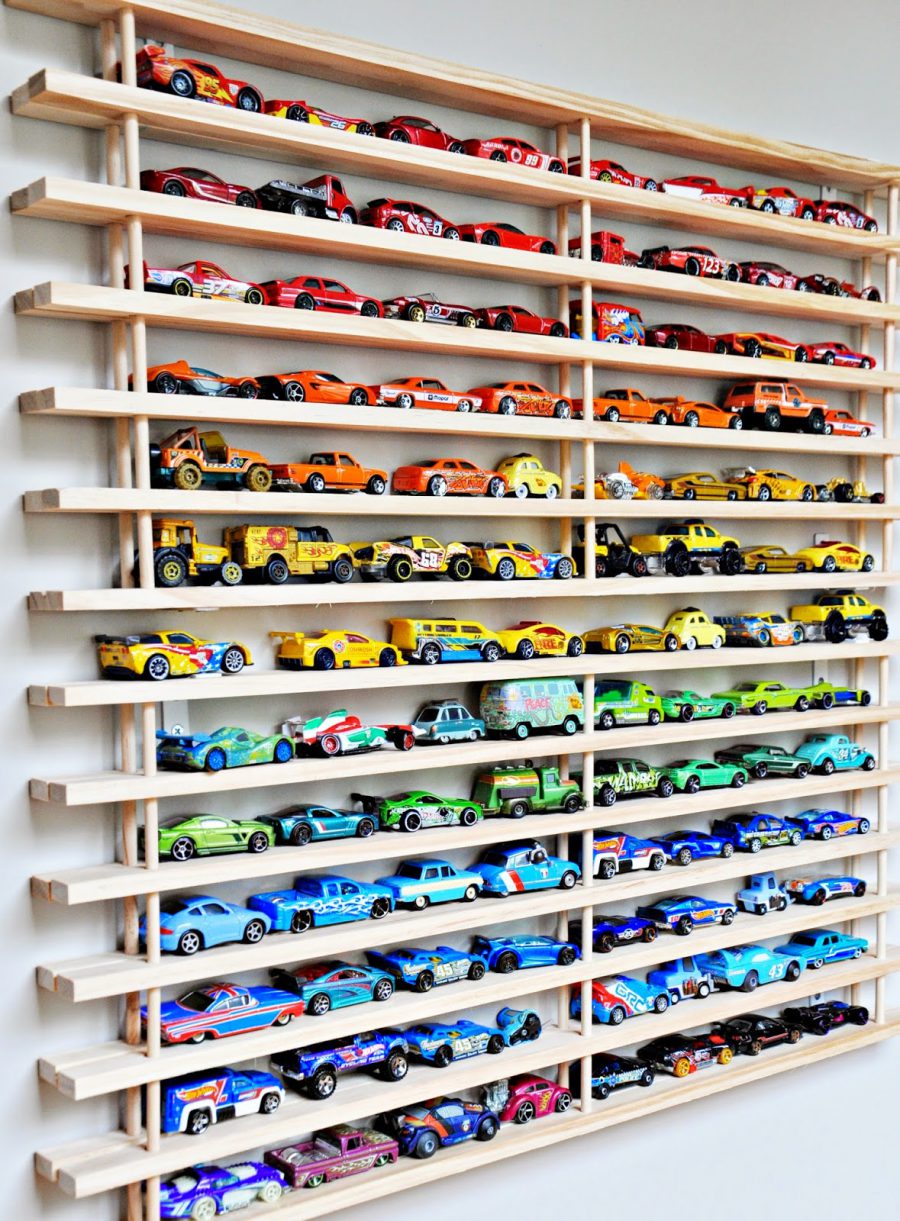 Sometimes you don't even have to spend extra money on the best storage for your little man's toys, you just have to get creative with what you already have in your home. For example in the above picture a shoe rack was turned into a parking lot of toy cars and I must admit is absolutely amazing. It is best to lean the rack against a wall so that the toys don't fall out and mind the height of your rack so that your kid doesn't find hard time putting his toys away when play time is finally over.
12. Animal toy storage ideas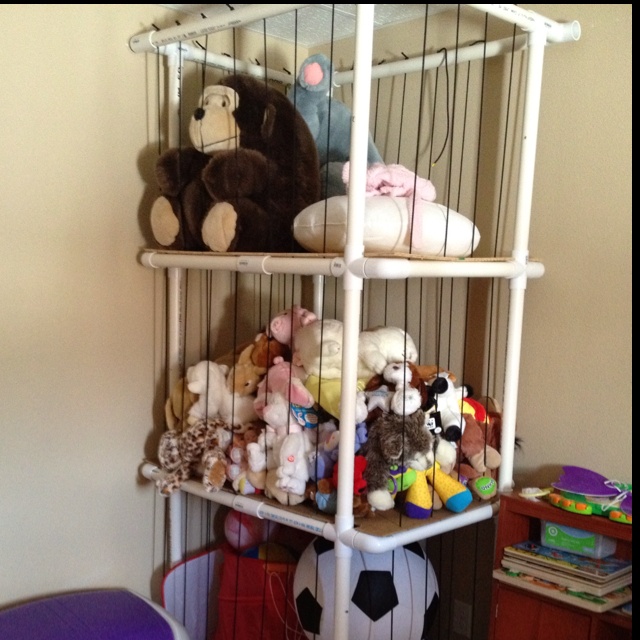 When you have one of those adventurous and interactive kids that love to play with stuffed animals it is very likely that you will find those bears and dolls almost everywhere in your home. However there is an amazing way in which you can put an end to the mess and that is with this toy storage cage. It has three tires and bards just like a real animal cage for your little one to enjoy narrating their stories about the zoo. Kids can see all their toys through the bars and in case they want to play with any of the animals they can use the large opening on top of the cage.
13. Unique toy storage ideas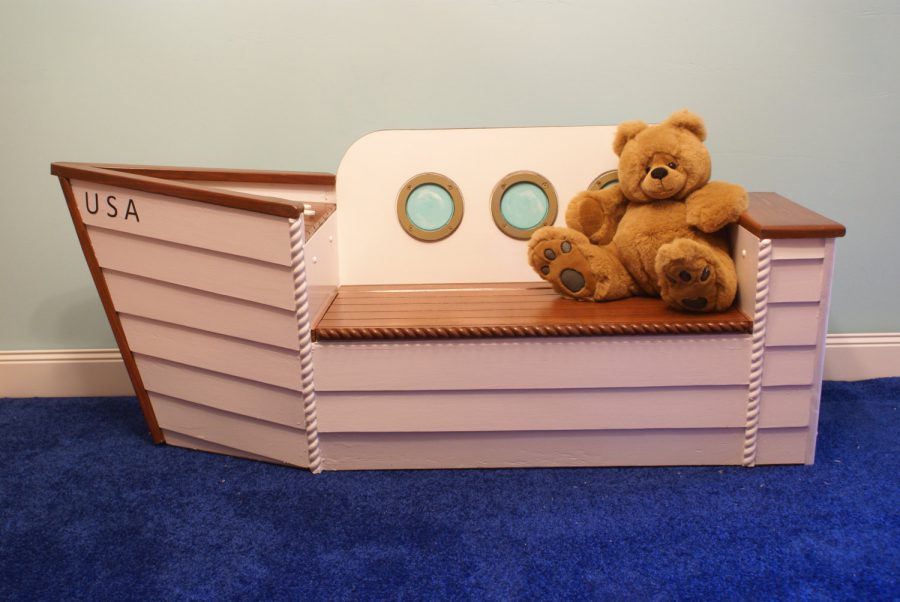 When I talk about storage ideas that any child will love, this is exactly what I am referring to, who can actually this can this has storage space for toys. It is designed in shape of a boat, it can act both as a seat and toy storage area. Because the seat is not so high away from the ground, kids find it really easy to climb up without an adult's help. As soon as they finish playing, you just have to open the lid and throw all toys in there. Every child will love to have this as storage for their toys.
14. Toy storage ideas for 16 year olds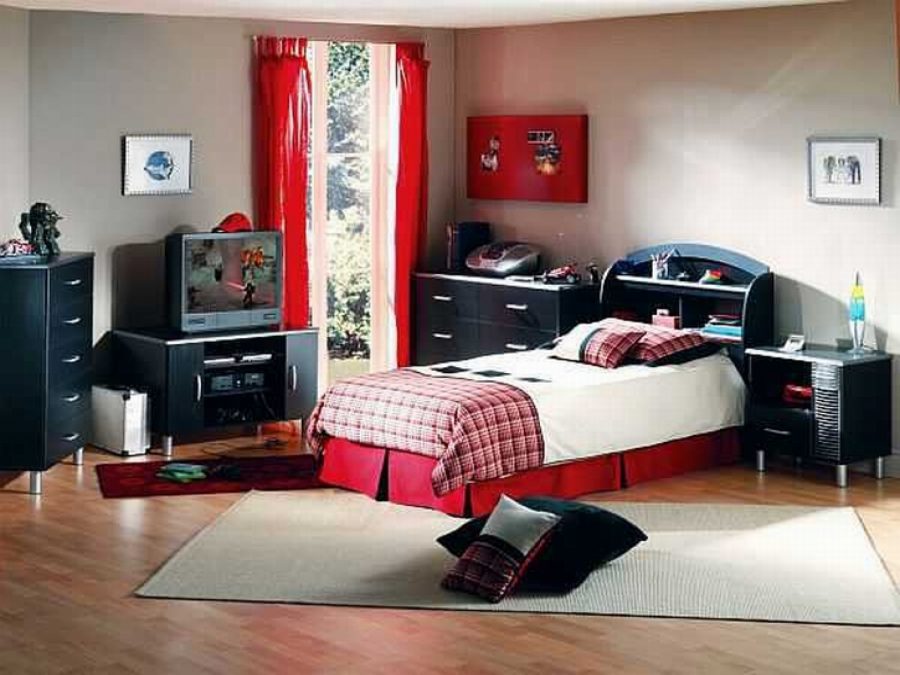 Yes 16 years olds are also kids and because they are extremely choosy it might be quite difficult finding them the perfect toy storage however above is a very good idea that we are sure will please any 16 year old. This elegantly furnished chest will not only store all their items also gives the room a very attractive look. It has 12 spacious and easily accessible cabinets to accommodate a variety of items such as books, photo frames, head phones and many other things that 16 year olds love to own.
15. On floor toy storage ideas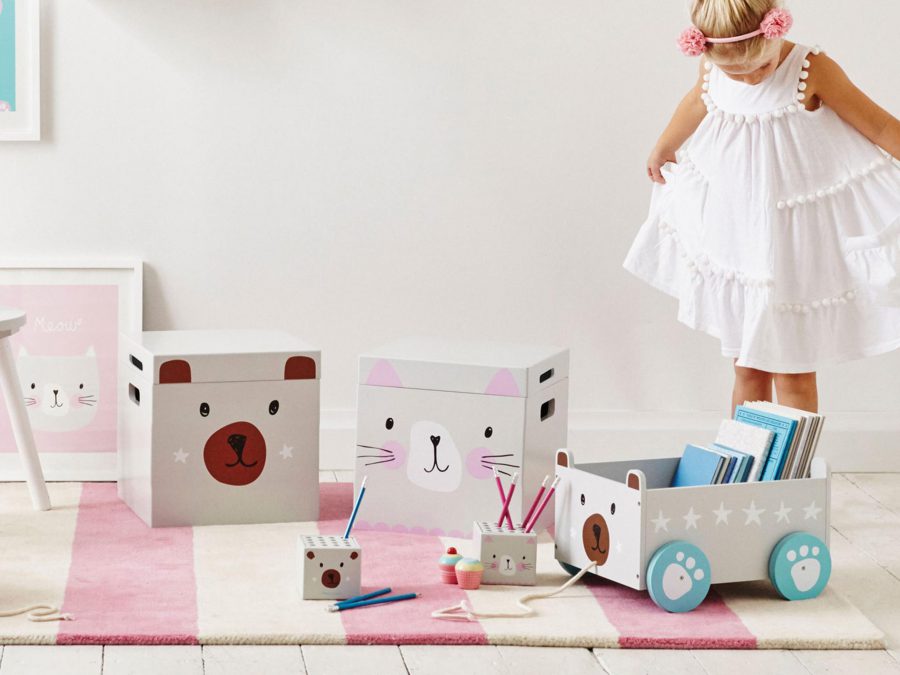 The easiest way to make toys accessible for the younger kids is with on floor storage ideas just like the one displayed in on the image above. These include creatively decorated bins and boxes into which kids can drop their toys as soon as they finish playing and quickly grab them out when they want to play. The other good thing with on-floor toy storages is that kids can also use them in their imaginary stories while they play so when playtime is finally over you just have to carry the boxes away and leave your home as neat as you found it.
16. Wooden toy storage ideas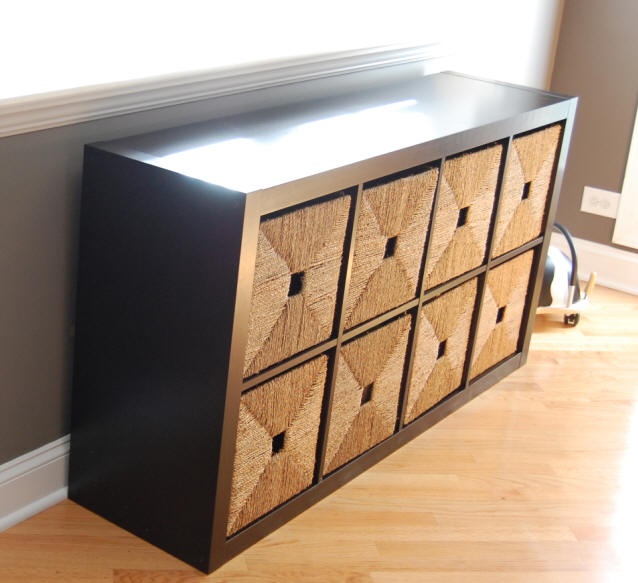 Wooden toy storages will give your home a very contemporary look as they match with the rest of decor. This dark brown wooden chest will look great in absolutely any room you choose to put it in whether it is the bedroom, living room or study room. It features eight cabinets with plenty of space for a good number of toys and a very smooth top where you can place some of your personal items or any other toys that may not fit inside the cabinets. With this wooden cabinet toy clutter will be the least of your worries.
17. Plush toy storage ideas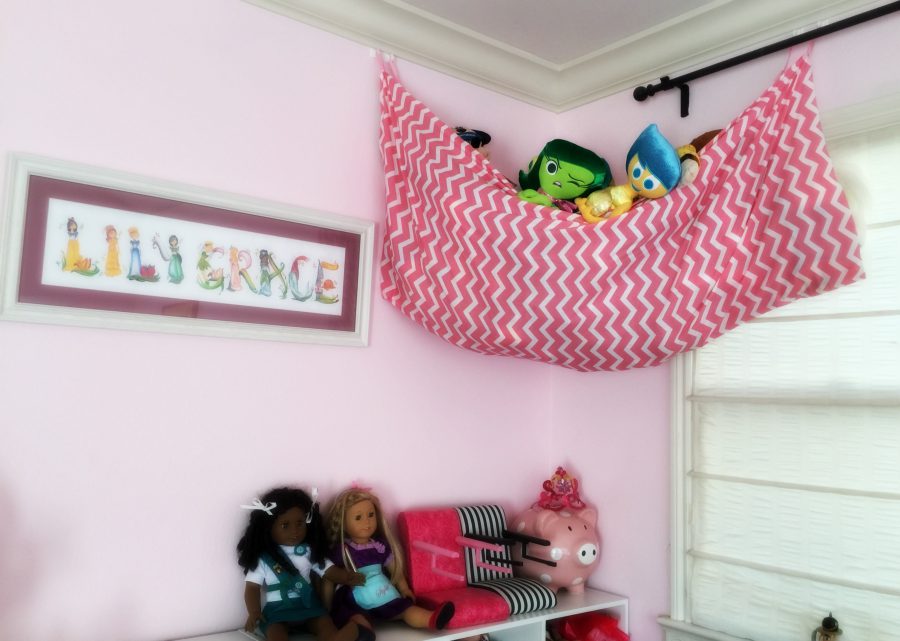 There is definitely no better way to store all those plush toys other than hanging them up. The best thing about this idea is that it is very cheap, you can use an old sheet or colored cloth, hang it up in one corner and throw all those plush dolls and bears in. After spending money on buying the toys the last thing you need is to spend more money on the best storage for them. This is a very unique toy storage idea, it is very simple, less costly but will definitely help keep her room looking super neat.
18. Creative toy storage ideas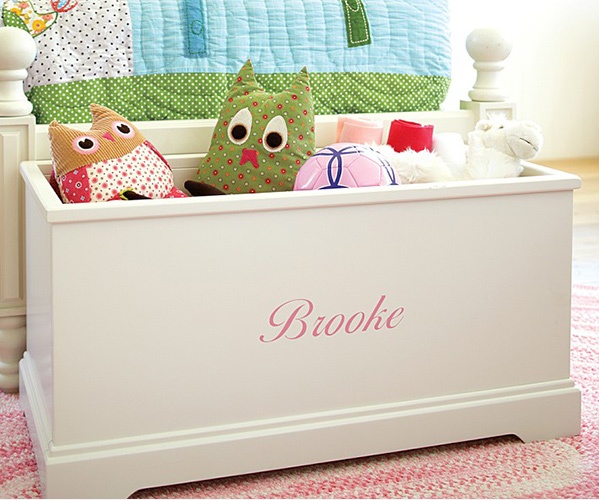 You need to get creative to add a touch of style to your kid's room to make her or him enjoy their stay there. Another one of my great ideas is this really simple but overly functional barn. It has no cover which makes it easily accessible and most importantly it has enough space for toys of different sizes and designs. Because of its attractive white finish, it is very easy for you to customize it with your kid's name. Get rid of all that stress of not having where to place your kid's toys after playtime by trying out this cute little bin.
19. Basket toy storage ideas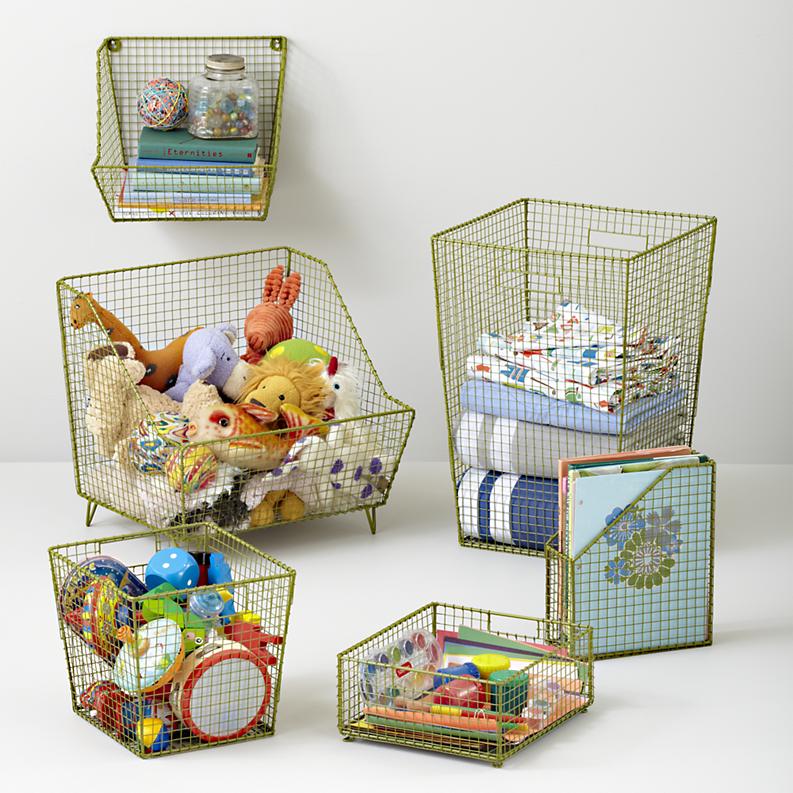 Stackable baskets can be used for storing toys both indoors and outdoors, given their size it is very easy to place them anywhere in or around the house whether it is in the garage, bedroom or outside in the shade. What I love the most about these baskets is the fact that they are not made with latches or covers that would have made them difficult for little ones to access their toys. There is also no need to label the baskets since all toys are clearly visible inside there, he or she can quickly pick any toy they want to play with.
More Toy Storage Design Ideas On The Next Page…