Your wedding day is a day you'll remember for the rest of your life so you and your partner only deserve the best when it comes to your wedding hall decorations.
Now the décor can come in many forms the main features of which are the colour palette and theme, flowers and the most important seat in the place: the couple's table. These are a big part to get right when you have a very clear vision of what you want your wedding to look and feel like, especially the couple's table and the backdrop created behind it because it will affect all the photos that are taken of the two of you throughout the reception.
36 Wedding Decorations to Wow Your Guests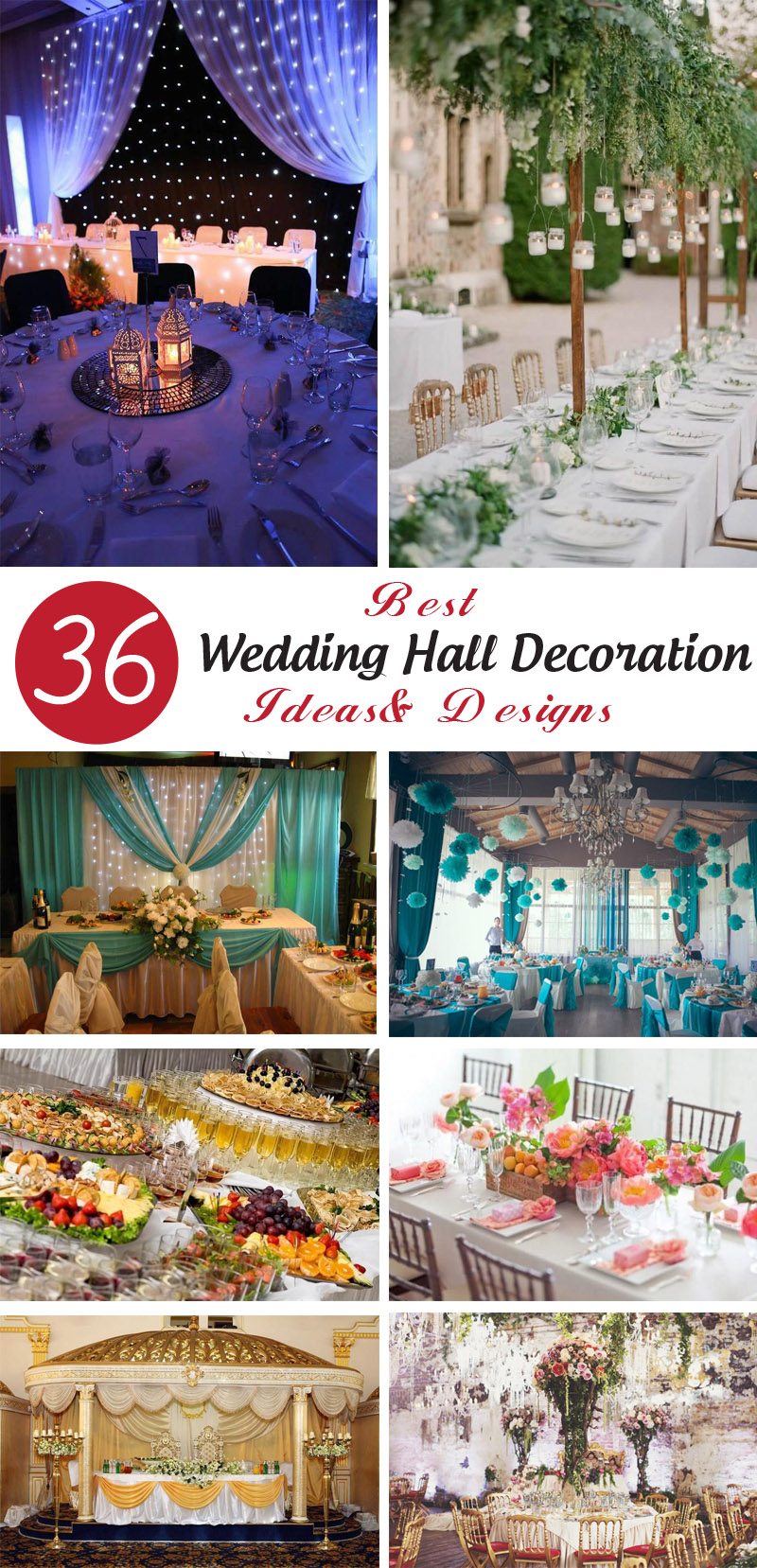 Besides these there are so many opportunities to imbue your wedding with some stunning design details from chairs, to party favours and quirky scenes created within the hall that will make your wedding unforgettable. The walls, ceiling can be draped and lit strategically to create a stunning ambiance throughout the room and you can even take your theme and let it inform the way you design your buffet table. Whether you want a small intimate wedding, possibly with hand crafted decorations, or an elaborate over the top celebration for hundreds we have some design ideas for you.
So if you want to craft the wedding of your dreams here is some inspiration for:
1. Sheer Fabric Over the Chairs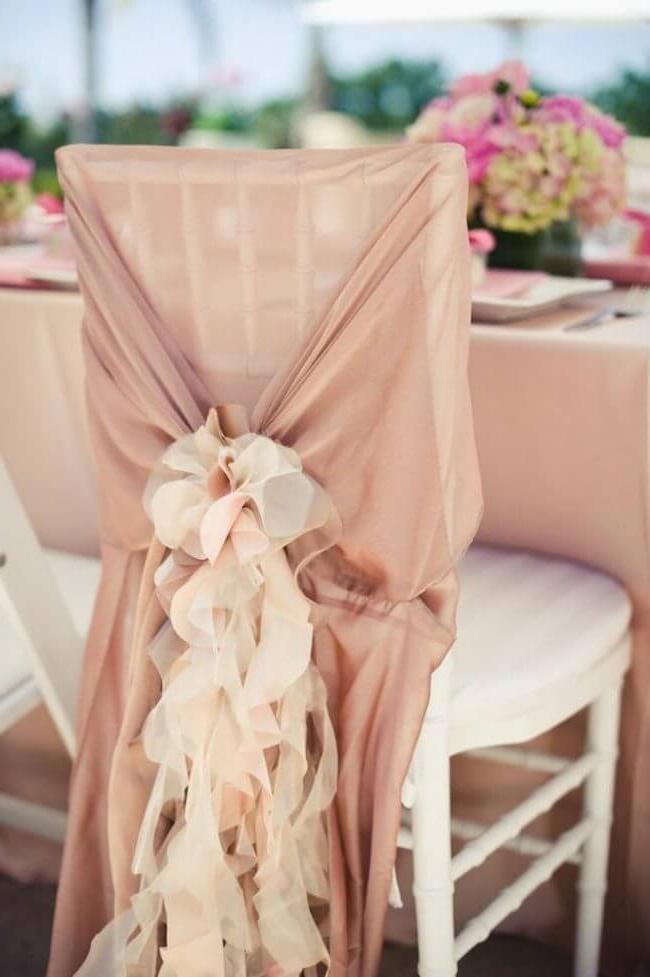 A great way to make your basic hired chairs more unique is with the simple use of organza that can be tied around them to transform them into something totally new. In this example peach and cream organza have been tied around each chair in a cascading train draping elegantly down to the floor. This style can be made more simple and executed in any shade to fit your colour palette. For a more money saving solution you could actually do this yourself using raw cut fabric can be bought from fabric stores by the metre and cut at home.
2. Accenting the Main Table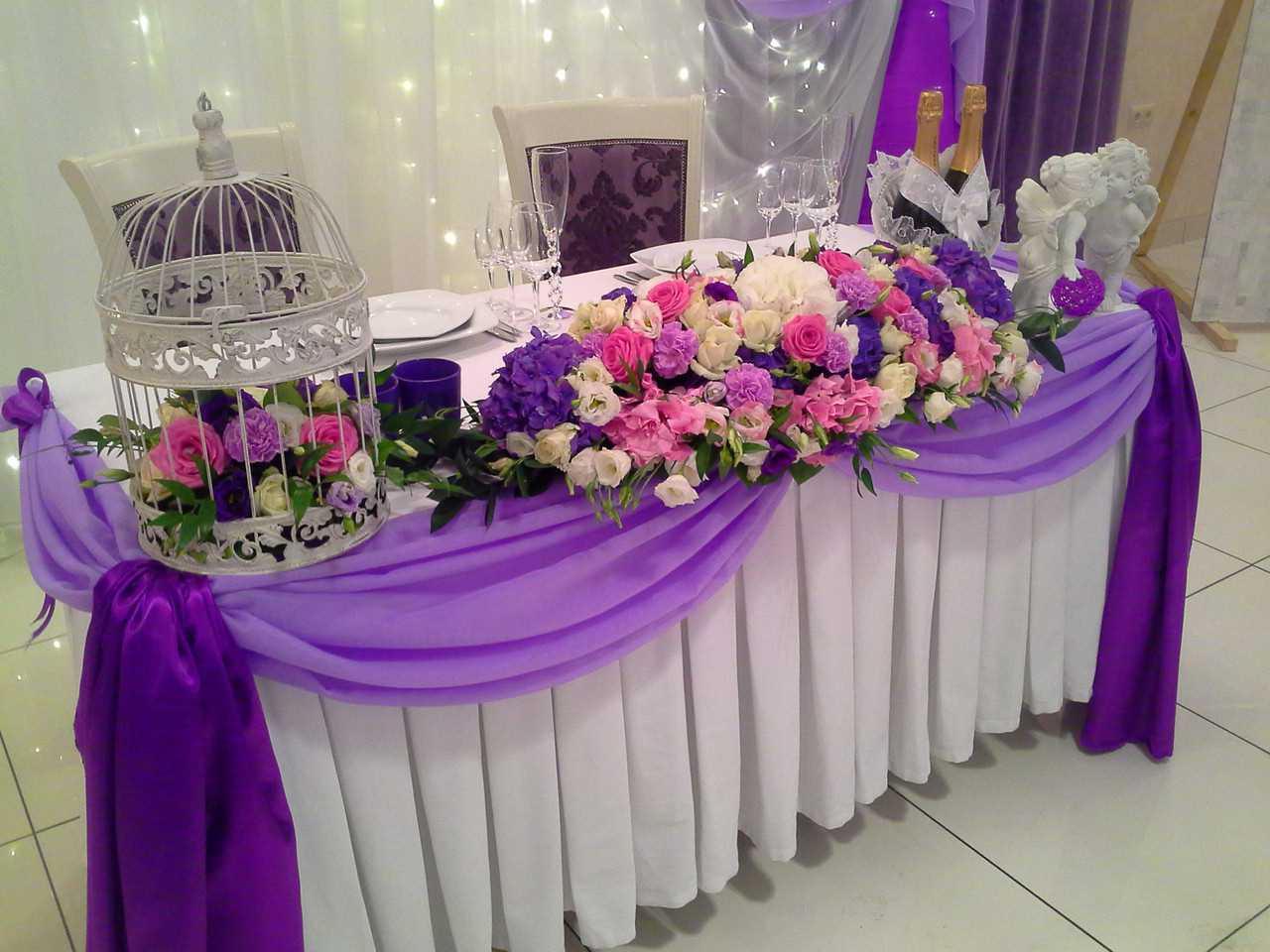 The main table, reserved for the happy couple, should always be decorated to draw the eye and stand out from the rest because it's their day after all. In this setting a plain white tablecloth has been upgraded using varied decorations to create this layered display. Swathes of purple fabric in two shades have been draped around it while the tabletop is adorned with two kissing cherub sculptures, a long pink and white flower arrangement and an ornamental birdcage full of flowers. The chairs for the couple also match the shade of purple to fit neatly with this wedding's colour palette.
3. Fantasy Fabric and Light Sculpture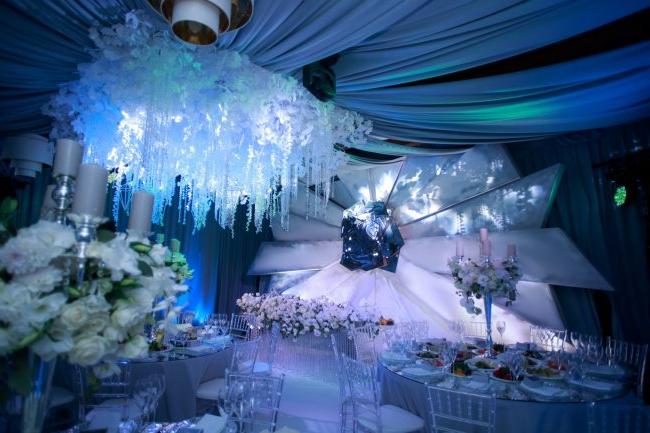 This outstanding hall design is a style that makes your guests feel like they've been transported to an alternate reality. Sculptural forms have been creating my combining an icy blue light with ivory fabric in a few different forms to make this an all-encompassing experience. A wall feature has been made of stretched back wall panels that create a flower like display across the entire back wall. Drapery has then been used across the ceiling leading towards the main event, which is the light piece at the centre of the ceiling constructed from intricate fabric florwers, leaves and trailing vines that tangle into this stunning centre piece that will make your wedding one to remember.
4. Dramatic Gilded Couple's Table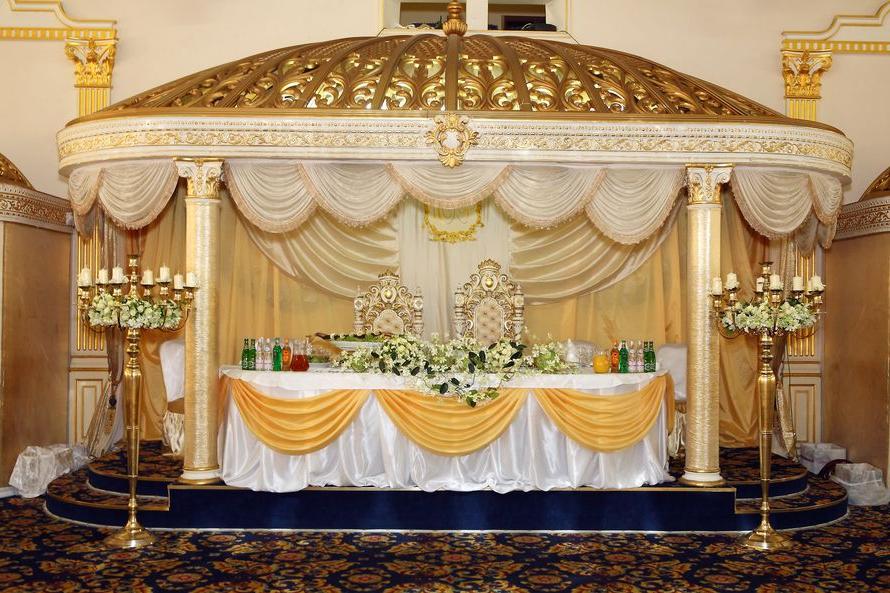 This couples table is intensely elaborate, making sure that no one forgets whose day this is. The canopied area has a sculpted gold roof held up by thin gilded Corinthian columns with gold curtains that are used throughout the space. The main table sits on a platform above the guests with chairs that are almost throne like that are upholstered in and intricate frame. This display is finished off with two elaborate gold candlesticks on either side of the table.
5. Decorative Buffet Layout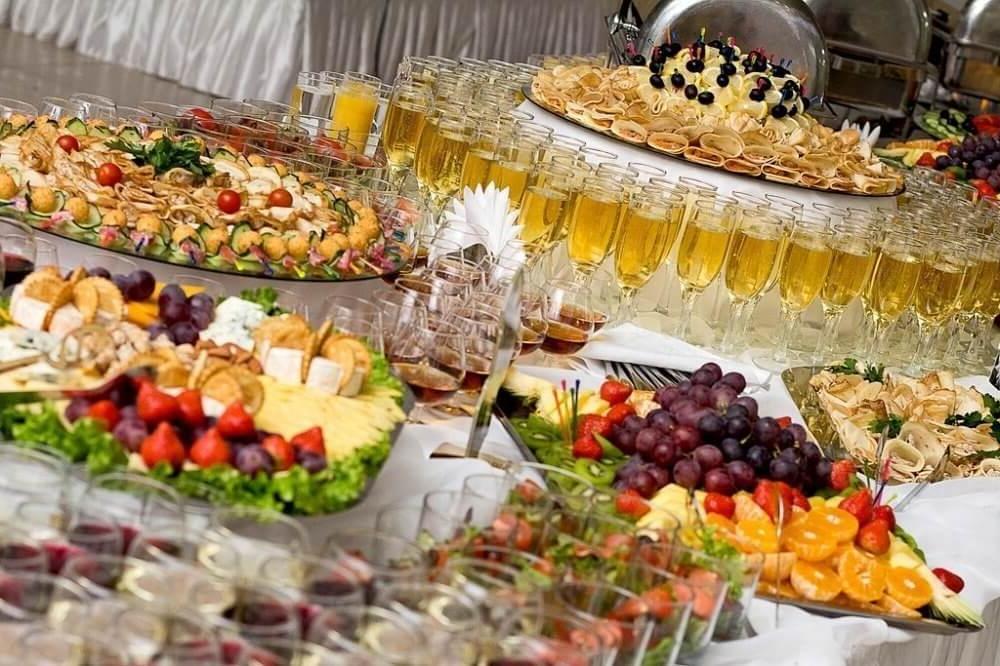 As we said in the intro, it is possible to bring a decorative element to every part of your wedding, even your sumptuous buffet. A great table design makes use of layers in the form of platforms and platters to add height and visual interest to the spread. They've also used varied sizes of huge platters filled with bountiful amounts of food. The platters are interspersed with champagne flutes and glasses of red and white wine that your guests can grab conveniently while adding an extra element of colour and height.
6. Rustic Napkin Holder and Spring Flowers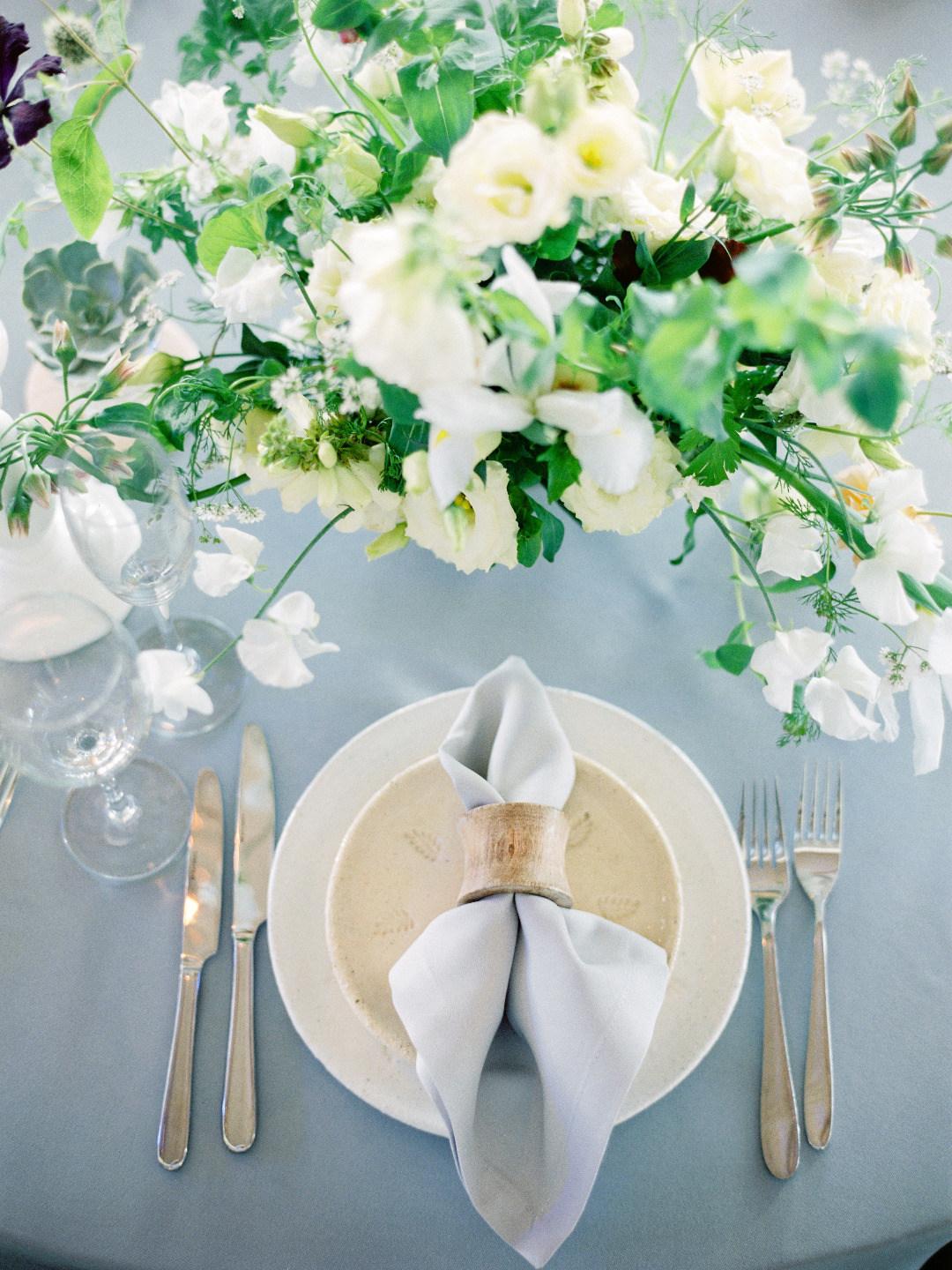 This wedding table design has achieved a stunning contemporary rustic look by tweaking a few small elements. The first simple but impactful design choice is choosing this dusty blue tablecloth as opposed to the expected white that the rest of the layout can contrast against. The simple cutlery and crockery layout have been accented with a wooden ring that curves elegantly with the pale blue napkin pulled through it to gives it a rustic feel. The wedding flowers are also amplified by the blue tablecloth as the vivid green and white of the spring flowers stand out brightly and feels refreshing.
7. Whimsical Table Decorations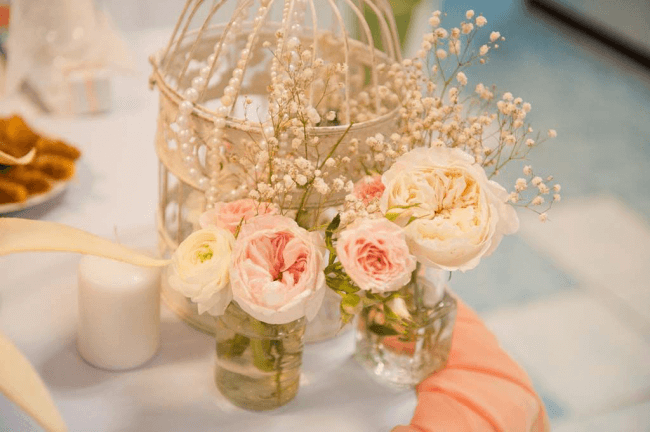 Small pieces of décor running down the centre of each table is a great way to bring your theme all the way through the space without taking up too much space. This particular example has used a combination of items of different shapes and sizes to create visual interest. Tiny jars of flowers have been filled with a combination of baby's breath and peonies and set beside a white column candle and a small metal ornamental cage to create this whimsical table design.
8. Floral and Fabric Archway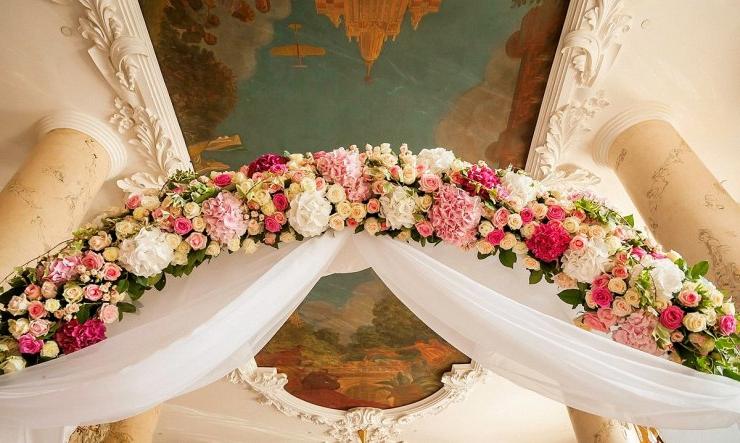 As if painted ceiling and floral moulded ceiling held up by marble columns wasn't enough this wedding has an archway of flowers and white organza has been used to create a frame around the couple while you make your vows that feels special and looks great in photos. The huge archway is covered all the way around in densely packed flowers in white and hues of pink with two curtains of organza draping down from it that looks diaphanous and romantic.
9. Hanging Floral Centre Pieces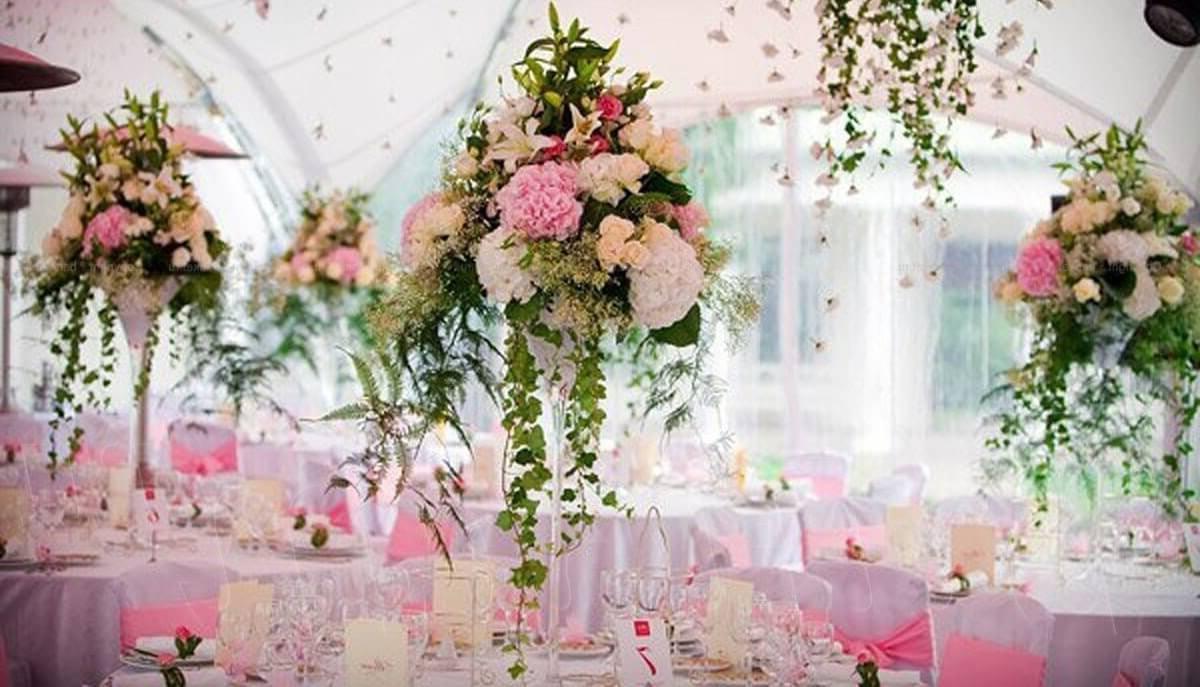 If you have less table space available but you really want dramatic flowers you can fit your guests comfortably around the table and suspend the flowers overhead. This is really dramatic and saves on the venue space required, which in turn saves you money in your wedding budget. The hanging displays feature fluffy flowers in white and pink with some trailing greenery that reaches towards the tables in an elegant way and makes the ivory tent look stunning from every angle.
10. Naturally Bright Centre Pieces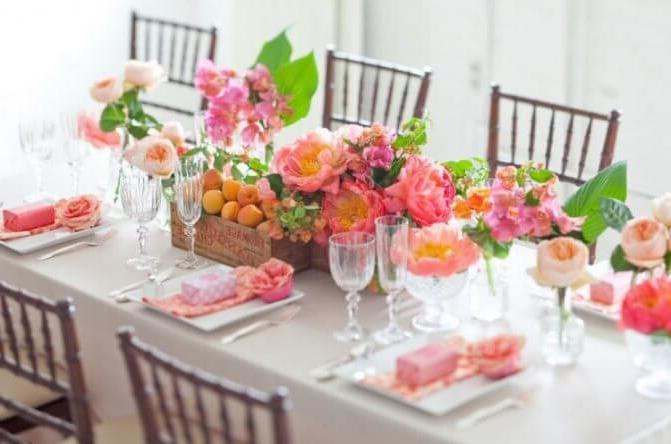 Running the whole way down their length, these long tables have been decorated with a combination of pink and peach toned flowers, large bladed leaves and crates of fresh oranges and peaches that stand out against the white tablecloth. This really bright décor uses only natural items whose colour are echoed in the napkins and party favours on each plate. The decorations are all fairly low, which doesn't restrict conversation from one side of the table to the other, which can be an issue with wedding table decorations.
11. Rustic Magic with Fairy Lights
If you want a cheap option that gives you a lot of bang for your buck then you might want to try this technique where the tall barn venue has been festooned with string after string of fairy lights. The little round bulbs are unevenly spaced, which adds a sense of whimsy while also amplifying the textures of the barn walls and taking advantage of the high ceilings. Each table individual table has a cluster of white pillar candles at the centre so that their light and that of the fairy lights combine to create and magical ambiance.
12. Designer Guerlain Designed Pastel Explosion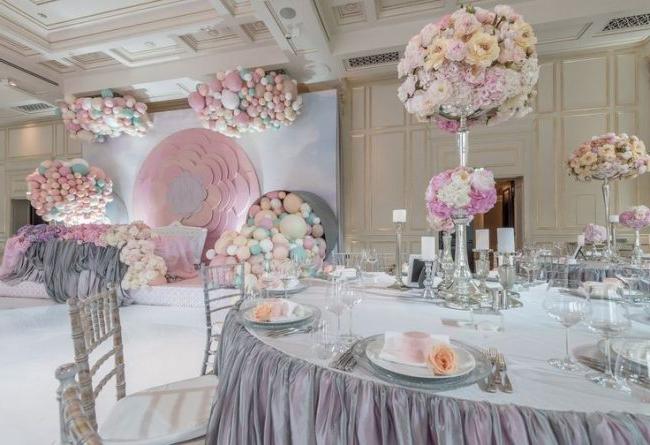 This wedding was designed by high end cosmetics brand Guerlain for a particularly lucky bride. The theme was based on their best selling Meteorites powder pearls because it is the bride's favourite product. The pastel colour scheme was taken directly from the colourful pearls of the product and was intended to represent lightness, tenderness and purity, according to Guerlian. The tables are decorated with tall spheres of flowers and iridescent tablecloths while the rest of the space is decorated by gravity defying bubbles that adds lightness and dimension that guarantee that you'll get some stunning wedding photographs.
13. Ruffled Organza Chair Ties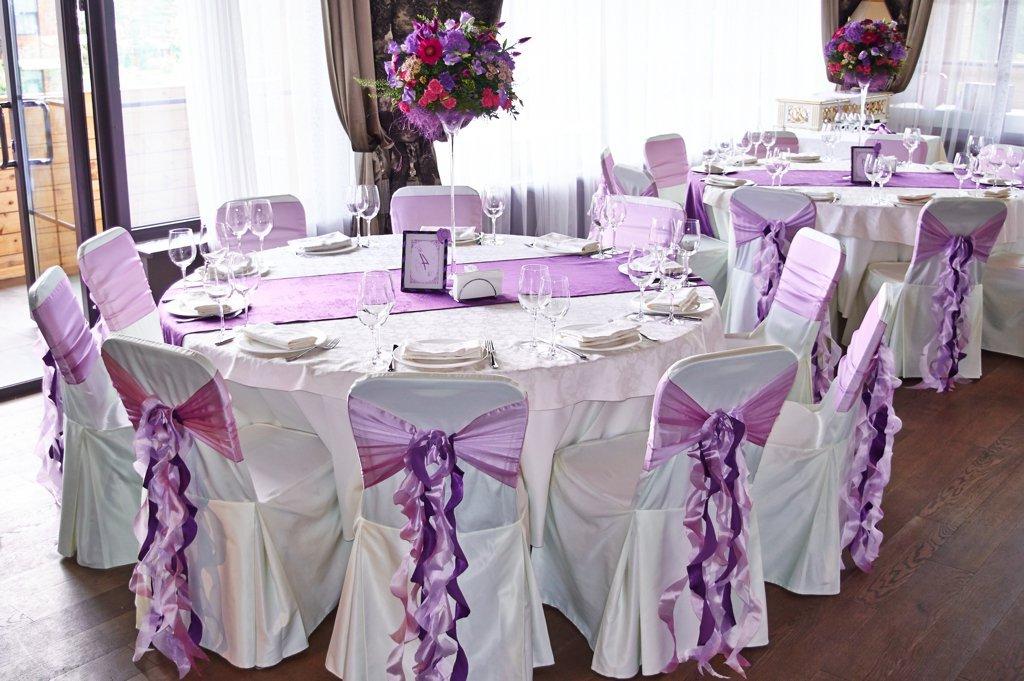 In a more simple iteration of the first example these hired chairs have been upgraded using sheer purple organza with a lot of shine to it. These are simple to tie onto the chairs and cheap to buy at any fabric store. The vibrant purple stands out against the white chair covers and tablecloth with ruffling strands hanging from them to add texture. The ties are in the same tone as the table runner so the whole space feels cohesive.
14. Romantic Softly Lit Atmosphere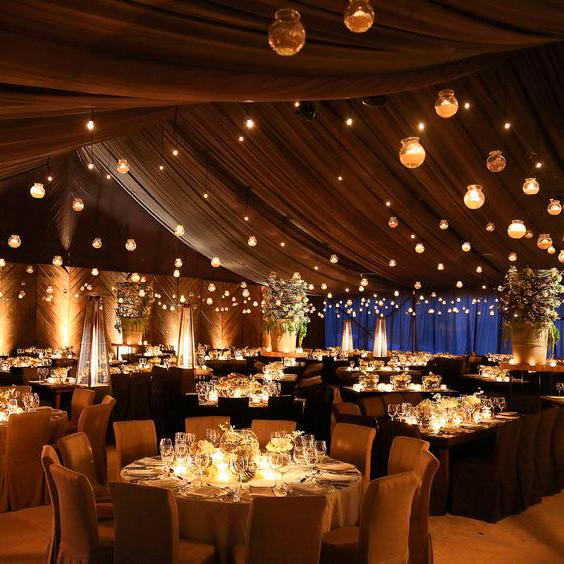 Really low lighting creates a sense of intimacy, particularly in a large space, and this draped hall has executed it perfectly. As opposed to lighting the room harshly from above, these lights take the form of orbs hanging from the tall ceiling as well as being incorporated into the centrepieces with uplighters around the perimeter to bathe the space in gentle light. This creates really romantic lighting, which suits the occasion perfectly. Keeping the lighting low also helps your guests feel less self conscious and gives them the freedom have fun without feeling like they're under a spotlight.
15. Whimsical Couple's Table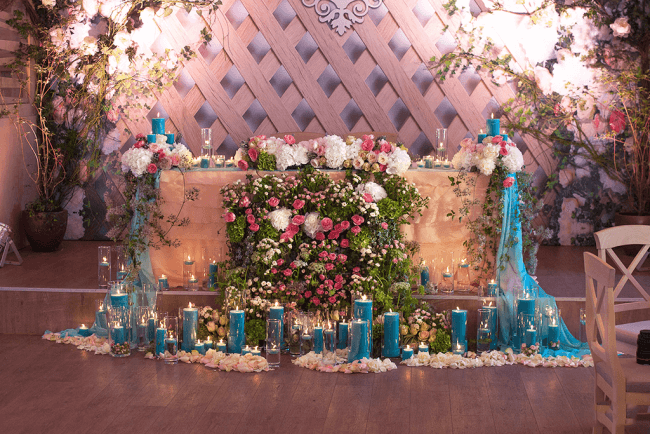 This fantasy inspired wedding has created a whimsical scene centred on the happy couple. The table has been festooned with large white flowers, small pink flowers and greenery that also surround the timber trellis that forms the backdrop behind them. The front of the table has been adorned in a magical combination of white stones and bright blue pillar candles that match the blue organza trailing from the table to the floor.
16. Boho Couple's Table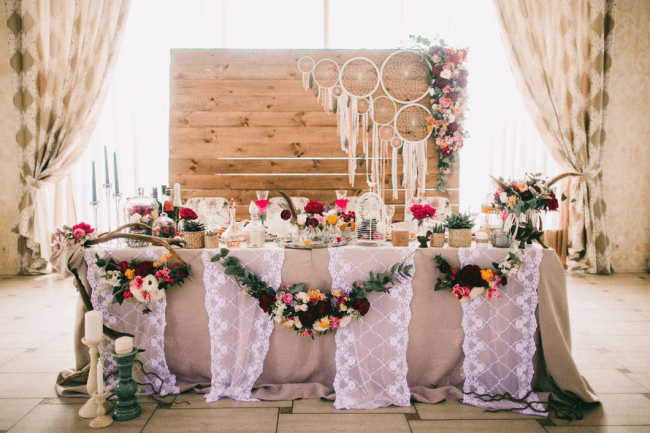 This gorgeous wedding has a boho style that is inspired by natural textures and flowers. The table is covered in a beige tablecloth with strips of lace lying perpendicular across it with strings of flowers across the front. The wood paneled backdrop behind the table is festooned in multiple sizes of white dream catchers and garlands of flowers that guarantee some really beautiful pictures couples pictures from during the reception.
17. Huge Floral Centrepieces with Crystal Chandeliers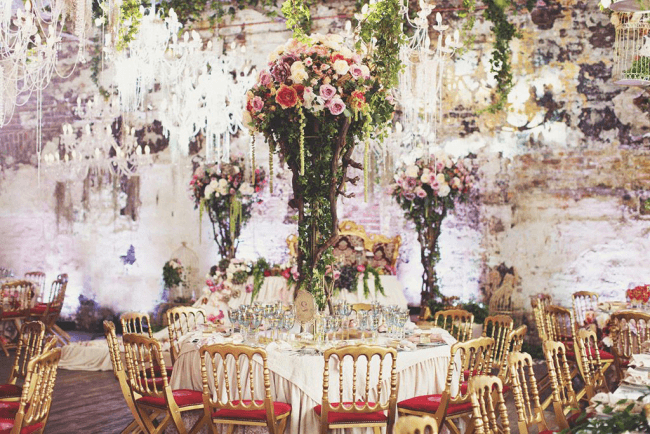 This really ostentatious wedding hall is clearly trying to show off and not being shy about it. The wallpapered hall has round tables encircled by golden chairs. In the middle of each table is a dramatic floral centrepieces that grows from the tabletop and splays out through intertwining branches with the huge floral sphere at the apex. Countless dripping crystal chandeliers hang from the ceiling and are interspersed with the floral spheres to create a ceiling that is breathtaking over the guest's heads.
18. Hydrangea Garlands and Floral Table Cloth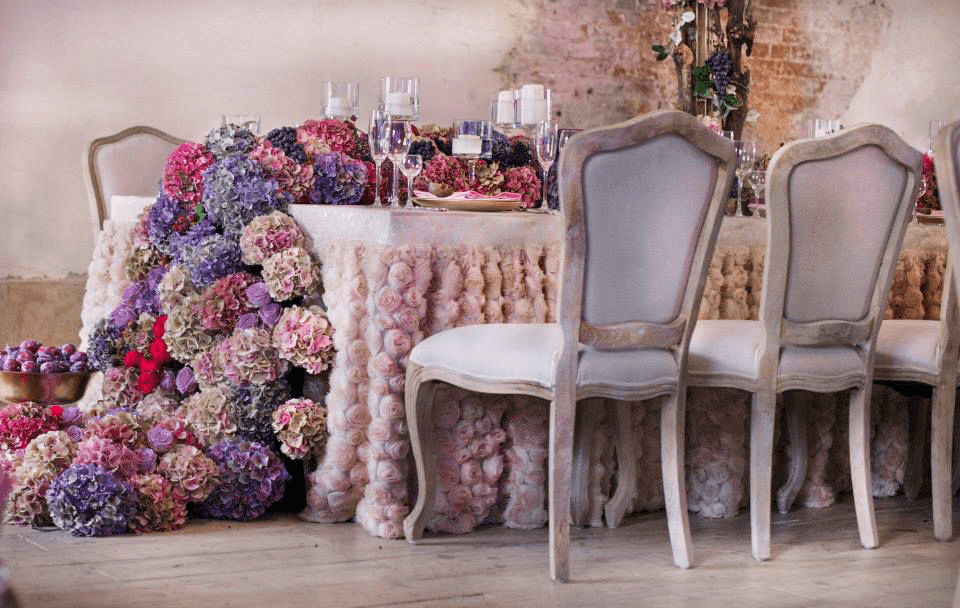 This wedding design is all about flowers. The tablecloth of each table is made of little organza roses in pale pink that will feel soft against the guests skin but the real showstopper is the one of a kind table runner. This takes the form of a dramatic garland of dried hydrangeas that winds all the way down each table and spills over the end in a dramatic pouring of flowers in shades of pinks and purple, letting the beauty of nature be your design medium.
19. Simple Floating Centrepieces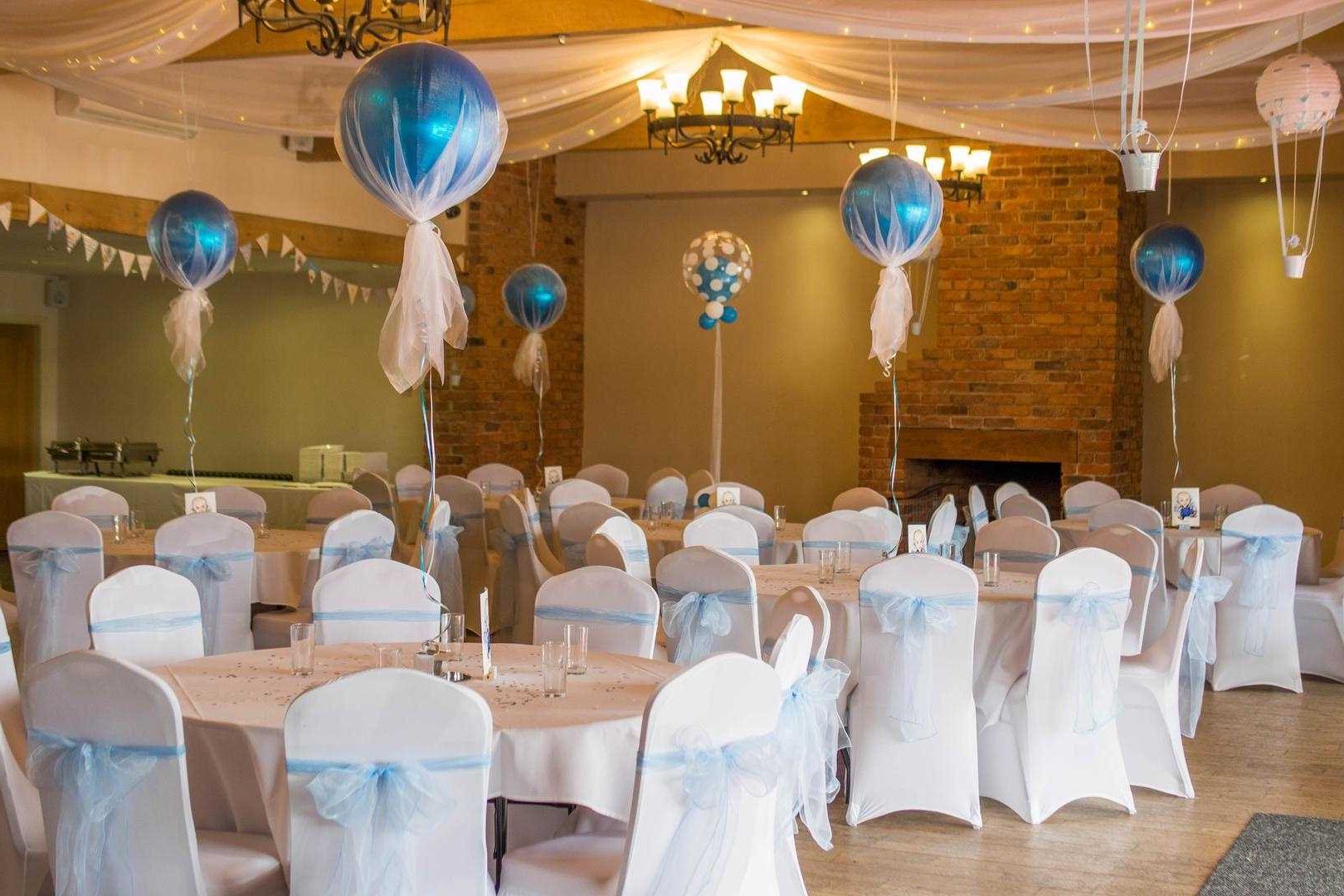 This is a really simple wedding design that saves money, looks cute and is just as effective at putting the theme across as the more lavish designs. The ceiling has been adorned with swathes of white organza that drapes from joist to joist alongside LED fairy lights, which doesn't pose any fire risk because LEDs give off very little heat. The centerpieces are created by anchored, blue helium balloons that are covered in organza and held floating in place by a ribbon. In addition pale blue organza chair ties have been used to enliven the hired chairs.
20. Floral and Ruffled Couple's Table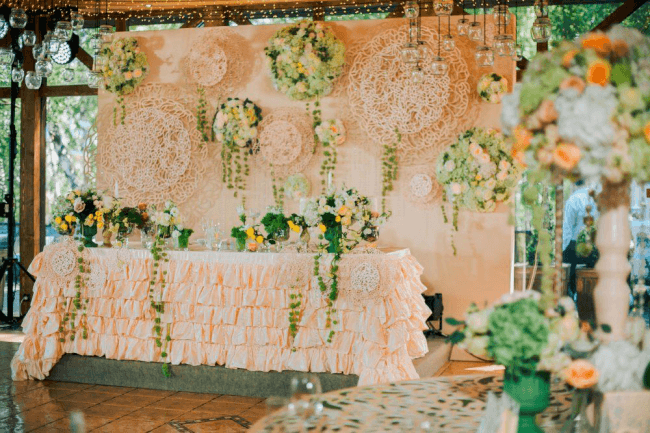 This little platform has been adorned from floor to ceiling in a combination of multiple layers of ruffles with garlands made from green and white floral sprays that the newly weds can nestle themselves inside. The paper ruffles are in a pale apricot and create a stunning texture with draping garlands dripping down them. This set fully designed set up means that every photo of you two will have an amazing backdrop.
21. Surreal Magical Couple Tables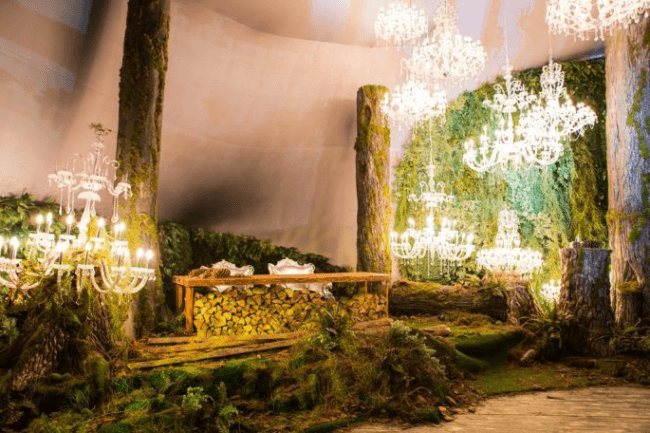 At this gorgeous fantastical wedding the couple's table has been made to look like a fairy's bower complete with tree trunks and moss strewn across the floor. Elaborate crystal chandeliers have also been hung at different heights in front of it to create a stunning surreal scene to base the rest of the room off of. Just based on the couple's table, this was not a wedding anyone will forget.
22. Tall Flowers and Organza Galore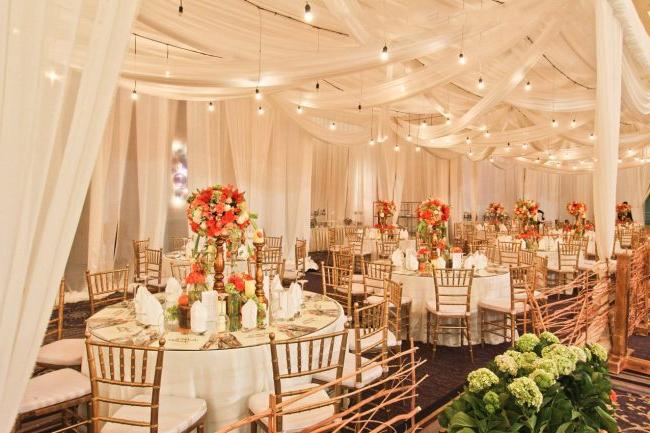 This ethereal wedding scene has been draped almost entirely in white organza, which runs down the walls and in layers across the ceiling that encapsulate your guests in the experience entirely. The round tables have spindly little gold chairs and white tablecloths with tall floral centerpiece. These orbs of orange and white flowers sit on top of copper candlestick holders that hold the flowers aloft as the only colour amongst all the white.
23. Farm Style Rustic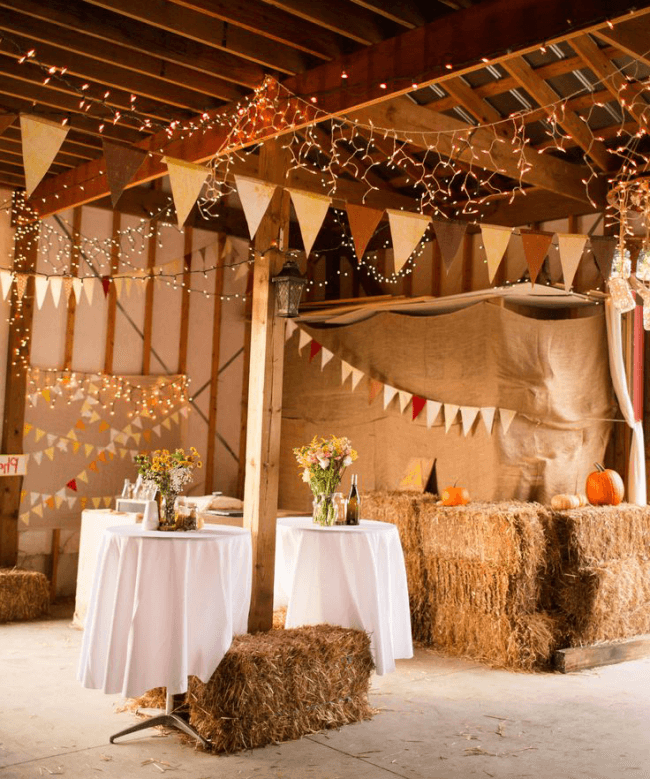 This rustic wedding has chosen a stylish barn setting and adorned its natural beauty to result in this eye catching wedding hall. Intertwining strands of fairy lights with warm little bulbs have been strung liberally among the exposed wooden beams to create tangles of whimsical light. The rest of the room has used a big pile of hay bales covered in burlap with bunting in red, white and yellow hung throughout.
24. Outdoor Mediterranean Glamour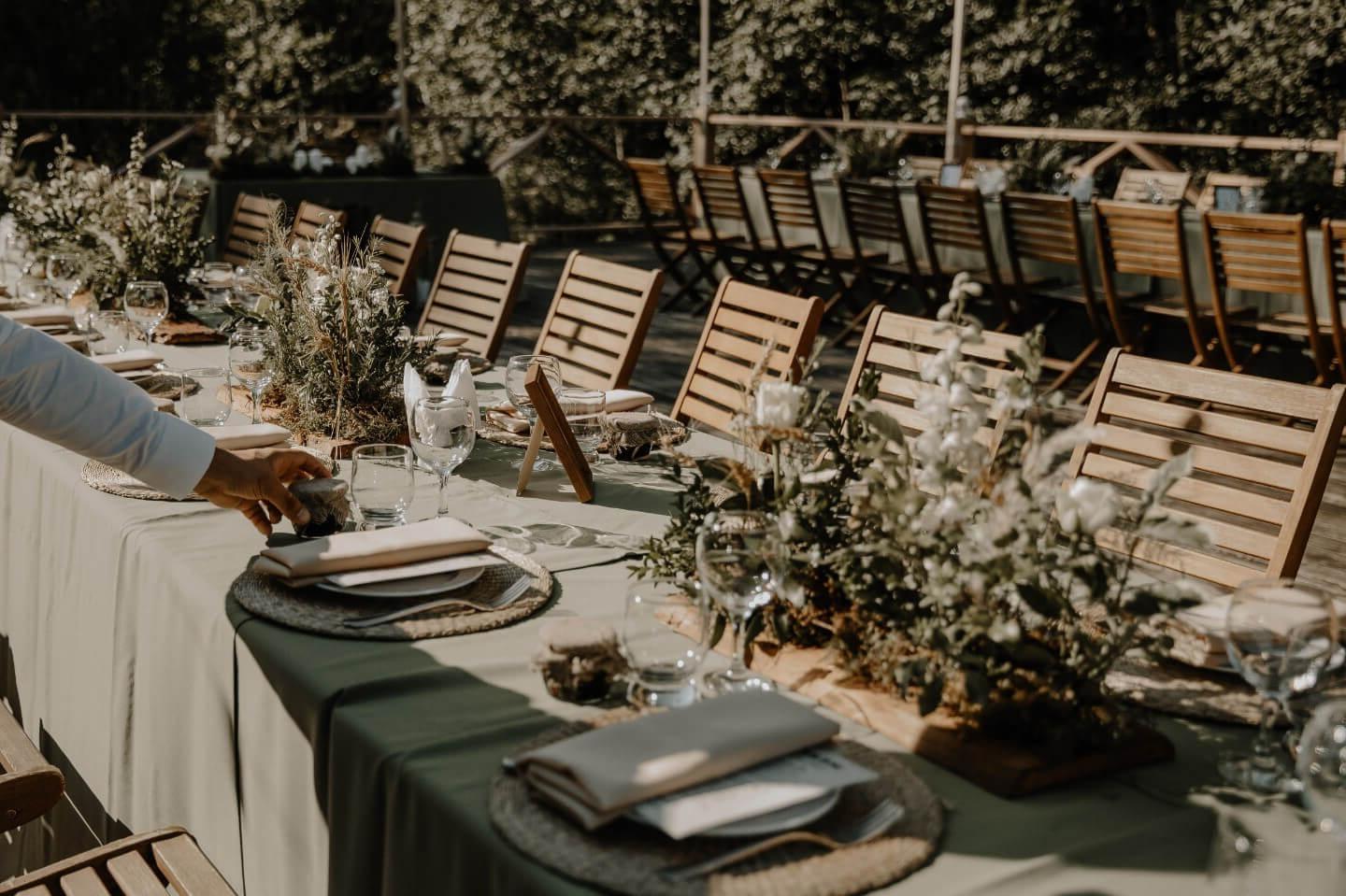 With a clear Mediterranean inspiration, this outdoor wedding exudes a minimal glamor. Simple wooden folding chairs sit beside olive green tablecloths with woven place mats that give the whole experience a rustic feel. Olive branches have been arranged in a beautiful way down the long tables to keep theme cohesive as you and your guests celebrate in the sunlight among nature.
25. Dramatic Wedding Pavilion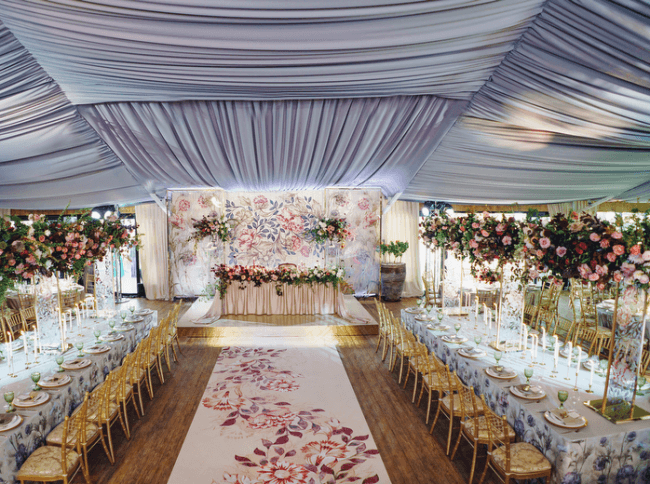 The inspiration for this wedding was very clearly, flowers. To create a colourful base to this floral wedding a draped ceiling has been made of large areas of draping lilac fabric. Below that there is a lot going on from the floral carpet running between the long tables to the spindly golden chairs with blue floral tablecloths. The live floral elements are in the form of tall vases of flowers that hold the green and pink creations above head with a similar garland decorating the front of the couple's table.
26. Simple Industrial Loft Wedding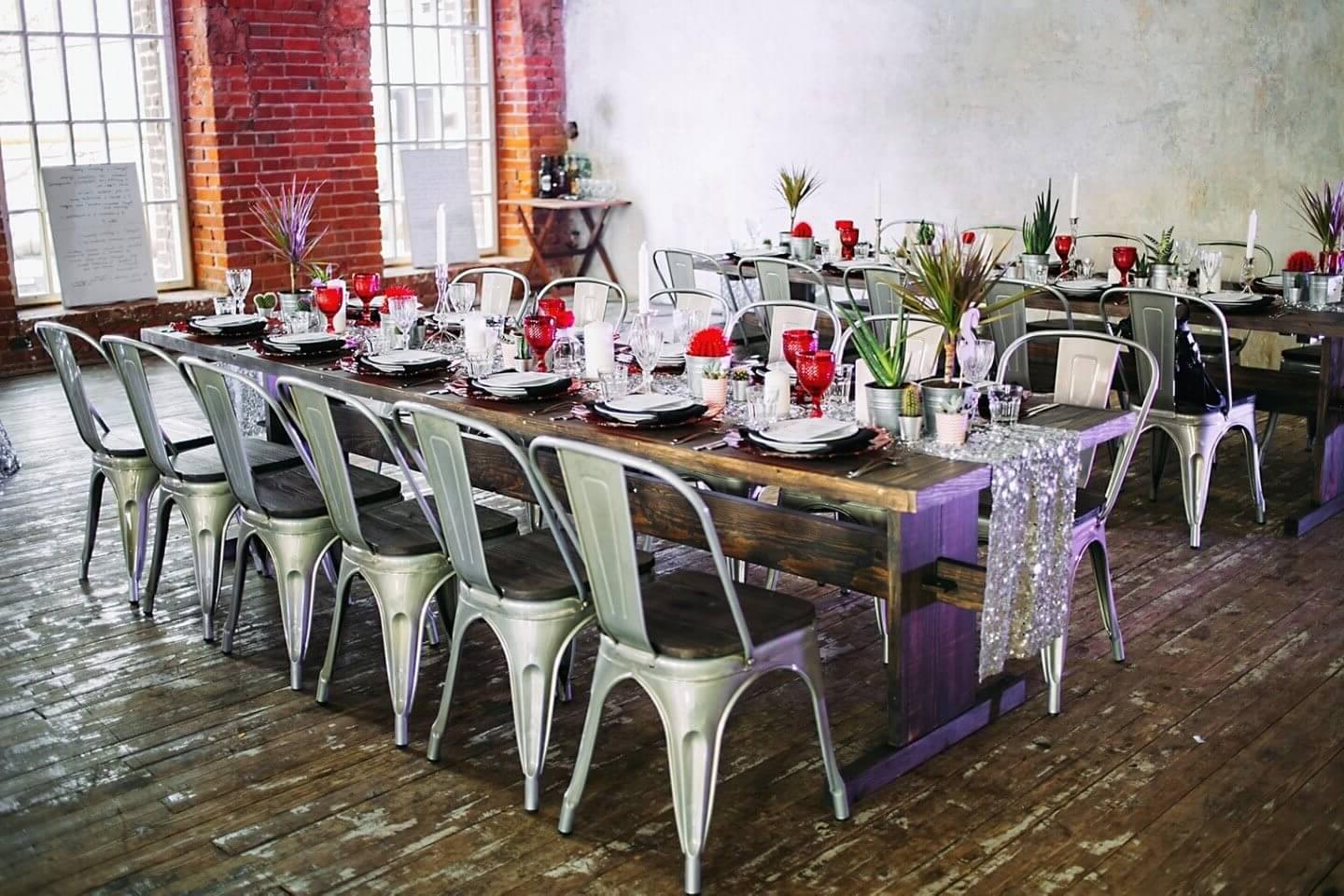 Here the wedding hall is actually an industrial loft in exposed red brick with floor to ceiling windows. This is a small more intimate wedding that shows you don't need a big hall to have a beautiful wedding. The style is continued into the industrial steel chairs and the wooden tables with the end painted purple. The look is finished off with green succulents dotted across the table and translucent red glassware.
27. Fall Inspired Couple's Table Fantasy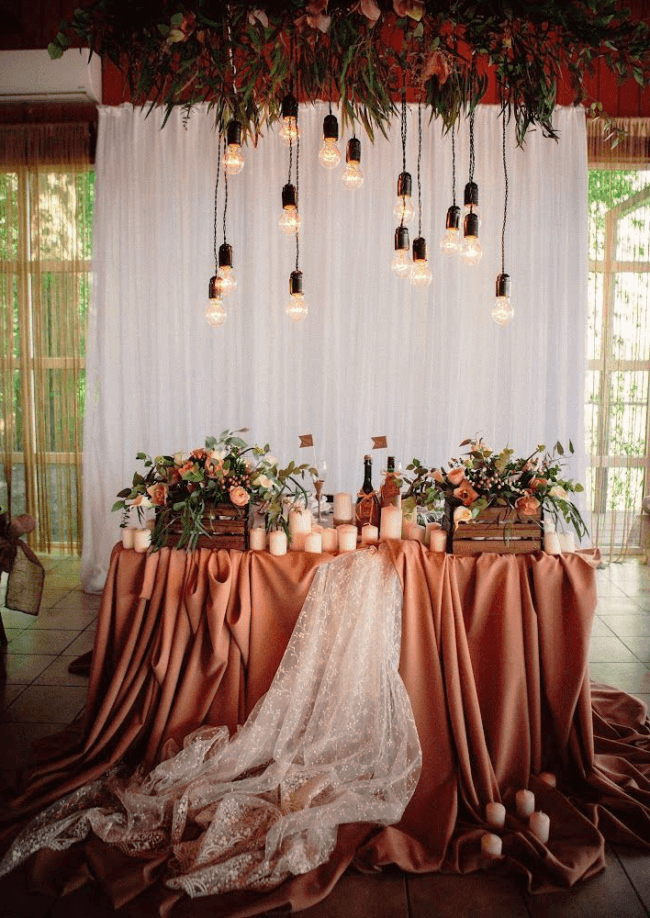 This magical, chic couple's table has used textures and light to establish this beautiful tableau. Exposed Edison bulbs hang over the couple's heads growing out of a clump of ferns and other greenery while the table has been draped in ample amounts of rusty orange silk with a sheet of lace running down the centre. The tabletop has then been accented with candles of different heights and little wooden boxes filled with plant life. The whole scene has a sheer white curtain as a backdrop that makes every detail highlighted.
28. Colourful Lights and Draping Fabrics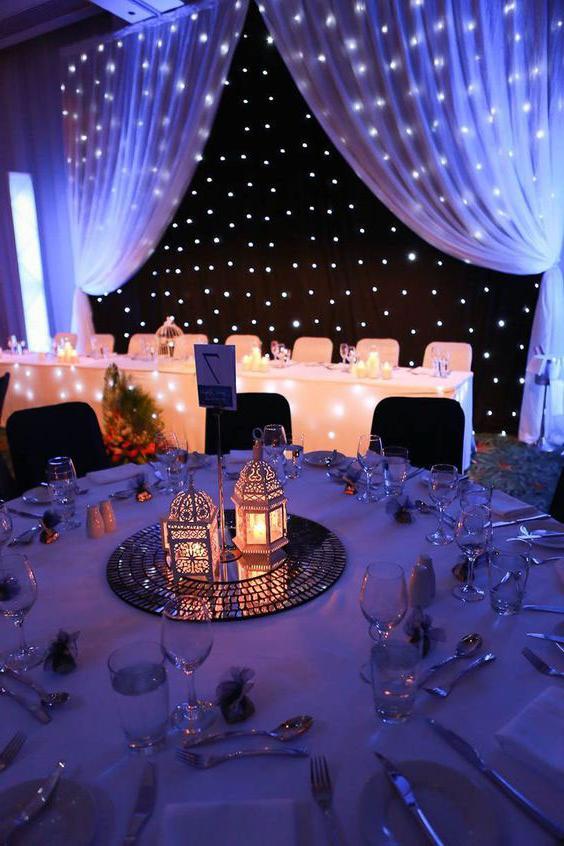 In an artful way playing with yellow and purple light and the way the two combine has created this wedding design. Every table has two tea light metal lanterns at their centre while the main table has been covered in white and lit so the whole shape glows. The backdrop is pitch black fabric draped with sheer organza in a pale purple spotted with little LEDs that resemble little stars.
29. Tall Greenery Running Overhead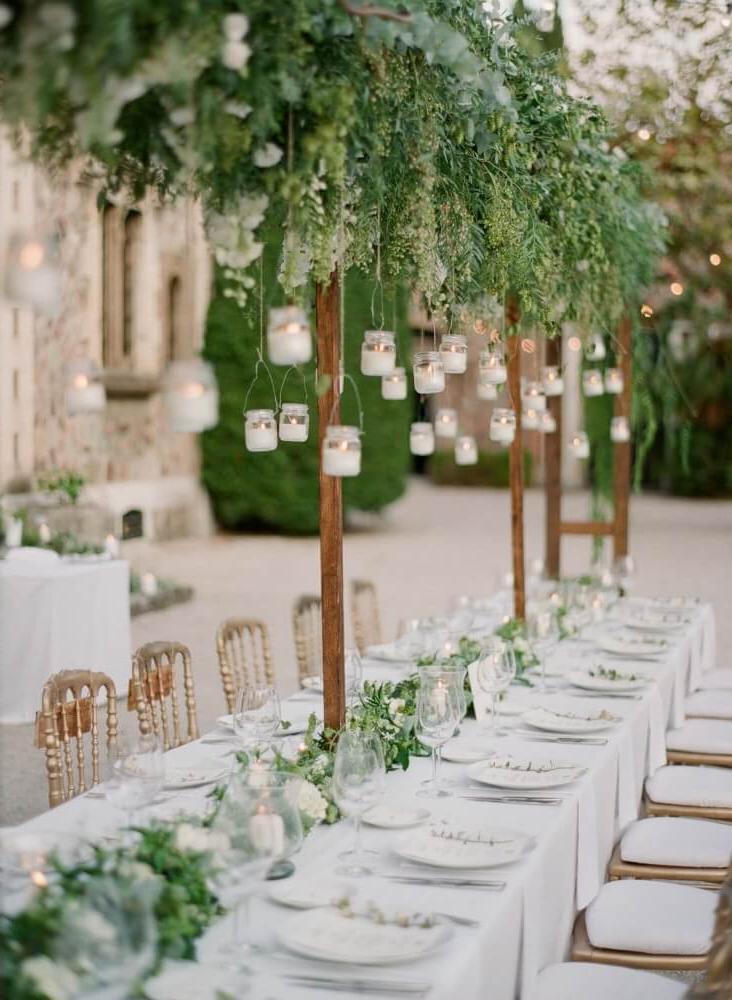 Outside a stone mansion that creates the view, this contemporary outdoor wedding has decorated using its location, greenery and candles. The white table is encircled like little gold chairs with greenery lining the entire length of the white tablecloth. Wooden posts that appear to grow out of the tabletop hold up a display of greenery that drapes down towards the guests. Little glass jar candles have been hung on wires at different heights with more scattered on the table to bathe the guests in romantic candlelight.
30. White Décor with a Huge Dance Floor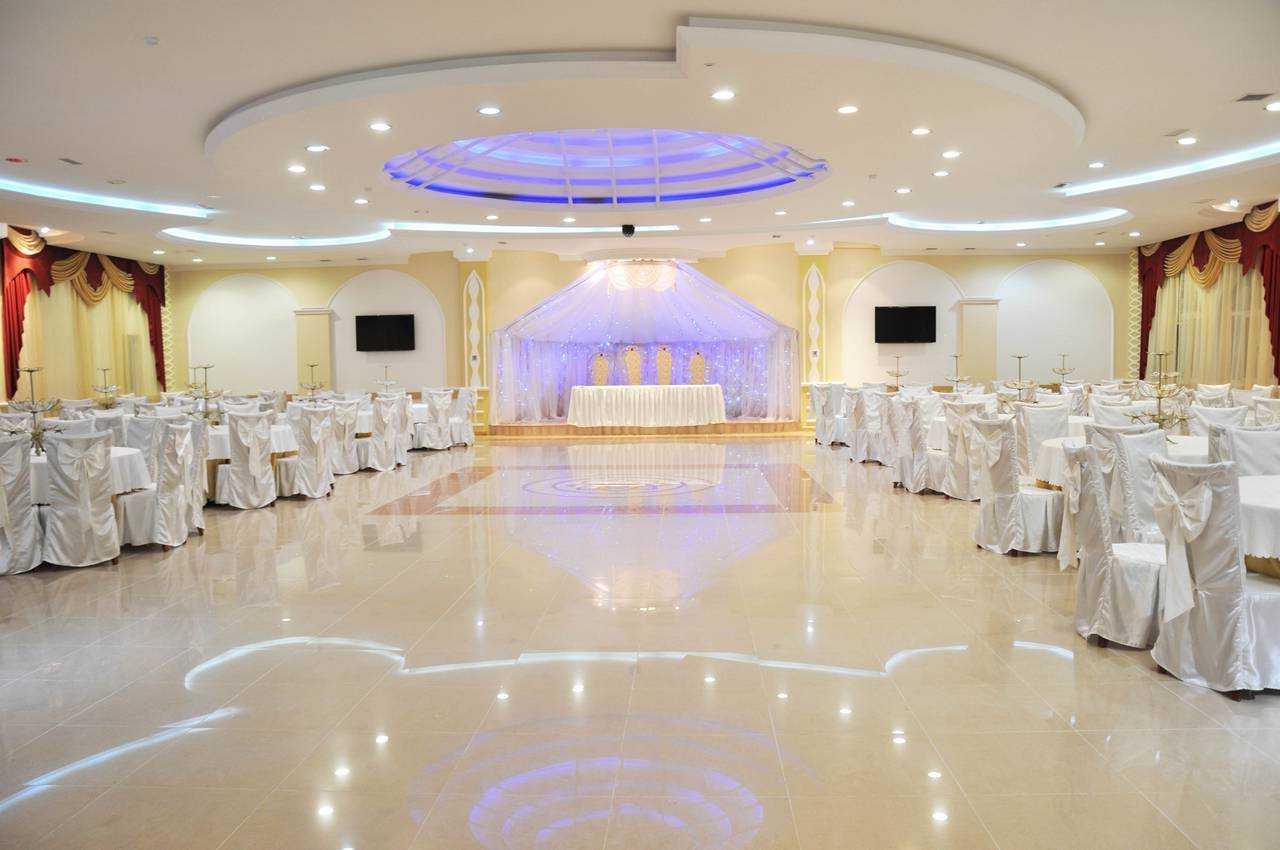 If dancing is your priority, and your wedding is supposed to be a celebration, then prioritizing the dance space like this is for you. The white marble reflects the arching concave purple light and the paler light that surrounds it to create a jazzy dance floor at the centre of the wedding hall. The couple's table is backed by sheets of organza that has been lit by blue neon fairy lights that drape like a tent to encapsulate the couple.
31. Blue and White Draped Main Table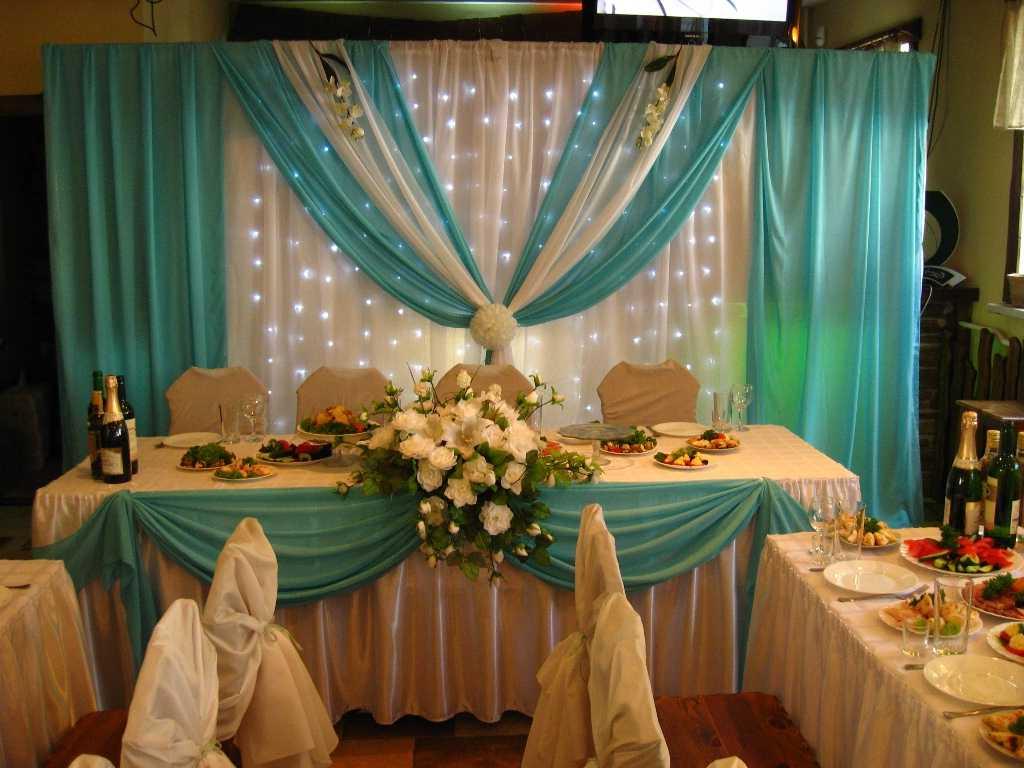 In this small space the tables have been covered in white tablecloths to make the space feel as open as possible. The main table has been draped with blue fabric that also adorns the backdrop alongside sheer white curtains that have been layered with little cool LED lights. The fabric layers are finished off with a white flower arrangement at the centre of the couples table.
32. Floating Surreal Paper Flowers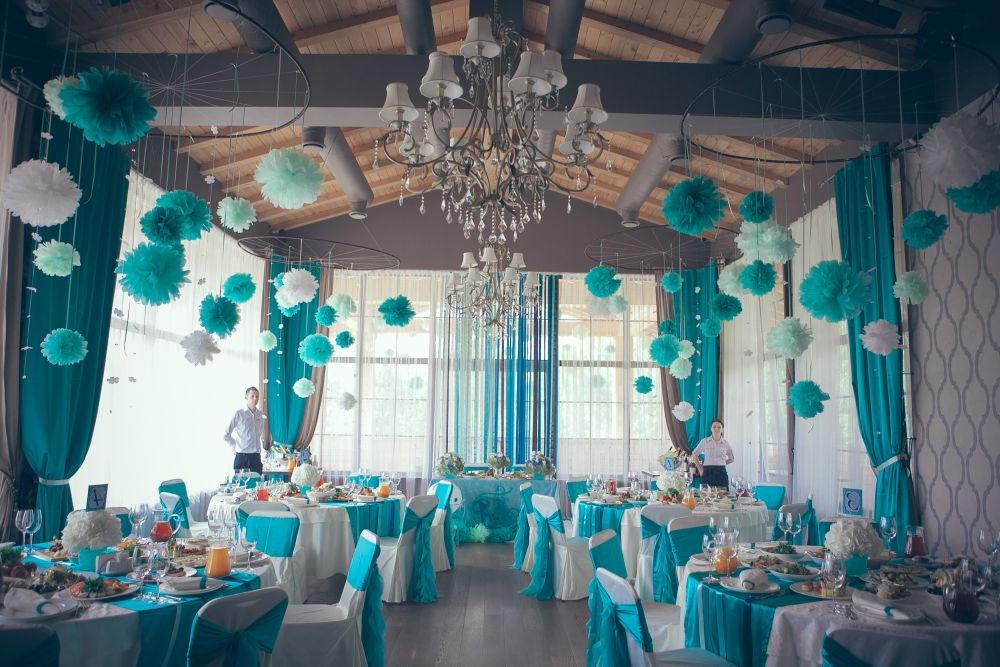 This tall barn style space has been styled in a muted grey to act as the neutral backdrop as to the wild white and blue decoration. The tables are white with blue table runners and organza tied chairs that act as the blue base for the design. The amazing whimsical and weird feature, however, are the hanging floral fluffy orbs in blue, white and pale teal. The fluffy bubbles have a strip of large shaded chandeliers that run throughout the large space.
33. Riot of Swirls and Flowers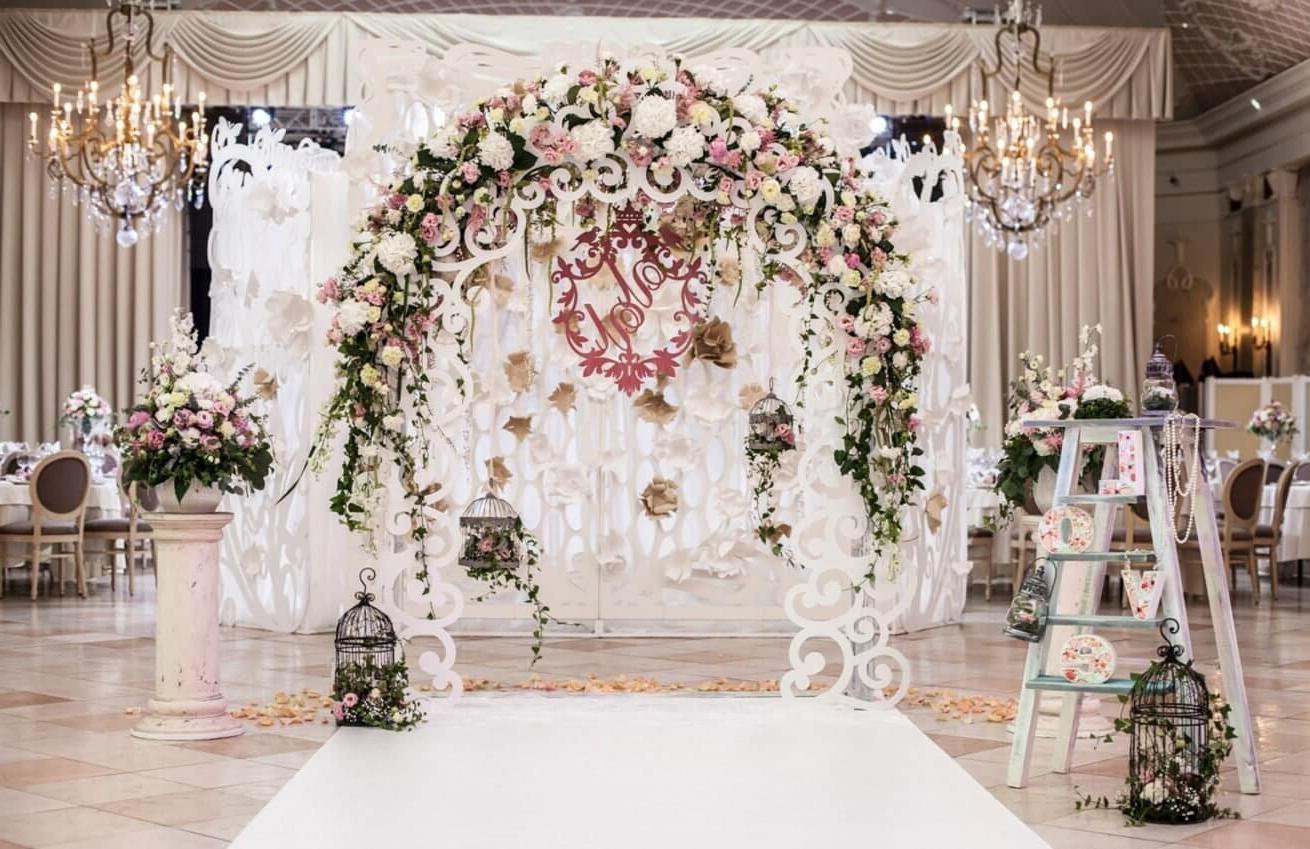 In this lavish wedding a special emphasis has been placed on the archway the couple will get married under by celebrating with a riot of colour and texture. The framework is made of a series of metal curlicues climbing on top of one another that the flowers have been design around the top of the entire archway in white and pink with shades of greenery. The aisle is ornamented by black birds' cage's that add a whimsical edge to the whole space.
34. For the Sake of the Drama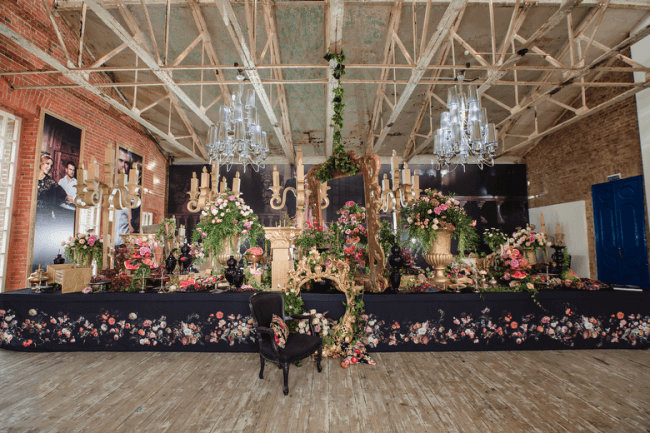 This is a showcase of items that can be layered and used to decorate a wedding in a ornate vintage style. It features frames of different colours with ornate flowers running along the frames, large gold vases full of tall flower arrangements and, ofcourse, hanging chandeliers and large oversized candelabras. The display is decorated with flowers and trailing greenery to show how it can be used alongside your flowers at your wedding.
35. Sumptuous Red Couple's Table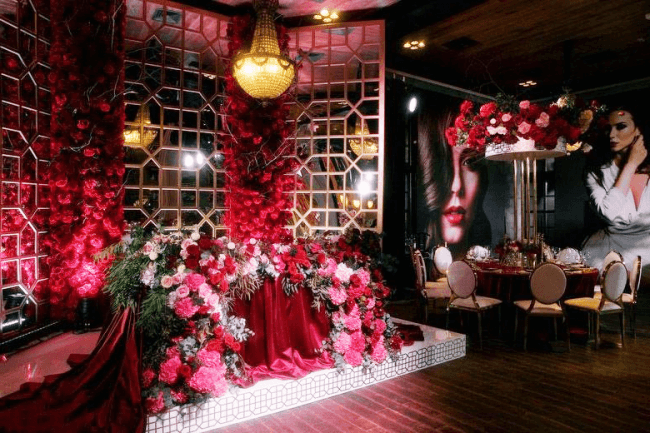 Crimson, luxurious drama are the words that spring to mind when you set eyes on this couple's table that has been draped in red velvet and encapsulated in garlands of red and pink flowers that drape down to the floor. The table sits on a little white platform with a floor to ceiling screen that creates the backdrop to the happy couple. That screen is made of a loose copper latticework filled in with mirrors that amplify the flowers even further. Columns of flowers run between the three in panels in deep red to finish off this sumptuous style.
36. Vintage Table with Floral Gilded Couples Table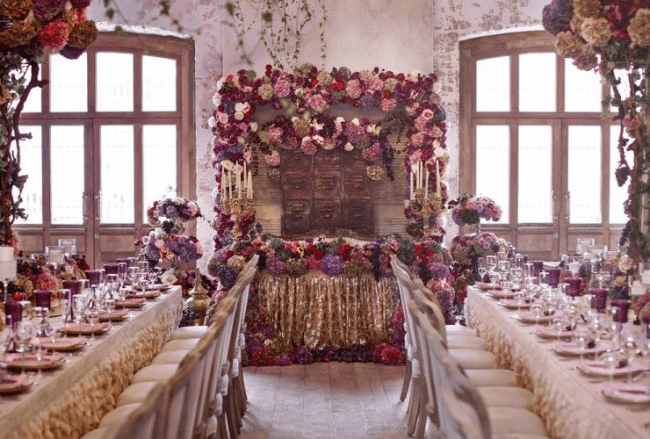 This luxurious wedding has put flowers at its centre and seemed to have let them design themselves. Textured tablecloths run down each table with tall hydrangea flower arrangements reaching towards the ceiling. The couple's table itself has been draped in gold and surrounded by garlands of red, pink and purple, which also create a frame around the table that will result in some stunning pictures.
Conclusion
Well, if you're these stunning wedding hall designs haven't inspired you then I don't know what will! From the smallest details to the most extravagant and noticeable, every little piece can come together in a stunning way that expresses you and your partner while you celebrate your love in the most magical way.
Whether you have a large budget and can make your every wedding desire a reality or you have a more limited budget, you can create your absolutely perfect day with a little bit of creativity and a few helping hands from your friends and family.
We hope this list has inspired your future nuptials to be the best you could possibly wish for and make your day everything you hoped for, in the name of love!