Creating extra space to store the many things in your house is quite common with many people and most people are looking for stylish and chic wicker baskets that will complement their home decor. A good space organization ensures you live considerably and it enhances your home easing your daily life. Storing the items you use on a regular basis within reach is vital and creating a masterpiece and crafty space is decorative and stunning. The Wicker baskets offer the best transitional medium tone of beauty to any room and here are 55 Best Wicker Basket Decoration Ideas and Designs that will transform your home into a five-star look.
Best Wicker Decoration Ideas and Designs That You Should Try

1. 2 Drawer Split Willow Storage Unit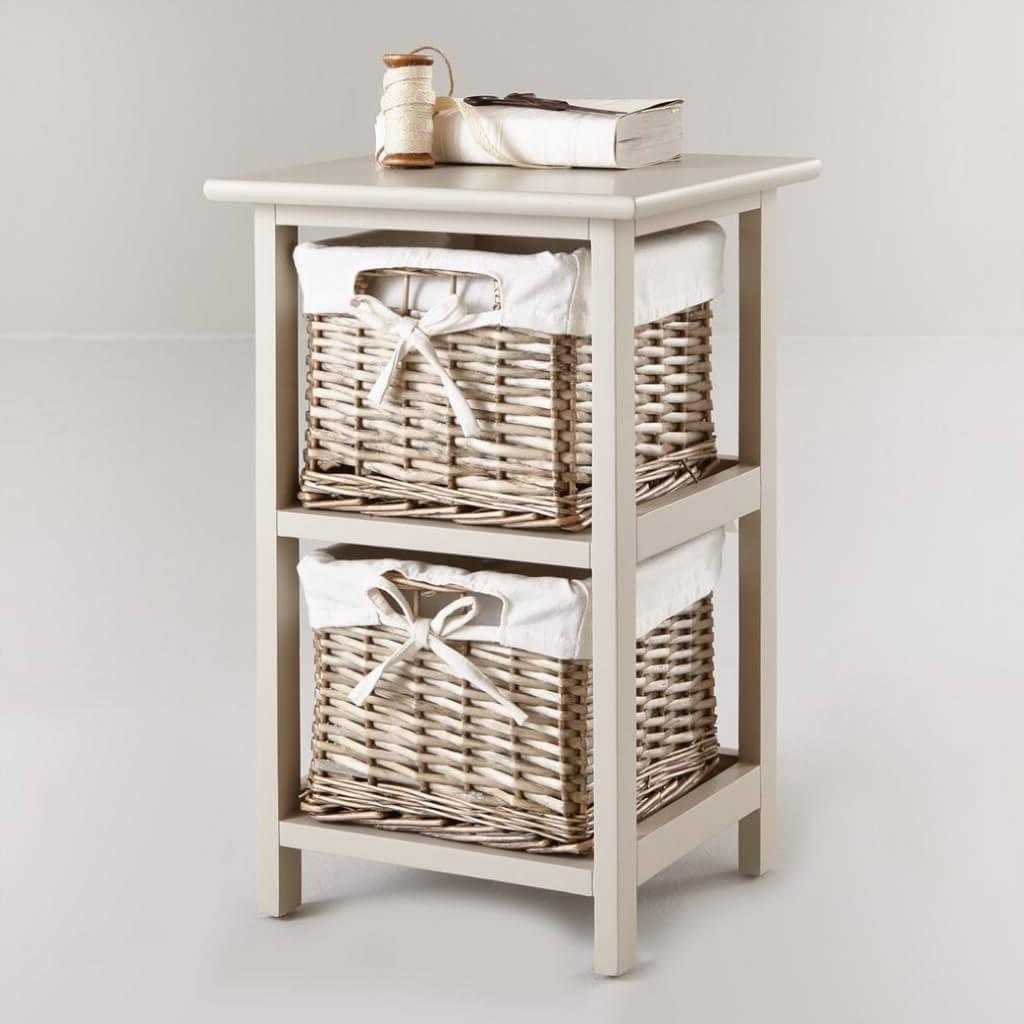 The 2 Drawer Split Willow Storage Unit is supernatural and stunning to put in any room since it brings out a hint of rustic charm to any space. It's ideal for put everything from toiletries and makeup to general household clutter and mails.  The raised panel and the top are made of durable and robust hardwood, and the two wicker basket is carefully woven from the spilled willow, and they come with a fabric lining to ensure your things are super protected. Its natural tone and beauty means it can easily match with any space in your home.
2. Antique Large Wicker Baskets
The Antique large wicker baskets have an open weaving that compliments the beauty of every space indoors or outdoors. The basket is large enough to provide the needed space with its intricate handmade design. For the outdoor purpose, the basket can be used to plant flowers since it has enough space for the roots to and grows. It has round wood handles that make it easy to move from one place to another.
3. Awesome Rustic Wicker Magazine Basket Design Ideas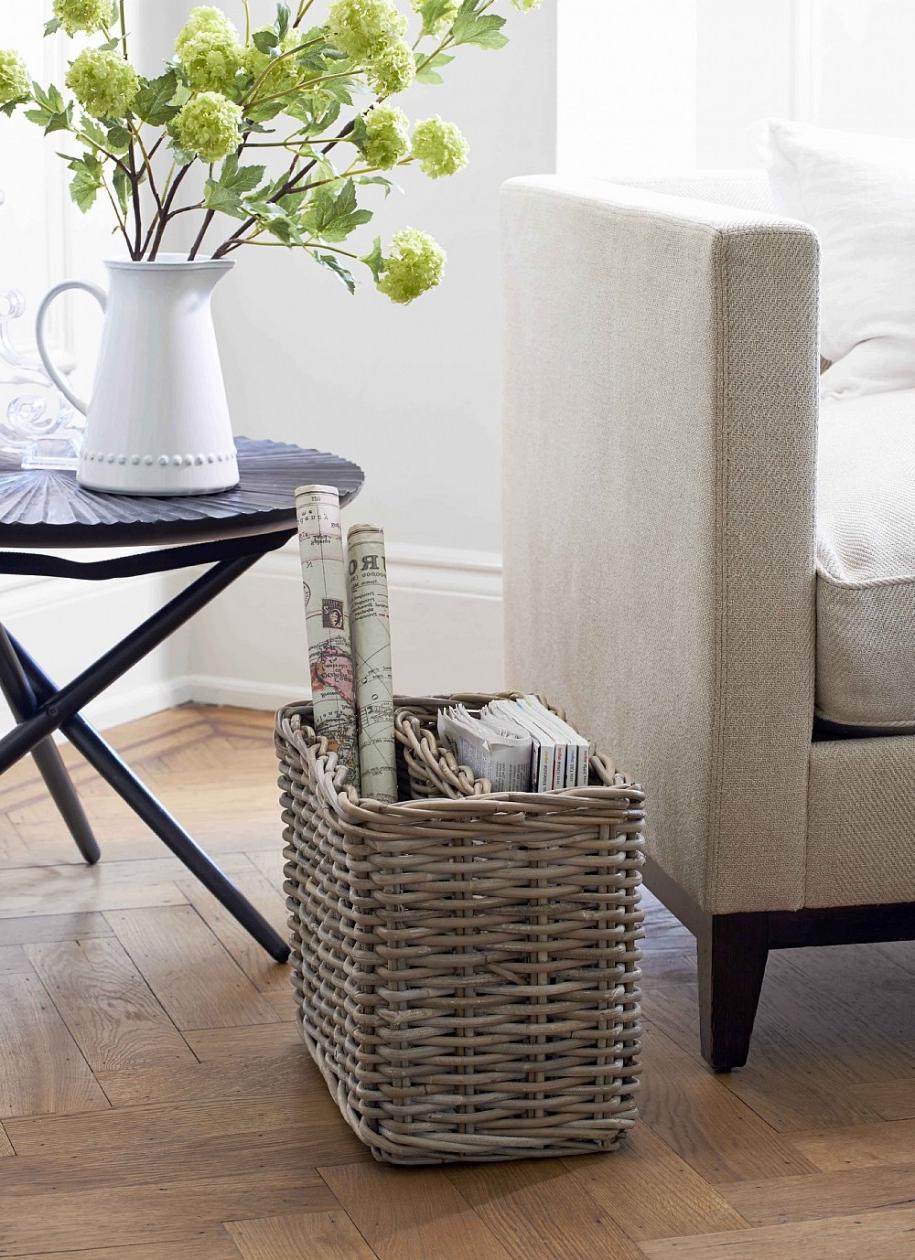 Showcasing a stunning rattan design with an outstanding rustic finish, this impressive and traditional magazine rack offers the perfect storage for decluttering your study and living room. The rustic wicker magazine basket is full and double streamed with the unpeeled willow stripes, and it's handmade with sustained natural materials that are environmental and ecologically friendly. Has super honey color that blends with your sitting room and ideal for keeping your newspapers and magazines tidy.
4. Baskets of Different Materials and Shapes to Decorate Your Home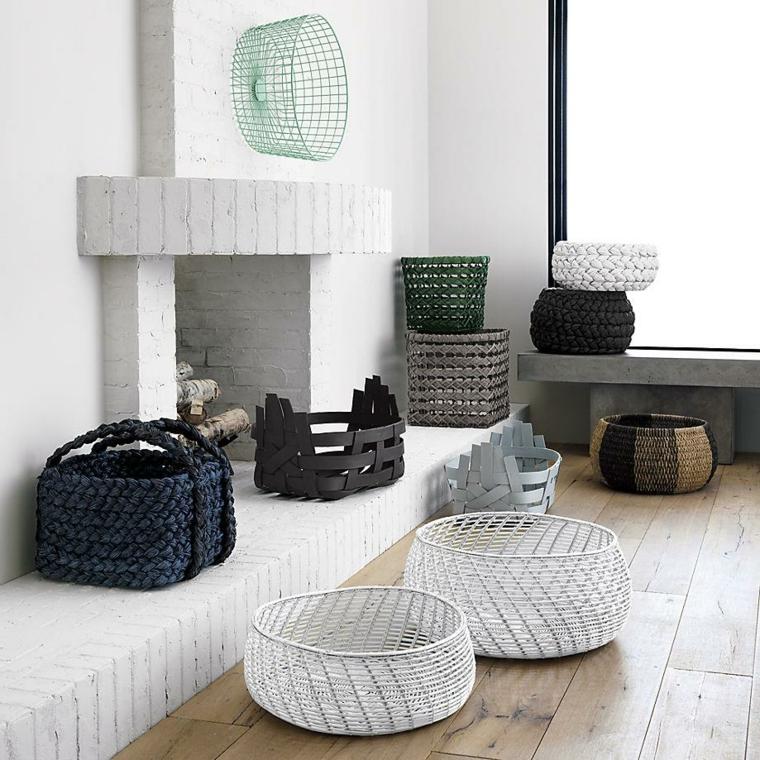 Baskets add a unique and tasteful flair to your home, and you can choose from different shapes and materials that will add some style to your home. Whether it's the rattan basket or braided tote, round, square, rectangle or oval shape basket, the combination of the above basket will decorate your home with a rustic and beautiful look that is eye-catching and welcoming.
5. Baskets Options under the Sink in the Modern Bathroom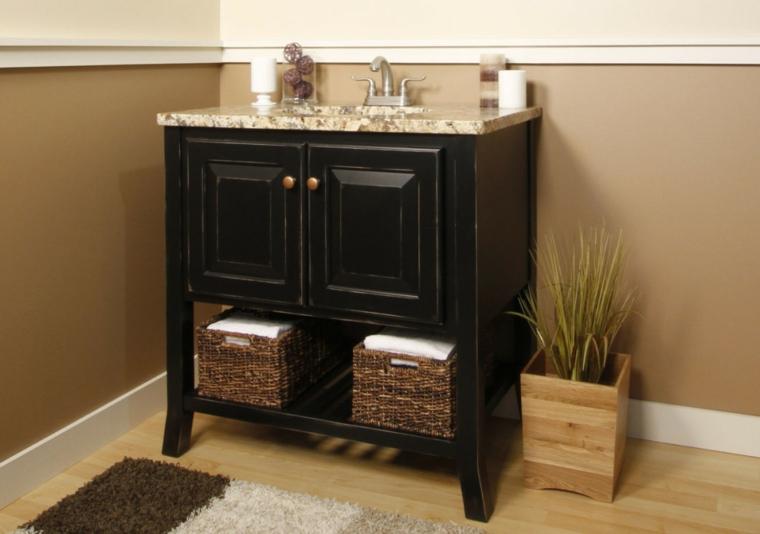 The chest of drawer is made of strong and stable wood with two removable baskets that are hand-woven of wicker material giving them a stunning finish. The top sink with marble finishing adds the beauty of every bathroom. The removable basket can be used to store bathroom towels, and the two drawers offer additional storage.
6. Blanket Storage for Small Living Room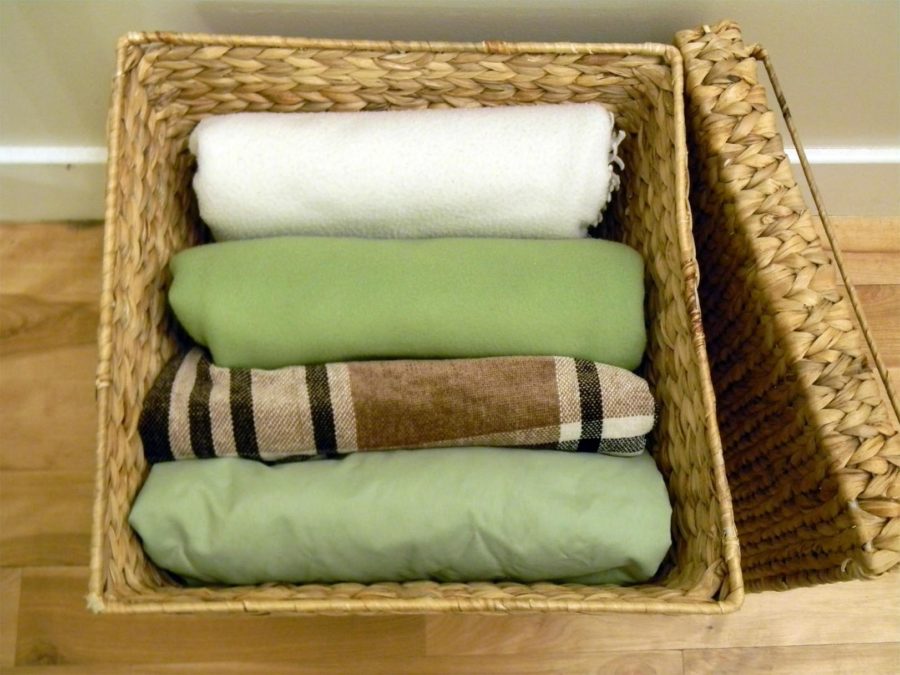 This is a medium wicker chest storage basket that is handmade to bring out its prettiness in your living room. It is perfect for storing your living room blankets can comfortably fit four medium-sized quilts and it comes with a lid to ensure your things are safe and remain clean.  It is durable and environmental friendly and looks good with any décor.
7. Charming Black Table with Wicker Basket Storage Design Ideas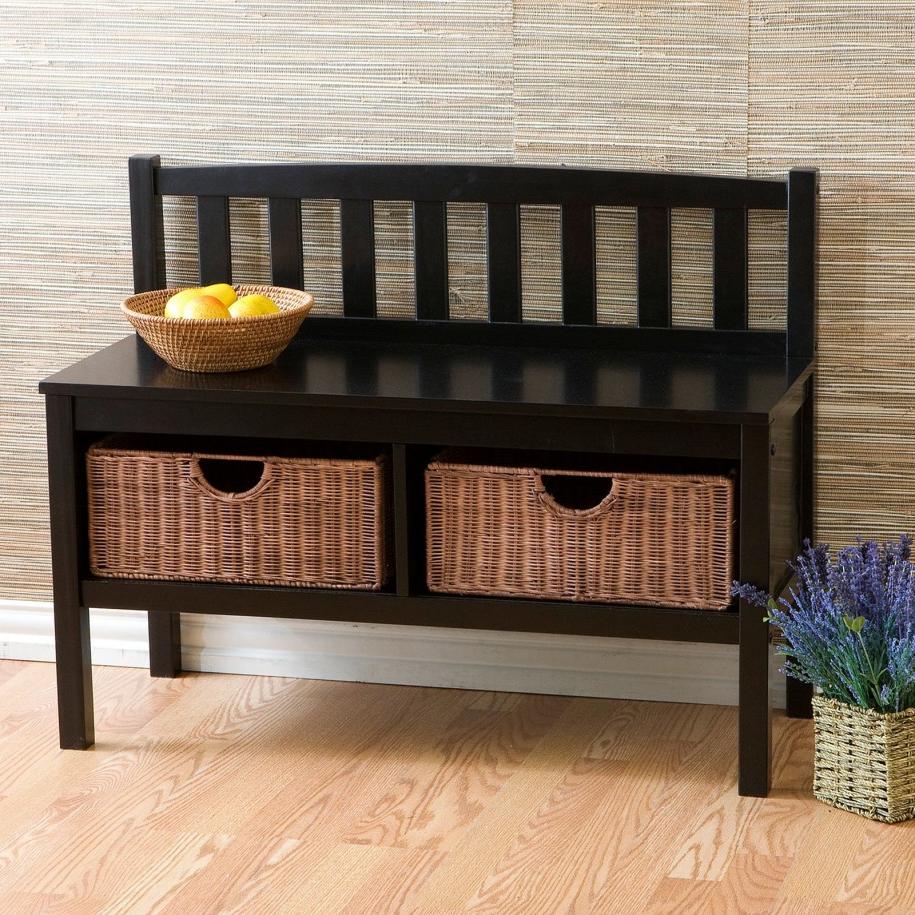 The lovely black table gives your living room an additional final touch of elegance. The classic table on the beneath has two removable wicker basket that offer storage services leaving your living room spic and span. Additionally, the combination of the table and two wicker baskets offer a practical solution to your home and they are solidly constructed with beautiful finishing that will charm your home.
8. Cheap Small Wicker Baskets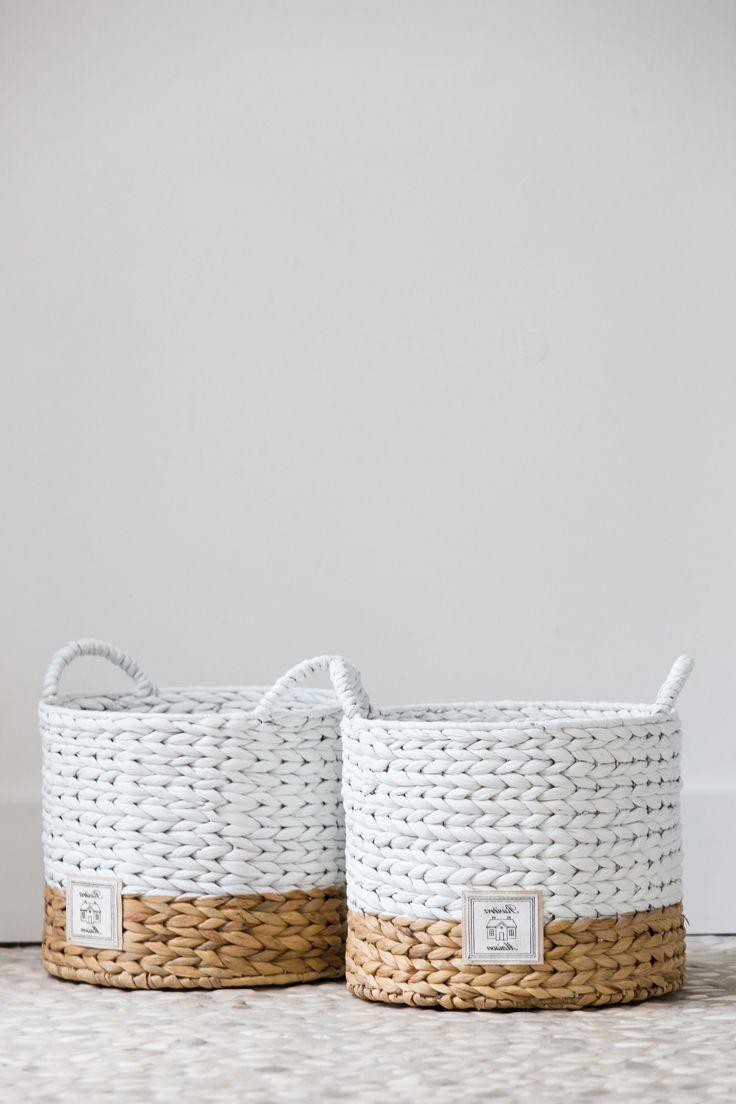 The cheap little wicker baskets offer an additional stylish to your home with their rustic style, and they are perfect for make things run well thought-out in your room. They are smartly and tightly hand woven with natural brown and white colors giving them the ideal match for your home décor. The two handles make it easy to carry them from one room to another. They are suitable for storing magazines, linens, towels and clothing and other bobs and bits keeping your space clutter-free. They are made from robust wicker material to create a durable holder for your personal and household items that will last for ages.
9. Cheap Wicker Basket Designs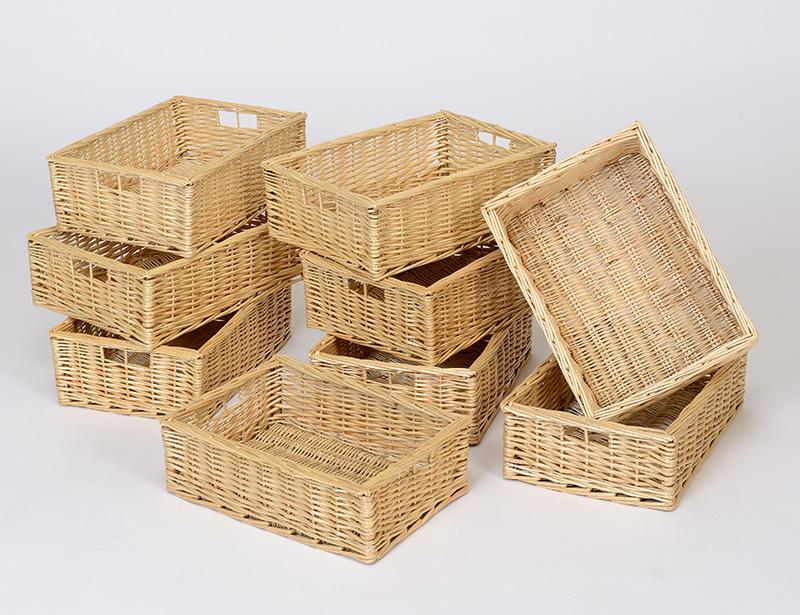 These are a rectangle, and high quality made wicker ware that is versatile enough to keep your home well structured.  Efficient and elegant, the sea-grass wicker basket design is fashioned with a traditional design and the materials make them reliable to use for years. They are varnished with unique color and are crafted with exquisiteness and ideal for your home knock-knacks, personal items, and home essential storage.
10. Cream Wicker Drawer for Storage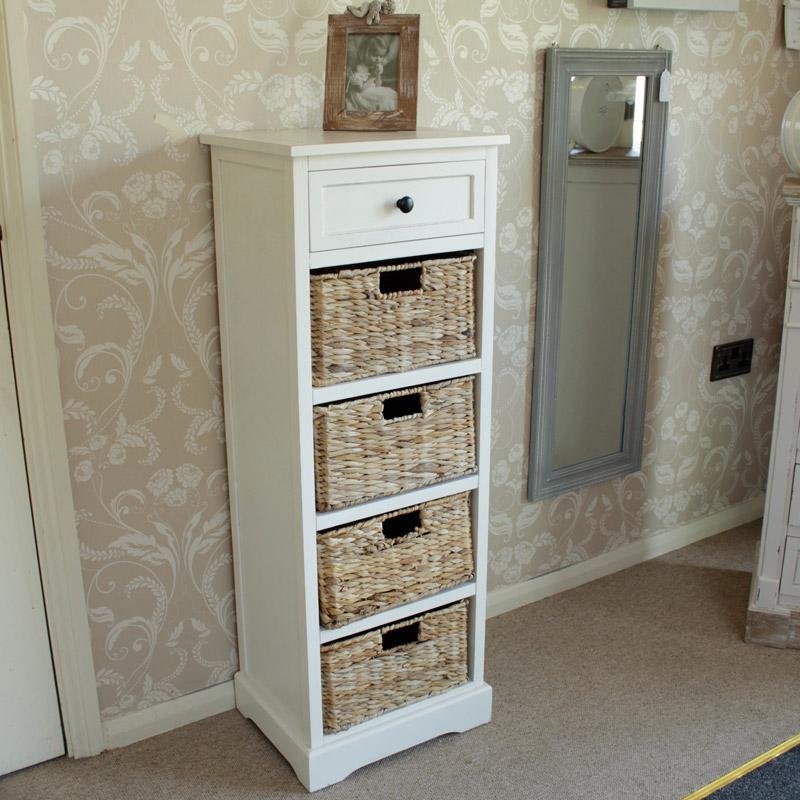 The vintage and cream style wood drawer with basket units offers the most exceptional storage solution to any room in your house. It's perfect to use on your bedside, bedroom, and veranda and ideal for storing toiletry, towels, and other clothing. The drawer is made of solid wood while the removable wicker baskets are well constructed with environmentally friendly materials and attached handling space for easy removals. The cream painted drawer and wicker baskets gives a crystal effect to any room.
More Wicker Basket Decoration Ideas On The Next Page…