Round and Oval tables are an easy alternative to the traditional rectangular dining set to change up your interior design. Just like their cornered counterparts they come in a variety of styles and colours to perfectly compliment and tie together your space. Dining areas are a space that you can really have fun with and use to express yourself. It's the space that you and your loved ones congregate around food and that should be celebrated.
30 Oval Tables Design for Chic And Fun Alternatives To Rectangular Tables

The advantages of this style of table is that you can fit more people around it in a pinch without the friend who pulled the short straw having to sit on the corner at a crowded dinner party. Most tables of this shape have one or two central supporting elements, which gets rid of those pesky table legs and allows you to be a bit more free with your chair choices and positioning within your home. This means that, if you're working with a small space a round or oval table could help you save on space.
So if you think you could do with some cute curves in your life here are:
1. Small Four Seater Oval Dining Set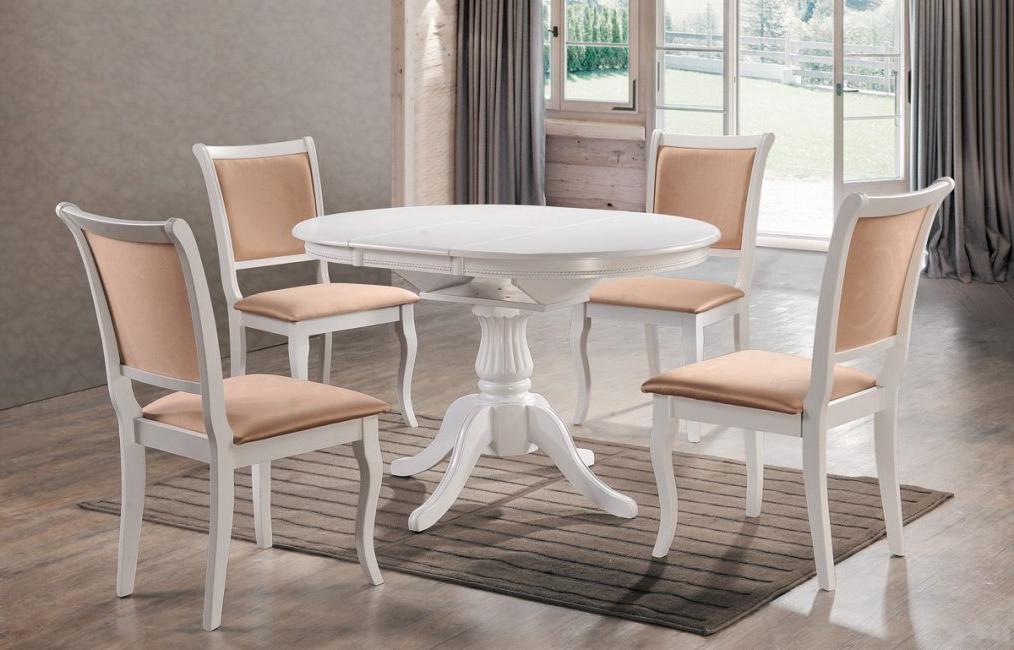 This white pedestal table with a set of matching peach upholstered chairs is the quintessential traditional style of dining table. The setting the set is placed in is an amalgamation of neutral tones and subtle textures; which it blends in with smoothly. This is a chic option for an intimate dining area perfect for small family meals or dinner parties with a few friends.
2. Glass And Wood Circular Side Table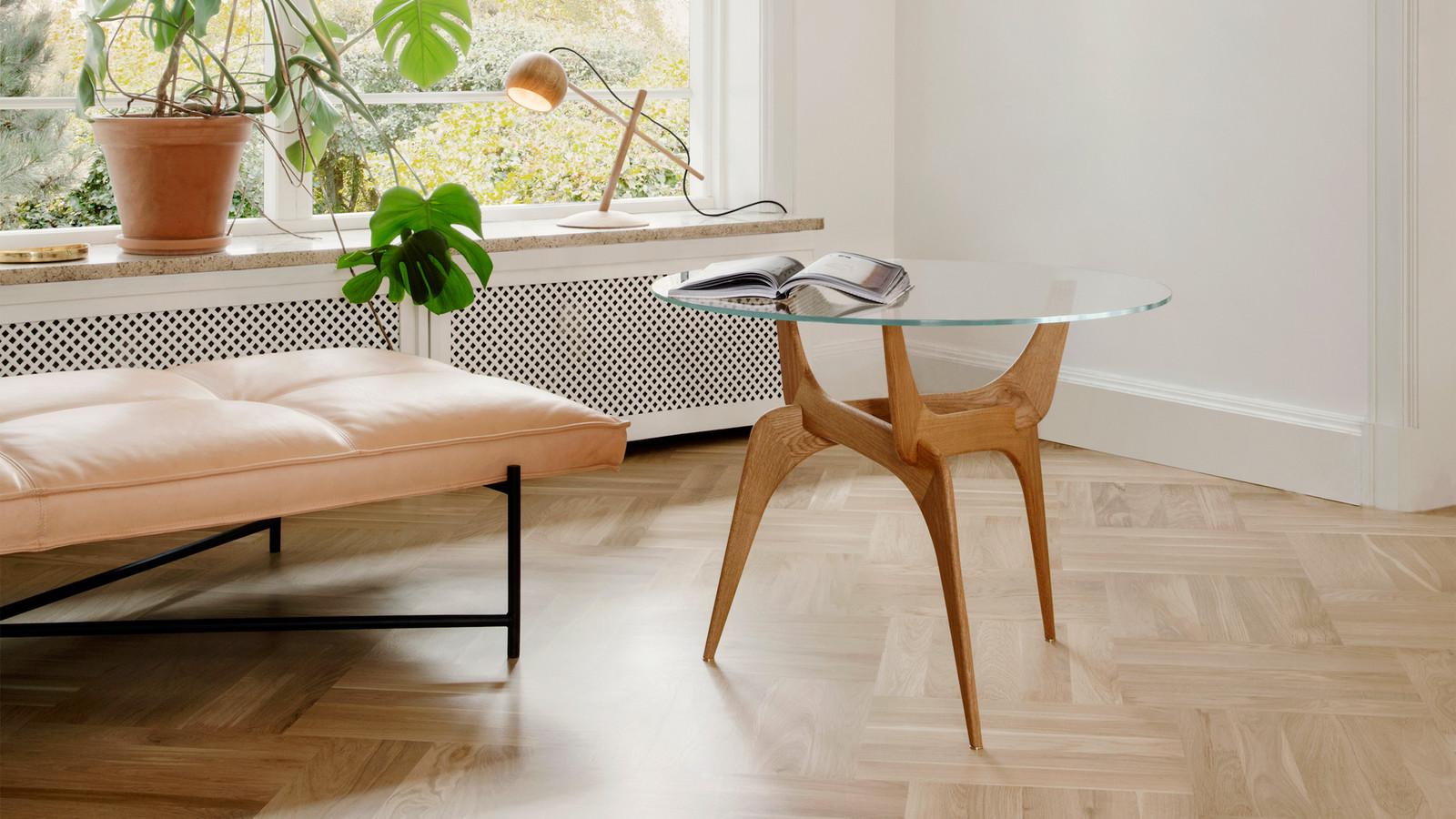 A minimal room such as this is the perfect setting to highlight an elegant statement side table like this one. The thin glass tabletop disappears against the white walls and puts the focus on the uniquely intertwined wooden legs. The tripod legs have two right angles in each which interlock with one another in a very smart and pleasing manner. The warm wood of the legs pairs well with the paler parquet flooring that makes it feel right at home.
3. Carved Solid Wood Table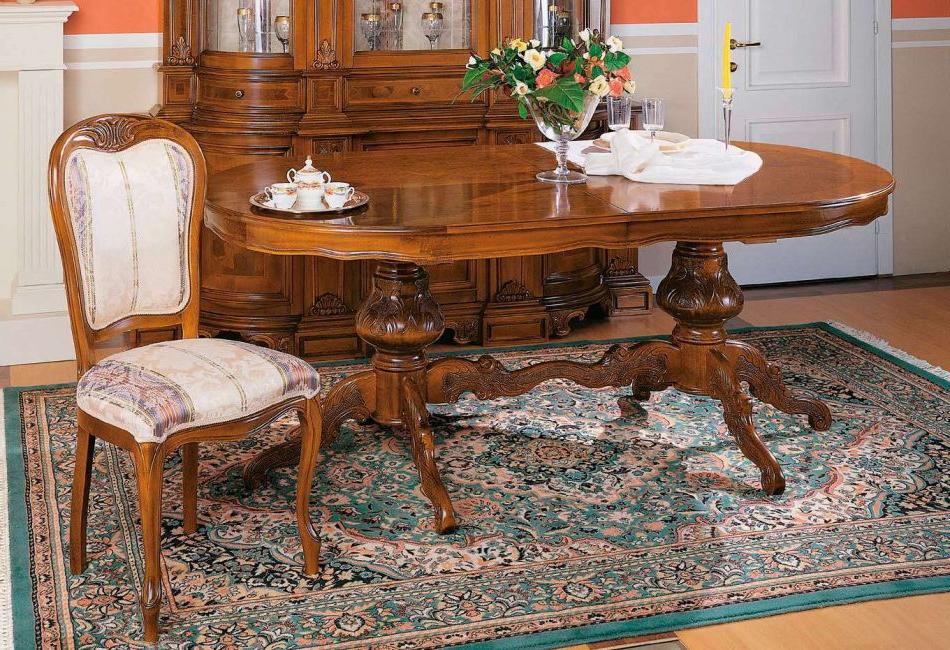 An antique table like this wouldn't look out of place in an old manor house in the country. The chunky double pedestal design holds up a high shine carved tabletop that is steeped in old money pageantry. The interior decorating for this living space has obviously taken inspirational from this style as we can see in the coordinated upholstered chair, thick Persian rug and large display cabinet made of the same wood as the table. This is a style that many of our other examples in this list have taken inspiration from and re-imagined in more contemporary way.
4. Black Glass Modern Dining Table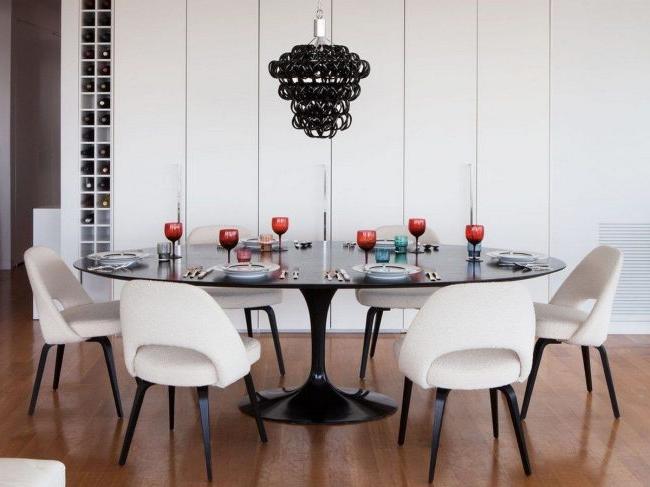 This monochromatic black and white interior uses the white expanse of the pure white cupboards as the backdrop to some statement black furnishings. The wine glass pedestal supports a black glass oval table that is so thin and delicate it seems almost impossible that it could support any weight. The quirky onyx chandelier hangs above this statement table to enhance the innate sense of whimsy and originality to this glamorous dining scene. The black legs on the white chairs are the final touch that ground this design and pulls it all together in a neat bow.
5. Contemporary Table With Built In Plant Pot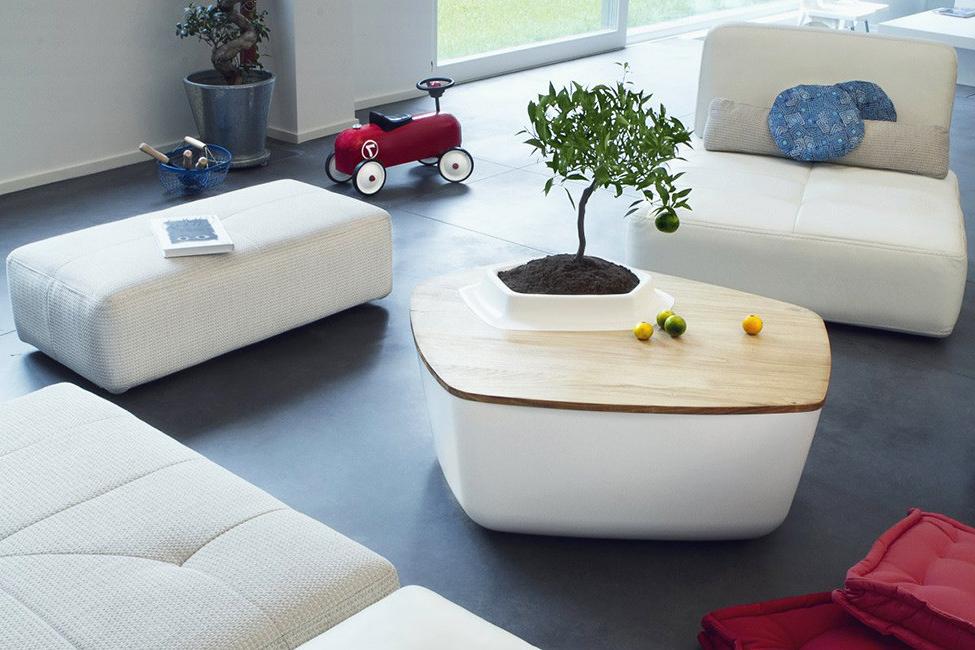 This small obelisk coffee table uses an oval shape but with a slight twist that comes from the gently curved angles around its circumference. Its solid white mass acts as a true centerpiece in a modern monochromatic setting. What makes this table truly unique is the tony bonsai tree dropping fruit right onto the table; which allows you to bringing plants and nature into a modern space in an unexpected and beautiful way. What makes this whole design so cohesive is how the thin wooden tabletop relates to the little tree that sits on top of it while the pure white plant pot relates to the white table base.
6. Customizable Photo Table Top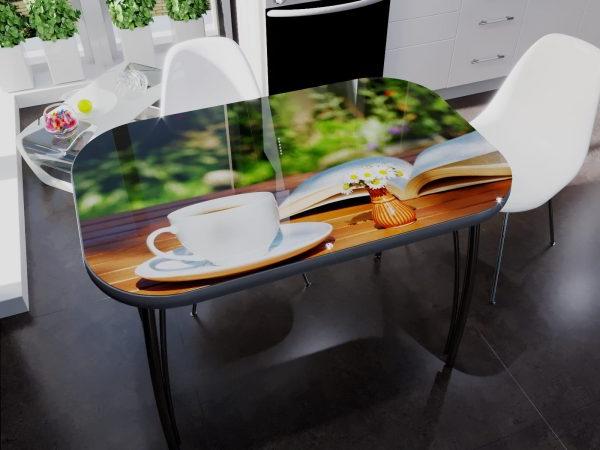 A small oblong dining table in this monochromatic kitchen is an unanticipated place to personalize an otherwise stark space. The tabletop is made up of one huge photo that brings both colour and texture to a zone that would usually be left plain. This design lets you choose a photo that speaks to your personal taste or even a photo of your own that has some significance to you. The pure white chairs and cabinetry with dark floor tiles makes the large photo that adorns the tabletop stand out in pride of place.
7. All White Country Style Kitchen With Circular Table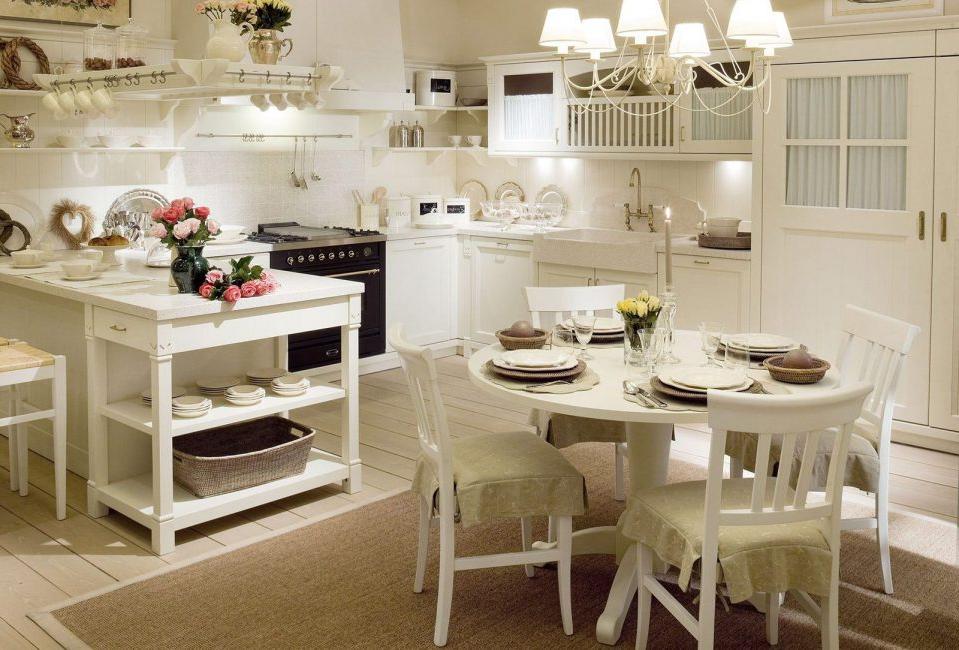 This all white kitchen interior manages to remain rustic and homey by using traditional fittings and textures to contradict the modern and minimal style that is expected. The circular pedestal table and chairs is one of those elements that enhance the room's comforting vibe. The intimate dining area is lit by a delicate white chandelier that echoes the shape of the little table, this lighting along with the woven rug that the table sits upon sections off the dining space from the kitchen in a subtle way without resorting to walls.
8. Carved White Table With Mismatched Chairs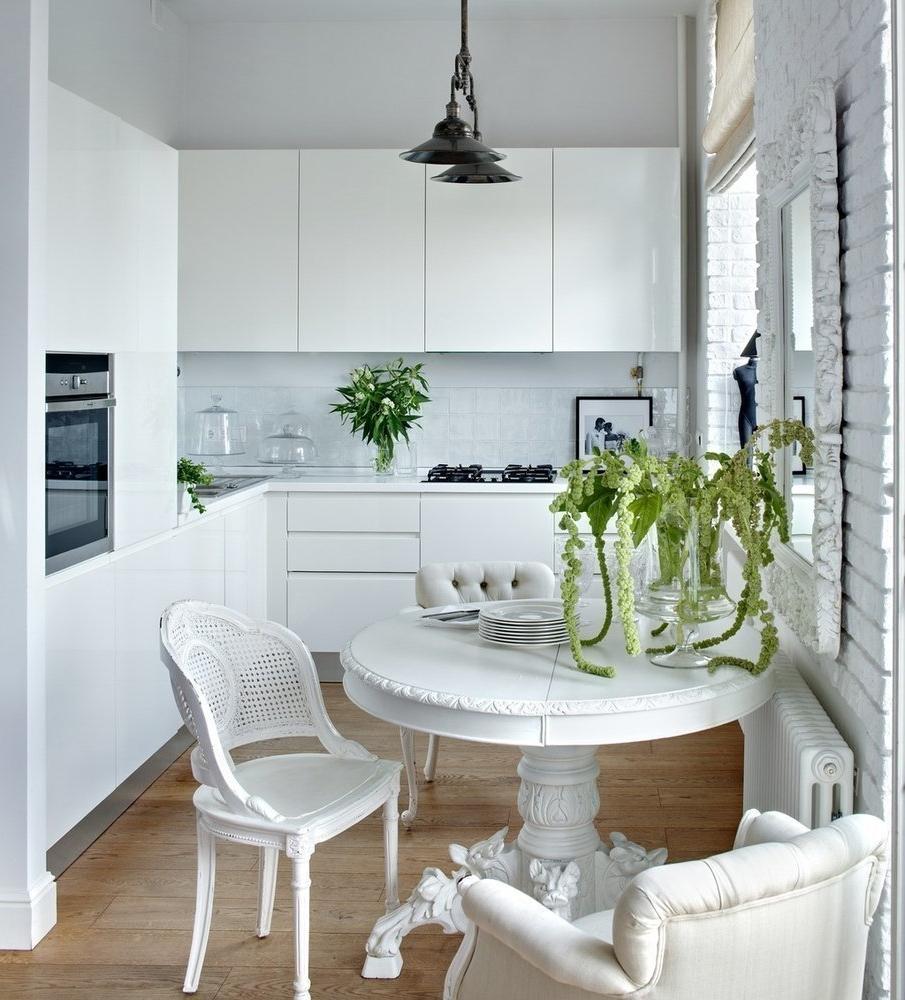 The all white interior of the previous kitchen has been used here but in a different manner. The kitchen design is very sleek and modern with handle-less cabinetry and built in oven. The hardwood floors add natural colour to the space while the painted white brick walls add texture. The main element that brings this modern design into a more contemporary realm is the elaborately carved circular dining table. The decorative traditional style rendered in white takes it from outdated to trendy with just a lick of paint. Throw in some mismatched chairs and the overall kitchen design morphs into an eclectic and chic space.
9. Art Deco Dark Wood Table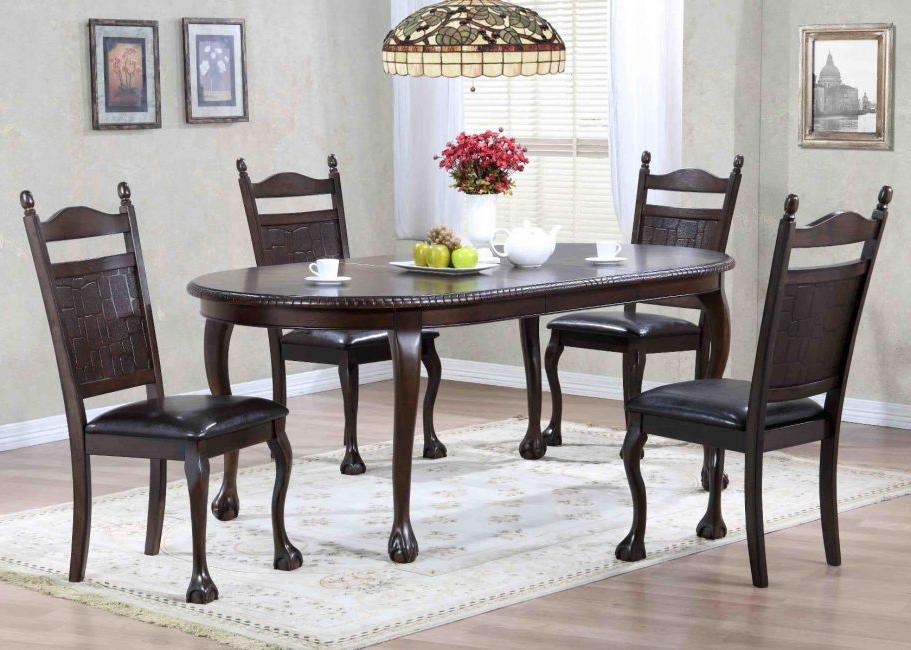 This dark wood art deco dining set against pale laminate floors has a remarkably imposing effect that is a unique choice for a dining area; which is usually associated with a welcoming and homely tone. This, however, is classic of the art deco style that is the inspiration for this room. The oval shape has been paired with four legs as opposed to the pedestal support that we have seen thus far to further emphasize this 1930's inspiration.The stained glass hanging light above it is a quintessential art deco design that pulls this unique layout together.
10. Classic Wooden Table Top With Unexpected Legs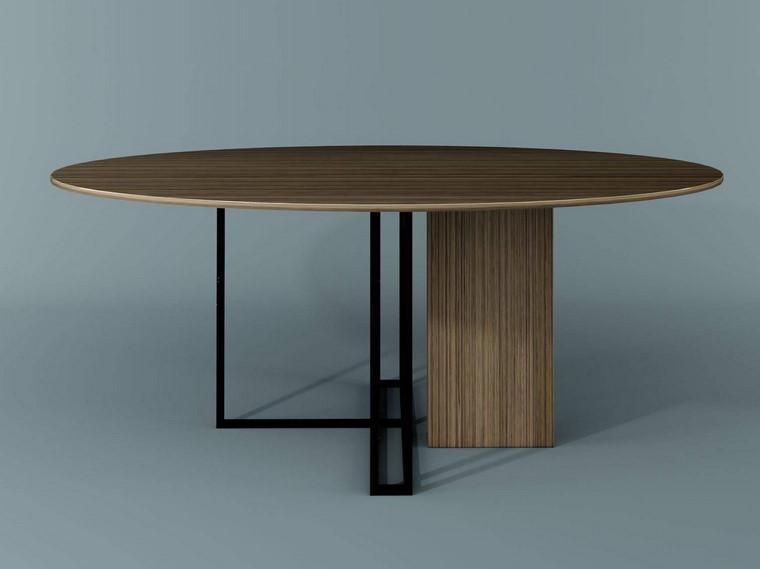 From above this fine wood grain table seems to be your typical oval dining table. View it from the side however and that assumption goes out the window. The solid curved wooden leg on the left is expected and commonly seen, however, the addition of the geometric metal leg structure on the right is far less expected and makes this table far more visually interesting and unique.
11. Circular Table With Storage In Breakfast Nook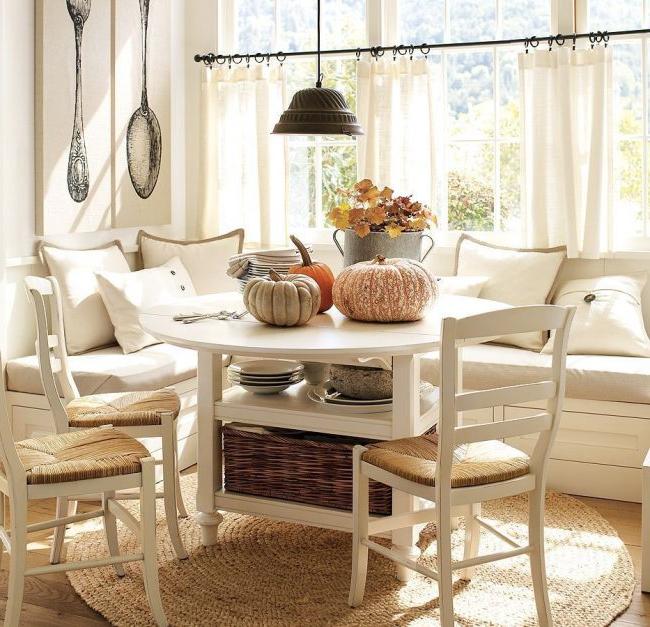 In yet another iteration of the all white aesthetic this kitchen dining spaced used in a new way to create a bright sunlit breakfast nook. Classic white chairs and an L shaped window seat wraps around a circular white table with built in storage compartments. This makes the table not only function in its surface but underneath as well. The woven grass drawer beneath it coordinates with the other woven elements in the rug and wicker chair seats that brings rustic feel to the space.
12. Shining Modern Oval Dining Table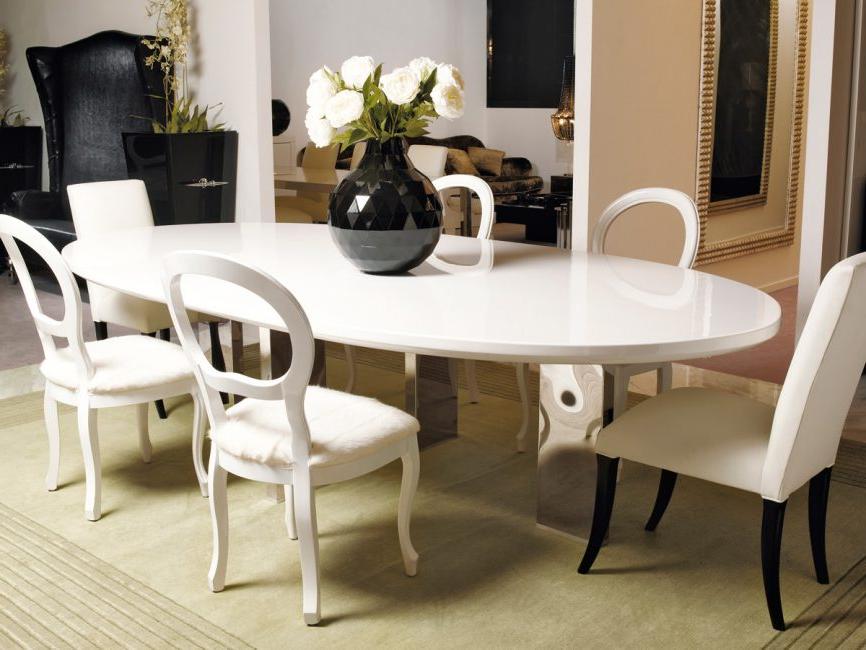 This high shine futuristic design uses some visual trickery to make this design seem otherworldly. The large white oval tabletop appears to be hovering; encircled by open backed white chairs that echo its shape. This effect has been achieved by two thin rectangular legs that are mirrored and face one another and reflect each other. This is innovative design is a show stopper than can be achieved with simple materials to dramatic effect.
13. Stylish White Dining Set With Gold Accents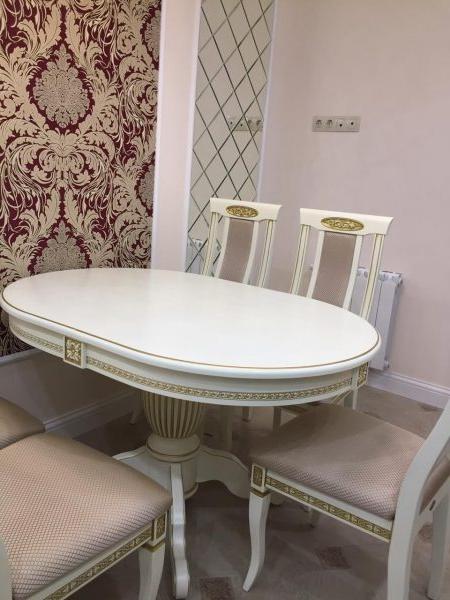 This small dining room exudes a feeling of old school glamour. Deep red and gold wallpaper acts as a backdrop to the white gilded oval dining table and matching chairs within the pale mauve setting. The mosaic mirrored wall behind this pedestal table adds yet another flashy element to tie together this luxurious space perfectly.
14. Fold Away Oval To Square Kitchen Table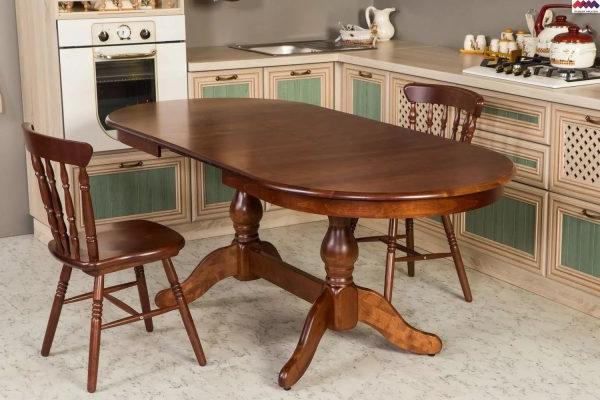 This double pedestal table may look like nothing special, but don't be fooled by its simple exterior. The long oval table contains hidden hinges that allow the curved ends to fold down and morph into a small square table. This is a space saving and highly adaptable design that uses techniques been around for decades but remain just as practical and effective as ever.
15. Futuristic Metal And Glass Table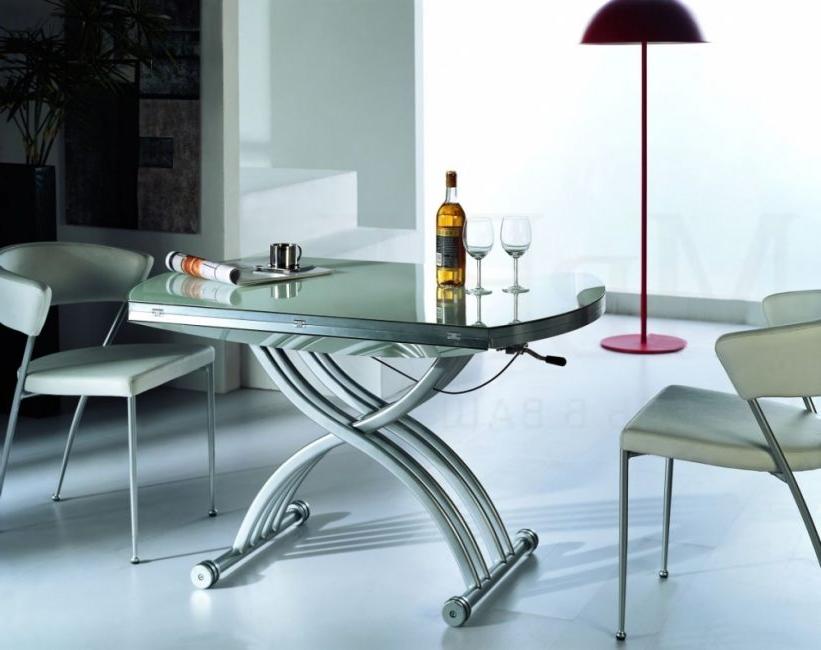 The structure of this futuristic card table is made of a reflective, brushed metal tubing; which form an intertwining shape with a round tubing base anchoring them in place. The frosted glass tabletop is rimmed in metal a metal band to tie in cohesively with the dramatic base. This, along with the stylized chairs fit in perfectly with this very pared back interior design.
16. Marble and Wood Circular Table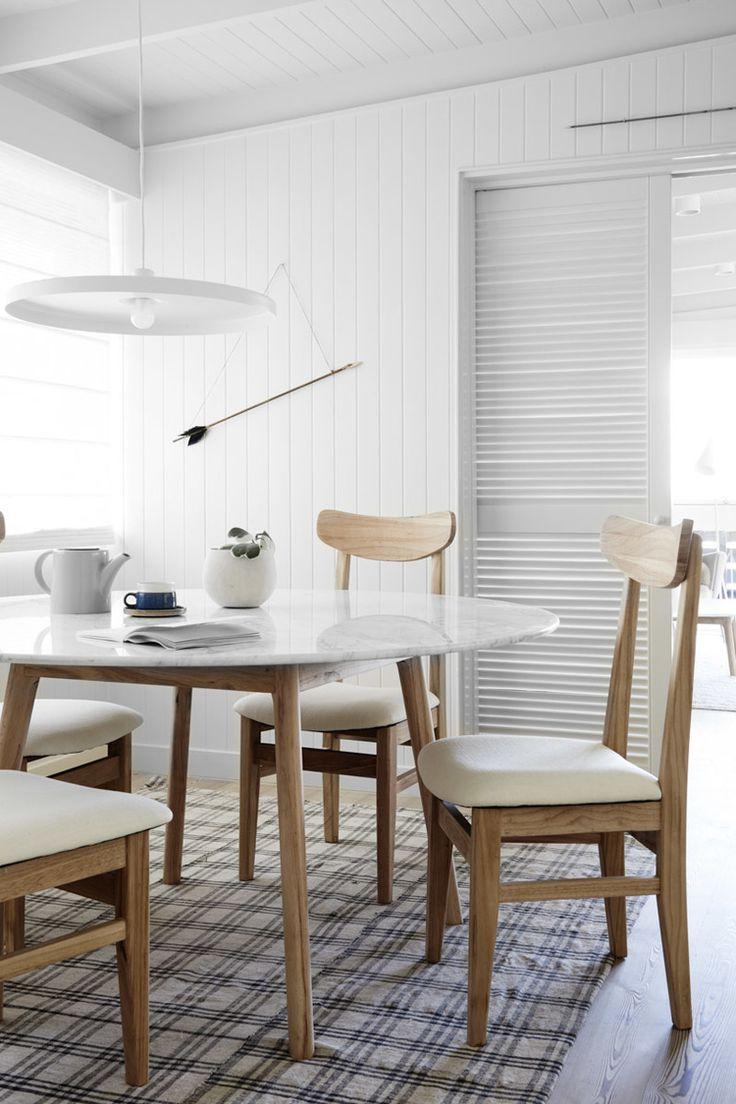 This bright dining room shows what beauty can be achieved by mixing materials. The central element of this room is the polished white marble tabletop with thin wooden legs. The table legs, wooden chairs and laminate flooring bring in the warm natural texture while the walls, shuttered doors and UFO hanging lamp tie in with the gleaming white tabletop. Some of the white elements are, in fact, painted wood so the materials and colour scheme are worked in together. The checkered blue rug throws yet another material into the mix for a kaleidoscope of finish and colour.
17. Modern Fold Away Oval Tables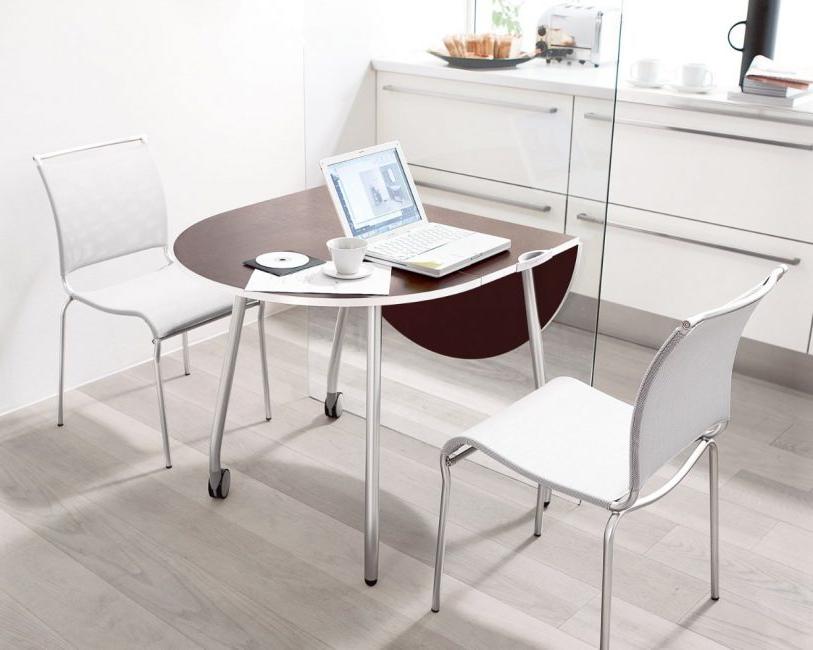 A reworking of the traditional example from number 16, this slim timber oval is a sleek and simplistic. Not only does one side of the table fold down, it is also on wheels. This makes this table a space saving and adaptable. The elegantly curving metal legs with the thin timber tabletop make this design lightweight and simple to roll around and customize to fit suit any use or space.
18. Side Table With Secret Storage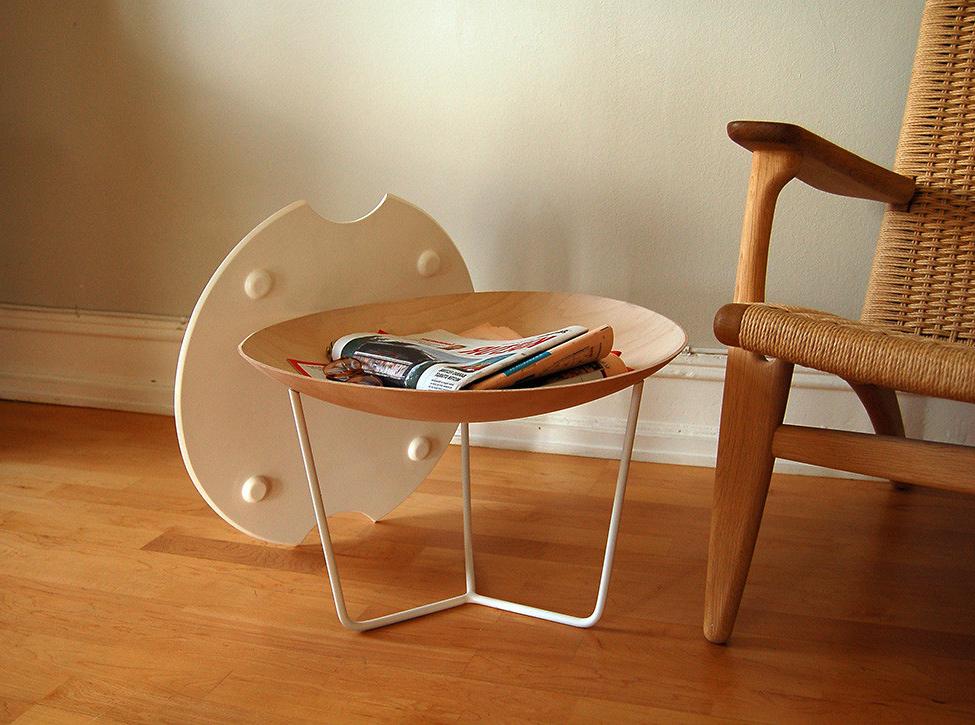 This side table, at first glance, is a stylish, white circle with delicate white legs and wooden bowl base. The half moon cut out, however, hint at something extra and hidden. Lifting the tabletop reveals a secret storage compartment that houses for anything would make the tabletop seem cluttered like newspapers or magazines. This simple, clever design is yet another example of how beautiful mixing white and wooden elements together can be.
19. Large Reflective Boardroom Table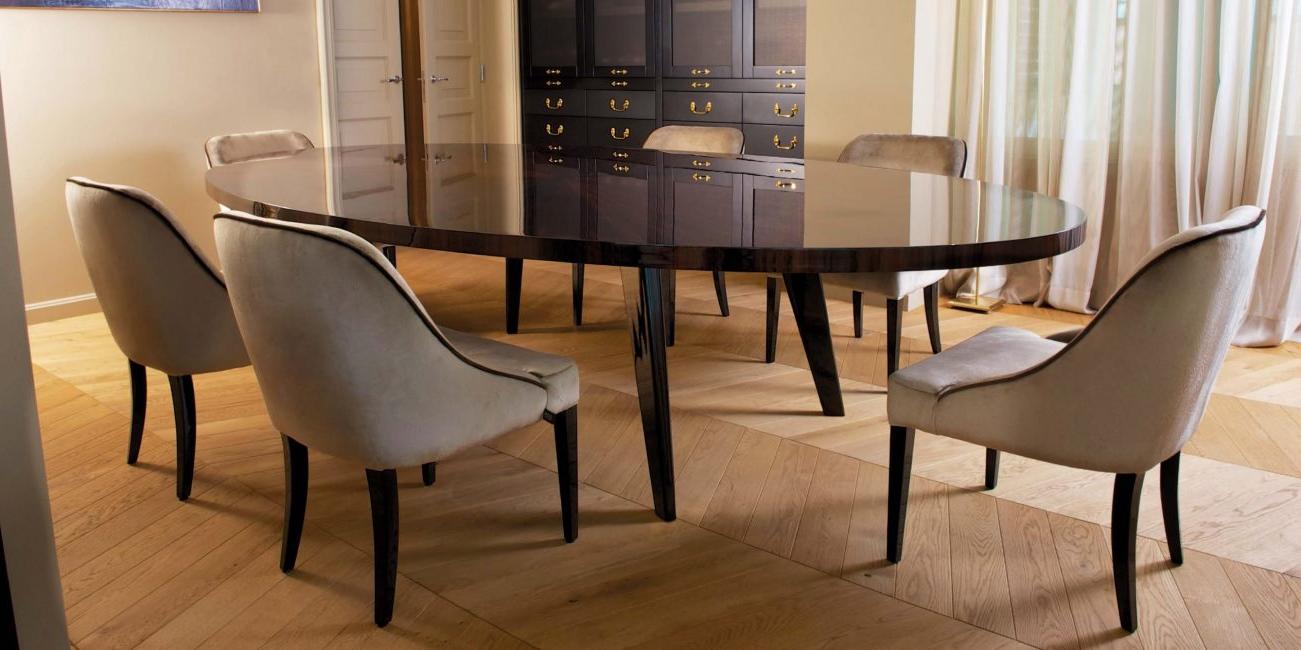 This boardroom commands at the second you walk in the room with this imposing black oval table with very high shine finish. This kind of design can be used effectively in work places to evoke a feeling of power in places of negotiation. The hard, modern table design is contrasted with soft grey chairs that feel luxurious and indulgent, which emphasizes the ambience of power and wealth one step further. The light chevron floor and white walls act as a pale backdrop to the main event which is the monolithic tabletop.
20. Elegant Oval Dining Table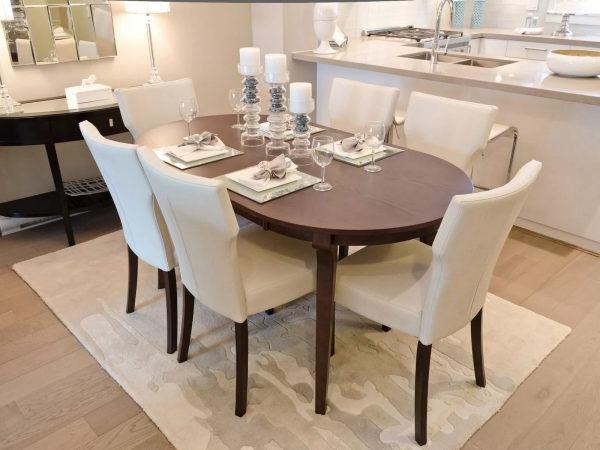 This simple four-legged oval dining table is perfect for intimate dinner party. The dining sets design is very classic and simple and fits well within this modern monochromatic interior design. The dining table, chair legs and corresponding half moon side table stand out as the sole dark anchors an a room full of pale wood and cream finishes.
21. Small Farmhouse Table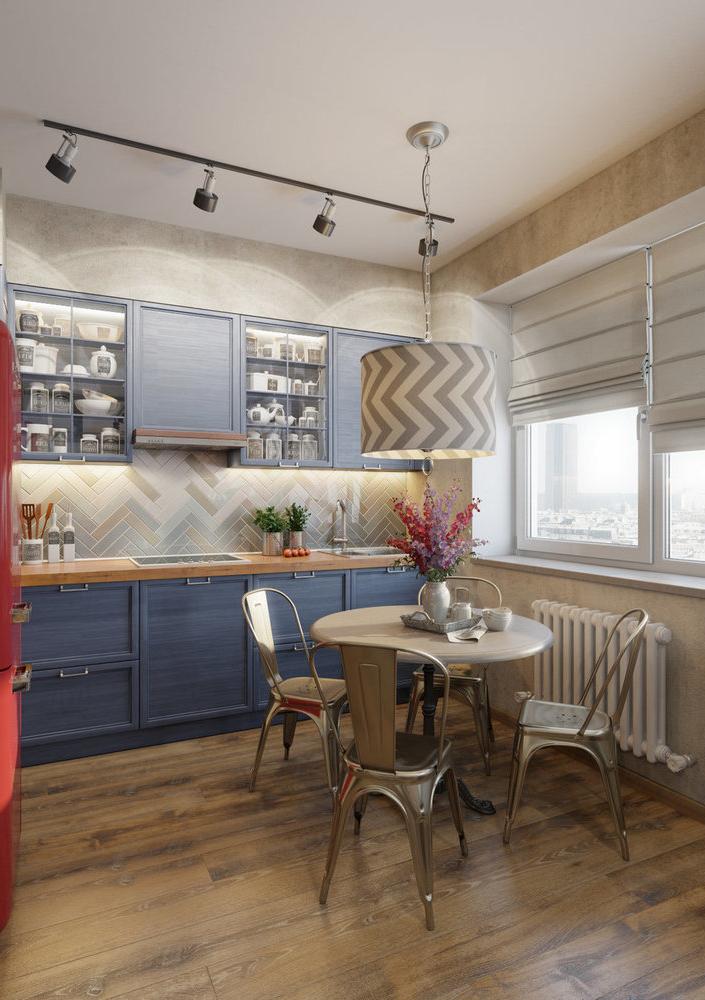 This contemporary kitchen is an eclectic mix of colours and materials. The dark wooden floors, the blue pop of colour in the kitchen cabinetry, a patterned light fixture, shiny metal chairs; textures and colour are present in abundance. However, this hubbub of visual stimulus is centred around one smooth and simple anchor; the circular stone tabletop. This small pedestal table manages to wrangle the potentially disparate elements of this design and pull them together around food.
22. Half Oval Micro Table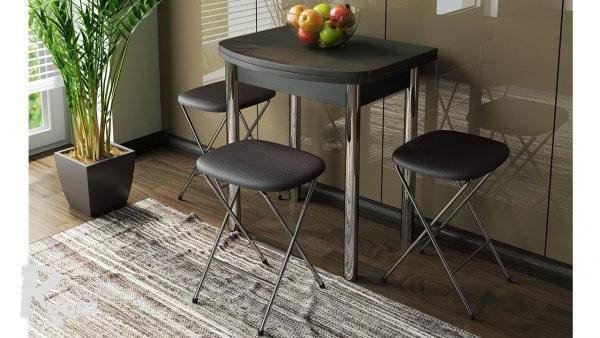 This miniature table is an elegant space saver made up of a dark matte tabletop with chrome legs for a sleek appearance even when working with a small space. The fold away stools paired with it are small and easily folded away to open up the space even more. The matte material of the dining set has been contrasted against high shine walls whose reflection makes the roof appear larger.
23. Painted White Miniature Dining Set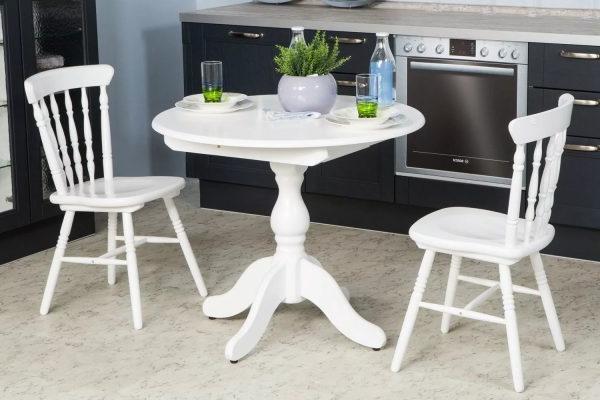 This classic bright white dining set is a design we've seen time and time again. However, this time, its not the table's design but the surrounding is has been placed in that make it special. Setting this old school style within this modern kitchen makes it stand out as an almost sculptural element against the marble floor and dark kitchen cabinetry. This pristine white kitchen art provides a comfortable eating space for two.
24. Highly Embellished Baroque Dining Table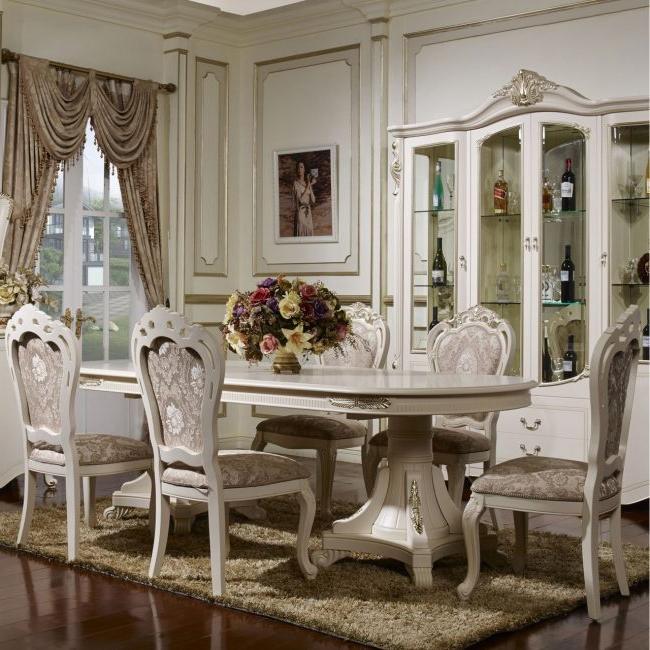 The elaborate oval table and dining chairs with its rich upholstery fits in perfectly with the old style room décor and intricate mouldings. This sumptuous dining room is unashamedly ostentatious with its draping layers of curtains and glass display cabinet filled with undoubtedly expensive alcohol. The table itself embodies this feeling in every aspect. From the large sculptural double pedestals to the sculpted chairs with flocked upholstery, this dining set oozes glamour from every pore.
25. Slide Away Adjustable Table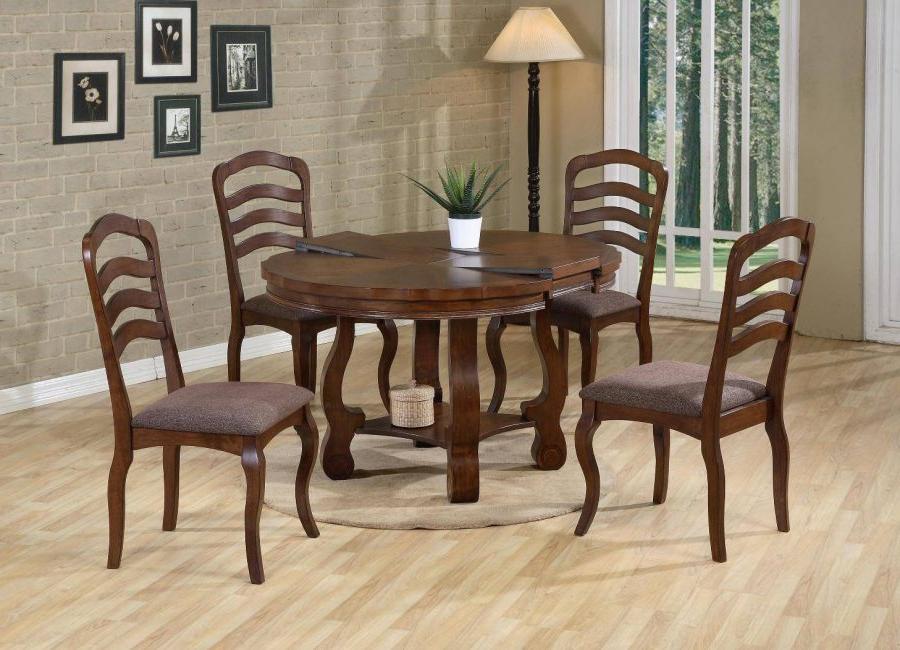 This dark wood oval dining table and chairs are very standard in appearance. That is, until its secret is revealed. In a more complicated fashion than the fold down tables we've seen before, the middle section of this table slides out and unfolds a secret layer that elongated this circular table into an oval. This means you can change up the table to suit your purposes; from a small family dinner to entertaining a few friends, this table gives you two for the price of one.
26. Stone Oval Kitchen Island Dining Table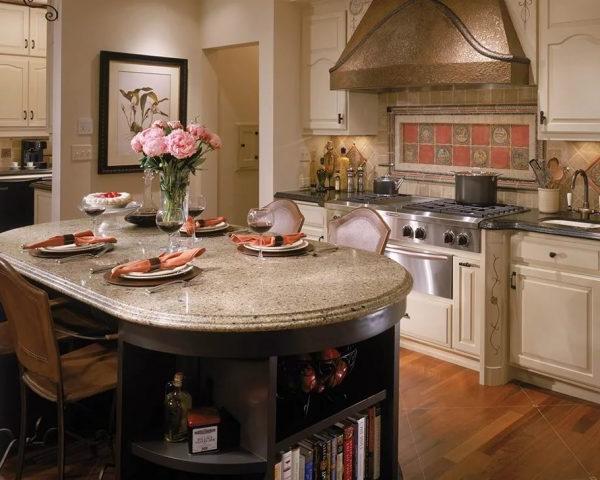 For something a little bit different this stone oval has become a multi use item. The kitchen dining table also acts as a kitchen island, storage area, bookshelf and family gathering space. The built in shelves makes this table easy to customize to reflect your personal tastes and put your cookbooks on display to display some culinary clout. Combining this distinct grey stone pattern with coloured tile and hardwood floors makes this kitchen feel like the earthy heart of the home.
27. Oval Table With Window Seating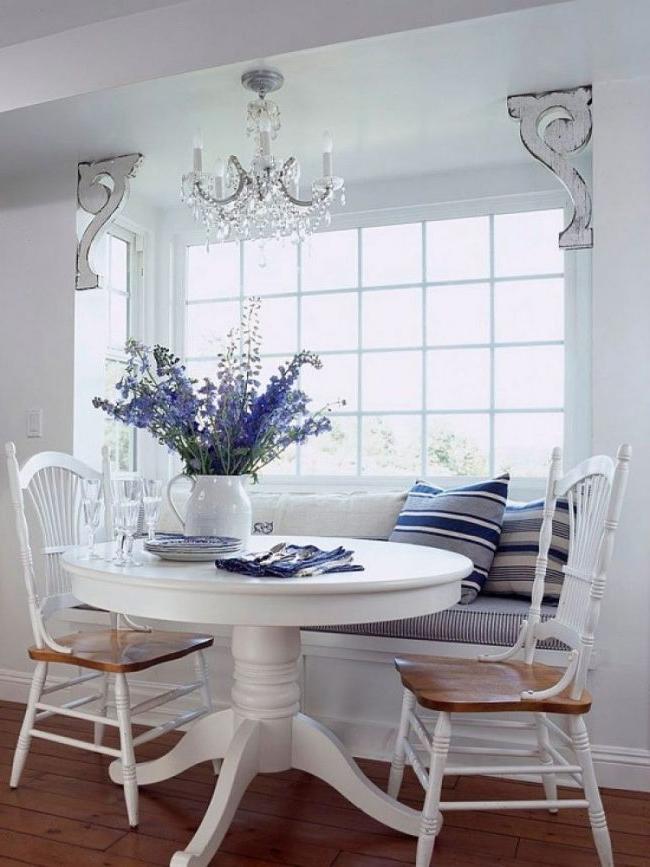 This house has converted a cozy rectangular window seat into a bright dining area by pairing it with classic oval pedestal table and vintage wooden chairs. The unexpected traditional chandelier above the table elevates this space even further in contrast to the rustic comfort that has been created by this amalgamation of wood and glowing white. Something about pairing dark rich woods with bright white wall and furniture achieve an ambiance of calm and respite from your busy day as you sit down to eat.
28. High Shine Contemporary Table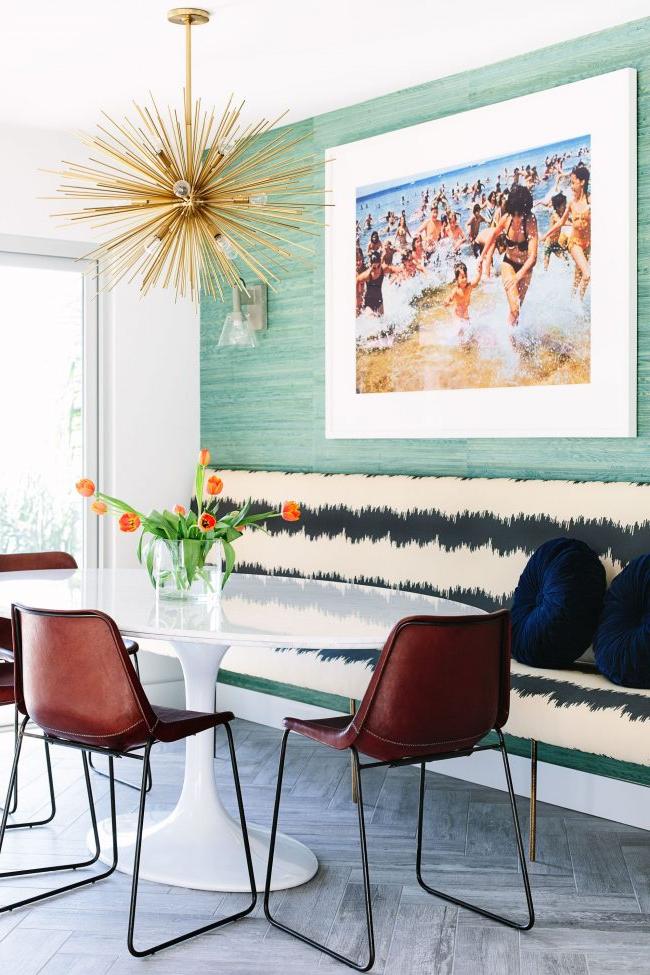 The wine glass based highly reflective table surface acts as a clean base to a plethora of colours and textures going on in the rest of this quirky space. From the golden sea urchin chandelier, to the textured teal wall, patterned bench seating, leather chairs and chevron floor; the white table is a welcome break from the overwhelming visual of it all. The effect is a fun and vibrant contemporary space that doesn't hold back in expressing itself.
29. Pale Wood Dining Set With Built In Storage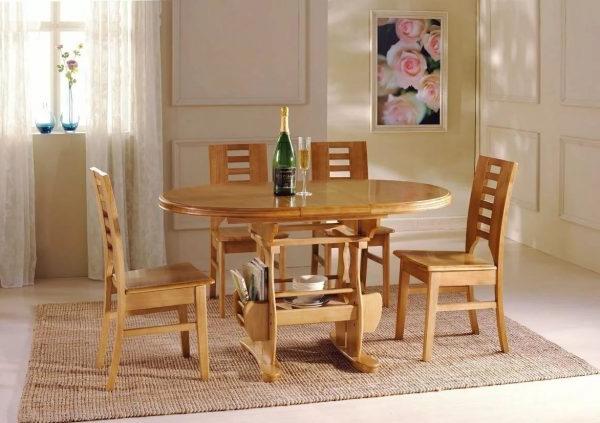 This distinctly post-modern dining set is another example of table that can serves dual purposes. The slotted together double pedestal base incorporates a magazine rack and additional storage for small items to keep the tabletop tidy at all times. The set is very homogenous, being constructed completely from the same pale wood; which gives in a sculptural quality sitting atop the textured rug.
30. Traditional Oval Tables In Modern Living Space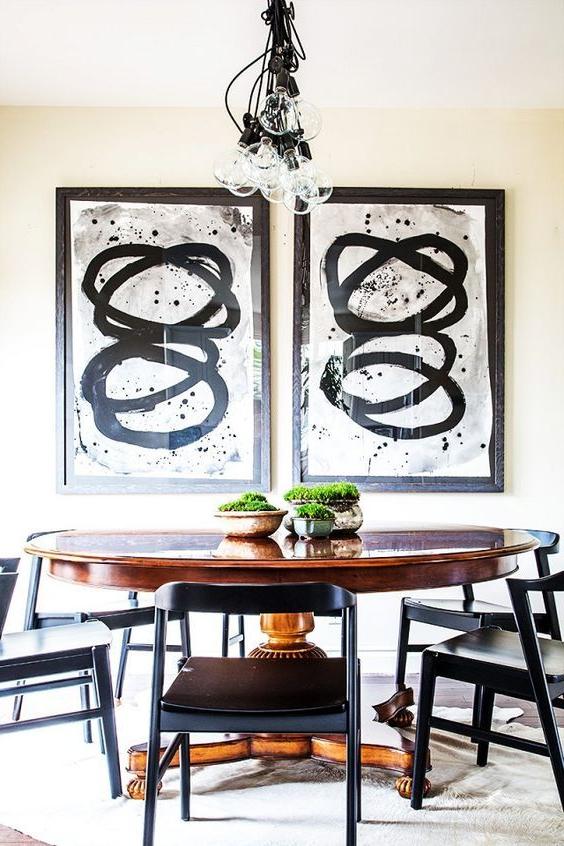 This is yet another example that proves how vintage designs can be utilized in a modern space to great effect. The chunky round pedestal table is a very traditional polished wooden design that has been thrust into a distinctly modern setting. Black, modern chairs ring the table, leaning in towards it while a duo of abstract artworks loom overhead. A tangle of Edison bulbs overhead form a new version of a chandelier to tie together the quirky modern elements. This creates an aesthetically pleasing contrast between old and new and breathes new life into a piece of furniture that wuld have lay dormant in the past.
Conclusion
This collage of round and oval tables really show how versatile and beautiful these can be and how much fun you can have with their design.
Many of these examples show how something as simple mismatching the style and shape of the chairs to take advantage of their lack of legs on their perimeter can make your dining area noteworthy and eclectic. They can be multi-use with secret storage areas or doubling as a kitchen island for beauty and utility in one. We have even seen innovative designs that have been around and relevant for decade where slide out areas can increase the tables length or, conversely, ends that fold down to save space in an elegant way.
Whatever your needs or amount of space you have to work with, round and oval tables have a solution for you so why not give them a go?