Kitchens are not a room you expect to find a chandelier in. When this glamorous light fixture is mentioned we picture grand hallways, elaborate staircases and ostentatious ballrooms from a bygone era. However chandeliers are more than the traditional tiered rings of lights dripping in crystals adorning opulent public spaces.
32 Kitchen Chandeliers To Enrich Your Dining Experience At The Heart Of Your Home

Chandeliers have been rethought and reworked to become something that is adaptable to fit almost any space; like the kitchen. This update has caused this classic light feature to comeback in a big ways. They have been reclaimed by spaces that are seen as being more homely and approachable and morphing to suit that rooms style and ambiance. They come in a large variety of styles that can fit into a large range of design styles. From minimalistic and futuristic to rustic and homey, a carefully chosen chandelier can enrich any kitchen space.
If you want to bring in some unique lighting and some glamour into your kitchen here are:
1. Above The Bar Nautical Hanging Lights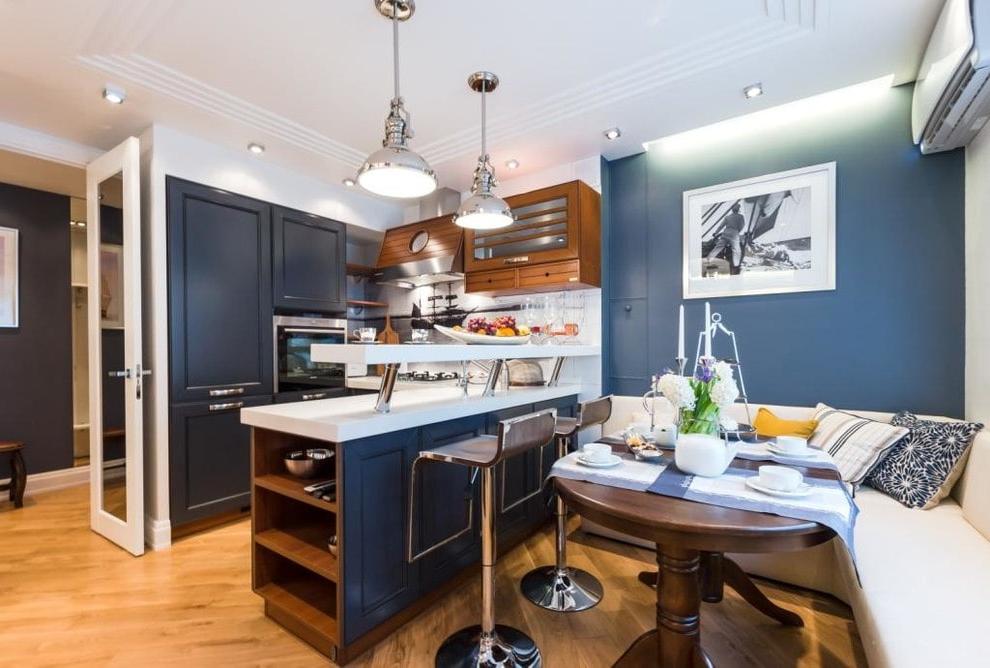 This contemporary blue kitchen with white accents has slightly nautical theme that is emphasized in the fittings including the lighting. The chandelier formed by two matching almost industrial looking silver spotlights are inspired by the large metallic fixings of ships and coordinate seamlessly with metal bar stools and casually leaning bar that resembles the hand rail on a luxury cruise ship.
2. Vintage Kitchen Chandeliers Over Kitchen Table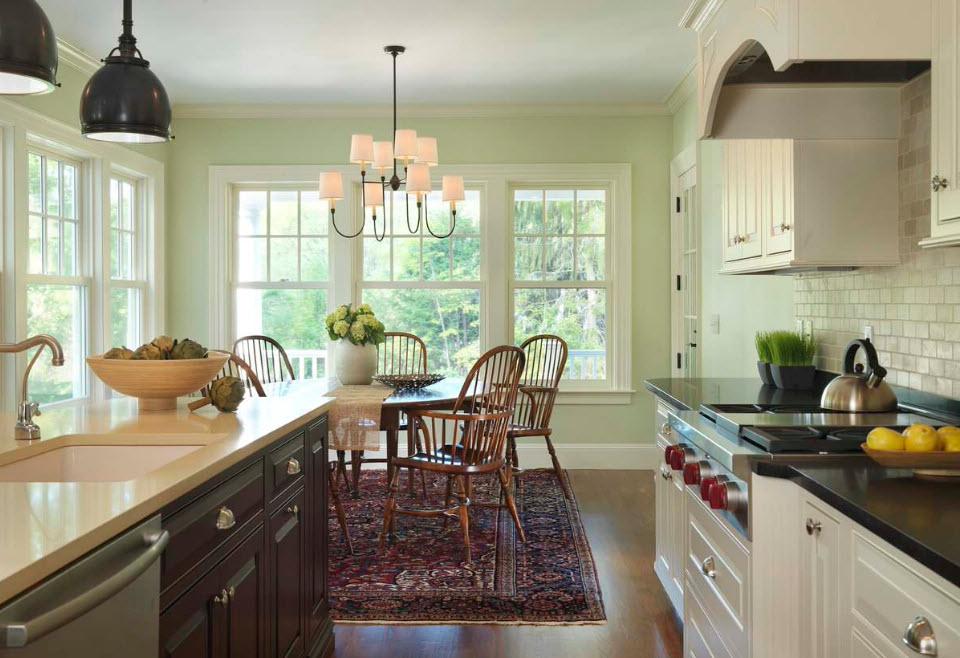 This interior is a classic family home style updated for contemporary times. The mint green room with white accents and traditional painted wood kitchen cupboards harks back to a bygone era in a classic middle class home. The dining room table and chairs sit on top of a richly patterned Persian carpet, this is the element in the room that brings the most colour and richness to the room. All the chandelier in this room needs to do is cast a calming, pleasant light on this family scene which is does with glowing fabric bulbs and delicate arching metalwork.
3. Modern Metal Scale Chandelier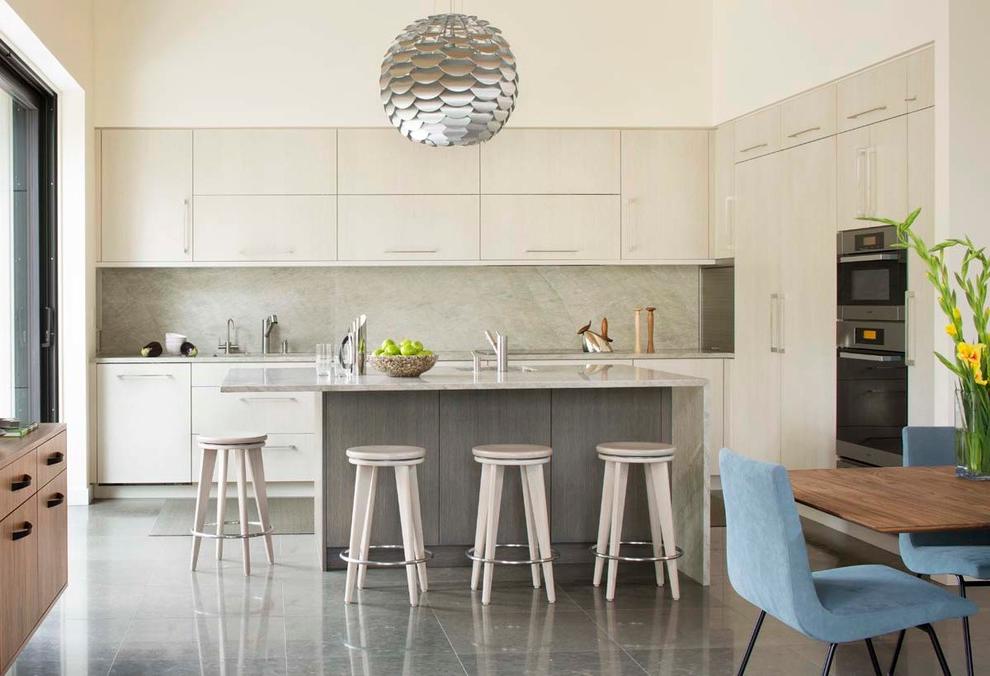 This kitchen has a super sleek contemporary interior with a masterful mix of textures. The colour palette is limited so all the emphasis is put on the dark tile, impossibly thin marble counter-top and seamless kitchen cabinets. The chandelier brings a reflective, brushed metal surface into the mix with its rich pattern of silver scales layering across one another. When the light is turned on the pattern of light that shines through the scales transforms the formerly plain monotone elements of the kitchen. Even when it comes to furnishings this kitchen is full of unusual quirky designs and the chandelier fits right in.
4. The Glass Work Of Art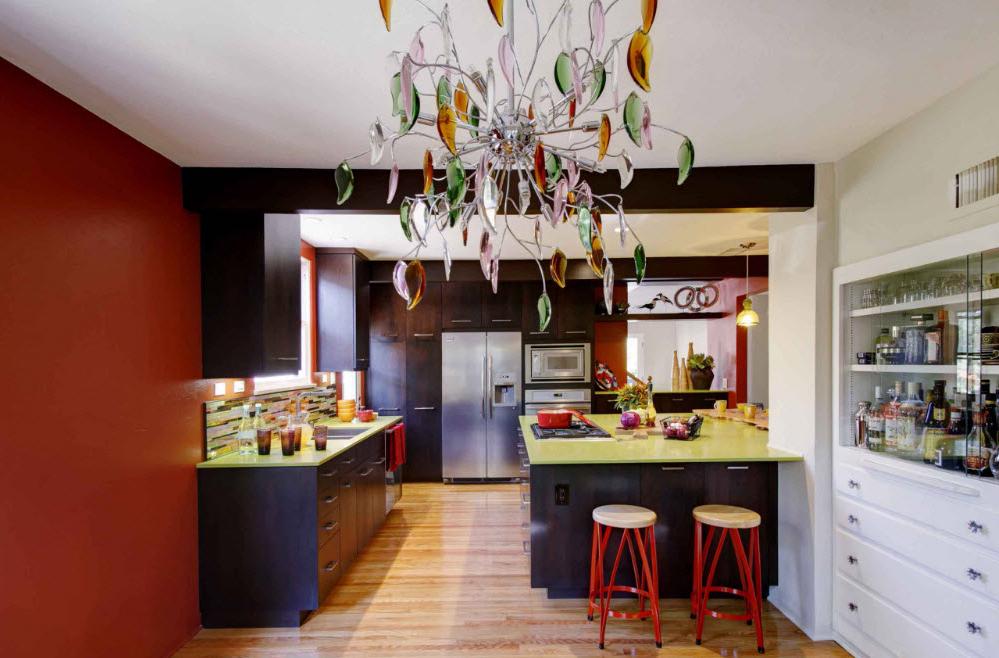 This kitchen is one of a kind. The colourful, artsy interior expertly pops in red and green elements throughout while contrasting them against unexpected black cabinetry. A room this quirky and one of a kind can handle a chandelier that is big and bold and this abstract glass piece is the perfect choice. Instead of a traditionally shaped glass chandelier the glass has been blown into multi-coloured leaves that hang off thin stem like metalwork. When lit up the colours are reflected around the room in a light that is every changing. The statement colours of red and green are repeated in the cascading glass leaves to great effect.
5. Funky Space Age Kitchen Chandeliers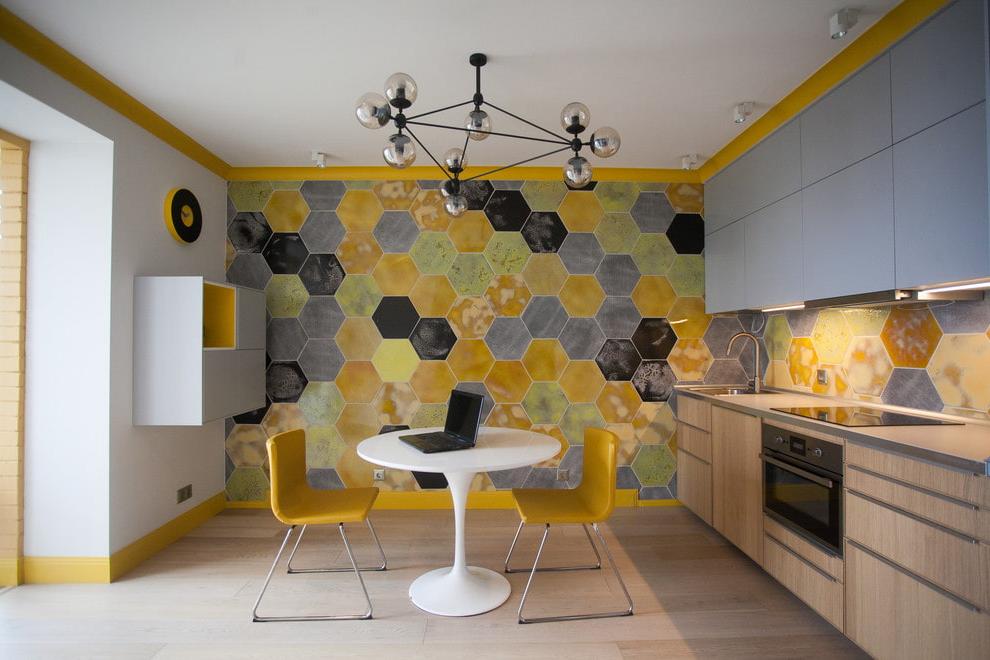 The super futuristic design of this kitchen is the perfect oppourtunity to incorporate a really out there chandelier. These chrome orbs of light mounted on a black metal frame resembles a chemical diagram that stands out strongly against the bright patchwork the hexagonal tile mosaic behind it. Its reflective and eye catching shape fits in so well with the very sleek kitchen design that is full of unexpected details such as the bright splashes and yellow and modern furnishings.
6. Down Lighter Chandelier Under A Mirrored Ceiling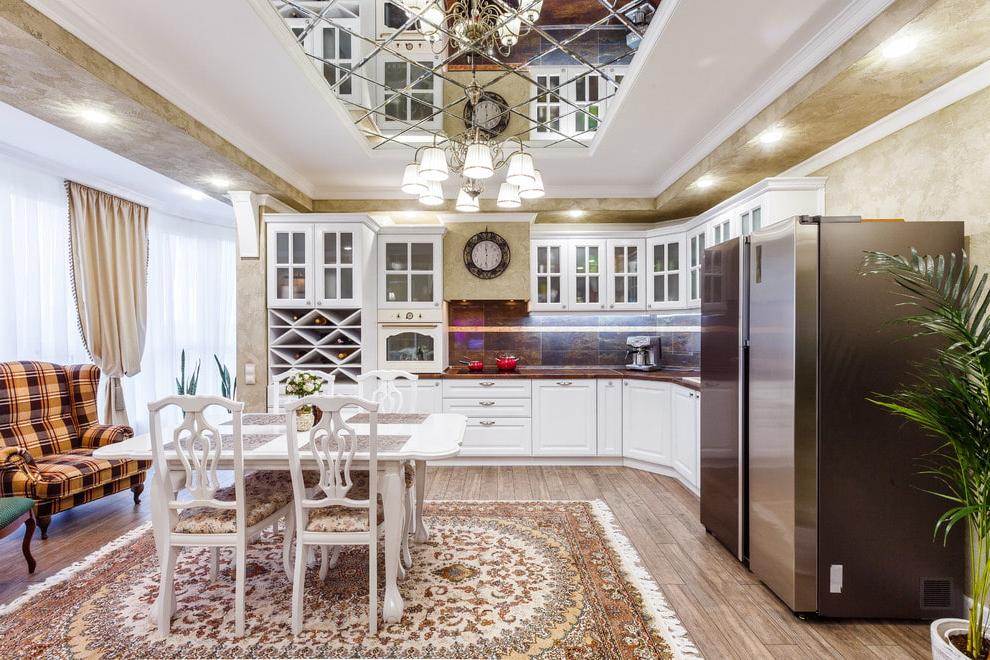 Ceiling materials can make all the difference to a room, especially when you consider the lighting. The mirrored mosaic with the vintage down lighter chandelier at its centre reflects its light softly around the whole room. The kitchen itself is classically ostentatious and the drama caused by the mirrored chandelier only serves to emphasize that.
7. Traditional Chandelier in Eclectic Setting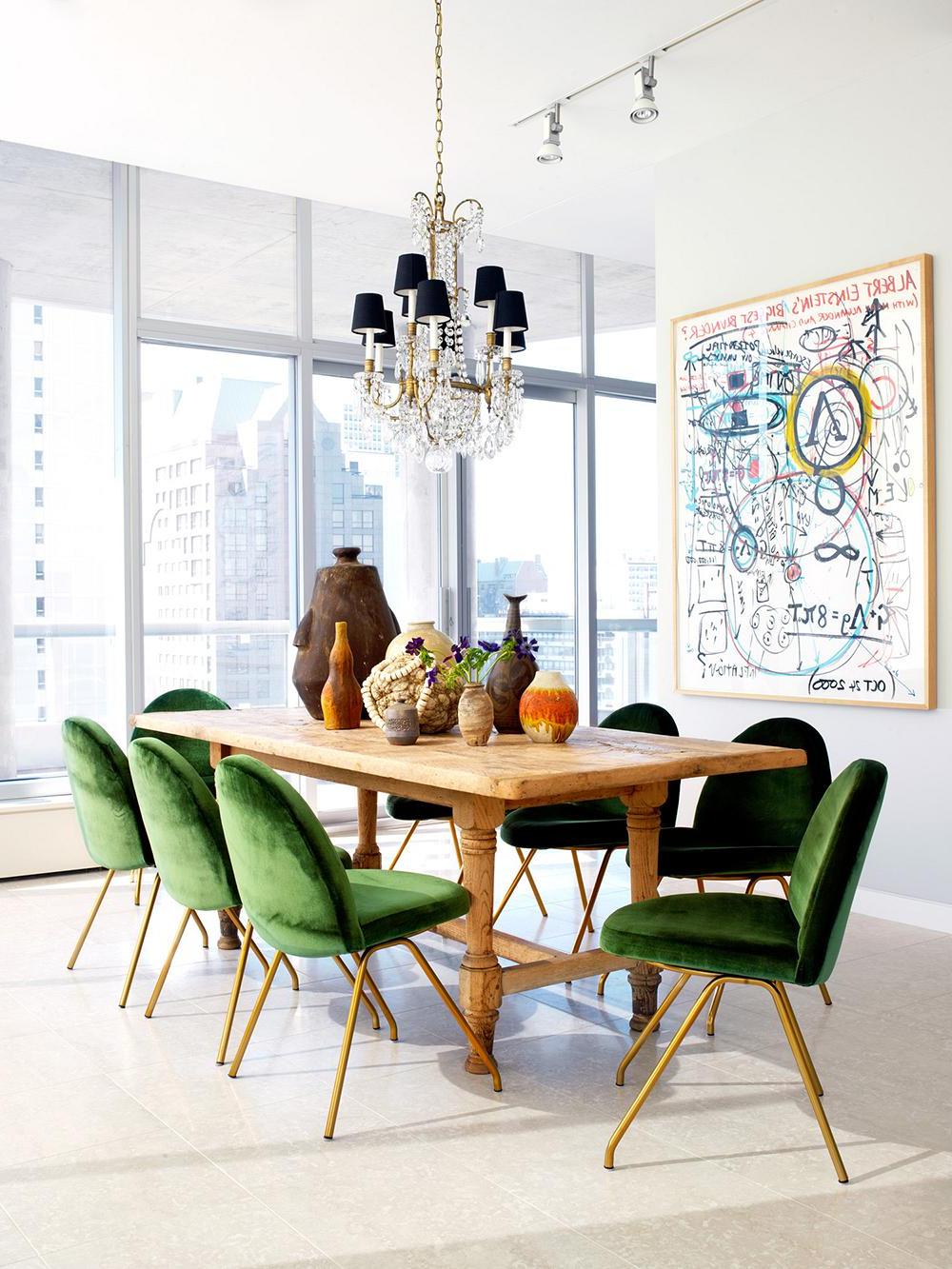 This dripping crystal vintage style chandelier is the centerpiece for this minimal but eclectic kitchen dining room. The classic wooden dining table and vintage chandelier find themselves in a room that has a very minimal design style with clean white walls and pale colour scheme. A truly eclectic style is achieved by introducing the contemporary accessories of the green chairs, graffiti style artwork, multiple earthenware vases to the mix. The result is a really stylish but comfortable kitchen dining area, topped off by the statement chandelier.
8. Dramatic Antler Kitchen Chandeliers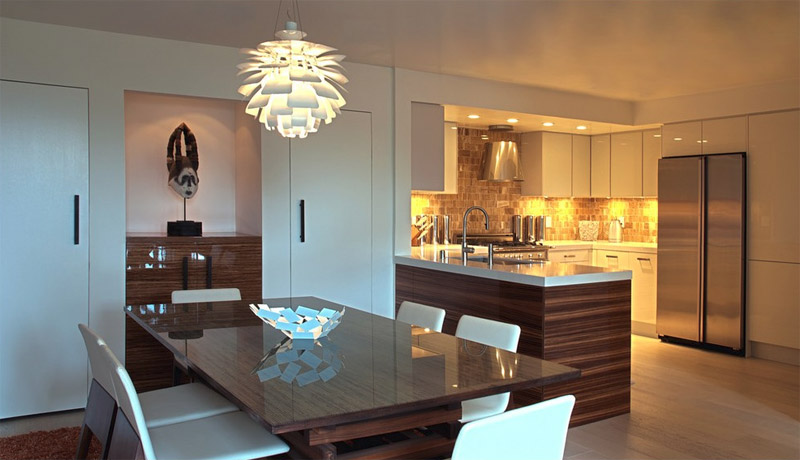 This gorgeous treetop kitchen and dining area has plenty of space in the dramatic double volume room for a large statement chandelier with enormous windows into the trees as its backdrop. This chandelier speaks to the outsides because they are of naturally shed deer antlers holding up the teardrop light bulbs. The chairs are facing a view made by the sleek kitchen island with hovering wooden storage shelf with the chandelier hanging overhead while you cook. The careful layering of the kitchen elements along with the windows and the chandelier makes walking into this room an experience, every element a unique part of the beautiful view.
9. Homey Wrought Iron Chandelier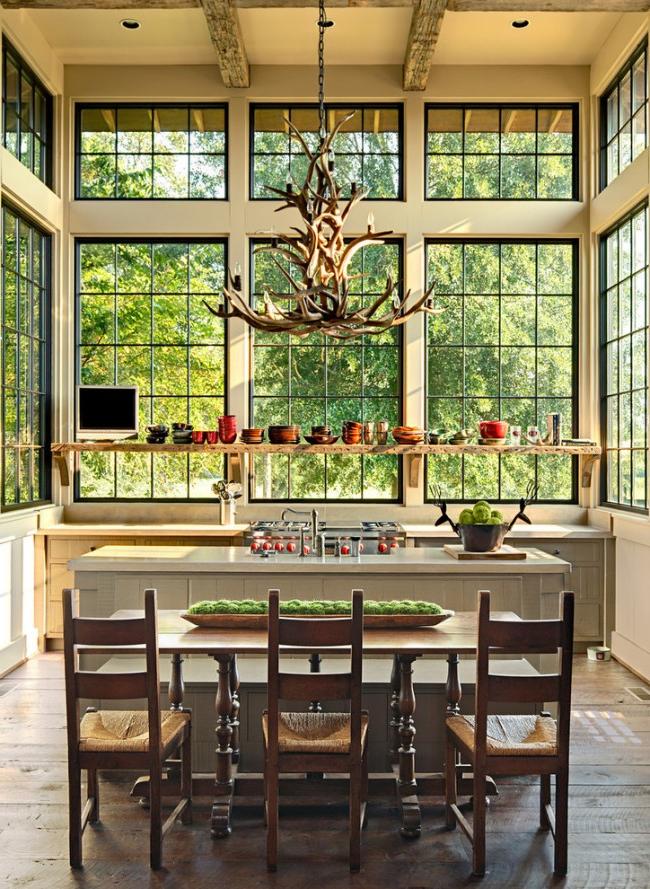 This room has the traditional setting and comfort of your grandmother's kitchen and the chandelier suits that perfectly. The curlicues of wrought iron decorate a classic ring shaped chandelier with frosted glass down lighter shades that cast their light onto the kitchen dining table. The wrought iron swirls are also echoed in the table legs and the dresser, which is full of antique knickknacks. This material has been used for decades so it fits into a design that is so clearly influenced by the past.
10. Multi Layered Modern Hexagonal Chandelier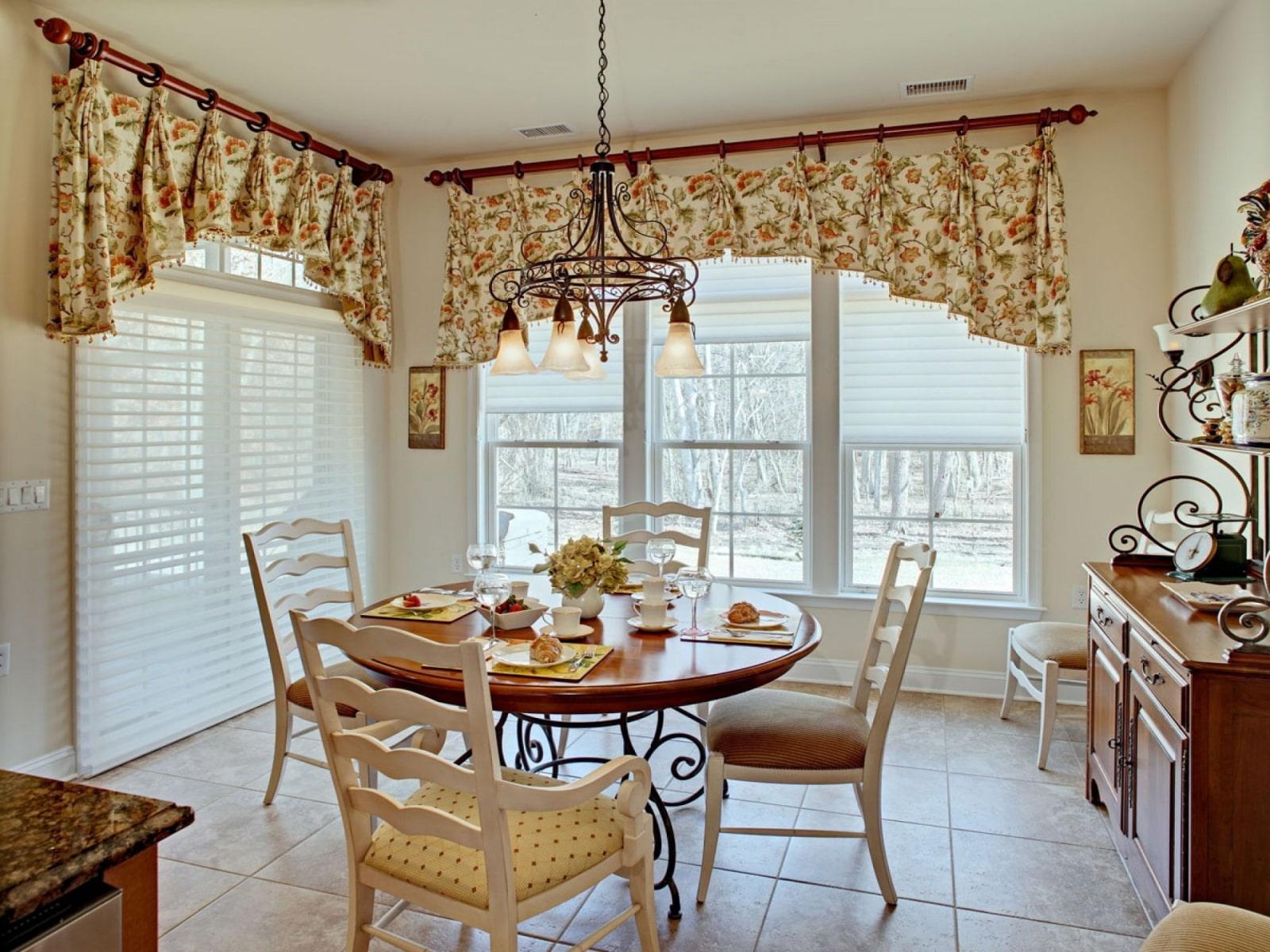 On the opposite side of the coin from the previous example this futuristic chandelier is far from your grandmothers kitchen décor. This design is super innovative and uses unexpected shapes and materials to form this gorgeous design. A series of hexagons are extruded at different heights and encased in brushed gold to create a striking mix of materials and reflective light quality. The entirety of the hexagons glow in a soft light achieved by the frosted bulbs. The gold of the chandelier is mirrored in curtain and detailing which integrates it well into the room's overall design.
11. Vertical Tube Futuristic Up And Down Lighter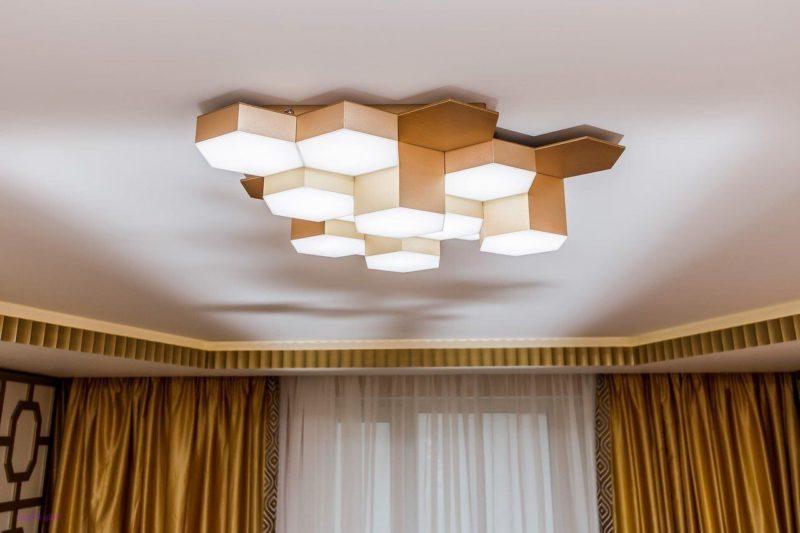 This futuristic chandelier made of reflective metal tubes stoppered at either end with road warm bulbs is the highlight of this luxurious kitchen. This chic monotone interior has high shine finishes that reflect the chandelier light back into the room. The simplicity of the interior design draws the eye straight to the chandelier, the stand out item in the room.
12. Beads Draped In Flowers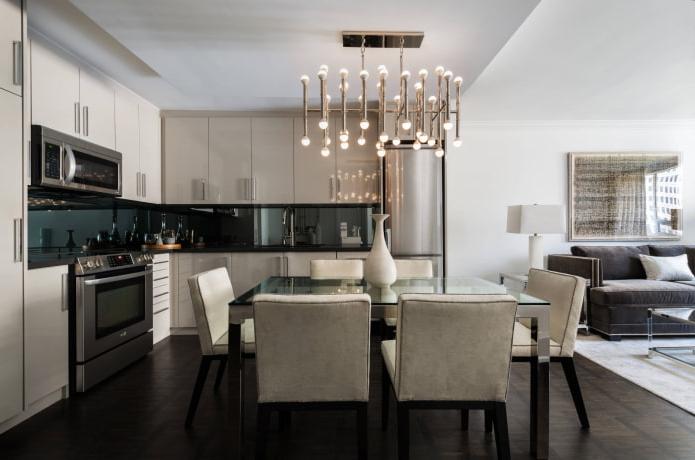 This artfully designed dining space is breathtaking from top to bottom but it is crowned with a fluorescent chandelier that has replaced crystals with pink and red flowers. The rooms interior design is neutral and sparse with natural painted brick textures so the chandelier stands out in the bright white room. Its even reflected in the large mirror behind it. The colours from chandelier can also be found in the crockery, glassware and eclectic fluffy chairs. The whole effect is whimsical and transports you to an entirely new world.
13. The Classic Crystal Opulence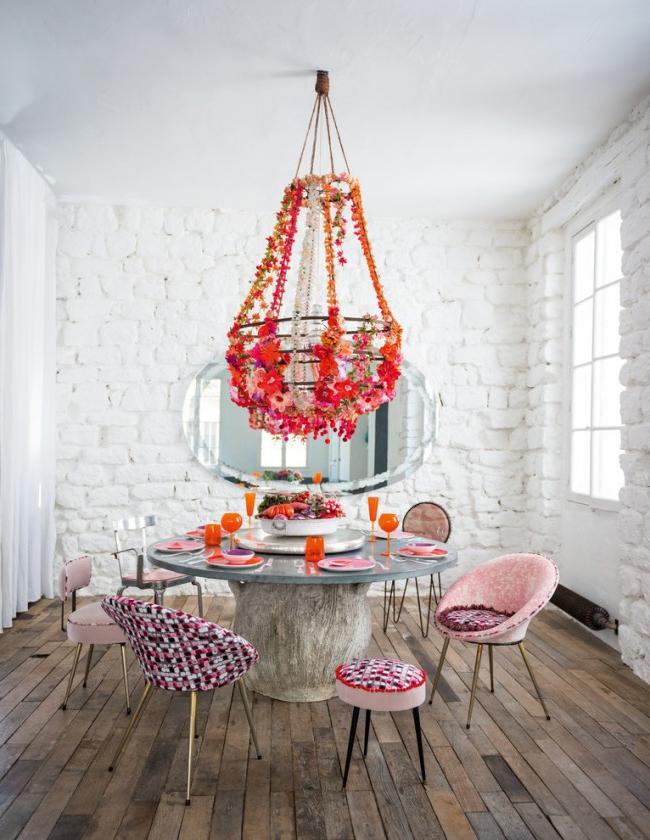 This utterly over the top Baroque interior has to have an equally opulent chandelier. The real crystal chandelier and its counterpart in the lounge beyond speak of wealth and indulgence. The vintage powdery blue dining table is lit by an extraordinarily dramatic light fixture to making dining in this house a true experience. The chandelier and its richly decorative environment display an air of status and class.
14. Circle Of Crystals
In striking contrast to the previous example this chandelier is a breathtaking unique design. The glowing geodes hover above your head in a soft ring of magical light. The frosted glass mounted onto a simple black ring lights the edges of the table where your plates would be rather than the centre of the table like many chandeliers. Thin simple shape is very rich in texture and flawlessly imitates the uneven growth of real uncut crystals. This kitchen is very minimal with dark floors against white cabinetry so the chandelier becomes the focus of the room in an almost sculptural manner.
15. Three Miniature Glass Kitchen Chandeliers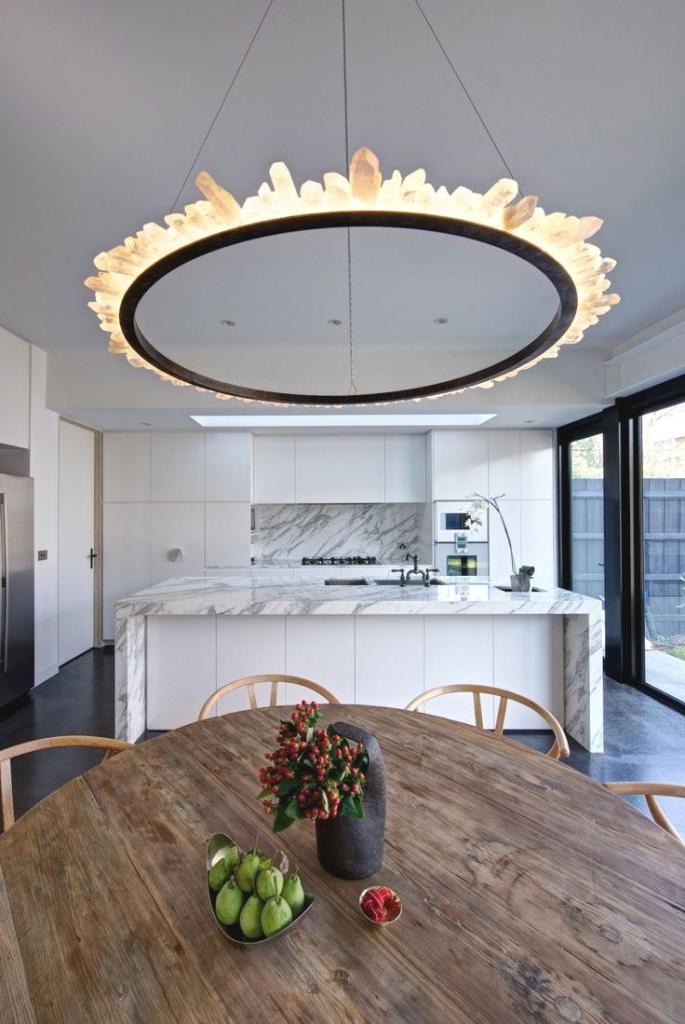 With a nod towards the traditional large scale glass or crystal chandeliers this luxurious kitchen has used this classic style but miniaturized and multiplied for effect. The kitchen is rather large and grand with its black and white cabinetry and its classy, yet lavish, marble counter-tops and immense gas stove and the lighting only serves to heighten this air of grandeur. The kitchen island an breakfast bar is obviously an important part of the family experience and it is lit as such with this trio of small glittering chandeliers.
16. Hanging Edison Light Bulbs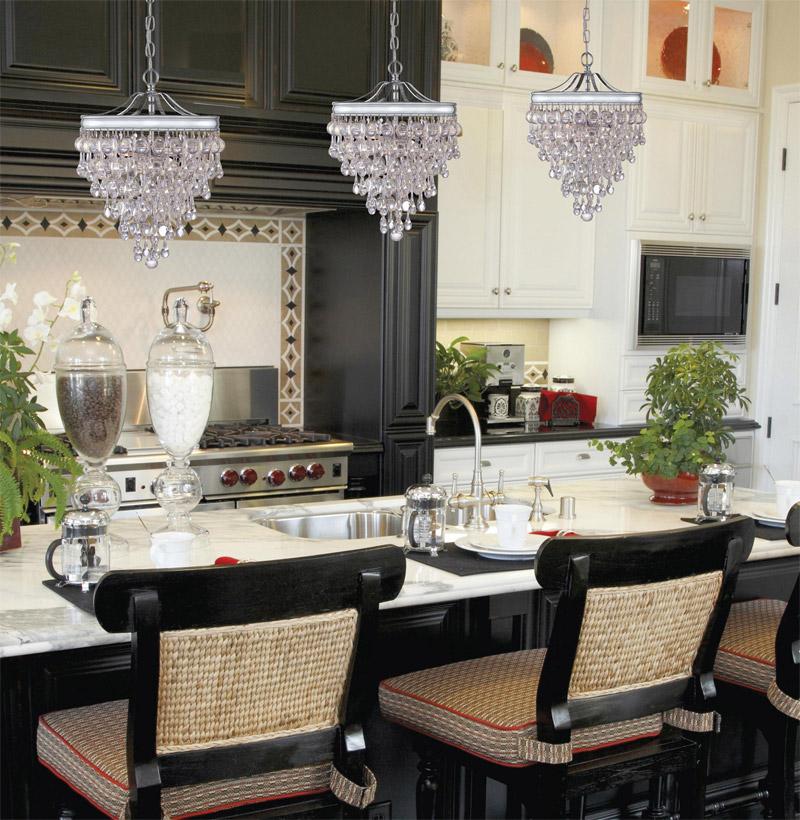 Edison bulbs are all the rage right now; they are contemporary, visually striking and energy saving for lighting without the guilt. A modern chandelier has been formed by a long row of large teardrop Edison bulbs clustered together that lights the immense marble kitchen island. The effect is a contemporary kitchen with a dramatic elegance which is achieved in a simple and understated fashion.
17. Creative Wine Glass Chandelier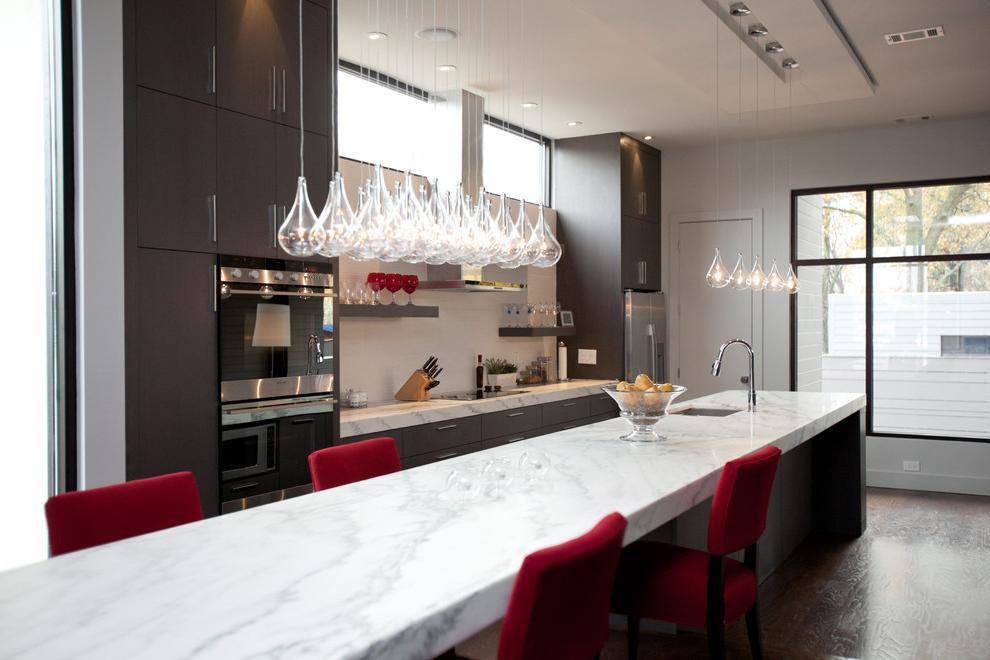 Elaborate chandeliers are unexpected way to have some in your kitchen. This huge glass chandelier made of three layers of concentric circles is, at first glance, a statement light fixture in a minimalist kitchen However, if you look a little closer you come to the realization that it is, in fact, made out of wine glasses. This design is smart and funny while subtley bringing your passion for wine into your decor.
18. Layered Organic Chandelier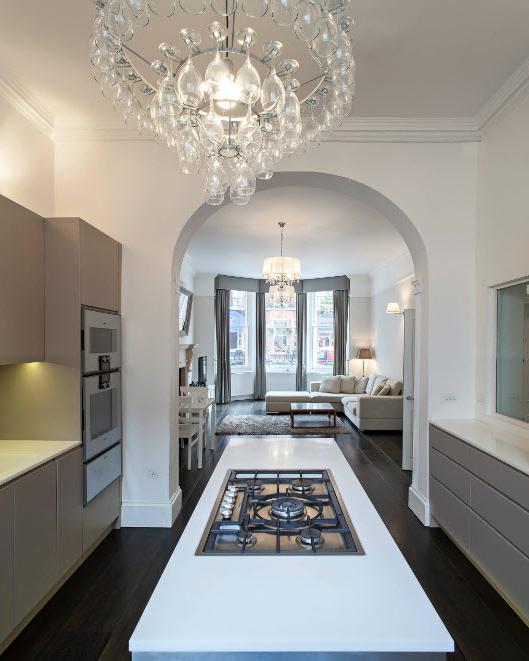 The highlight of this sleek modern design is this organic orb hanging over the open plan kitchen dining table. This lightweight version of a chandelier is made of layers of square sheets of material that are layered over one another to resemble a stylized pinecone. The translucent material from which it is made makes the chandelier glow in a beautifully uneven way. The shape and material are mirrored in the lamp at the centre of the table in an original tie in for the whole dining space.
19. Organic Wooden Chandelier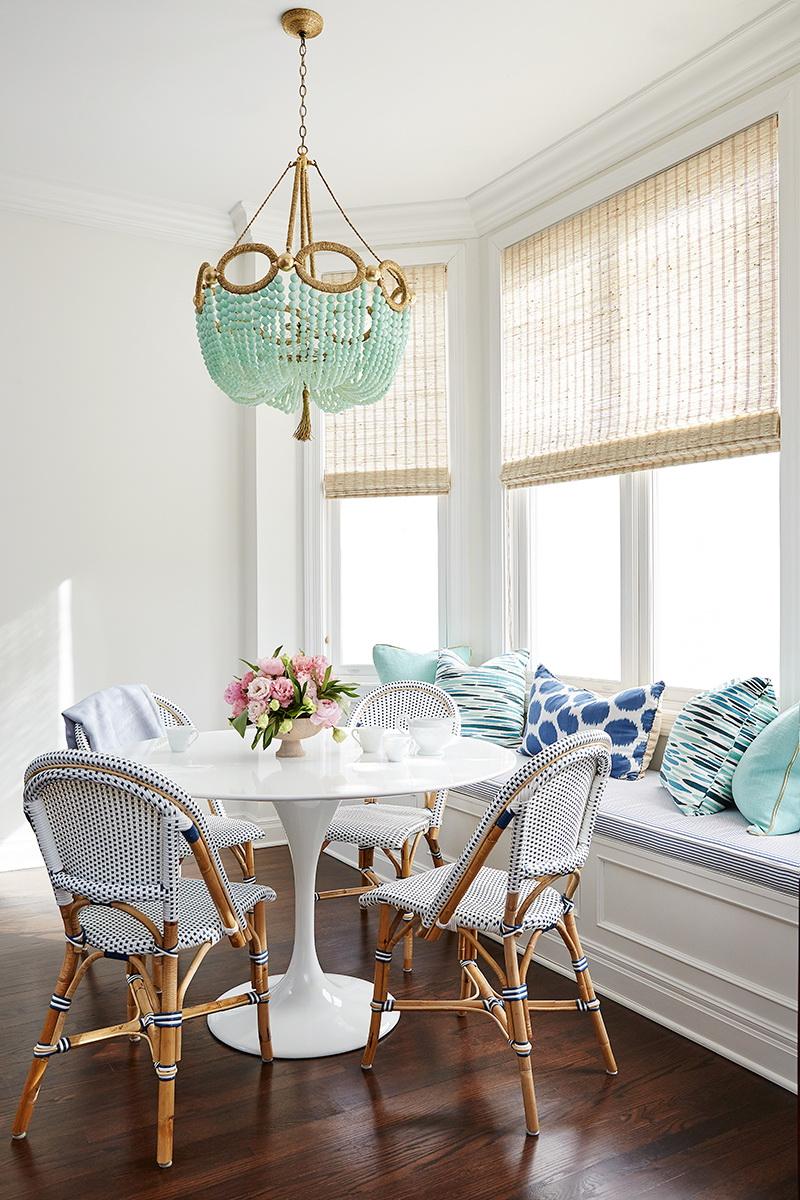 A breakfast nook in a dormer window is a cozy space for an kitchen dining space. Bright white elements highlighted by wood grain forms the core of the design with pops of blue and teal scattered throughout. This kitchen light fixture takes a classic chandelier shape and changes it up by making it out of an organic material; which gives it a more rustic appearance. The draping wooden beads in a fresh shade of teal in a raw wood framework ties in with the interior design perfectly.
20. Reflective Hanging Orbs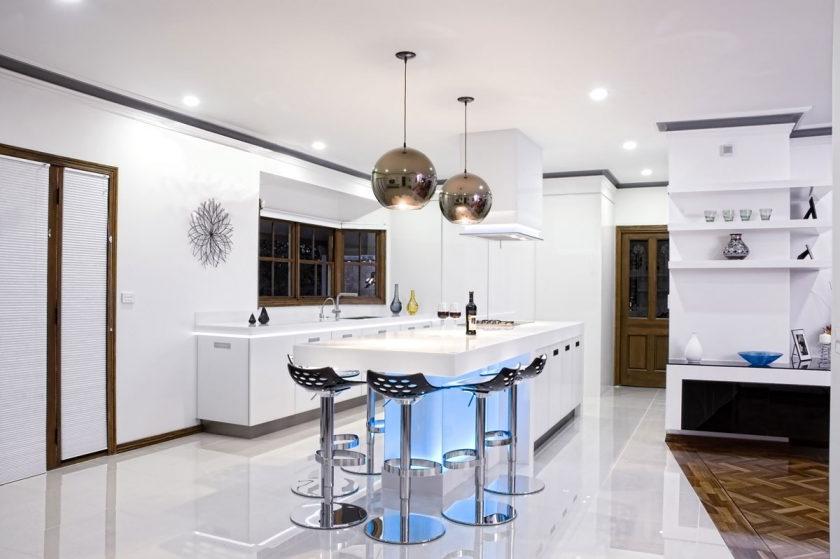 This house is the height of clean, almost futuristic minimalism. Dangling, ostentatious crystals have no place in a kitchen like this, instead this kitchen chandelier is made up of a pair of hanging reflective spheres that cast direct down lighting onto the high shine white counter-top. The dark metal housing ties in with deep wood cornicing, skirting boards, front door and lounge floor as the only areas of depth within a bright white environment.
21. A Tangled Ball Of Yarn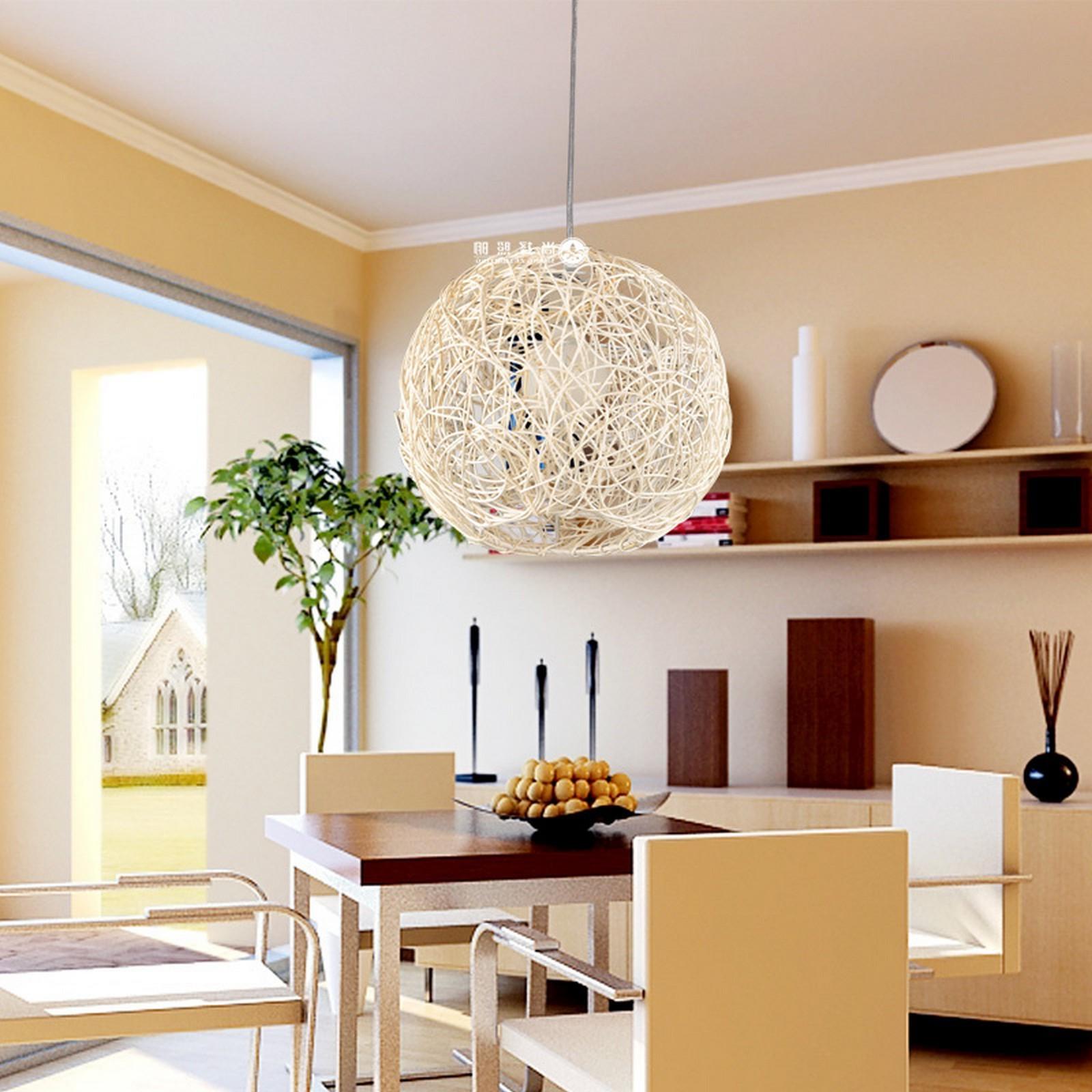 This rustic kitchen chandeliers resembles a tangled ball of white yarn with a large frosted bulb at its core. Due to the web-like shade the light escapes through uneven holes, casting an erratic light across a relatively ordered room. The ball of twisted fibres is the one element of texture in the a room full of colour blocking and crisp, clean edges.
22. Classic Glamour With Coloured Crsytals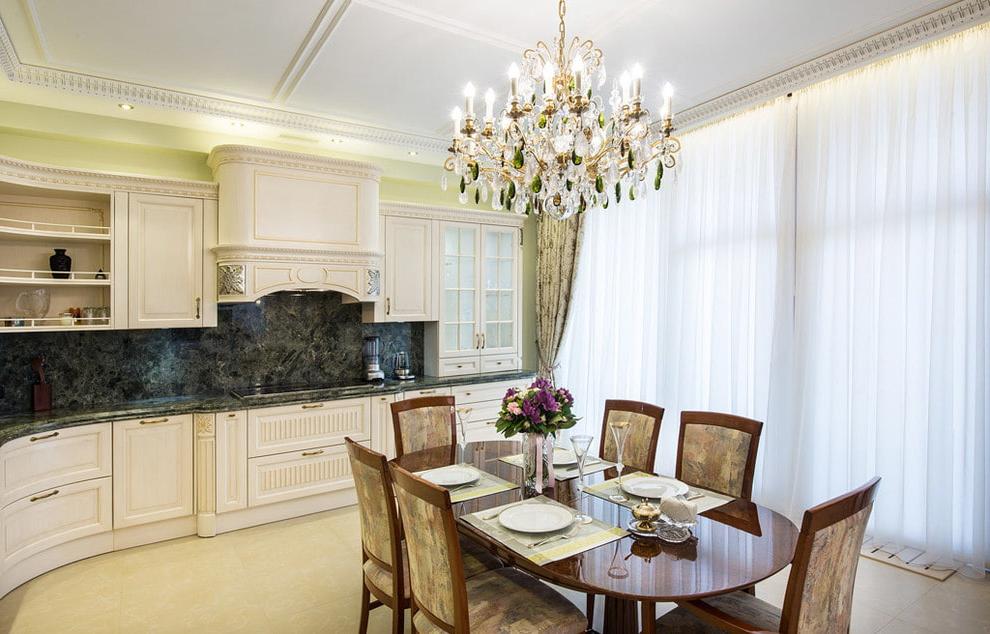 Old money glamour is front and centre in this opulent kitchen. The curved cream kitchen cabinets, floor to ceiling shaded windows and the dark marble counter and splash back needs a light fixture that emphasizes its status. This intricate gold chandelier dripping with both dark and clear crystals is the perfect fit.
23. Retro Chandelier With Matching Sconces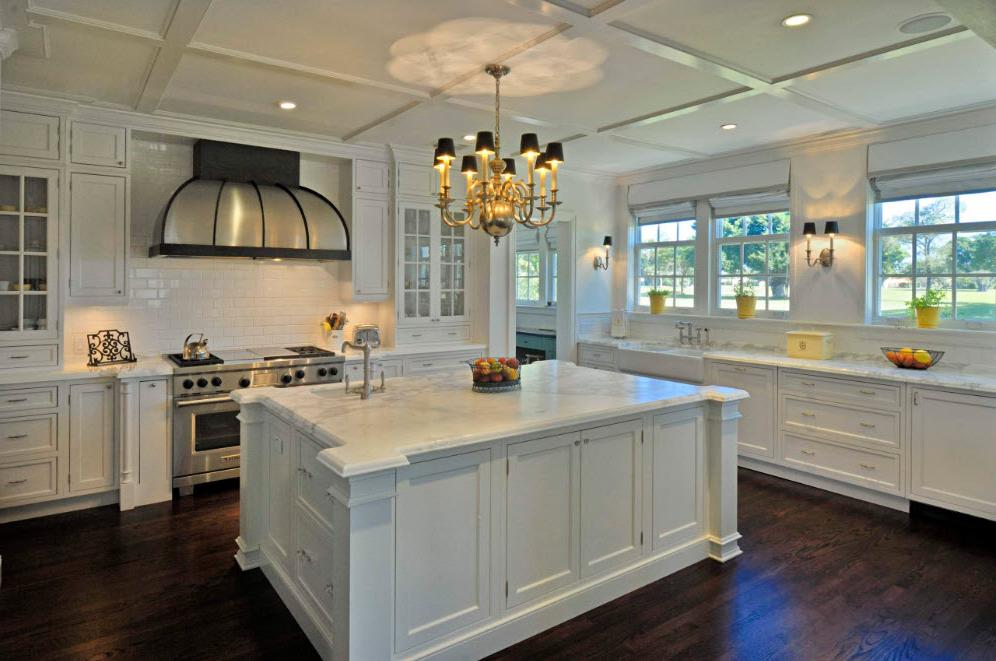 Absolutely gargantuan kitchen such as this can handle bigger more dramatic lighting. This time honoured kitchen design is very grand with all the traditional accouterments expressed in white. The chandelier on the other hand is a mix of dark shades and gold that casts a warm patterned light on the ceiling with the matching wall sconces doing the same on their respective walls. The design is traditional but when paired with the dark floors and extract hood a juxtaposition is formed between them and the white design that makes it something that little more special.
24. Divided Hemispheres Of Light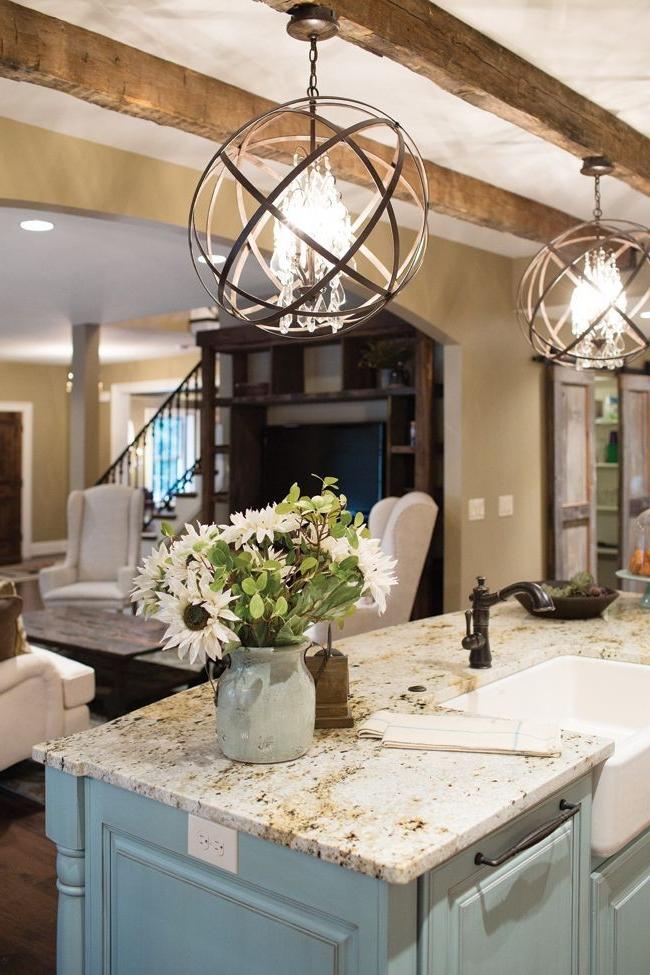 This pair of hanging chandelier is giving us rustic with a twist. A metal net at right angles to one another forms a series of hemispheres housing a ball of light created by glass hanging crystals that hark back to the traditional chandelier. The mix of textures created by the exposed materials stands out but coordinates with the eclectic feel of this kitchen setting.
25. Stained Glass Kitchen Chandeliers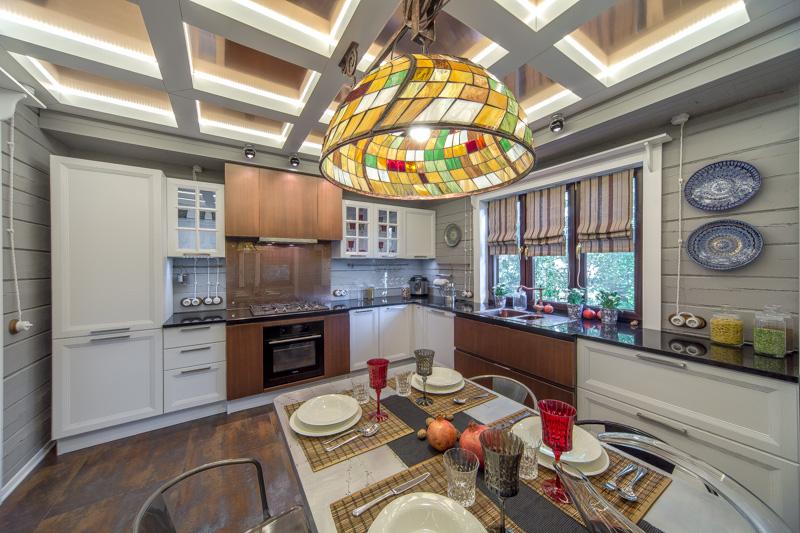 This rustic interior with its innovative cut out ceiling could have a myriad of modern lighting options to emphasize it but instead they've gone the vintage route. The choice of this colourful art deco chandelier over the dining table keeps the space feeling playful and homey while adding a venerable highlight at the centre of this dramatic webbed ceiling.
26. Quirky String Of Round Lights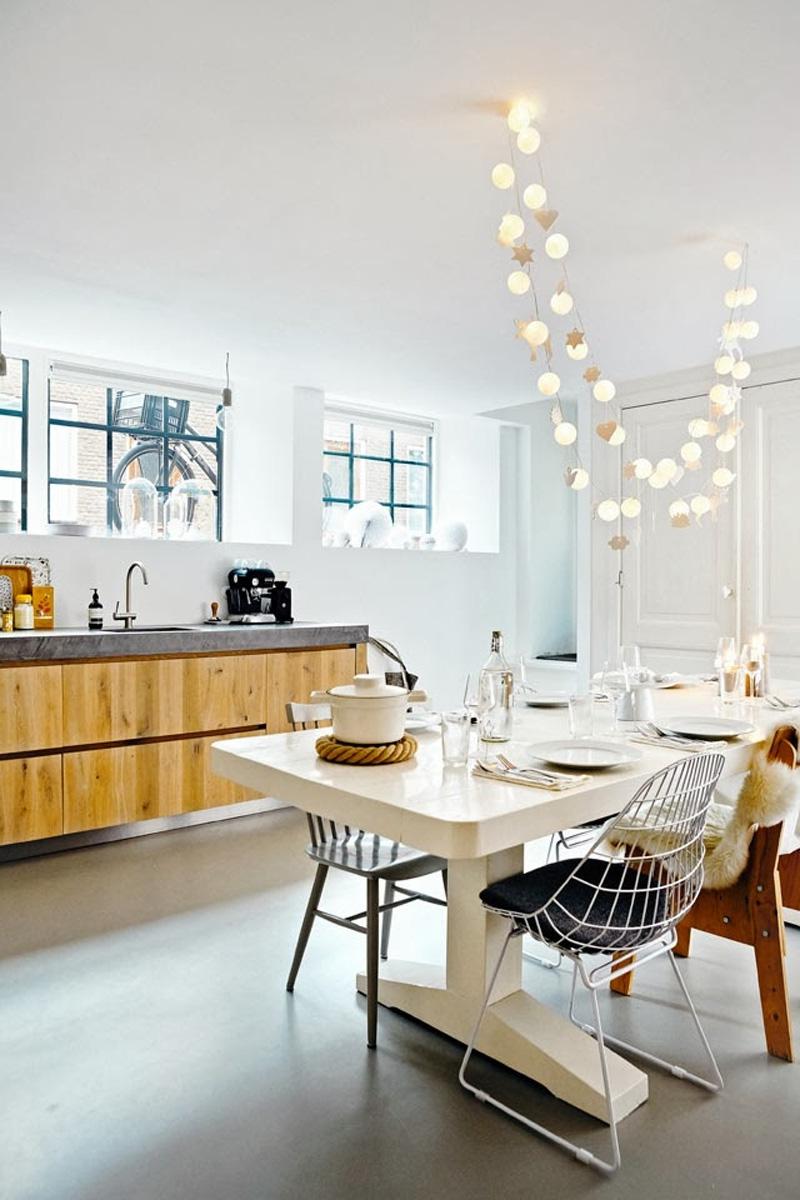 String lights are a quirky but trendy interior design style that can make spaces have a certain magical ambiance. The kitchen is no exception. The rest of the materials have been left exposed for painted stark white so the soft and glowy light and texture the string of lights brings to the room really stand out. The look, materials, colour and texture of these lights can be changed up as your tastes and kitchen design evolve. This is a style of lighting that is simple to DIY so you can dictate where you want your dining table rather being limited by existing light fittings. All you need is a few hooks for the ceiling and a cute set of lights to hang in whatever way you please.
27. Twin Hammered Copper Hanging Lights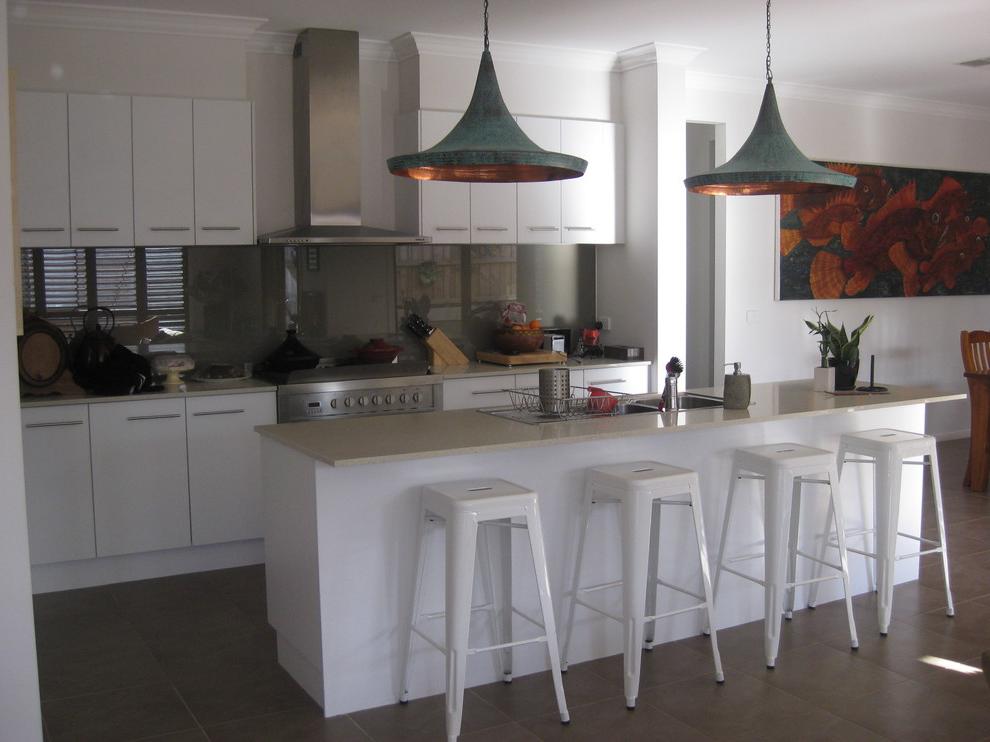 Copper is an unusual statement material for hanging lights that can be used to great effect. Rather than making the traditional chandelier shape out of this material this design has chosen to show off its properties in a very unique set of hanging lights. The oxidized green exterior and polished, reflective interior shows off the material's properties while also reflecting the light down onto the kitchen island. Their colour and tagging-like shape make them a feature of the room.
28. Let's Get Twisty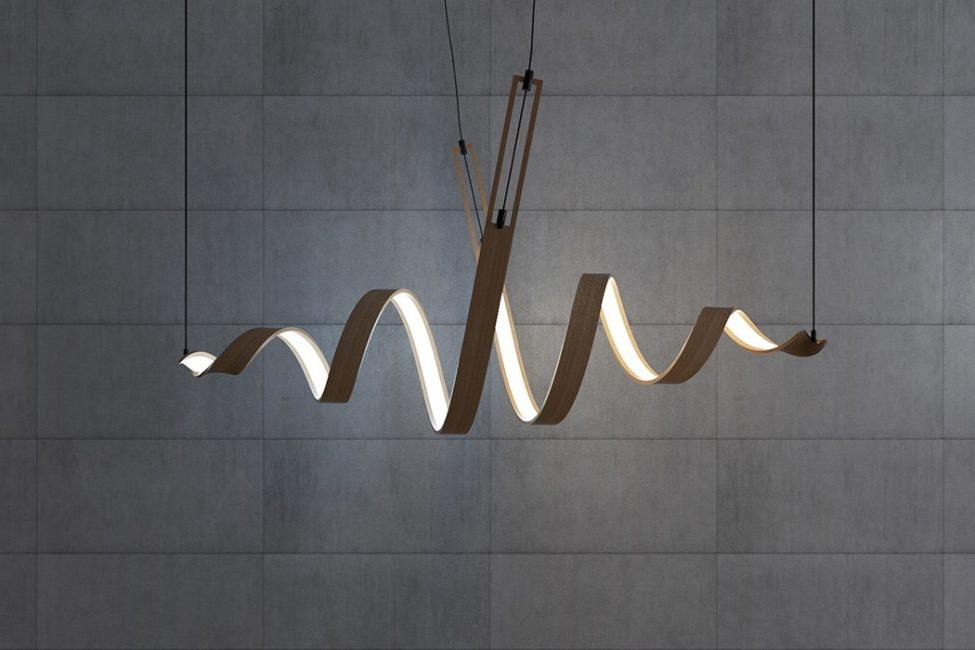 This kitchen chandelier is a piece of illuminating sculpture. It is formed by a strip of LEDs that has been wrapped around paper thin timber cladding and twisted to form the spiral of texture and light hung by the thinnest of wires. Its shape means the shafts of light shine in waves across the space. A lighting choice like this makes your chandelier the central highlight of the room.
29. Knotted Rope Rustic Kitchen Chandeliers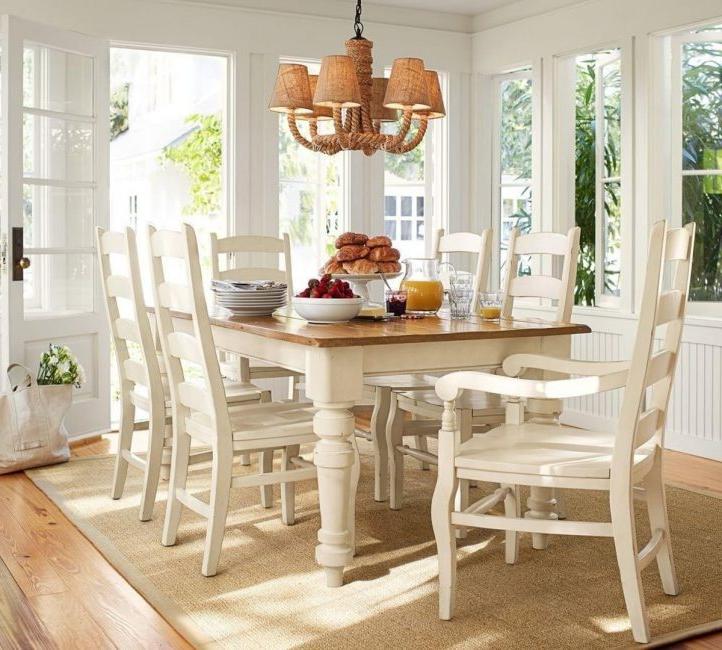 This rustic kitchen dining space is another example of a kitchen interior that contrasts warm wood against white wall and furniture. The natural textures from the wooden floors and table as well as the woven rug are brought into the design of the chandelier, which appears to be made of a knotted umber rope. The lamps themselves seem to grow like mushrooms out of the twisted rope core with caps made of a similar natural fibre. The whole effect is quirky and homely and compliments the airy kitchen with ease.
30. Novelty Hollowed Cork Chandelier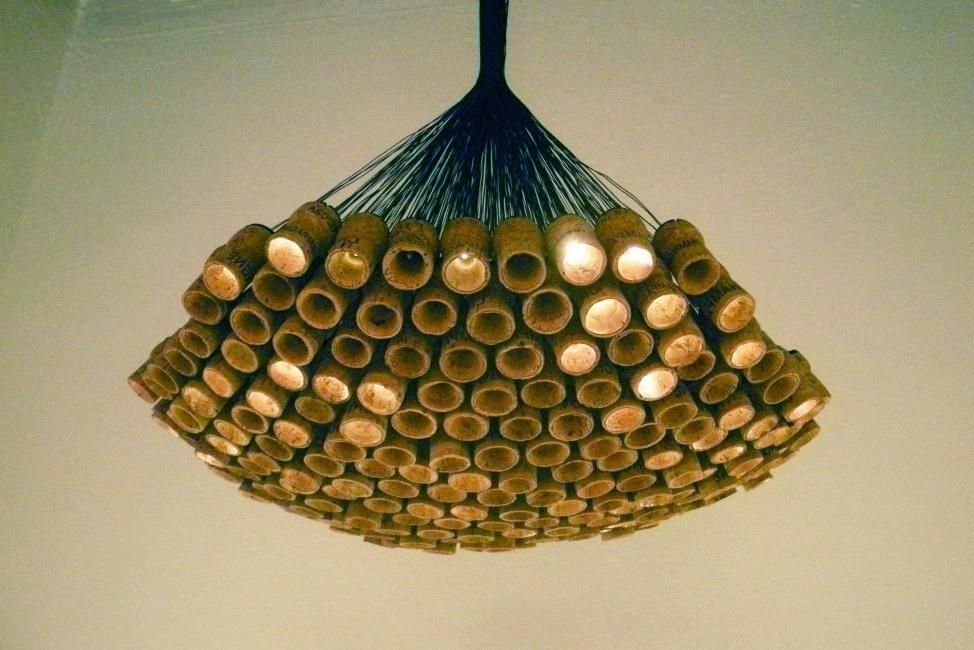 If you're a wine fan this upcycled cork chandelier is a fun, unique way to express your passion in your décor in a stylish way. This is also a chandelier you could easily DIY from your used corks. The material is super soft so you can simply drill a whole through the centre of each one and run a small light bulb and electrical wire through the holes. The resultant cluster of corks becomes a mass of little spotlights. The fine electrical wires form a hive of detail where the congregate which is a nice extra touch.
Conclusion
These striking examples prove that kitchens are, in fact, the perfect places for chandelier lighting. They add something a little more special than the traditional, boring down lighters and serve to uplift a space that we can sometimes see as merely a source of food. By picking lighting that is so statement it shows that your kitchen is a priority, the beating heart of your home.
Chandeliers can become hanging works of art in their own right and create an ambiance that draws people to it. They can be made of a limitless number of materials from glass and metal to wood and ceramics; the design itself dictates the material which makes these ideal for adapting to fit any kitchen from homey and traditional to stark and modern.
So don't be shy and use your kitchen's lighting make this room a gathering place, a statement and as a moment of self expression based around food and family.