A garden is not a garden without a plethora of exuberant colors sprawling in its verdant foliage – and flowers are natures best color palate. Strewn across a patch of green in haphazard fashion, or carefully planted in neat rows and grids, flowers make for an alluring charm that is not only beautiful, but in complete symphony with nature as a whole – with minimum casual, and manmade interventions. Over history, people have been fascinated by flower gardens – their undiminished beauty, and appeal a thing to admire, and here, in this article, we would be discussing 12 unique flower garden ideas that would raise your decorative aesthetic bar by more than a few degrees.
1. The Rock Wall Treatment
If you're big on the natural aesthetic, then using flat stones or flagstones to create a feature landscape wall in your home garden is a definite must. There are a lot of design opportunities to be explored when it comes to these featurette – and when you combine dangling vines, and creeper plants ladled with bunches of beautiful flowers with the edgy rockery of an artfully constructed rock wall, then you've got yourself a keeper. For this purpose Bougainvillea bushes are the best – just carefully plant those behind a wall of rocks, and arrange them meticulously over the walls when it starts to grow.
2. A Splash of Color
Most gardens come with a uniquely organic look, while some reflect the pure, uninhibited beauty of a meadow. Colors effect human psyche like nothing else – they control your appetite, your mental capacity, the ambiance that your mind comprehends, and much more. Similar to every other aspect, a refreshing look at the landscape design while keeping color psychology in mind could make for a serene outlook for the entire garden. You could plant clusters of petunias, pansies, and rose bushes in standard rose, and spring would set your garden in an exuberant bloom.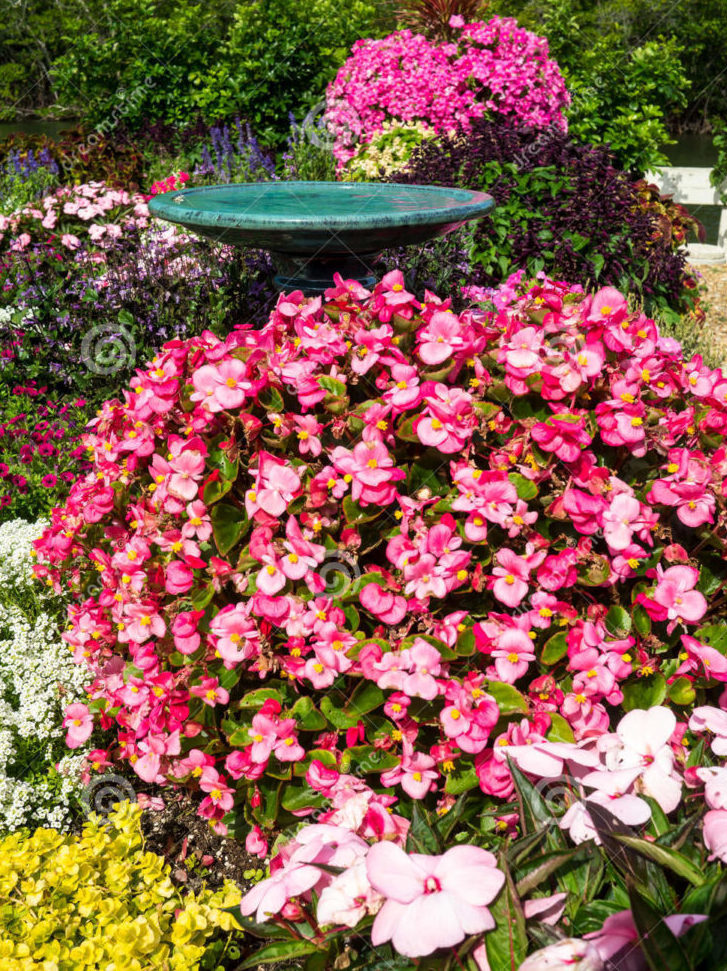 3. A Trellis Garden
If you want some ivy action in the front or backyard, then constructing, or installing a trellis in your yard would be the best course of action. A sensibly crafted trellis, strategically covered with the best of flowering vines would make for an appealing aesthetic that brings in a visual cadence which would make your yard quite picturesque. Hanging a few feet above ground, and loaded with beautiful flowers, the trellis treatment would make an alluring scene.
4. Border Rocks
Borders and boundaries are one of the most underrated concepts in any design form. A nice seal line can encapsulate, and enhance the beauty of almost anything – be it a garden, or an organic building form. So when planting a flower garden, make use of the concept of bordering – line your flowerbeds with rows of all kinds of rocks – pebbles, flat stones, etc., to assimilate the adjunct beauty of the flowers with a little bit of restraint.
5. A gravel Pathway
A nicely rounded gravel pathway snaking in between a plethora of flowers would make for a distinguished landscape feature. The utter contrast of the materials – small chips of grey, white, and brown, against the buoyant colors of the flowers would make for a dissimilar, yet contrasting feature that would set your garden apart. The visual break would be a necessary element, and would act as a natural barrier between the merry set of flowering plants against the adjoining, slightly earthy tones of the gravel.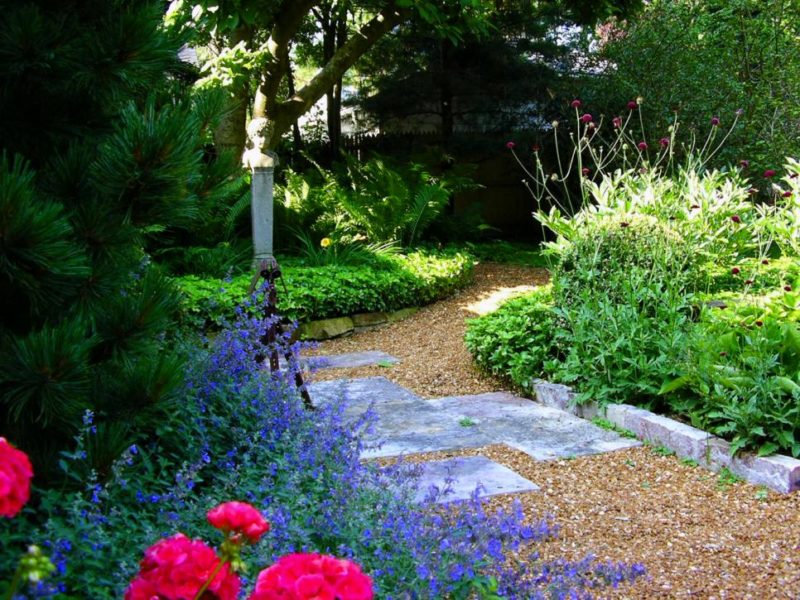 6. Planter Boxes
One of the most ubiquitous element in any garden space are the planters. There is a wide variety available all over the market – from brown terra cotta pieces that come in cheap, and inexpensive, to the costly moldings of granite and marble; all according to your budget – planter boxes filled to the brim with bouquets of flowers make for beautiful catchments when it comes to decorating gardens.
7. Levels
Playing in levels creates an interesting dynamic in spatial amalgamation when it comes to proper landscape design. In a single level, things become placid, and uninteresting, but leveling it up or down is a clever way to displace all the alleged 'boredom' out of a garden. The subsequent leveling up and down of flowerbeds makes for an interesting feature that has not yet become a custom, and is a relatively newer trend.
8. A Featurette
Every garden needs a focal point – an attraction that would captivate the eye, and keep it there at least for a few seconds. For a garden brimming with the buoyancy of flowering plants, an organic, or flowing touchdown would make an alluring featurette – it can be in the form of a sculpture, or a fountain, or a combined synthesis of both.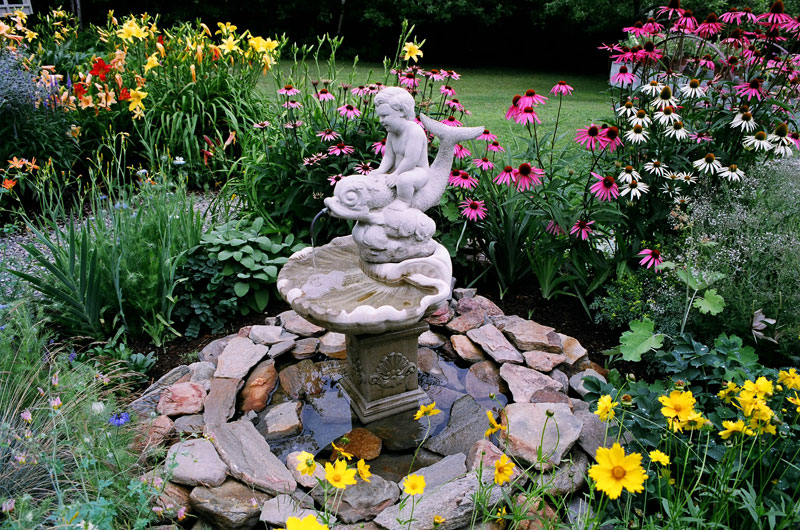 9. Minimalize
If you want to keep the flowers to a bare minimum, then the rock garden philosophy would be the best way to go. Clear out all the clutter that comes with foliage, and set it down with low blooming flowers in strategic places, and an abundance to meticulously placed rocks, and you've got yourself a reserved, yet beautiful garden piece.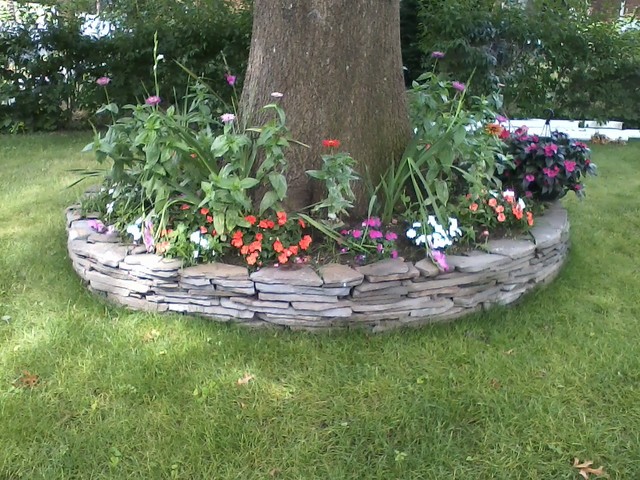 10. Flowerbed Footpath
Another way of maximizing a carpet of green, and accentuating the flowers is by keeping the blooming affair in a restrained capacity. A nice way to do that is by designing a flowerbed next to a concrete foot path on one side, and a bed of grass on the other. It would highlight the beauty of all three elements by virtue of clever contrast.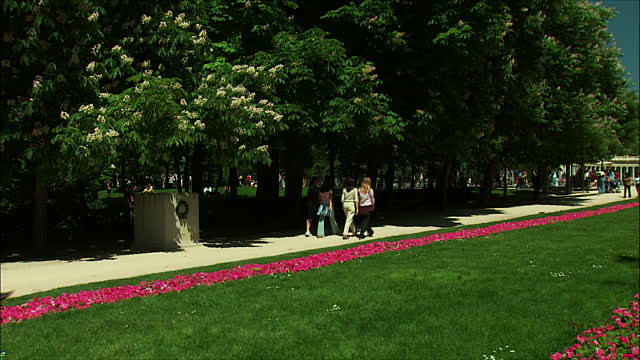 11. A Seating Plan
A nicely placed seating area amongst a bed of flowers is a clever idea to make a relaxing spot in a garden. Just layer up the flagstones to create a natural, yet edgy patio, and place your furniture on top.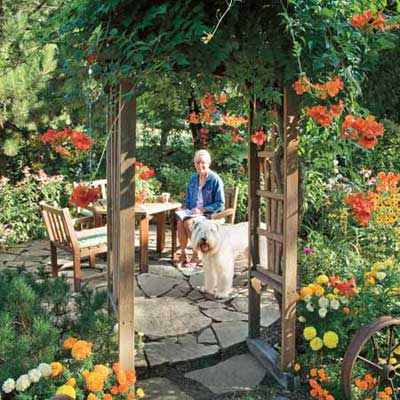 12. Water Feature
One way to enhance the beauty of a flower garden is by contrasting the merry disposition of the flower beds with an appropriate break – and what would be better than a creatively inspired water body. It would give the aura of your very own meadow, and the soft gurgle or lap of the water would create a soothing affect.
READ ALSO
10 Awesome Flower Garden Design Ideas
15 Stunning Garden Patio Ideas
Best Flower Garden Ideas For Your Landscape
Backyard Landscaping Ideas On A Budget