Ceramic tiles are a finishing material that has been around since ancient times and there is reason for that. Do you think it's by chance that archaeologists have discovered ceramic pots and mosaics for centuries? Nope! The reason for this is that ceramics, especially in with a glazed finish, are very hardwearing and resilient, which makes them ideal for hardy wall and floor coverings.
31 Glazed Ceramic Tiles for Every Part of Your Home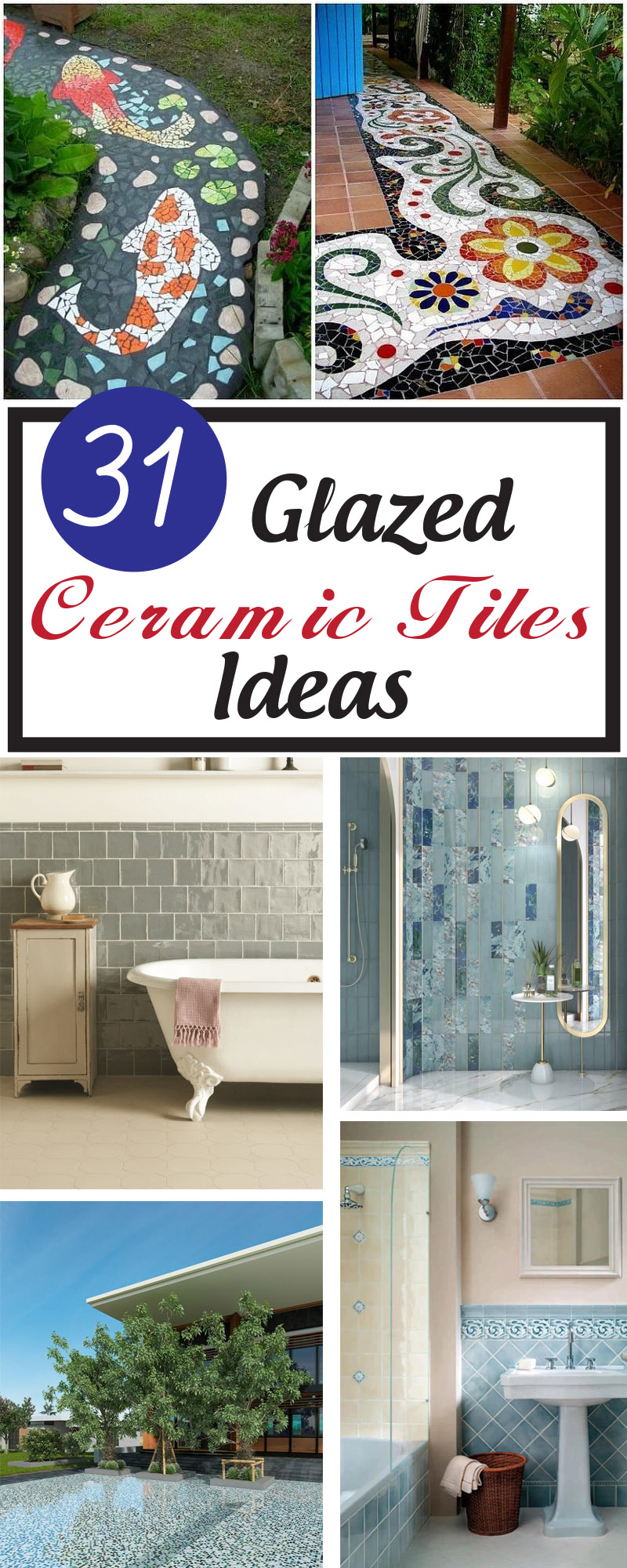 Glazed ceramic tiles can be used anywhere from the floor and walls to pathways and decorative pieces, even inside swimming pools! Their glazed surface makes them water resistant, easy to clean and able to withstand constant traffic for years without maintenance. Whether it be for a mosaic or more practical settings tiles come in an innumerable number of shapes, sizes, styles and finishes do you can tailor your tiles to fit your home and their use easily. One style that has become very popular in recent years is subway tiles, which we will see on a number of occasions in this list. These are brick shaped short rectangular tiles that has a slight three dimensional surface that run horizontally in the same manner that brickwork would. So named because of their use at wall coverings in subway stations, these tiles have found their way into our homes to create a very urban and stylish look.
So if you want to learn more about how many ways you can use tiles here are:
1. Decorative Mosaic Pathway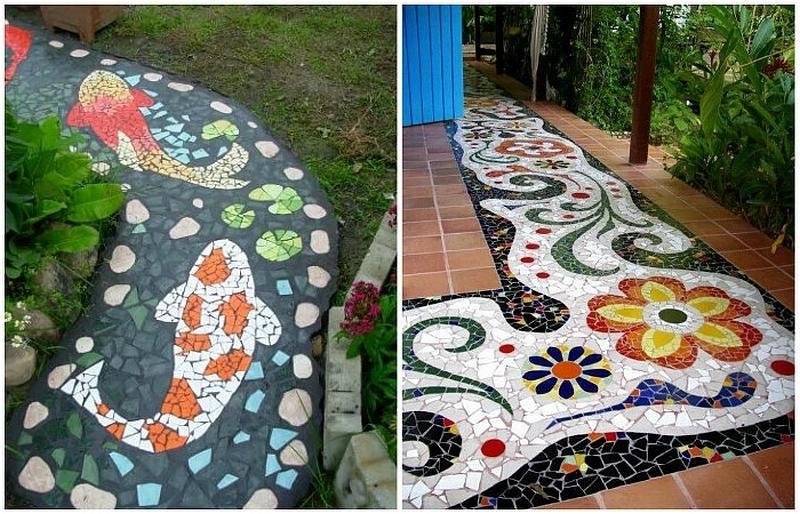 These two stunning pathways show how a mosaic ceramic mosaic can beautifully transform a path from something pedestrian and forgettable into something more special. Depending on your style you could choose to go with some gorgeous patterns or even actual images like the large koi fish swimming along the path on the left for something more fun. A piece like this could executed by an artisan or you could even try your hand at DIYing a more simplified version using recycled broken tiles or ceramic glazed plates. This pair of lovely pathways also helps prove how well glazed tiles work both outdoors and in.
2. Embossed Ceramic Tiles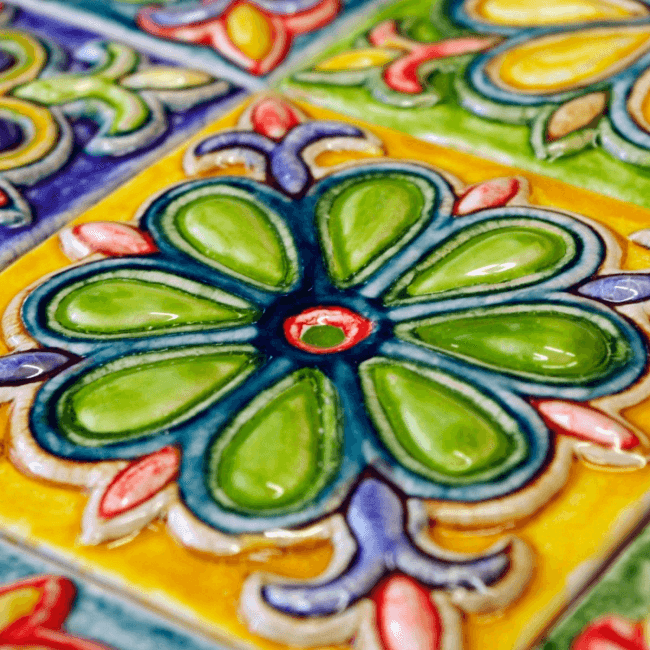 Choosing to design using glazed tiles doesn't restrict you to flat surfaces. Some artisanal ceramic tiles can be created with raised patterns that are often hand painted to emphasize the beautiful imagery using a host of coloured glazes. This style of tile is more suited to settings like walls or tabletops rather than a floor as they can be harder to clean.
3. Multi Layered Wall Tiles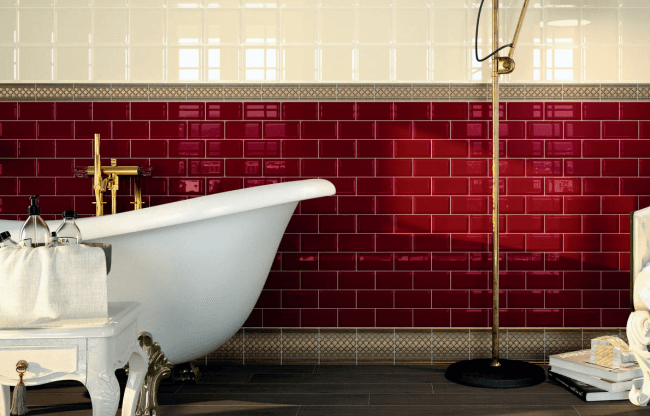 This beautiful contemporary bathroom has used a series of different wall tiles in different patterns, shapes and colours to create this stunning layered design. It starts at the bottom where square patterned tile form the skirting boards. Above that runs glossy red subway tile that contrasts pleasingly with the white tub. The dado rail has been formed by a thinner version of the tile that makes up the skirting to tie in the pattern once more. The top tier is rendered in square white tiles with a reflective surface to finish off this chic look.
4. Uneven Square Tiles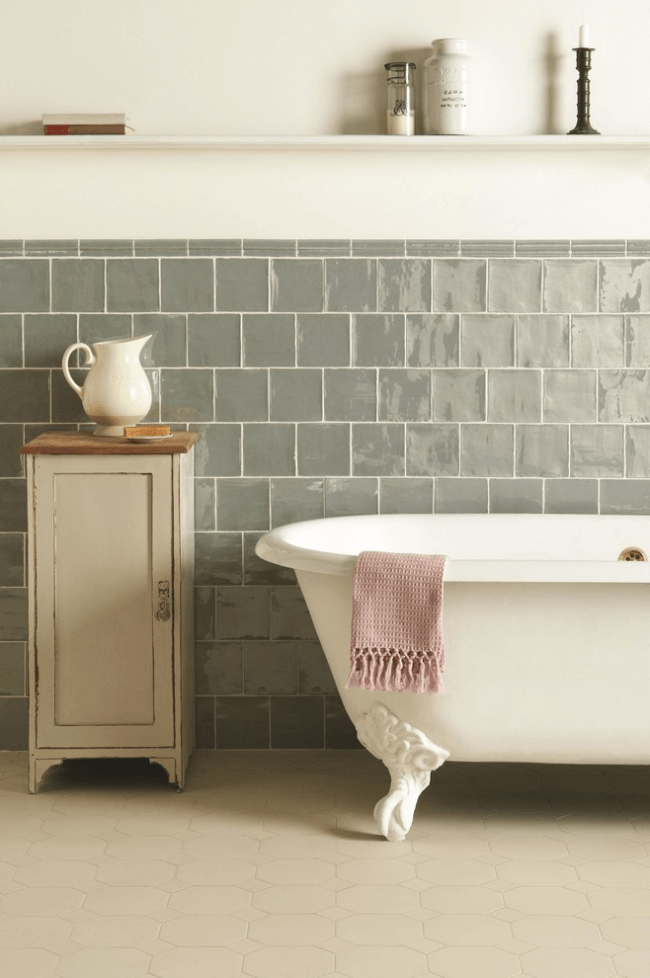 In purely neutral tones this bathroom has juxtaposed two types of tiles on the floor and the wall to create this chic minimal space. The tiles on the floor are a pale beige hue in an octagonal in shape for more visual interest. The wall tiles that run halfway up the wall are square, cool grey tiles with a surface that isn't flat. The slight ripples on the surface combined with a high gloss finish creates an interesting texture when the light hits them and takes a plain grey tile to the next level.
5. Patterned Blue Wall Tiles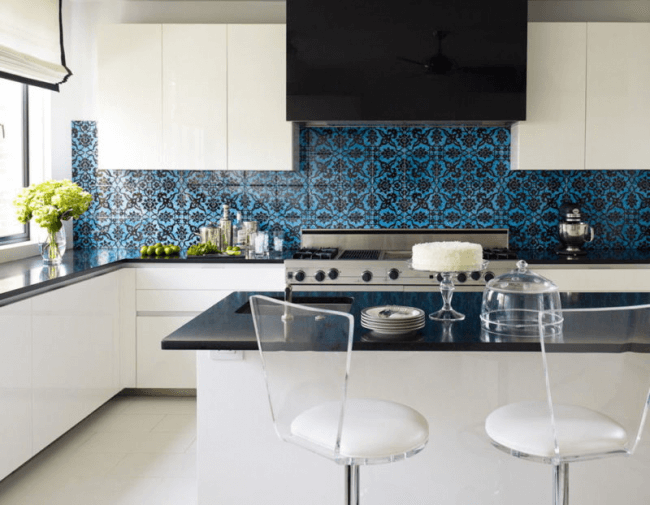 This modern kitchen has plain white glazed floor tiles but the real showstopper is the brightly coloured wall treatment that shows of the material decorative side. The tiles across the walls have a swirling pattern work in two shades of blue that has been created by carefully placing the tiles together to create this repeating, intertwining pattern. The dark blue tiles contrast against the stark white cabinetry to create a beautiful eye catching feature that brings more fun into a modern kitchen.
6. Patchwork Tiled Bathroom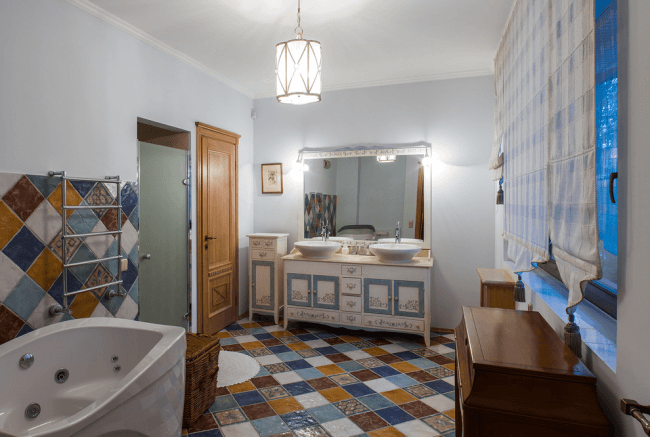 This quirky shabby chic bathroom with its vintage dresser and wooden furniture is a unique style that is reinforced by the tiles that looks like a patchwork quilt and matches the aesthetic easily. The little square ceramic tiles that run across the wall behind the bath and on the floor wrap the space in a patchwork created by squares in five different shades with the odd patterned tile thrown into the mix. All of the furniture and the tiles combined makes this space unique and shows off tile in a more rustic setting.
7. Elegant Rectangular Bathroom Tiles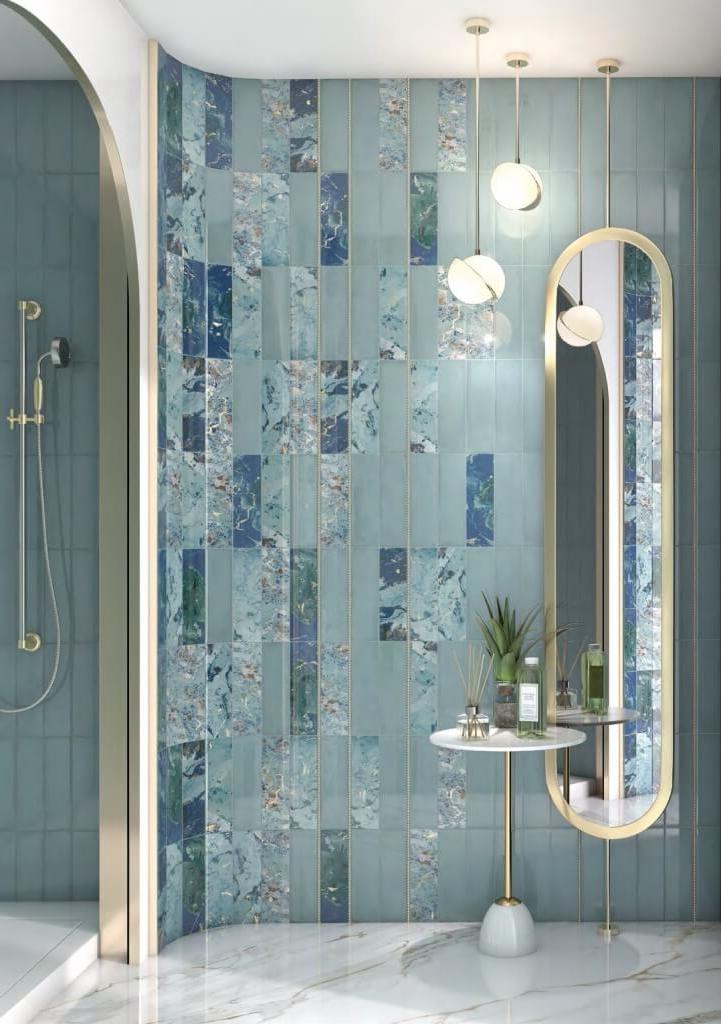 This stunning contemporary blue and silver bathroom has curved walls that would usually be painted due to how hard it is to cover a curved surface. Here however the curved wall has been faced in thin rectangular tiles that accommodate the curve easily and look gorgeous into the bargain. The wall is a modern patchwork of solid and patterned teal and blue tiles that mix it up and add some sophisticated texture. The long thin mirror has been added as an accessory to continue the long vertical style that this bathroom has going on.
8. Chessboard Floor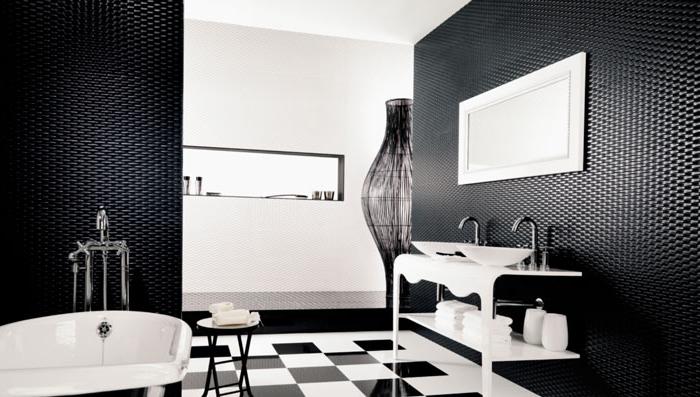 This luxurious bathroom is very graphic and modern with a completely black and white colour scheme that has been brought together with the chessboard floor. The floor tiles have a very high shine finish that adds to the almost futuristic style bathroom. This is a very classic floor design that just seems to never go out of style. The floor tiles have been paired with a textured black wall treatment to really make this bathroom stand out as a design that is truly one of a kind.
9. Shiny White Subway Tile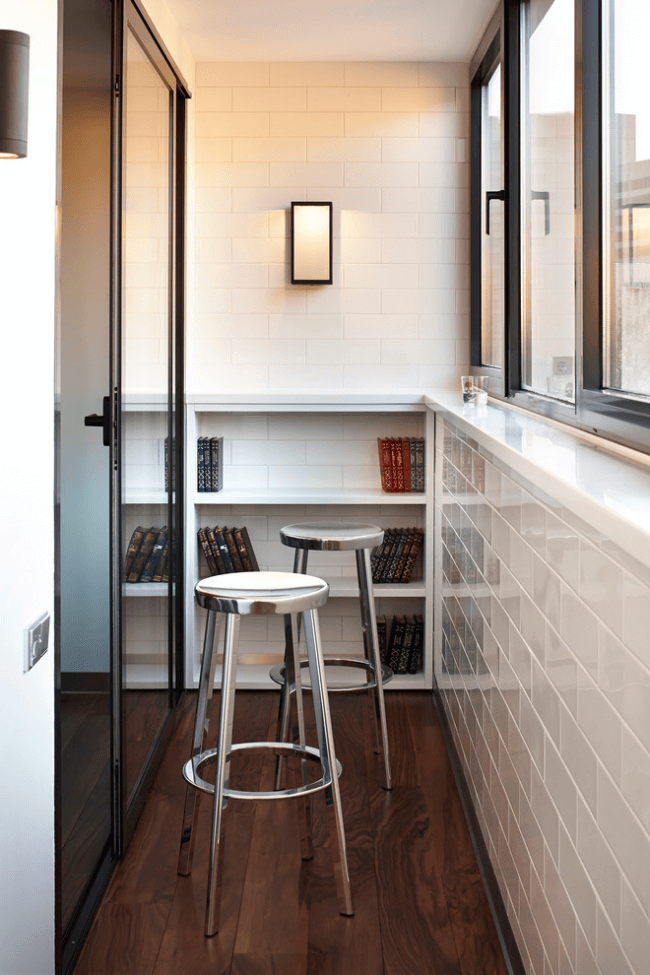 This narrow conservatory space has been made into a calming little space in your apartment to get some sun using an appealing bright design style that makes the space look bigger. The walls are faced in glossy layers of white subway tiles makes the space feel contemporary and bright especially when combined with the wooden floors.
10. Rustic Tiles for the Floor and Walls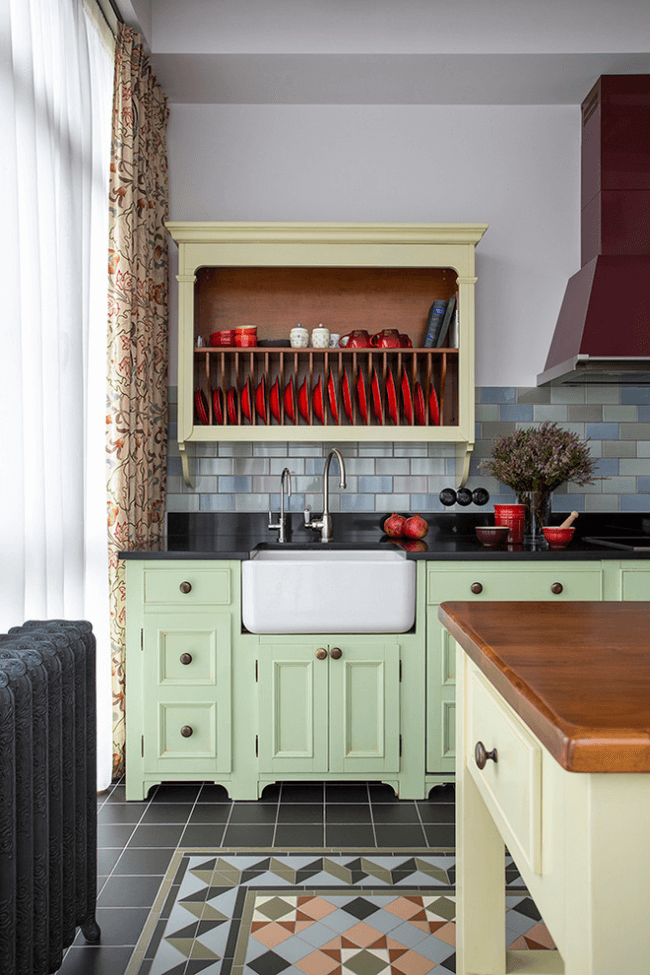 This rustic kitchen has used two different styles of glazed tile to amplify this gorgeous space. The wall tiles are thin horizontal rectangles in various shades of muted blue that run up to the hood of the stove's extract in a shiny finish that also doubles as a splash back for the sink. The floor, on the other hand, has used matte tiles to create this beautiful Italian inspired floor design. A frame of black square tiles encircle a rectangular mosaic in a distinctly rustic style that runs under the kitchen dining table. The mosaic is made up of a limited colour palette of earth tones that create a repeated pattern across the floor with a blue and green rim running around it.
11. Gorgeous Floral Mosaic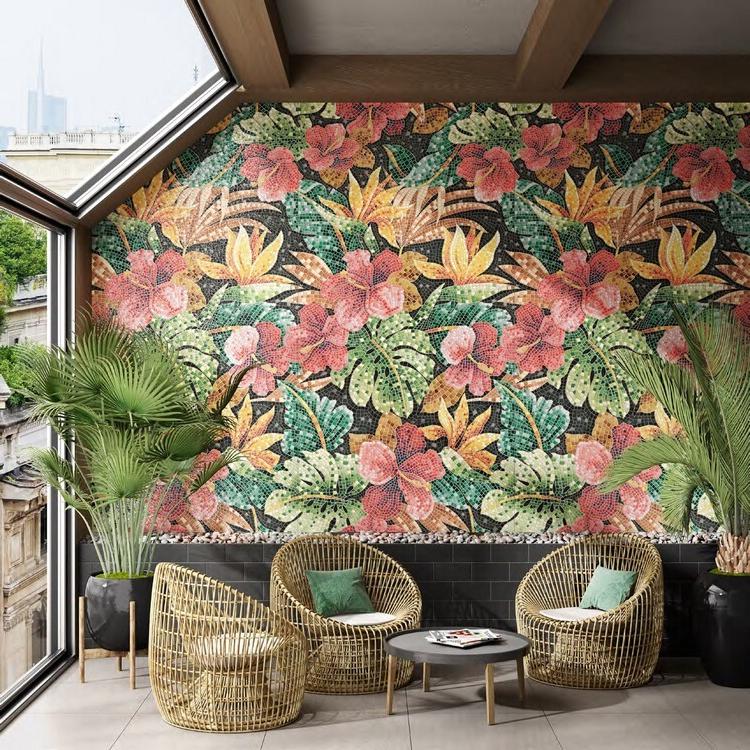 For any customer based business it is important to stand out and this stunning full wall mosaic in this gorgeous location is a great way to do it! A true artist who has meticulously placed these tiny little multi coloured tiles to create this completely unique piece of art right there in your space. The tiled mural is underlined by a base of black tiles that run along the bottom of the floral design.
12. Glazed Ceramic Basin Set
This basin unit is a gorgeous, entirely ceramic design that incorporates the basin, countertop and the spout the water flows from. The whole design is a richly detailed blue and white design in dizzying patterns that change according to the location it is in. The bowl of the glazed basin is filled with floral patterns with rings of patterns running up to the top of the bowl catching the water that spills from the glazed spout. The final little flourish is the triangular pieces that surround the bowl to create a star pattern across the countertop.
13. Matte Grey Tiles From the Window to the Wall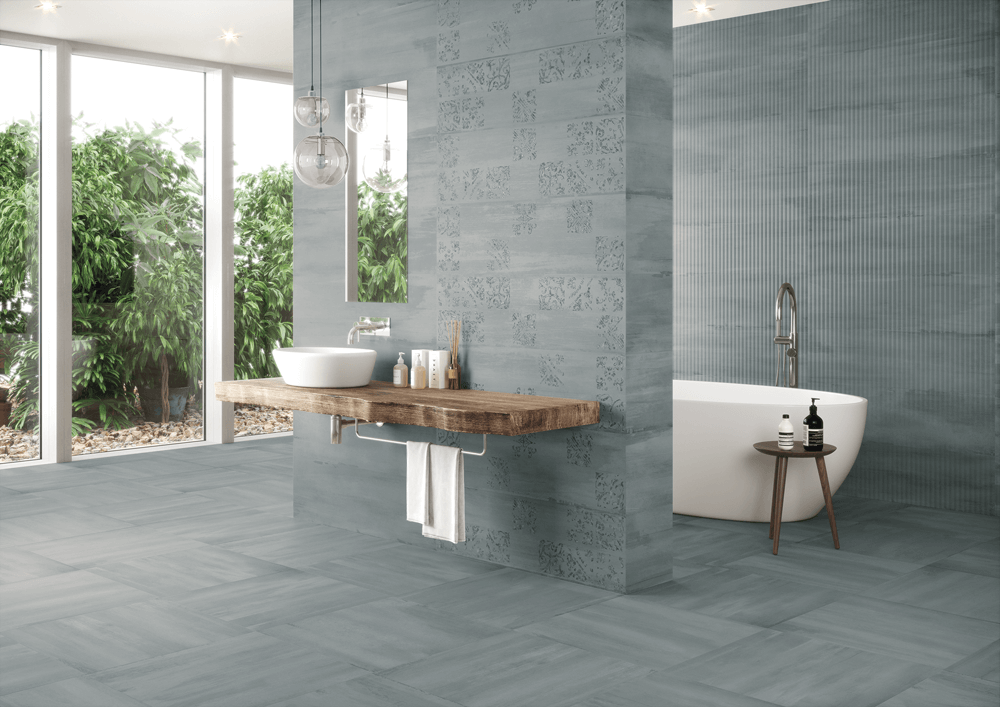 The entirety of this modern bathroom has been cloaked in an almost seamless looking grey tile. The tiles have a matte, smooth finish with an uneven almost watercolour like play of grey across the surface. Squares of this finish cover the floor with larger rectangular tiles on the walls to change up the look slightly while remaining very homogenous and strictly coordinated.
14. Matte vs Gloss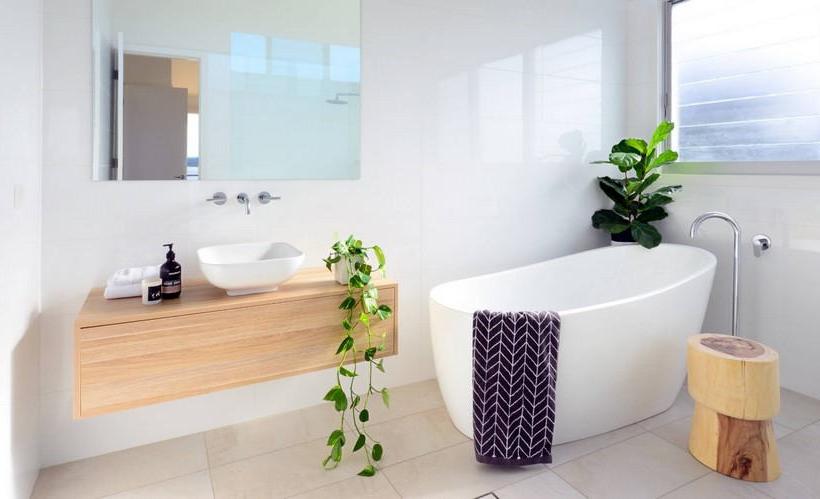 This minimal bathroom is white with wooden accents that use ceramic tiles to push home the modern style. The floor is covered in rectangular cream floor tiles in a matte finish while the walls are faced in very large white tiles in a high gloss finish. The look is really effective and creates an even blank canvas for the tub and other bathroom furniture to stand out against.
15. Stylish Contemporary Bathroom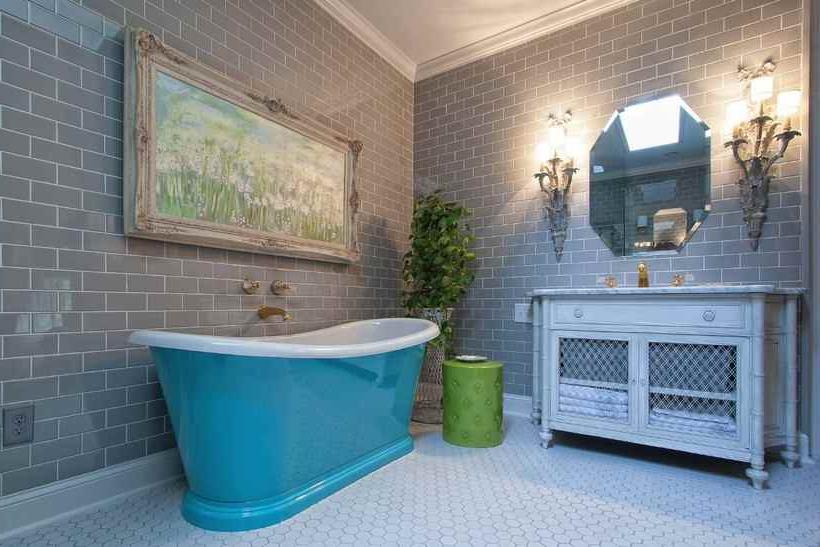 In a supremely rustic style, this bathroom uses two different styles of tiles to create a beautiful amalgamation of patterns. Small hexagonal white tiles make up the floor creating a rich pattern that leads you across to the bright blue bathtub. The walls, on the other hand, are faced in high shine grey subway tiles that creates a neutral background that still manages to act as a main feature in this startling stylish contemporary room.
16. Fine Dining Room Pattern Work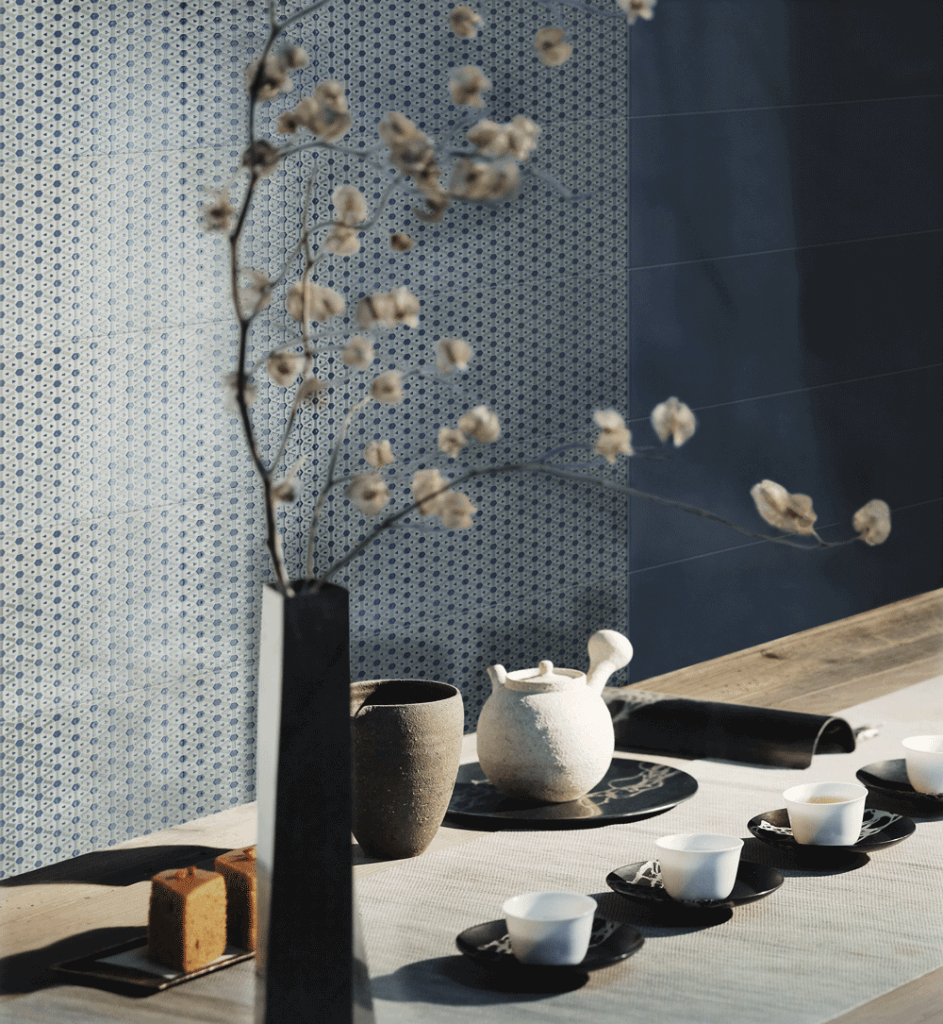 This gorgeous Asian inspired dining room has used two tones of wall tiles to create this sleek backdrop. The wall behind the dining table is tiled in long rectangular tiles in two panels. One panel is a solid blue grey hue. Second panel a really fine pattern of white and grey. Very small circles of grey held in a fine dark mesh.
17. Vintage Tiled Bathroom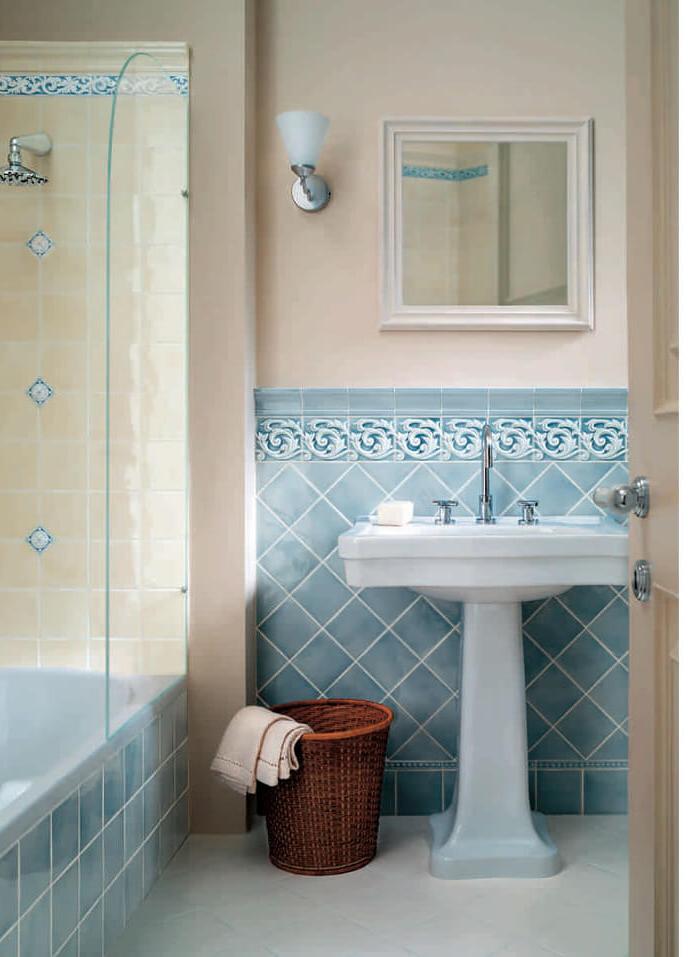 In this classic bathroom square patterns of colour washed blue tiles run from the skirting boards to just under the little mirror to create like a splash back behind the ceramic basin and along the wall of the built in bathtub. The pattern is slightly changed up with the tiles running horizontally on the bath and rotated 45degrees behind the sink. The top of the tiled portion is decorated by a strip of square tiles patterned with waves in a vintage style.
18. Stunning Asian Inspired Bathroom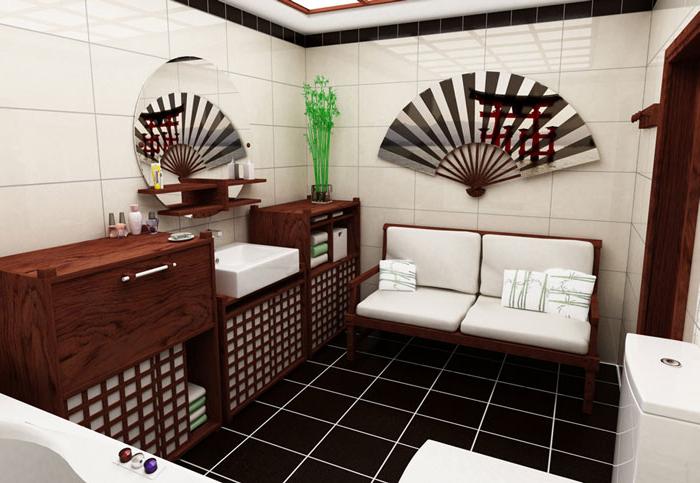 Again, this super modern bathroom uses different tiles across the walls and floor to create a strong sense of style. The tiles act as the monochromatic backdrop that contrasts with the wooden furniture. Square matte black floor tiles act as the solid base to the bathroom, anchoring the design in place while the wall is tiled in rectangular white high shine tiles that makes the space feel larger. The wall tiling is topped with black cornicing that ties into the floor.
19. Thin Modern Splash Back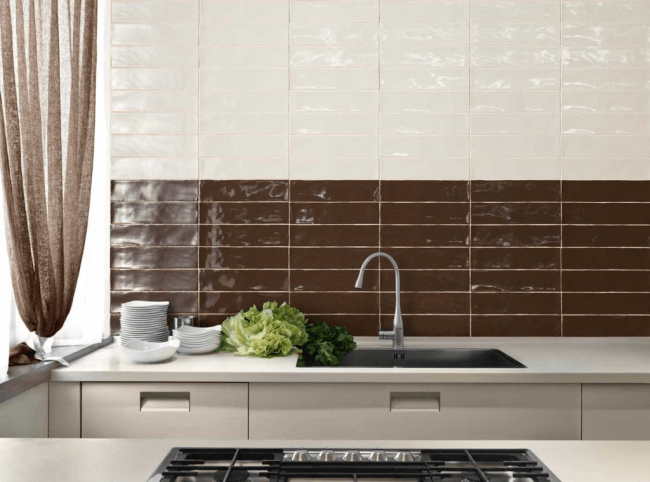 In this modern kitchen thin rectangular tile in long vertical columns that also run behind the sink to form a splash back. The even design is very elegant with the tiles with a strip of brown on the bottom with white at the top to add colour to the kitchen without closing down the space. The tiles are very reflective so they reflect the light coming in from the window across the surface creating a dancing, ever changing tapestry of reflections.
20. Luxurious Living Room Tile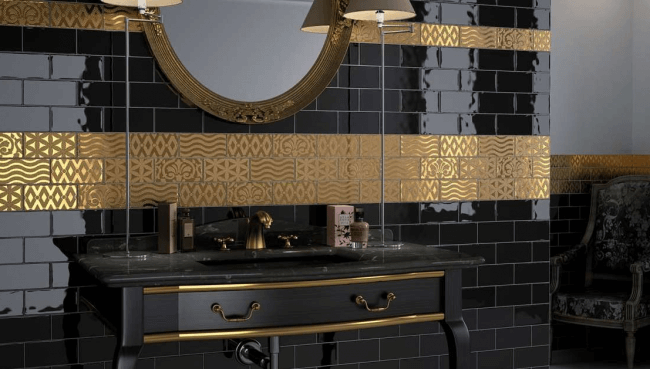 A striking tiled wall treatment in black and gold has been used to create this stunning feature wall. High shine black subway tiles run from floor to ceiling broken up by two strips of patterned golden tiles and one large gilded mirror. A little table sits in front and blends in with the look with the matte black table with strips of gold details.
21. Mosaic Patio Floor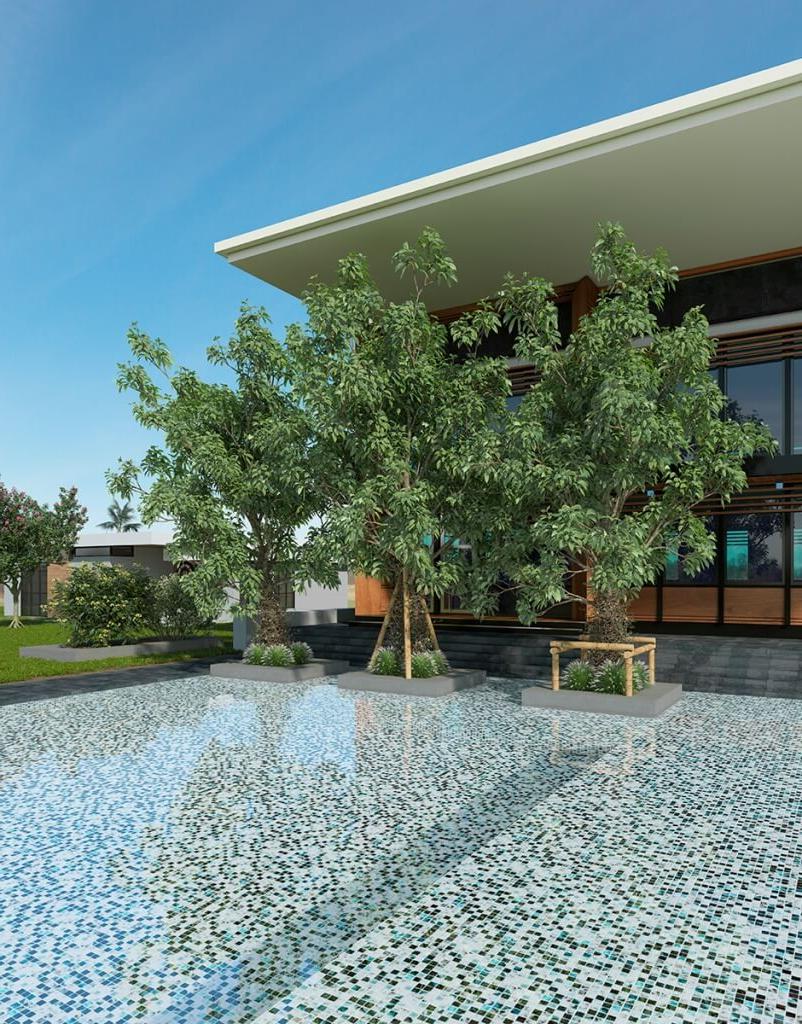 Ceramic tile flooring has been used in an incredibly decorative way outside outside this modern house. The stunning patio floor is formed by a mosaic of tiny square tiles in a limited teal colour palette to create a brightly coloured feature in the place of your average paving. Only the three trees growing out of three concrete squares close to the house interrupt the mosaic. This material is great for using outdoors because it's easy to clean but it must be specially treated to make it non slip.
22. Trio of Neutral Tiles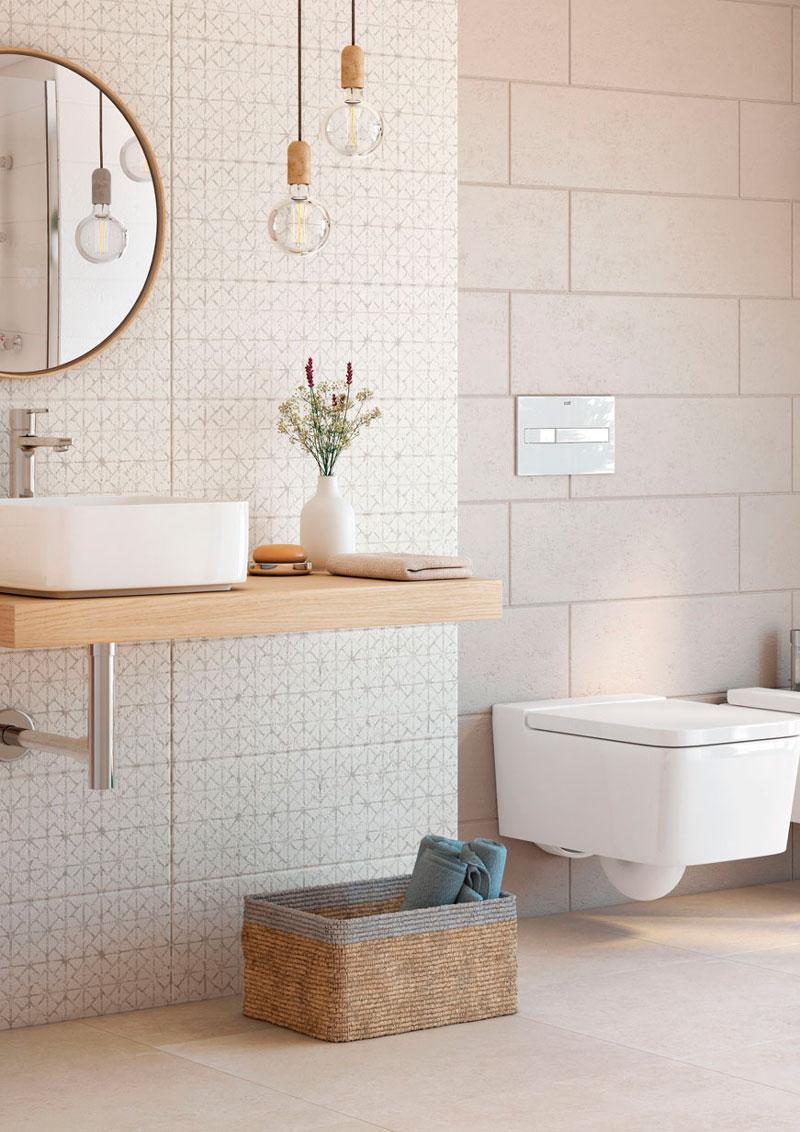 This seemingly minimal contemporary bathroom has, in fact, been carefully designed using different tiles to create a rich texture throughout the space. Large square beige tiles have been used on the floor in a matte finish while the recessed area for the toilet has a wall of sand coloured imitation stone tiles in chunky rectangles. The wall behind the basin and circular mirror has the most highly patterned tile that adds an even richer texture with its delicate beige pattern work running over white tiles. All three come together to create a space that is stylish and interesting.
23. Wacky Mosaic Sculpture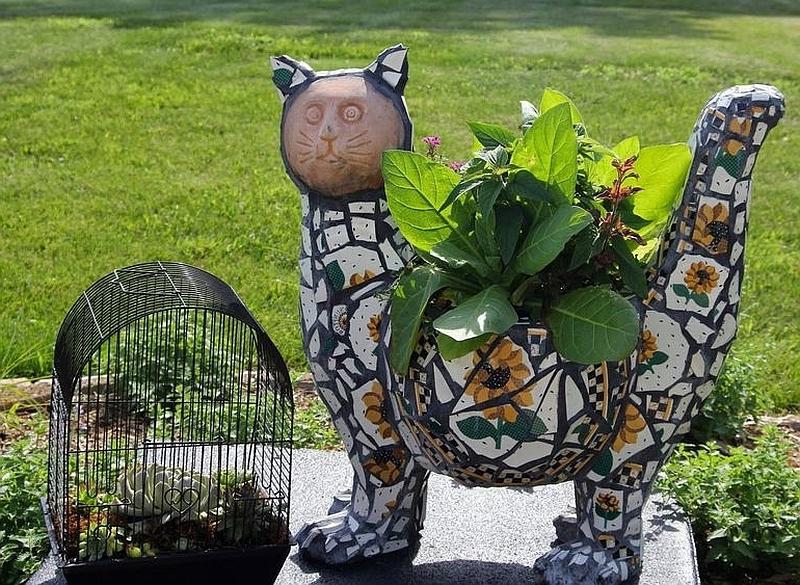 In a completely different angle, this weird little sculpture has been decorated in pieces of broken ceramic tiles. The shards gave been set into the plaster surface of this weird planter to update this piece, which would be easy to DIY at home. This style could be used to update and upcycle an old piece of garden décor to create a piece that more closely reflects you. The tiles here have been hand painted to decorate the surface with daisies and polka dots to finish off a piece that is quirky and truly one of a kind.
24. Speckled Pool Mosaic
Instead of the expected paving this pool is framed in a stunning blue mosaic made of tiny square tiles. The design has two tiers with the raised edge rendered in a darker and bluer colour scheme and the layer underneath in more pastel blue and neutral palette. In locations like these you must be sure to choose a nonslip tile to avoid any poolside accidents. The look is incredibly beautiful and helps to celebrate the outdoor space and motivate you to get outdoors.
25. Playing with Pattern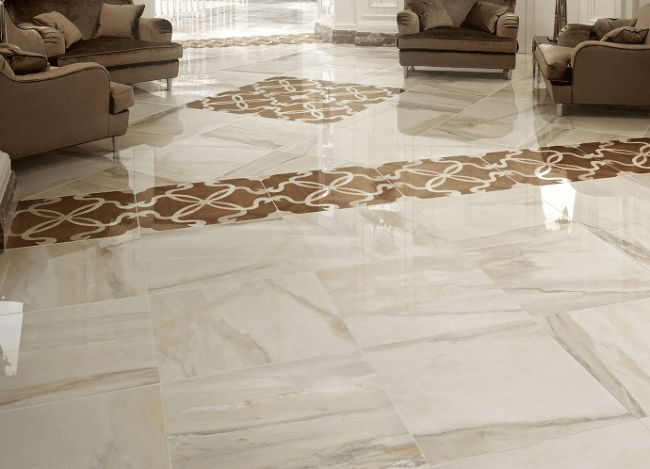 This is a great example of how to use two different high shine tiles to create sections in a large room and break up a large monotonous surface. Here the marble effect tiles run in rows before being interrupted by patterned border of brown tiles. Inside the border are more marble effect tiles turned at 45 degrees with a patterned square in the centre. This allows you to section off the lounge area and change up the space without having to clutter it with more furniture.
26. Olive Bathtub Tile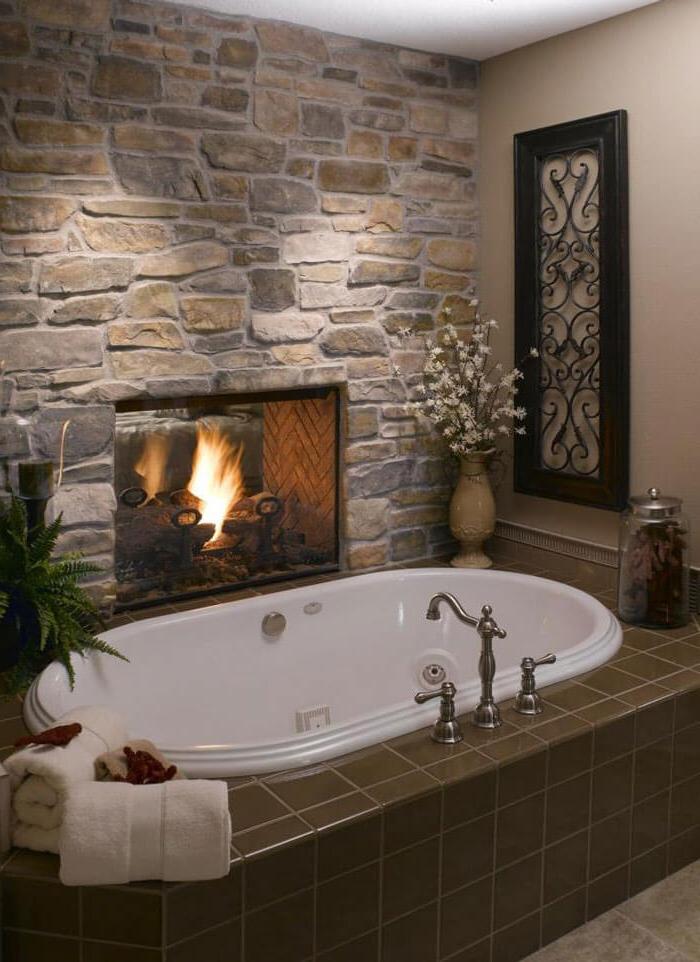 The focus od this luxurious bathroom is the built in bathtub in a glamorous location next to the stone faced wall and real wood fire. The white oval tub is surrounded by small square olive green tiles that run down to the floor, which is covered in stone effect tiles. The tiles encapsulate the tub entirely and go perfectly with the natural colour scheme that creates this luxury rustic spot.
27. A Riot of Patterns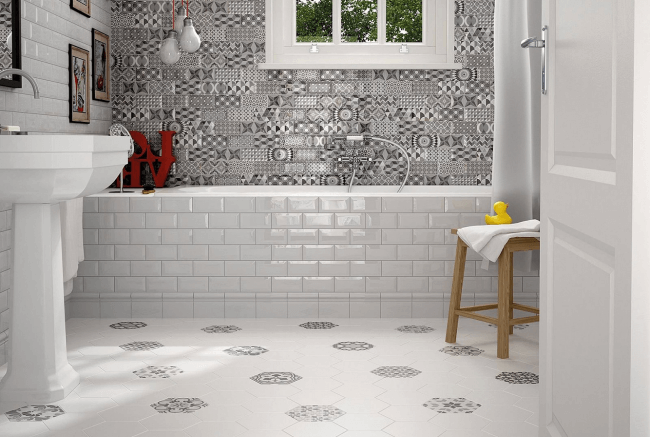 This bathroom has strategically used tiles throughout the space to create a riot of patterns across the room without a hint of colour. White hexagonal tiles are used on the floor with mandala patterns dotted across the surface. Running up the built in tub are some glossy white subway tiles that are slightly raised. The feature wall is the wall beside the tub that wraps around the window. The whole wall is made up of rectangular tiles adorned with graphic tightly packed patterns in black and white. The tiles are placed so the pattern is haphazard and s chaotic as possible to enhance its effects.
28. Vertical Teal Tile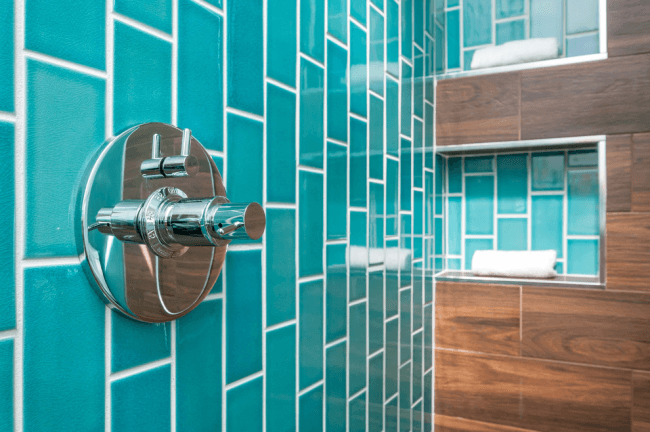 This tiled shower has switched up the look by running the tiles vertically. The little rectangles are a bright teal with white grouting that creates a pattern across the surface. The look is refreshing especially when combined with treated wood paneled shelves to the side of the shower. This material is ideal for a bathroom using in the shower because they are easy to clean and can be bought non slip for the floor.
29. Onyx Floral Ceramic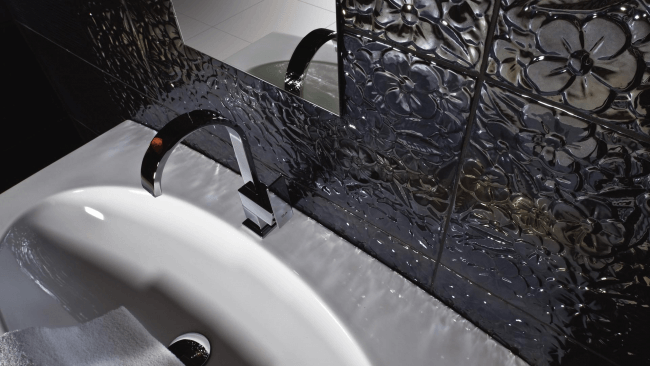 This modern bathroom has decorated using quite a kitsch pattern, which wouldn't usually work in this setting. Painting the tiles with waterproof solid glossy black paint has solved this problem. The paint that makes the floral pattern read as a beautiful texture across the wall. The rest of the bathroom has white floor tiles, and a white ceramic basin for a monochromatic statement. This is a style that could be easily DIYed to upgrade a dated bathroom using solid glossy colour without tearing apart your bathroom.
30. Pock Marked Bathroom Tiles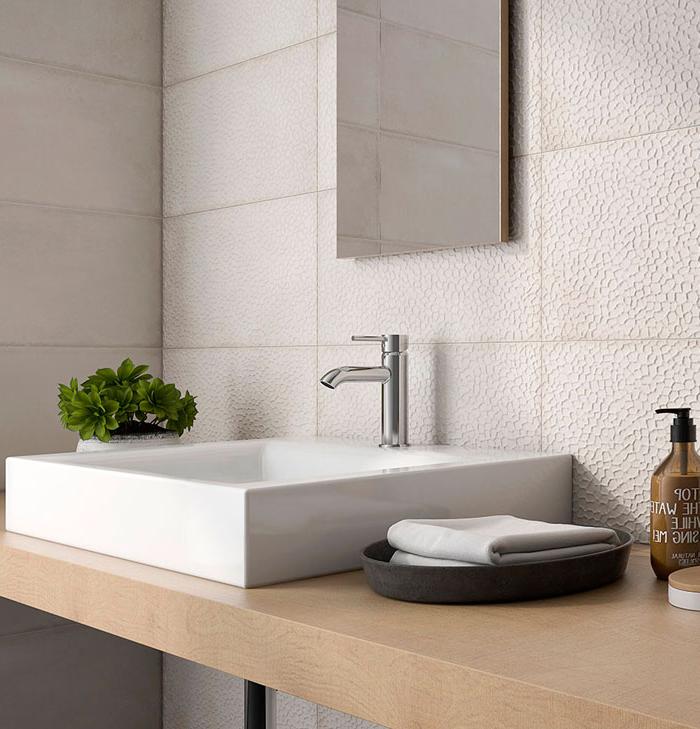 The walls of the bathroom are faced in large rectangular white tiles running horizontally around the contemporary space. These tiles have little impressions across the surface to create this bubbly texture to make the monotonous walls more interesting. The shallow basin itself is also ceramic but shiny and smooth to contrast with the wall.
31. Textured Kitchen Wall Tiles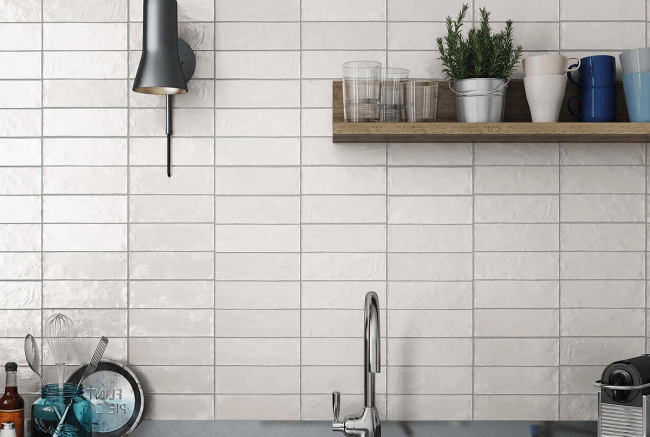 Using the same style of tile as example 4 these small rectangular white tiles have a rippled textures across their shining surface. The beauty of these tiles is that the light hits it in different ways at different times of day so the surface of the wall changes constantly. The columns of white tiles also act as a splash back for the sink.
Conclusion
Kitchen, bathrooms, living rooms, outdoors: tiles can make just about any location their home. These examples show this versatility to its greatest advantage and show how easy it is to instill a room with a certain style or vibe simply using well-chosen tiles. We've seen tiles of how simple it is to juxtapose different textures and colours together to create a stand out design.
So as you go about your life try and see if you notice the ceramic tiles you're bound to run into and the effect they have on their space and maybe next time you do a renovation this inspiration will help you incorporate this staple material into your own home.