Home and hearth have been an intertwined phenomenon since the beginning of time. Putting up a cozy little fire to gather around has been an instinctual habit ever since the discovery of fire. Human beings like to gather around warm places, to feel the ambiance, and revel in the company of each other, and throughout the ages, the comfort of a real outdoor fire has evolved into something more pragmatic, functional, and indoors. Where before the Industrial Revolution, homes showcased actual fire burning places, after elaborates on the tradition of an indoor electrical fireplace, especially with the advent, and rapid progress in technology. Now you can have the warmth and comfort of a burning fire, with all the relevant color and texture, just without all the hazards involved with actual spitting embers. In this article, we would be discussing five of the best electric fireplaces, and their featured pros and cons.
1. Bionaire Electric Fireplace Heater with Remote Control
A square-ish electric fireplace heater with realistic looking logs and embers, this design is quite a trendy fit for any modern suburban house, or a swanky apartment. With a sleek touch that defines its trendy outlook, it glows with an orange warmth that is so characteristic of an actual fire, and therefore, would be the most attractive feature of any home especially during the winter season. In addition to being aesthetically pleasing, it comes with a programmable digital display, a thermostat, and a 12 hour on-and-off timer – so it is appropriately gouged in smart technology, and is operational friendly. This electric fireplace comes with a remote control, a floor stand, and hardware for wall mounting.
All in all, aside from being truly user friendly, the Bionaire Electric Fireplace is not only loaded in aesthetics, but also function, and creates a truly remarkable ambiance for a relatively smaller space. Because of its square size, it would look best fitted under a television media wall, or inside a flowing, low rise pelmet. So keep a lookout for mounting when you're ready to fix it up.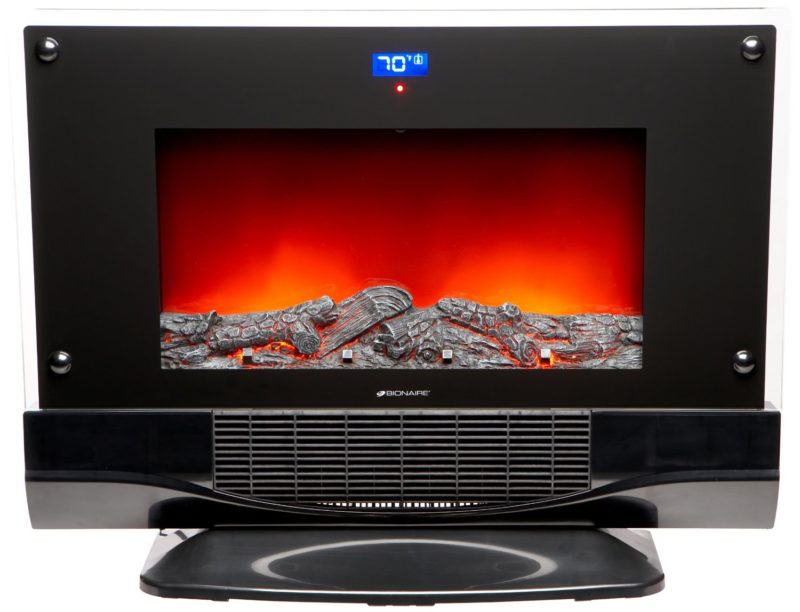 2.nGaribaldi Heating 1500W 23-Inch Electric Stove Heater, Black
A rather antique take on an electric fireplace, this one emulates the aesthetics of a Vulcan era classical formation – with all the traditional elements of a closed off cabinet. If you're looking for something to fit into a Prairie, or Cottage style interior, with just the right amount of classical traditional, then this one would be the best par for course. Its dark color would make it an instant fit inside any, and all warmer shaded rooms, especially baroque, and its physique makes it a good fit for a living area, or a bedroom, or even an office, given the correct interior decor. Setting, and placement aside, with this uniquely attractive feature electric fireplace, you can now enjoy the ambiance and magic of a wood stone fireplace – just without all of the hazards, and messes; no smell of burning, chafing, and black embers. Given the conventional aesthetics, this electric heater hides a modern phenomenon, and is quite easy to use – just pull out of the box, mount it up a wall, and plug in, in a nearby outlet, and you've got yourself a fully workable fire place without all the hassle of an actual, authentic one.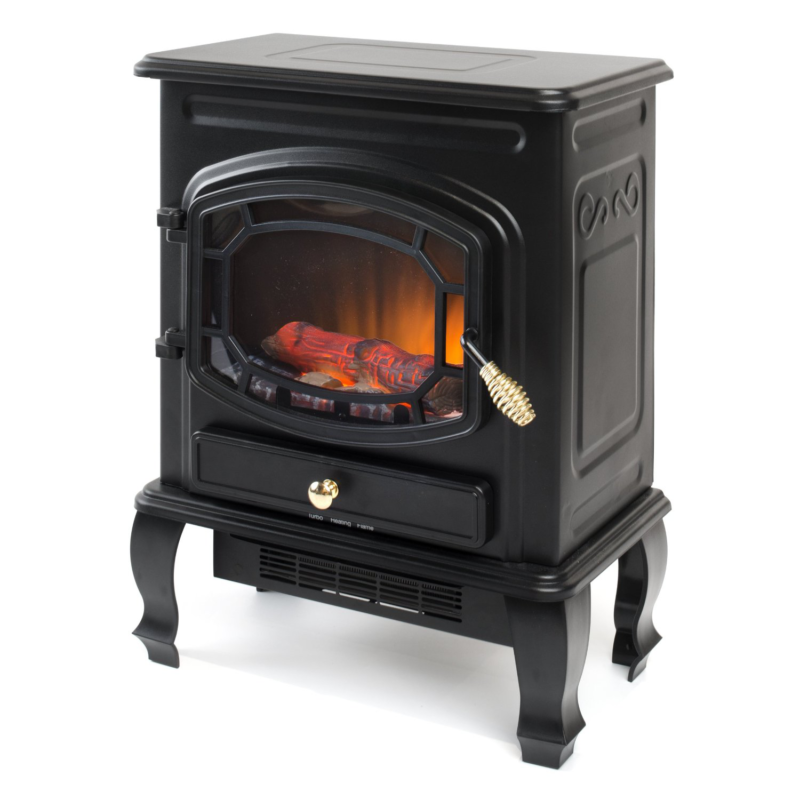 3.Garibaldi Heating 50″ Electric Wall Mounted Fireplace with Remote
This electric fireplace is a study in minimalistic modern, with its wide girth, elongated design, and an artificial fire that licks the roof of the encapsulated design formation, and therefore, provides with the best aesthetics. The realistic log-flame effect is only a visual enhancement, but its psychological effect is quite soothing, in that it would visually elucidate the burning of an actual fire, when it is cold, and therefore the psychological impact of an actual burning fire in a contained environ would be soothing. Given the visual appeal of this set, it would look beautiful in a living room, bedroom, or an office, home or otherwise. Endowed with multiple heat settings, this electric fireplace is not only easy to use, but also quite smart and efficient in its functionality, and pragmatism. It is a wall mount design, and easy to put in place, with a bare minimum of effort. It is an overall smart design, with timer and control, separate heat and flame settings, and eco friendliness.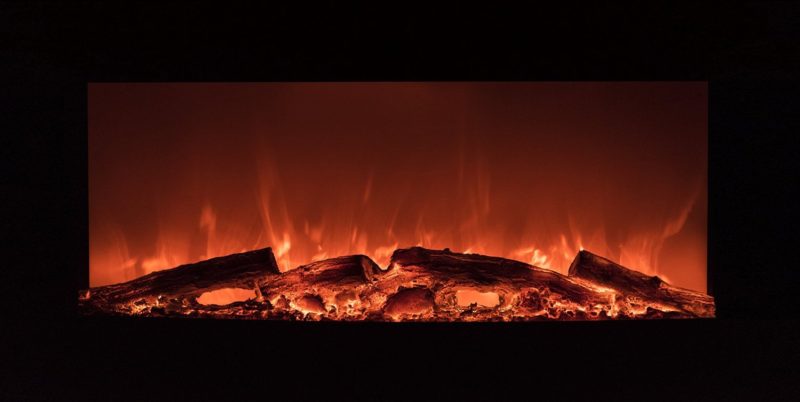 4. ClassicFlame 36II100GRG Elysium 36″ Wall Mounted Infrared Quartz Fireplace
An otherwise sleek design, this one exudes an elegant sort of simplicity that only enhances the main feature – the artificial flames. With an undercurrent of blue and gold, the flames are the major design feature of this electric fireplace. The flame effect, in this one, could be controlled with, or without the heat, giving you the option to turn on the system in the summers so you could play on the aesthetics of your interior, with minimum consequences on the actual parameters of climate, and weather. Aside from that, the infrared heat system helps to maintain the natural humidity within the air, resulting in moist, comfortable heat without drying out the room's air.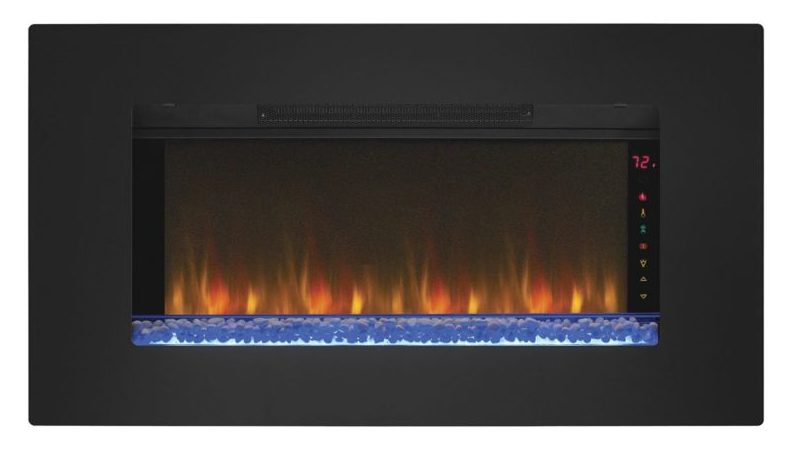 5. Best Choice Products Large 1500W Heat Adjustable Electric Wall Mount
Elegant and modern, this electric fireplace is quite stylistic, and even in its unadorned simplicity, manages to look alluring. Retrofitted with the 3D flame technology, this one is controlled with a remote control system. This electric fireplace boasts dual heat settings, and comes in standard wall mount with a stunning tempered glass panel. Aside from that, it is energy efficient, and relatively sustainable.