Where gardening and landscape are slowly rising up in the overall design spectrum, it is essential to note that they do not only comprise of foliage, trees, and shrubs. One of the most essential counterparts to any successful gardening endeavor are flowers. Flowering plants come in a wide variety, and are easily available in the nearest nurseries in all parts of the world. Flowers make for beautiful decorative features that are all nature, and make for enchanting, alluring, and decidedly picturesque scenery that adds a breath of fresh air to any old regular garden a la fresh grass, and shrubs. There are a number of ways to properly allocate and design flowering beds in a garden, and arrange an adequate landscape arena with them, and in this article, we would be discussing a few of the best flower garden ideas for your landscape.
1. Terraced Flowerbeds
One of the most organized ways to showcase your flowerbeds is by layering them in tiers, and those tiers could be achieved by making specified terraces for each, individual flower bed. This would give off a rather enchanting appeal, and the layered effect would not only be eye catching, but also pragmatic, as it would make a firm, distinguished boundary between the kinds of flowers that would be planted on each level. The terraced look is therefore, a clever amalgamation of aesthetics, and functionality, and would be a perfect foreground to any home elevation.
2. Coming on the Rows
Planting a flower garden in rows is no easy task – it takes a proper induction of seeds, an era of germination, and the time in between is marked by patient care giving, and a firm appropriation of all natural elements – that is how the end result is stunning. Choosing the kind of flowers to plant in each row is quite a daunting task, but know that you can use a similar variety of flowers in different shades. Petunias are a good example of this phenomenon. If you're wanting to plant in rows, then just take different shades of petunias and plant them in each row. The explosion of colors when they bloom would not only be joyous and exuberant, but also simply picturesque.
READ ALSO: 10 Awesome Flower Garden Design Ideas
3. Shifting to the Corners
Most of the times, the corners of any garden are the most neglected sections; usually coming with a slap of haphazard bushes or trees. With flowering gardens you have the opportunity to make these dead corners into live spaces, while still being attuned to nature. A lovely little rosebush, or a cascade of a trimmed bogenvalia would be an enchanting enhancement to these drab spaces that usually come off as an excess. A light smattering of flowers would makes these corners come alive with color, and exuberance while maintaining an ideal correspondence with the right amount of green.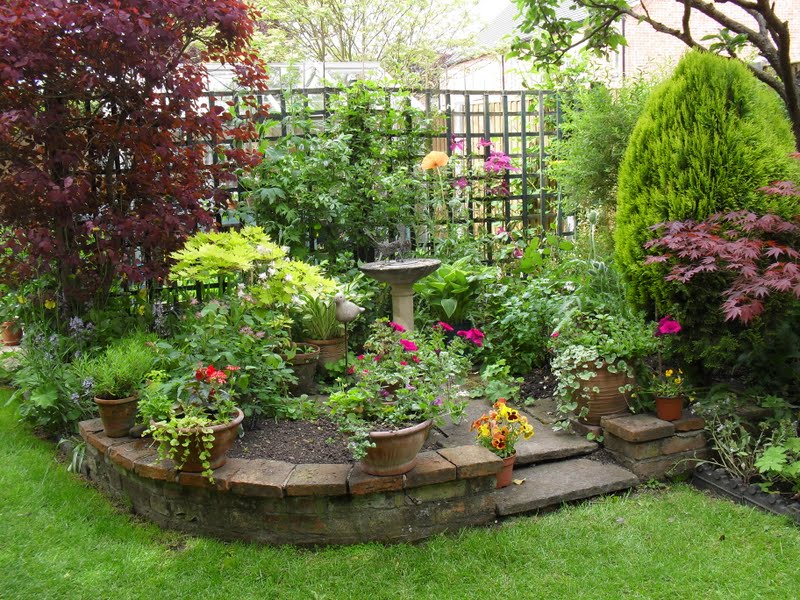 4. Rock-Flower Garden
Rockery is all the rage nowadays, and for all the right reasons. A rock garden is easy to arrange, and simple to take care of – but in the end, it might seem a little drab compared to all the lush greenery of surrounding lawns. Zen gardens amalgamate the rich green with the bland of stone, gravel, and rocks in ideal proportions. However, if you do not find the ideology of a Zen garden an optimum solution, then you can always consolidate lush vegetation, grass, and low-lying blooms with a plethora of decorative rocks. This imaginative combination not only blooms in an explosion of rich colors, but also balances out the drab colors of the rockery, while enhancing on their texture.
5. Container/Pot garden
If you're going for something low-key, yet satisfying in the most innocuous of ways, then the container/pot garden is the best way to go. Terra cotta pots are the best option, although there is a wide variety available in the market – it depends on your choice, aesthetic, and the style of the garden. Flowering plants look best in the reddish brown of the terra cotta planter, and can be carefully arranged, and teased into the best possible options, for the best possible outlook. If done by an accomplished professional, the end result would be a stunning jubilee of colorful flowers, mixed in with an adequate amount of green, which would complement the simplicity of a straightforward garden.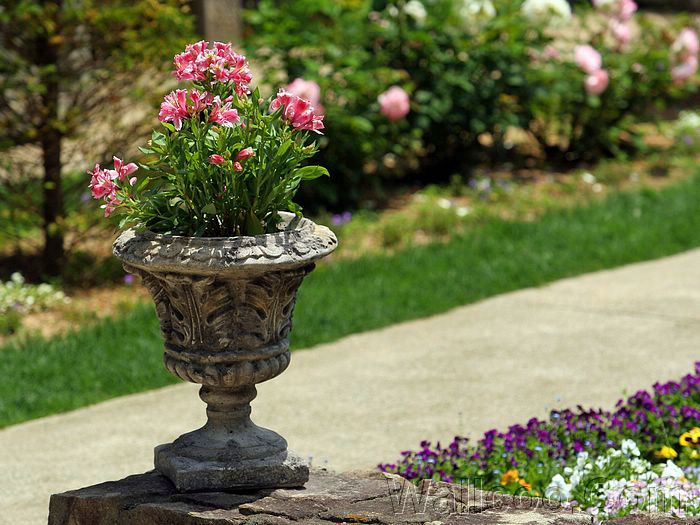 READ ALSO: 14 Outstanding Rock Garden Design Ideas
6. Sculpting the Flower Garden
Topiaries are the new 'it' when it comes to contemporary landscaping techniques, and when you couple that with a mesh of flowers then your garden would achieve all the new heights of perfection. Topiaries are essentially sculpted from hedges, so the kind of formation you would choose for your flowerbeds would depend on the kind of cut you would choose for your topiary – a mishmash of square and circles, an abundance of grids, or even a combination of both.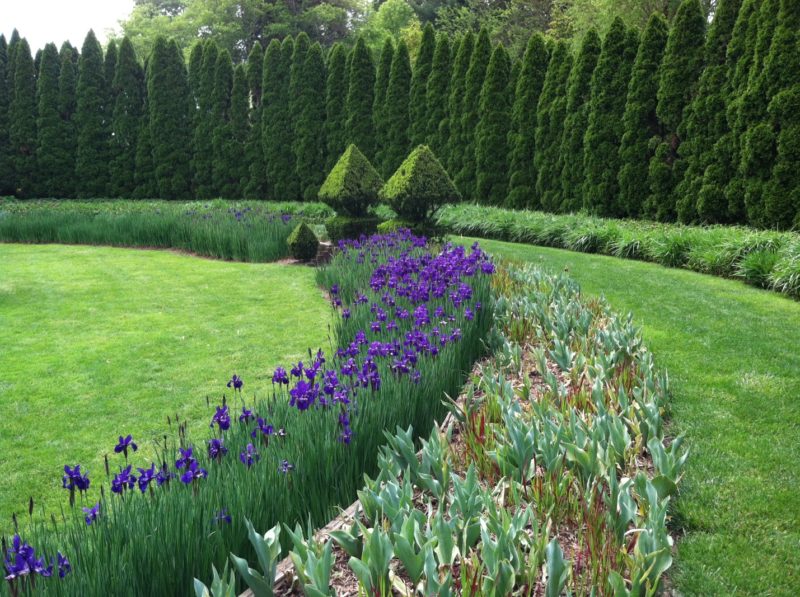 7. Cascading Wisteria Garden
One of the best ways to showcase a flowering garden is by using the element of wisteria walks. Formulating space for an entire tunnel of actual wisterias would be quite impossible, but a similar effect could be achieved by using dangling creepers, and other flowering vines from windowsill planters, or strategically placed pergolas.