Fences are a necessity to any home that are most commonly built from timber, steel or brick to define your boundary and keep your home safe. However, just because they are traditional doesn't mean their design needs to be dated; time and innovations have moved on and opened up our design opportunities to allow us to transform mundane everyday items into something truly beautiful.
With a dash of creativity and an artful use of materials you can create a fence that is modern and bound to turn heads whenever someone walks by your property. You can even push the boundaries and combine materials to create a complex and layered design that has a purely unique character. Even existing fences made of just about any material can be renovated relatively cheaply with some carefully chosen additions to breath new life into something old and forgettable.
So if you want to upgrade your property with some new and improved designs here are:
30 Modern Fences That Uplift Traditional Materials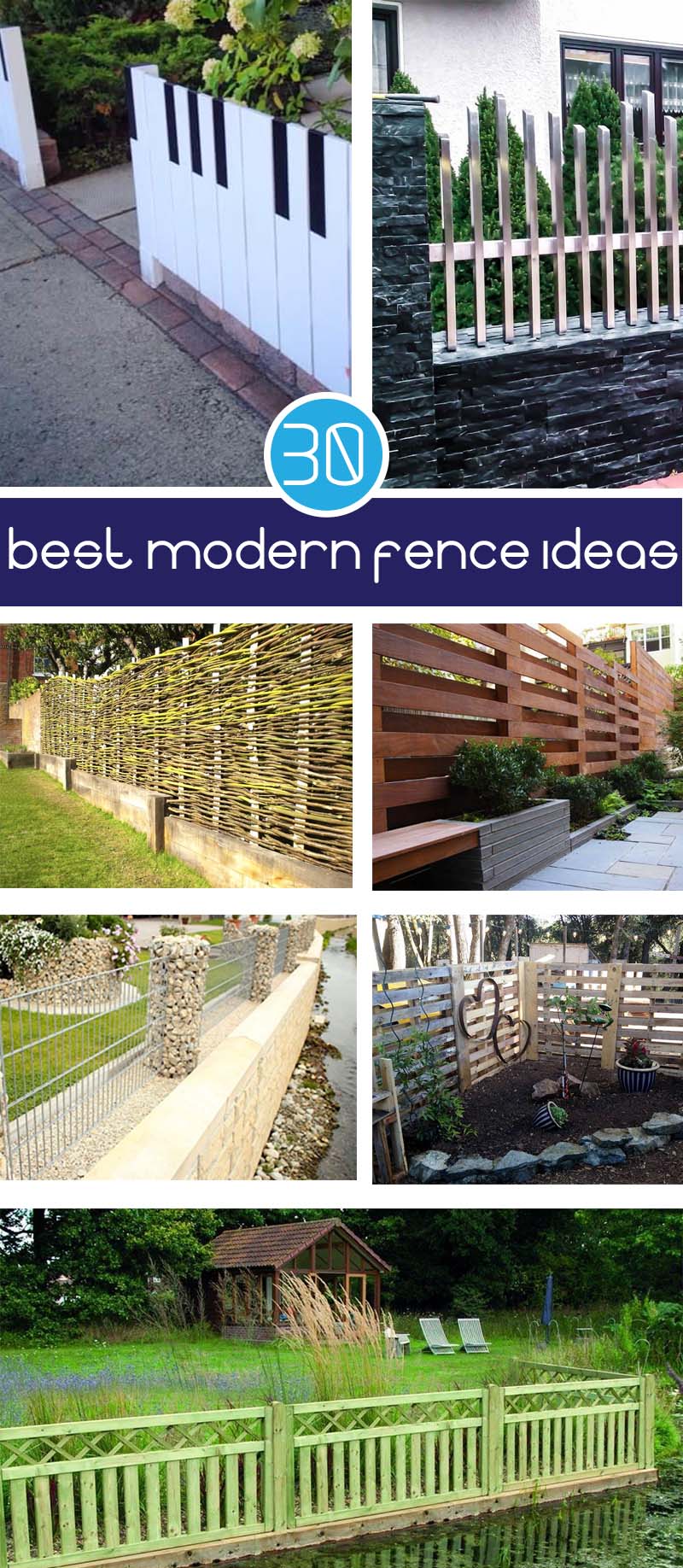 1. Modern Twist on a Rustic Fence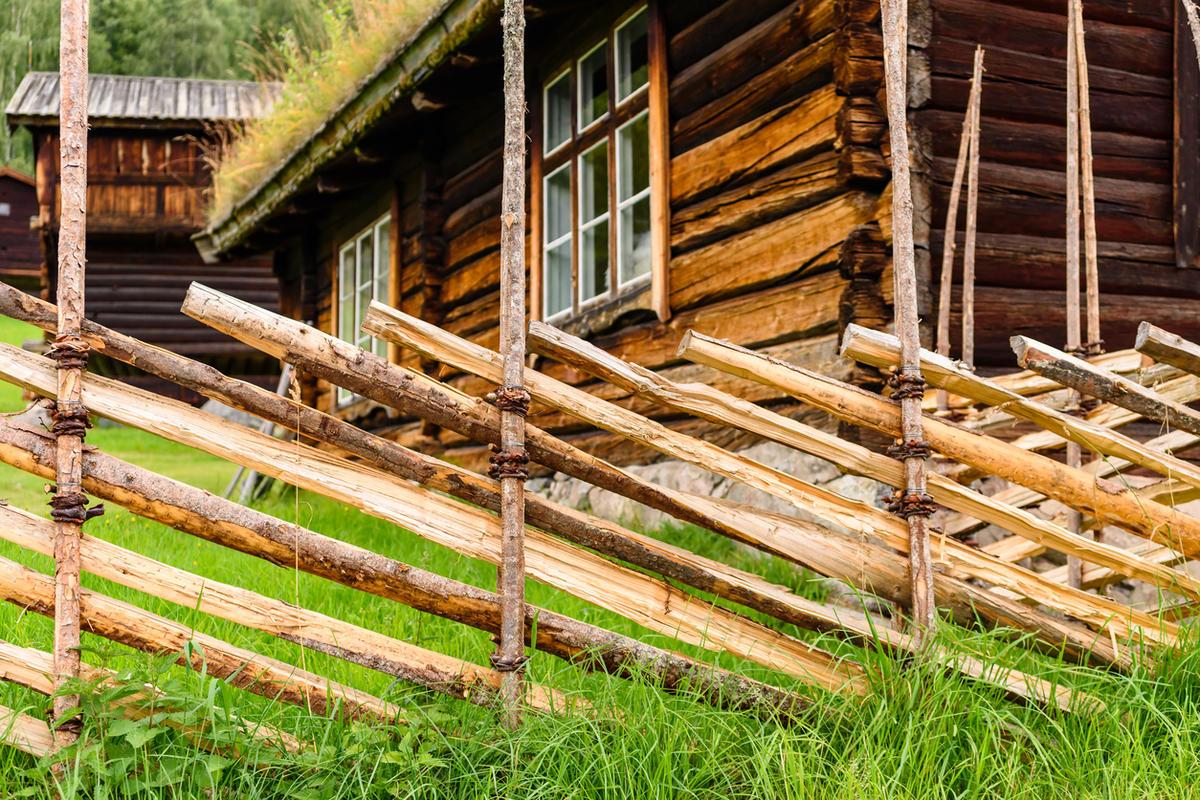 In this beautiful rural location this appears to be a traditional timber fence outside a rustic log cabin complete with a green roof. However, instead of using finished wooden planks in a vertical or horizontal configuration they have used roughly cut branches, stripped of their bark and sloped at a sharp angle between the slim fenceposts. This basic simplification of the material and an adjustment in the angle adds a modern touch to a traditional fence in a rustic traditional setting.
2. Richly Woven Statement Fence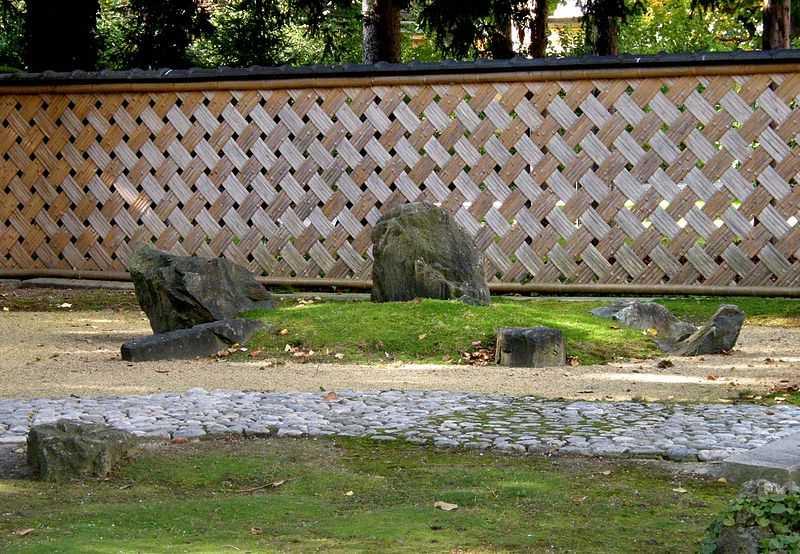 This unique fence has a thick frame above and below containing a completely unique fence in one continuous woven strip. The diagonal weave alternates between brown and grey toned sheet metal with small squares gaps in between them to ensure that the design doesn't feel heavy and restricted. This design is tall and safe but also permeable, which allows you to play with opacity and transparency in a totally new and modern way.
3. Patterned Aluminium Sheets Between Rough Stone
In this suburban fence tradition and modernity have been featured side by side. The base of the wall is faced in stone with chunky fence posts in the same neutral beige stone. These fence posts are topped with a concrete coping, so far so traditional, but the fence panels are where the design changes it up. The panels feature thin sheets of textured aluminium spanning between the fence posts in bright silver. The contrast between the two creates a beautiful juxtaposition in front of this eclectic home.
4. A Traditional Fence in a New Position
At first glance this fence is incredibly traditional with its stained green pickets and loosely woven lattice across the top. What makes this something special, however, is its location. Sitting on a base of marine timber this fence defines the garden's boundary in the middle of a pond. This adds the hint of newness and modernity that we are looking for without taking away from the rustic country garden. This proves that a design doesn't need to be modern in itself, sometimes the placement can do it for you.
5. Modern Shuttered Fence Design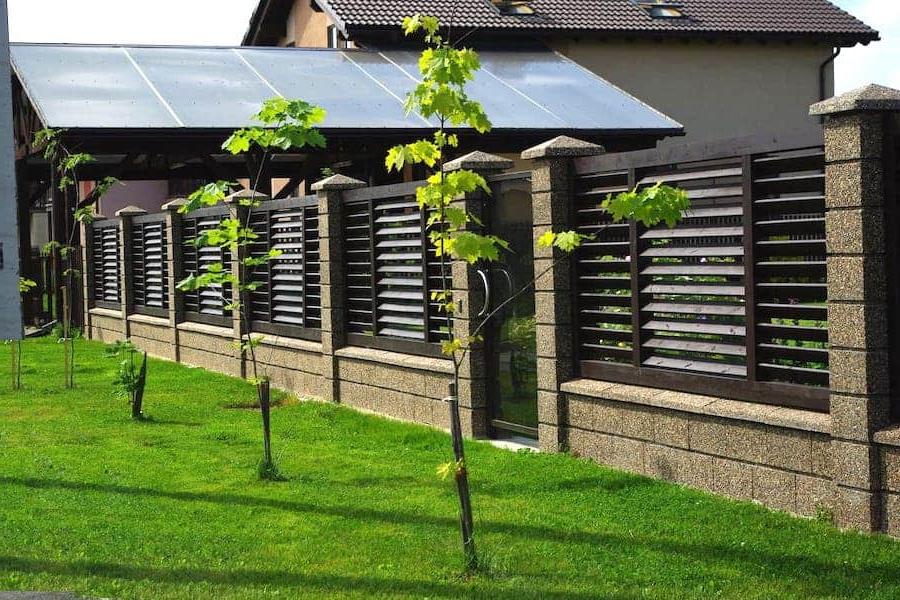 At first glance this fence is fairly traditional with its pebble dashed base and thin fenceposts capped in concrete. Again it is the fence panels sitting within this framework that adds the modernity to this design. Each panel is divided vertically into three within a timber frame with fixed shutters in each that alternate between facing inwards outwards. This both adds texture and visual interest in an otherwise boring location that gives you little glimpses into the garden beyond.
6. Cylindrical Gabions with Wire Fence Panels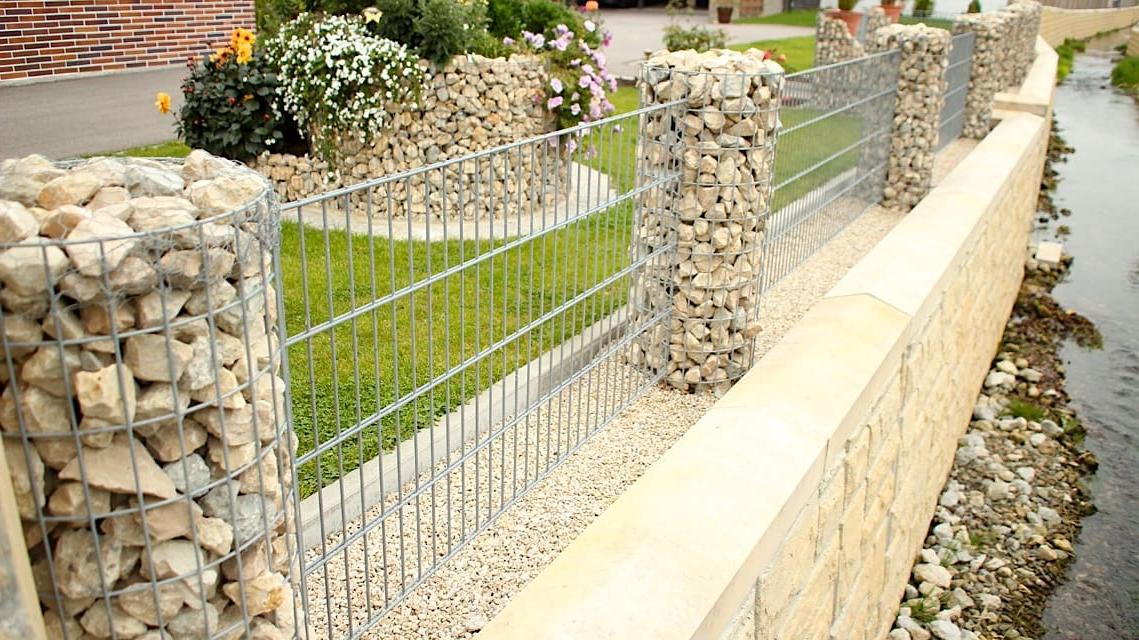 The fence that's sits atop this pale stone retaining wall needs to be impenetrable and strong to prevent anyone falling down the slope into the river and this modern fence does just that. The fence posts consist of cylindrical gabions, which are wire cages filled with pale rough stones. The fence panels between have a wide rectangular weave that is rigid and strong but still allows you to see through to the river beyond, enhancing the view instead of obscuring it.
7. Sheer Stylish Pool Fencing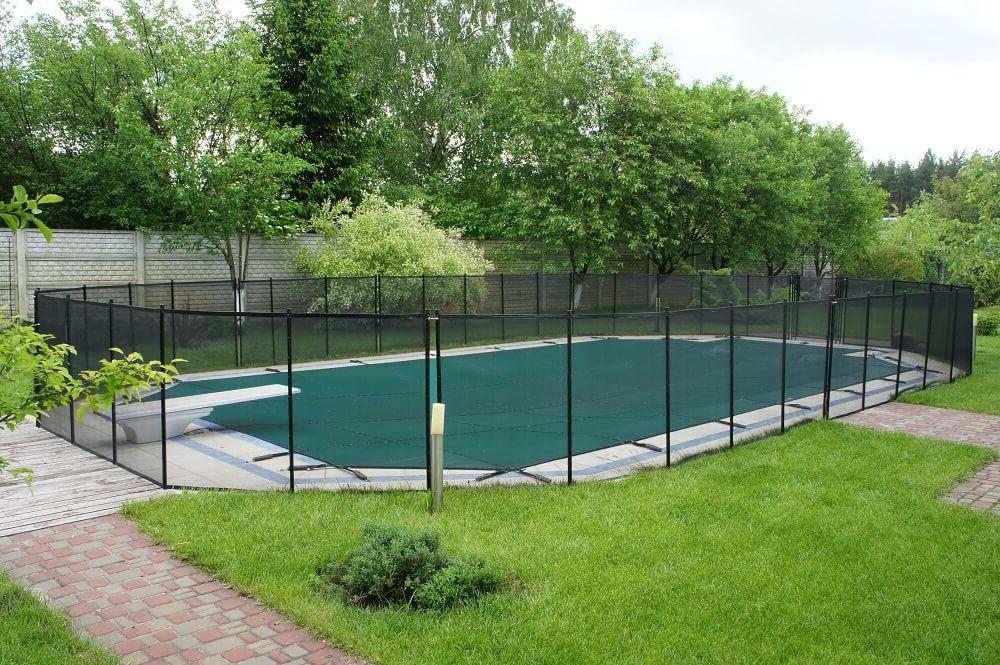 A pool fence is a necessary feature especially in households with small children and pets to keep the little one safe. The fence facets itself around the pool in basic thin metal frames filled in with a translucent fabric that doesn't obscure the view of the pool. This modern design makes sure this fence hardly interrupts the aesthetic of the large garden while providing you with peace of mind.
8. Stepped Slatted Timber Fence Design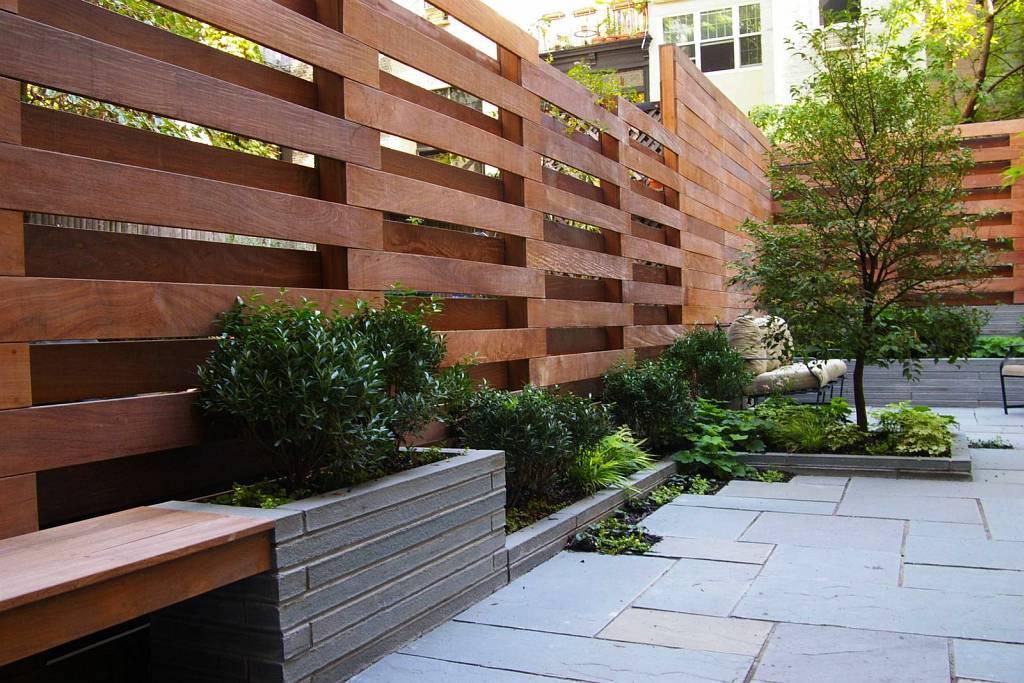 The sophisticated layered and slatted design almost resembles shipping palettes with their double sided design. The panels step up and down around the eclectically paved patio with benches built in along the perimeter. The thick, warm stained timber panels are fixed on either side of the vertical posts interlocking with one another to create little unexpected peaks between them while appearing solid when viewed head on. This is a clever modern design that is adaptable and beautiful, bringing natural textures into this city location.
9. Three Dimensional Concrete Fence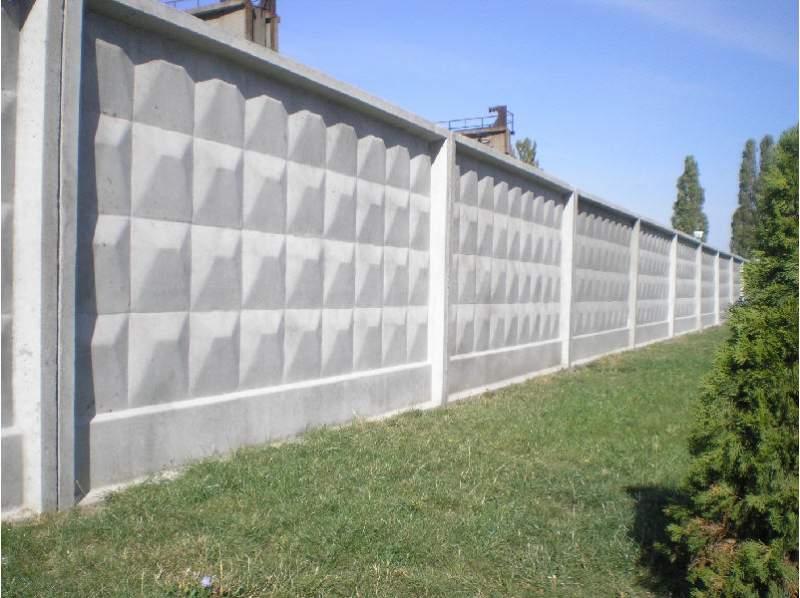 This dramatic wall stretches along the expanse of this huge property, its pale grey length disappearing into the distance. The wall wraps around a large property that values safety, thus the need for a very high fence in a heavy duty material. Each immense panel has been cast in concrete that incorporates half of a fencepost on each that joins with the one beside it. Most eyecatching element however, and what makes the design ultra modern, are the three dimensional polygonal squares that are cast into the surface to create a gorgeous texture.
10. Chic Pale Corrugated Steel Fence Panels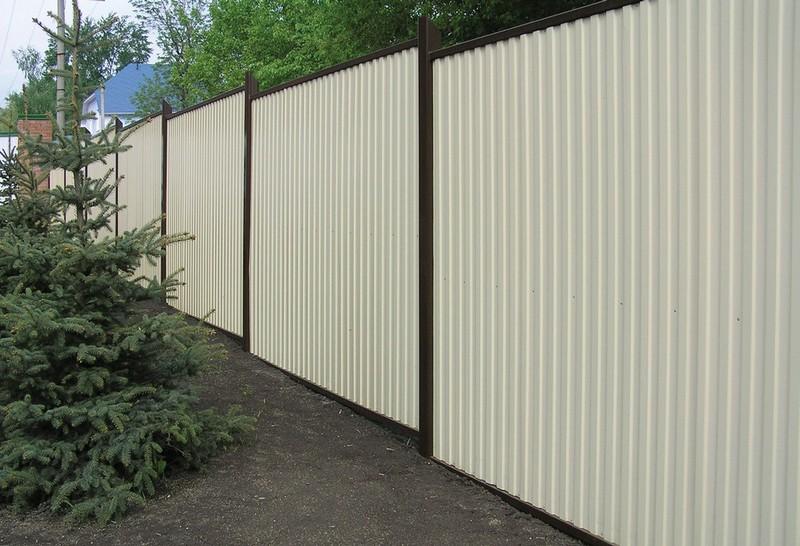 This simply chic fence uses traditional materials in a different location and finish to make it more attractive. The vertical panels of corrugated iron sheeting have very thin corrugations painted in chic cream and held within a thin black framework. By using panels such as this allows it to step down to fit with natural terrain without interrupting the design. This is a classic example of using basic materials that have been updated with a simple coat of paint to modernize them.
11. Novelty Updated White Picket Fence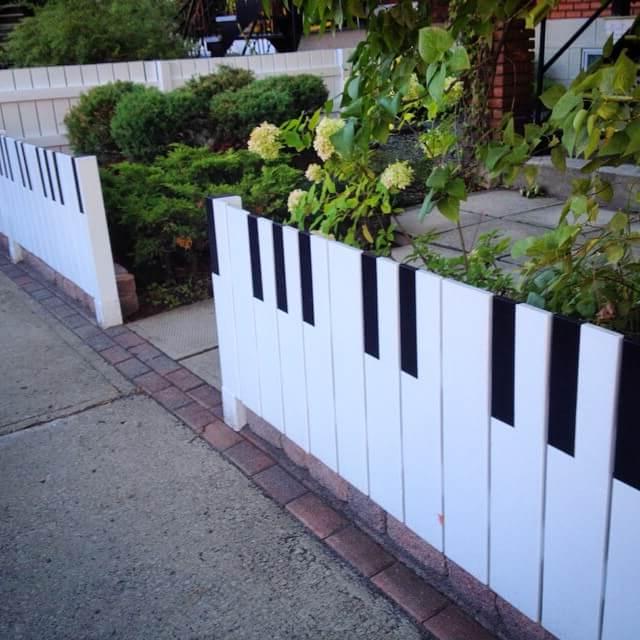 The most traditional suburban feature: the white picket fence has been modernised in a fun and unexpected way. The low boundary is made of white wooden panels, which become the white piano keys while the black panels that have been added above to imitate the sharp keys. This is a really unique entrance to your home that makes it feel fun before you even walk in the door.
12. Chrome and Concrete Statement Fence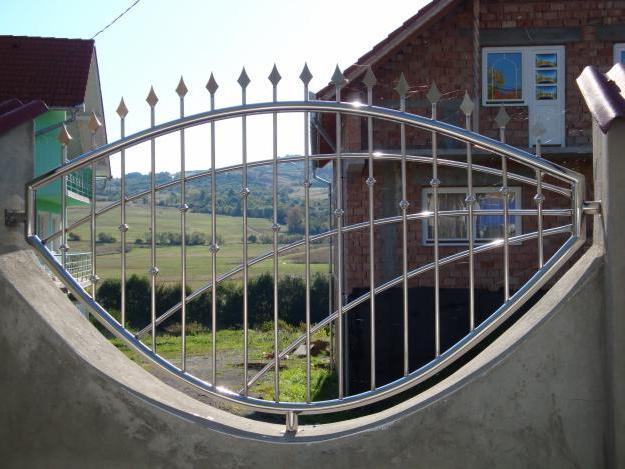 The stunning unique fence in front of this countryside home has been created by artfully contrasting two opposing materials. Each thick raw concrete panel is flanked bu square concrete fenceposts topped with rippling fence post. Between each post the concrete drapes deeply to make way for the outstanding eye shaped chrome fence panels that are lifted away from concrete on small chrome legs. The shining steel panels consist of the round tubing frame intersected by vertical posts with spiked tops that add a layer of protection. An addition a trio of curved rays swoop across the whole design in an elegant way.
13. An Upgraded Hedge Boarder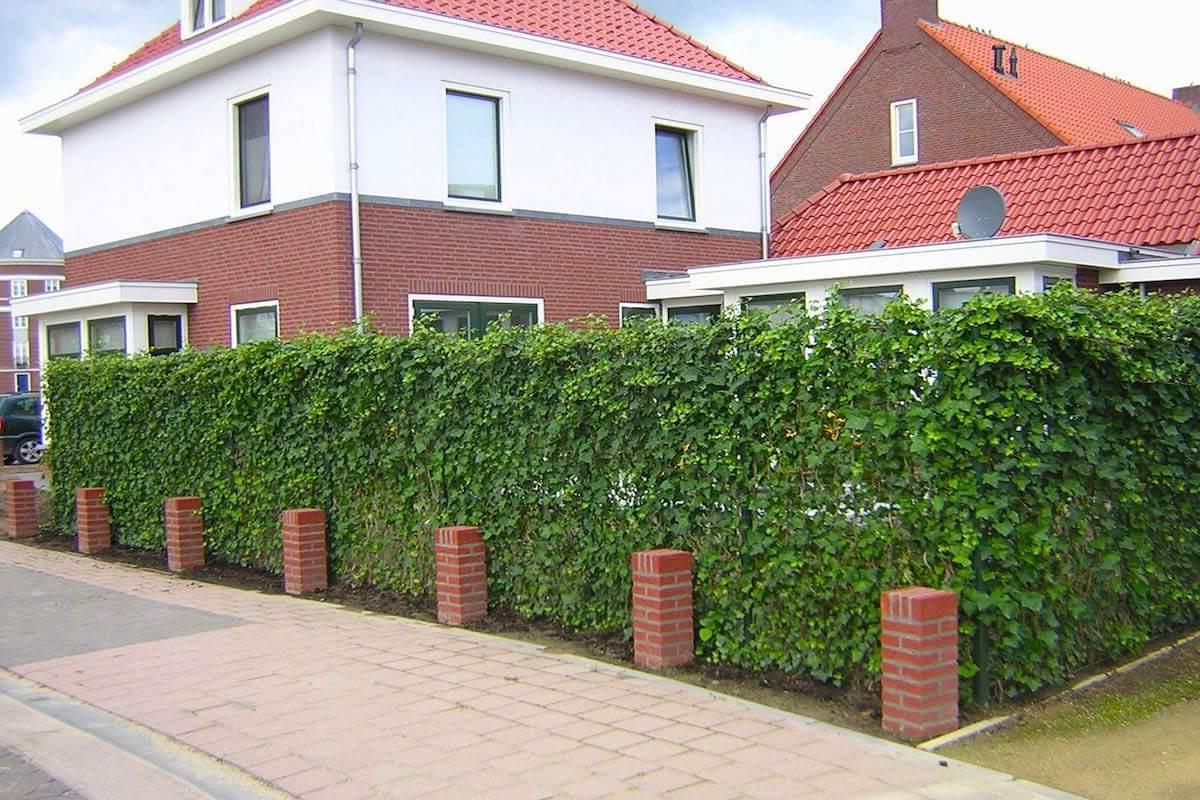 Hedgerows are traditionally used, especially in the UK, as a thick natural fence that is dense and impenetrable. This retains the natural beauty of the hedge with less weight and taking up less space. This is achieved using a frame with creepers grown over it so you can see through it very slightly. The sidewalk is lined by short red brick posts along the length to coordinate with the quintessential suburban house.
14. Black Wrought Iron with Crimson Mirrored Panels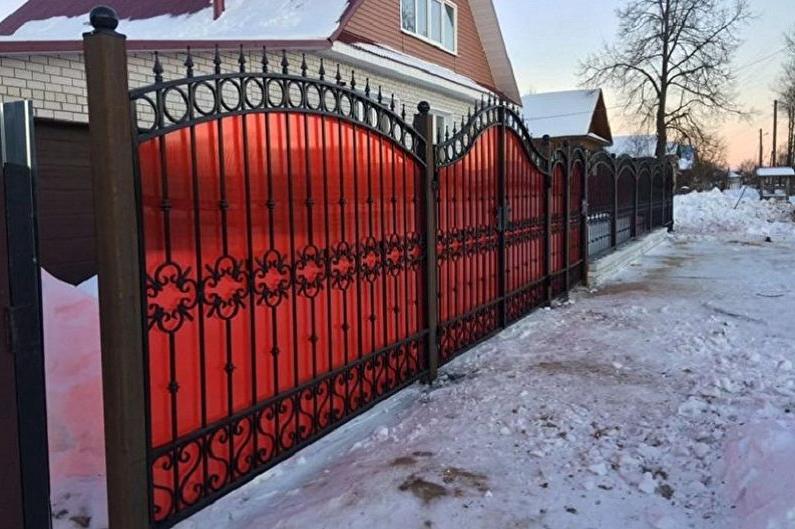 In front of this suburban home we have another instance of the traditional working alongside the modern in complete harmony. The original design is a classic, black wrought iron fence with a coordinated gate in matte black. Although this is an expected design when it comes to this material it is still rich in pattern work with a circular pattern along spiked apex, a rosetted panel running through the centre and another curlicued panel at the base. Removing this would be a shame so it has retained this beauty and been modernized using mirrored red panels behind it that adds a new dimension as well as a statement colour.
15. Decorative Mesh Chainlink Fence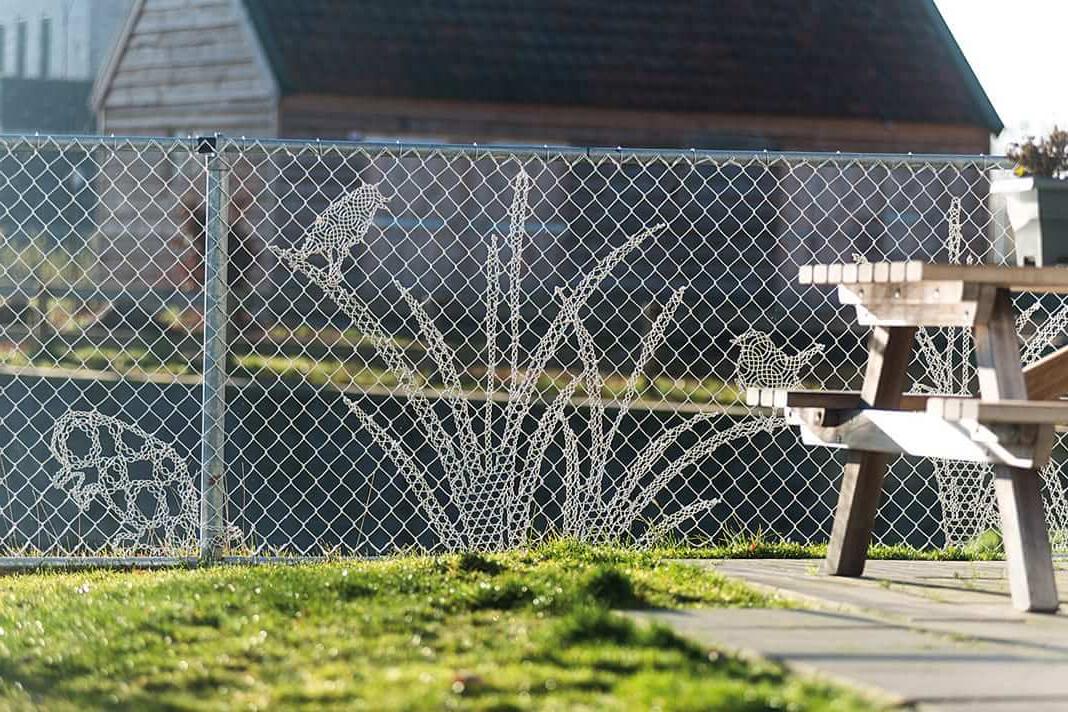 This wire mesh design is a really cheap fence option built from galvanised steel fence posts and a traditional diamond shaped mesh. What sets it apart is the wirework that is interwoven through it to depict a decorative scene that is permeable viewable from inside the garden and by passersby. The scene features large birds sitting on the blades of splaying leaves that makes it far more fun to interact with while remaining budget friendly.
16. Super Slender Timber Garden Fence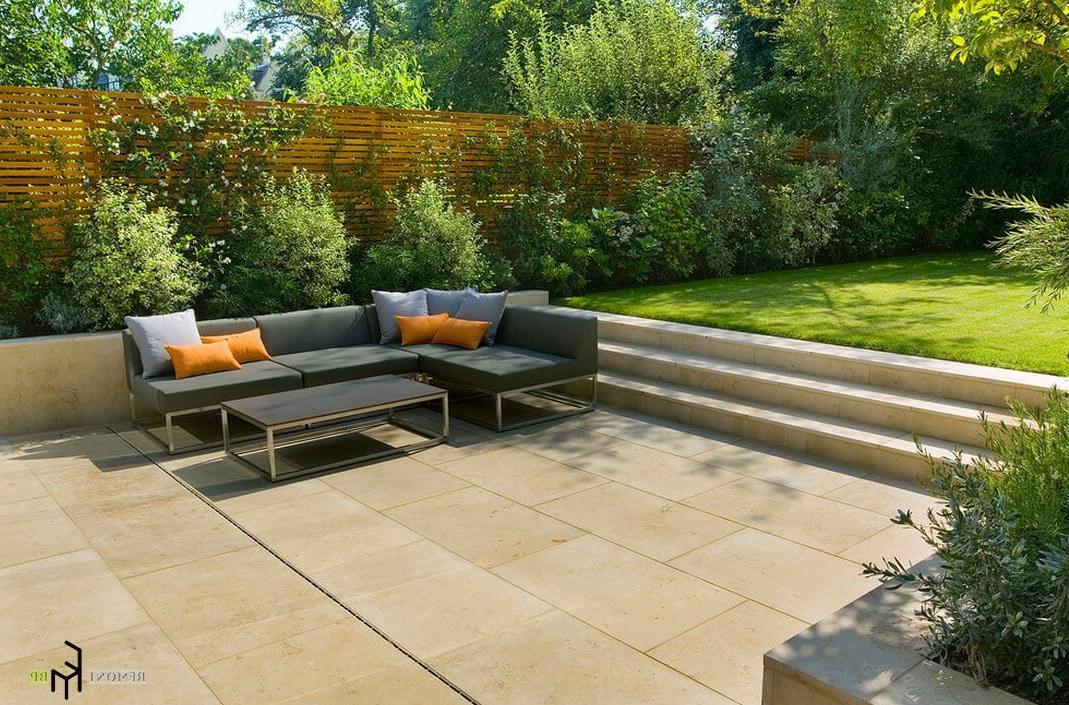 In order to contribute to this tranquil garden scene while maintaining an unobtrusive boundary they have used a thin golden toned timber fence that manages to hide in the lush foliage. The bright timber peeks through the leaves and adds a layer of texture and colour to the ample garden. It becomes a part of the backdrop to this spacious recessed patio with its modern furniture. The permeable fence also allows you to see through to the foliage next door to really capitalise on nature's innate beauty.
17. Thin Horizontal Timber Fence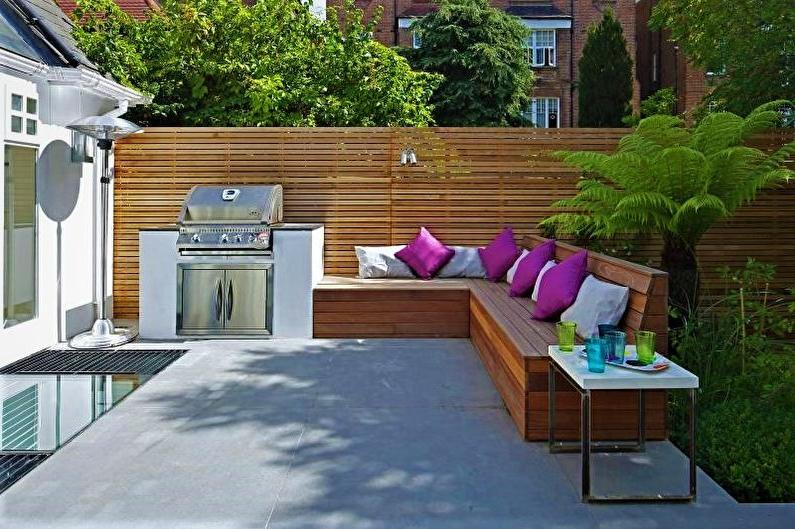 A modern fence of very thin elegant wooden slats is used as the backdrop to this comfortable little patio. Thin gaps have been left between each slat so you get a subtle view through to the garden beyond so it appears less chunky and solid. The panels are held up by thin, vertical supports that don't interrupt the graphic quality of the design. The warm toned fence is accompanied by a wood paneled L shaped bench stained in a slightly deeper shade.
18. Layered Natural Hedgerow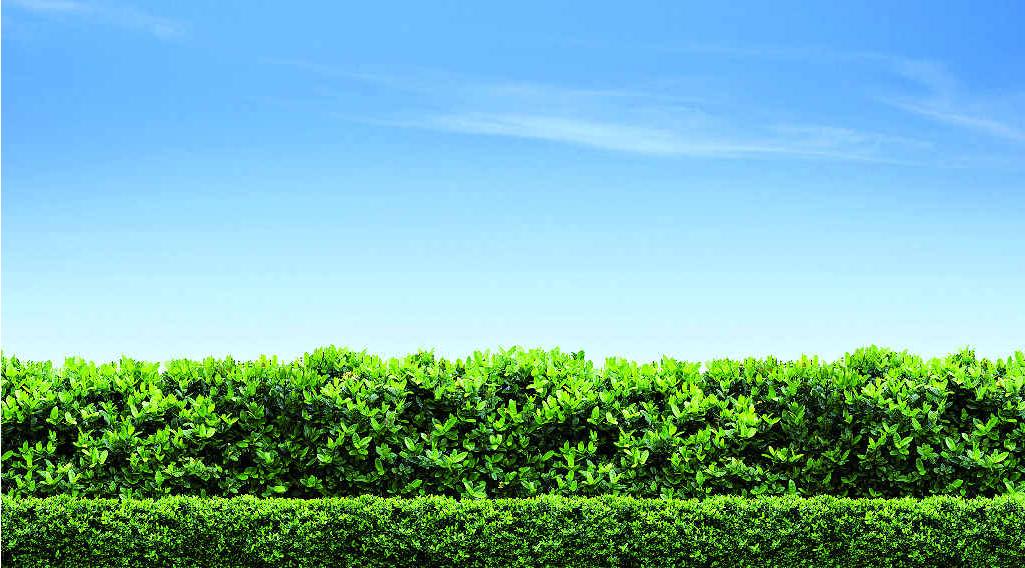 At first glance this may seem like a traditional hedgerow fence but it has actually been modernized in a few subtle ways. Instead of one dense topiary hedge it has been divided into two layers. One is lower and neatly trimmed while the other is taller and left a little more shaggy and natural. The taller hedge is the park that provides privacy while adding an extra element of texture. This shows how simple it can be too modernise a classic design to make it work for the modern age.
19. Fantastical Organic Garden Fence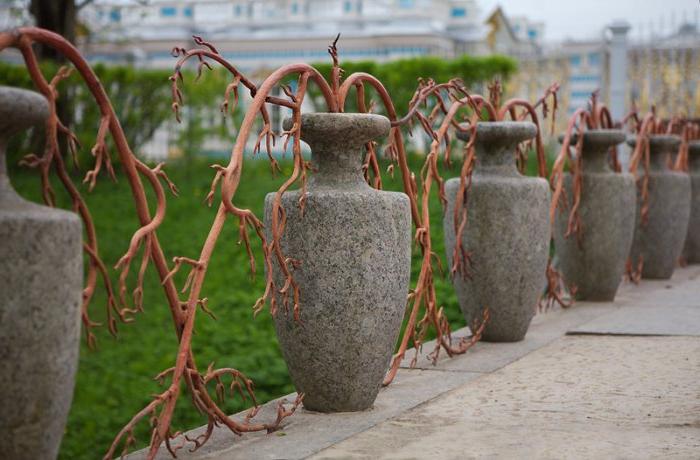 This incredible low fence wraps around the patio to this garden. Its startling form is based around a series of small concrete vases running along the paving perimeter. Out of each grow these creepily twisting vines that drape down to the ground with little tendrils growing from each. These fantastical vines cross one another at the centre to create a permeable but defined fence line that is aesthetically breathtaking.
20. Optical Illusion Mirrored Fence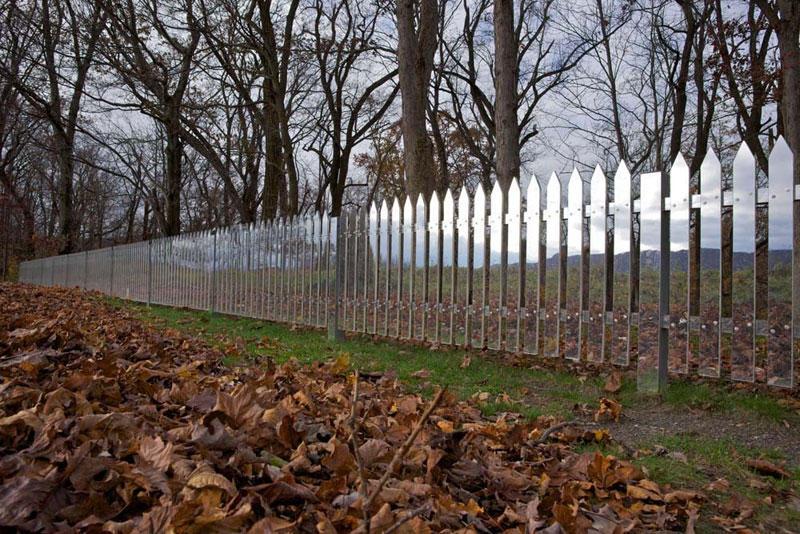 In a rural setting as stunning as this you don't want to interrupt the natural beauty with a big chunky fence so this optical illusion fence is the perfect solution. The style imitate a traditional low picket fence but in a totally innovative material. Each fencepost, support panel and the pickets themselves have made from a clever mirrored material that reflects it's natural surroundings. This reflective property makes the fence disappear almost completely into the scenery and preserves the tranquil scene while still defining your boundary clearly.
21. Unique PVC Piping Fence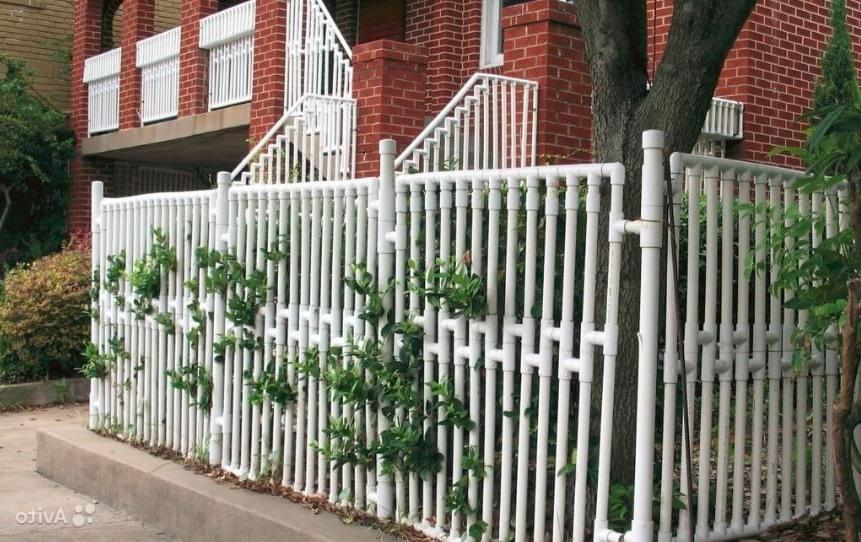 To create this totally unique fence style PVC piping, usually used for plumbing, has been fastened together using standard fittings that can be bought from any hardware store. The pipes and connection points can be easily configured to create this graphic fence that is relatively light and requires very few tools to install. Not only is this unique and beautiful but the material itself is naturally hardwearing without additional treatment and would be possible DIY with easily acquired materials.
22. Rustic Timber Lattice with Wood Piles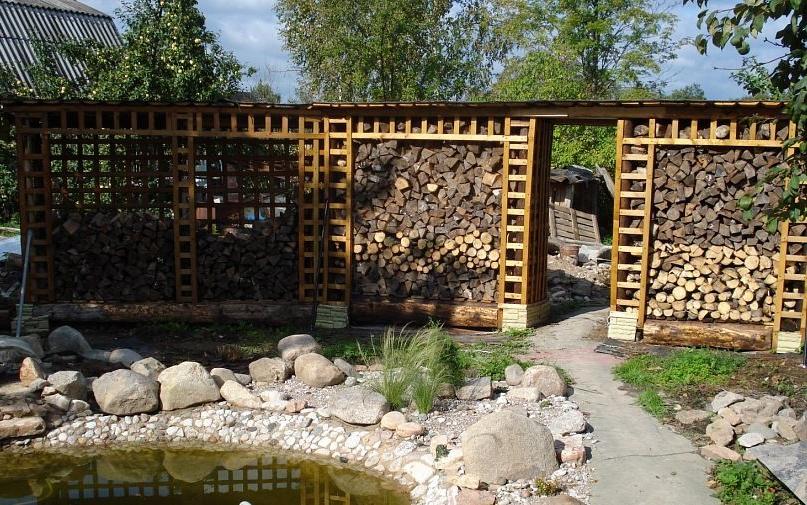 This large garden fence has been used to divide one side of the garden from the other. It has been constructed from features that you would expect to be found in a garden and repurposed them to create a multi use fence. The beautiful timber latticework that frames each fence panel. Some of these panels are filled in with trellises that you can grow creepers on while the main panels are filled right to the top with a log pile. The logs are in ombre tones that fade from the darker more weathered look above to the lighter shade on the bottom. This managed to look textural and attractive while being functional at the same time.
23. A Simply Modernized Wire Fence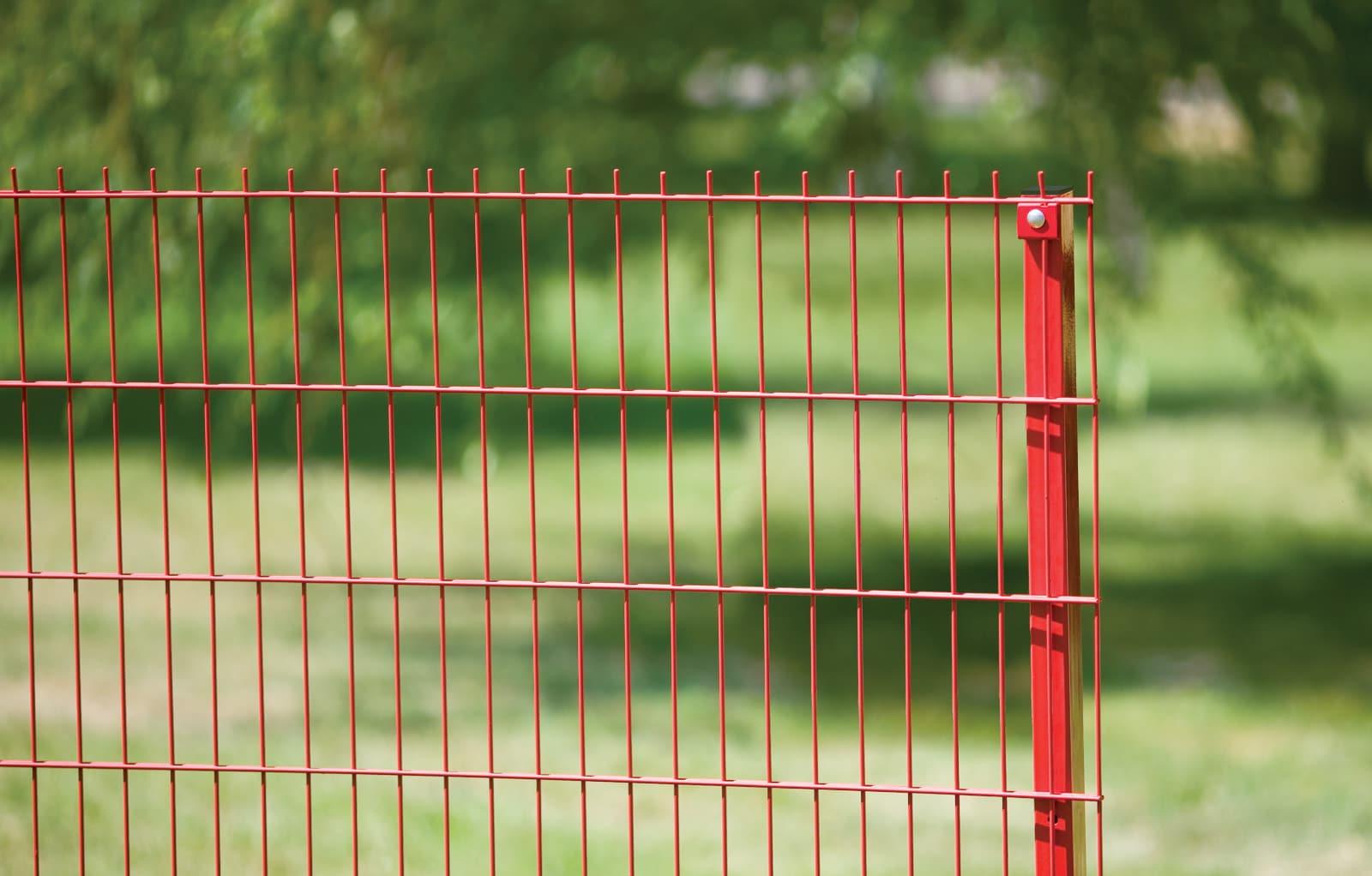 This small low garden fence is built from wire mesh, a very traditional material. The mesh has a rectangular weave supported by square steel tubing fence posts. Instead of removing the fence and replacing it, causing unnecessary waste, it has been made more interesting and modern simply using paint. The vivid red contrasts against the lush green of the garden and breathes new life into this mundane design.
24. Super Chic Chrome and Black Stone Fence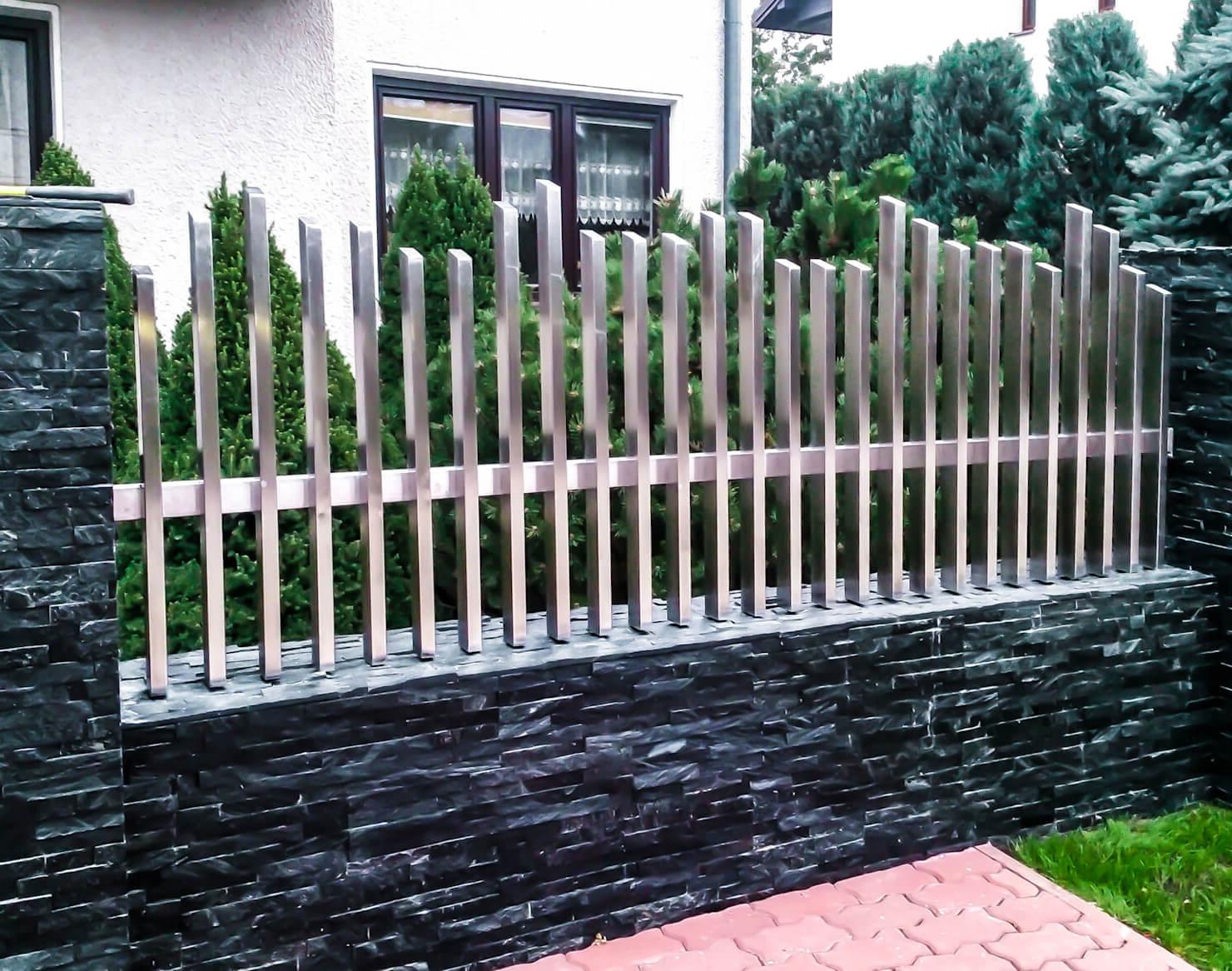 Texture has been used to great effect by contrasting two dramatically different materials in a stunning way. The base and the fence posts are faced in graphic, thin black stone to create a dark solid base with a beautiful texture. The fence panels between are mounted on one horizontal panel hosting a series of square chrome tubing at different heights in a bright, reflective chrome finish. This is bound to cause drama in front of any home and be quite the conversation starter.
25. A Reimagining of a Stone Fence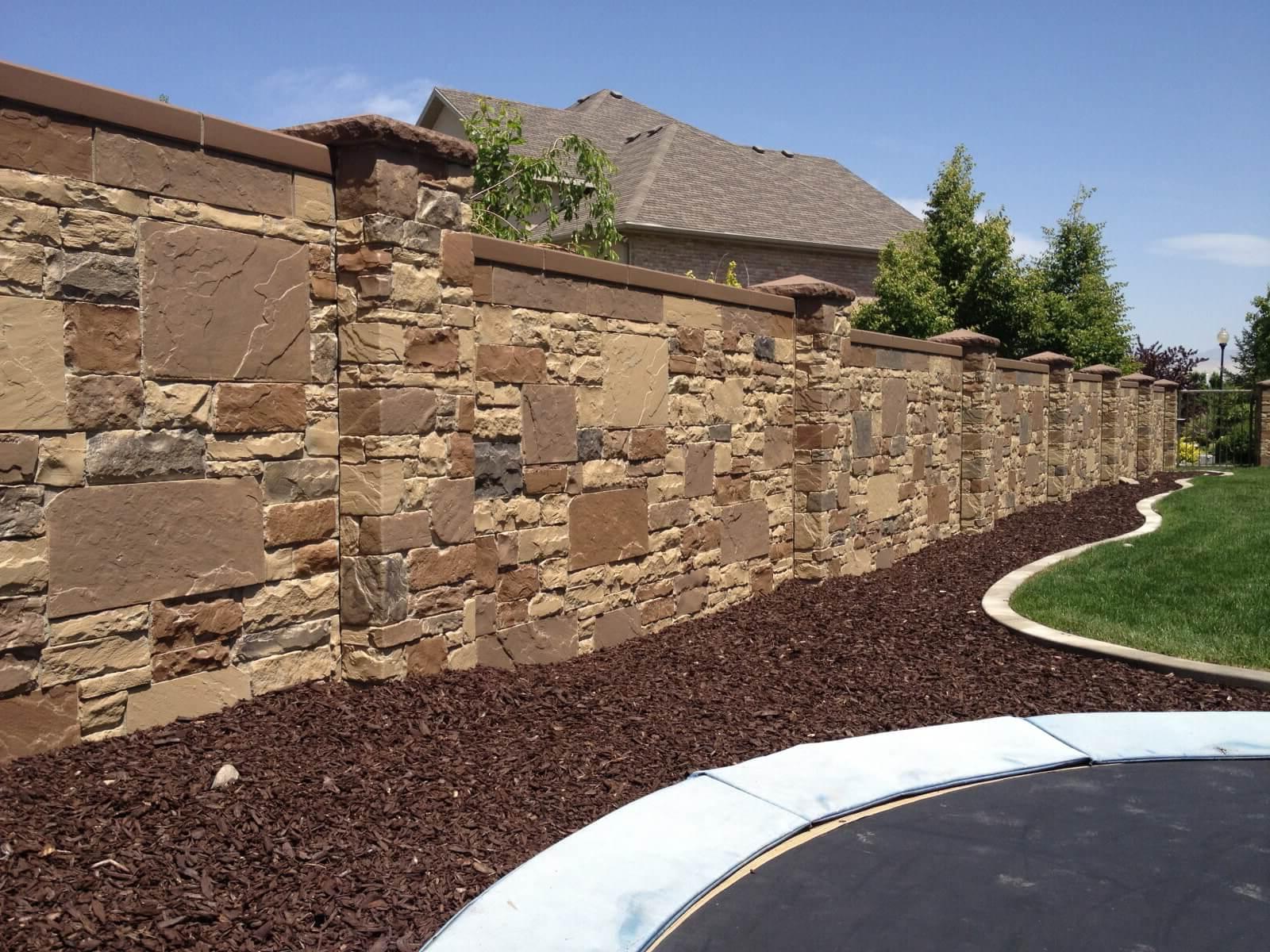 Stone is an age old traditional fence material but this design turns it on its head to make it feel more modern and attractive. The fenceposts and the panels between them blend into one another running down the length of the large property in uneven blocks of stone in different shades to create a neutral patchwork across the surface. The fence is lined by a waving bed filled with dark stones to define it in a unique way.
26. A Modern Combination of Traditional Materials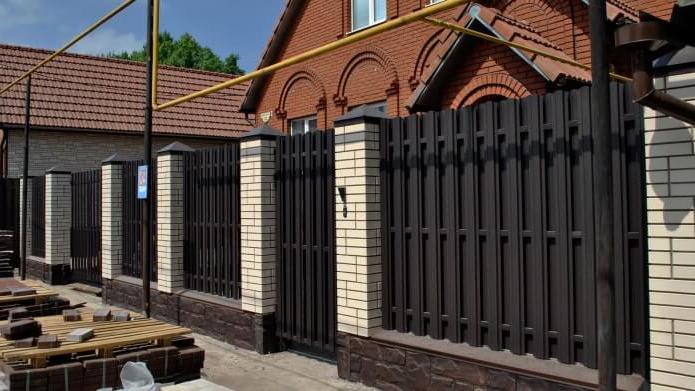 Corrugated iron, brick and stone facing are all traditional materials that have been combined in a modern way. It starts with the deep brown stone base with white brick fenceposts that are long and slim rising from it topped with pyramidal copings. The fence panels and wicket gate are filled in with corrugated iron. This highly utilitarian material has been upgraded with the matte black finish and the textured quality of the extrusions so the whole look comes together in a subtle, yet modern fashion.
27. Steel Stylized White Picket Fence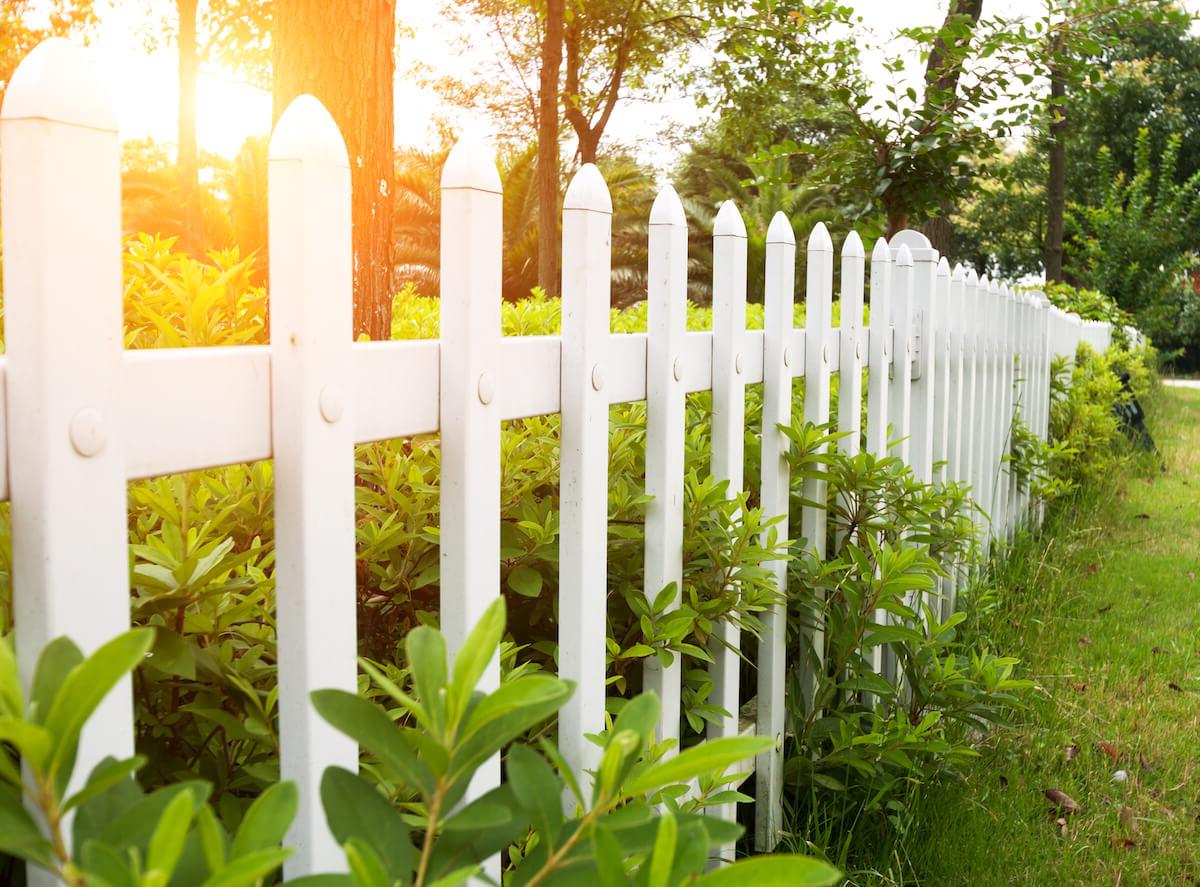 As we saw in example 20, this modern design mimics the traditional white picket fence but rendered in white steel that is more long lasting than the usual painted timber. Each thin vertical element has little rounded toppers to imitate the timber spikes with fenceposts that are an upsized version of these. This is a modern design hiding in plain sight that informs this idyllic little scene within the beautiful green foliage.
28. Woven Branch Rustic Garden Fence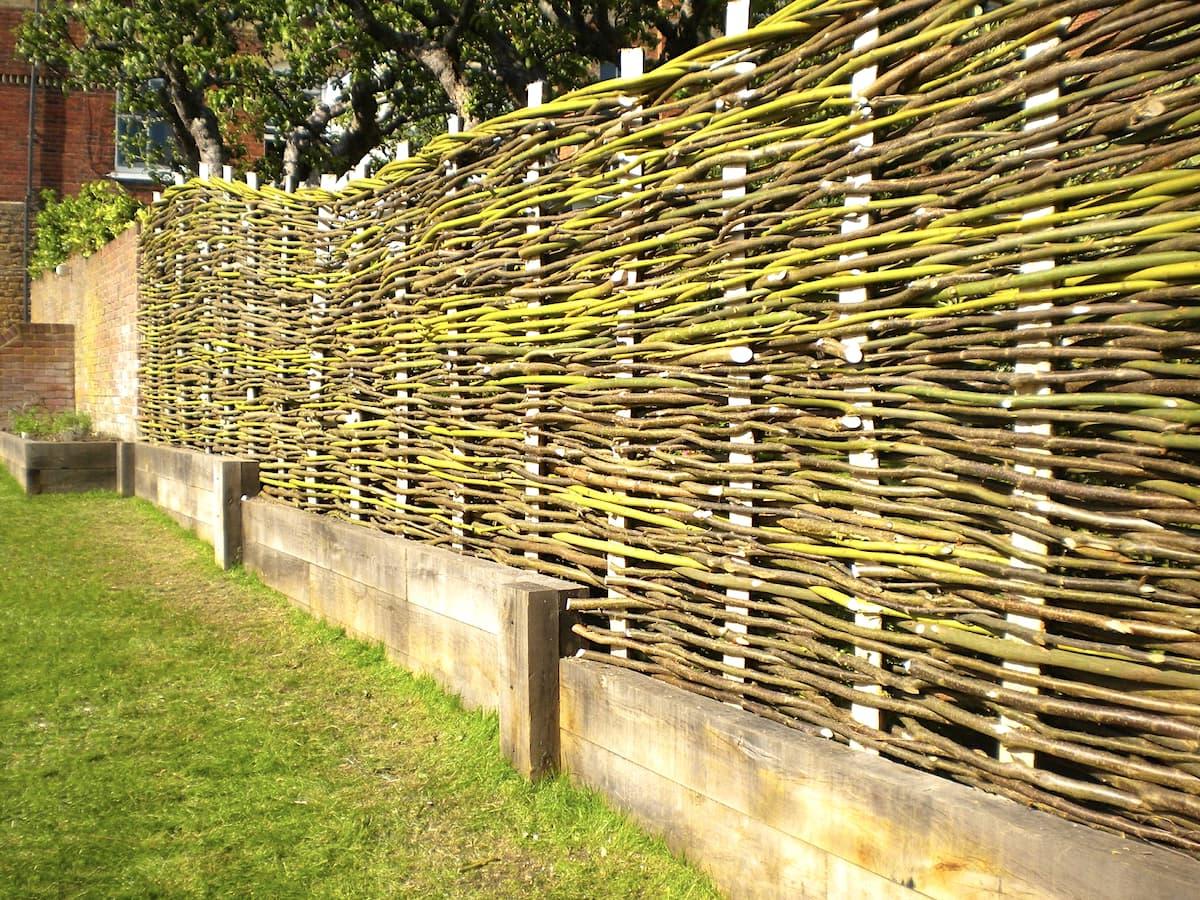 This rustic garden fence looks like something out of The Secret Garden. The design is modernized by combining a series of materials that come together to look rustic and attractive. The stepping down concrete base is weathered and moss stained with vertical white fenceposts supporting the timber branches bolted to the outside. These posts are almost completely obscured by the thin flexible branches that have been woven around them to create this beautiful natural pattern. As an added bonus a vibrant green moss has been allowed to grow over the branches to decorate its length in a gorgeous natural manner.
29. Cleverly Upcycled Palette Fence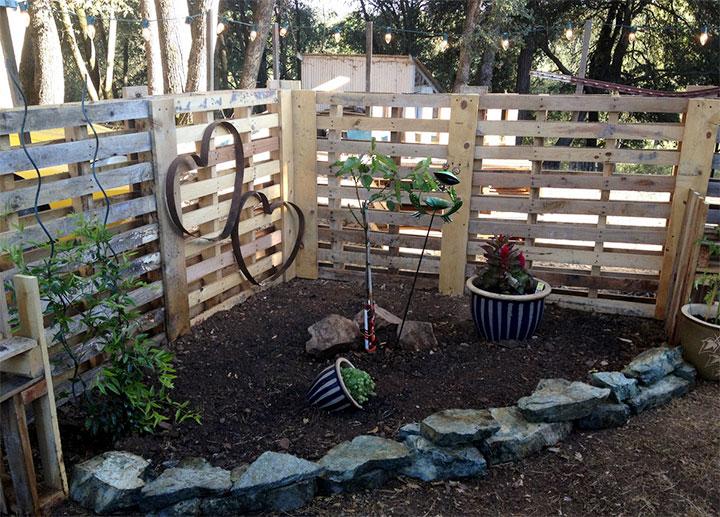 Using upcycled palettes is a cheap eco friendly fence material that saves you money and looks rustic at the same time. These palettes can be picked up at scrapyards for free and transformed into something beautiful with minimal intervention that saves on waste. This screen fence divides up a larger garden creating a little corner around this flowerbed but allows you to see through to the rest of the garden beyond. The palettes are supported by reclaimed timber fenceposts that fits the aesthetic of this eco conscious garden perfectly.
30. A Merging of Wood Paneling and a Living Wall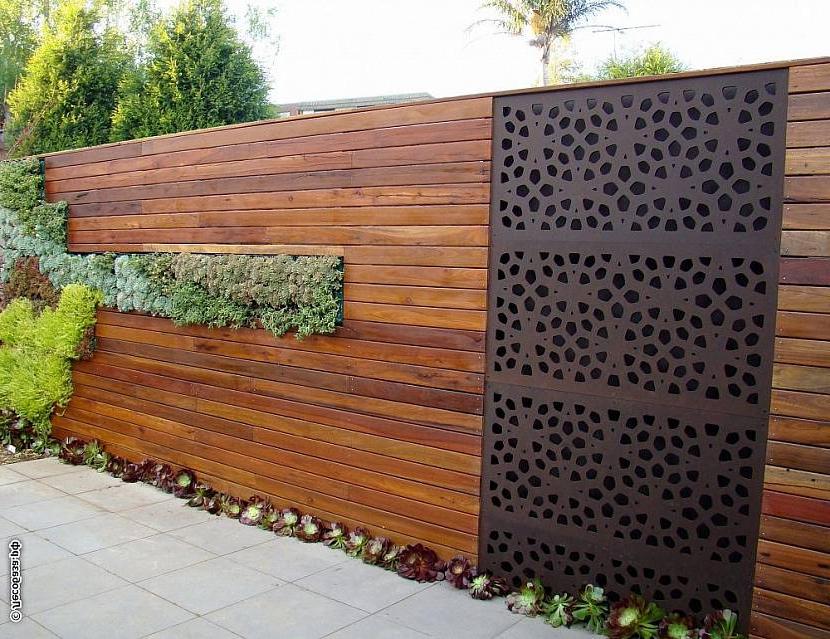 This incredibly beautiful fence uses three different materials to create a stunning amalgamation of finishes in one small space. The main material is horizontal wood paneling stained a deep red toned brown, this is broken up by a living wall comprised of different plants in a variety shades that appears to be slowly enveloping the timber structure. This has been used alongside a treated deep brown steel door that has been perforated with a beautiful mandala style pattern. This visually impactful collection is lined by a little collection of succulents along the base to underline it and finish it off in a unique manner.
Conclusion
Fences are conventional objects that you see in your average suburb but with these designs they are anything but average!
By collaborating stunning materials alongside one another in a dramatic spectacle or cheaply renovating an existing structure, you can make these modern designs work for any setting and under any budget. So go on, have a little walk outside and have a look at your garden fence. Maybe it could benefit from some of these beautiful inspirational designs.