Wardrobes are a necessity in any home but they can often be bulky, take up your precious floor space and ruin your carefully planned room design. But, never fear, sliding wardrobes are here to save the day! With these innovative designs you don't need to accommodate for a door swing and they can seamlessly be worked into your home, occasionally without people even realizing they're wardrobes.
33 Space Saving Sliding Wardrobes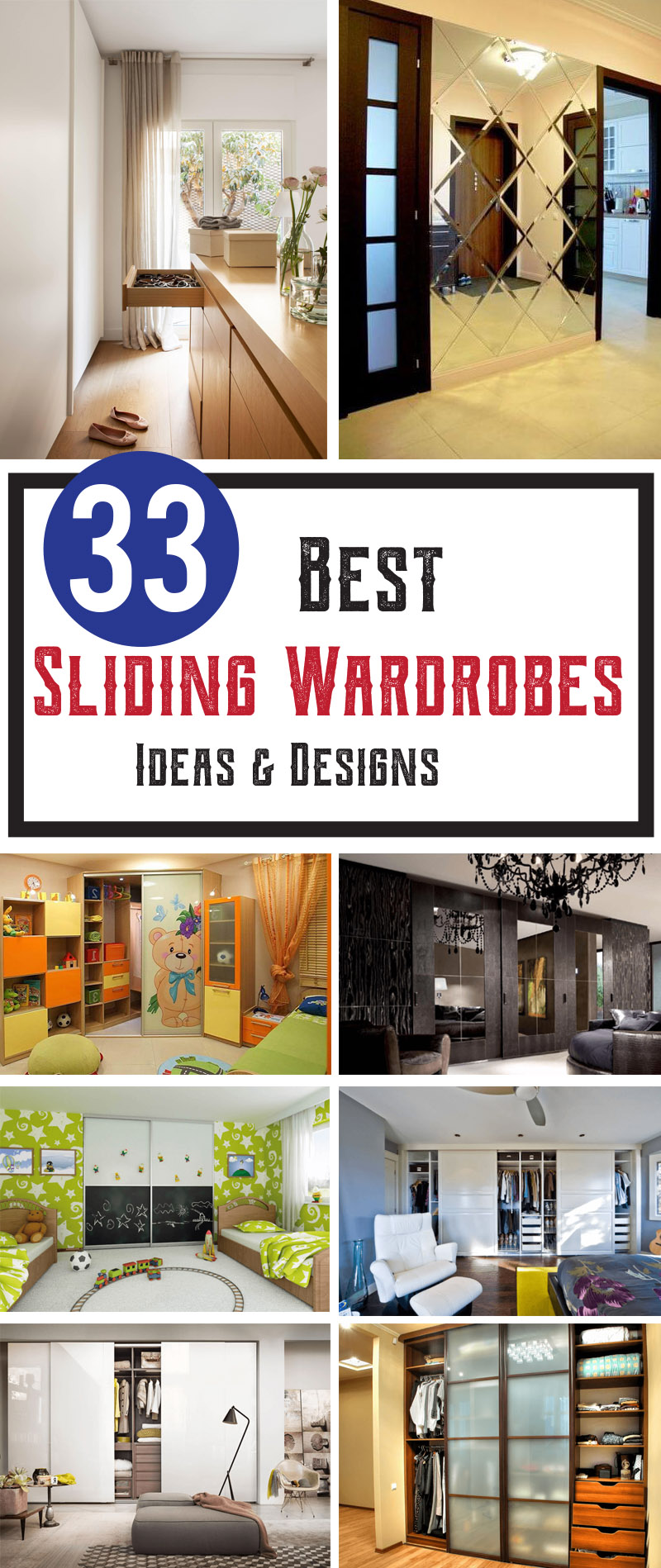 The doors can slide on runners along the floor or hang off a top rail with very thin frames so they can slide silently over one another easily without getting bulky. Often sliding wardrobes are also built in very lightweight materials like aluminium, plastic sheeting or laminate timber so they will look sleek and easy to use. To change up the expected look of a wardrobe the frames can even be filled in with frosted or clear glass to allow a glimpse inside, if you are tidy enough!
If these commonly handle free wardrobes are used in a smart way they can even be used as a feature wall within the room that provides you with floor to ceiling storage into the bargain. This can be achieved by designing the doors themselves using whatever colours and materials will most suit your interior design so when the doors are closed they form one full wall of whatever design you chose for yourself.
So if you want to see how to use this innovative storage piece to your advantage here are:
1. Sleek Double Sliding Doors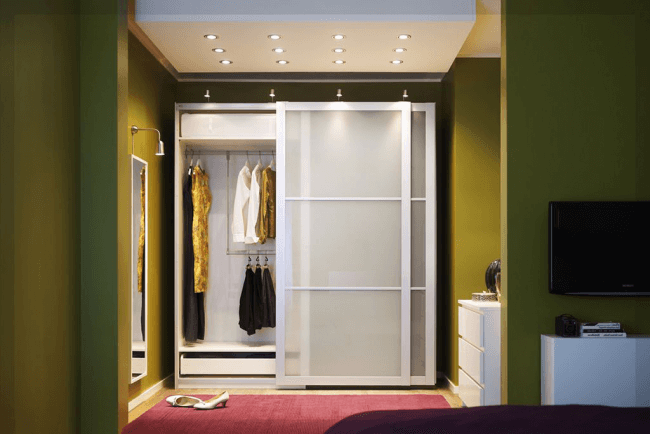 This elegant space saving sliding wardrobe has a slim white frame filled with frosted panels so you just get a visual hint of what is inside. The doors slide open the left side and right side one at a time, sliding over one another so you don't have to consider the door swing within this small dressing room. Inside the wardrobe it has incorporated a slide out shoe drawer at the bottom and another for accessories at the top. The whole form fits the niche it sits in perfectly to seal off this contemporary design.
2. Sliding Wardrobes Disguised as Walls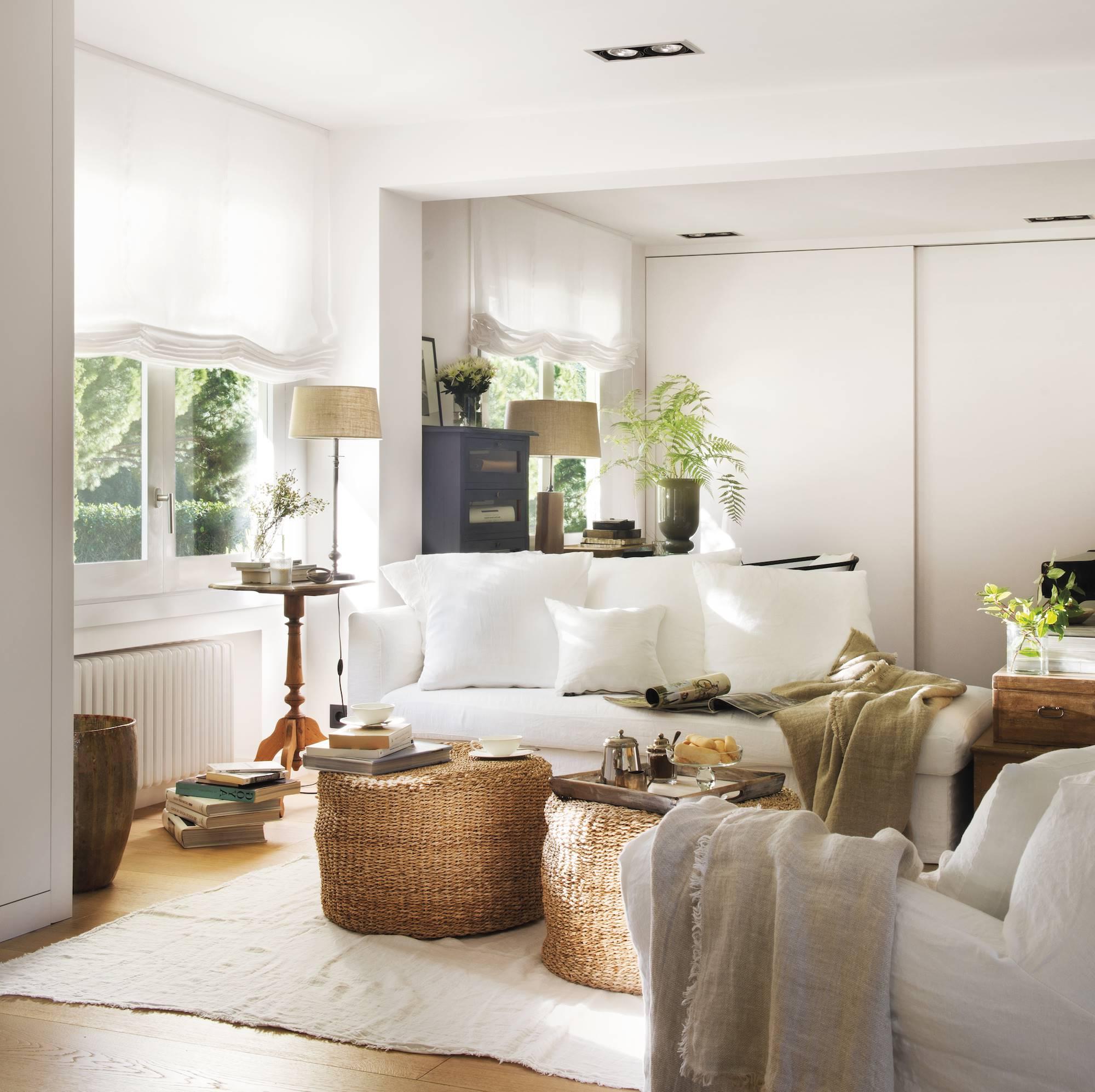 If you need storage but you have a minimal uncluttered aesthetic then these thin floor to ceiling sliding wardrobes are for you! These immense wardrobes give you plenty to store for any everyday clutter while the interiors minimal rustic style is uninterrupted. As an added bonus the sleek white expanses act as clean white backdrop to the rest of the room to amplify anything you put in front of it.
3. Decorating with Your Sliding Wardrobe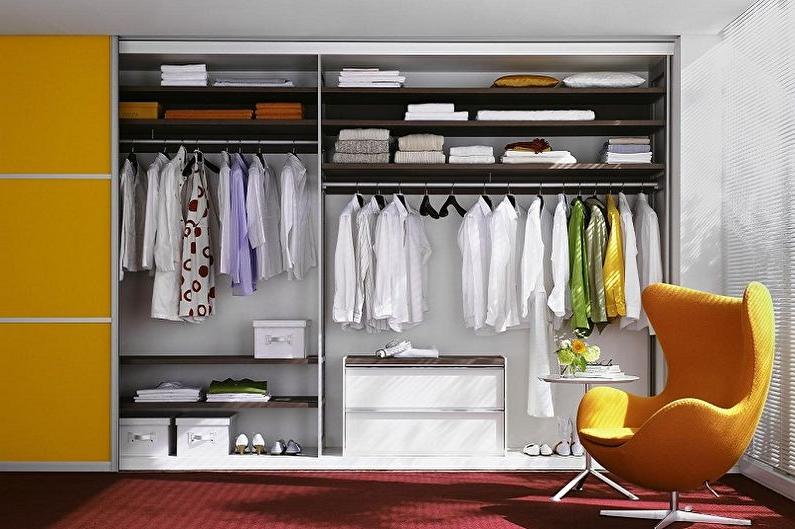 As we mentioned in the introduction, sliding wardrobes can be used as a bright feature wall like it has been here. The sliding doors are in an aluminium frame with mustard yellow paneling that matches the yellow chair sitting in front of it. The decorative feature wall then magically slides away to reveal a massive shallow wardrobe with space for hanging, folding, shoes and a set of drawers for socks and underwear all in one place.
4. Subtle Modern Wardrobes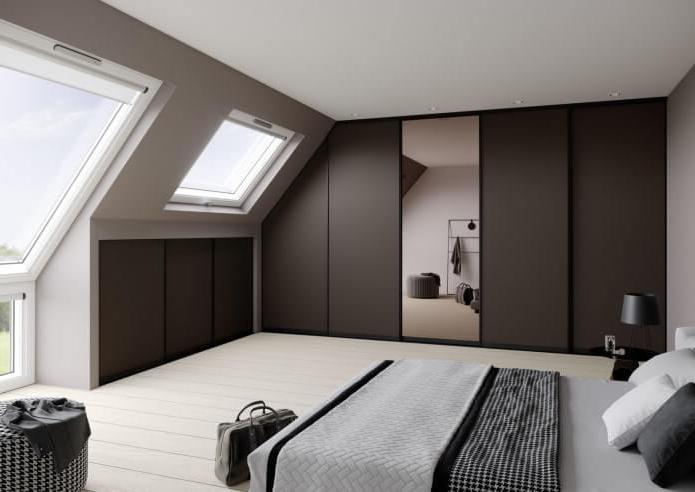 The monochromatic interior of this pitched space is simply beautiful with a neutral colour palette. The sliding wardrobe takes up one whole wall with matte deep grey panels with a mirror in the centre. Panels on either side of the mirror slide away to reveal the floor to ceiling cupboard behind it with one side for each partner. This piece stores lots of items without expressing it externally whatsoever so it can act as a backdrop to the subtle textures of the rest of the room.
5. Wood Paneled Sliding Wardrobe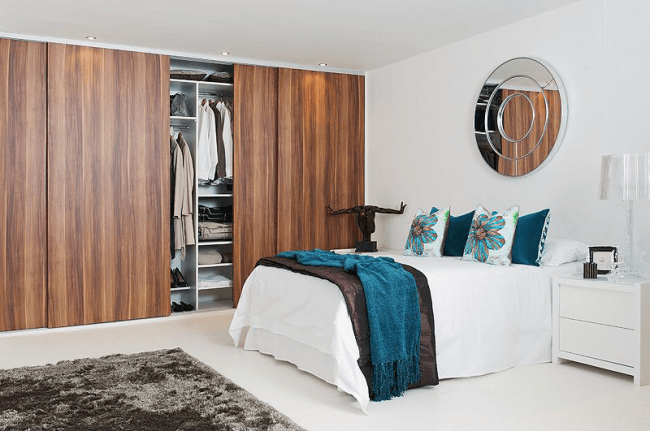 Here we have some gorgeous laminate wardrobe that has become the background to the fairly minimal foreground. The vertical sliding doors that have no handles so they appear seamless but, due to their weight, they can be opens with just the slightest pressure as they slide aside two at a time. This, yet again, provides you with a full wall's worth of space without encroaching on the snow white floor space whatsoever.
6. Chic Hallway Wardrobe Doors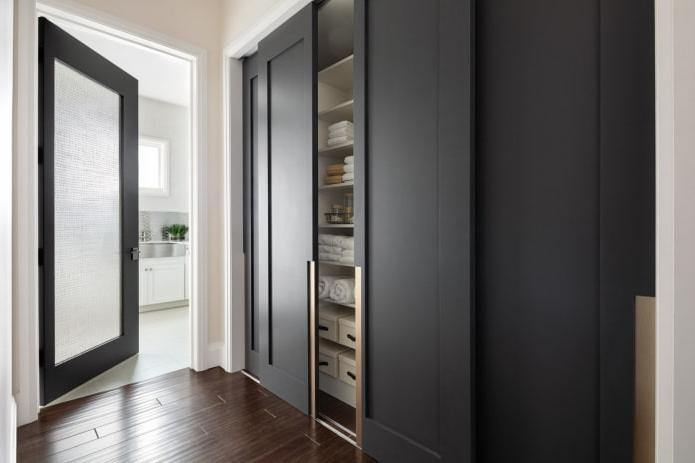 Sliding wardrobes are perfect to be used in hallways to make use of a dead space without interrupting the flow of the small hallway. These doors slide open elegantly from side to side filled with all your bathroom needs including restocks, new clean towels and bath mats. The doors are minimally beautiful with a sleek, matte black finish; they are top hung with thin rectangular gold strips that join at the centre when they are closed in an aesthetically pleasing manner.
7. Illustrated Teddy Bear Child's Wardrobe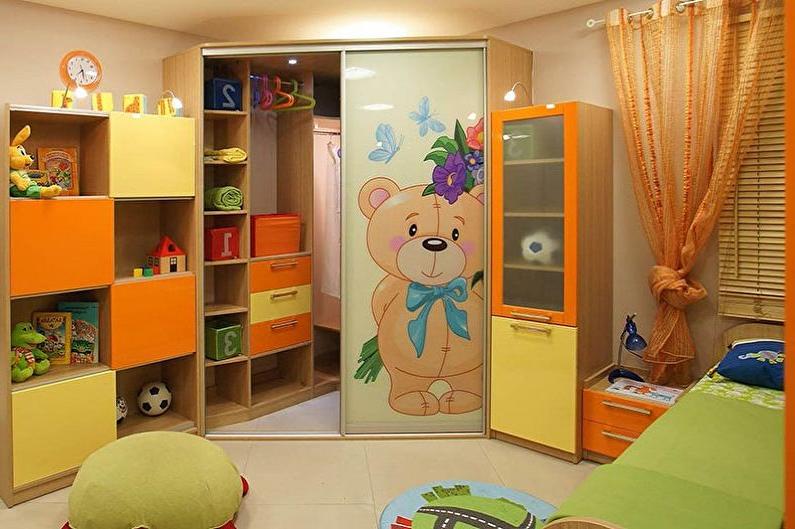 In this brilliantly stimulating child's bedroom has cleverly built a wardrobe into the corner of the room with laminate panels with two adorable panels printed with teddy bears at the front. Building it into the corner gives you lots of space inside while cancelling out the dead space The sliding doors fold into the cupboard itself to save space and take the opportunity to decorate the child's bedroom that fits in perfectly beside the bright yellow, orange and green interior.
8. Invisible Matte Black Wardrobes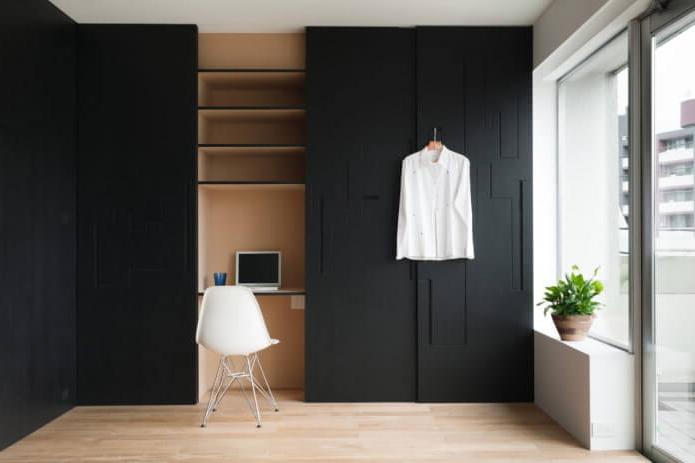 The end of this open plan living space incorporates a desk with a shelving unit built in above it surrounded by a corner unit of sliding wardrobes. The doors of these modern closets slide over one another for floor to ceiling storage that is invisible from the outside. The wood paneling has been painted in an inky matte black that has a subtle design with different panels pushing in and out across the surface to create a subtle texture when the light hits it.
9. Glossy Living Room Wardrobes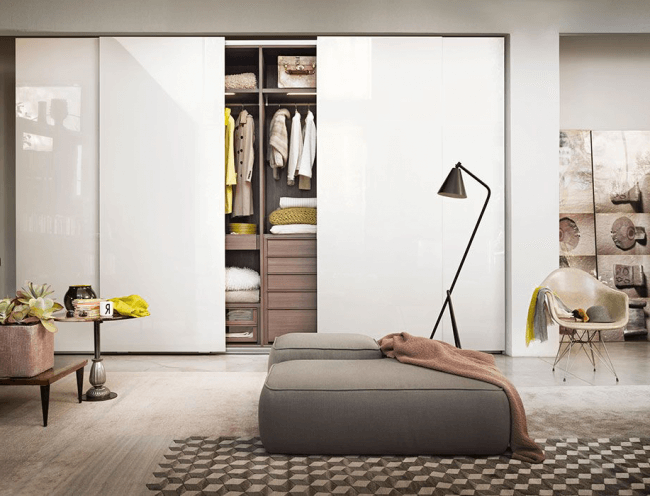 The glossy glamour of this sliding wardrobe is perfect for an apartment that is short on storage or a studio that is short on space. Panels in a high shine white finish slide gently open to reveal ample hanging, drawer and folded clothes space. When closed, however, they become a modern reflective backdrop to the rest of the minimal room proving that you include necessary furniture without breaking your aesthetic.
10. Curved Retro Corner Wardrobe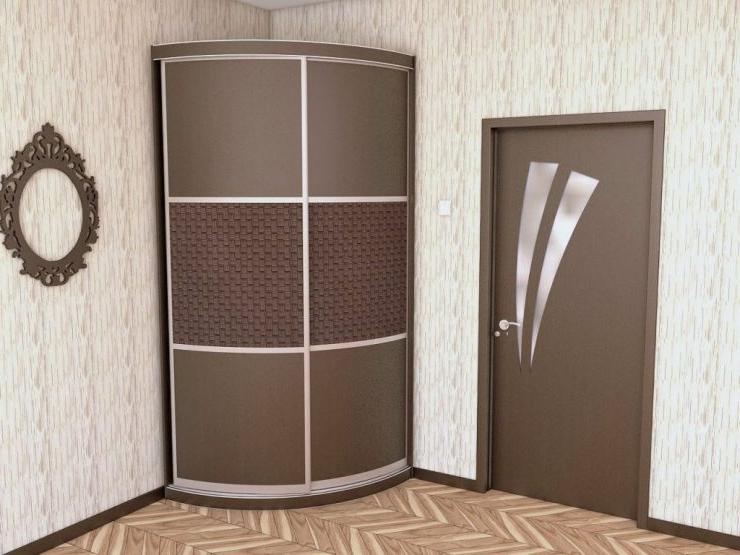 This curved retro wardrobe does a fantastic job of using the dead space beside the front door using an innovative design. The form is based around a curved aluminium frame so the doors slide in front or behind one another without interfering with the front door. The wedge shape creates a deep space for household storage while using a space that would have been hard to use. The smooth, deep brown and woven panels suit the neutral hallway perfectly as it contributes to the multitude of brown shades.
11. Small Mirrored Wardrobe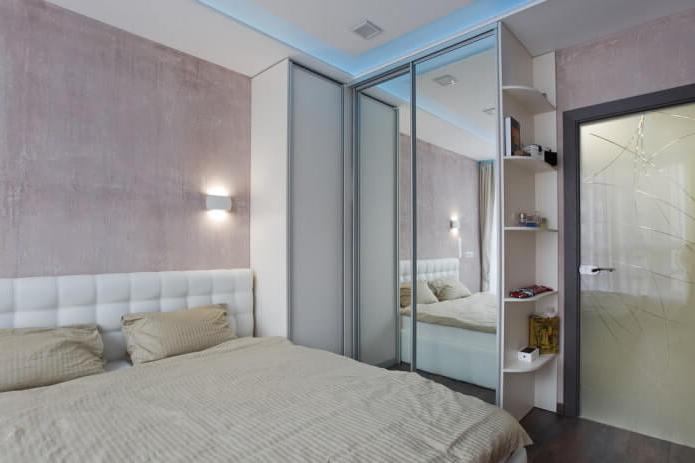 This bedroom has been allowed to prioritize a large comfortable bed by using a really small sliding door unit that spans from floor to ceiling with mirrors in each panel. The mirrors make the small bedroom look bigger, which is an age old trick that has been taken advantage of through the wardrobe. Each door slides over one another with loads of storage in two well planned columns that doesn't take up minimal floor space.
12. Cute Decals on Mirrored Wardrobes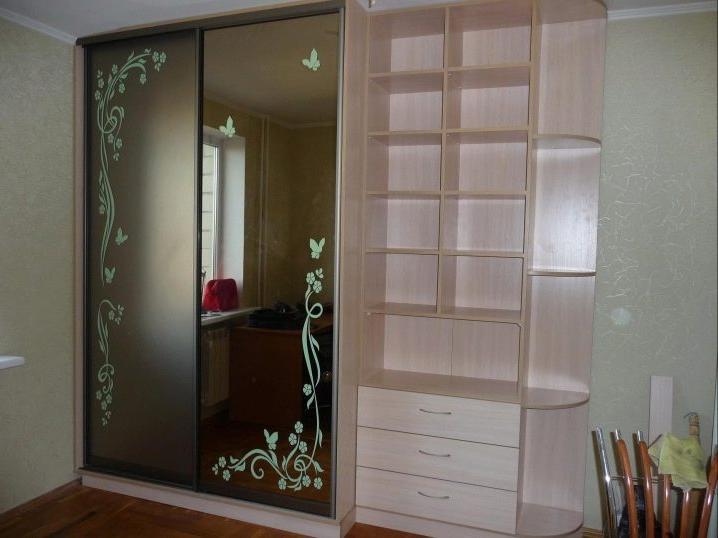 The sliding wardrobe of this bedroom has been built in next to an extensive storage unit that climbs from floor to ceiling to maximize on space. The panels of the wardrobe are faced in dark tinted mirrored glass that are decorated with floral decals and speckled by butterflies. The mirrors make the small space feel larger, provide covered and open storage space and takes up so little floor space. The decals are a cheap way to personalize a plain design like this.
13. Frosted Paneled Sliding Wardrobes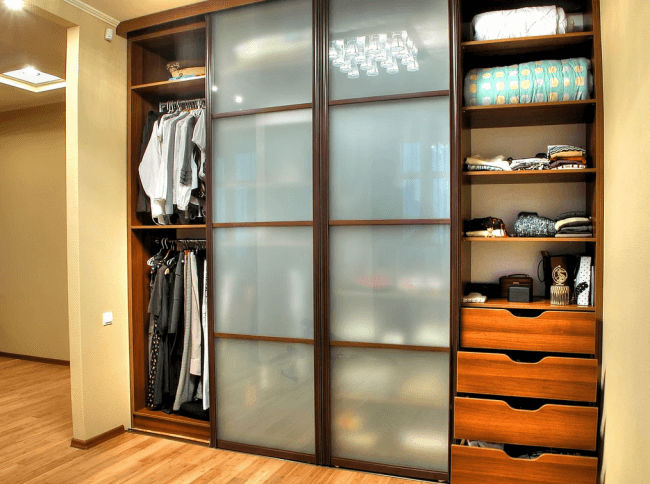 To cleverly hide your clothes in plain sight, these frosted wardrobe features a quartet of tall panels that hides all your clothes away and makes the whole façade look tidy and seamless. Each lightweight panel is divided into four squares filled in with frosted PVC so you can't see anything but a blurry impression of the clothes behind them. This relatively small wardrobe has hanging space on the left and drawer unit to the right with shelves in between to use the space as efficiently as possible.
14. Ostentatious Onyx Dressing Room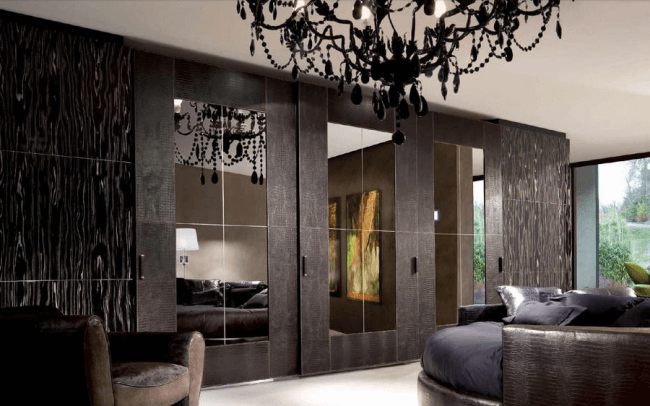 The drama of this feature wall has been faced faux slate inset with black tinted mirrors that hides a series of sliding wardrobes behind it. The secret wardrobes take up one whole wall in this lavish dressing room to provide all the space you could need for the most opulent wardrobe. Each door slides aside with subtle handles on each one. The mirrors in the centre of each door reflects the plush shiny fabrics and black crystal dripping chandelier to envelope you in a sumptuous, dramatic experience.
15. Freestanding Sliding Wardrobes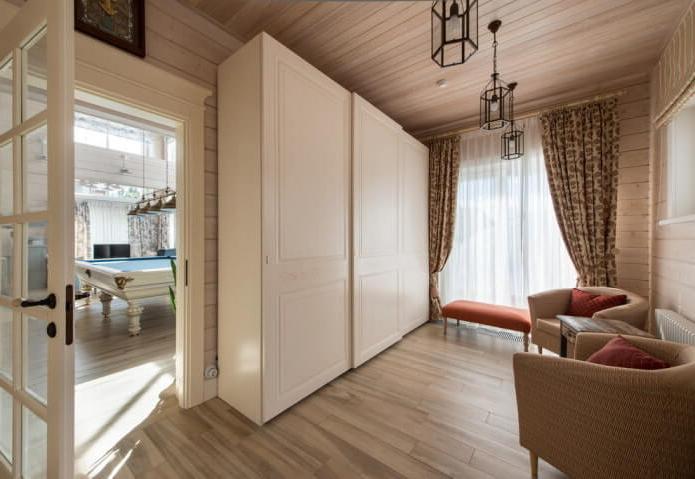 This awkward space beside the games room has been given a purpose with the freestanding cupboard in white with embossing. The chic cupboard had wide doors that slide over each other and leaves the rest of the room open to sit and chill near the games room. The minimal aesthetic has been enhanced using the wardrobes because everything is tidied away in one chic piece of furniture.
16. Minimal Drama Through Wardrobes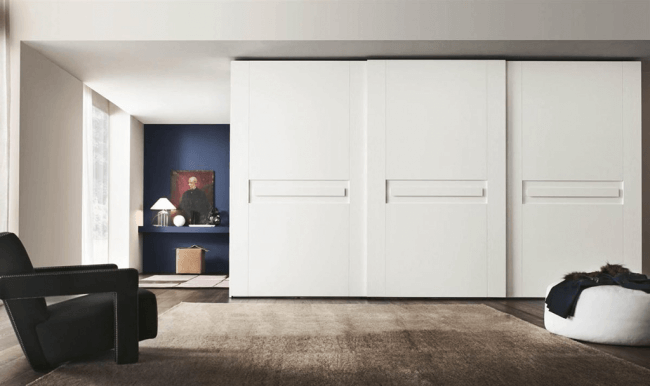 The large room divider in this modern room consists of three huge white wall panels with three central rectangles inset at the centre of each. The central panel sits in front of the other two that reads like a subtle statement but, in fact, hides storage behind its beautiful design. The pristine white also contrasts beautifully with the navy blue wall and dark flooring and brown carpe of the minimal interior.
17. Modern Wood Paneled Wardrobe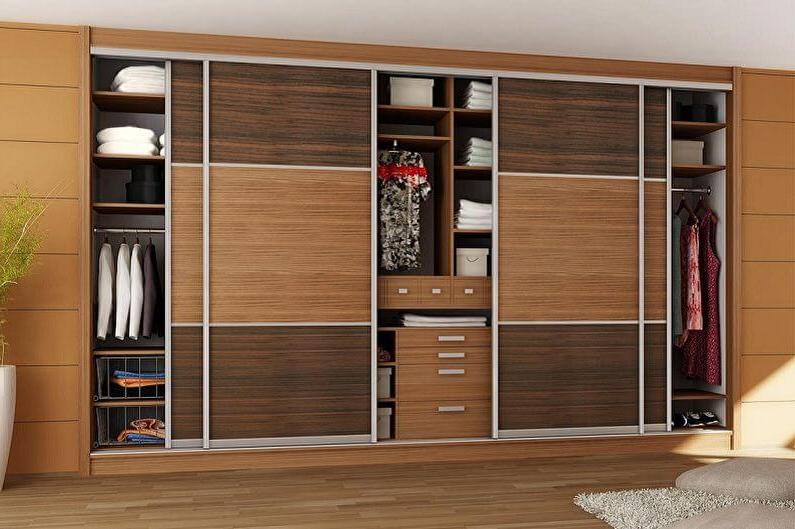 This modern bedroom has been executed in shades of timber with brown walls, floors and a full wall of sliding wardrobes. This feature wall has four large sliding panels, each one of these has two panels of dark laminate sandwiching pale laminate that matches the drawers inside the cupboards. The design is flows flawlessly from inside to outside. The top hung wardrobe doors have an aluminium framework that wraps around each panel that allows them to slide across each other in a lightweight manner.
18. Frosted Blue Doors Hiding the Dressing Room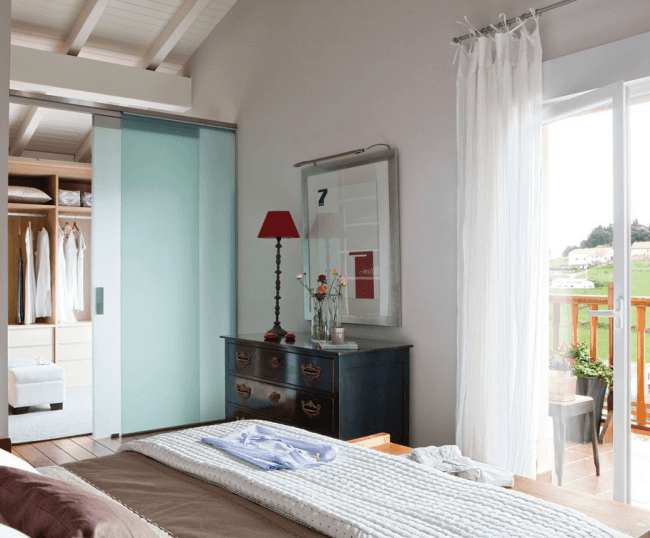 This pitched bedroom is a great example of having a small space to work with but still wanting to have the luxuries of large bed, dresser and balcony. The top hung sliding wardrobe doors hide an entire dressing room nestled in the pitch of the room. The pale frosted glass doors fold away and become more opaque in a beautifully layered way. The doors are framed in silver aluminium strips that run at the top and bottom as well as in the handle.
19. Soft Touch Wardrobe Feature Walls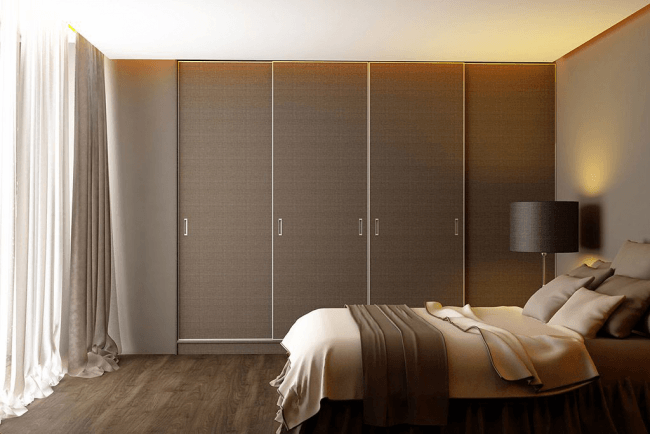 The distinct 70s muted qualities of this room has a full feature wall of wardrobes that act as its backdrop. Each door has little oval aluminium handles that are the same as the frame around the wardrobe panels, which are filled with brown soft touch fabric. This is a very small minimal room stylistically and the doors don't interrupt visually or physically.
20. Blackboard and White Board Kid's Wardrobe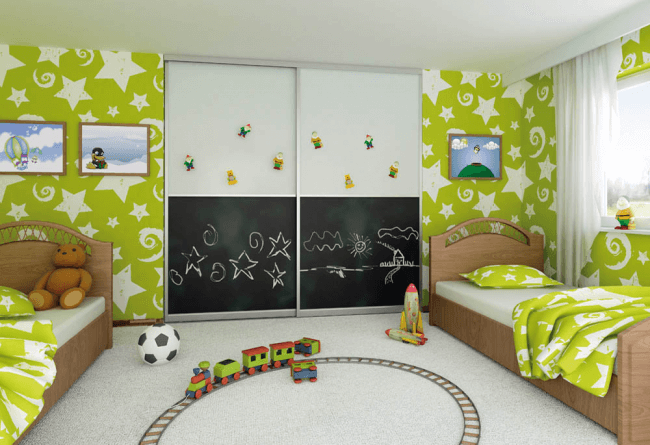 In this large children's room the large wide wardrobe has been built with one side for each child on their side of the room. These are huge doors but the sliding factor makes them easy for the little ones to open and leaves the floor open for play. What makes this wardrobe way more fun are the panels that make them up. At the bottom there is a black boards they can write on with chalk while above there is a white board that is magnetic to scribbles on with markers and play with magnets.
21. Highly Moulded Sliding Panels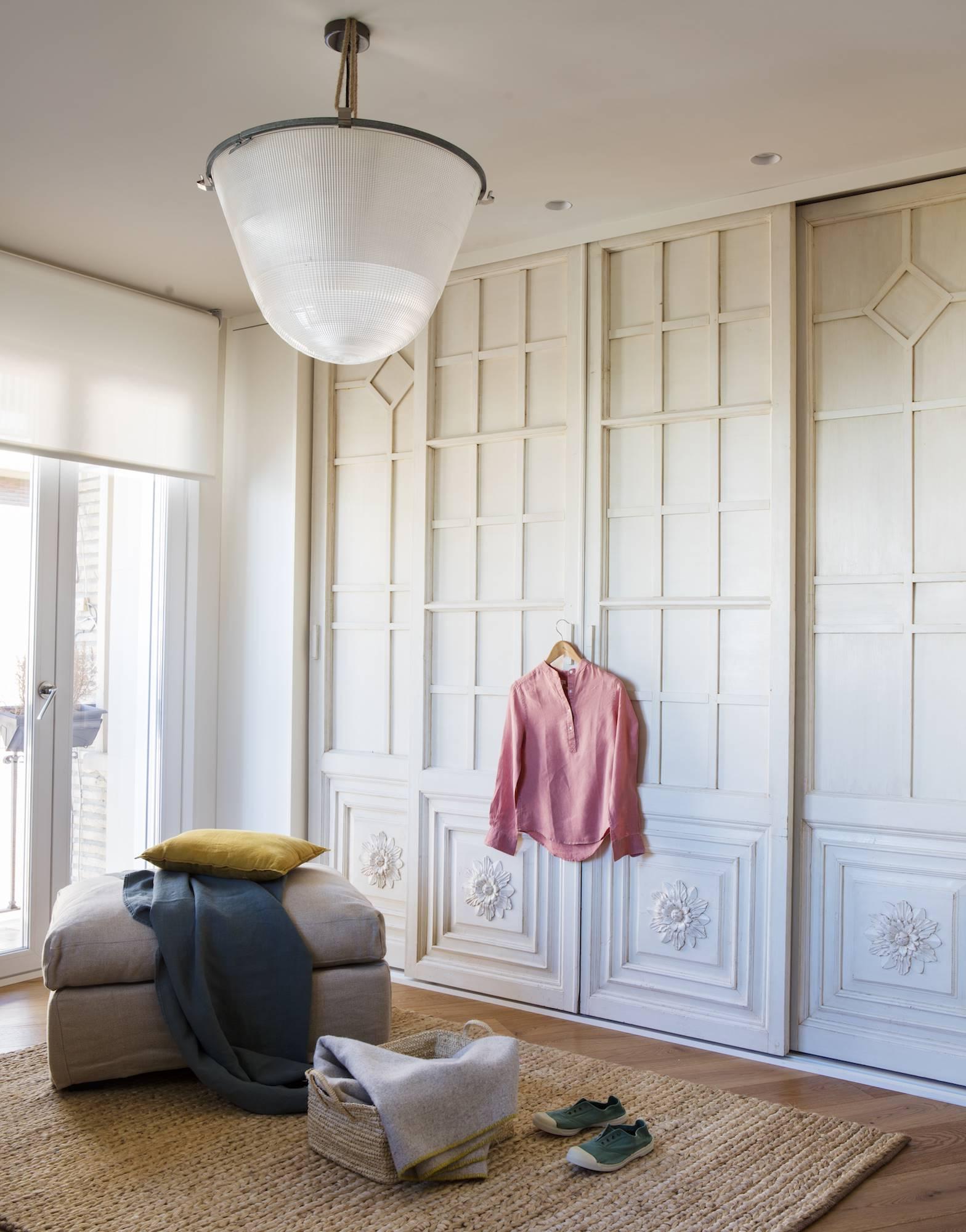 The full wall in this bright bedroom has been taken up by sliding closets that save space and help decorate the space at the same time. The room they reside in has a rustic design with textures from wooden floorboards and grey soft furnishings against a backdrop of wardrobe panels that have been moulded with a sun in a frame at the bottom and latticework at the top that decorates the room with delicately subtlety.
22. Large Wooden Paneled Wardrobes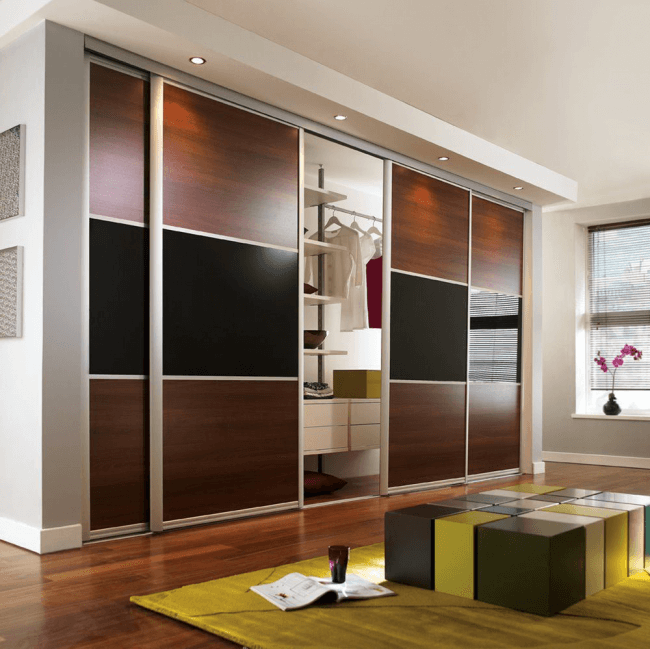 The dressing room to this spacious bedroom has sliding doors that are purely for aesthetics rather than space saving. The elegant design has a thin and lightweight framework that is top hung in four panels with three panels in each that alternate dark timber with glossy black polycarbonate that is endlessly chic. The doors hide a deep cupboard with a well planned wardrobe layout behind it that is as stylish as the space they hang in.
23. Spacious Sliding Wardrobes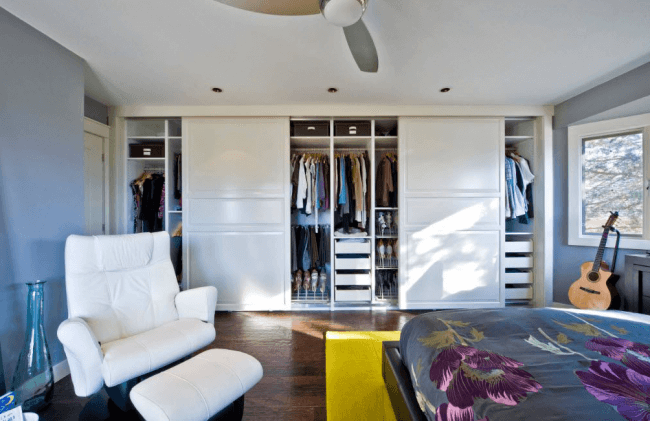 Here we have a large bedroom that accommodates a whole wall of sliding cupboards. The large wide panels slide behind one another to reveal drawers, shelving systems and plenty of organized hanging space. The doors are moulded in a subtle manner in three panels that is minimally decorative as the background to the large space that has a big bed and a plush white leather armchair sitting on a vibrant yellow rug.
24. Narrow Dressing Room Wardrobe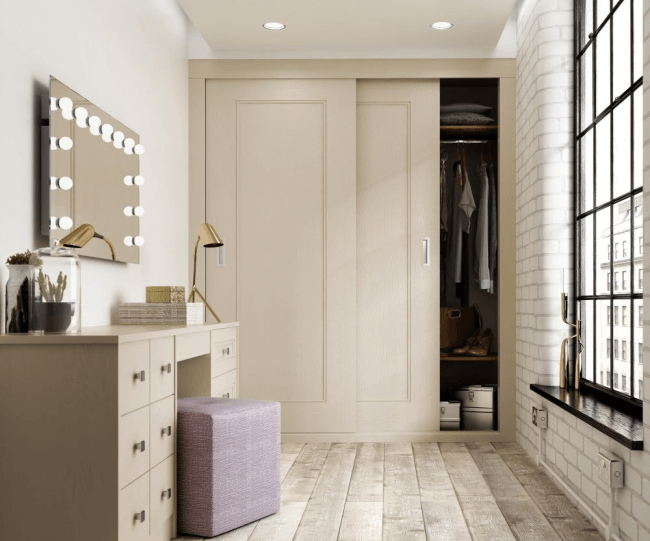 This thin space within this stunning loft, brightened by its classic windows, has been made use of with a dresser lit by spotlights and a wardrobe fitted into this small space that slides open on both sides with small aluminium handles. This unique space lets you do your make up and hair in the brightest section of the thin dressing room and change at the other end in private. The beige paneled wardrobe is the perfect backdrop to this shabby chic room.
25. High Shine Modern Wardrobes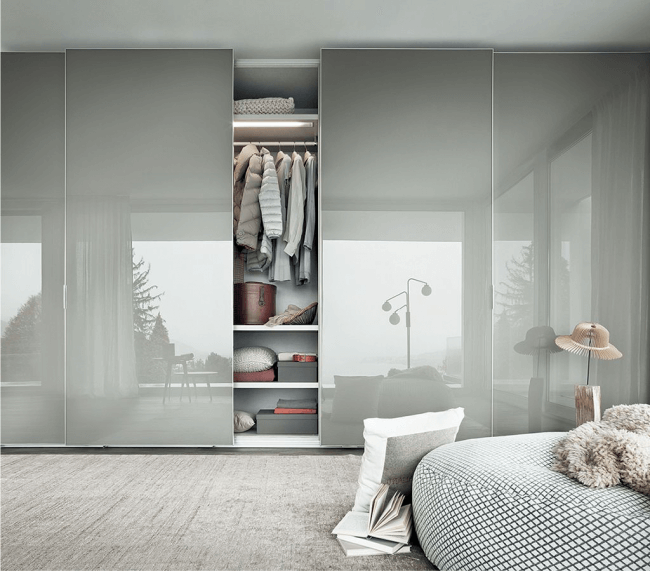 For a hyper modern look this floor to ceiling feature wall of sliding closets covers the wall in almost seamless panels. They are in a soft grey with a super high shine that reflects the room back at itself and makes it feel bigger. Matte soft furnishings have been layered in front of it in a beautiful juxtaposition. Behind the stunning doors hides four layers of shelves for shoes and ample hanging space so this gorgeous feature is incredible useful for the most efficient living situation you could want.
26. Innovative Corner Wardrobe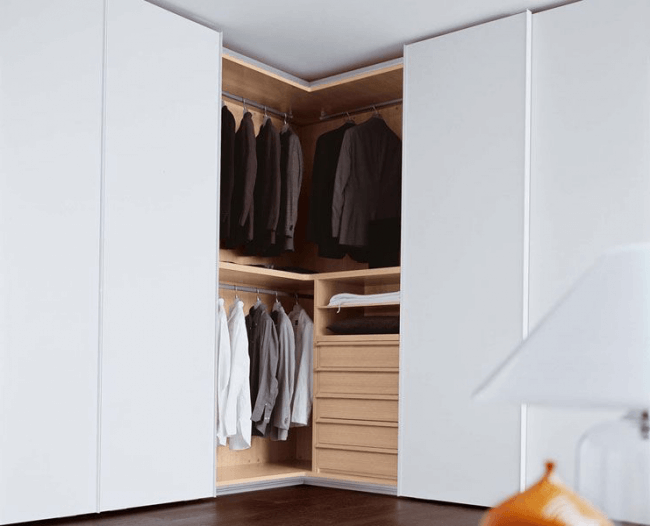 This spot in a wardrobe is often misused because of the awkward position but this solves the problem in a sleek sophisticated way. Two seamless, impossibly thin doors slide out from the corner to reveal the sophisticated clothes behind it and then disappear once more when you're done. The whole expanse is a completely blank, matte white backdrop to the sophisticated bedroom.
27. Stunning Mirrored Sliding Wardrobes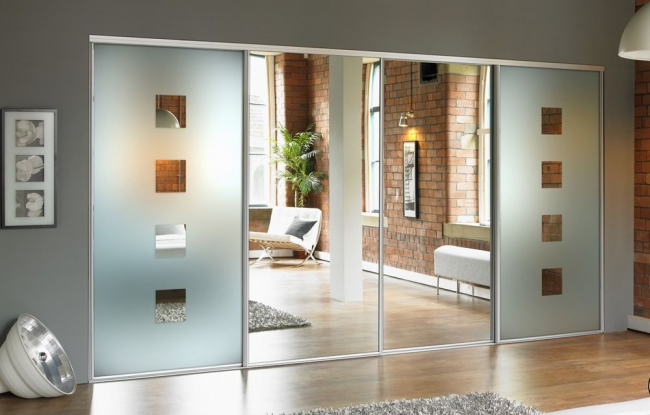 This stunning mirrored wardrobe is a feature all on its own but it also amplifies the rest of the room at the same time. The wardrobe has two fully mirrored panels in the centre with two fixed frosted panels flanking it on either side with columns of mirrored squares running down the centre. The dramatic doors open onto a dressing room with one side of the wardrobe for you and your partner. The wardrobe is a modern item but it reflects the rough exposed brick of the contemporary space in a clashing of styles that is disasterfully beautiful.
28. Small Space, Luxurious Atmosphere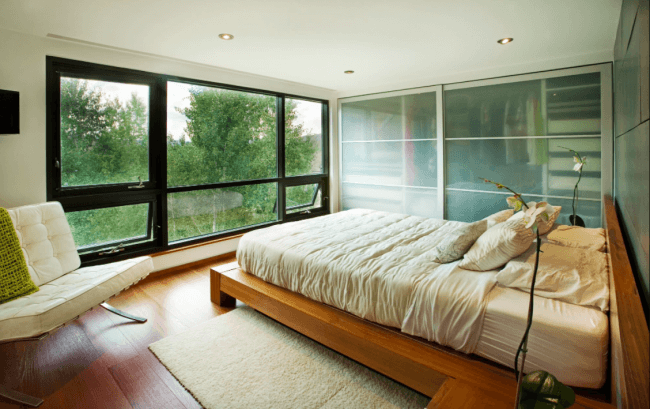 A small bedroom doesn't need to be a burden if you used it in an effective way. The large sliding wardrobe doors along one wall have a thin aluminium frame filled in with frosted glass panels that works well beside the floor to ceiling long windows down the perpendicular wall. The combination between the comfortable bed and the cleanly managed storage produces a very hygge room with all you need in one small, unique space.
29. Vintage Style Sliding Wardrobes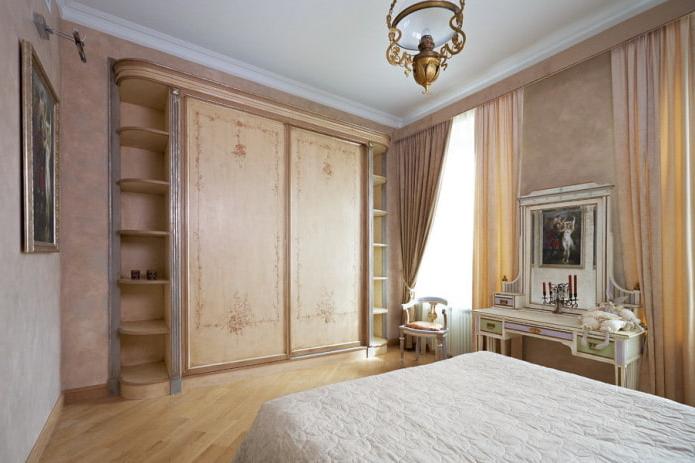 This immense cupboard unit has been finished to look vintage and become a feature of the bedroom that wreaks of old school glamour. The wardrobe may be imposing but it takes up very little space since it is made up of two large panels that slide over one another. They are supported on either side with two rounded shelving unit running down each side with the splotchy painted wall effect behind it. This leaves space in the rest of the room for a bed, which was the priority back in the day (and now) with an elaborate dresser.
30. Glass Paneled Sliding Wardrobe in Small Room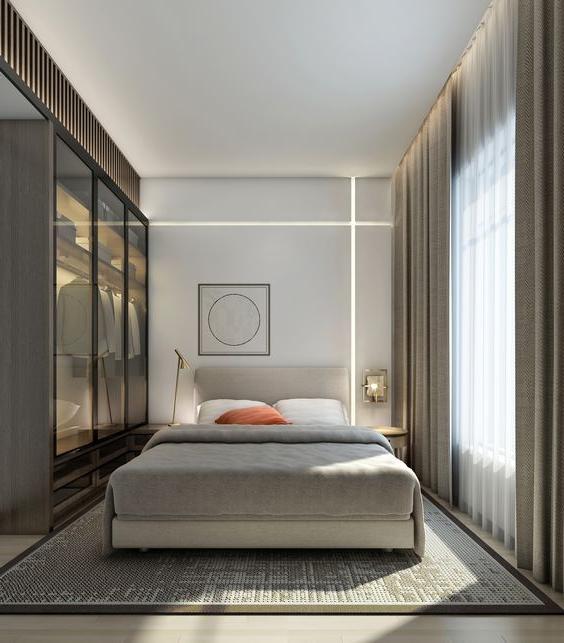 There is really limited space in this small minimal bedroom so why not make a feature of your necessities. The glass panels sit in an invisible frame next to the bed with drawers built in underneath. This means you can shows off your fancy suits and expensive shoes, lit by the massive window. This wardrobe screen has to be shallow so it doesn't take up too much space since there is a very thin gap down either side of the bed for you to get comfortably in and out.
31. Freestanding Sliding Mirrors and Frosting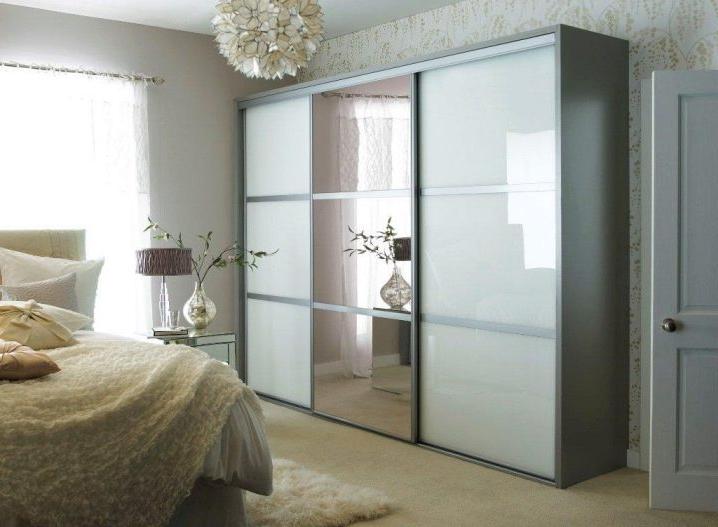 The thick free standing wardrobe residing over this rustic bedroom is a modern piece that clashes pleasantly with the rest of the room. The wardrobe has three panels with a mirror in the centre and two frosted panels on either side that slide over one another. The glass panel acts as a full length mirror as well as adding dimension to the room. This allows for more space next to the bed while the closet still has plenty of space for ample amounts of clothes for two people.
32. Sliding Wardrobes and Accessory Cabinet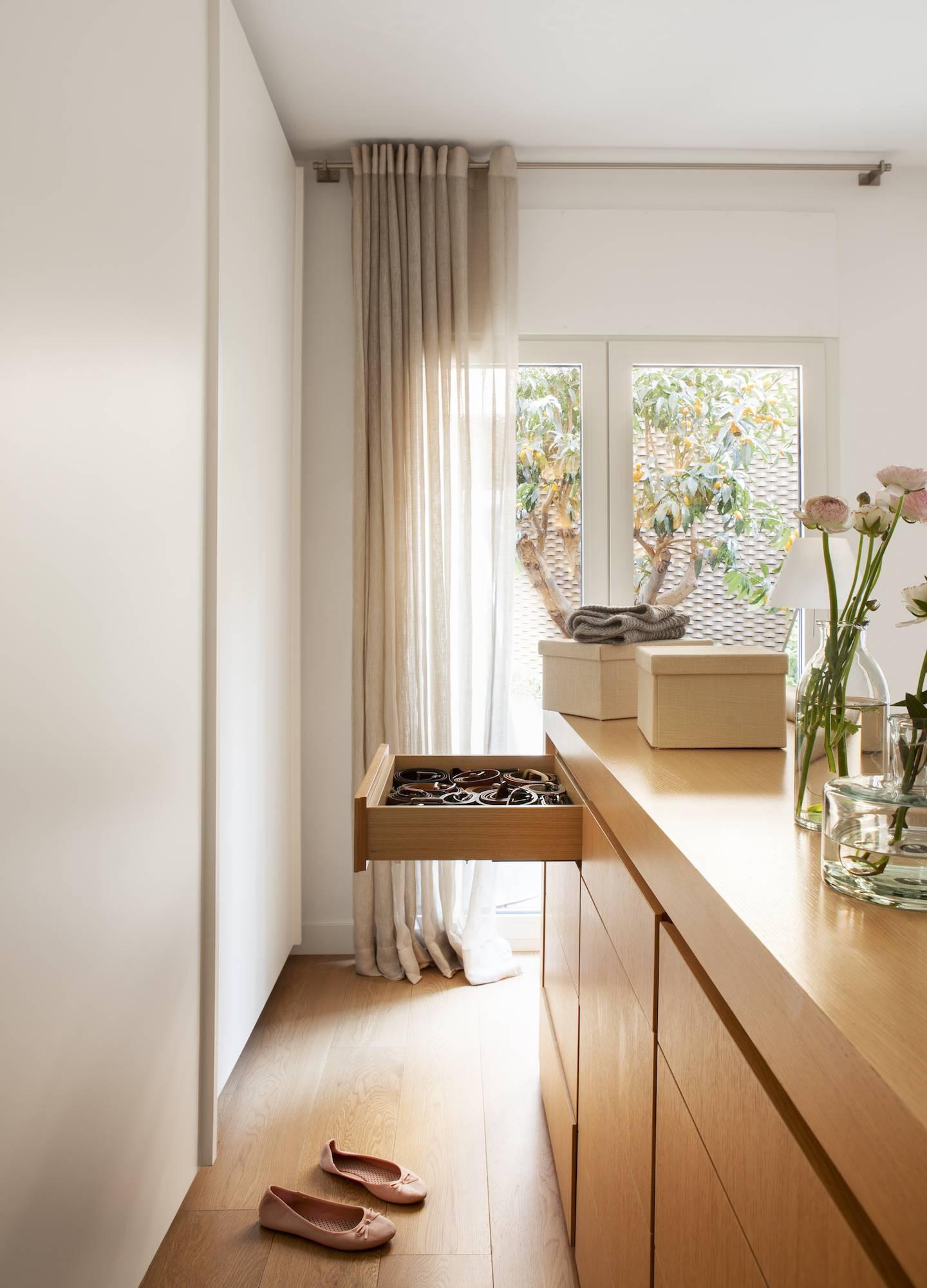 The dressing room to this bedroom has been carefully designed within a very small space. There is a thin alleyway running between the white sliding wardrobe and a chunky timber accessory cabinet with drawers for sunglasses, jewelry, scarves and shoes. There is absolutely no space for swing doors here so the thin sliding doors are definitely necessary. The doors slide aside to reveal massive amounts of storage behind the floor to ceiling wardrobes in white paneling that almost seamless from the outside.
33. Neutral Ultra Modern Bedroom
This hyper modern neutral room with a clear bubble chair hanging from the ceiling has a unique little walkway into the room that is slightly raised above the lounge floor that acts as a passageway with no visible barriers. This pseudo hallway has been used for storage while not blocking it using a tall trio of long panels that slide in and out of one another to reveal an ample amount of space. Each panel has an aluminium frame with wooden paneling in two neutral shades alternating down their surface.
Conclusion
Sliding wardrobes have proven themselves time and time again across this list that they can tackle all your storage needs with flair in whatever style your heart desires. Their space saving doors allow you to fit the wardrobes into dead spaces within your home and furnish even the smallest bedroom so you'll never have a cramped, cluttered home ever again!
So instead of making a beeline for the traditional freestanding wardrobes next time, why not consider the modest sliding wardrobe and all the help and style they have to offer.