Flexible shingles are a revolutionary roofing material that allows you to customize your roofing for a fraction of the price.
The shingles are made out of a composite material made up of bituminous asphalt that has been reinforced with glass fibre and finished with coloured ceramic granules, which is where you get the unique finishes. They come in rolls of the thin material that can be unrolled and cut on site simply using a craft knife, which makes it really easy to work with and simple to transport to site and onto the roof because its so light. They strips are fixed onto a board that runs along the rafters using a nail gun and laid overlapping one another. Depending on the roof configuration the flexible sheets can either flow over the hips and ridges or be sealed over with a specialized sheets of valley rolls or starter shingles.
24 Flexible Shingles That Make Roofing a Breeze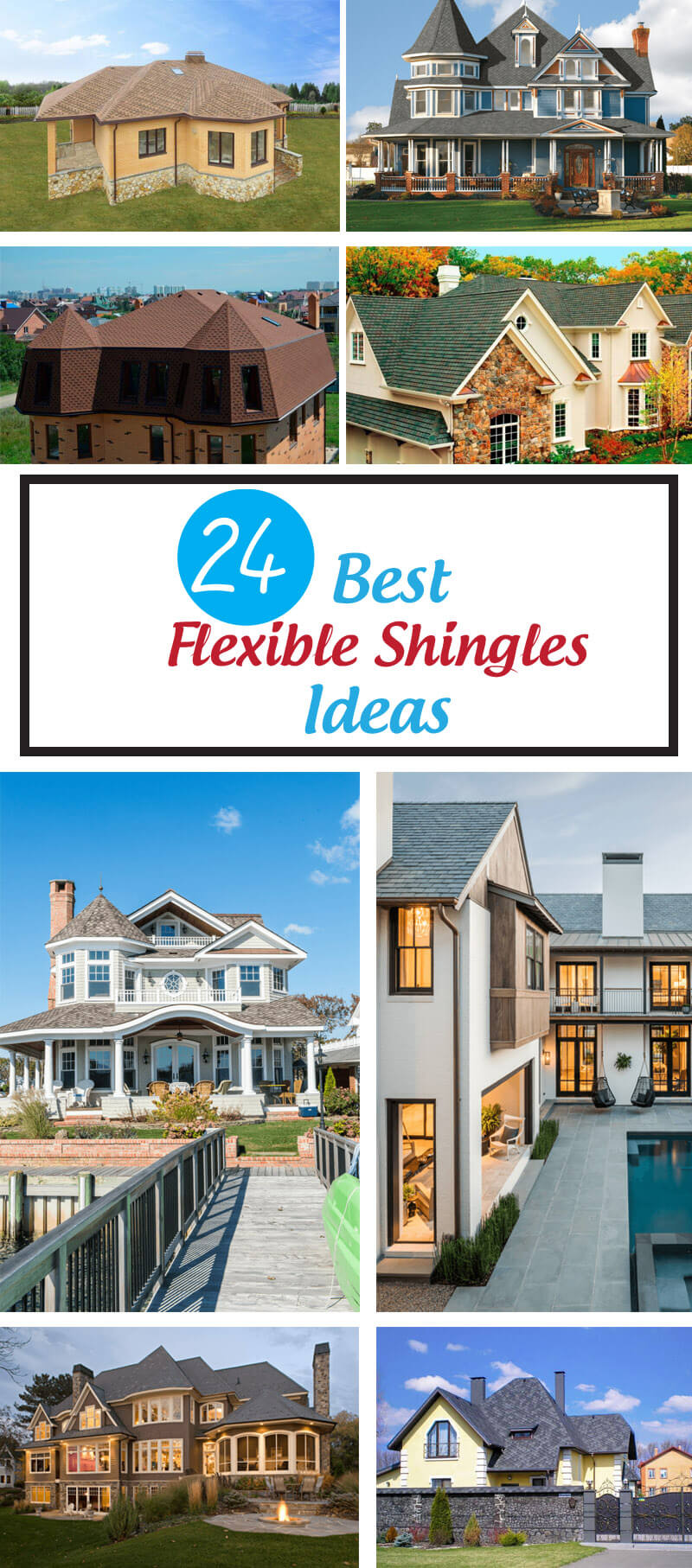 This roofing material, besides the easy of installation, is favourable because it is durable, versatile, water resistant and almost completely maintenance free.
So if you want to learn a bit more about this amazing material here are:
1. Richly Textured Shingles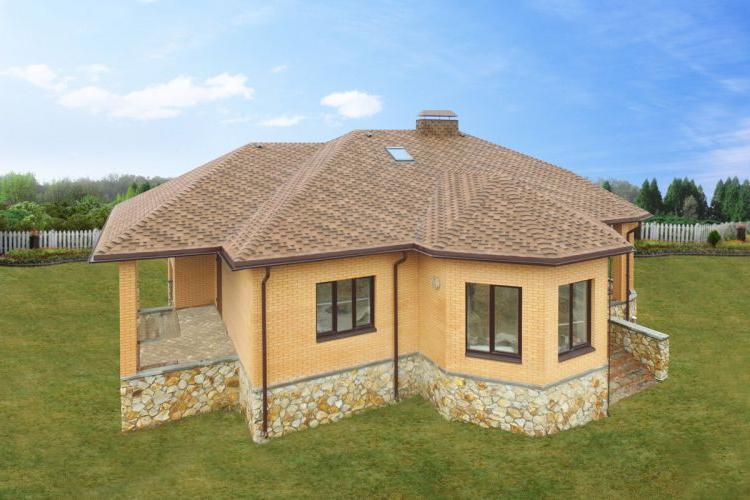 This large country house has used different textures throughout the structure from the roof shingles to the exposed yellow brick wall and a rough stone base to create these visually appealing layers. Flexible roof shingles have been used to create this rich pattern by using a colour palette of neutral browns that flows across the various slopes. The sheets are laid in the same direction on all slopes that create another level of pattern where they join.
2. American Gothic Grey Shingles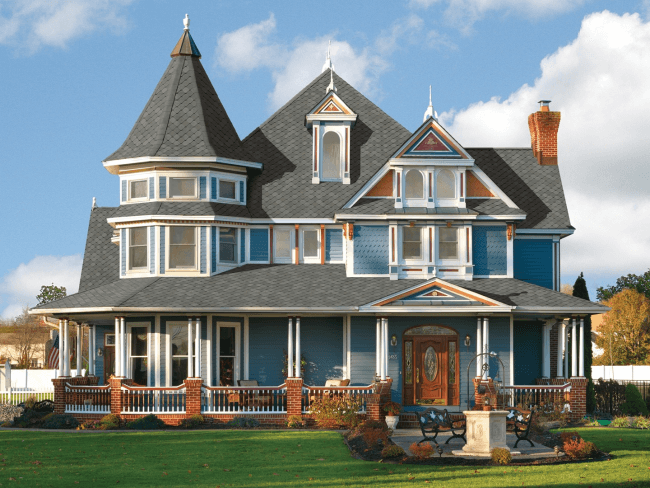 This home look like something out of a spooky movie in this classic American gothic style with its statement turrets and steep roofs. The roof is incredible complex and layered with some really steep portions, which can be a challenge to tile but with flexible shingles this is no problem and hardly needs maintenance so repairing on the steep pitch won't be an issue. The sheets are easy to adapt from pitch to pitch and navigate the joins between them to make the whole house cohesive. The slate grey hexagonal shingles creates a really even look that is very chic.
3. Even Rectangular Shingles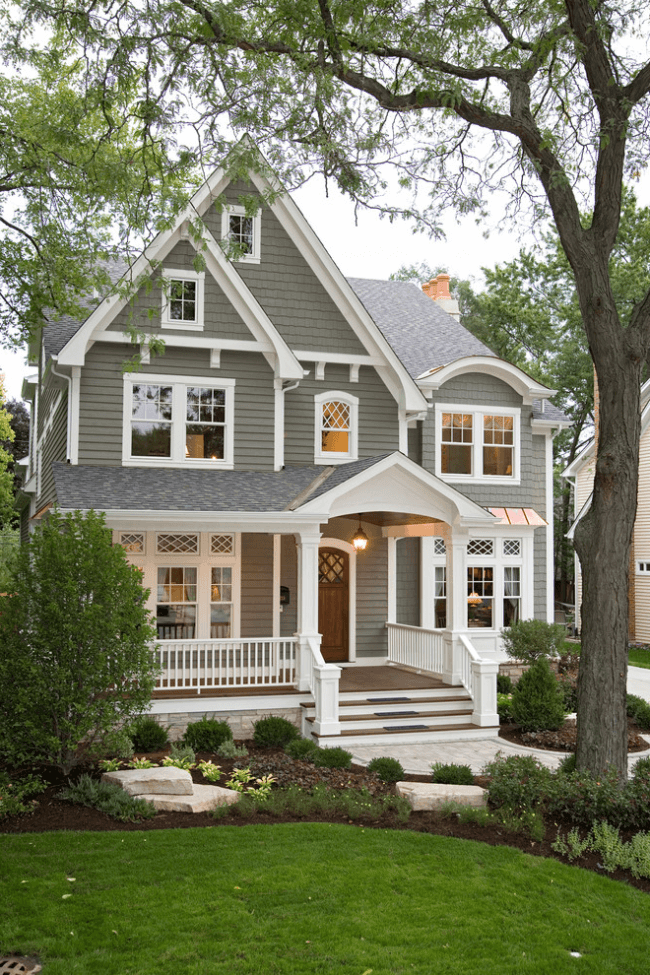 This idyllic little suburban home is another home with a layered roof structure that is perfect for flexible shingles. They work perfectly on both the steep pitches and the curved portion over one window as well as easily joining between the porch roof and entranceway using a valley roll. The grey roofing has been paired really effectively with grey shiplapped facades and bright white trim to create this beautiful traditional aesthetic.
4. Quirky Turreted Roof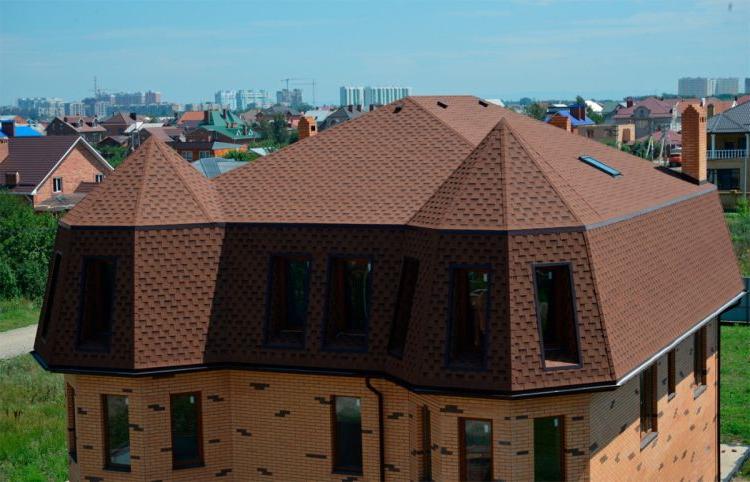 This really unique home has two octagonal towers at the front with an octagonal roof structure sitting over each one while the rest of the roof drapes over the sides of the top floor like a brown table cloth. This weird and complex roof structure is ideal for flexible shingles because they're so adaptable and are just as effective when used vertically as it is on a slope. The deep brown finish contrasts against the light exposed brick below to create this distinct tiered design.
5. Colorful Hexagonal Shingles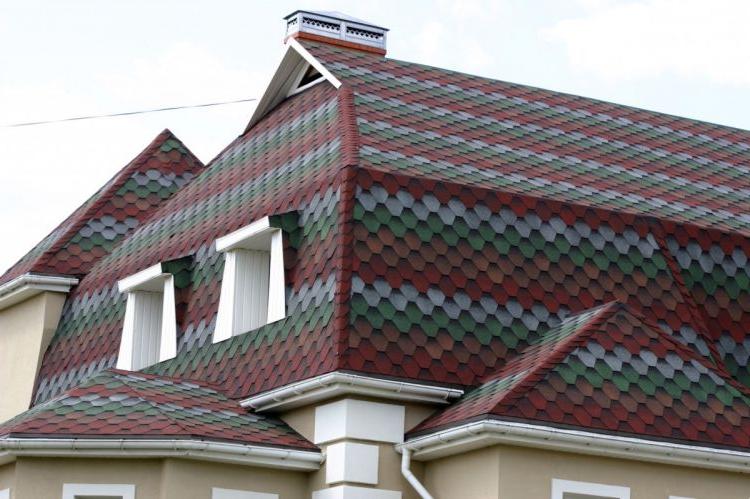 Yet again on this beautiful home flexible shingles are proving themself to be the ideal roofing material for this multi coloured complex roof design. The house itself is a neutral palette of beige with white trim so all the focus is on the colourful shingles that run in stripes of red, brown, grey and green. The look is finished off with a red trim that outlines each junction.
6. Classic Shingles on a Ranch Style Home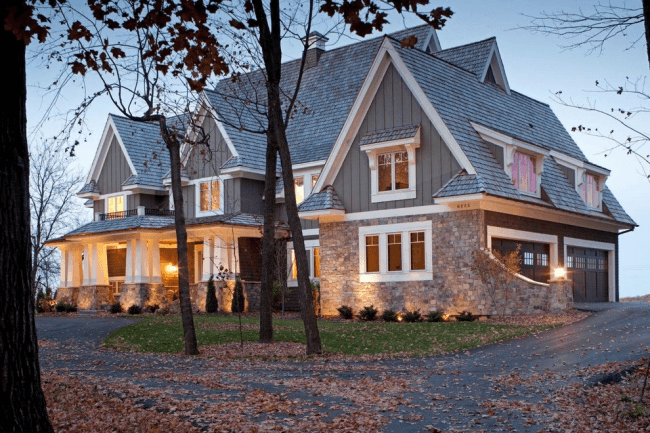 This large rural ranch style home is another dramatic house with multiple pitches in different directions and different levels. The flexible shingles perfectly imitates slate roofing but for a fraction of the cost with far more ease of installation. Yet again the texture of the slate has been used as one of the triple layers of texture along with the vertical wooden cladding and exposed stone base all highlighted by a white trim to finish off this luxurious home.
7. Forest Green Peaks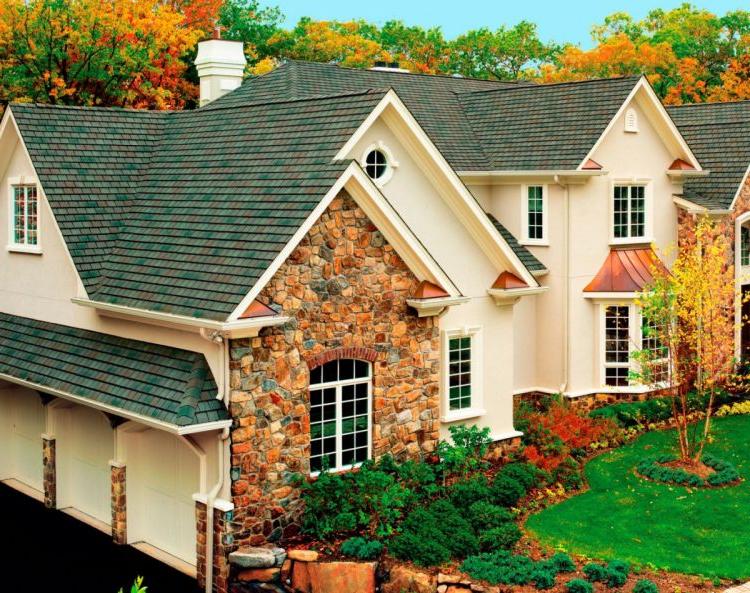 This large sprawling house has taken full advantage of this adaptable material, using it over multiple roofing structures running in different directions to cover the roof in a green headdress. The gable ends form pitches of the green shingles around the whole house to create stylized versions of the treetops surrounding it and blends the house into its location. This natural inspiration has also been incorporated into the façade through the exposed stone feature walls on either end that stand out beautifully against the green of the shingles.
8. Flowing Red Shingles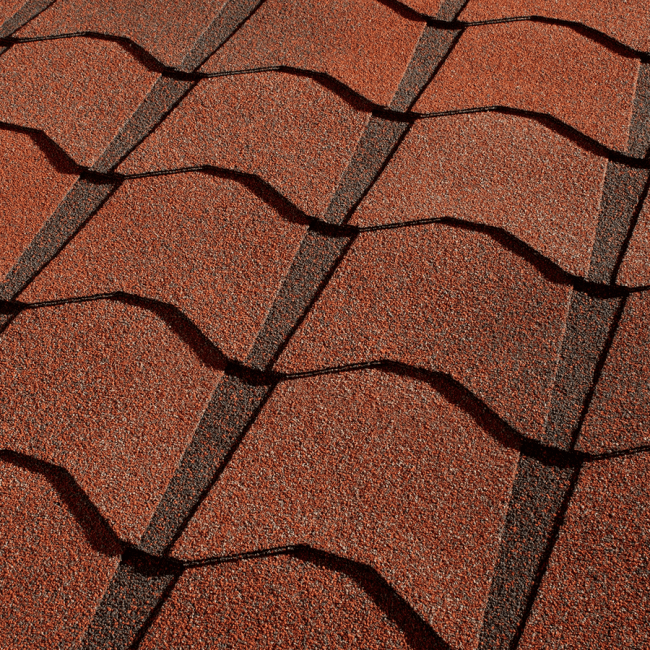 Getting up close and personal with this material really shows how thin the roof covering is even with layers overlapping over and over. This particular style is rendered in a bold terracotta tone with a slim line of darker red between each panel to create the illusion of a shadow cast by a ceramic tile, its little details like these that can really add another level to a design like this. The shingles themselves have a piece cut from the bottom of each that matches up to create a flowing pattern across the roof.
9. Muted Mansion Roofing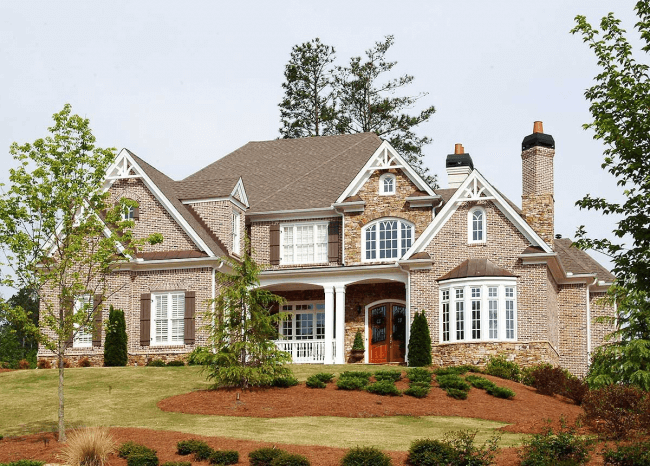 This palatial home has many different roofs structures over the sprawling luxurious space so, to avoid having the texture or colour battling with the textured exposed brick, the roof has been left more muted and even, which is easily achieved with flexible shingles. The smooth brown surface is finished off with dark hued wooden details over the eaves with white detailing at the gable ends to add a bit of character.
10. Safety Systems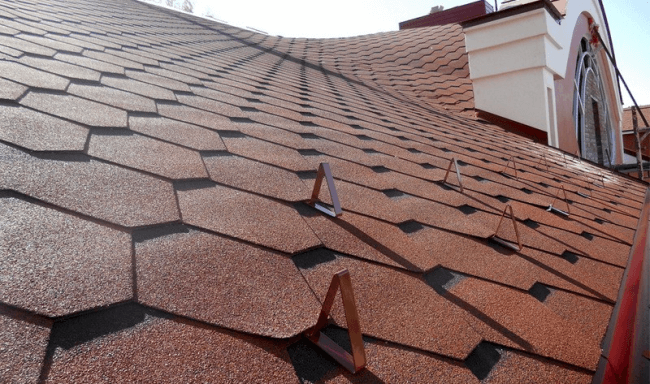 Roofing can be a risky business, especially when you're dealing with a steep slope, so safety is a huge priority. These little metal triangles are adjustable brackets that are wedges under the shingles to create footholds for the people working on the roof and keep them safe. These can come in a bigger and heavier duty forms depending on the slope.
11. Curves and Turrets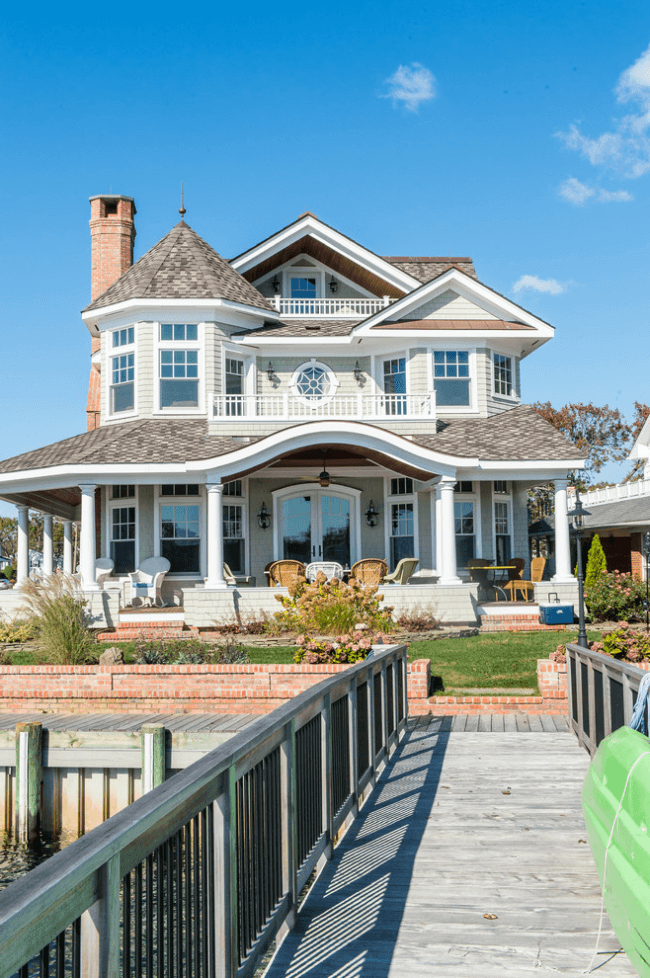 This riverside mansion is a stunning layered design with multiple different roof styles overlapping one another. From the little turrets to the curving undulating roof over the porch the flexible shingles can handle it all, no problem at all. The imitation grey slate tiles have been paired with a mint shiplapped façade and white trim that results in a dream house sitting beside the water.
12. Contemporary Flexible Shingles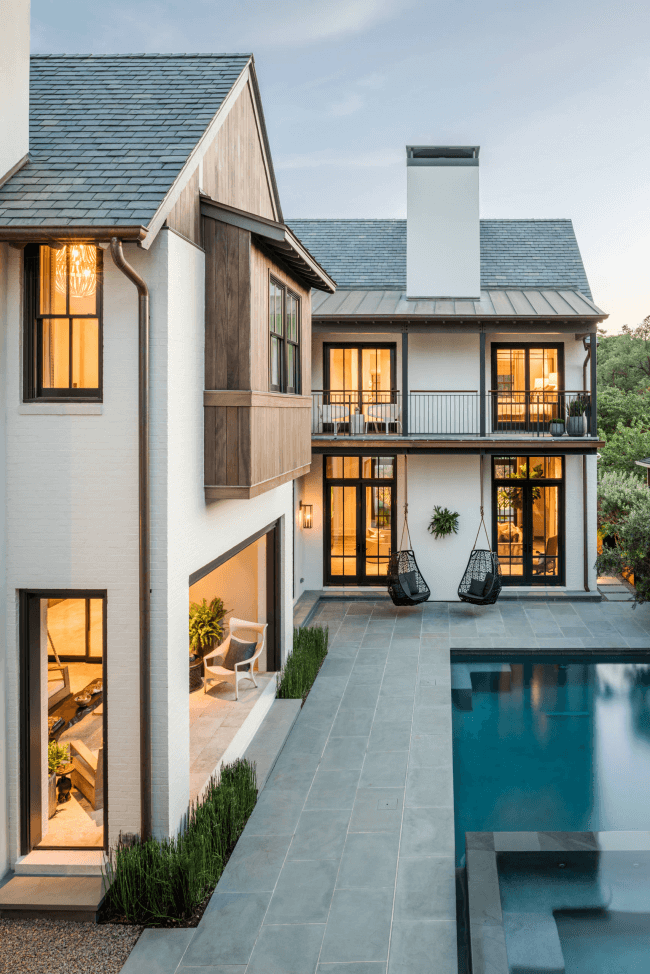 Most of the past applications of flexible shingles we have seen are on more traditional houses but this example shows how easily this material can also be adapted to fit a more contemporary style. The thin grey rectangular shingles imitate grey slate tiles flawlessly for a fraction of the price and make the application on such a tall building quick and easy. The stone paving around the pool has been rendered in the same blue tinted grey that pulls the roof and the floor tiles together and makes this large house very cohesive.
13. Geometric Red Roof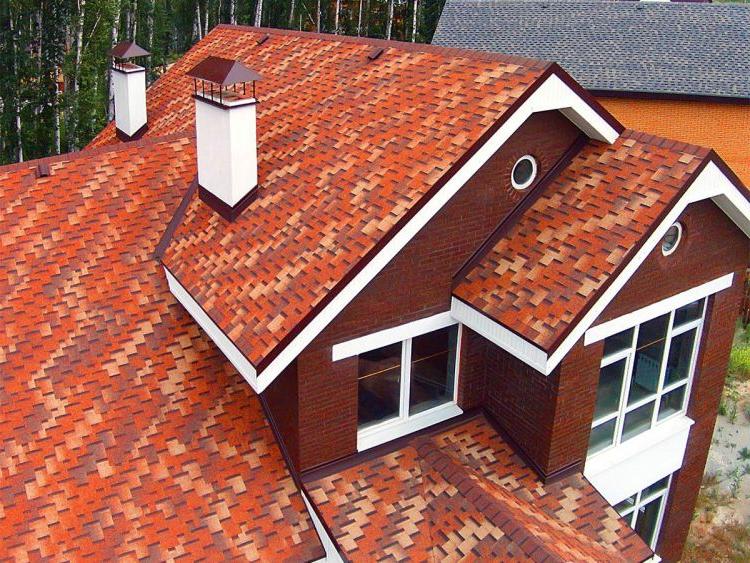 Since this material can be easily cut into patterns with a craft knife its totally possible to create a whole roof of your own custom pattern. This house does a twist of the traditional red roof using different hues of tiles with ombre shades running across the layered roof structure like a mosaic. The pattern is hemmed in with clean rich red edges with white bargeboards. The dense pattern works perfectly with the even finish of the dark red brick for a look that is very clean yet textured.
14. Rural Black and Red Roof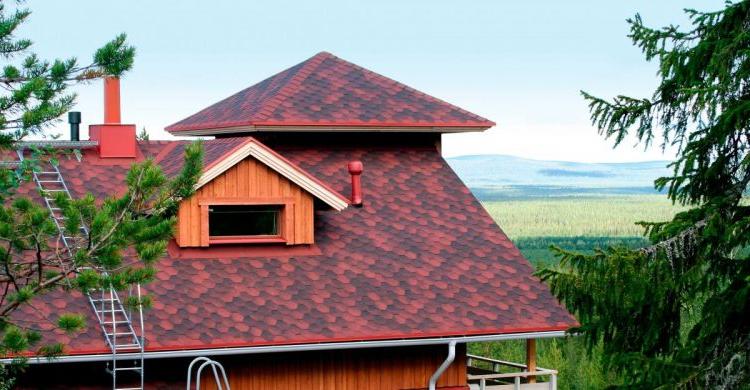 In this treetop location flexible shingles have been used to emulate rural barn roofing but without weight and more beautiful dappled finish. Punctuated by warm wooden cladding the shingles run across the classic pitched roof and onto the little turreted roof on top and over dormer window jutted out the side. Building up high in a rural location can be a challenge so using lightweight materials like flexible shingles, which avoids any transport issues getting the materials to site.
15. Castle Inspired Mansion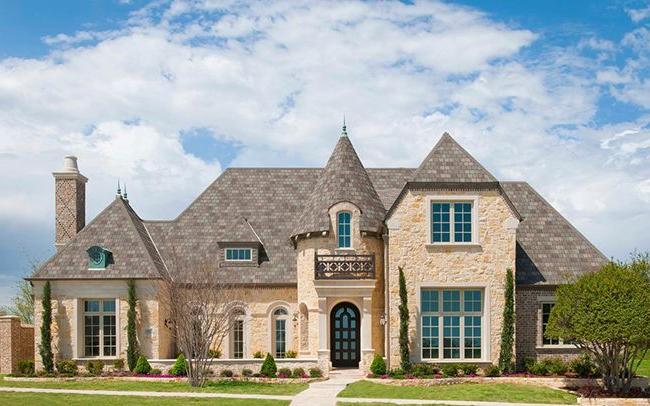 The rustic style of this stone palatial home is the ideal place for flexible shingles to really shine. The home not only has the statement turreted tower at the entrance but also a series of different roof on a variety of levels and facing in different directions, which proves yet again how good this material really is. The pale grey shingles have been paired with a light stone house structure and blue tinted windows to create a façade that is a stunning collaboration of texture and colour.
16. Waving Dormer Windows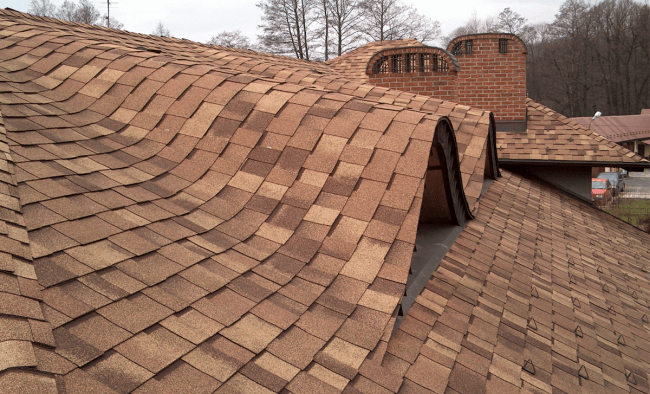 These little rounded dormer windows sitting beside one another are a close up detail that show how immensely well flexible shingles handle curved roves. The mottled brown flows from the sloping roof to the curves over the windows easily without breaking the pattern of the square strips or affecting their water resistance at all. Flexible shingles give you the freedom to have roofing that is more playful and unusual while still being high quality.
17. One Seamless Join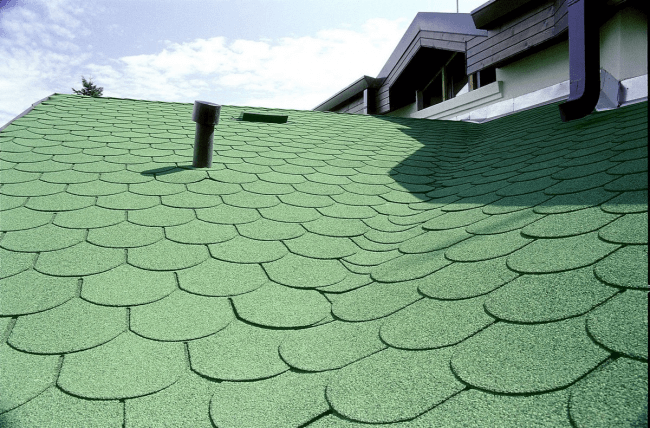 Like the above example, this zooms in on a particular roof detail to show how flexible shingles adapt to your roof shape. These curving shingles run like scales over the roof and layers smoothly over one another when the layers collide so instead of having a harsh join at the valley between the two slopes, which can look harsh you can have one continuous finish. This is both useful for keeping water away from the house and for a having an aesthetically pleasing seamless finish.
18. Smooth Grey Sheets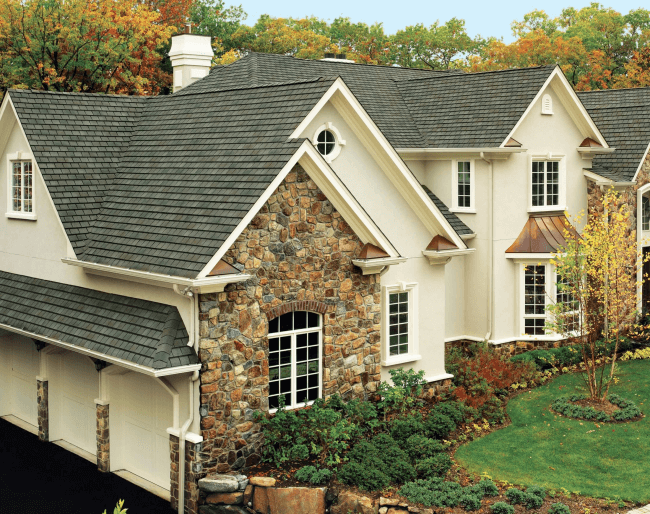 Here grey shingles have been paired with exposed stone again in this three-storey mansion. The vast home has a layered roof style with multiple gables and a round conservatory on one end all finished in smooth flexible shingles that look like one continuous surface. Using a roofing material with this level of flexibility and water resistance keeps a complex roof like this watertight and requires less maintenance, which might be challenging in a house of this style.
19. Rustic Dark Shingles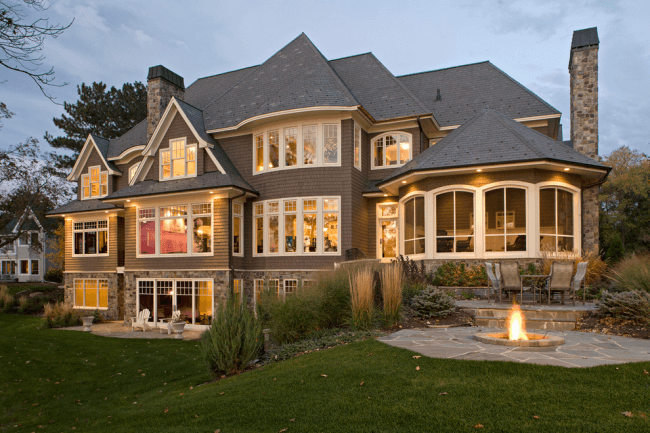 In this rural home flexible shingles have been chosen to resemble black ceramic tile that has become weathered and lichen covered over time for a more rustic finish. Yet again the shingles are only one elements of a structure rich in texture alongside the horizontal wood paneling and exposed brick façade. The dark roof is tied in with the rest of the house through the black wooden shutters around each window.
20. Whimsical Blue Mansion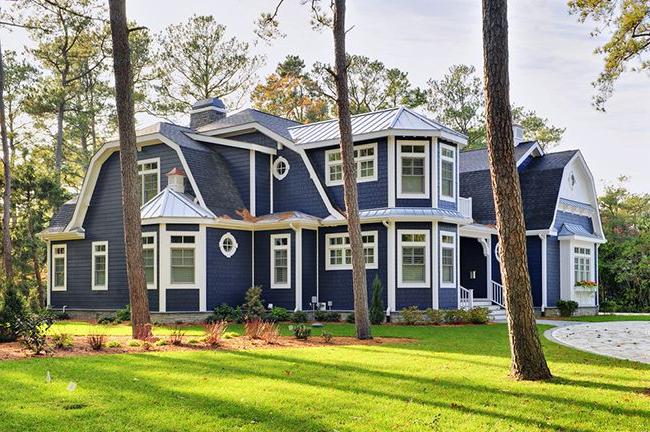 Flexible shingles really show off their flexibility muscles when used on a gambrel roof like this where it removes the need for copings over the joins completely as they roam easily from plain to plain. The navy shingles have been combined with corrugated iron sheeting in the same shade which, when combined with the wood paneled walls in the same shade, becomes part of the entirely blue design accented in a bright white. This startling contrast creates a magical fairy tale home nestled away in the forest.
21. Forest Cottage with Well House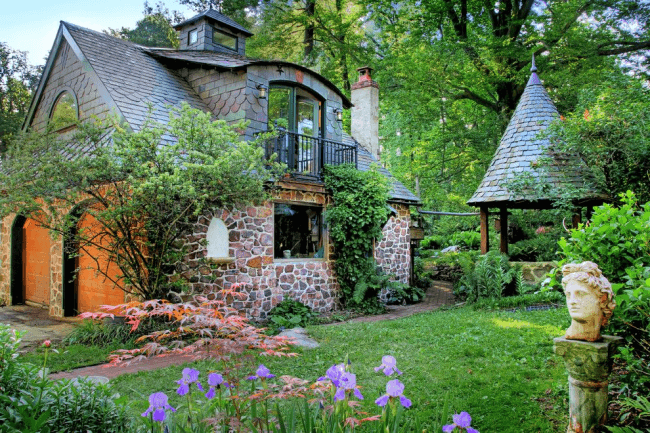 In this whimsical rural cottage the flexible shingles covering this renovated build have been chosen to match the original slate roof of the stone well house to make it feel less new and more homely and lived in. The steep pitch, the whole gable end and the walls and roof of the dormer balcony are covered in the same shingles, which work just as well vertically as they do on the slope.
22. Stone and Grey Shingles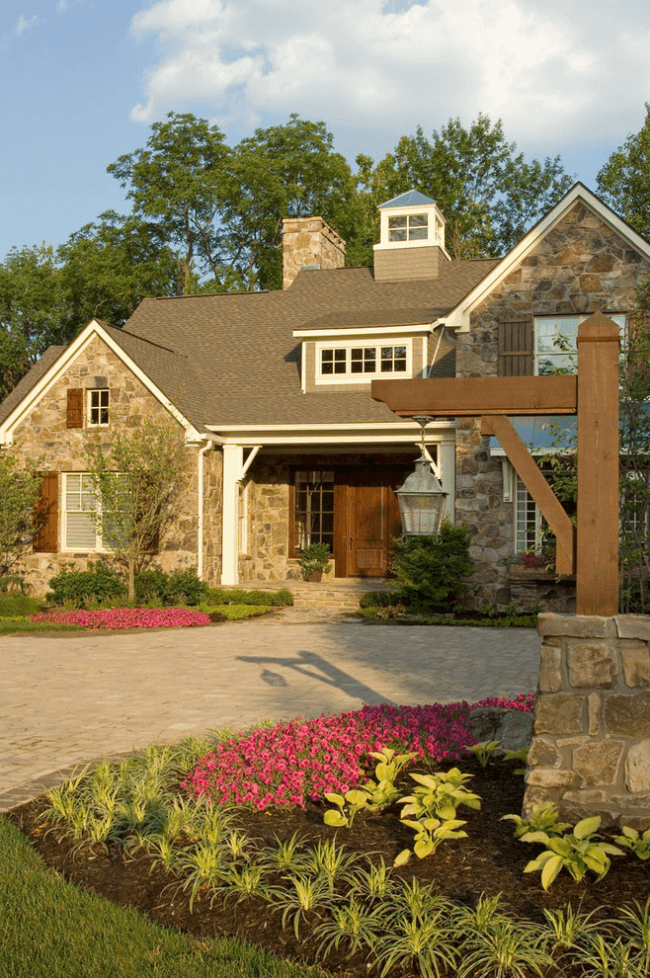 As we have seen in the past, stone and slate effect shingles go very well together and this double storey home is no different. This is also another house with many different roofs at different levels and directions that the flexible shingles makes simple to handle. The smooth finish of the shingles doesn't provide too much texture to take away from the beautiful stone walls. The whole structure has been accented in white to break up the natural hues and add some detail.
23. Graphic Patterned Shingles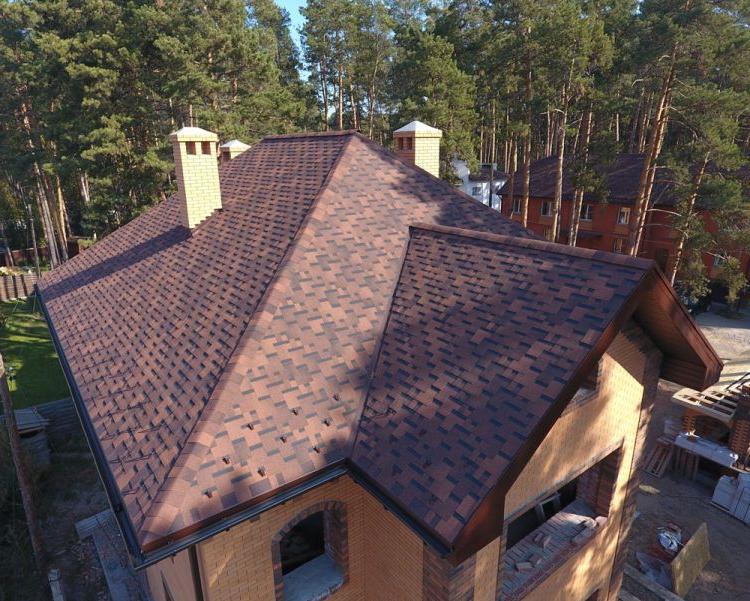 Like example 13 this stunning roof looks highly textured without the bulk, weight and price of ceramic tiles. The smooth finish looks almost like one solid sheet running over the edges of the whole roof structure with the illusion of texture created by the pattern of square and rectangular tiles of different shades of brown and sizes that combine to create this stunning tapestry on top of the simple pale exposed brick.
24. Medieval Inspired Yellow Mansion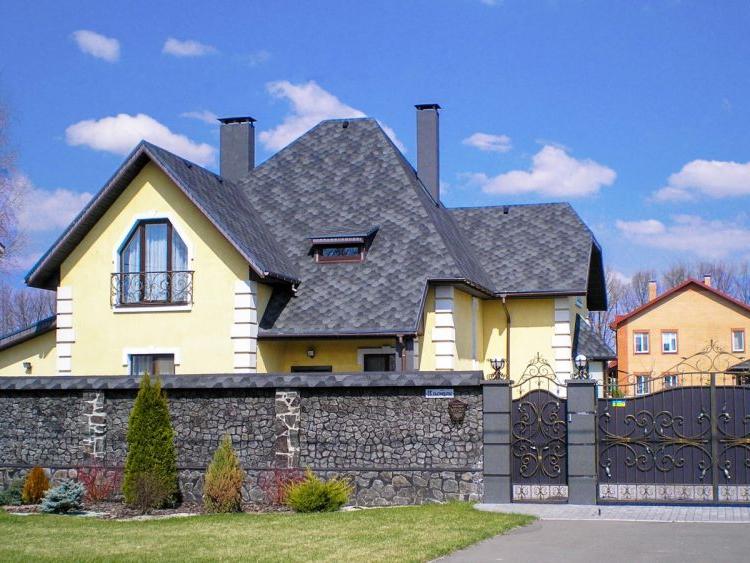 This is the kind of house you slow down to stare at when you drive past it on the street. The roof, wall and gate all seem to have been chosen to coordinate with each other in the same shade of grey that creates an imposing, almost medieval style. The steep slope is covered with grey, hexagonal shingles that run down the multi layered roof in an uneven mosaic that flows over every varied roof slope. The house itself has been painted buttercup yellow house with white columns at each junction in contrast to all the dark grey finishes to create a pleasing visual juxtaposition.
Conclusion
As you can see this material is a no brainer when it comes to quick, simple and beautiful roofing. You are able to mimic the effect of classic materials like slate and ceramic for a fraction of the price and weight as well as hardly needing to maintain it at all. Some brands of flexible shingles even come with a 15 year guarantee!
If you want a truly unique roof look you can even customize the sheets by cutting your own patterns out as long as it doesn't compromise the water resistant properties.
So the next time you're in the market for some new roofing why not give these amazing flexible shingles a go?