The kitchen is one of the most important rooms of the house. Is the place where the family gets together, not only to share meals but also to talk about their day, important news, share special moments… is one of the most concurred spaces of the house, full of life when parties or reunions happen. Thus, the kitchen is practically a live space, and that is why it is so important to make that space talk and express the owner's perspective design wise. When it comes to farmhouses or farmhouse style, there are a few ideas that always come good to decorate the space.
34 Amazing Farmhouse Kitchen Decor Ideas That You Can Try

Today, the farmhouse is, besides a kind of structure, a style of design mainly based on a rustic scheme of decoration that includes bright rooms, light colors, wood furniture and rustic decoration. This style is very trendy these days. It invites to a simpler way of life, to share with others and to have spaces that are more than the main function they were designed for. In farmhouses, all the spaces are good for sharing good times, have a few laughs with friends and make new memories.
In the farmhouse, the kitchen is one of the most important spaces. This room is thought not only to cook food but also as a warm, cozy place to share with the loved ones. In celebrations, parties or any other reunions, is another social space of the house, having as much importance as spaces like the living room or the patio have.
The feeling you get when you are spending time in a farmhouse kitchen is warm, cozy and comfortable. In these bright, spacious, enjoyable spaces you can feel just as good, whether you are having a glass of wine, a cup of coffee, or a piece o cake. And this style is not only good for farms or country houses. As it turns out, you can absolutely use this style for a house or an apartment in the city, and make urban constructions feel more like a house out of town. Wake up in the morning, go to your farmhouse kitchen, pour yourself a cup of coffee, look out the window and feel the bliss of the farm lifestyle… no matter where you are. For that, today we want to show you some decor ideas to fill your farmhouse kitchen with beautiful and characteristic details that will put the farm in your farmhouse kitchen.
Antique Farmhouse Kitchen Table With Bench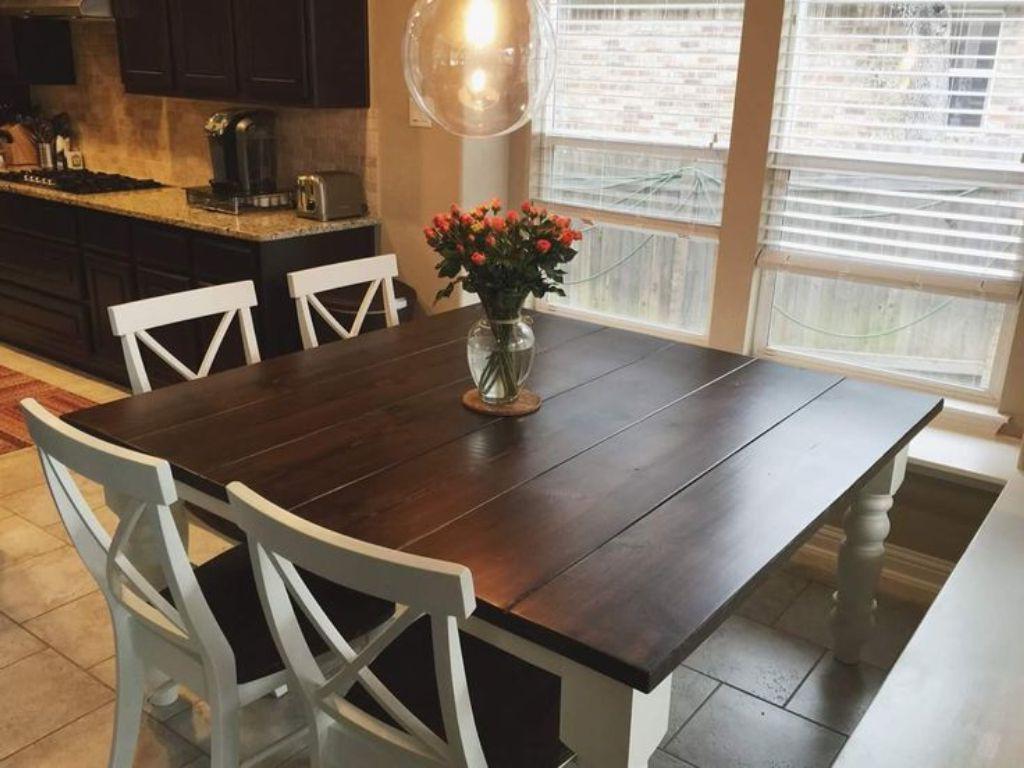 This farmhouse kitchen features a breakfast table with dark and white painted wood, dark wood cabinets with granite counter top, big light bulb lamp, and flowers.
Cozy and Chic Farmhouse Kitchen Decor Ideas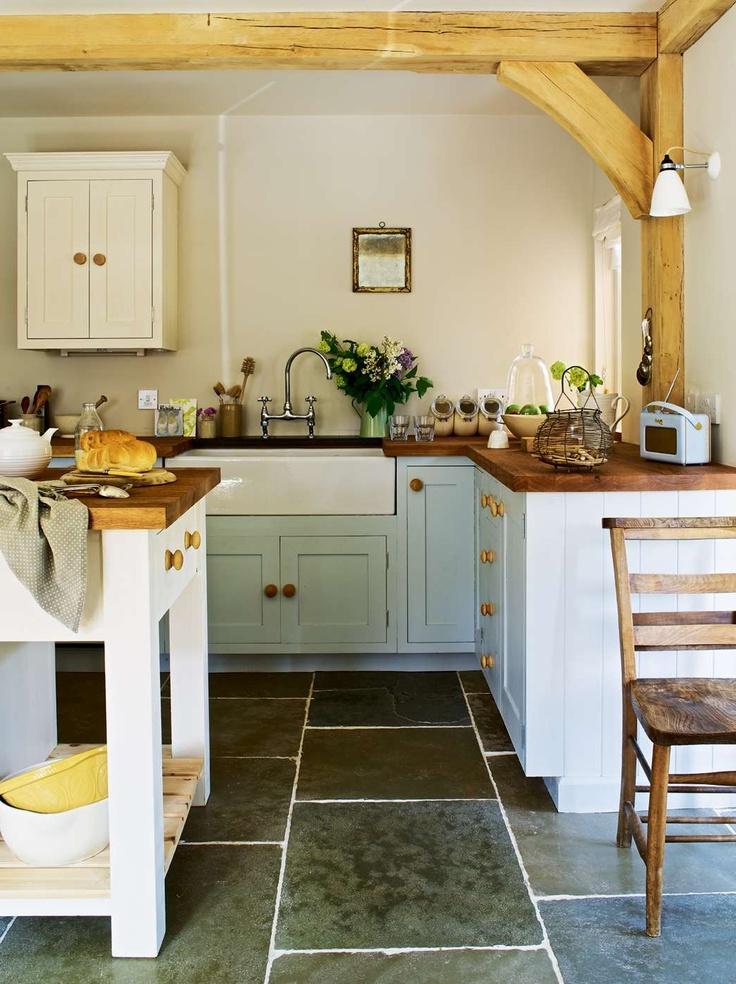 This farmhouse kitchen is very bright and it reflects a positive attitude. It features extra large stone flooring, painted wooden furniture in the cabinets and counters and natural colored countertops. Exposed beams and vintage decorations like the flower vase and the white radio complete the farm look and feel.
Cozy and Chic Farmhouse Kitchen Design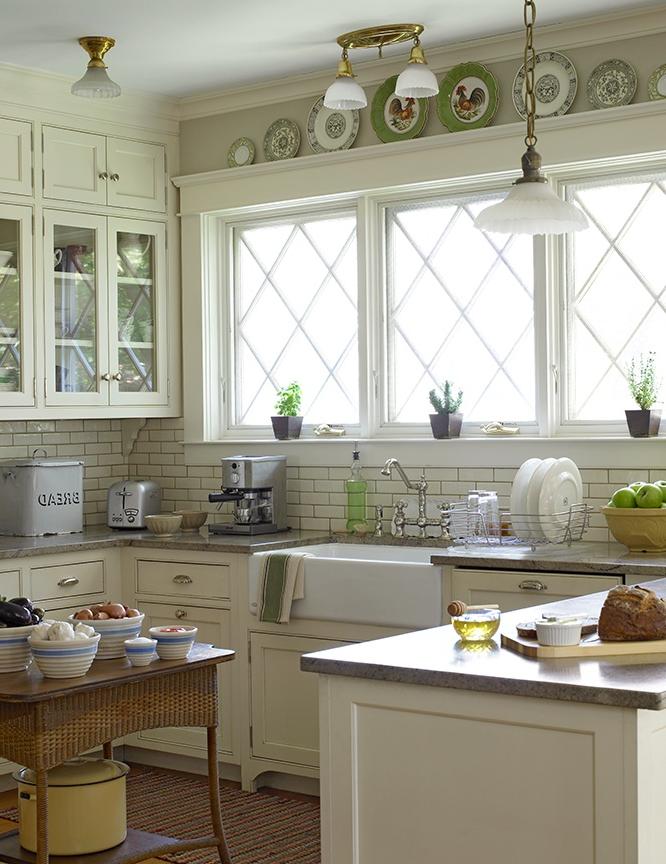 This mostly white farmhouse kitchen has beautiful painted wood cabinets. The lower cabinets present top drawers over every door. The higher cabinets have see-through glass doors for a very classic look. The window's style goes very well with the country look, and you can see a mixture of styles when you note the modern appliances sharing space with the old style containers, pots, and other kitchen's utensils.
Farmhouse Kitchen Decor With Teak Wood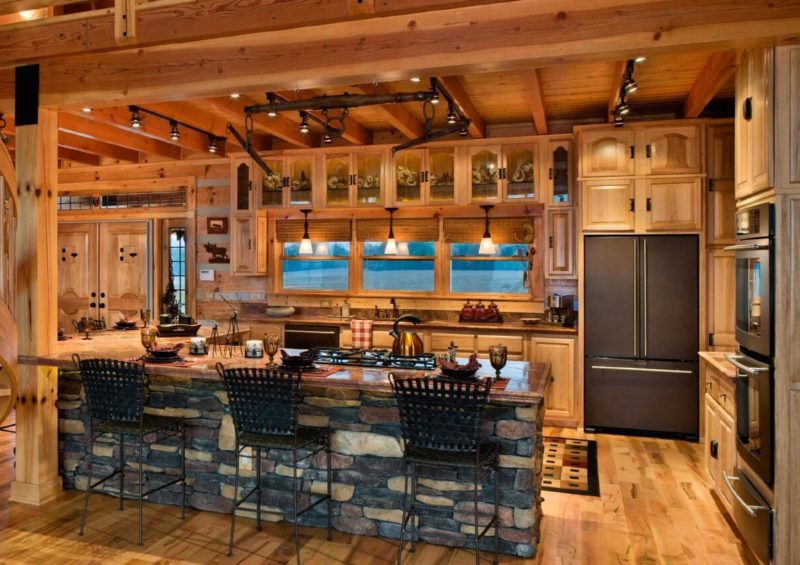 This farmhouse kitchen is a perfect example of a two styles combined design. Almost completely made in wood, this kitchen complements the rusticity very well with the high-end top of the line modern appliances, like the triple oven, the extra large fridge, the dishwasher and even the room's lamps. The forged iron tall chairs to accompany the brick peninsula finish perfectly this cabin look farmhouse kitchen.
French Style Farmhouse Kitchen Design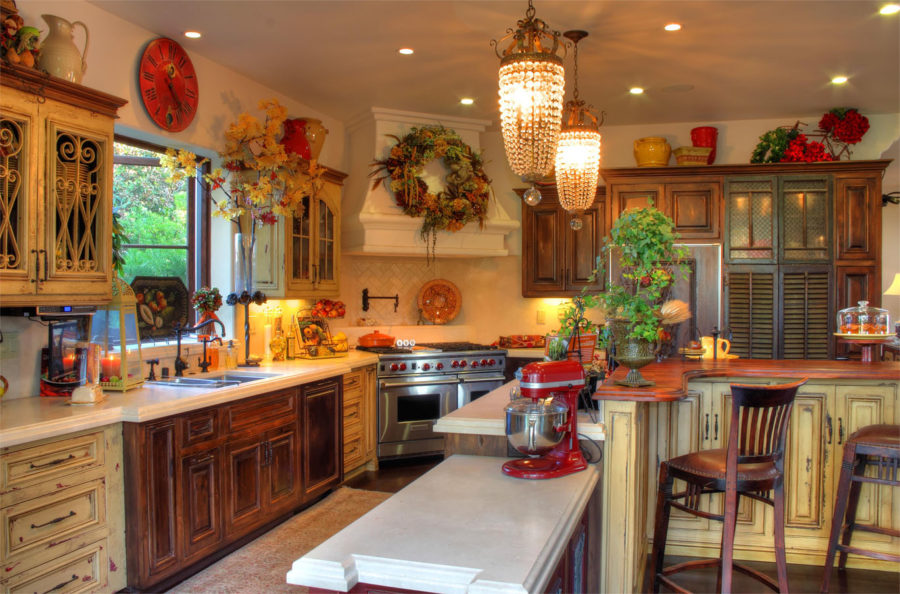 This rustic farmhouse kitchen also has a very happy vibe to it. It could be for the bunch of flowers everywhere, for the brightness of all the light bulbs, for the aged painted wooden cabinets or for all the little details that you can find throughout all the room. No matter why that is, the truth is that this space has the words get together written all over it. It is a perfect space for a family or friends reunion.
French Style Modern Cottage
This really big kitchen features a huge island made of painted wood with a natural wood countertop; modern rustic style cabinets with see-through doors, and modern appliances. It is a combination of two styles in this house. A huge pattern wooden floor completes the room that is opened to the living room, allowing people to communicate even when cooking.
Modern Farmhouse Kitchen Backsplash Ideas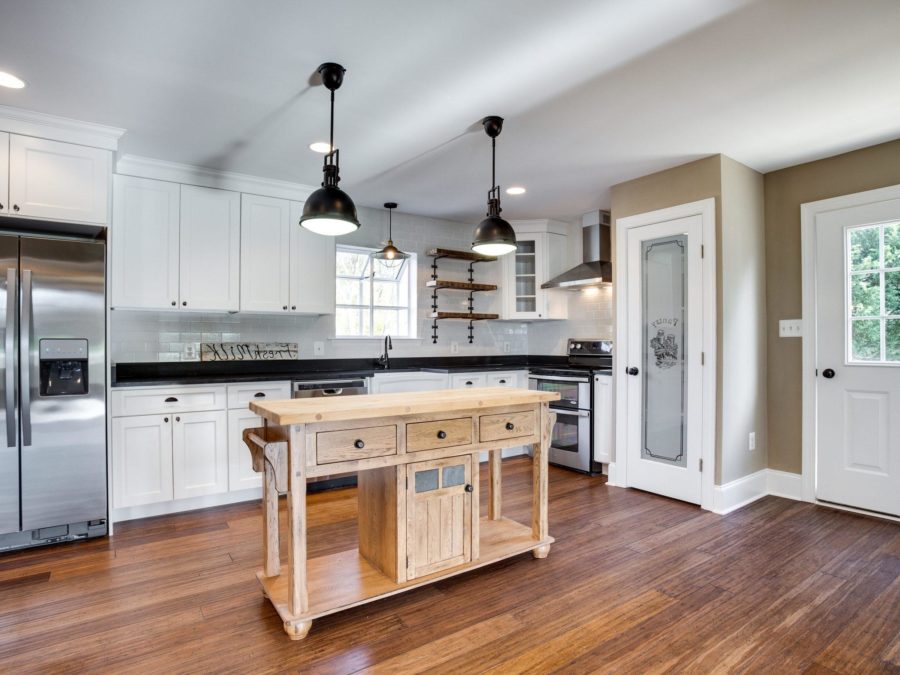 This farmhouse kitchen is combining plenty. It is minimalistic, with just the necessary equipment. It is modern with its top of the line appliances. It is rustic with the wooden floor and island. Combining all these elements has the result seen here: a great styled kitchen with the best of two worlds.
Old Rustic Farmhouse Kitchen Decoration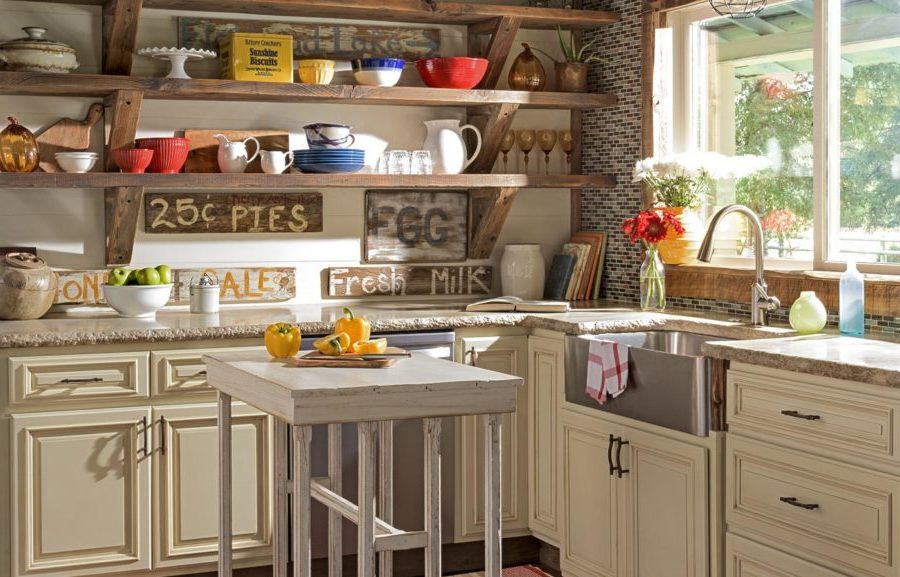 This farmhouse kitchen is a dream for any cook. A big space with lots of storage, thanks to the wooden shelves that keep safe and pretty looking some of the kitchen utensils. Utensils that are also part of the decor with their vintage style. The small painted wooden table located right in the middle of the space and the various wooden signs that are the most picturesque detail of this design. It would be a delight to wash the dishes in this kitchen, especially with the view.
Rustic Style Farmhouse Kitchen Decor and Designs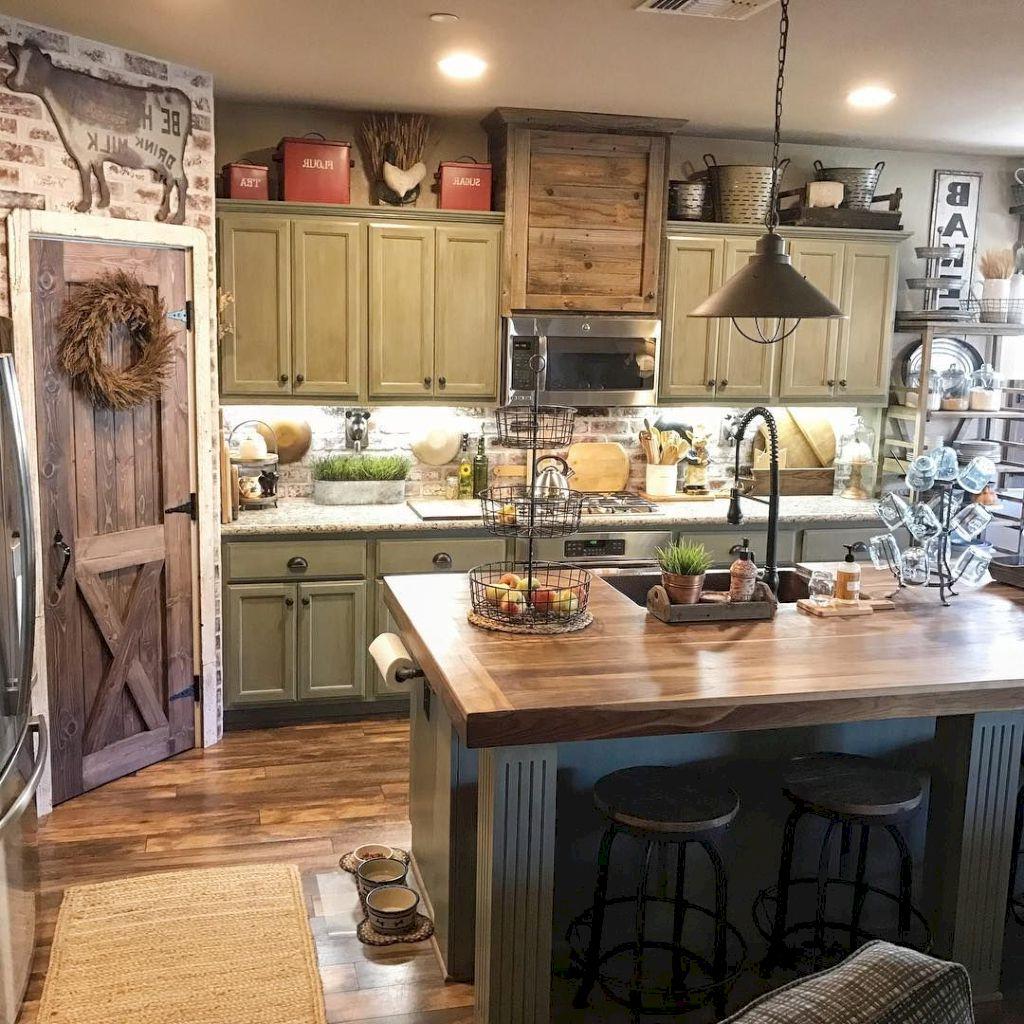 When you think about a farmhouse kitchen, a design like this comes to mind right? Lots of wood in different colors: natural for doors, benches, and countertops. Greenish for the simple but very pretty cabinets. Metal details like the fruits and cups holders, or the lamp on top of the island. Lots of small decoration details scattered I around all the room makes it more than a kitchen, a space to make life, to spend time, to get together. Note the great cow poster on top of he door and the bricks exposed: they give an extra original touch to the design.
Small Farmhouse Kitchen Table Plans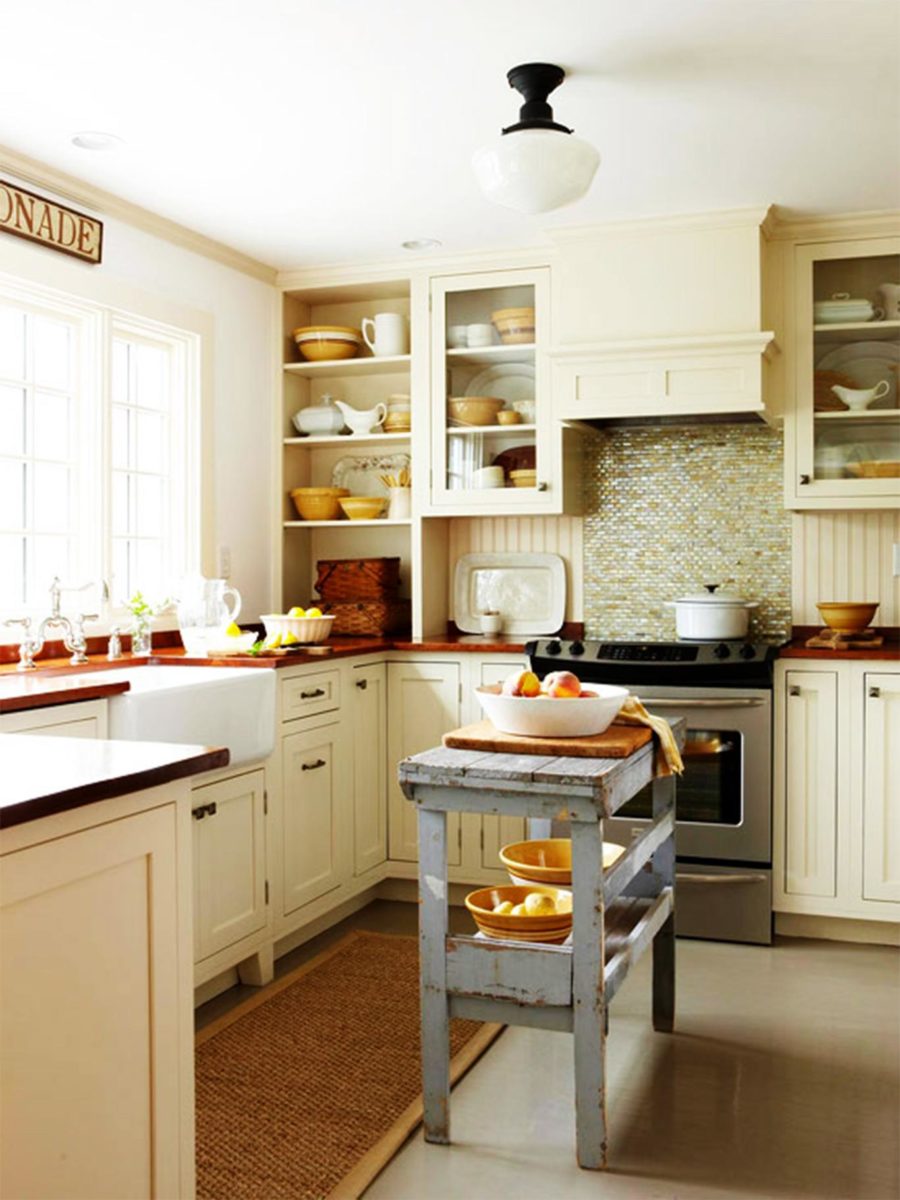 This farmhouse kitchen could be located in any city house. The pretty, bright, well-thought design makes the most of the space using the center of the room to set a small wooden table that can work for cutting, preparing ingredients, serving, etc. The white paint all over the room will maintain it fresh and illuminated. Countertops are naturally colored and constructed of wood.
White Wood Farmhouse Kitchen Decoration
This luxurious farmhouse kitchen has everything a cook could ask for: great space, lots of storage, a breathtaking island, beautiful exposed and non-colored wooden beams, vaulted ceilings, and the combination between the modern and the classic, all in one space. Colors are also combined greatly with the use of natural color stainless steel appliances, white painted wooden cabinets and naturally colored doors, window frames, and beams. Granite counter tops and forged iron lamps make this kitchen a dream come true.
Rustic Log Farmhouse Kitchen Cabinets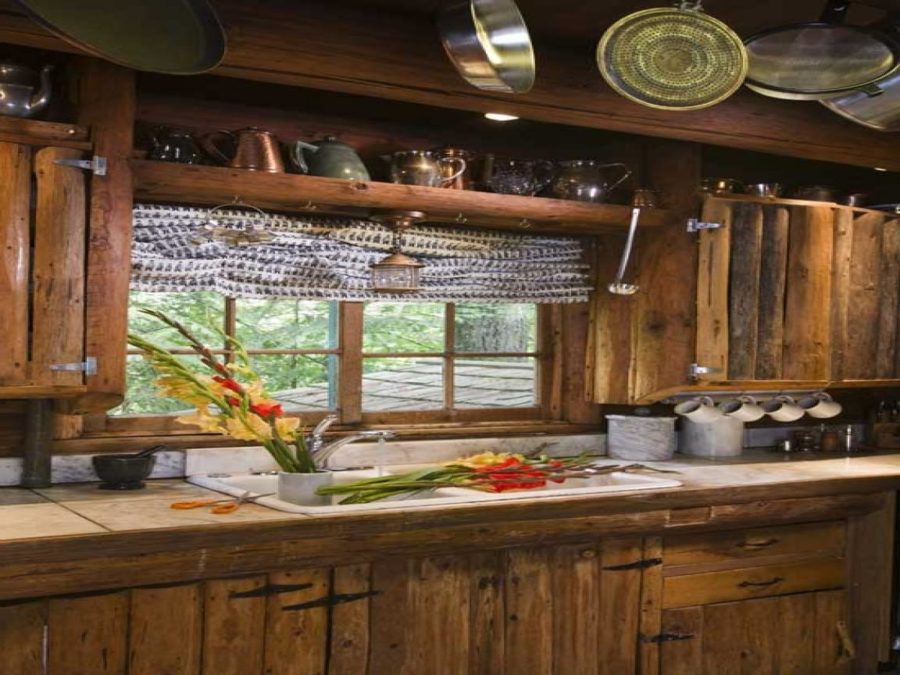 The farmhouse style uses a lot of wood on their designs, and this kitchen shows it. With all rustic wooden cabinets, shelves, and even window's frames, this kitchen is a great example of what the farmhouse style is. Some color is added with the countertops that are built in light colored ceramic. The old-fashioned kitchen utensils like pots and pans give the final touch to this great design.
Farmhouse DIY Storage Ideas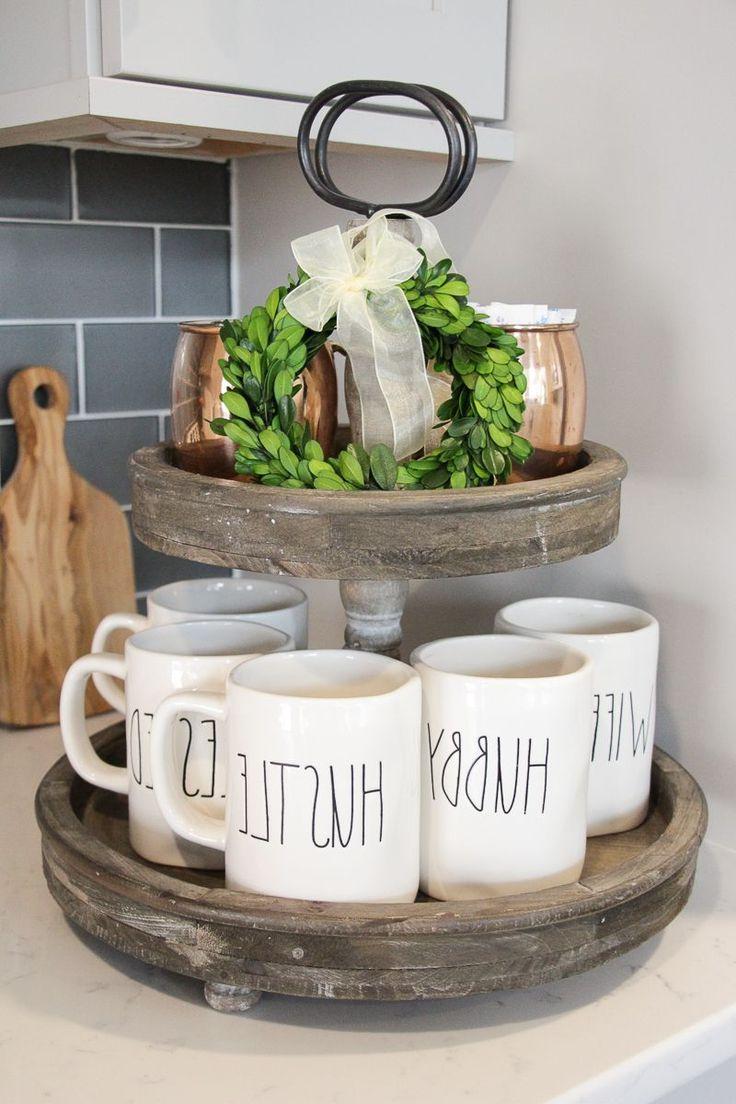 Details like this beautiful wooden mug holder give to the kitchen a touch of charm that can not be reached for any other design style than farmhouse. In the above tray, glass vases and a natural leave arrange. A forged iron handle tops the holder.
Cheap Sink Farmhouse Design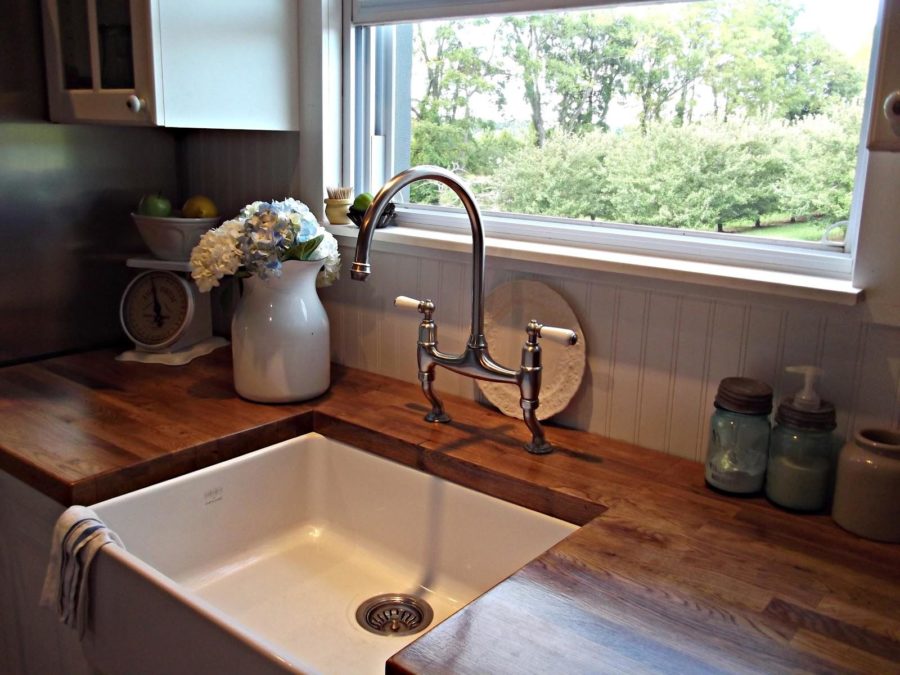 What a better way to do the dishes or prepping the dinner ingredients than looking through the window with this amazing view. And looking down is not so bad either. The wooden counter top is the perfect frame for this vintage white sink that has iron faucets and tap. It also makes the ornaments stand out, like the vintage flower vase and scale.
Farmhouse Kitchen table Within Inspiring Rustic and Antique Design
This is a beautiful element to use in a farmhouse kitchen. Feel comfy having breakfast in this vintage, painted wood table. The top of the table and chairs were left naturally colored with its age marks to make it have a more rustic look. Note the great wood carving in the table's legs.
Modern Farmhouse Master Bathroom Ideas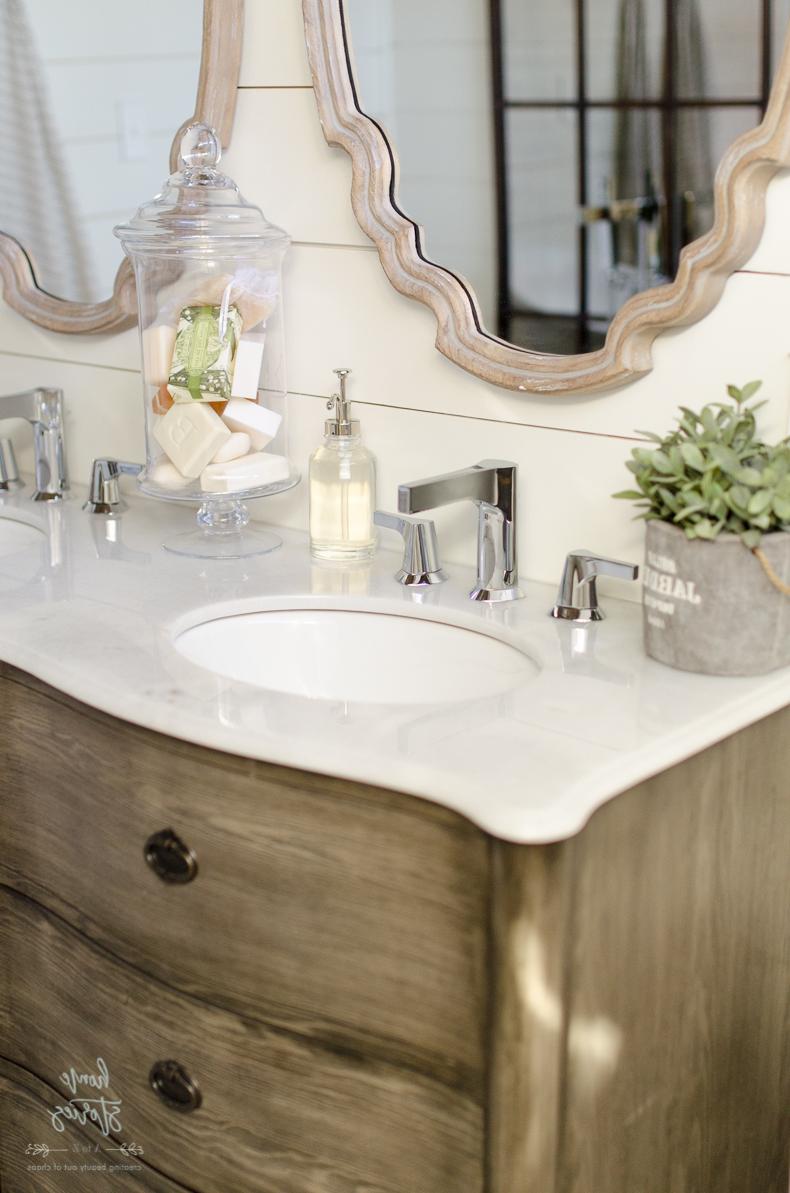 Some farmhouse kitchens also have powder rooms, and if you decide to get this feature, you can choose a pretty and delicate style like this, that includes a wooden cabinet in light brown with drawers, granite imitation countertops framing the sinks and mirrors with interesting shapes. Add a plant and a bowl filled with mini soaps and have a romantic yet rustic farmhouse design.
Farmhouse Kitchen Decor Accessories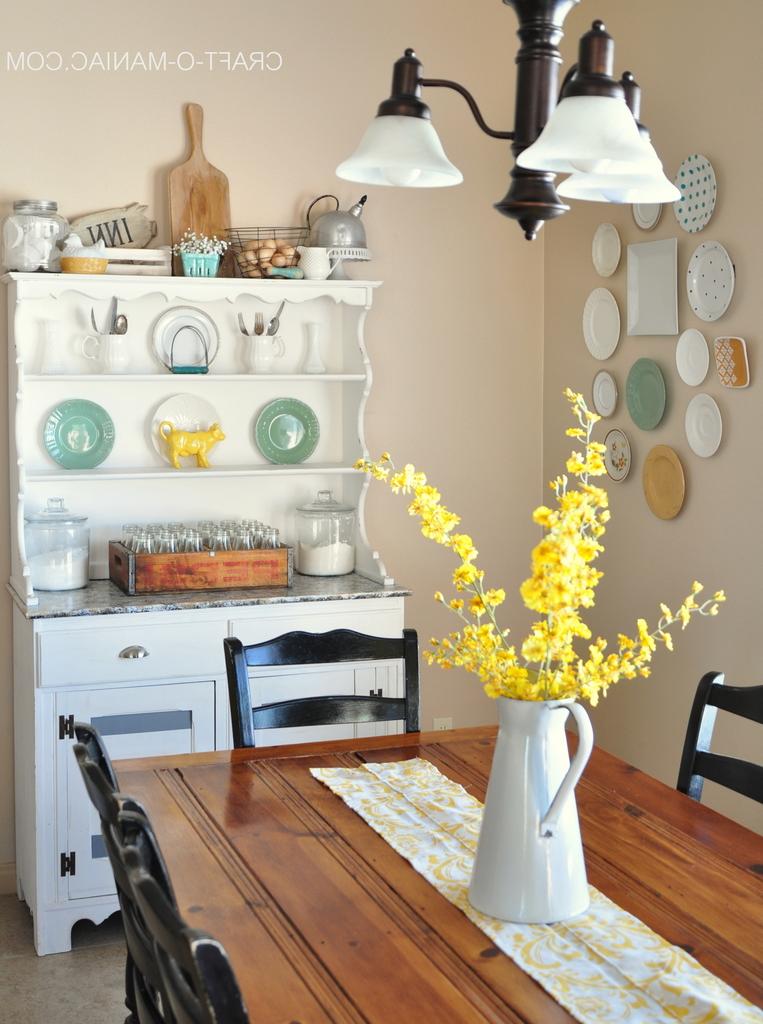 Vintage elements are often used in the farmhouse kitchens. In this example, you can see the cabinet that has been restored to use for showcasing ornament elements like dishes and figures. The wooden table is vivid with the bright fresh yellow flowers. And the plates nailed to the wall make the room look very colorful.
Farmhouse Kitchen Decorating Ideas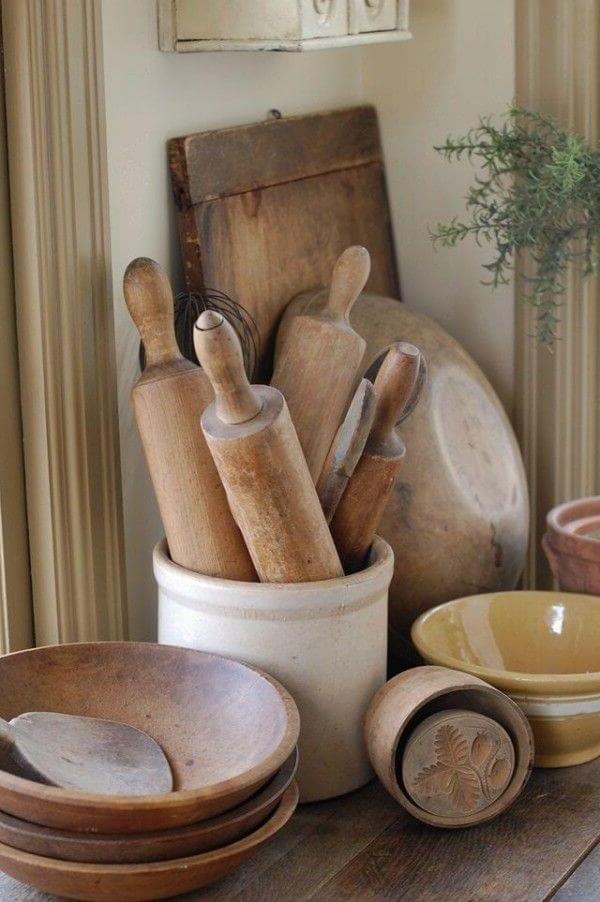 Use elements like these to add personality to your kitchen. Wood is a must in the farmhouse kitchen so find some nice utensils, dishes, bowls or anything that helps you get the rustic in your farmhouse style.
Farmhouse Kitchen Spring Decor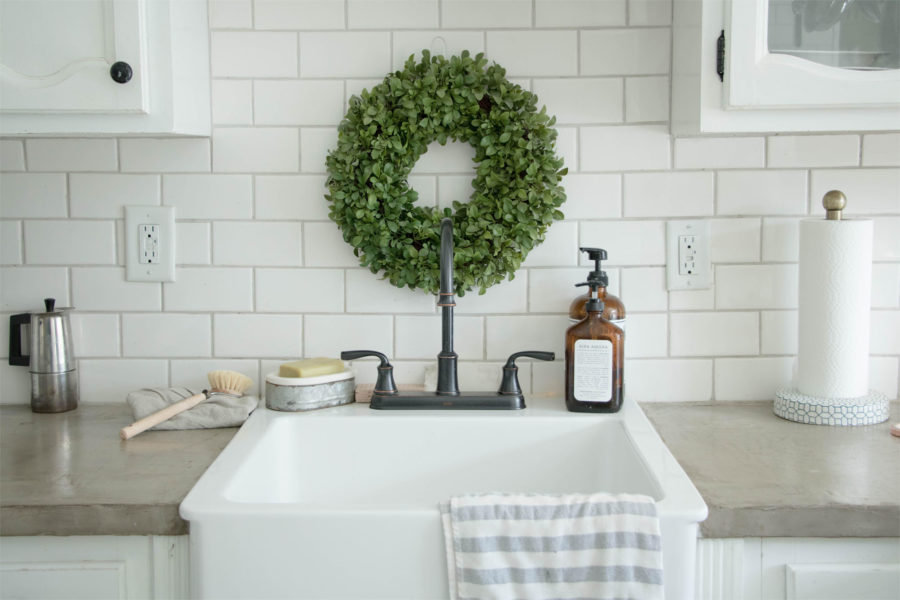 This white kitchen includes an extra large vintage sink with vintage forged iron tab and faucets. The old bottles and the fresh wreath are small but very well thought details.
Captivating Rustic Shelf Decorating Ideas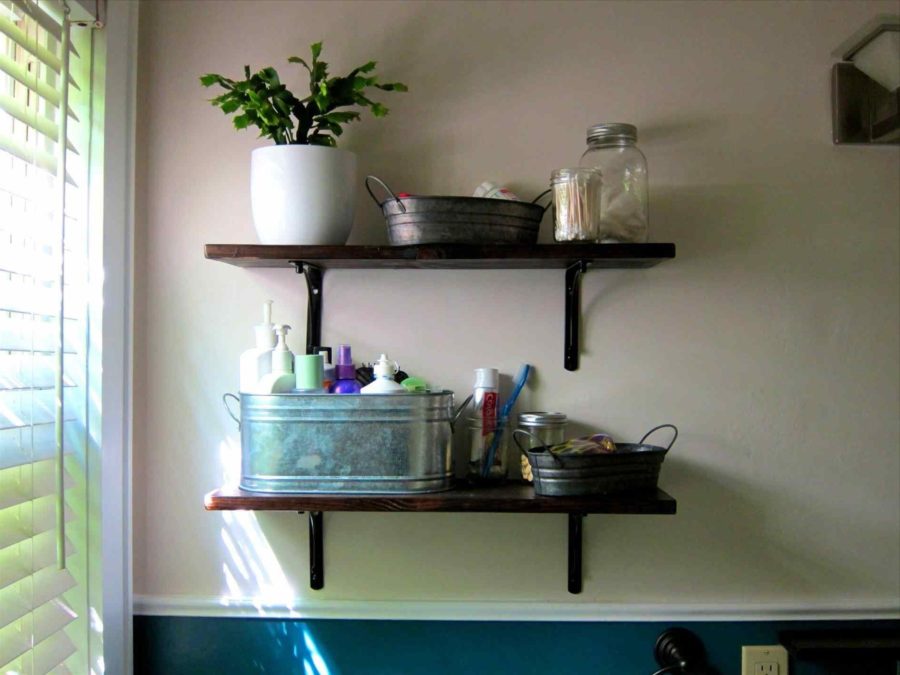 In your farmhouse kitchen, try to include features like this: wooden shelves nailed to the wall with ornamental forged iron supports. These shelves are perfect to keep the elements you don't use on daily bases. The metal container keeps the rustic look in this farmhouse kitchen.
Farmhouse Style Kitchen Faucets With Brass Tap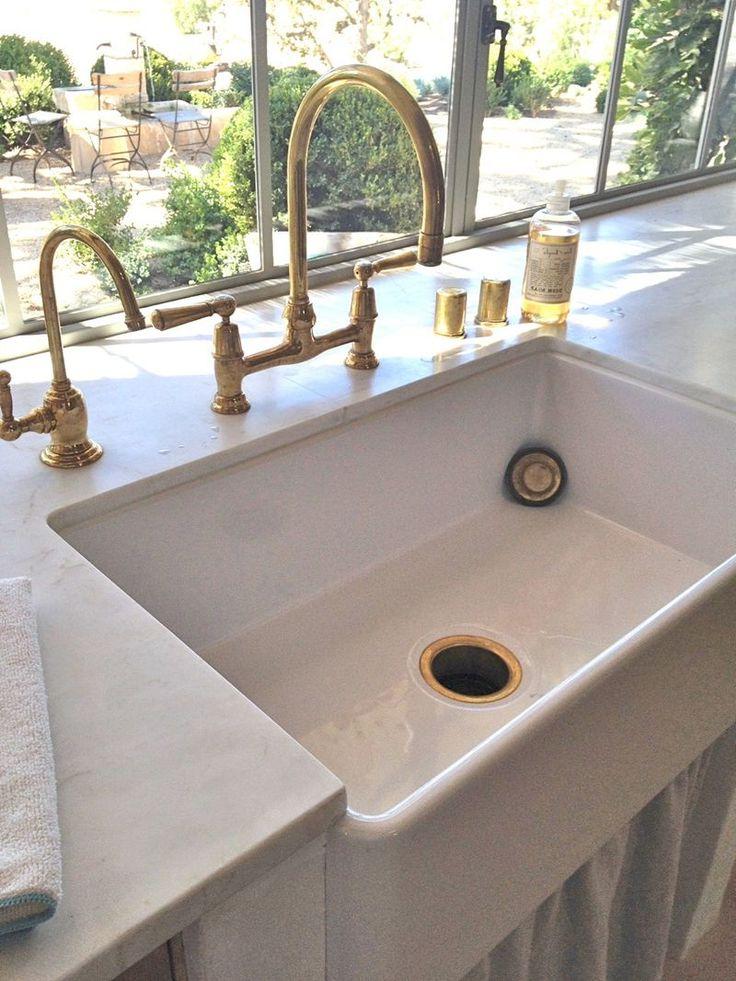 This vintage extra large kitchen sink with golden tab, faucets, and a water filter is embedded in country style cabinet with white granite counter top. The golden color of the pipes and drain sparkle just like the beautiful view outside.
Antique Farmhouse Dining Table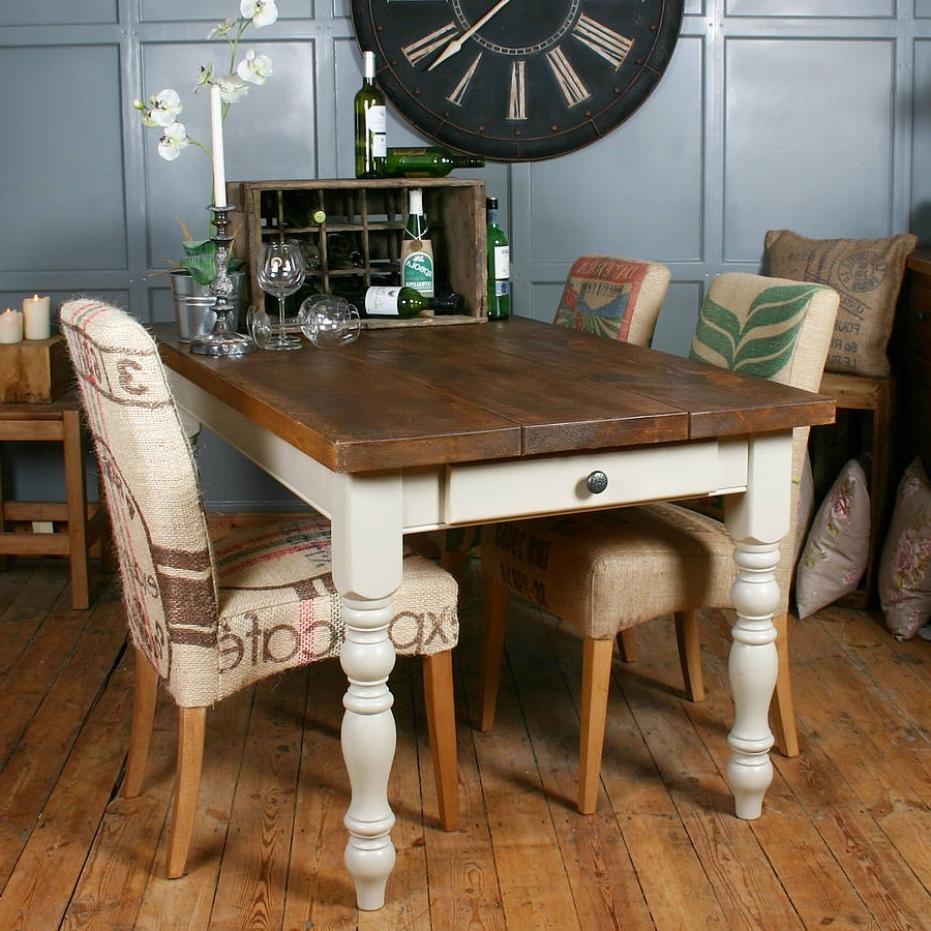 For the eating area, you could choose rustic yet trendy elements like this table that has a white body with a drawer and a natural top. It also shows a vintage wooden wine holder that keeps up to 15 bottles. Sit down and enjoy the evening in the rustic printed fabric that reminds us to hemp coffee bags.
Rustic Country Farmhouse Kitchen Decor Storage Ideas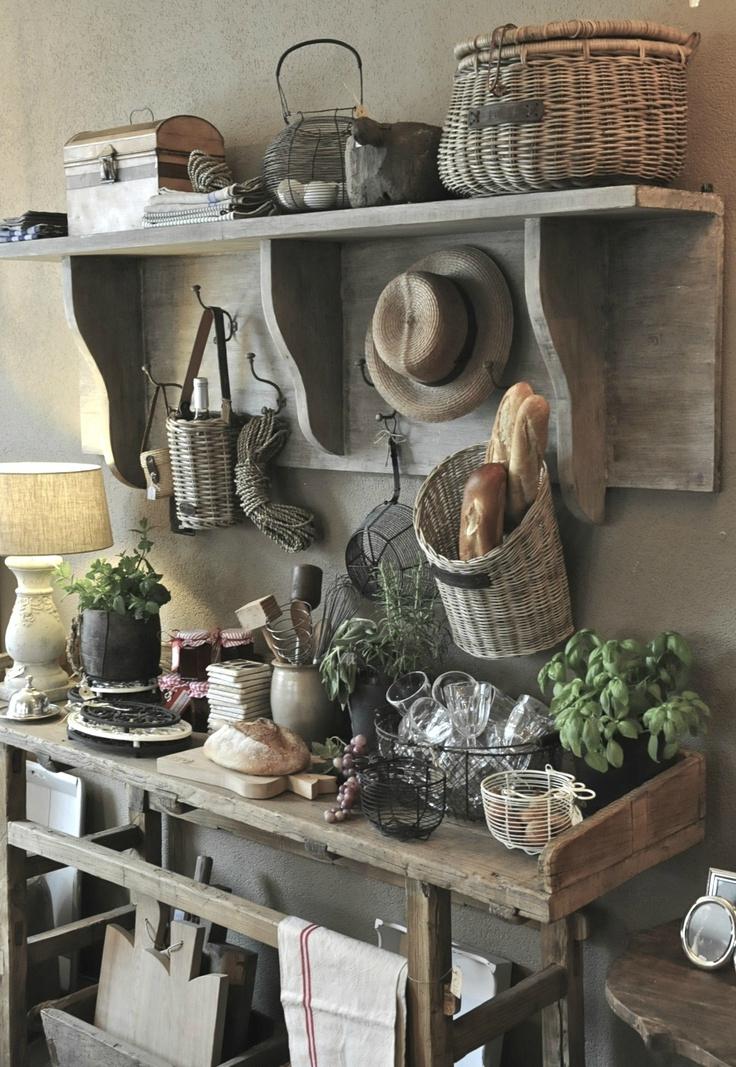 Storage is a necessity in any kitchen. In the farmhouse kitchen, a storage solution is this vintage wooden holder for the wall and the table that is used to put literally anything that it can hold. In this case, the wood was left natural.
Farmhouse Kitchen Decor on a Budget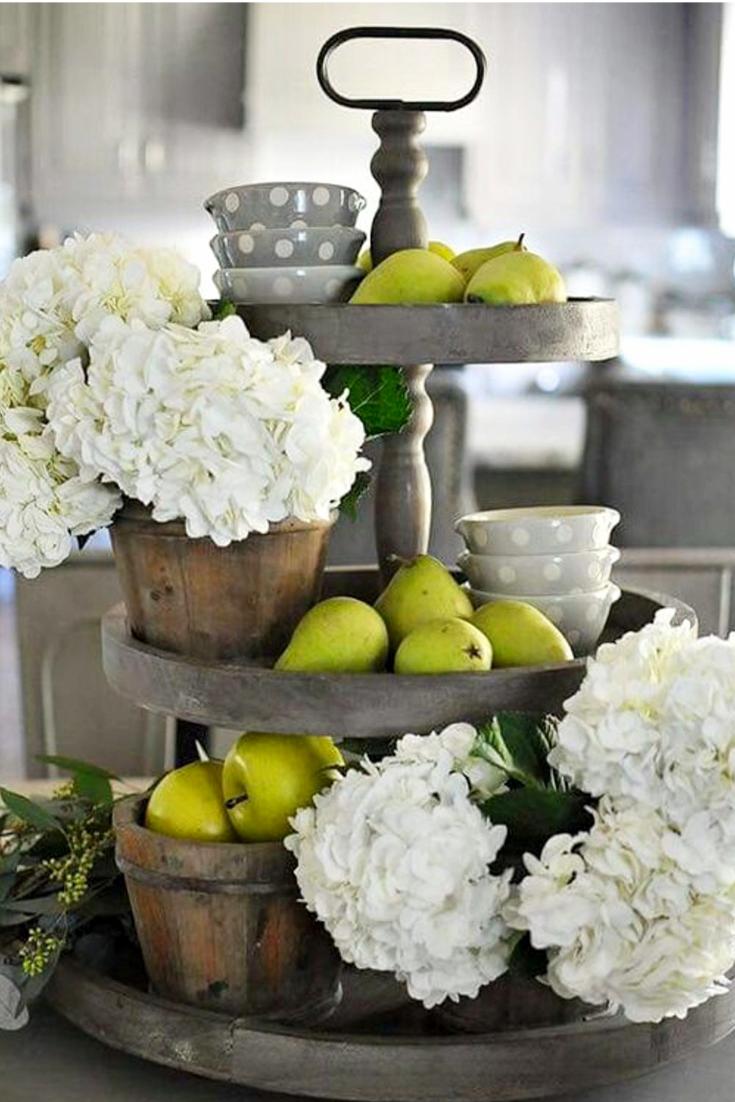 Use nice details for your farmhouse kitchen like this vintage wooden three levels food exhibitor to showcase fruits and flowers.
Farmhouse Guest Bathroom Decoration With Wicker Basket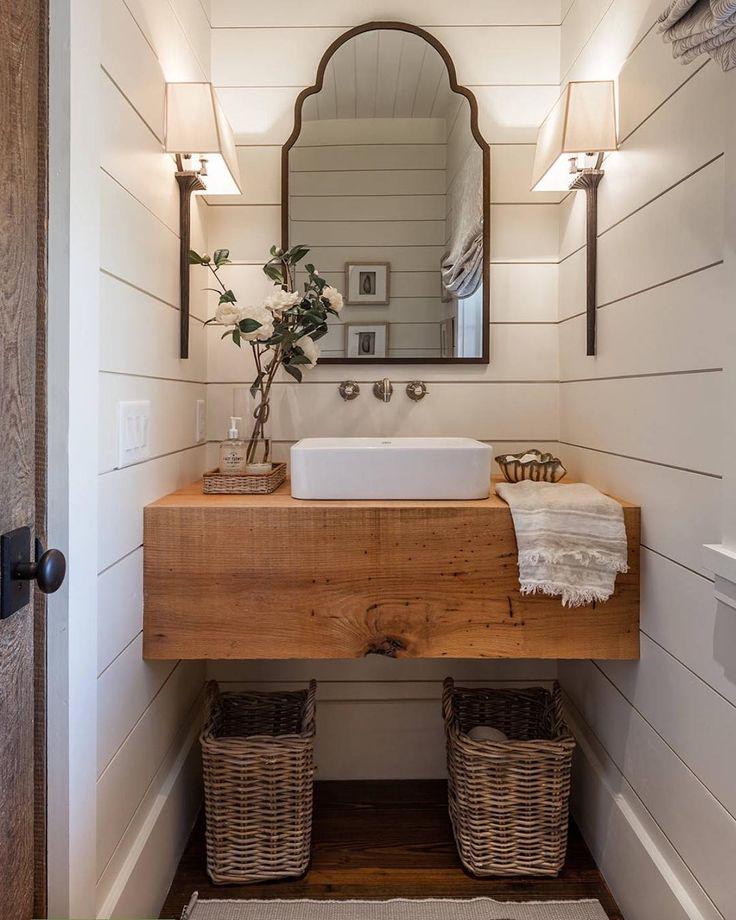 If you are having a powder room, these white wood panels, the wooden sink cabinet or the arched mirror can be good ideas to use to enhance your space.
Vintage Kitchen Dinings For Farmhouse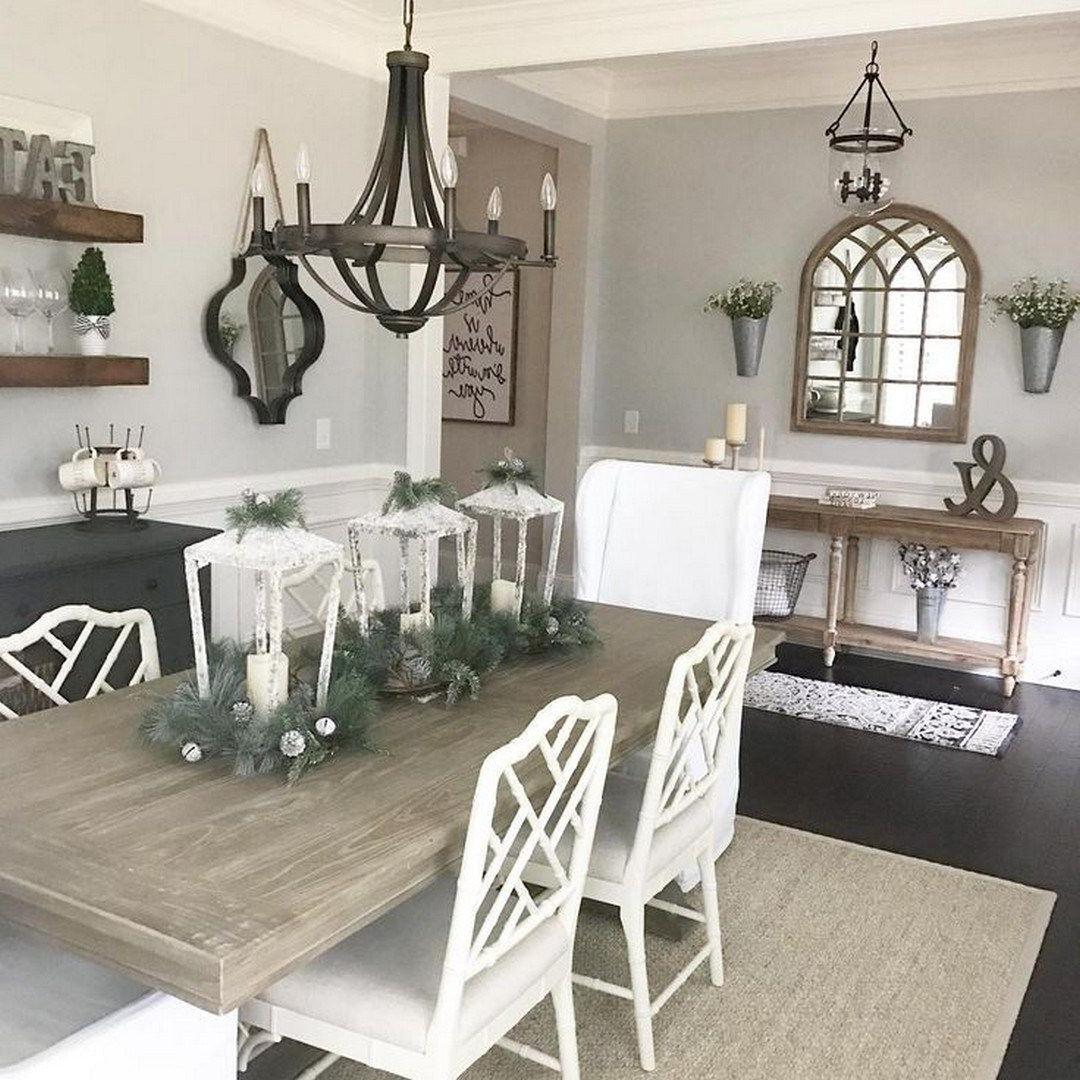 In this example, the eating area is ready for a family meal. The wooden table with the white chairs is very inviting. The lamps and other forged metal elements are the perfect features to create a style that is very farmhouse: soft and strong at the same time.
Contemporary Farmhouse Foyer Lighting fixtures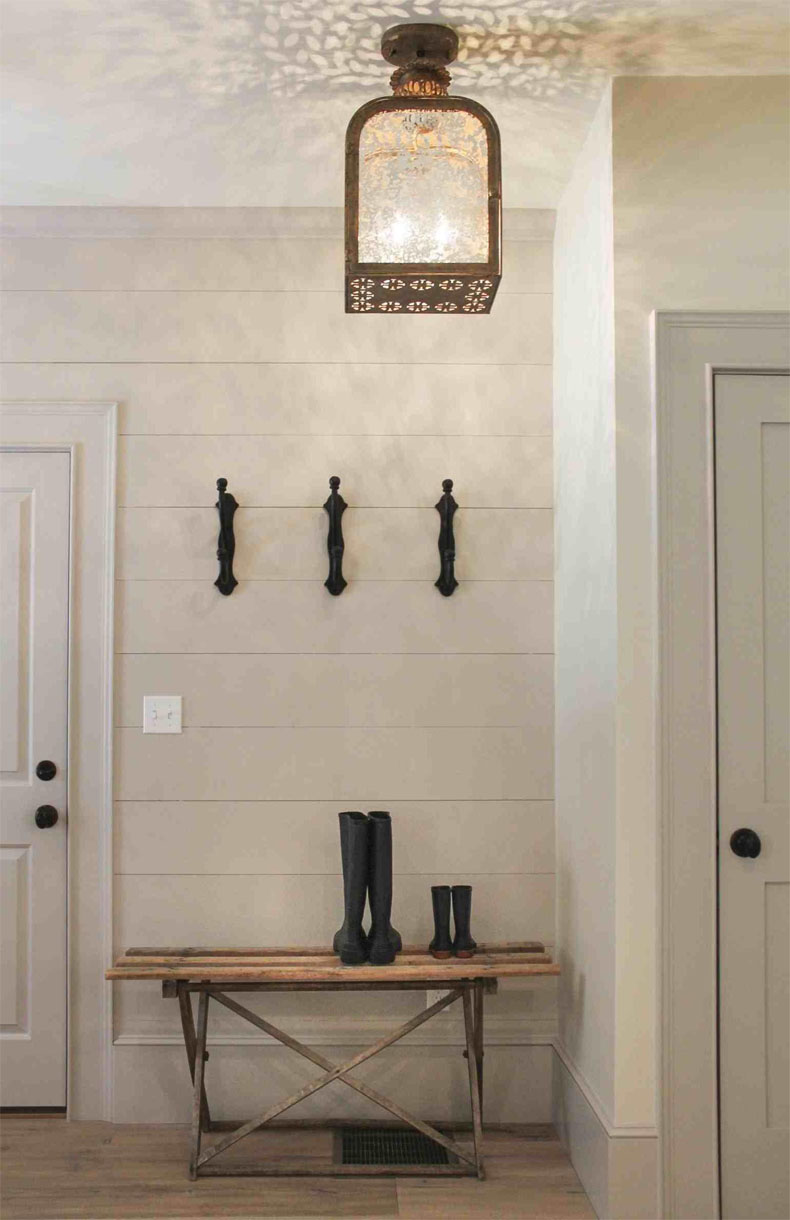 In the farmhouse kitchen, you cannot miss details like wood panels, forged iron features and vintage elements like the crystal lamp.
Farmhouse Table and Benches For Kitchen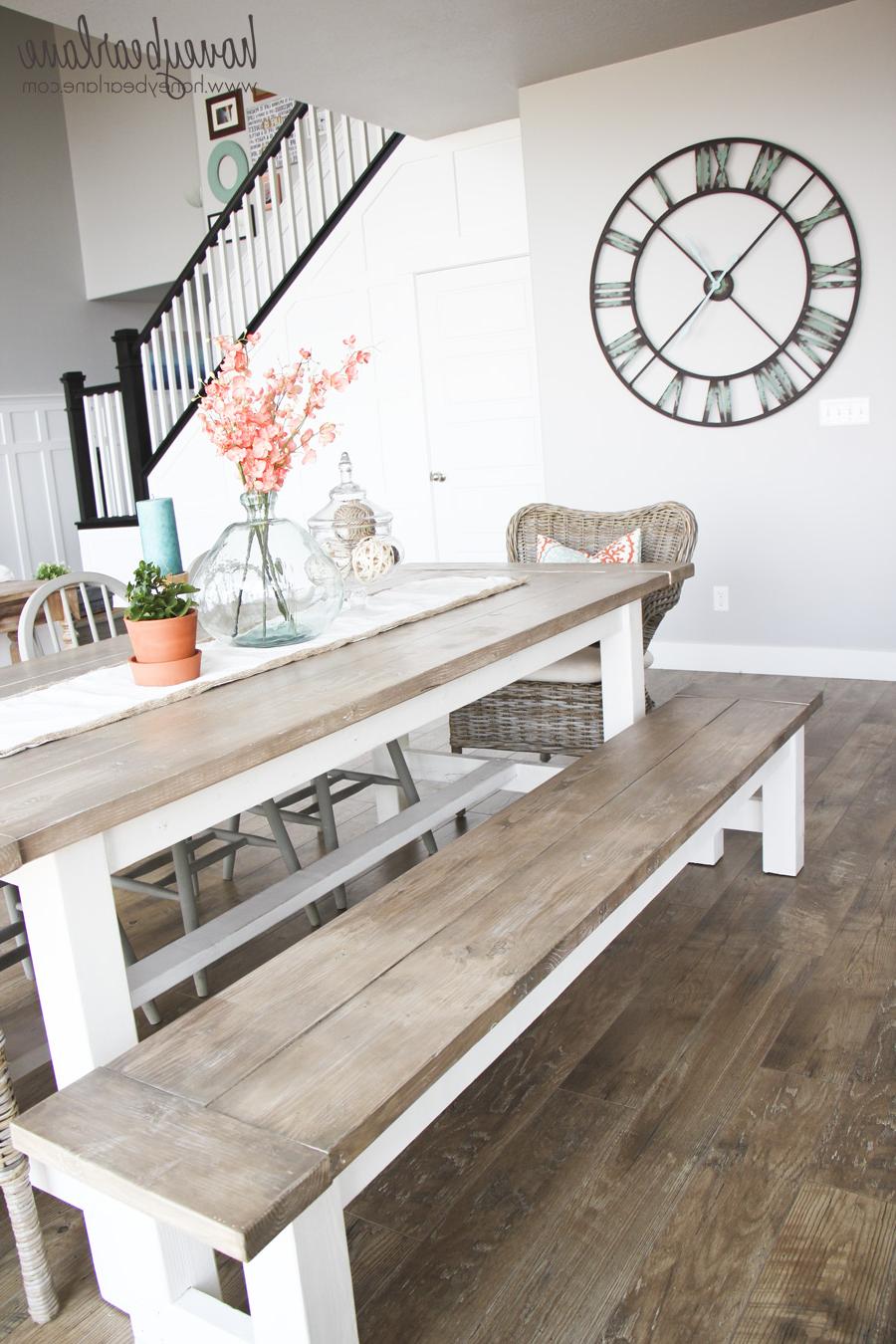 This rustic farmhouse kitchen has a diner – style, with the light colored wooden table, garnished with flowers and huge wall clock on the wall.
Farmhouse DIY Kitchen Storage Designs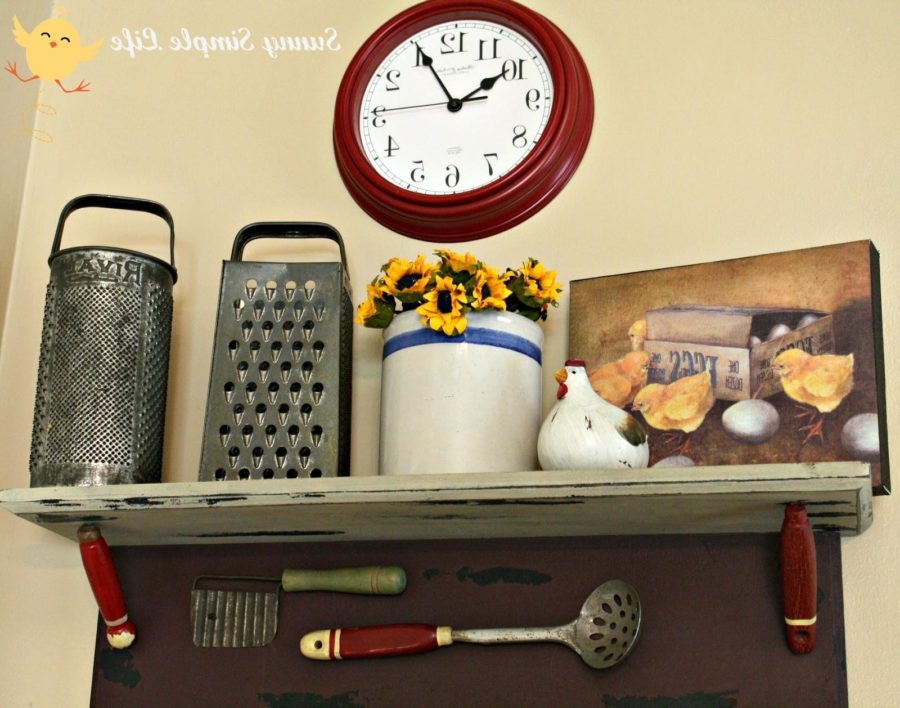 Complement your farmhouse kitchen architecture with old style utensils like these ones. If you use them or just show them, that is up to you.
Farmhouse Repurposed Storage Ideas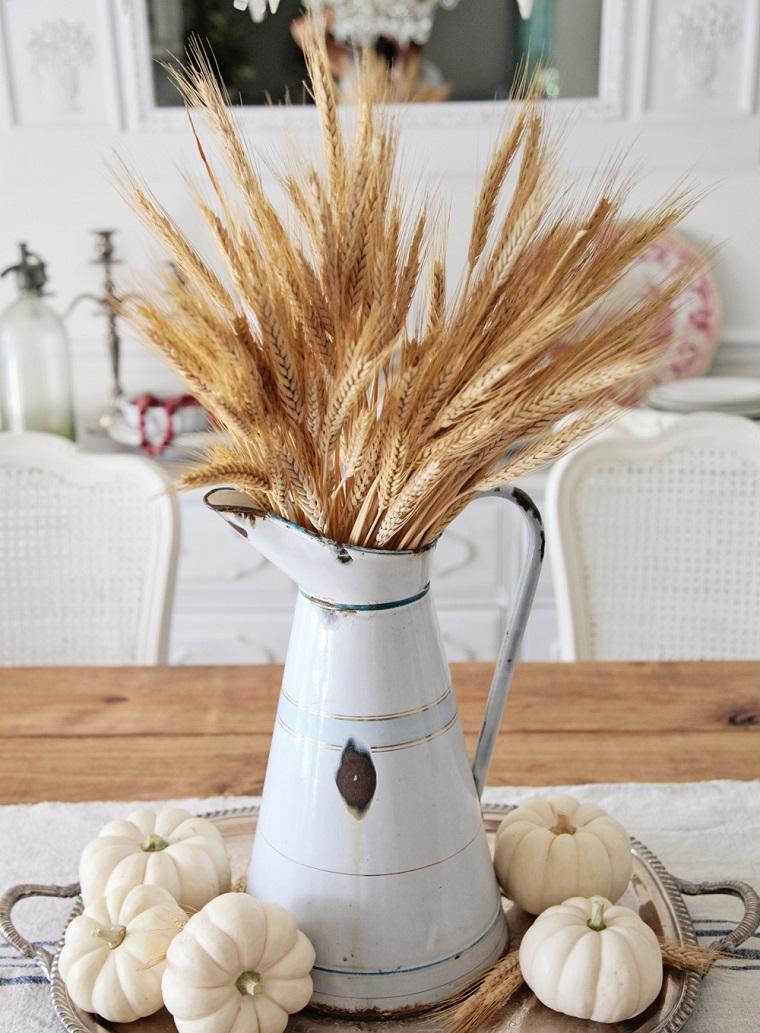 Take advantage of the farmhouse kitchen style recycling elements. In the photo, an old cream jar is now a perfect flower vase, this time used to hold dry spikes that you don't have to change so often.
Hanging Baskets for Farmhouse Kitchen Decoration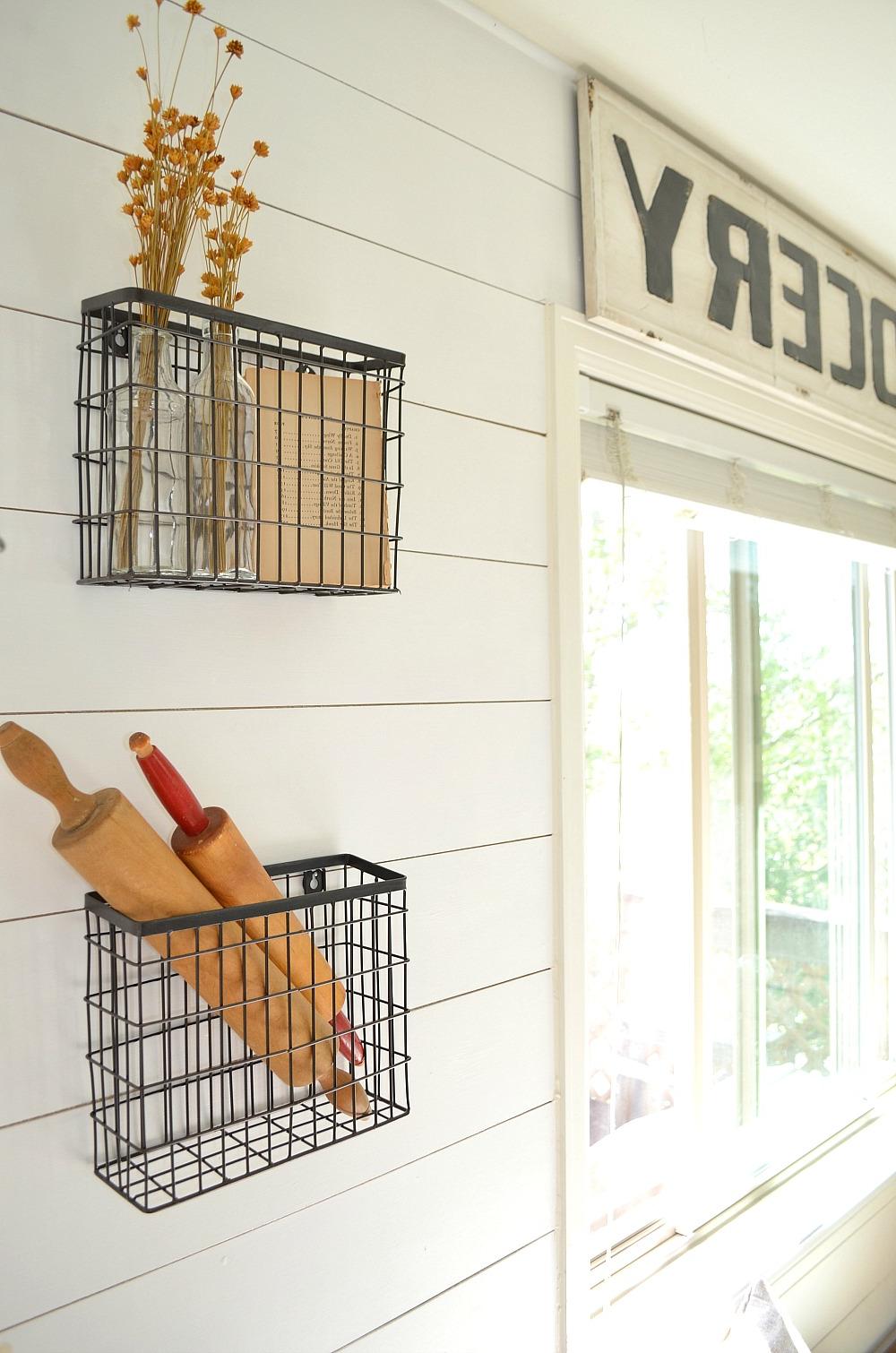 In this other example, you can see how old baskets can be recycled into wall storage.
Farmhouse Chandelier Decor Ideas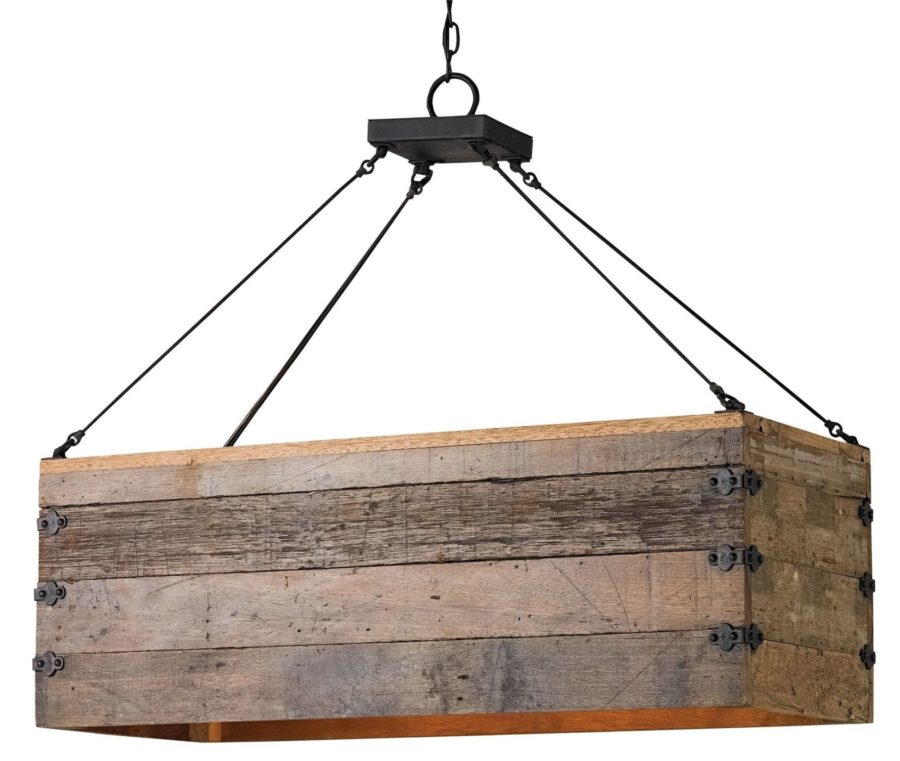 Another great recycling example: an interesting rustic ceiling lamp made of a wooden box and hanged on the ceiling with forged iron details.
Farmhouse Country Decorating Ideas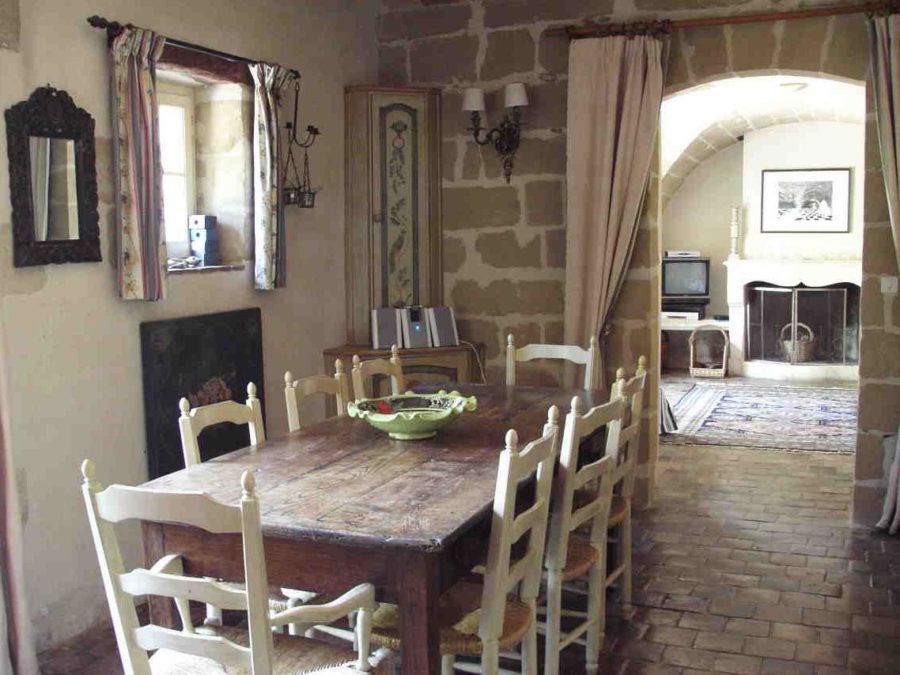 The farmhouse kitchen has a rustic charm that is loveable. You may think that when you see dining areas like this one. Everything here is farmhouse: the wooden dining set, the exposed brick wall and the vintage details like lamps, mirror, curtains and more.
Rustic Vintage Kitchen Cabinets For Farmhouse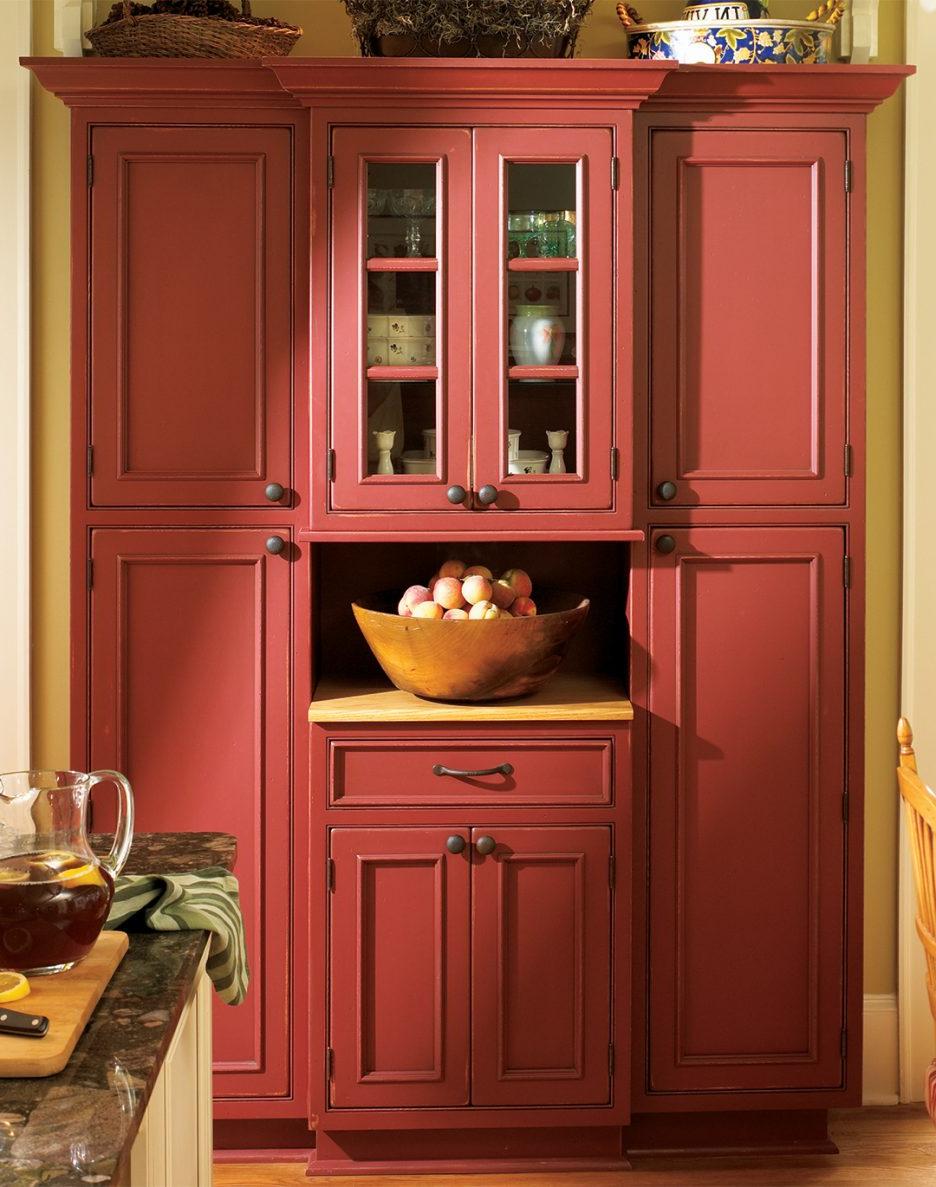 What about this high and wide vintage cabinet painted red? Is a nice way to say, "I have a farmhouse kitchen".