In the recent years, everything that is old, everything that is vintage, everything that seemed to have gone down in history, has become fashionable again. It is precisely for this reason that, in the present, it is so common to decorate the living, the kitchen, or any other room with antique furniture. In general, decoration with antiques for the home is gaining a major role, so a lot of people want to know more about this trend.
The vintage decoration has been hitting hard for some time now. It began little by little creating interest, opening its doors and creating followers. But with the recent fashion wave of furniture restoration, DIY works and the spectacular results of the vintage environments with its delicate, romantic, warm and personal air, the old furniture decoration ideas have become a trend that it is practically considered a must do in any house, where the its particular, colorful, varied and eclectic signature can completely change a home's tone.
Today we want to bring you a few good ideas that you can use for inspiration if you are into the old furniture's wave.
25 Old Furniture Decoration Ideas That Will Improve Your Home's In No Time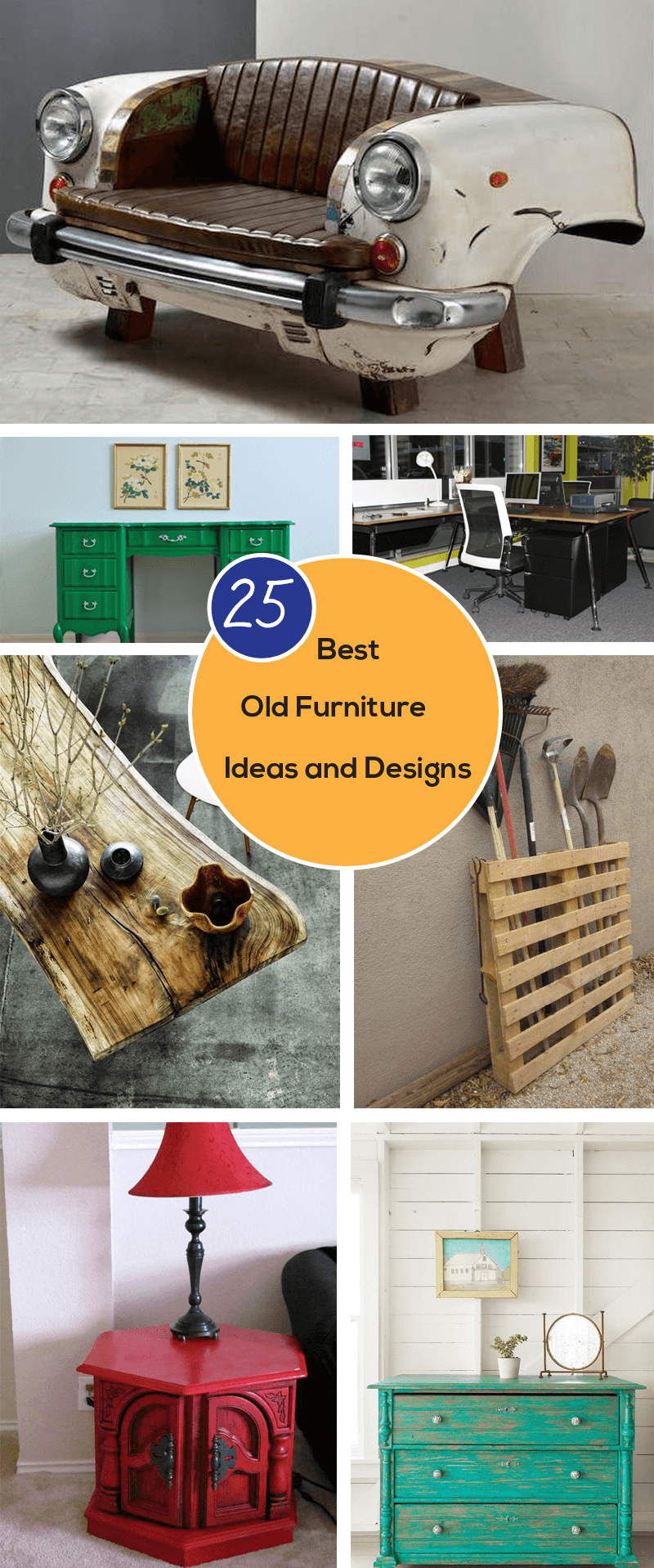 Interior decoration with old furniture is extremely charming, you can have a feeling of past times and it does not need too much investment to achieve the look. In many cases the old furniture can be recovered and even some deteriorated or worn furniture can be admitted, and if you do not like not to spend a lot of money, then this is the type of style for you: you can achieve great looks for your houses using really cheap old furniture for decoration.
The old furniture decoration ideas can please a lot of different kinds of people, because this kind of furniture is very versatile when it comes to combining with other styles, or even to create a whole design style around them. What you should intend to achieve when using this style is a delicate and personalized decoration.
When using old furniture to decorate your house, you do not have to make the entire environment in the same line of decoration; you can add some furniture, or specific objects can become the highlight of each room. You could use different old styles that initially do not follow the same line, because the result can be magnificent.
That is the beauty of the old furniture decoration ideas: they can be as open, eclectic, wide as you want.
That is why we offer you this selection of 25 different styles in old furniture that will make your house look amazing and with a lot of personality. Copy them or get inspired by them to create your own and unique style for any room of your house. We are sure you will like more than one of our examples.
1. Affordable And With Character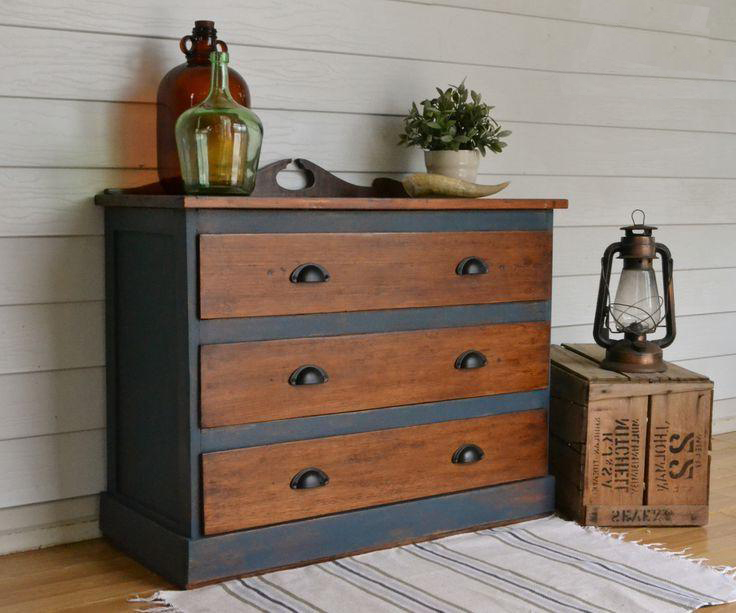 Decorating with antique or second-hand furniture, carefully chosen, gives us the opportunity to achieve environments as charming as cozy. They can help you to give a personal and definitive touch to the decoration of your home. Not to mention that old furniture and old – styled furniture can also be a very cheap way to enhance your decoration.
2. Antique And Unique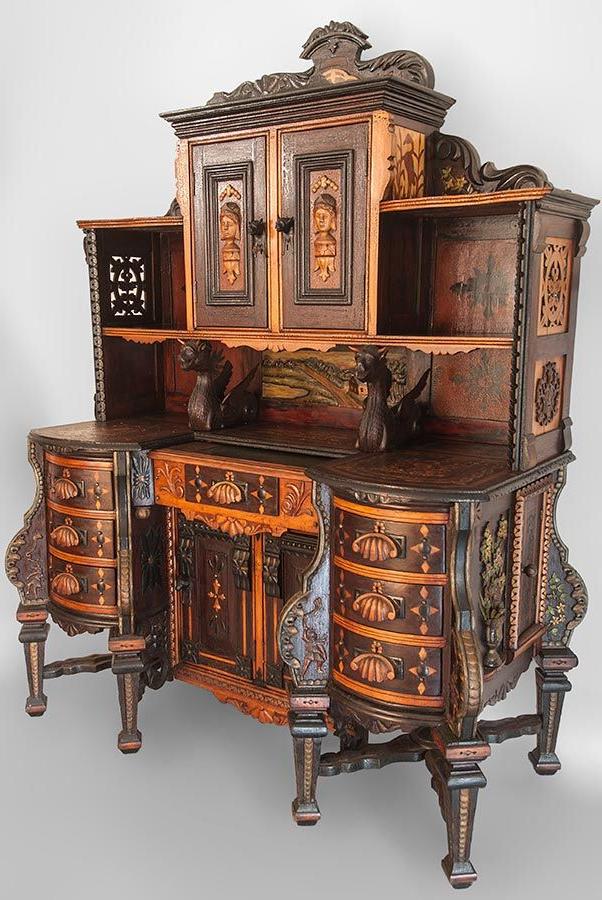 With a touch of creativity, the choice and combination of antique furniture will give a personal signature to the decoration. This is particularly true when you choose unique pieces like this one, a particular piece special to keep your fancy silver wear or china, or for a very impressive piece in the studio.
3. Old And Renewed For A New Vibe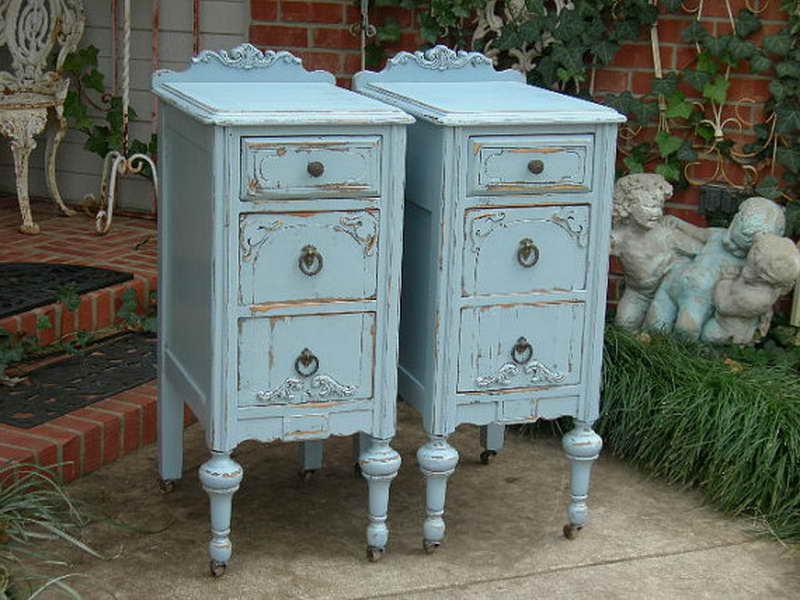 Are you lucky enough to have inherited some old family furniture? Do not throw them away! You could check the state, treat them, paint them and adapt them to the new trends. By adding some personality touches and the magic of color, it is possible to achieve a modern decoration with old notes or a traditional setting that also gives concessions to the contemporary. Like this beautiful nightstands that will now be able to improve any bedroom.
4. Colorful And Cheap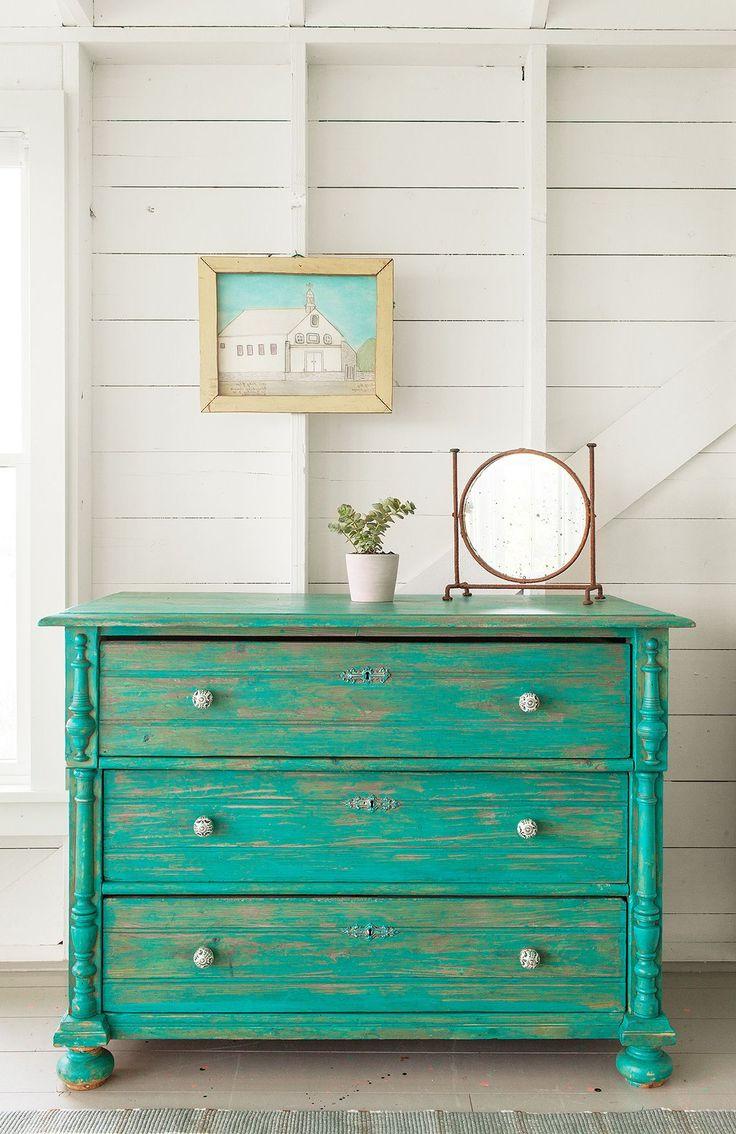 It is truly important and we must take special care not to exaggerate and create a scenario of the overloaded and oppressive past. There is no rule to follow in vintage decoration, but common sense and balance are necessary. For example in this piece of furniture, to lift it up and fresh it up a little bit, colorful water green has been used to paint and give a different vibe to this dresser.
5. A Perfect Item To Add Life And Color To Any Room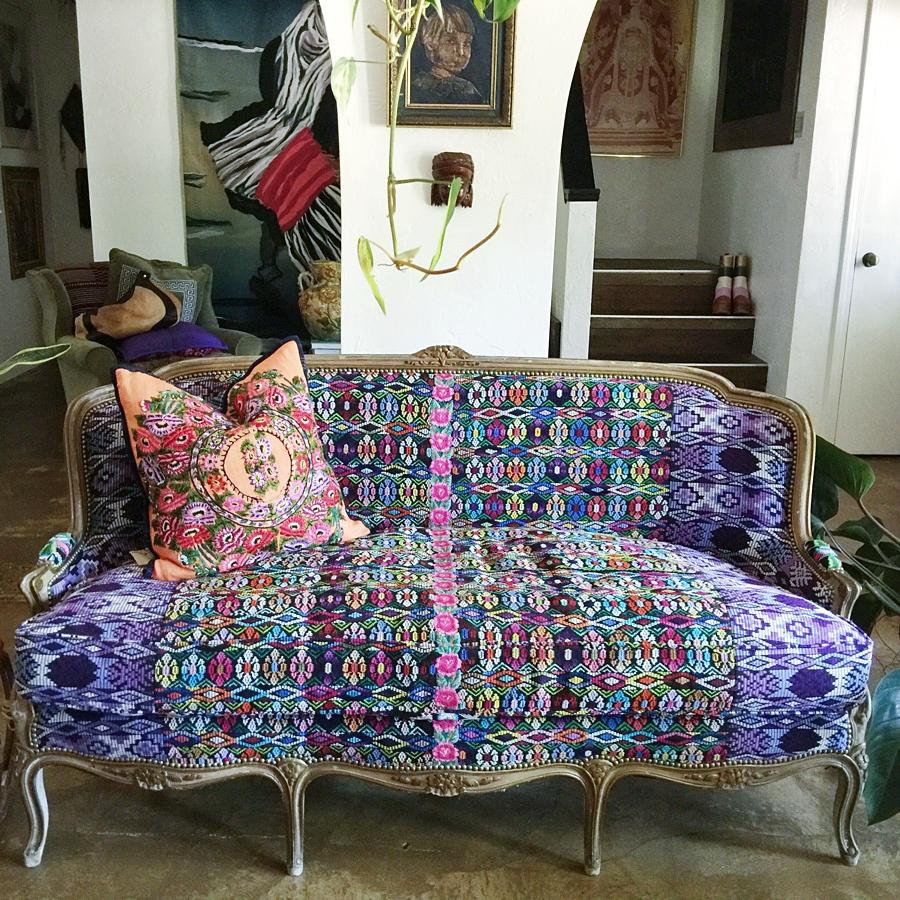 A great old furniture design idea is to combine old with new. In this combination you can present ideas, options and opportunities that decorates the house, creating contemporary styles in beautiful environments that maintain the old elegance with the new feel. This gives us the opportunity to create original and personal housing styles, like in this example, where the sober and refined old style couch is very well combined and contrasted with the fun and colorful modern fabric for a unique look that definitively improves any room.
6. Invention And New Life For Old Things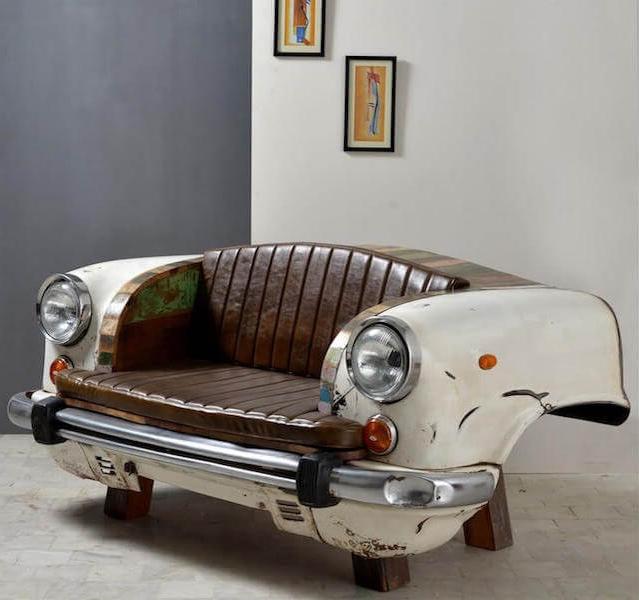 Old furniture decorations ideas create a cozy, warm and adaptable to new times room when you combine them with modern and contemporary furniture, creating truly attractive spaces visually. Also, they are a great way to make a statement with a wow factor that catches the eye, like this spectacular couch that is made with old car spear parts. Decorating with old furniture the will make your imagination fly and create countless combinations and styles. Do not hesitate to include one or more in your living room.
7. Old Furniture To Enhance The Kitchen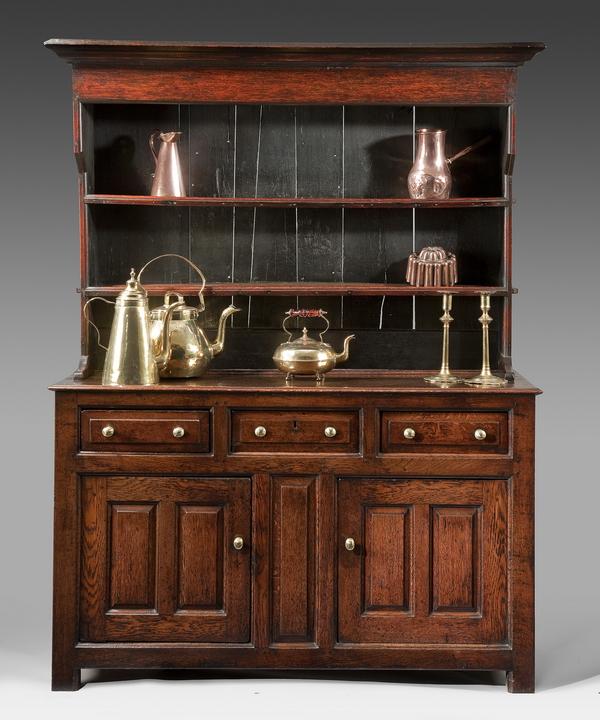 Old furniture ideas are most commonly used in the living room, but do not think that this nostalgic air is exclusive to the decoration of these rooms. If you really feel identified with the neutral tones, the aged finishes, and the nostalgic atmospheres you can create very interesting spaces in all the rooms of the house with the use of these decoration elements. Surely any kitchen can be benefit from putting a beautiful hand crafted wooden shelf like this to store and showcase the most appreciated kitchen utensils in a very distinctive way. With this piece, even a pan bought yesterday would look like a relic.
8. Old And French To Add Elegance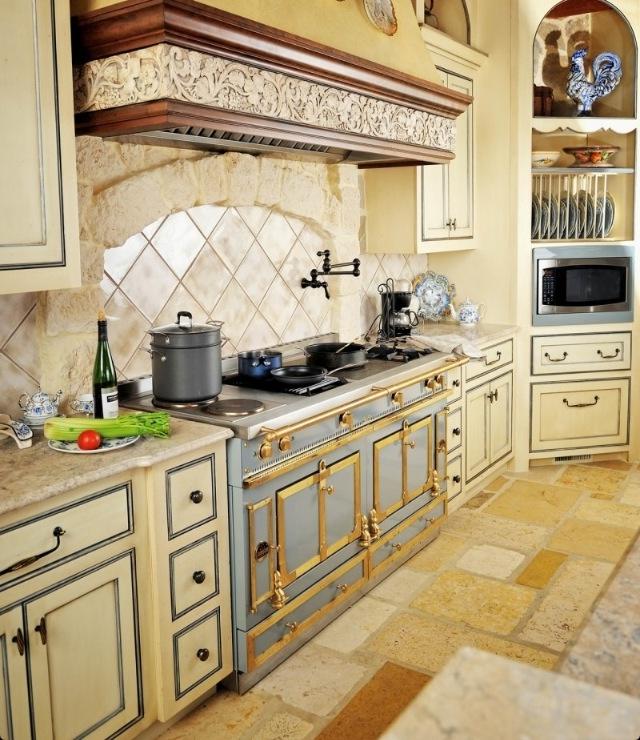 In decoration, when you mix styles, you can create contemporary spaces that are surprising and sometimes very daring. Mixing styles is a resource where you can combine old furniture with other modern elements. Modern appliances interact with old styled furniture in this French style kitchen that would be a foodie's dream.
9. Old In Red: A Beautiful Idea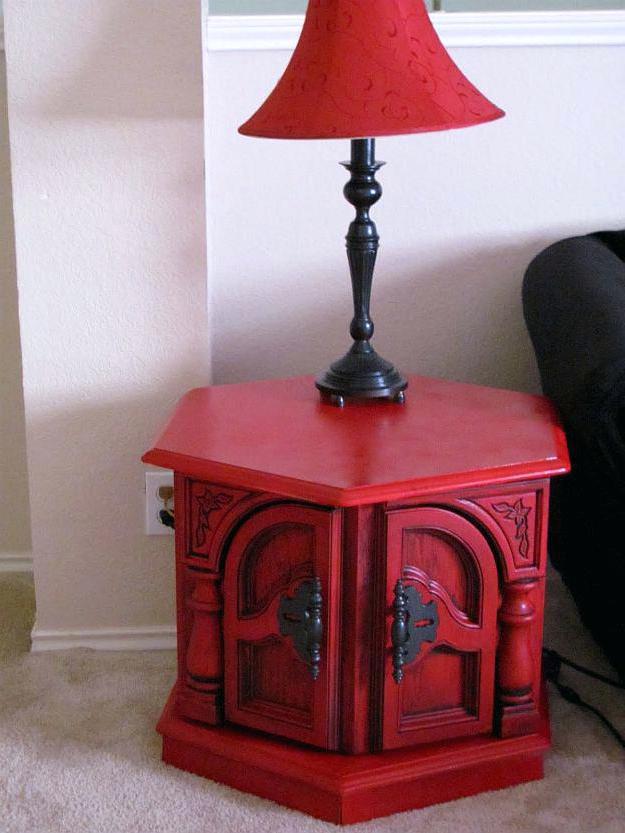 Using old furniture decoration ideas give a second chance to the furniture and accessories that surely, your family keeps in the attic or in the garage. Like in this small nightstand that has been recycled and restored to give it a second chance while giving an original touch to the decoration of the room.
10. Old Furniture Repainted For A Vintage Look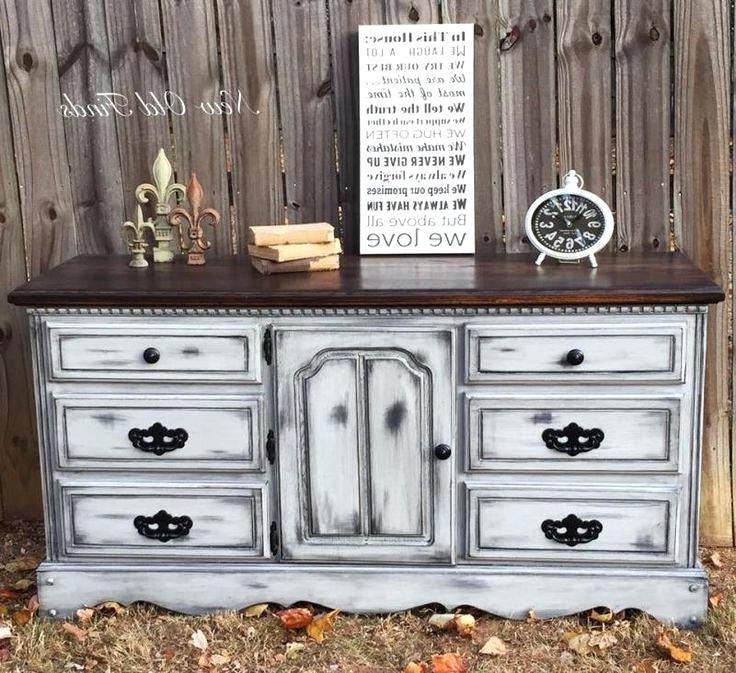 If you are in look to have old furniture but they seem too opaque and lifeless, you can add new life to your furniture and turn them from just old to vintage. All you have to do is paint the piece of furniture with a light or pastel tone while living some spots unpainted. This will give it a vintage touch than can be enhanced by giving importance and prominence to objects, accessories and decorative accessories like cages, books, lamps, posters, watches, mirrors; all these and other elements with a nostalgic and ancient air.
11. Old Things Turned Into New Furniture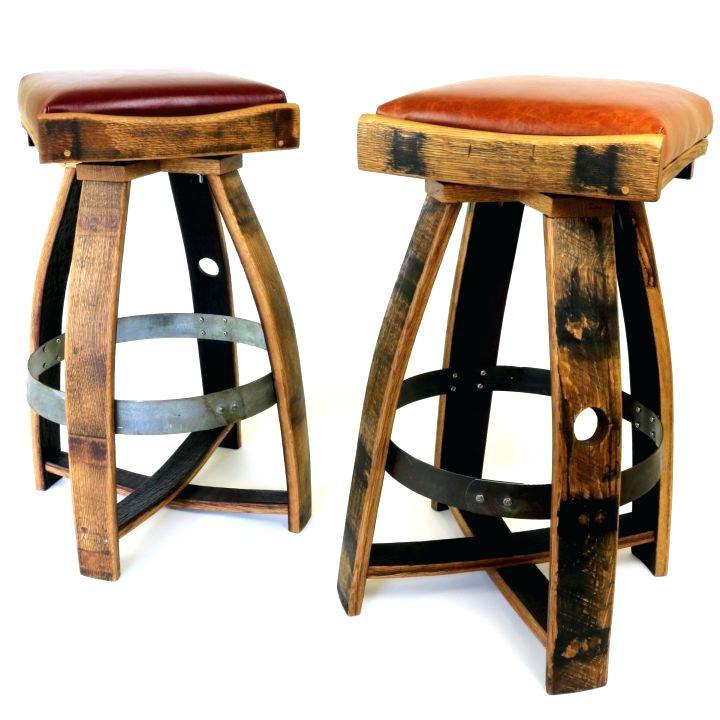 Your home should reflect your tastes and your personal history. This can mean taking old materials and turning them into something completely new. This makes the space and environment rich in aesthetics and very unique. In this benches, rather than preserve absolutely all the original elements from some wine barrels, the most relevant pieces of them were given importance to by creating a very original par of sits that shows how the owner's own style can be reflected even in old furniture pieces.
12. New Life For Old Furniture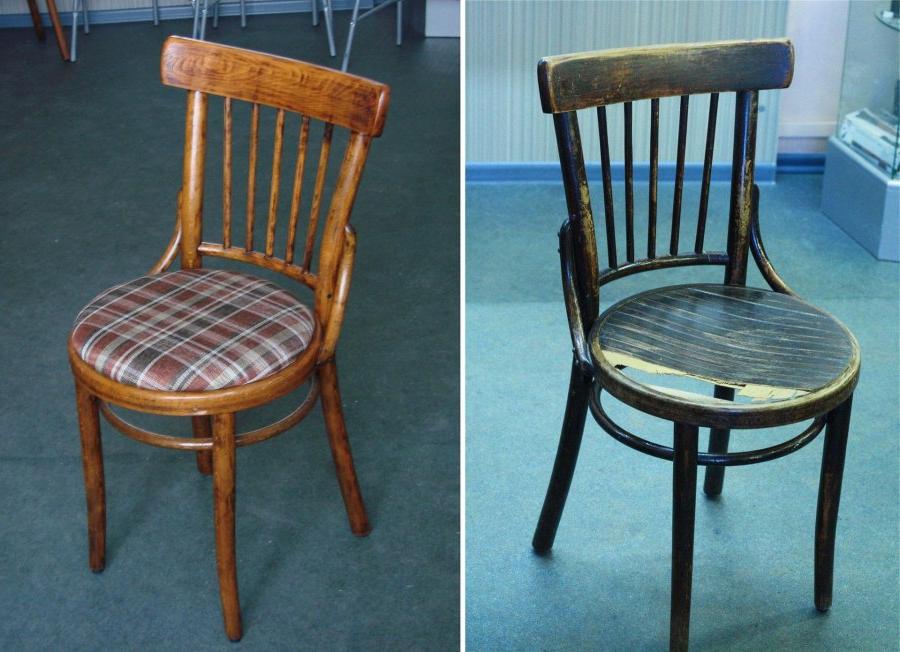 A great plus of old furniture decoration ides is that they can use things you already have and even those damaged one. See how this old, broken and dark chair was not only fixed by changing the sitting table, but also repainted in a lighter tone, and reupholstered with a vintage lumberjack pattern to give the chair a whole new start that can enrich our home creating attractive and contemporary spaces.
13. Style In Bright Colors Back In The 50's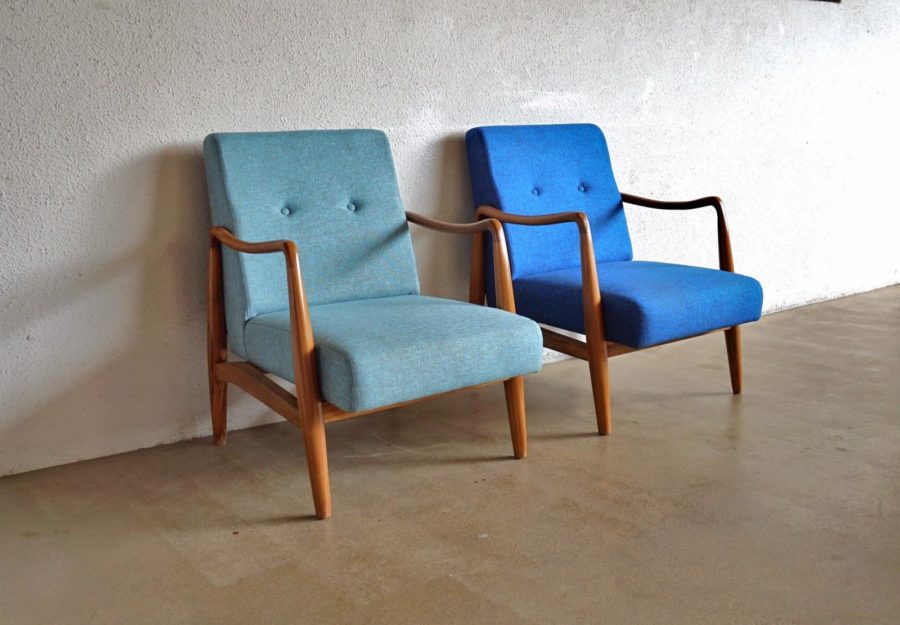 Second-hand furniture can still be very useful and decorative. The antique pieces and second-hand objects give a vintage touch to the room, especially when they are original from the times, because they capture the exact color scheme, curves and shapes from that people were feeling at the time. Bright colors like these 2 blues combined with the light and curved wooden structure are stile that was a trend in the 50's and today can fill with personality any room.
14. Modernism In Old Times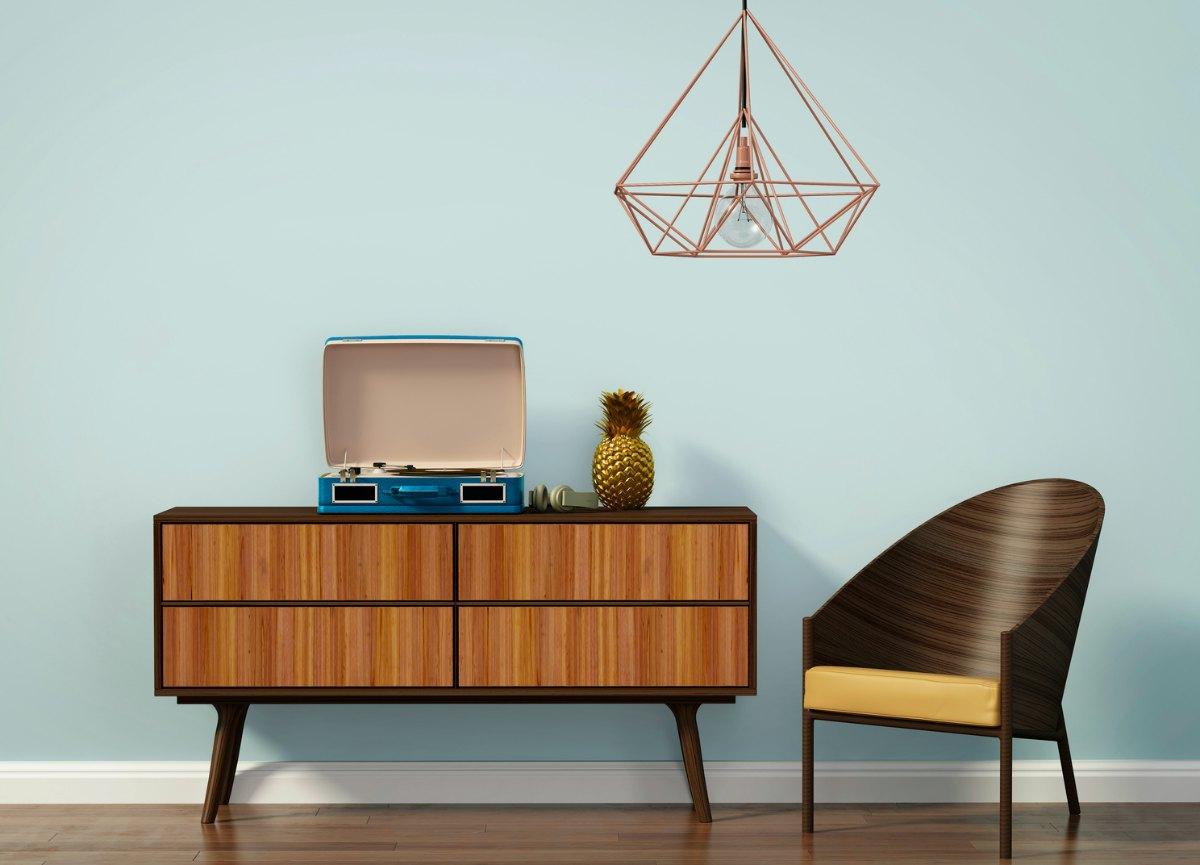 When you think about old furniture decoration ideas, do not only think about classic and traditional old furniture; expand your criteria and consider elements that were considered modern in the old times. They will give a big splash of personality to your rooms and create an ambiance that is retro but with a lot of style. This design could easily be from a 1960's photo in a modern apartment, but instead, is the photo of a modern house decorated with old "modern" furniture today.
15. Old Style To Keep Your Books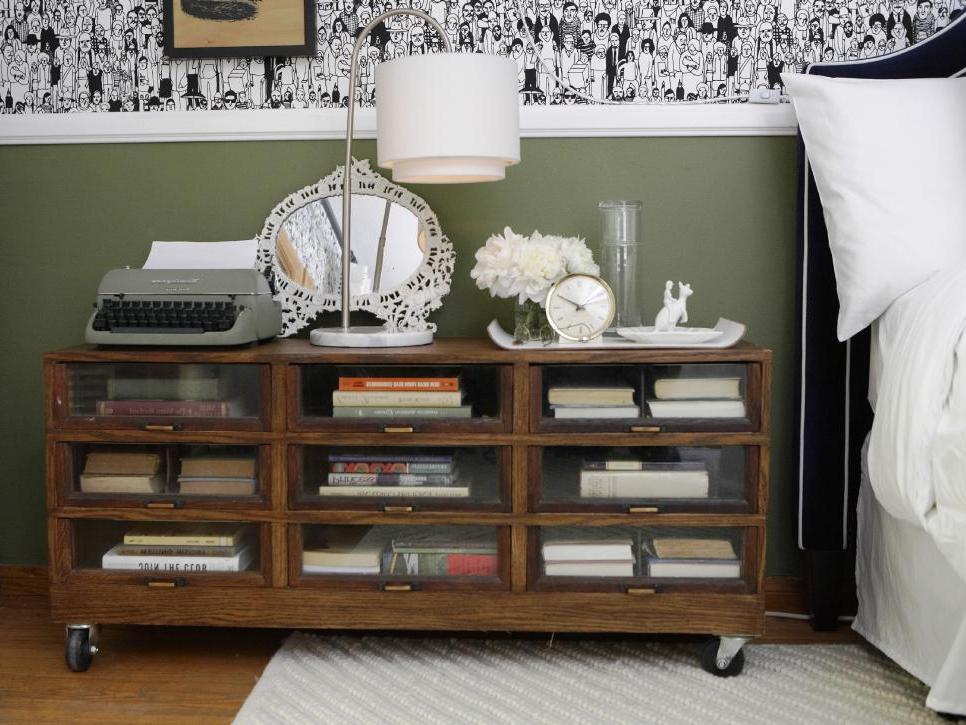 The antique furniture recalls the past, a nostalgic touch that is synonymous with warmth. Take memories like your dad's bookshelf to your new house and use it to now store your favorite and most dear books. Place your old typing machine that you used to write your thesis and use it as a decorative item to create a theme around the bookshelf. Old furniture decoration ideas can also be a way to keep in touch with your heritage.
16. Old And Done By Yourself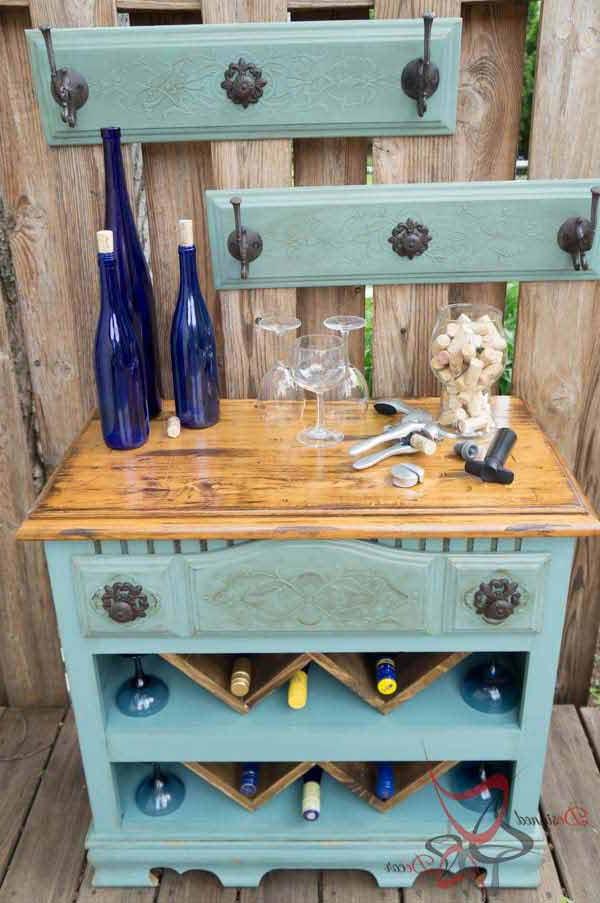 Make the best of your old furniture by turning them into what you want them to be. An old nightstand with a few tweaks can turn into a wine storage with a serving space, ideal for any garden party. In the old furniture decoration ideas you can put your DIY skills to the test.
17. Old, Big And Comfortable For A Living Room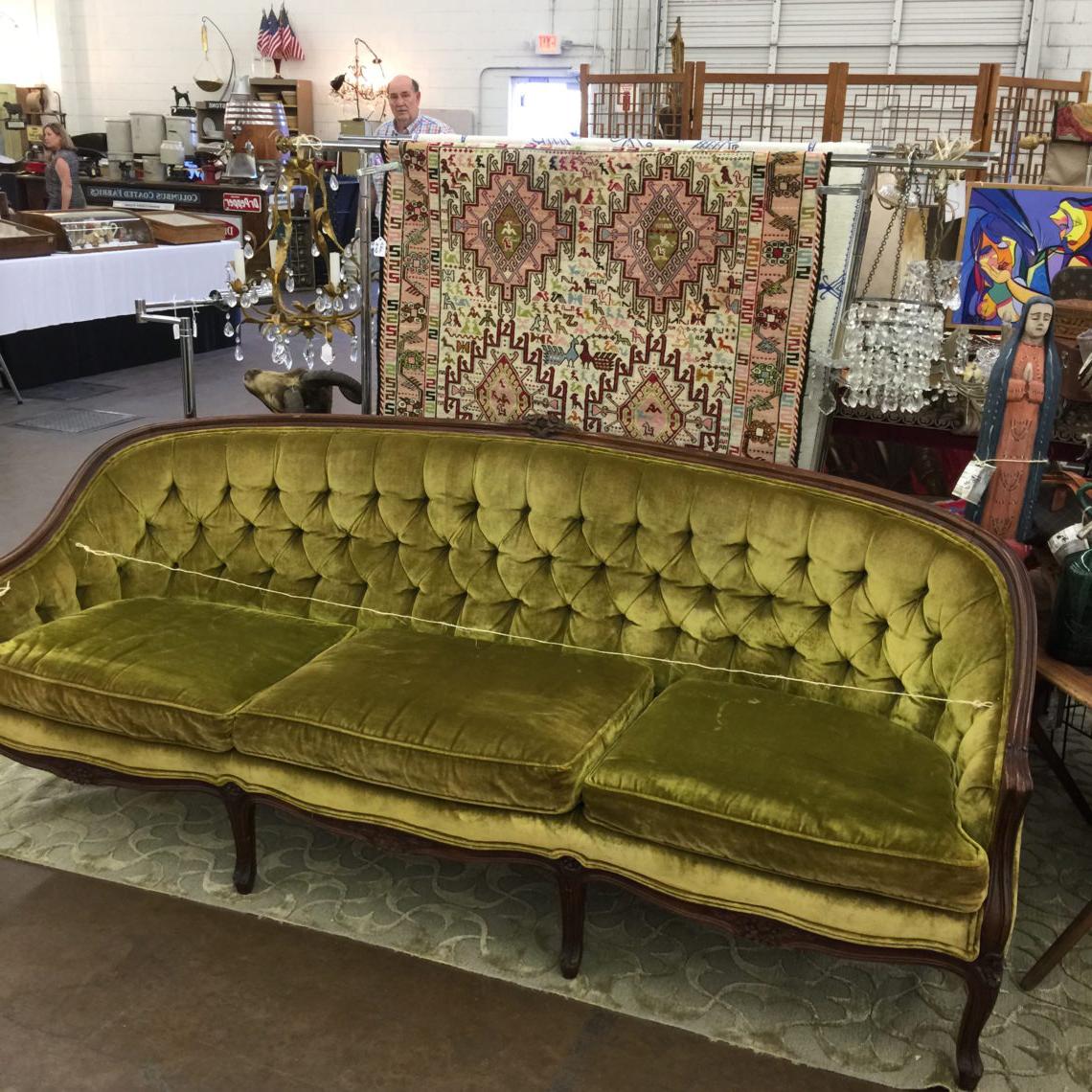 If you do not have any old furniture of your own, you can find real accessories and furniture in antique stores, fairs, flea markets, antique furniture stores and, of course, in any of your friends or family grandmother's house. But you can also find a lot of furniture for a vintage interior decoration in the contemporary decoration shops of most cities. Pieces like this huge couch that is so obviously old are most likely to be found in antique stores.
18. Giving An Old Touch Of Furniture To The Bedroom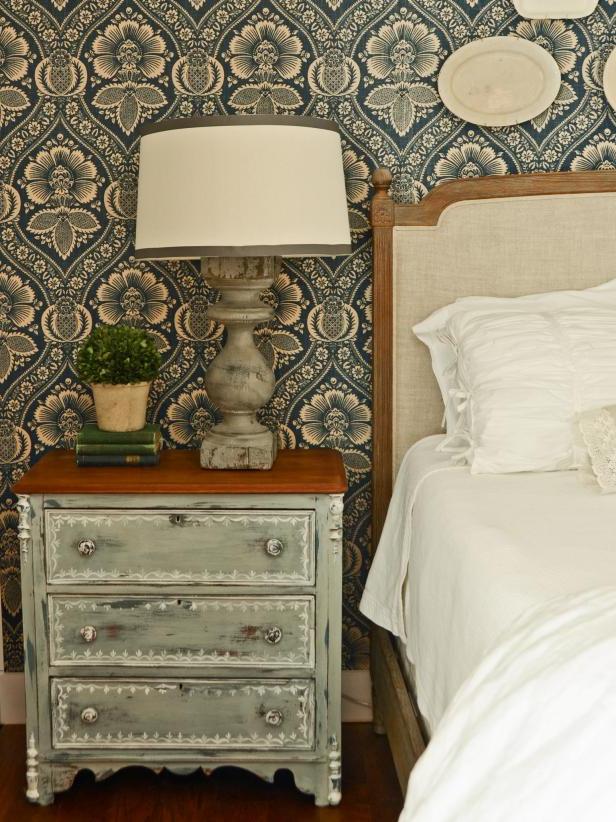 Old furniture decoration ideas can definitively be used in the bedroom, without making the room feel old or dusty. The secret is to add the right amount of old furniture to give a nostalgic feeling without making it sad. And also, the color's choice is very important to. This small nightstand is just what this bedroom needs to have notch of old vibe that is not heavy. The light color of the structure and the drawers, complementing with the reddish table top makes the old table very light and airy, making the room lighter.
19. Old Furniture With A New Purpose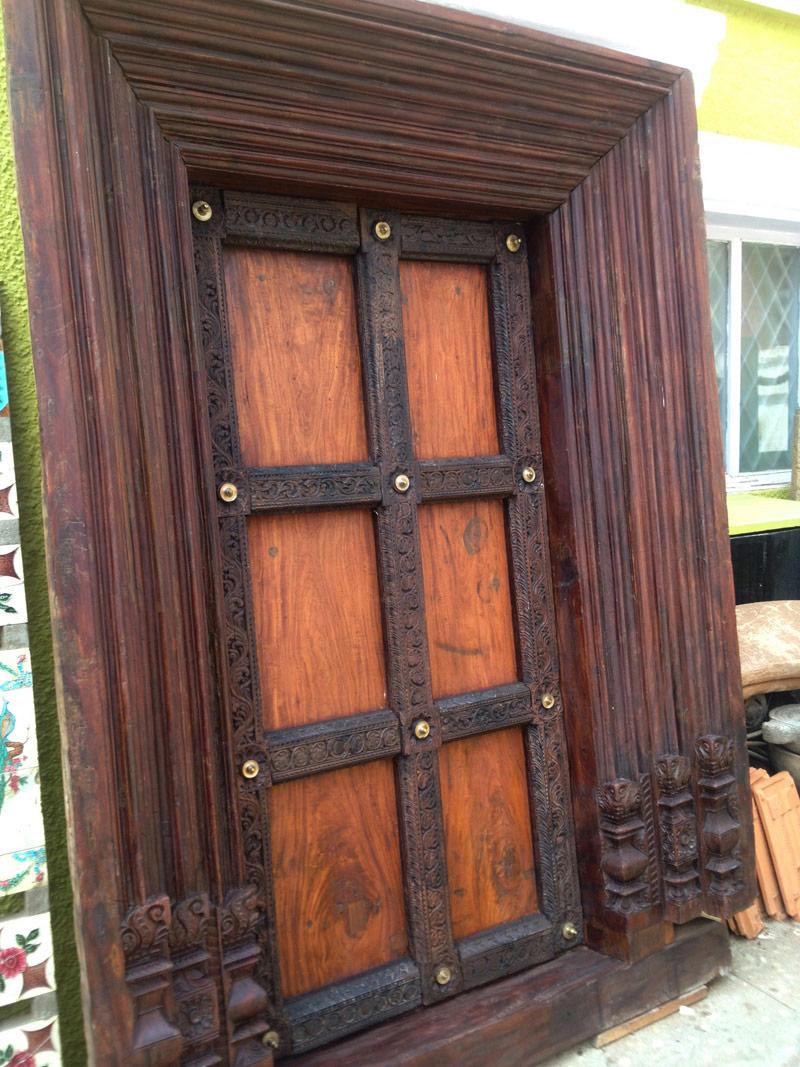 You can incorporate old elements such as chimneys, lamps, panels of the walls to a modern environment, to experience a space expansion. You can feel strength in the room when you do it with balance, and you can also give a new and different purpose to an old furniture piece.
20. Using Old Elements For New Ideas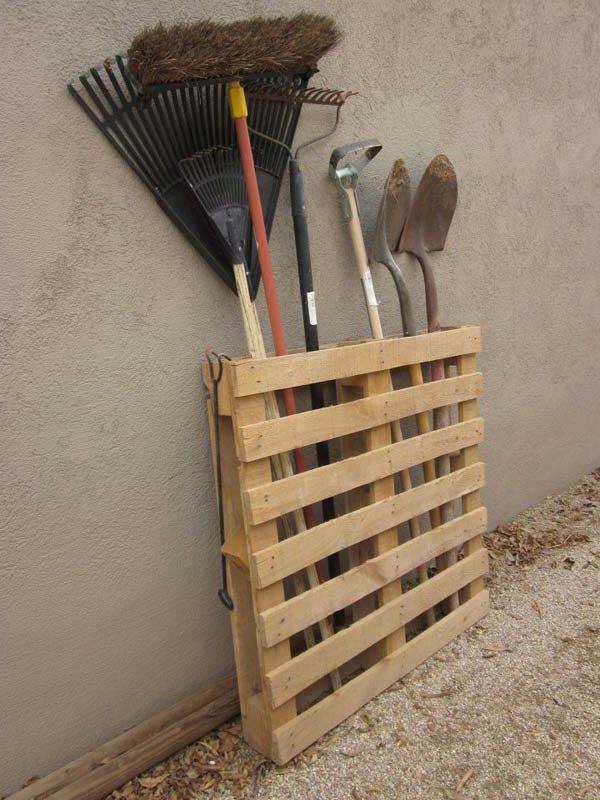 Old pallets can easily become a storage space with a DIY so easy that is literally turn the pallet into a vertical position against a wall and then using it to keep the gardening tools ordered, safe and aesthetically pleasing. For a very old and deteriorated pallet just sand and then paint it.
21. Creating Unique Styles With Old Recycled Elements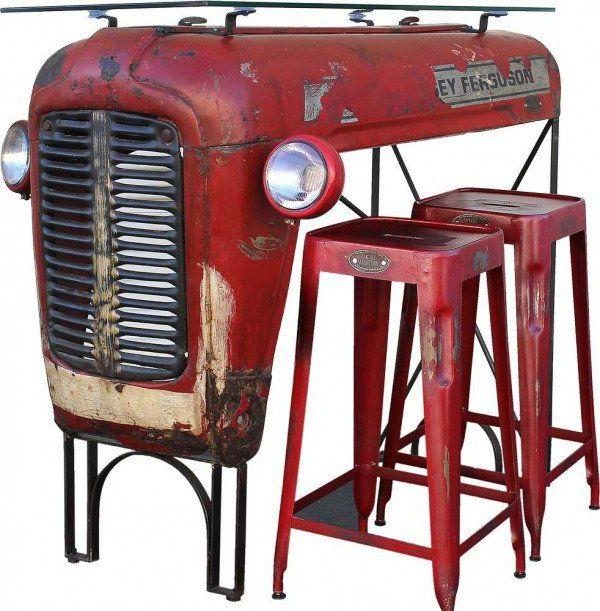 Old furniture decoration ideas give you the opportunity to create something completely new and beautiful from trash. See how original this table and benches are. And the best part, is that they come from a old truck that was in junkyard.
22. Reusing Furniture To Save Money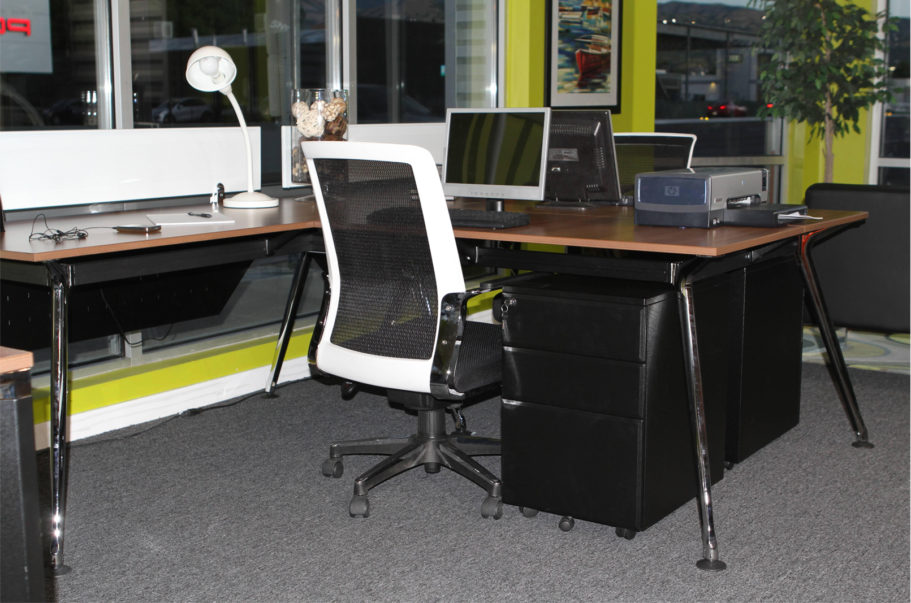 One of the reasons why the old furniture decoration ideas are so used these days is because it represents the renovation of an environment, creating a whole new personality of a rooms with low or even no inversion. This means you can completely change a room without buying anything, just by reusing old furniture in different ways. Reuse old furniture from your office in your house or vice versa and create new environments in no time, and with no money.
23. Vintage Furniture To Store Anything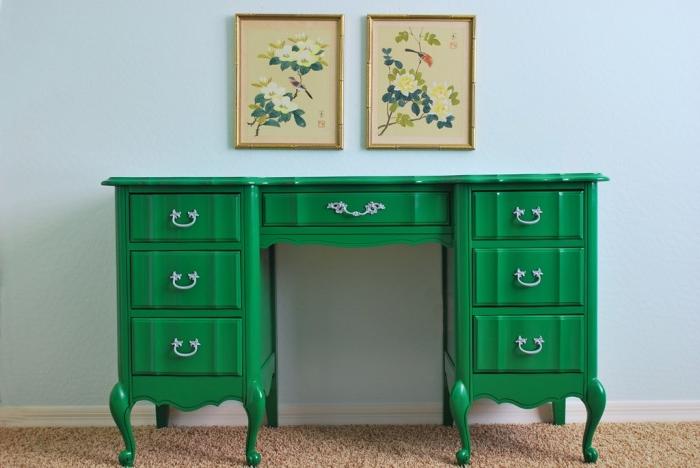 Another good thing about old furniture is that because of their style, they can be used for any space of the house, regardless the original use they were given back in their fabrication time. This antique desk can still be used for that purpose, but also for the living room or kitchen.
24. Old And Natural For A Rustic Look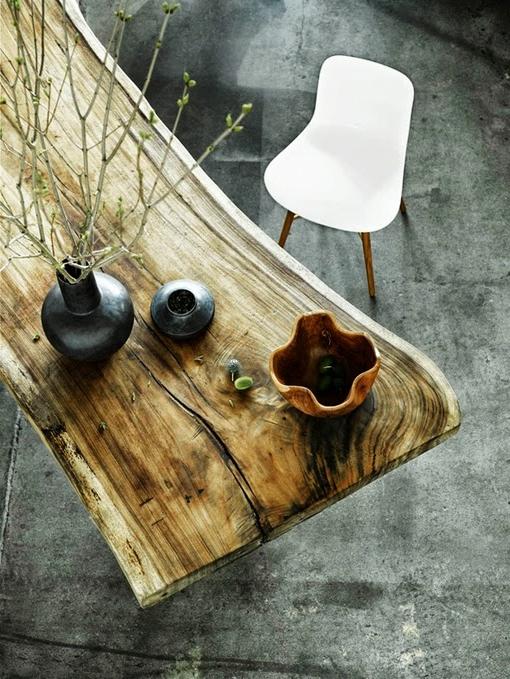 You can decorate spaces with the aesthetics of the old and modern style in the furniture. This very rustic, yet modern wooden table works perfectly with the old style chair. A prove that old and new can work harmonically together.
25. Old And Very Elegant For Home Decoration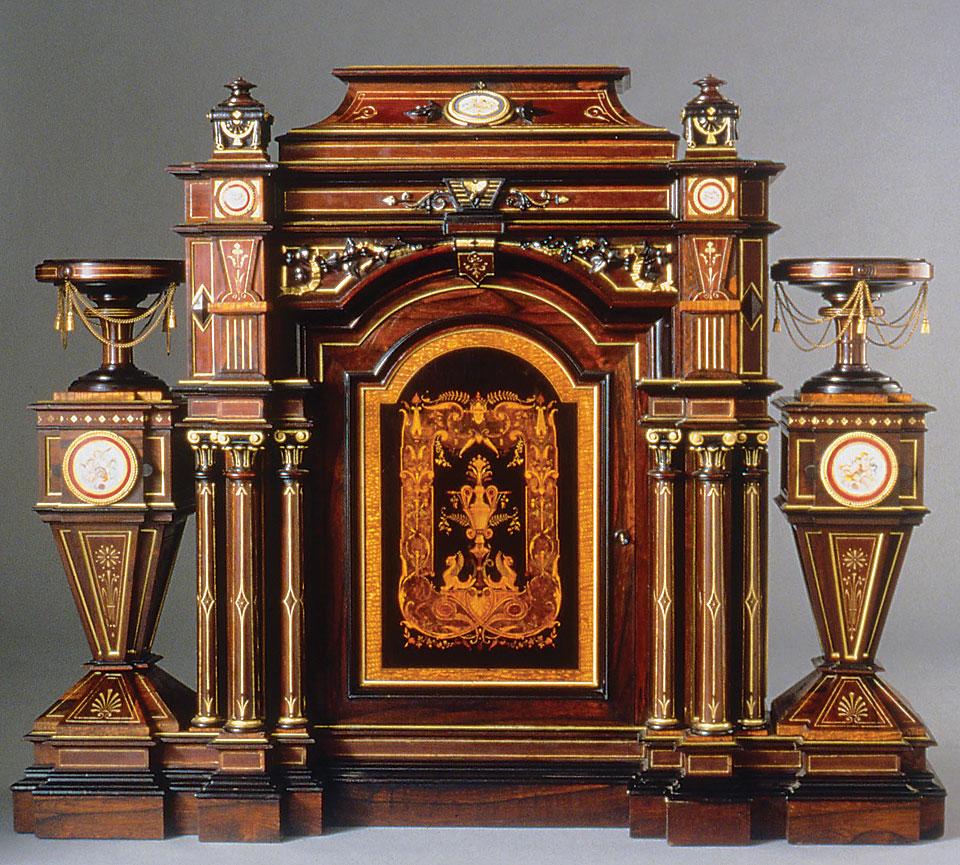 When you decide to use old furniture in your home, it seems a real luxury to be able to enjoy them. They are elements with a lot of character and great strength that, in just by being set in any space, give personality to the whole place.
Conclusion
The vintage style that used old furniture decoration ideas is undoubtedly one of the most popular styles in home decoration, since it has an innumerable number of followers, which have made this style a trend in modern decoration.
Vintage decoration is one of the trends that have gained most popularity in recent years. It is about resorting to furniture, ornaments and architectural details from other eras, but that, although they have gone out of style, they are still eternally beautiful. Besides being able to achieve very beautiful styles, it also implies a saving, since you can use cheap antique elements.