If you are about to remodel your floor or to apply one for the first time, you should never let go of the idea of installing a laminated wood floor or a wooden imitation ceramic floor. These are great choices because of their elegance, durability and resistance, plus the fact that hey are very easy and practical to install.
As the years go by, laminate floors have become more and more popular among people, and there are many reasons for this. Wood is an extremely versatile material, transmits warmth, and transforms spaces into sophisticated environments, depending on how you combine it with different styles. They are also finished in a way that allow you to get the same warmth as wood, but at 50% of the cost of real wood, and they are also installed very easily which allows you to turn around your home quickly and easily.
22 Laminate Hardwood Flooring Ideas That Will Make Your House Look Unique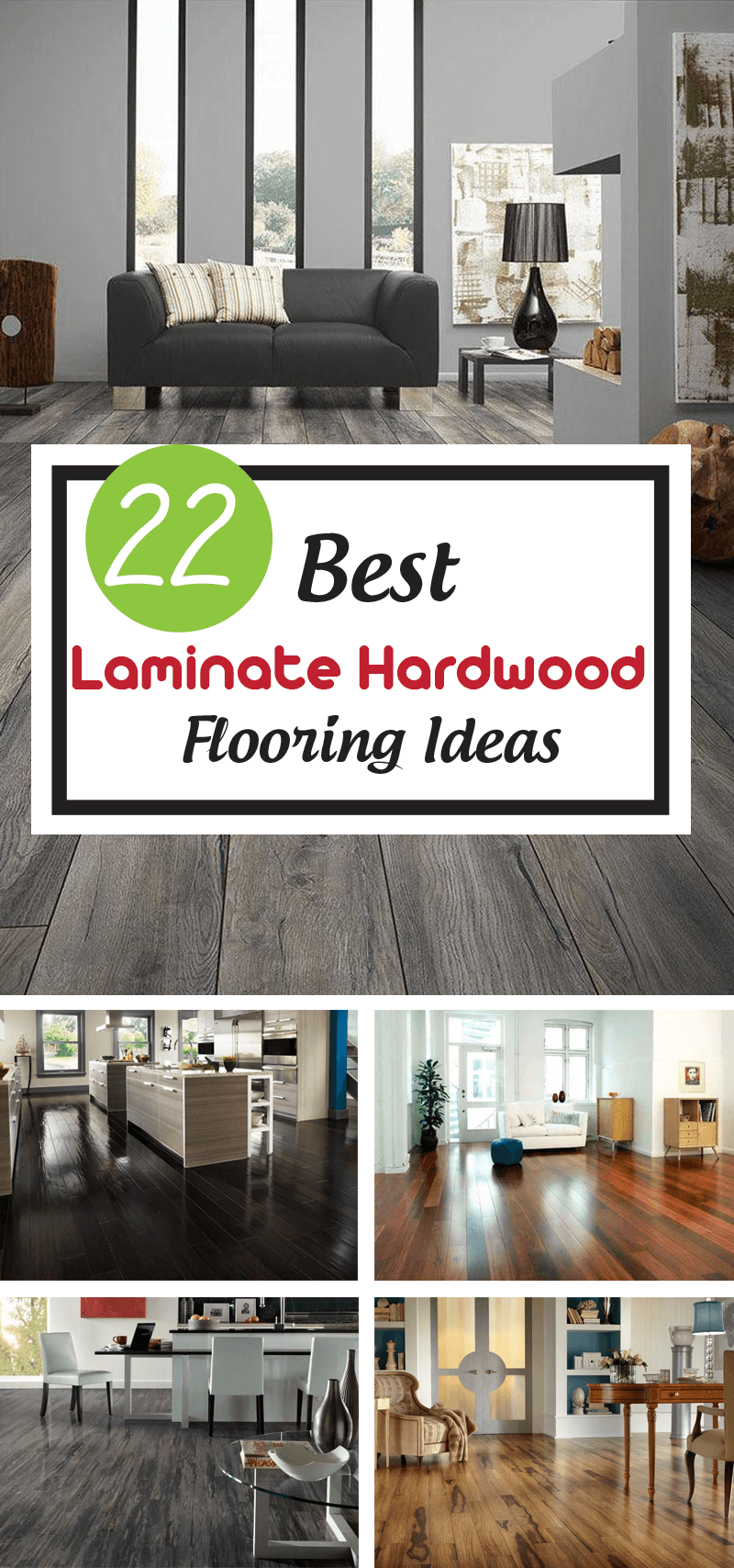 Laminated wood floors currently are not only applied in floors, but now we can find laminate floors in walls, floors and even in ceilings. Without a doubt, the result of this trend is phenomenal because they offer a whole range of possibilities and generation of new styles of decoration with laminate floors.
Laminate flooring is a product made of wood fibers compacted at high density and temperatures. Laminates do not use adhesives and are placed above your floor, so the installation is super fast, you do not have to wait to dry anything and you can use them on the same day.
The wood fibers are mostly renewable raw materials, so they avoid plastics and are also hardly flammable. They wash very easily and with good care have an estimated duration of between 10 and 15 years.
As for cleaning, laminate floors are very easy to clean, you just have to remove the dust and clean them with water, avoiding to use abrasive cleaners and if you want to give an extra pass using polishes designed for this type of floor.
Take into account that laminate floors do not absorb noise, but can be supplemented with a sub-acoustic layer if you want to reduce the noise of steps.
Undoubtedly, when you talk about wood laminate floors or imitation wood ceramic floors you have endless possibilities and alternatives for design. Everything depends on the place and space available for installation. What is guaranteed is that whatever your choice is, you will always get great results.
Keep reading so we will show you a pack of laminate hardwood flooring ideas to inspire your designs.
1. Dark And Minimalist Enhancing A Kitchen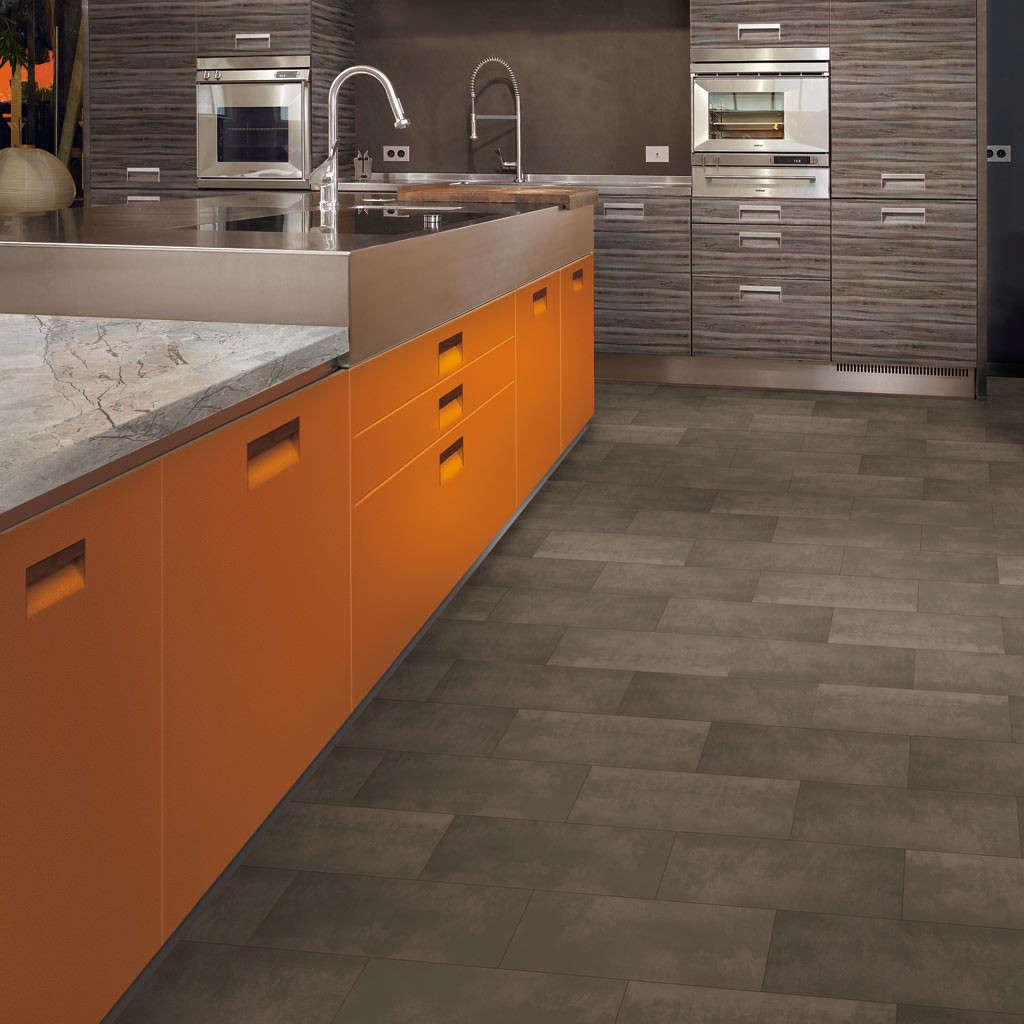 Laminate hardwood floors have a lot of variables of material to offer. One laminate hardwood flooring idea very trendy is the one also known as ceramic hardwood floors, and they give you the same feeling of laminate wood floors. The only difference between these is that the cost of ceramics are a little higher, but in your favor you will get greater durability and less maintenance than with laminate wood panels. These are ideal for outdoor installation or high traffic and pollution spaces like the kitchen, since you do not have to worry about water. Also, their designs are more real every day to wood, in some ceramic floors you can find textures that imitate perfectly the original wood thing that in laminate wood floors we can not find. Like in this example with wooden tiles in dark color that makes this kitchen look absolutely stunning.
2. Light And Sophisticated In Grey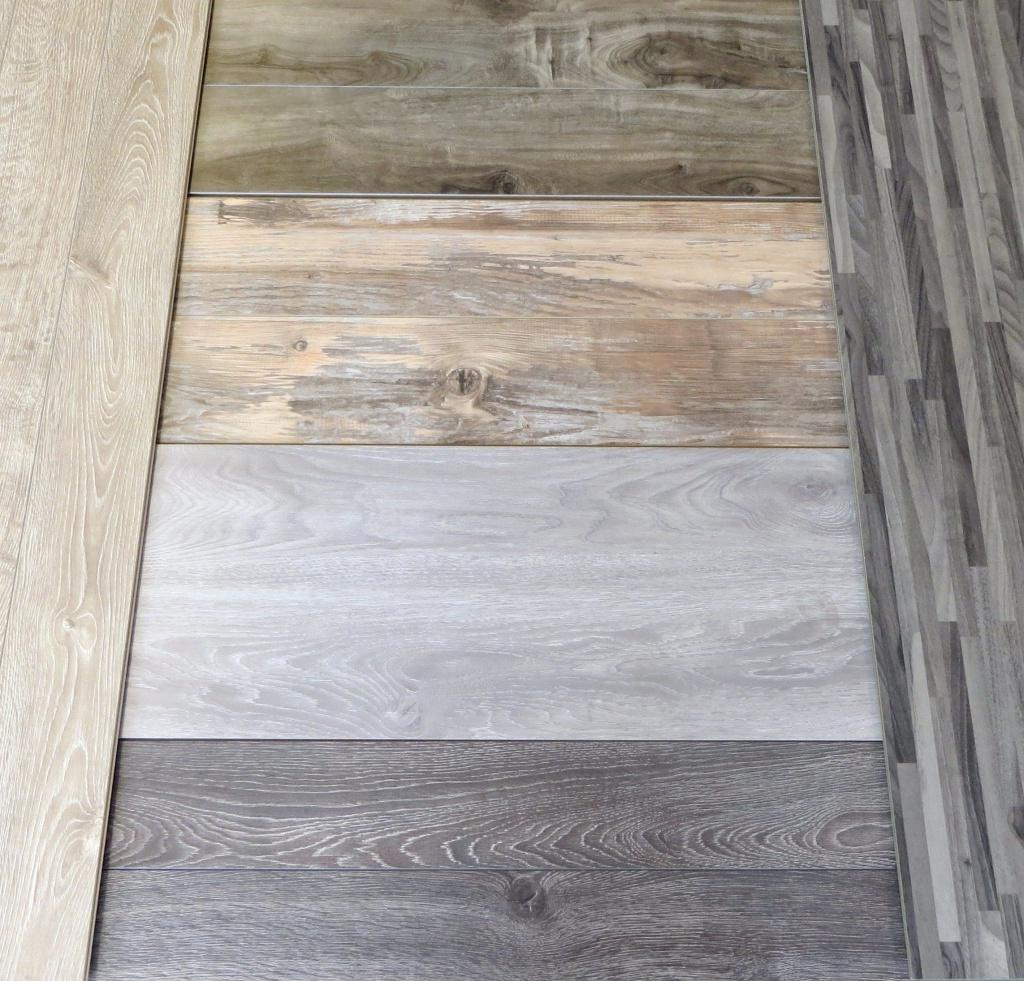 Besides being very easy to apply, another advantage of laminate floors is the great variety that you can find in both colors and designs. When you complement it with a good style in design and decoration, you can generate an aspect of great amplitude and a lot of elegance. The colors that you can usually find this material is: white, gray, beige, natural, reddish and dark. Check in this example how many different styles you can choose when you go for laminated floors.
3. Resistant And Beautiful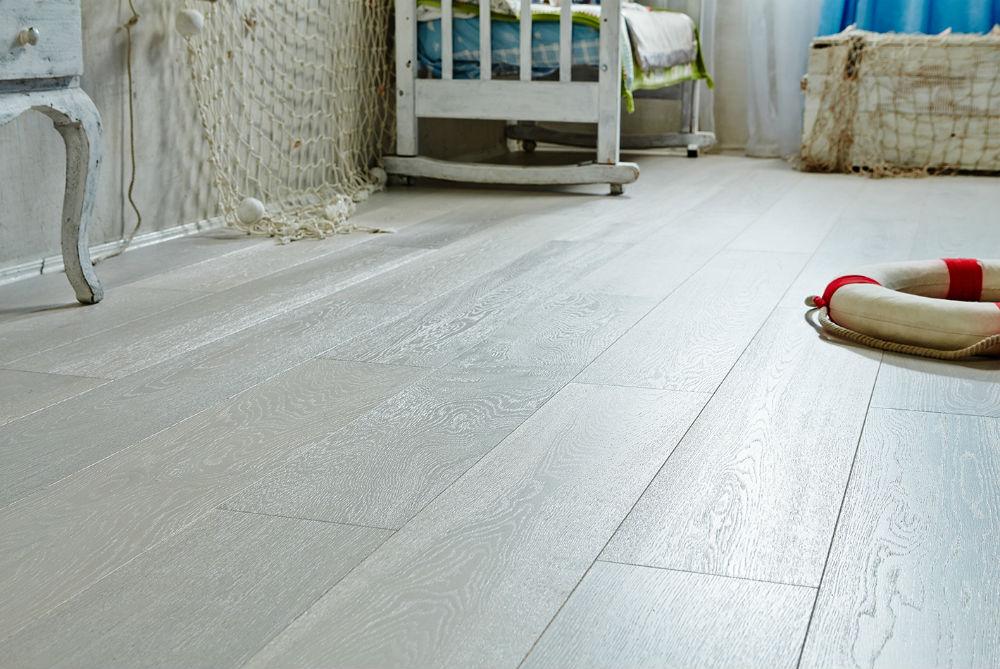 Laminate hardwood floorings can be used in any room. Depending on the thickness they can be used in rooms, corridors and entrances as well as in bedrooms or in the dining room. It can also be used in kitchens, although for bathrooms it is not recommended because laminate floors are susceptible to humidity, unless you go for wood tiles.
4. Dark And Sober For A Large Room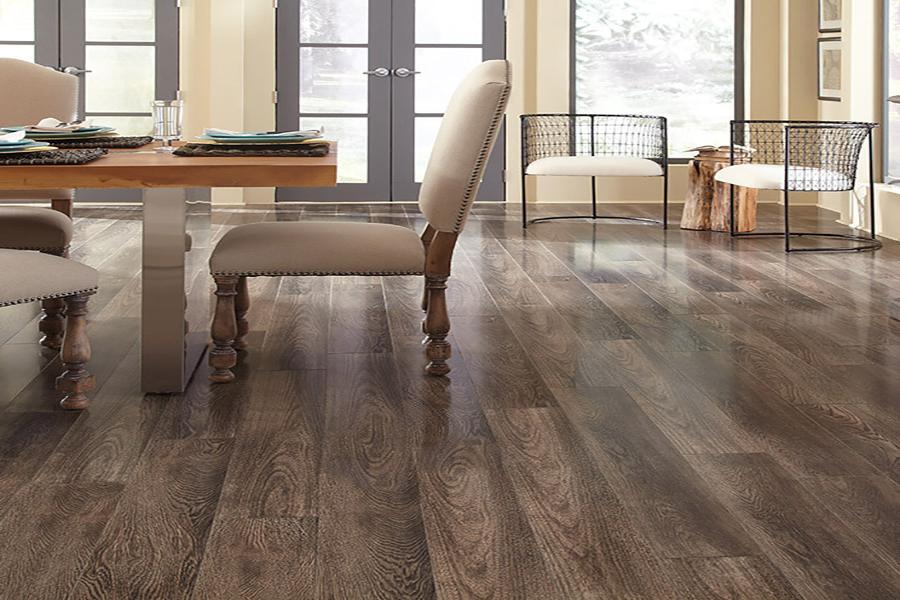 Laminate hardwood can give any house a very clean and sober aspect, especially when you choose darker tones, like in this room where the opaque and dark brown perfectly highlights the eclectic room that is grey and cream. This laminate hardwood flooring idea unifies the whole room's concept.
5. Dark And Thin Panels To Accompany Any Room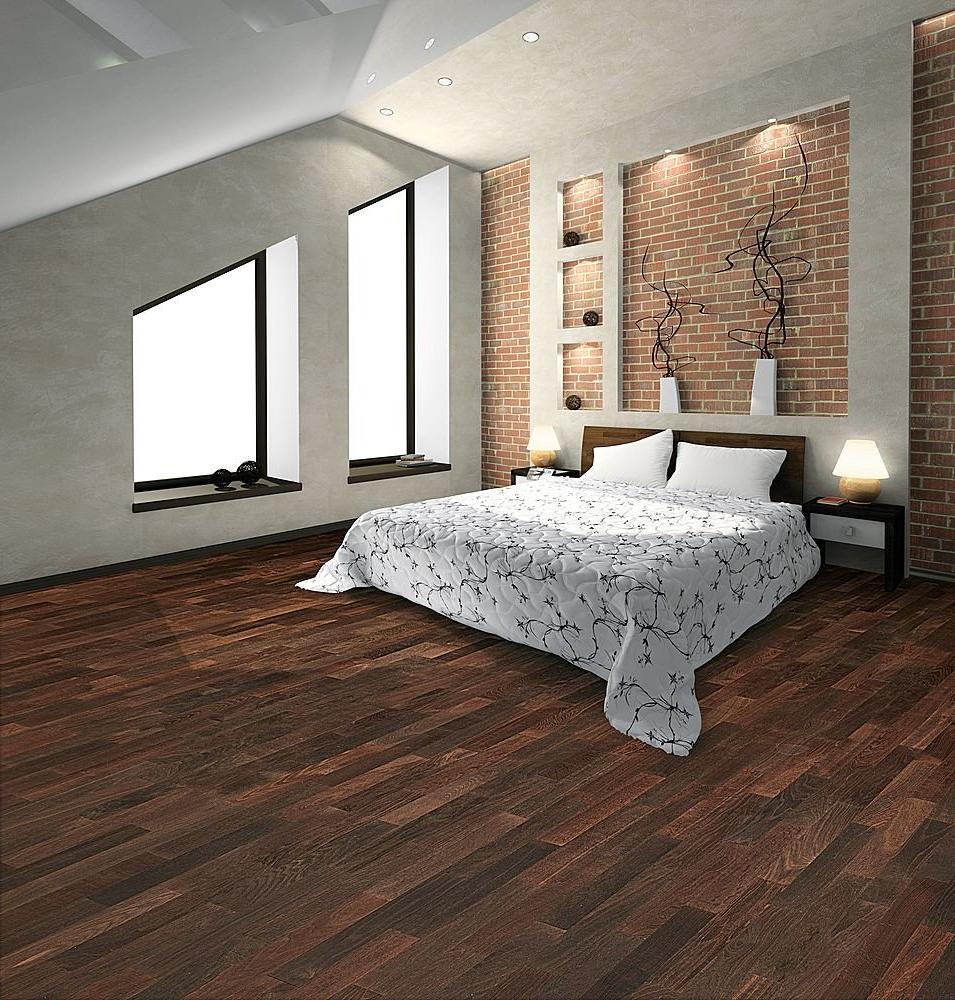 The final image of your design will depend on the color you choose. Laminated Wood is very varied, so you can get to choose between a variety of shapes, colors and frameworks to adapt them well to your spaces. The different sheets of laminated Wood can be combined between each other to achieve a particular touch and pattern; the trick is to make everything have balance to highlight the decoration of the room.
6. Naturally Colored To Highlight A Wide Room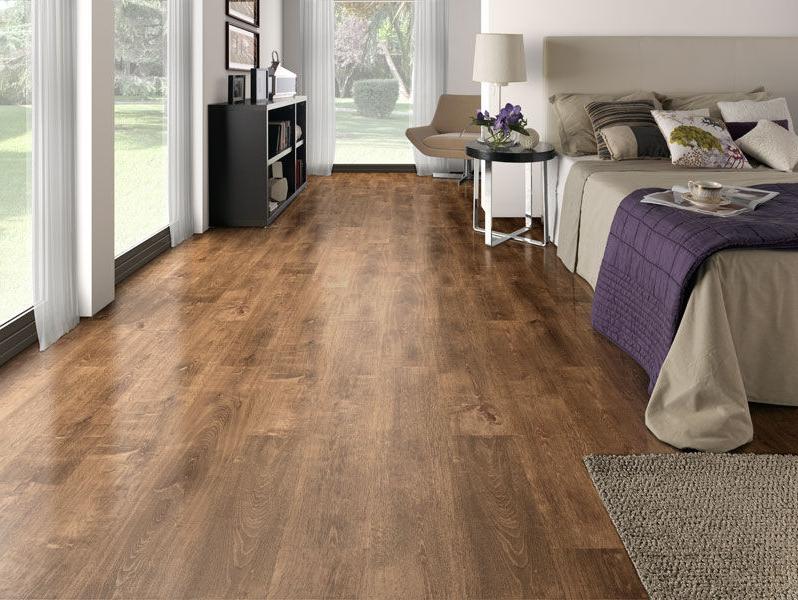 If you are looking for the warmth of wood in your laminated hardwood flooring, you can choose finishes that look like its 100% natural. Laminated floors give us an elegant look for a fraction of the costs of wood and if you choose quality durable materials, floors are resistant and easy to care for. Laminate hardwood flooring is a great alternative to wood. It does not only looks like wood, it does not attract termites and it is easier to install. This floor has all the great looks of real wood without any of its problems. The natural design makes it look even more realistic, and it combines very well with the bohemian bedroom.
7. Unique And Vintage Flooring For A Living Room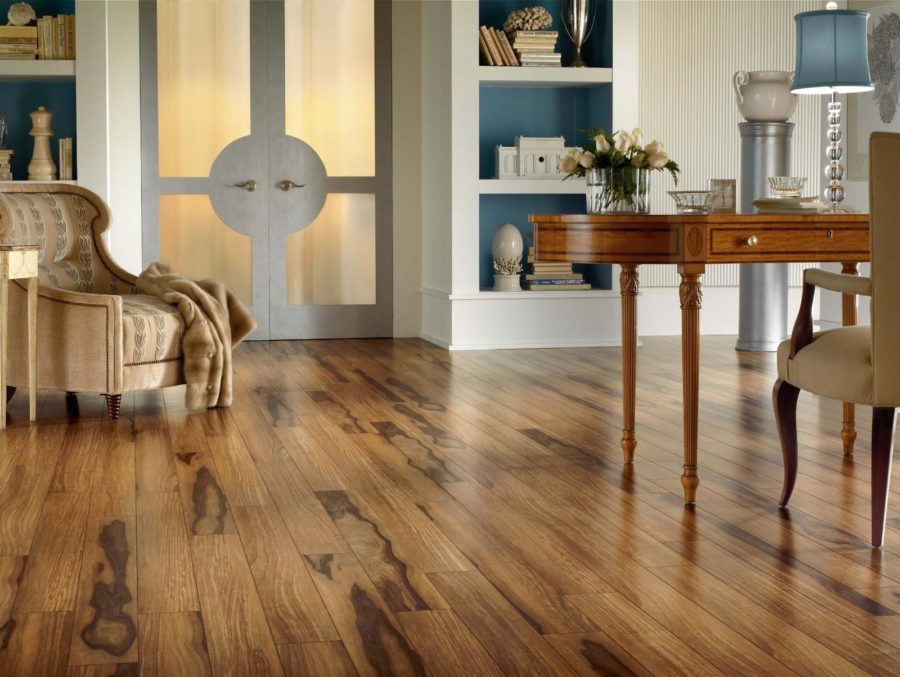 One of the greatest features of laminate hardwood floorings is their uniqueness. Even the simplest designs showcase a unique style that always makes it outstand. In this room, a marbled laminated hardwood floor with touches of dark Brown makes this vintage decorated room look more vibrant and stylish.
8. Dark Laminate For A Modern Look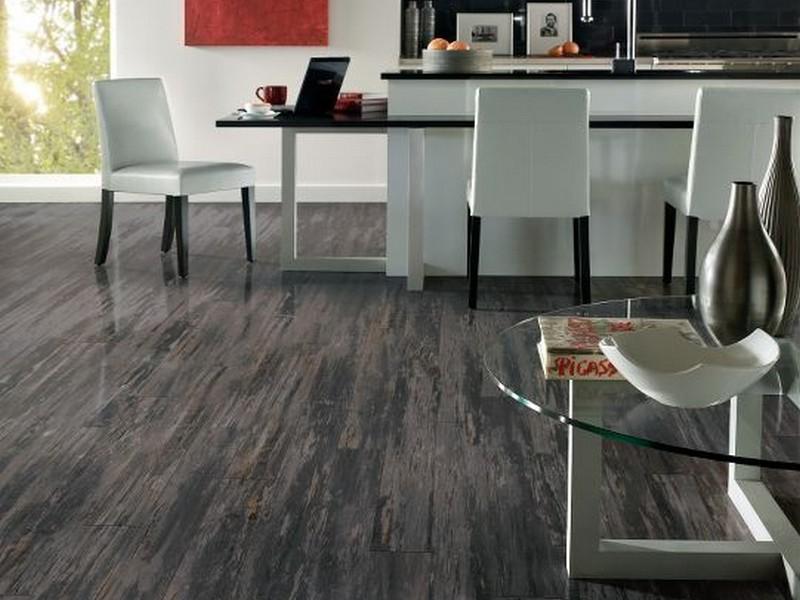 If you love wood, but you are not convinced about how it would work with your modern design, the wood trend for modern floorings is going dark. This black, grey and brown floor is elegant and flows great with the industrial look of this open concept house. And this laminated floors are a floating installation, that is, they can be accommodated above any floor you have at this time, unless it is a carpet or another wooden floor.
9. Floating Hardwood In Cherry Color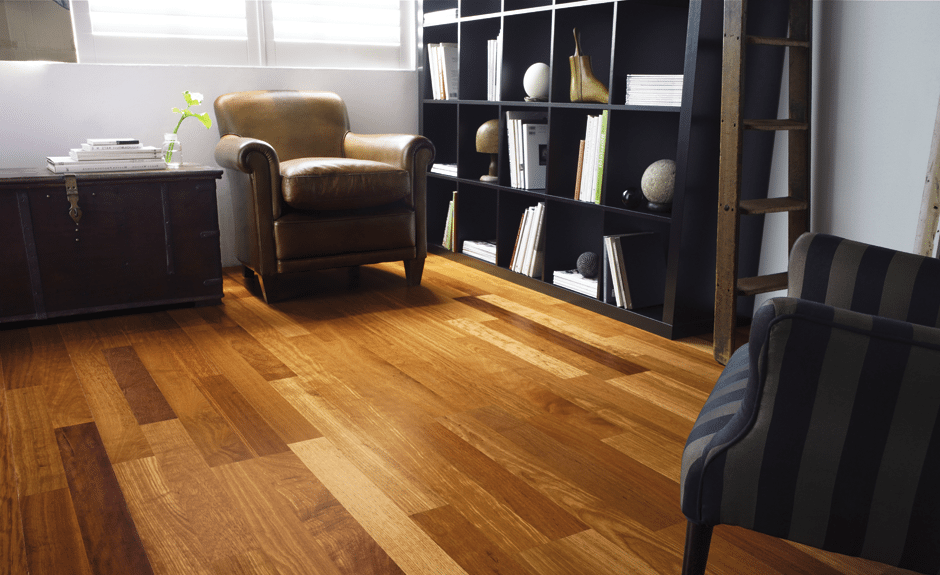 How great it is to make your space look beautiful with little effort. As you surely remember, we have told you that laminate hardwood floorings are a less expensive, with lots of tones, shapes and patterns, and easy to install. This model of laminate Wood is floating so it is very easy to install; and it has great color and shape. Lots of benefits and beauty on this material.
10. Fruit Wood Floors For Modern Elegance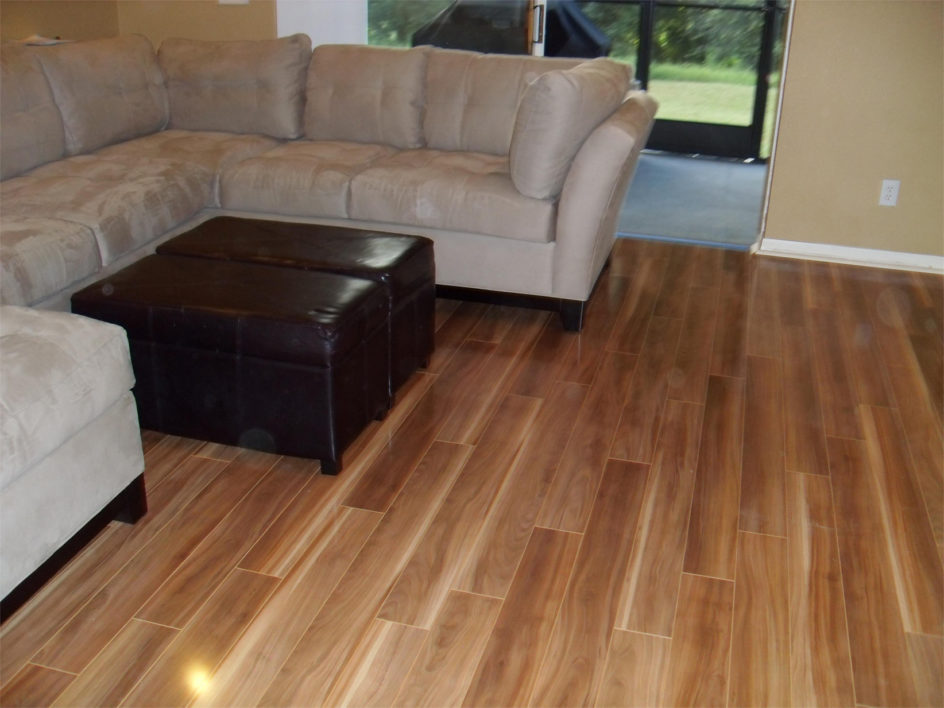 This design is simple and minimalist, but is has exactly everything it needs to look perfect. The flooring's color and pattern flows with the cream sofa, the beige painting of the room and the dark Brown on the ottoman. The shiny floor reflects the lamp's light, making the room brighter.
11. Rustic Engineered Hardwood Perfect For A Living Room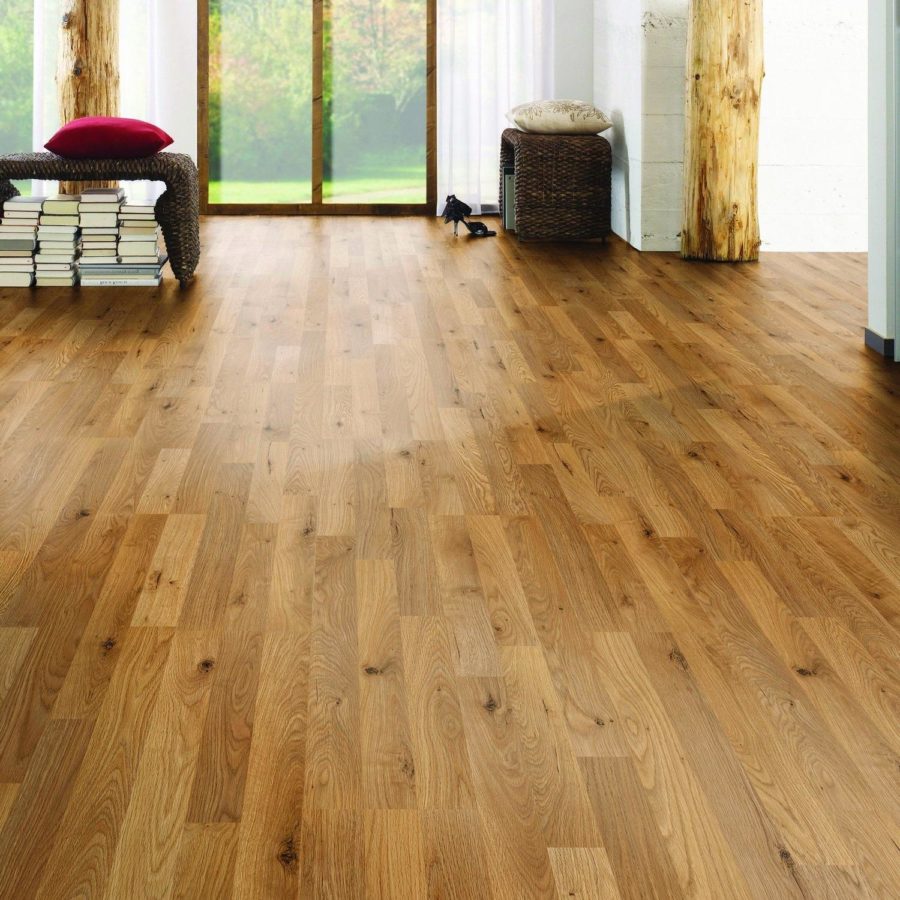 if you have a high traffic house, choose a laminate hardwood flooring like this one, that also has a very attractive rustic design and texture. When choosing your laminate floor, you have to make a decision in terms of thickness. The thicker the sheet, the higher the resistance of your floor, but also the price. Areas to choose flooring like this are the hall or the outside areas. When it is for home, you can look for a laminate floor that is for residential use. As for the thickness, choose one of low traffic – of thickness 6mm – for places like rooms and dining room. Prefer a slightly thicker floor of 7,8 mm or more for places of heavy traffic such as corridors, rooms and entrances.
12. Combining Your Hardwood Flooring With Your Grey Walls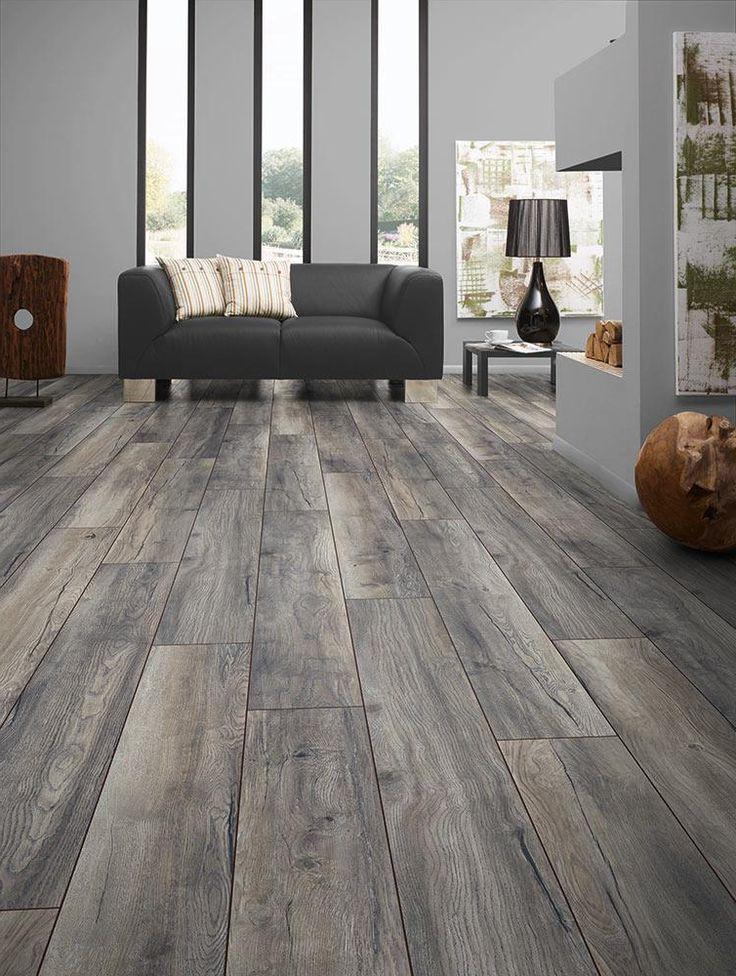 A nice trend to follow when installing laminate hardwood flooring is to combine it with the walls' color. If you chose dark colors you can use the same color scheme changing the tones. But in the case of lighter colors, you can follow the trend of combining the same color, as similar as possible, like in this living room where grey is the King. The rustic grey texturized laminate hardwood floor seems a perfect complement of the grey walls and the mostly black decoration elements. It is a simple yet very catchy design.
13. Really Dark Brown Flooring To Unify A House's Floor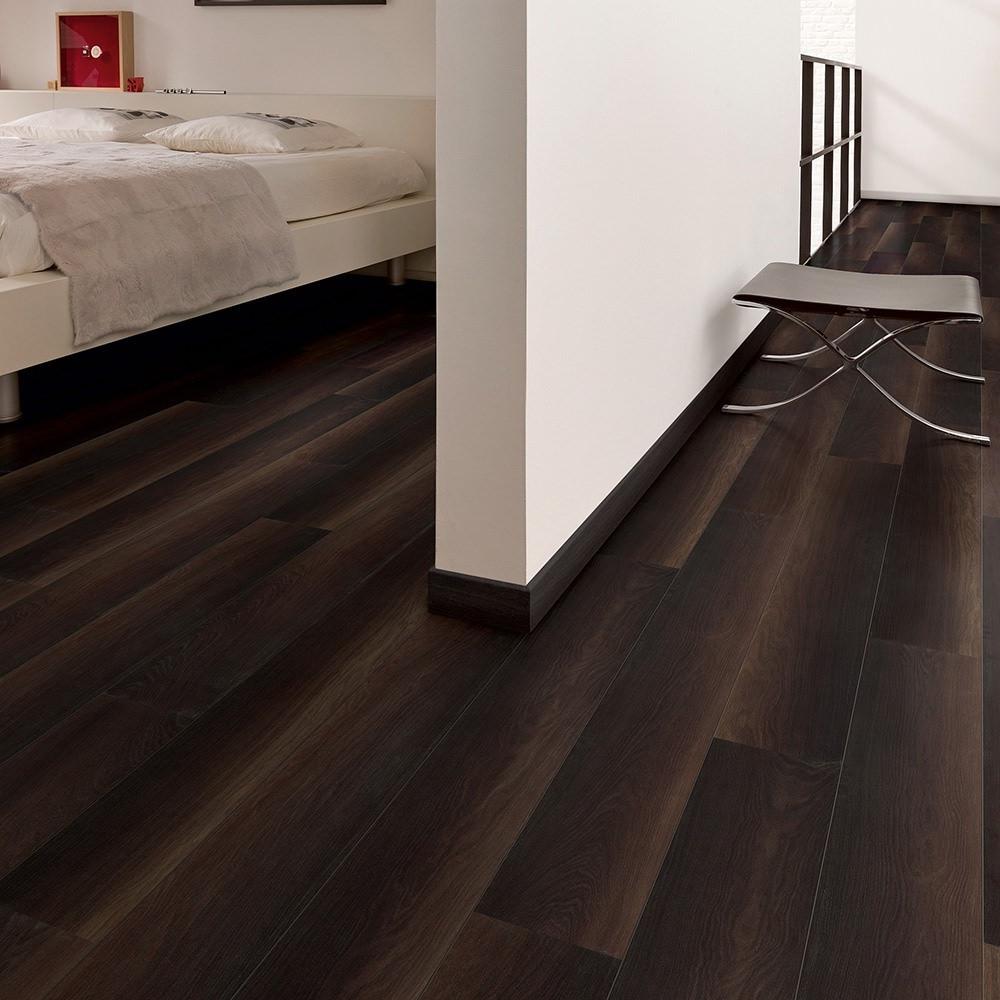 One of the bests ways to unify spaces is through flooring, they can make a house's floor look homogeneous even if each room has its own style. Look how great this house flows thanks to the use of this dark chocolate laminate flooring, a stylish way to dress your floors.
14. Dark Wood Laminate For Elegance And Distinction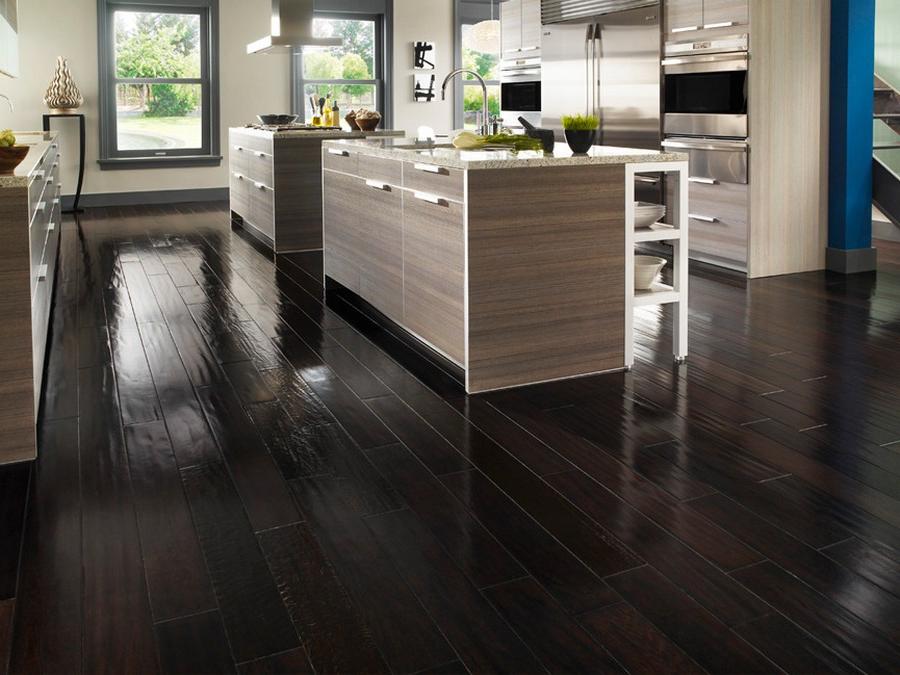 Nothing says distinction and modernism like dark colors. Dark is always a trend because of its clean and sober character that upscales any room just by adding some touches of this color. In this example, the open concept kitchen looks the one from a cooking show studio location with the dark chocolate laminate hardwood flooring and the high-end appliances and counters. The colors match perfectly, making this a dreamy kitchen for any cooking enthusiast.
15. Rustic Oak Laminate Flooring For Vintage Glamour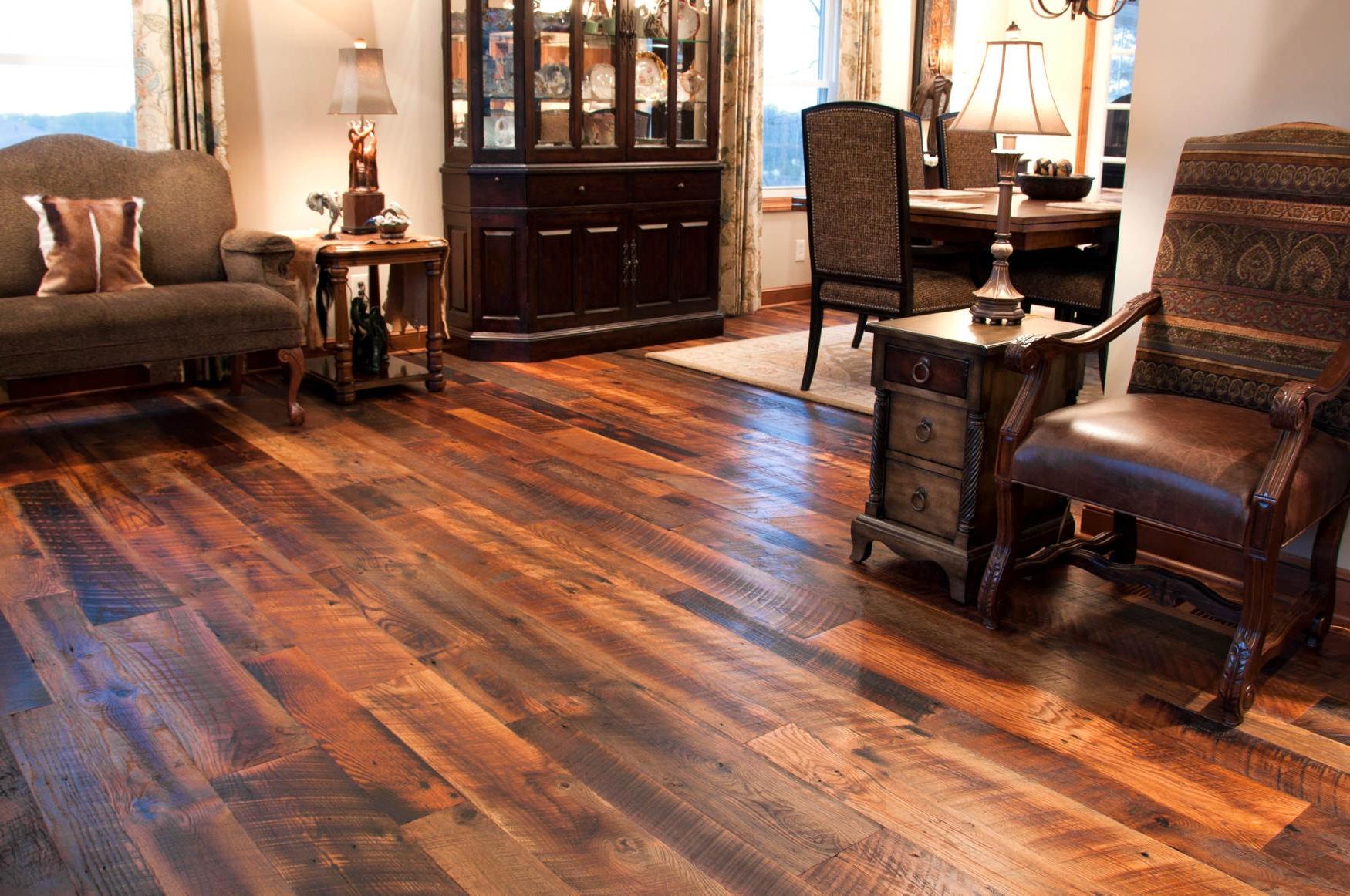 If you like the vintage style, then Wood may be just the right option for you. Because of its style, colors and textures, you can find a floor that imitates any age, because Wood has always been popular. In this example, the vintage living rooms seems complete with the cherry on the top of the ice cream that this oak laminate is for this room.
16. Hard Wood Styled Laminate Flooring For Inexpensive Designs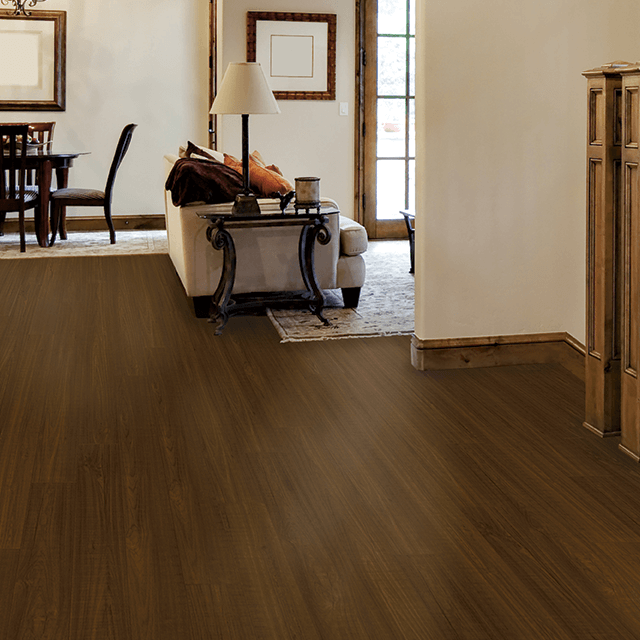 You probably are watching this article and wondering, how much will it cost for me? And the good news it that laminate hardwood floorings are versatile not only on styles, but also in prices. Models like this very simple and clean laminate is easy to install, fast to use and has a very low price compared with other models in the market. When it comes to Wood, there is always an option for you.
17. Dark Laminate For A Contemporary Look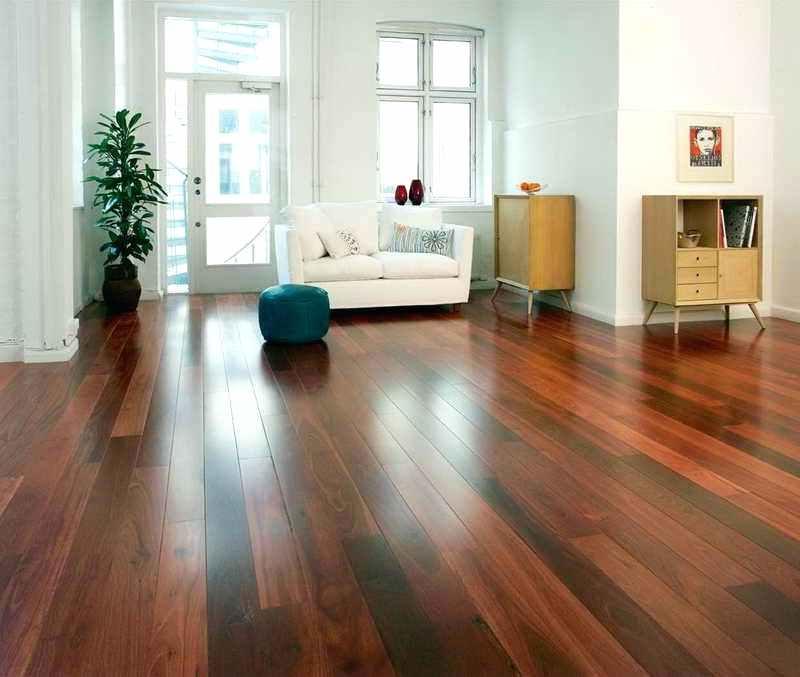 Another great thing about Wood floorings is that they can make any space look bigger. And this is certainly necessary in spaces such as little apartments in the city; it is good to have some visual help to make your space look a wider. In this contemporary apartment the long vertical panels of Wood and the disposition of the different pieces help to make this room look longer than it really is. Even though this is a darker color, the long vertical design helps to achieve this size goal.
18. Chic And Inexpensive Hardwood With Naturally Marbled Wood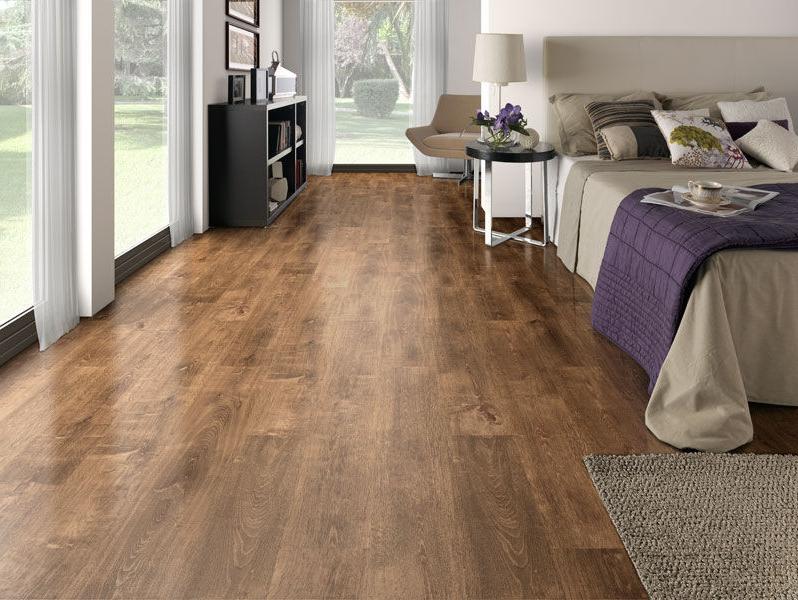 Wood can give your rooms a chic touch by adding character to your house. This is laminate hardwood flooring that locates in the lower price range so it is very affordable and easy to install. The natural color evokes a house in the Woods and makes the space look more comfortable and cozy and it contrast with the white color of the walls, creating a unique style.
19. Texturized Laminate Tiles For A Different Touch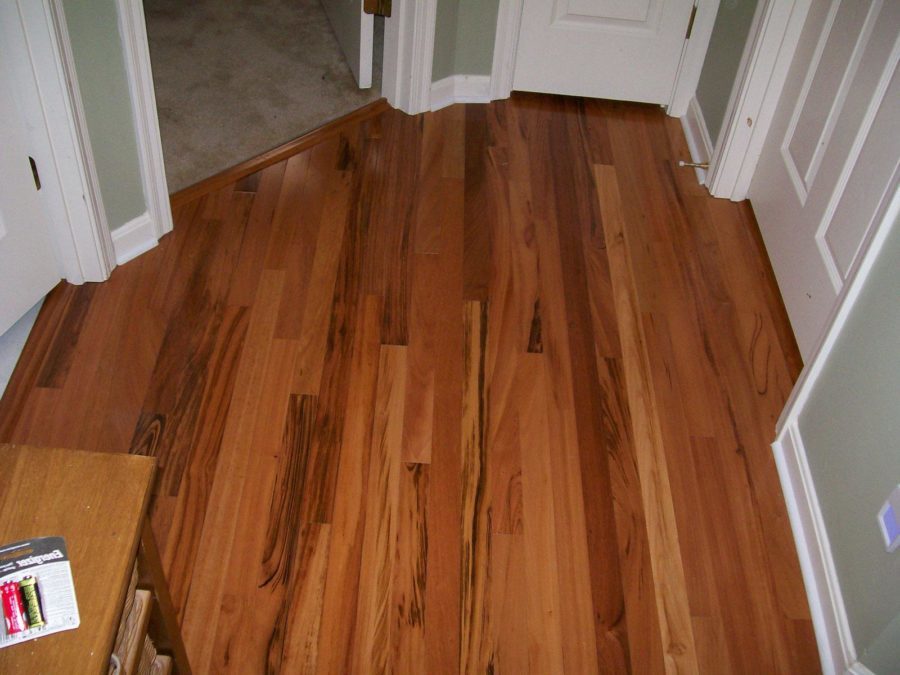 If you want to have Wood that not only looks like Wood but also feels like Wood, you have the option of choosing laminates like the one in this hallway, that has different textures, marbles and patterns that help highlight and bring up this concurred space.
20. Polished And Untainted Dark Brown Elegance And Soberness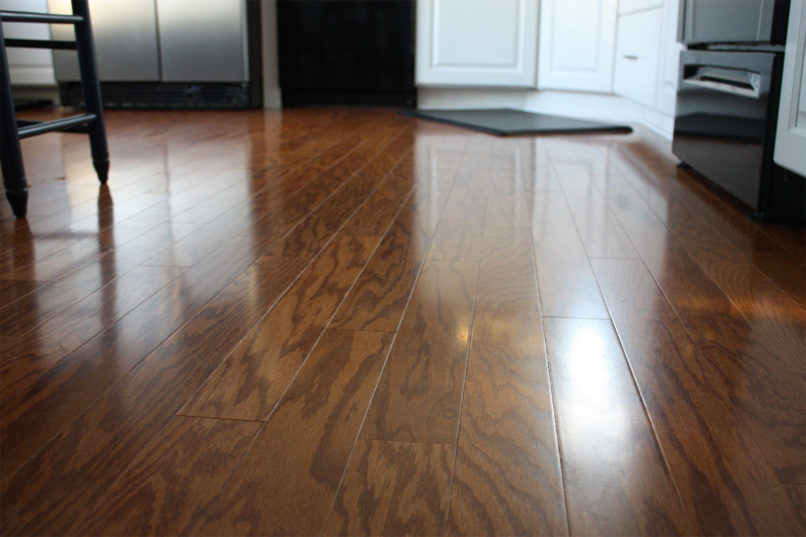 Modern, industrial, city designs are all about dark colors, stainless Steel, and hardwood. But if you cannot afford it, then this laminate hardwood flooring ideas are perfect for you. Laminates like this one cost a fraction of the hard wood's price, are very easy to install on top of any floor you already have. This great design has all the beautiful features you would like to see in an industrial modern house, except for the cost.
21. Natural Laminated Flooring For Purists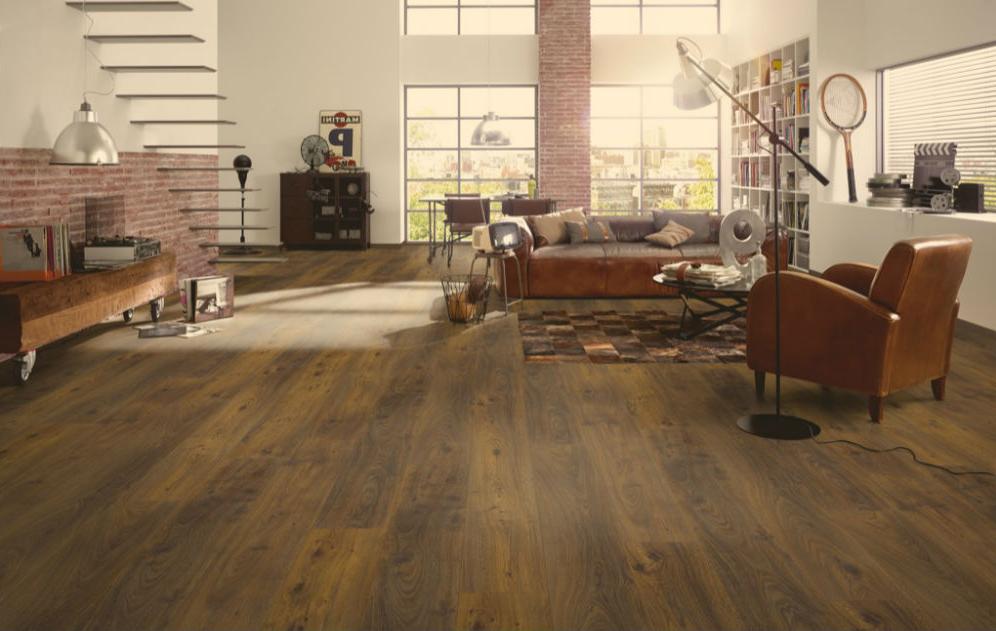 For the people who like Wood as it is and want to have it the traditional way, this is a perfect example on how less is always more. This room looks giant and beautiful, like a magazine's cover.
22. Adventurous And Wild Natural Wood Laminate Flooring Perfect For A Country House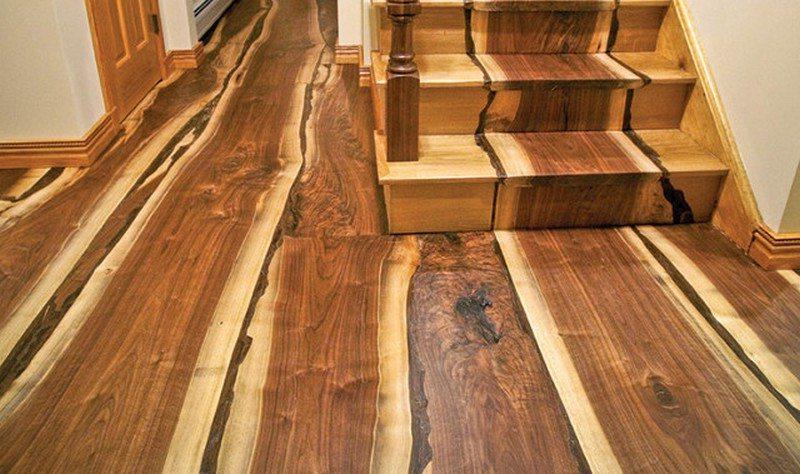 Laminate floors are so popular, pretty, practical and easy to install, they can be used on stairs or as a wall covering. Normally, you would think about how you will use it for the area you have in mind, to better define the degree of resistance to wear and thickness required. Or you can be bold and adventurous like in this house, were they went wood all the way and installed this very rustic and natural design in floors and stairs.
Remember, If you are looking to change the image of your home, you should start with the floor, probably think of different options such as wood or laminated formats, and give your home an impressive renovation, just by following these laminate hardwood flooring ideas.