Decorating with Victorian style furniture is far from going out of fashion, on the contrary more and more people include elements of this era in the decoration of their house because of its elegance and refinement.
The Victorian style furniture decoration comes from the extension of the experienced Great Britain and other parts of the world in the second half of the 19th century during the extensive reign of Queen Victoria. The Victorian era influenced various disciplines such as architecture, clothing, industry, especially during its last period. The influence that the feminine gender gave to the Victorian style found permanence and remains strong in these times and will undoubtedly find a place in future generations.
During the Victorian era a new romantic desire to live in the past is born because memories of the past are seen as wonderful, beautiful and full of content.
This style is characterized by the romantic, the excessive, the modern, the delicate and the elegant, and it is far from going out of style thanks to its elegance, which together with luxury are the keys of this style, which seeks distinction and exclusivity. For this to happen, furniture must be full of ornaments, fabrics must be "heavy", golden accessories must always be present, etc.
But to decorate Victorian style needs some research. It must be taken into account the kind of furniture, the colors and other decorative elements.
if you are the kind of person who likes the traditional styles, and the pieces that have their own personality, then this style is just the right fit for you. for that reason, today we bring you some Victorian style furniture decoration ideas for you to inspire and learn from.
25 Decoration Ideas With Victorian Style Furniture To Give Style And Elegance To Your Home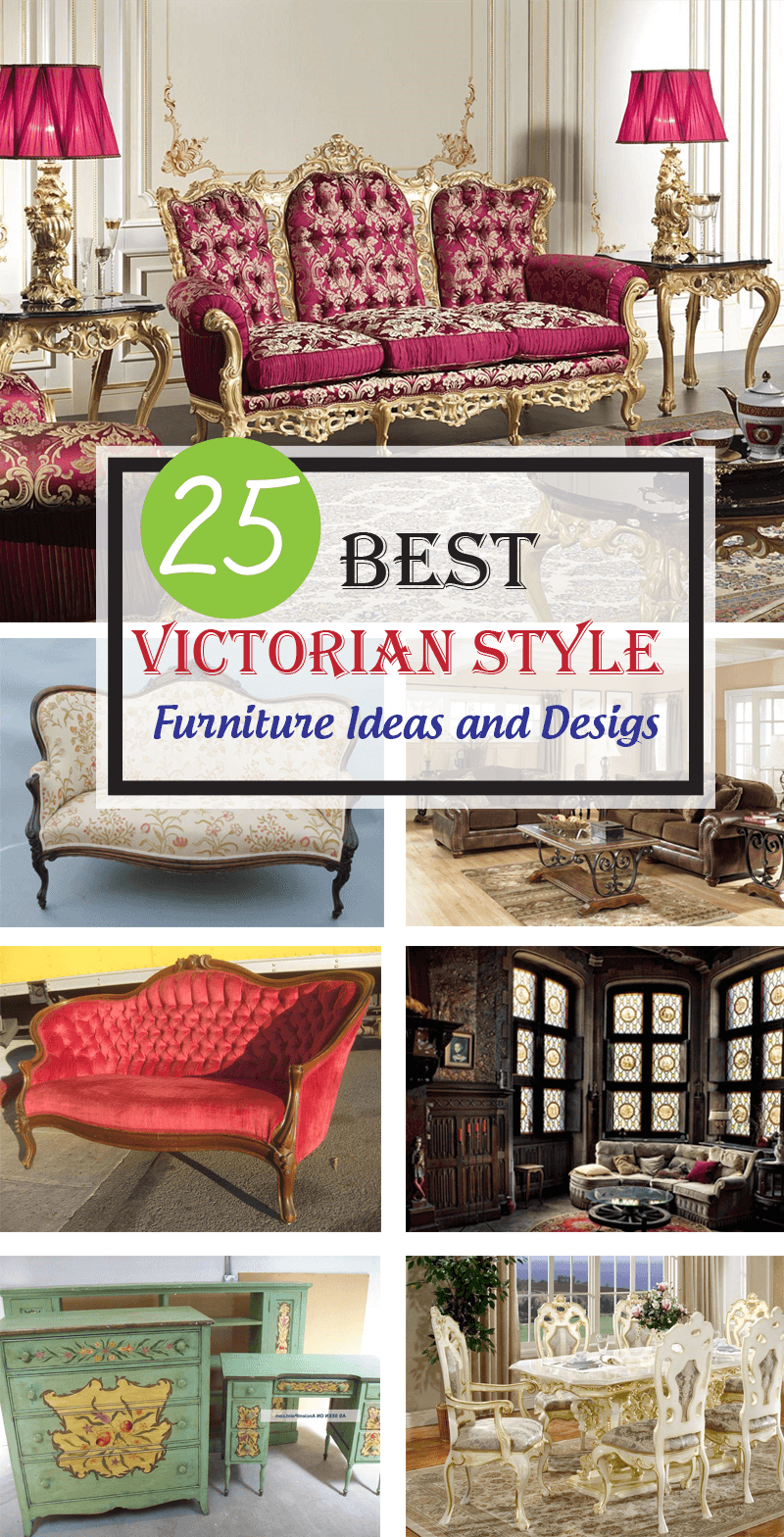 The Victorian style was inspired by the Queen Victoria of England. It was implanted at the end of the 19th century and we can find it in some rooms today, although with less ornate decoration than in its origins.
This style is located in England between the years 1830 and 1900 and resembles the second empire style in France. It is characterized by a tendency to comfort due to the upholstery and rounded shapes. Many styles in fashion and interior design varied. What we consider "Victorian" style is, in general, a fusion of the appearance and style of different periods prior to the mid-1900s and early 20th century; It manifests a clear imitation of other styles such as Gothic and Elizabethan.
The industrial revolution is a factor that helped the development of Victorian furniture. They have nothing to do with simple lines, but rather with many curves, rounded corners and bright finishes. Elements from different eras that are used together to create unique furniture and decoration pieces.
You only need certain pieces and decorations to achieve this style.
A point of utmost importance when using decorating ideas with Victorian furniture is the personalization of spaces, try to ensure that your tastes and interests are reflected throughout the decoration, whether it be including paintings that you like, or some plants that same way you can place in each room to add a natural touch.
If you love this style of decoration, keep on reading, because we bring you a few examples to inspire you to achieve this attractive and timeless style of design in your home.
1. Victorian Style Decoration Elements To Work With Any Living Room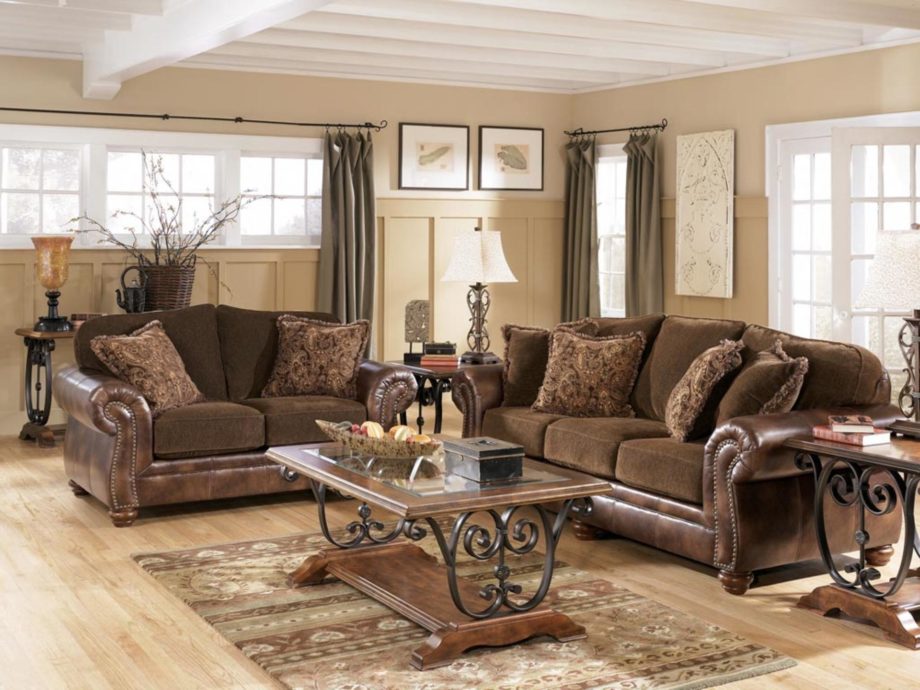 If you like Victorian style furniture or decorations, but you want to keep your room simple, you can choose a few Victorian elements and combine them with your existing furniture. For example, among the woods, mahogany is preferred, but also walnut, ebony or oak, sometimes combined with forged iron ornaments. Thanks to the mechanized procedures that have been introduced to the manufacturing of this furniture, they are now more accessible.
2. Ornamental Opulence Perfect For Any House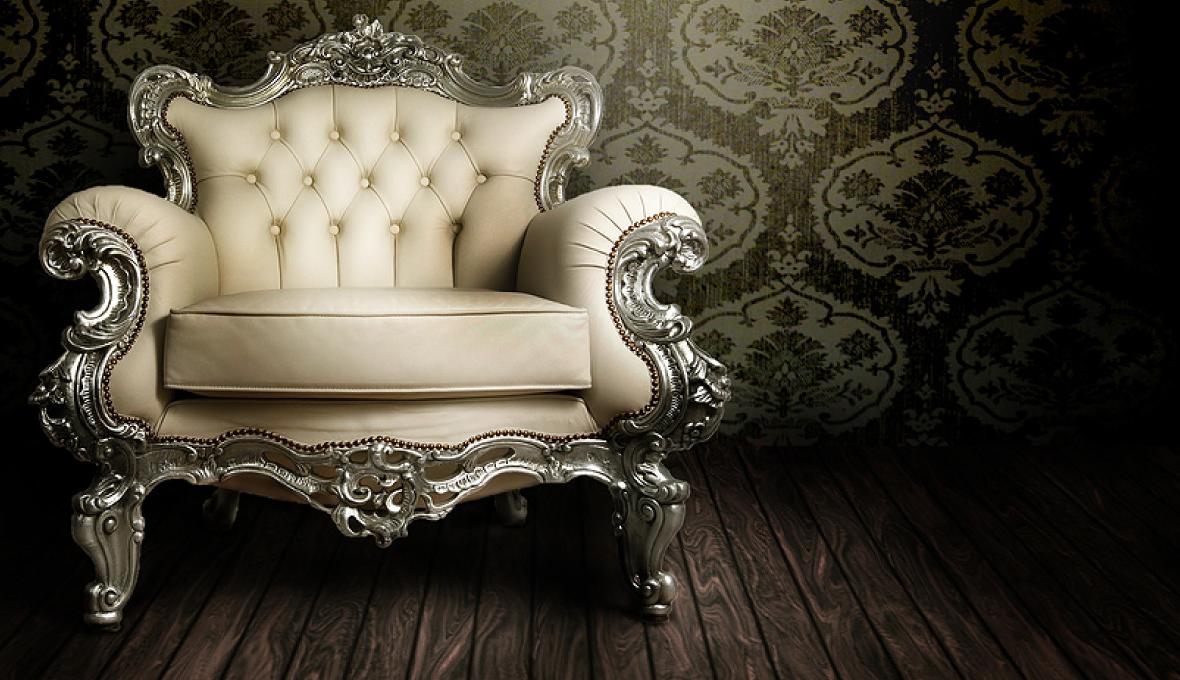 Furniture of this stile is full with hand-carved details, ornaments, wave lines and legs shaped like an animal's claw. The walls painted in Victorian style are usually dark colors, but are also usually upholstered with floral prints, butterflies, and even birds to give a more classic to the room. As you can see on this Victorian style furniture, this is a very elegant style of decoration.
3. Victorian Style Furniture Ideas: Beauty For Your Home That Does Not Hurt Your Pockets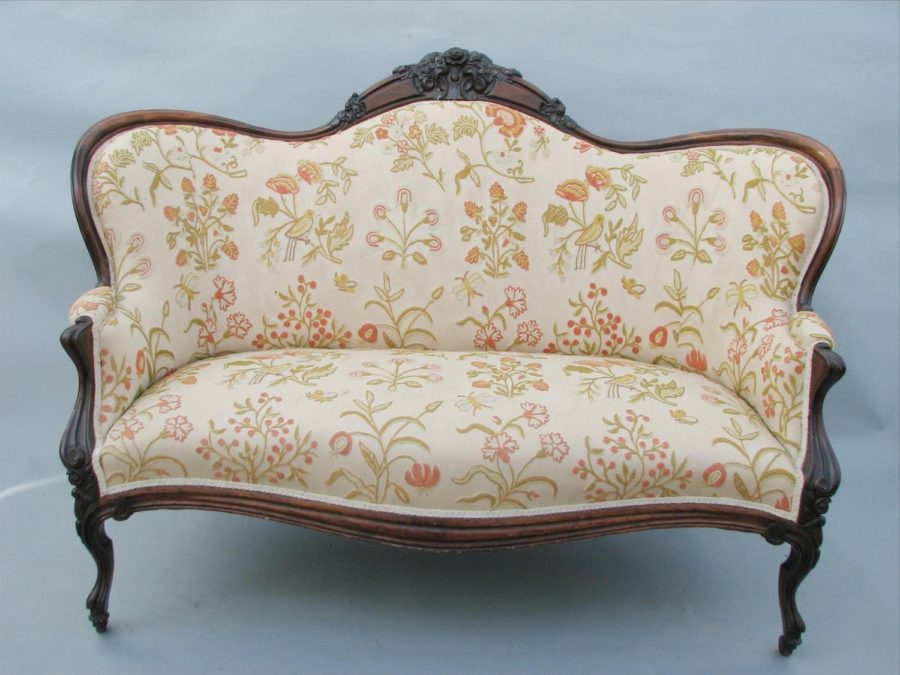 The Victorian style features Decoration motifs that invoke nature, such as the forest. This style is very elegant and ostentatious, but you can have this style without spending a lot of money, by buying second hand pieces or using some old pieces your family have, like this Victorian couch that a very lucky person just got from its family.
4. Fabrics And Shapes That Enlighten Your Spaces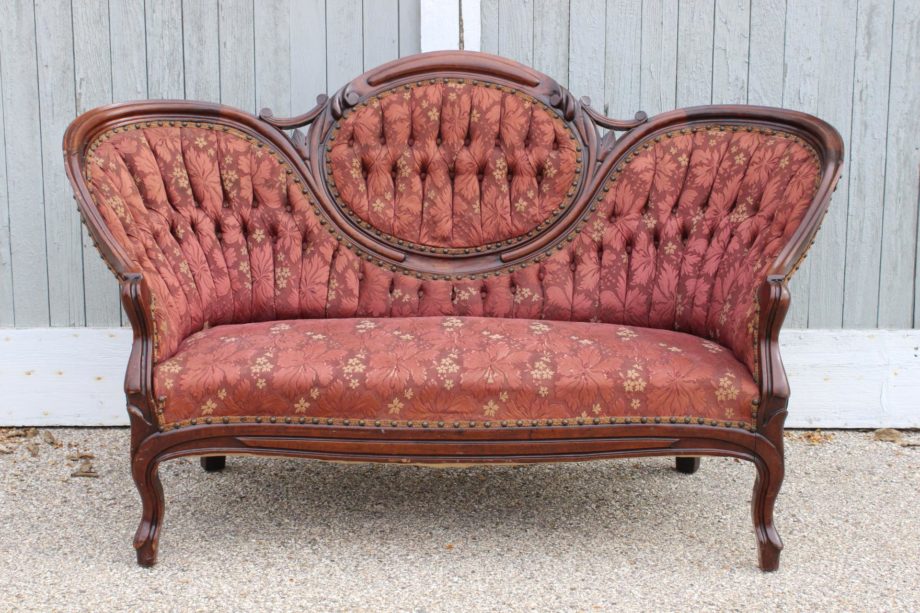 An element that is very characteristic of this style is upholstery with padding. They give more shape to the pieces, as for example in the armchairs and in the chairs, and make the upholstery look even more elegant. This upholstery is normally in very bold colors, with beautiful and intricate prints that are more commonly flowers and watermarks. This piece is a perfect example of all that is Victorian on a couch.
5. Sobriety, Elegance And Glamour That Defines Victorian Style Furniture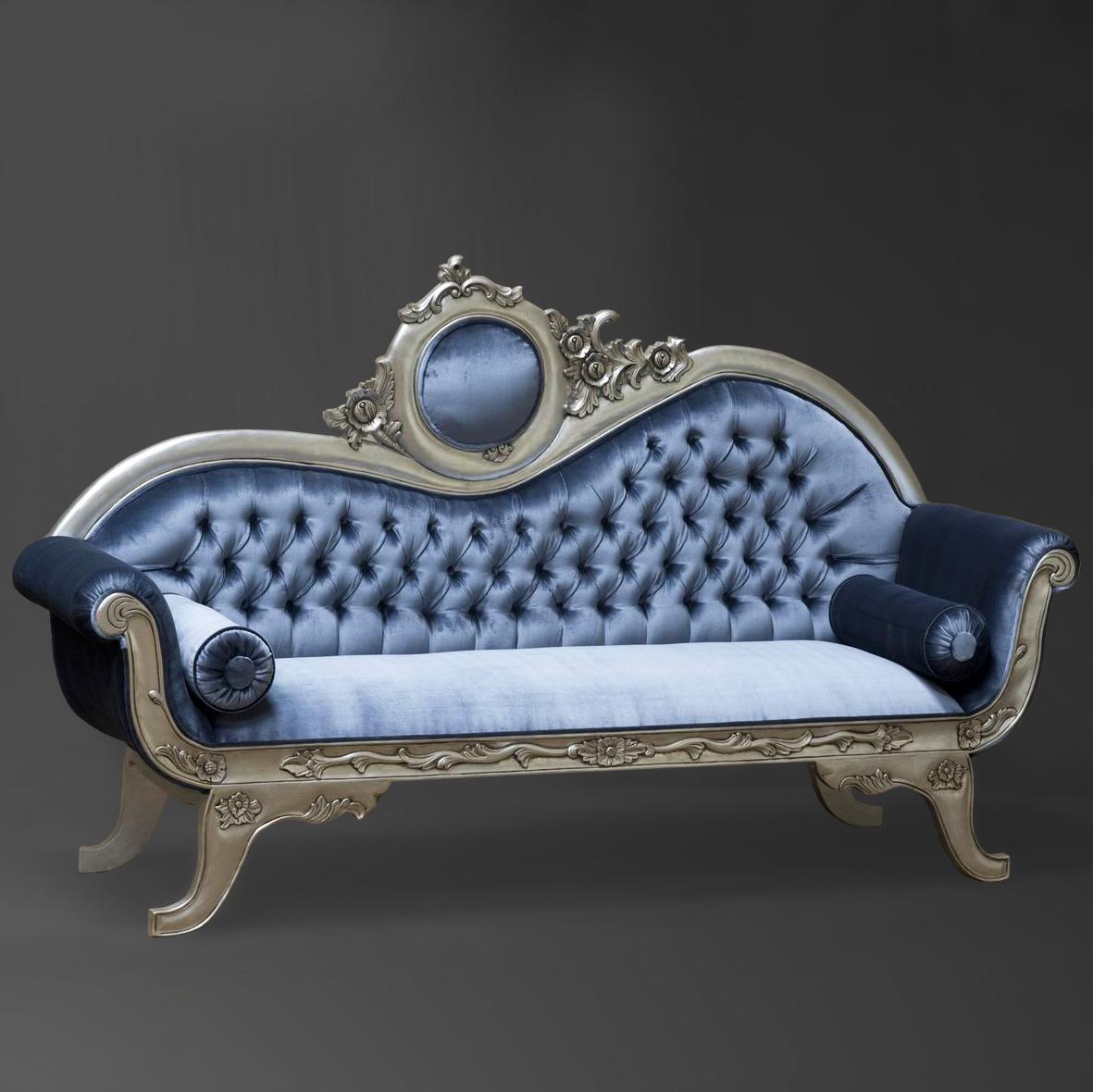 The aesthetics of the Victorian furniture style is more feminine, and comfort is an important factor in design, in armchairs, sofas and dining chairs. You can see both features in this magnificent piece, which combines beautiful forms, sober colors in a very delicate design.
6. Colors Of The Victorian Style Furniture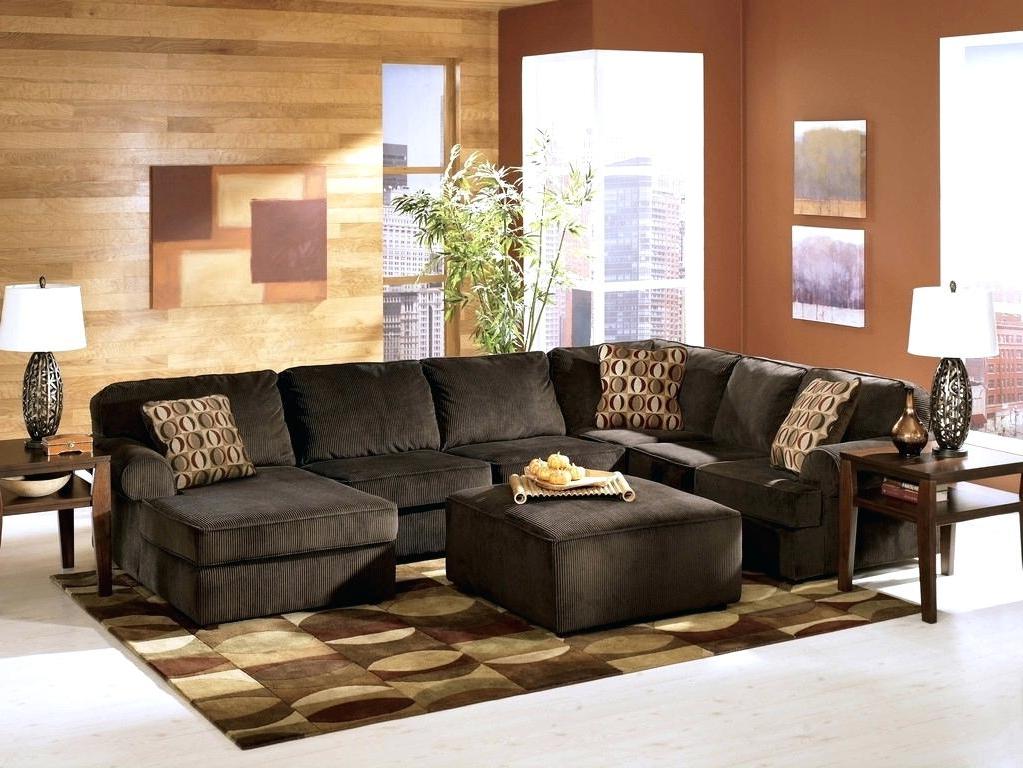 There is a great freedom when it comes to choosing the style of furniture since they can be taken from different periods of time in history. For a Victorian feel in your designs, elements like thick wood are a must, and you can also choose dark colors, like the one of this living room set, that also features dark wood coffee tables and ornamental lamps.
7. Elegant Details That Define Everything That Is Victorian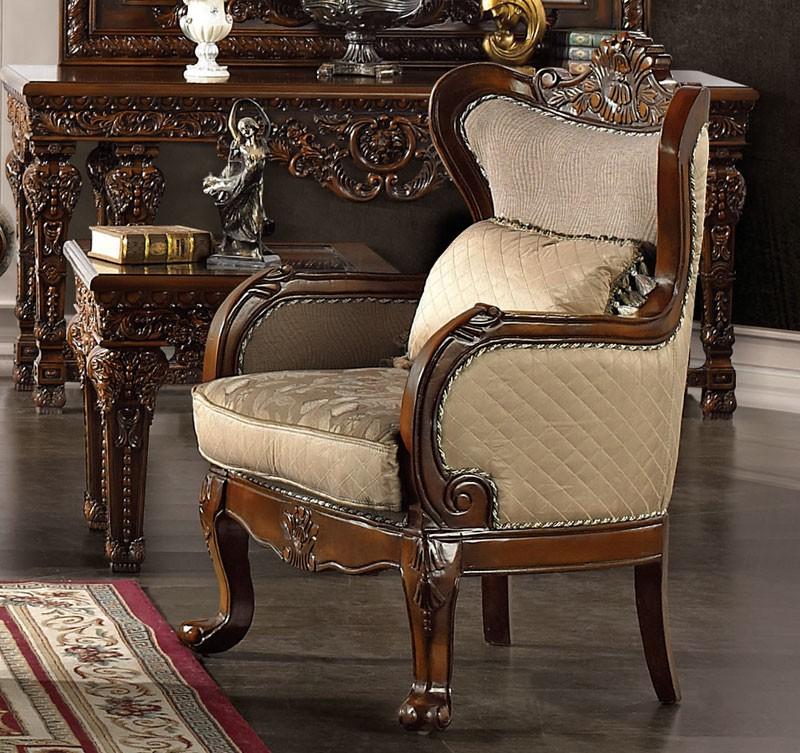 In Victorian style furniture, the profiles of the legs of tables and chairs are sharpened and decorated with sculptures or ornamental details. The furniture is most usually made of wood and is characterized by being big and striking. They are usually carved by hand, with wavy lines and legs in the shape of animal claws. In this very elegant shape, you can notice some of these iconic elements found in the Victorian style: carved shiny wood, cream colored fabrics for the padded sit, back and arms rest and lots of ornamental details all over the piece.
8. Victorian Style In The Low Price Range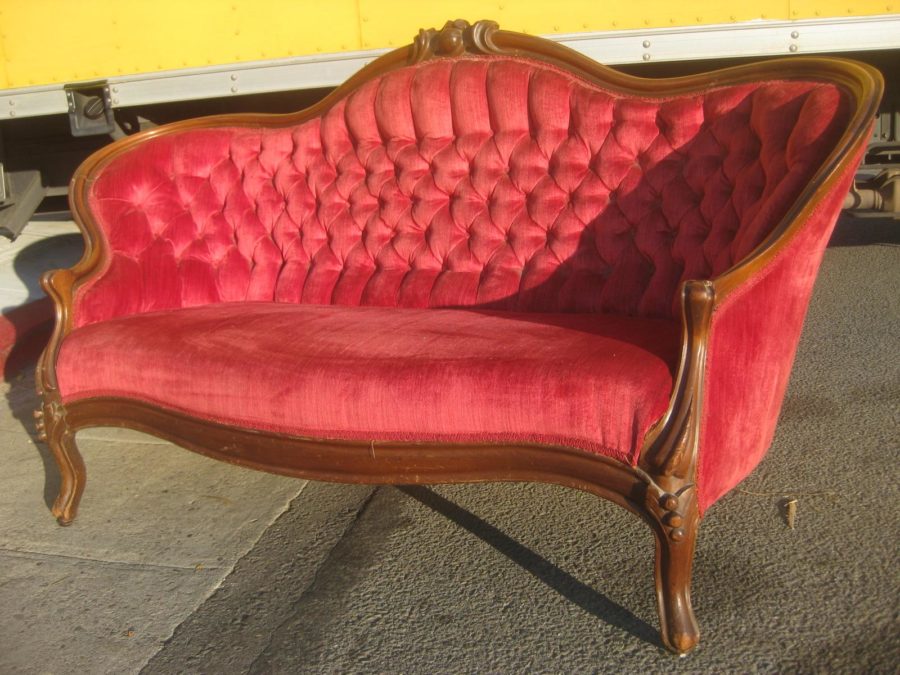 In the Victorian style, the accumulation of classic accessories is another key point to this style, and almost every corner has some special detail, or at least the few details you find are very striking. The vast majority of the Victorian style furniture that you can see in some people's houses today are recovered and restored with patience. It's the best way to get a classic Victorian interior without ruining yourself. Restoring a piece like this can seem difficult and expensive, but it is lot cheaper than buying an antique or a modern version of this style.
9. Formality And Elegance For The Living Room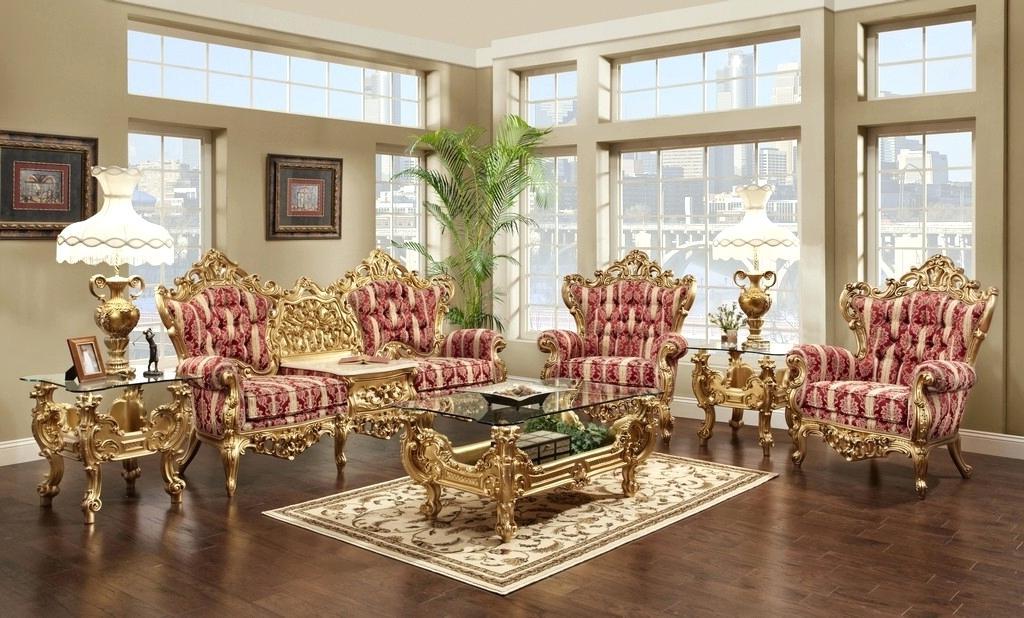 In the Victorian style, the accessories or decorative elements are excessive. The rooms are filled with chairs, sofas, wooden furniture, and a huge excess of fabrics. Nowadays the style is more minimalist, using fewer pieces instead of filling the space from top to bottom. Other kinds of decoration can also be included, such as black and white photos with large frames, Greek statuettes, candles, paintings, pieces of art, chandeliers and other extravagant pieces. When combined with a traditional or modern style, can have a beautiful result like this.
10. A Sit That Reminds France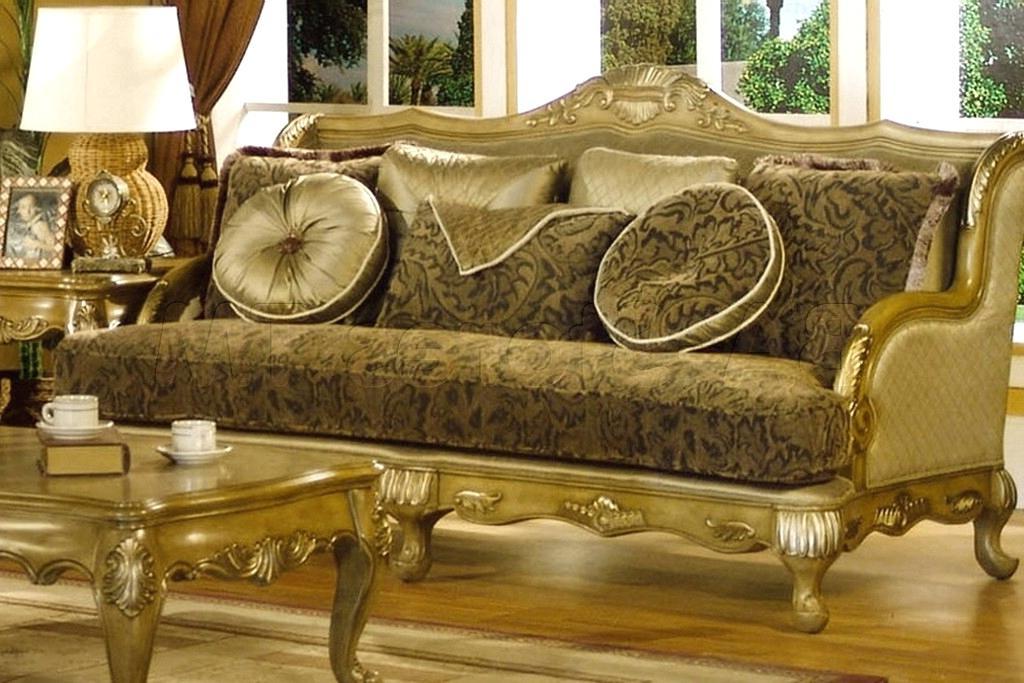 The Victorian style furniture is inspired in the French aesthetics, which is framed with carved wood. Also, the tables are small, with different shapes and made of wood. The wood is lacquered to shine and the color gold predominates in this style of furniture. This room screams French inspired Victorian style furniture all over the place.
11. Old Styled Gothic Victorian Style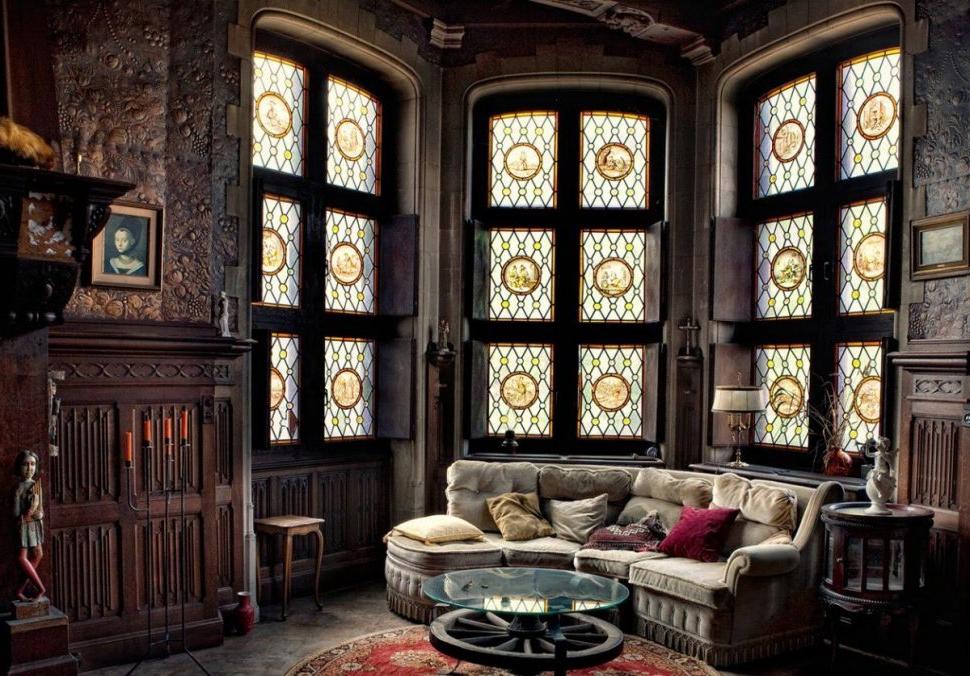 The Victorian style rooms use a lot of ornaments. The surfaces are filled with items that show the taste and personality of the owner. It is also based in styles like this gothic one right here, with its dark colors, and very elegant shapes.
12. Victorian Luxury For The Modern Days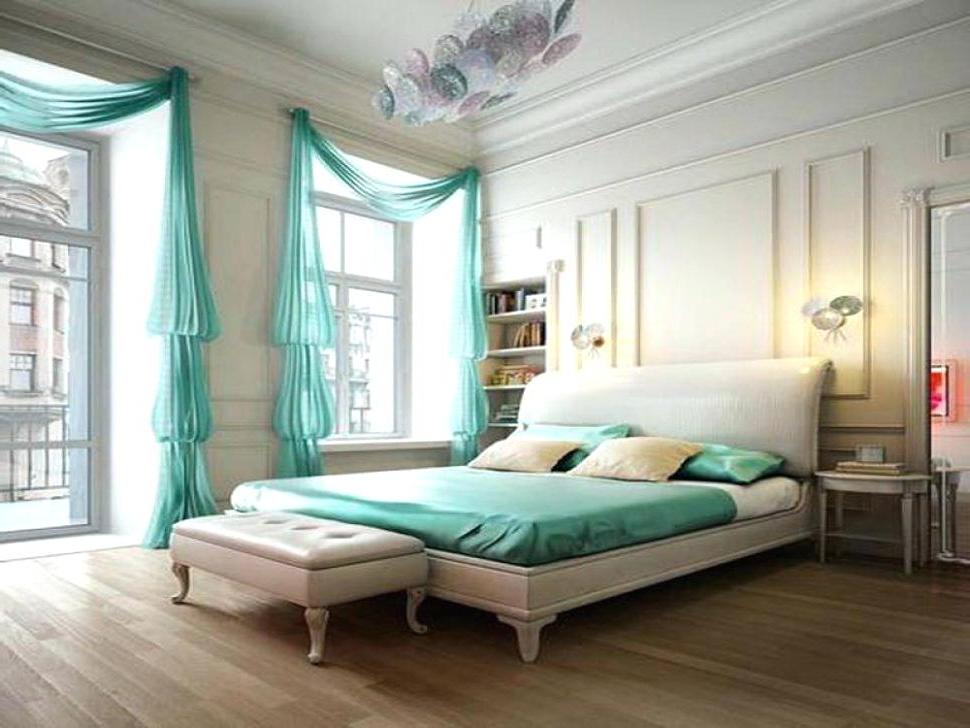 If you are looking for decorating ideas with Victorian style furniture, we recommend you use light colors such as cream, ivory and white, but you can put other tones that combine and give it a more personal touch, like this green that highlights the whole design of the room. the beds of this style are big, heavy, solid and with large heads and canopies like the one showcased in this bedroom.
13. Victorian And Modern All In One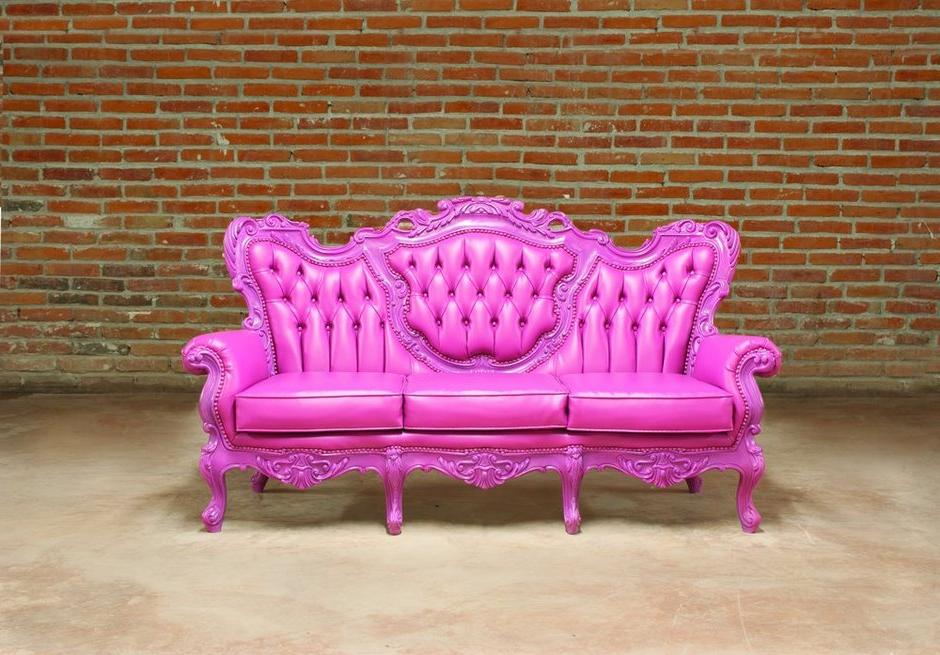 Giving the fact that Victorian style furniture is so trendy these days, more and more modern pieces that mimic the original ones are sold everyday. More people want a piece of this style, but adapting it to their personal taste. Like this definitively modern and up to date fuchsia couch that reminds the furniture of the time but with the colors of today.
14. Victorian Details That Are Unique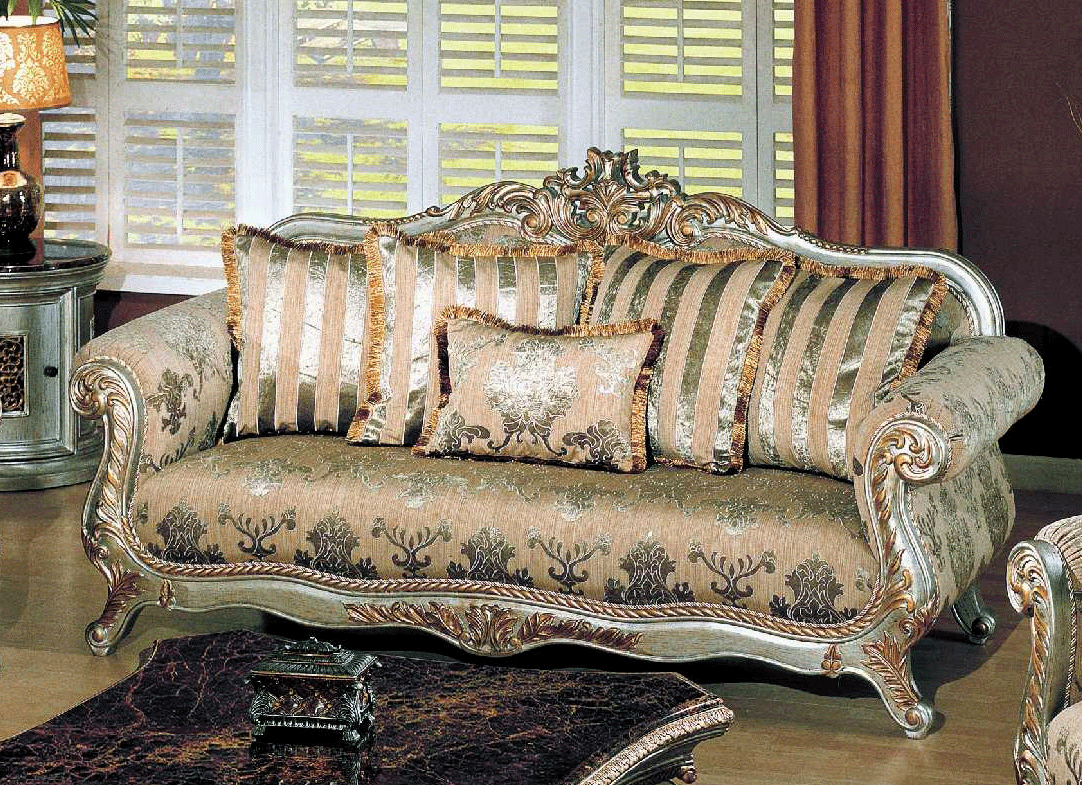 The very striking style in this the furniture is most commonly large and made of wood, it is also characterized by many wavy lines, hand-carved, ornaments and leather or floral upholstery to make it extremely luxurious and ostentatious. This couch presents gold details that enhance the piece.
15. Victorian Style Furniture Ideas Ideal For The Bedroom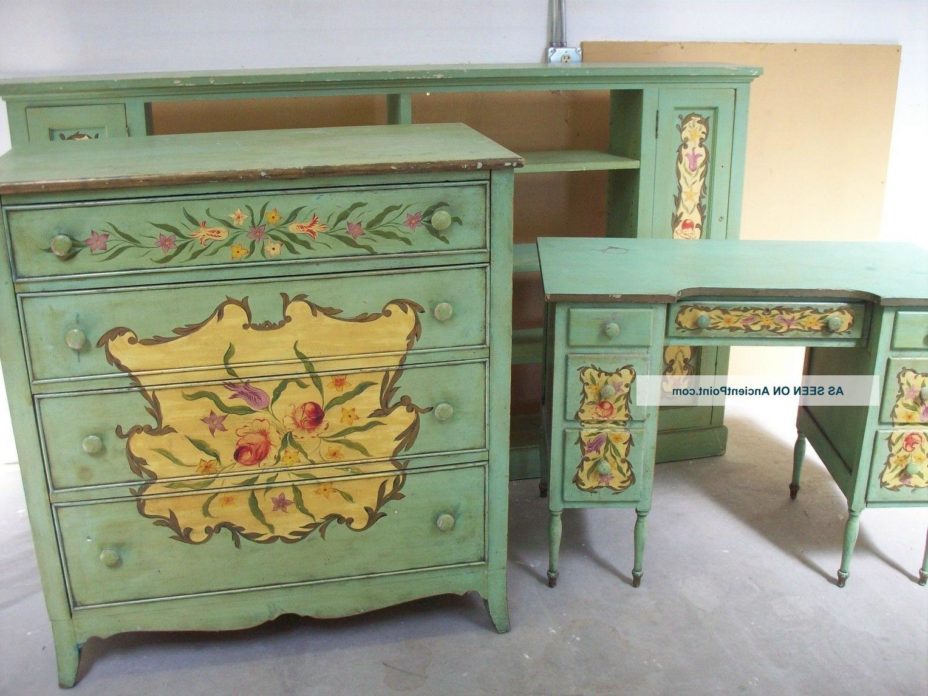 For Victorian style furniture in the bedrooms, the most popular woods chosen are mahogany and rosewood, as well as oak. The furniture normally has a glossy finish with enamel and rich upholstery, but can also be more simple, like this set where the matte colors and painted details gives us a more simple and minimalist type of Victorian style.
16. Eating Victorian Style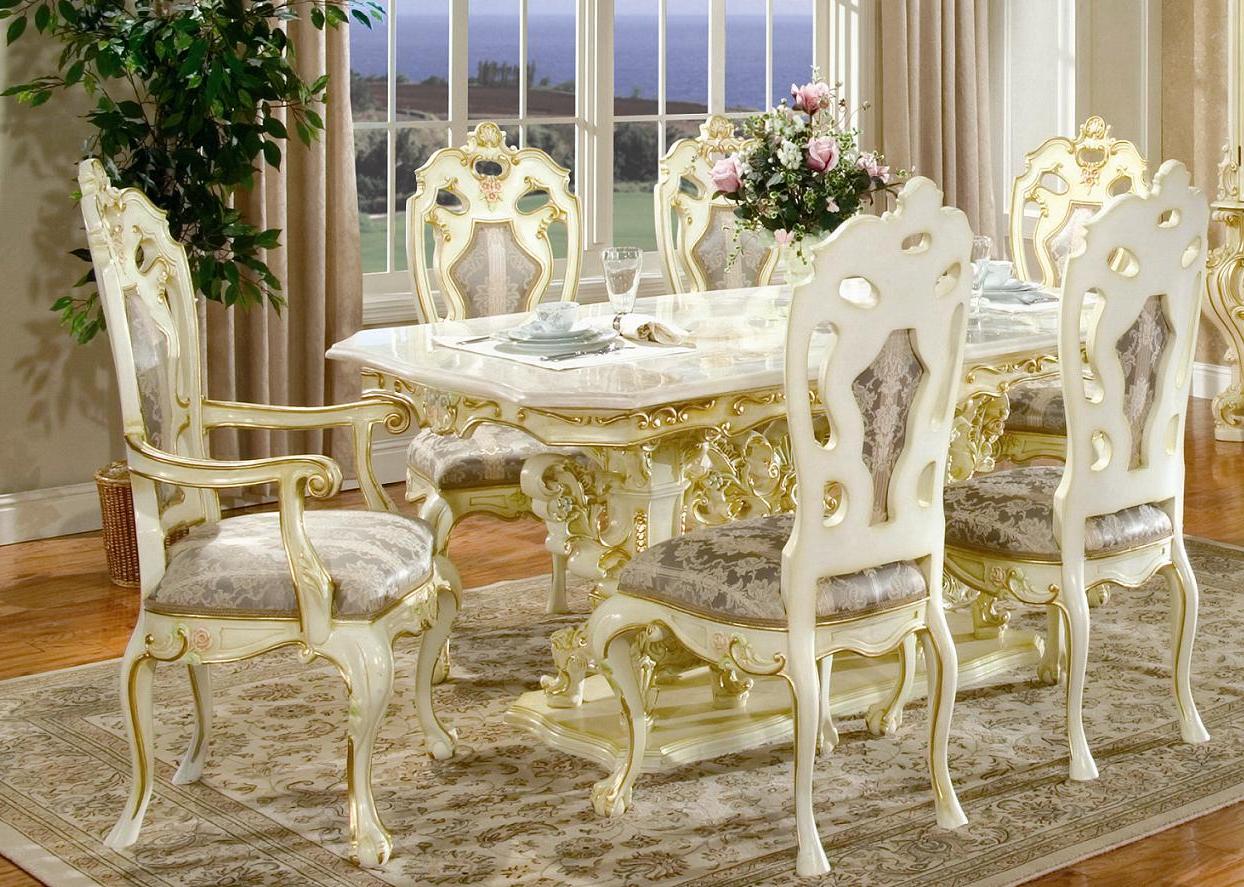 In the Victorian style furniture ideas for the eating area, the dining room tables are thick and heavy, and the chairs are mostly upholstered in leather with prints and padded sits. The tables preferably have wide legs and ornaments, as well as the chairs. The legs are also curved. With a style like this, you would feel like having breakfast in a castle.
17. Small Victorian Style Furniture Details To Enhance Any Room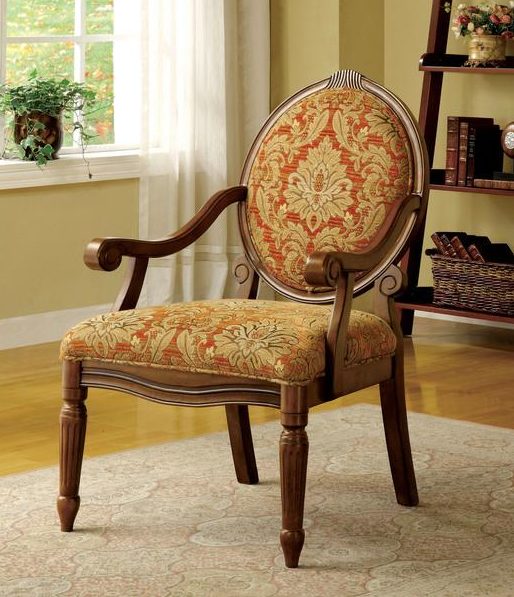 If you want to use a Victorian style furniture idea for any room of your house, but just by adding small touches to your existing decoration, you can choose chairs like this one, that has most of the typical Victorian elements: is made of thick dark wood with carves, has a padded sit upholstered with red and printed velvet, and has curved lines. Nevertheless, it seems more simple and minimalistic, without loosing the wow factor.
18. Ostentation And Splurge For Coffee Or Eating Time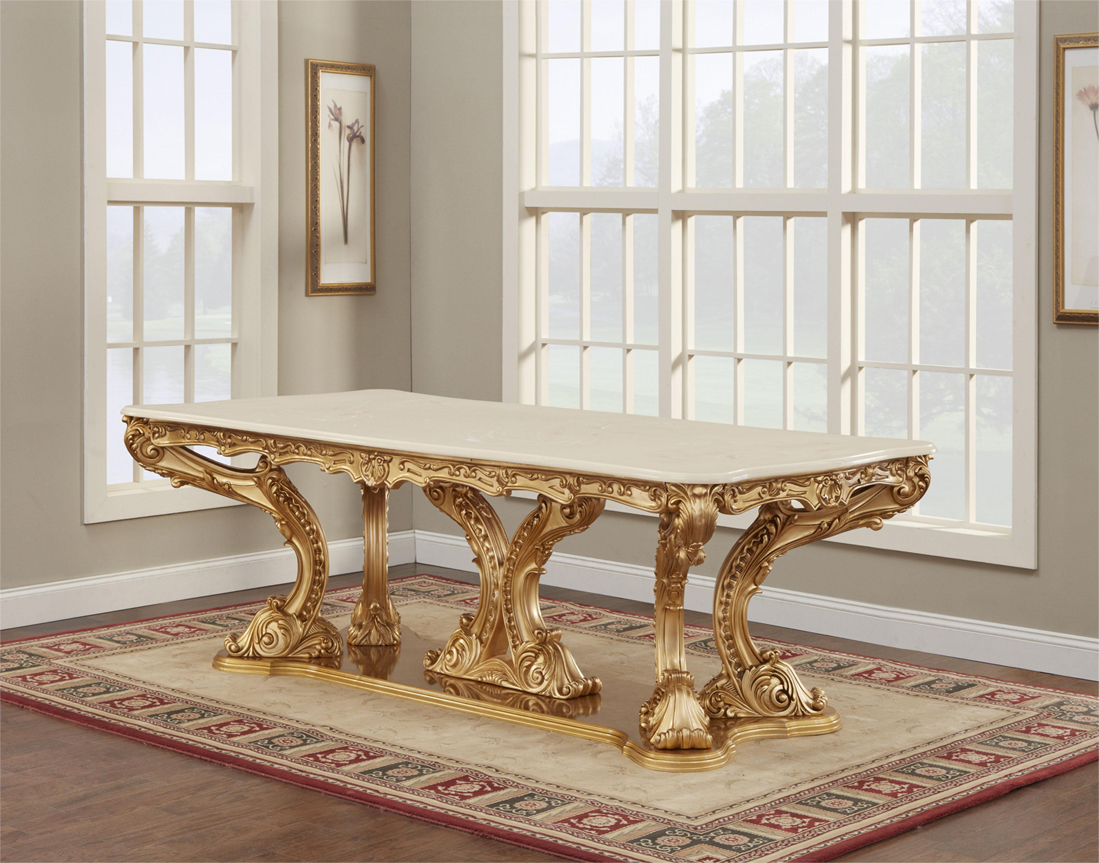 The marble tables like this one are a classic of this style, as well as being durable and elegant. The incredibly elegant ornamental legs have a bright and shiny golden color, which makes this very heavy piece look even more elegant and expensive. This style Showcases luxury and taste and can be accompanied with details such as carved doors, pots, utensils, china, porcelain tea sets, wooden utensils and wrought metal are other details that are part of this trend and that improves the overall look.
19. Up To Date Victorian Style Furniture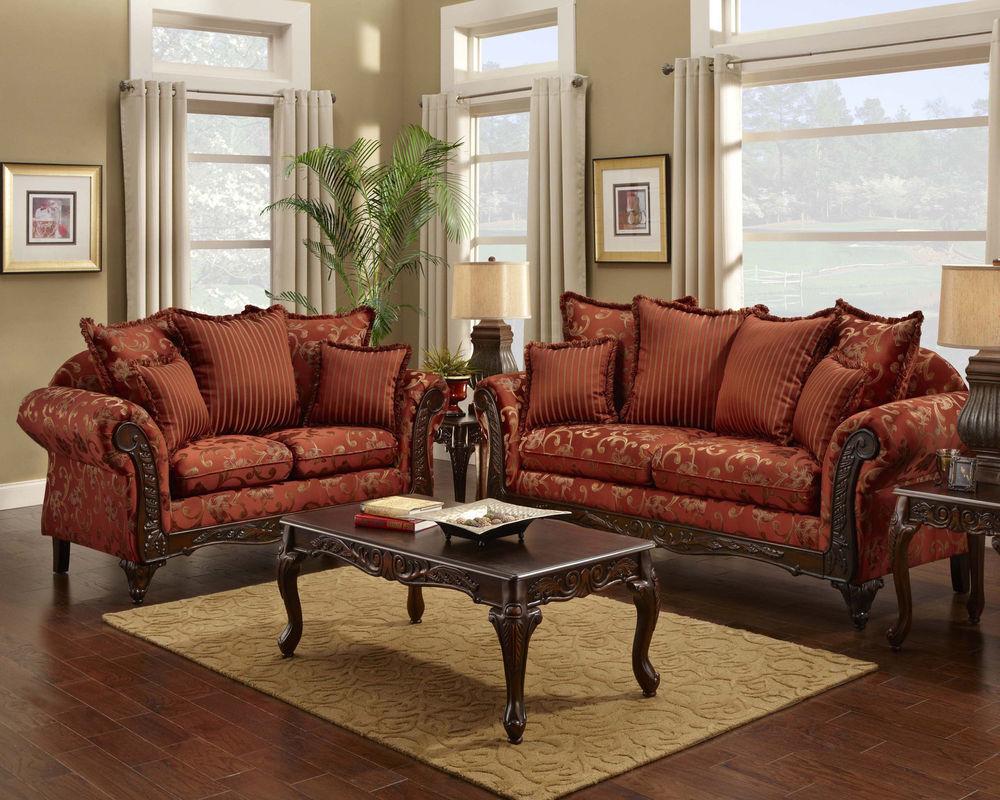 The key point for this style to look elegant is not to exaggerate and know how to combine it with other colors. Remember that the most used tones are ochres, white and dark tones, but it is not necessary to use only those, you can combine with other colors more neutral and contrasting, like in this room where the combination of styles makes this living room contemporary and classy at the same time.
20. Delicate Victorian Style Furniture Elements For Bathrooms Or Bedrooms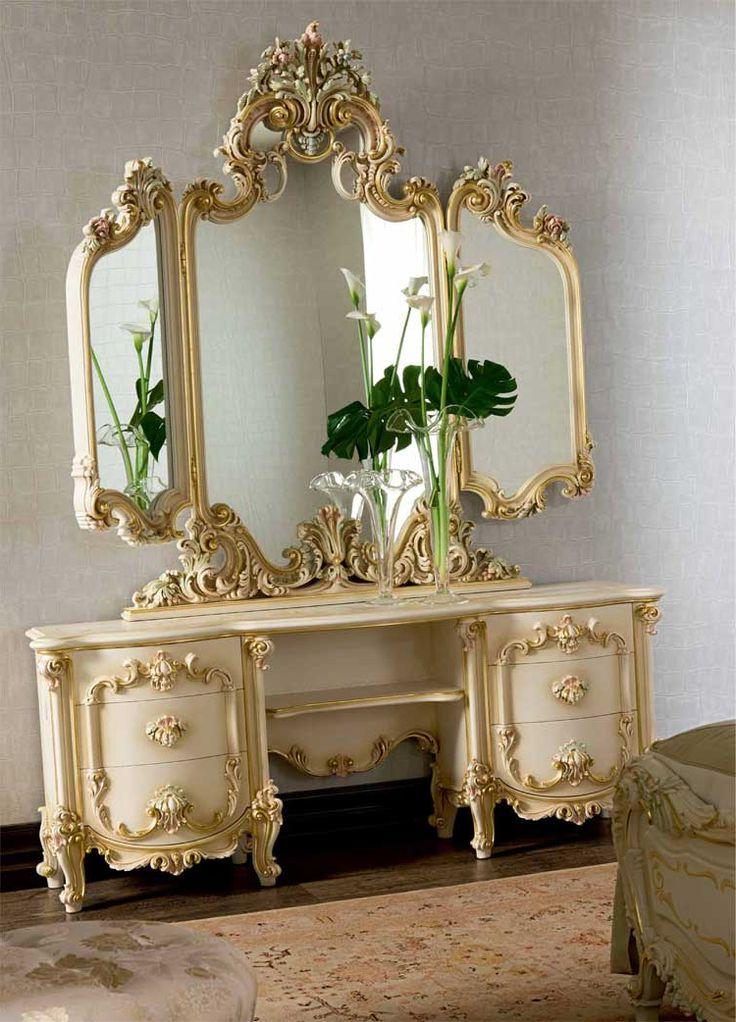 In the Victorian furniture style decoration ideas, ocher colors are widely used just as it was done in the original times of this style; the very bright colors are generally not used. Also, golden color is one of the most suitable for Victorian decoration styles, and you can see it a lot in picture frames, mirrors, furniture legs And other ornamental details. Another element that is used a lot in decoration with Victorian furniture are giant and heavy mirrors with detailed frames, since this gives a lot of elegance to the room. This dressing is a perfect example of all mentioned before, and it would definitively be a favorite piece for a lot of people.
21. Classic Victorian Style Furniture Approach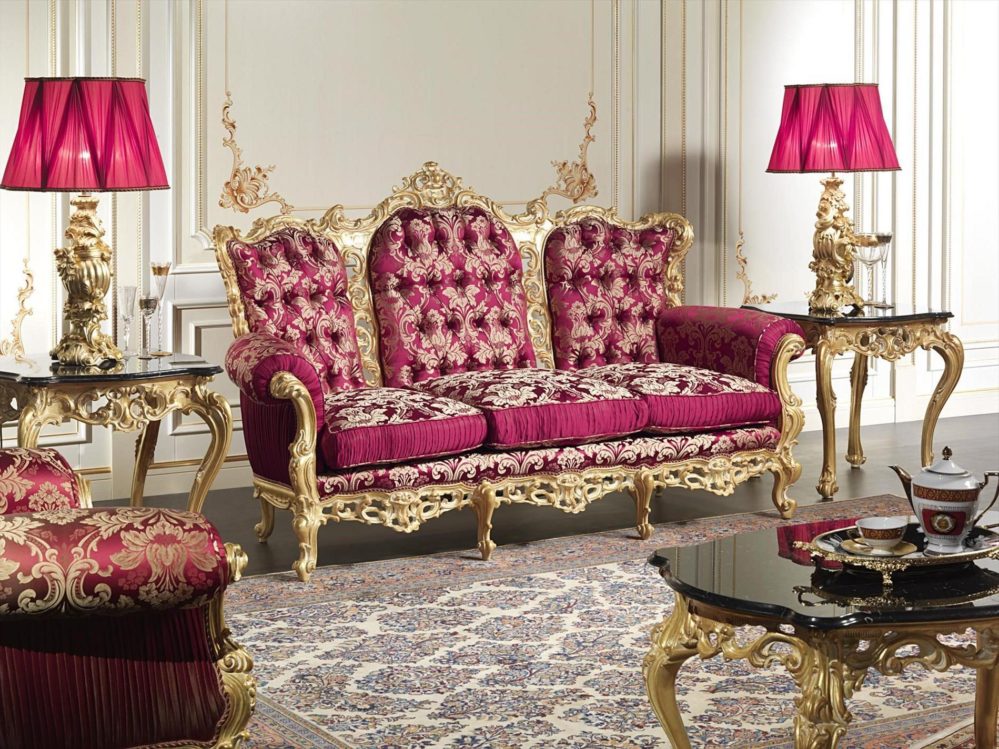 Victorian furniture style have some preferences in the making. The fabrics that are most used for this style of decoration in the furniture are silks, velvets and damasks. Embroidery is also used as another texture, as well as lace, tassels and fringes that give an elegant style to all the decoration. Strong colors are highlighted with prints and patterns to make it even more ornate. Remember that opulence and exaggeration are a must in this type of style.
22. Victorian Style Furniture To Enhance The Living Room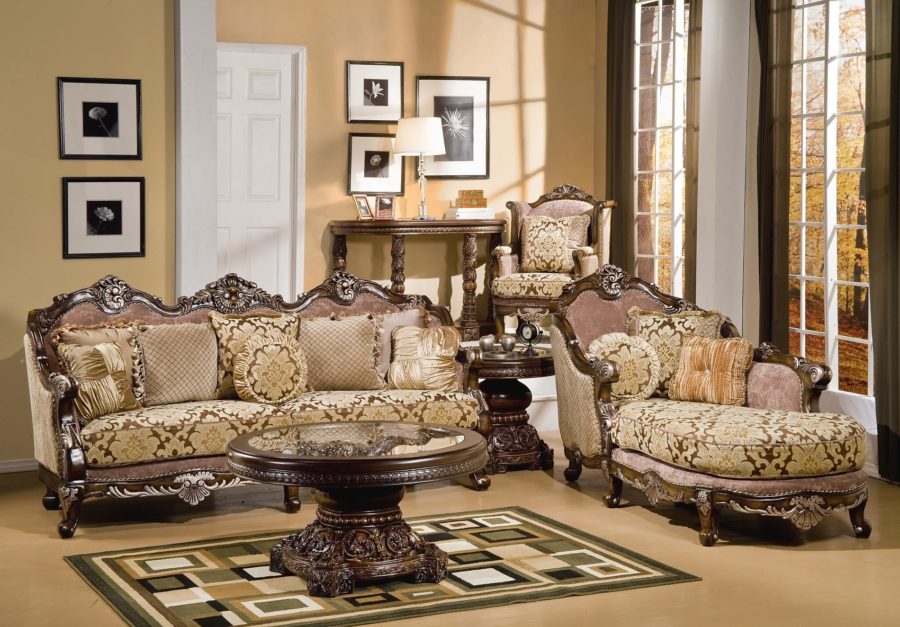 For Victorian styled living rooms, the sofas are usually fluffy, with carved frames and upholstered with brocaded fabrics like you can see here. Coffee tables can be decorated with carved ornaments in the body, legs or tabletop to give more originality to the style.
23. Decoration Ideas For The Bedroom With Victorian Style Furniture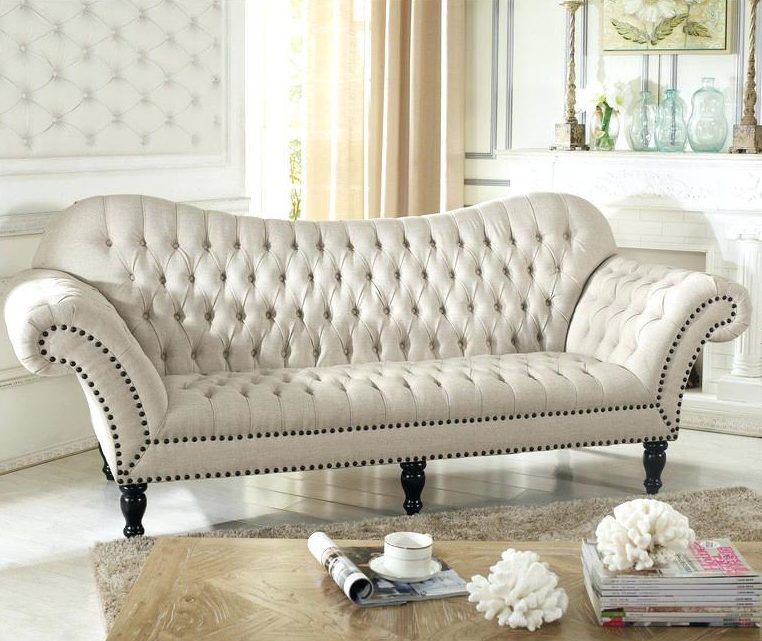 In Victorian style furniture decoration ideas, light colors are the most common choice in spaces like the bedrooms, where although the colors are tuned down, the overall style remains. So, you will need paddings, ornaments, curved shapes and leather or printed upholstery to make your bedroom outstand. It is also important, especially in the bedroom, to have comfortable furniture pieces.
24. Victorian Details In Dark Wood And Iron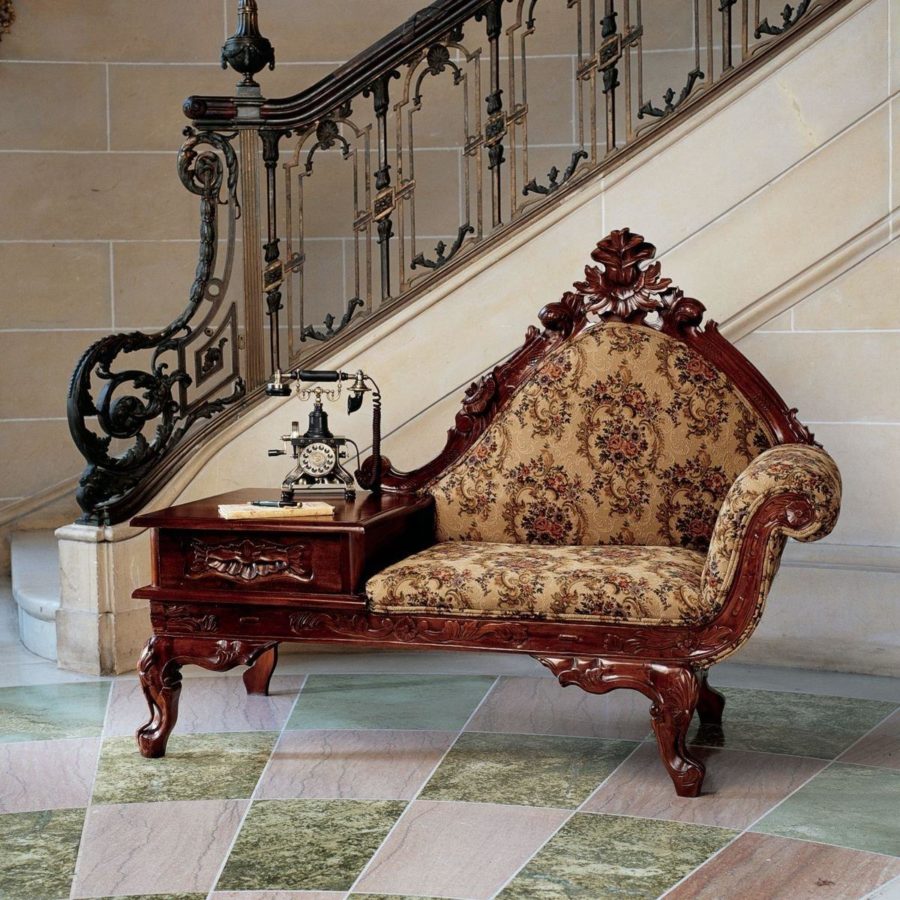 In Victorian style homes, dark, heavy, and carved wood furniture are prominent in all the spaces, like in this room, where the phone table and even the stair railings showcase the typical style of ornaments of these designs.
25. Vintage Design With Victorian Colors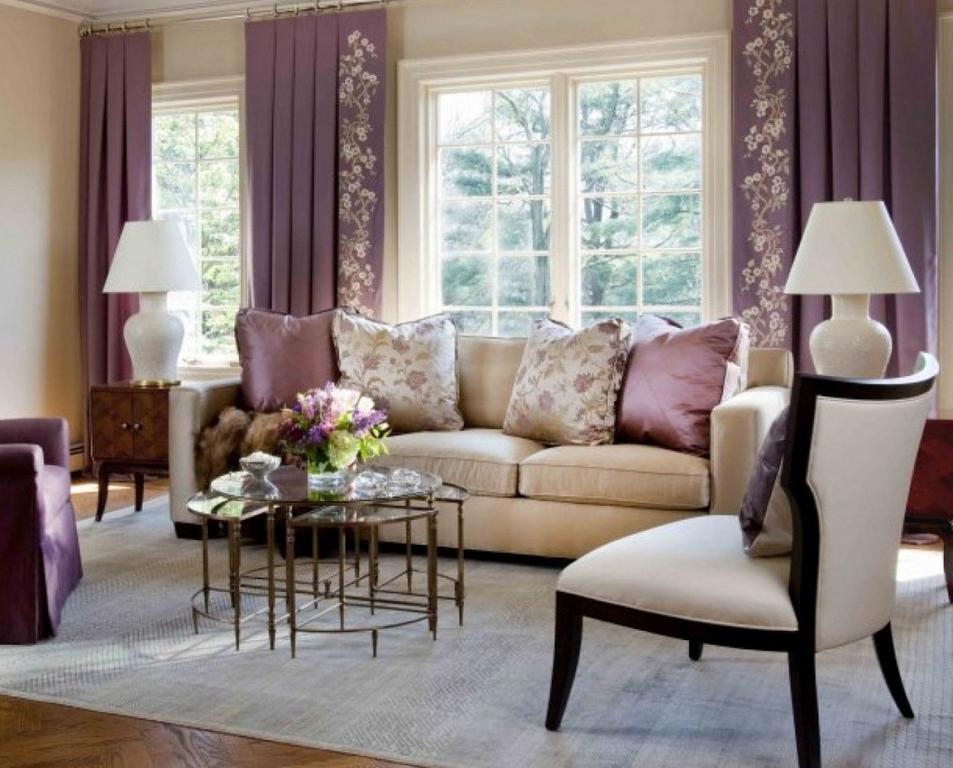 If you like the Victorian style furniture decoration, but you want to give it a modern touch you can combine different eras, or combine textures and styles, like Victorian decoration elements such as this white chair or the violet color, with something minimalist or modern, like the rest of the decoration. This idea would give your decoration a very personal touch that will completely change your environment.
Conclusion
If you are a person who likes the classic and retro looks, and want to give a wow factor to your house through decoration, do not hesitate, the Victorian style furniture is a great option when it comes to decoration.