Wall Key Cases are one of those household items that are essential in solving the age old question, "Where did I leave my keys?" However often these hooks are merely practical items that are overlooked as an opportunity to add to your interior design. The hallways that they usually call home can very easily become dead spaces just to move through without much character.
24 Wall Key Cases To Make Your Hallway A Little More Fun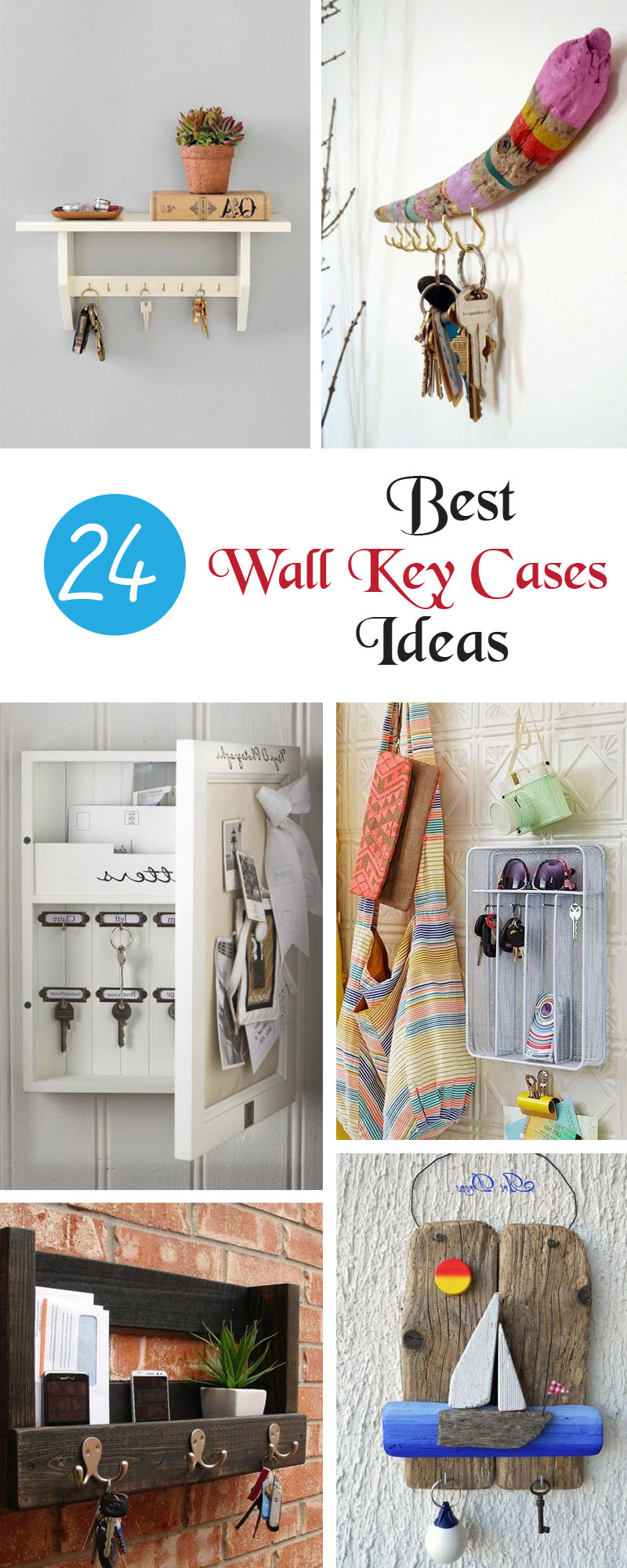 By using these humble little wall key cases you can breathe new life into the space and maybe even a little sense of humor. These pretty hanging pieces of décor can be bought from a store to coordinate with your interior design. If you are creative and like a project this is a really simple object to DIY using found objects and some cheap craft store supplies to make your own personalized set of hooks that is 100% unique.
So if you need a little bit of inspiration for how to solve this everyday problem here are:
1. Upcycled Timber Board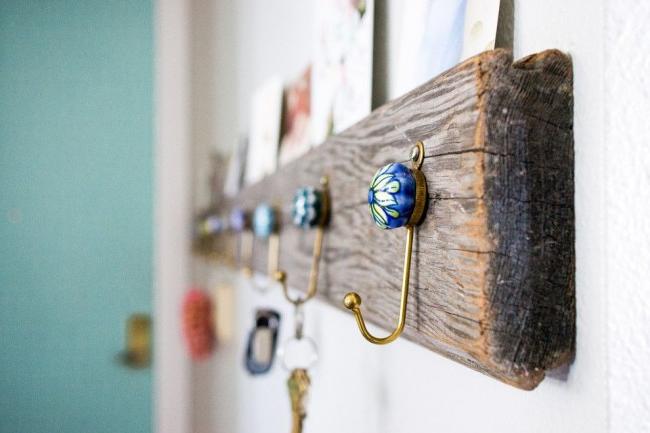 This beautiful, long set of keys is a really easy thing to DIY using upcycled materials and hooks that can be found at and craft or hardware store for relatively cheap. This reclaimed timber floorboard has been lightly sanded to display the wood grain at its finest and outfitted with some simple golden hooks decorated with blue floral ceramic beads to add a pop of colour.
2. Painted Tree Branch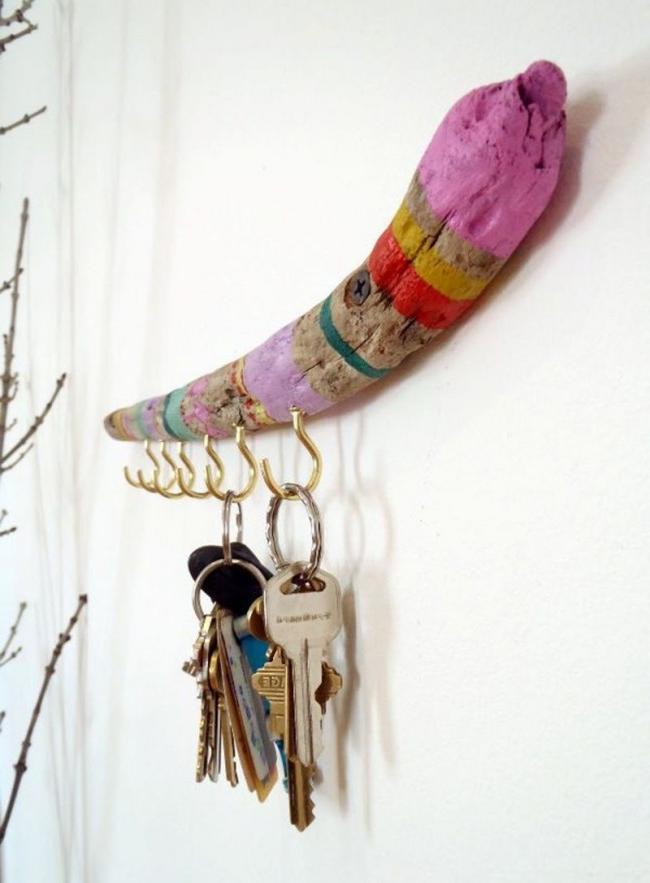 This curving painted tree branch is another set of hooks that is really simple to create yourself, all you need is a fallen branch foraged from your garden, some gold hooks and some acrylic paint. This proves that you can devise something charming for very little money and with relatively little skill. This multi coloured ringed branch would fit perfectly in a rustic or eclectic home surrounded by other natural textures and plants.
3. Wall Mounted Cutlery Tray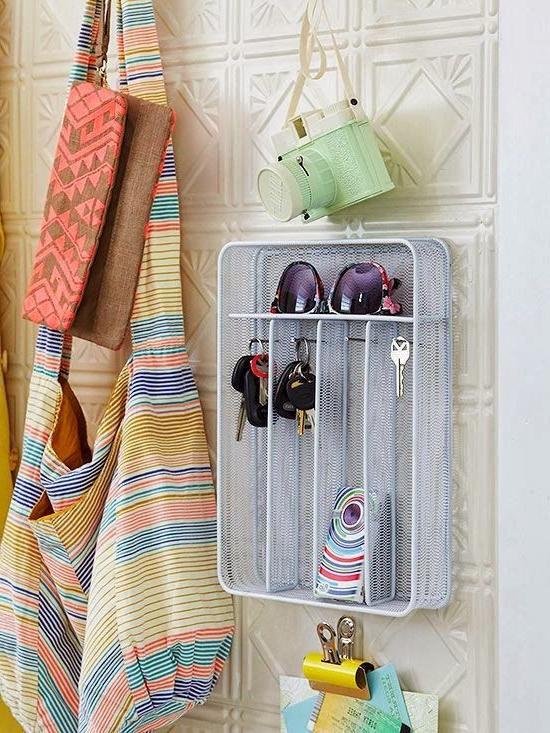 This little hanging unit is a quintessential example of how, with a little creative thought, you can upcycle an everyday item into almost anything. This cutlery tray has been wall mounted to create a set of key hooks, which comes equipped with a glasses cubby and storage below the keys. If you don't have something like this available at home random household items can be picked up cheaply from second hand stores and spray painted any colour you like to suit your hallway's colour scheme.
4. Two For One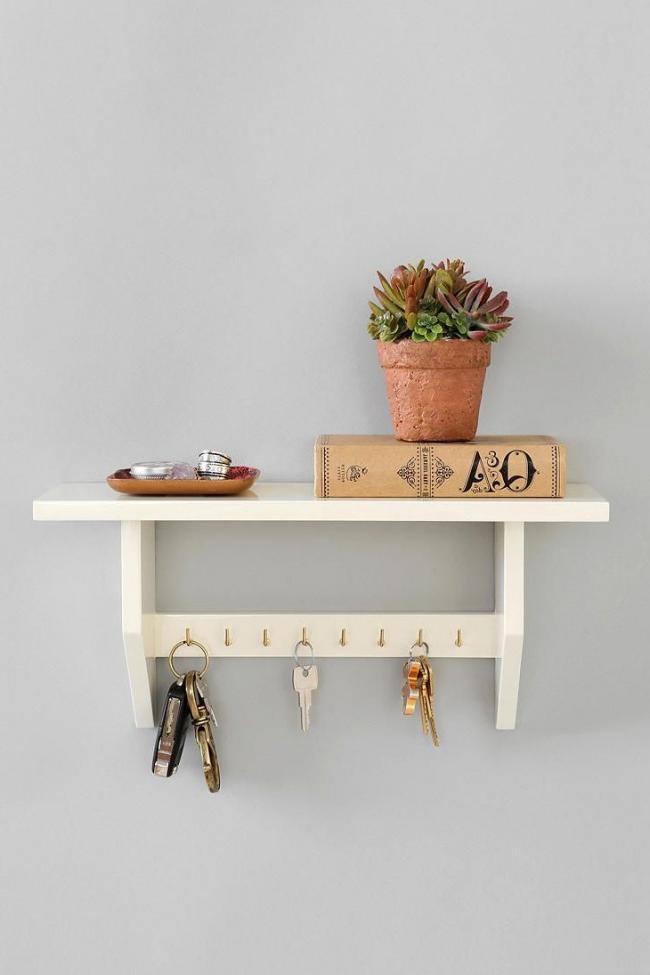 This decorative hallway's wall key cases is a small but multi use feature with key hooks incorporated beneath. The simple painted timber unit is wall mounted with a shelf that acts as a way to add some flavour to the hallway which can sometimes be dead spaces lacking in visual interest. The hold hooks with their hanging keys and the little pot of succulents acts as the colour and texture within a minimal hallway.
5. Initial Tabletop Key Hook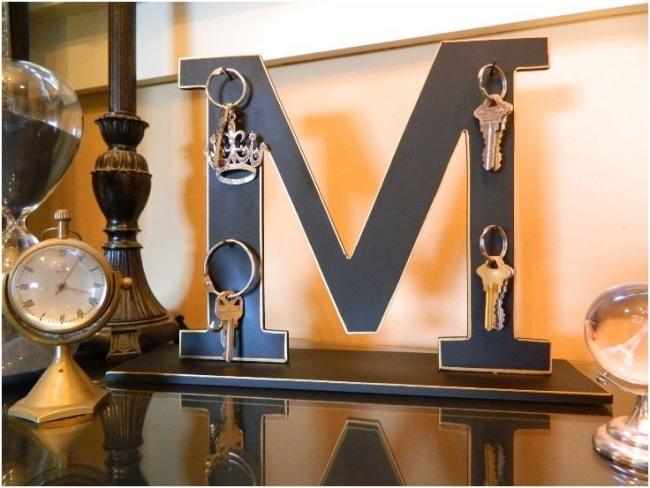 Instead of having to hassle with hanging a key holder, especially in a rented home, this one has been placed on a hallway table. Although this is a bought piece it can be personalized by buying one that is your initial. The letter sits neatly on a tabletop and takes up very little space while providing a cute and novel decoration for your hallway table.
6. Small Nature Inspired Hooks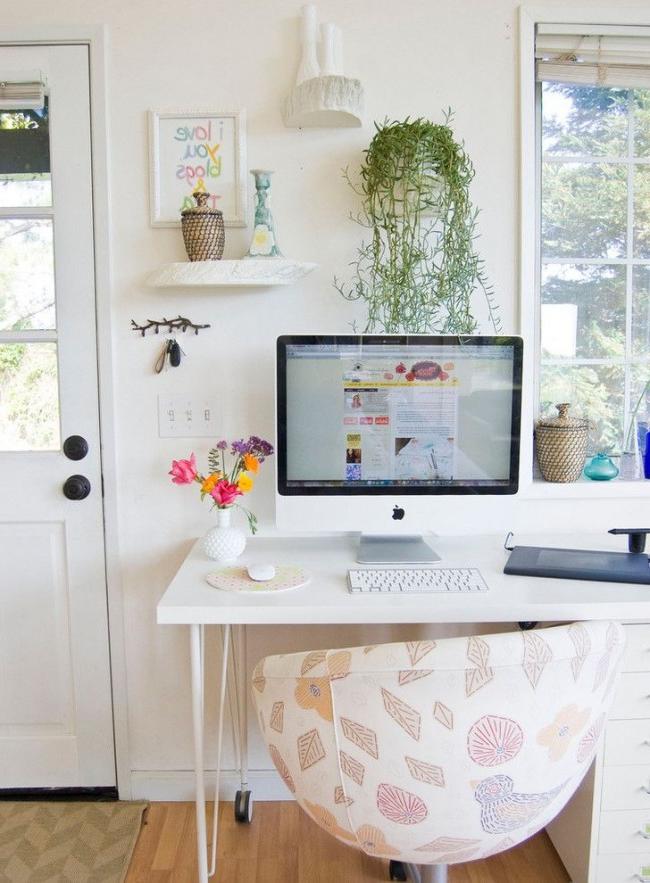 This dainty little key hook is made to resemble a small tree branch hanging on your wall. It has the dual purpose of decorating this sweet little workspace while also being placed in a convenient place right by the front door. The nature inspired design along with the hanging plants bring nature indoors and ties in with the trees beyond the windows and speaks to its surroundings in a very subtle way.
7. Novelty Bird House Key Hook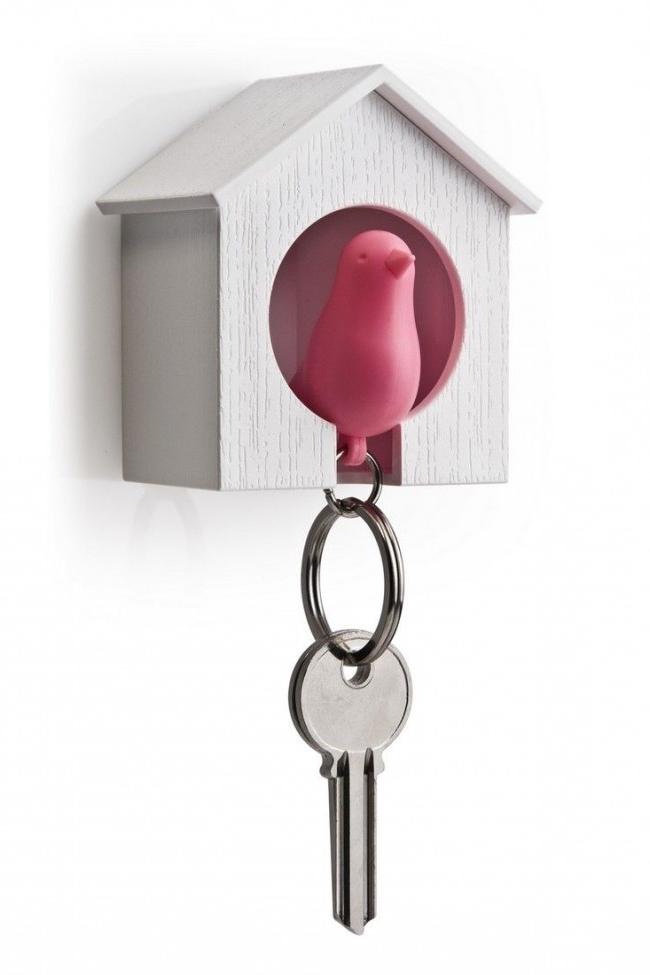 This petite white birdhouse has a stylized colourful bird in its doorway that holds your keys in its little claws. A novelty style key holder like this is a fun way to bring a little amusement into your hallway for your guests while still helping you keep track of your keys. The design comes in a variety of colours so the bird can be whatever colour fits with you and your home decor. A style like this is great for a house with children where you want to inject some fun into some everyday pieces.
8. Hand Painted Reclaimed Timber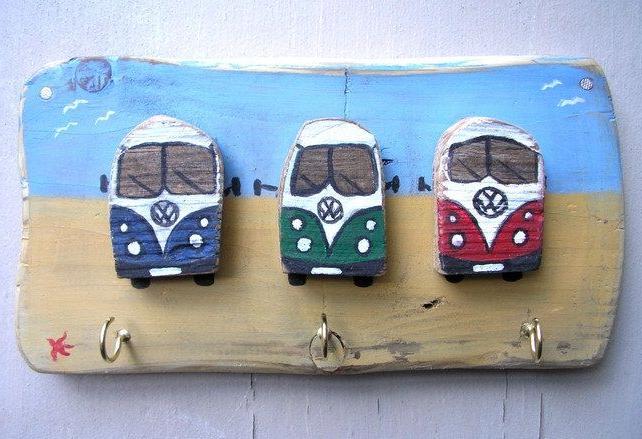 This colourful set of 3D VW busses is another fun and cheap DIY that you cane make at home using reclaimed timber. All you need is a larger rectangle of wood, a few smaller pieces, some acrylic paints and your own creative flair. Like this example, you can let the shape of the small pieces of wood to dictate what you paint them as which will in turn inspire the backdrop that they will be glued onto. This is another fun project for yourself or to do with your kids to add a personal touch to your home décor.
9. Park Your Car In The Garage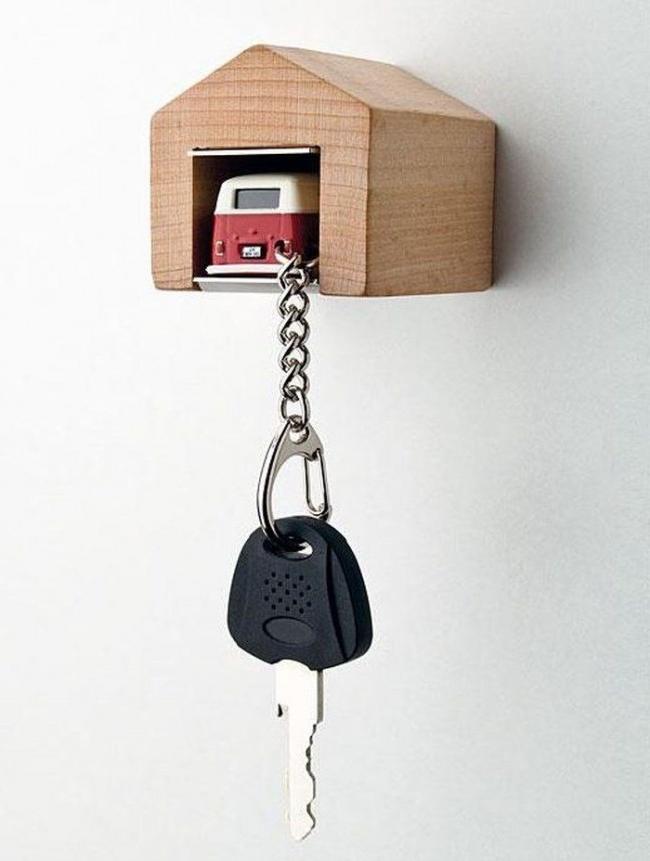 This little wooden wall mounted garage and van is another unique way to infuse your interior design with a sense of humour. The key chain for your car is literally shaped like a little car that fits into the little garage installed on your hallway wall. The beauty of this design is that the keychain and the garage are cute items all on their own that is even more fun when paired together.
10. Hidden Key Hooks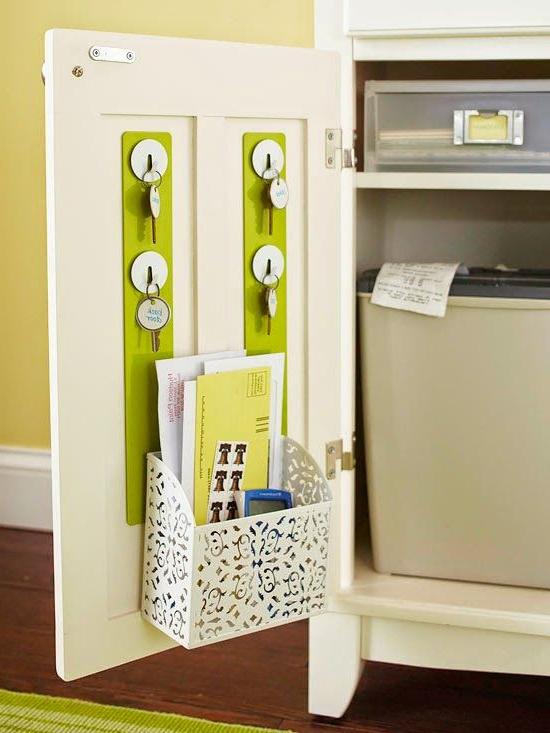 If what you really need is a solution that keeps your surfaces tidy while not losing your keys then this set of secret key hooks is for you. This great space saver is hidden away in a special panel in a desk cabinet that provides space for four sets of keys with the added bonus of a hung metal post storage compartment. The strips of green that the keys are mounted on adds a surprising pop of colour every time you open the door.
11. Wall Hung Key Cupboard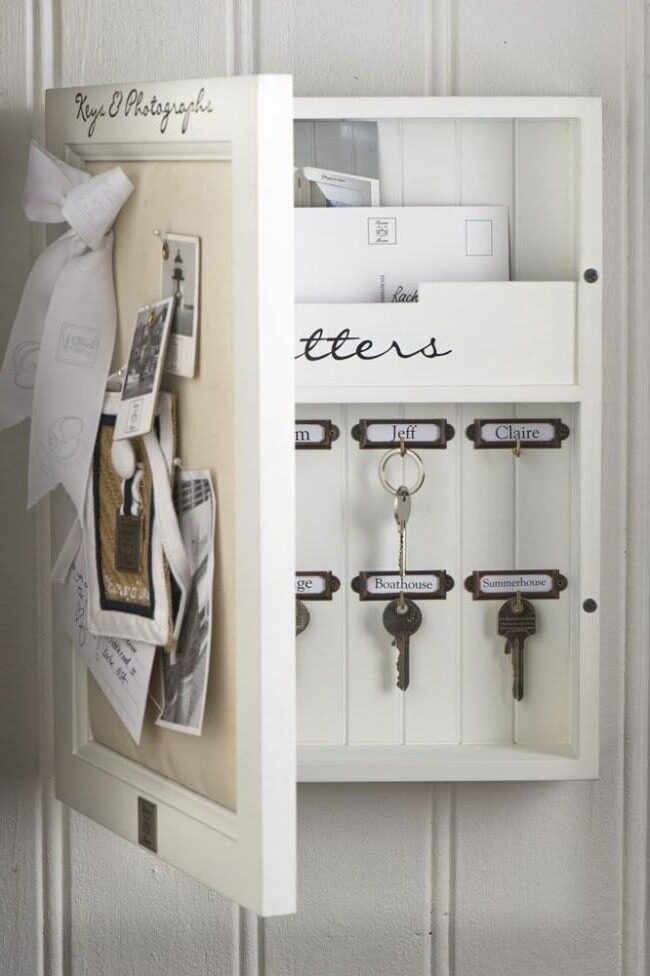 This traditional key cupboard hides a set of neatly labeled key hooks and a post storage cubby over the top that coordinates seamlessly with the white wood paneled wall it's hung on. The door of the cabinet acts as a pin board for family photos and other sentimental items that rids the wall space of unattractive keys while doubling as decoration.
12. DIY Picture Frame Key Hooks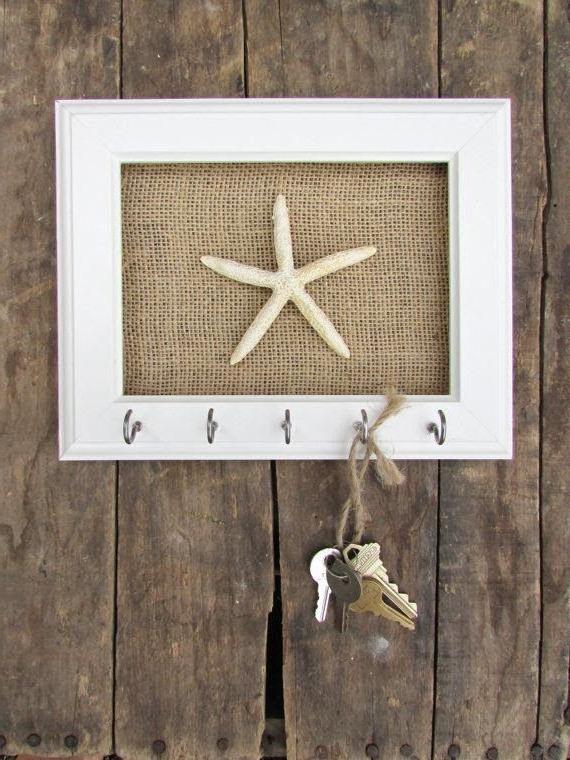 This little frame is another simple DIY that you can make cheaply and personalize it just for you. It can be achieved by paint a cheap frame with whatever colour suits your décor and decorated using found or thrifted materials as backing and some foraged pieces of nature that you've found on a walk that you find beautiful. The hooks are the only thing that you really need to buy that can be bought at any hardware store.
13. Cute Nautical Key Hook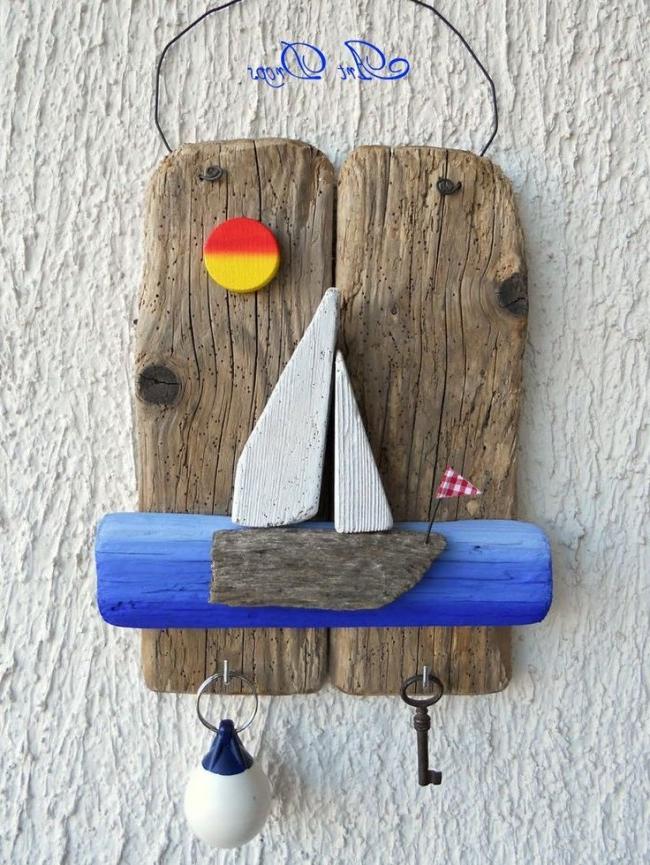 Found in many seaside stores this layered piece of driftwood art is something that you could make yourself to personalize the scene. It consists of a reclaimed timber backing hung with a wire with simple metal hooks screwed into the base. The scene above hooks is constructed out of pieces of reclaimed timber carved into whatever shape you like and painted with acrylics. The result is rustic and quirky, a great addition to your hallway wall.
14. Dusty Pink Minimalism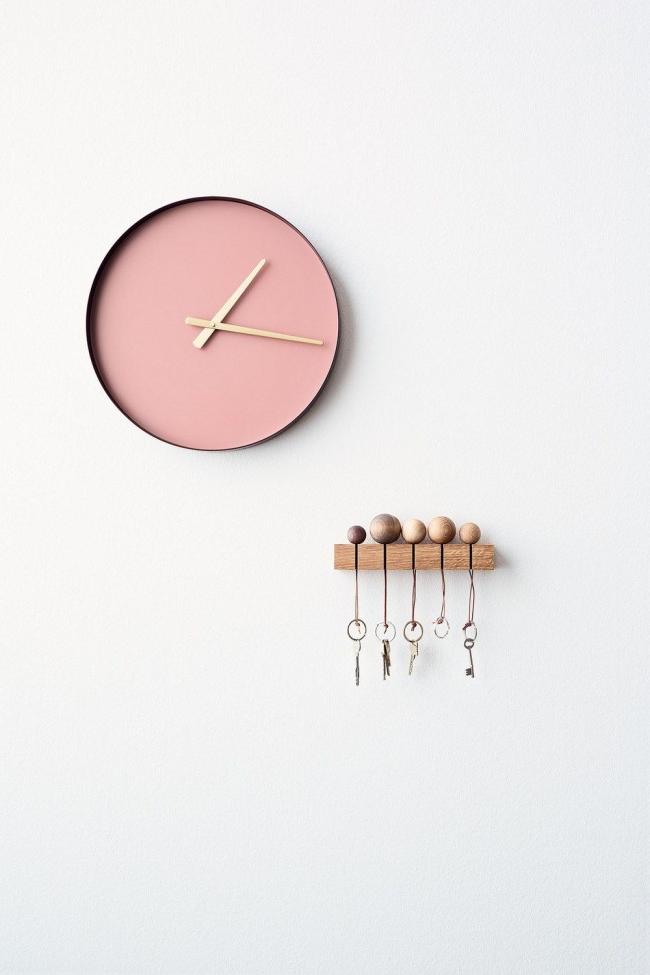 This gorgeous key holder is a functional piece of art that just so happens to hold keys, a tricky design style to get right. A smooth piece of wood has had with notches jigsawed into it with each individual key hung on a piece of twine with a wooden bead on the end. Once slotted together into place the uneven beads create a beautiful wall decoration on the minimal wall. This contemporary style works perfectly alongside the minimal pink and gold clock that creates an understated but impactful piece of wall art.
15. Initial Picture Frame DIY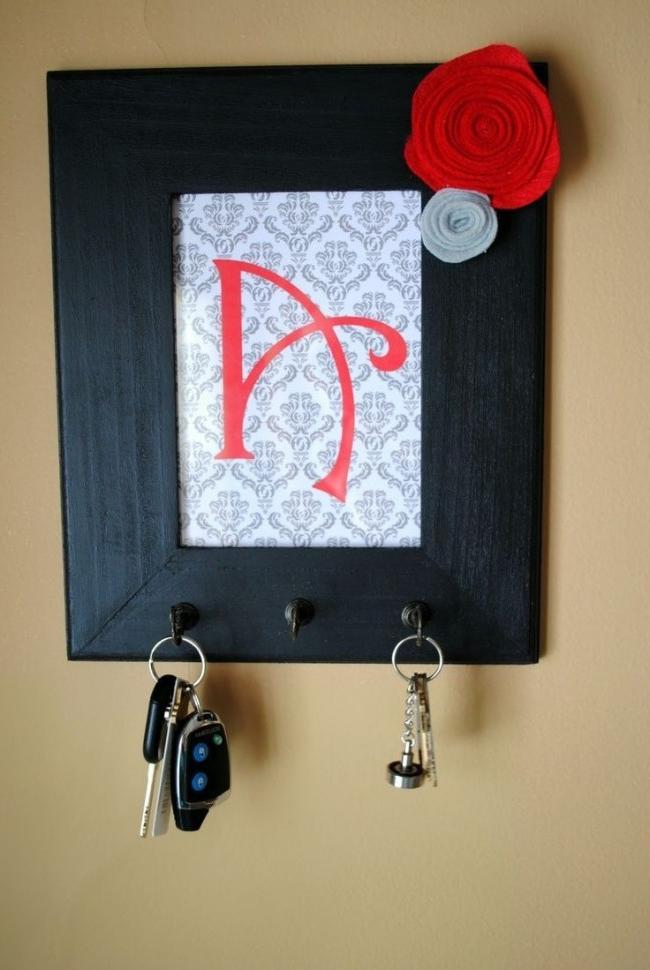 Here we have a different take on how to upcycle a cheap frame than we saw in example 12. This simple little craft is that is easy to personalize and execute with supplies can be bought cheaply at a craft store. Black on black hooks make them disappear into the frame while the framed portion is simply an initial painted on patterned paper. A pair of paper roses in one corner finishes this look off in a classically elegant way.
16. Multi Use Wall Mounted Shelf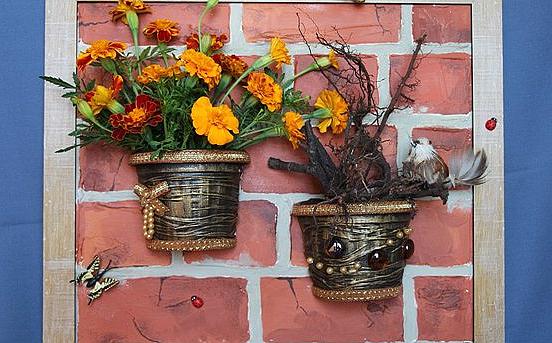 Another design that's easy to execute with limited supplies. A simple wooden plank is fitted with a small shelf with a hole drilled through that holds a mason jar so you can decorate the hallway with fresh flowers. Small school style coat hooks at the bottom base of the plank acts as the key hooks on this multiuse wall feature. The cherry on top of this rustic design has been painted with chalkboard paint for you to write little messages or inspirational quotes to walk by each day. This whole set up is a great example of how to make something useful beautiful too.
17. Reclaimed Timber Wall Unit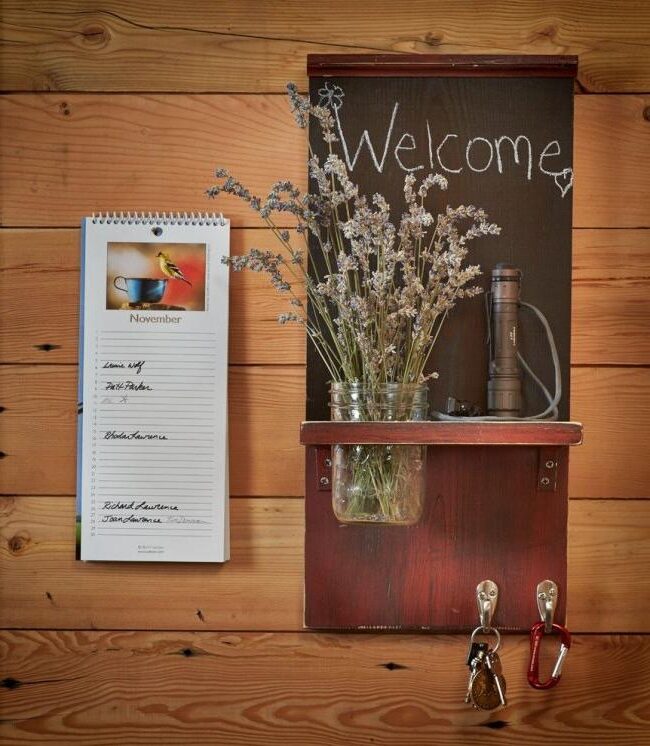 This all in one unit is another DIY friendly design that is simple to screw together yourself and mount on the wall just some offcuts of wood and a drill. The front panel creates a little shelf that holds a plant and hold your post that a triplet of curling school room coat hooks are screwed onto to your hang keys. This design can be personalized by staining it whatever shade you wish or even painting it to suit your decor.
18. Minimal Timber Key Slot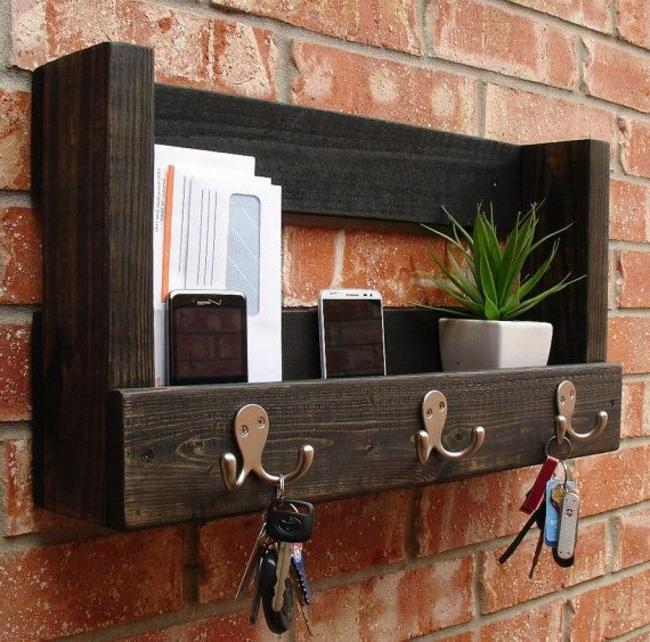 This innovative key holder has been made of one small piece of inconspicuous wood screwed into the wall with a thin slot cut into it. The slot is cut a little thicker than the width of a key so you can slide your key easily into the slot and they will be firmly held in place. As they drape down the other keys and your novelty key rings can become part of the hallway décor.
19. Seaside Foraging Set Of Hooks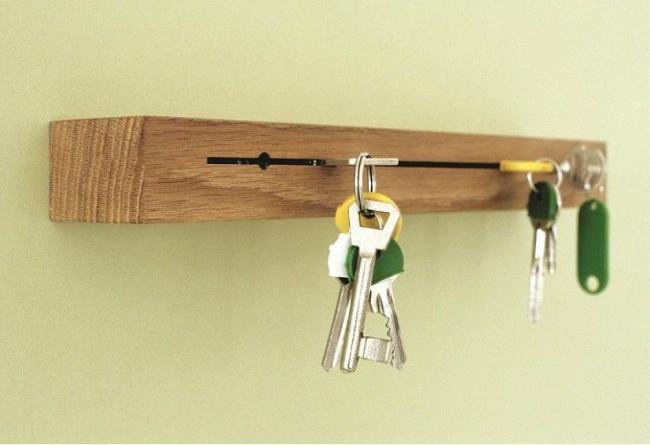 This beautiful key hooks shows how to use seaside found objects to build your own eco friendly piece of wall art. The hooks are made of a small piece of driftwood with a large sea mollusk shell sitting on its head. All you need to make this rustic design yourself is some beach combing, adhesive and some hooks to tack it all together. This style of wall key cases would be perfect for a seaside home.
20. Wine Cork Key Holder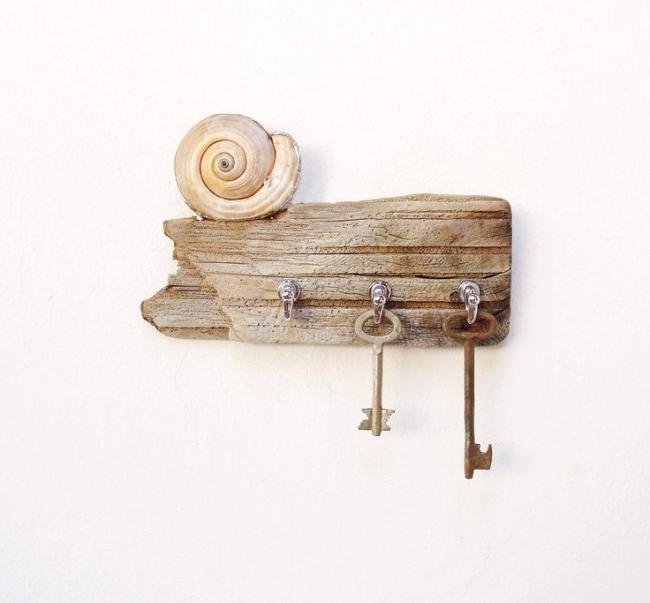 This little frame is a cute way to use your hobby as part of your home decor. This is probably one of the cheapest ways to DIY yourself a key holder while also giving you an excuse to treat yourself to a bottle of wine so you can collect the corks. The small frame can be painted any colour you like then all you need to do is glue the corks together tightly within the frame and screw some small gold hooks into them. This is a very lightweight piece to hang that adds a fun piece of wall art to your hallway.
21. Embossed Key Block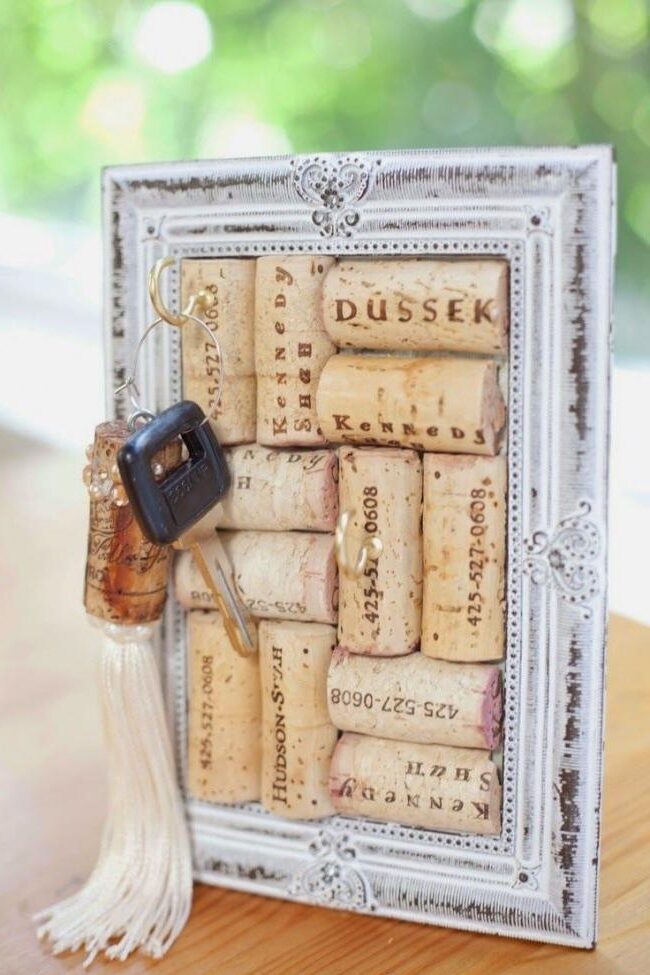 In a twist on the slot style key holder in example 18 this wooden block has a 45 degree angle slot cut into it for you to slide your key into, letting the rest of the keys hang free. If you wanted to DIY this design the embossed message cut into the block could be changed to whatever you want and laser cut into the surface relatively cheaply. The small block is light and easily mounted on your hallway wall for convenience and a little hint of style.
22. Little Decoupage Key Hook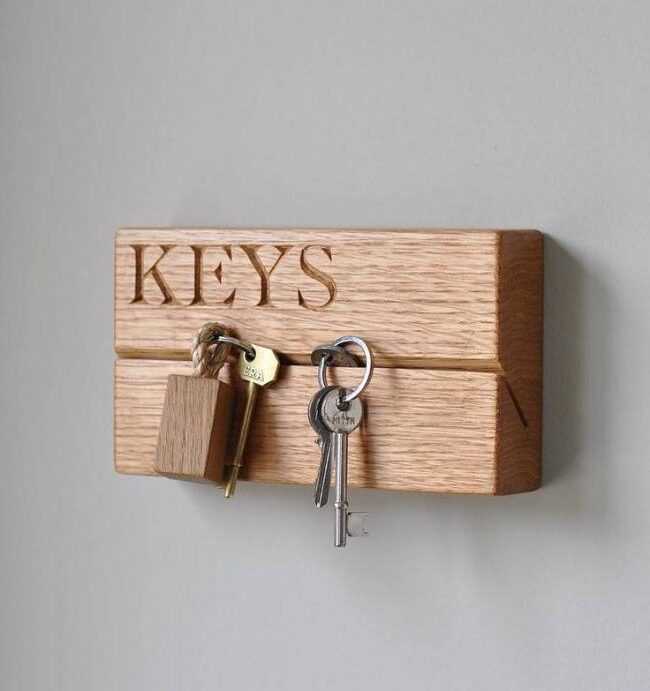 This colourfully chaotic mudroom at the front door of this rustic home features a set of shelves, shoe storage, coat hooks and a decorative key holder. The panel is simple wood that is painted a lighter off white than the paneled wall its affixed to. The decorative panel has been decoupaged onto the painted wood panel; which is a craft that is fun and easy to execute at home with the kids to create something that is personal to you and your family.
23. Cohesive Hallway Unit With Key Hooks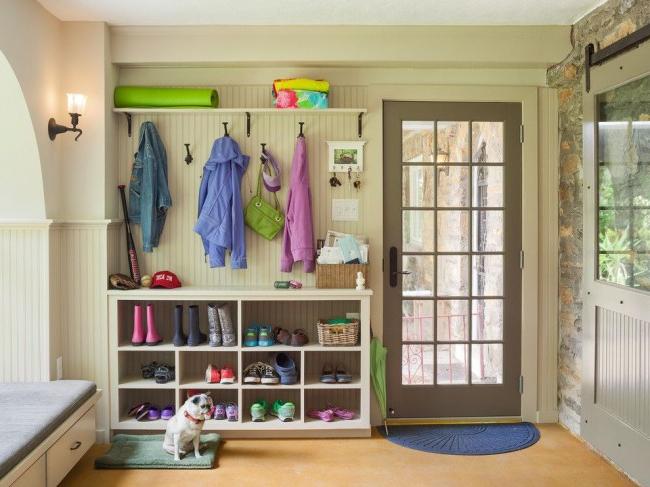 Like the above example, this hallway unit is a collection of multi use shelving that includes a coordinated set of key hooks. The keys are hung on little hooks underneath a mirror you can check yourself out in while you grab your keys and run out the door. The keys hang on the same hooks as the coats on the rail above. The rest of the hallway mudroom features a bulletin board, hanging baskets for miscellaneous items and elevated shoe storage with grass baskets beneath. This is a great way to store everything you may need when you leave the house in a neat and aesthetically pleasing way that also helps you keep track of your keys.
24. Small Key Slot Shelf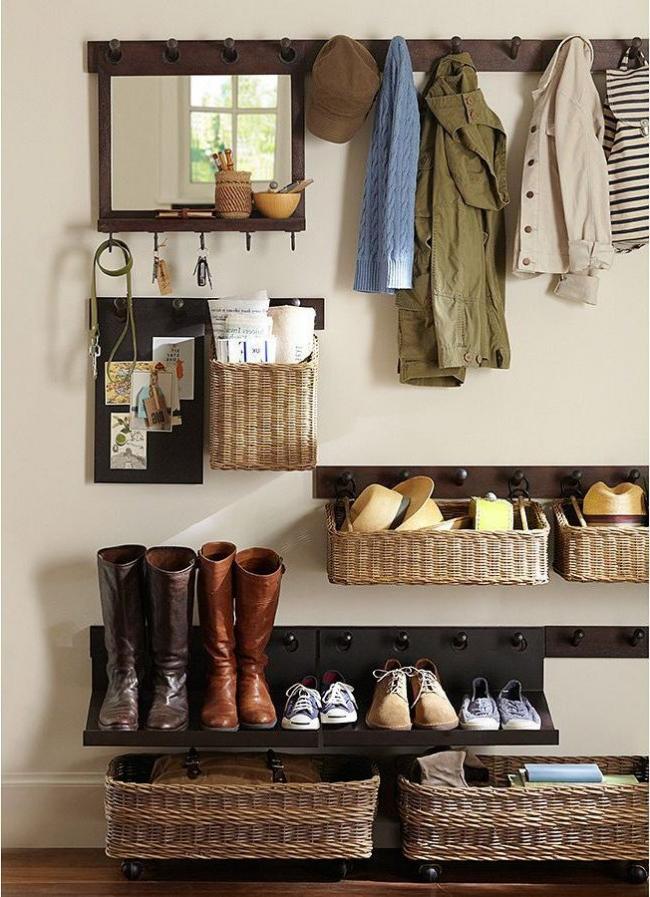 Here is another example of the sleek key slot style key holders that we saw in example 12 and 18 which, in this case, doubles as a sunglasses holder. The small wooden shelf is mounted against the wall with a simple slot cut into it for your to slide your key into and let the key rings hang free. Using the shelf itself means this unobtrusive little shelf acts as your one stop shop to grab your essentials and head out the door.
Conclusion
Whether it's an aesthetically pleasing or novelty store bought wall key cases or a homemade creation, these humble household items can make the all the difference in your hallway. They lend themselves to fun home DIYs and promotes the ecofriendly design style of upcycling found items in a cheap and easy way with some simple craft store supplies. It could even become a fun project for you to do with your kids.
This joyful list of cute and innovative wall key cases is all you need to prove that they are more than just a useful spot to keep your keys.