It is not a matter of space, but of organization. We propose you the perfect accessories to keep the entryway clear and take advantage of any corner to gain some storage.
You come home after a long day at the office, you can't feel your feet and you just want to take off your shoes and rest. Does it ring a bell? Well, the best way to end suffering the moment you walk through the door is to have a precious space waiting for you at the entrance.
The entrance is the room where the main access of the house is located, and which traditionally has a space, where family members and guests hang their coats and leave their umbrellas. Currently, the small size of our houses requires us to manage to get an extra storage space at the entrance.
As this is the part of the house that guests see first, we have to consider aesthetics as well as functionality.
The entryway is a passage place that must be very pleasant: it is the cover letter of your home and also a comfortable place where shoes, keys, bags, coats and a long etcetera must fit. The order to be punctual in the morning and find things the first time is not at all at odds with the decoration. Discover how to unite them in the same formula of your ideal hall!
25 Entryway Storage Ideas To Make Beautiful And Functional Home Entrance

There are rooms in the house where storage is essential. However, there are other spaces that we do not consider but that can become a good corner to store things. One of these rooms is the entryway, a perfect room to store shoes, at least the ones that we wear most commonly, keep coats at hand or hide those things that we do not want to throw away but do not know exactly where to put them.
The entryway is the room that gives the first impression of our home and receives us almost asking how our day has been. It is a room that must satisfy both organizational needs for various types of clothing, objects and decoration so that we can affirm that you are better at home than anywhere else.
We go out to live a new day just after passing through the entryway, making it a key stay so that we do not go out on the street with the left foot.
Although we have small obstacles to overcome such as stairs, little wall and many doors, the good news is that there is a solution that fits in every entryway. Whether you have an entryway so small that you have to pass twice to see it or if you think that you do not take advantage of your entryway, there are solutions to make it comfortable, useful and beautiful.
The entryway is the perfect area to take risks and innovate, as long as it harmonizes with the other pieces that we find in the house.
To decide the ideal storage according to your needs, you can start by differentiating between 3 types of objects that coexist in your hall:
Street clothes that you use every day and that are ideal to always have at hand. The ideal is to have a space to leave our street clothes and shoes. It would also be nice if we could leave the umbrella, the bag, the school backpack and even the sports backpack. The more storage space, the more comfort.
Street clothes that you wear from time to time and that you can put in a small closet at the entrance to protect the coats from dust.
Small objects to be organized on site, which can be key drawers, compartments to charge the mobile, mail shelves and an umbrella stand among others. How many times we fill the counter of our reception furniture or console with the keys, mail or mobile. A small drawer, container or basket is ideal for keeping it tidy and out of sight
Large objects like the bike or the shopping cart are huge objects that get in the way. It is best to have a space intended for them or even hang them on it so that they are less in the way of having a hook or a space prepared for heavy objects.
The hall is not usually a precisely large place, although it is the most comfortable to leave all kinds of things. Surely it sounds to you to have heard at home that someone needs a hole in this area to leave their things. It is normal to ask for it, the hall is a place of passage when leaving and entering the house. Keep in mind that keys, coats, bags and even dog leashes will invade the entrance of your house incessantly. If you want advice, take note of the best storage solutions for the hall.
General Rules When Designing Your Hall
The hall is one of the most difficult rooms in the house to manage, but also one of the most important. It is not only the cover letter of your home when guests come. It is also one of the busiest rooms, key to maintaining order in the rest of the house.
If you want to keep it organized, beyond its square meters, take note of the essential elements that cannot be missing in any entry:
It doesn't matter if you want a modern or classic entryway; the key is to achieve a balanced decoration that also offers practical storage solutions.
The console is the classic piece in the hall. Take advantage of the fact that it is a narrow piece of furniture to place it in any corner.
If it has enough space, you can place a hall closet that includes multiple storage solutions such as a coat rack, shelves, bench, shoe rack, and others to take advantage of the height of the walls and have everything in one closet.
The mirrors in the hall are perfect for taking a last look before leaving home. You will gain space and light.
If you have a small hall use "multipurpose" pieces, such as a bench-shelf, a mirror-hanger, a shoe rack-bench or an open piece of furniture that feels light and does not take up space to save and make even more use of space.
When decorating the hall you cannot forget to add secondary points of light.
If you have natural light, add a plant that refreshes the environment and provides a natural touch.
try benches or baskets in the hall to organize footwear in El shoe storage. It is, with the console and the coat rack, a key piece in every hall.
Add some hangers or hooks to create daily storage of our coats, scarves, hats or bags. They will provide us with extra space in the hall and it will be easier for us to find certain things like keys, telephones, etc.
All these tricks that you have just read will help you to have a neat and well-decorated lobby. Regardless of how big or small it is, there will always be a place to store especially those little loose things.
So if you are thinking of creating a small storage corner at your entrance, we want to give you some ideas, 25 to be exact, to be more original than the rest when decorating your hall.
1. Small Entrance With Sitting Area And A Shoe Storage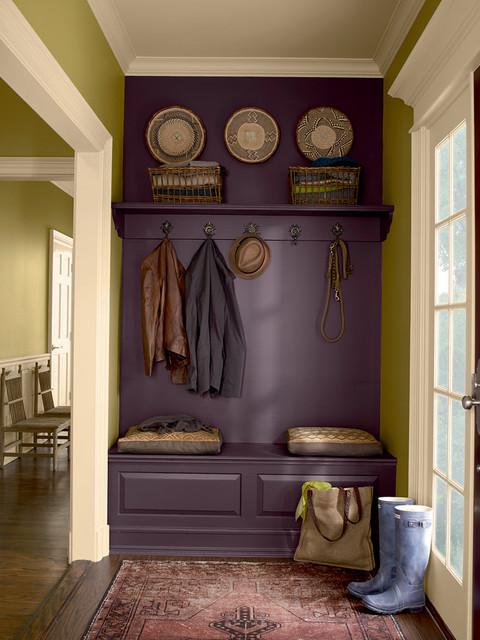 The perfect hall is very functional, but it is also cozy, beautiful, practical and with a touch of style that anticipates the style of decoration that will be found in the rest of the house. Add decorative details on the walls, furniture or closet like the one in this photo, to soften the look of the visitors. This also includes a comfortable seat that is also used to store shoes.
2. Small And Cheap Storage For The Entryway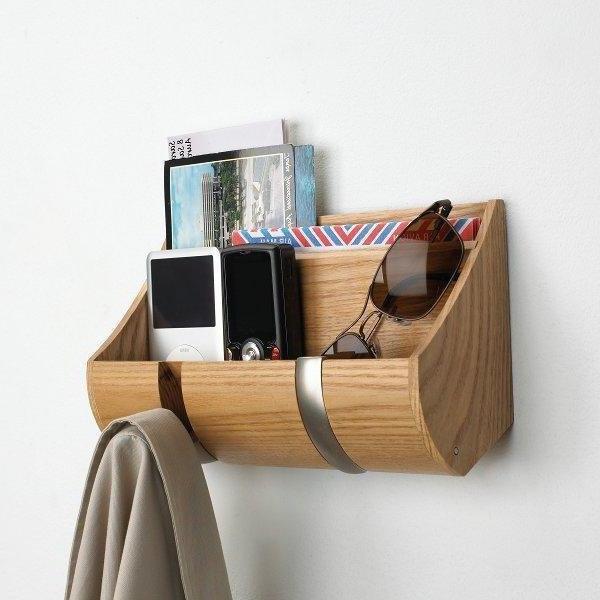 For when the small hall, installing a shelf that also includes hangers will order the essentials in a minimum space, in this case you have a double function: coat rack and shelf! Choose furniture with an original design that will give your entrance personality and help you take advantage of the space, such as this small drawer that allows you to hang your clothes while also storing things like books, the phone, keys, and many other everyday items. This product also meets great prices.
3. Large Wardrobe Long As The Wall With Accordion Doors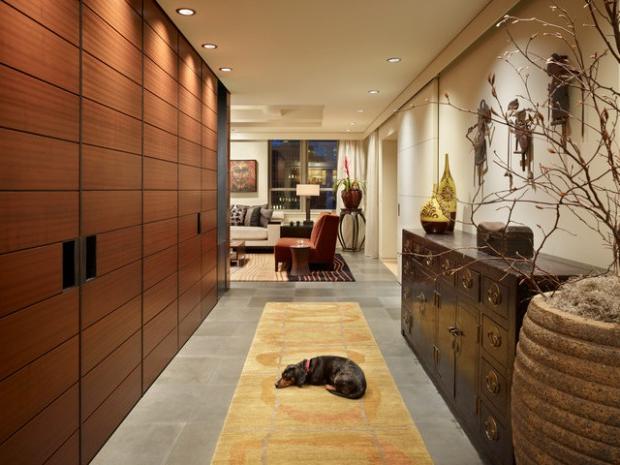 On one side of the door you can put a wardrobe in which everything is hidden thanks to its sober design that combines perfectly with the style of your house. If you have a small apartment try to put a closet that occupies the entire length of the wall to take advantage of the maximum storage space.
4. Narrow Entryway Storage Solution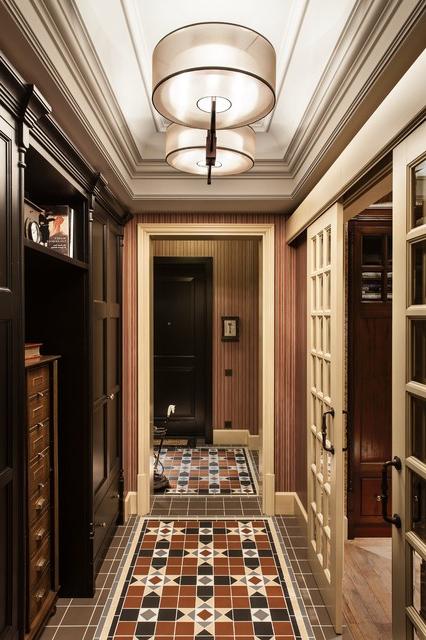 Hire parts in the entryways are another alternative to create a storage area in the entryway of our home. There are many reception furniture that are already designed to store a large number of belongings, not only in the lower part but also in the upper part, like this one that you see in the example, that having sliding doors blends very well with the decoration. In these Mezzanines you can locate baskets or small drawers in which you can hang clothes or backpacks under them thanks to their hangers and use as extra storage. a great combination of storage and decoration.
5. Creative Open Entryway Storage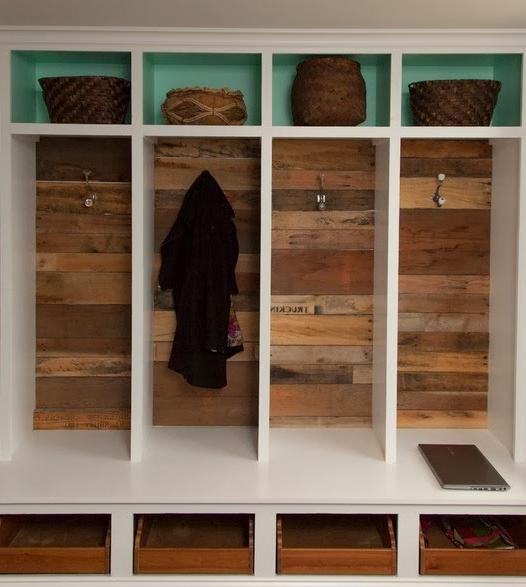 A large storage piece does not have to be a closed closet. You can use an open storage style, choosing the one that best suits your entryway. This way you will have an organized space with everything at hand and in sight as in this example that with the use of wood and natural colors makes any entryway look good. Define an area to hang your coats and daily raincoats, store shoes and umbrellas, and hide hats, scarves, dog leashes, and even clothes, to keep other rooms in the house tidier.
6. Entry Way Hanging Solution With A Long Board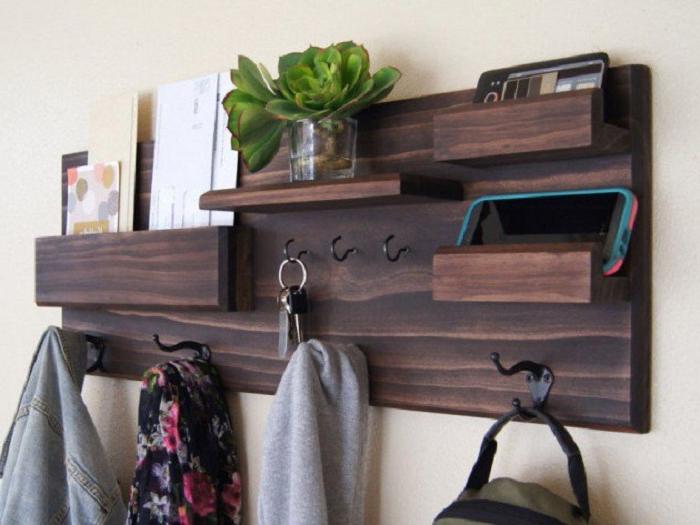 If you are one of those who continually lose the keys, don't worry, you're not alone. It is one of the objects that is usually hidden at home if it does not have an assigned place. Where better than at the entryway? Use a tray, a box or a wall keychain like the one in the image to always be sure of where your keys are. In addition this mural has large and small hooks, and even some compartments to store many other things.
7. DIY Customized Entryway Solution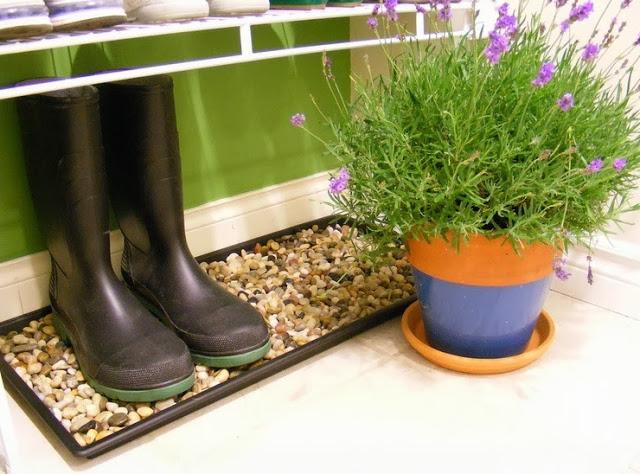 A good entryway can simplify your life. So you'll find plenty of entryway furniture to store and organize your shoes, jackets, umbrellas, and waterproof clothing. Both when leaving and entering the house, your entryway is your gateway to the world, customize it to your style as in this example.
8. Elegant Entryway Bench In Dark Wood With Weaved Baskets On Top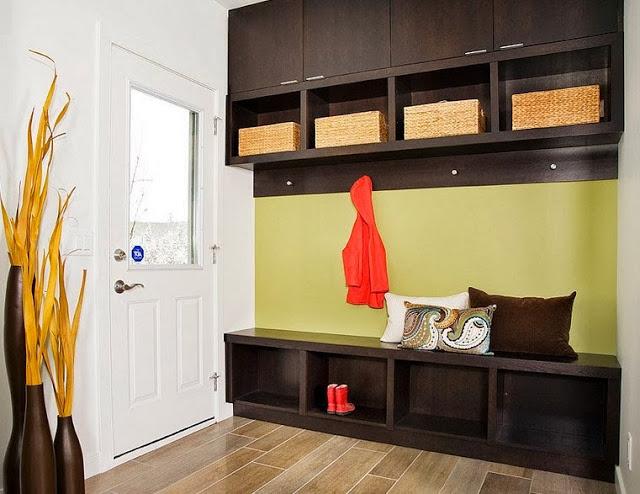 Having a seat at the entryway to your home can go a long way. It is practical to support anything we want to leave or to sit to take off our shoes. The perfect complement, in this case, is a utility bench that includes storage, either compartments, or that is open to place underneath a basket or box in which to store shoes and other things. There are all kinds of options to set up a utility bank, such as buying one or tailoring it. In this example, a custom utility bench was created that is very practical and adapted to the size and design of the space.
9.Original Coat Rack In A Entryway Storage Solution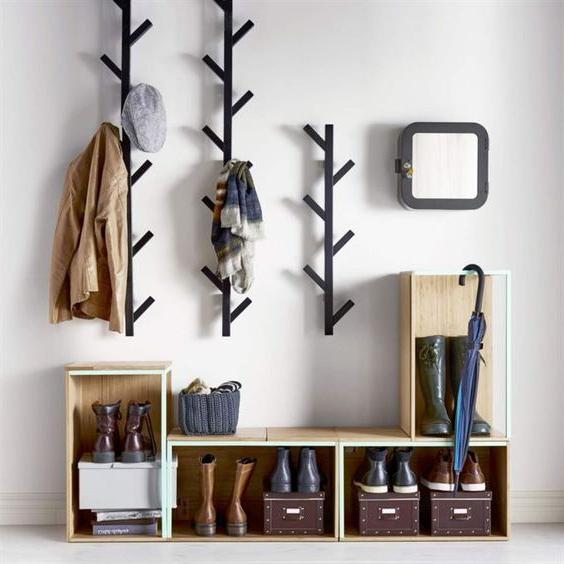 A decorative and practical classic for entryways is the coat rack. The coat stand is one of the most decorative pieces you can use in the entryway, perfect for jackets, umbrellas and other accessories for daily use. Look at this one with a modern twist that allows you to save much more than your coat. And with the lower drawers it gives room for much more.
10. Shoe Storage To Use Against The Wall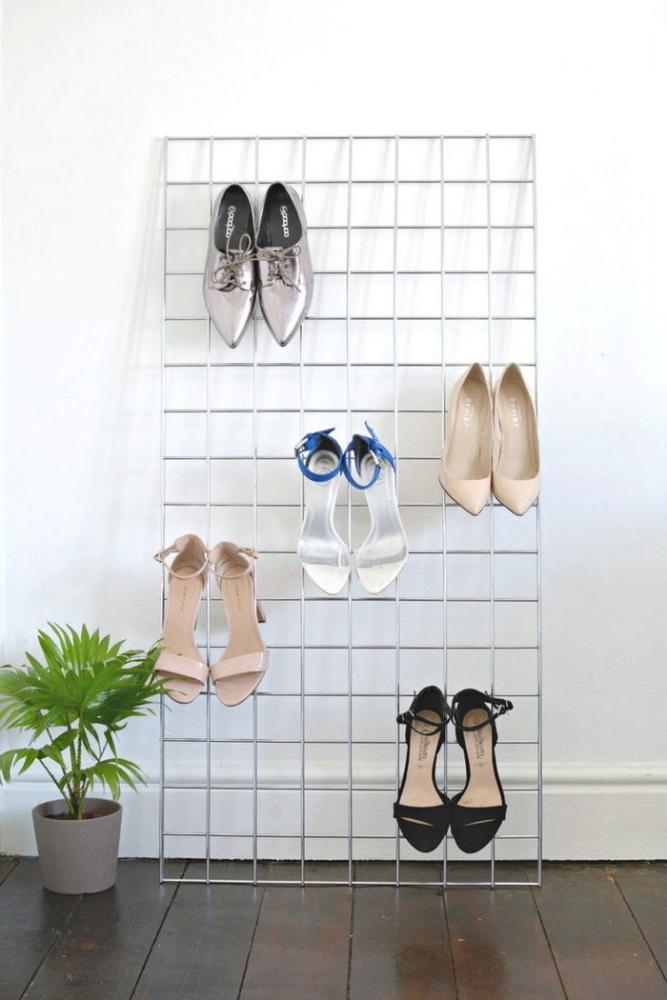 Very narrow shoe storage has a lot to use. In addition to storing your shoes, it can also serve as an auxiliary for your small personal items, such as keys or hats. And who said they take up a lot of space? Take advantage of all the space in your hall using a grid to locate your shoes!
11. Entryway Storage With Wicker Baskets And A Carpet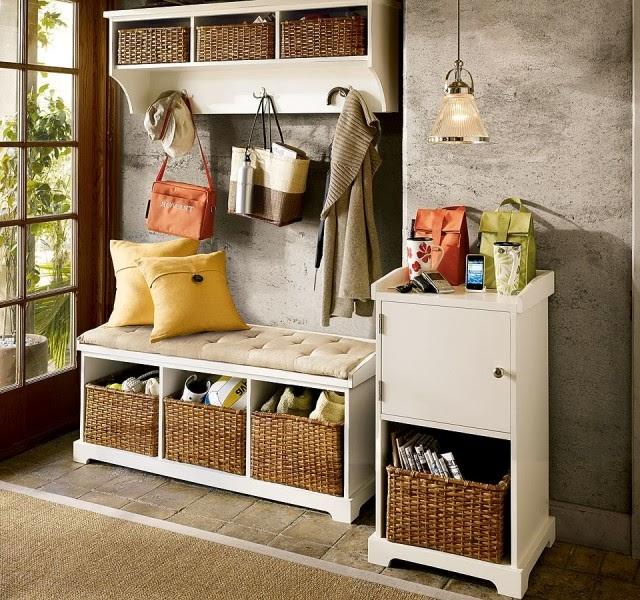 Leave the shelves that are closer at hand as spaces to keep small daily objects, such as cell phones and keys. And in the rest of the shelves you can add other objects such as books, magazines, shoes, and art objects, as well as coats and bags that you will have on hand.
On the other hand, the rugs serve to delimit the entrance area, and also to protect one of the busiest areas. Choose a resistant rug, not too big, according to the style of decoration that prevails in the rest of the house.
12. Complete Open And Closed Module Floor To Roof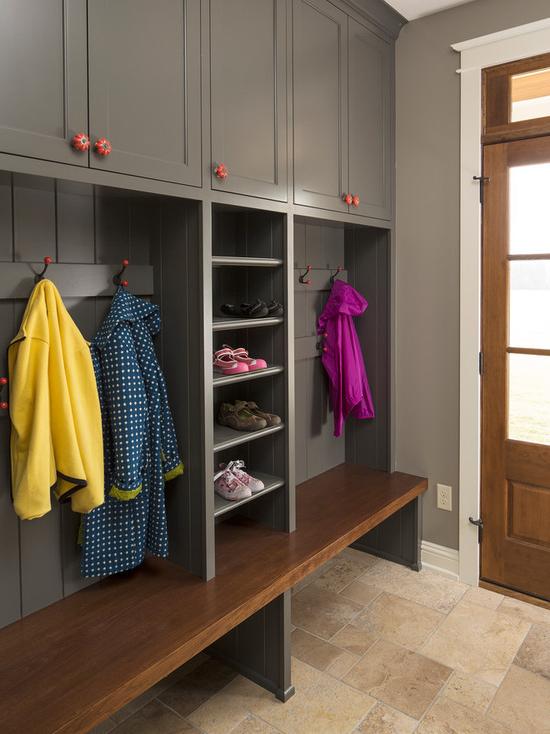 A hall with our things in sight will give a much more personal touch to the house, in addition to adding color. We can use shelves, and furniture that combine doors to keep more private things out of sight or that are more messy and less presentable, as in this example that shows us a wardrobe with open and closed parts.
13. Colorful And Vivid Entryway With Organizers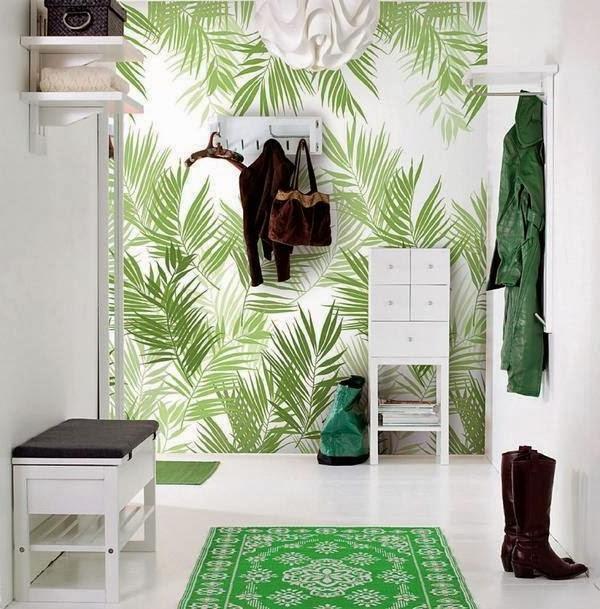 Since the entryways are almost always small areas in the house, it is better to opt for light colors when painting the space. white will always be a good color to visually enlarge small spaces, in addition to bringing lots of light and clarity to the room. In this case, it was combined with beautiful green details that go from the large wallpaper on one of the walls of the room, imitating palm leaves that connect you with nature; even the central tapestry and the entrance mat, in addition to a bag that enhances a room that, except for these details, is completely white. Different organizers vary in sizes and compartments, but their depth is the same in all cases. There are also various hooks to make better use of the overall space.
14. Wood Multi Purpose Shelf With Storage For The Entry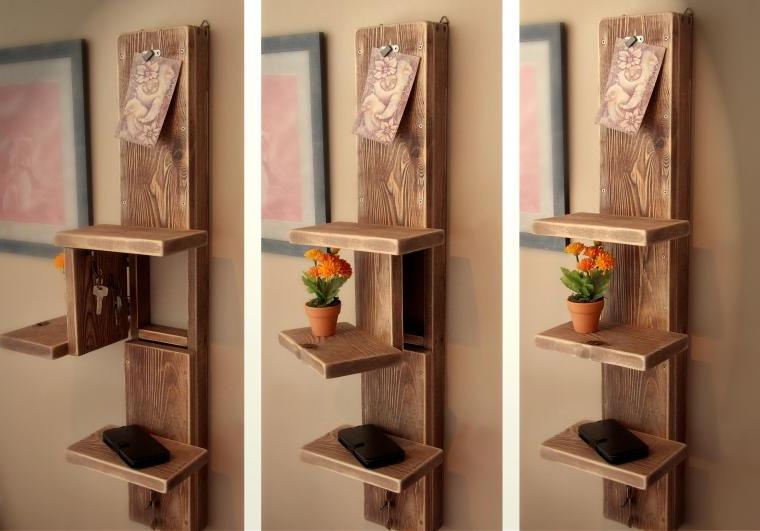 This is a bookshelf that in addition to having a very beautiful design that includes a great color, wood for a rustic look and a very attractive vertical design, it is also multi-purpose and multi-use. On this shelf, the various levels can be moved voluntarily to uncover small compartments to keep keys, glasses, and other very small objects. It is also compact, so it will take up little space in the hall to be small.
15. Entryway Wooden Storage Bench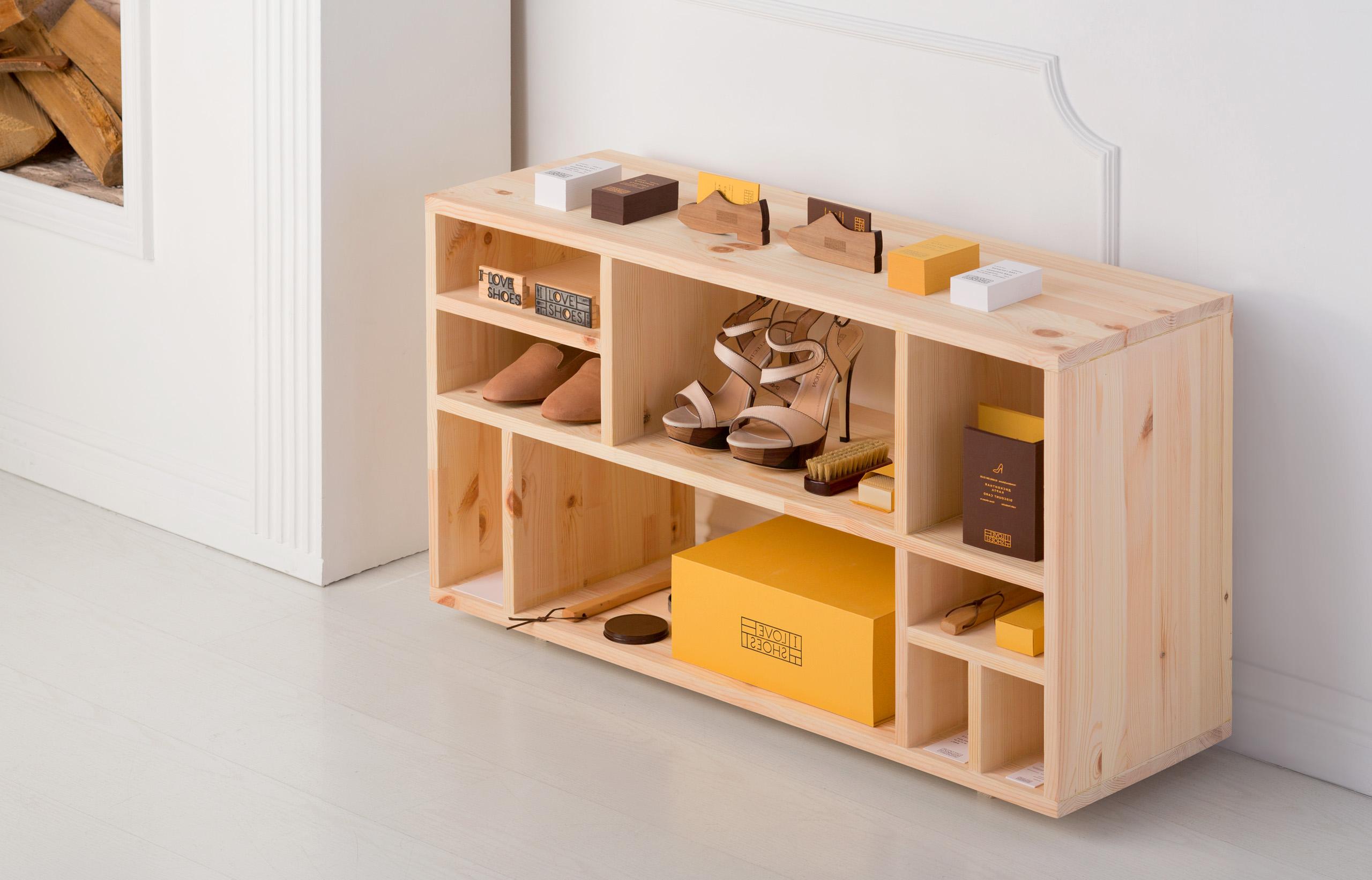 There are many types of storage furniture for your entryway. There are many in diversity of colors, prices, styles, materials, compartments, depths and much more, but something that does not stop being requested in many homes is wooden furniture. In the case of this small bench, it is wonderful because it is very narrow so it will take up almost no space in your entryway. In addition, it has many compartments in which you can store shoes, books, keys, and some other things. A bank like this can be found at low prices in thrift stores.
16. Recreational Entryway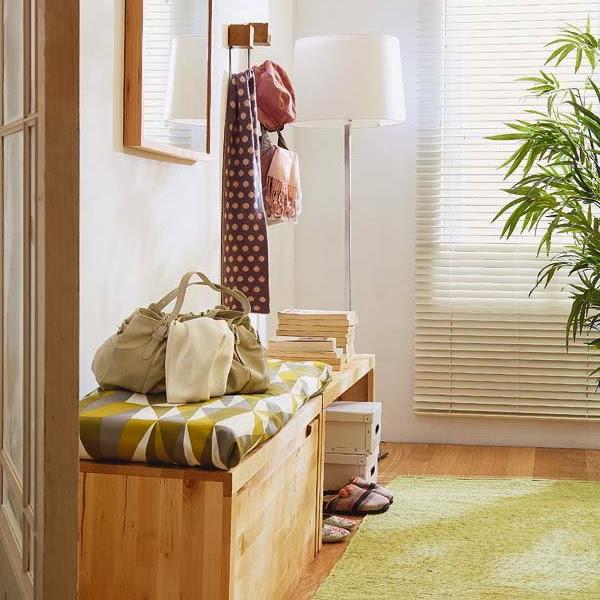 One of the most common mistakes made in hallways has to do with neglecting lighting. In addition to the one on the ceiling, try to incorporate an extra point of light with a floor, table or pendant lamp. The luminosity of this hall allows it, in addition to being a beautiful and bright hall, to be an ideal area for when you should expect to be received.
17. Long, Open Storage With Shoe Baskets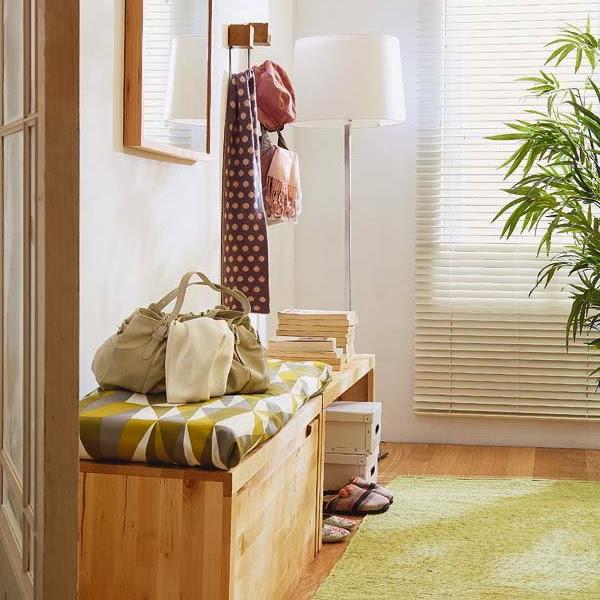 A wonderful option for small hallways is to install a closet in your entryway. You will take advantage of it because you can store objects of all types and sizes such as umbrellas, large coats and many other things while maintaining an appearance of absolute order. In this example you see a slim but spacious storage that takes up minimal space and stores lots of things, like shoes in the baskets that are located at the bottom.
18. Storage For A Small Hallway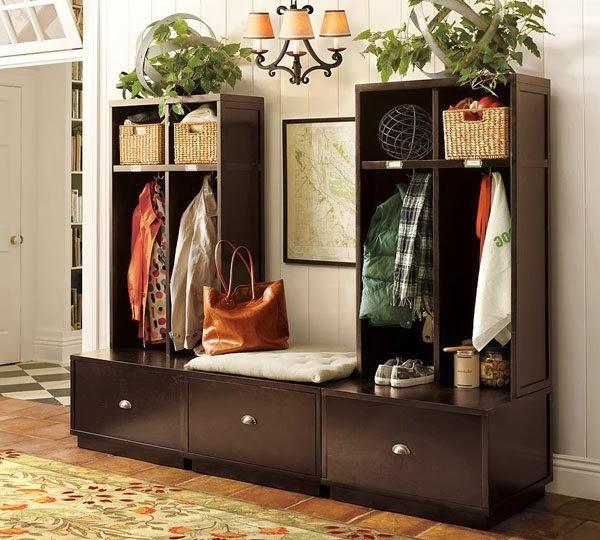 Keys, coins, purses … if there are many things to keep, try to choose a piece of furniture with drawers or shelves, in which to organize all kinds of odds and ends: papers, tablets or mobile chargers, which can go in pretty boxes. In this example you can see a piece of furniture that does not take up much space but that nevertheless can accommodate many things thanks to the open spaces, the drawers and the boxes.
19. Many Storage Solutions In A Small Hallway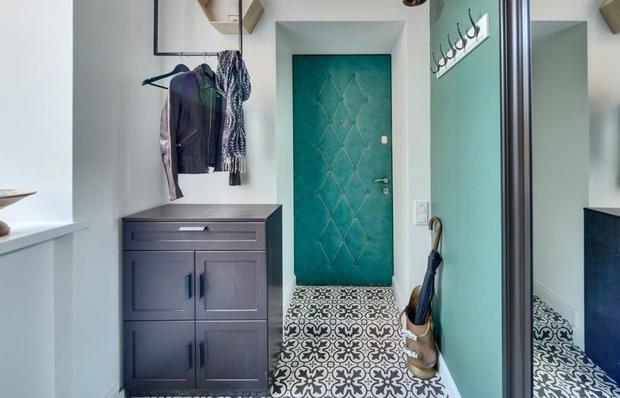 If your entryway is small and also narrow in the form of an L like this, then use an example of the wonderful ideas that were carried out to make the most of the space in this small room without losing style or good taste, and without crowding it of things. Notice how there are hooks located in various places in the space, including the highest part of the long wall to locate coats or scarves, and many others just above a small piece of furniture to store. In addition to this, the use of light, soft and relaxed colors to improve the appearance of the space.
20. Rustic Storage For An Entryway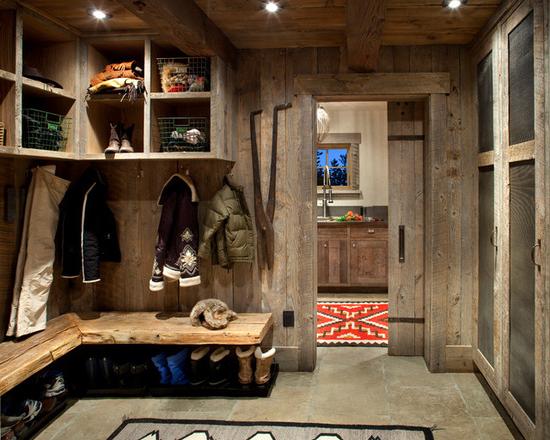 Take advantage of any corner to gain storage. Regardless if you have a modern house, or a rustic one like this, you can create a lot of space to store. If you have a bench at the entryway to take off your shoes, look for baskets that fit in the space below. In addition to being decorative, they will be very practical to store hats, scarves or children's skates without hindering the entryway.
21. Unique Storage Bench For An Entryway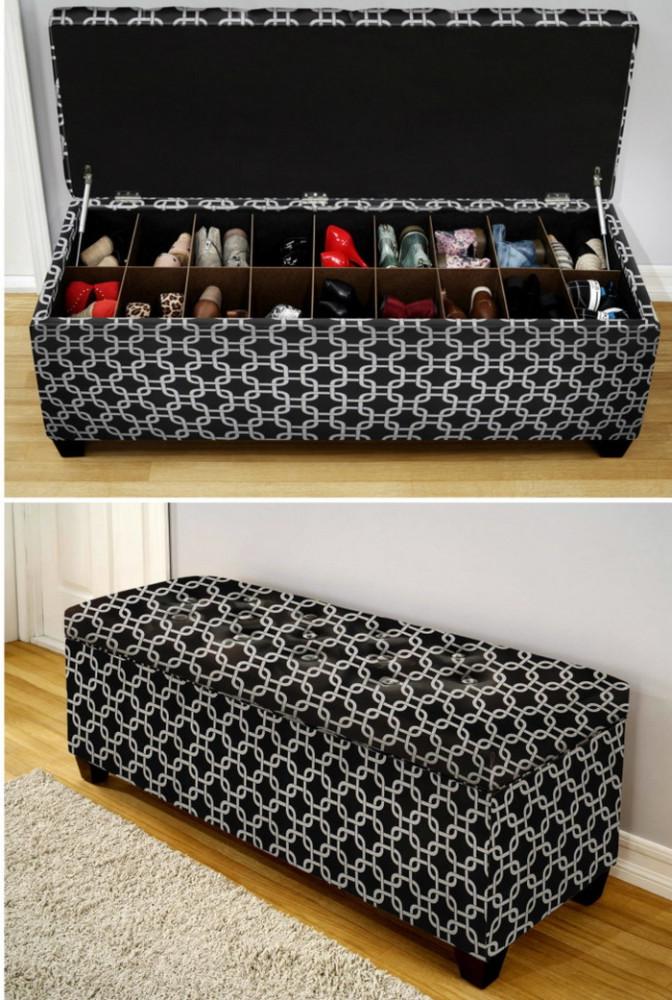 A multifunctional bench to sit on and take off your shoes can also have an internal side for storage specially designed for small spaces. It is ideal to leave your shoes, backpacks, bags, scarves, and that your entryway continues just as tidy. And it can also be very stylish like in this example.
22. Pretty Entryway Storage Solution With Upper Shelf For Baskets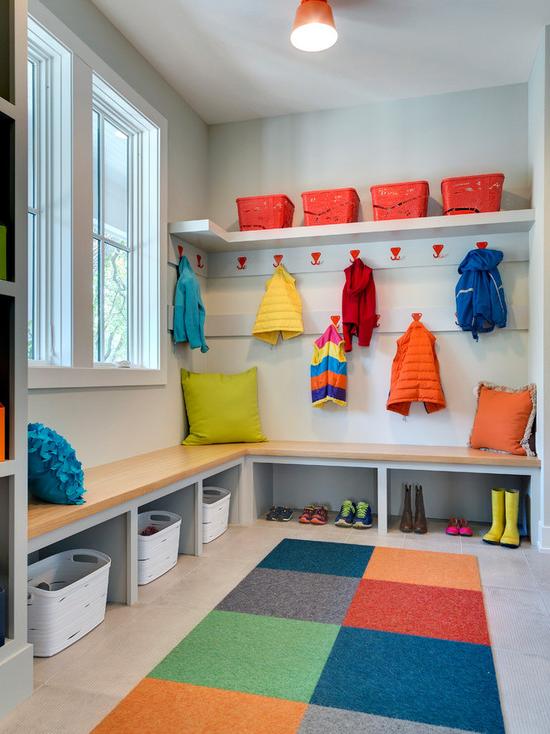 A multifunctional bench is perfect, not only to decorate but also to sit, take off your shoes and even store things. It has an upper shelf to locate baskets that allow you to have everything in order, as well as a lower part to store your shoes, backpacks, bags, sports bags and much more, as in this example in which the bank It also helps to store shoes in compartments and some plastic baskets for smaller things.
23. Storage Solutions Using The Walls And Doors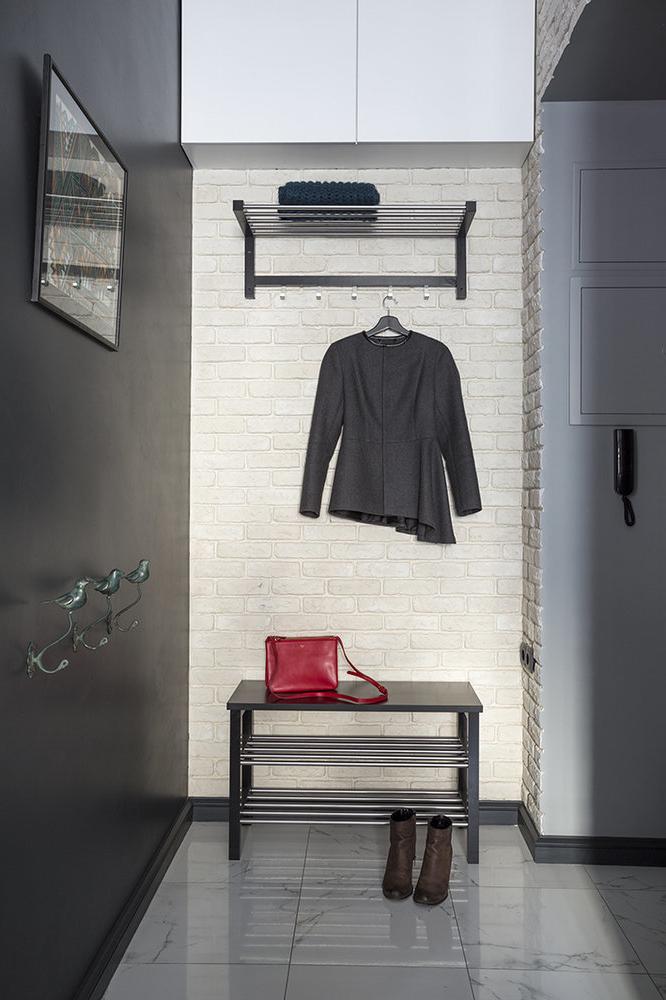 When your entryway is small, the best thing you can do is make the most of every available corner, and the best way to do it is by placing various elements that help you increase your storage capacity. The hooks are ideal for the entryways since they allow you to put coats, sweaters, umbrellas, scarves or hats taking up a minimum of space. Hanging bars are also a great help in increasing storage in these spaces. In addition to this space, a narrow bench is added that serves to take off your shoes, wait for your ride, etc.
24. Entryway With Vintage Style In Decoration And Storage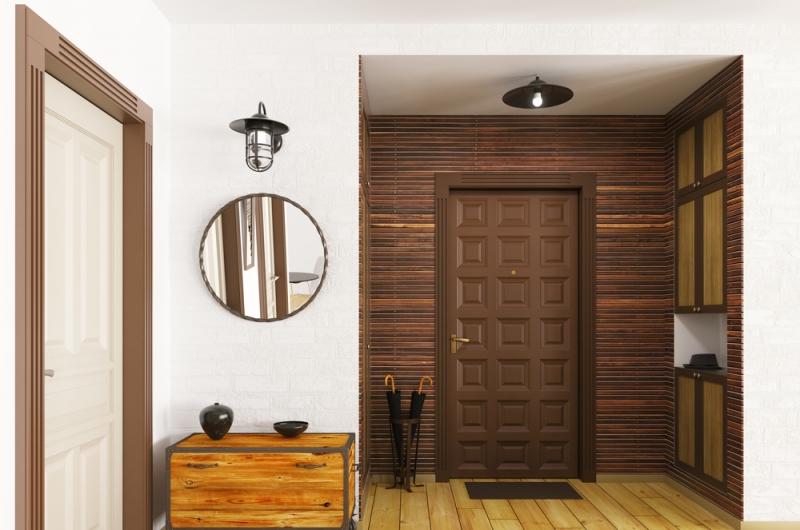 Vintage style is still the favorite, not only among older people, but among younger people who also enjoy the style and glamor of yesterdays. This beautiful entryway has a very retro look with earth colors and the wide use of the wood. In addition, the decorative elements such as the mirror and lamps are also very retro styled. The recessed wall shelf allows more storage space to be created while unnoticed by visitors.
25. Tall Wardrobe With A Ladder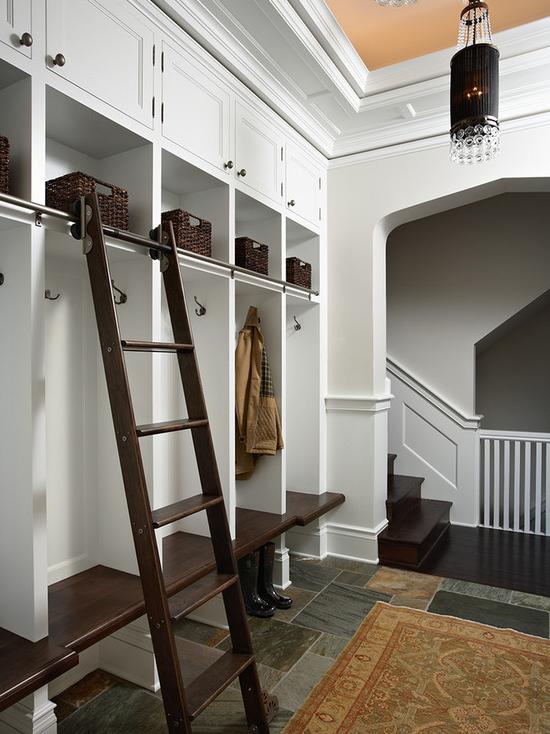 Adding some hooks to the inside of your entryway closet will give you extra space to store small things, such as a scarf, keys, or a lucky pendant that you don't know how to leave the house without. In this example the closet reaches the ceiling, so she added a stair rail that will allow you to reach everything.
Conclusion
Coats, jackets, shoes, bags, keys, letters … there are many things that accumulate in the entryway for which, at best, we usually think of a place to keep them tidy. However, perhaps our entryway can get more out of it and turn it into a real storage place at the same time as the cover letter of our house.
If there is a space in the house that deserves a prominent place in the list of organization and decoration priorities, it is the entryway. No matter its size, small or large, however it is important to define your style well, since it is here that the tone of the entire house is determined.
If you create the perfect entryway, this humble space is capable of lifting your spirits when you return from work As long as you keep it tidy and clean.
So we give you some additional tips that you can use if these examples were not enough:
Cover the natural wood flooring or with micro cement, add a wool mat, place some baskets of natural fibers, add a plant and a lamp that has warm, indirect and yellow light. Floor lamps are perfect, although you can also install a group of bare bulbs.
If you usually use the bicycle in your day to day, you can store it in an easily accessible place such as the entryway. Create a system to hang the bicycle or buy a shelf that does not clash with the decoration of your house. In addition, you avoid getting dirt from the wheels into your house.
A narrow shelf can be very versatile, both for open storage and for boxes or shoes. If you install it high, below you can put a bar and hooks to hang coats. There are narrow solutions that are perfect for small hallways that are no larger than 4 inches. In a little space you can leave the letters, keys and coins without problem.
One of the essentials of any entryway is a floor or wall mirror, which helps you multiply the feeling of light and space. If it also offers you some extra storage, it will become the most practical piece of the room.
• Natural fiber baskets are a trend. In addition to decorating, they become storage solutions in any corner: the hall, the living room, the bedroom, the bathroom.
A great way to decorate is with books. Take advantage of the entrance and part of the hallway to hang shelves to store your books, that way you free up some room in your house, where you can put other things.
Had you ever thought, that we can put those shelves and furniture that do not fit in the living room in the entryway? Nor does it consist of stuffing them with things, but we can combine them with some adornment that embellishes the whole.
a shoe storage is an easy resource with double function. You have enough storage to leave your shoes at the entryway of the house and you can also use the upper shelf as a key holder, telephone, etc. Today, in many stores you can find similar models at a very good price. It's a matter of looking for it or creating one to suit you.
Depending on the natural light that the entrance gets, you can place the occasional resistant plant that adds a fresh and decorative touch to the room.
For both the right and left walls, choose furniture that harmonizes with the style of your home. Take the opportunity to bring out your most daring side, it is an area that you use little, with which you can afford the luxury of taking risks with colors, prints and designs. You won't get tired of it and make a great first impression.
Another essential is the personal details: prints, paintings, your craft creations, photographs, small sculptures … Don't fall into the mistake of converting the entrance, it is an aseptic place without personality. It will be the first thing you see, and see your visits, when you get home!
And remember that less is more. Do not overload the space of decorations and other objects, and keep in the closet or in baskets, that which does not have an aesthetic function.