Wells are a beautiful relic of times past that we associate with farms or little rural cottages. If you are lucky enough you could live in a house that already has one of these little structures hidden at the back of the garden where previous owners used to visit daily to fetch water for the household. If you aren't so fortunate however you can actually purchase decorative well houses to place in your garden and imbue it with a feeling of homely nostalgia.
30 Amazing Rustic Well Houses Decorating Ideas

The general blue print for these little structures are a big sturdy base made of brick or timber covered by a small pitched roof and outfitted with some kind of turning mechanism that lowers a bucket down the shaft to the water below. Whether they are functional or not these are the key factors that all old vintage wells or those that are built to resemble them feature.
So if you have a soft spot for anything rustic and nostalgic and like to indulge in reminiscing about the past here are:
1. Fairytale Garden Well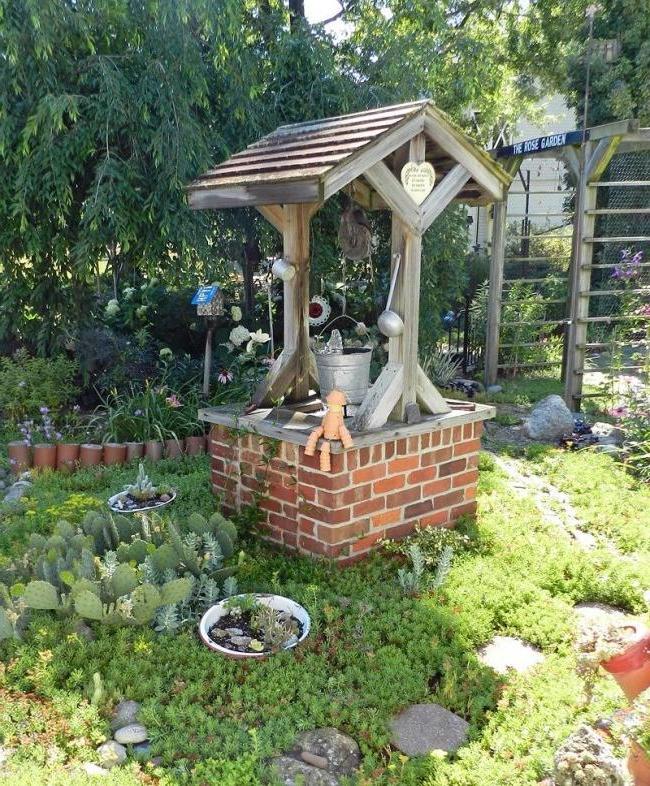 This little fairytale garden is outfitted with a traditional red brick well house with timber covering and trapdoor. This is topped by a tiled roof held up by a beautiful framework made of weathered timber that splits into three at the top and bottom, which is strong and very elegant. A simple design like this exhibits how to manipulate a lot of little details to make the design a little more quirky and interesting. The idyllic little spot is accessed via a quaint little stone path surrounded by ground cover that leads you from the house.
2. Red Brick And Timber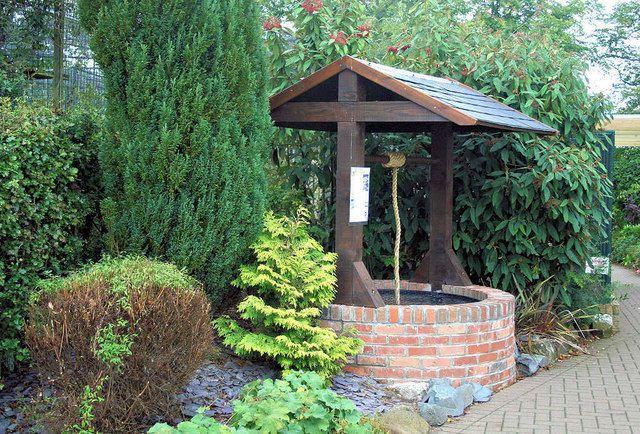 This little well is a beautiful feature nestled amongst the greenery for you to discover as you walk down the path. The round red brick well wall is covered by a classic pitched roof, complete with timber roof tiles, sitting on cross-shaped supports on either side. This working well has a manually wound crank system that lowers the bucket down on a thick rope.
3. Conical Rural Well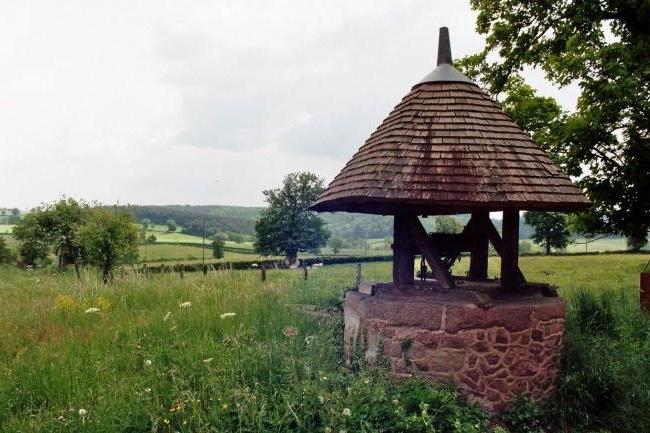 This idyllic scene has been created by this vintage well sitting in a gorgeous meadow full of wild flowers with a view of the rolling hills beyond. A chunky timber frame that has the mechanism for raising the bucket built into its weighty form holds up the original conical roof covered in wooden roof tiles. The wall itself has been constructed from rough natural stone that is likely sourced from the surrounding countryside, which is common for the time period it was built in. This is a perfect example of how a utilitarian object can be uplifted by a stunning view.
4. Tall Timber Well House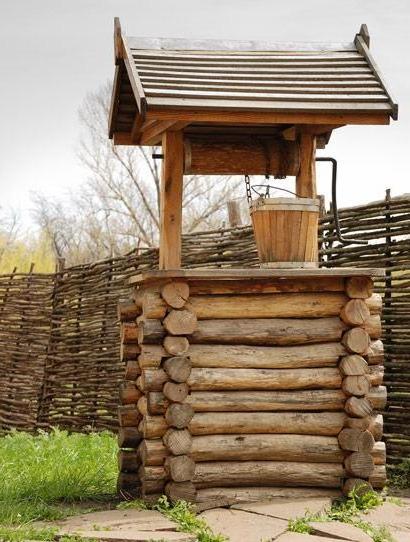 Brick and stone are not the only materials that a well can be made of, which is proven succinctly by this completely timber structure. The whole structure is made of interlocking timber logs in a log cabin style construction that is taller than expected so you don't need to bend to pick up the heavy bucket and potentially throw your back out. The stacked log base is paired with a pitched timber roof and even a timber bucket that is hung on a metal chain and lowered with an iron handle. This whole timber structure has been specialty treated with stains and sealant to withstand its exposure to water and being outdoors.
5. Classic Well With Timber Crank Mechanism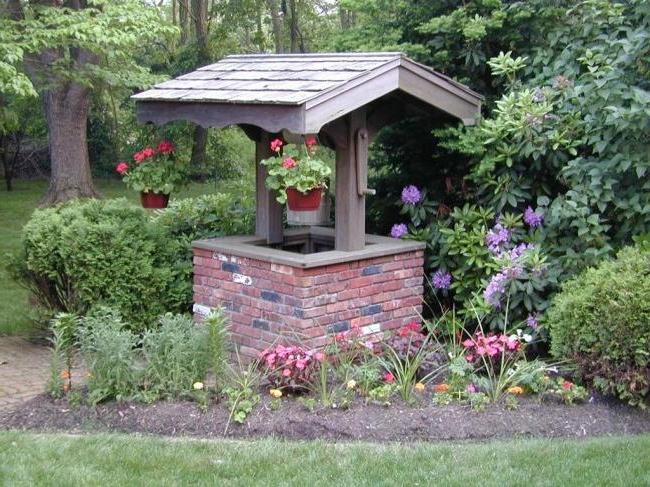 Nestled amongst the garden, taken over by bushes this quaint little well hides at the bottom of the garden reached by a little pathway that deviates from the main walkway. The structure has been decorated with hanging plant pots filled with bright flowers to make it one with the garden. The square well has been rendered in the classic style we have come to know and love with brick base and timber pitched roof. The timber frame, lip and crank mechanism have all been painted in a warm grey to tie them together.
6. Supremely Rustic Well House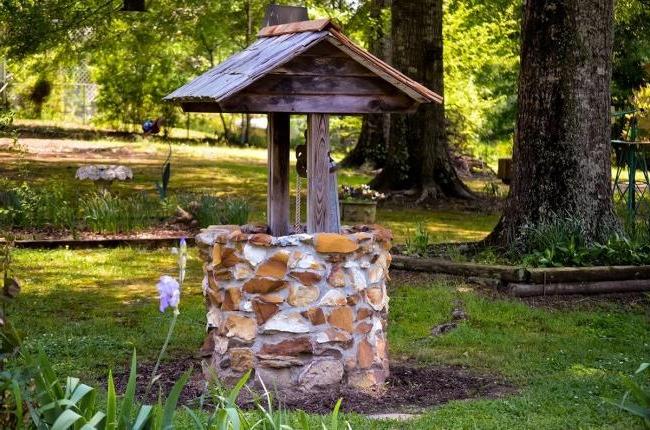 Set within a gargantuan garden lined by tall trees this rustic well appears to have been sitting here for decades. The round stone well house wall is made of natural stone and very weathered timber, greyed with age and contact with the elements. No effort has been made to smooth the edges of the stone and make them more even, which results in a distinctive look that rustic and true to its stunning natural materials.
7. Historical Wishing Well
This delightful old well sitting within this public space is a historical feature that has been revamped into a wishing well. A little bullet board of information has been fitting under the intricately pitched roof to provide visitors with historical information and encouragement to throw a coin into the water to make a wish and donate to charity at the same time. The detailed ribbed pitched roof design is covered in moss covered tiles held up by thick flaring posts. The grey stone base is constructed from the same stone as the surrounding buildings with circular walkway running around it to encourage visitors to take it all in.
8. Chunky Timber Log Well House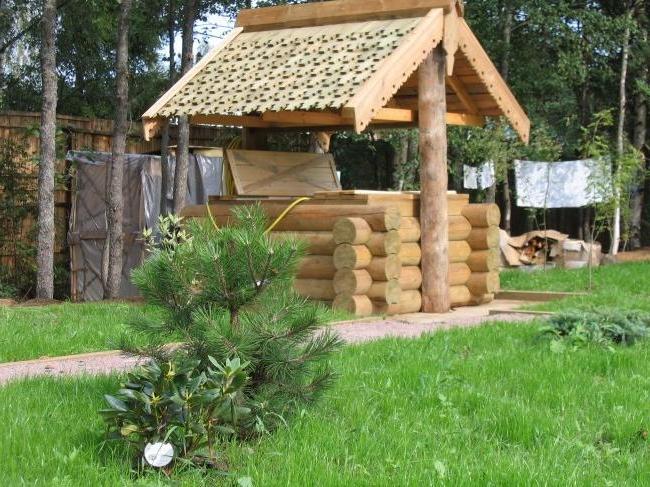 In a similar style to example 4 this large well house has been built out of chunky interlocking timber logs that form an imposing base. The substantial roof structure is held up by two thick timber logs with their bark removed and the raw trunk treated to make it weather proof. The intricate little roof tiles, however, break up the heavy feeling with their rich pattern and soft green hue. The large opening is concealed by a cleverly hinged cover that folds away on either side to prevent debris from blowing into the water.
9. Original Timber And Wrought Iron Well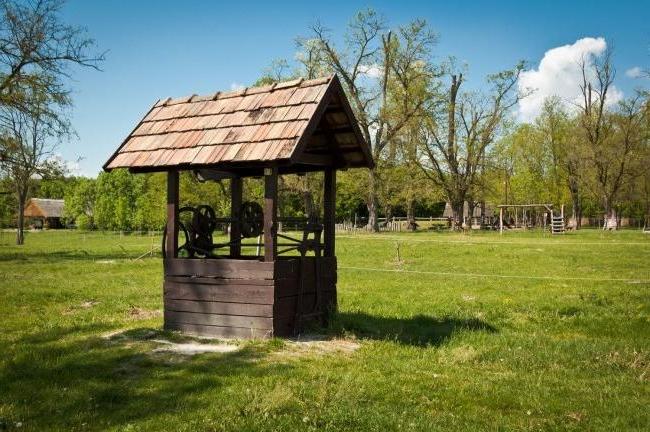 This little farmyard well is a more lightweight, slim line version of the wells we've seen previously. The rectangular well house is enveloped in dark timber boards with thin posts in the same timber holding up the supremely weathered thin timber roof tiles in a lighter shade. The mechanism to bring the bucket up is made of a complex system of gears and pulleys made of wrought iron that won't rust in contact with water.
10. Rural Stone Well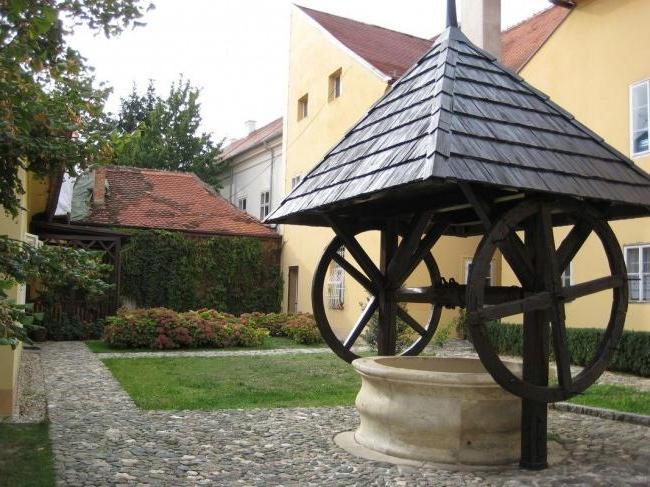 This unique well is an example of a structure that separates the well wall from the roof structure. The round stone base bulges at the centre flaring into lips at the top and bottom, which adds a light sculptural quality to the wall. Two thick beams that sit on either side of the white stone bowl hold aloft the classic pitched roof. These beams are also fitted with large vintage wheels on either side that are used to wind the bucket in an out of the well. This well's location beside this rural manor house is a very fitting addition to a house like this that has most likely been in place for centuries.
11. Log Cabin With Matching Well House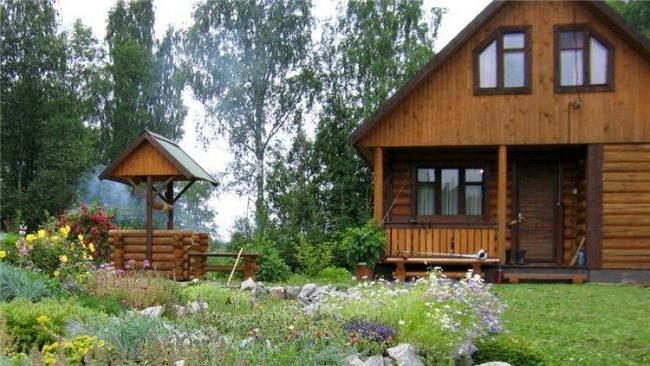 This quintessential warm timber log cabin has been built out of a combination of wood paneling and traditional stacked logs and detailed with darker timber window and doorframes. The little well house sitting beside it has been built in the same fashion. The base echoes the stacked logs of the walls with wood paneling filling in the eaves of the little roof. This little pair sitting together creates an idyllic scene within this rural setting surrounded by wild flowers.
12. Well House Engulfed In Ivy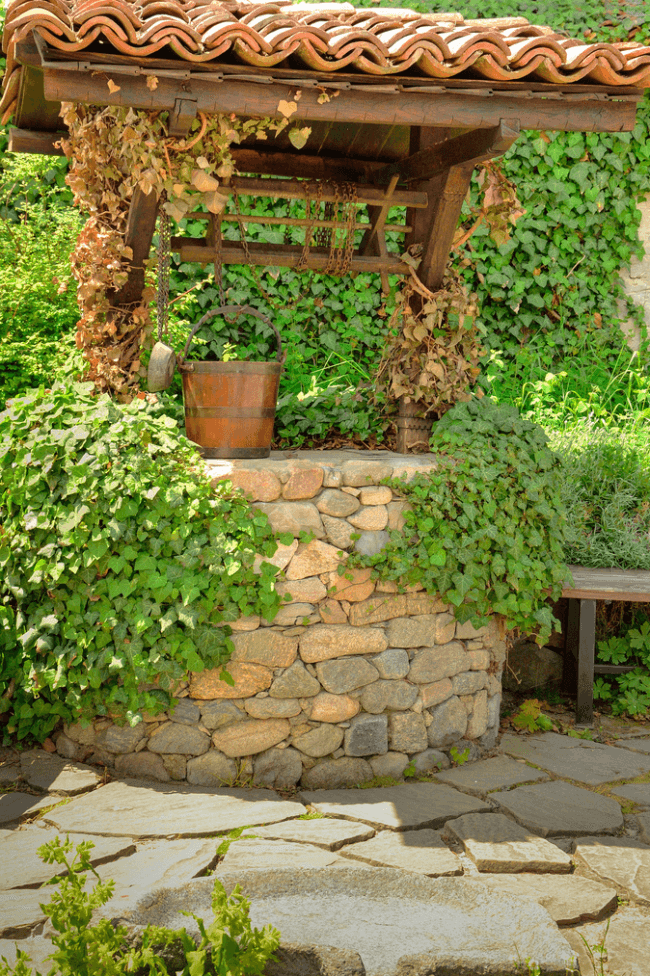 A broken up stone path leads you up to this lovely stone well house. The well wall is made of small natural stones with a timber bucket balanced on its edge. The traditional pitched roof is covered in terracotta Italian roof tiles to enforce this rural aesthetic. The wall behind it is covered in dense ivy that has crept its way around the well to finish off this picturesque scene.
13. Pale Timber Decorative Well House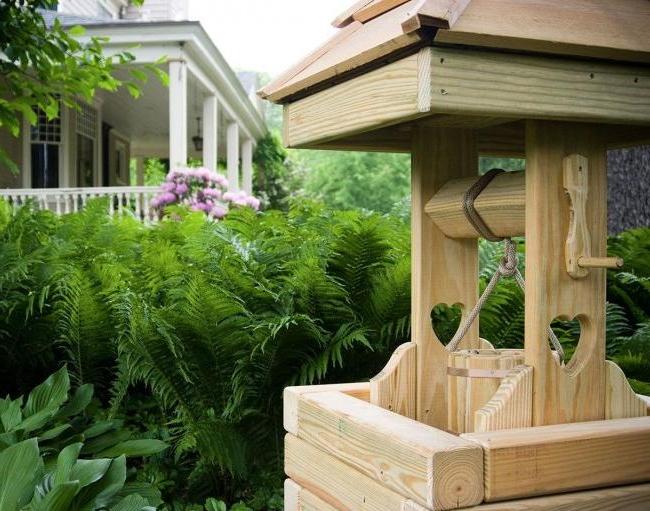 If you don't actually have a well on your property, which is rarity, you can still achieve this nostalgic aesthetic with a readymade imitation. This whole structure is made of the same pale timber with a chunky square beam base. But what really sells this piece of garden sculpture are the little details that makes it feel real. The details include the cute little heart cut outs, the carved timber crank handle and the hanging wooden bucket at its centre.
14. Little Retro Well House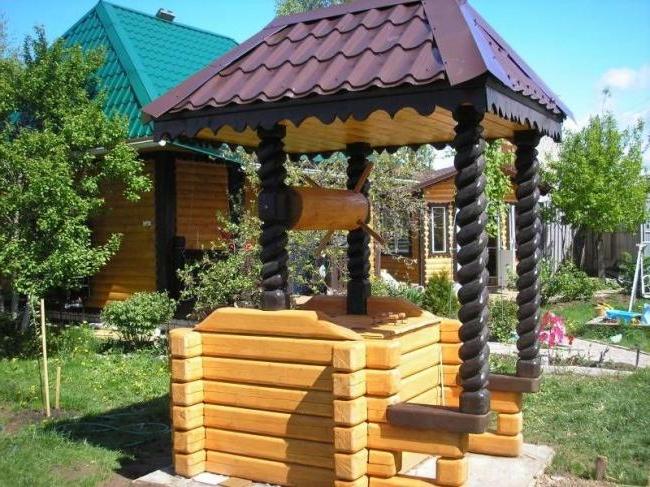 This very bright and polished well house is rustic but manages to fit into its suburban setting effortlessly. The walls are made of yellow stained square timber interlocking logs that tie in with the house behind it. The rest of the framework is rendered in a darker timber that have been carved into twisting columns and waving fascia boards that make the structure fee whimsical and unusual. The roof supports frame the entranceway and also holds up the pulley mechanism that is hung above the closed well opening. The whole look is signed off by rippling brown metal roof sheeting.
15. Farm Style Well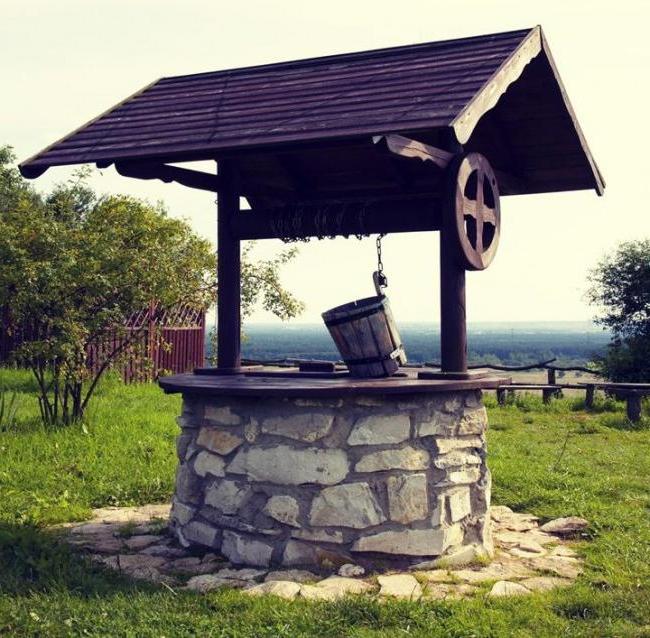 This farm well is another stunning original structure that looks out over the beautiful view with no other houses in sight, very authentic to the traditional well house. Matching paving, setting it firmly in place within the lawn, encircles the rough stone circular well wall. The tall slender roof is covered in thin timber roof tiles and held up by basic timber posts. The small details that finish off this design with a subtle flair is the wheel is decorative wooden wheel that raises and lowers the bucket, and the bucket itself, which is a traditional pail made form wood panels shackled together by wrought iron rings.
16. Original Filled In Well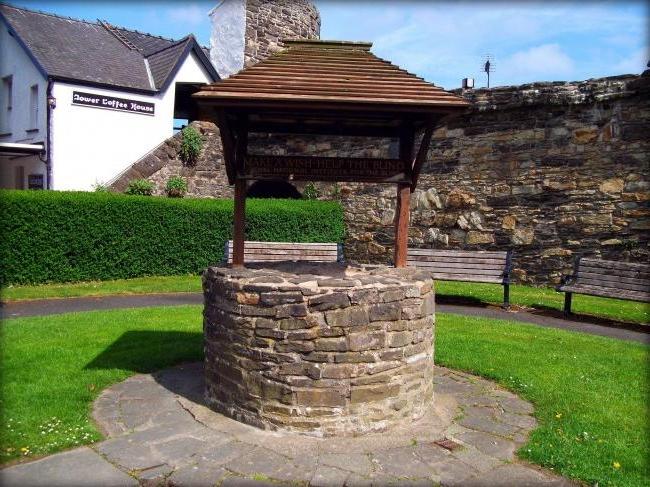 This local stone well has become a historical monument rather than useful source of water. The well was constructed from the stone as the old wall beyond and sits within a historical location tempting tourists to view it from the with weathered timber benches around the circular lawn. The pyramid roof adds another element of texture to sit alongside the stone achieved through thin timber roof tiles. The hole to the well shaft has been blocked with stone to prevent accidents or debris filling the hole.
17. Snow White's Wishing Well At Disney Land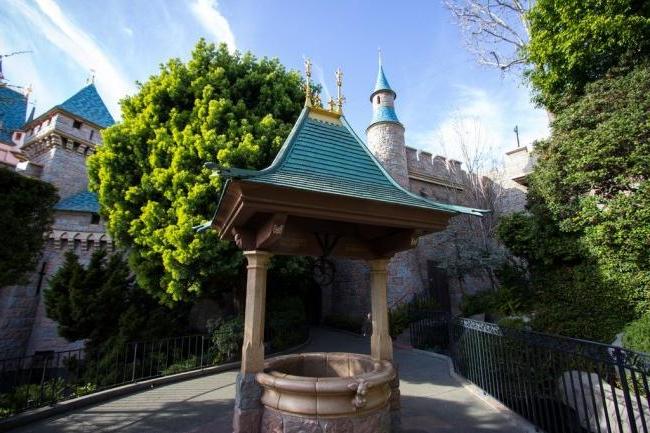 A staple of the Disneyland experience, this wishing well was designed to imitate the one that Snow White sings into in the 1937 Disney classic. The fairytale well consists of a concrete faced in faux stone topped with an intricate timber roof. The structure has gilded details from the well's lip, up the columns and on top of the steep roof. The roof tiles have been painted a bright blue to coordinate with Cinderella's iconic castle behind it. Throwing a penny into this well and making a wish has become a part of a lot of Disneyland enthusiasts' visits.
18. Rural Well House With Ship's Wheel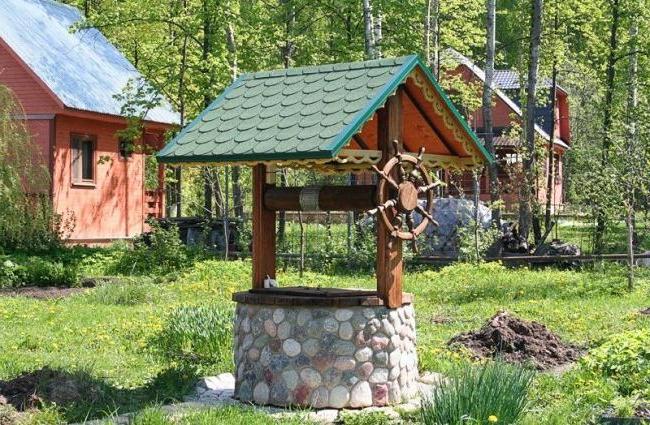 Every part of this rustic well house has been maximized to make it look as quaint and sweet as possible. The rough stone well house has been cobbled together with by beautiful round stones in various shades that create a natural mosaic across the surface. The timber framework has a ship's wheel fitted on one side as a novelty mechanism to raise the bucket. The roof itself continues this uniquely decorative style with lace like details running along the edge of the roof with cute rounded green roof tiles. This charming feature sits within a rustic rural setting with country dwellings in the background.
19. Hilltop Stone Well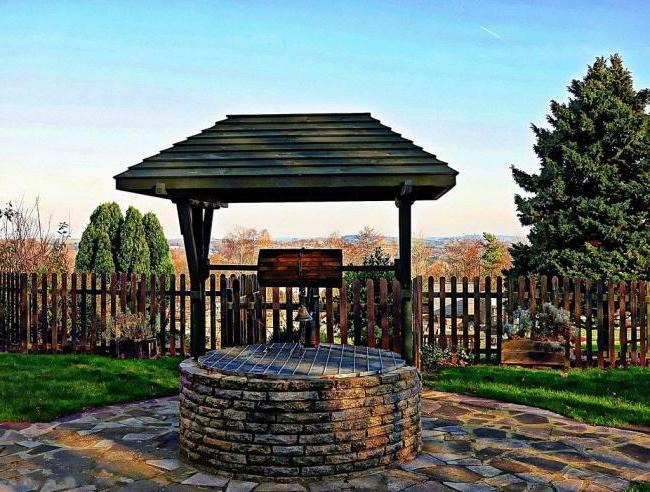 Here we have yet another appealing rustic well with a gorgeous treetop view. The round stone base has been constructed out of thin bricks surrounded by a circle of stone pavers that creates a platform to look out of the treetops beyond. The roof is a typical pitched style with timber slats stained green to blend in with the surroundings. The well shaft has been covered by a round plastic cover to prevent accidents or debris blowing into the water.
20. Stone Well House With Free Standing Roof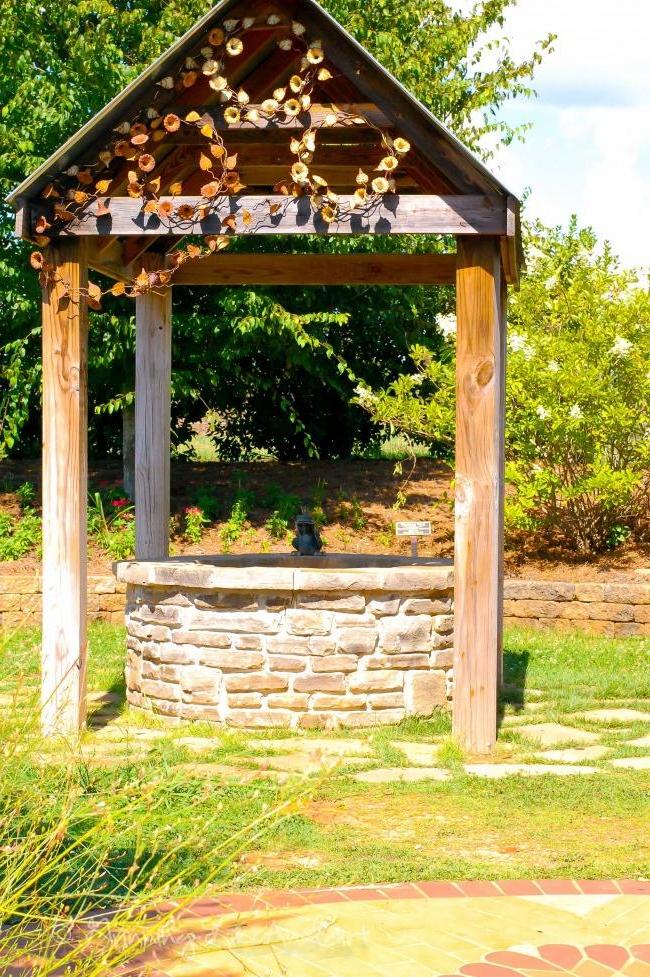 This freestanding stone wishing well has been made a feature using a tall freestanding timber frame held up by chunky timber posts. The pitch has horizontal supports across the gable end decorated with rings of woven flowers. The combination of these two is a whimsical little feature that draws guests into the garden and maybe even convinces them to make a wish.
21. Timber In All Its Beauty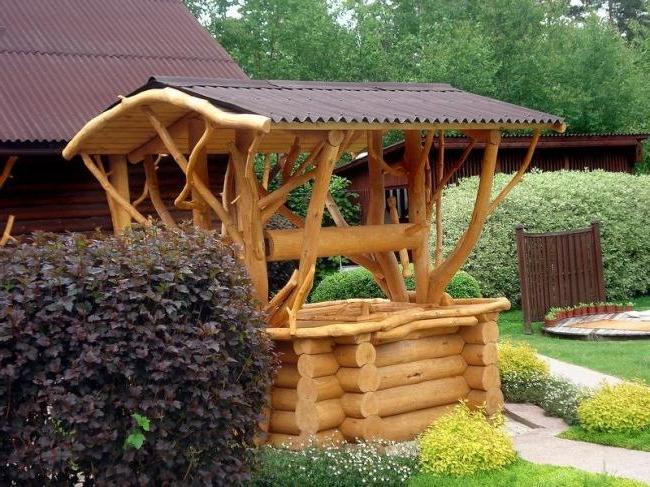 Surrounded by little flowering bushes and approached by a tiny stone path, this gorgeous timber well is a charming little discovery to make in a large garden. The base is made of the classic interlocking log design with slimmer branches defining its edges. Actual tree branches hold up the corrugated iron roof with arching branches and timber paneling supporting the slim sheeting. All the logs and branches used in this design have had their bark stripped away and stained and sealed in the same golden hue so the well house seems to be created by two trees that have twisted around each other.
22. Well Hiding Inside A House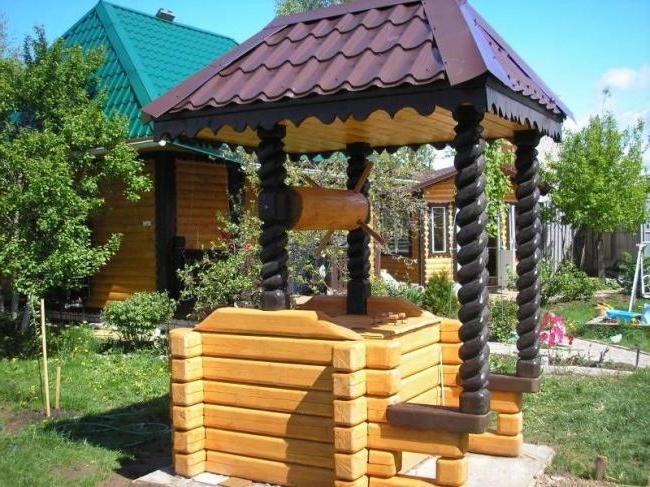 In a completely original style this well has been completely concealed inside this little miniature log cabin. The steeply sloping wood paneled roof has a hatch in one side that opens on one side to reveal the well secreted inside. This keeps leaves and other pollutants from getting into the water. A little bench has been placed outside as a place to relax outdoors beside the optical illusion of a tiny log cabin.
23. Large Well Pergola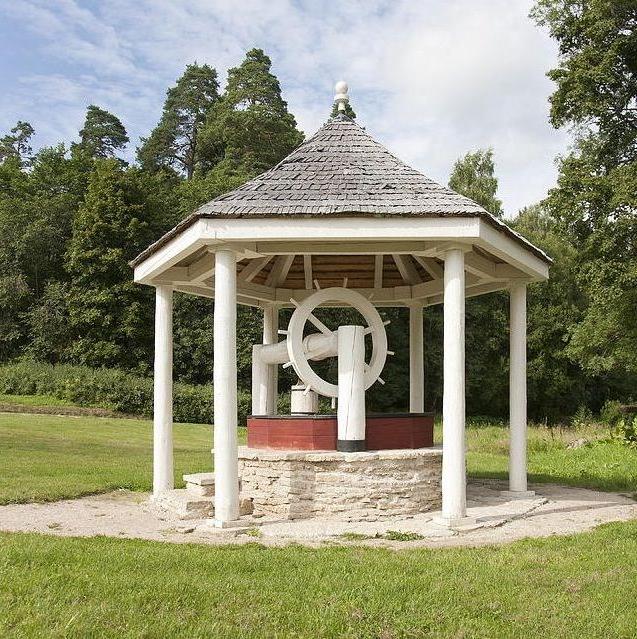 This free standing well has a low white stone wall that makes it look unassuming especially in comparison to the rest of the structure that has been sized up for dramatic effect. The turning mechanism is a large timber wheel rendered in white and secured in place by a chunky timber framework that spans across the well's opening. This whole peculiarity is framed by a hexagonal freestanding roof structure held up by white columns with beautifully textured slate tiles.
24. Trap Door Covered Well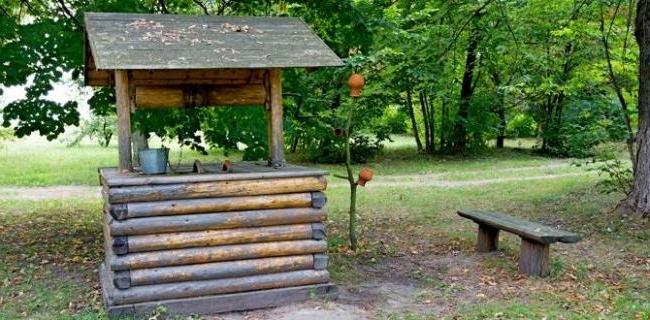 In a thinner iteration of the log cabin style wells we have seen previously, this well house is constructed from slim logs interlocked to form a strong rectangular base. The well is covered in wood paneling with a trap door at the centre that the little bucket on a chain that can be lowered in when you open it via the metal handles. The roof structure sits on chunky wooden logs topped by slim timber roof sheeting.
25. An Amalgamation Of Materials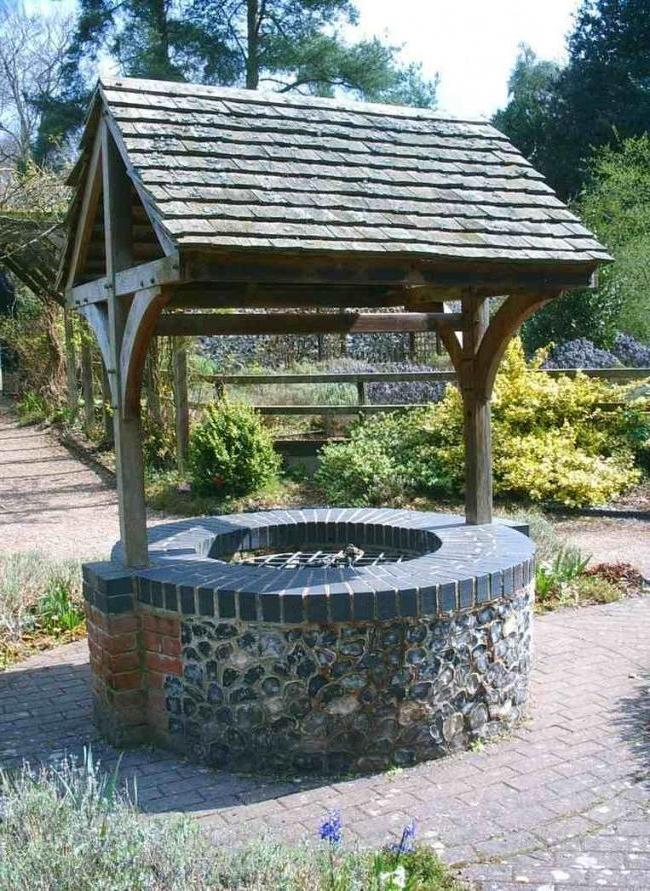 The beautiful botanical garden well is a perfect amalgamation of materials that come together in one beautiful structure. A ring of black bricks tops the round stone base with the well shaft covered with a wrought iron circular grate for safety. This rocky base holds up a diamond shaped timber framework with a wooden tiled roof.
26. Hexagonal Well In A Rural Setting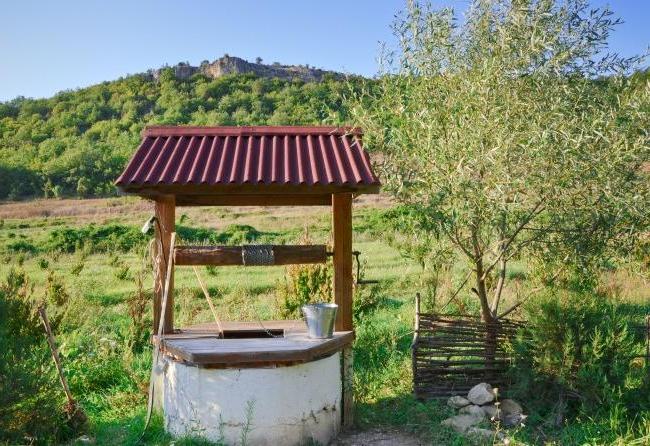 Sitting on its own in a rugged field, this beautiful well screams farmhouse rustic. The white hexagonal base has a custom timber cover with a small square hole cut in the centre. A small galvanised steel bucket fits neatly into the hole which is lowered via a chain wrapped around a hollowed out log that forms the turning mechanism with a wrought iron handle. The rustic look is finished off with a red corrugated iron roof in a quintessentially rural style.
27. Decorative Timber Well House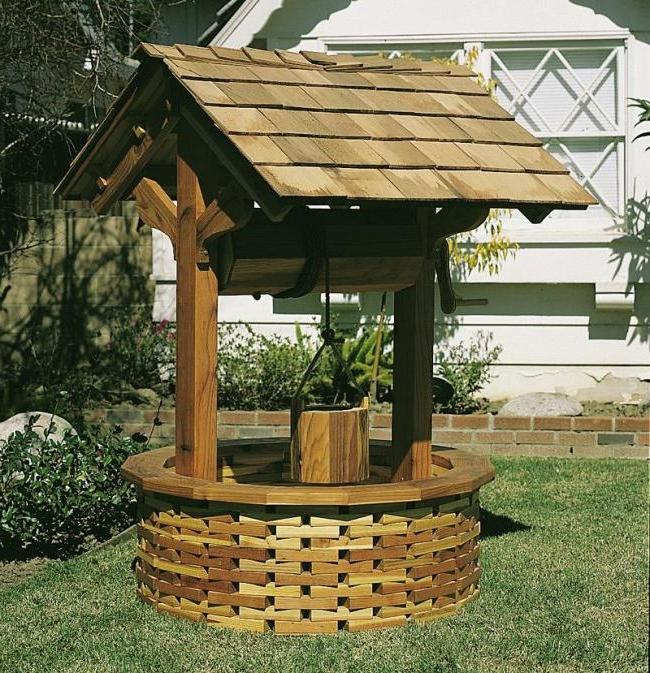 This beautiful timber well is a decorative item for your garden to look rustic and whimsical without boring a hole through your lawn. The walls are constructed out of jenga style timber slats with gaps between, which creates a gorgeous organic pattern. The timber bucket is hanging on a round pulley system that is fully function, which could be fun for children to play with in the garden. The rest of the timber framework and the wooden roof tiles are all stained to match the rest of the structure for a seamlessly cohesive design.
28. Red Wood And Yellow Lacework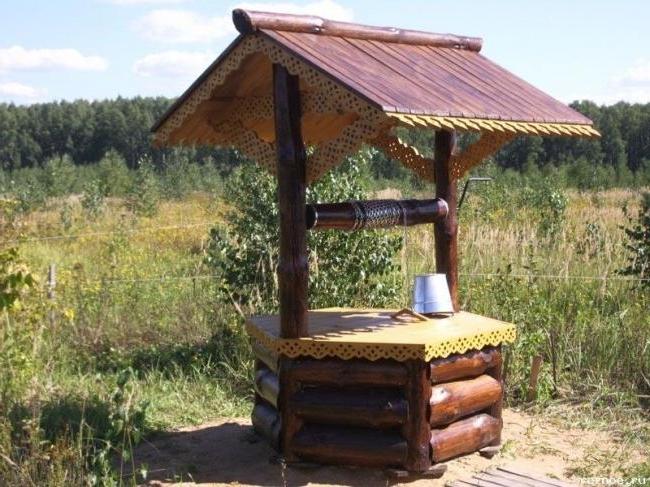 This dainty little well is a delicate little edifice against a rugged rural backdrop. A yellow steel lid covers the hexagonal log base with delicate lacework running along the edge. The roof structure is built of the same shade of timber and edged in the same buttercup yellow trim. The well shaft is accessed by a little yellow handled trapdoor and a dinky galvanized steel bucket on a silver chain.
29. Well House Garden Decor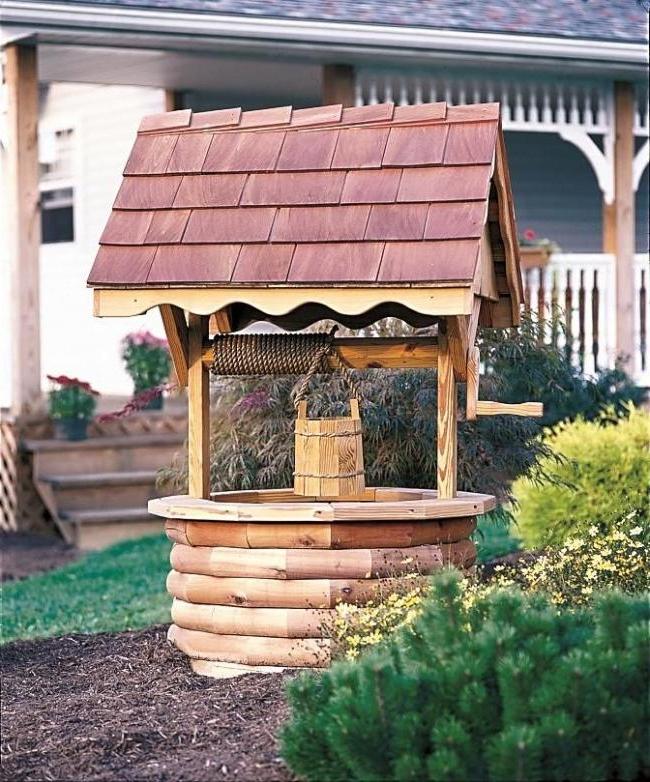 In a similar style to example 28 this little timber well is decorative feature that instills your garden with a rustic atmosphere. The real stand out is the wooden base that is made of stacked logs that appears to bend around the corners of the round well shaft. Other details that contribute to this quirky little aesthetic are the wavy fascias, the large unevenly spaced roof tiles and the tiny little wooden bucket hanging off the mock turning mechanism.
30. Suburban Timber Well House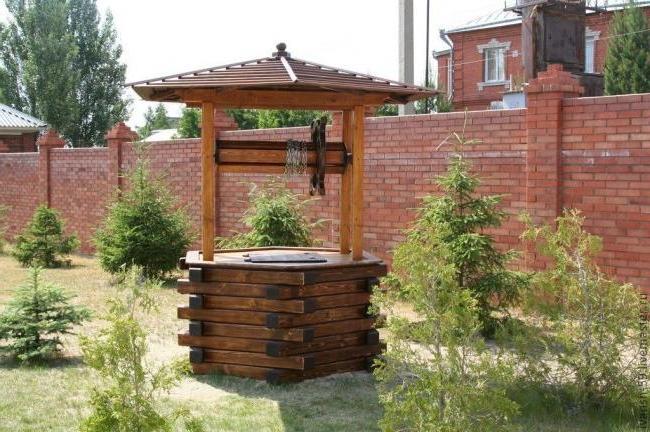 This little in a historical suburban neighborhood is an original feature made of crisscrossed square timber logs interlocking in a hexagon. The surface is covered, the well accessed via a little steel hatch in the centre finished in the same wood stain. The bucket is lowered on a chain wound around a chunky octagonal timber prism. A thin hexagonal roof of wooden panels topped by a carved orb covers the whole structure.
Conclusion
These gorgeous wells are clearly a covetous garden feature that evokes a feeling of comfort and nostalgia for all those who have the privilege to interact with them. Although they're all based around the same general style all these wells manage to be unique and speak to their setting through using local materials or providing a beautiful view of the landscape while you use it.
Whether its getting your own imitation well for your own house or just flicking a coin into the real deal to make a wish, why not do your part to make sure these vintage pieces stick around for years to come.