From the ancient ruins that formed the building blocks (literally) of the way live and build today, to the contemporary buildings of the present; architecture creates man made wonders that push the boundaries at every step. Their functions can vary from homes and guesthouses to places of worship and office spaces and everything in between. So many aspects can inform a design but its prime function is the top of the pile when it comes to a building that serves a purpose efficiently while creating a visually exciting experience simultaneously.
A building doesn't have to be lavish and grand to make an impact. The tiny house movement has proven that dynamite can truly come in small packages. Small spaces challenge a designer's creativity in order to create a space that is comfortable and functional, while promoting eco friendly living and construction practices.
41 Amazing Buildings From All Across The Globe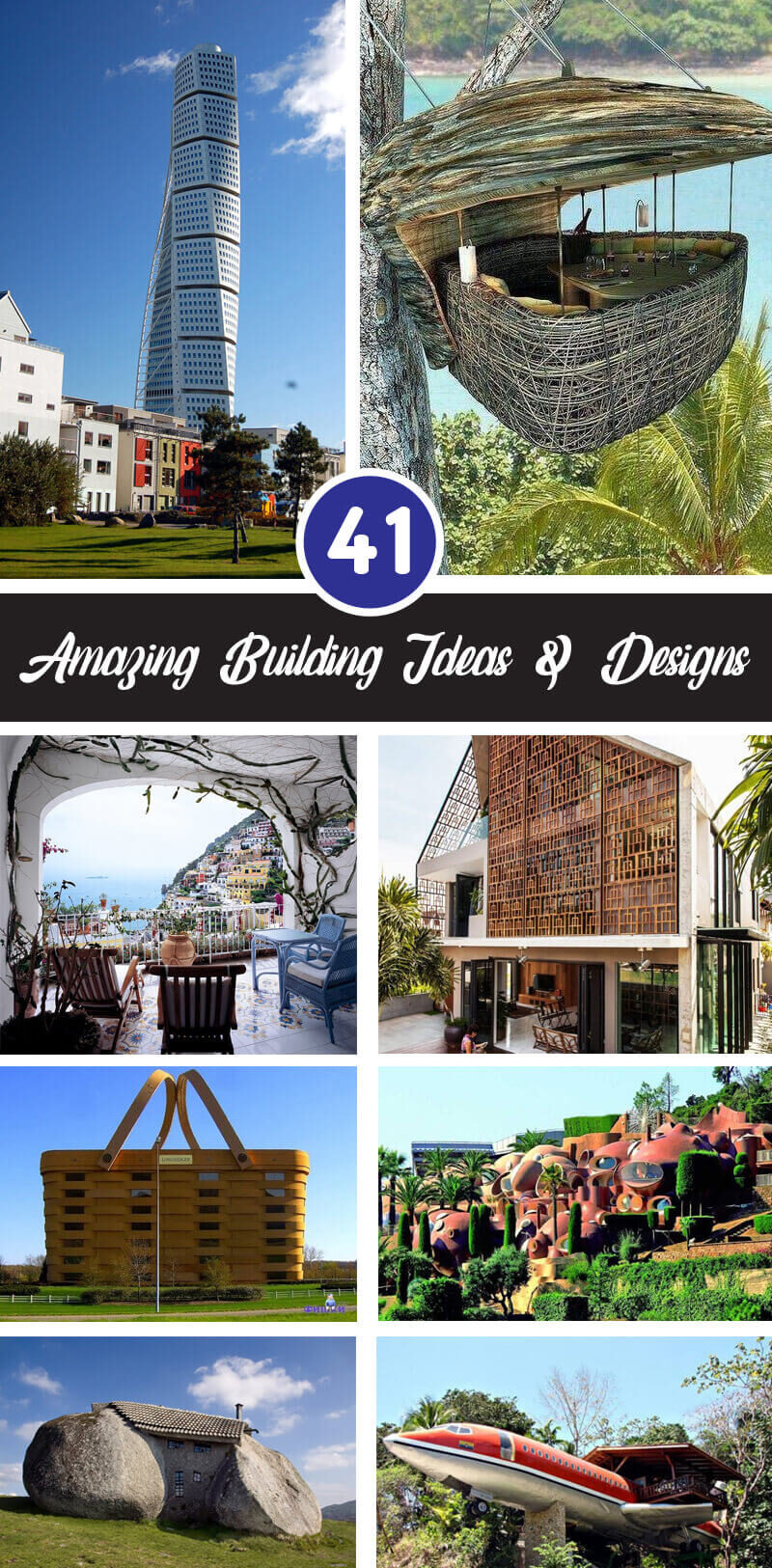 Design concepts can take inspiration from so many avenues. The building materials themselves can even serve as a crucial part of this. You won't be building a skyscraper from straw bales now will you? This approach is just the springboard for a design filled with novel and interesting concepts and executions. In this list you will be introduced to a variety of spaces of many shapes, sizes and materials that take inspiration from their locations, natural elements, traditional imagery and even children's cartoons!
So, if you're ready for it, come with us on a virtual tour of:
1. Silver Luxury Air Stream Trailer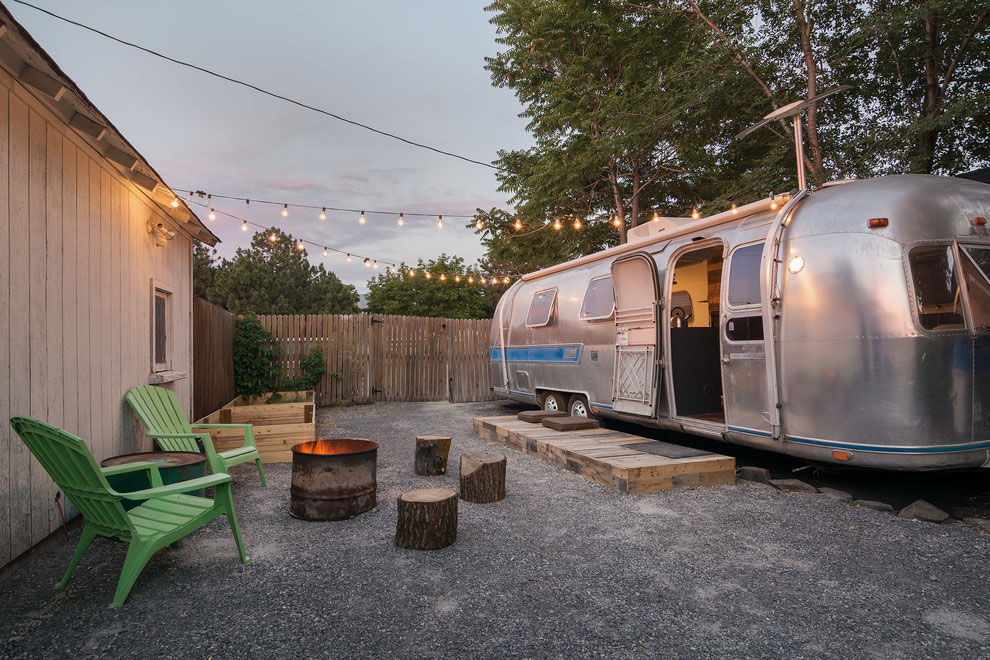 Living in a caravan is something that has previously been associated with monetary hardship and cramped spaces. However, an architectural phenomenon known as the Tiny House Movement has flipped that on its head. This movement uplifts living in caravans and other tiny spaces to live a more ecofriendly and compact lifestyle. There's nothing wrong with living in a trailer and this movement and its innovative designs prove that. This vintage scifi airstream trailer is the perfect example of a cool house that doesn't have to be an ostentatious mansion to be amazing. The silver pod sits alongside a large outdoor area with a bonfire festooned with fairy lights, which provides room to stretch out and relax in style.
2. Scenic Amalfi Coast Hillside Home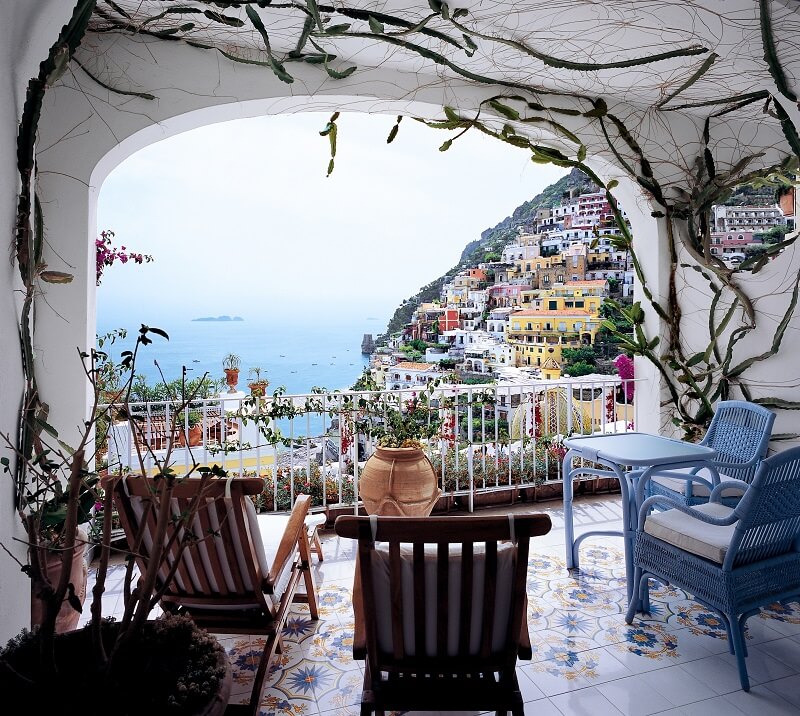 This gorgeous home that clings to the steep hillside on the Amalfi coast takes full advantage of the stunning view of the ocean. Sometimes a beautiful natural view is all you need to make an average home spectacular. The view of the ocean and multi coloured tiered houses embedded in the hillside is neatly framed by a covered patio to make this the focal point. Creeping vines have been allowed to climb in and around the patio, even onto its ceiling that achieves a distinctly rustic Italian look which is further enhanced by the classic Italian mosaic flooring and rustic mix of furniture.
3. White Shell House In Mexico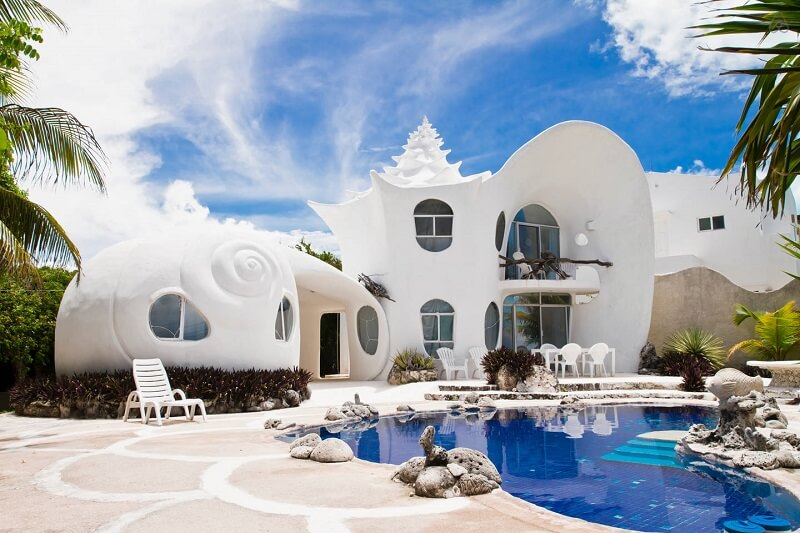 Casa Caracol is a shell inspired guesthouse on the Isla Mujeres off the coast of Cancun. Designers Eduardo and Raquel Ocampo took their inspiration for this residence from its exotic island location, quite literally. The stark white structure shows off the stunning sculptural design of two seashells which in turn stands out against blue sky and pool. The amorphous windows work perfectly with the organic shapes as does the unique patio set inside the shell opening. The organically shaped pool is even surrounded my rocks like a natural rock pool to fit in with the seaside aesthetic. This gorgeous Mexican villa can be rented out as an AirBnb.
4. Unique Teak Façade From Bali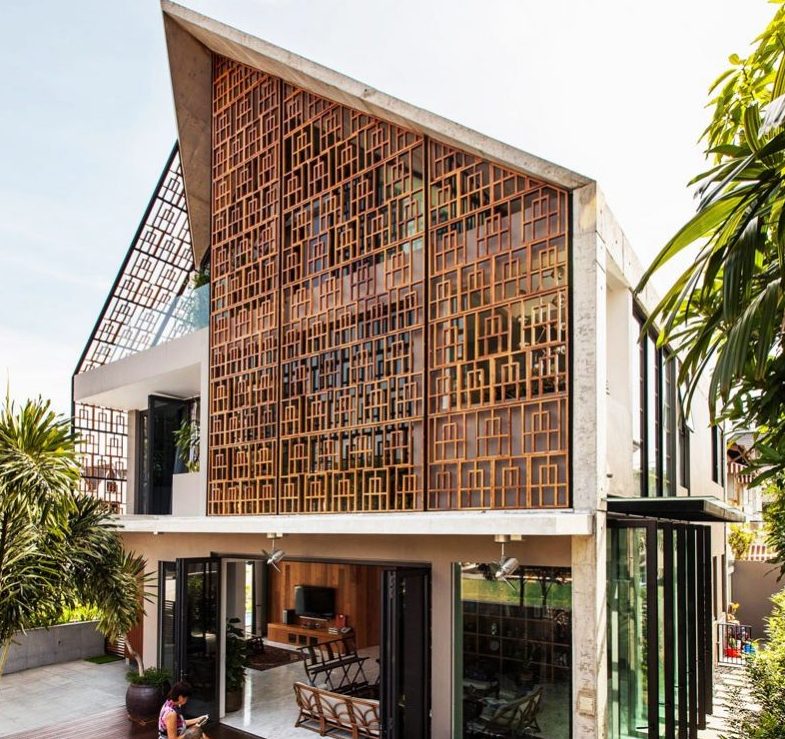 This breathtaking home was designed by Aamer Architects and is situated in Siglap Plain, Singapore. Its unique teak façade was imported from nearby Bali and it is around this lacework feature that the home was designed around. This suspended façade wraps around the front of the building, onto the roof and cascades down one sides which creates a richly textured pattern both inside and out. The glass behind the facing protects the home from the urban environment outside while allowing for natural light in and good ventilation. The carved wooden details are contrasted against the off form concrete that the rest of the house has been built from. This house also serves a public function; it is located outside a bus stop on a busy road so while it protects the inhabitants from the street noise as well as providing a beautiful backdrop to the ordinary everyday servitude.
5. Bubble House In France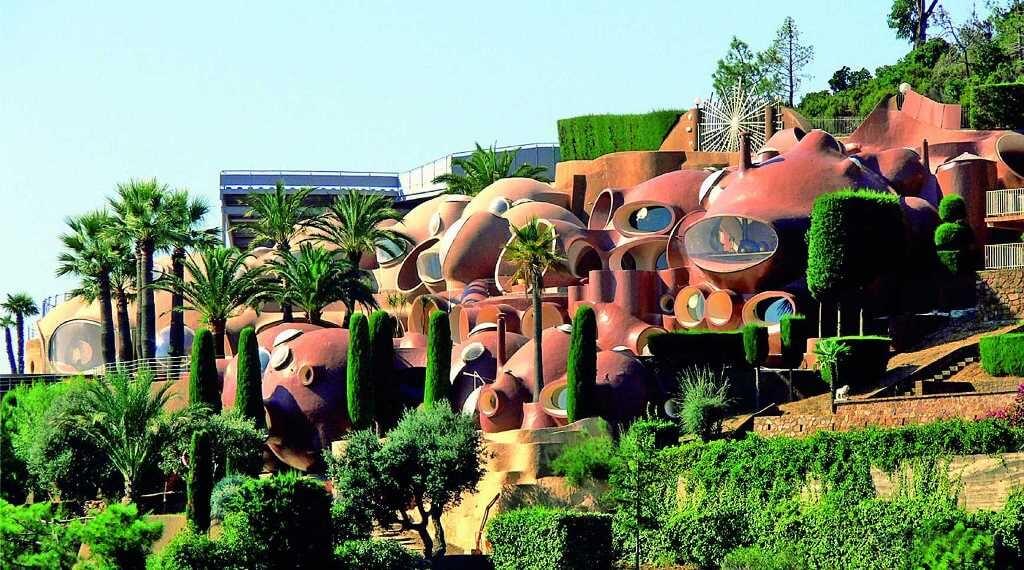 Palais Bulles ("Bubble Palace") is a large house in Théoule-sur-Mer, near Cannes. It was designed by architect Antii Lovag for renowned Italian designer Pierre Cardin and cost £300 million. The compound sprawls across the hillside made up of rusty red bubbles as rooms, multiple pools of different sizes and huge incorporated amphitheatre for entertaining. The whole property is decorated by palm trees and overlooks the sea. The red paving and bubbles to feel one with the surrounding red stone it sits upon. The unusual shapes of the main residence and the hallways between create really interesting curved connections so a 'wasted' space becomes something beautiful. The circular and oval windows seem to project naturally from the round surfaces while the furniture and interior design has been adapted to fit with the unusual spaces.
6. Sheep And Dog Buildings In New Zealand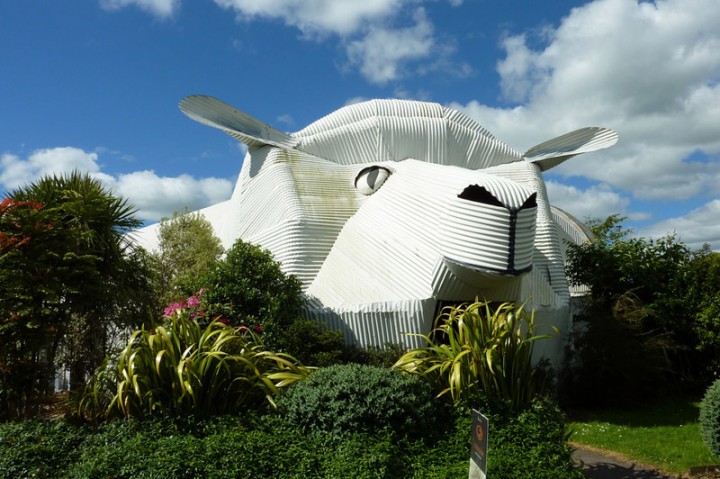 Tirau, New Zealand has become known as the "corrugated capital of the world" dues to an unusual series of corrugated iron sculptures that are dotted throughout the town. This is a very small town; which allows these novelty buildings to make a great impact and bring in a new influx of tourists who want to see these larger than life creations. The local artisan Steven Clothier created the sculptures as well as the heads attached to these novelty buildings. This sheep has a ram next to it to keep it company which function, quite fittingly, as a wool shop. This pair is accompanied by a white dog alongside it that we will see again a little later on. Other corrugated sculptures or buildings in the town include a cow with a shopping cart and praying mantis.
7. Children's Activity Area In Koh Kood, Thailand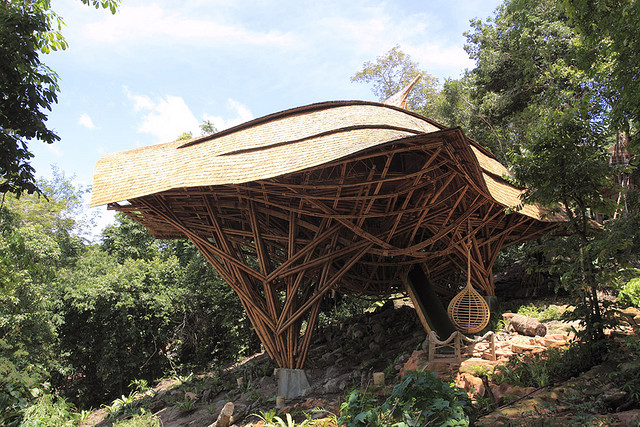 This manta ray inspired building was designed by 24H Architects to be a children's activity centre for the Soneva Kiri resort, an eco friendly resort on Koh Kood, Thailand. This giant tree house is made of locally sourced bamboo and constructed by local labour using techniques that have been used for decades in traditional Thai huts. Bamboo is a eco friendly resource since it is so fast growing, even the roof tiles are made of bamboo. The manta ray looks out to sea from its hideout in a tropical rainforest. The bamboo interior features woven bamboo pods filled with pillows and multiple levels for different activities. Bioclimatic design elements that help combat the humid, tropical climate are built into the design without the need of air conditioning. The roof overhang is approximately 8 metres long and provides shade and protection from the heavy rains common to the region.
8. The Chameleon House In Prague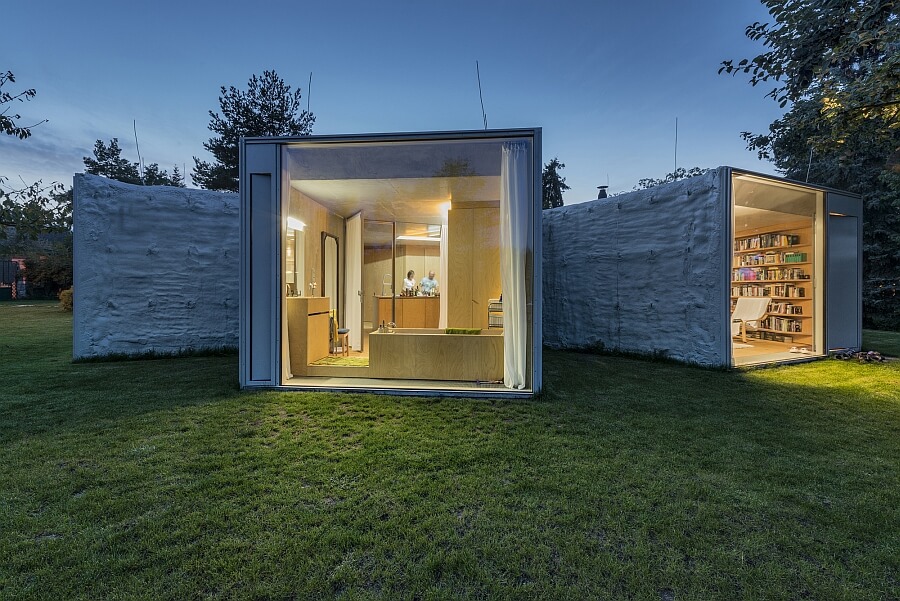 This contemporary house in Prague was designed by Petr Hajek Architeckti. The radiating design sits in the middle of the garden and each arm of the house is angled to look at a specific tree for a unique view and atmosphere. The design intended to create 'house spaces;' created by the full sized window at the end of each room and 'garden spaces' that are created by the junctions between the arms that are not visible from inside the house. The roughly plastered exterior fits into the natural surroundings and disappears most effectively in the snowy weather. The raw concrete and wood interior is minimal and chic and allows the views to be the focus of this whole house.
9. Dancing Building In Prague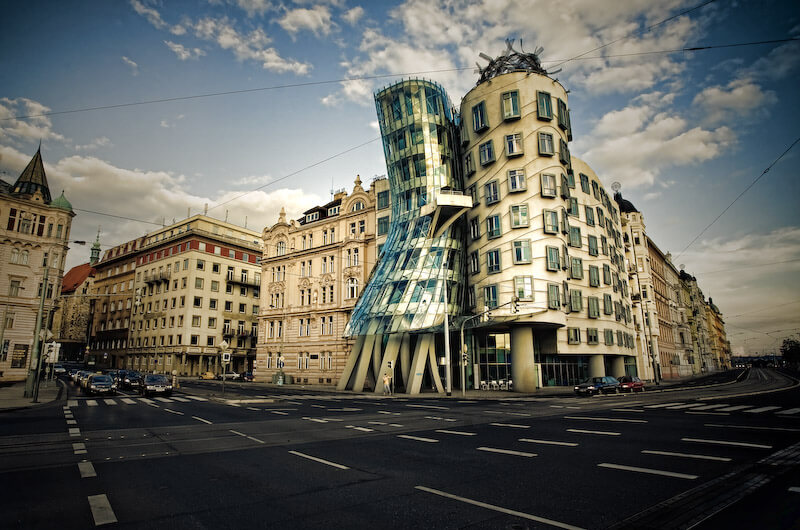 This Czech landmark by renowned architect Frank Gehry and Vlado Mulinic is inspired by famous dance duo Fred Astaire and Ginger Rogers. Gehry is known for his unusual facades and this is no exception; the column of uneven windows represents Fred while the curved tower sheathed in a glass dress represents Ginger. This dancing pair makes this intersection iconic especially in a predominantly Art Nouveau style neighborhood. This nine storey, deconstructivist building is multi use space featuring a restaurant, convention centre, office space, bar and art gallery.
10. Tiny Movable Tack House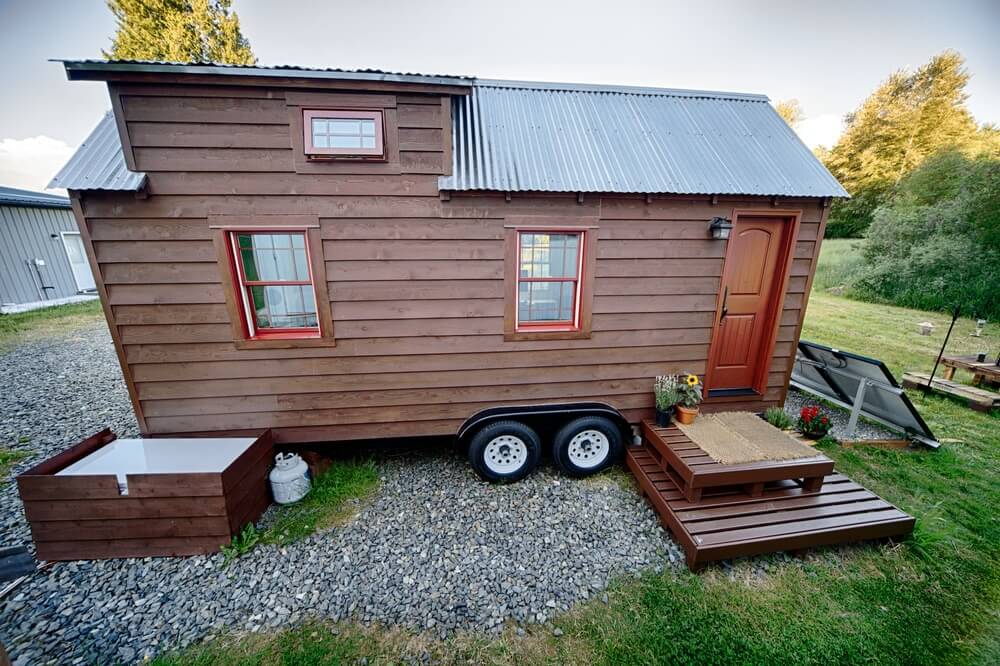 Another follower of the tiny house trend, this little home is built on a trailer frame so it can be easily towed which gives you the freedom to experience the country from the comfort of your own home. The classic shiplapped exterior resembles a miniature version of a traditional house. This design, like many tiny houses, is eco friendly. The house is powered by solar panels and has a green shower and toilet. Inside every piece of space has been used for the most space saving and efficient design. Some of the strategic designs include a light timber interior makes the space appear to be bigger, a cozy loft bedroom and a wooden barrel that has been repurposed into a shower which is both rustic and space saving.
11. Flintstones Inspired House In Malibu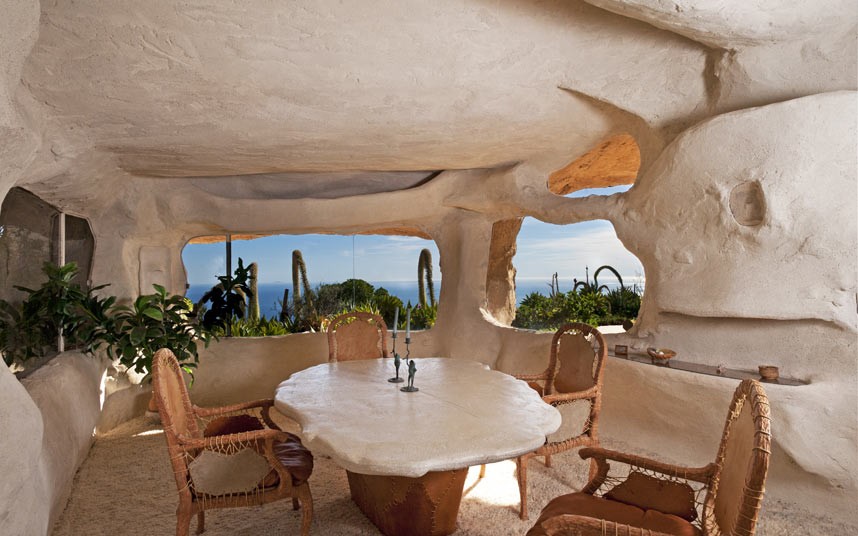 This $3.5 billion house was commissioned and previously owned by American TV personality Dick Clark and was intended to be inspired by The Flintstones from the get go. This inspiration led to organic shapes being used throughout to create a design that appears to be carved from stone and help up by huge rock columns. The house deviates from the inspiration only with its dramatic glazing held in invisible frames and set within carved openings, this lets you take in the uninterrupted sea view. Outside the rock-like exterior fits into the existing landscape surrounded by succulents and cactuses.
12. Hang Nga In Vietnam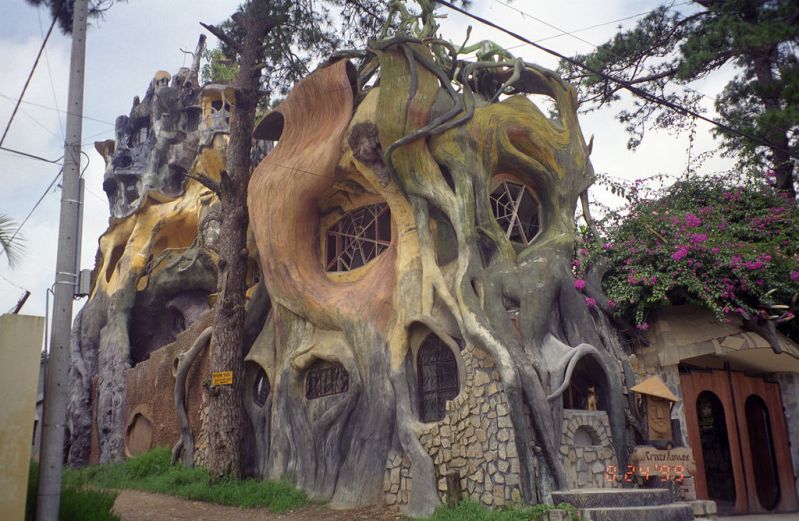 In Dalat, Vietnam there is a one of a kind guesthouse designed to resemble a colossal banyan tree. It was designed by architect and presidential daughter Dang Viet Nga and built entirely with personal and private funds. In a highly unusual fashion the building was constructed using hand drawn plans and built by untrained artisans. Inside there are five levels and each room has its own theme. The organically shaped interior is filled with decorative paint details and wall sculptures. Its quirky nature even extends to the windows which are a variety of shapes and sizes with spider web frames.
13. The Heliodome in France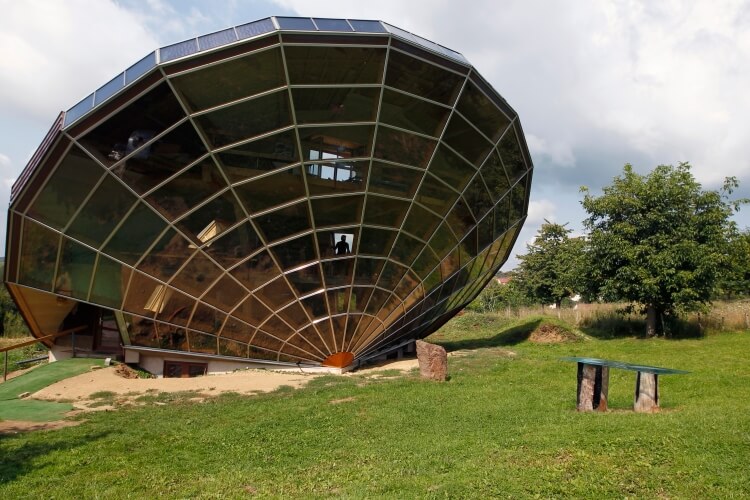 This futuristic spinning top in Cosswiller, France is an eco living dream. The owner and designer Eric Wasser is a cabinet maker who decided to dip his toe into architectural design. The interior is over three levels in light raw timber that are all lit by the conical windows look out over the French countryside. The angle has been calculated to perfect shade the inside from the sun during the summer when the sun is high and allow the sun in to warm the room in the winter when the sun is lower.
14. The Kettle House In Texas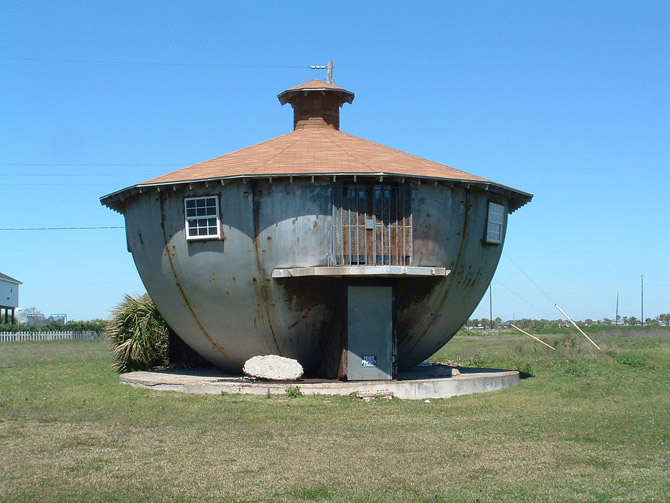 The Kettle House in Galveston Texas was built by a company that makes tanks for oil in 1960. The welder who worked on the project ended up buying it and placed it on his land, where it remains. It was intended to be converted into eye catching retail space but the owner passed away before it could be finished. This quirky little space has sat unused except as a novelty for years until it was recently renovated into a rustic guest house on a renovation TV show. Its beach side location is prone to hurricanes but due to the fact that the building's structure is made of thick cast iron this is house is both hurricane and flood proof.
15. Out Of This World Caravan in Abu Dhabi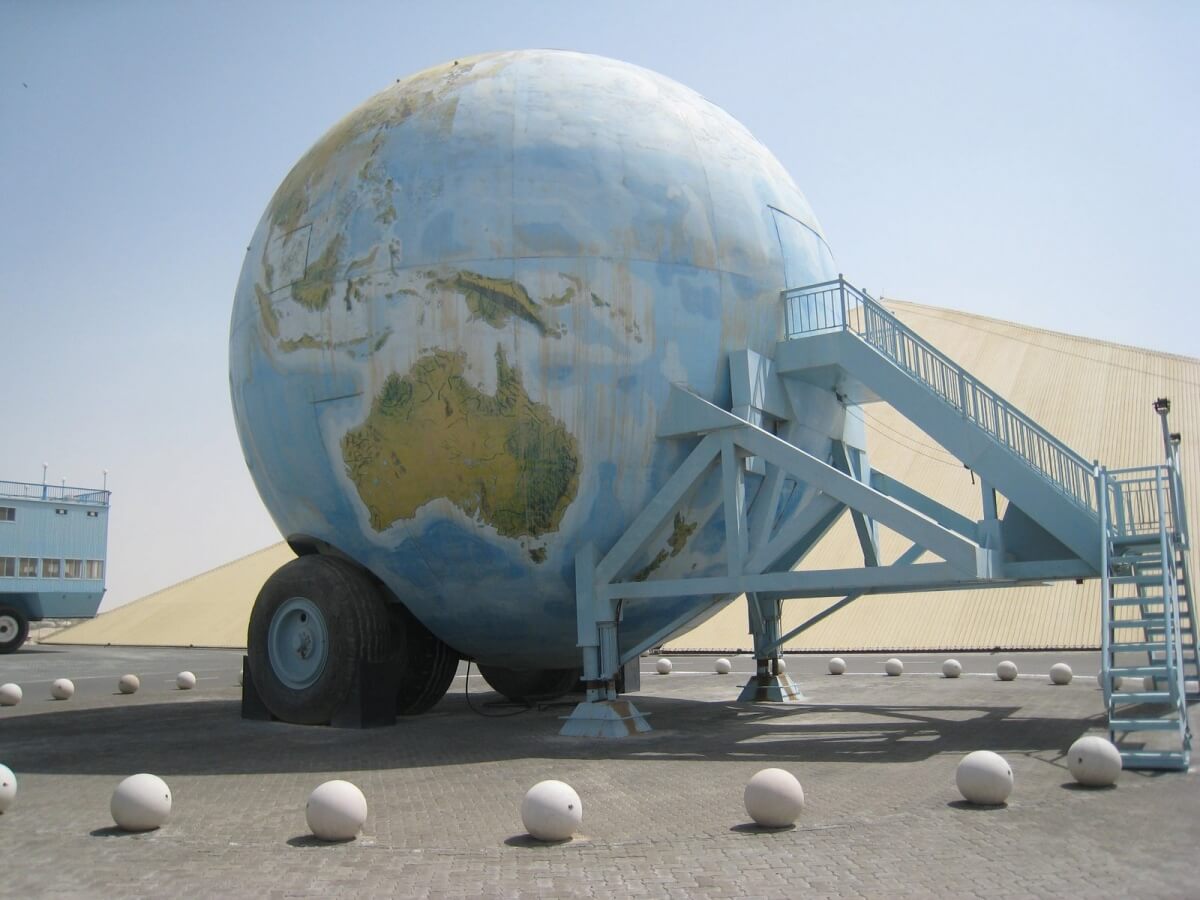 This novelty caravan owned by Sheikh Hamad bin Hamdan Al Nahyan is a larger than life 'mobile' home that is one millionth the size of the real earth. It is part of the 'Rainbow' Sheikh's 400 vehicle collection; which includes other novelty caravans including a Star Wars replica. It is entered by a set of stairs and a hatch in the side of the earth in a Truman show style of surrealism. This collosal caravan has three floors, nine bedrooms and nine bathrooms. Due to its size the caravan isn't actually towable by a normal car so it exists as a museum exhibit at the Emirates National Auto Museum.
16. Casa do Penedo In Portugal.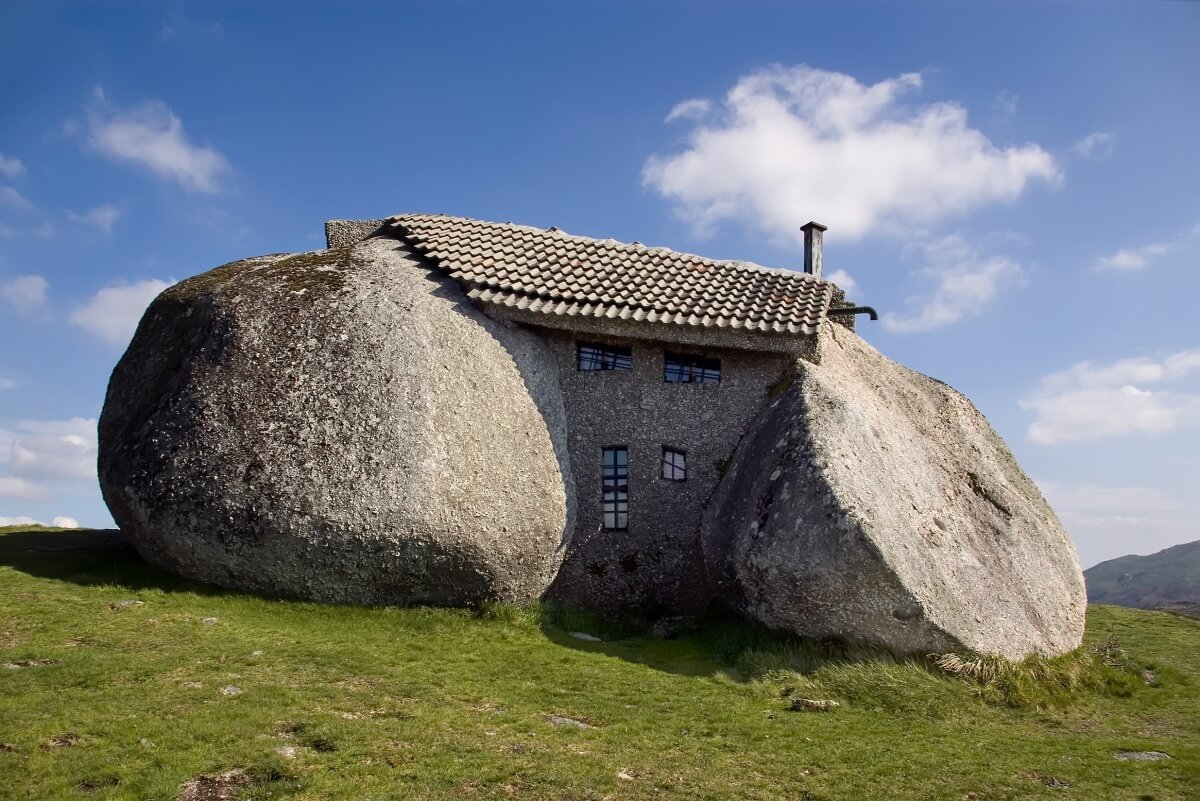 Casa do Penedo, which roughly translates to `House of Rock,' in Fafe, northern Portugal is a stone bungalow built between a series of boulders. Built by a Portuguese engineer in 1974, this unique house is small and cozy inside. Due to its larger than life appearance a fence had to be set up in an attempt to maintain the owner's privacy, unfortunately it is no longer occupied due to the unwanted visitors that flock to this unusual dwelling in the Portuguese countryside.
17. Spitbank Fort Wedding Venue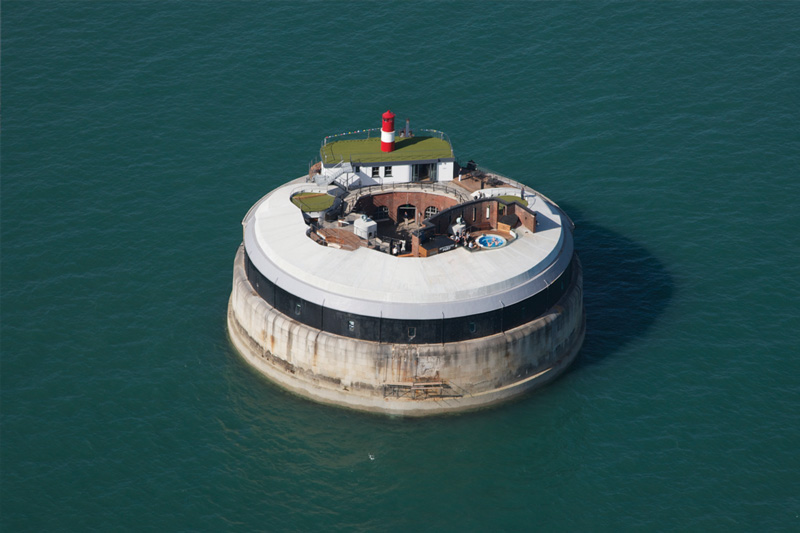 In the Solent strait off the coast of Portsmouth between the English coast and the Isle of Wight there is a manmade island that houses a truly unique wedding venue. The event space is reached by a private flotilla of boats and consists of nine suites, an outdoor deck and hot tub. The fort used to be an active naval defense point built as a second line of defense in the 1800s to protect the coast against boats. It was later upgraded to protect against enemy aircraft during both World Wars. It was decommissioned and sat disused until 1982 when it was made into a navy museum until 2009. It was finally converted into a unique hotel and wedding space in 2012.
18. Free Spirit Spheres In Canada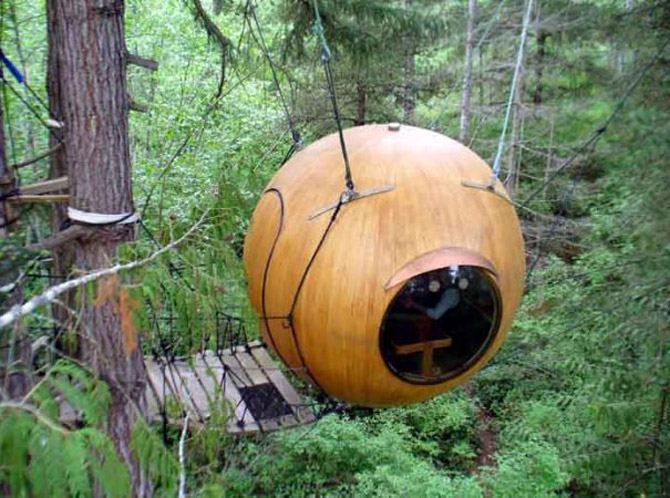 The Free Spirit Spheres Hotel features three choices of floating Sitka spruce pods in this one of a kind hotel in Vancouver, British Columbia. The pods are reached by a spiral staircase that winds around the tree to a small swing bridge that leads up to the oval doorway. The spheres sleep two in complete privacy with a stunning view of the surrounding trees as you hang from the treetops. These provide a calm and relaxing getaway that allows you to commune with nature in a small but cozy personal bubble.
19. Modern House Covered In Astroturf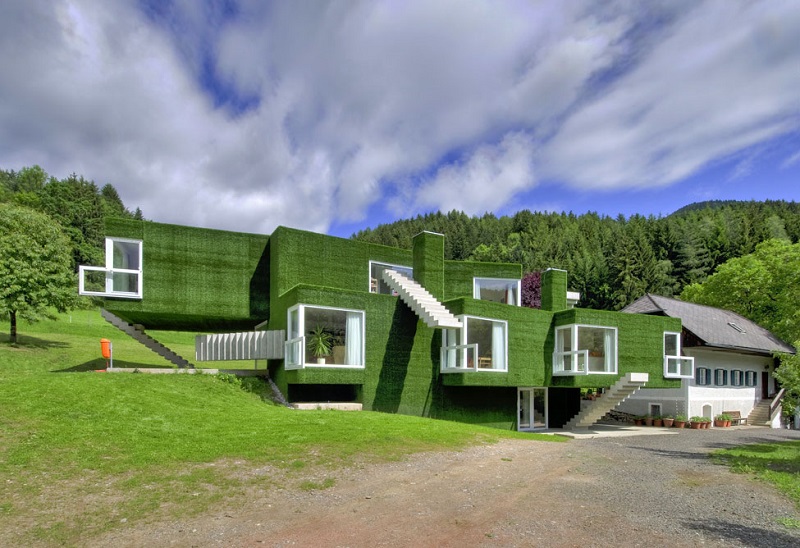 This wacky house in Frohnleitan, Austria was inspired by the topsy turvy style of MC Escher drawings. The blocky modern design is clad entirely in Astroturf which allows it to blend into its forest setting. Concrete staircases that lead nowhere and even project off horizontally from the walls for a super surrealist look interrupt the layers of grassy boxes. The clean white frames around square windows with inexplicable horizontal window frames serve to further enhance this quirky aesthetic.
20. The Nautilus House In Mexico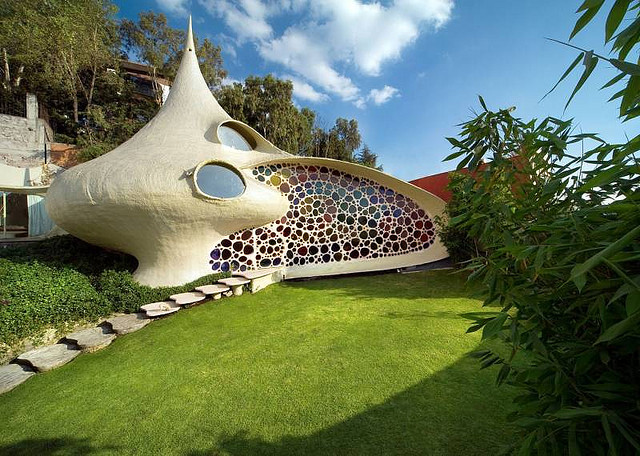 Architect Javier Senosiain, who based his concept on a mollusk shell, designed the Nautilus House in Naucalpan, Mexico. The shell inspired continuous shape is achieved using a lightweight material called ferro-cement and chicken wire reinforcing which weighs less than brick but remains earthquake resistant which is important in this region of Mexico. The multicoloured stained glass mosaic that fills the shell's hollow is beautiful from the outside but even better inside. The circular tiles light up an amorphous lounge island in an indoor garden lit by circular skylights. From the outside and in, this building is a completely surreal experience.
21. The Exbury Egg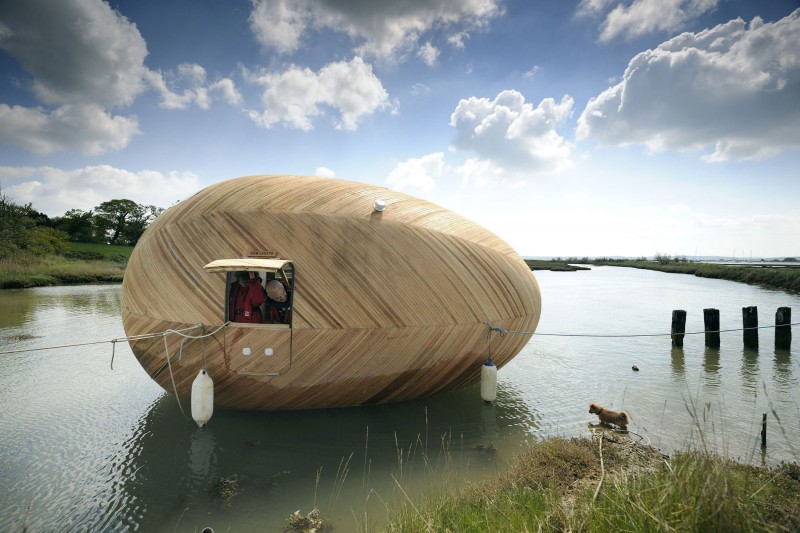 This floating timber egg is a collaboration between PAD Studio and SPUD group to make a statement about climate change. It sat in the Beaulieu Estuary as a temporary residence for one year for the artist Steven Turner. During that year both tracked the changes to the marine ecology and to make art inspired by his surroundings. The structure was built by boat builder Paul Baker out of cold moulded reclaimed cedar so that its design has as little environmental impact as possible. The interior is a gorgeous ribbed raw timber with a hammock bed.
22. Airbus A380 In Lebanon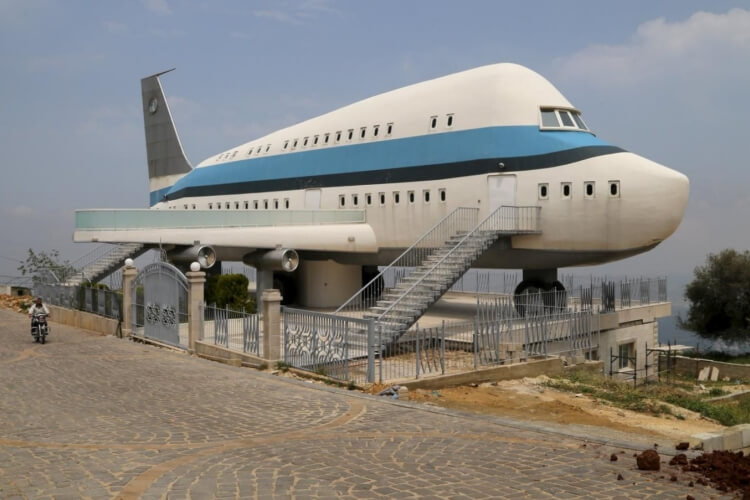 In the city of Miziara, Lebanon you will find a unique house modeled on an Airbus A380. This winged machine sits atop a hill, providing gorgeous views of the surrounding mountains from 41 porthole windows on each side. The front door can be reached by a set of stairs reminiscent of the movable airport stairs. The simple exterior houses an unexpectedly lavish interior with a spiral staircase and opulent furnishings.
23. Boeing 727 Tree House Hotel In Costa Rica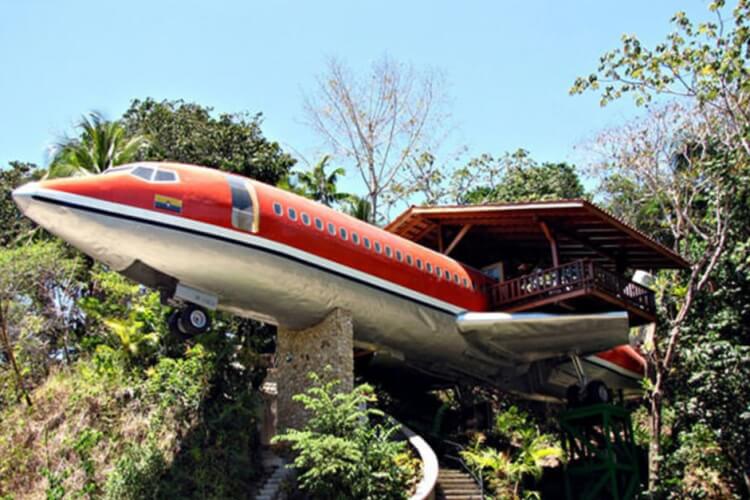 This tree house hotel in Costa Rica has a novelty hotel experience in its Boeing 727 that was salvaged from San Jose Airport. It was manufactured in 1965 for the Hotel Costa Verde between the Manuel Antonio National Park and the Pacific Ocean in a tropical rainforest. The plane projects out into the valley as if about to take flight supported by a 50ft stone column. It was an entirely wooden interior with two bedroom with their own kitchenettes, dining areas and balconies.
24. The Haines Shoe House In Pennsylvannia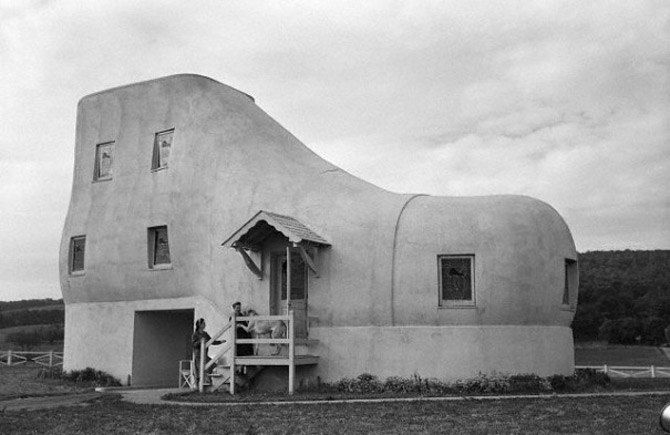 This giant's shoe was built for a shoe salesman in 1949 who gave the architect, Fred J Rupp a work boot and said, 'make me a building like this.' This 7.6 metre tall boot was built as a form of advertising; it has five storeys that were originally rented out to couples. It is now open for tours and houses an ice cream shop in the heel.
25. Modular Mobile Home By NON STANDARD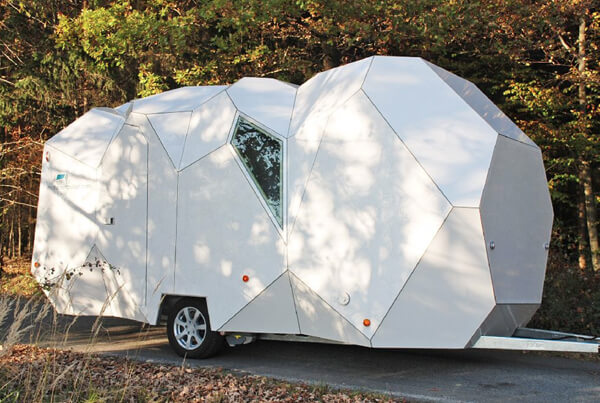 The Mehrzeller is an innovative design by Austrian caravan company NON STANDARD that make customizable, multicellular mobile homes that can be adapted to fit each customers needs. This is another member of the tiny house movement but made modern with its polygonal faceted shape. Some pieces of material have been replaced with glass for some beautiful unusually shaped windows. Inside the super modern interior is made of a reflective white material that makes it feel bigger.
26. Restaurant Pod In The Treetops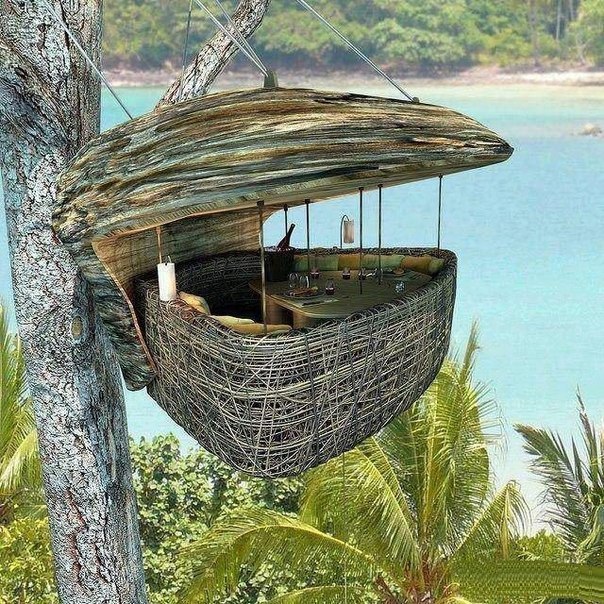 This one of a kind dining experiment is in the Soneva Kiri Resort on Koh Kood, Thailand. Traditional hut inspired woven grass pods hang like bird's nests from the trees with a gorgeous view of the treetops and the sea. Each pod is served by waiters flying on zip lines in the rainforest canopy.
27. UFO Style Wooden Houses By Domespace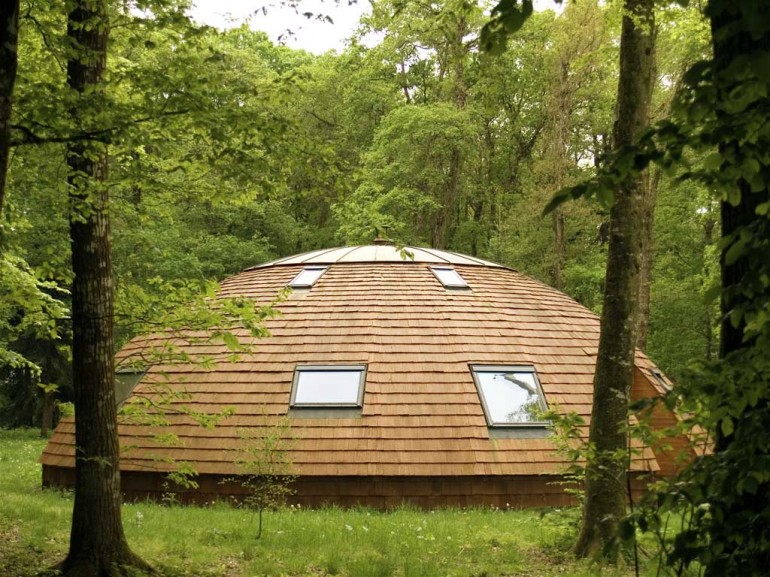 This patented dome design was created by Domespace and cross section was displayed at the Viv'Expo in Bordeaux. The structure is built on a concrete pedestal and is earthquake and wind proof with cedar roof tiles that make the house blend in with its surroundings. The dome construction negates the need for load bearing walls and columns so the interior is made up of radiating arches of wooden ribs. The adaptable concept allows you to choose the staircase and fireplace concepts that are at its core.
28. Sigiriya Lion Rock In Sri Lanka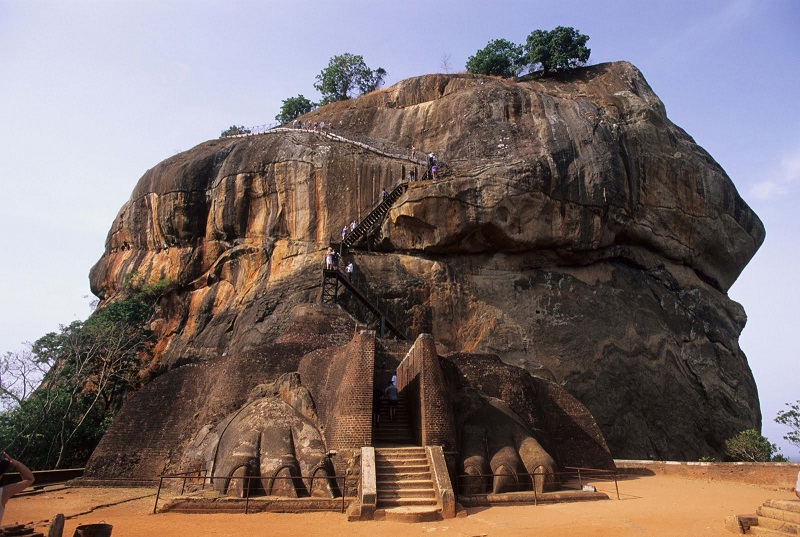 A former fortress of King Kassapa in 495AD, this site was chosen for its natural square shape and 360 views of the valley. Carved lions feet flank the entrance to the staircase that snakes up to the rocks summit. Halfway up you will find ancient frescoes on the walls. On top of the rock you will find a large carved swimming pool and tiered gardens.
29. Aircrete Home by Domegaia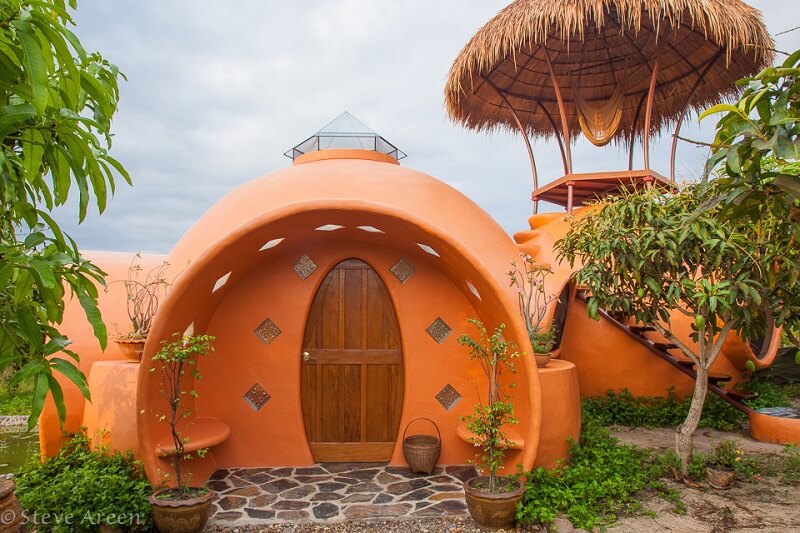 Aircrete is a lightweight, non-toxic masonry material made from cement, water and foam. It has good thermal and insulatory properties with strong compressive strength, which is ideal for domed designs. The material is easy to sculpt to create natural or curved shapes or perforate for texture and light. The bright colour further emphasizes the unique design along with the oval door, which makes it appear almost Hobbit hole inspired.
30. Sutyagin House In Russia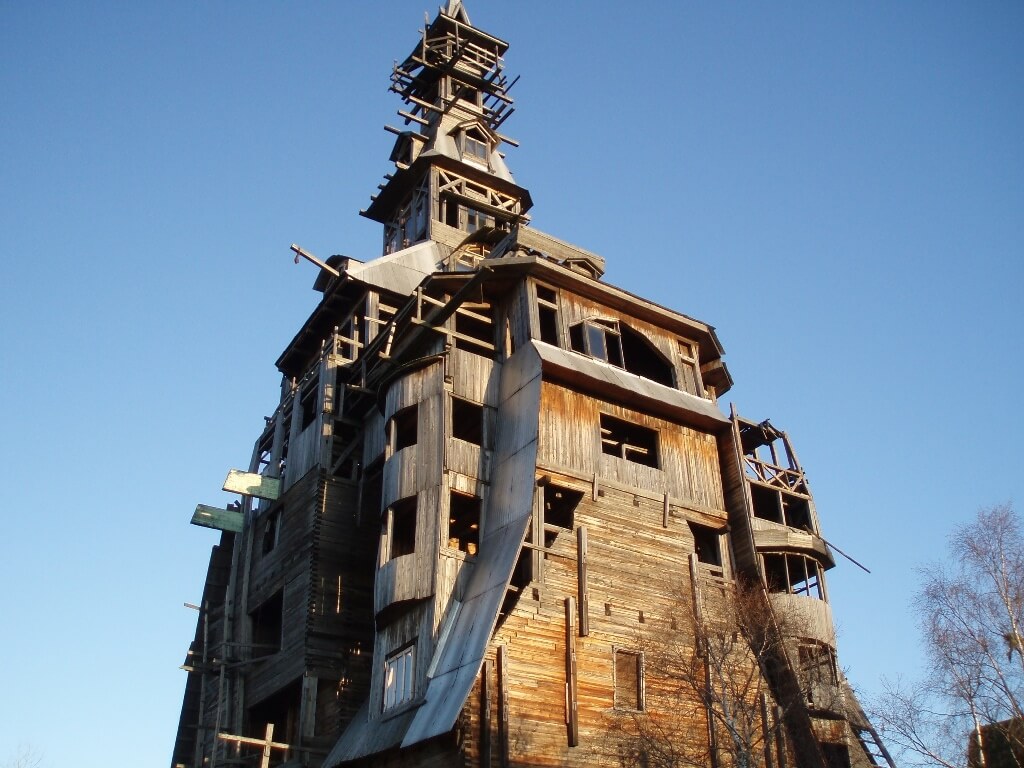 This precarious haunted looking structure was built by Russian crime lord Nikolai Petrovich Sutyagin in Arkhangelsk. It was built over 15 years with no architectural plans. The 13 storey wooden structure was said to be the tallest timber building in the world before it was condemned in 2008. The building began to deteriorate after Sutyagin was sent to prison for racketeering. It started getting taken down slowly until a fire destroyed the final two storeys in 2012.
31. Temple Of Truth in Pattaya, Thailand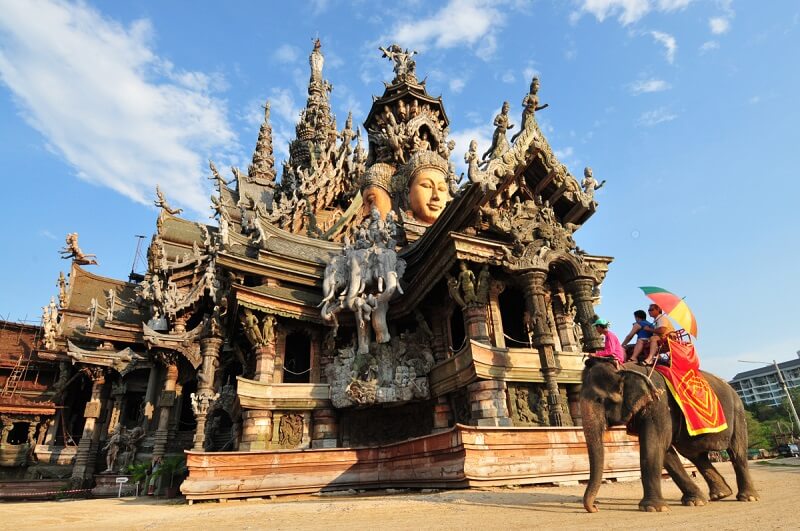 The Temple of Truth in Pattaya, Thailand began construction in 1981 and continues to this day. The Buddhist temple was designed by Thai businessman Lek Viriyaphan in the classic Ayutthaya design style. It is constructed entirely out of wood with hand carved wooden decorative elements with its tallest spire being 105 metres tall.
32. Old Longaberger Headquarters in Ohio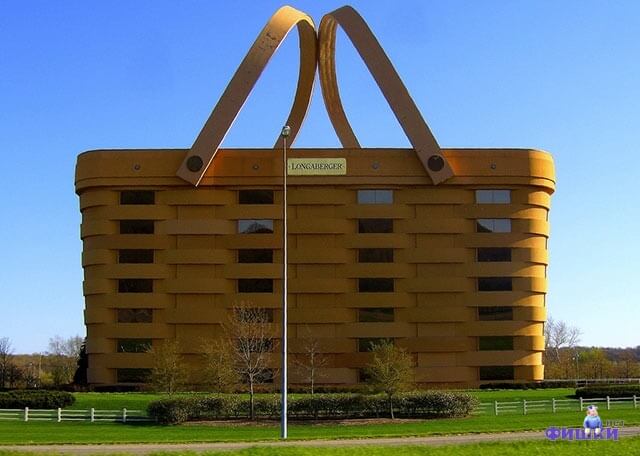 Initially created to house the headquarters of a woven basket company called Longaberger, the buildings design took its function very literally. The building was designed by Longaberger and constructed by NBBJ and Korda Nemeth Construction. This seven story novelty soon became a local landmark. After Longaberger left the building Ohio developer Steven Coon, who plans to make it into a luxury hotel, purchased it.
33. Life Under the Dome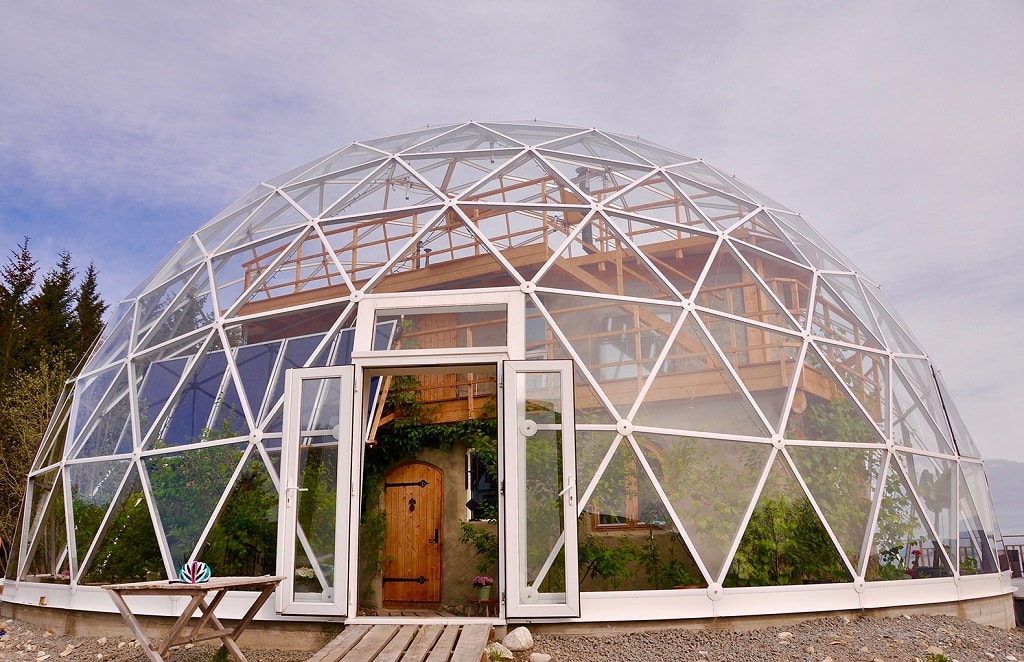 This stunning home features a traditional looking house and garden encapsulated by a geodesic dome. The self-sufficient biodome is built within the Arctic Circle in Denmark and powered by solar panels. The dome means that the house is not affected by the snowy surroundings. The walls of the house are built with cob: a mixture of sand, clay and straw. Construction such as this is very popular in eco friendly builds because its not as damaging as concrete or bricks when manufactured.
34. Kvivik Igloos In The Faroe Islands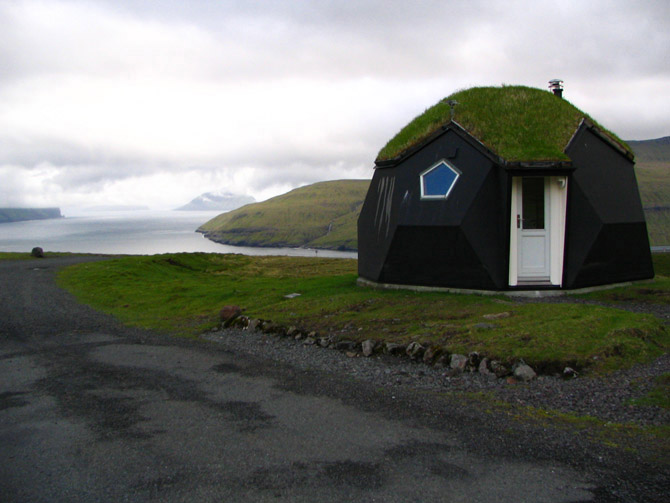 This series of igloos looks as if it just popped up from under the ground and their green roof makes them blend in with its surroundings. The igloo style hexagonal faceted surface features a large polygonal glazed wall on the other side to take in the view of the sea and let plenty of light into the small space. Small fireplaces heat them.
35. Entrance to Park Guell In Barcelona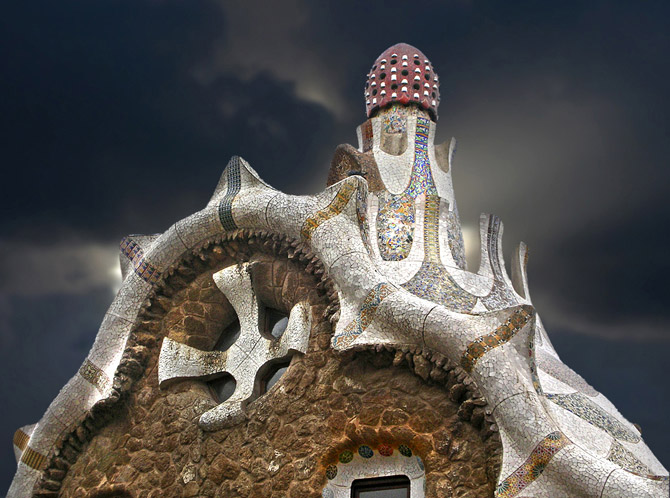 Barcelona is a city filled with architecture by renowned architect Gaudi. The Sagrada Familia and Park Guell are the two main landmarks of his work in the city. The curved amorphous stone spires are covered in a multi-coloured ceramic mosaic throughout the park from buildings to seating and water fountains.
36. Dog's Head Gift Shop In New Zealand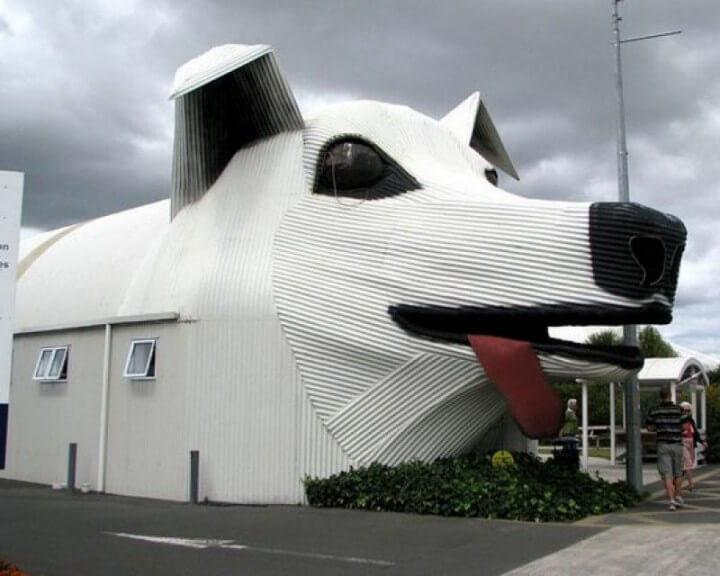 This dog's head is the gift shop to the wool shop formed by the sheep and ram next to it in example 6 in New Zealand. All these sculptures create a novelty tourist attraction to a very small town.
37. Sky Lodge Adventure Suites In Peru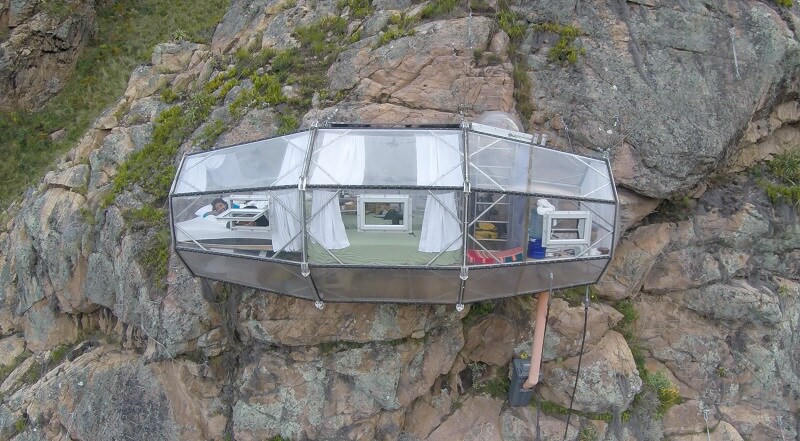 The Natura Vive Sky Lodge is not a hotel experience not for the faint hearted. The glass pods are hang off a sheer cliff overlooking the Sacred Valley of Cuzco with stunning panoramic views. Their remote location means they are completely private even though the capsule is glass.
38. Tree Houses In The Forest Of Dean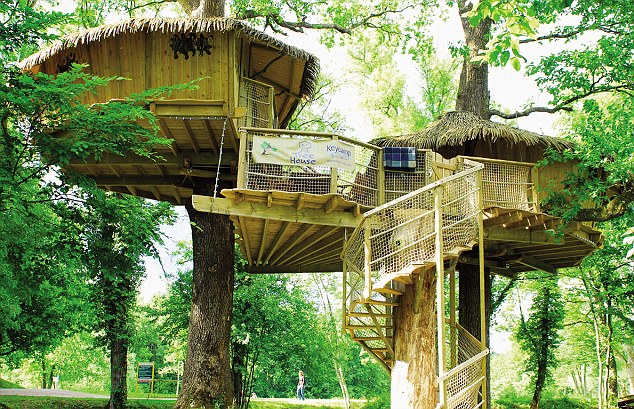 These classic thatched tree houses can be found in the Forest of Dean, Gloucestershire in the UK. They are reached via a spiral staircase wrapping around a chopped down tree trunk. The tree houses are named after the trees they're made out of. Each come with a unique view in amongst the trees.
39. The Turning Torso In Sweden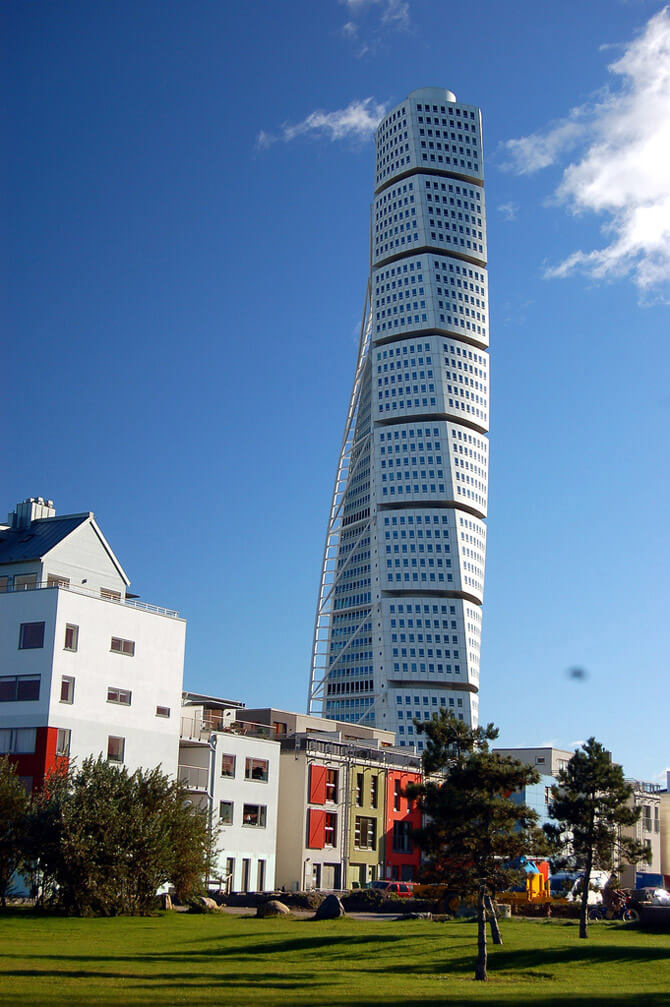 The Turning Torso was designed by Santiago Calatrava in Malmo, Sweden and became the tallest building in Scandinavia in 2005. This neo futurist residential skyscraper is the sole tall building in the city, rising above its shorter counterparts in a graceful twisting shape.
40. Spiralled Apartment Block By Hundertwasser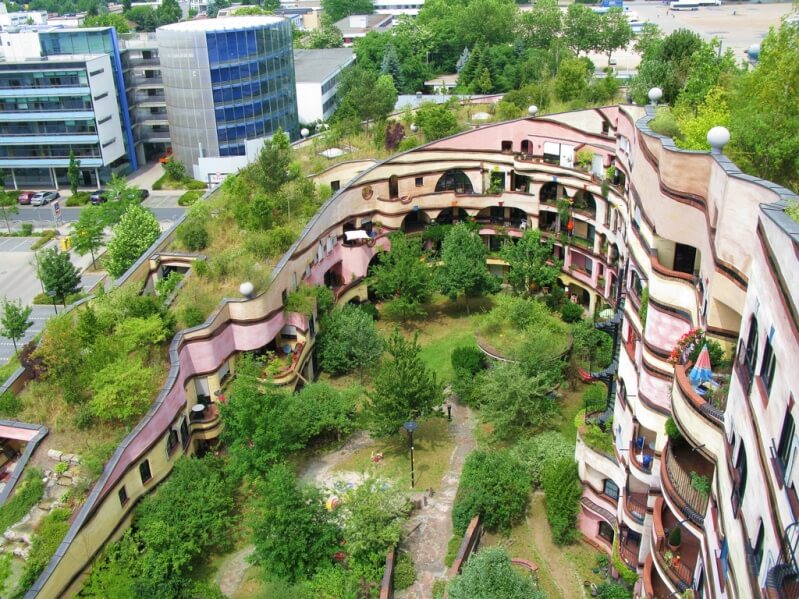 This weird and wonderful apartment complex in Darmstadt, Austria by acclaimed artist Hunderwasser. The spaces are devoid of rectangular shapes and the layered green roof and lush courtyard allows the rippled building to create the illusion of a real hill sitting in the middle of the city.
41. Wat Rong Khun In Thailand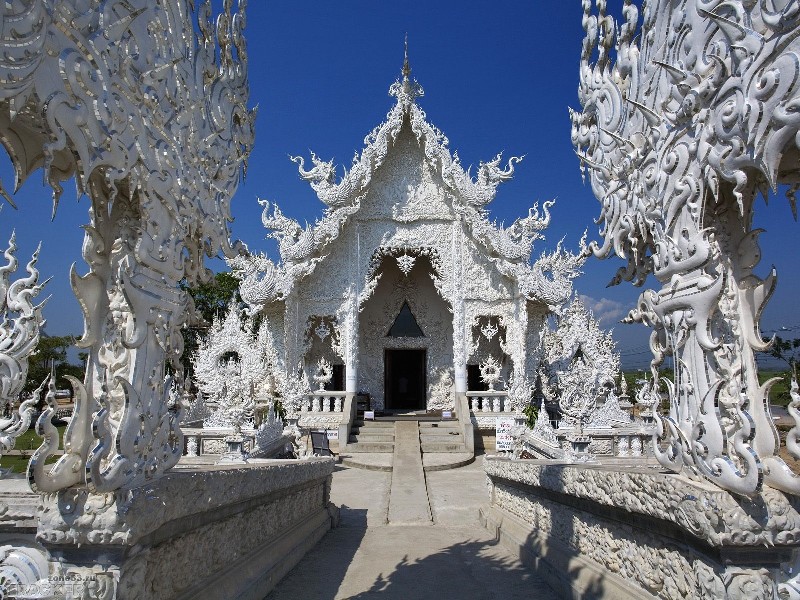 This incredibly intricate white temple is a Buddhist temple in Chiang Rai, Thailand. It is owned and designed by Chalermchai Kositpitat, a local artist who privately funded revamp of the temple grounds. The grounds consist of nine gorgeous buildings in rich green grounds.
Conclusion
As you can see, architecture is an art form that can be used to make a statement and provide its visitors and occupants with any number of exclusive, original experiences.
Not only are these buildings visually beautiful; they also help the economy of whatever city or town they happen to be in by attracting tourists to their unique mystique. From the tallest high budget skyscraper to the eco friendly tiny house; architecture can be used to represent so many ways of life and express core values through this form of functional art.
You can even experience some of these outstanding buildings for yourself by staying in one of the gorgeous hotels or guesthouses. Or even have your wedding in the middle of the sea! The world is your oyster so why not spice up your travel experience and immerse yourself in distant cultures by making stunning architecture part of your itinerary.