Growing your own herbs at home is a gift that just keeps on giving. They can form part of a large garden, separated into it's own little zone or planted into your own freestanding planter that you could even make yourself as a fun DIY project. Having a variety of herbs at your disposal makes it easy to add ingredients to your cooking that are rich in vitamin and minerals to make every dish you cook that little more beneficial to your health.
25 Herb Garden Ideas and Designs That You Can Do At Your Home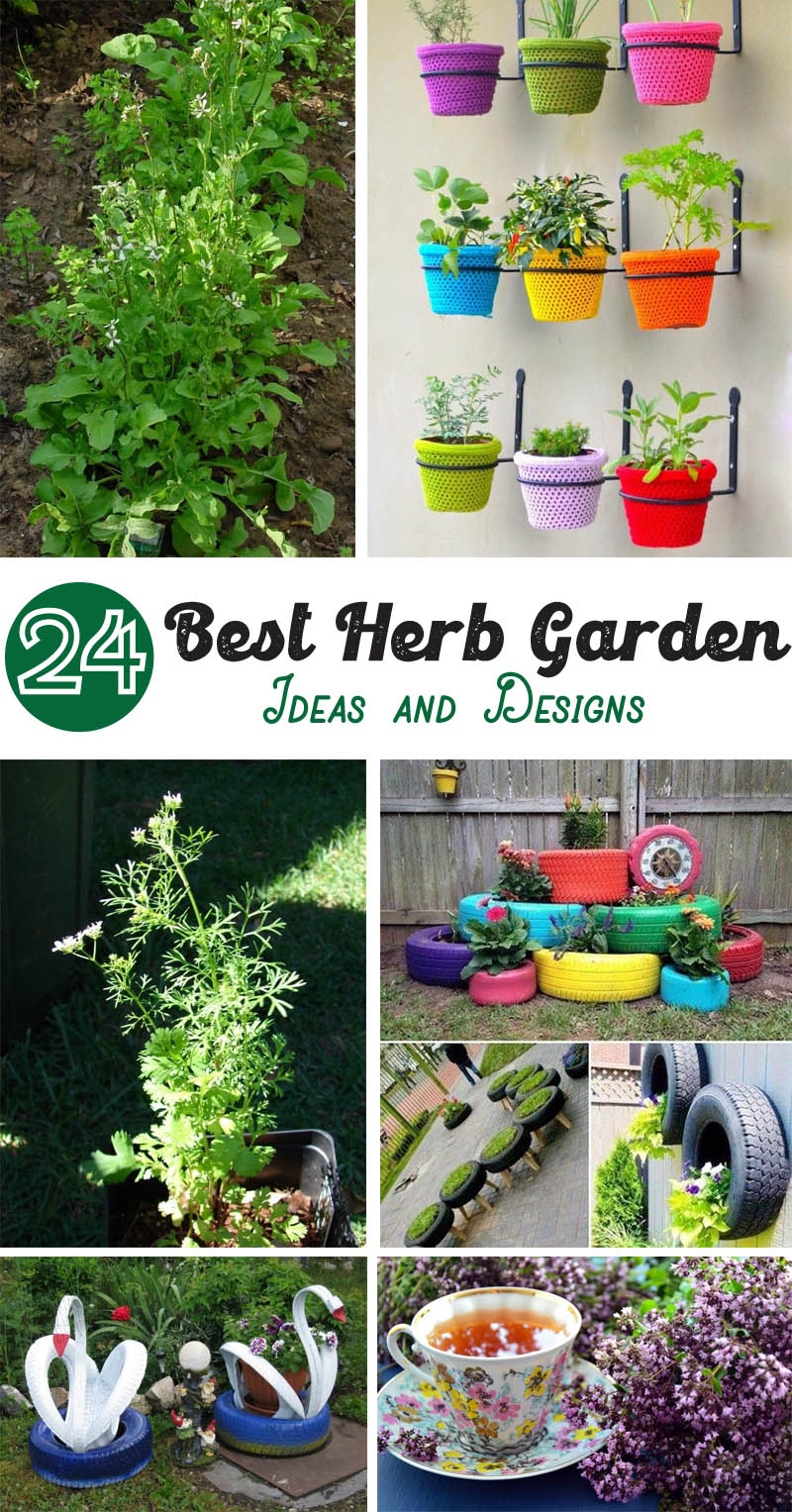 Fresh herbs at supermarkets can often be expensive or go to waste, lost at the back of your fridge because the recipe only called for 5g of thyme when you were forced to but 110g. Growing your own herbs at home so you always have them on hand in their freshest form can solve this wasteful conundrum. In comparison to their dried counterparts the fresh version is more flavourful and ideal for salads and garnishing.
1. Aloe Vera Plantation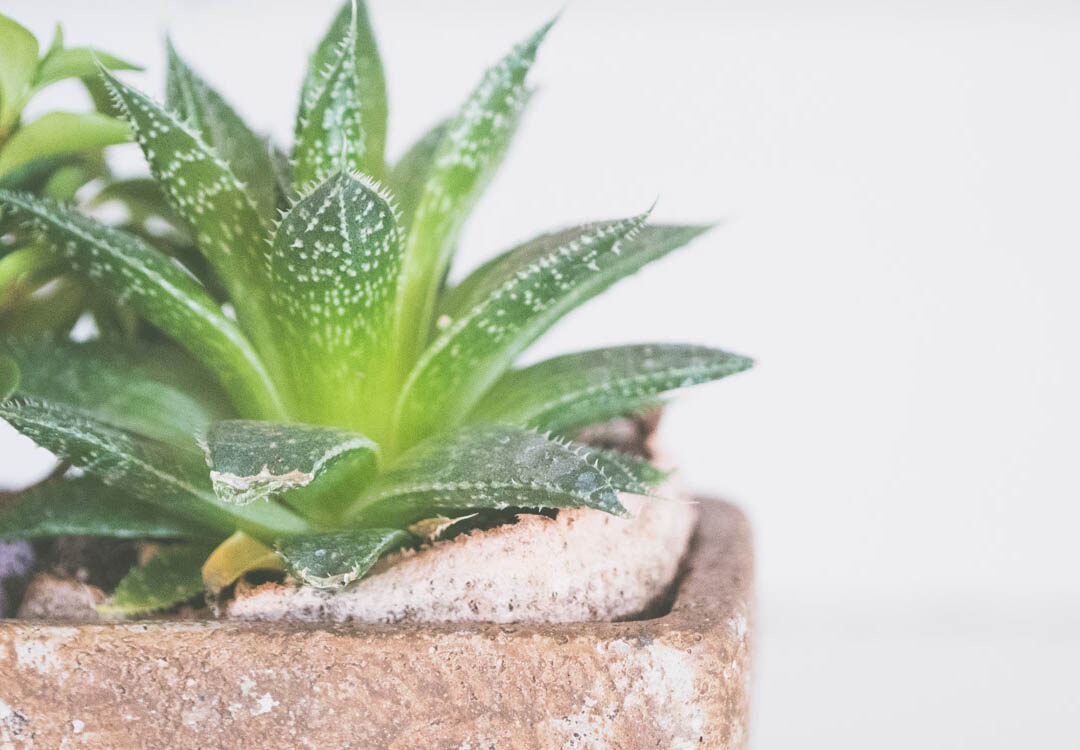 Aloe Vera is a popular water wise succulent can be used in so many different applications to take advantage of its healing properties, which date back centuries. The skin and juice can be used to sooth sunburns and heal wounds freshly broken off the plant. It can be used the same way, applied directly onto the skin as a natural moisturizer than can also relieve the pain from any irritated, dry areas or acne. Aloe vera juice can be drunk as a refreshing beverage that serves the dual purpose of being delicious and nutritious; it has been proven to help cure heartburn, lower blood sugar and lower your cholesterol. Although not technically a herb this hugely beneficial plant is an unusual but endlessly useful addition to any herb garden.
2. Upcycled Bathtub Herb Garden Ideas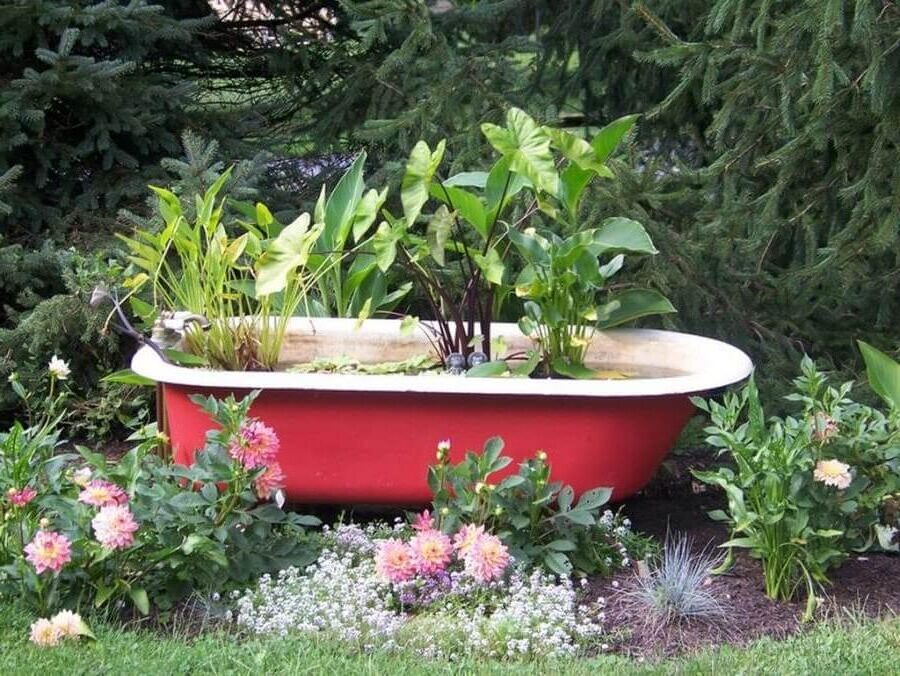 Pictured here filled with water plants, this fun upcycled bathtub could easily be adapted into a quirky novelty herb garden. Upcycling is an eco friendly design philosophy that reduces waste and breaths new life into an object that would otherwise be discarded. By painting the tub a distinct colour it adds to the quirky aesthetic and makes it look more intentional than just an abandoned sanitary fitting sitting in the garden. The large tub can be filled with soil and planted little rows of different herbs in each. The whole piece is both decorative and useful and adds an unusual element of décor in an unexpected place.
3. Upcycled Paint Can Planters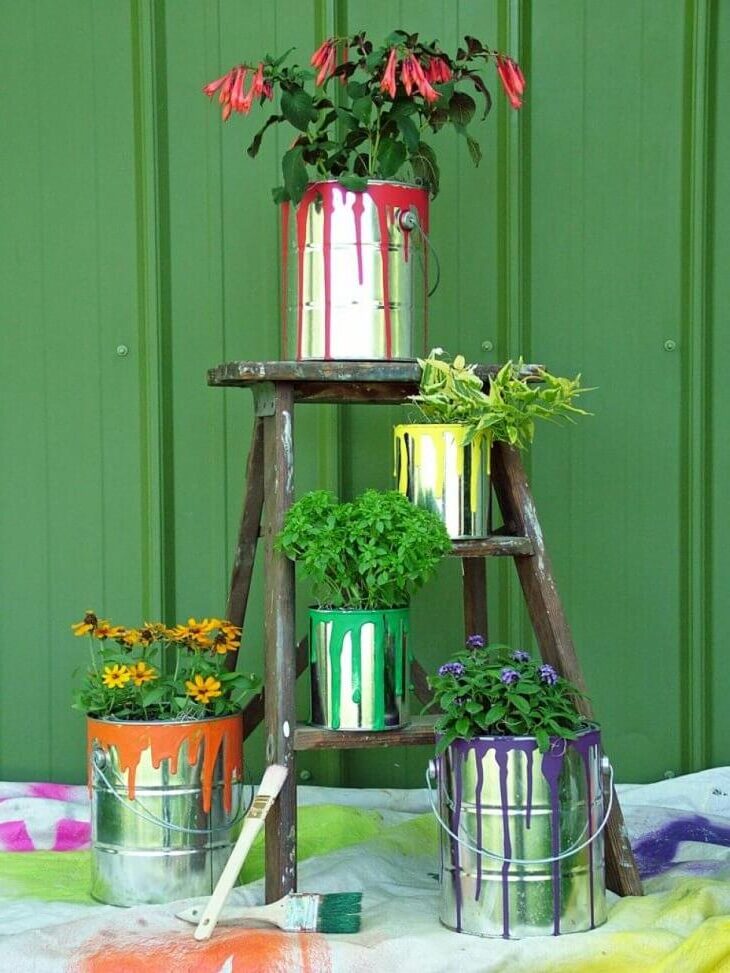 Along a similar vein as the bathtub above this series of paint cans with little handles have been upcycled into a set of colourful herb planters. Each galvanized tin has been decorated with coloured paint running down the sides in an almost natural way to hark back to their original use. A different herb can be planted in each tin so you have a variety of flavours at your disposal. The tins have been layered on an upcycled timber stepladder to create an amusing little tableau to decorate your porch that serves the dual purpose of enriching your food.
4. Timber Barrel Planter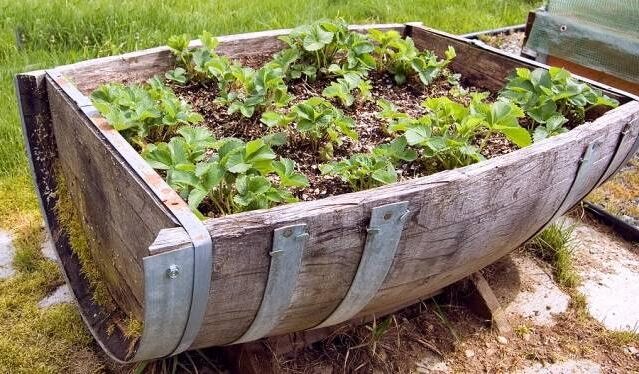 Yet again upcycling is here to provide you with a cute and eco friendly way to plant your herbs. The timber barrel has been cut in half, filled with soil and planted with a variety of herbs, which is a cheap and easy project to DIY for a distinctly rustic aesthetic. Over time you could even add more half barrels and displayed in a group to expand your herb garden as you gain more confidence as a gardener.
5. Traditional Brick Lined Herb Garden Ideas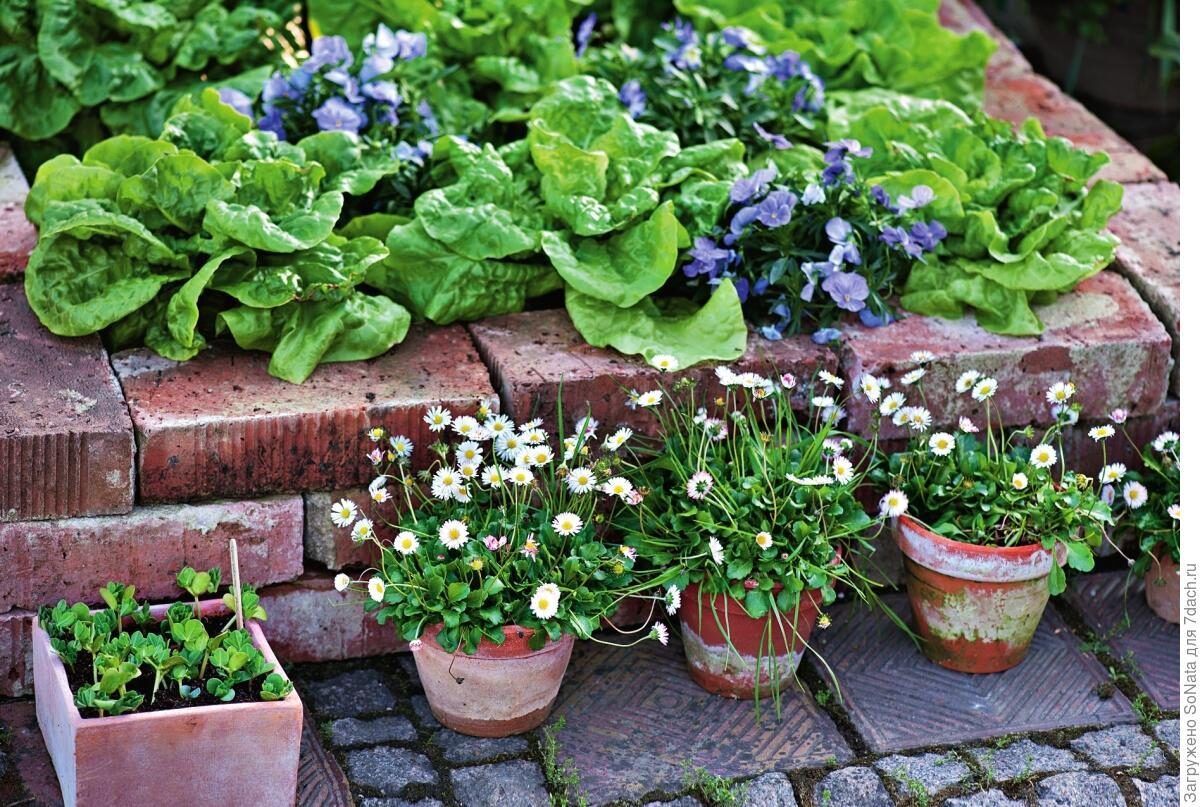 This raised, red brick herb garden is a classic style that you can build yourself to suit your specific garden space. The overflowing bed of full of vegetables and herbs can be lined with old bricks you have on hand or created using bricks salvaged from building rubble for a more eco friendly iteration. The edge has been lined by a series of little pots filled with daisies to decorate the border and finish up the rustic like space.
6. Arugula/ Rocket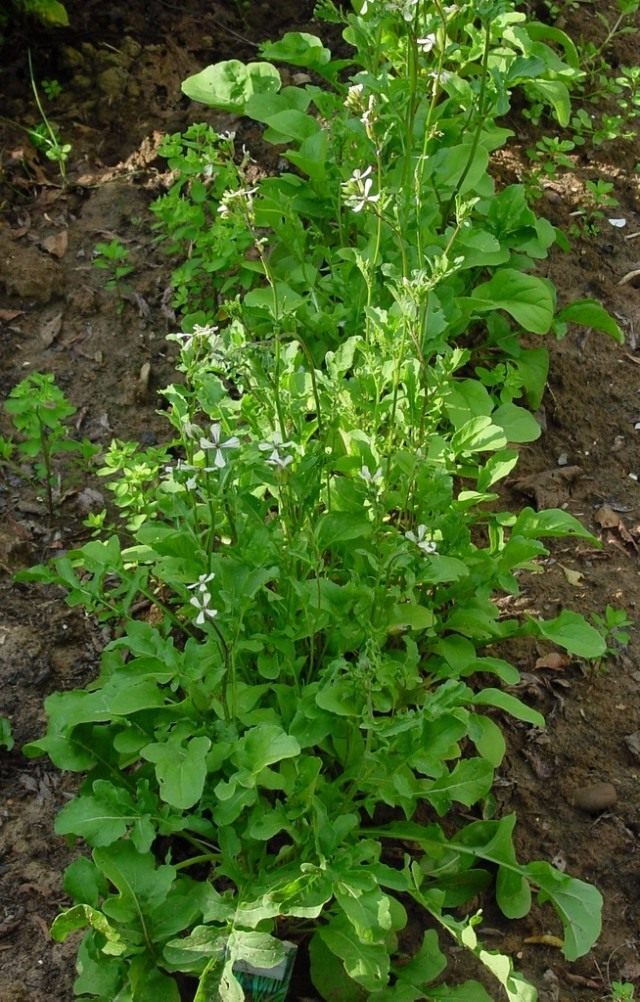 If you love Mediterranean food then arugula is the perfect addition to your herb garden. The soft herb has a peppery flavour that is great in salads or as a garnish, which is also incredibly good for you since its packed full of vitamin A, C, K, potassium and calcium. Arugula is also a great starter herb because it is easily sewn from seeds and yields a really quick harvest. It is also a good companion plant because of its shallow root system that you can plant in amongst other more hardy herbs.
7. Basil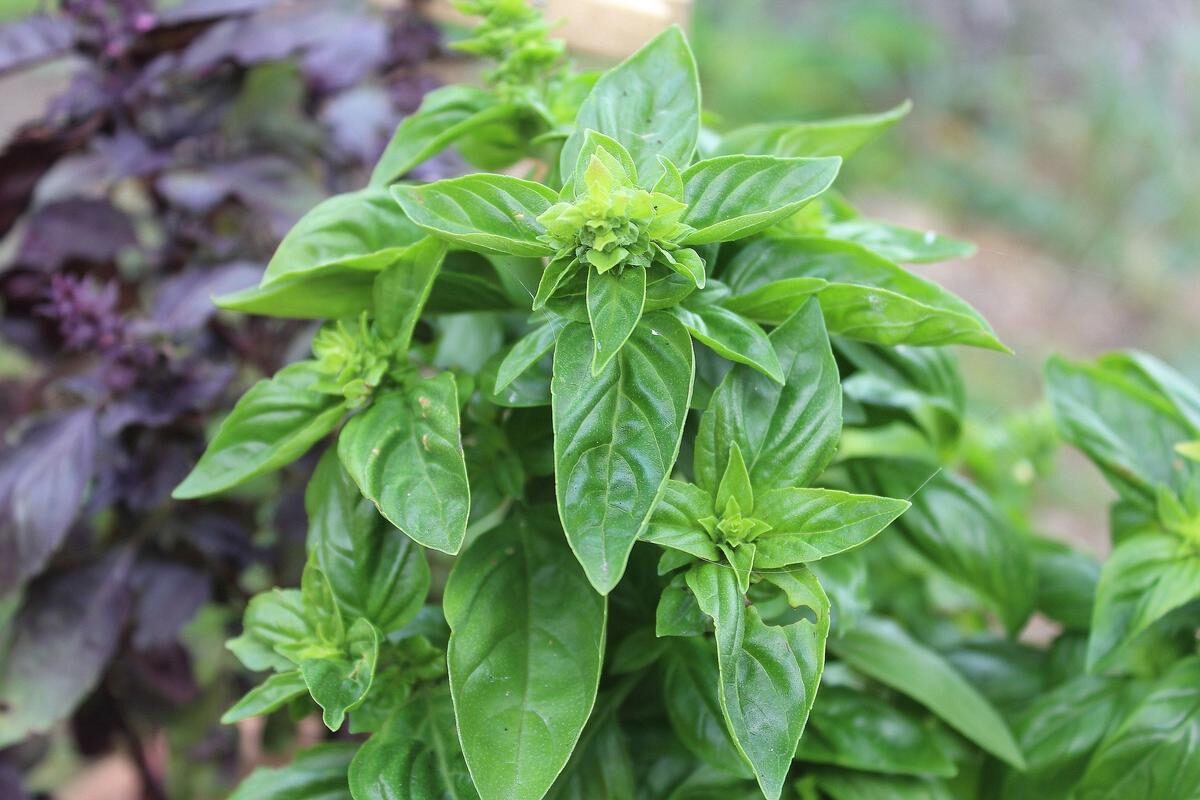 Basil is a great addition to a herb garden that is simple to grow that can be used in so many cuisines, especially Italian. Fresh herbs are more delicious and nutritious than your dried counterparts which makes basil a must have in a home herb garden. Eating basil is hugely beneficial to your health; it is rich in antioxidants and anti-inflammatory properties; which are effective in treating colds and flu as well as promoting liver and cardiovascular health. When used as an ingredient in skin care it helps hydrate the skin and combat the effects of aging. This plant even has the added benefit of warding off mosquitos and other insects that might prey on your other herbs with its natural aroma.
8. Victorian Kitchen Gardens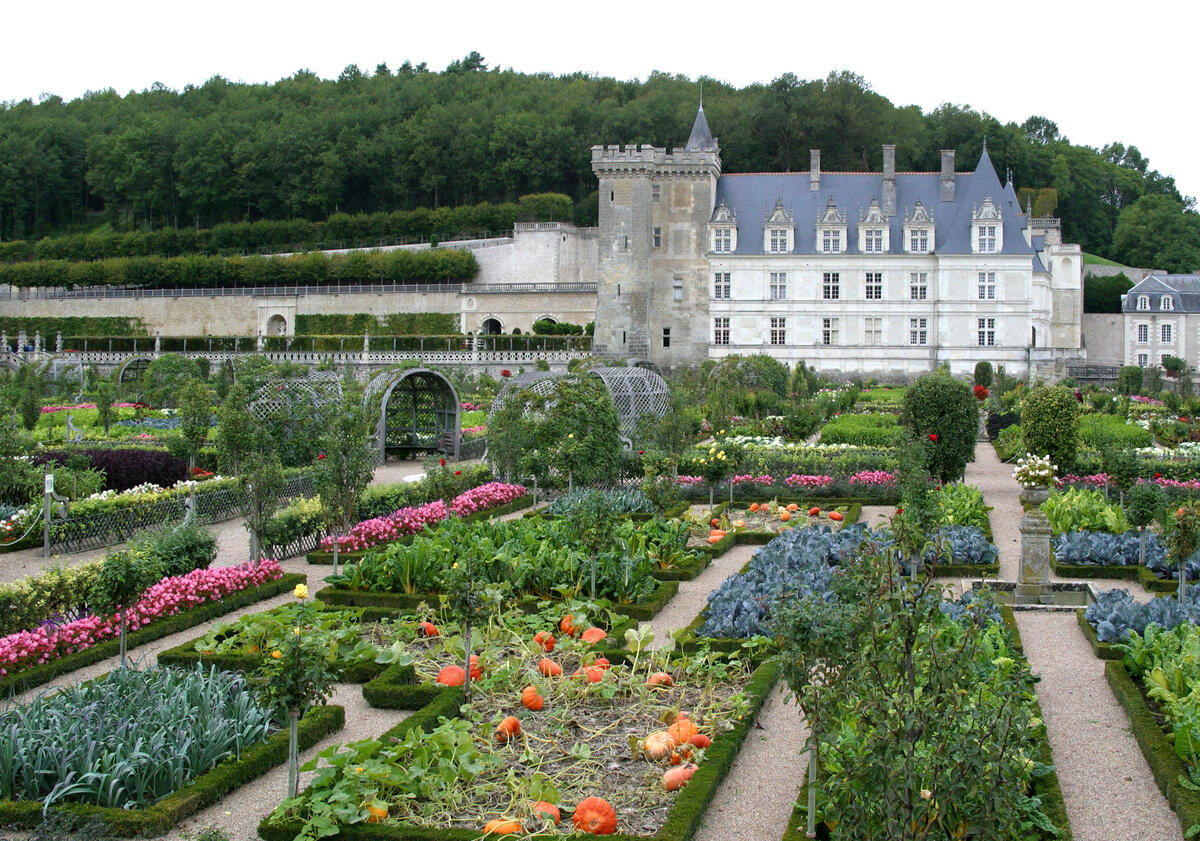 This expansive kitchen garden attached to this beautiful manor house is every gardener's dream. Gardens of this style are a classic of the time to act as your very own grocery store full of fresh ingredients. Each little shrub lined garden bed has been used to grow a particular herb or vegetable to maintain some organization in this huge garden. Herbs can be planted in their own sections or in amongst other plants if they have insect repellant properties to reduce the need for artificial pesticides.
9. Rustic Raised Herb Garden Beds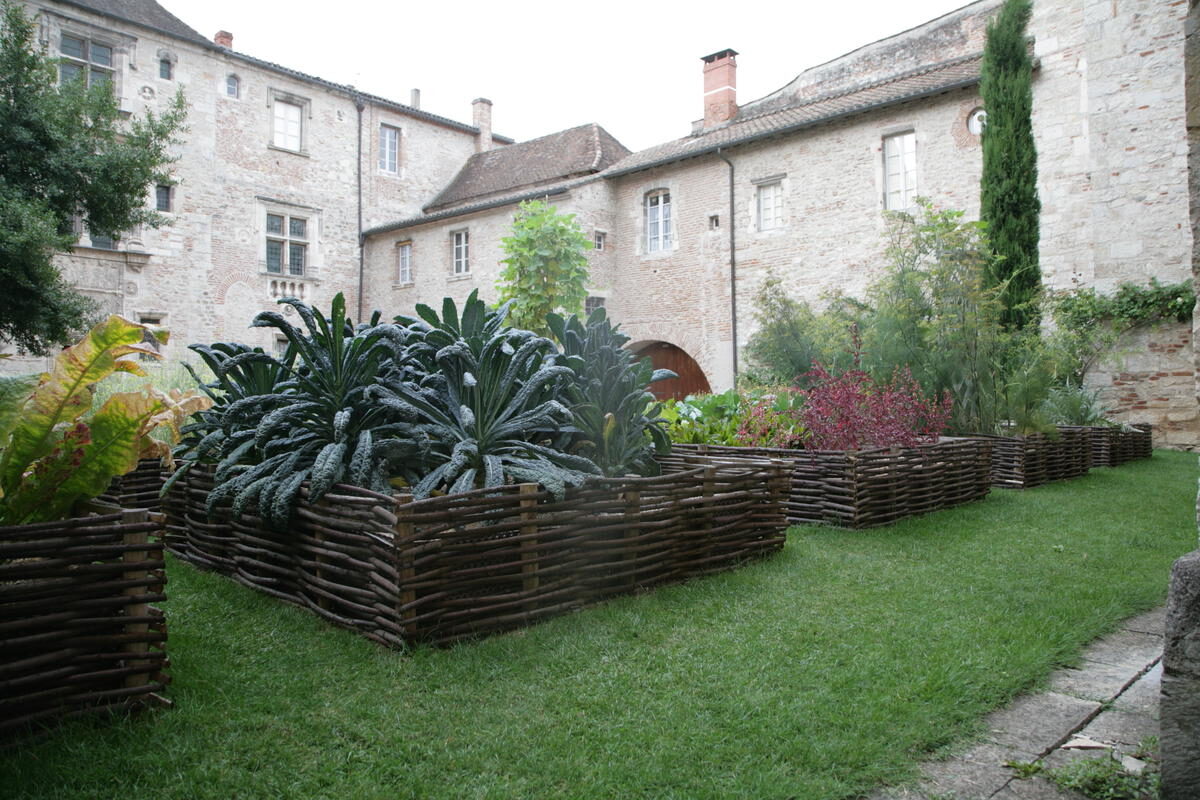 Beside this gorgeous stone manor house runs a rustic manicured garden filled with raised garden beds contained by woven grass fencing. The little boxes have been planted with different types of herbs and vegetables in each that combine into a bountiful kitchen garden. Each bed of herbs is easily accessed and maintained because they are small and raised, making gardening that little bit less strenuous.
10. Croqueted Vertical Herb Garden Ideas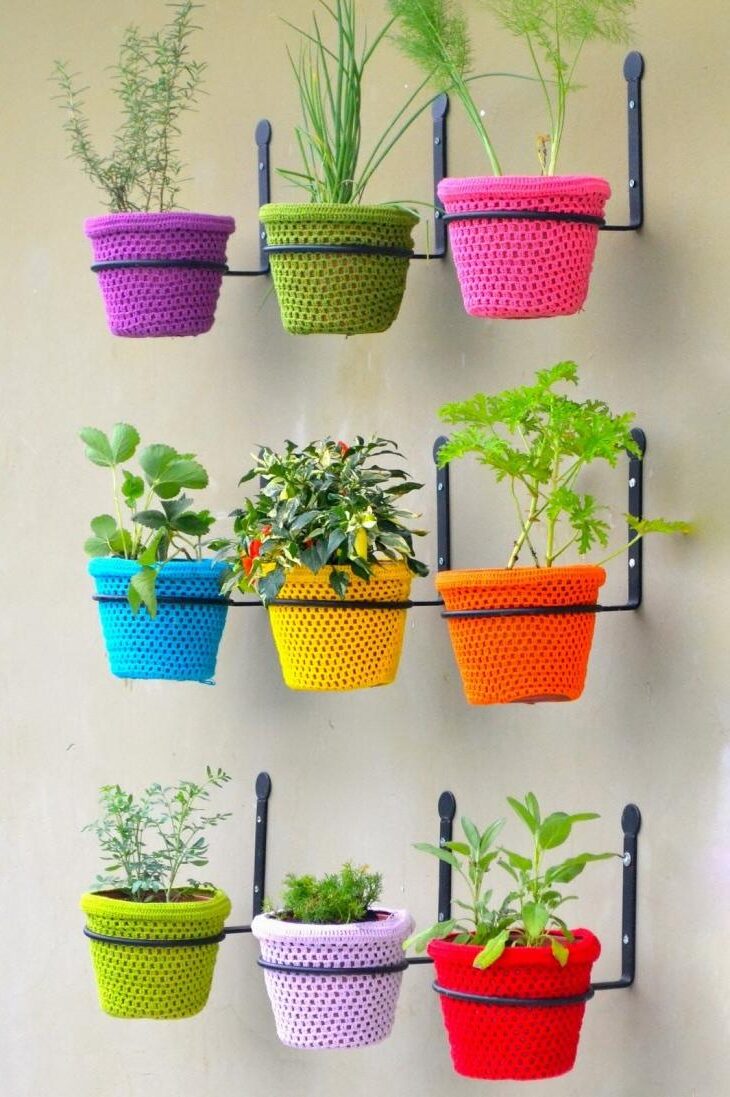 This fun vertical herb garden is made up of little pot holders mounted on the wall in a three by three configuration decorating an exterior wall with a different herb planted in each pot. The hanging garden has been made that little more fun with the addition of beautifully, crocheted potholders that add an unexpected layer of texture and colour. These are cute way to decorate a bland wall that you can crochet yourself in different colours or even different patterns until you're a crochet pro.
11. Lavender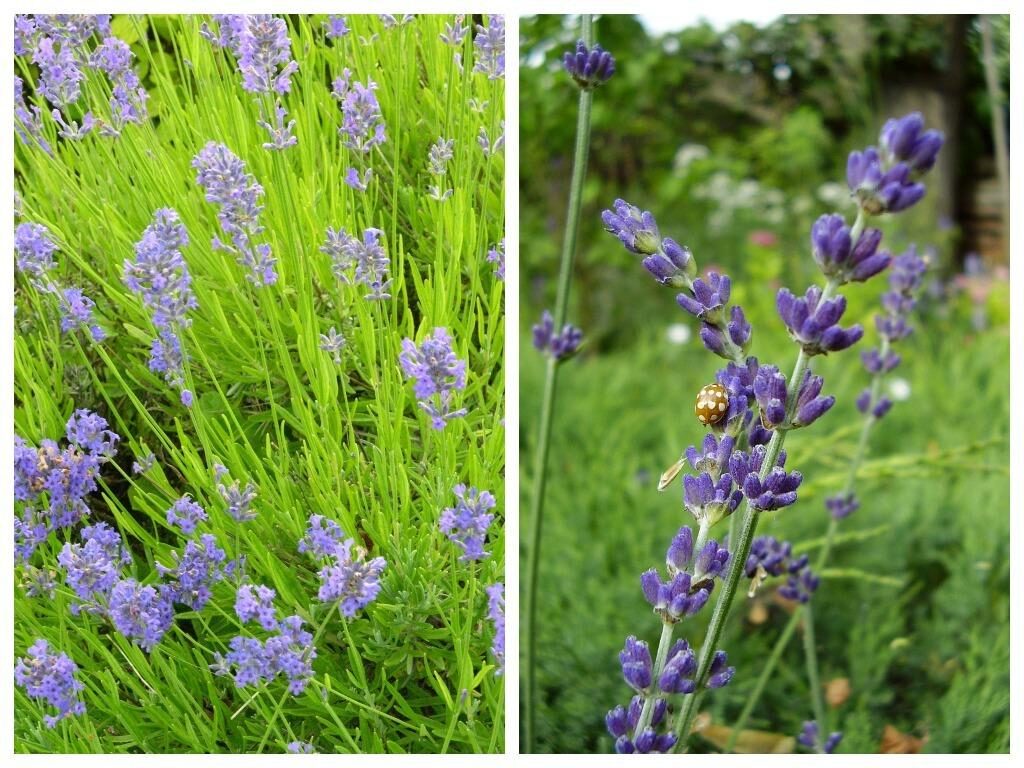 Lavender is a beautiful plant that is a must have in any garden for its beautiful flowers, delicious flavour and floral scent. This fragrant flower is predominantly used to promote a feeling of calm. This can be as a live plant growing in your herb garden, dried as potpourri or in oil form for aromatherapy. The flowers are completely edible and can be used in baking and desserts for a distinct floral flavor. When brewed as a tea it can aid digestion as well as easing pain and headaches. Lavender is also a popular ingredient in skin and hair care for its scent as well as its ability to purify the body.
12. Upcycled DIY Vertical Planter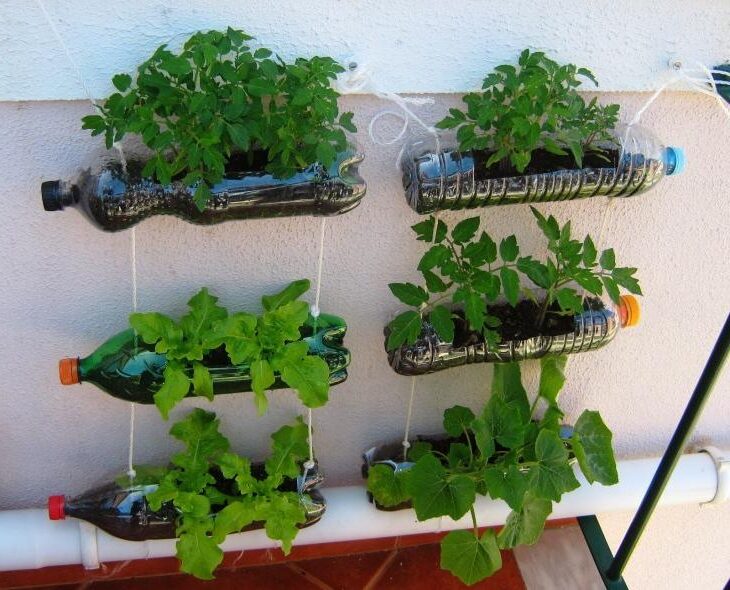 This eco friendly design is a cheap, simple DIY that has been made out of six plastic cool drink bottles that have been cut open and filled with soil. The bottles have been grouped together, tied in two rows with string and hung over the edge of the wall to create a living wall display. Each bottle can be home to a different herb so you always have a variety of fresh herbs on hand to flavour your dishes.
13. Lovage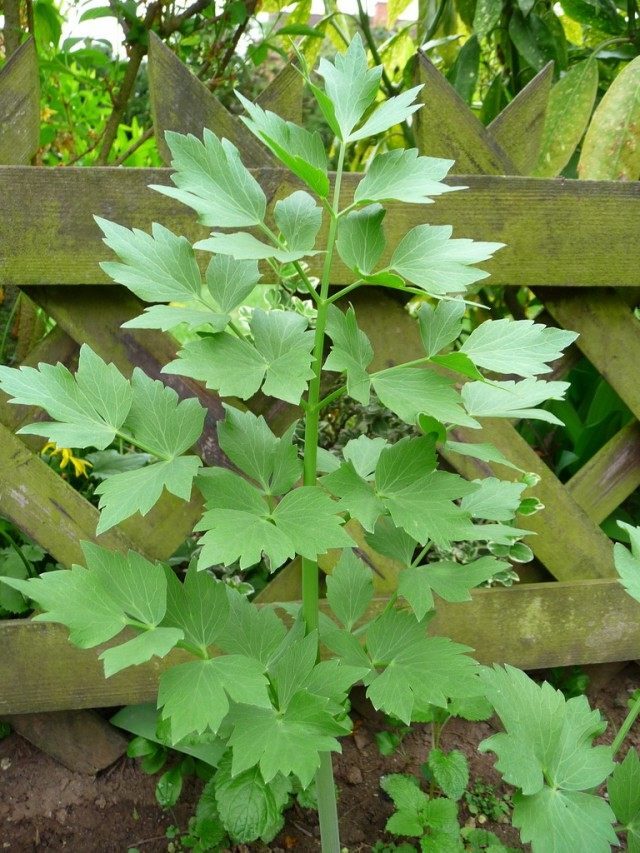 Also known as love parsley, lovage is a perennial herb; which means it can live for several years through every season. The flavour is reminiscent of celery so it can be used in most stocks and soups, it also pairs well with chicken. The wide leafed aromatic herb can be used as a natural deodorant and as a wound salve due to its antibacterial properties that it has been used to treat since medieval times. The plant also has beautiful little yellow flowers that add some colour into your herb garden.
14. Mint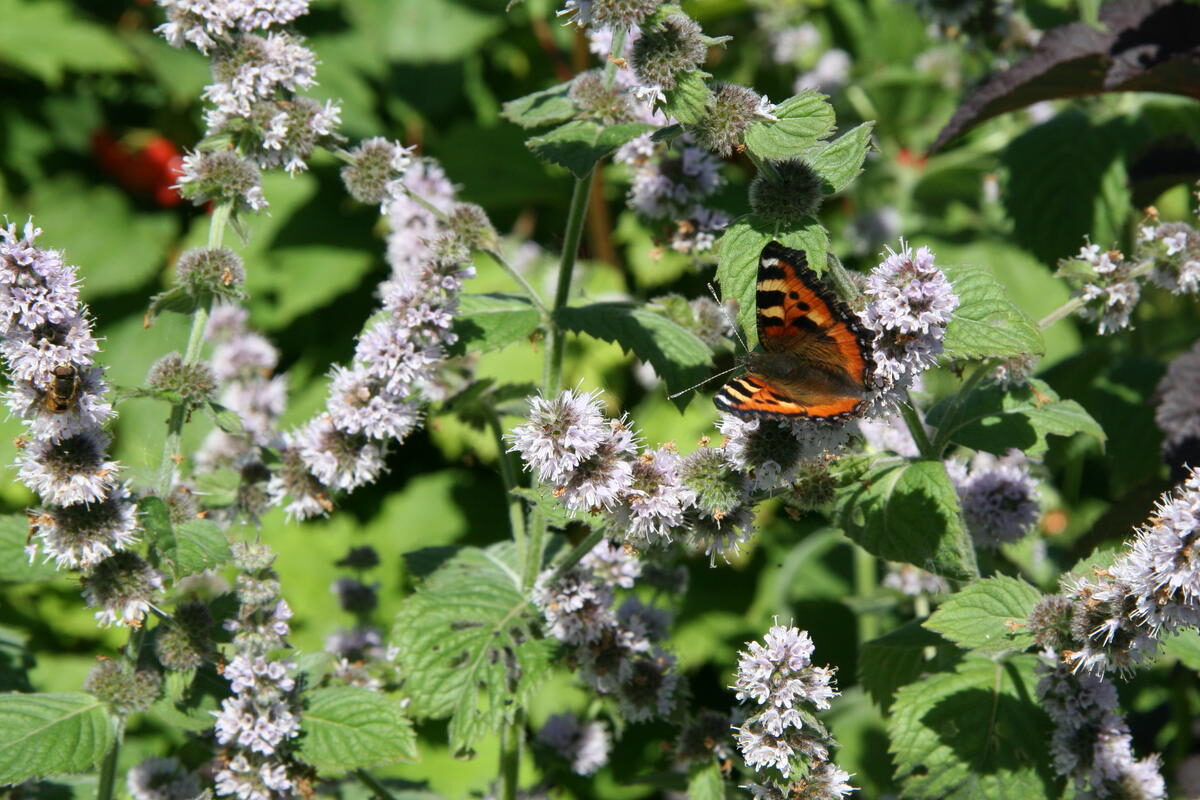 Mint is a herb garden staple that can be used dried or fresh in a variety of dishes. It is great to have on hand for both sweet and savoury cooking as well as a flavourant for cocktails and ice tea in the summer. It is also a natural mosquito repellant that is most potent in its oil form; which is safe to apply directly onto the skin. The dried leaves are a fragrant addition to potpourri or in sachets in your home that can double as a natural insect repellant.
15. Monarda/ Bee Balm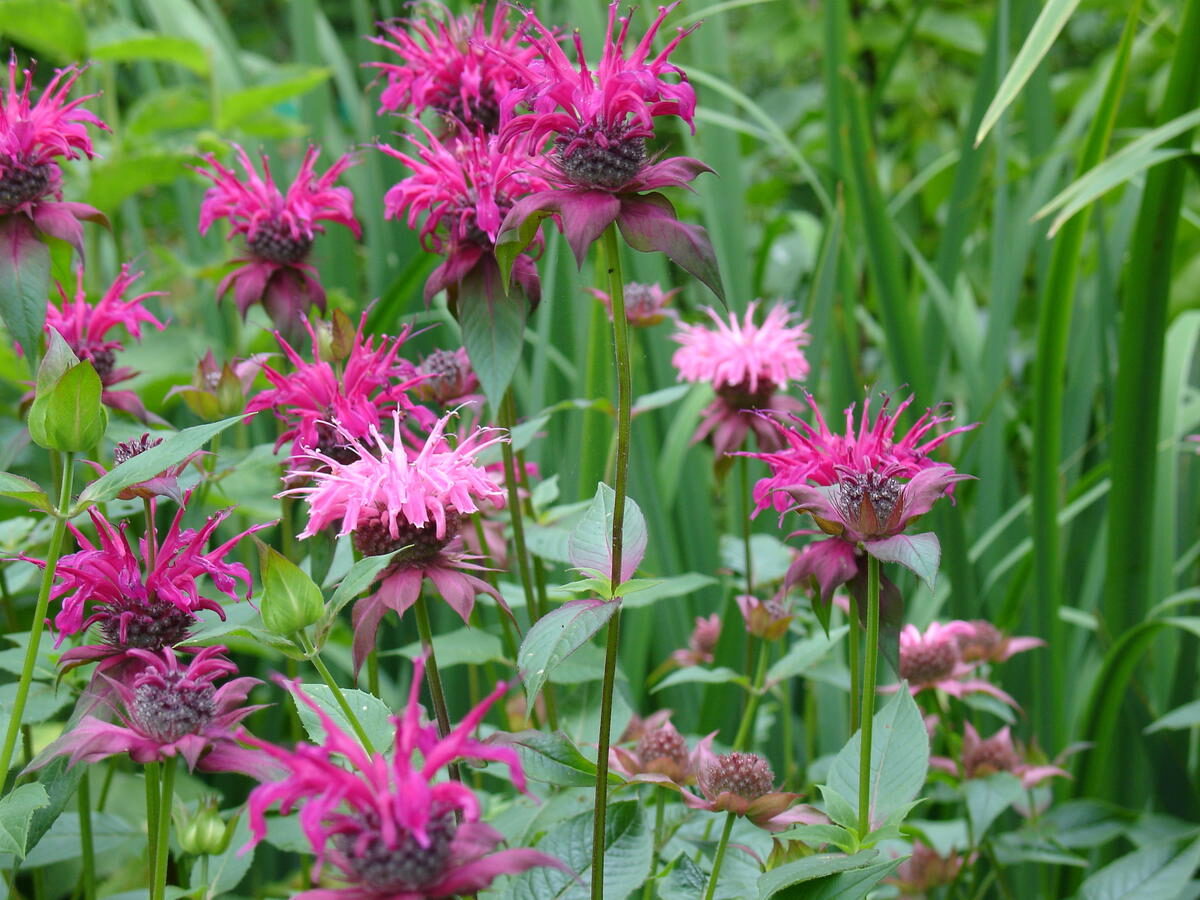 Bee balm is more than just a pretty flower to adorn your garden with. This beautiful plant attracts hummingbirds, butterflies and bees for a garden that comes straight out of Cinderella. The birds that bee balm attracts also feed on insects like mosquitos so they get a delicious snack and you stay bite free! These delicately petalled flowers come in red, pink, white and purple. The crushed leaves can then be distributed around your herb garden to act as a lasting protective barrier against insects.
16. Multi Levelled Herb Planter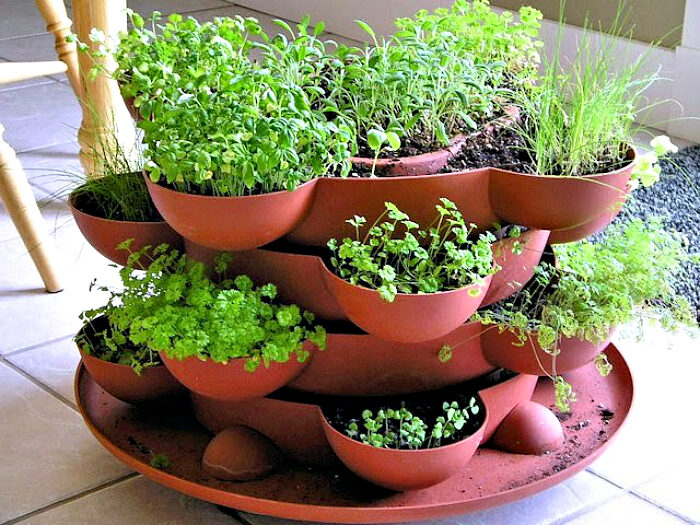 This organic shaped planter is an example of a beautiful, unusual herb garden that takes up very little space. The structure is made of stacked layers of plastic planters that have been rotated 45 degrees on each layer so the quarter moon hollows are exposed. The hollows are then filled with soil and a different herb planted in each one. The top layer is covered over by soil to form one x shaped planter box. This compact little display would be perfect on the balcony of a small apartment.
17. Oregano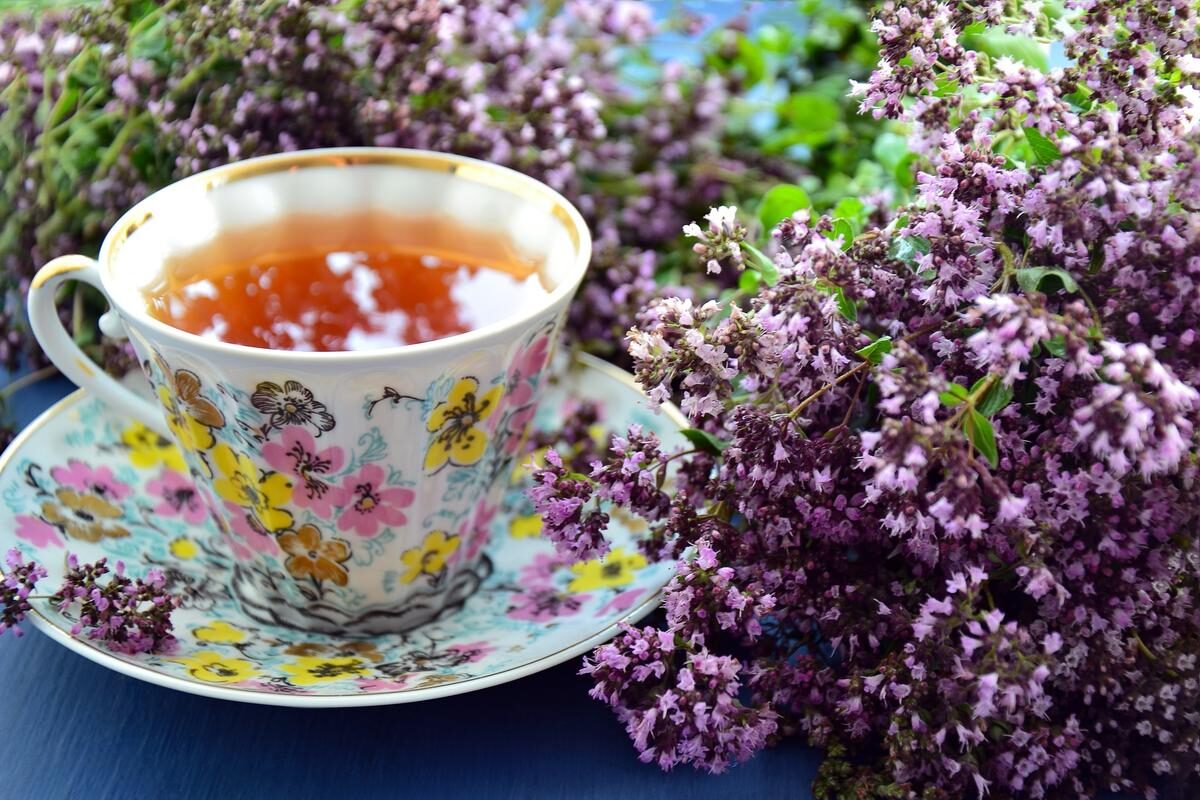 One of Italian cuisine's staple herbs, oregano is not only fragrant and delicious but has some healing super powers. These little leaves contain the chemicals thymol and carvacol, which are also found in thyme. These chemicals are responsible for its antiseptic and insect repellant properties. It can be used both dried, fresh and in oil form. Oregano is a herb garden staple that can be used to season and vegetable or meat under the sun for a distinct fragrant flavour. They also bloom with beautiful purple flowers that brighten up your herb garden.
18. Parsley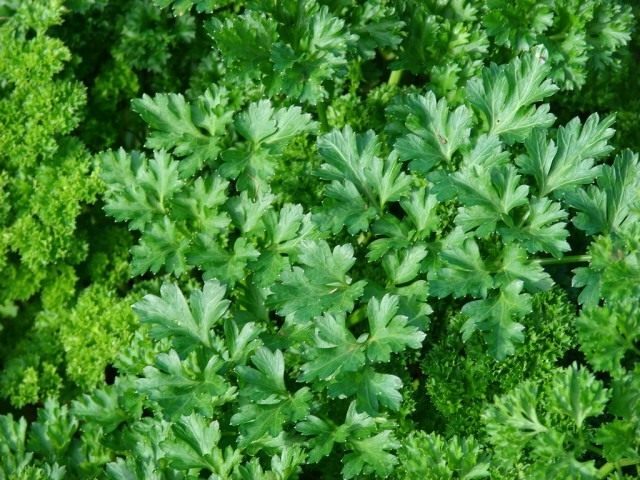 This Mediterranean herb one of the holy grails of a beginner's herb garden because its easy to grow and can be used in so many different cuisines. This leafy herb has a fresh, spicy flavour and can also be used as a natural colourant. Parsley comes in many different varieties like French curly leave and Italian flat leaf, all of which are easy to grow and maintain.
19. Purslane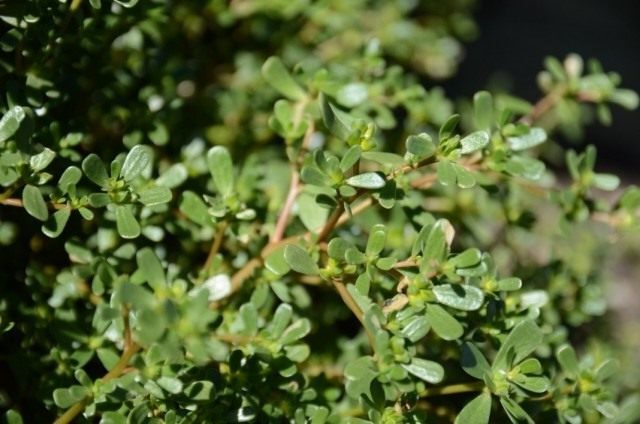 Technically classed as a weed, purslane is an underutilized herb that is incredibly nutritious. It is higher in betacarotene than carrots and higher in vitamin E than spinach that you can steam or use fresh in salads and smoothies. This is an interesting, unusual herb to have in your garden to get creative with in the kitchen.
20. Wild Garlic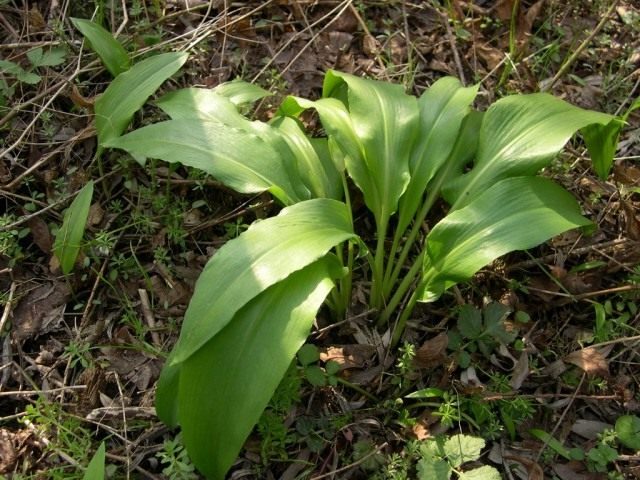 Wild garlic is an evergreen perennial plant in the amaryllis family that is grows best in moist conditions, which should be considered before planting. The garlic grows in a bulb growing underground, which can be used as you use normal garlic but you can also eat every part of the plant so nothing goes to waste.
21. Rosemary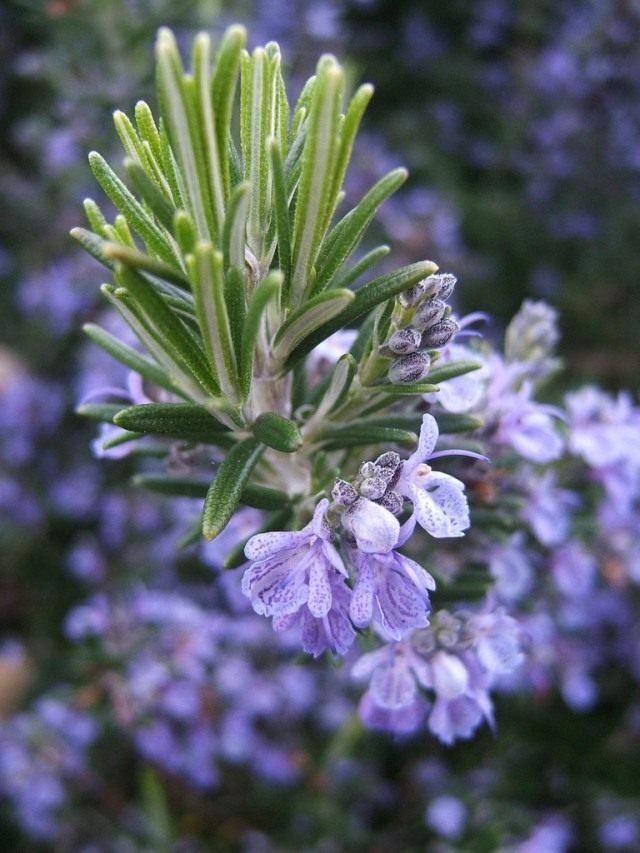 Rosemary is a versatile woody herb that can be used to uplift many dishes especially chicken and lamb. This fragrant plant with delicate white flowers is also a natural air purifier. When eaten this herb is not just delicious but antimicrobial, an anti-inflammatory and full of antioxidants. In aromatherapy rosemary is a powerful cognitive stimulant, which can inspire feelings of happiness and inspiration. This is another herb garden staple that is essential to have around for cooking as well as its beautiful fragrance.
22. Upcycled Tyre Planters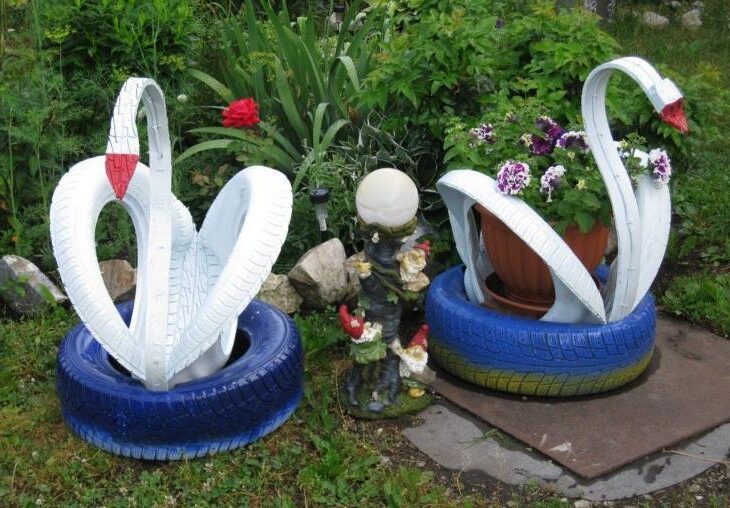 These swan potholders are a fun upcycled DIY project using only old tyres and spray paint. The cheap and eco friendly material has been bent and manipulated into the shape of swans, fixed in place and painted accordingly. Once dry a large pot can rest on the swan's back between its wings with space for a cluster of different herbs to be planted in each pot.
23. Coriander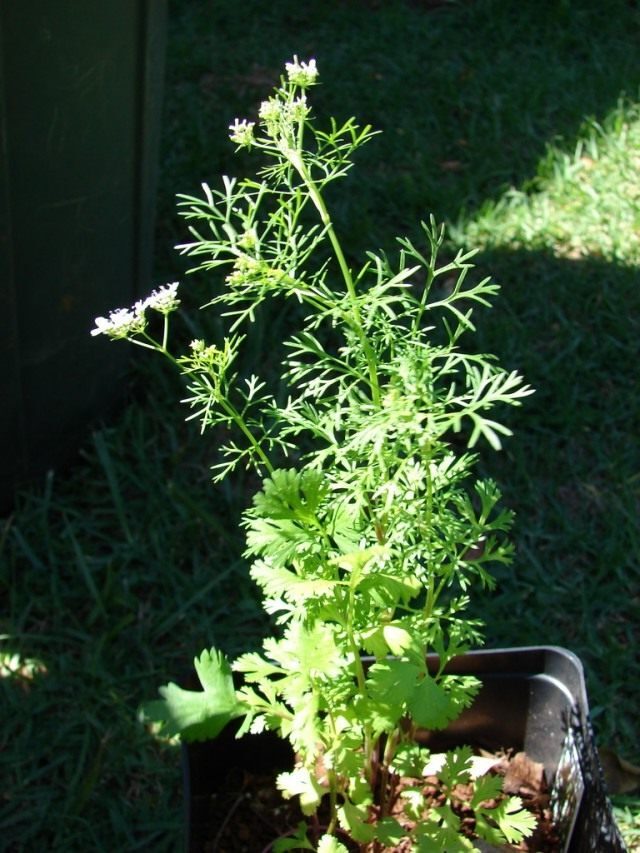 Coriander, also known as cilantro, is a versatile herb that is a delicious fresh addition to a lot of Asian and South American and Middle Eastern dishes. The soft herb is a natural immune booster chock full of antioxidants. The seeds themselves act as an anti-inflammatory and can be used as a spice to flavour curries and stir-fries. As well eating coriander it can also be made into extracts and oils, all of which can help lower blood sugar levels.
24. Tiered Tyres Of Herbs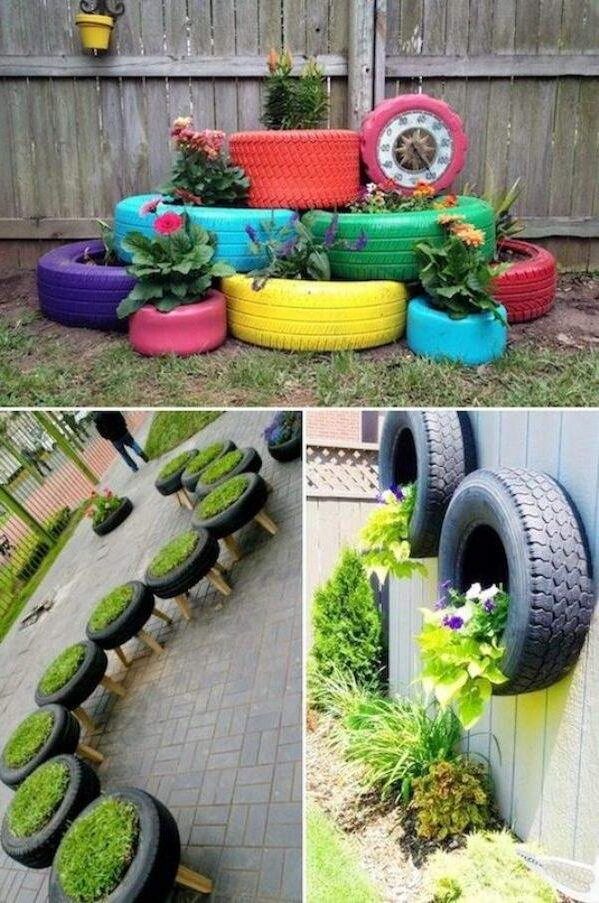 This is another easy, upcycled planter that can be made out of merely old tyres, spray paint and soil. The tyres have been simply lined, painted and filled with soil before being stacked in a rough pyramid. Each tyre can then be host to a different type of herb so you always have a lot of choice when choosing what to cook with.
Conclusion
Delicious herbs paired with fun and rustic planters are the perfect combination of delicious, nutritious and beautiful, the trifecta of a useful and visually appealing garden. There are so many different kinds of herbs that range from low to high maintenance to suit gardener's of any skill level and growing space so you can make these work for you no matter what situation you find yourself in.
So, with your green thumb at the ready go out into your garden and start your very own herb garden today!