Ceiling decoration has been a trend through out history. Throughout periods; such as the Renaissance and Baroque eras; ceilings have been adored with elaborate murals, gold leaf and intricate mouldings.
More recently however the standard white ceilings boards have become far more common place If you think about it ceilings take up the same area of our interior spaces as our floors do, just above our heads, so why not take as much care in their design? This is an often overlooked opportunity to add a unique element of design to our homes.
25 Inspirational Ceiling Decor Ideas to Give Your Boring Ceiling a Make Over

Ceiling decor is also something that can be temporary which makes it perfect to add an extra flair to an event space. Hanging objects or lighting from the ceiling to match the theme of the event makes the experience all encompassing and therefore a far more interactive experience.
If we take as much time considering our ceilings as we do our flooring we can add a whole new dimension to our interior design. If you are interested in getting some ideas for how you can make your ceilings more unique here are:
1. Mouldings and Spotlights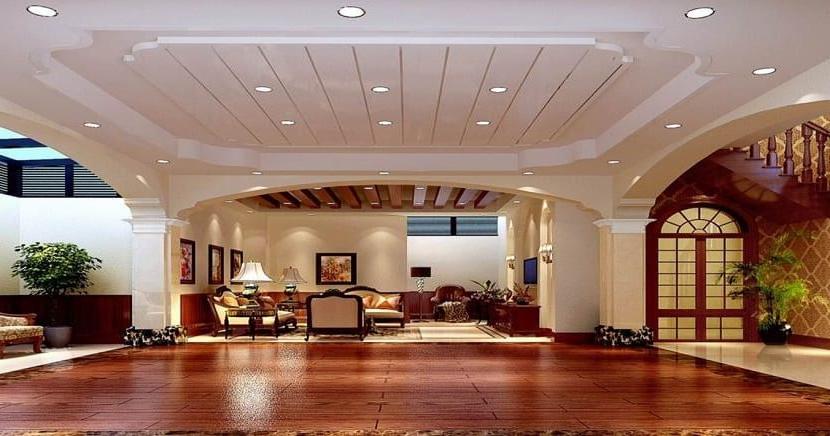 Classic mouldings and lighting can be used together to co-ordinate a very sophisticated but stand out ceiling. This one uses recesses and different layers of mouldings that are all united by the decorative corners. Spotlights, which lie flush with the ceiling, are symmetrically laid around and within the moulding to accentuate the design and make the very large space well lit. Using these two elements together can be adapted to any type of space and any size making it a nice simple option.
2. Recessed Uplighting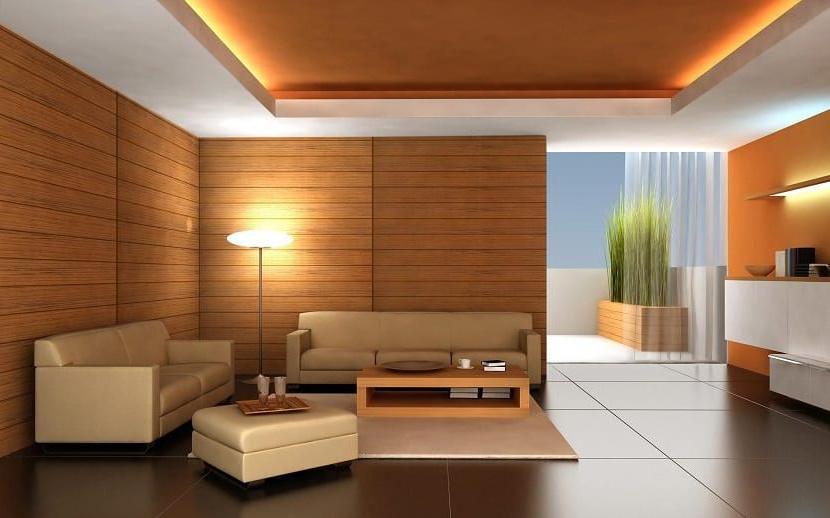 Another way to combine ceiling mouldings and lighting in a more contemporary way is with a drop ceiling and uplighting. In this example a rectangular portion of the ceiling is raised above the rest and painted a colour that matches the accent wall. The lighting, which really takes this to the next level, takes the form of uplighters hidden in the recess created by the layers ceiling. This is a really classy way to enhance the room's design and to add a soft, reflected light into a living space.
3. Graphic Carved Ceilings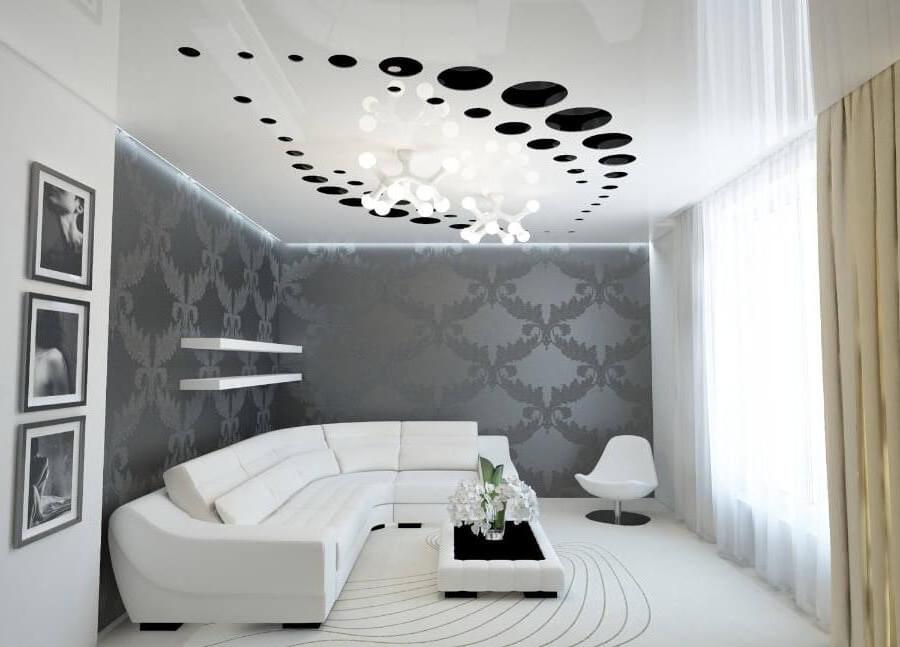 Ceiling boards of different materials are very easy to carve shapes out of which makes this style easy to DIY. Any shape you think will compliment the room can be carved out of the boards and replaced with another material to change its texture or colour. This particular design has been used to imitate and reflect the statement light fixtures and add to the almost futuristic aesthetic of the room. No matter what your style by using this technique you can easily change up the design to reflect the ambience you with to achieve for a relatively low cost.
4. Ceiling Art
Another cheap but striking option is to paint your ceiling with a signature colour or pattern. This can be done very cheaply as a DIY using normal house paint. This means that the world is your oyster, you are free to use whatever colour and designs you want, the only limit is your creativity. In this example the ceiling reflects the colours and patterns already present in the room in the furniture. Using your existing interior design as inspiration is a great way to make your room feel truly cohesive.
5. Classic Moulded Gilded Ceilings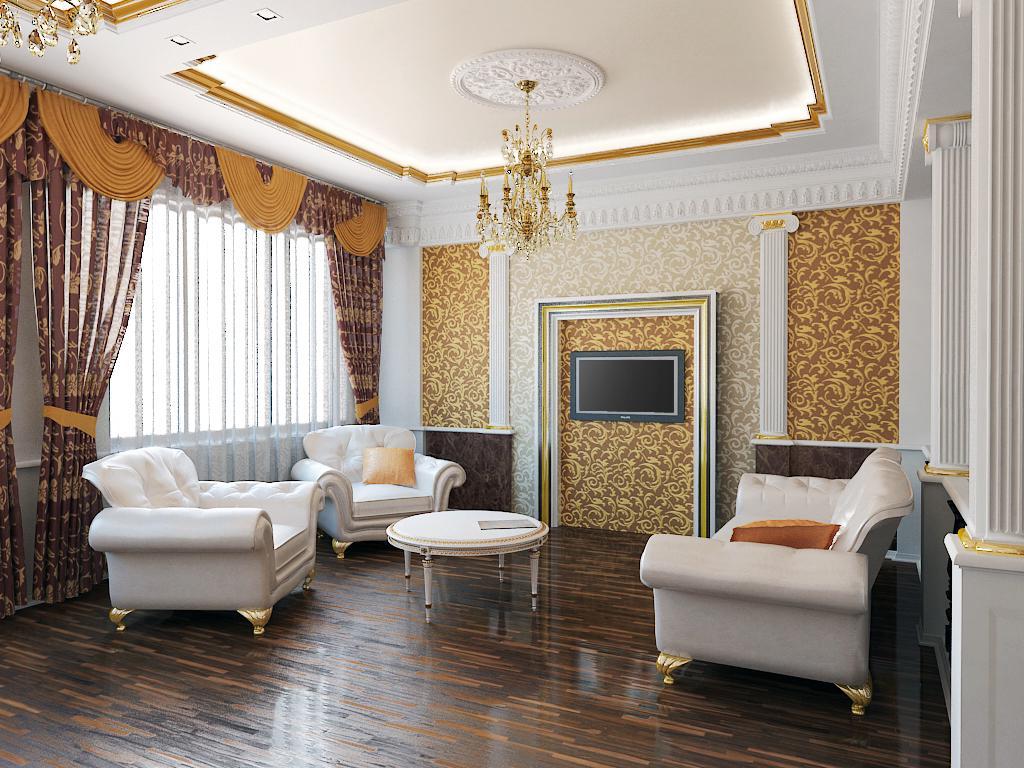 As in our first example this design makes use of classic recessed mouldings to add some dimension to the ceiling. However, since the design of this particular room is a little bit more flashy, they have made use of a few tweaks to make the basic design feel more luxuriant. An ornate ceiling rose to frame an elaborate gold chandelier brings the focus straight to the centre of the room. Gold edging on the recessed mouldings ties in with the chandelier and wallpaper to create a very luxurious interior.
6. Conceptual Hanging Décor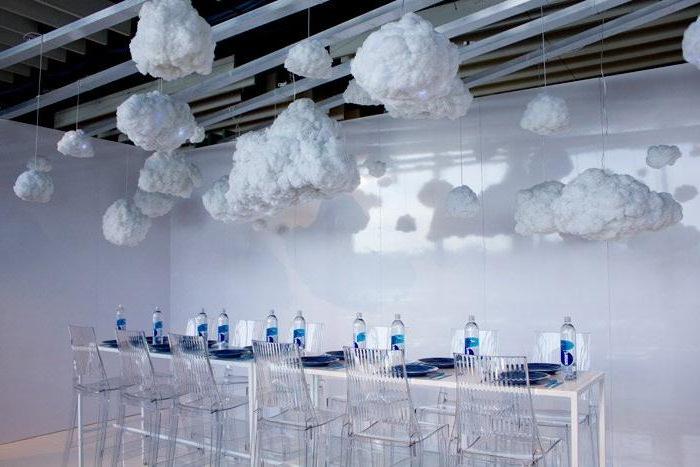 Hanging conceptual art is a sure fire way of making a space truly iconic. Whether in a home setting or as part of an event space, this technique can make entering the room a real experience. This simple cloud sculpture makes the very stark space its placed in go from boring to ethereal in the blink of an eye. If you want real artworks this can be a pricey option but by keeping the rest of the room simple you can save money and make your investment the true star.
7. Colorful Geometric Patterns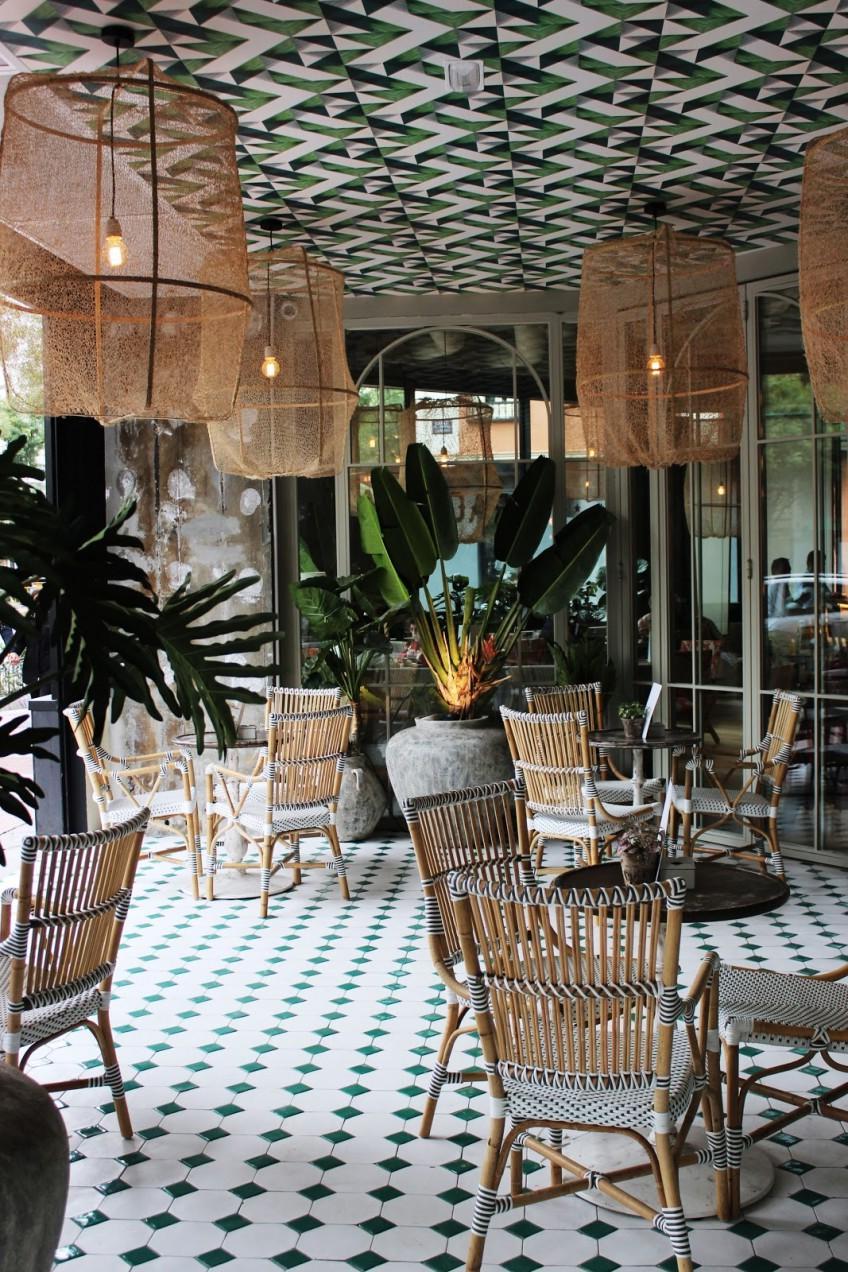 As we saw in our fourth example, colourful geometric patterns are a very impactful way to tie your room's design together. This example kicks it up a notch with a ceiling panels featuring a more intricate design in a limited colour palette of white and green. Pairing this pattern with the colours and pattern of the floor tile frames this indoor/ outdoor space perfectly.
8. Wooden Panelling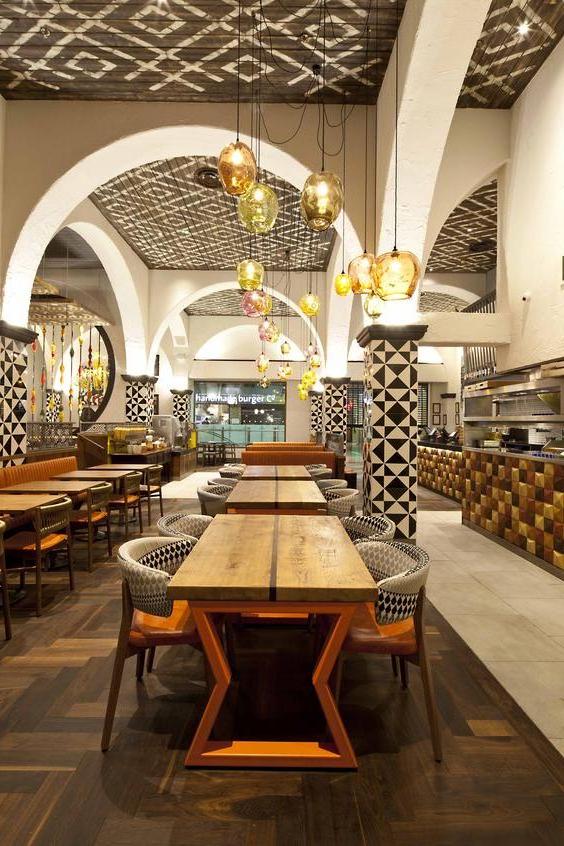 Just how in the previous example the design was brought together by coordinating the floor with the ceiling this one does the same but this time using wood. The design of this whole restaurant shows how using the same materials and patterns throughout the space can be really effective. The restaurant has wooden details and diamond patterns repeated throughout the interior design and this has informed the choice of ceiling as well. The rough wooden slats painted with a diamond pattern tie up the graphic style of the room and enhances the feeling of rustic elegance.
9. Painted Stencil Patterns Ceiling Decor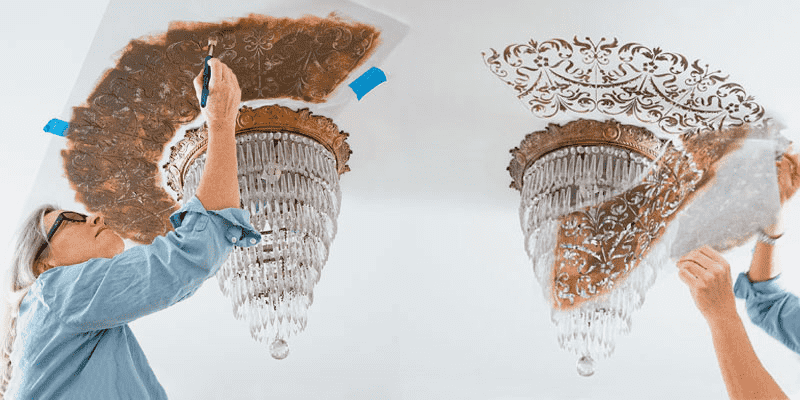 Painted stencils are a beautiful and simple way to add to your ceiling decor on a budget. The materials needed are simple and easy to obtain cheaply which makes this a great option for you to do at home yourself. Patterned stencils can be found at most craft stores but if you can't find a design that suits you or you just want to flex your artistic muscles you can design and cut out your own design. Be sure to choose a paint colour that will coordinate well with your interior. To achieve this secure the stencil firmly with tape and then all you need to do is paint over it. Taking off the stencil before the paint dries is a very important step to prevent your design from peeling off.
10. Exposed Beams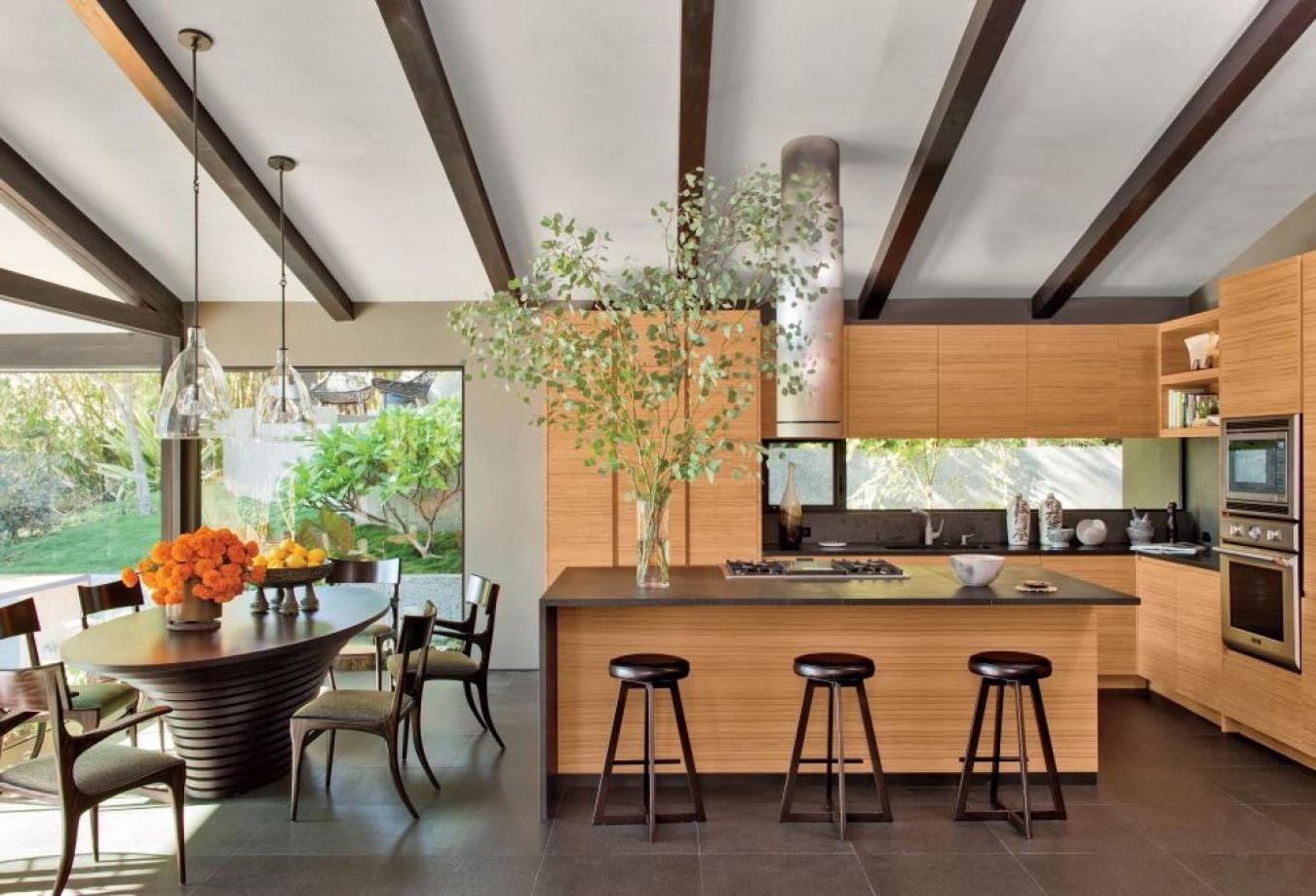 If your home has exposed beams this is the perfect opportunity to let your houses structure do the talking for you. In this example the exposed beams in the pitched ceiling have been stained a deep brown to match the dark kitchen furniture. Leaving the ceiling boards in between the beams white allows the dark wood stand out more and draws the eye to the unusual pitch to this statement kitchen.
11. Decorative Decals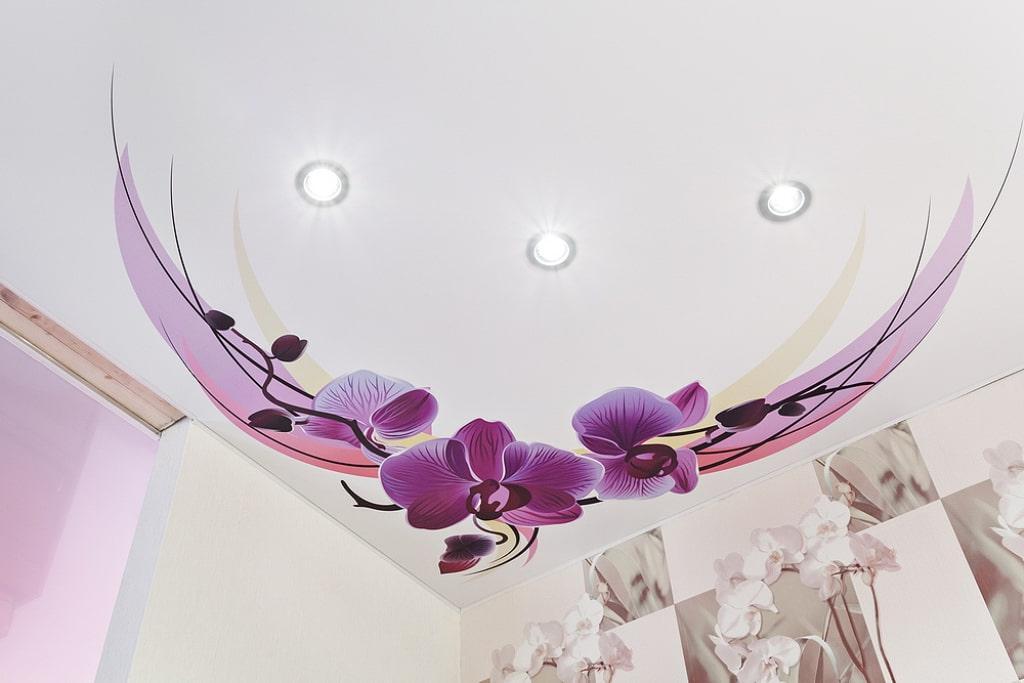 Just like using painted stencils decorative decals are a cheap and DIY friendly option for ceiling decoration. Decals such as can be bought online or at craft stores relatively cheaply. Although they may require teamwork for (especially for larger designs like this one) a seamless bubble free application, once they're on they're a maintenance free way to jazz up a plain ceiling. You could use multiple stickers to create a pattern or just one large like this to accent one corner. Be sure to clean the ceiling board and let it dry fully before applying so there is no dust present on surface when you are adhering it.
12. Nature Inspired Hanging Art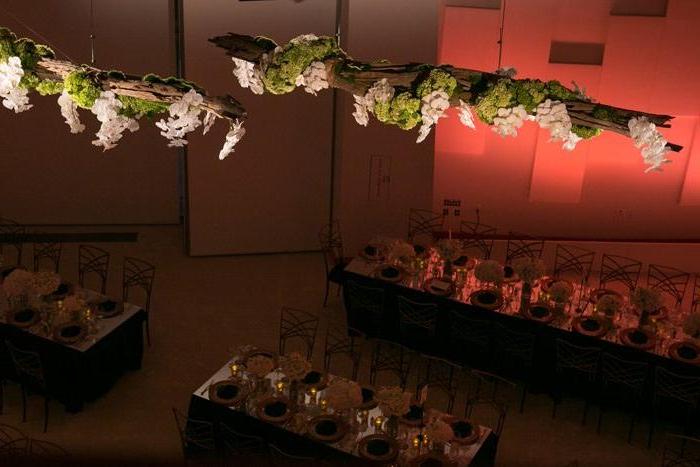 Hanging natural elements such as these flower and leaf strewn branches are ideal for event purposes such as weddings. They can be hung relatively easily and taken down after the event to make a rather plain venue into something a bit more special that works with the wedding's theme. This is a dramatic piece of decoration that can actually be DIY'ed from foraged branches and fake foliage from a craft store so you can tailor it to your exact taste. Creating these yourself also means you get a beautiful natural decoration on a really low budget.
13. Cornicing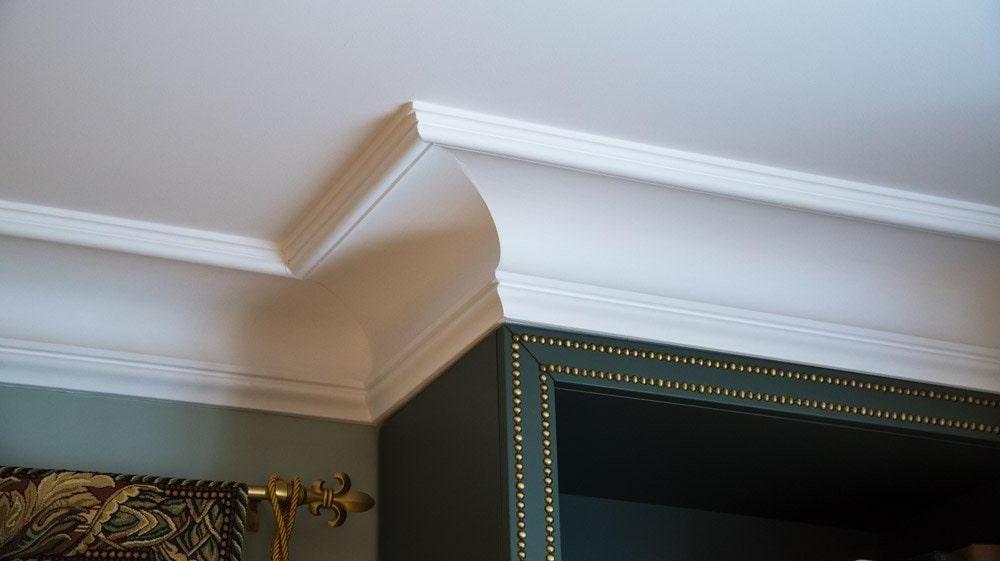 Cornicing, also known as coving, is the most common way to hide and adorn the junction between the wall and the ceiling. These come in so many standard designs across a large price range so no matter your budget you can find something to suit you. Commonly made from plaster or polystyrene, cornices are light and easy to install and maintain. Overall cornices are the popular in most houses.
14. Inflatable Rings Ceiling Decor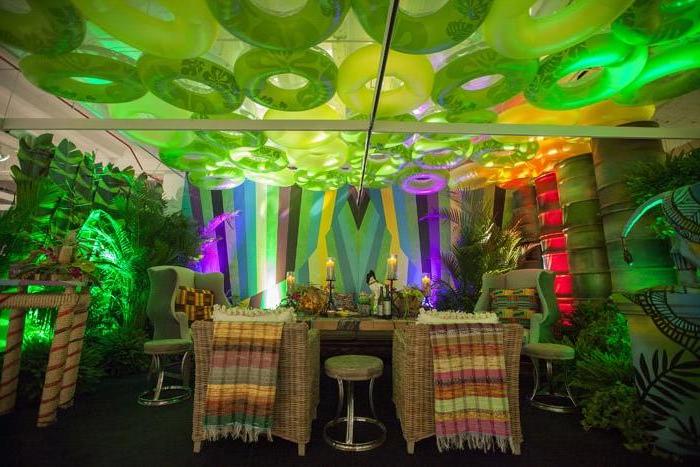 Do you like your interior design with a little sense of humour? These inflatable pool rings are a really unique option for a space that you want to have a little bit of fun. Their translucency means that you can pair them with energy saving colored lights to make them glow overhead. This is also a look that you can easily DIY, you just might after ask a few friends over to help you blow them all up! A quirky ceiling design like this pairs well with the eclectic mix of colours in the rest of the room to create a colour explosion!
15. Matching Your Laminated Flooring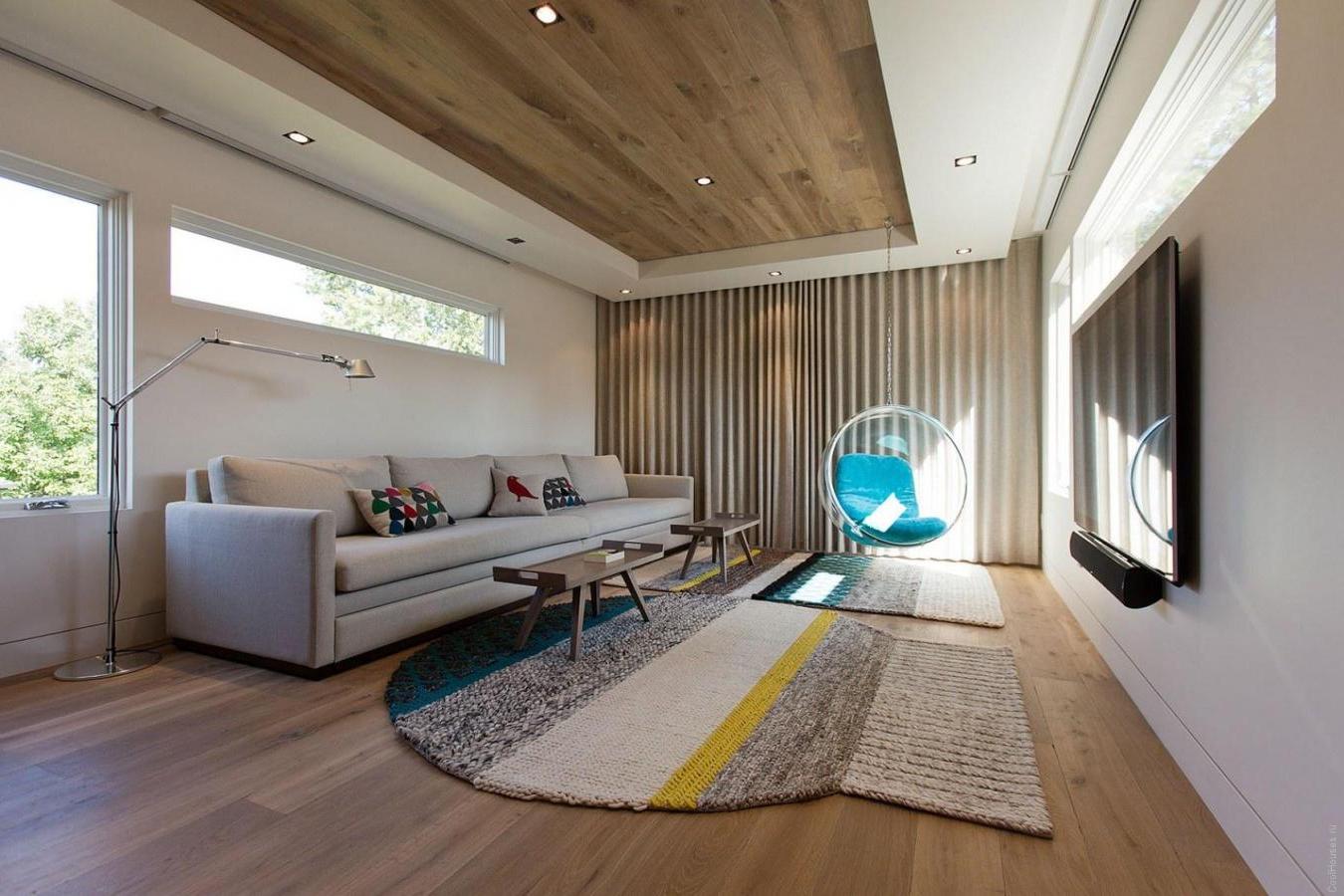 A seamless way to incorporate your floor and ceilings is to literally use the same material. This recessed style ceiling that we've seen previously with the simple symmetrical spotlighting forma a clean rectangle to set the floorboards into. As an added bonus installation is also relatively simple because laminate flooring is so light
16. Concrete Exposed Beams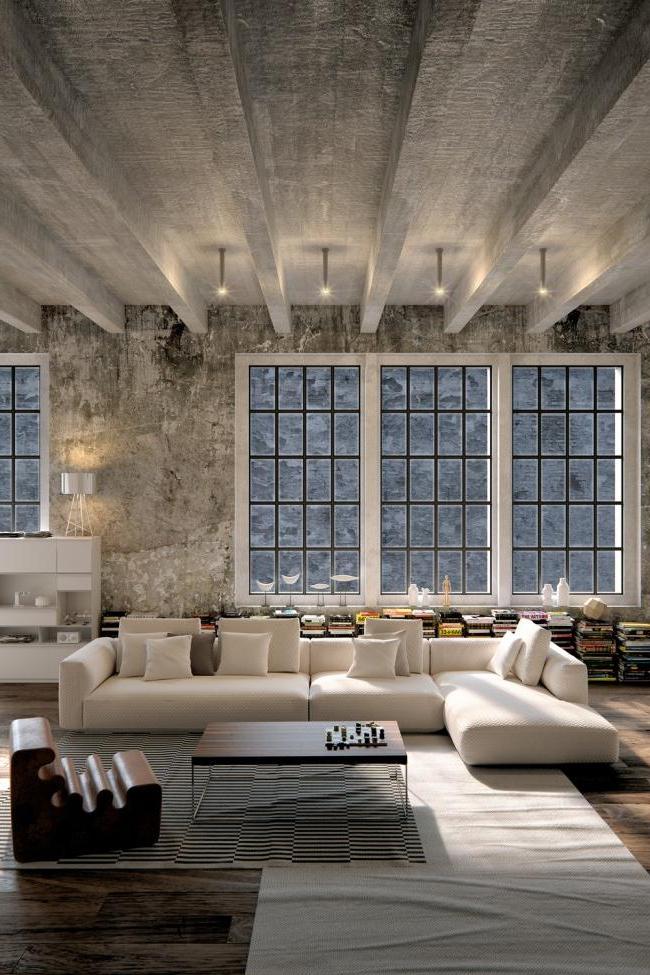 Like example 10, this design lets the structure speak for itself. In this brutalist style loft ceiling the concrete beams are left exposed and painted with a coating to prevent dust. Taking advantage of an element that is already there for structural purposes means you get two for the price of one: structure and a clean modern canvas to base the rest of your interior around. It also doesn't cost you any extra money.
17. A Glossy Finish with Elaborate Lighting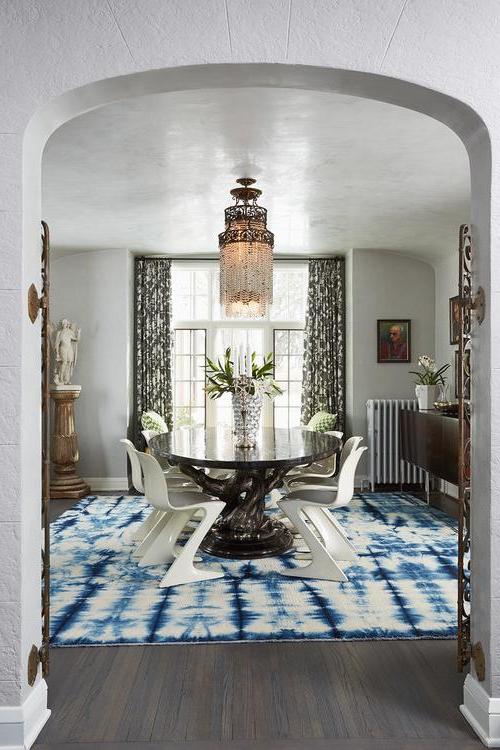 Sometimes the way to decorate your ceiling is to use it as a vessel to emphasis other design features like this tiered chandelier. The ceiling itself is totally seamless and smoothly bends into the walls on either side. The surface is a neutral grey with a glass like shine that reflects the light across the room. All these qualities serve as the perfect blank canvas for the detailed lighting and fabric picks.
18. Pitched Graphic Ceiling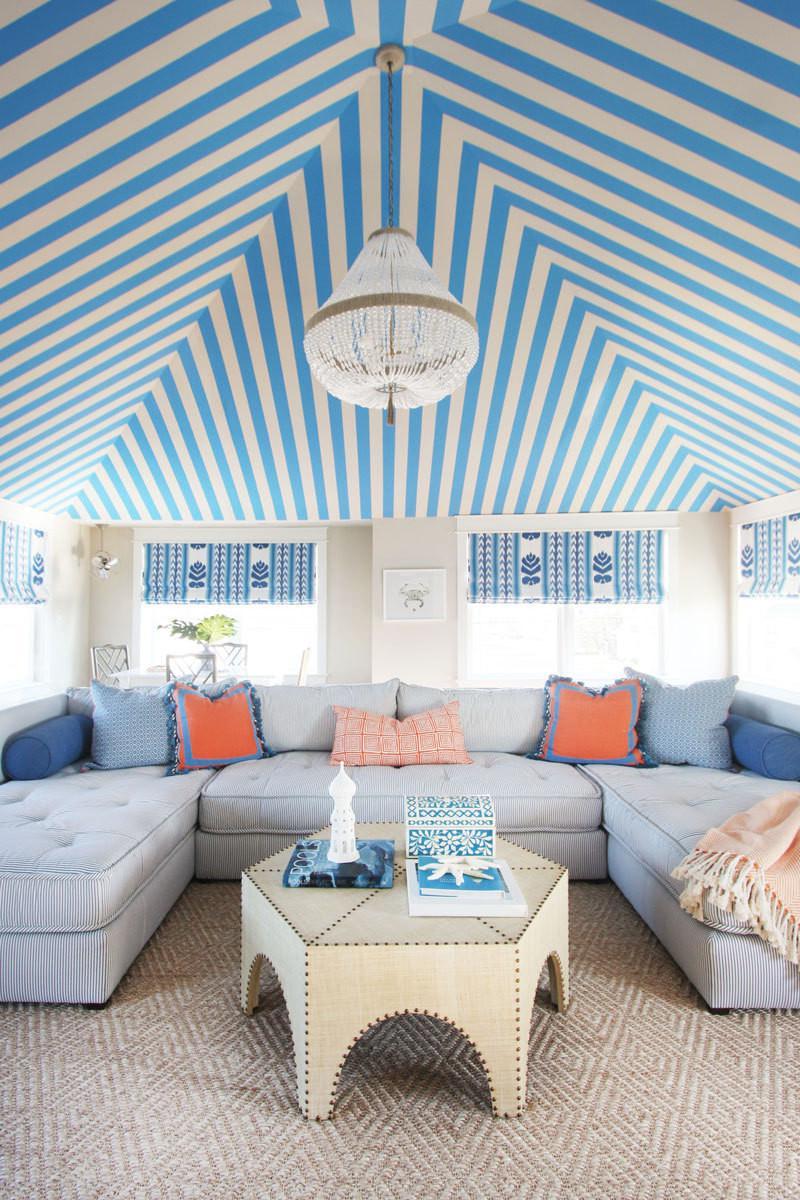 We've seen some examples of cheap, painted ceilings already but this turret-like pitched ceiling is on another level. The bright blue chevron pattern takes advantage of the existing architecture to create a breathtaking ceiling design, The chandelier set in the center adds an appropriate level of theater in an already dramatic yet affordable design.
19. Wallpapered Ceiling Decor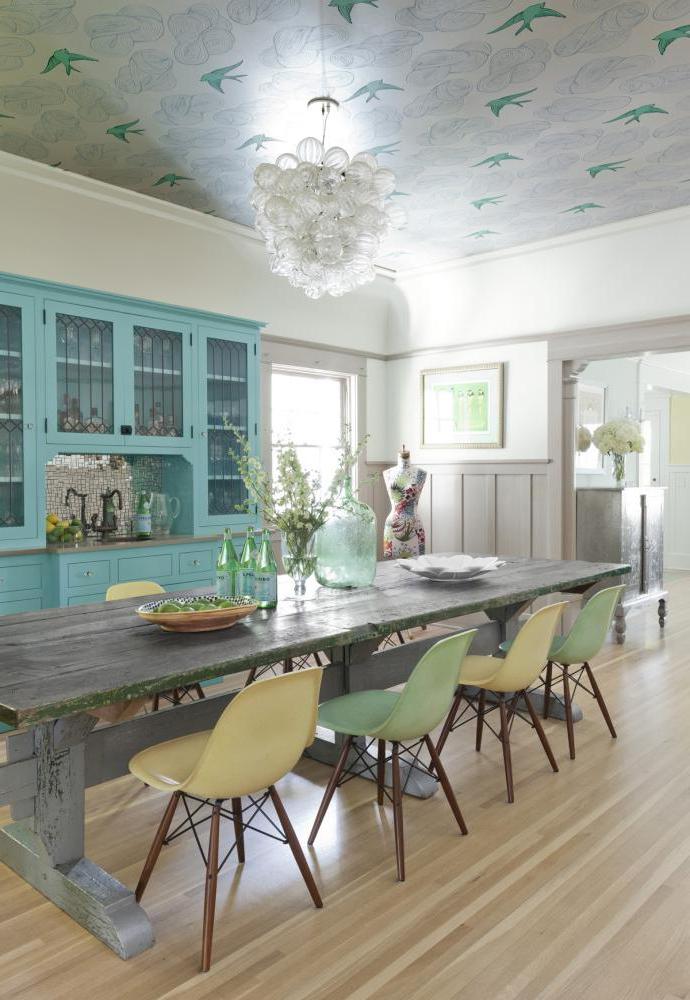 Another DIY friendly ceiling decoration is wallpaper. Its easily available online and in hardware stores and it comes in a myriad of prints and colours. Wallpaper can be easily applied yourself with very few tools which means this is a cheaper option while still having plenty of designs to choose from. The rest of the design in this example is made predominantly of objects with solid colours, leaving the detail of the room to all come from the ceiling.
20. Eclectic Patterned Ceiling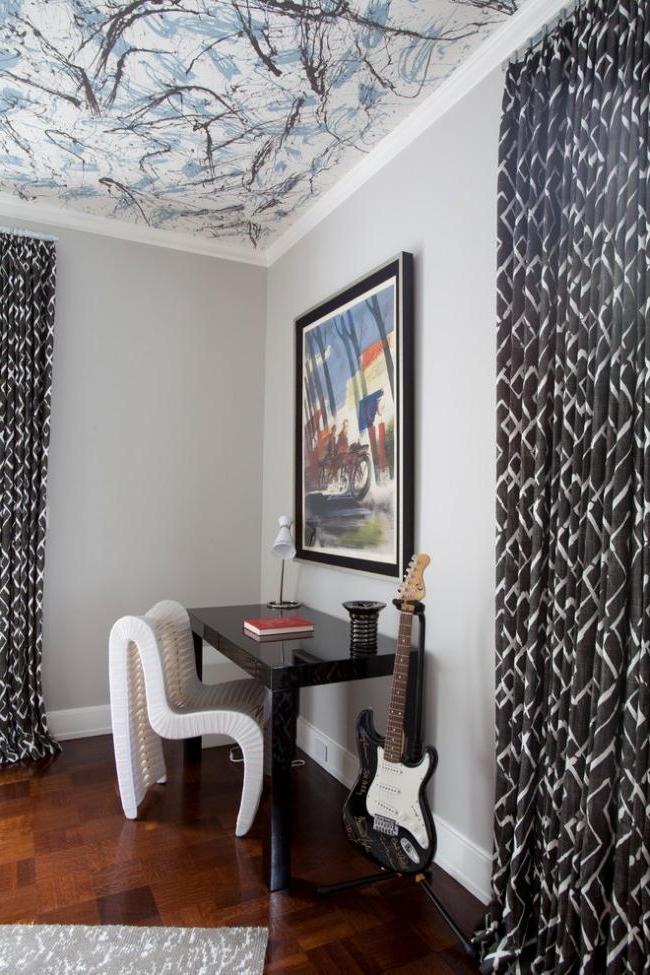 As we saw in the above example, bringing the detail or colour onto the ceiling creates very unique and striking spaces. This effect can be achieved with wallpaper, paint or stencils and can be adapted to your personal taste very easily. This style can be DIY'ed for a really low budget. The pattern in this example is eclectic and could be easily replicated with paint and made your own.
21. Painted Exposed Beams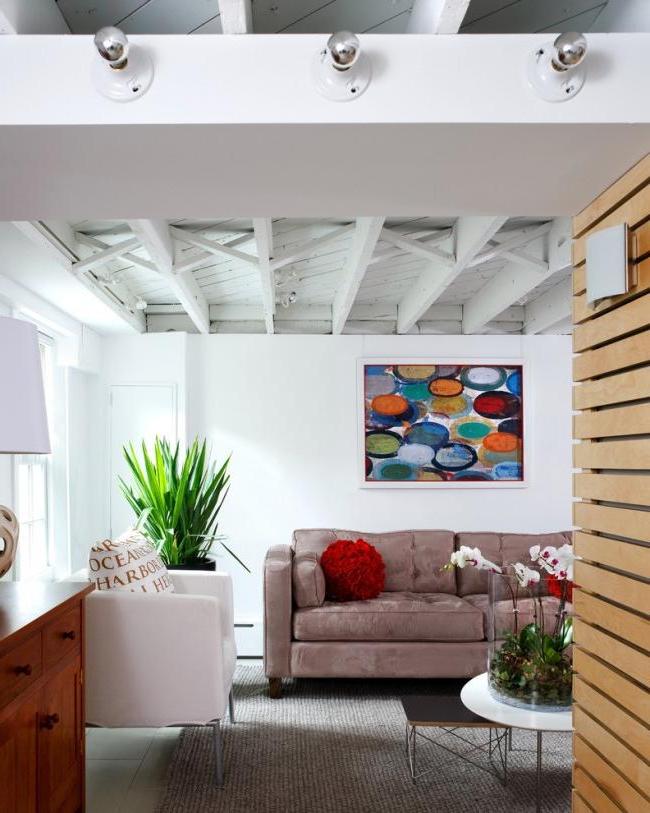 We have seen some example of using existing exposed beams as a design element for your ceiling and this one is just as effective. The beams have some little added braces for added visual interest. As opposed to leaving the wood raw this structure as been painted white to match the walls. This is a very contemporary look and opens up the space to make it feel light and airy.
22. Hanging Paper Lanterns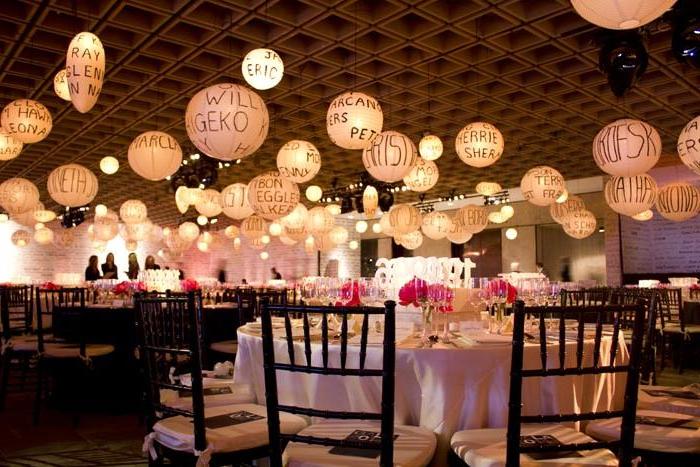 Paper lanterns are a perfect example of easy and cheap event ceiling decoration. These lanterns can be bought cheaply and customized for any occasion. They also provide a soft light which is cast over the tables to create a gentle ambiance.
23. Nature Prints Ceiling Decor For Bathroom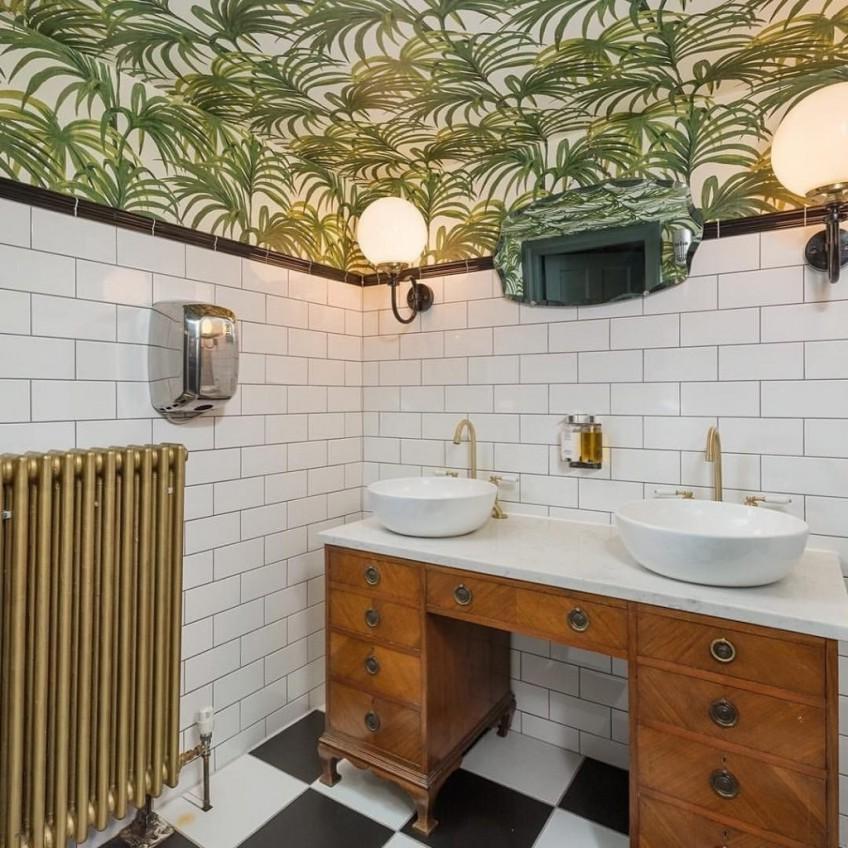 Living spaces aren't the only areas that can have innovative ceiling designs. Bathrooms are places that you can have a lot of fun with design, though they're often overlooked. This decal/wallpaper leaf print runs around down the wall, making the junction disappear completely. The only extra requirements for bathroom ceiling decor is that it's waterproof.
24. Integrating Ceiling and Wall Decor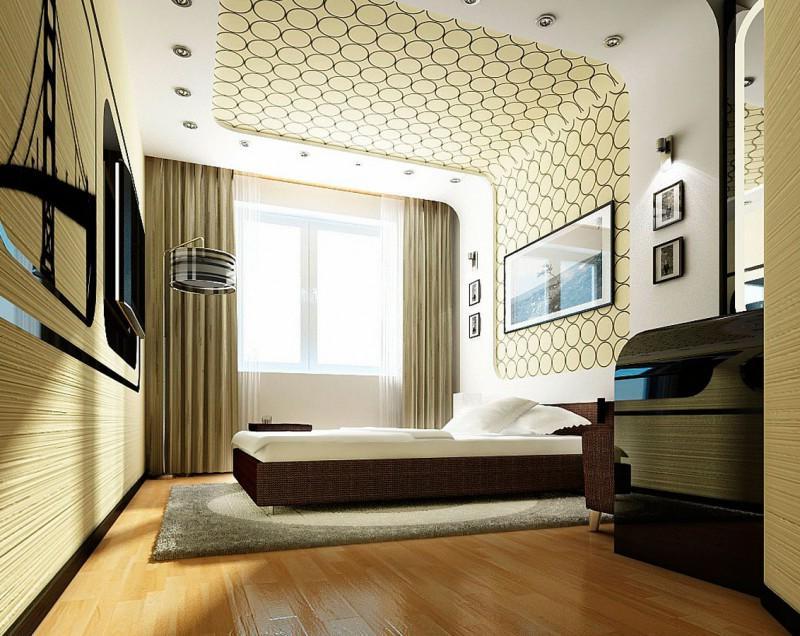 This dramatic bedroom ceiling uses the same technique as the one above but limits its scope to highlight it as a real feature. The circular patterned wallpaper drips from the ceiling down the wall rimmed by pristine white walls and spotlighted ceiling. This may look really high concept and modern but it's a simple and relatively cheap option with great dramatic pay off.
25. Clean White with Spotlights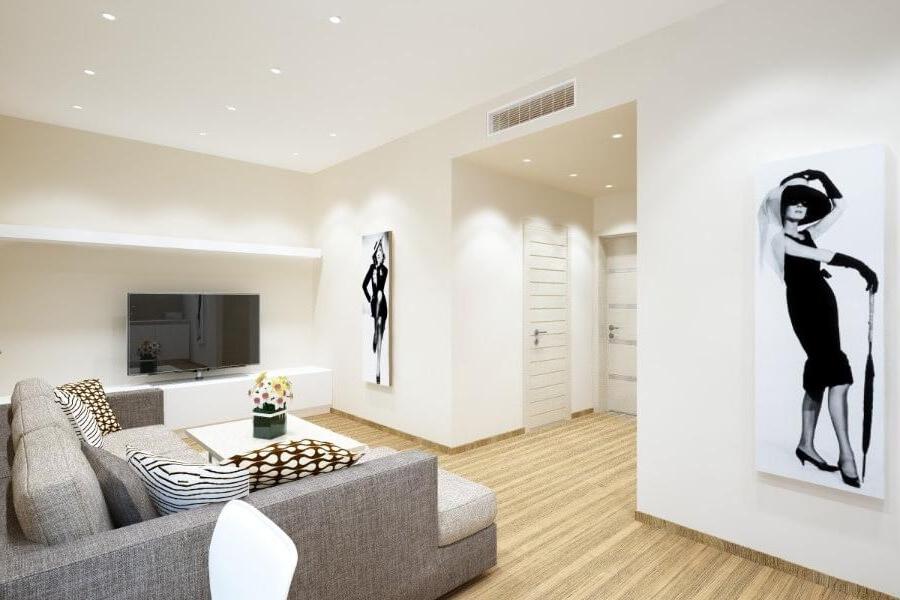 Everyone knows the old adage: 'Keep it simple stupid' and it can be applied to ceiling design too. If you are a fan of a minimal style with clean a clean white surface dotted with spotlights is exactly what you need. The warm tones of the flooring and neutral tones stand out well against the clean white walls and ceiling for a very sophisticated look.
Conclusion
Although they are often over looked ceilings are an area that can be designed to be a crucial part of your interior design. From classic cornicing and mouldings to inflatable tubes and hovering clouds; ceilings provide a wealth of options to suit any design aesthetic. They can even be designed and changed for events to transform a plain space from one use to another with a distinctly personal feel.
This is also an area that allows for a DIY option. Stencils, paint, lanterns, wallpaper; the possibilities are infinite and you can adapt these specifically to your needs without shelling out a lot of money.
I hope the variety of ceiling styles we highlighted have inspired you to push the boundaries in your own homes or businesses to get you noticed.