Concrete is a widely used building material but its uses are not limited to construction alone. Sculptures, garden ornaments, paving, furniture; the uses for this material are tenfold. The main reason for its adaptability is the way it is made. The ingredients are mixed together and form a thick liquid that can be poured into moulds of almost any shape and left to harden. Once its set the object that is taken from the mould is hard and durable, able to withstand the elements and frequent use.
37 Amazing Concrete Furniture Designs To Stylize Your Home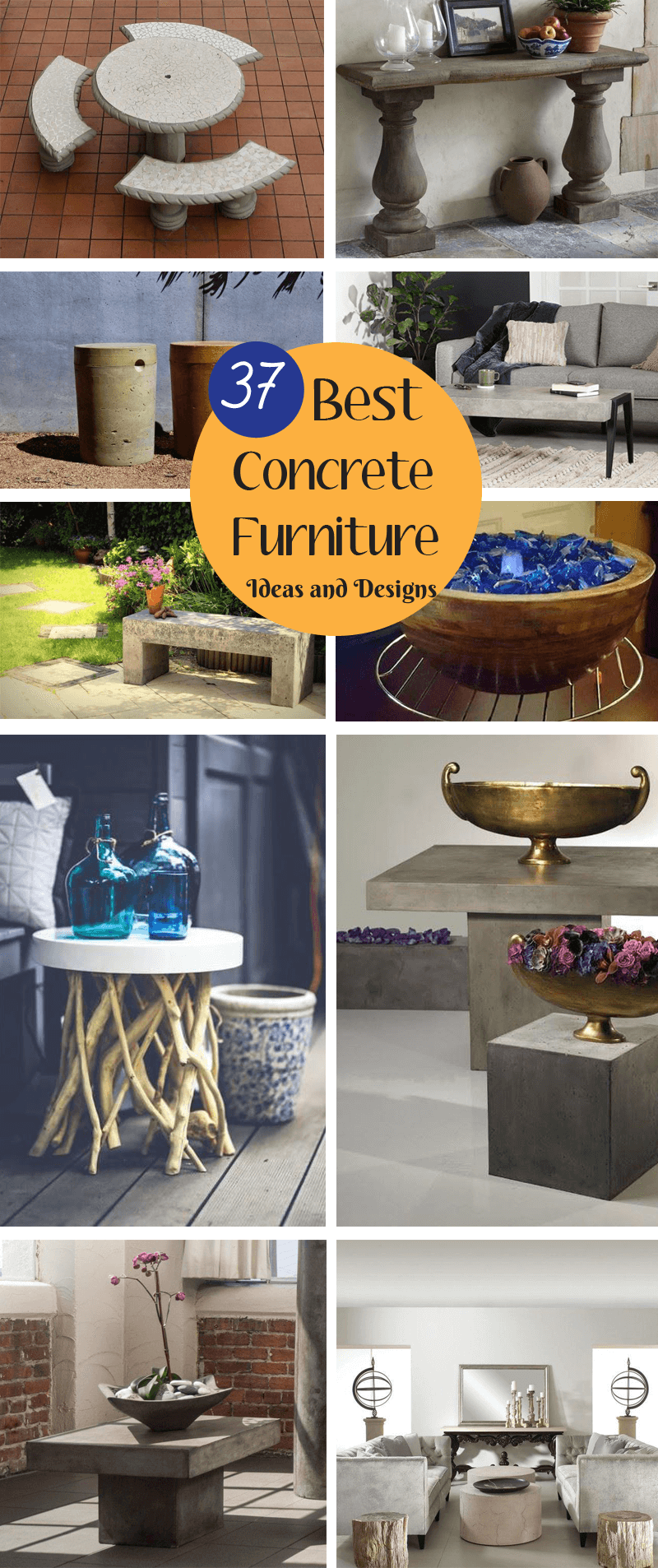 Due to its incredibly durability it can be used for outdoor furniture, regardless of climate, with very little upkeep required. Its uses aren't limited to outside however. Elegant and well finished concrete pieces can be used in your home from tables and chairs to art pieces and fire places. Coatings, chemical additives, paint and patterns inside the casting mould can all contribute to make concrete more than just a block of building rubble in the middle of your lounge. Elements such as glass or tiles can even be cast into the concrete to form a unique texture.
If you need some inspiration of how to bring concrete furniture here is a little inspiration:
1. Basic Garden Table with Benches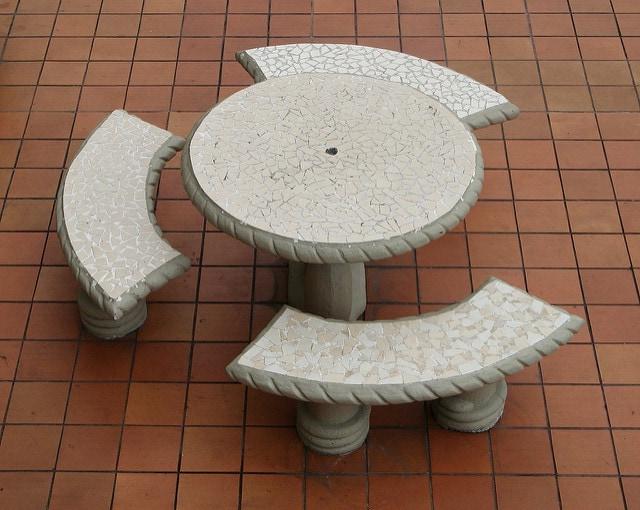 This is a furniture set I'm sure you've seen before. They can be found from restaurants and public parks to schools and even your backyard, this style can be used just about anywhere. This is the beauty of concrete furniture, it fits so many locations and uses while requiring little to no maintenance. In this example we can also see how a simple pie crust edge and inset tile shards cast into the surface can add a little flavor to even the most basic design.
2. Wood and Concrete Bench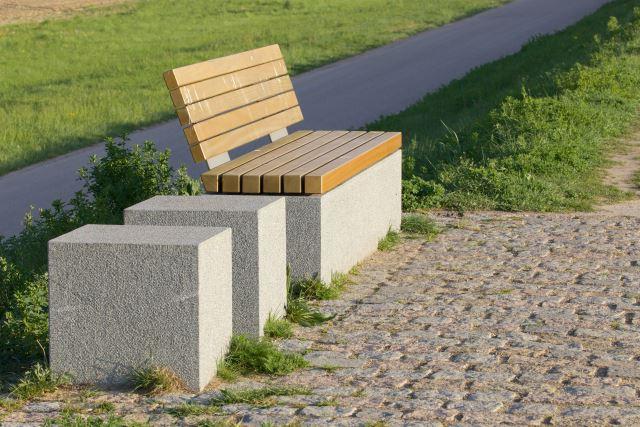 Concrete benches have become relatively commonplace, even those that incorporate wood have become a standard feature of many public spaces. The two materials are easy to connect and create seating that is sturdy and strong. This combination of materials can be jazzed up however to create something a bit more sleek and eye catching. The crisp rectangular base of the bench is mirrored in the square additional seating that sit next to it unadorned. The surface has been left purposefully textured which contrasts effectively with the wooden slats that form the benches seat and backrest. Simply combining materials and enhancing their natural textures is an easy way to make something so pedestrian a bit more special.
3. Building Blocks Bench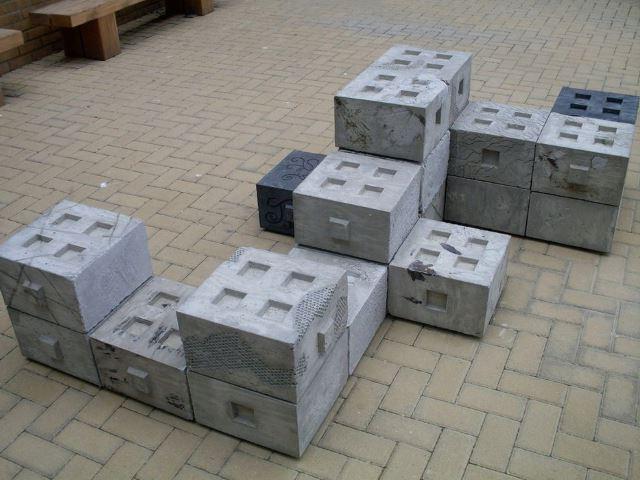 This bench is the perfect example of how concrete furniture can be adaptable, attractive and fun at the same time. Casting these basic blocks with extrusions and recesses changes them from the mundane to this fun Lego style design. The blocks can be slotted together to create a usable sculpture. It can also be changed and moved around so you can adapt the design to you ever need or whim. This keeps the novelty fresh and adds a sense of child-like fun to a public space.
4. Rustic Side Table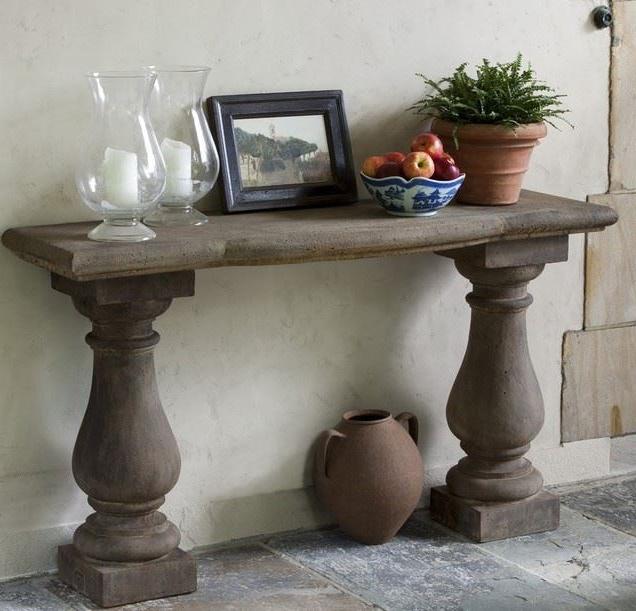 This Tuscan inspired double pedestal table brings concrete furniture into the home and creates a distinctly rustic aesthetic. The surface has being kept slightly rough and coated in a deeper grey/brown stain so it fits well with the rooms colour palate, displaying how easily this material can be brought from the outside, in. A piece like this is ideal for a large living area where its size won't encroach on your living space while coordinating seamlessly with flagstone tiles and exposed stone such as in this picture.
5. Smooth Concrete Firepit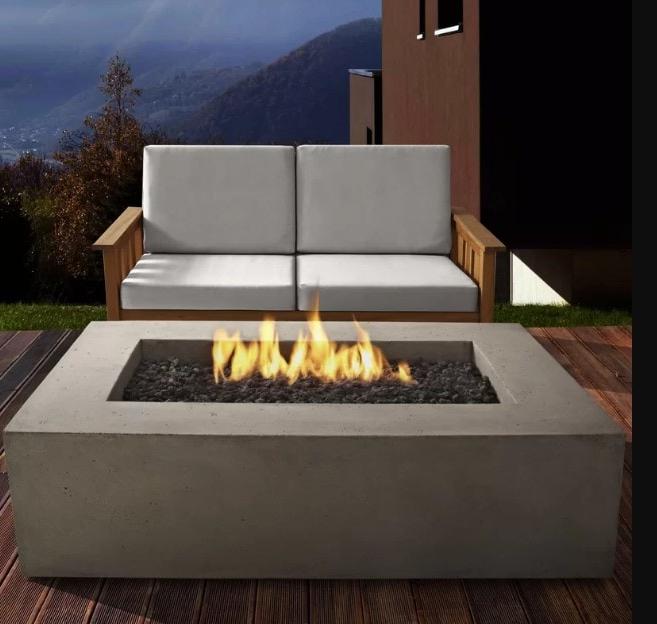 Furniture can refer to many things, not just seating, like this modern firepit. This design takes advantage of the properties of concrete, which is an insulator and can therefore withstand a decent amount heat without breaking or becoming hot enough to burn you. The smooth concrete vessel safely contains the fire while becoming pleasantly warm at the most, providing a comforting and beautiful spot for winter gatherings. The crisp clean edges and simple shape is distinctly modern and serves as a blank canvas for the feature that is the fire itself.
6. Geometric Side Table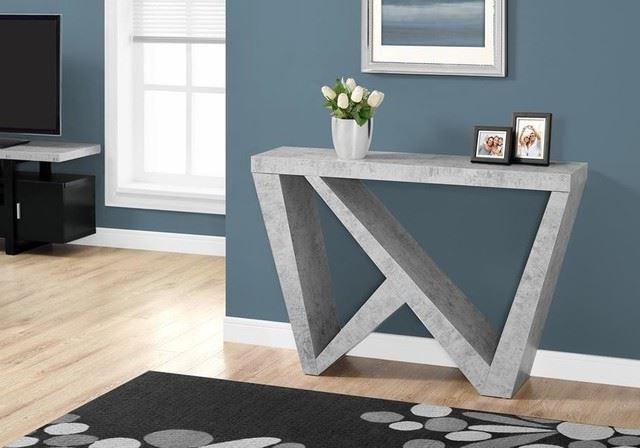 This striking design shows off just how versatile concrete can be. By using moulds and reinforcing this material can be cast into shapes just like this eye-catching geometric table. Not only does it play with angles and shapes but also with thickness as some elements narrow from one end to the other. The finish is smooth and glossy, putting the natural colour and uneven marbling of the material on diplay. Overall the result is elegant and beautiful.
7. Concrete and Metal Bar Table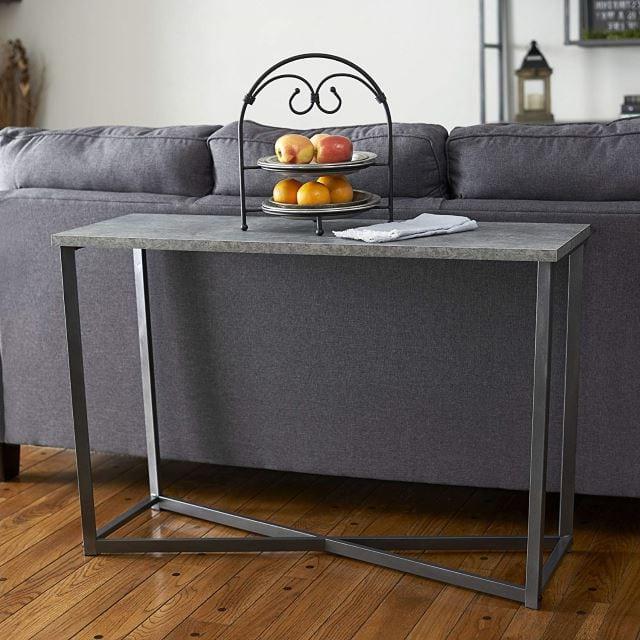 Metal and concrete are two materials that work really well together. The combination of their strength, texture and weight differences is an oppourtunity to incorporate some truly contemporary furniture into your interior design. The concrete slab that forms the top is unusually slim which allows the metal base to be a strong but relatively thin square tubing framework. Not all concrete furniture has to be big and chunky, if you do it right and pair it with the ideal supporting mechanisms it can become a structure that gives off a sense of unobtrusive delicacy.
8. Concrete Bar with Wooden Accents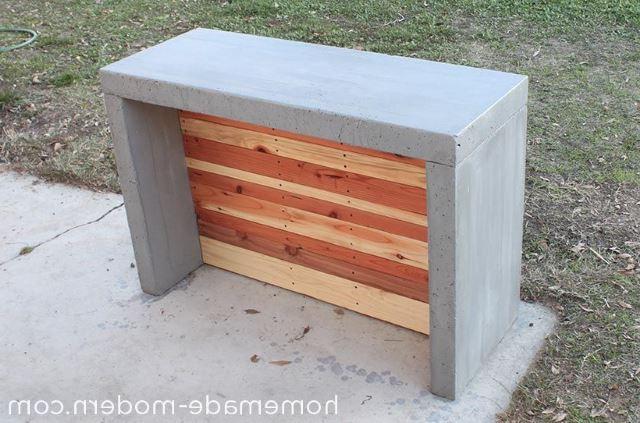 Just as the previous example shows how concrete can be used in a light manner, this bar has done a 180 and used concrete for its better known big and chunky aesthetic. This smooth concrete bar displays yet another category of furniture concrete can be used for as well as how well it can be used with other materials. The big solid grey frame contrasts beautifully with the warm wooden slats to create a piece that is rustic and really sturdy. Bars have to often withstand spills and sticky residue but the smooth finish here makes cleaning super simple.
9. Concrete BBQ Table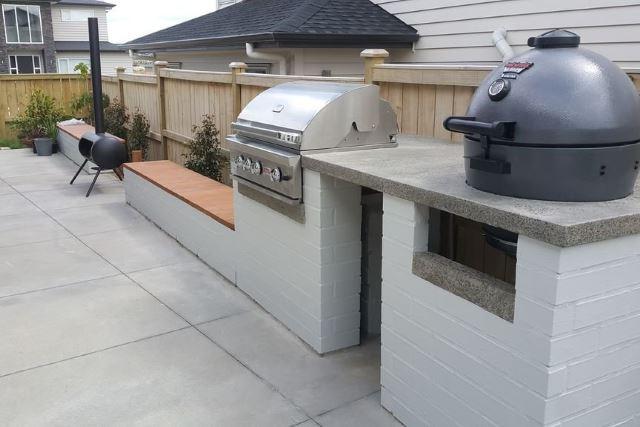 A luxurious, well-equipped outdoor barbeque area like this is perfect for entertaining. Very often brick barbeque areas like this one will be topped with an expensive marble or stone countertop for serving or storing your meat before it hits the grill. A concrete countertop however, can do just as well. The surface is polished and sealed to give off the same classy look and be just as hardwearing for a fraction of the price.
10. Beach Glass Adorned Concrete Table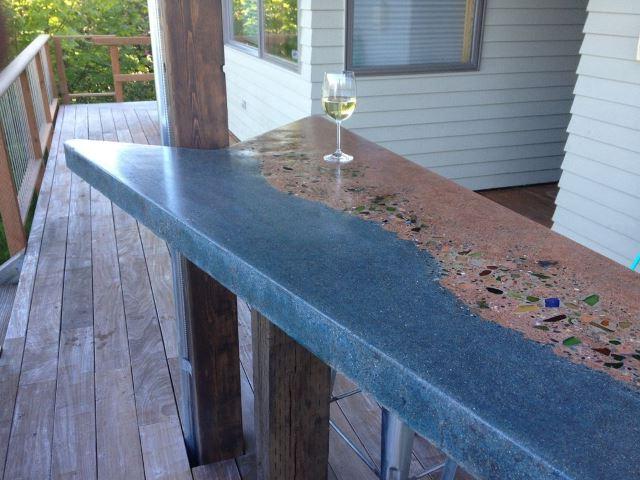 Here is a beautiful example of how objects can be cast into concrete's surface to add detail and colour to a plain table. The shape of this table alone makes it more unusual but the unevenly dispersed shards of sea glass (that would have been placed into the mould before pouring) adds glittering flecks of colour across the surface. Using two contrasting colours that join in an organic manner at the centre seam serves to make this design even more stand out and beautiful. The simple core design elements of materials, colour and shape are being used to their full advantage in this striking tabletop.
11. Concrete Block Pedestals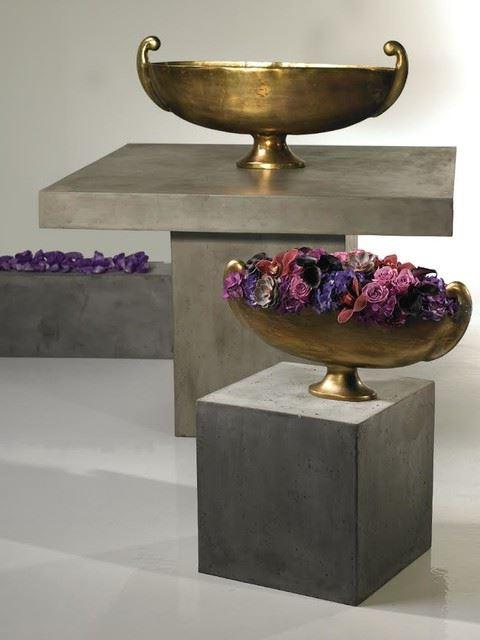 The stark qualities of clean concrete blocks are the perfect vessel to display art or other decorative elements. The plain cube as well as the rectangular prism topped with a thick entablature make use of the natural concrete colour and weigh it implies to bring the materials natural qualities to the fore. They give a hint of modernity to an otherwise blank canvas that lets the piece on top of it stand out. Using them in this way, at different heights also helps to add dimension to your interior décor.
12. Old Design, New Material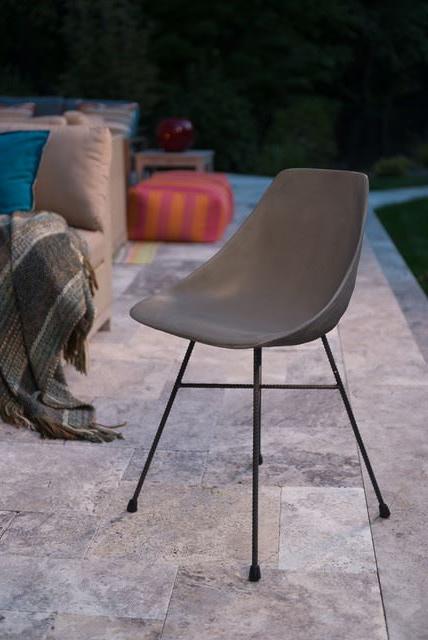 One look at this chair and a lot of people's minds would go straight back to the classroom. However this chair is not the flimsy plastic chair of your youth, its just disguised as one. An artistic way of updating a very simple or classic design is just to change up the material. Cast out of concrete this well known shape is transformed from kitsch into chic in an instant. The thinness of the concrete allows for very delicate black metal legs to further update the design to something new and innovative.
13. Concrete Dining Bench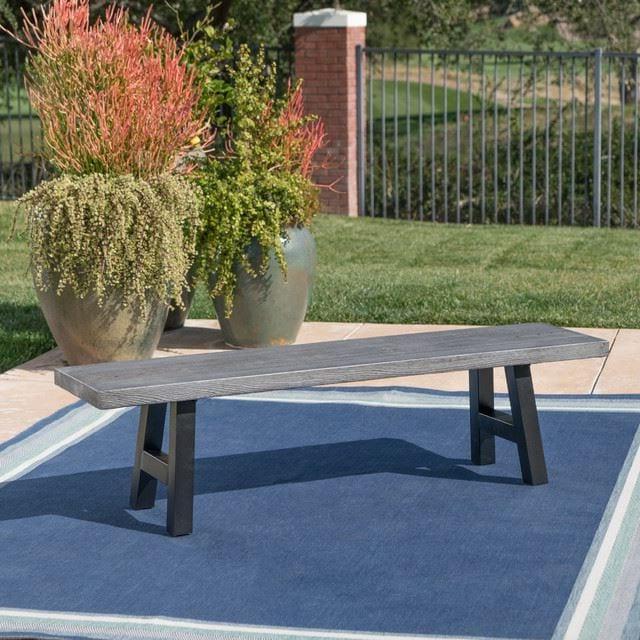 Just like the last example this is a classic seating shape reimagined in concrete. Bench seating is far more often seen made of wood which, if used outdoors, requires far more maintenance. Adding a communal seating element in concrete to outdoor table is a great way to give that rustic family dining feel in a unique way without having to worry about sealing or covering it.
14. Full Concrete Outdoor Furniture Set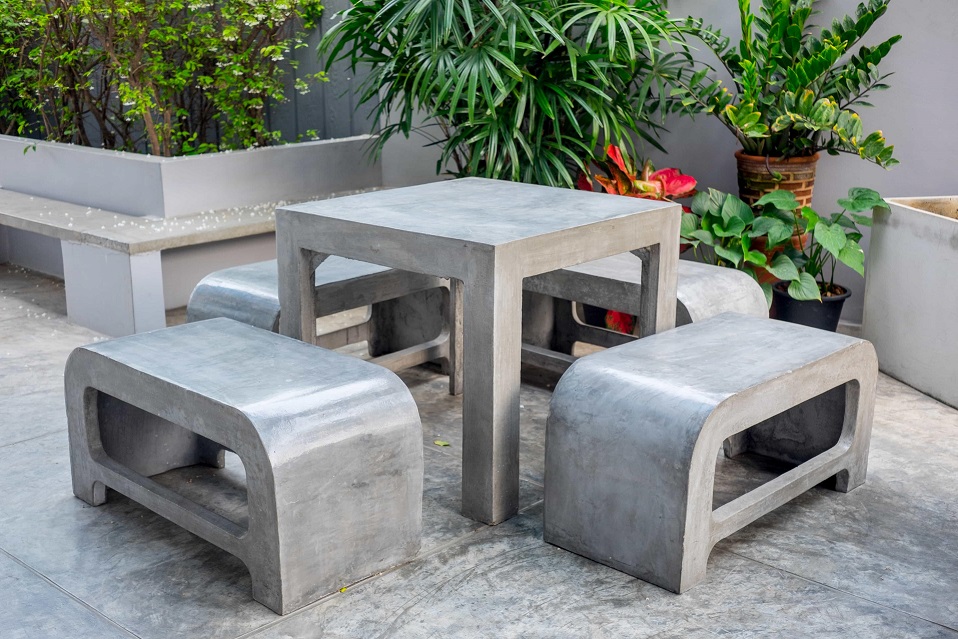 Amping things up a notch from the last example, why not a fully concrete table and chairs? The key to a design like this is to make it comfortable to sit on for extend periods which concrete often isn't. This sleek set achieves this with a shiny polished finish and softly rounded edges to the chairs. This whole set will not only be comfortable and beautiful but also takes no maintenance besides the occasional wipe down; what's not to like?
15. Simple Concrete Garden Bench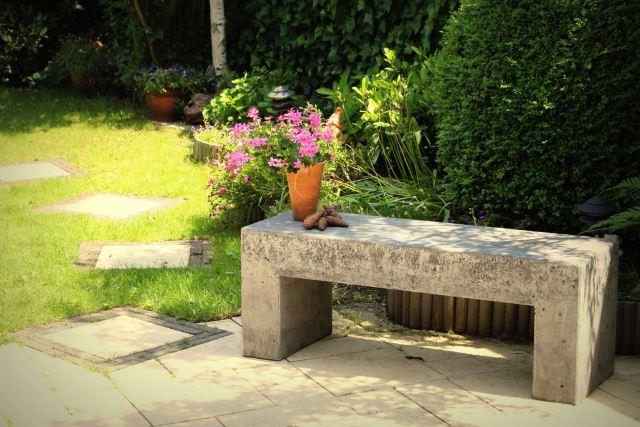 Sometimes simple is just the way to go. This basic chunky concrete bench has a natural weathered look that will only mature in time. Keeping your garden furniture plain leaves the garden to be the focal point and additionally gives you a place to sit and enjoy it.
16. Concrete Fire Place and Hearth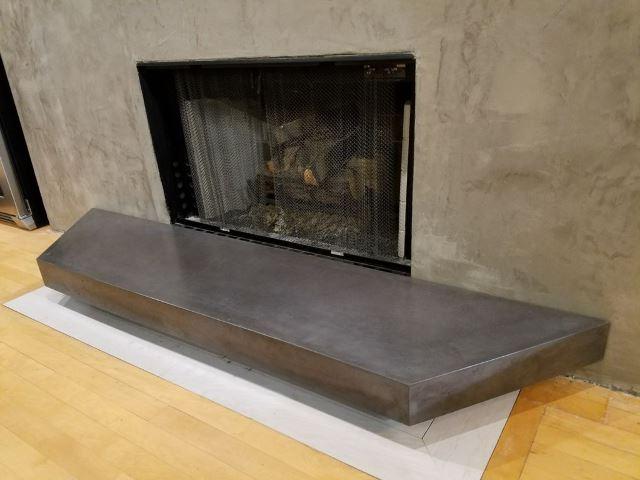 Like we saw in the firepit, concrete is an ideal material for fireplaces. Since concrete is an insulator it becomes merely warm to the touch when heated over time. The lighter concrete surround is coupled with the darker cantilevered hearth that seems to hover just below the fire. The hearth will radiate a gentle heat that is comfortable to touch. Humans or animals can sit by the well guarded fire and be warmed by the flames on one side and by the concrete on another establishing a comforting gathering space in your living room.
17. Short Concrete Table on Concrete Floor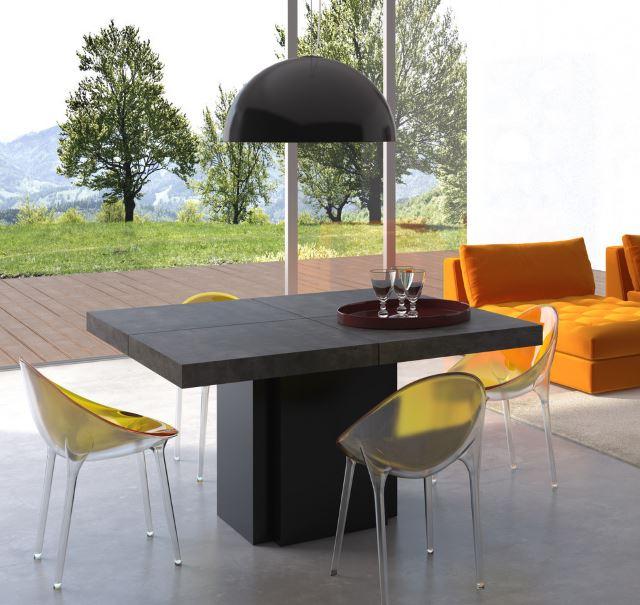 This home has already used concrete as a feature with the polish screed flooring in this ultra modern hilltop house. Adding concrete furniture that also displays its natural shade could make for a monotonous and dull appearance, but there are other options. Concrete is easily coloured by either chemical additive when casting or with paint and many furniture designs such and this clean dark dining table uses that to its advantage. Repeating materials in different shades in a very aesthetically pleasing an easy way to make your house design cohesive and striking.
18. Nature Inspired Side Table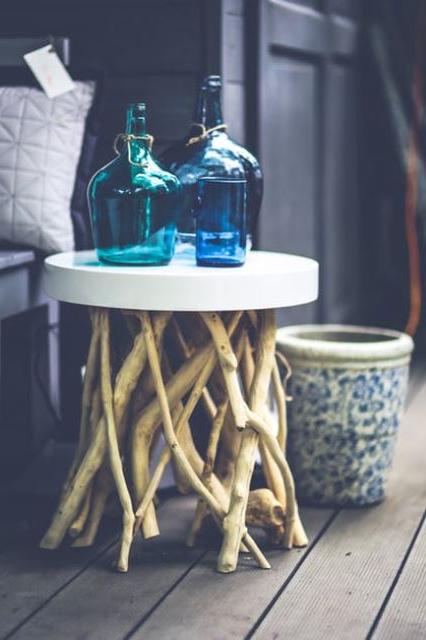 This unique side table shows another case of contrasting materials with a beautiful result. Concrete is an inherently man-made material so pairing with something from nature that has been left in a relatively raw form is a great way to explore contrast in your interior design. The concrete in this case is stark white with a very reflective surface to juxtapose the roughness of the actual branches that intertwine to hold it aloft. The other decorations shown here; the glass bottles, patterned pot and hardwood floors; are an example of how to use this contrast of materials to create an eclectic and earthy ambiance in your home.
19. Cylindrical Concrete Stools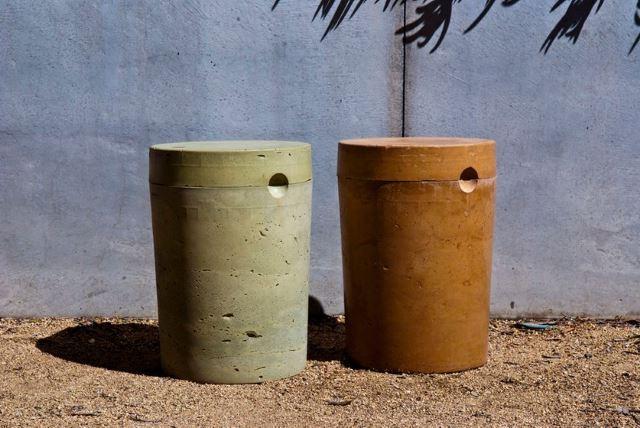 Basic shapes like these cylindrical little stools are a great starting point for a contemporary outdoor seating area, just as they are they do the job. However adding small details and playing with colour can make the basic grow into something far more stylish. A little accent like the half moon set into the front adds a subtle little design element to these matching stools. The subtle construction joint has been left exposed to imply a difference between the seat and base. Another way to change up a simple design is with colour; here you can see how choosing various colours when you have the same chair design adds a lot of visual interest and stops them feeling too matchy matchy.
20. Concrete Coffee Table Tops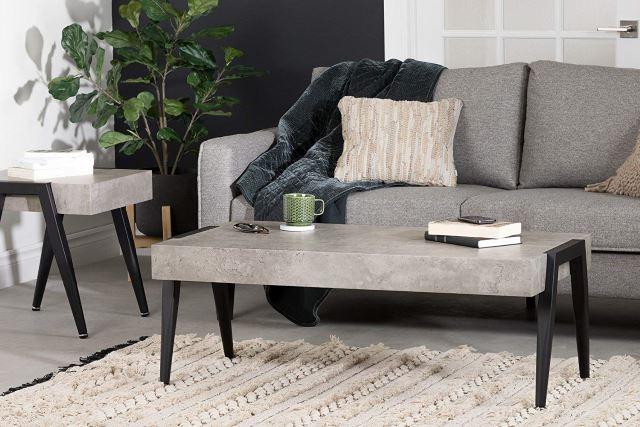 A good chunky polished concrete tabletop truly takes advantage of the natural patterns and colours of the materials itself. The subtle grey marbling fits in well with a room where you've chosen to use a minimal, neutral colour palette. Finding pieces that have coordinating counterparts; such as this coffee table and side table combo; ties in the interior in a very chic manner. Insetting the glossy black legs into the side of the concrete is aesthetically pleasing and gives the piece an almost futuristic look. The colours remain neutral but compliment and contrast with each other with an intentional type of flair.
21. Crackle Effect Side Table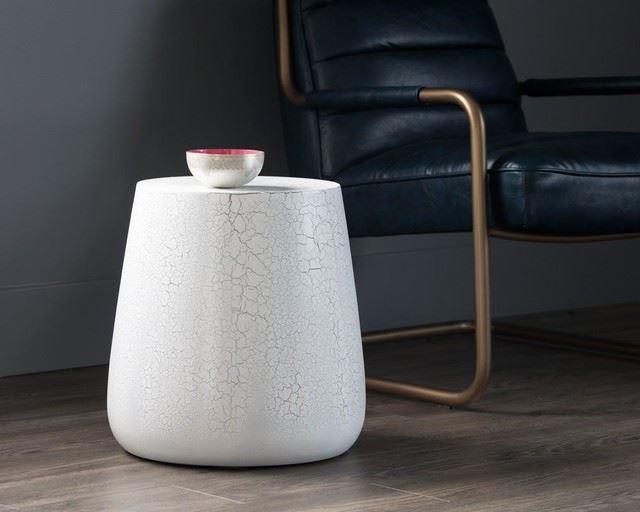 Like the cylindrical stools we saw earlier, a simple shape can be uplifted in very subtle yet striking ways. The curved, bottom heavy shape of this table could look very bulky and inelegant if left raw, however by changing up the colour and surface texture it can be transformed into an interesting design element. The beauty of concrete is that it is created and set using chemical reactions, this means that coatings can be applied to the surface to create beautiful effects like this one. The coating is applied and the chemicals are left to do the rest which means that each one of these table produced will be slightly different to one another making them one of a kind.
22. Concrete Cube Coffee Table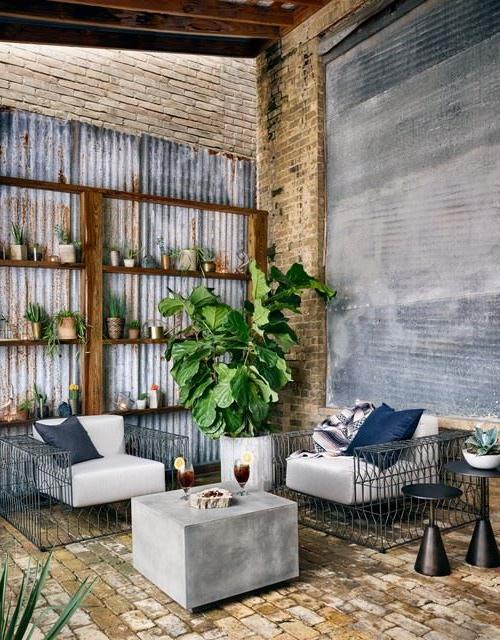 Shabby chic is design style that takes advantage of textures, with great emphasis on that of raw materials themselves. Exposed brick, corrugated iron, stained wood and plant life give the space a feeling of comfort and honesty, who wouldn't want to spend time in a place like that? A raw concrete cube is the perfect addition to this shabby chic interior that mixes materials to visual perfection. When choosing a table this basic in shape, the razor sharp edges and polished finish is imperative to making it feel like something special. The base that is slightly recessed beneath the heavy top gives the impression that the block is floating about the exposed brick making it just that little bit more stand out.
23. Curved White Concrete Bench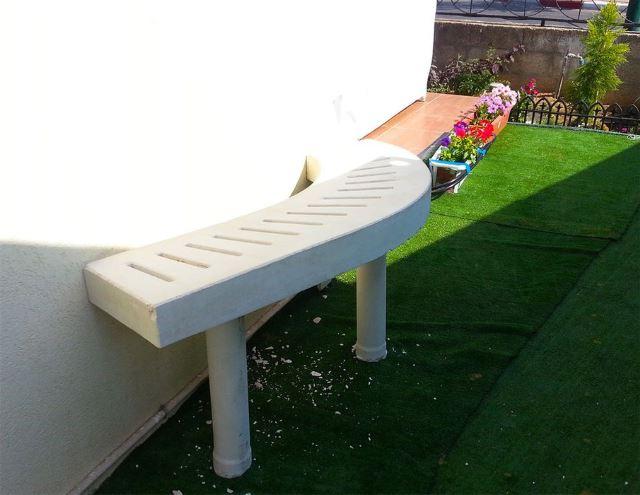 This is not your average bench. The creator of this design has thrown expectations out the window and chosen to not only play with the shape but with colour and placement too. The position this serpentine bench has been placed in saves space on a small outdoor area by hugging close to the wall. The curvature gives plenty of room to sit on the rather narrow seat and lean back against the wall in comfort. The slotted cut outs in an uncomplicated way to add a little visual interest to the surface. The most stand out element however, is the colour. When the concrete is being mixed titanium oxide is added to the mix to give is this unusual white hue that matches the wall it collaborates with harmoniously.
24. Polygonal End Table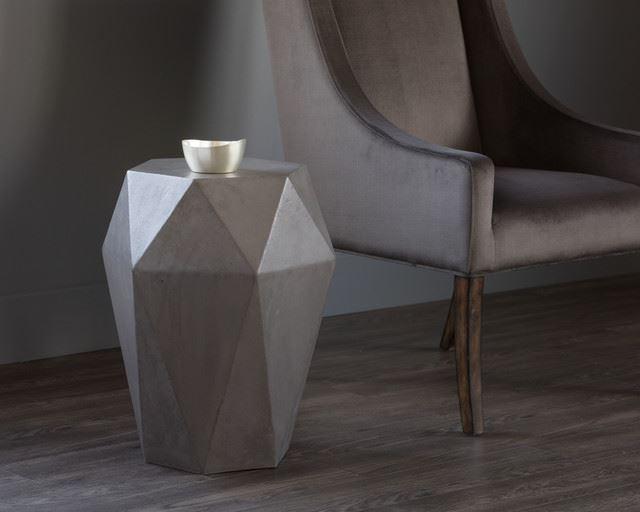 Another shape that concrete really suits is polygons. A mould for a table such as this is relatively easily yet the shape it yields provokes a powerful visual impact. Multi-faceted shapes such as this catch the light in a different way on every surface depending on the direction it's facing. This turns your simple little end table into a remarkable piece of sculpture.
25. Etched Patio Table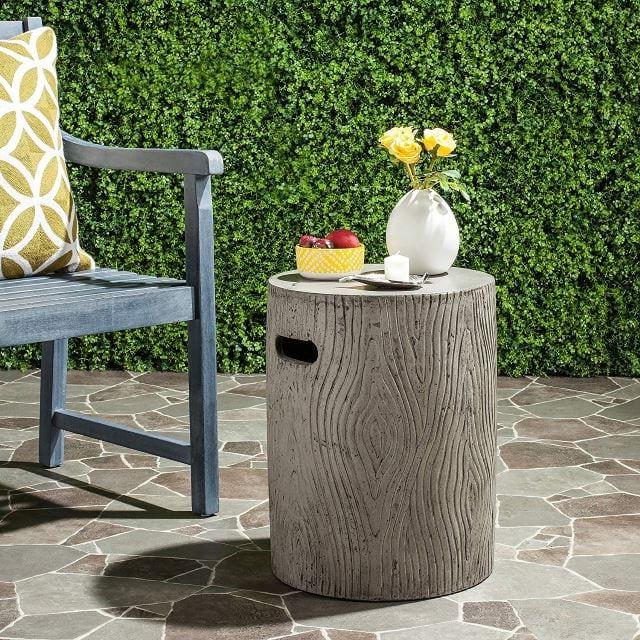 Casting concrete onto a pattern is a very effective way to bring a different texture to the surface. This pattern is sculpted onto the inside of the mould itself so when the chair is removed after setting is has taken on the swooping shapes to resemble a tree stump. As a piece of outdoor furniture this nature inspired etching fits in with the natural setting better than smooth concrete would and contributes to the nature inspired vibe of the patio design.
26. Limestone Concrete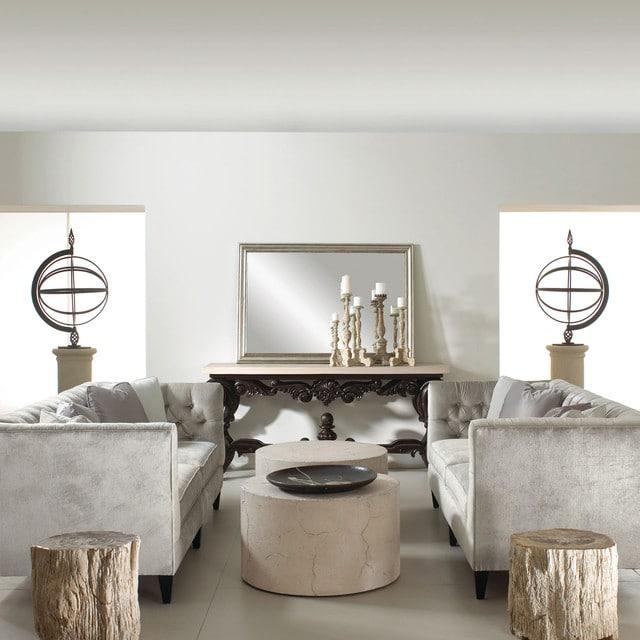 Limestone concrete is fairly common and is chosen most often for its lighter colour and warmer hue than normal concrete. It has the same natural marbling the material usually exhibits without the standard grey tone. These smooth round tables show the colour to its true advantage especially within a room with a neutral colour palette. This material is preferable for indoor furniture as it can erode overtime due to the fact that limestone is a softer stone susceptible to chemicals that can unfortunately be present in rainwater in metropolitan settings.
27. Pedestal Coffee Table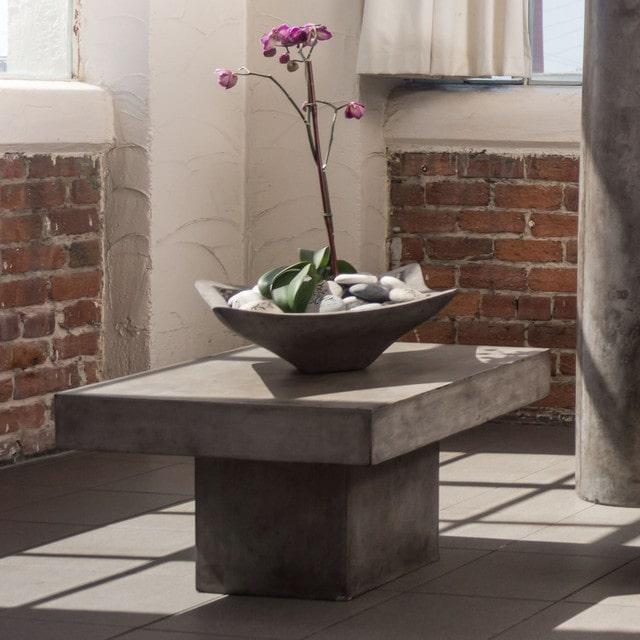 Just like the shabby chic interior in number 22 this brutalist inspired coffee table fits in perfectly with the exposed brick, concrete columns and rough plaster effect that make up this stylish interior. The matt texture and darker hue echoes the structural column in a very pleasing manner. By choosing a table with such thick tabletop and chunky, solid base you give yourself the oppourtunity to create contrast by placing something delicate and natural atop it for visual impact.
28. Polished Individual Chairs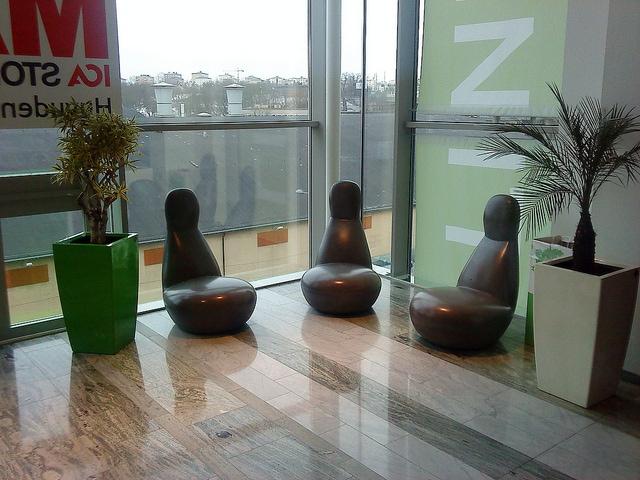 As we've seen throughout this list the finish of concrete furniture can make a huge impact in how the piece appears. Most people associate the material with something square and grey but the choices made when designing these chairs completely subvert that. The dark hue makes you question whether they are made from concrete at all and the smooth curved seats almost look like they could be soft to sit on. Tricking the eye and upending expectations makes your seating one that people will remember.
29. Hourglass Patio Table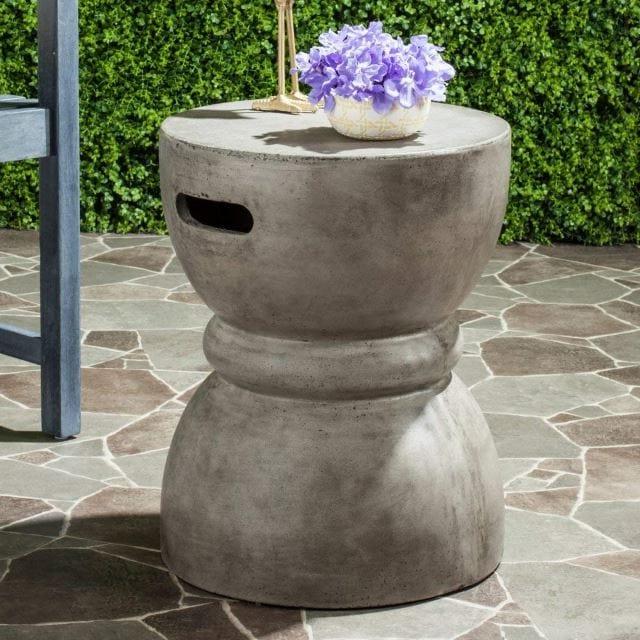 Changing up the traditional shape of furniture is an easy way to make your spaces feel uniquely yours. This cute ringed hourglass table is an original and durable addition to a patio that is a little bit different.
30. Portable Concrete Fire Bowl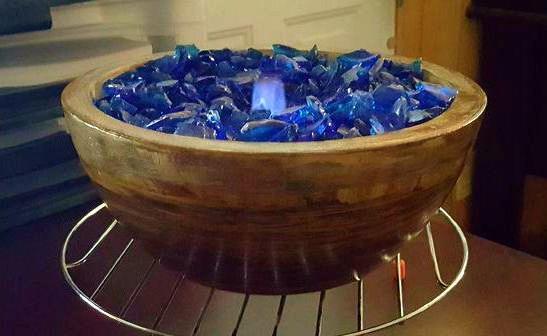 Fire bowls are an unusual but fun way to bring the fire element into your home and concrete is the ideal vessel for this purpose as we saw in the in previous examples. This little tabletop example is portable so you can move it from indoor to outdoor with relative ease. Here the concrete vessel has been stained a warm brown to contrast with the striking blue firestones that fill the bowl for a dramatic effect.
31. Retro Concrete Tabletop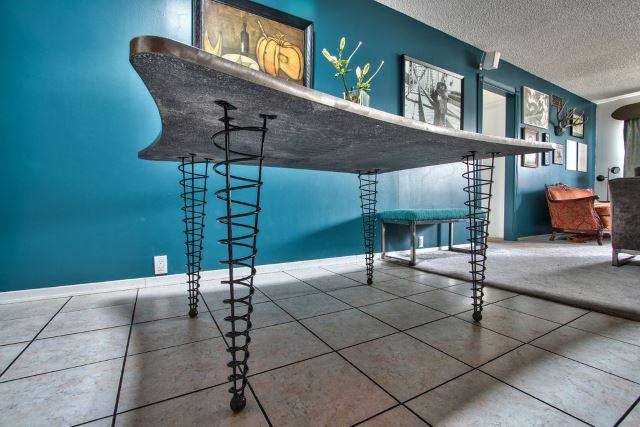 If you're a fan of a more retro or wacky style, this kind of table is for you. The legs that wouldn't look out of place in the Jetsons support an almost impossibly thin concrete tabletop. Being able to see through the legs, coupled with the amorphous and significantly thin concrete makes this table something completely new.
32. Outdoor Dining Space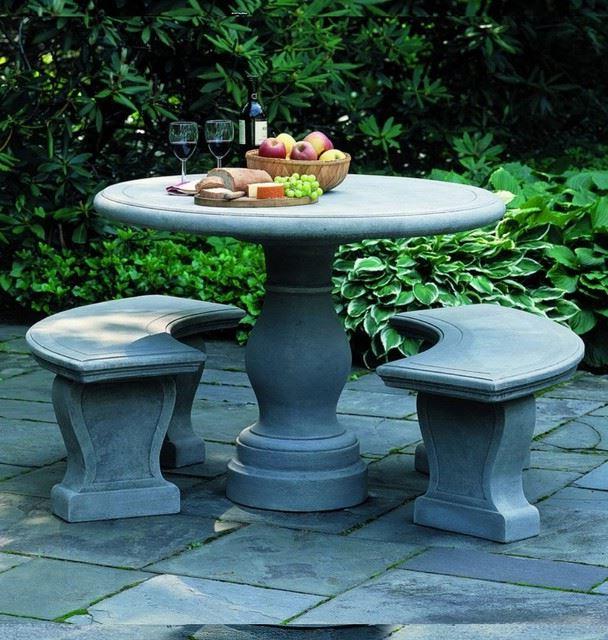 While this example is very similar to the matching outdoor set in the first example it shows how changing up a few elements can make something seem completely new. By changing up the colour to go with the paving and adding small detailing rather than insetting textures like the first example, this set becomes something entirely new. The blue hue and faint lines detailing the curves of the design make this an inviting spot for summer time breakfasts.
33. Rustic Nature Inspired Coffee Table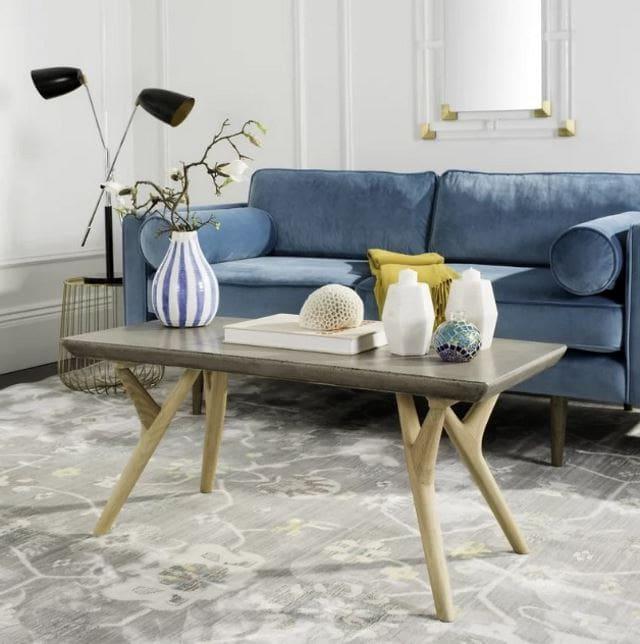 Wood and concrete are obviously very good friends. The speckled dark hue and beveled edges of the concrete in this tabletop creates a very earthy vibe. This compliments the antler-like wooden legs perfectly for an elegant but rustic piece.
34. Novelty Child Table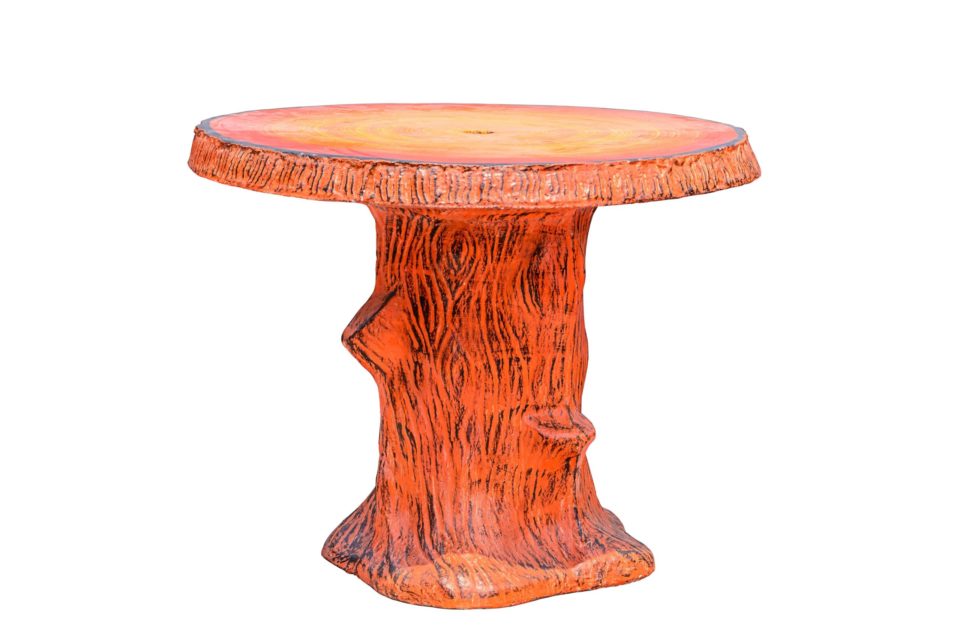 Motivating your children to play outside is a challenge a lot of parents face. Creating an outdoor space that excites them is a sneaky way to trick them into the outdoors and away from their screens. This little table cast into the whimsical shape of a tree and painted brightly is the perfect additional to a child's play area that will motivate kids to play outside.
35. Small Bedside Table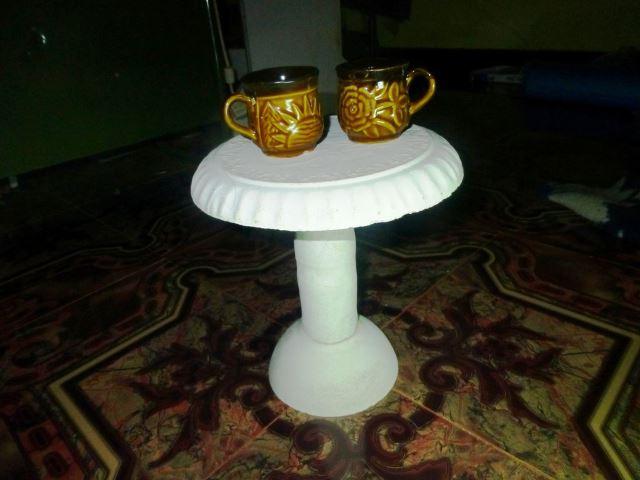 Concrete furniture isn't limited to living spaces or the outdoors. Cute little bedside tables like these are an ideal way of bringing the material into your bedroom without seeming out of place. Paint has been used to great effect to cohesively integrate concrete into a less conventional space to fit with the cozy and homely ambiance of this bedroom.
36. Concrete Inset into Wooden Table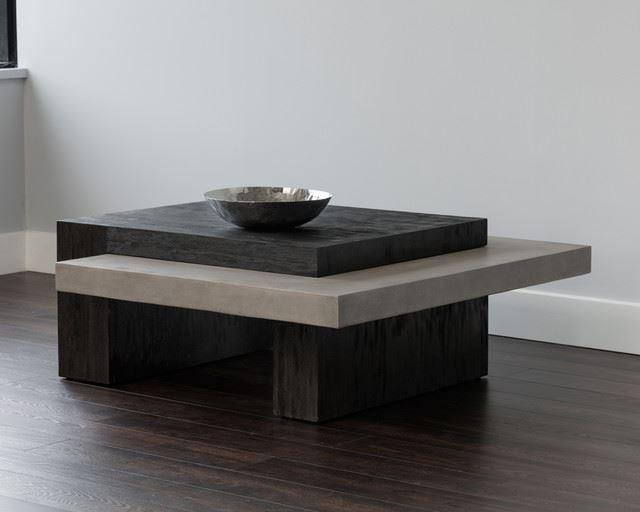 This is a piece of furniture that screams modernity and innovation. Usually we see furniture made predominately of concrete with wooden insets or accents but this stylish design flips that on its head. A matte concrete lip juts out of the dark wooden block creating a cantilevered spot to put your feet up or rest a drink on. Contrasting colours have also been used to emphasize this original design masterfully.
37. Stacked Layered Coffee Table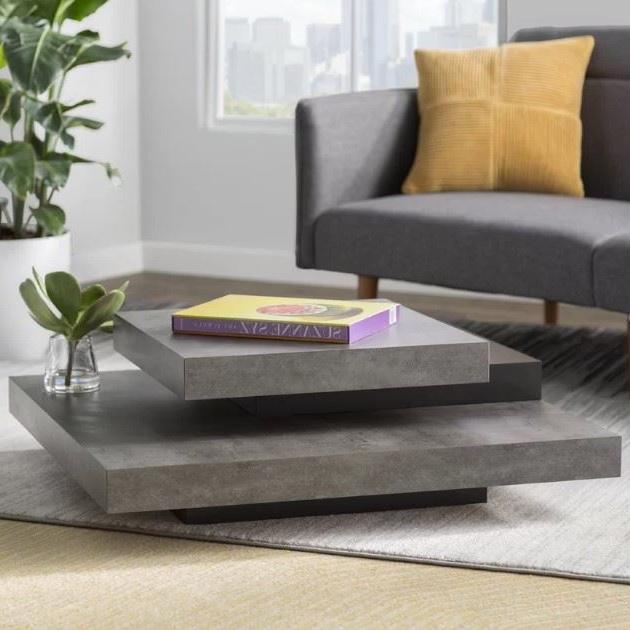 Coffee table books are a common feature to see in most homes. This one however has taken the aesthetic of a stack of books and used it as inspiration for the table itself. Square slabs of various sizes have been stacked on top of one another almost haphazardly to create a quirky multi dimensional piece with different levels to place decorations or even just your cup of coffee. Alternating light and dark concrete squares create a layered, effortlessly elegant centerpiece to your living room.
Conclusion
As you can clearly see, concrete is both a versatile and beautiful way to add to your home. Whether it be as your feature dining table or as part of your landscaping. No matter what style you favour because concrete be cast into so many different shapes and still remain strong, sometimes with the help of reinforcing cast right in so you never see it, you will be able to find an element that suits your home perfectly.
It works beautifully when combined with other materials such as metal, wood and glass is a myriad of creative and visually interesting ways.
Hopefully these examples have served to prove that concrete is for more than parking garages and have inspired you to incorporate concrete into your own homes or gardens too.