One very important feature of any house is fences. They avoid children and animals from going after anything outside, keeping them safe within the house's borders; give privacy to home owners to feel more comfortable inside; and prevents intruders, making the place a more safe space to habitat.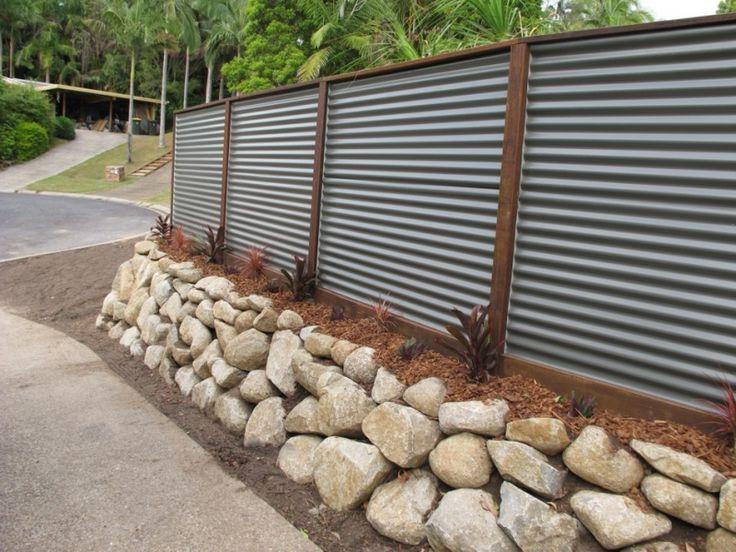 But fences are more than a security feature of the home. With pass of time and evolution of designing, fences have become a security gadget that can also be styled and garnished to improve the general look and overall money value on properties.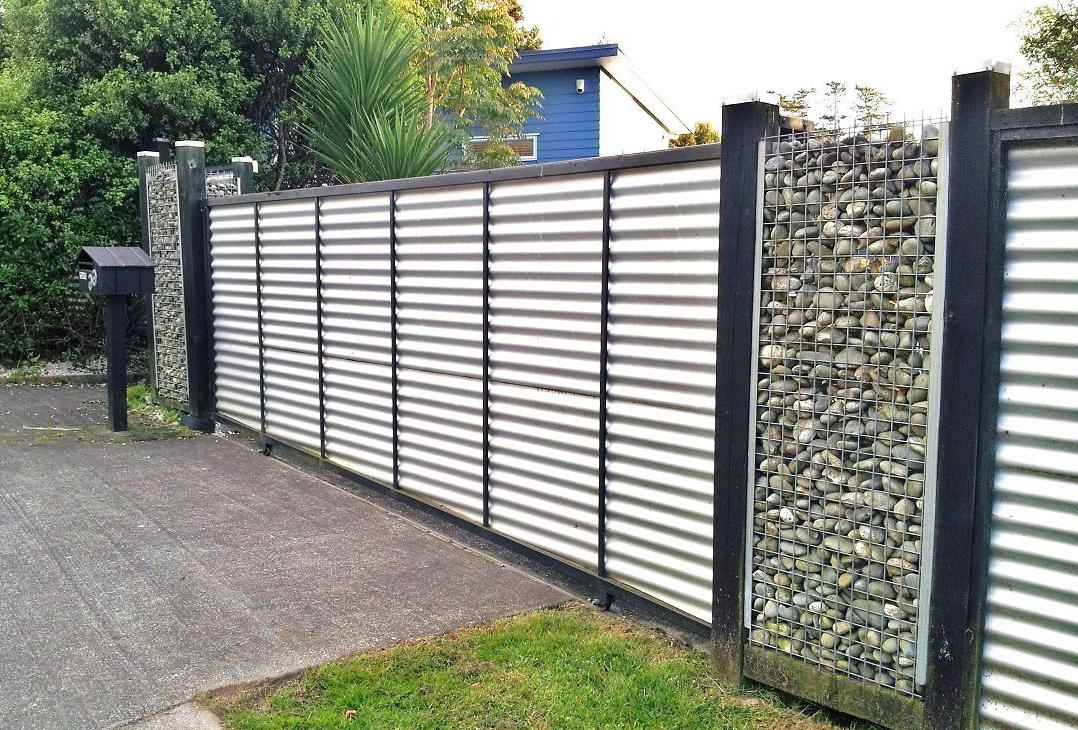 There are plenty different types and styles to fence a land, but a very pretty, stylish and affordable way to do it are corrugated board ones, a look that has been used for years and that is making a tendency today.
What is a Corrugated Board?
Corrugated boards is the name more commercially used to call galvanized steel profiled sheeting, a material made in specially profiled machines, that with a cold stamping method, turns huge steel pieces into this panels with a corrugated structure that allows them to acquire traversal hardness and stiffness, and makes them very resistant and able to have a big bearing capacity.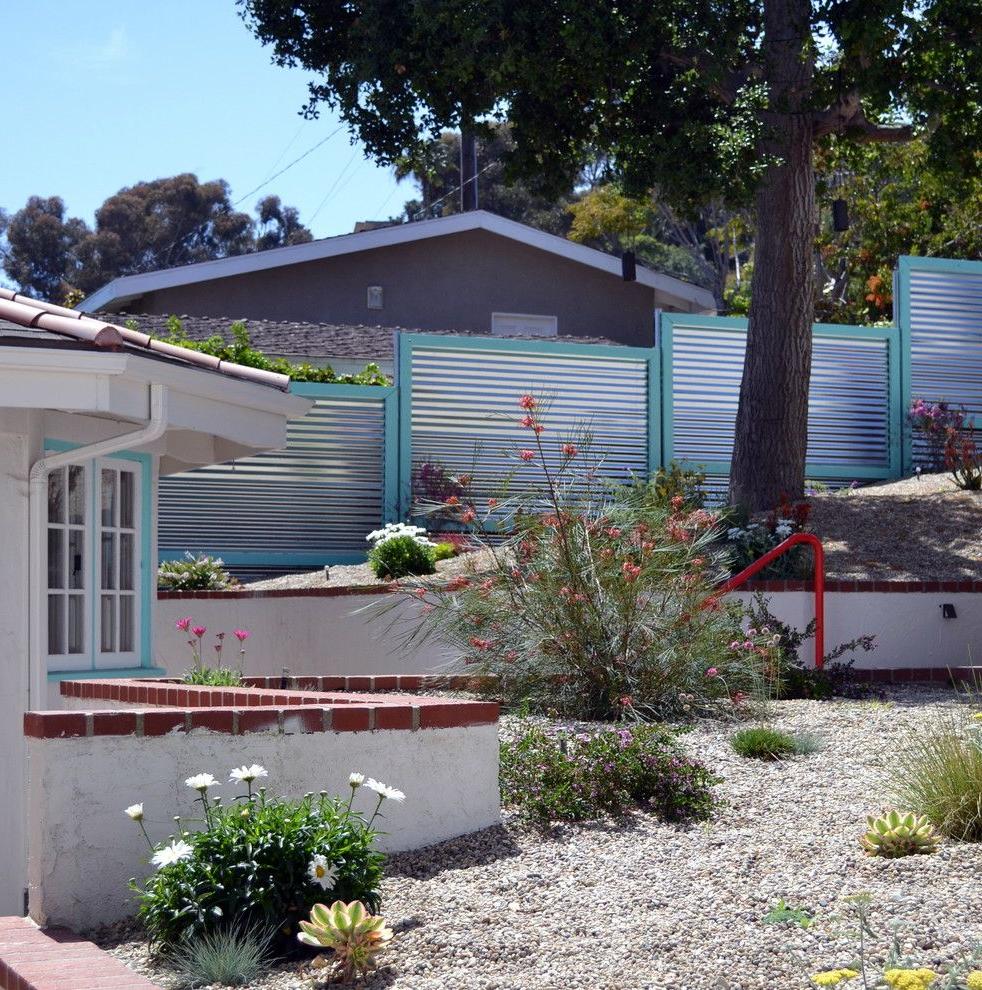 These boards are then recovered with a special treatment of a polymer that works as an anticorrosive coating, giving these panels the possibility of keeping endurance against corrosion and UV rays. That is why they are normally chosen for ceilings, sheds, barns, and even complete outdoor structures.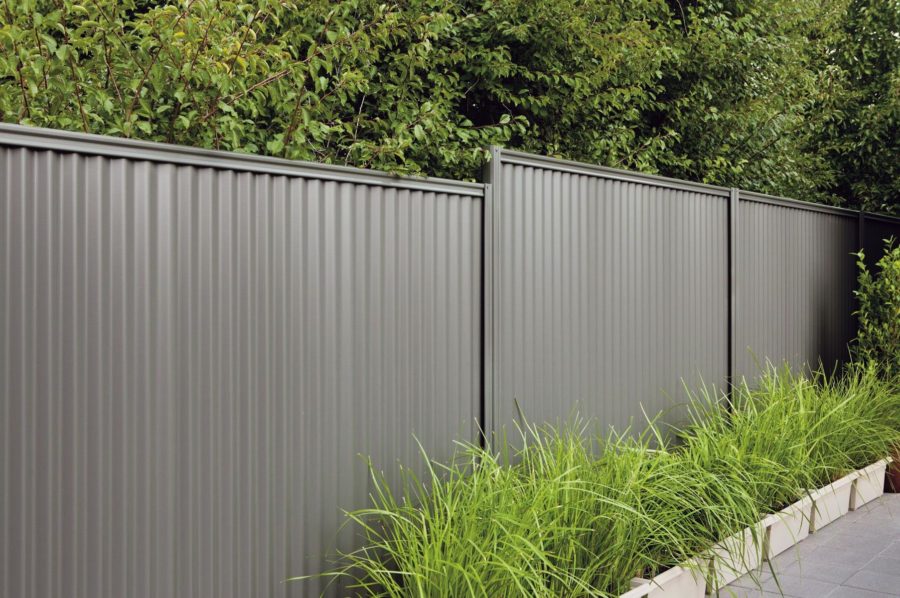 Given the fact that corrugated boards use coiled steel for its production, when fabricating this metallic panels they can have measurements requested by the client, so according to each person length and width can be chosen by request. Yet, thickness of 980 to 1850 millimeters is normally the one used in all the pieces to ensure maximum strength, durability, endurance and reliability.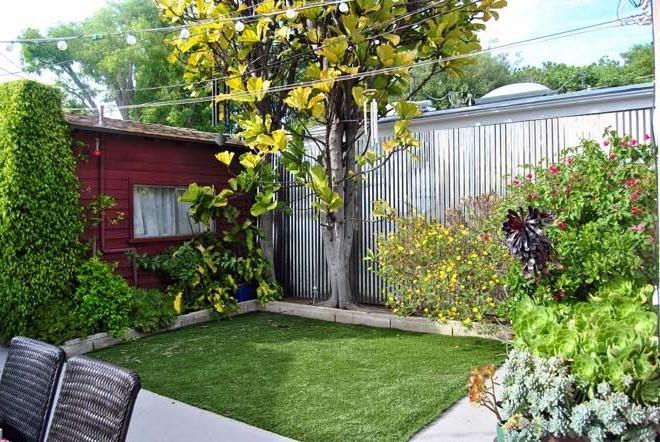 Corrugated boards are usually used to build sheds, barns and ceilings for outside structures, normally you would not think about them for fencing, but the truth is that it is an easy and cheap option to protect the house, give it privacy and it has been used a lot. Lately they have become a trend, since some people have managed to make beautiful creations in their house's fences using this raw material and turning it into designs that have nothing to envy from any other kind of fence.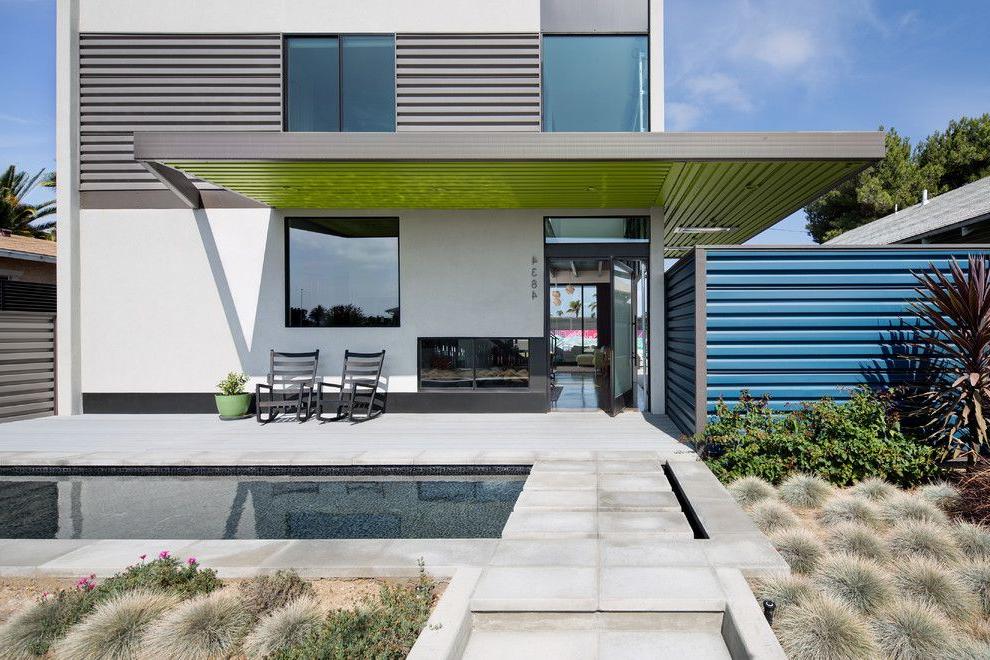 Corrugated board fences are a design and construction decision that is getting more adepts each time, primarily for their low prices compared to other materials. Because of their sizes, they can cover a large amount of space with just a few boards, making this material an affordable way to face the necessity of delimiting the house.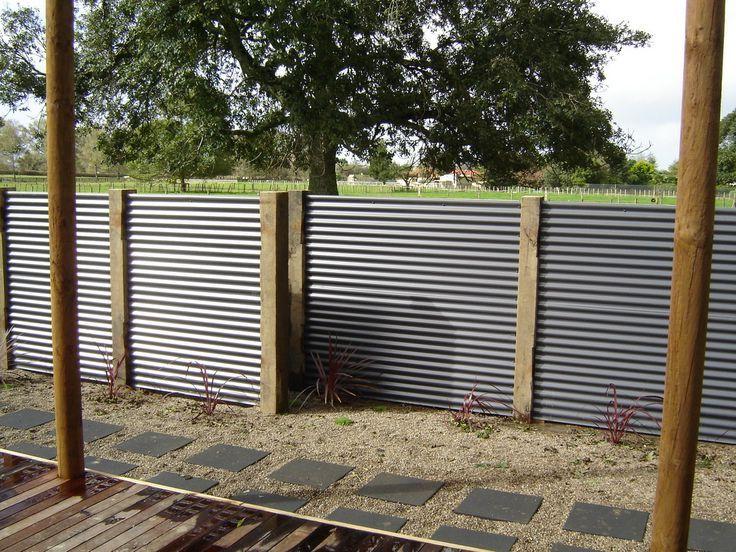 Another reason why these boards are better for the budget is because they have long lasting characteristics. The can withstand weather elements like sun, rain, breeze, among others, making them a great choice for exterior fences in any circumstance. The easy installation is another way of saving money by keeping you from hiring people to do the job for you.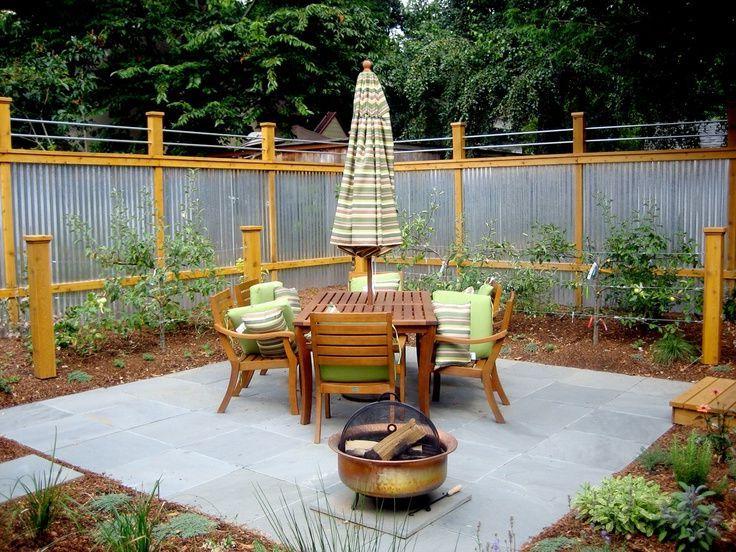 This is because this fences can be easily installed by homeowners themselves. With just a little training and a few tools, any owner can have the satisfaction of feeling like the best contractor when doing this simple work.
Since corrugated boards come in a variety of sizes, colors and shapes, and they also have different thicknesses, no matter what way you decide to start your fence project with this material, you will surely be able to create a nice looking style to set your house's limits.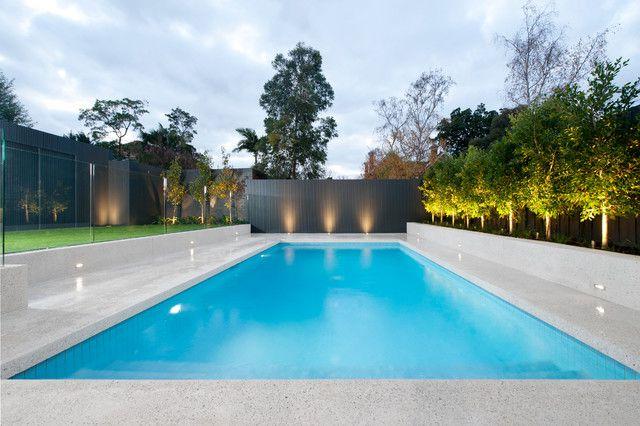 Normally you can get specialized corrugated metal panel for roofs, walls and even flooring since these panels are specially manufactured for every use, but in the case of fencing, they have the benefit of being usable in any of their variations. So, if you have a few boards that were left from a greenhouse you built, you can use them together with any other types you have with no problem.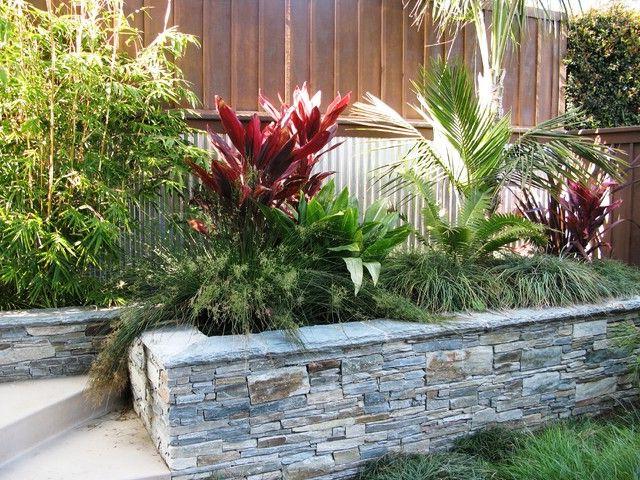 Even we think choosing this metal material for your fences is a great idea, we still want to give you some information on corrugated boards, so then if you still want to use them for your real state delimiting, you know you made an informed decision and picked the best to give life to your ideas.
Good things that come along with choosing a corrugated board fence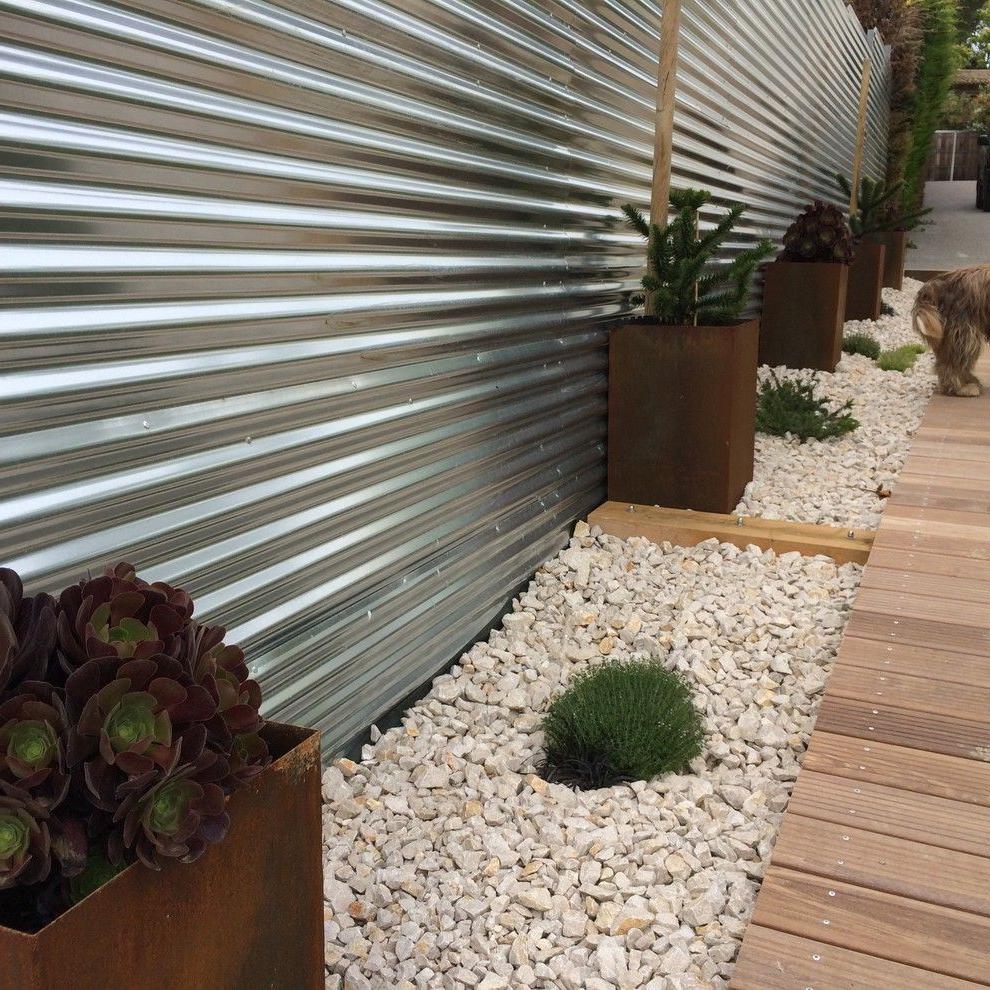 When mentioning the pros in corrugated boards used for fences, it is important to highlight:
This material is less expensive than others for this kind of work, such as forged iron, glass, or some types or wood.
It is very long lasting, giving the fact that this material was primarily created for outsides constructions like sheds and barns.
With the right techniques, they can be painted to make them any color you want them to be.
It protects against elements like rain and hard winds.
They can be easily installed by owners themselves, keeping them from spending extra money on workers.
They don't require excessive tools for installation.
Building this kind of fence takes a little time.
You can avoid people from looking inside the house or getting inside.
If you have any electric problem, the boards can be very easily removed and then replaced.
Corrugated fences require barely any maintenance after they are installed, saving money for this kind of service.
The not so good things about corrugated boards used as fences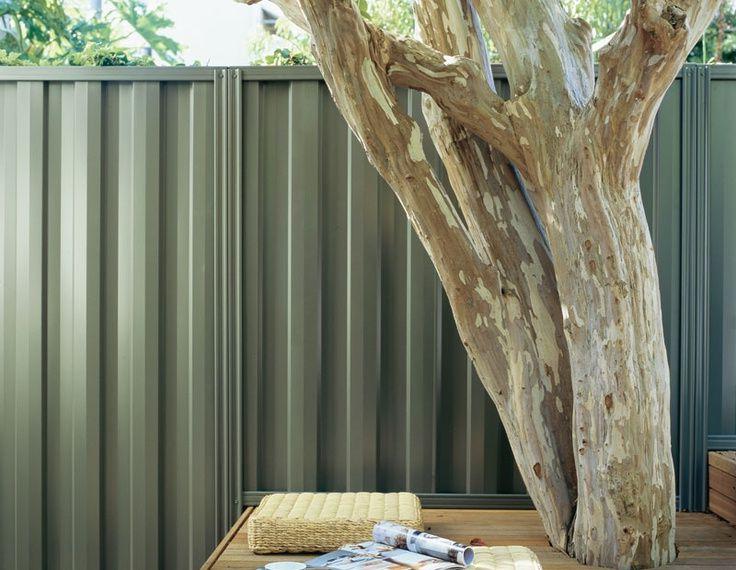 But, everything isn't perfect with these panels, so review some of the cons too:
Style wise, these panels won't offer you the grace and finesse that other fences can give you.
Some corrugated boards require special treatment before installing, to avoid the peeling of some of their coatings.
You need to be sure to choose a thick panel of this material before buying, or else you will face terrible noises when, for example, really hard winds or torrential rain.
If you want to install them yourself, a previous training and research of relevant information is needed in order to succeed in the project.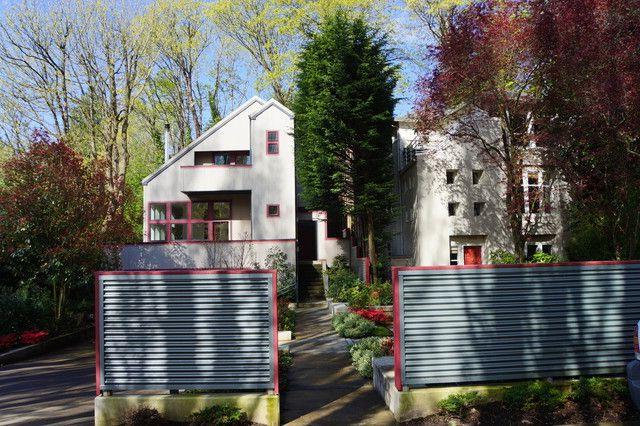 So, deciding for this style has its pros and cons, it is just a matter of balancing both and taking a decision. If you have decided to go on with this entrepreneurship, then keep reading for some instructions on how to make and install this kind of fence.
The process of installing a corrugated board fence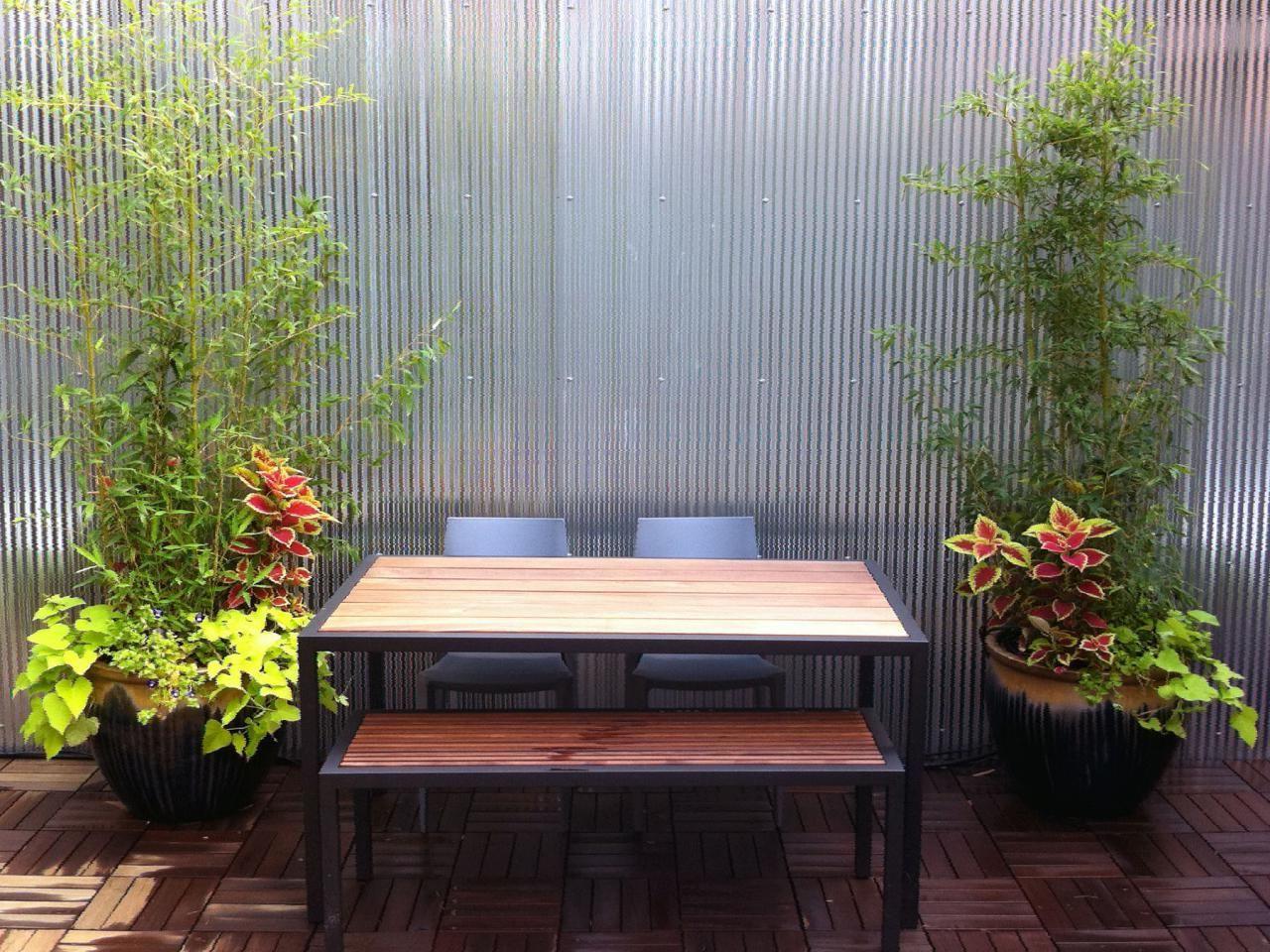 First you need to know the length of the perimeter you will put the fence in. With this measure you can go to the fabric to have your boards customized for you, or you can directly go to a hardware store and get as many pieces as you need. About the height of the fence, it is a matter to each homeowner how tall they want their fence to stand, corrugated boards also come in a big variety of heights for you to choose.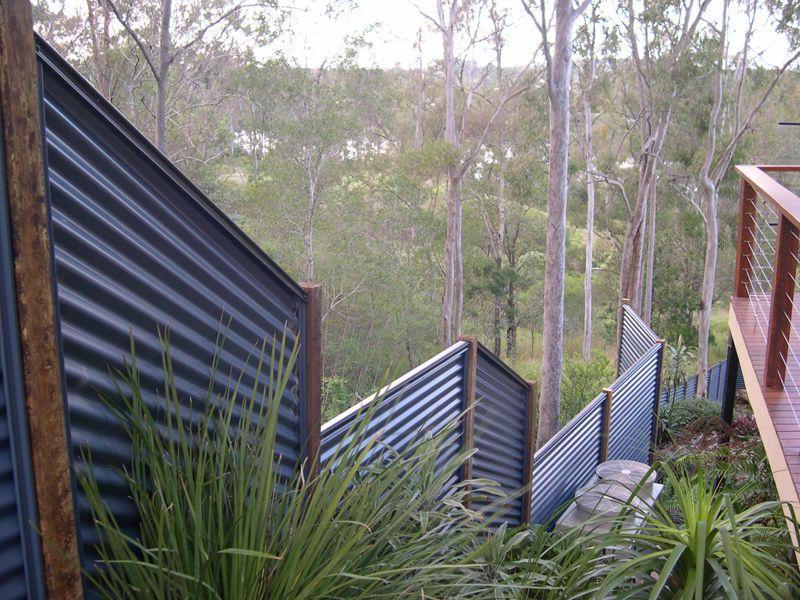 After knowing your land's perimeter, you need to know how many supports you will need to help the fence maintain straight. The recommendation is to put them at no more than 2.5 meters from each other, to secure stability of the fence. 2 meters would be perfection between security, strength and design.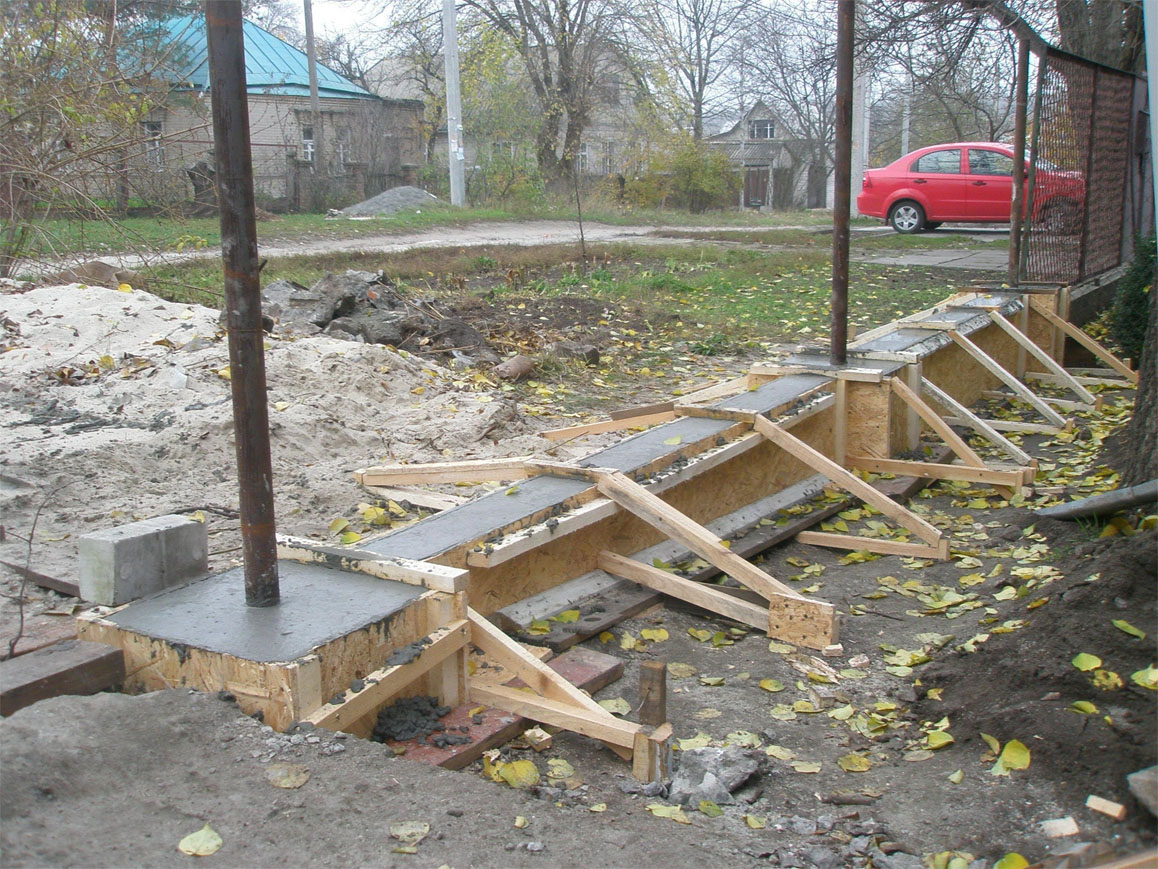 These supports can be anything you need, metal pipes being the most used option for their easy installation, similarity to the boards themselves, and price. You will need to make holes in the ground for installation of any support you choose, from 1 to 1.5 meters.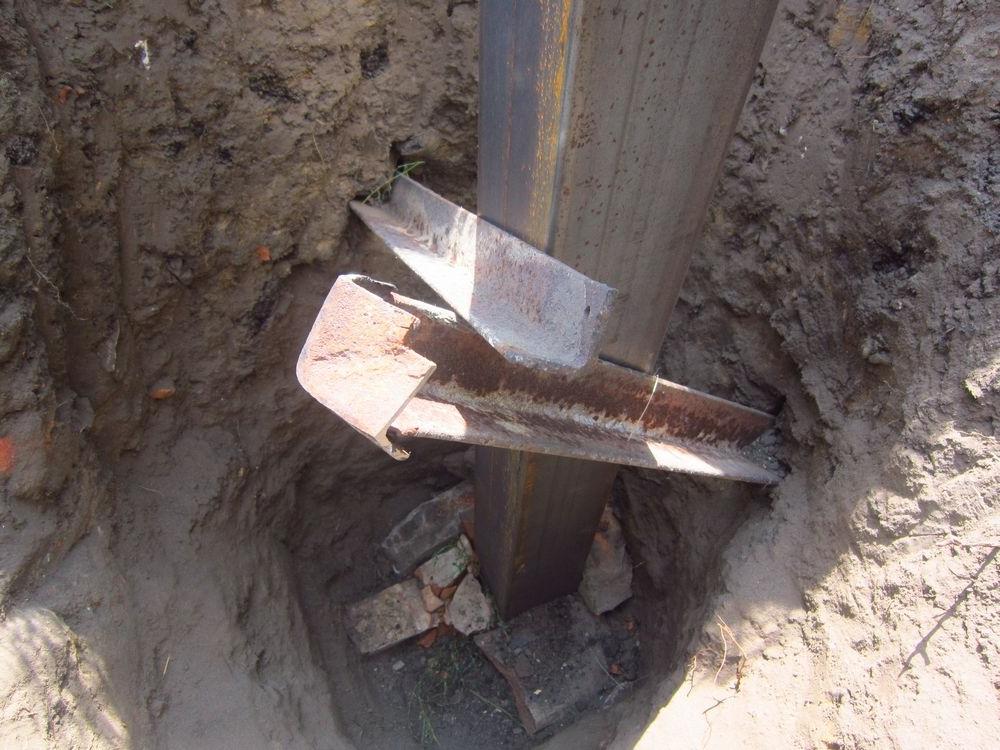 In case you have decided to put foundations on the bottom of your fence, like a brick wall, you will then have to excavate pits for the base of this wall as well. Recommended depth is 45 centimeters.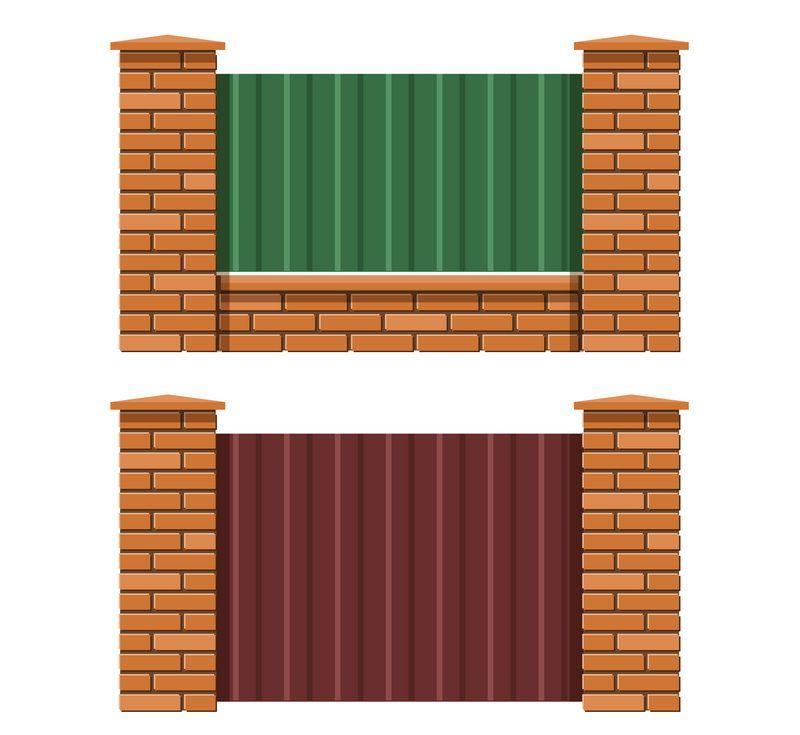 After excavating the holes, you must place the supports centered, and then pour the concrete mixture in them and puncture the mix to let air get out from the concrete. Install the transverse logs withe the help of a welding machine. The recommended space between them is no more than 1.5 meters.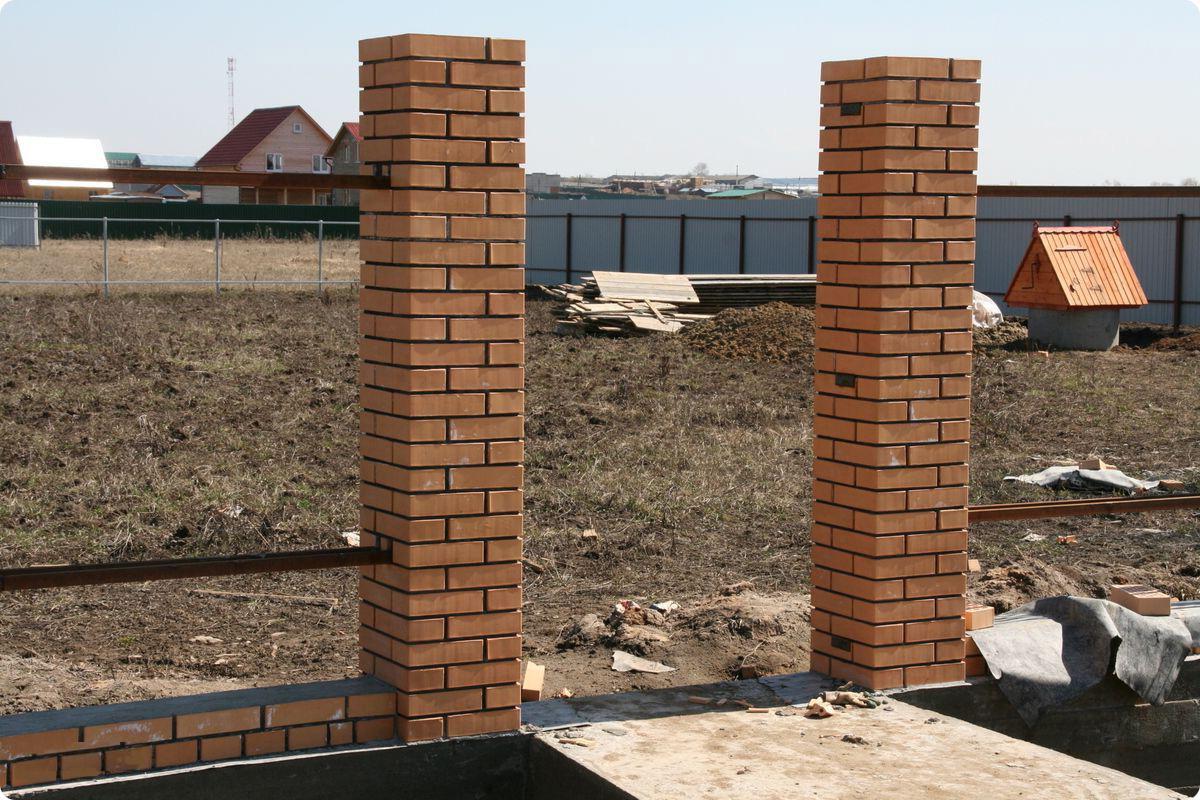 Once the cement is dry, it is time to star securing the boards in the frame. You will need self – tapping screws to do so. The right way to install the panels is by screwing them really tight into the transverse logs.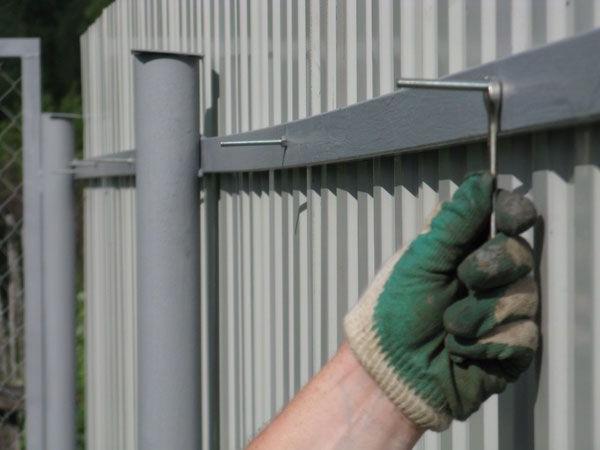 The corrugated board is installed. Is time to coat it with a primer and then decide if you want to keep it natural or paint it.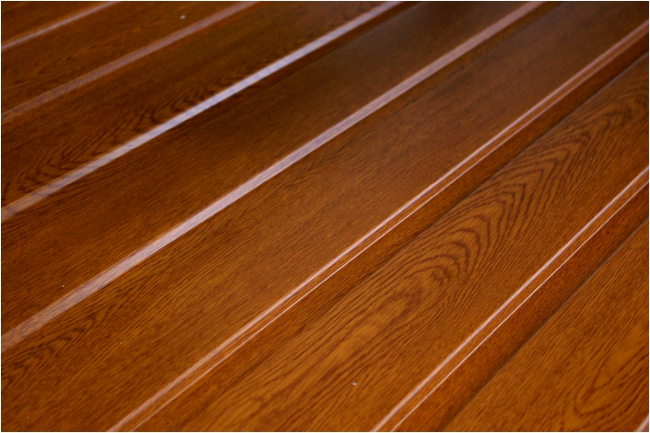 When it comes to color, these great alternative fences can be found in nice different tones that imitate textures like wood from manufacturer. With technology advances this boards can come in lot different styles. But they can also be painted with anticorrosive paint, oil paints, etc.
The versatility of these fences and their materials of construction makes them great for a mural likes this one. They can easily turn into a white canvas.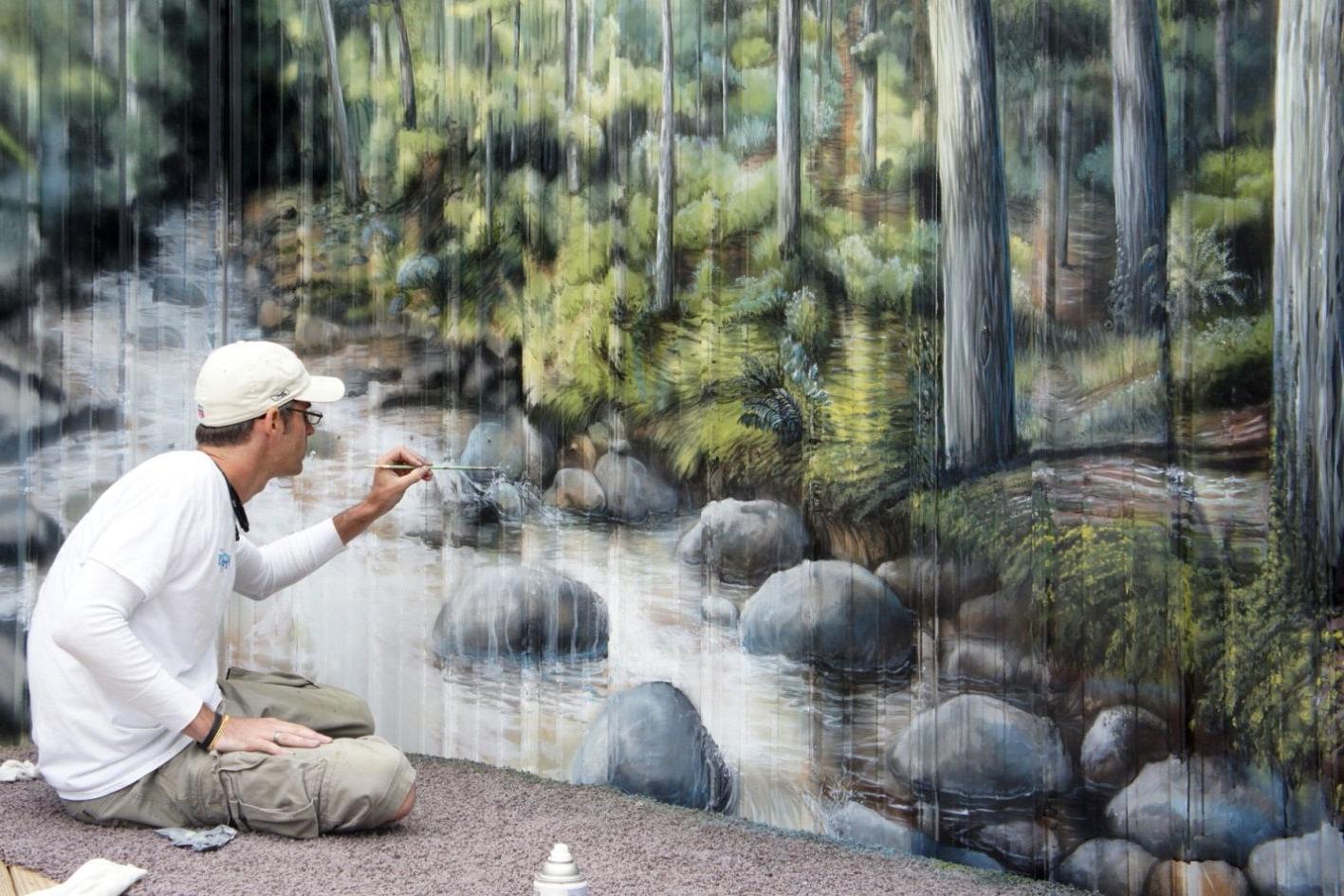 Graffiti is an art that also works great with this kind of material, making a possibility to turn any house into a gallery.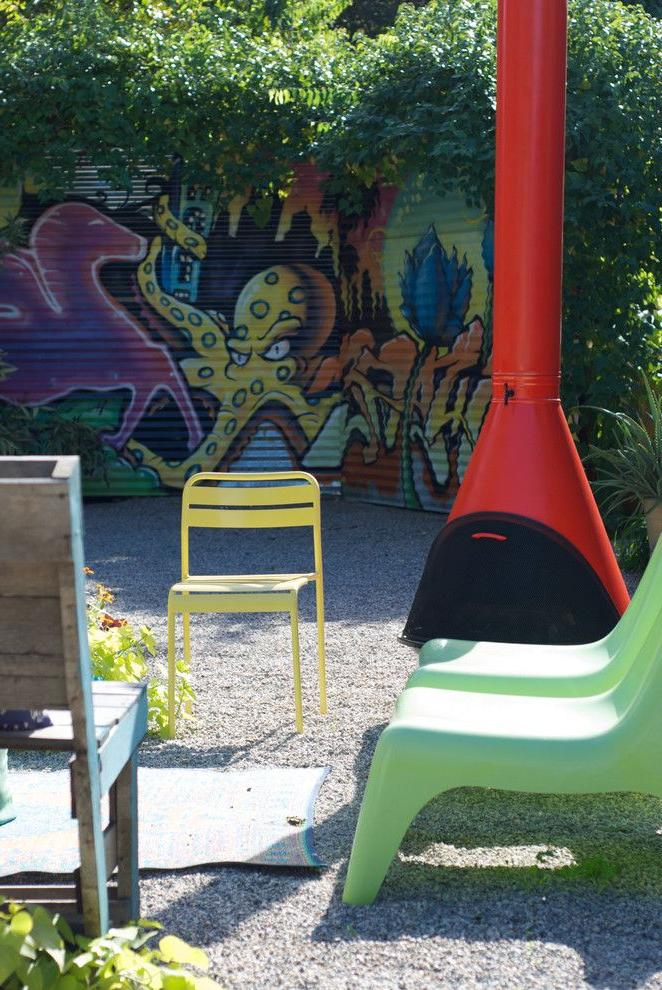 Another good thing about these fences is that they give you two different ways to set them. You can install them vertical or horizontal, making these panels varied with just changing directions.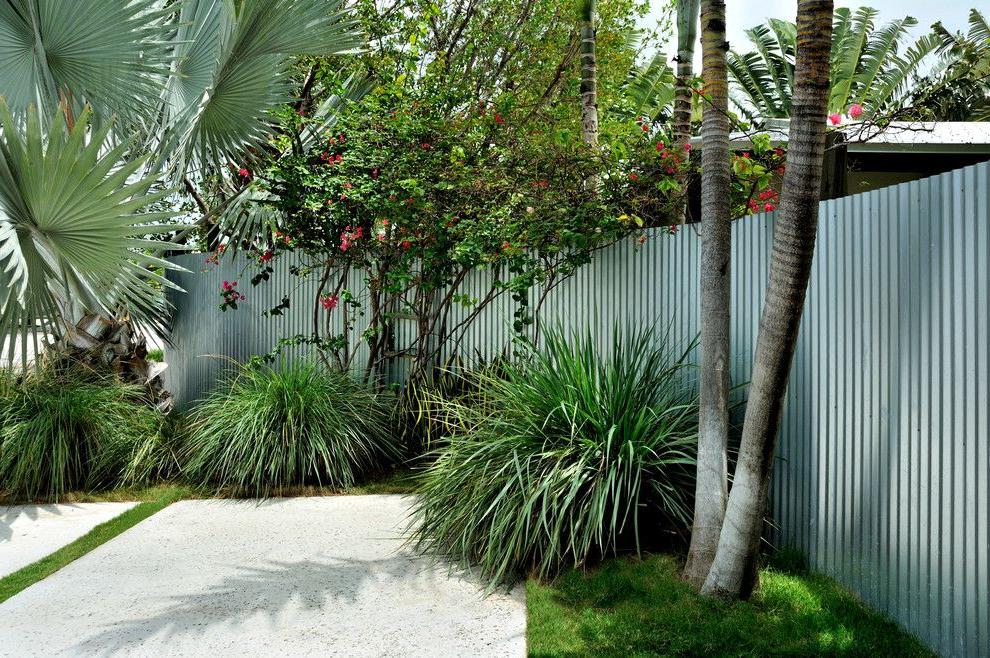 Vertical will give highness sensation, even if the height is the average one, while horizontal give the fences a more modern look, especially if painted also.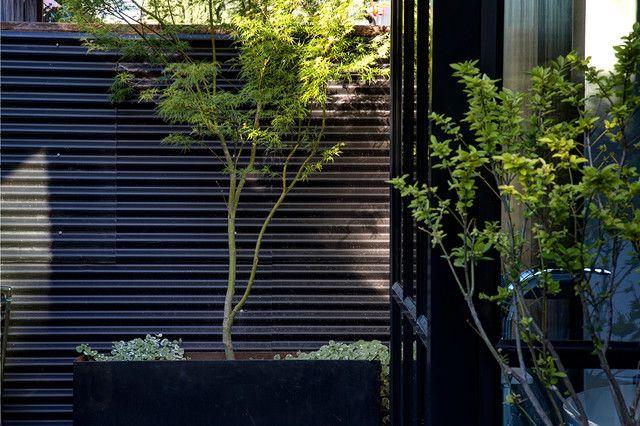 As you can see, corrugated board fences are an affordable, useful, secure, easy and stylish way to delimitate your land. If you put your mind into it, you can come up with an original, beautiful and resistant fence for a fraction of the cost your neighbors had to pay for theirs. And it will look better, too.
Next, enjoy some nice places that have decided to use this original way of fencing to improve their spaces.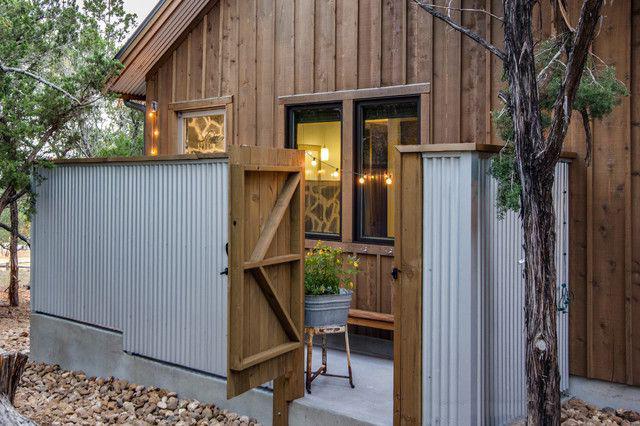 Corrugated boards give a touch of glance to any entrance, creating an easy to build porch like this one, that features the metal panels combined with wood in this wood's cabin that screams nature.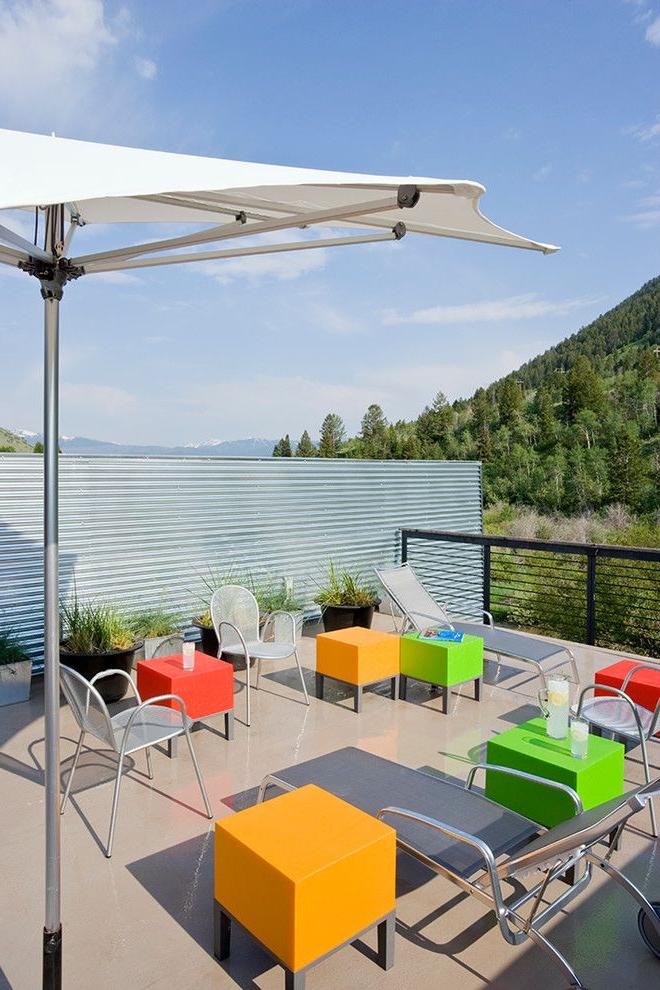 These boards are very versatile and can be used in many different ways. In this house, the fence has small borders made with the same material, making it look very simple and monochromatic, contrasting with the big on color space. Note how the fence is only one big piece with no lateral pipes to support it.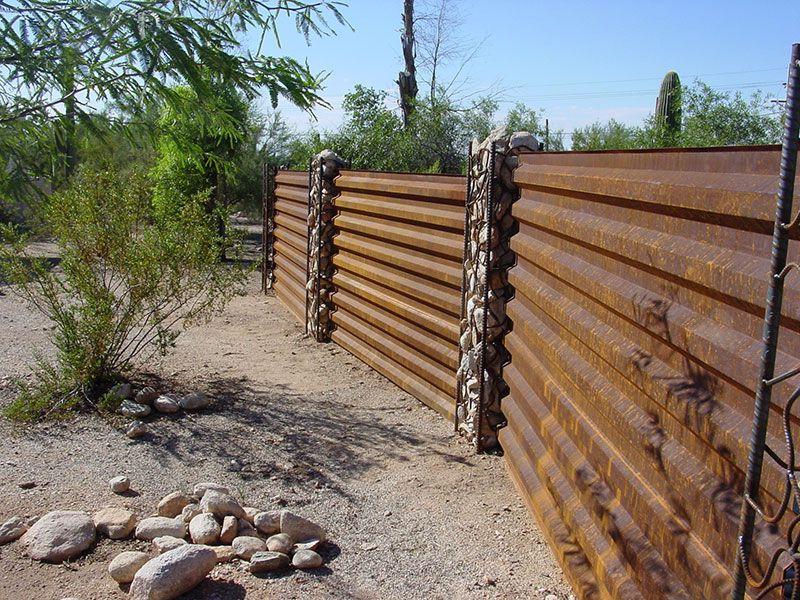 In this desert design, boards have been given an aged treatment to go with whole feeling of the place. The forged iron supports used to keep the panels in place, have beautiful designs that complete the look.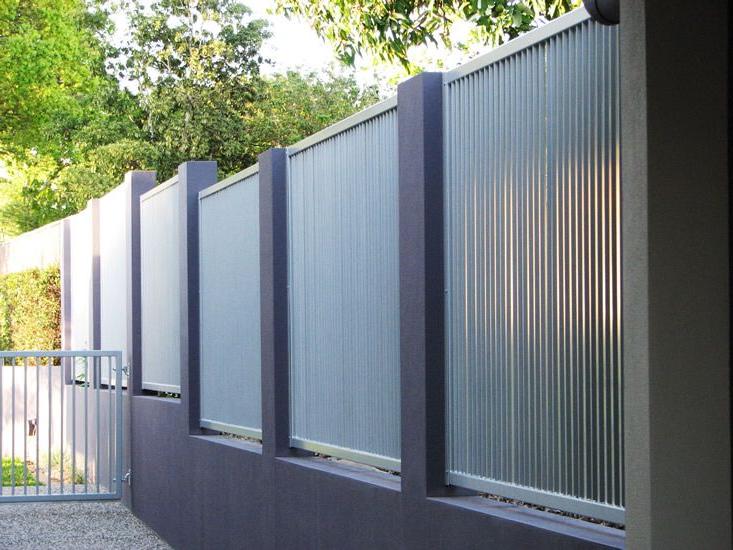 This case is a more polished way to use the corrugated panels, embedding them into concrete walls and lateral supports. This design is very hard to tell that is made of this affordable material. The color helps with the sobriety design.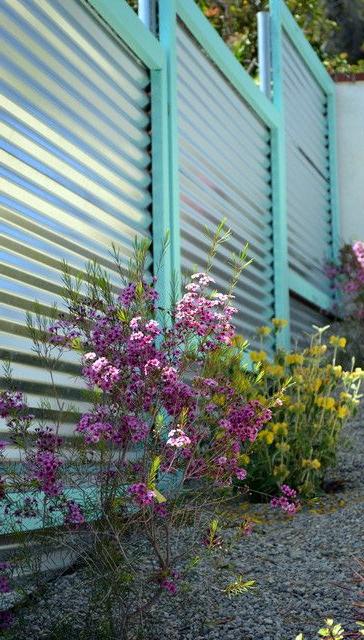 This is another way to set corrugated fence. Framed into metal that is been jointed by a welding machine, this project combines panels in natural color and soft green in the frame, giving it a romantic and natural feel to it. Perfect to make a garden stand.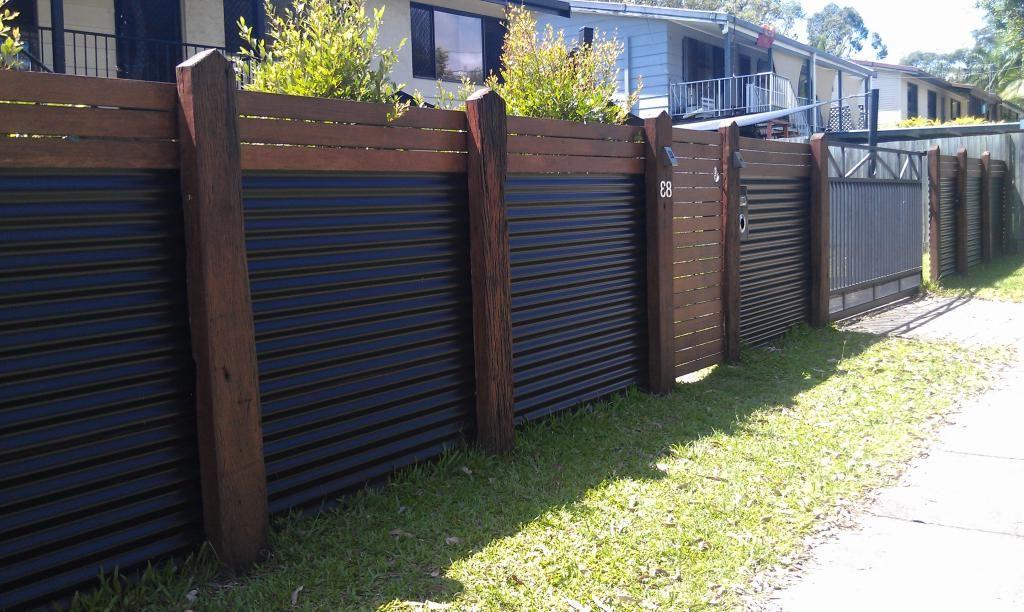 In this sober country look, homeowners painted the boards black and then combined them with dark brown hardwood. Making the green pop.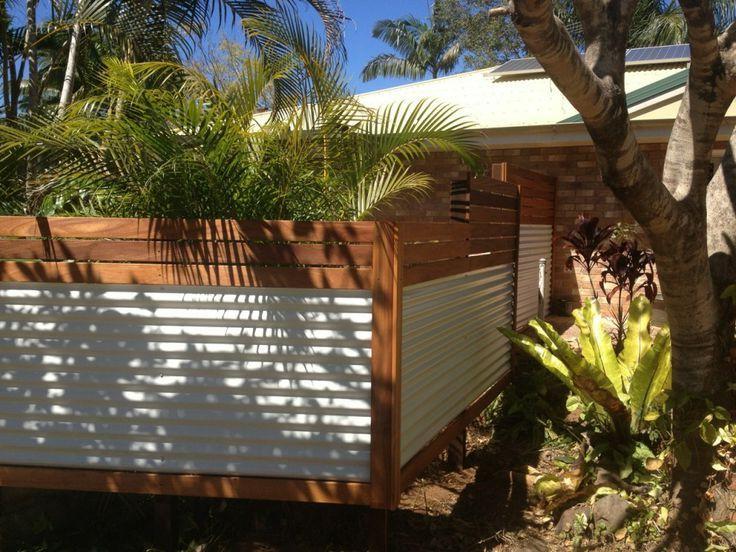 This is another wood and corrugated boards combination, this time painting the panels white and framing them into medium brown supports. A summery look for a sunny house.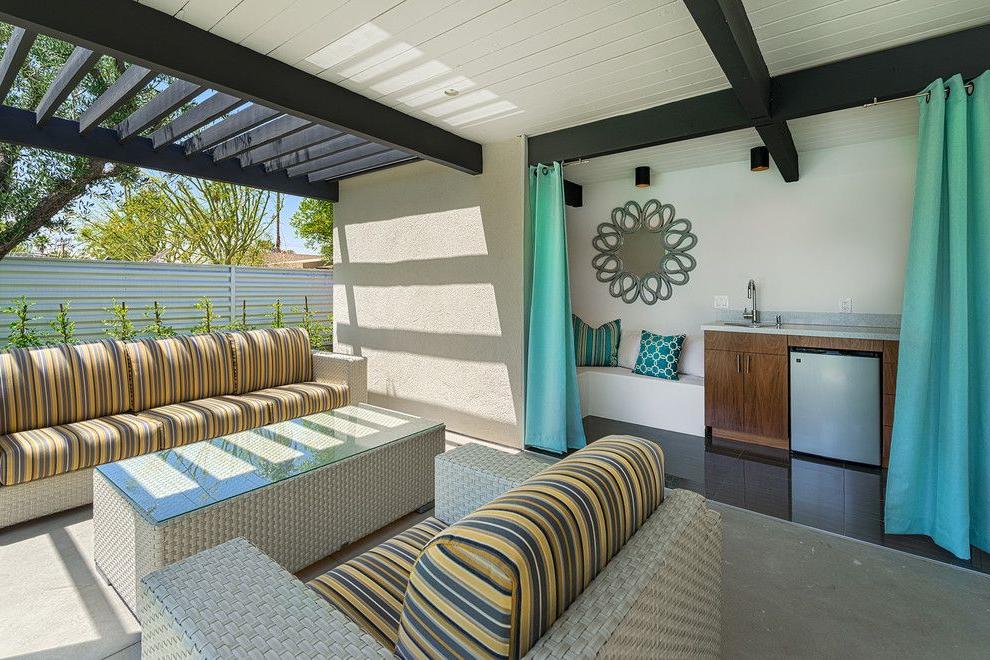 This modern and very clean design comes to life after combining it with corrugated fences in natural color making a half wall.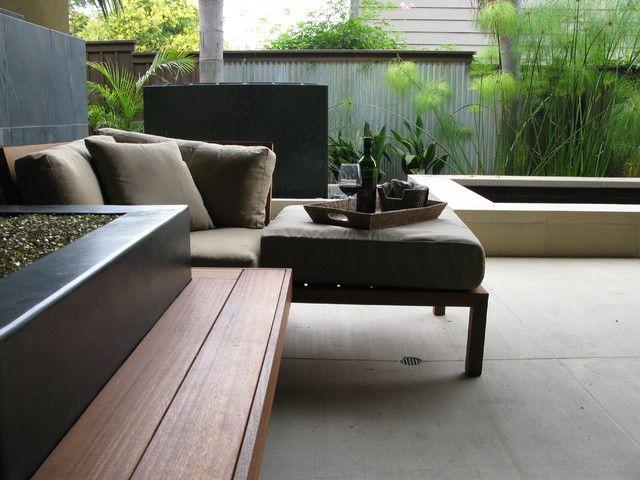 This beautiful chill out area looks more chilling with the presence of the boards fencing the place. The big "fury" plants also help to the mood.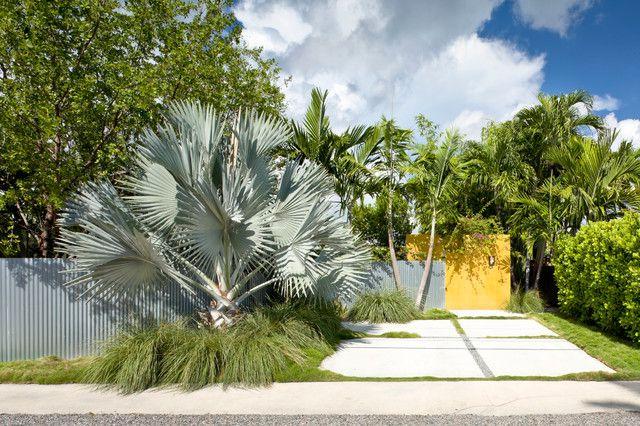 Here you can see how a corrugated board fence looks from the outside of the house. Simple and very pretty.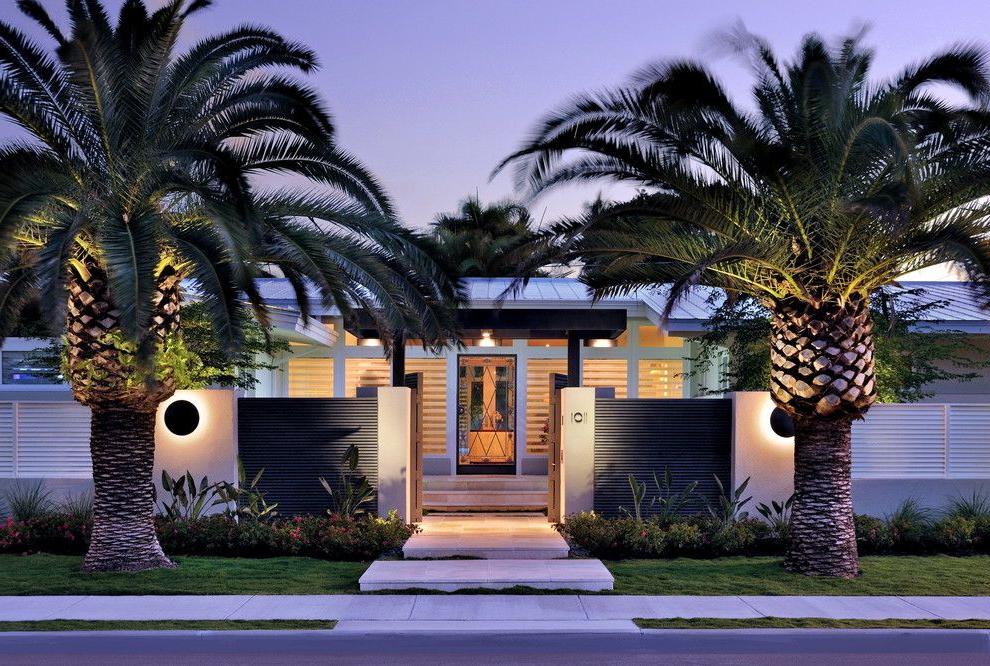 When the sun goes down, the lights of this house and the colors chosen for the fences make a great spectacle featuring good design ideas.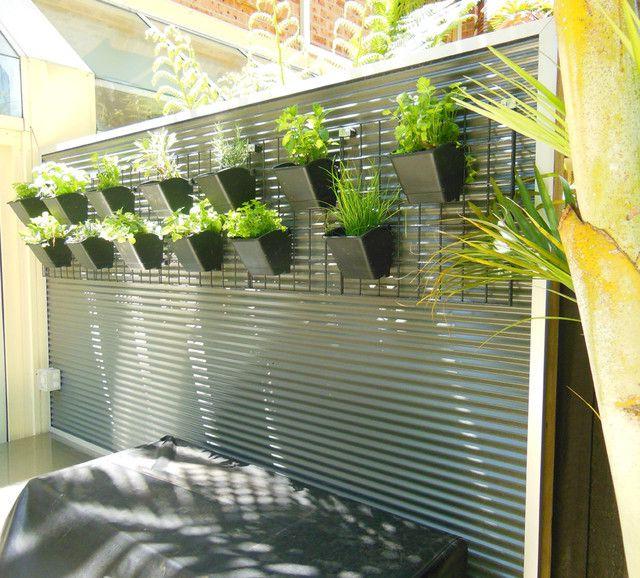 Fences can have multiple uses. You can take advantage of the material these panels are made of and also use them to, for example, hanging plants for a little edible garden.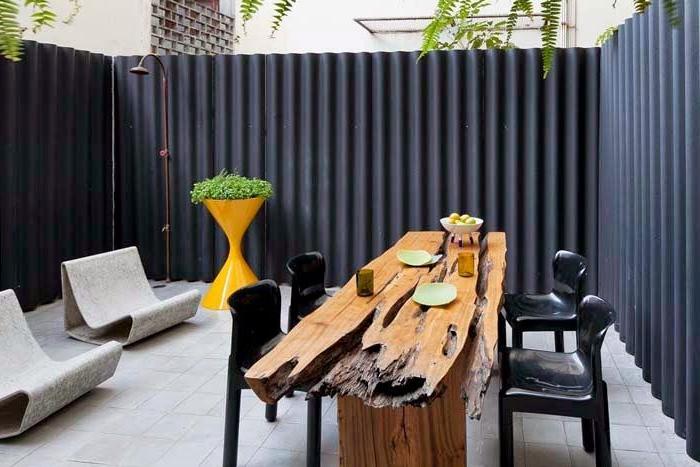 This design is rustic yet elegant, combining eclectic design elements with the corrugated panels in a matte black paint.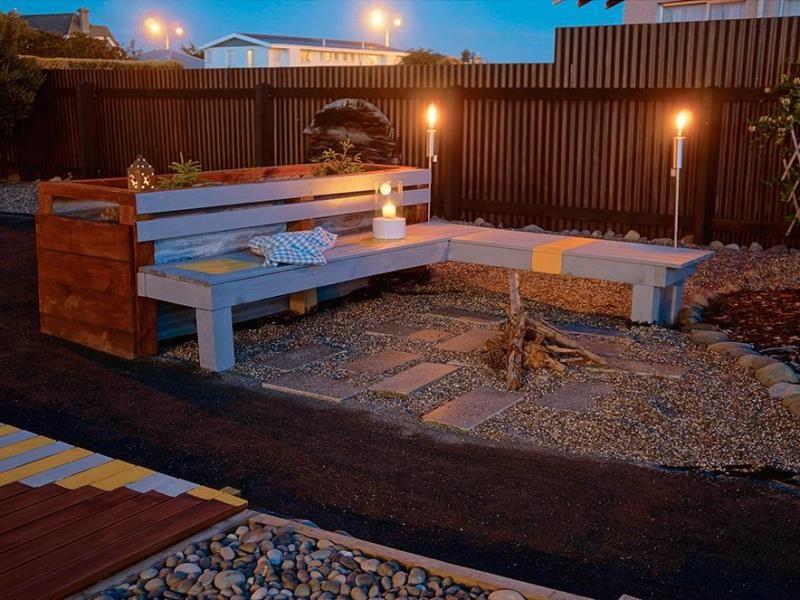 See how this nice outside resting corner uses the natural color corrugated boards making the space feel really private.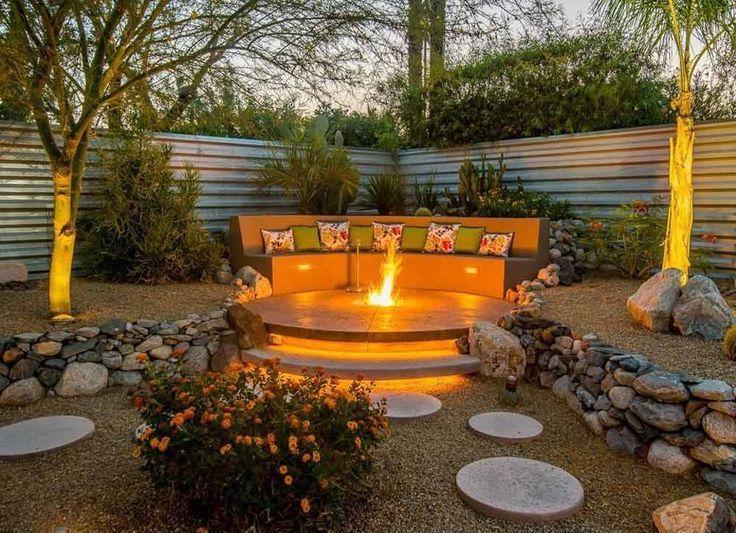 In this garden private sitting area, the metal corrugated fence is garnished with plants on top that goes with the general feel of the space. The lights bring all together.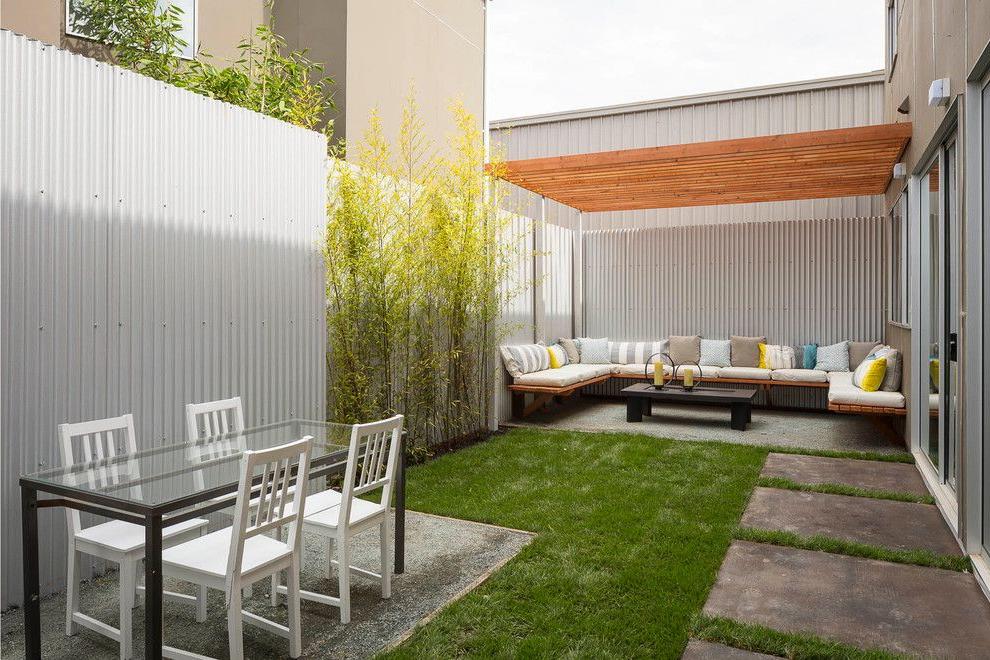 This small terrace looks a lot bigger with the really high steel panel closing the area.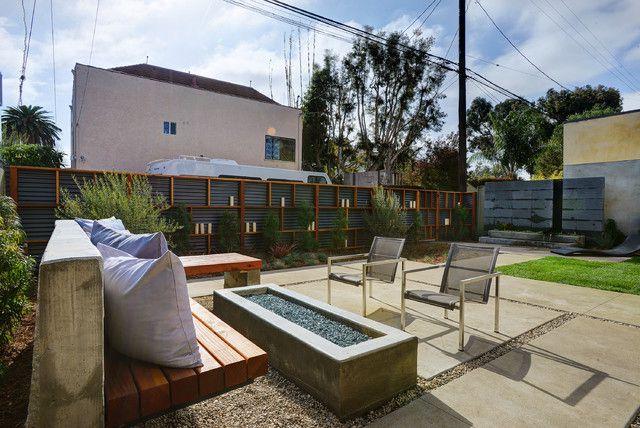 In this fence, support is more than pipes. In this design you can see how the transverse are used with the supports to create different shelves to put decorations, plants, candles and more. With imagination is easier to create great projects.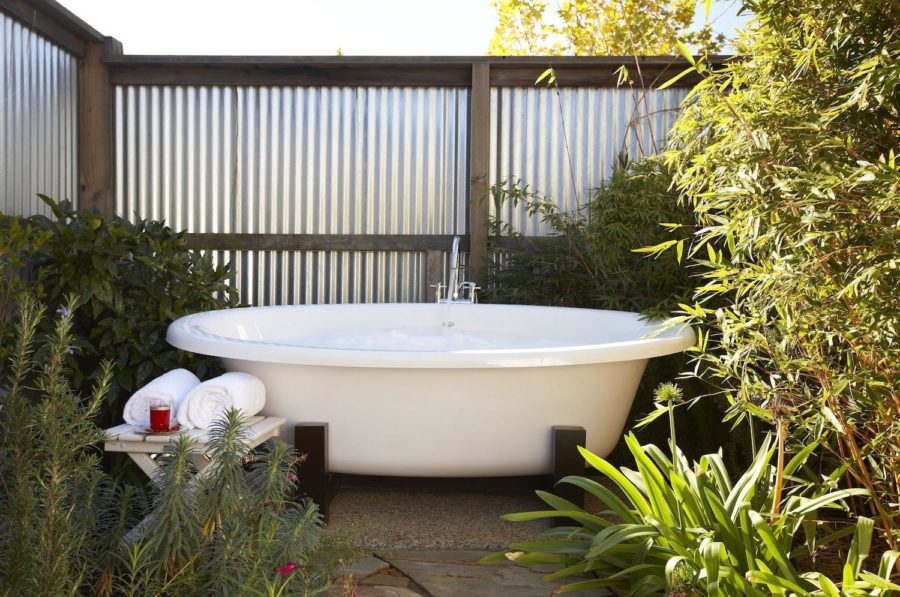 This outside bathroom is a dream of nature with the lot of vegetation and the view and soundproof fence that allows any homeowner to have a quiet bath under the trees' shades.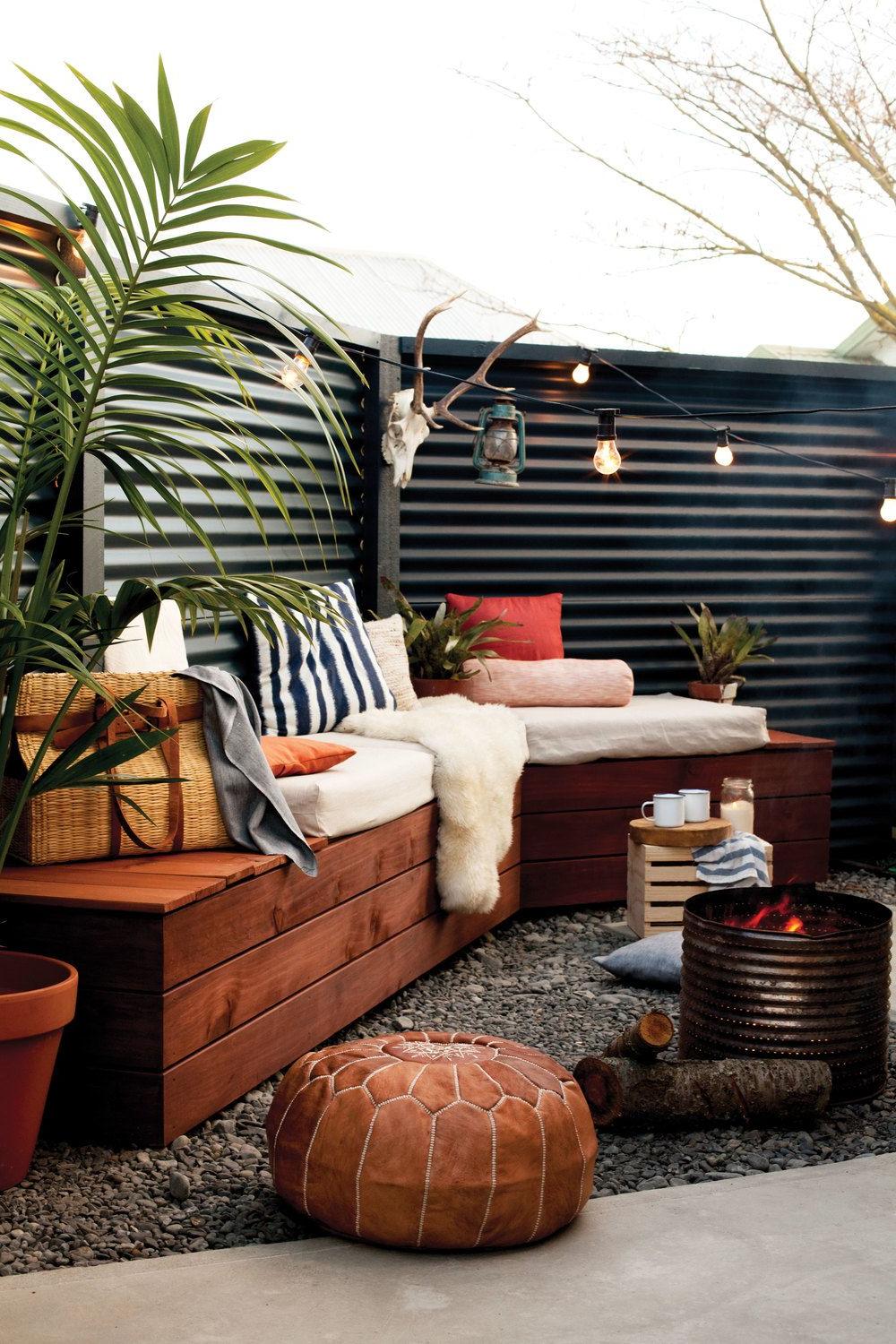 This is a very modern, happy yet serious space fenced. The happy part is putted by the decoration elements, and the serious comes from the matte black paint in the fence.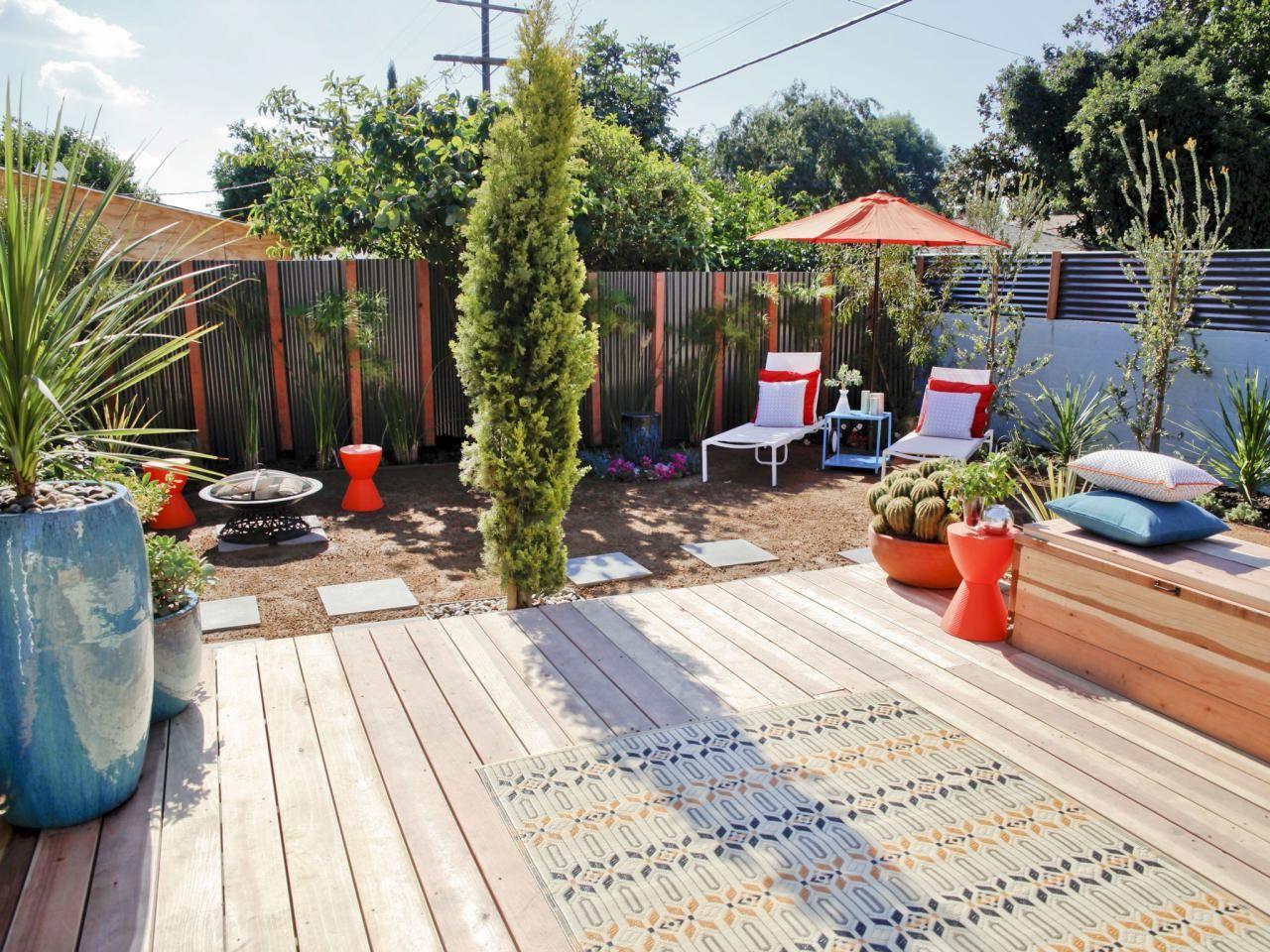 This is a beautiful garden that showcases a different way to use these panels. Note how the supports are very near from each other and the boards are used vertically, while in the other wall supports have normally used separation and are installed horizontally.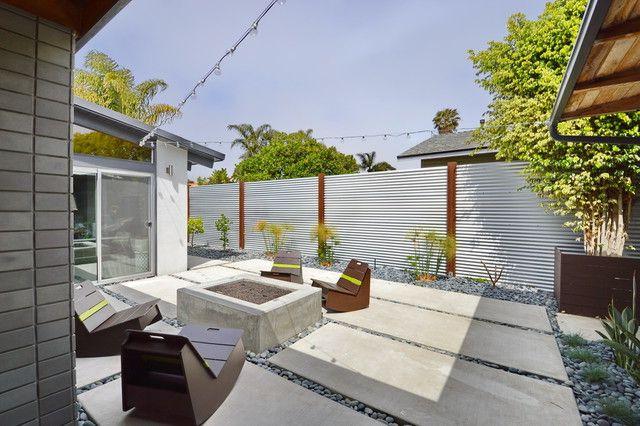 This house shows a very simple corrugated board used in its natural color, enhanced by brown supports that gives it a touch of distinction.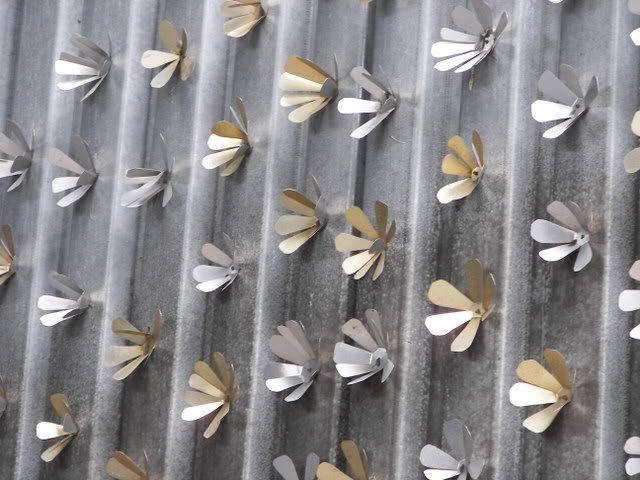 Fences made of corrugated steel board are a simple material that can be garnished with different elements to elevate it.