Picket fences have been a traditional, quintessentially suburban feature for decades at this point. Most of the time we picture these fences painted white and constructed out of simple pointed timber boards, however there is a more modern and durable alternative.
Metal picket fences come with a lot of practical benefits. Often these are made out of galvanized or otherwise treated steel that is weather resistant, low maintenance and durable making it the perfect material to be used outdoors. Metal is obviously also very strong so it can be supported only at the base and hold itself up at whatever height depending on the thickness or form that the metal takes
30 Sophisticated and Fun Metal Picket Fences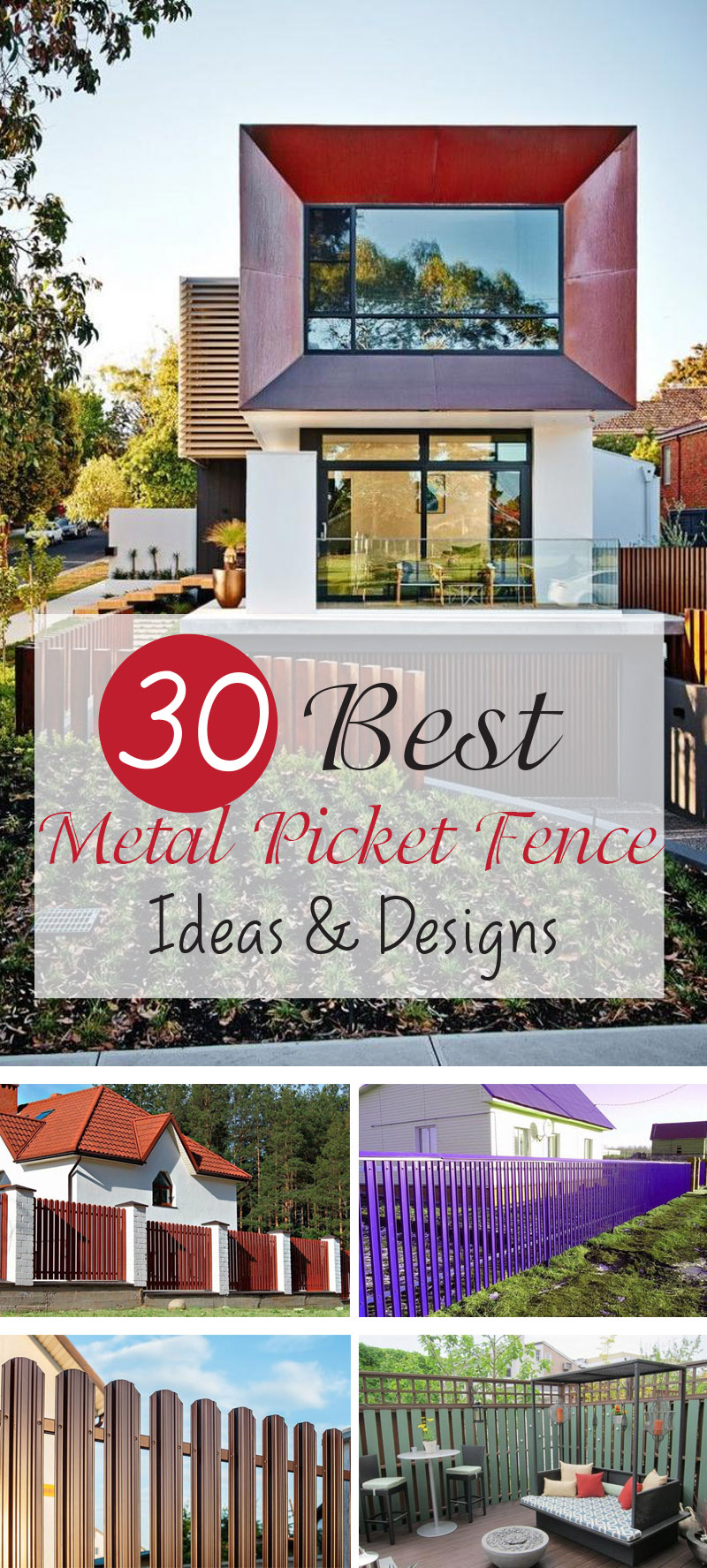 Choosing this material also opens you up to a whole new world of design styles since metal can be manipulated into many different forms that timber just can't achieve. Whether its used in rows of simple metal extrusions or carefully styled to create a sculptural effect, metal picket fencing has your back in creating a boundary that is more than your average timber pickets.
If you're curious as to what this versatile material can do with something as simple as a fence here are:
1. Winding Domino Fence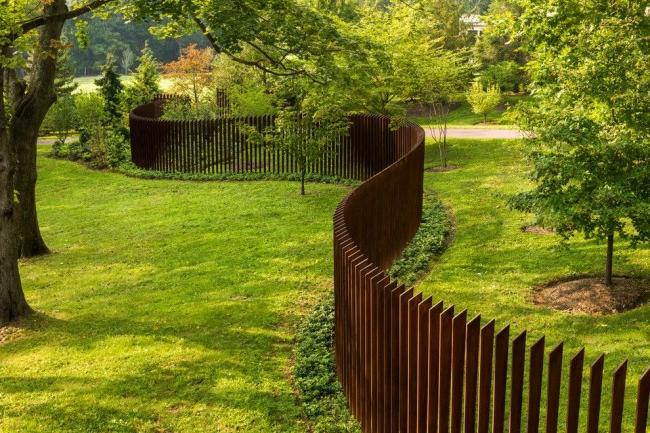 In a modern twist on classic metal picket fences this beautiful garden features a winding fence that makes its way around the lawn fades into the foliage. The fence is formed by thin rectangular metal posts spaced evenly apart with no visible supports between them dues to the fact that the panels are either hammered in place or anchored underground. The surface has been treated to look rusted, which helps it resist natural rust and makes the fence feel one with the natural tones in the garden around it.
2. Ultra Modern Black Fence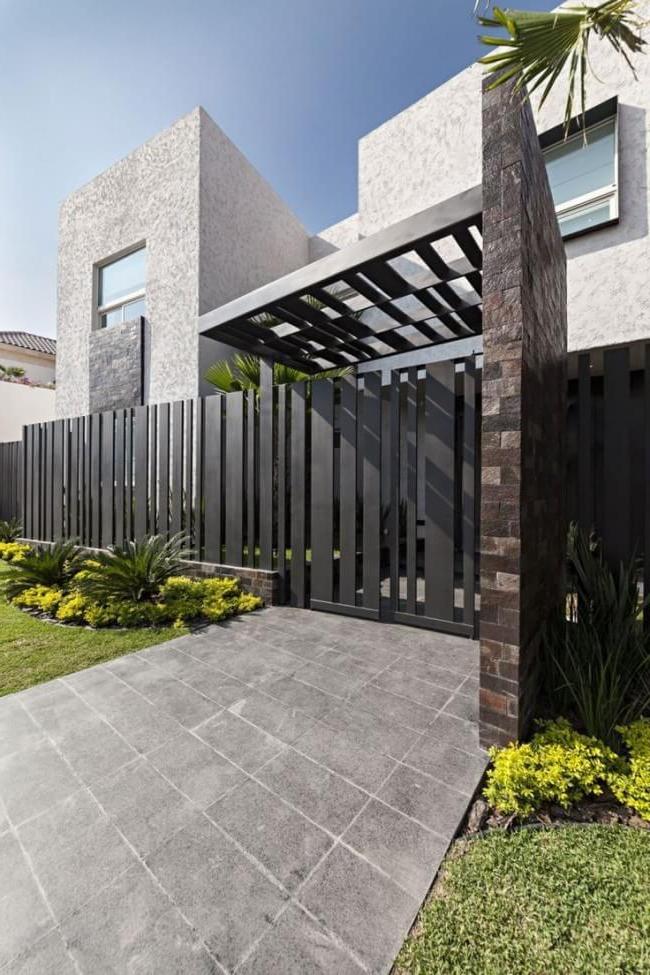 This effortlessly modern fence incorporates a pedestrian gate so the front of this minimalistic house is uninterrupted and appears to be seamless. Black panels of different thicknesses have been spaced evenly apart, facing outwards to create an interesting texture across the façade in a sleek matte finish. The tall panels are joined at the base by a thin band so the top remains disconnected to look they're standing there of their own volition.
3. A Glimpse into the Garden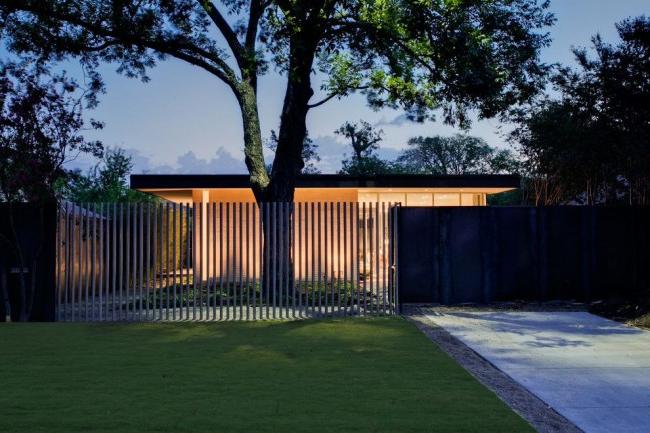 In another iteration of the 'freestanding' fence this look is really modern and stylish, a simple yet beautiful design that is perfectly paired with this minimal house. Thin metal panels are lined up facing one another with no visual means of support and spaced apart so you can glance into the garden beyond without being able to physically access it. The look is simple yet stylish and effective.
4. Little Rusted Picket Fence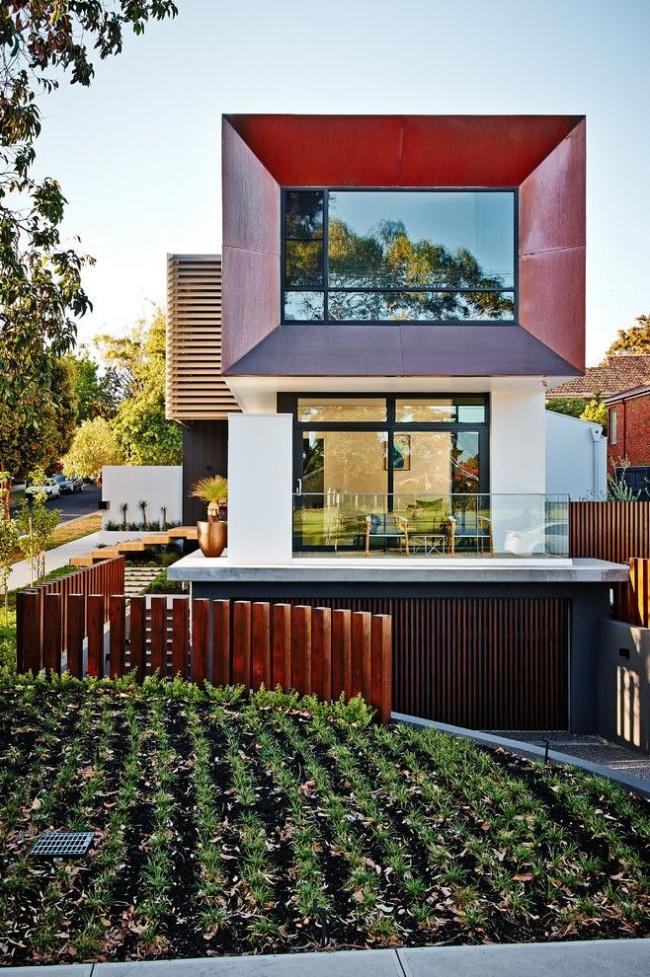 This time acting as a decorative safety feature rather than a boundary this low metal fence runs along the edge of a raised garden bed besides the steeply sloping driveway. Again the panels stand side by side with no visible supports, looking beautiful and making sure you down fall down the driveway. The metal has been treated to look rusted and this hue matches the dramatic structure around the window perfectly to make the whole façade cohesive.
5. Elegant Arching Picket Fencing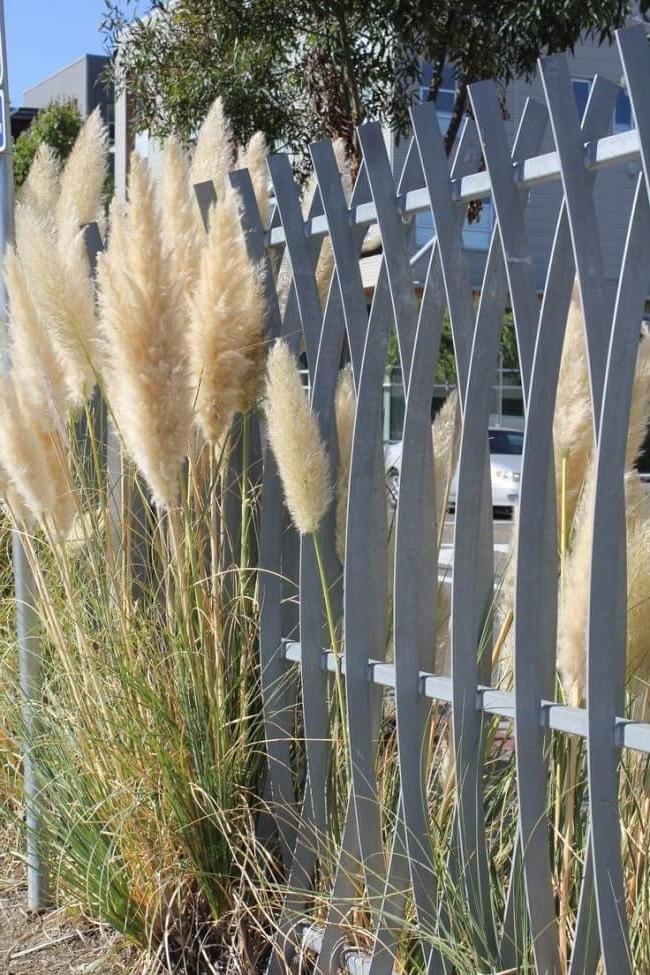 Galvanized steel is an expected fence material but used in a totally different shape in this form. The unique fence is constructed out of curved metal pieces crossing over one another to create a really unique overlapping design. The arching arms are joined at both ends and midway up to give the panels a place to be fixed in place. This is a great example of how to have fun with your design while using traditional materials. This has been combined with beautiful fluffy plants that grow through the gaps to finish off the look.
6. Classic Black Picket Fence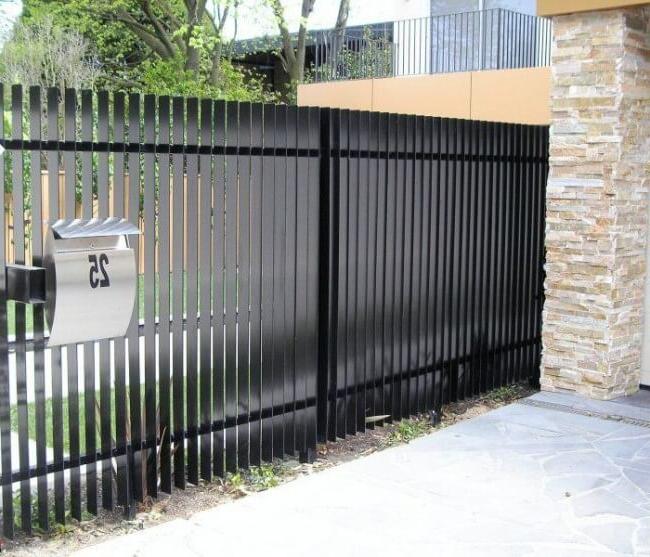 Sometimes its good to keep it simple and they have done just that here with this classic black picket fence. Each panel is made up of extruded steel with square fence posts at regular intervals, sticking with a simple design like this can be both attractive and more budget friendly. It is very sturdy, withstands the elements well and is a safe option for your family home. A clever postbox has been attached to the side of it to make the fence a multi use feature.
7. Stunning Waving Fence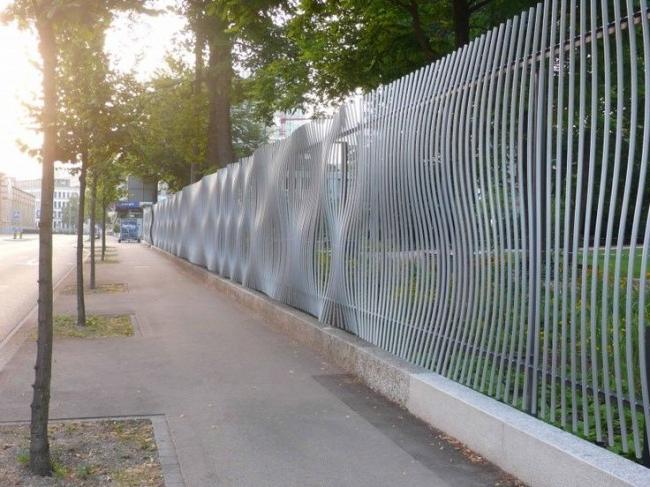 This piece of elegant artwork is a metal picket fence that that has been transformed into something special through the undulating curves of its surface. The thin grey rods are supported by slim horizontal pieces at the top and bottom as a basic base to the stunning form that waves in and out in a beautiful flow that reaches from top to bottom running the entire length of the fence. The carefully designed form is enhanced even more by the way the natural light hits it at different times of day.
8. Vibrant Purple Metal Fence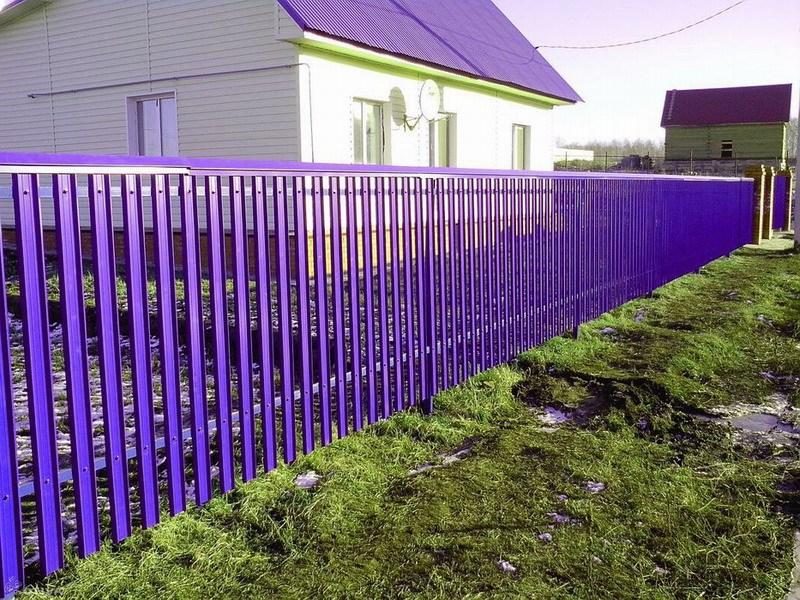 Sometimes traditional styles like this low picket fence are the best choice for your budget and your house but this doesn't mean you can't imbue it with your own creative flair. This quirky fence outside this bold home is painted a vibrant purple that matches the statement corrugated roof sheeting accented by lime green gutters. The effect is pleasantly startling and adds colour in a totally unexpected way to make your house stand out and feel more fun.
9. Timber, Steel and Glass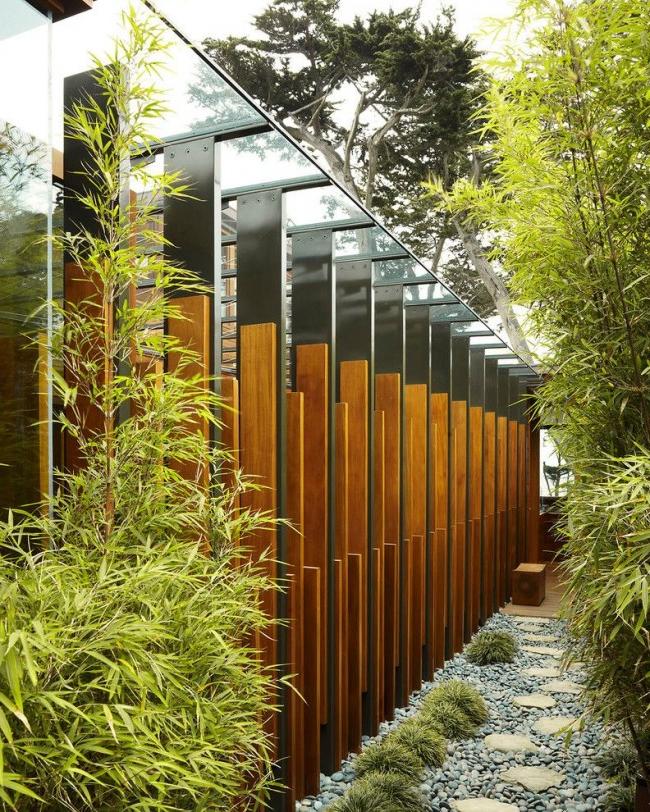 Combining a boundary fence with patio roofing this stunning innovative picket fence runs down the side of this house with a little pebbled pathway running beside it. The complex structure is constructed out of vertical timber panels of different heights with the tallest of which fixed to tall stainless steel columns that, in turn, supports the flat glass roof overhead. The resultant appearance is very innovative and textured and takes fence design to a whole new level.
10. Suburban Red Picket Fence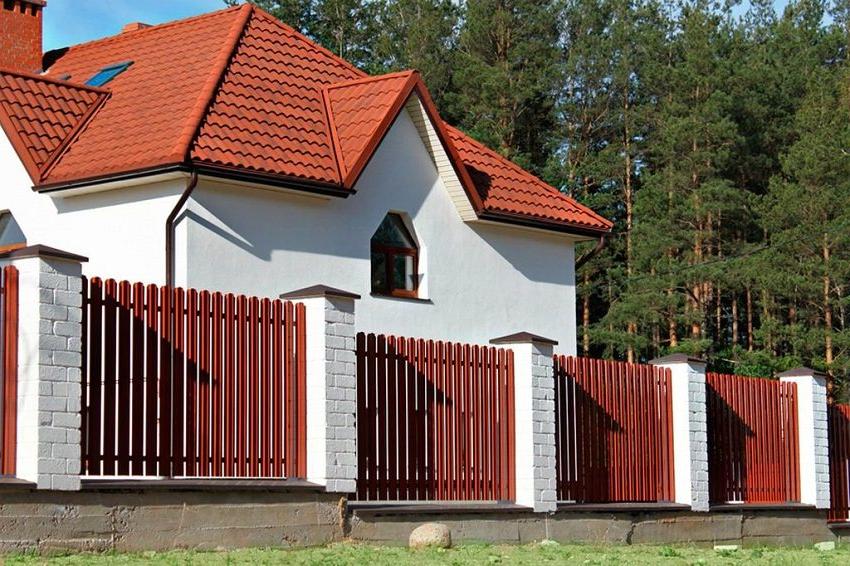 A classic red picket fence has been used for this large suburban home to hark back to traditional home designs. The fence is made up of panels of red pointed metal pickets held between white painted brick columns set on a raw concrete base. The columns match the ivory exterior walls while the fencing matches the terracotta ceramic roof tiles, which makes full exterior of the house coordinated in a homey and fresh aesthetic.
11. Organic Inspired Metal Fence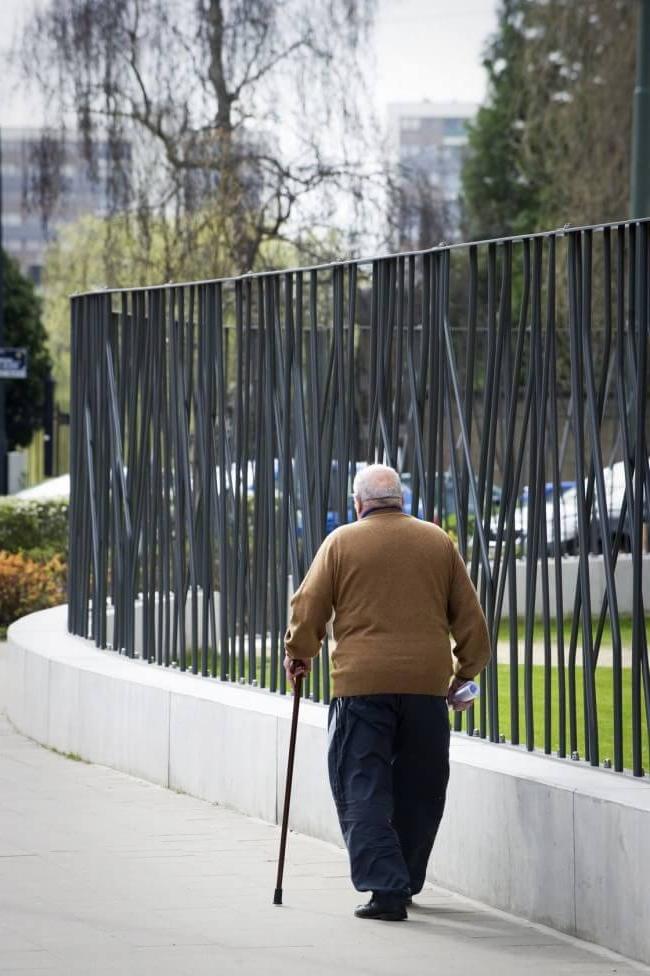 Livening up this city dwelling public space this stunning unusual metal fence curves around the perimeter of the park following the footpath. Sleek black rods have been combined with a smooth concrete base that blends into the pathway, a plain canvas to display the fence against. The slim black rods are held together with one thin flat metal piece that runs along the top while below the rods curve and twist of their own accord. Each rod bends in different ways and at different points to create an erratic texture. Not being set in panels makes this style perfect for curves and gives you flexibility through design.
12. Chrome Finish Metal Pickets
This fence is a great example of how to use traditional extruded metal pickets but with a slightly more complex profile and finish to create something new. The complex panels with a rounded top are finished in a matte chrome finish that looks modern and chic rather than pedestrian and average. All the fixings have been carefully chosen to match the finish so that the design is as seamless and as possible.
13. Incredible Contemporary Rustic Fence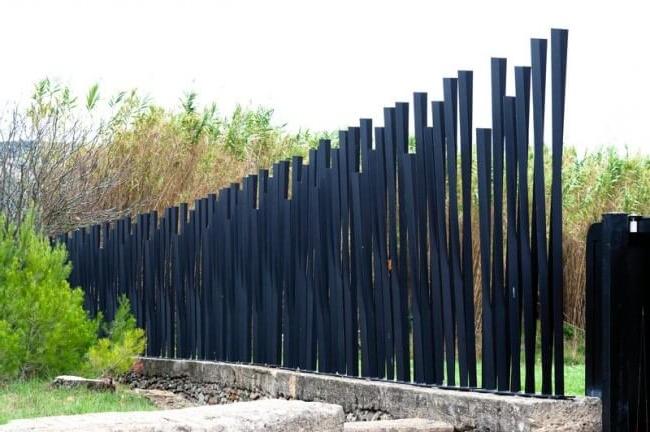 In this rugged rural setting this statement fence is being held aloft by a rough concrete base with a rugged natural backdrop behind it. Running along the concrete is one flat black piece of steel that the vertical pieces are welded too making them appear to grow up from it like strange geometrical stems. Every piece is a different shape and height tapering in and out as it rises towards the sky that creates a rich texture that changes as you move around it. This is the kind of fence that makes your house impossible to miss as you drive by.
14. Suburban Traditional Pickets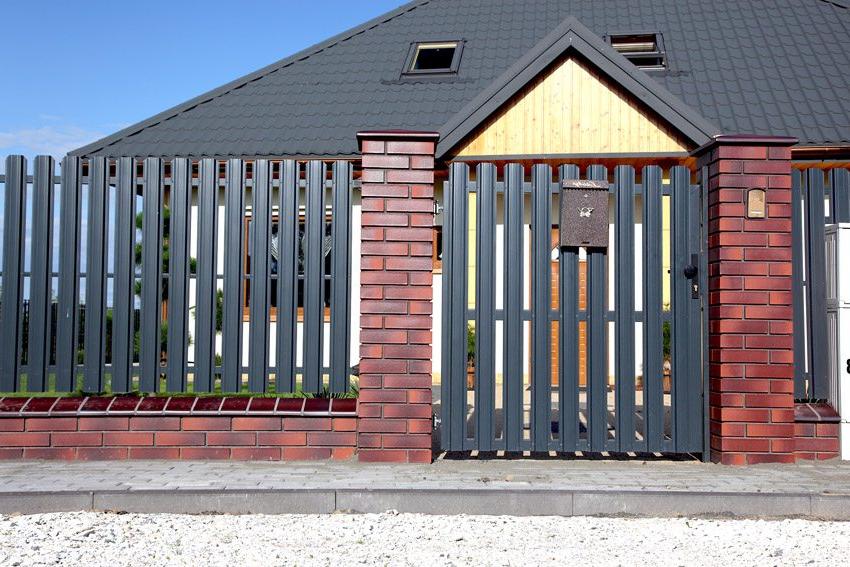 Again this classic picket style has been used in front of a quintessentially suburban house to complete the traditional picture. Panels of wide matte grey pickets are joined at three points and rendered in the same hue as the ceramic roof tiles to make the façade cohesive. Tall fence posts frame the panels and a solid base constructed from red brick that runs beneath with a little coping underneath for directing rainwater away from the house.
15. Quirky Seaside Fencing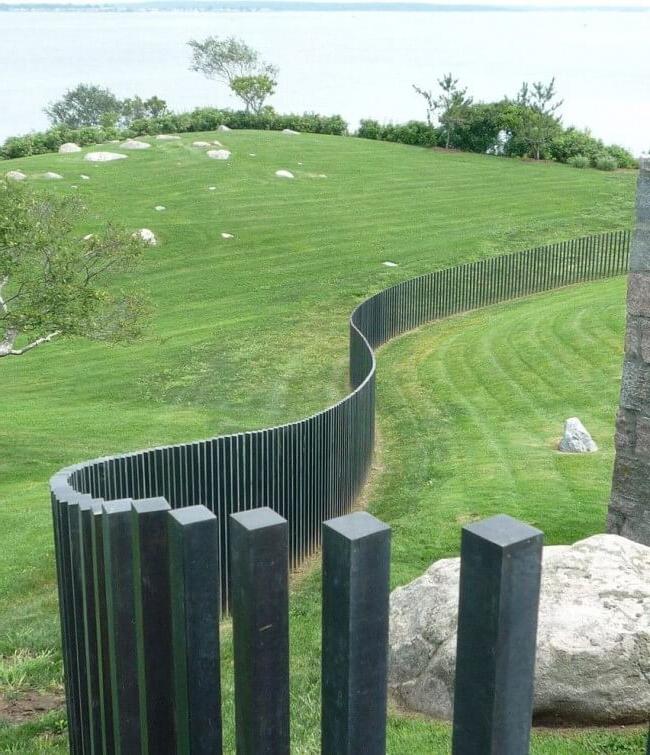 This gorgeous seaside dwelling has a statement modern metal picket fence that runs down the slope, waving its way down towards the sea. The square metal posts are hammered into the ground, standing independently with small gaps between them that won't allow people or animals to pass between them. The style is really simple and modern but feels natural and unique beside this stunning setting.
16. Blue Picket Pool Fence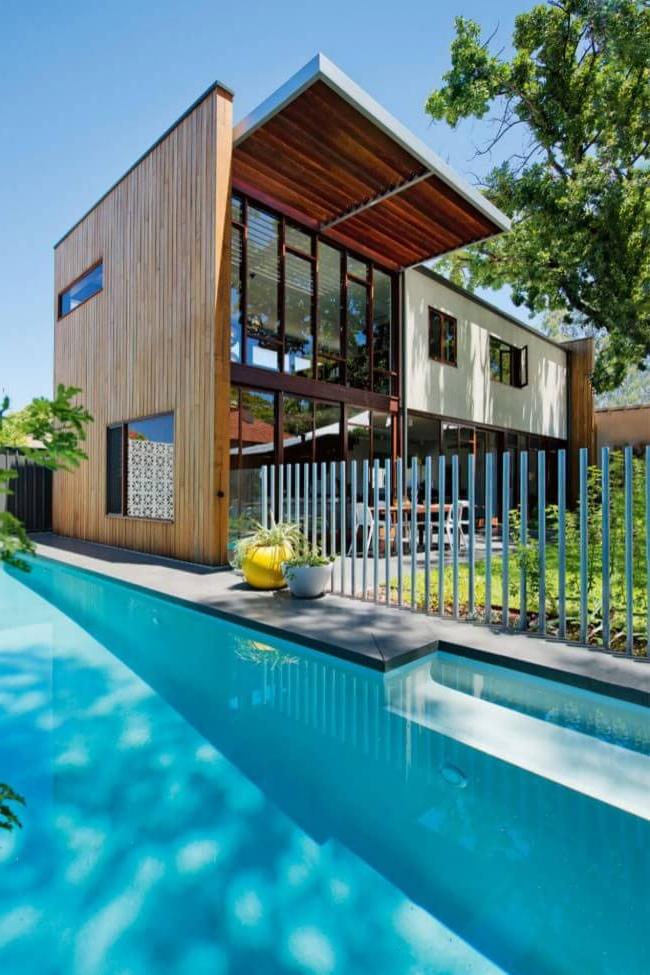 This stunning contemporary house has an equally stunning garden with an immense long pool running down the side. All pools need a pool fence for safety but this one needed to be chosen carefully so that it doesn't detract from the beautiful design. Metal picket fencing is perfect for the job. Thick rods painted the same blue as the pool water have been hammered into the ground spaced so no children can slip through. The fence perfectly compliments the building while providing safety all at once.
17. Magically Disappearing Fence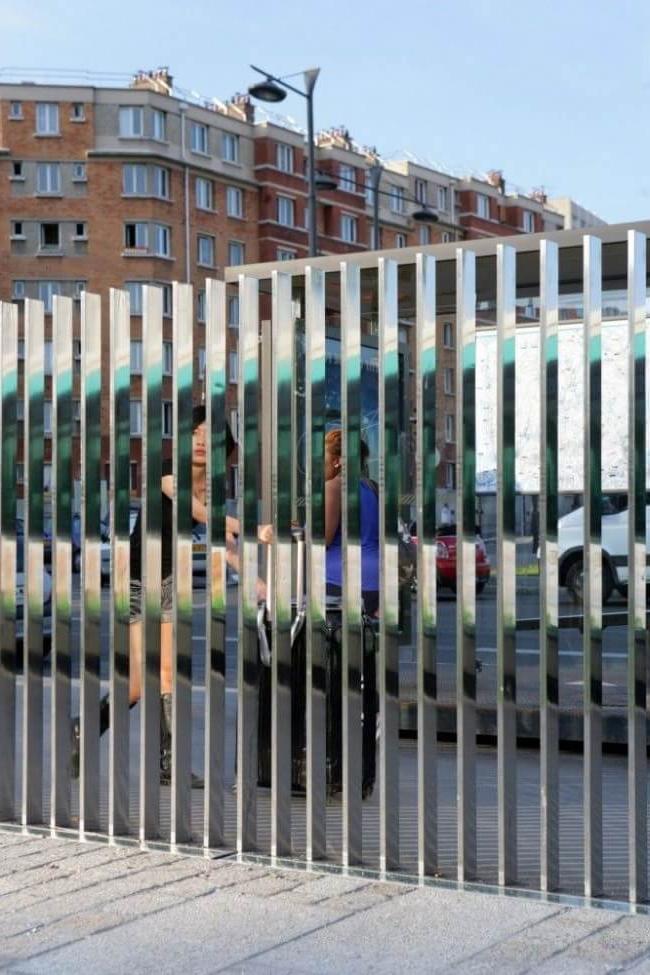 This incredibly innovative fence design, anchored by a metal strip along sidewalk features a similar layout as we've seen before but with a finish that makes it something special. Each supposedly freestanding picket has a high shine mirrored finish that reflects the surroundings and each other. This makes the fence disappear almost entirely into its surroundings reflecting little parts of people and cars as they move past so the appearance of the fence changes on a constant basis.
18. Thin Bending Garden Screen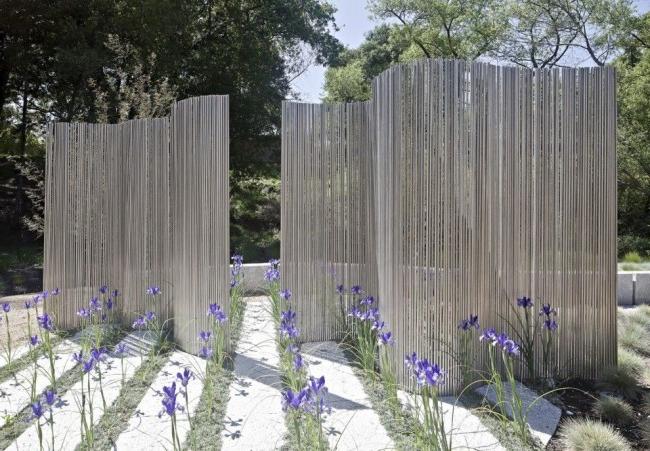 In this carefully curate garden the metal picket fence has become part of the garden design rather than the boundary wall. A tall sheet of flexible translucent screens made from thin rods of steel winding amongst a stylized garden with long white stone pavers with beds running between planted with purple flowers. The screens add some height and texture to the flat beds and changes up the view of the garden to create visual interest.
19. Contemporary Stepped Picket Fence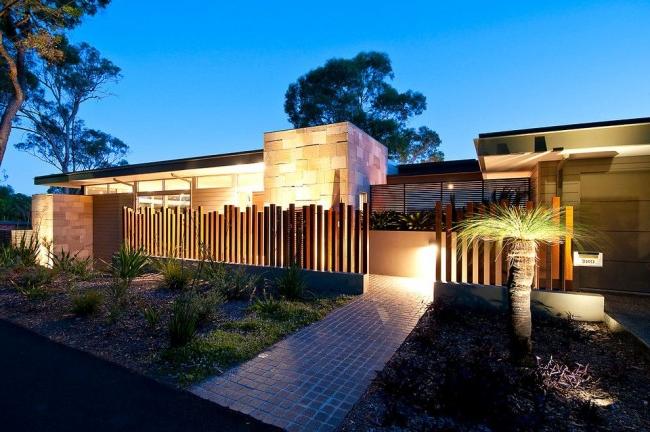 This metal picket fence has been carefully placed to obscure the entrance so arriving at your house becomes an experience. Each square tubing picket is cast into the concrete base at slightly different heights that change erratically along the fence. The base is painted a neutral grey while the pickets have been treated to look rusted in contrast, all of which fit perfectly in a façade that is rich in texture.
20. Conventional Green Metal Pickets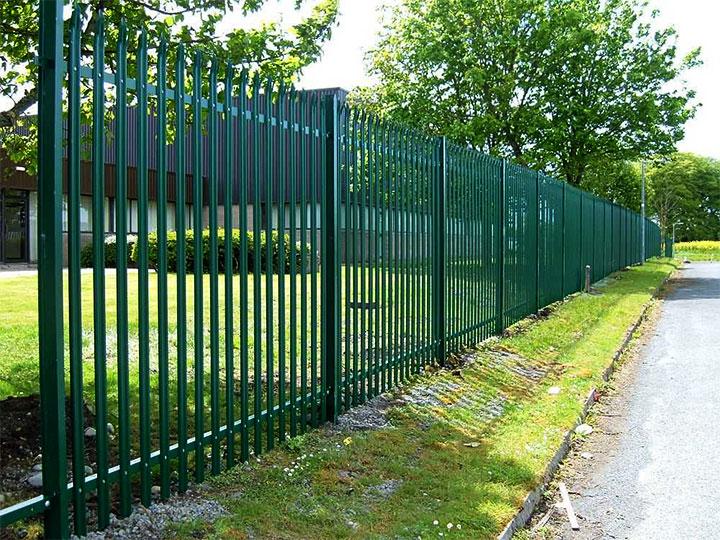 This suburban home has chosen to use a well loved and much used style of pointed green pickets held within a frame of square metal tubing. Even the colour is the classic green that we see in so many suburbs, which works with the foliage and lawns around it. This is a solid budget friendly option that is hardy, weatherproof and safe.
21. Modern House with a Modern Picket Fence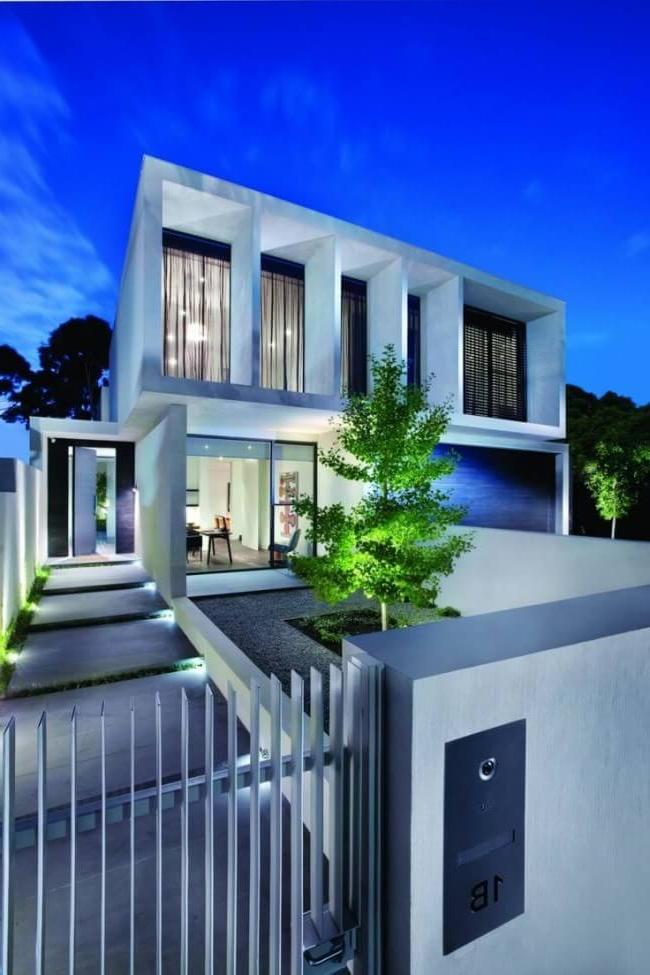 This stunning minimal home almost borders on futuristic with cool toned strategic lighting to amplify the look. The modern home needs a fence and gate that enhances the look instead of detracting from it and, yet again, metal pickets were the perfect choice. The fence is made of thin galvanized metal sheets that sit facing one another and disappear when standing right in front of them. The minimal design and cool metal finish sits the style down to a T.
22. Stunning Rusted Picket Fence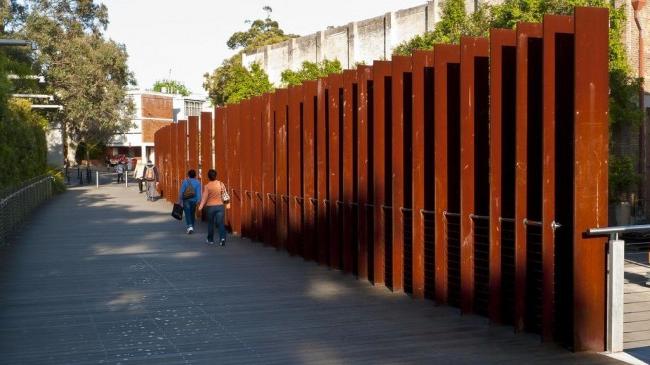 This large scale picket fence has been cleverly used to make the public space more attractive for passersby to enjoy. Tall wide panels stand perpendicular to the path and follows with it as it gently curves around the corner. Each panel is connected with braided wire ropes threaded through a hole drilled through each panel that ties them together firmly and allows the fence to be more flexible. It serves to update this commuter path and make the city feel a little more inviting.
23. Public Stylized Art Piece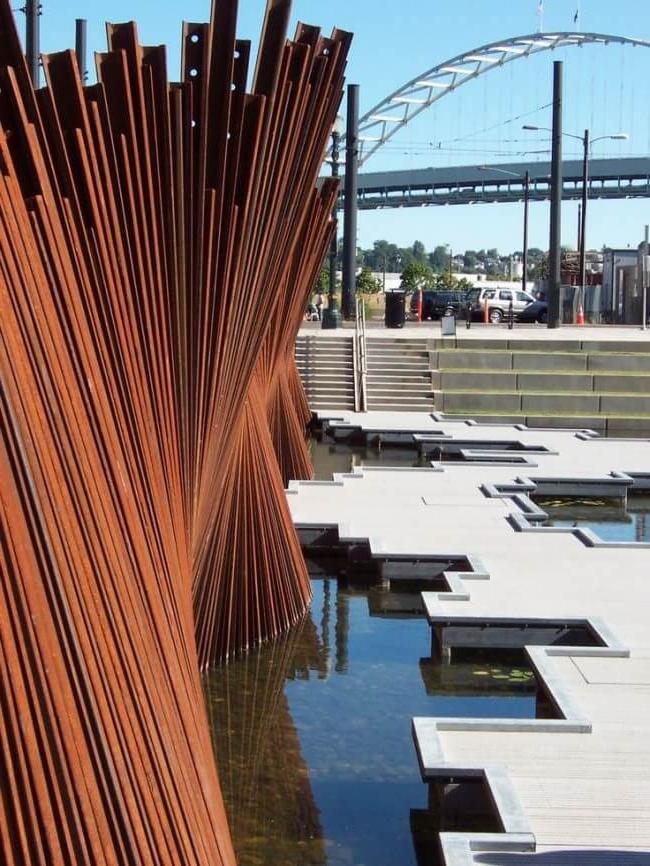 Growing out of a large city pond this picket fence has become part of this beautiful public artwork. The smoothly waving fence is made of lengths metal treated to look rusted and prevent it from becoming damaged when submerged under the water. The form waves smoothly in and out to create this stunning wall that accompanies a stunning geometric pathway leading you over the water. The combination of the two creates an incredibly unique and beautiful attraction for people to interact with.
24. Crisscrossed Black Metal Rods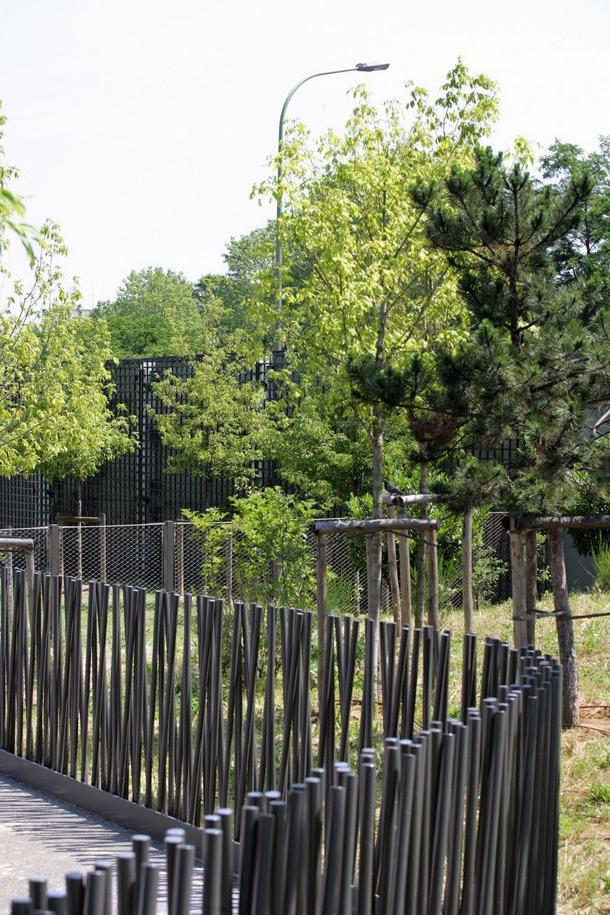 Set within a large garden this black picket fence runs beside the curving pathway. The black rods are rooted by a black metal band that bends around the curves of the paving and are placed to look completely random and natural as if they just fell against one another. The look is unique and organic which fits in perfectly with its natural surroundings.
25. Dream Suburban Picket Fence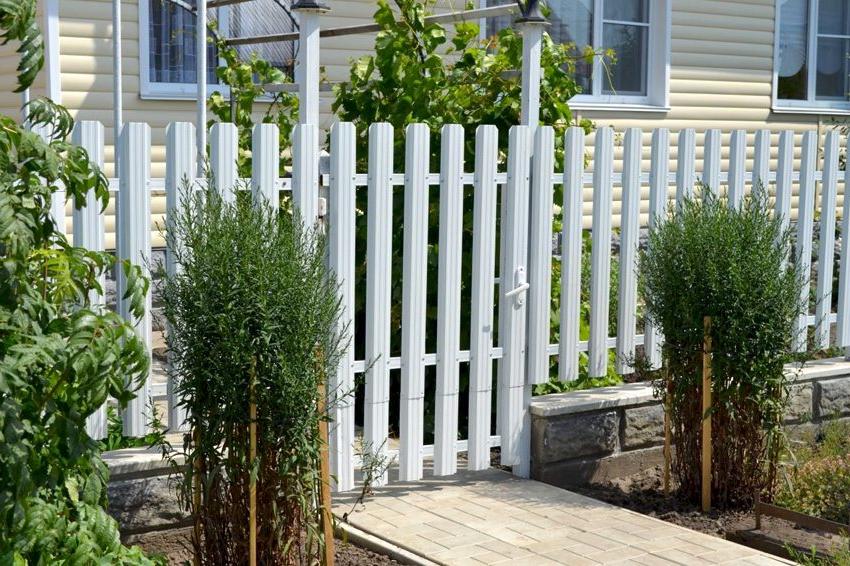 This traditional picket fence looks exactly like its timber counterparts but in a form that's more durable and weather resistant. Rendered in traditional white the fence suits the traditional wood paneled house and its white window frames in a really homey fashion. The fence sits on a stone faced base to anchor it in place and to bring another natural nature to the mix.
26. Black Fence Among the Foliage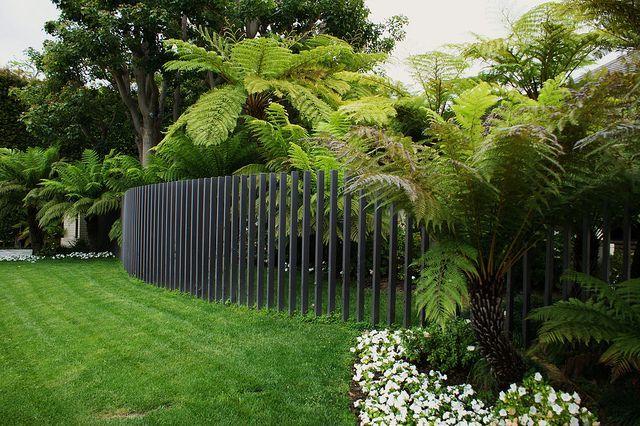 Like in a few examples we've seen before, this curving garden fence consists of freestanding metal boards that have been anchored into the ground and wind in and out of the foliage. This style allows you to have a fence that isn't just straight and has the ability to move in and out of the plant life. The matte black finish lets it blend in with the shadows created by all the foliage around it and let nature take centre stage.
27. Super Modern Pool Fence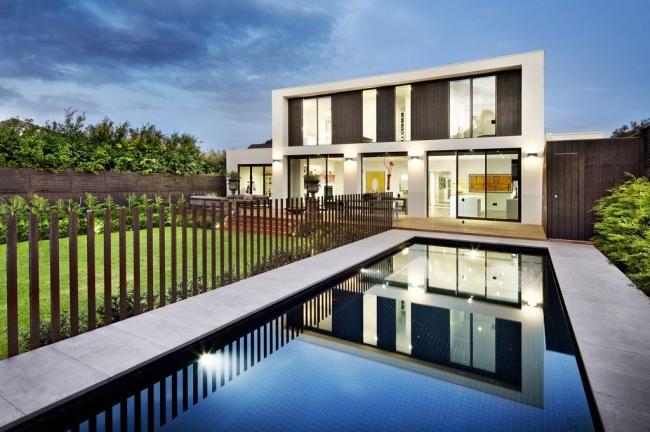 Like example 16, this metal picket fence runs along the pool for safety while coordinating with house perfectly. The individual pickets are treated to match the colour of the garden gate and the paneling on the front of the house. These little touches make this a really stylish way to protect your little ones from the pool that helps you achieve a very sleek outdoor design.
28. Iconic Raised Entrance with Picket Fence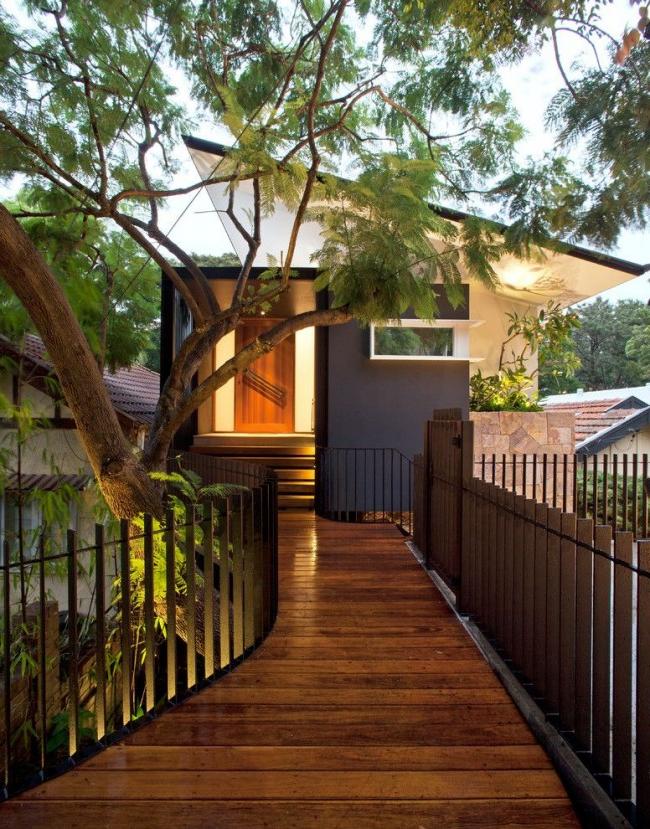 This is a really modern house with one amazing statement entrance. A raised timber walkway leads you to the house with a balustrade made from simple black metal pickets. The black panels, facing one another, are held together by braided wire rope and fixed against the side of the steel and timber walkway that allows the fence to curve with the walkway. The sleek little fence looks beautiful, guides you down the path and keeps you safe amongst the treetops all at once.
29. All About the Finish
Fencing can get expensive so this is a commonly used simple profile for a boundary on a budget. However, choosing the cheaper option doesn't mean you have to stick to the standard look, by changing the finish you can easily personalize the fence panels to you and your home's aesthetic. You could choose a timber like finish to achieve the texture without needing extra maintenance or pick a bright colour to add a pop in an unexpected place and have some fun with your fence design without stretching your budget.
30. Low Wide Pool Fence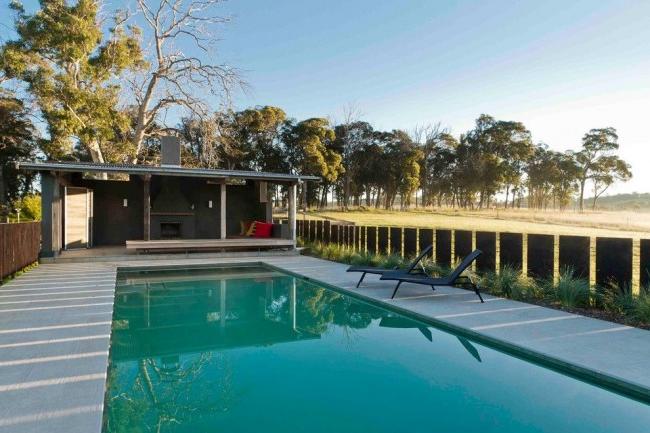 Within a rural setting this beautiful it would be a pity to have a tall fence to obscure the stunning view from inside the pool or relaxing beside it so a low picket fence is the perfect choice. The wide, squat metal panels are driven side by side into the earth with a small gap between defines the boundary and stops animals and children escaping into the beautiful field beyond. The panels have been treated to be a dark grey that coordinates it with the modern poolside patio that sits beside it creating a seamlessly designed modern space.
Conclusion
As you can see metal picket fences are really changing the fencing game, transforming the traditional picket fencing into the simply stunning boundaries we see here. This kind of fencing can be specifically designed to suit each house and pull in influences from the house itself so your whole house's exterior is coordinated from top to bottom. So besides all the practical benefits, its got style on its side as well.
So the next time you need a new garden fence why not consider metal pickets and be at the forefront of beautiful and practical design.