When designing a house, one of the most important issues to think about when it comes to facade is security. The protection of the house is now a piece of design too, so home owners and designers work really hard to come up with ideas that are both beautiful and original for house's fencing.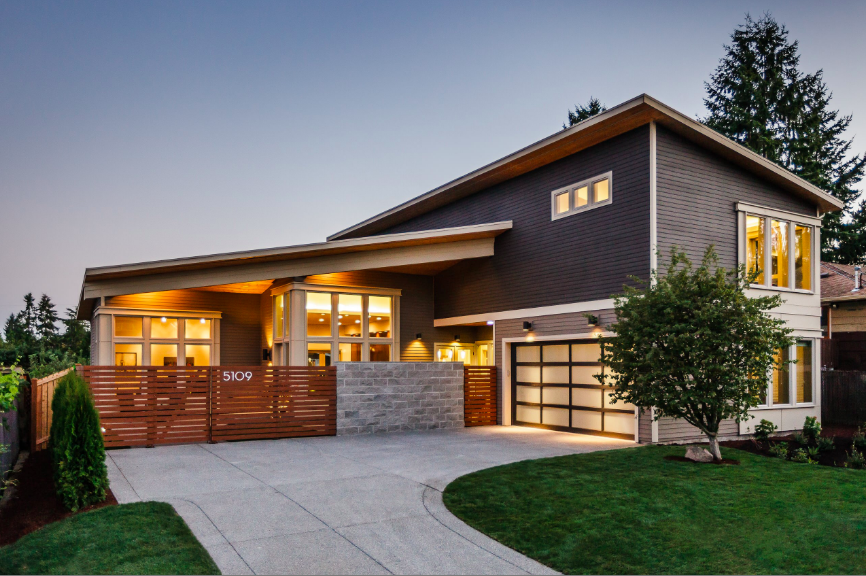 In this picture, for example, you can see how the sober look of the house works great with this serious, straight lined fence that includes metal and concrete to create an architecture work of art.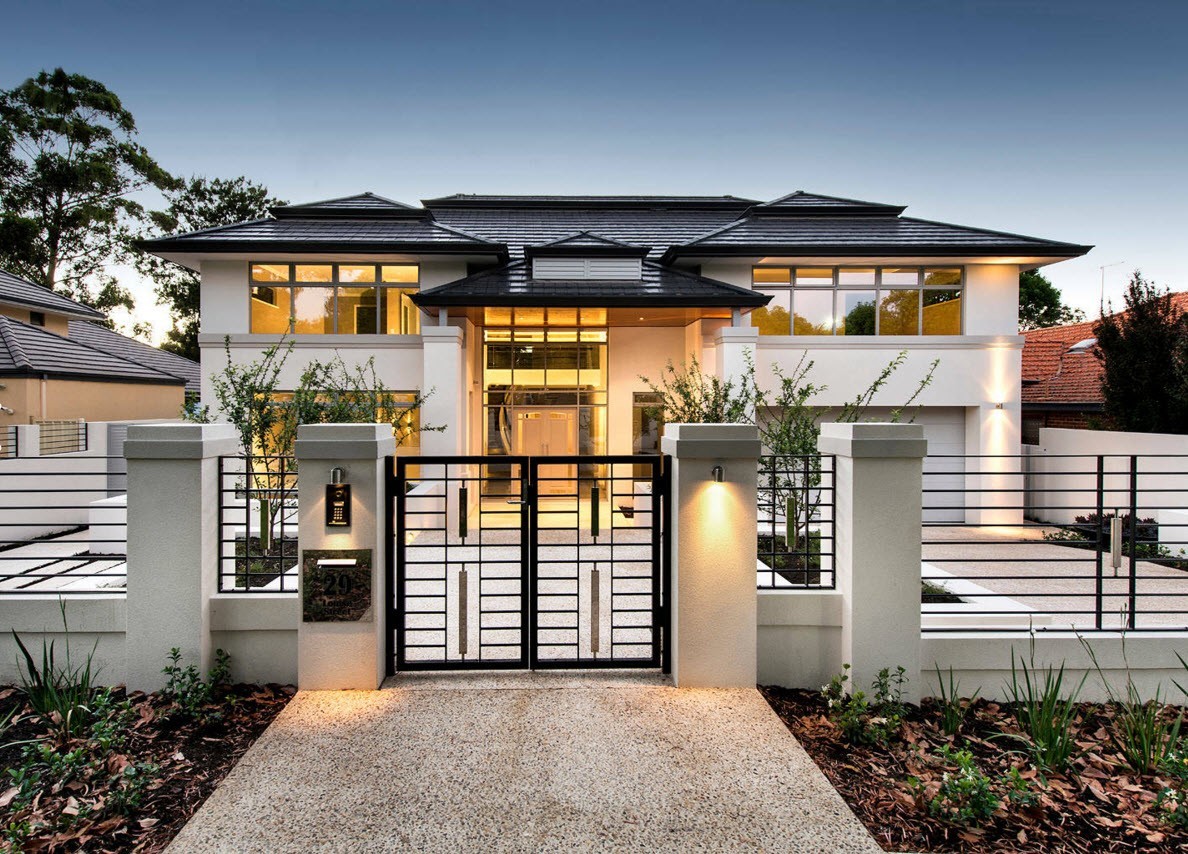 Choosing the fence design that goes with your house's style will make that all of your structure looks great, not sacrificing the great views houses can have. The style of a fence can be a big part of the spaces' aesthetics and architecture. That is why today we want to present you some ideas for inspiring you to make the fencing of your house a focus point on your property's theme.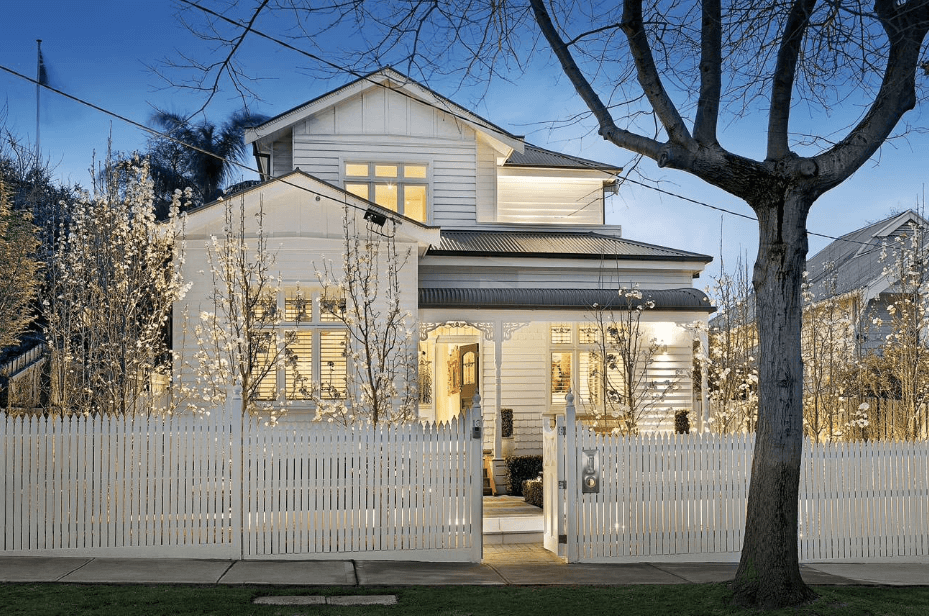 See how in this classic stile house the fences work perfectly since they also have a very vintage and classic style.
When it comes to private house's fences there are plenty of options that you can choose to decorate while securing your home, so there is no reason why your house cannot be both protected and well designed. So you can choose from metal, wood, concrete, brick, vinyl, stone or a combination of them to make unique creations for your fences.
Metal fences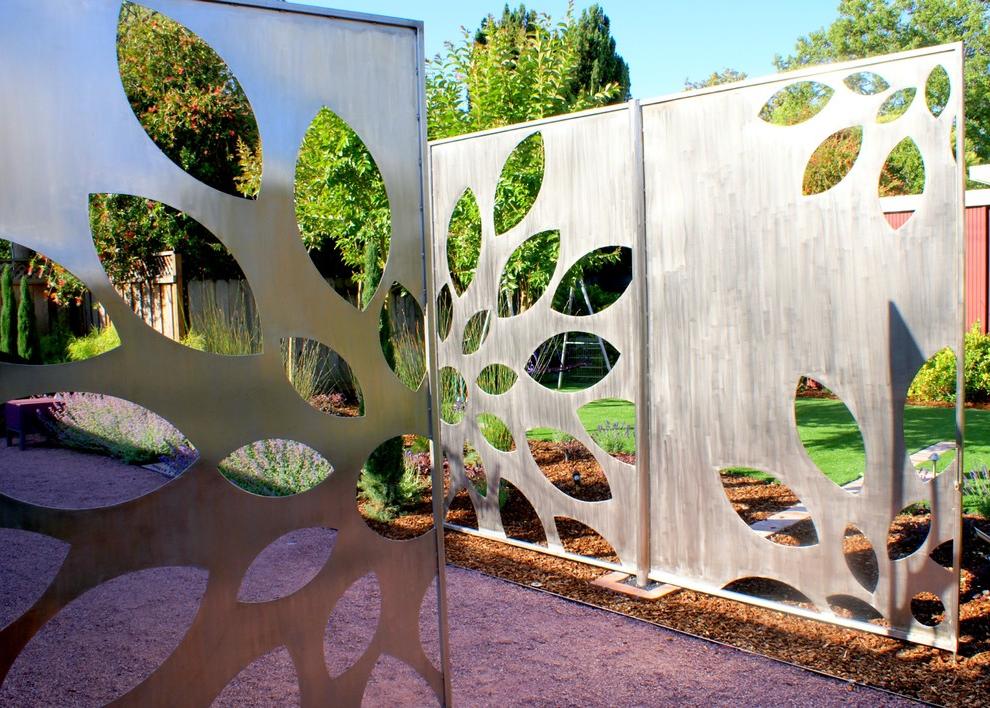 This amazing fence shows the wonders on having a metal barrier. These one of a kind structures can enhance the looks of any house. This art work features flower petals form different distances cutted out from a giant metal plaque.
Metal fences are a very secure option to protect your house. This material can be welded, forged or melted. In all of the cases, these works of art are one of kind pieces that bring uniqueness to the home's facade. The great sculpture details they can get make them a great option for those who want to get people's attention.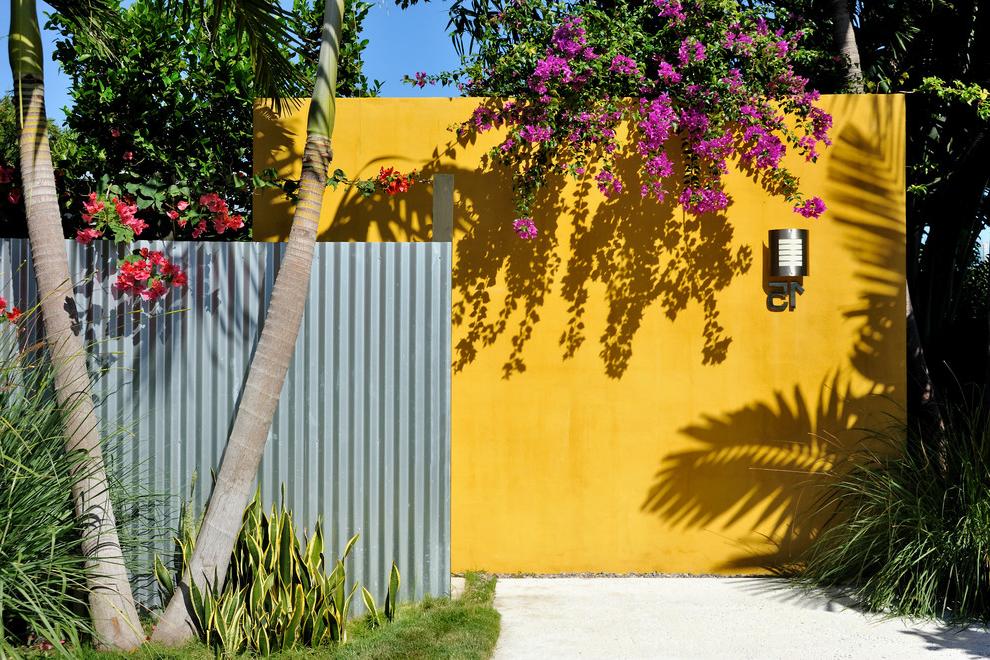 This is another good sample of a fence made out of metal. Corrugated metal board can make an original, beautiful, simple and inexpensive fence for your house. All you have to do is buy the boards and you can even face the project yourself.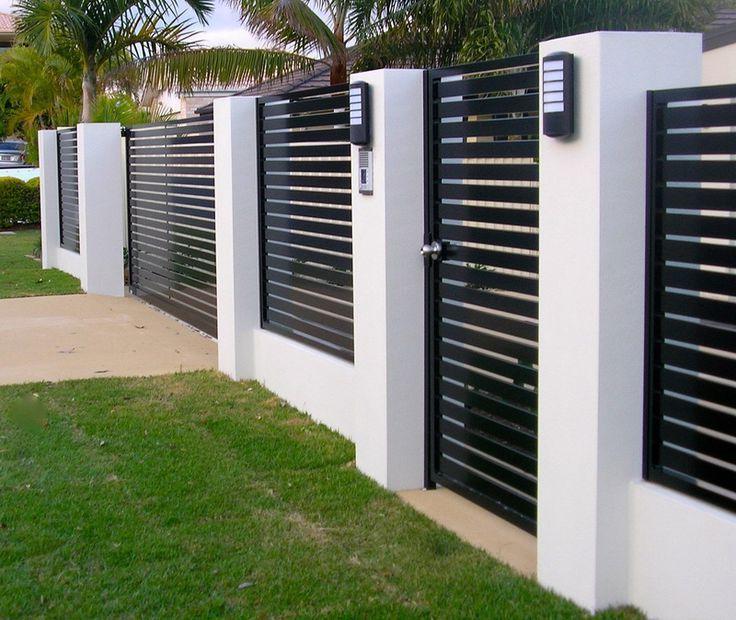 This amazing fence features metal plaques in most of its extension and the short concrete walls helps bring everything together, giving this fence a very modern, polish, serious look. The black and white colors are always a great combination.
Wood fences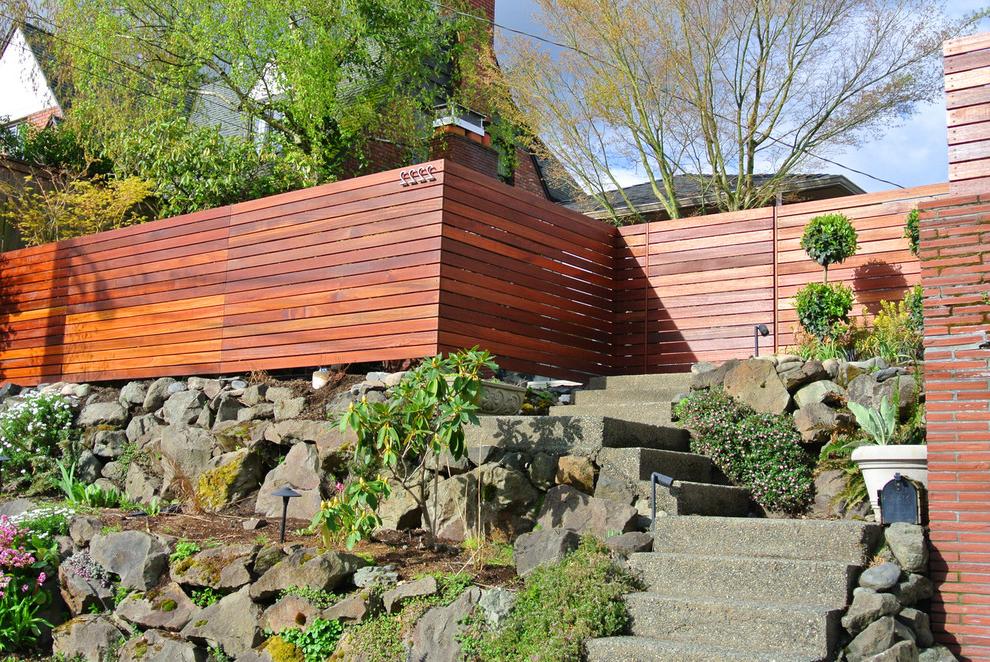 This horizontal wood fence very well complements this house in the heights. A very modern approach to wood fencing, this great perimeter marker frames beautifully a house that is both modern and earthy. Combined with the landscape, this picture is pure beauty.
Fences made out of wood are the most beautiful and loaded with good vibes. Their earthy and relaxed overall feeling gives any house a great amount of personality while also creating a natural atmosphere of sustainability and ecology.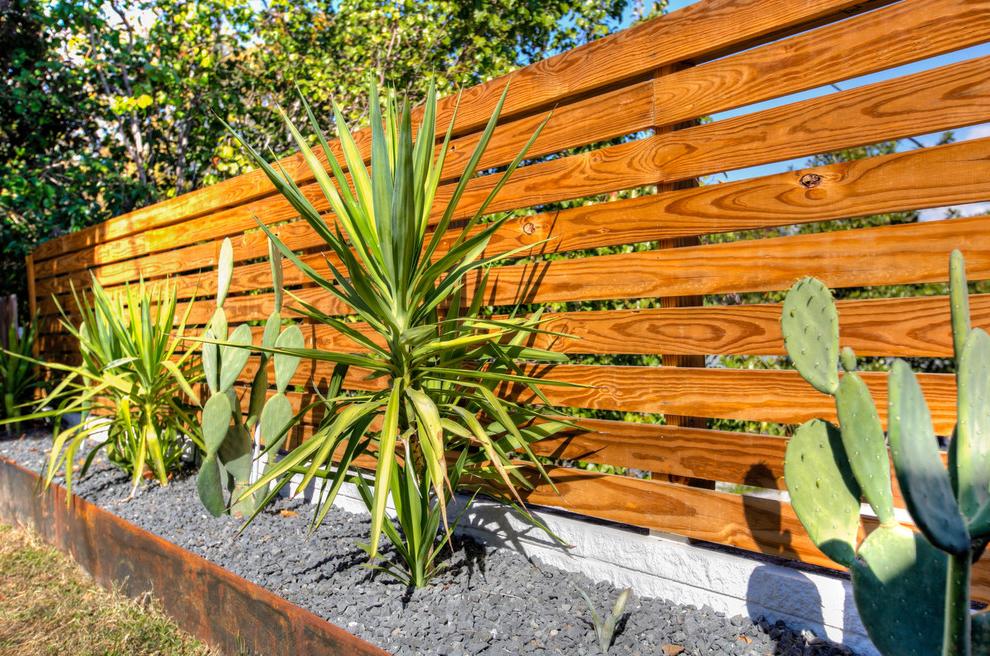 In this picture, we can see the big yard fenced by these vertical gray painted wood panels. Their geometric pattern is placed in a way the walls look interesting and chic. The color helps to bring the calmness to the overall design, making this feel like a house on the beach.
There are great wood materials for fences done with recycled wood that will give your house a genuine sustainable approach. It is worth to take this design road.
See how great this horizontal wood fence looks on this desert landscape. The natural color or the wood that even has its characteristic marks, and the extra long sheets in just one piece each gives this house a ranch sensation.
Although wood may require doing maintenance more often than other materials, the character and beauty that it gives to the property might be the incentive you need to have and take care of this kind of fence.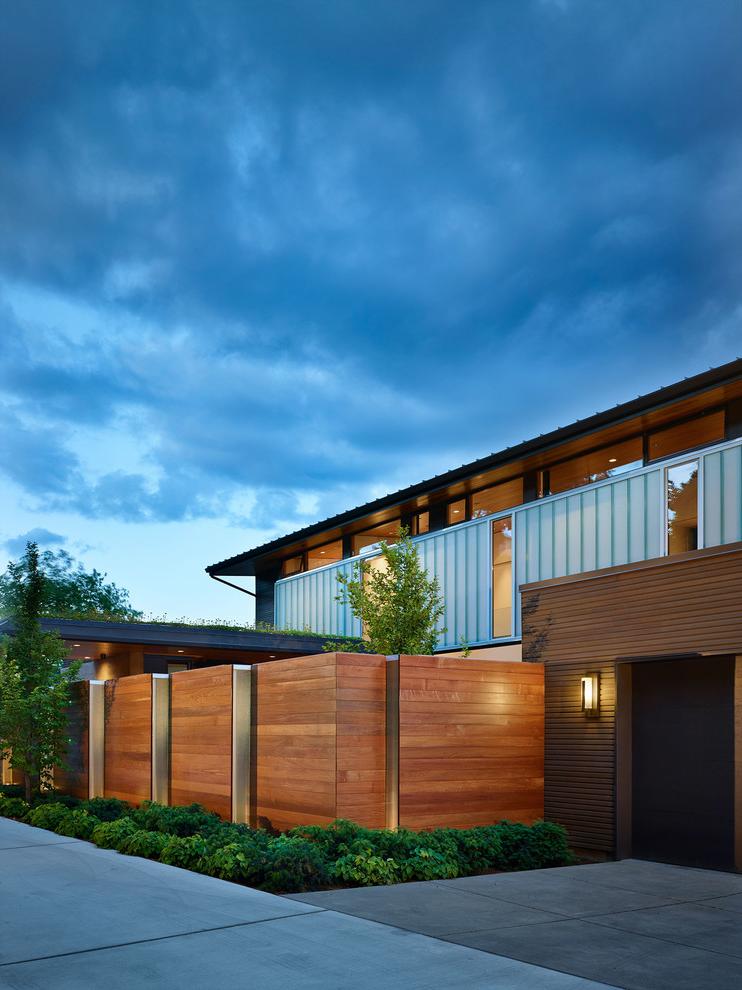 This design is very similar to the previous one, but with completely different results: the horizontal natural collared wood sheets still have some of its inherent marks, but this time a little more dissimulated and crossed by vertical vinyl beams. With wood you can have a wide range of expressions with the same material.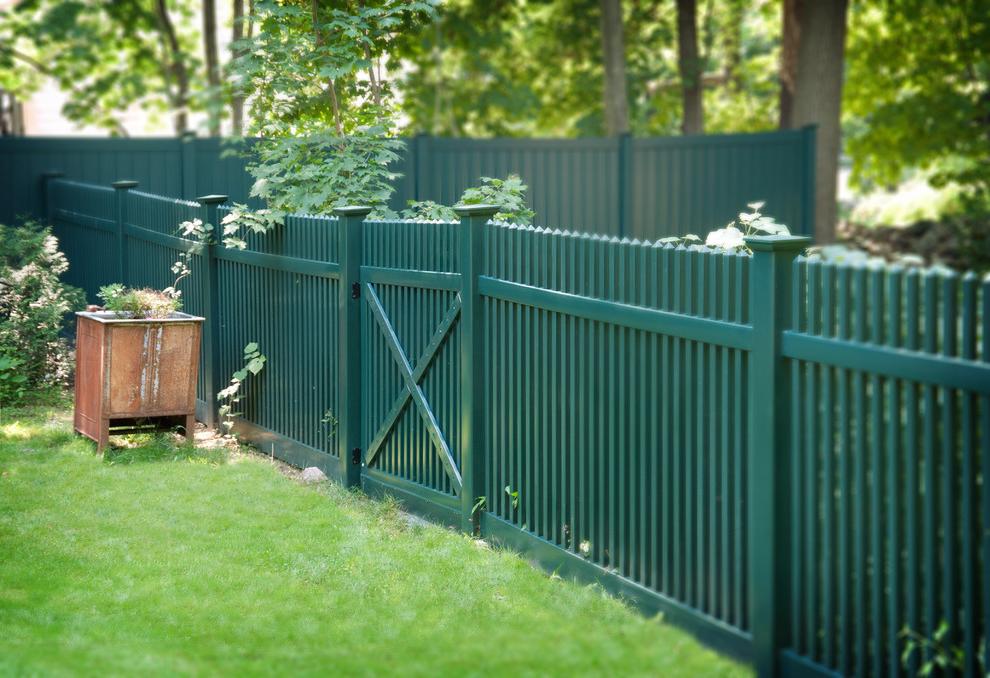 Far from being boring, this classic fence design is still one of the most used by homeowners because of its vintage style. An always reliable style, picking picket fences is always a good idea.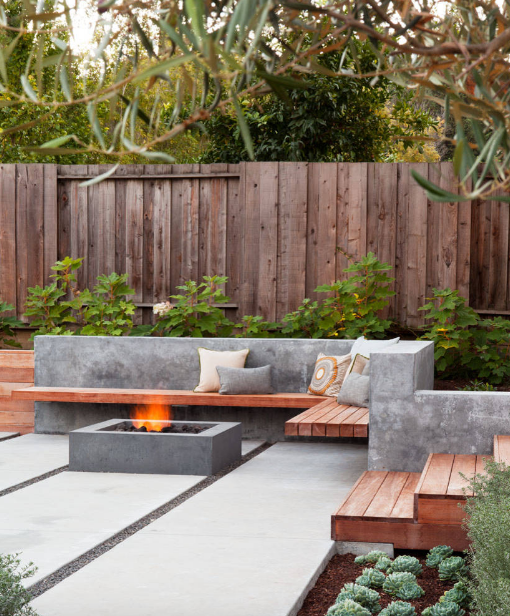 This yard is a big space surrounded by a lot of vegetation. Is a nature space to relax and have a good time with friends, as is reflected by the design of this space that combines 2 very strong and rustic materials: wood and concrete. As for the fence, very rustic wood boards combine to create a structure that completes the atmosphere.
Vinyl fences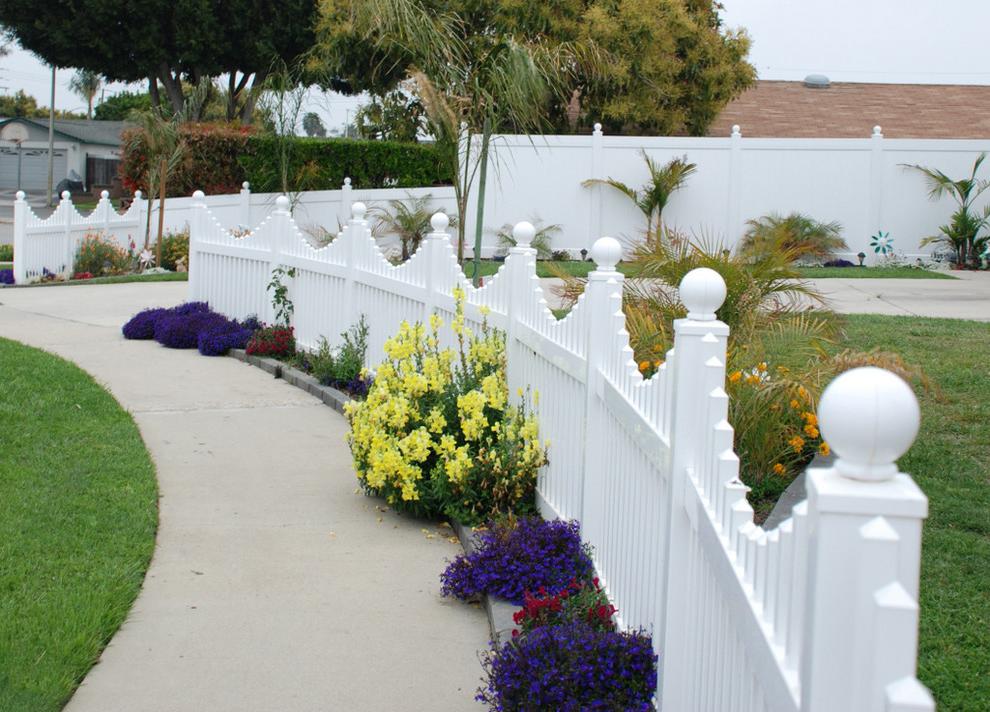 Vinyl fences can have any shape. A fence of a private house like this is great looking and cheaper than other materials because it is made of really strong plastic that can last for years. But from far it looks like any wood or metal fence.
Vinyl fences are the newest of the options we are presenting you today, but it is also one of the most popular options. And this comes very obvious why that is, when you realize that this option is not only versatile but also durable and inexpensive.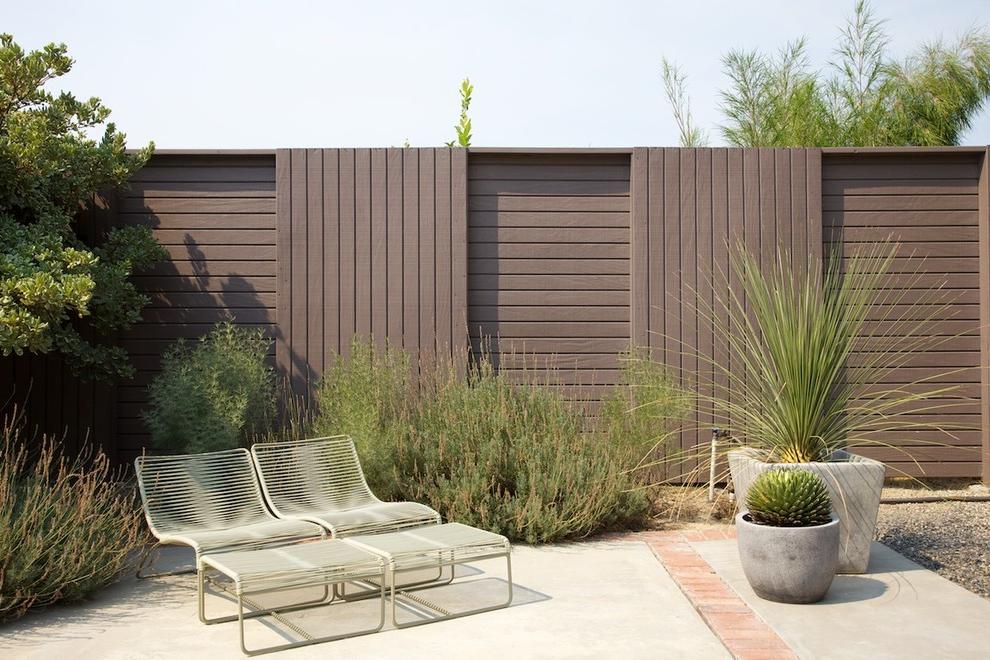 This extremely hard and durable plastic can be shaped into any possible form, so any idea that comes to mind when it comes to fences can be done with this material. It is also very easy to maintain and to wash it , making vinyl fences a durable and confortable fence.
Add to this math the lower prices it can get in comparison to other materials and is the perfect triad in terms of design.
Concrete, brick or stone fences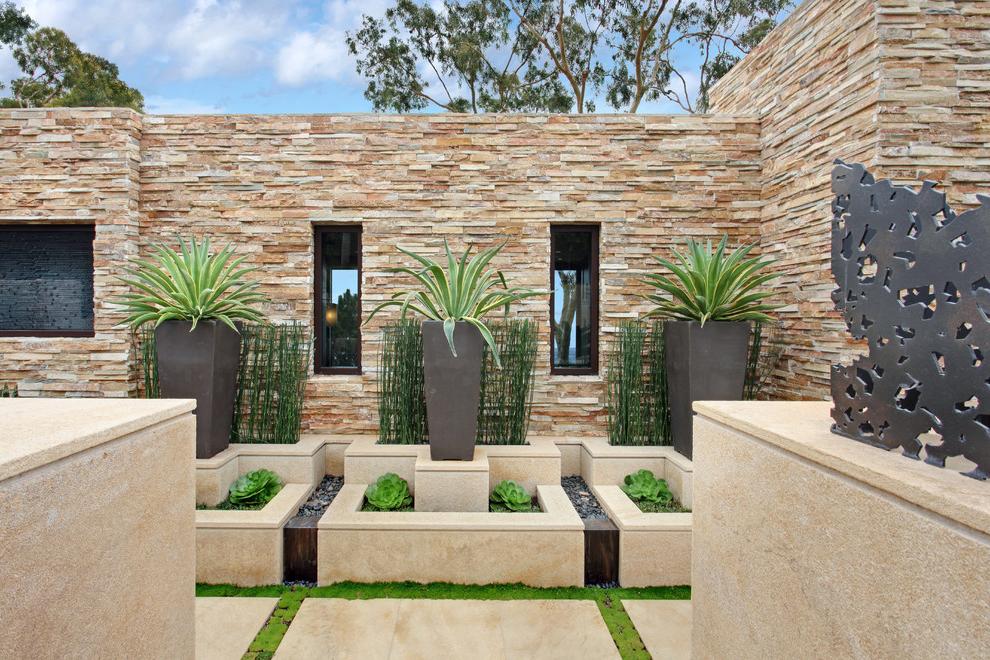 This kind of fence is by far the most difficult and the most expensive one to install. Setting this kind of fence definitively makes a stand on to the owner's economic position. This kind of fence is a proof of wealth.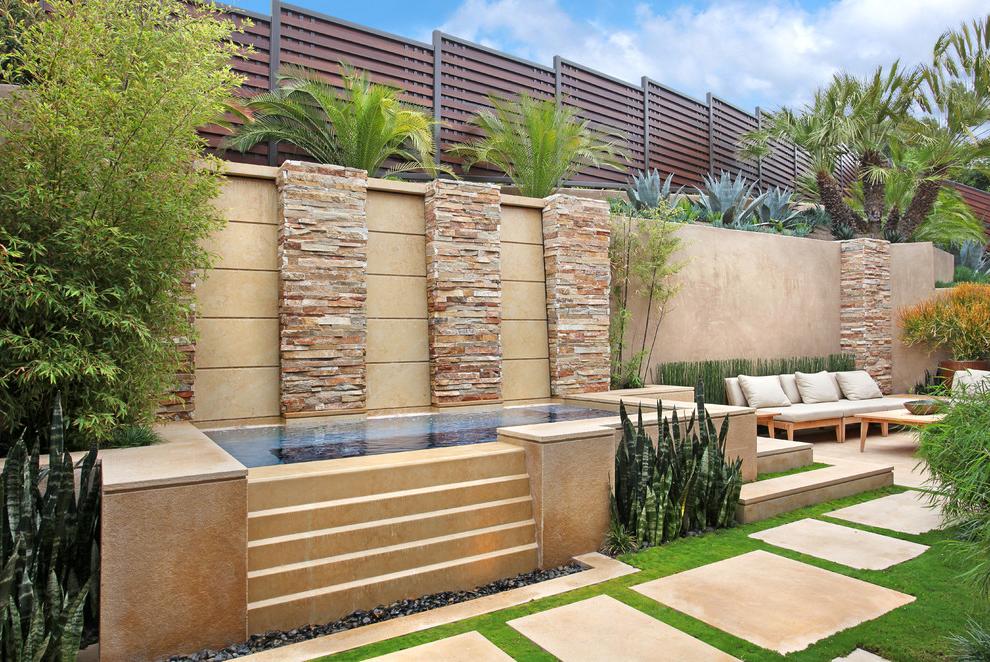 To stand these walls a big work of making foundations, letting concrete rest, constructing and leveling the walls… a lot of steps to make sure this structure is quality construction. That will make it last for decades.
Combined fences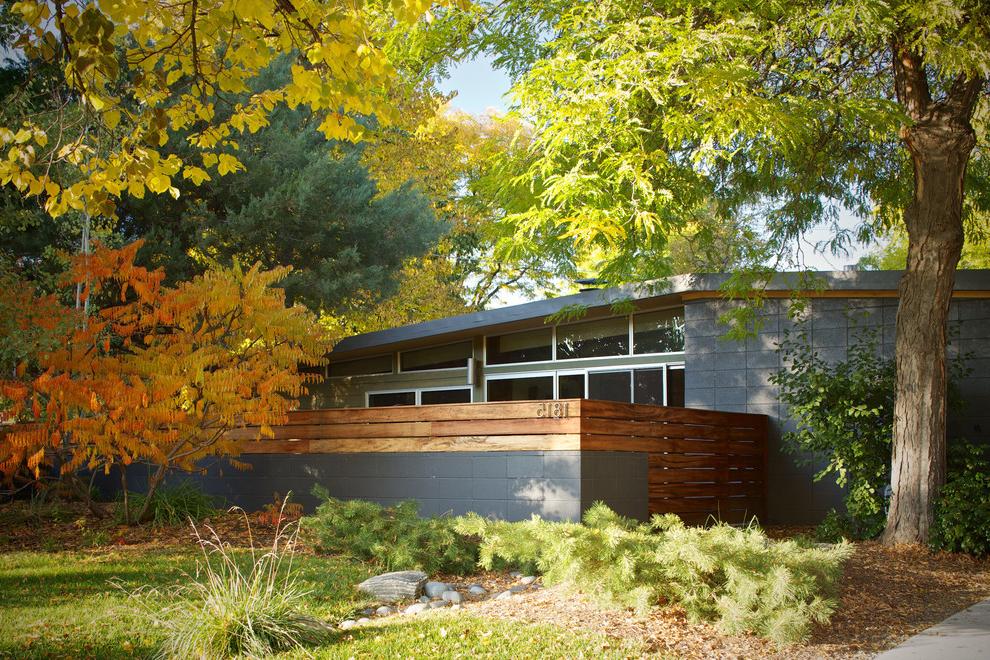 This is a stunning way to enhance the architectural designs by choosing two different materials to create a unique concept that will turn everybody's heads to contemplate the magnificent combination of materials and ideas.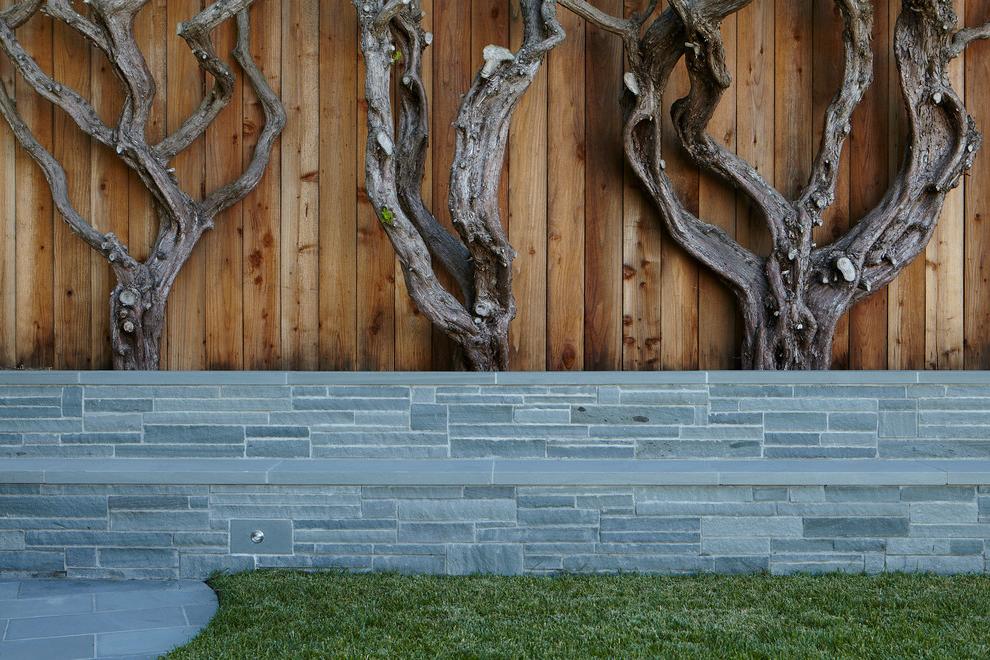 This kind of fence can be more complex to build, but for those who have the time and budget it is a great designing choice. This great and original fence combines wood and blue brick.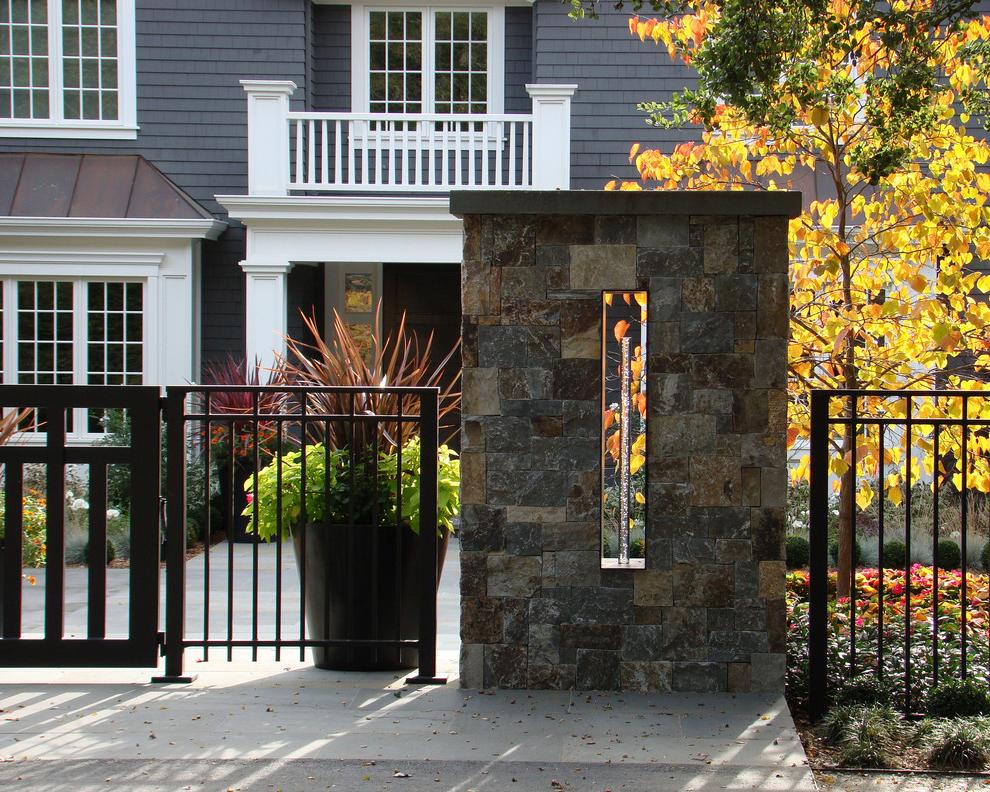 This ocher color scheme is perfect for these materials: forged iron and natural wood combined to make a great fence and gate.
Metal fences of a private house united by a great stonewall. Using dark colors, is a sober design that complements very well the overall house style.