Corrugated iron is a traditional building material that has been used for decades for everything from roofing to wall treatments and, ofcourse, fencing. This material is lightweight and cheap and can be bought by the metre at any hardware store. Another added bonus is that most times corrugated iron will come already treated to be weather resistant, which means your fence will be hard wearing and low maintenance.
25 Corrugated Metal Fences for a Stylish and Budget Friendly Fence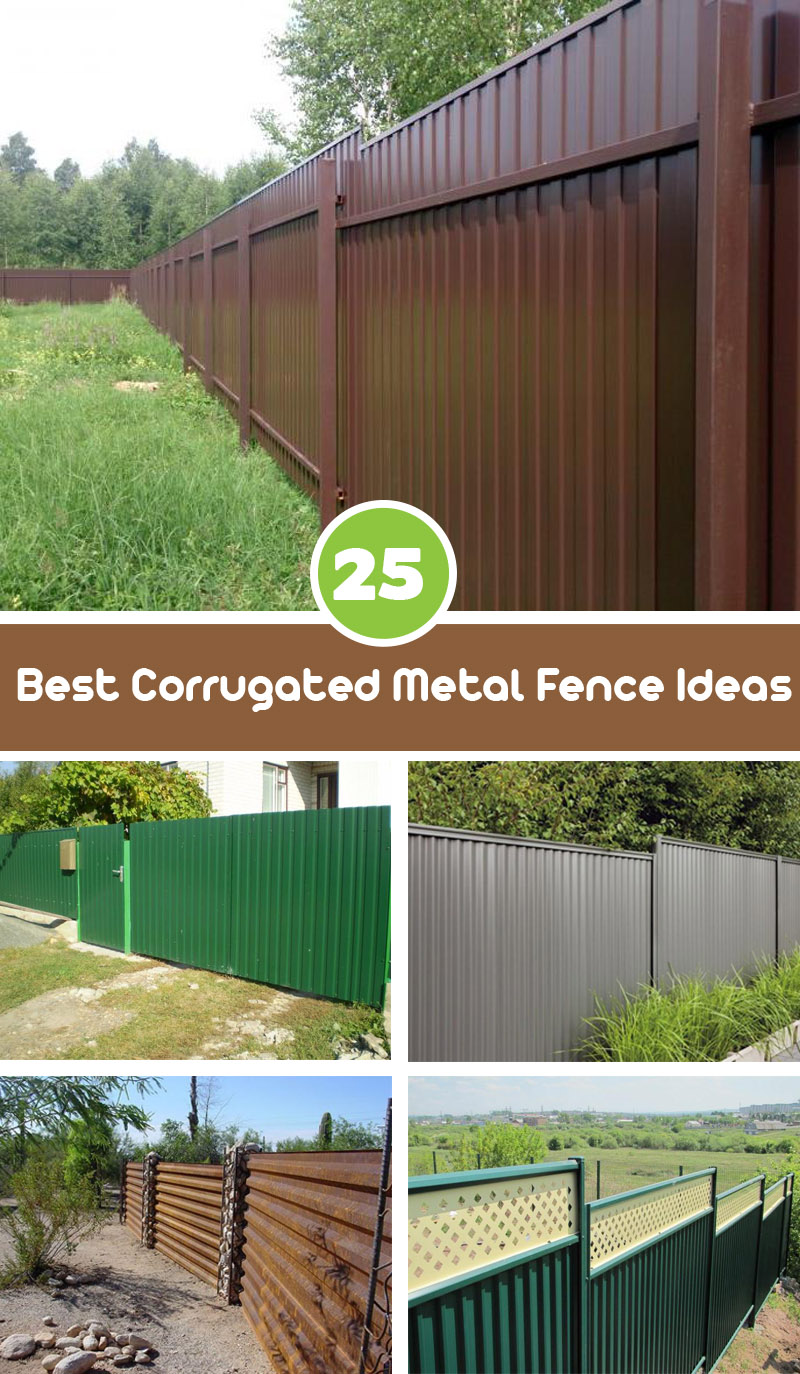 Due to its common use as a roofing material corrugated iron can also come in many different profiles and colour finishes, from deep square corrugations to fine flowing waves so you can adjust the look of your fence to suit the style you're going for perfectly with all this choice. The panels can also be placed facing horizontally or vertically to create different textures and paired with different materials as fence posts or structural elements to create the desired aesthetic.
So if you want to find out how to make a fence that is beautiful and cheap here are:
1. Rustic Little Backyard Fence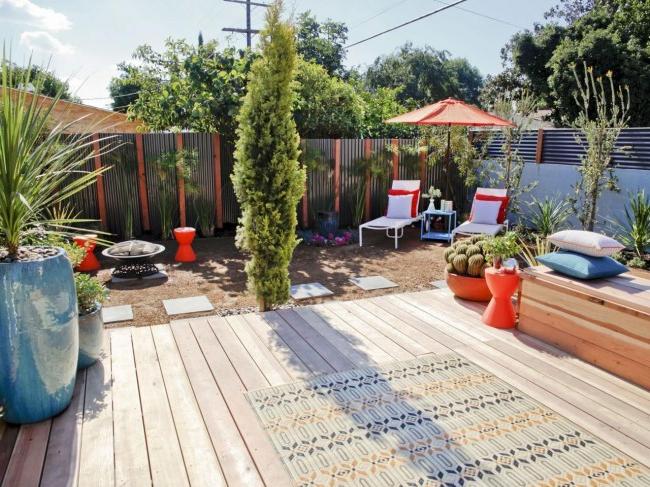 This small rustic backyard is set against the backdrop of the corrugated iron fence that brings the space together. The panels are running vertically and in a darker shade of iron that contrast against the terracotta steel fence posts. The fence runs all the way down the back of the garden and on top of the brick wall on the far side. Since the material is light it is easily adaptable and simple to fit on top of the wall to keep the space cohesive.
2. Minimal Sophistication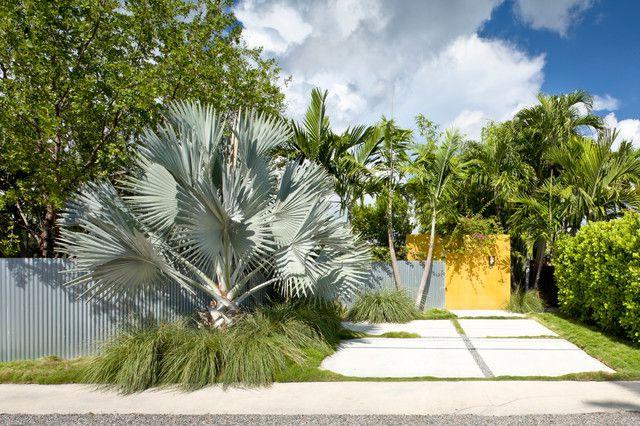 This fence has the expected galvanized steel finish we have come to associate with this material but in this location it looks modern, chic and expensive. The fence posts supporting the vertical sheets are hidden inside so they're invisible from the outside to create one wall of supposedly continuous sheeting. To finish off the modern look it has been combined with plenty of foliage and a bright yellow statement wall.
3. Stepped Corrugated Panels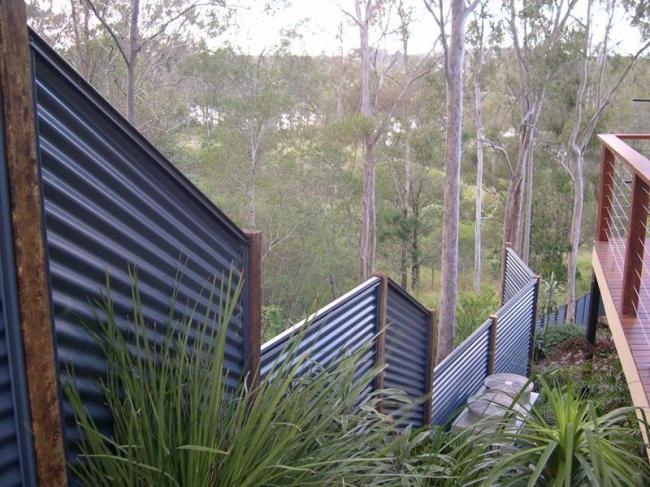 Here corrugated iron has been used as beautiful fencing solution for an unusual location on a steep slope amongst the trees. Panels of navy horizontal sheeting span between timber log fence posts and winds down the slope in an almost chaotic fashion, traversing the uneven terrain. This light material is also perfect for remote locations like this as it is easier to transport and manipulate without heavy machinery.
4. Quirky Outdoor Bath Tub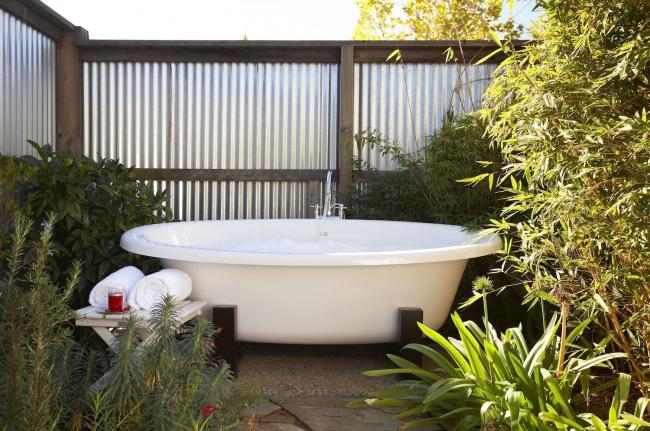 In this little self care nook bright silver corrugated iron fencing becomes the backdrop to this luxurious and unusual outdoor bathtub. The vertical silver sheeting is held within a chunky timber frame that feels rustic and bulky in a stunning contrast. To finish off the look the fence has been combined with lush plant life to create the perfect rustic location for you to bath in the outdoors in the sunshine.
5. Rural Timber and Corrugated Iron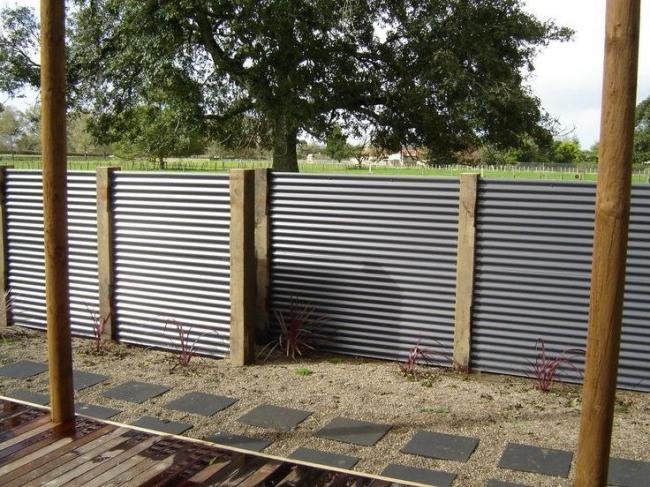 Within a stunning rural setting this fence has combined square timber fence posts with corrugated iron sheeting to fit right in to the natural surroundings. The closely waving galvanized sheeting has been placed horizontally in a matte grey finish that fits in with the timber patio and the grey stepping stones running down the side of the house. The fence is simple but cohesive and adds extra texture to the house's boundary.
6. White Corrugated Fence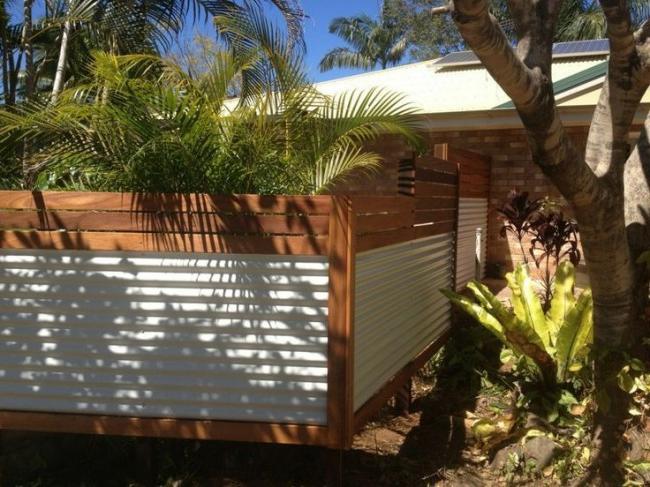 This sophisticated yet rustic fence has used a combination of painted white corrugated iron sheeting and red timber paneling to create this contemporary look. The layered panels span between square fence posts that step down smoothly from the house. This is easily achieved because this design is easy to adjust when it comes to the height because it is modular and lightweight.
7. Simple Corrugated Gate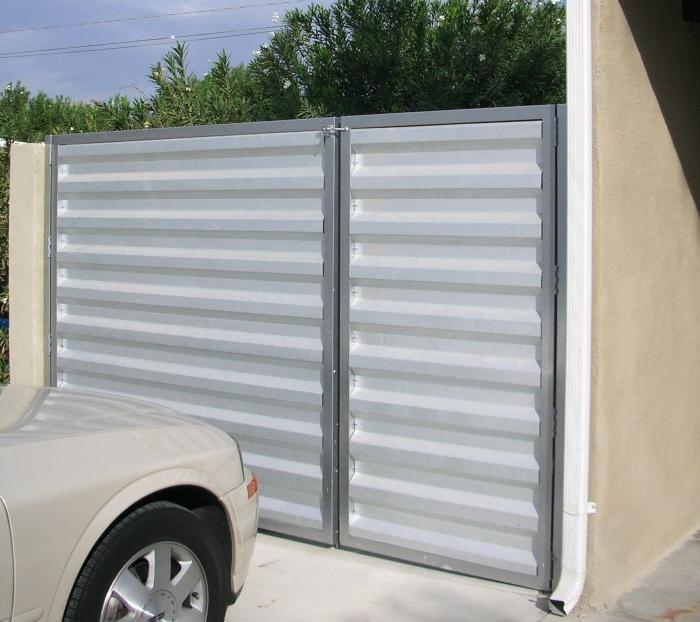 This fence and gate is a cheap solution that still looks finished, sleek and intentional. To set it apart from plain corrugated fencing the panels have been chosen in a paler hue with large square corrugations in horizontal sheets to add texture and shine to the house's exterior. A pedestrian gate has been combined with the main gate to make it multifunctional even in its simplicity. The resulting look suits the minimal home is an easy and unostentatious manner.
8. A Collaboration of Materials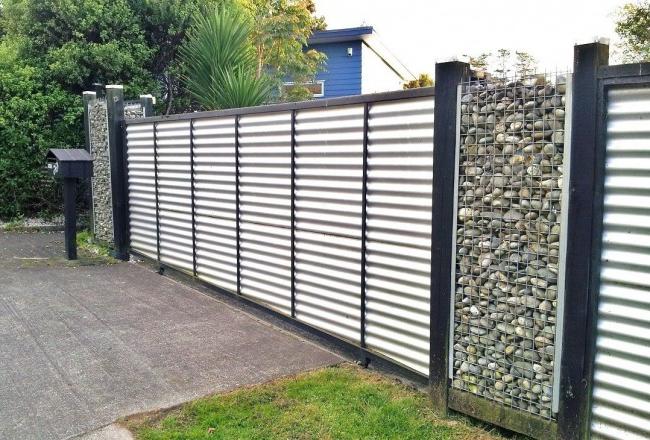 This appealing entrance has been carefully planned using a combination of materials to form this textural gate and fence combination. The white corrugated iron sheets are held within a sleek black steel frame with large fence posts formed by metal cages of grey stones. The smooth waves and the rough texture of the stones create a beautiful collaboration of textures that makes this entrance a real statement.
9. Mock Timber Corrugated Fence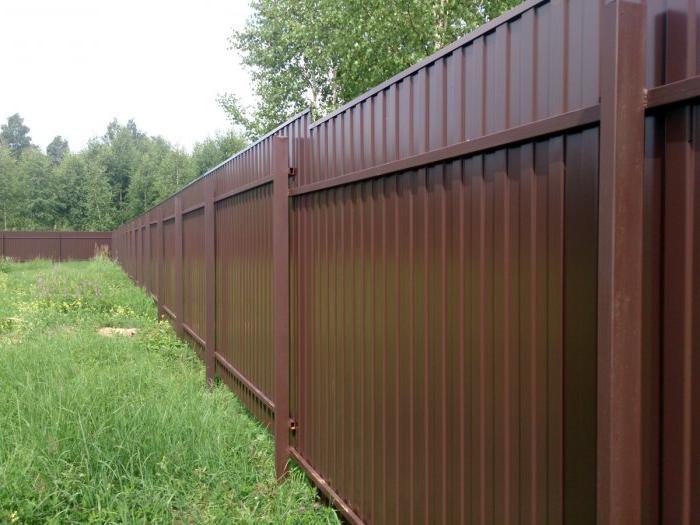 This clever garden fence has used corrugated iron painted a deep brown to imitate timber while being more durable and low maintenance than that material. The sheets have very shallow square corrugations placed in vertical columns and held up in a thin steel framework painted in the same shade to really sell the look. The fence looks beautiful against the lush lawn and makes itself at home in this lovely forest setting.
10. Sleek Black Corrugated Fence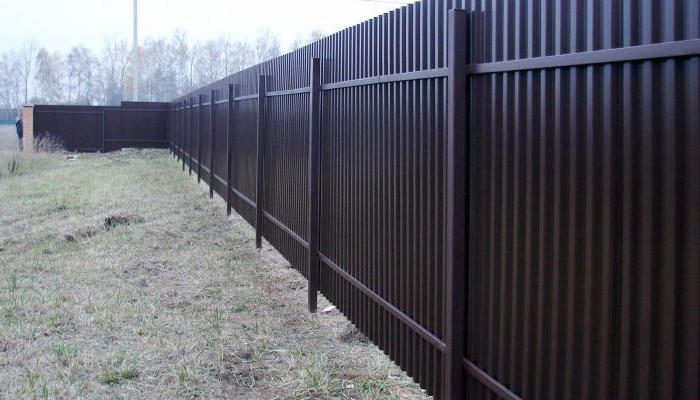 In a setting like this you need a durable and sturdy fence to withstand the elements in this rugged rural location. Panels of black corrugated sheeting with very thin deep corrugations create a beautiful texture within the solid black finish. The sheets span between a thin stainless steel framework that is fitted to the inside so from the outside the fence reads like one continuous sheet of steel.
11. Viridian Green Fencing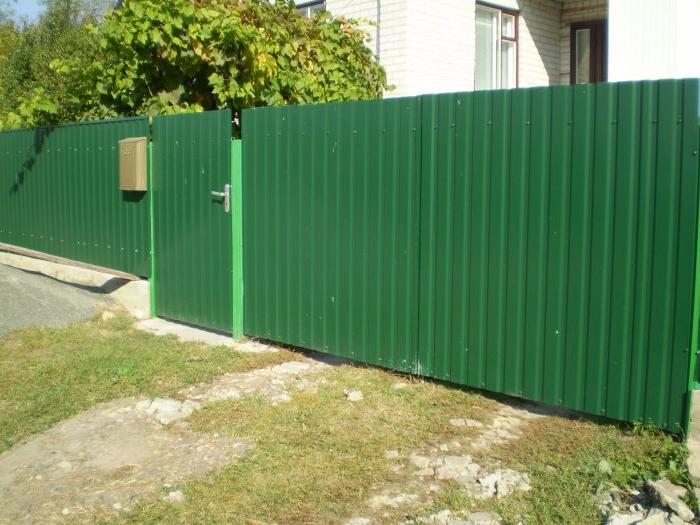 This fence shows how to bring in a bright colour in an unexpected way. The viridian green wall panels have wide, shallow corrugations that have been placed vertically with a hidden framework built in on the inside. The fence is also multipurpose as it incorporates a pedestrian gate and a gate with neon green fence posts around the door that makes it stand out brightly against the deep green surface.
12. Rugged Rustic Corrugated Fencing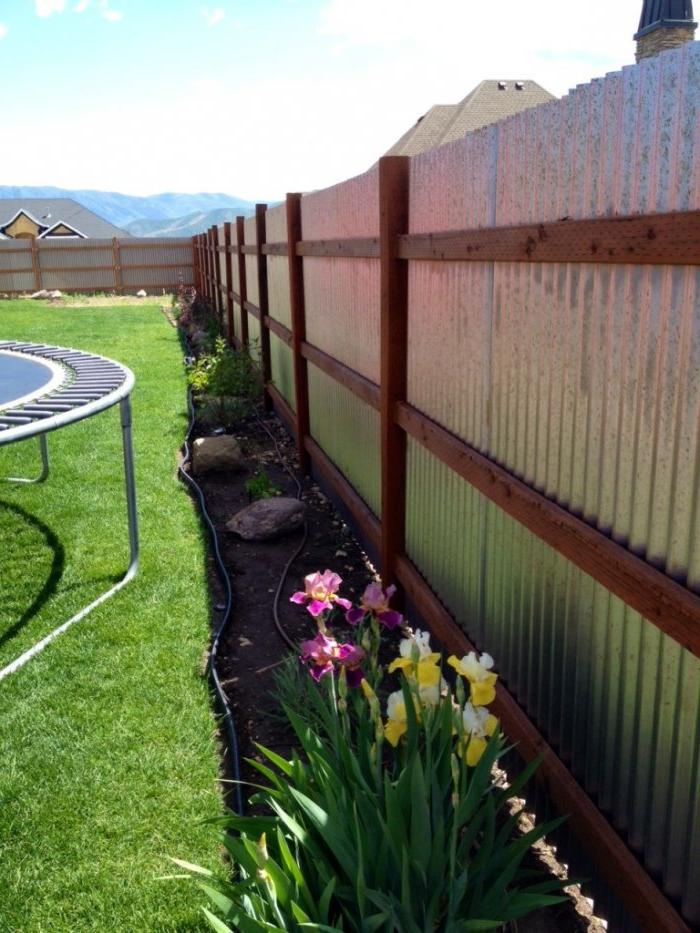 In this idyllic mountain setting a corrugated iron fence has been used to run around the edge of this large garden. The panels have been treated to look weathered and battered with the vertical sheets held in a horizontal timber framework to suit the rural setting. It is accompanied by a flowerbed running along its entirety planted with brightly coloured flowers that stand out beautifully against the neutral backdrop.
13. Blue Sheets Supported by Rebar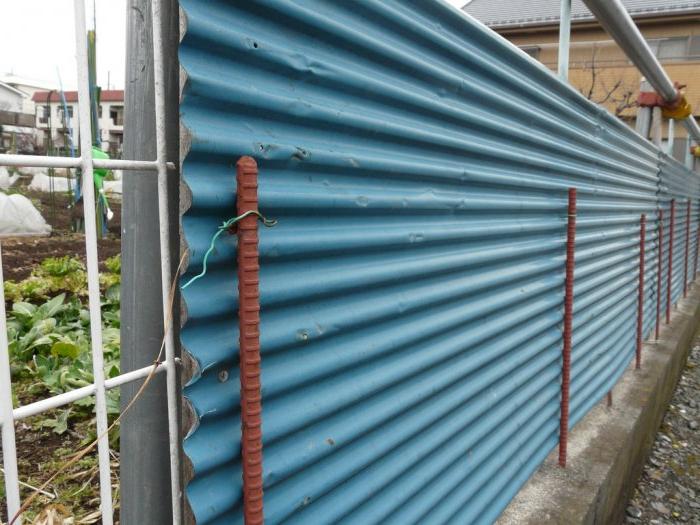 In this suburban garden a gently waving corrugated iron fence has been used to protect a little vegetable garden. The horizontal blue sheets are mounted on rusted rebar that has been set into its concrete base to hold it firmly in place. Usually used to reinforce concrete, rebar is a really sturdy fencepost that has been treated to look rusted. This little combination adds colour to the garden adds a rustic and shabby chic element to the space.
14. Corrugated Feature Wall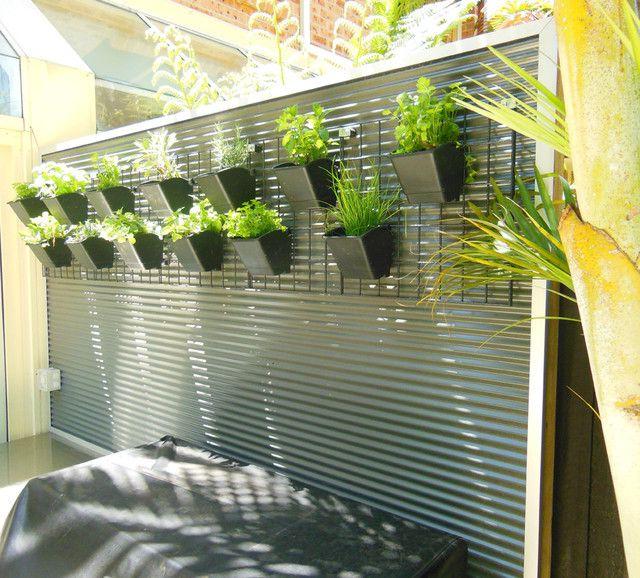 On this contemporary patio corrugated iron has been used to create a grey seamless feature wall in a matte galvanized finish held within a white painted timber frame. This creates a beautiful textured structure to hang a trellis off. The trellis within the frame has angled pots hanging off of it in neat rows that let the vivid green contrast strongly against the grey. This is a great space saving way to create a herb garden on a patio and plant a different herb in each pot.
15. Sleek Matte Finish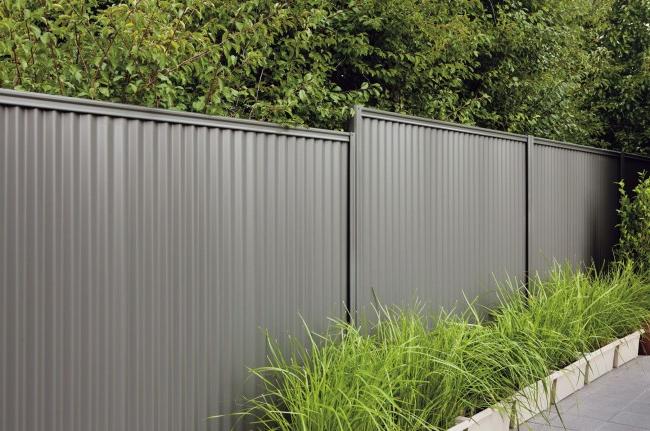 This minimal boundary fence is the perfect way to get a sophisticated look on a budget. Stepped panels of vertical matte grey paneling held in a very slim line steel frame run down the length of the fence. This style of fence is very lightweight, easy to install and, as we can see here, easy to adjust to the terrain. A minimal style of decoration in the form of planter boxes run along it to contrast the scruffy green plants against the neutral background.
16. Rustic Dramatic Entrance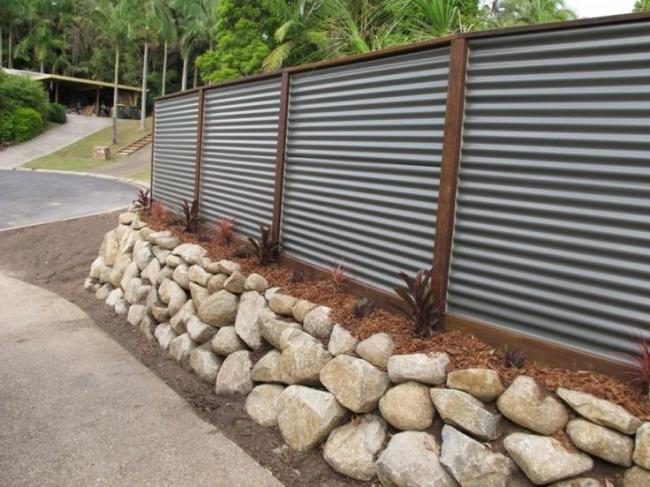 In this rural setting this house has chosen to make entering the house with this tall curving fencing. The layers of the fence consist of a corrugated fence, which sits on top of a rugged white stone base with succulents planted along the edge. The horizontal grey corrugated panels sit in a steel frame that has been treated to appear rusted and contrast the finishes in an aesthetically pleasing manner.
17. Quirky Fencing for a Modern House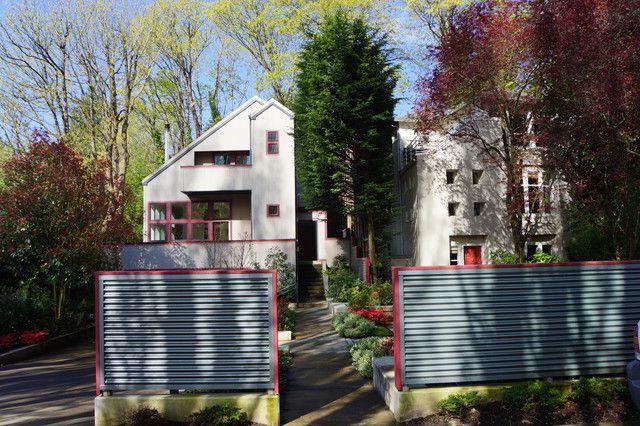 This classic modern house uses raw concrete geometry accented with red window frames. The same red accent has been used in the frame of the horizontal grey sheeting fence sitting on a moss covered concrete base. The fence has a little space left between the two panels that lead you down the flower lined path to the house. The fence and the house share the same brutalist style, which makes them work together flawlessly.
18. Small Flowered Details
Another thing that makes a cheap fencing material special is how easy it is to decorate it yourself and make it more fun. These little metal flowers can be easily DIYed at home as a fun upcycling project to truly personalize the fence design to you and your style. Once you've made the little flowers they can simply be fixed to the fence with a screw or waterproof adhesive in whatever pattern you likes to create this beautiful textured design.
19. Two Tiered Timber and Corrugated Fence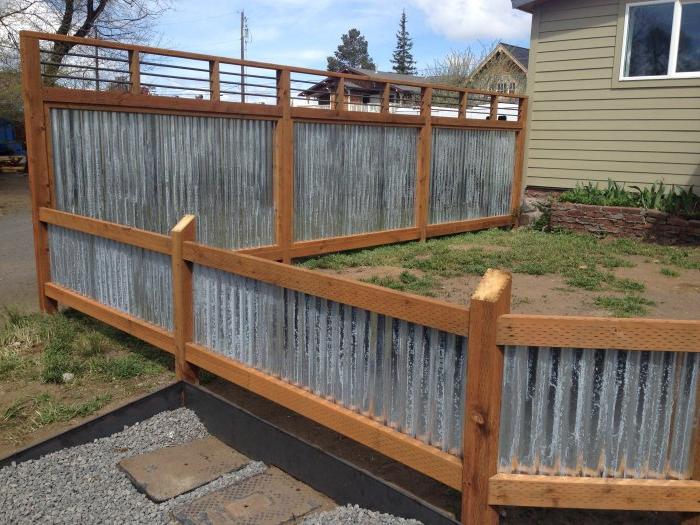 This little suburban house has a corrugated garden fence that is low at the front and taller along the roadside to block out any road noise and provides a little more privacy. The fence itself is made up of roughed up vertical panels of waving corrugated iron in a chunky timber framework that makes the whole design look rustic and rugged, which works wonderfully with the olive green ship lapped house.
20. Chic Silver Corrugated Fencing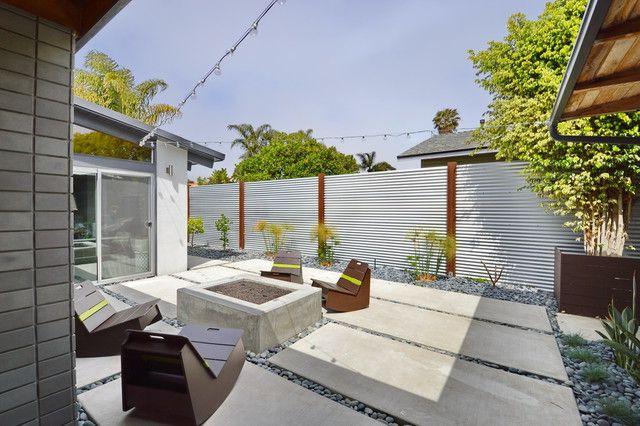 This modern home has anchored its outdoor space around a hyper stylized patio with very geometric aesthetic. The fence that creates the backdrop to the space is bright silver, not the matte like we have come to expect, with thin square fence posts treated to look rusted. The colour of the posts are brought into the space through the chairs while the silver coordinates with the large grey pavers and grey stones between them, to create a space that is coordinated from top to bottom.
21. Quaint Stepped Fencing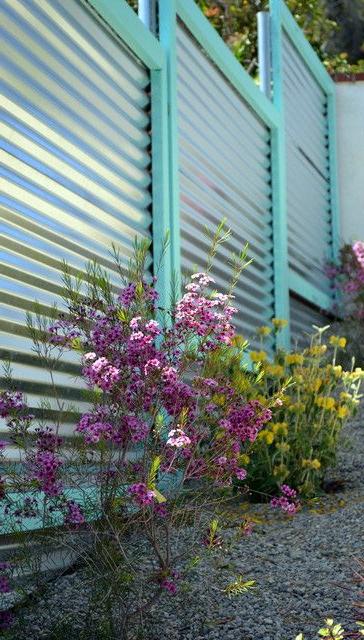 This stunning fence is made up of bright silver horizontal corrugated panels that ripple gently down the surface to the flowerbed below. The panels are framed in a bright teal steel structure that allows you to add a bright colour to the garden to contrast with the colourful flowers. The panels steps up according to the slope of the garden, which is simple to achieve because of the lightweight ease of this material.
22. Desert Inspired Rusting Fencing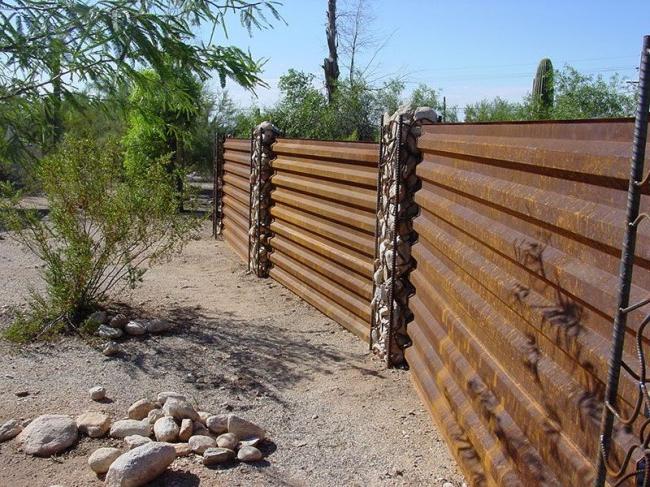 This sandy, rocky garden is hemmed in by fencing that contributes to the hot dry, almost farm aesthetic that this space has going on. The large corrugations have been treated to look rusted and laid horizontally between the statement fence posts, which are made of rebar gabion cages filled with large white stones. The combined texture of the twisting metal and rough stones adds to the look and contrasts with the corrugations in a supremely rustic manner.
23. Glamorous Backyard Fence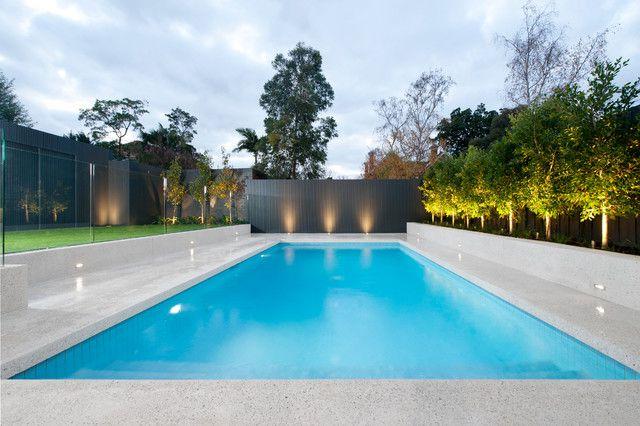 This large dramatic garden manages to feel lavish and expensive but in a very minimal style. The statement piece of the garden is the massive stoned surrounded swimming pool that ends in the vertical matte black corrugated fence. The black fence sits on two different levels to go with the garden and the recessed pool to encircle the whole space in the dark surface. The fence is lit up uplighters to emphasize the textures of the corrugations using the medium of light.
24. Tiny Garden with Bright Fencing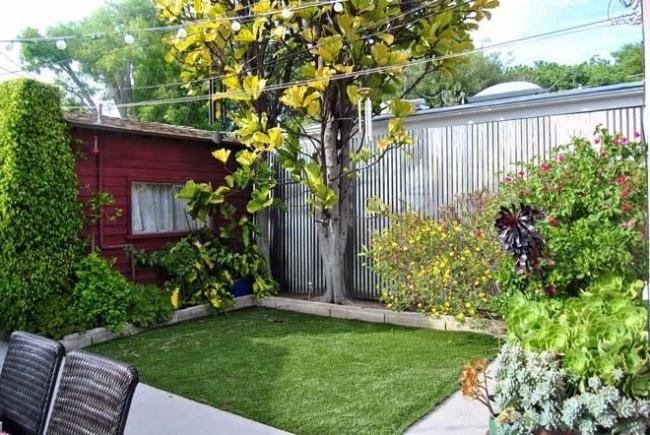 This garden may be small but you can still make a space like this interesting using textures like the creeping plants, the timber paneled of the cottage and shiny corrugated iron fencing acting as the backdrop. The slim waving corrugations run vertically in a more shiny finish than the average galvanized sheet, which manages to lights up the little square lawn using reflections. The wall manages to add light and a little character all at once.
25. Rural Green Corrugated Fencing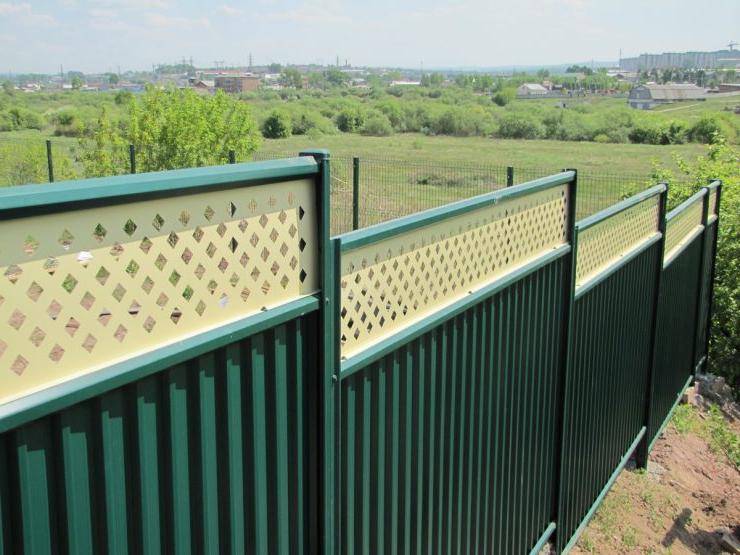 This tall countryside fence looks dainty and sweet while also being durable and low maintenance, which is especially useful within a rural environment. Each panel is made up of dark green panels with widely spaced square corrugations running vertically topped with pastel yellow permeated screens to decorate the top. The panels steps down to suit the slope of the garden, which is easy to achieve using a modular system such as this.
Conclusion
Beautiful, cheap, durable and easily accessible; corrugated iron has it all. This material is a simple but aesthetically pleasing solution to your homes fencing needs that won't break the bank but won't look cheap in the slightest. The different styles and colours of corrugations means that one material can be used in totally different locations and evoke an entirely different look.
Corrugated iron fencing is the number one choice for a fence both looks beautiful and saves on your budget, so the next time you need a new fence why not pop down to your local hardware store and give this incredible material a shot.