Metal swing gates are a trendy style of gate and for very good reason. If you have the space to accommodate their swing these single or double leaves gates swing open in a dramatic way to make entering your home a real experience. These are often paired with a matching wicket that sits beside them for people entering on foot that is just as beautiful as the full gate itself.
Metal is an ideal material to be used outdoors, which makes them perfect for an entrance gate of any kind. The material is durable, weatherproof and can be treated to achieve a large variety of colours and textures. It also has a sculptural quality, especially when using wrought iron, which allows you to decorate your boundary in the most stunning way using twisting shapes and/or geometry to create a art piece right on your door step.
35 Metal Swing Gates: Where Beauty and Durability Meet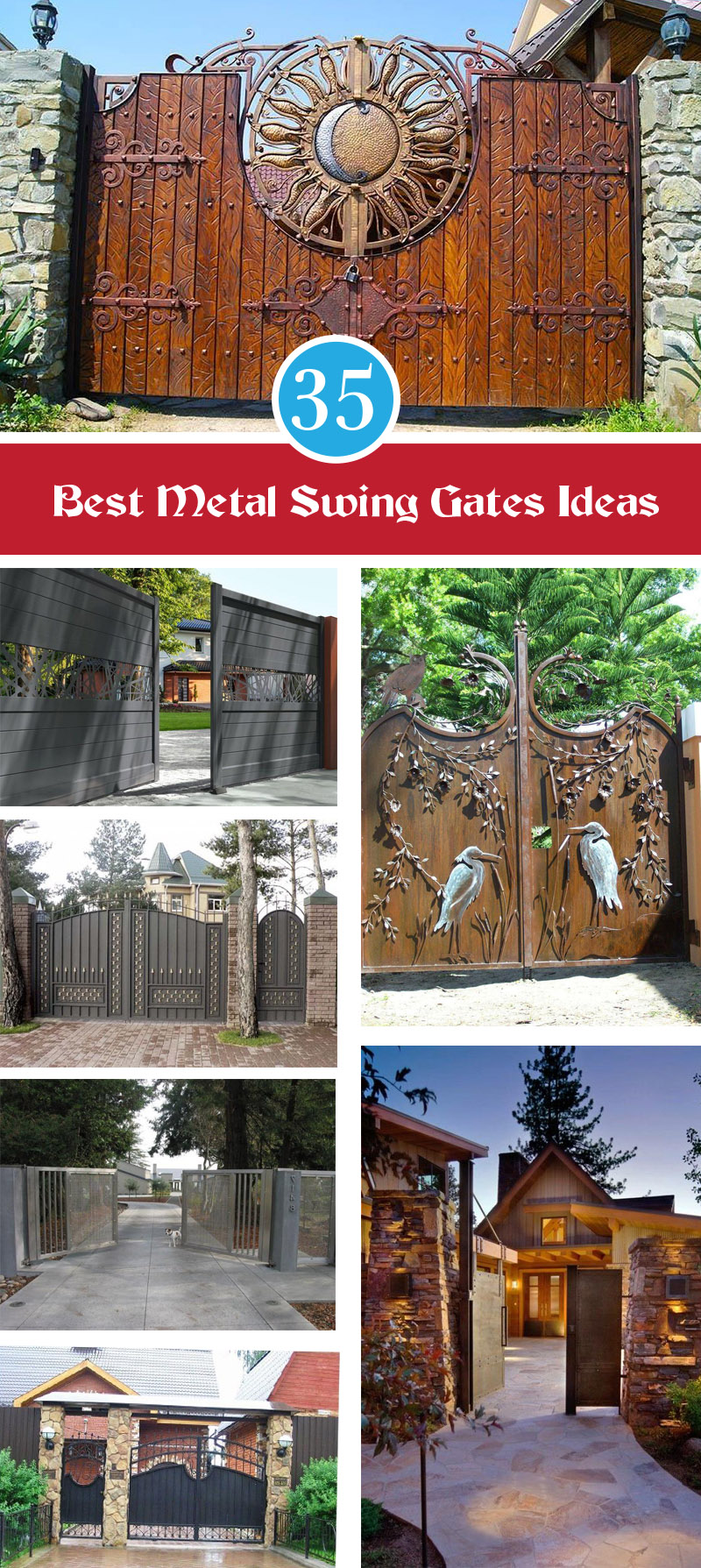 Swing gates in particular (if they aren't manual gates) need to be kept as light as possible. As opposed to sliding gates, these hang off hinges and are opened using motors so they bear the majority of the weight, which is why these gates need to be kept light. This can be achieved through many different techniques and using aluminium, tubing and metal sheeting.
So if you want to drive into the drama that is swinging gates here are:
1. Decorative Gate with Matching Pedestrian Gate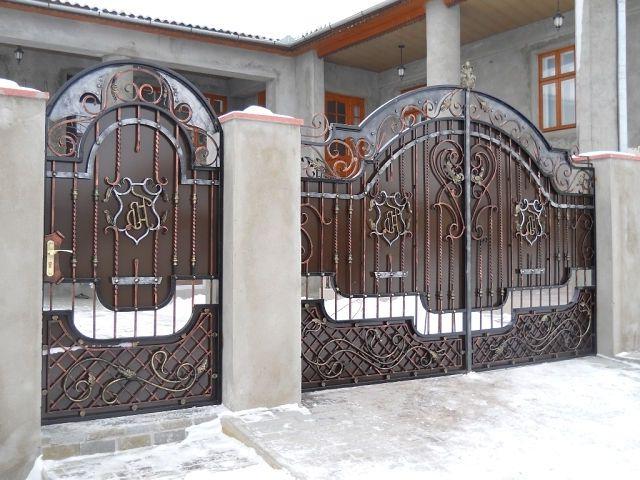 This modern brutalist concrete home has contrasted with the styles of yesteryear to create a really dramatic entranceway through the arched gateway with a matching pedestrian gate of the same style flanking it. The strong metal frame is filled in with flat, brown toned sheet metal with cut out panels near the base and a glass panel at the top that curves over the heavy base. The entire surface of the gate is decorated with curlicues and rods running vertically and in a crosshatch that creates a beautiful texture.
2. Dramatic Fantastical Gate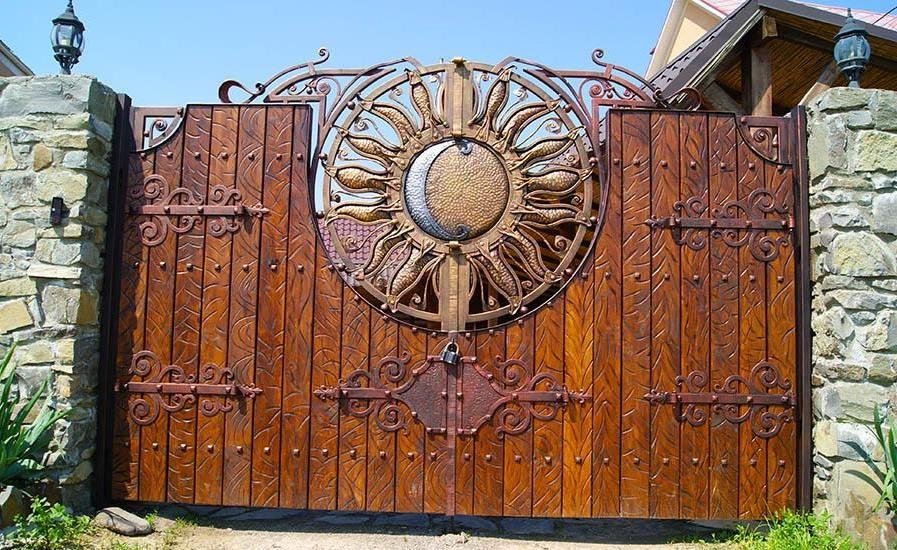 This incredibly eye catching metal swing gate is a stunning chunky medieval style with articulated hinges and a dramatic splitting sun in the centre. The vertical paneling that makes up the body of the gate are, in fact, made out of metal that have been treated to resemble the texture and colour of polished wood. While its still the gate is beautiful in itself but when it opens it out does itself again as the middle turns and the rays at the centre split apart to allow you inside.
3. Swooping, Swirling Wrought Iron Gate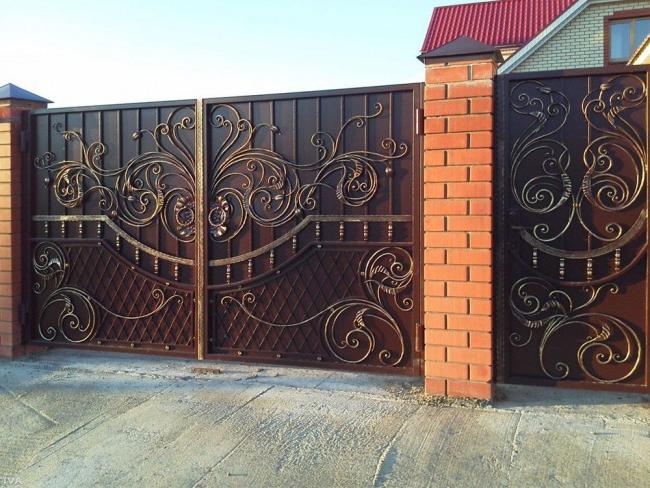 Metal gates can become very heavy and you need a strong enough motor to swing them open so this option is a great one. To make the metal gate more lightweight the metal frame is predominantly filled in with sheets of thin galvanized steel in treated panels that are stained a deep brown. This gives you the freedom to then decorate using heavier elements like the metal rods that run vertically and in a crosshatch at the base. The whole gate is covered in decorative swirling patterns all across the surface that makes the piece have a real presence without the added weight.
4. A Serene Natural Scene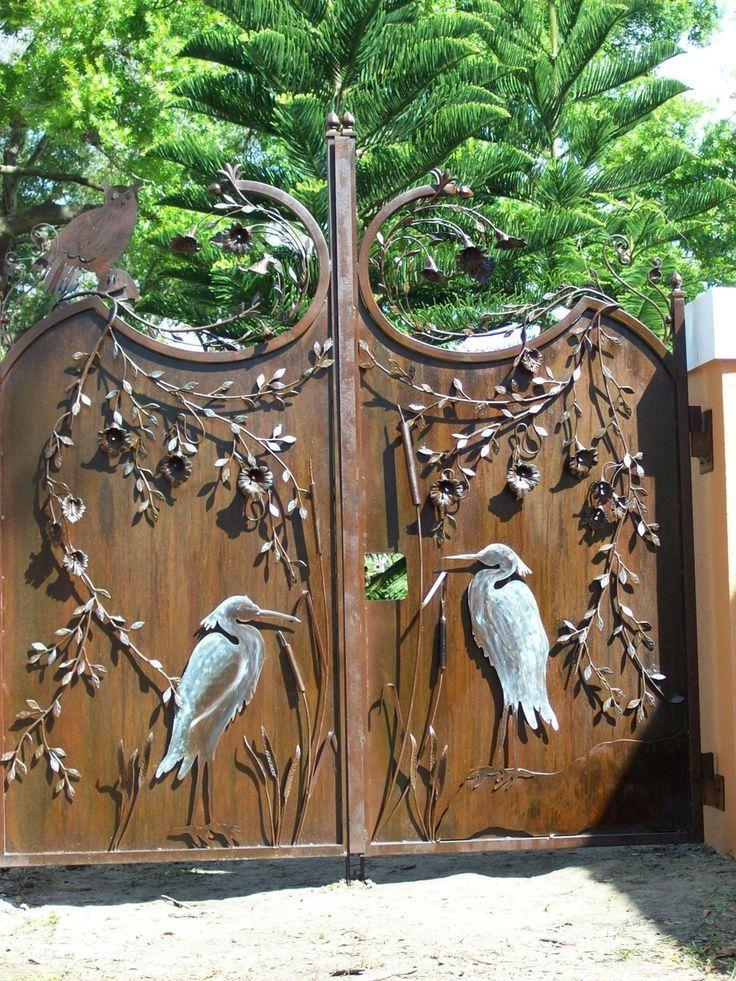 Like the above example, this gate has used a sheet of treated metal made to look warm and rusted to act as the light base to this metal swing gate. Its base shape and arches overhead beautifully elegant but what makes this design really incredible is the decoration. Silver tall legged herons sit on one each leaf of the gate surrounded by some water grasses with another two dimensional bird design on the top of one side. The birds are accompanied by swathes of thin branches with delicate leaves playing across the surface. The whole gate culminates in an amazing symmetrical arch over each door leaf to finish off the whimsical design.
5. Traditional Black Wrought Iron Fencing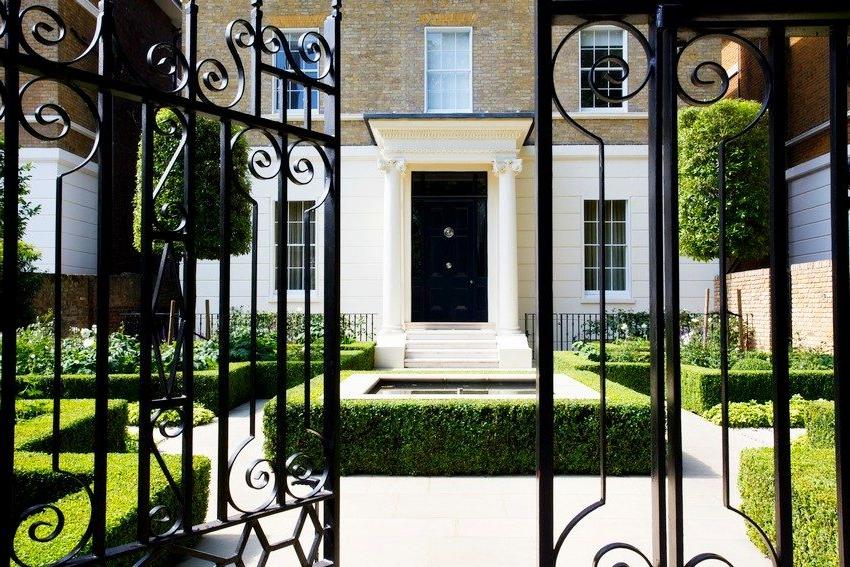 This is a great example of the traditional black metal gates often found in front of these stunning narrow houses in London. The permeable design lets you see through to the garden beyond, which emphasizes the sophisticated and geometry that resembles the manicured gardens beyond. Besides the black square tubing frame little swirls of metal decorate the double leaves pedestrian swing gate making it decorative but austere at the same time.
6. Contemporary Paneled Swing Gate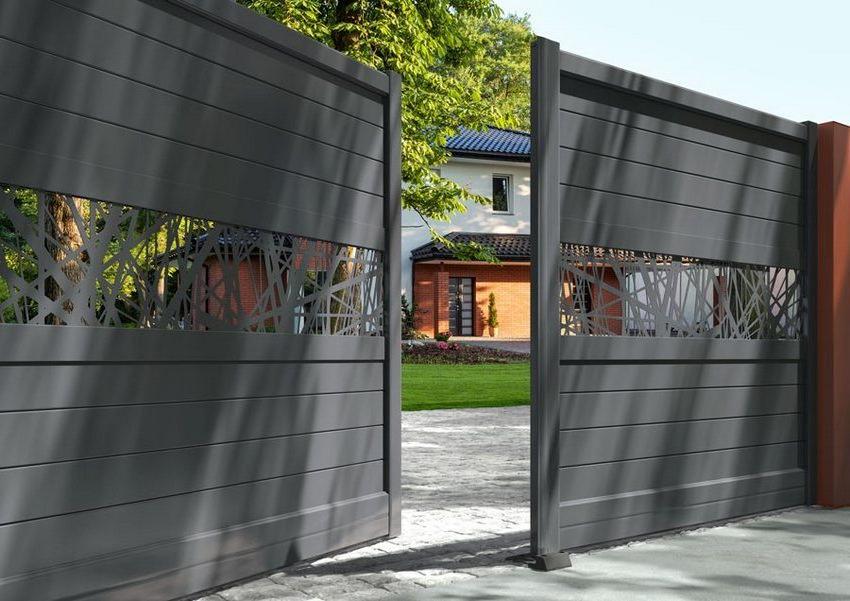 This contemporary, double leafed design is made of lightweight metal panels to make the gate seem to be heavy and chunky without the weight. Horizontal slate grey panels sit within a chunky grey frame that obscures the garden from view. One panel running down the centre has been left open, however, to allow a little glance into the garden. This panel is also where the design gets all its texture since it is covered in a tangle of metal latticework that styles the simple design in an equally simple way.
7. Layers of Metal Patterns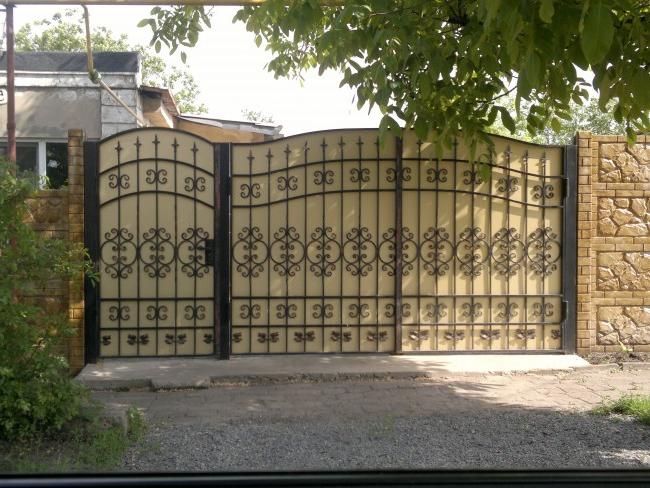 This metal swing gate, as many we have seen so far, uses sheet metal to provide privacy as well as acting as the backdrop to the metal decoration. This design even has a wicket gate built in with the design waving over it. The layer of beige galvanized steel that acts as the base has a black metal framework holding it in place with vertical spiked elements running all the way through it. The gate is then decorated with tiers of horizontal patterns across it held between metal rods. The whole piece is beautiful, practical and super safe.
8. Dark and Simple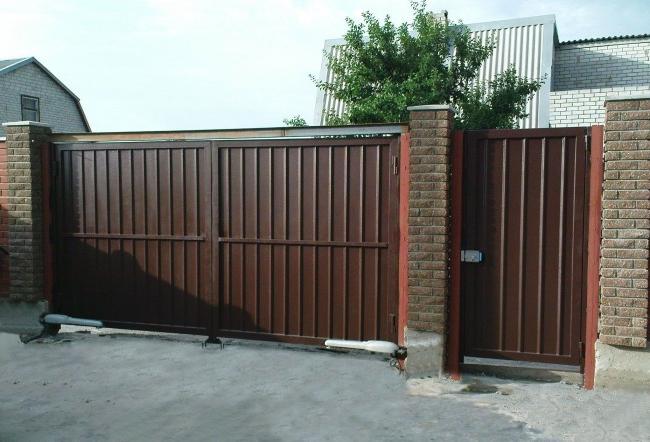 This design is a really lightweight pair of simple double door leaves with a matching wicket sitting beside it. Sheets of corrugated iron in a deep brown shade sit in a frame of the same shade to keep the whole exterior feeling cohesive and contrast against the rough texture of the brick gateposts. This is a simple style that is also light and cost effective, which makes this choice a no brainer.
9. Amazing Gates to a Magical Mansion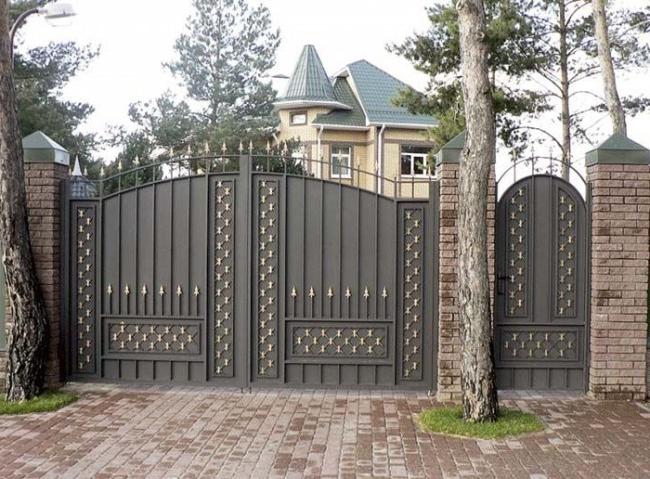 This whimsical, fantasy style gate with a matching wicket gate sits in front of a large palatial home, building the anticipation before revealing the stunning house beyond. The gates consist of flat sheets of deep grey metal set within a curved framework. It is fantastically decorated with slim vertical bars with gilded details woven vertically into the columns and across in the horizontal panels. The whole look suits the location perfectly and makes the heavy element of metal appear light and dainty.
10. Black Panels, Plain and Simple
If you prefer a more minimal style then this one is for you. A chunky black frame runs around both leaves of the gate as well as the matching wicket gate that are divided by three gate posts in a pale yellow. The body of the metal swing gates consists of thin galvanized metal panels running horizontally to create a clear but subtle pattern. This style is cleanly sophisticated as well as being light and easy to swing open.
11. White Corrugated Swing Gate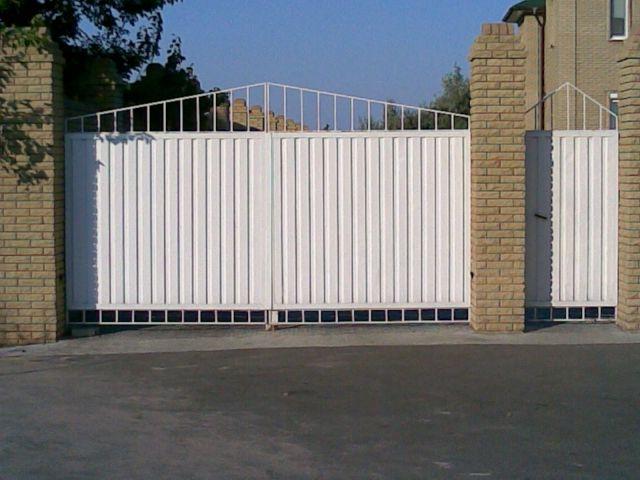 This white swing gate with its matching wicket beside it is a really simple design but rendering it in white rather than the dark tones of your average gate makes it feel far more special. The majority the fence is made up of a vertical chunky corrugated iron sheeting held in a thin white frame that is lightweight and easily swung open. The simple design has been decorated with some unfilled panels that reach to a point on the top and with another unfilled panel running thin horizontally in a panel at the bottom.
12. Corrugated Garage Swing Door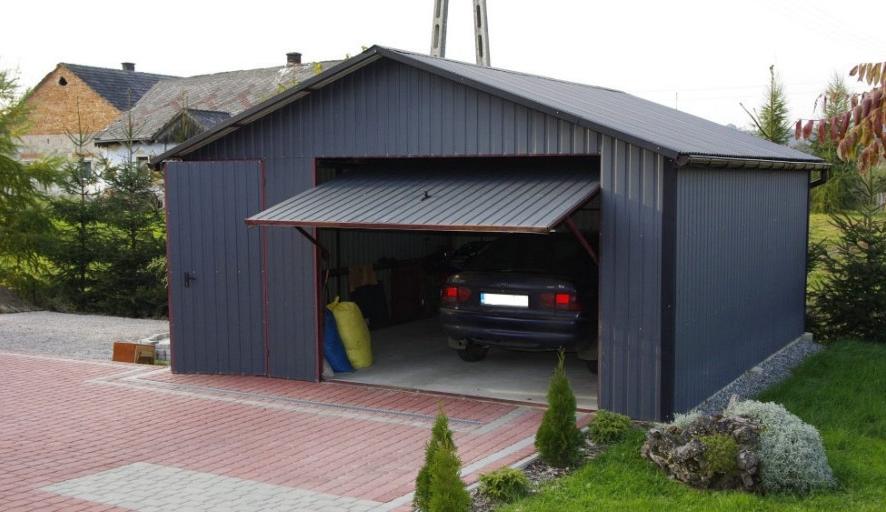 This large home has space for its very own garage that has been built out of really thin corrugated slate grey sheeting; which has also been used to make the swing door. This time, instead of swinging inwards, it swings upwards on a motor and folds neatly into the garage above the car. The sheeting and the aluminium frame are light and easy to raise while looking sophisticated and cohesive to go alongside a modern house.
13. Elaborate Wrought Iron Details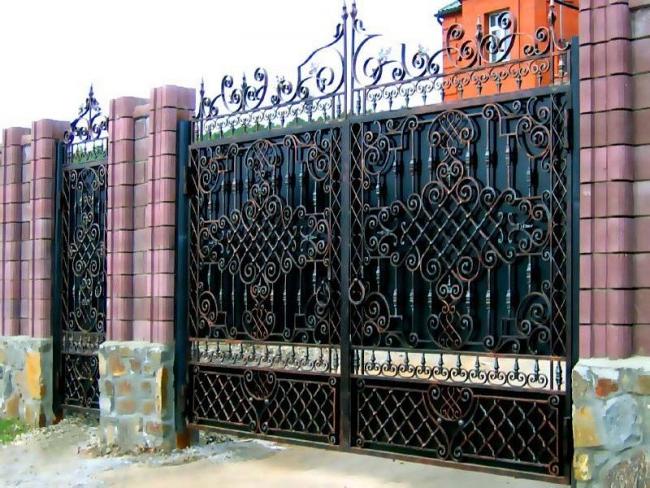 This statement piece is a really elaborate gate, which leads to a wacky vivid orange house. The contrast is amusing and playful in a completely unexpected way. The large double leaved swing gate has a matching picket beside it in the same over the top style. Both consist of large panels of flat black metal sheeting with a little peek a boo panel at ankle height that have been richly decorated with wrought iron pattern work that makes its way across the whole structure in a magical intertwining manner.
14. Metal Imitating Timber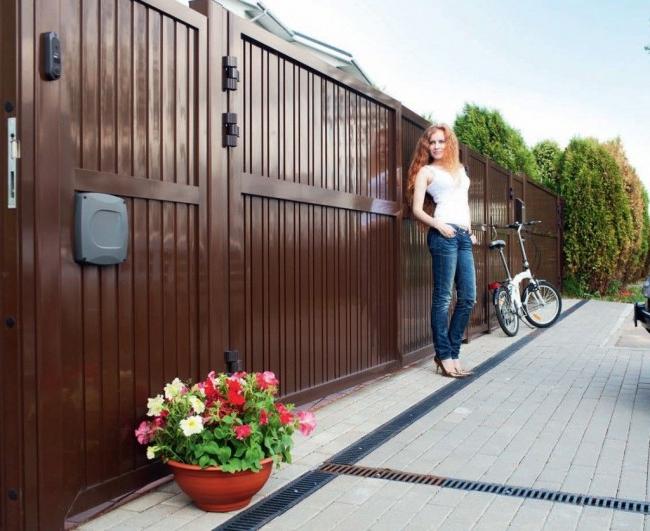 This whole boundary consists of a wicket, a pair of swing gates and a fence that are all in the same material and run smoothly into one another. This look has been achieved with vertical metal panels rendered in a warm brown that makes them appear to be timber while, in fact, being a far more durable and low maintenance material. This resultant look is light and beautiful, making it the perfect chice for a metal swing gate.
15. Tiny Metal Pedestrian Gate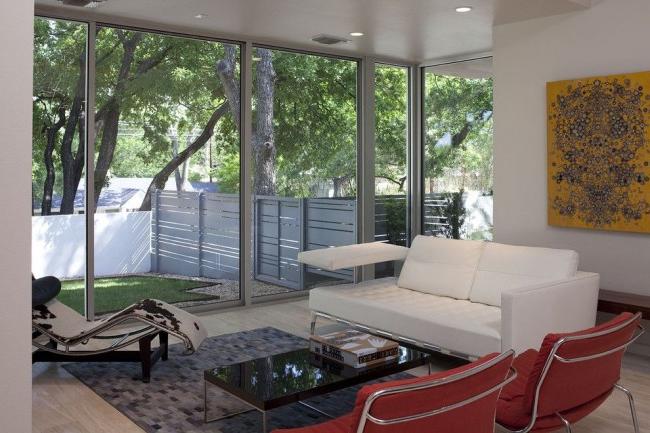 This stunning low fence and swing gate sitting beside this stunning modern home is a beautiful piece that looks attractive when viewed through the floor to ceiling windows. The contemporary pattern is created using soft grey metal panels of varying sizes with a consistent gap between them. The gate and fence combination is stylish and contemporary, elegantly swinging to let you into this sumptuous property.
16. Modern Silver Swing Gates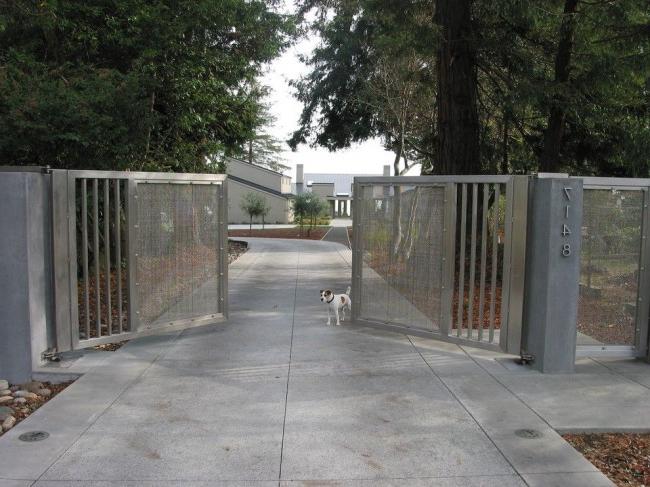 This almost futuristic short fence is filled with a fine woven wire mesh to match the mesh used in the centre two thirds of each door sleeve of this dramatic entrance. The vertical tubular metal elements run in panels beside it as well as making up the lightweight frame around it. The sleek modern look fits perfectly here with the long smooth grey driveway and square concrete gateposts to solidify this modern dwelling.
17. Wrought Iron and Steel Working Together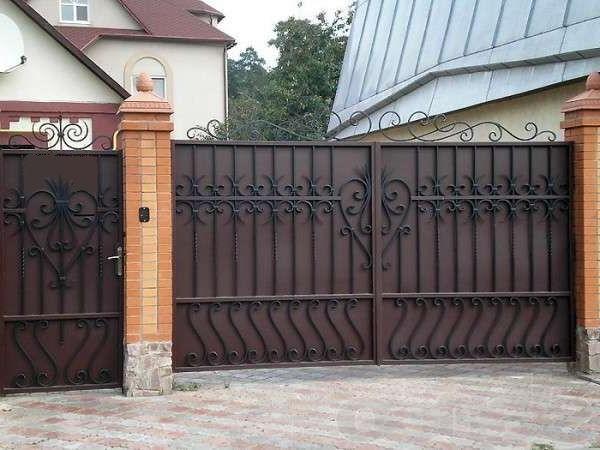 This gate is very similar to example 7 but this time on a darker backdrop. A slim line metal frame has panels of galvanized maroon steel stretched between them with a matching wicket gate beside it. The front panel and the top are both decorated with wrought iron curlicues that create a rich texture in various shapes across the surface. The top layer makes it feel lighter and more delicate to contrast the heavy dark base.
18. Stylish Square Mesh Swing Gate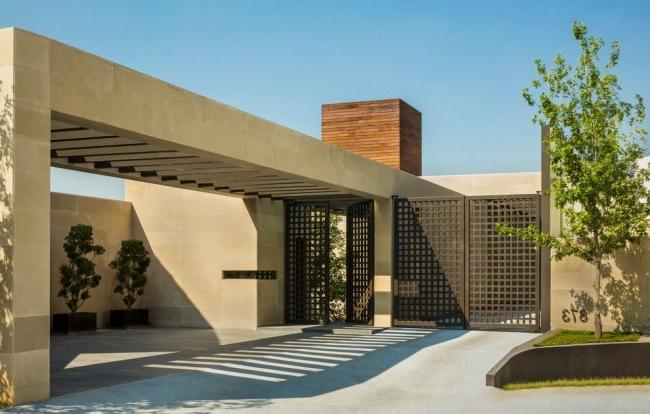 The narrow metal swing gates and wicket lead into this modern house through a metal mesh in clean squares that have been treated to have a slightly brown toned hue. The gates are very tall with a dramatic, stone shading device covering that walkway as you make your way inside. The square mesh is very sophisticated, allowing a glance beyond the fence as well as a textural element to the smooth walls. The whole exterior is made up of a series of earth tones make this a statement façade.
19. A Grand Entrance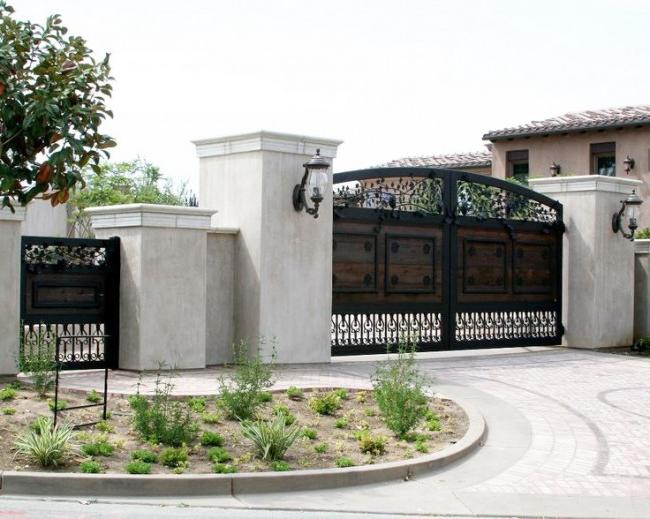 This stylish curving paved driveway leads up to these stunning double leaved swing gates with a low matching wicket that are an eye catching metal design. The large chunky metal framework holds large panels of treated steel through the centre that ripples across its texture. The panels above, below and over the sheet metal are adorned with gorgeous patterned wrought ironwork that loops the panels below while the above arch is filled with wrought iron floral patterning. This gate is so beautiful it makes arriving home everyday a treat.
20. Gently Curving Swing Gates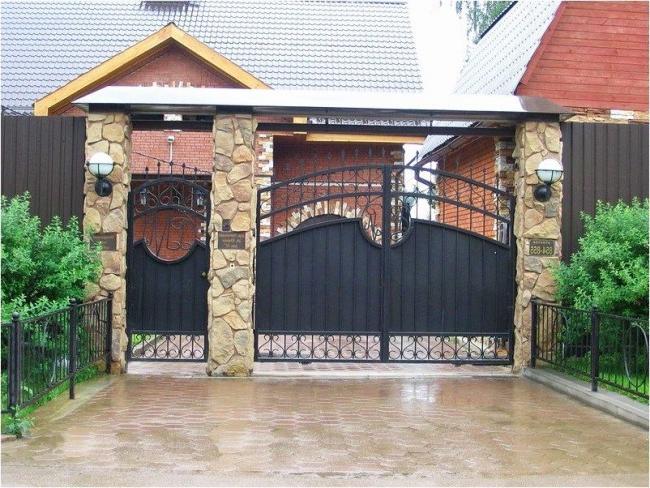 This neat set of black metal gates has a little wicket in the same design echoed in miniature. The middle panel of the arching gate is filled with black metal sheeting with a half moon cut out to break up the shape. The panels above and below are transparent and decorated with wrought iron swirls that lift the heavy black block to hover over the ground. The top has been spiked top for safety as well as finishing off the design in an elegant manner.
21. Ostentatious Chrome Swing Gates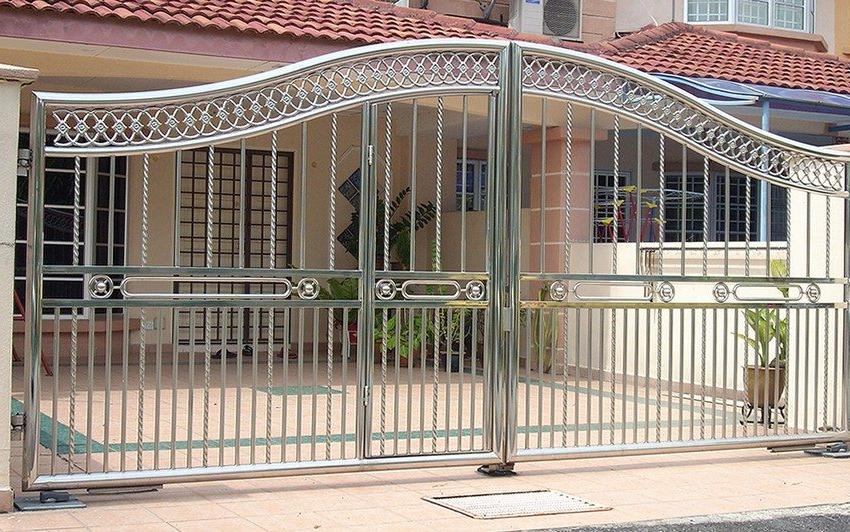 This unique swing gate is a stunner in an incredible chrome finish with very thin elements held in a glossy framework. The entirety of the gate in permeable with two leaves and a built in wicket that is barely perceptible within the design. The design is mainly made up of straight or twisted rods with a horizontal strip that runs through the centre filled with simple geometric details. The waving top is detailed in a woven style of metalwork that looks intricate and signs off the unique design perfectly.
22. Intertwined Curlicued Swing Design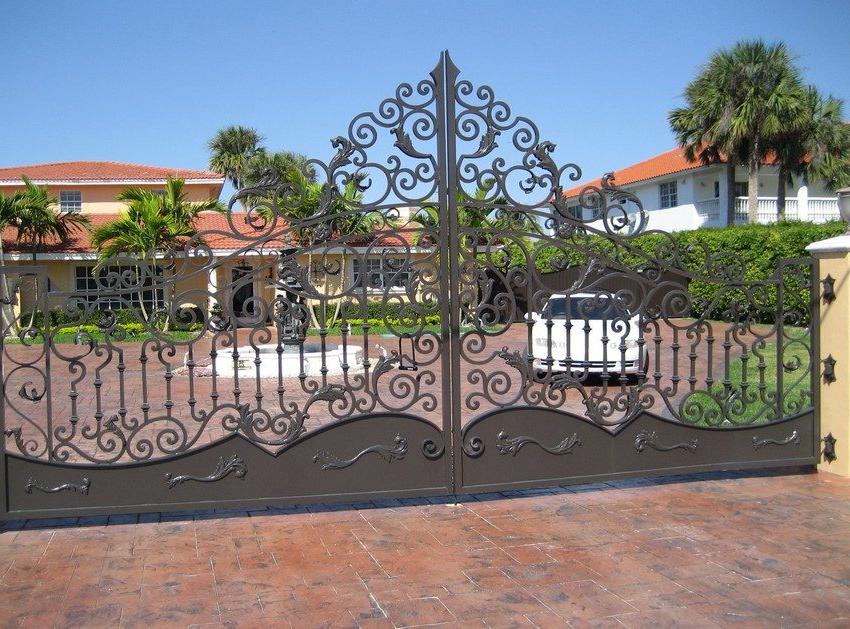 The dramatic entrance to this low sprawling homestead is a stunning metal swing gate leading to a driveway with a built in fountain circle. The base if formed by thin metal sheeting that has been treated to have this brown tinted grey hue that is the foundation for the detailed symmetrical design. The main body is a riot of vertical bars and a decorative pyre of stunning metal curls that culminate in a centerpiece at the very top of the gate. This is incredibly effective and suits this luxurious house so well.
23. Innovative Pivot Entrance Door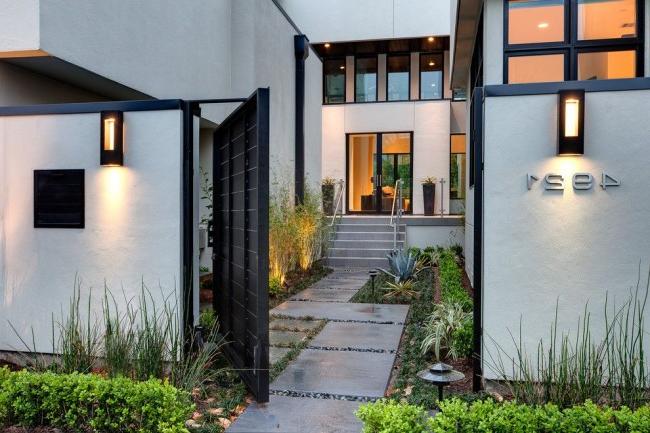 This house is a supremely modern design in neutral blocks of grey with black accents and the door fits the aesthetic down to a T. The wide pivot door has been hinged a quarter of the way along the door so it swings in a double sided fashion, which is neat and stylish. The paneled metal door is made of horizontal metal panels that are lighter than timber but looks just as beautiful.
24. Metalwork Lattice Gate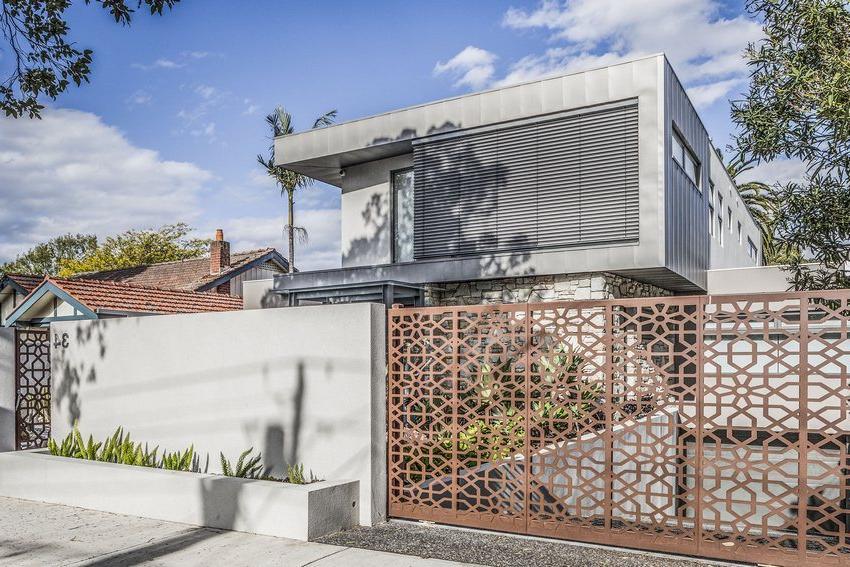 Swing gates have been used here, like above, in front of a stunning modern home that results in a look that is really contemporary and beautiful. The lightweight design is a beautiful geometric latticework that has been tinted to look coppery in a modern way to add texture to a modern façade that is very clean and unadorned. The copper swinging metal gate also has a matching wicket further down the wall that ties the façade together.
25. Metal Swinging Wicket Gate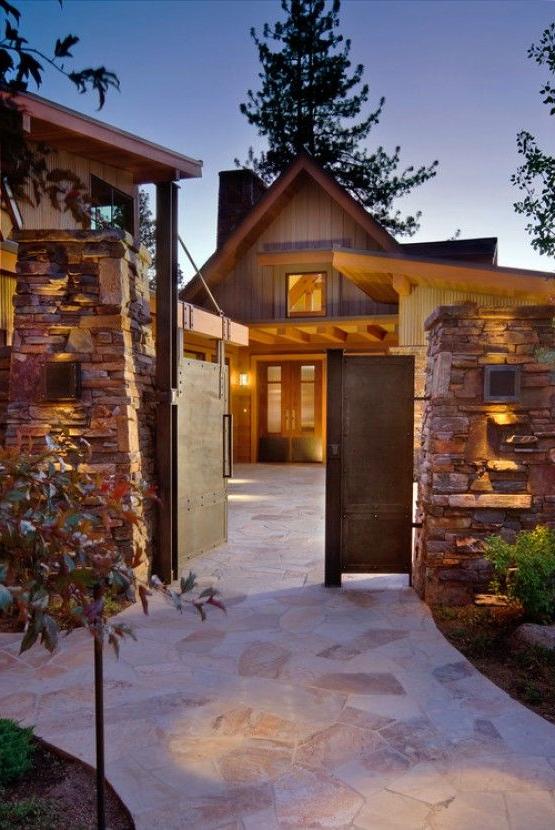 Reached by a smooth paved path, this industrial wicket gate is an intriguing introduction for guests approaching this lodge style home on foot. The distressed sheet metal swing gate has a sidelight that stays in place while the door is opened with its large vertical handle. The hinges are fixed to a pole around whose axis the door swings. All these industrial details and fixings have been carefully chosen to fit with the mixed medium rustic style of the large house beyond.
26. Super Modern Swinging Side Gate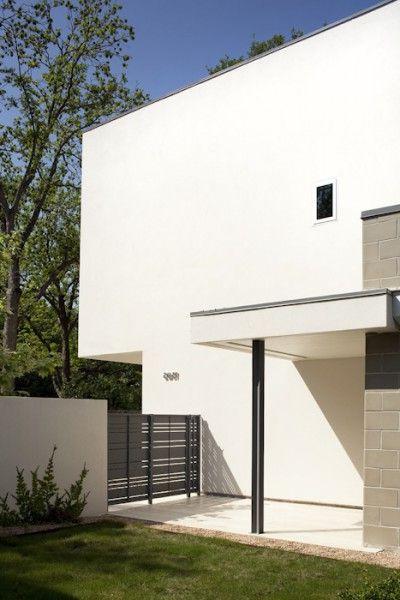 In a similar style to example 15 this short little side gate is made from metal panels of various sizes with slivers of gaps between each one to create the distinct patterning. This little piece is low, light weight and easy to swing by hand. The muted grey tone ties in with the I beam holding up the entranceway roof and the grey block wall beside it. These pieces stand together as the only elements that aren't a stark white like the blocky, white wall yet still manage to effortlessly fit with the super minimal style.
27. Light Hilltop Mesh Gates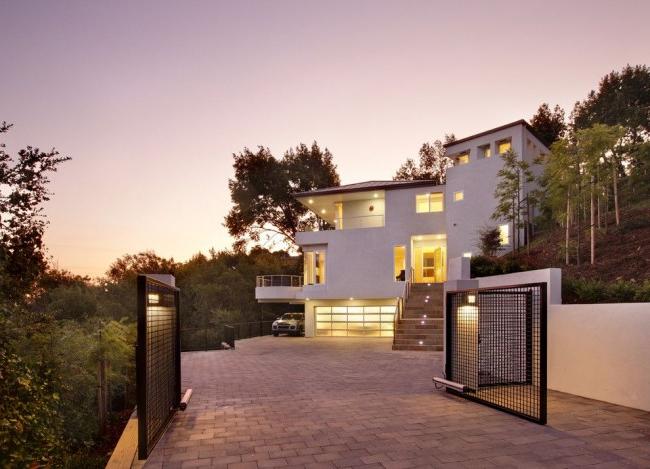 Two low swing gates framed in black steel filled with a loosely woven black wire mesh guard the entrance to this hilltop mansion with its long sloped driveway. Two gateposts with down lighters that light your way inside flank the sheer gates as the perfect introduction to this modern blocky white house with warm light emitting from every window. This kind of low, permeable fence is present to express the boundary of a property rather than provide security, which is something this remote location allows for.
28. Modern Striped Swing Gate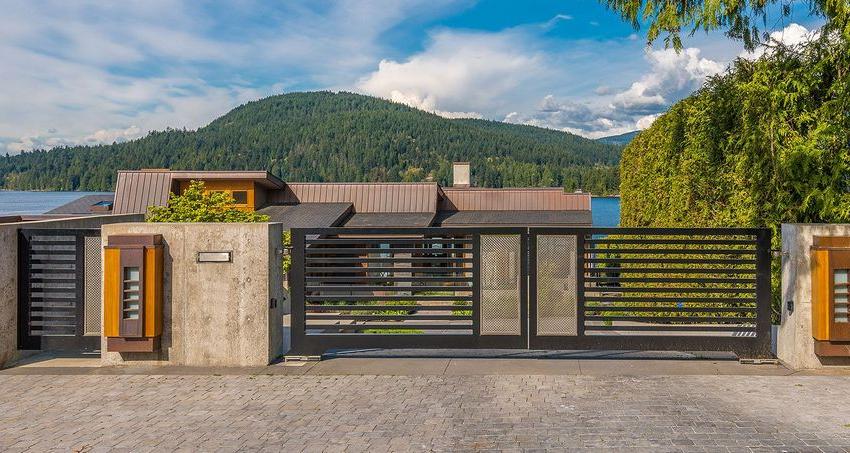 This subdued but huge entrance to this sprawling forest dwelling has vast swing gates with two leaves and a matching wicket gate that imitates the style perfectly. Each leaf is held in a thick black frame with thin horizontal strips running between them. The centre is accented with two vertical metal sheets in a weathered pale grey that combine when the gates swing closed to make one complete look.
29. Metal Gate and Fence Combination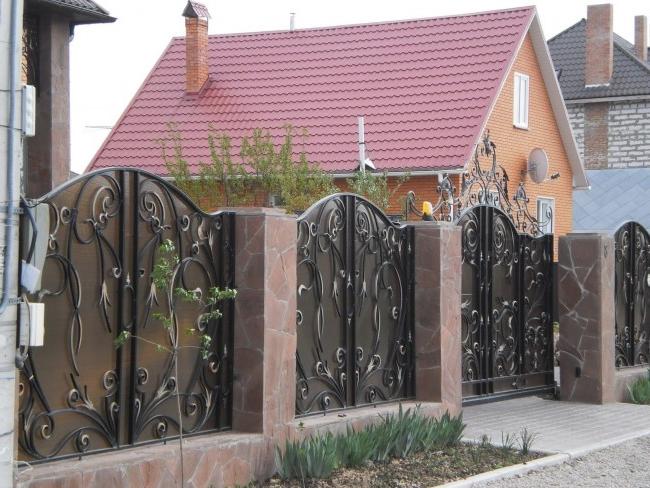 This suburban house has an elaborate fence set up including fence panels and a swing gate surrounded in stone faced framework. The gorgeous panels of metalwork are made up of arched sheets of tinted metal with wrought iron curlicues weaving across the front. The detail is focused on the centre of the gate, which splits in two when the two leaves swing open in an elaborate but organic way. This kind of fence is definitely a head turner that makes your home stand out in a plain suburb.
30. Bright Gate with a Built in Wicket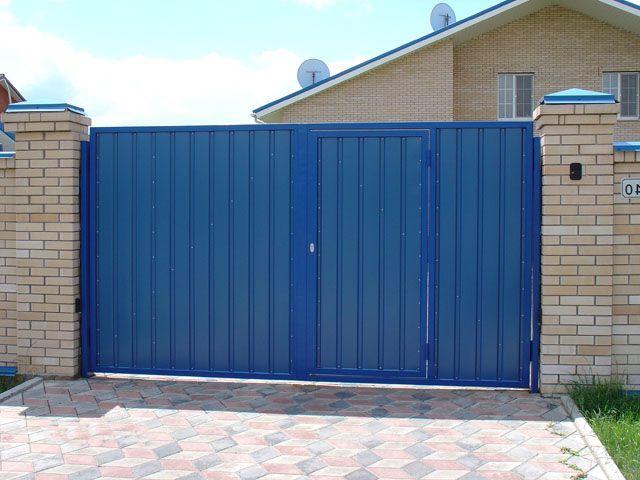 This little suburban home has a simple lightweight corrugated swinging gate held between face brick gate posts that match the house beyond. This is the perfect example of how to make a visual statement using colour rather than an expensive style. This corrugated design has been painted a bright royal blue with a built in wicket gate hidden within it rather than sitting next to it. This keeps the design compact and useful while being eye catching too.
31. Hidden Paneled Wicket Gate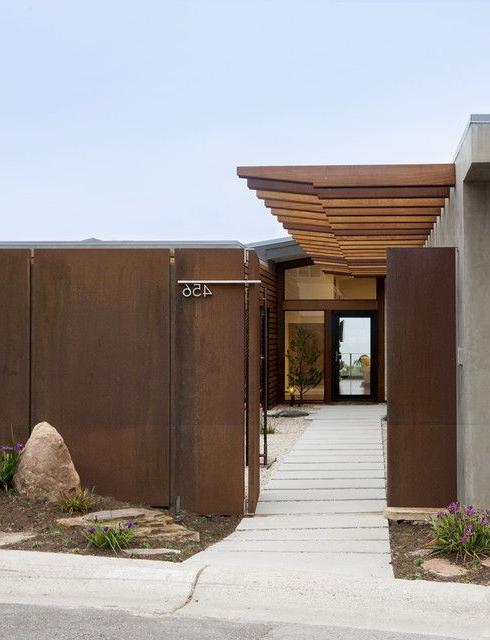 This arid, desert style features a wall made of panels of sheet metal treated to look rusted with a slight gap between each. One of the panels, hiding in plain site, forms the wicket gate that swings open to lead your guests down the path. This design is very lightweight, super stylish and contemporary; which suits the house completely. When the door is closed it is completely hidden in the fence making your boundary look seamless.
32. Tropical Swing Gate and Wicket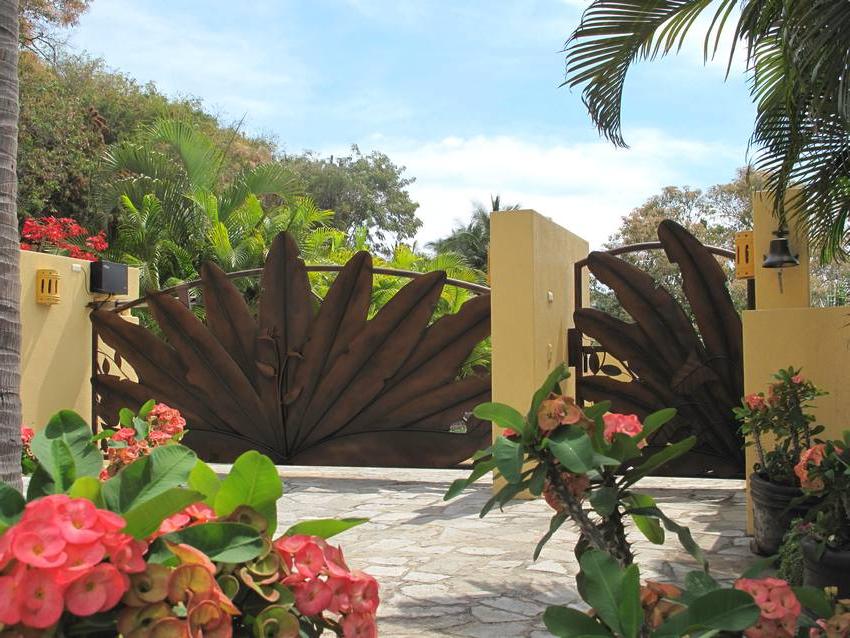 This wide dramatic swing gates with a matching wicket showcases large oversized forged leaves that splay out from the centre and from one side on the wicket, decorating the entrance in a statement way. The massive gate swings into incredible wide, open driveway in front of a luxurious home in a tropical location. The huge gates manage to fit in easily with the exotic location and large floral bushes that flank the driveway on either size to make this space ooze luxury before you even set a foot in the door.
33. Double Leafed Metal Swing Gate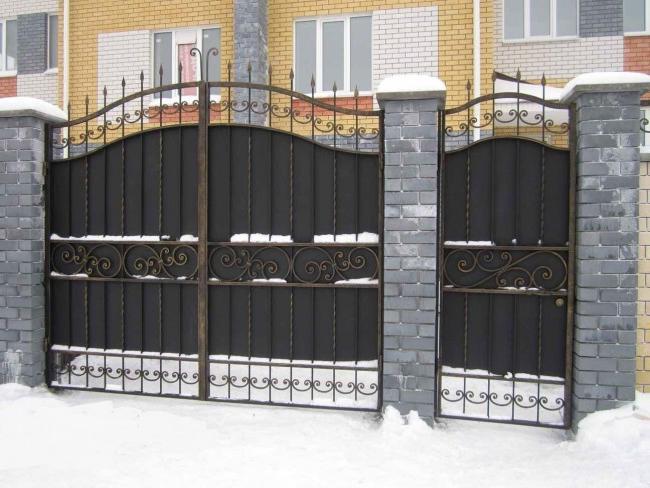 This spiked metal gate and its matching wicket needs to swing into a shallow driveway in front of this suburban home, which means a double leafed swinging gate is perfect for the job. A solid panel runs through the centre of the gate to provide while also making the gate more lightweight. Decorative wrought iron elements have been used running through the centre, at the base and the waving over the top panel to add some fragile detail and texture to break up the solid black sheet metal.
34. Glamorous Curlicued Swing Gates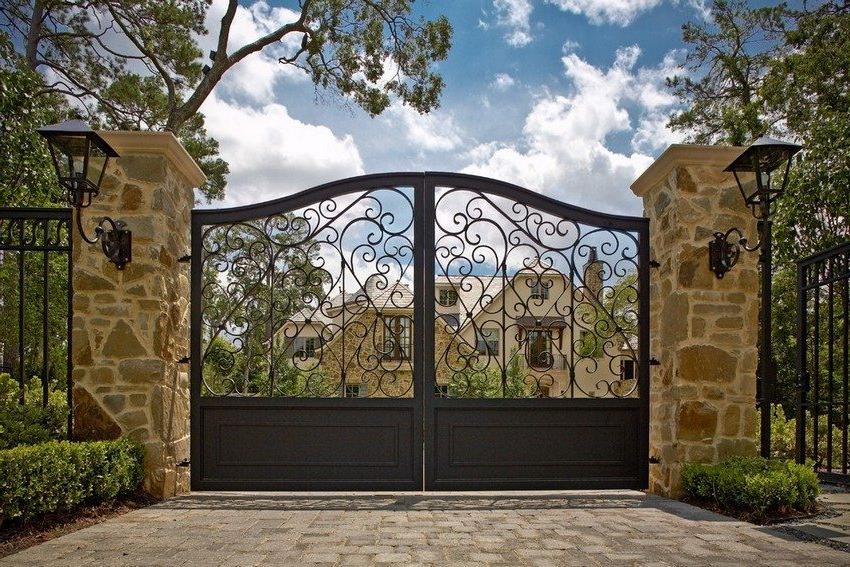 The entrance to such an incredible house needs to get you excited about what is behind them and this gate does just that. Tall stone gate posts that reflect the stone house flank a wide double leaved gate in onyx metal. The gate consists of a thick steel frame with a black sheet metal base. Above that is a huge permeable panel that is filled with a riot of impossibly thin curlicues that wonder over the surface and gently touch one another to form one piece of metal latticework.
35. Gothic Meets Suburbia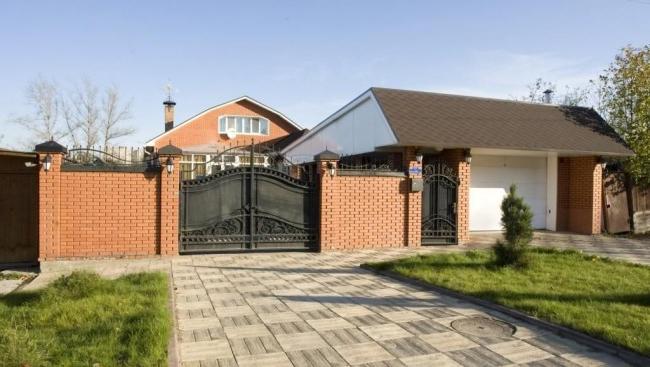 This pair of gothic swing gates contrasts with its setting so strongly even with the red brick fence it finds itself in, that you can't help but stop and take notice. The pitch black gate has a matching wicket closer to the house in the same austere matte style. The gate has used solid sheet metal across the centre again, which leaves the base and the top panel free for some rich detailing. The gate curves over the top with vertical bars topped with spikes letting you know to keep out.
Conclusion
And there you have it, 36 amazing metal swing gates to suit any style. These gates have easily proven themselves to be both beautiful and efficient all wrapped up in one useful little package. Whether you like the simple paneled minimalism or a really ostentatious riot of wrought iron sculptures; you can achieve your dream design with metal.
So if you have the space and need a gate update why not consider the old faithful: metal swing gates.