Every practical person dreams of a clean and uncluttered house. An organized and neat looking house gives a stress free vibes and bring harmony to the life. Although every house has a pantry and a store where all idle things spend their eternal life until thrown out. Among them a small number of things are those which shows up seasonally or occasionally.
While decorating your house keep in mind the space constraint. For small spaced houses, the best option is to use storage boxes cum multi-purpose furniture. They can eat up many unused stuff inside it yet giving a lovely appearance to your room. They can be operated easily as well as are portable. This will save your time and lets you stay focus in search of a particular thing.
25 Amazing DIY Vintage Storage Ideas To Improve Your Decoration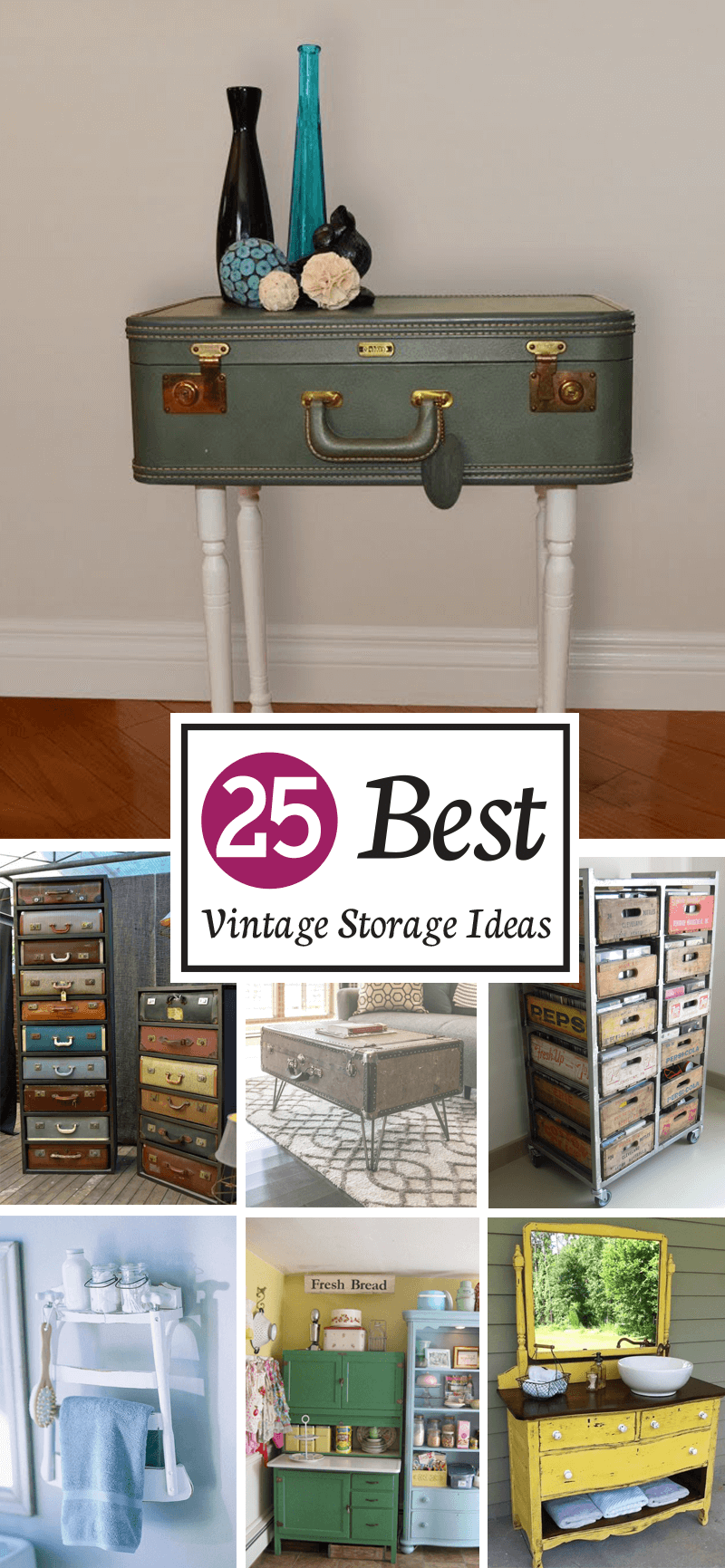 There are many different types of storage boxes available in the market depending on the requirement, budget and choice of the user. They comes in wooden, metallic stuff as well as you can make them on your own as well. It is often tough to catch a piece which is beautiful as well as fits in your budget. Not only limited to use it in house, they are also perfect to organize things in your workplace as well. Although the key purpose is storage but it may appear a matter of practicality, you can add an artistic touch to make it look subtle.
Most of the decorative storage boxes are expensive, you can use a vintage one by giving life to your old furniture for this purpose. They add a glance of charm and sophistication to the place. They can be added in your living room, kitchen, and bedroom and almost anywhere in your house/workplace. Yet so simple but they are the spotlight of any house.
Many people concentrate on drawers and cabinets when they focus on storage solutions. But the wall offers more surface area with the great influence.
Here are 25 best diverse vintage storage ideas which can make your space attractive and beautiful.
1. Beautiful Coffee Table
Old Steel luggage cases are the perfect solution for your home is you are searching for a multi-functional coffee table which looks simple but gives a traditional look. These trunks can replace a coffee table, an end table or a perfect place to store blankets/quilts or other precious pieces inside also enhance the classic look. A beautiful table and a storage box- this is the perfect multi-tasker you need which comes in a multi-purpose package.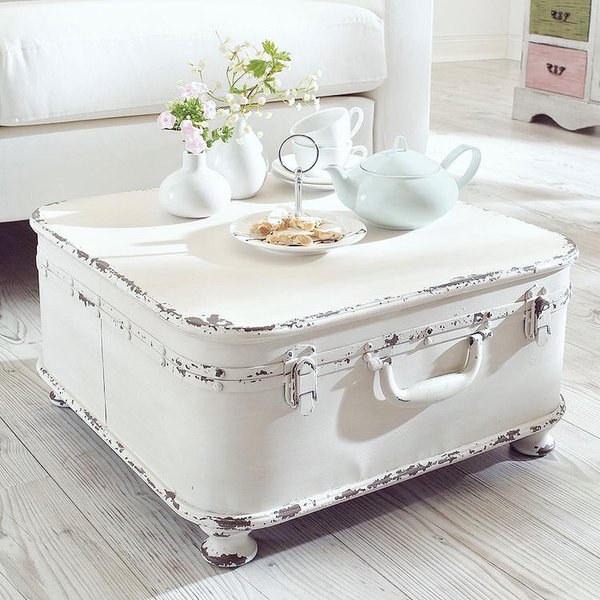 2. Wooden Stack Chest Board
If you inherit a number of old suit cases then wooden stack chest board is the perfect solution to arrange them beautifully. It is perfect for hiding all the clutter and mess of your home inside them yet giving an attractive charm. It is easy to arrange; simply re –paint them in calm colors so that they give a professional look and they are ready to use. There is no limit to number of stacks piled up vertically as there is no limit to uncluttered mess. This cupboard combines beauty with simplicity. It is perfect for anyone who does not want to show shelves in their living rooms.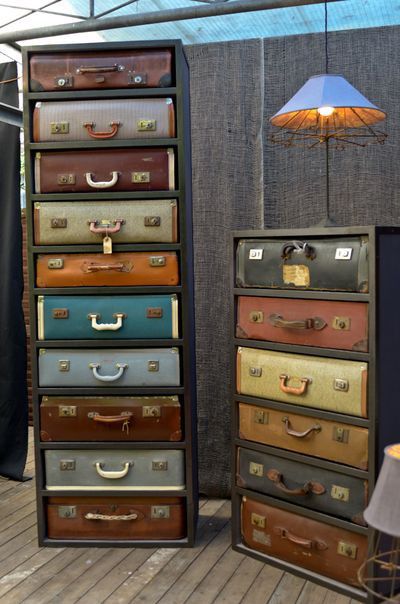 3. Turn a Vintage Suitcase in to a Table
If you want to retire an old vintage suitcase, then uphold it into the next level as a table. Simply attach four metal supports and a wooden plank in the base to give more designated look and the super cool table is ready. It can find its place anywhere in the kitchen to the bedroom to the living room. It gives yet so cool refined look.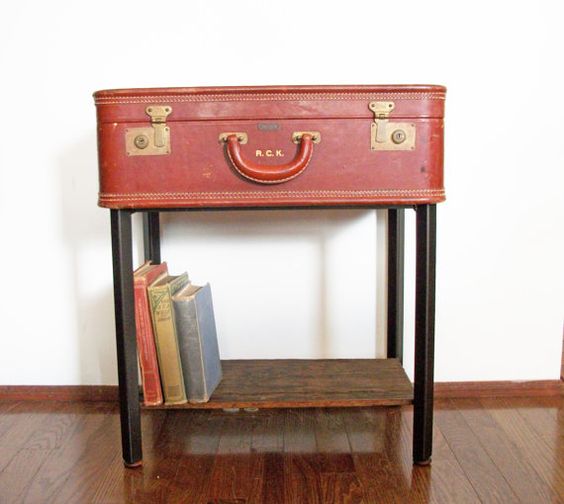 4. Repurposed Bed in to a Storage Drawer
Please do not throw away your parents old bed. Renovate them in this way to give them a new life. This bench is made up of a bed crown and sitting area is made up of any wooden plank. An old drawer is set in the wooden plank to make it multi-purpose. It serves the function of storage and seating all together. Put everything in its place in a draw.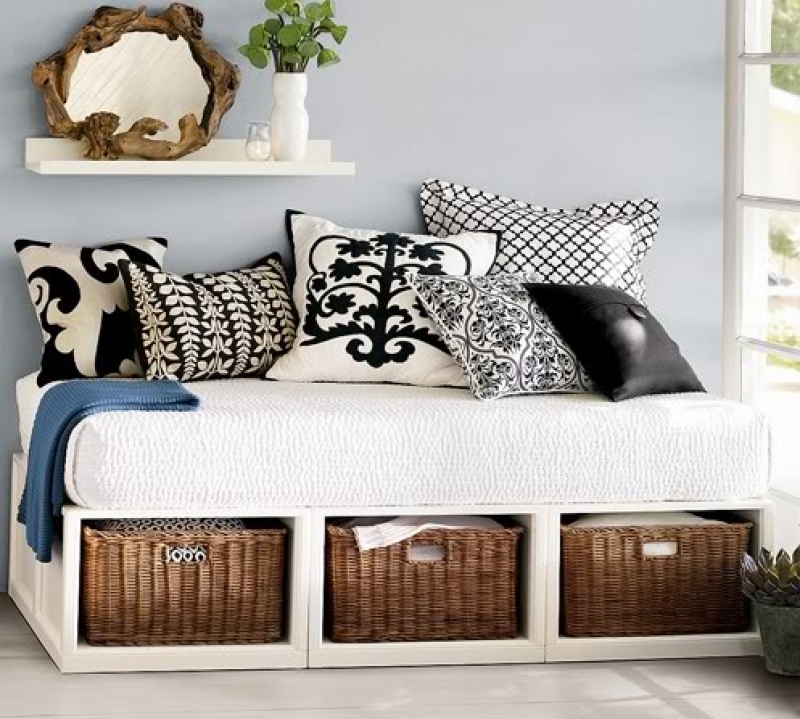 5. Wooden Crates Stack Up
Wooden crates are easily available in garage sales and old grocery markets. You can give them a innovative look by stacking them vertically in two columns for more storage area. Add some mobile wheels in the bottom for easy portability. It can be considered as a portable library as well as it provides a huge room to store books.  Perfectly made to match the requirements of an accessory heavy closet, the closet organizers engaged here will take care of your shoes and allow you to have some breathing room.  Arranging and getting books inside is very easy; you can slide out a crate and take out any book of your choice.
6. Old Chest in to a Comfortable Sofa
A beautiful wooden trunk can be reshaped in to a beautiful comfortable sofa simply by adding good quality foam seating cushions on it. With these changes this trunk offers a nice resting place as well as a huge storage space beneath it. No one can consider how much uncluttered mess is relaxing beneath a person when he is relaxing as well.  You can add it in your office too to organize those piles of files.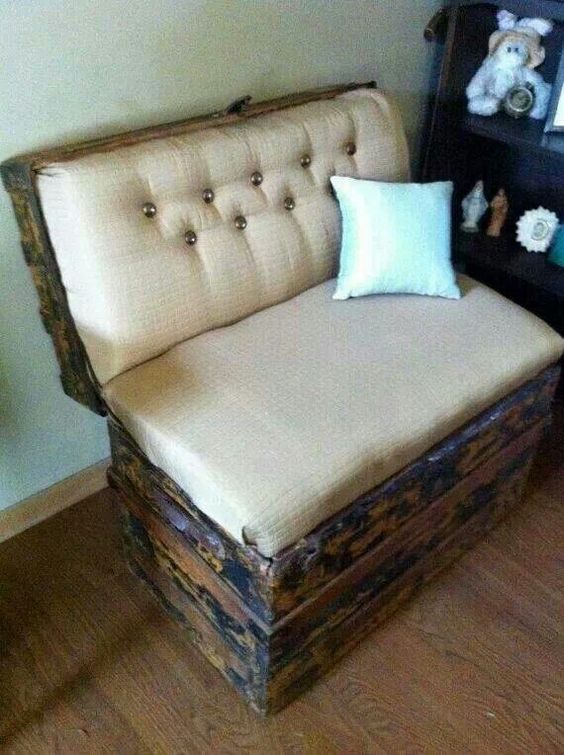 7. Turn your old basket in to a Towel stand
Every washroom needs a large space to store household. With the little bit creativity, you can add multiple storage boxes in your washroom even if you have little space. An old basket can hold large number of towels in it exquisitely. It can be hanged vertically on the washroom wall and   provides large room for storing towels and other things. You can either opt for a single big basket or use multiple small baskets and mount them to give a spacious look to your washroom.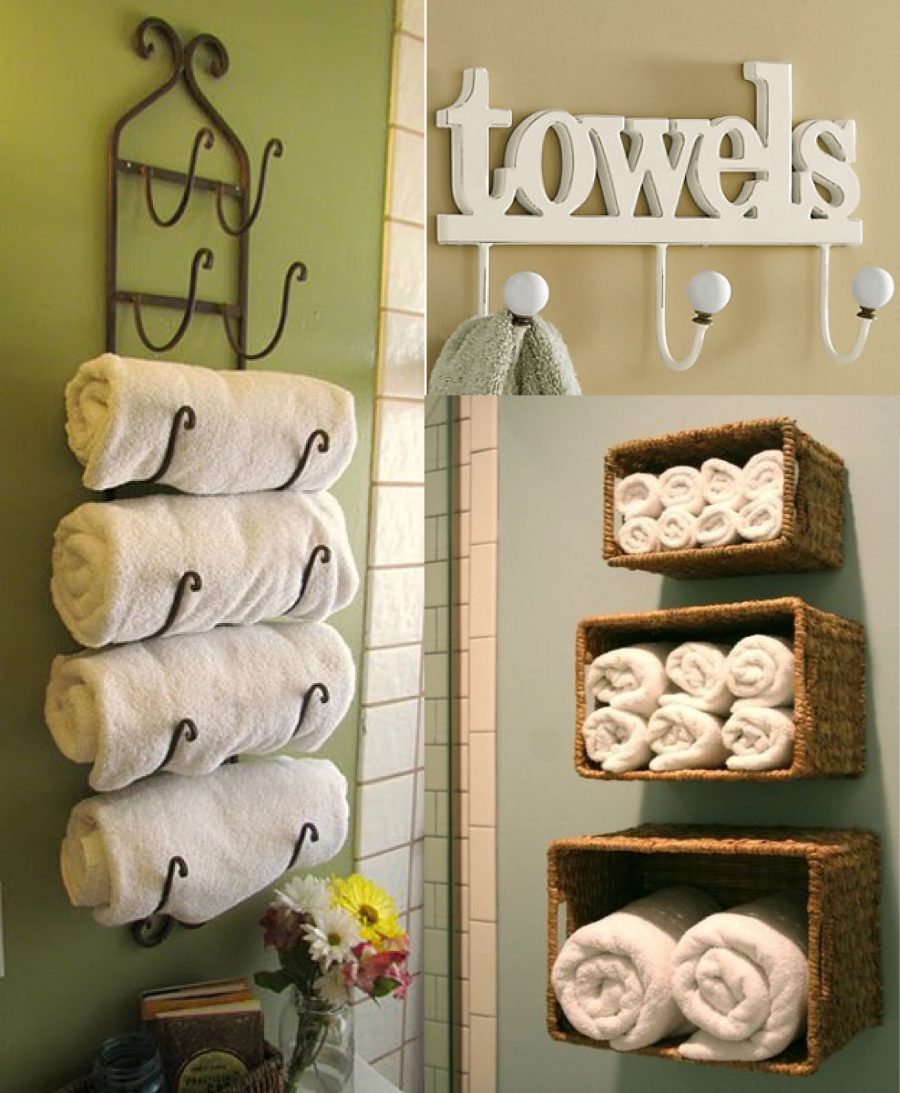 8. New towel stand
Any storage solution to multitask bathroom accessories are welcome. This mounted half chair does storage double duty. The hooks at the bottom are perfect to hang towels and robe whereas the shelf above can be used to store toiletries. Due to slimness of the chair, it can be mounted in washroom wall to provide an easy storage option. It gives the stylish yet functional all in one solution.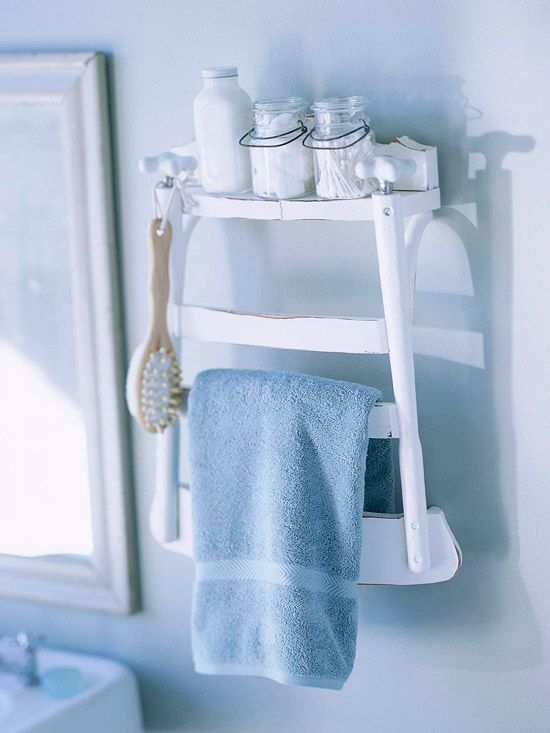 9. Colorful Vintage Kitchen Storage
Antique armoire is a treasure and can be reused in beautiful ways to increase their lifeline. This armoire gives huge space for kitchen spices box and other jars and also provides two draw boxes to store many things as well as gives an antique appeal too. You can place picture frames as well to keep remember the old ones you inherit the armoire from. It provides enormous place to showcase all type of utensils, display small potted plants or stock necessary supplies.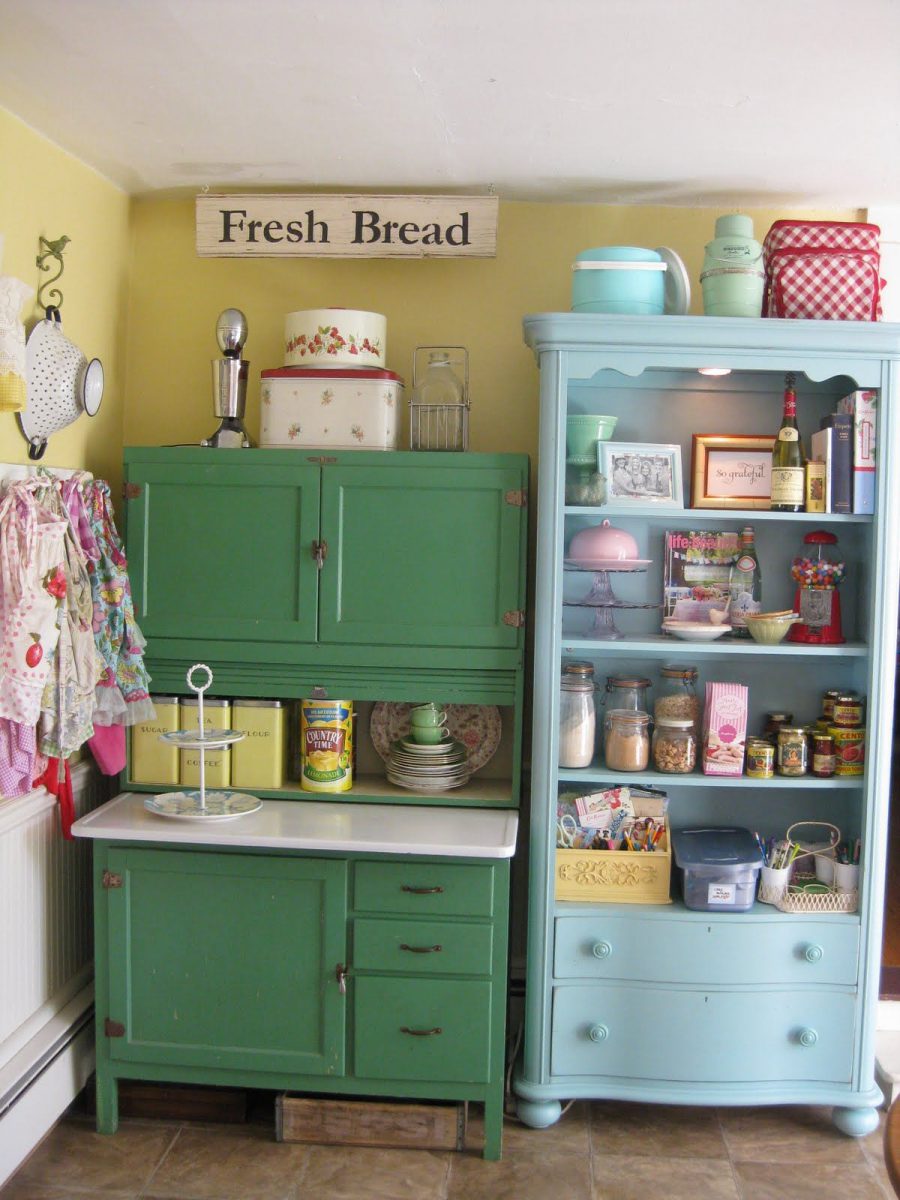 10. Old Wooden Crate Spice Rack
Storage space is a commodity in the house but it always seems inadequate in kitchen no matter how many shelves and drawers are there. It is always difficult to keep kitchen neat and organized.  But the main trick is to how to arrange it in a modern and attractive way which is still practical. You can use an old crate for this purpose to organize spices bottles symmetrically in your kitchen.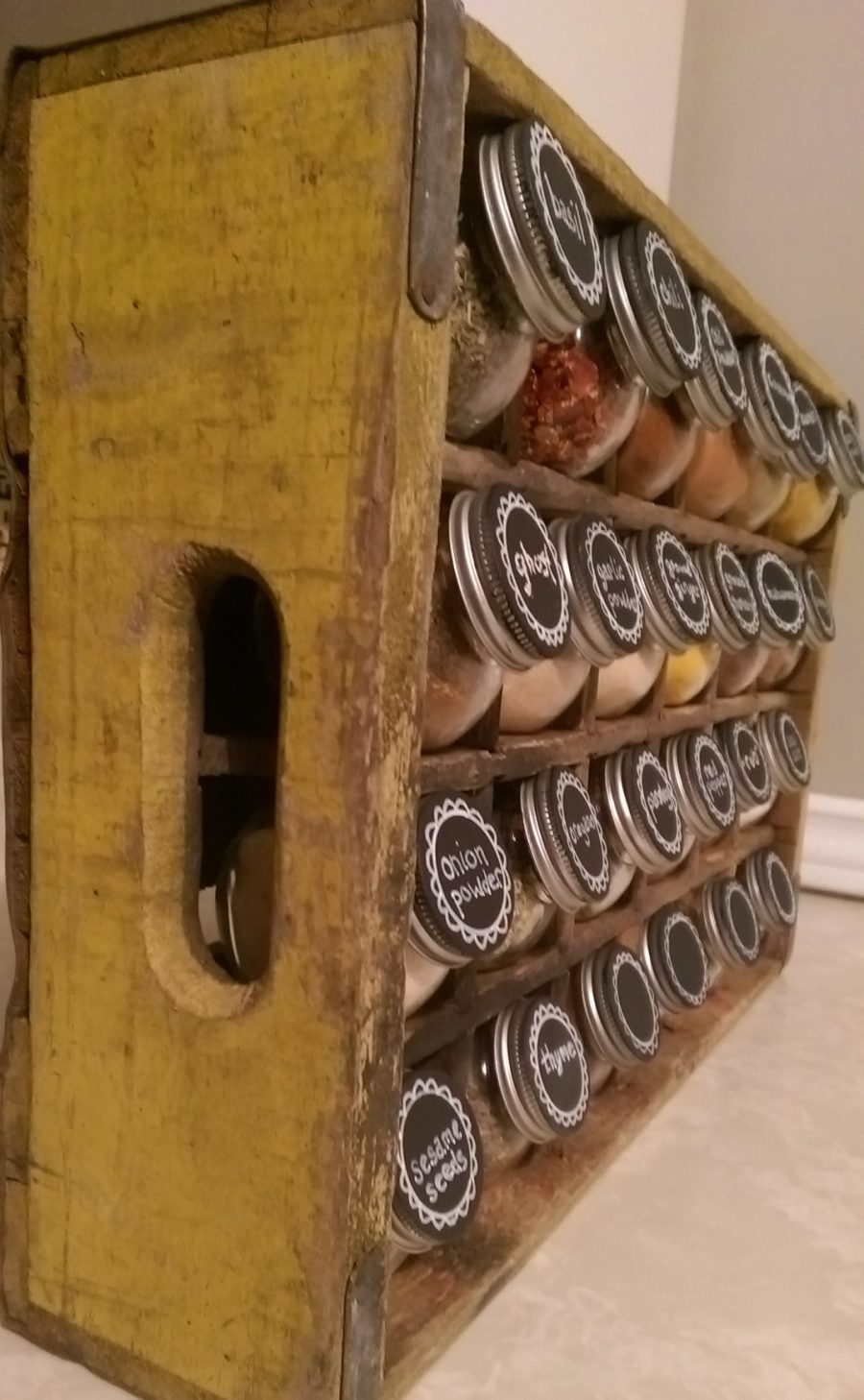 11. Revamp Washroom Cabinet
Even a grand washroom lack space for storing things. With few modifications, you can add lot of storage space in your washroom by altering your vintage dressing tables in to main washing basin stand. The standing draws provides plenty of space to store things. Storing things in deep drawers are much more useful than ones with the doors. The open racks are useful to place handy things like towels. It gives bit modern and classic look altogether. They are not only limited to your washroom space but it can be placed in your garden and enhance the French subtle look.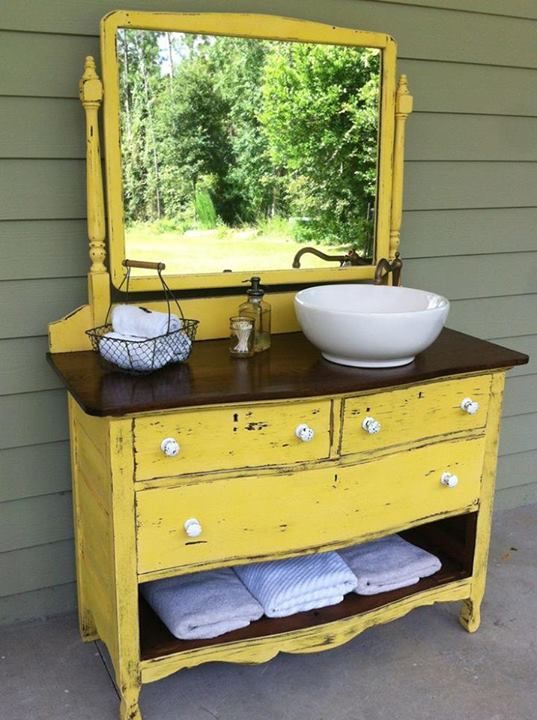 12. Storage for Quilts and Pillows
You cannot ever be too rich or have plenty of storage space- that's the truth. A comfortable pillow gives you a sound sleep. You store multiple of them for your guests. Storing pillows in a right way is the key to avoid looking them rumpled and old. Keeping them fresh and fluffy is not a difficult task if you have a smart storage system. If you do not have plenty of space even then you can find a perfect solution for the storage easily. A huge armoire serves best for this purpose. There is plenty of vertical space to stack up pillows with the additional drawers to store bed linens. But don't do the mistake of stacking up more than the limit otherwise they will come out looking old and wrinkled.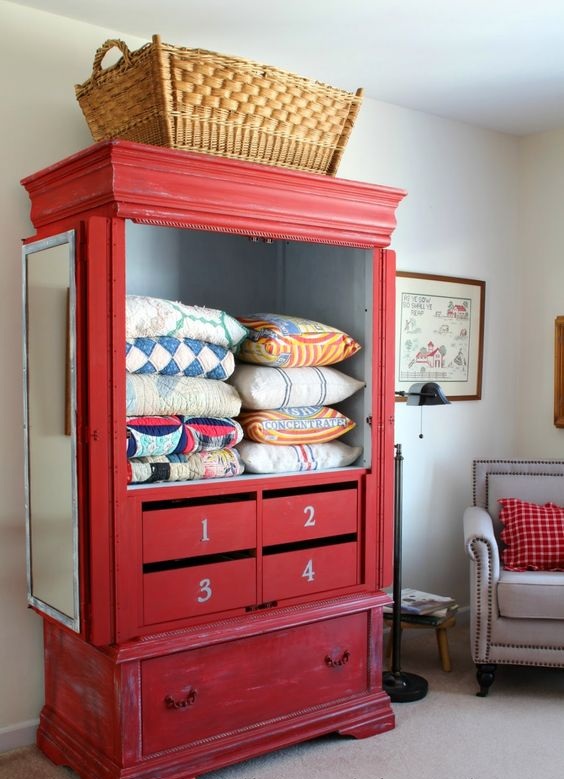 13. Turn Old Stool in to a Book Shelf
Magazines and books are good and if collecting book is your hobby then keeping them for a long time gives a hard time if you live in a small spaced apartment. Everyone needs a space to store the literature in the house and also to entertain guests as well. To avoid messy look at your place turn your old high chair in to book shelf. Add a wooden plank in the base to make room for extra books. This will holds all the unwanted clutter.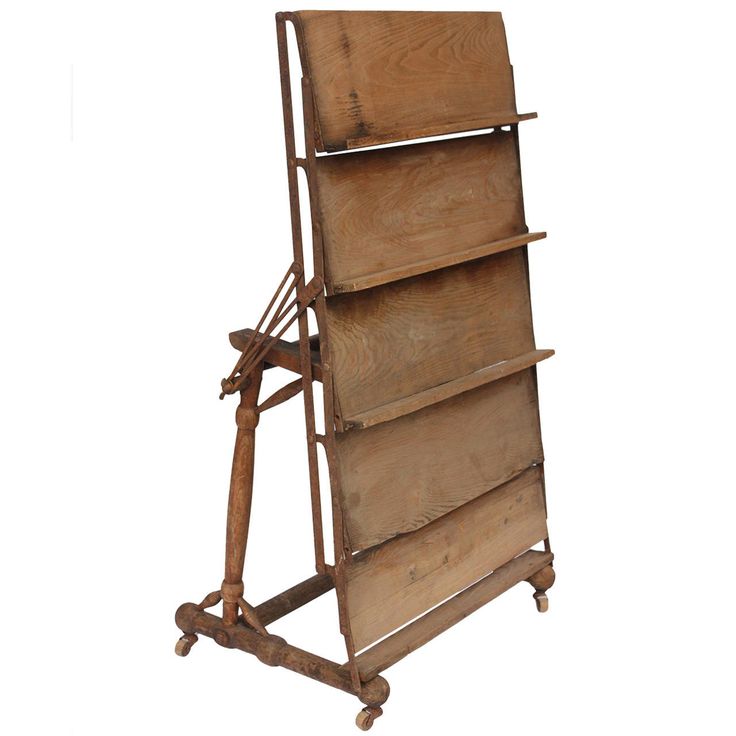 14. Antique Pen holder
Antique pieces and figures are the modern fashion in interior decorations as they mark for smart and chic home decor items. If you inherit an old brass or copper or silver piece pieces then don't throw it, they serves the best purpose to hold pens or makeup brushes and other accessories with an additional subtle look to your place. They can find place at your dressing table to study table easily and keep things neat and organized.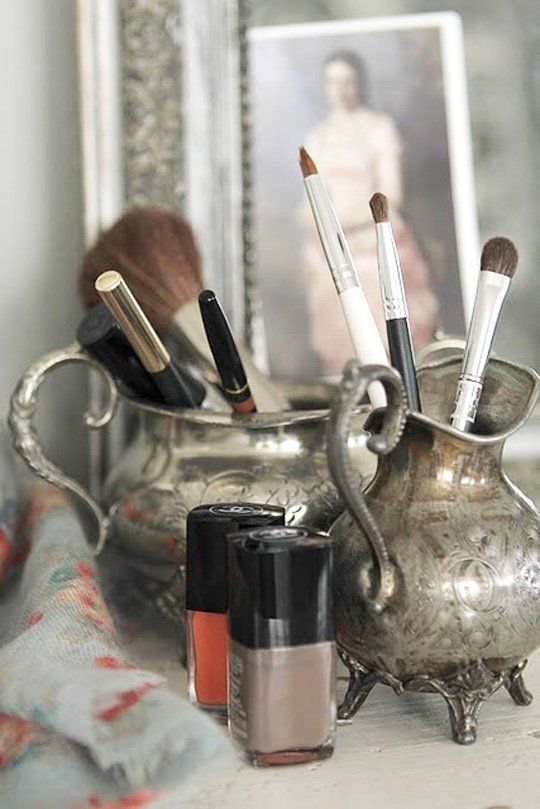 15. Storing Cushions
Some people search for an attractive place, others make the place attractive and comfortable. Add more cushions to your sitting areas to give a comfortable and cozy relaxation time. But additional cushions need a place to live when not in use. There are several storage systems that can use the most out of the restricted space you have. You can use old wooden drawers to give the classic look yet providing beautiful and crisp cushions in time.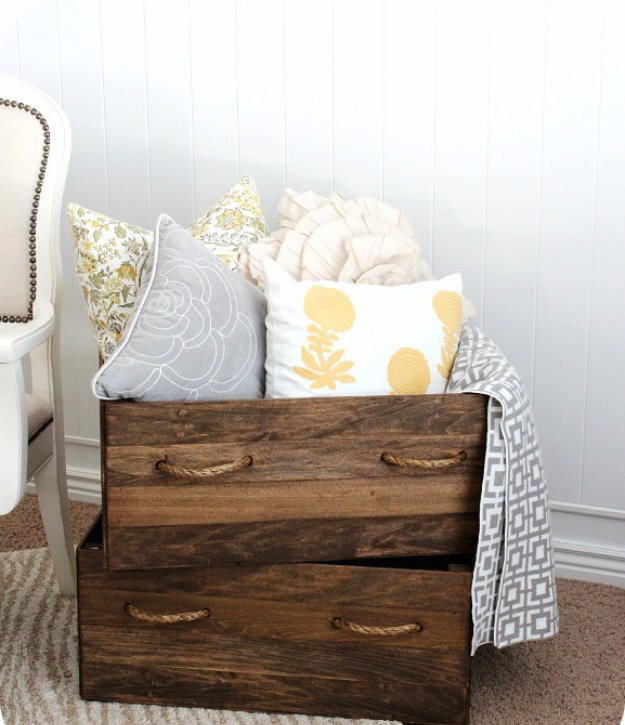 16. Redesign Your Old Bed Frame
The storage solutions require to be thoughtful and diverse if you are going to make a space that holds all of your home's storage needs i.e. most of it in the kitchen. Keep in mind your kitchen space carefully when planning your cupboards overhaul, and ensure that you have the accurate closet organizer solutions. Practice your imagination to generate a picture-perfect home decor. Spice up the look with some vintage pieces in the kitchen.
If you have less counter space, then it is efficient to use available wall space. Add a classic look to your kitchen by adding this vintage piece as a cup holder. Use your old bed crown for this purpose. Mount it in the wall and add as much hooks as you can to hang all tea sets easily. The hooks give easy access to everyone. The lower shelf gives utility to decorate more things on it. They will look beautiful as well as give easy access.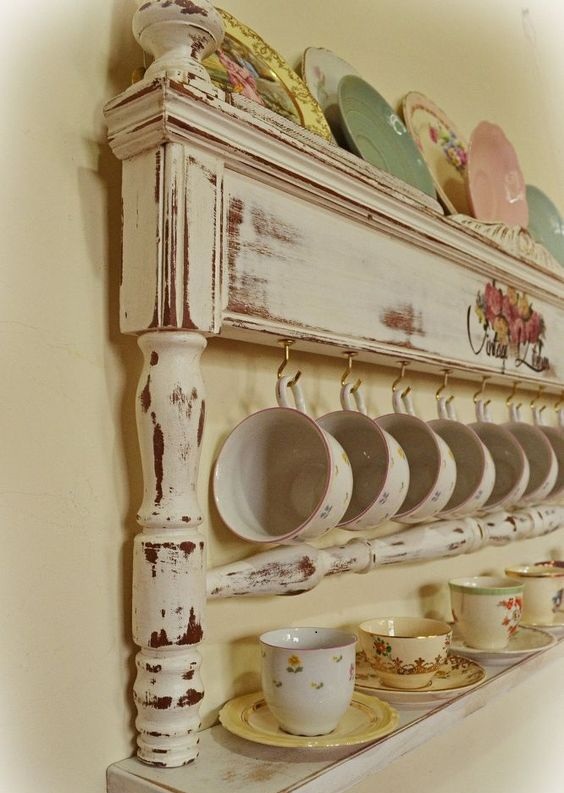 17.  Shelf
There are loads of things required in the kitchen, it make sense to want the size to be as large as possible. This is the real challenge and it is real and the hunt for the picture-perfect blend of open shelves, closed cabinets and functional design is extensive and mind-numbing.
When you don't have much floor space then it is always convenient to use vertical space. An old metal rack gets new life in the kitchen with a plenty room for all kitchen utensils, spice bottles and loads more stuff. You will have plenty of room for new stuff as well. The wheels on the bottom provide easy portability.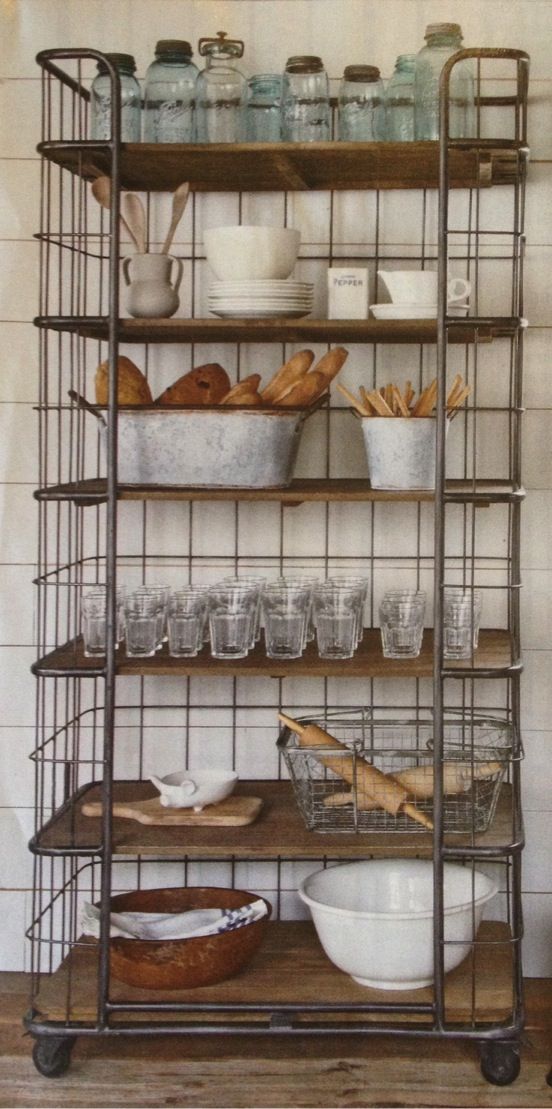 18. Turn your suitcase into a bar
Storage box has the potential to be much more than just a box to stock your stuff. With few thoughts a classic suitcase can be turn into an open bar where all the glasses and bottles are at easy access and gives a different look.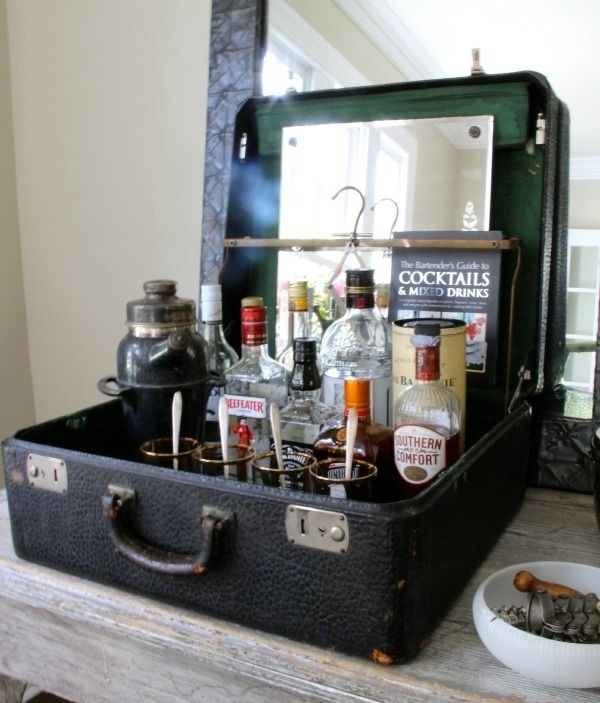 19. Craft Lover
Once you jump into sewing, you understand how fast your sewing supplies grows! Proper organization of these sewing accessories keep you more motivated. Scavenger hunts are only fun when you have time and a nice award at the end not a sewing accessory you should have found effortlessly anywhere And if it is well organized then one can realize instantly then it takes very much less time to sew It's amazing how much less time it takes to sew when you don't have to search around for your scissors and needles. You can conceal a cute luggage for this purpose. When you are done with the work, you can close the lid and place you favorite decoration pieces on it to make it part of your room decor.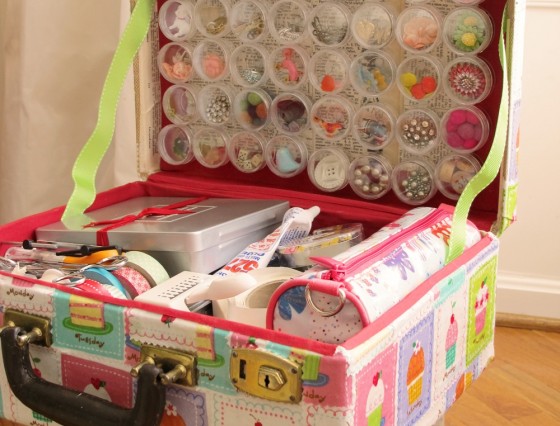 20. Cups to Storage Item
You can use old cups to store things anywhere in your house. Simply use the vertical space and mount them in the wall to store handkerchiefs in kitchen and remotes and other important things in other rooms. It will leaves you counter top clutter free. You can arrange them in any pattern. Usually clothes can be store easily in horizontal things; use the vertical ones for indoor plants.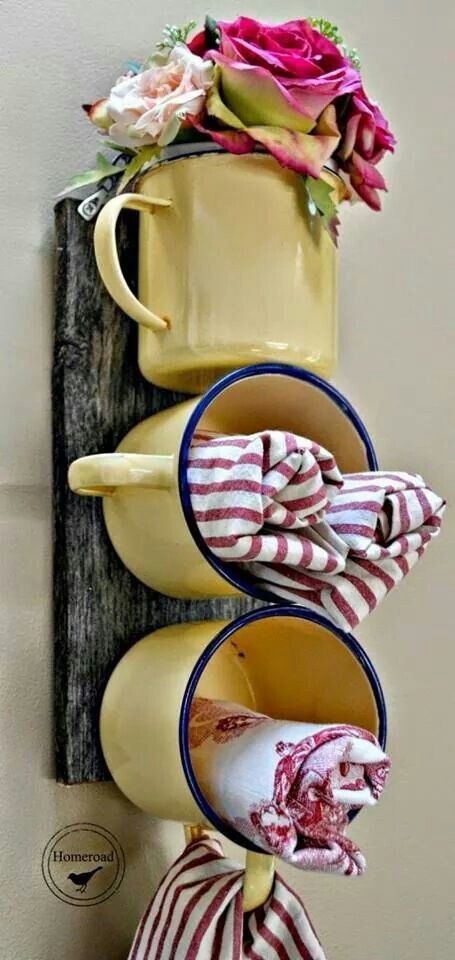 21.  Little shelf
An old small luggage case can easily find its place to be mount as a shelf for storing things in washroom or anywhere in your room to enhance vertical storage space. Simply mount it on the wall and ready to use. You can further mount multiple hooks beneath to hang further mostly used things like towels and robes or key chains etc.
22. Old Luggage Table
When you have a graceful luggage piece then don't dump it. Renovate it into a table which will add elegance and nimble look to your room.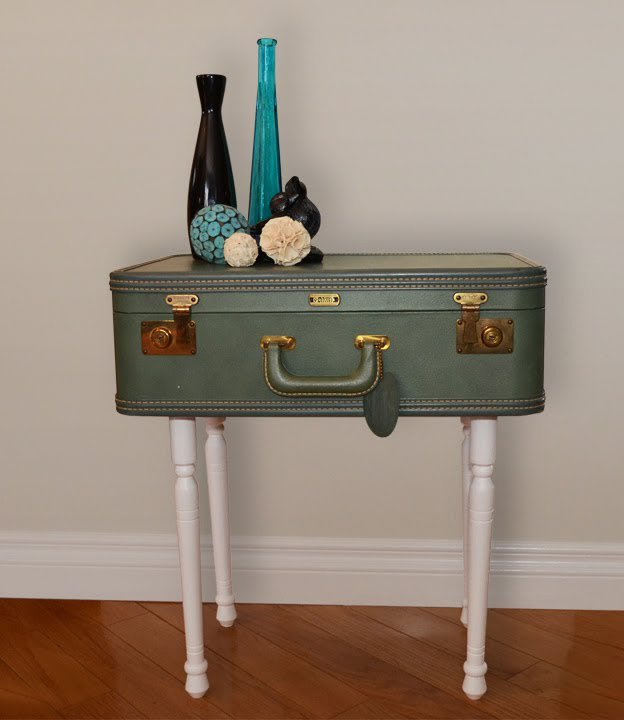 23. Wooden Crate
Crates are easy to handle for storing things. There huge surface area provides a room for various multi-sized things. They can be easily placed anywhere.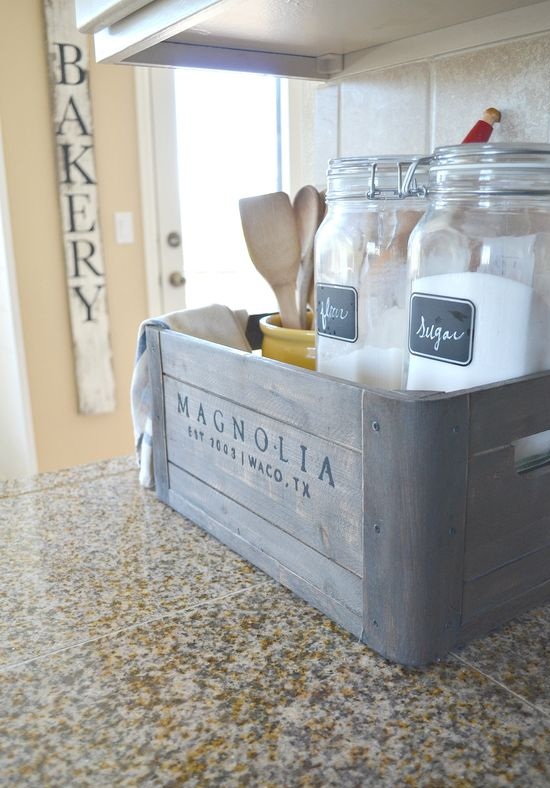 24. Farm house Kitchen essential
This is true that more the space you have in kitchen; more the things you will get.  Add small sized but heighted things for storage in shelves to give a beautiful look. This beautiful 3-tier tray is a beautiful farm house kitchen essential or it can find its place in any room. You can make this look by spray painting shapely candlesticks and sticking them to old cake mold pan. It will adds rustic charm to the place.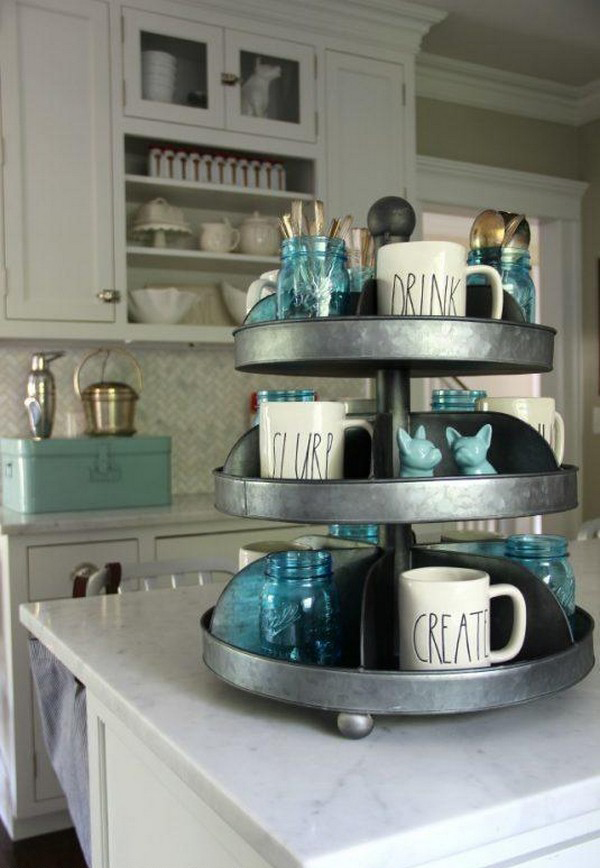 25. Firewood Shed Storage
Keeping firewood dry and ready to use is vital for food preparation and heating otherwise. Bring an old armoire for this purpose and apply a water proof and non-rustic paint on it to avoid adverse weather effects. It will provide huge room for storing woods and keeping them intact for a long time.