LED bulbs have become increasingly popular as people become more conscious of their carbon footprint because of their eco friendly benefits. They also come in many forms, the traditional round bulb, tapered bulbs, bayonet or screw in fixtures and even imitation fluorescent tubing so you can replace just abut any bulb in your house with these bulbs with no hassle. LEDs also come in strips that you can place just about anywhere and in any shape to line your ceiling or snake around inside a statement light fixture, showing off its flexibility.
36 LED Ceiling Lights That Illuminate Your Home in an Eco Friendly Way

The benefits of LED lights are ample. They have almost double the life span of any other kind of bulb so you don't have replacement your bulbs all the time, which is a problem that is particularly prevalent in rooms with high ceilings whose fixtures are hard to reach in order to replace. They are also incredibly energy efficient and can produce the same light quality of light that a 40 watt incandescent bulb can with a mere 6 watt bulb to alleviate the pressure on your electrical bill. In an interesting juxtaposition LEDs are very bright, which mean you can get away with fewer lights or, if they're high up, their light has no problem reaching you at floor level, producing 10 times the amount of lumens than their counterparts, but they radiate very little heat so they have no fire risk when combined with flammable materials.
So if you want to light your home with unique fixtures while saving money and helping the planet here are:
1. Glittering Lighted Art Piece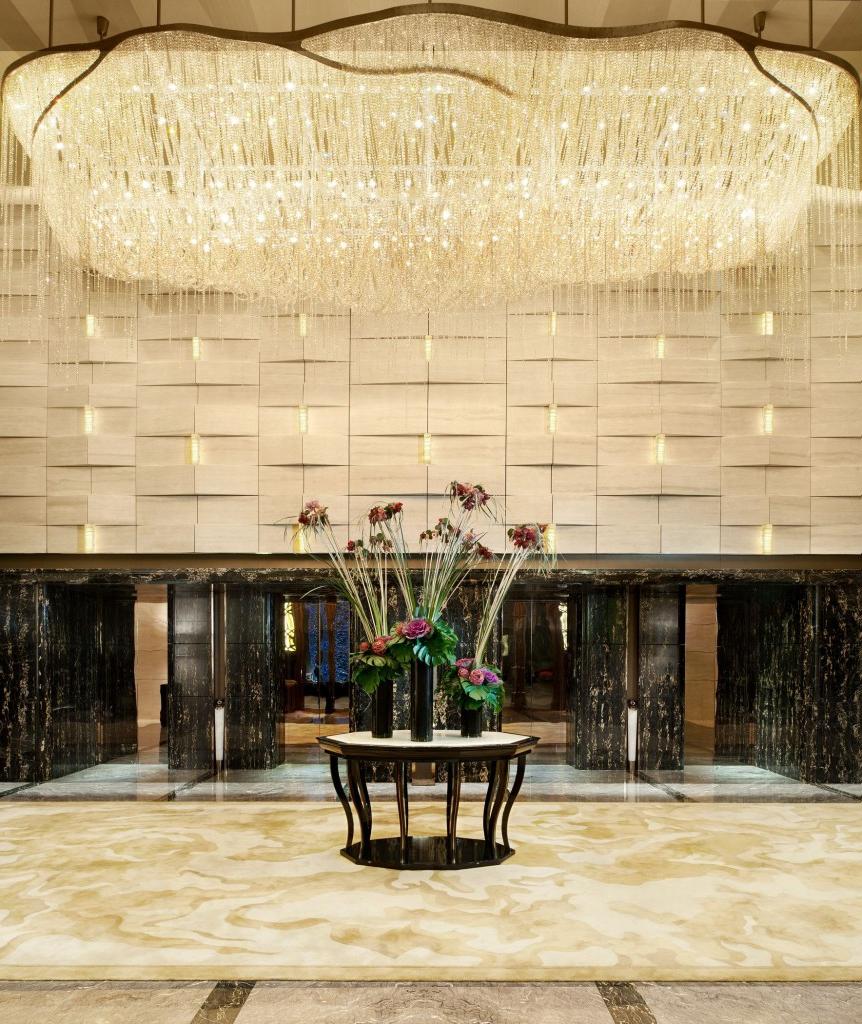 This dramatic mass of light ensures that this space has visual impact right as you enter this luxurious setting. A net of hanging LED lights have been combined with suspended strings of little beads that reflect the light and result in this soft glowing mass of light. Stylized black branches to keep the glow contained encircle this whole feature. Slim LED lights also used in the three dimensional wall paneling behind it in thin strips between the panels.
2. Swirl of Light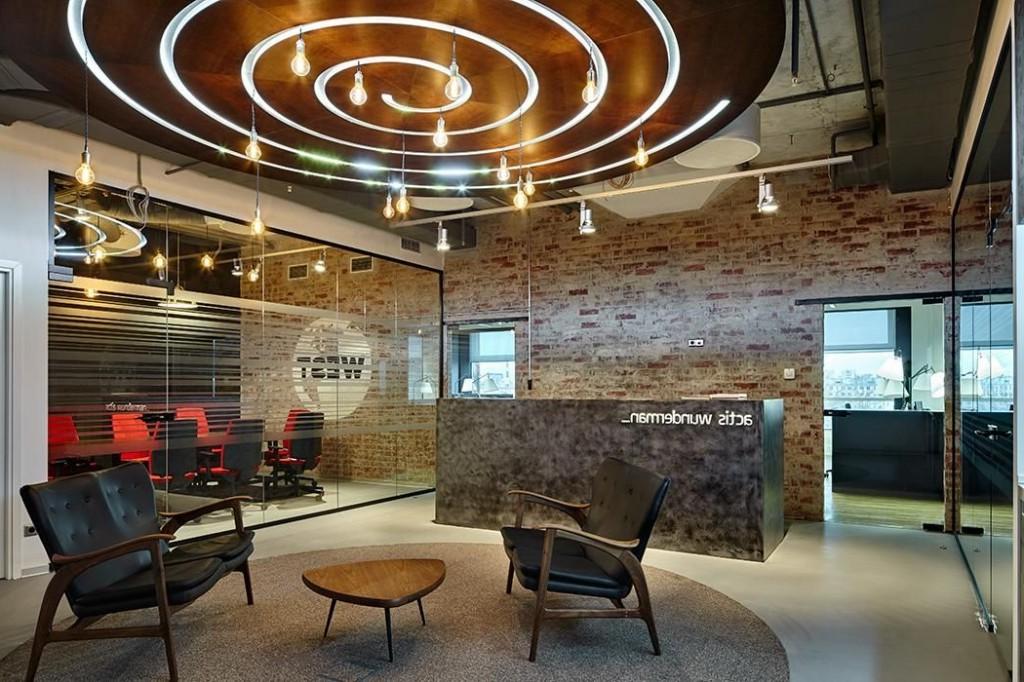 This contemporary reception area features a piece of stunning ceiling décor that also serves as a unique light fixture. Strips of LEDs allow you to achieve this stunning swirl of light set within the darkness of the polished wood. Hanging LED bulbs in the traditional shape that are hung at different heights around the swirl augments the swirling light. This is the ideal dramatic light fixture to finish off this highly designed office from floor to ceiling.
3. Different Lights in Open Plan Space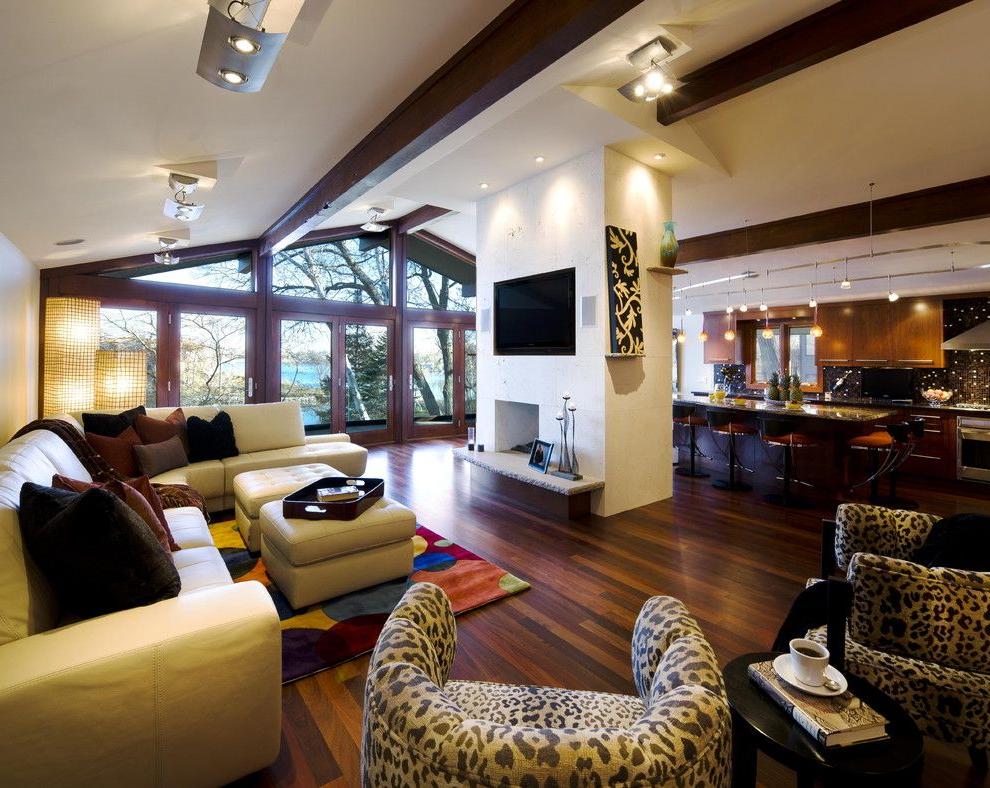 This large open plan space has divided itself visually into parts by using totally different lighting in different parts of the space and at different heights to fit within the pitched room. Tiny down lighters and silver ceiling lamps have been strategically placed in every part of the room so, even at night, the space can be lit up like daytime or a few can be switched to create mood lighting. For a set up like this you need light bulbs that are low in energy consumption and last a long time because changing them would be a long process at difficult at the tallest part of the roof, which makes LEDs perfect for the job. This is a great example of how to be extravagant with your lighting without being wasteful using the power of LEDs.
4. Dramatic Cinema Chandelier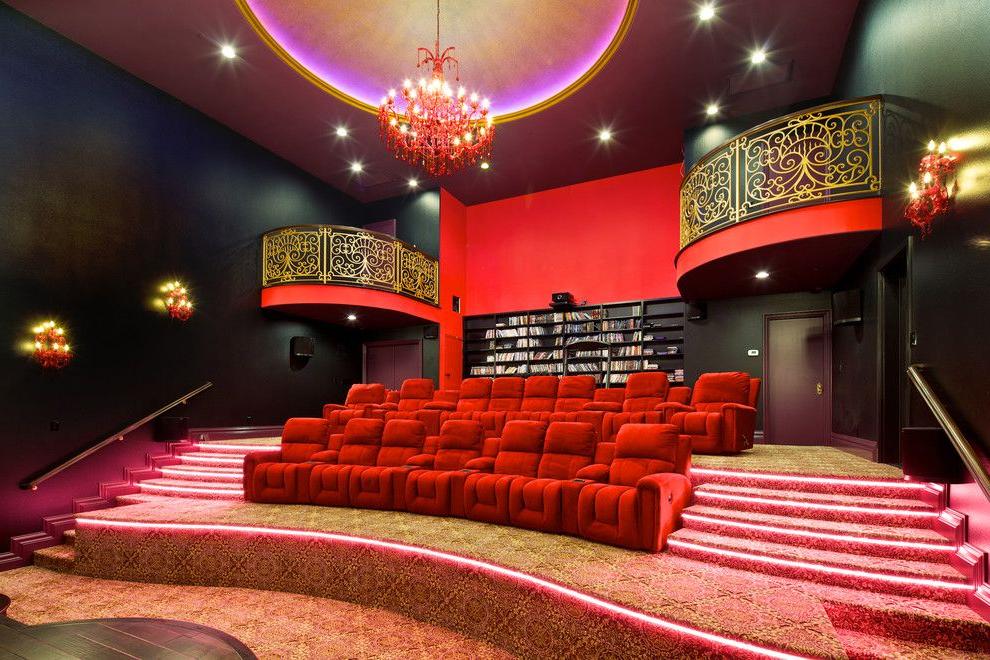 In the moments before the lights dim and the show begins this incredibly sumptuous cinema has used beautifully layered mood lighting in the dramatic chandelier overhead, mounted as wall sconces and in the ceiling above in the form of down lighters. Such a tall space needs bright light and because they're so high up and LEDs are ideal for this setting because they won't need to be replaced as often and their strong light reaches the velvet lounges without a problem.
5. Wooden Sculpture Hanging Light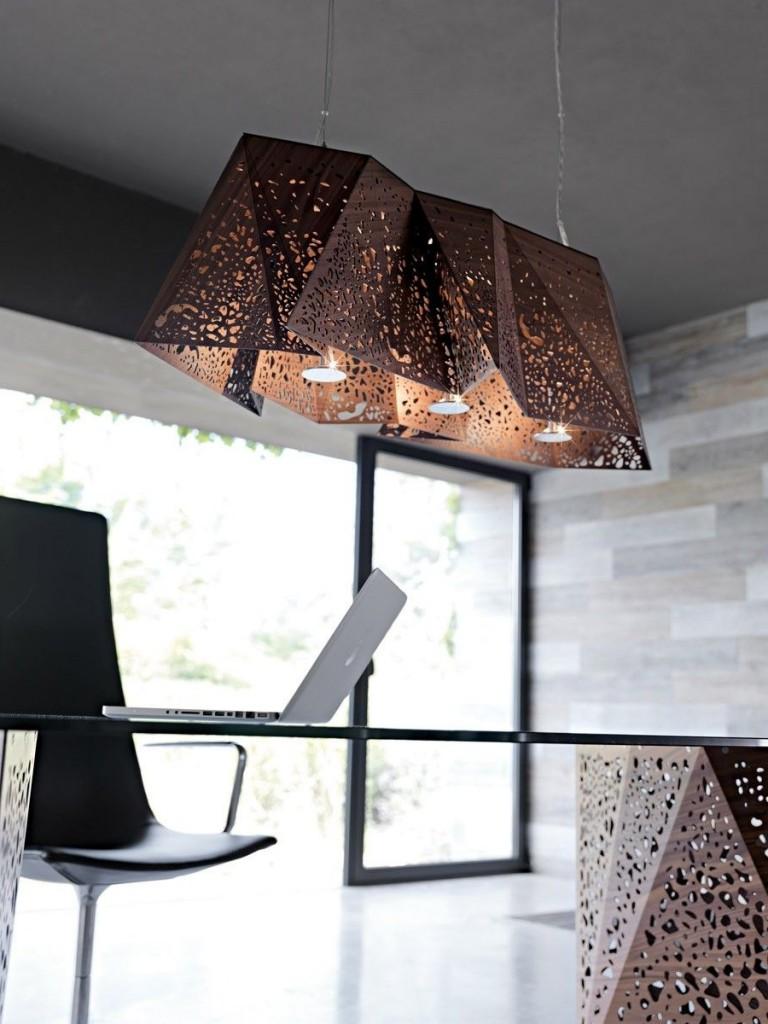 This minimal office puts all the focus on the stunning light fixture form by three hanging LED bulbs shaded by a sculptural piece that ripples around them in stiff panels of laser cut wood. This design casts both direct light onto the desk and sparkling lights shine through the holes and spill across the room. The pendant lights and desk have been designed to match with the legs of the desk constructed in the same three dimensional polygon design accented with laser cut patterns.
6. Bright Office Lighting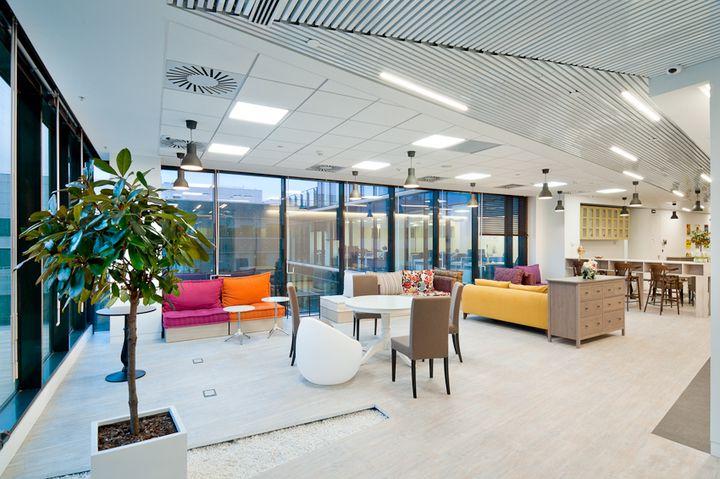 In this modern office space LED lighting has been used to imitate old school office stereotypes like the shapes of infernally buzzing fluorescent lights and upgrades it for contemporary times. Squares of light that glow rather than casting harsh light illuminate the low ceiling while strip lights that mimic the shape of fluorescent tubes accent the unusual white corrugated ceiling on many levels, even crawling up one wall. The space is also dotted with hanging LED pendant lights to finish off this bright space.
7. Innovative Hallway Lighting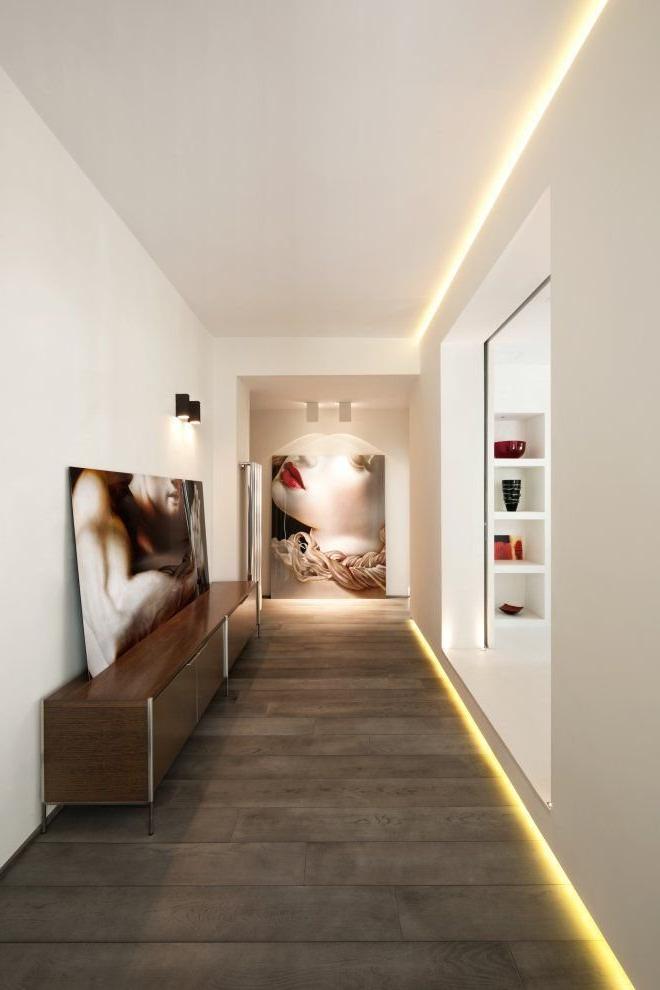 This contemporary hallway is a great example of how to make a space that can be dull and useless more interesting and stylish merely using lighting. LED strip lighting has been run in recesses at ceiling level and along the floor to create a beautiful glow leading you down the hallway. This simple lighting technique works well in this minimalistic space with white walls and ceiling contrasted against dark wooden floors.
8. Wacky Chemistry Inspired Ceiling Light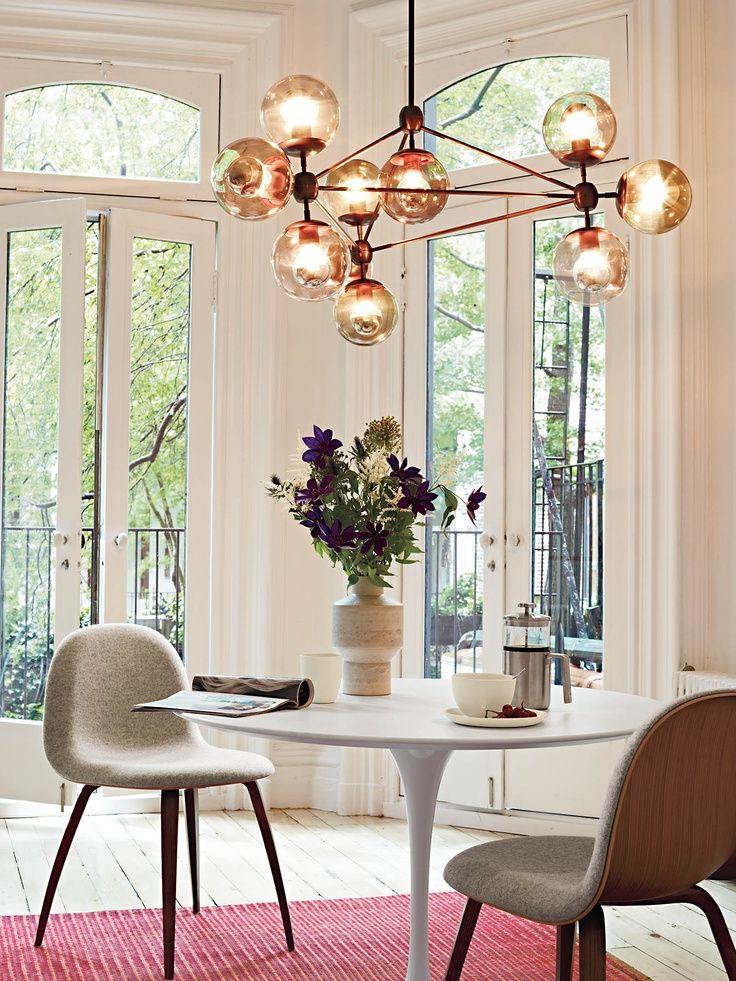 Hidden inside mottled tinted glass balls, these round LED bulbs are held within a rigid metal framework, which holds the round glass shades in clusters that resembles an organic molecule. The whole piece is really contemporary and stylish and fits into this minimal room as the main feature effortlessly.
9. Cluster of Glowing Rings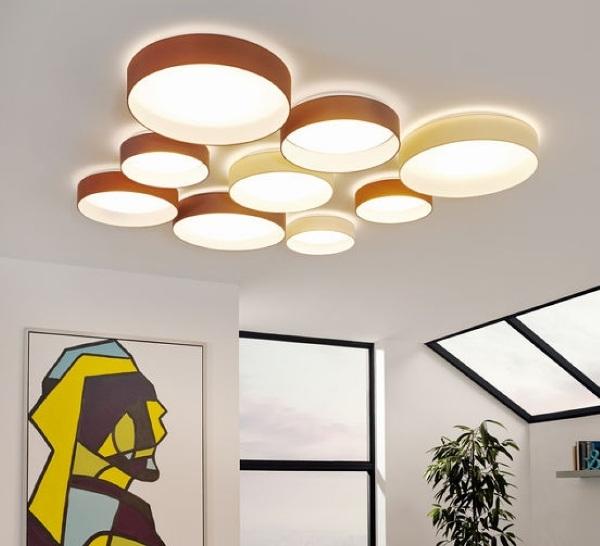 This gorgeous light fixture is formed by a collection of rings of different sizes with rims in either a bright brass or a very pale gold. These are filled with a translucent material within each ring that makes the strong LED bulbs behind them glow in an ethereal manner. This is a very futuristic look especially when paired with the modern art on the bright white walls. The light also manages to play the part of another art piece on your ceiling but with a secondary function of providing light.
10. Antler Chandelier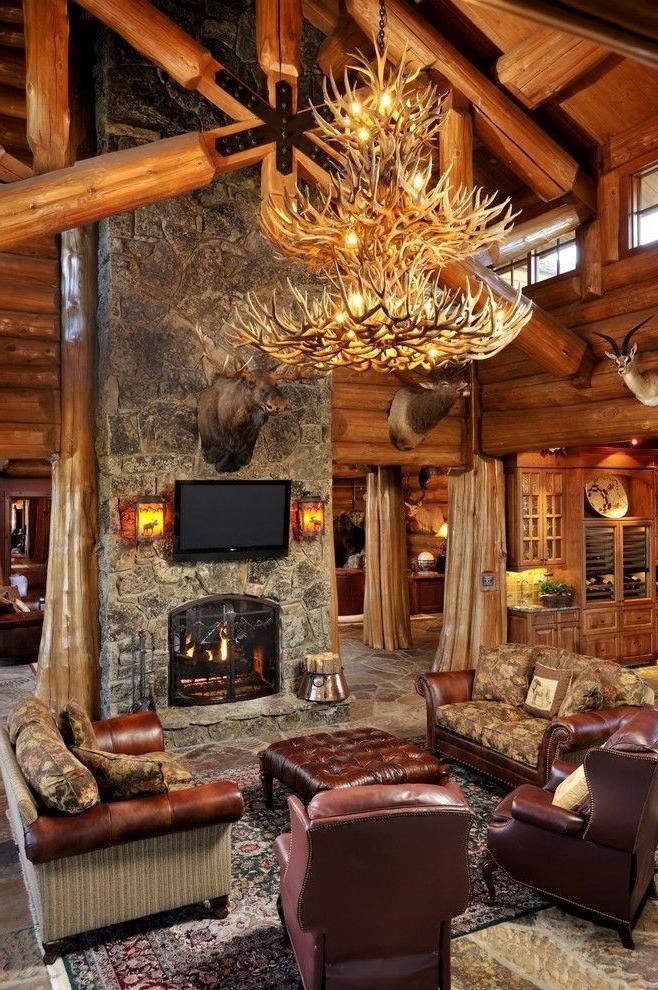 This dramatic antler chandelier is the perfect light fixture for its setting in this rural log cabin. LED bulbs work very well with fixtures that are made from natural material because they don't get hot so there is no chance of the dry antlers catching alight. The little LED bulbs dotted throughout the incredible texture of the antlers cast a calming, ambient glow that lights the space evenly even though they are placed so high up due to the strength of the bulbs.
11. Futuristic Kitchen Lighting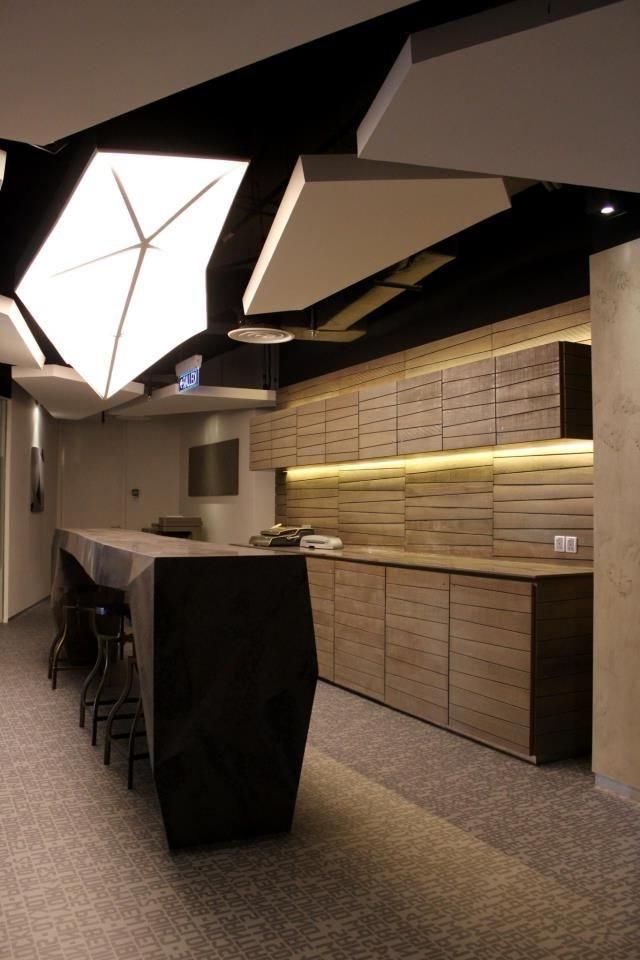 This futuristic kitchen has used LED lighting in two different locations and in two different forms to take advantage of the versatility of this lighting. Warm LED strip lights have been used on top and under the timber paneled kitchen cabinets to light your prep area, but the main feature is the ceiling lights. Suspended polygonal panels that appear to be floating in space with the true ceiling behind them painted black form the futuristic ceiling. Cooler lighting has been used over the island through LED lights mounted inside one of polygonal ceiling panels that casts a glowing light over this unusual kitchen space.
12. Staircase Strip Lights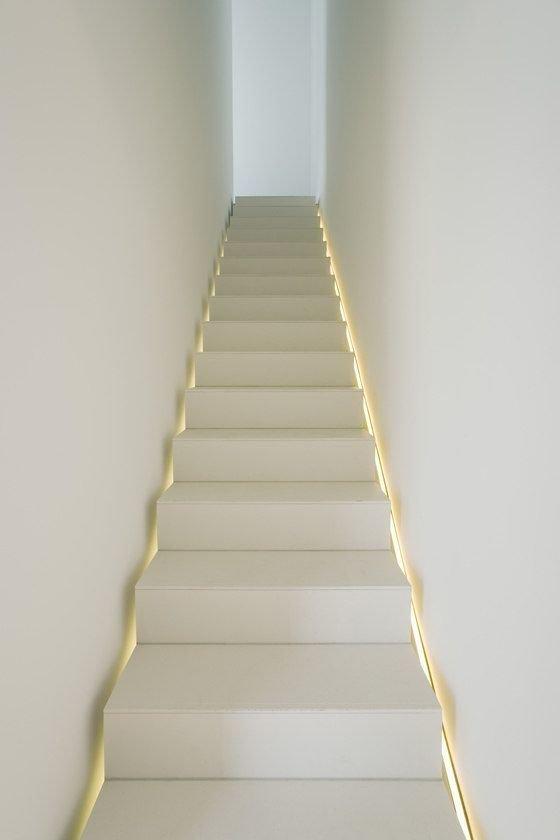 This modern, verging on futuristic staircase, has used LED strip lighting to amplify this stark space. The narrow staircase has large white treads hugged tightly by tall white walls on either side. Strips of LEDs have been run down either side of the staircase to both make the stairs appear to glow and light your way up the stairs from below rather than above.
13. Strategically Lit Glass Sculpture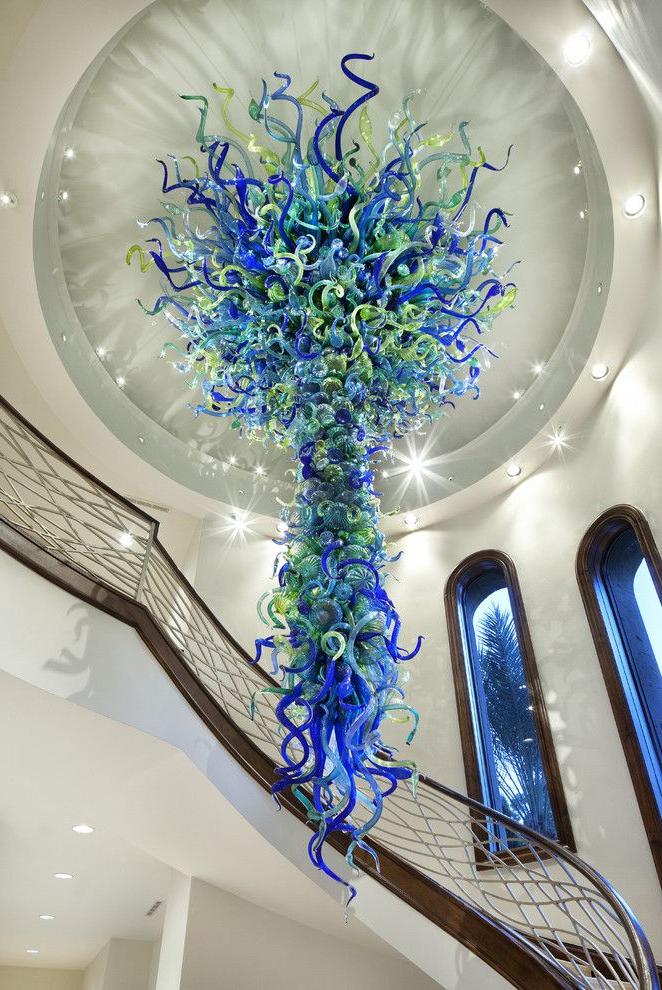 The main event of the staircase is the massive intricate glass sculpture that it winds itself around within this tall white space. The recessed ceiling has strategic LED lights built into the sides to light the sculpture, which casts light in beautiful, coloured patterns across the circular recess. Outside the ring large down lighters point down into the stairwell itself to light your way up the stairs. All of these lights are really high up so long lasting LED lights are essential to prevent having to access the bulbs to replace them regularly.
14. Kitchen Island Lighting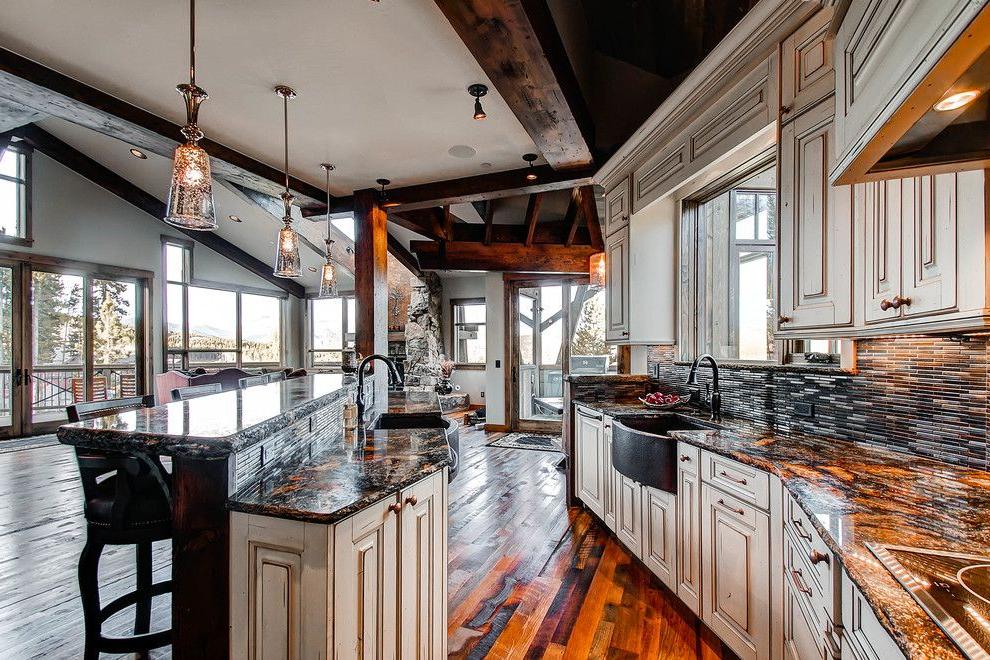 This huge open plan kitchen has used LED spotlights throughout the room in addition to the statement lighting hanging over the kitchen island. The main lighting feature is a triplet of LED pendant lights that hang over the marbled kitchen island on rigid metal fittings covered in draping glass shades. The glass has been treated to create a mottled texture that affects the way the light is emitted and casts an interesting dappled light over you while you eat.
15. Hanging Beam of Light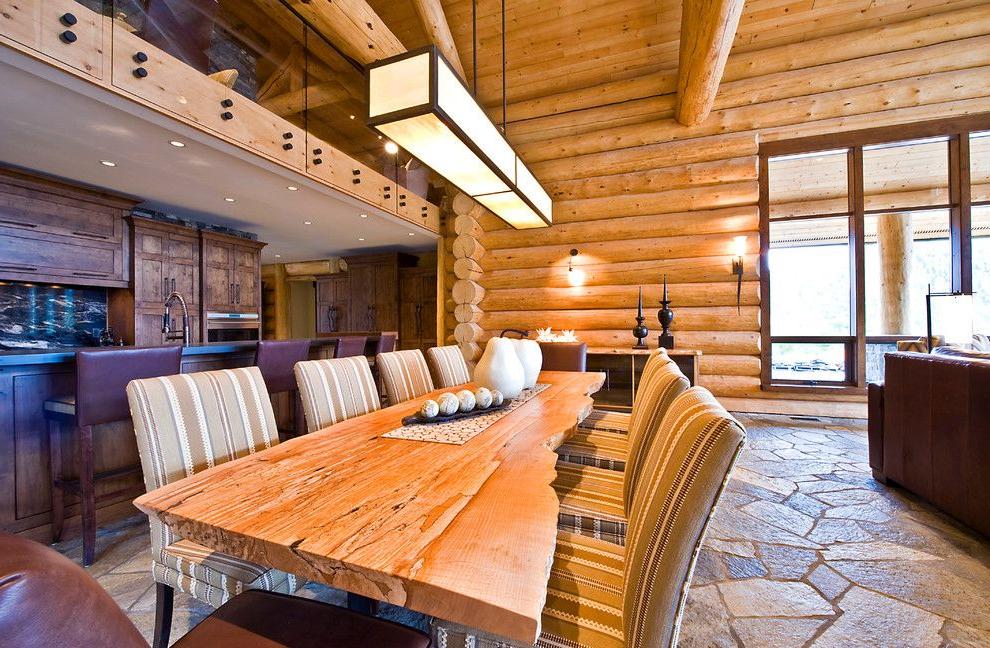 A long timber dining table sitting within a contemporary rustic log cabin is lit by a long LED light fixture that adds some modern hints to contrast the natural textures. The long rectangular prism is hung horizontally over the table from long black rods and contained in a slim line black frame of the same material. Warm LED bulbs sit within the box, which is made of a translucent material that makes the light glow and creates a homely ambiance around the family gathering space.
16. Glowing Glass Creation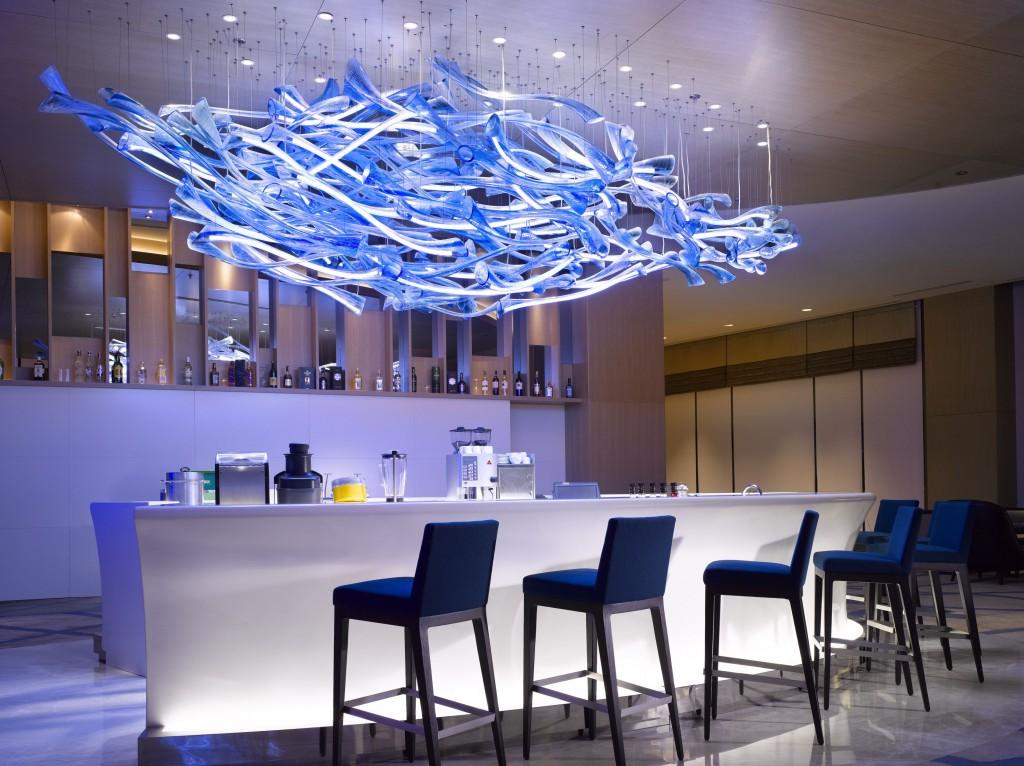 Like in example 13, light and glass have been combined to create this stunning bar décor. The twisting glass sculpture is hung by a seemingly endless series of strings with tiny little LED spotlights that are placed among the strings to light the glass. The sculpture, in turn, reflects the LEDs and bathes the space in a beautiful blue, patterned light that dances across the bar.
17. LED from Floor to Ceiling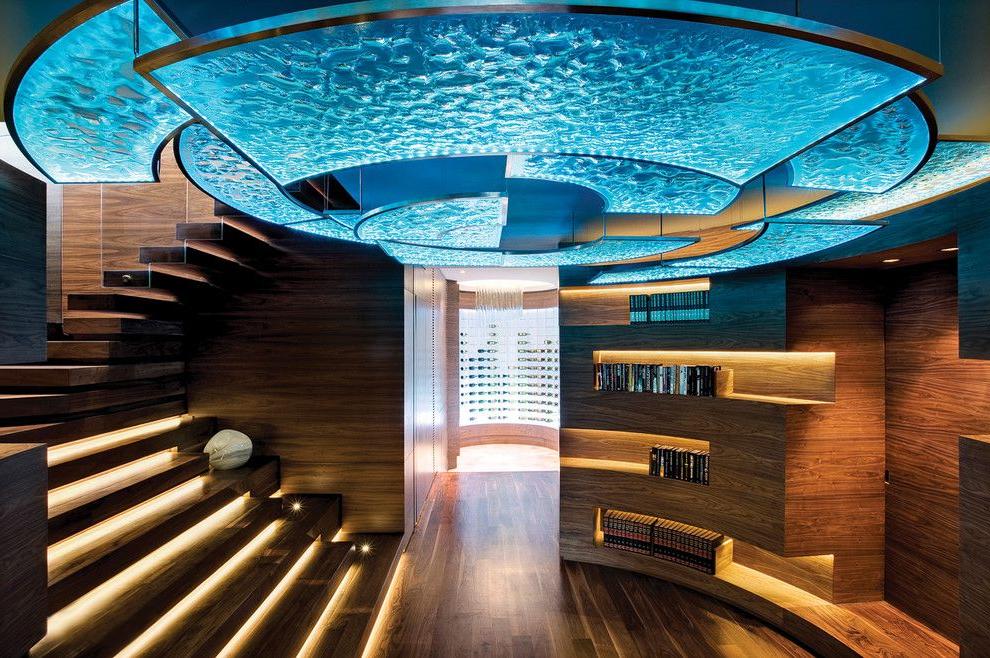 This really futuristic stair well has used LED lighting in three different applications to make this potentially dull space something special. Down lighters have been recessed into the timber cut out shelves to illuminate the bookshelves while and strip lights have been placed underneath each step to light your way up the stairs. But the main feature is the incredibly layered ceiling, which uses LED lights built within the series of hanging glass panels with the illusion of moving water flowing across the ceiling, defying gravity.
18. Floor Level Strip Lighting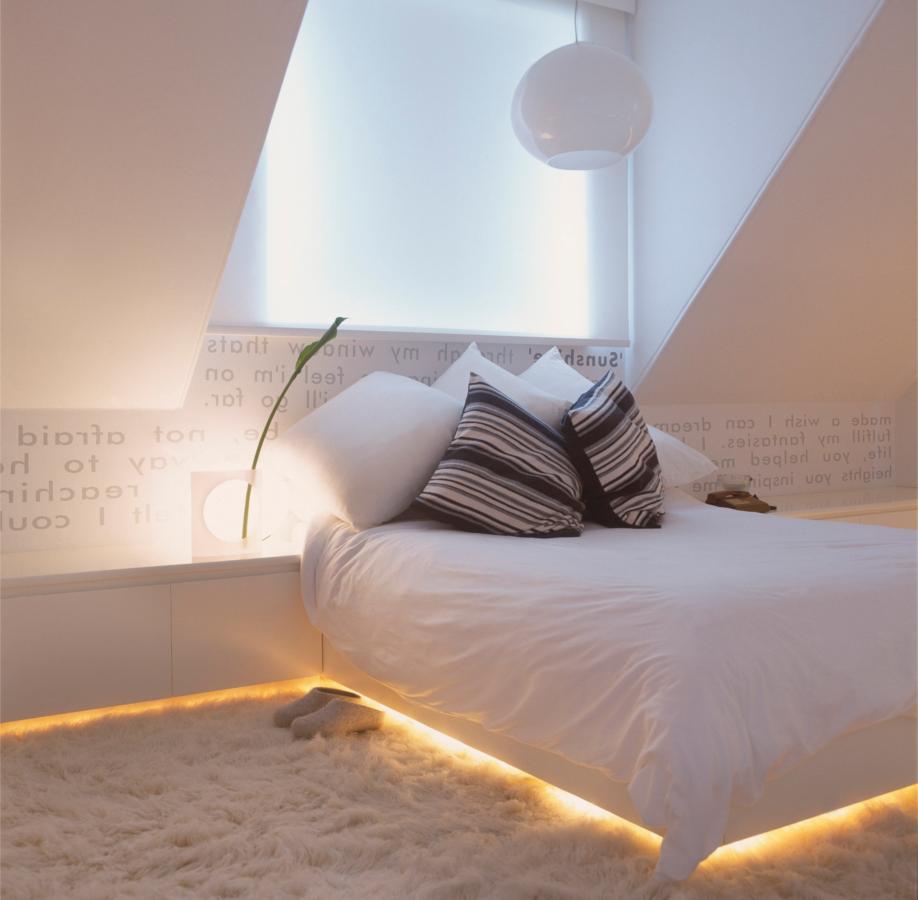 This bedroom is a simple white room with a pitched ceiling and shaded window that has a few little touches that makes it interesting. Strips of warm LED lights have been placed at floor level at run around the skirting board and around the bed, enveloping the whole room in a warm light. The light emphasizes the second feature of the room, the soft faux fur rug and makes it look even more soft and inviting. These two features upgrade this room from stark and simple to whimsical and welcoming.
19. Coloured Niche Lights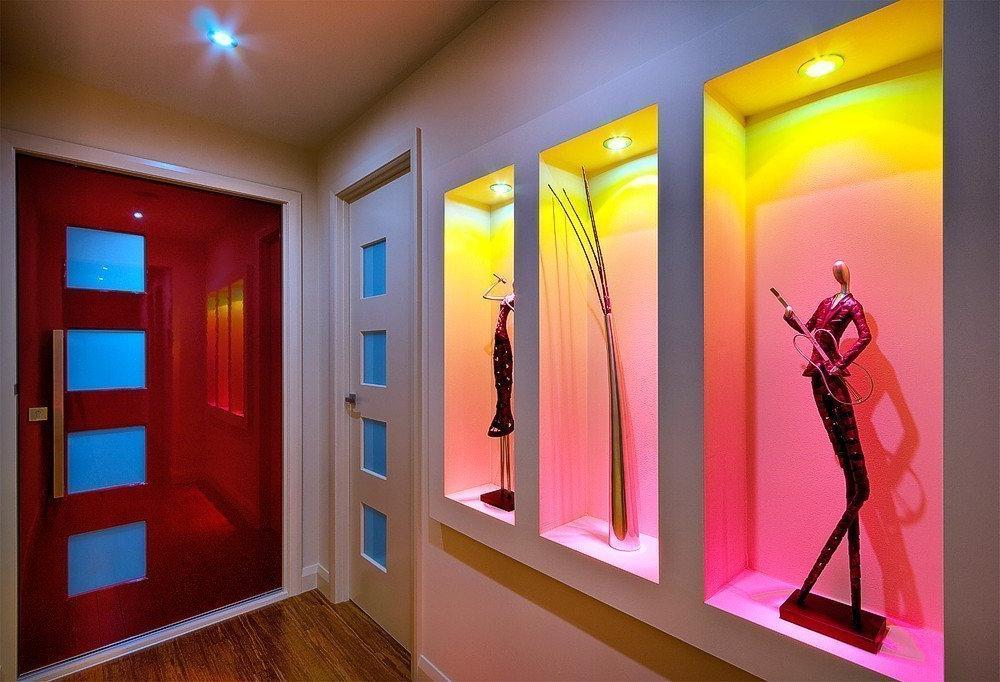 LEDs come in a lot of different colours and they are perfect for highlighting pieces of art like these. Multi coloured down lighters have been used here in three niches that hold a trio of stylized sculptures. By using a combination of different coloured lights you can achieve this trendy ombre look to create a beautiful wall feature. In the hallway itself small round down lighters in a cool tone are placed in the middle of the ceiling that light the hallway perfectly due to their strength.
20. Modern Board Room Lighting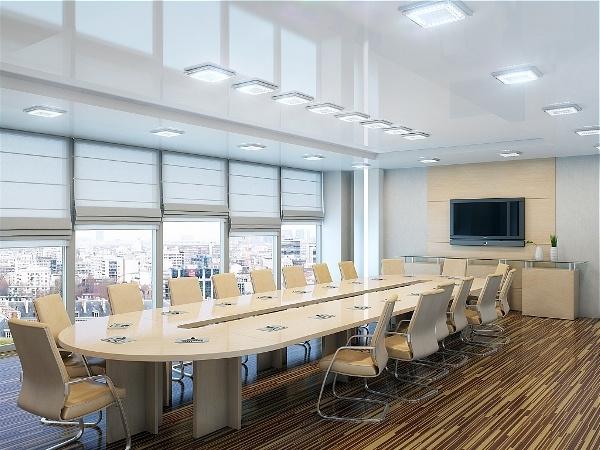 This sleek modern boardroom rendered in cream and white is lit by contemporary lighting that mimics the square lighting of old office buildings and updates it for now. The lighting is in one line running down the centre of the table with a rectangle surrounding it lighting each individual seats. Each square light is made up of an outline of little LED lights around the perimeter of a translucent material so the light is bright but glows at the same time.
21. Kitchen Prep Station Lighting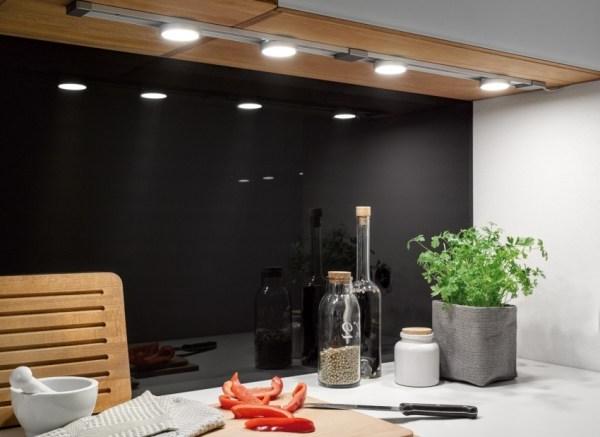 This gorgeously minimal kitchen has used innovative adaptable lighting to make your prep space well lit so you can avoid any accidents while you make dinner. The small round down lighters hang off two rails that you can slide the lights along and direct as needed. The LEDs are reflected as little discs of light in the high shine reflective surface of the wall, which adds subtley to the minimal kitchen decor.
22. Large Round Down Lighters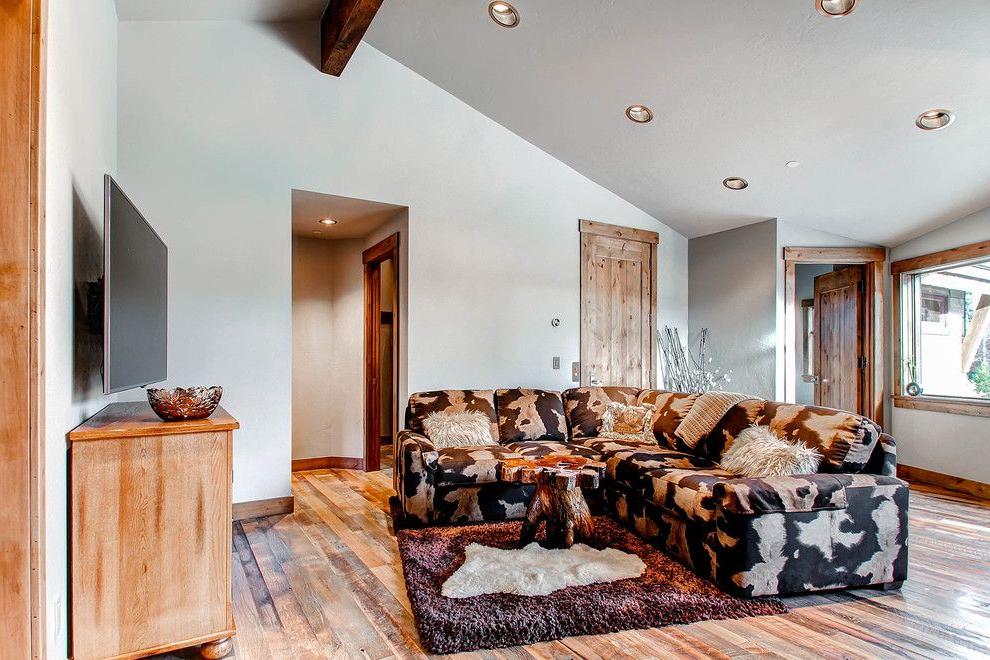 This neutral rustic lounge has a large white pitched ceiling that is fitted with large copper surrounded LED lights that break up the white expanse. The lights are lined up in even rows of lights of lights that you can angle light down into the space. Even though the pitched ceiling is tall using LEDs means the light will be just as bright no matter how high they are. They will also seldom need to be replaced so you don't need to hassle trying to reach the highest light fittings.
23. LED Kitchen Chandeliers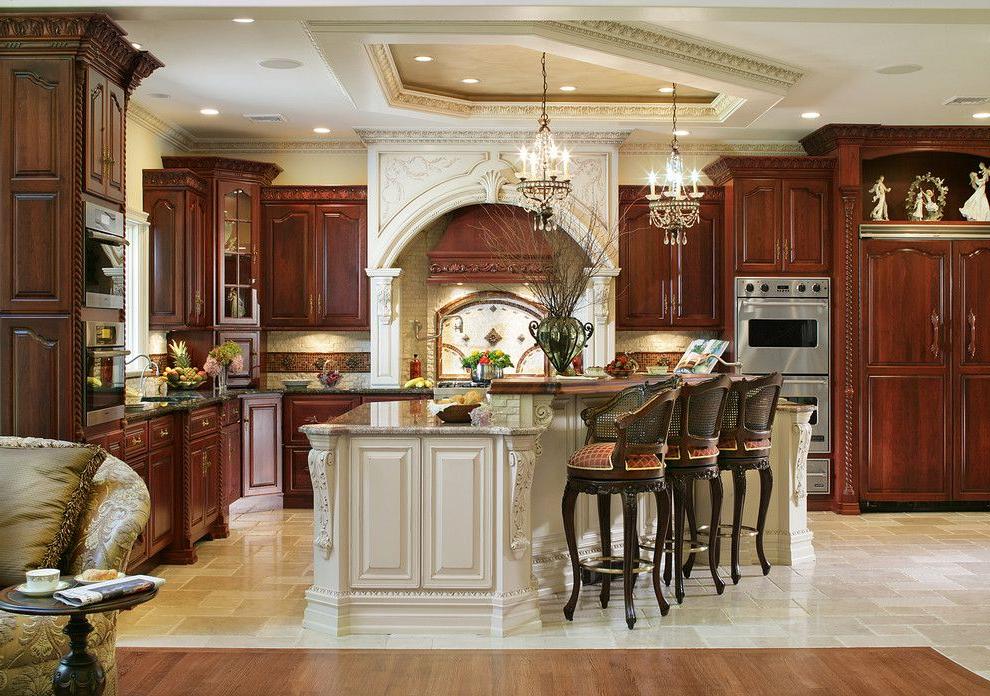 This pair of small chandeliers hanging over the kitchen island fits the ostentatious design of the kitchen perfectly. Small fake candles with little LED lights at the ends manage to emulate the real deal convincingly. These detailed crystal designs have been used in collaboration with LED down lighters in the moulded ceiling and in the cabinetry lights to illuminate the rest of the space with LEDs proving you can be over the top and eco conscious at the same time.
24. Minimal Spotlights on Rails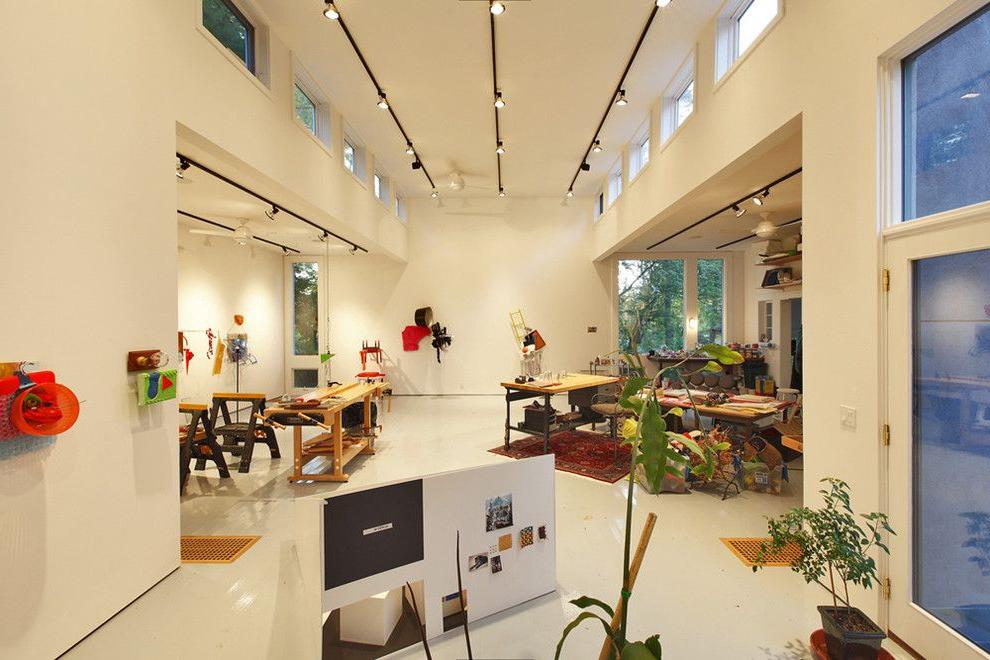 LEDs have been used throughout this two tiered space to light the main space and each smaller nook more directly in the same minimal style. To coordinate with the otherwise monochromatic space the LEDs are in the form of small down lighters hung off thin matte black rails. These rails run the length of the space with small LED spotlights casting their light down at regular intervals across the main space and in each niche on either side for a completely symmetrical look.
25. Illuminated Ball of Flowers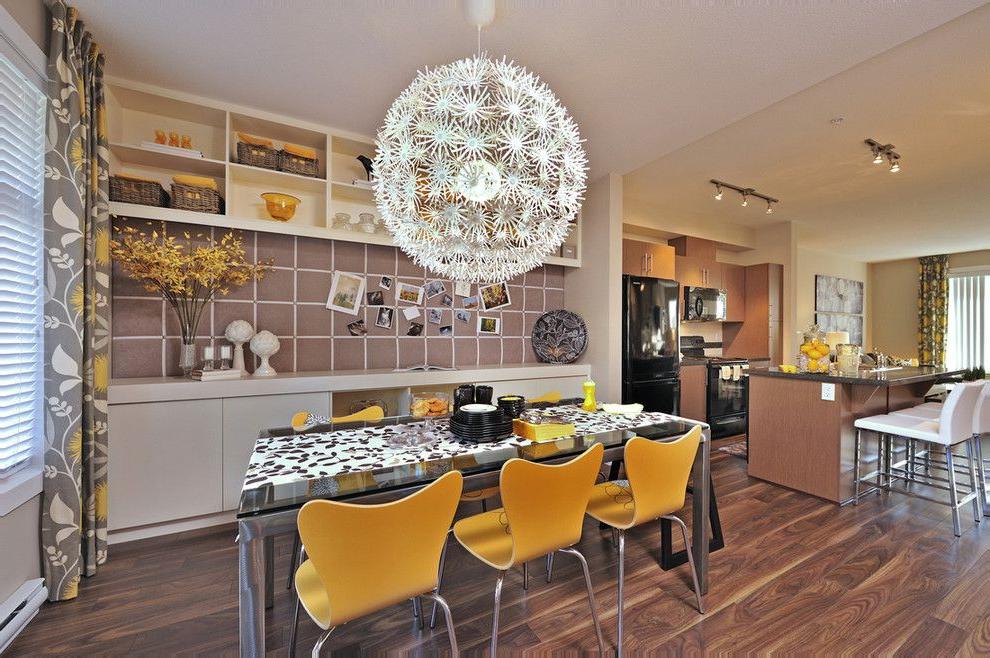 Hanging from the ceiling in an oversized orb, this LED pendant light is the cherry on top of this highly designed stylish dining room. The shade is formed by white metal flowers, which are arranged in a perfect sphere hanging over the dining room. A large circular LED bulb sits in the centre to casts beautiful patterns of light across the graphic yellow dining room and add yet another layer of texture.
26. Sparkling LED Stars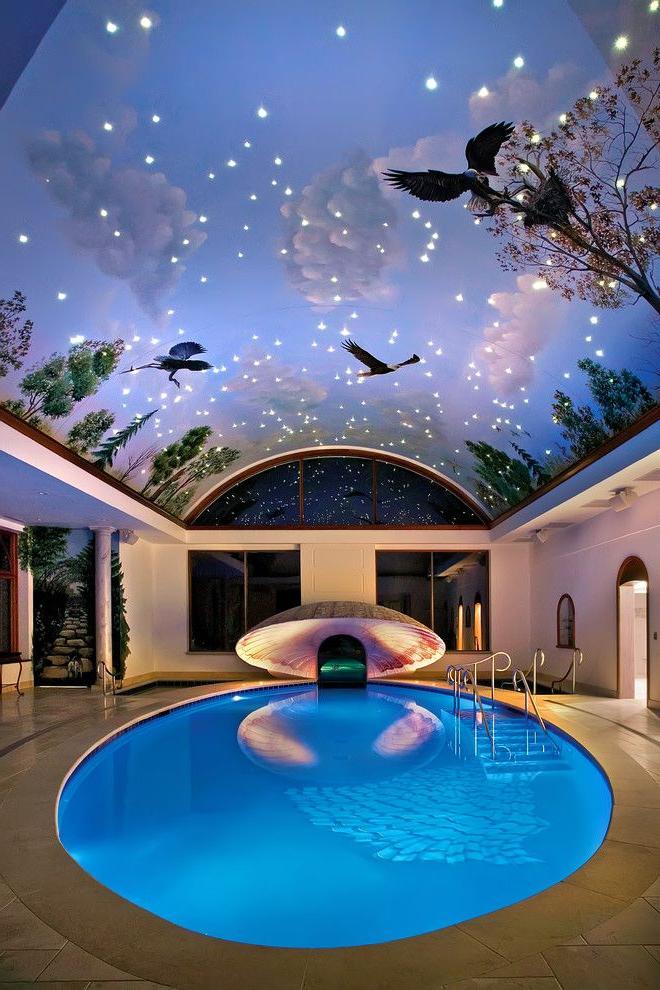 In this insanely ostentatious indoor pool with a dramatically painted vaulted ceiling little LED lights are dotted across the ceiling to imitate stars scattered across the night sky. To collaborate with the lights the vaulted ceiling is painted with the scene of a blue sky with eagles and trees. This bizarre and quirky style continues down into the round pool with a shell at one end as if the pool was its bottom shell.
27. Trio of Hanging Mesh Lights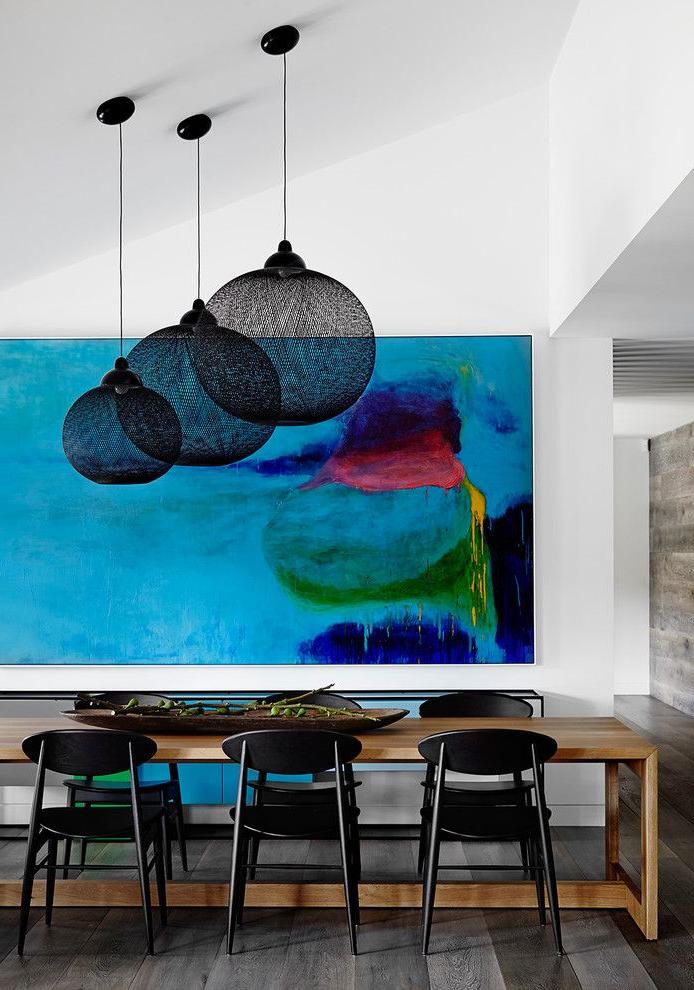 This super contemporary dining room is set against backdrop of a dramatic colourful painting. The dining room chandelier is created using three hanging black lampshades of different sizes and hung at different heights. The spherical shades are constructed from a fine mesh that is translucent so the LED bulb within them will cast a bright light that filters through to cast a beautiful dappled light across the table. LED and fabric work perfectly together due to the fact that LEDs produce less heat so there is no risk of fire.
28. Delicate Petalled Chandelier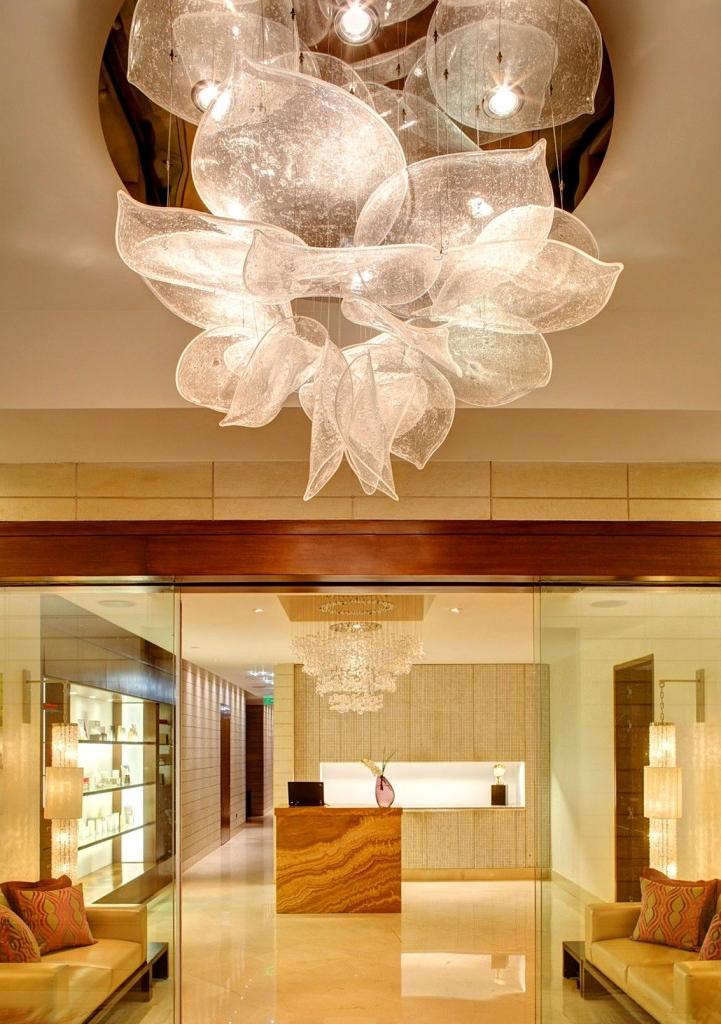 This organic looking chandelier is the feature of this stunning room with large oversized translucent petals tumbling down from above. LED lights have been hung at different heights among the petals at that make the petals glow. The round light bulbs can come in contact with the petals as they blow in the wind with no risk of a fire due to their lack of heat.
29. Wacky Hanging LED Lights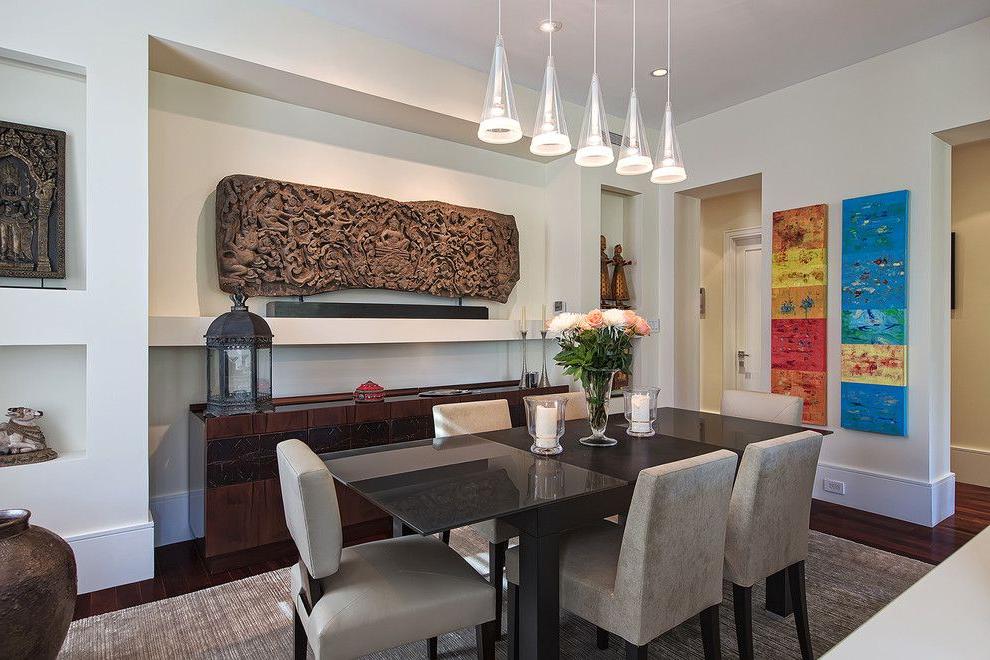 In this eclectic dining room LED lighting has been used over the dining table in particular. Five pendant lights hanging in a row with cone shaped clear shades form the linear fixture with a white ring round the centre that emits a diffused light. The minimal lights manage to create a diffused light through the shade and direct light down wards through the shade to create two lighting qualities at once.
30. Basic Round Down Lighters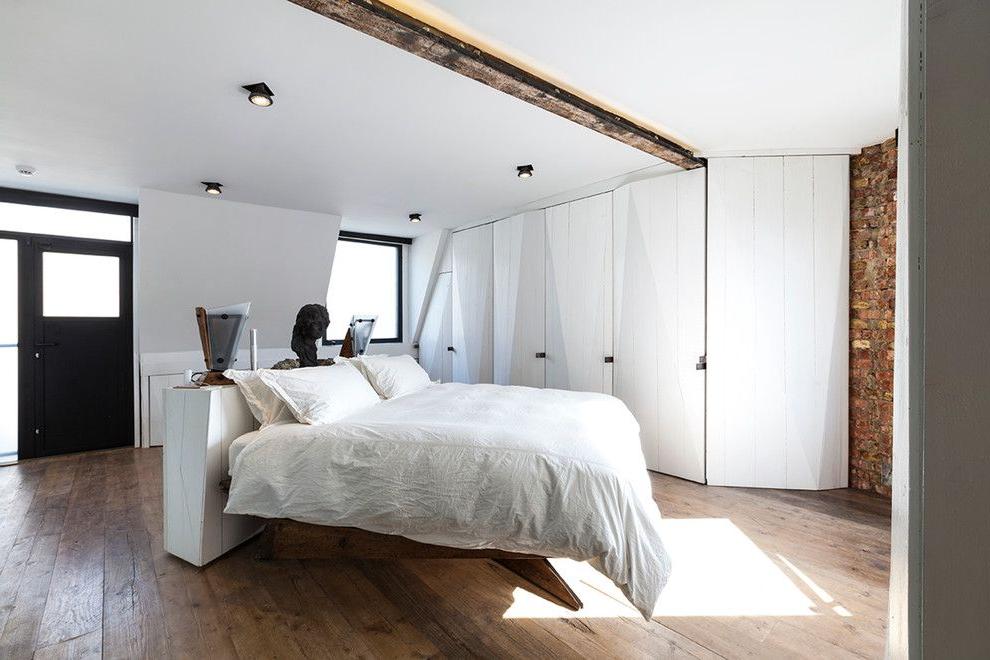 This contemporary and minimalistic bedroom uses simple matte black casings that cast directional light across the textured design. The room itself is just as simple with white walls, faceted cupboards and wooden floors so its only fitting that the lighting keeps it simple and minimal while being ecofriendly and spending less money all at the same time.
31. Niched Round Down Lighters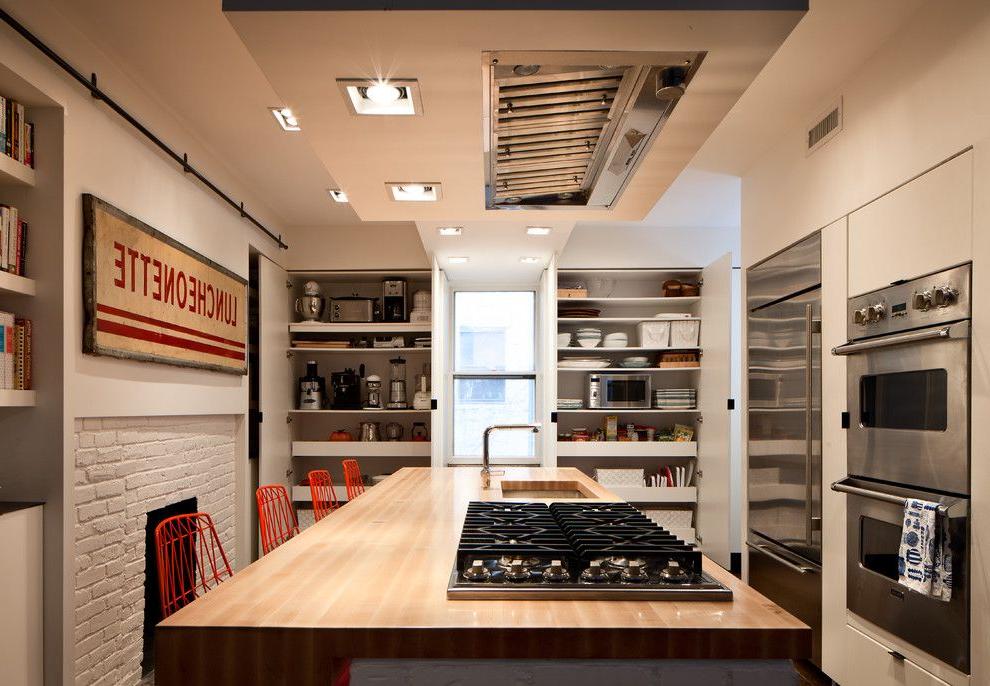 The eclectic industrial kitchen uses a dropped ceiling for the extract for the hob over the timber kitchen island that doubles as light. Clean white squares have been recessed into the ceiling with large round LEDs in them with two built into the extract to light the cooking space and in the main ceiling to light the whole kitchen brightly.
32. Twisting Adjustable Lights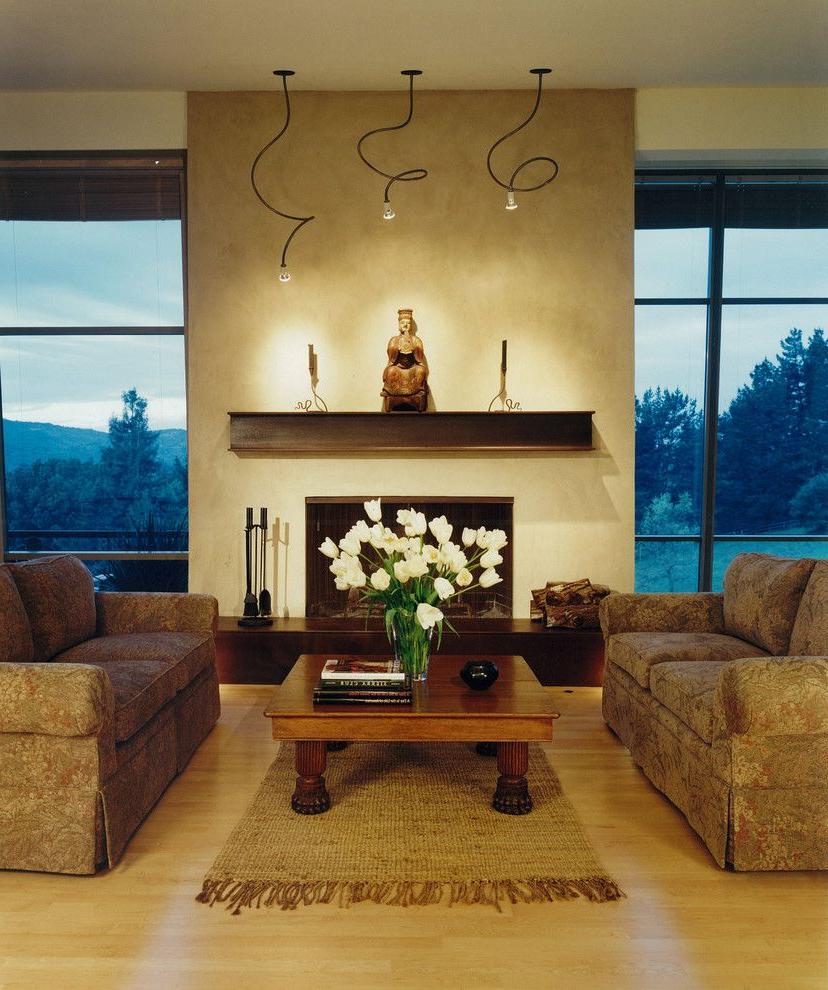 These three innovative LED lights have been used to light up the décor on the mantelpiece while being décor in their own right. Small LED bulbs have been fitted at the end of each long adjustable wire fitting that can be twisted and turned into any shape and point in any direction. This allows you to change up the look up and have fun with your interior design on a day-to-day basis. Its little details like these that make your house go from nice to something a little more memorable.
33. Glowing Paper Lanterns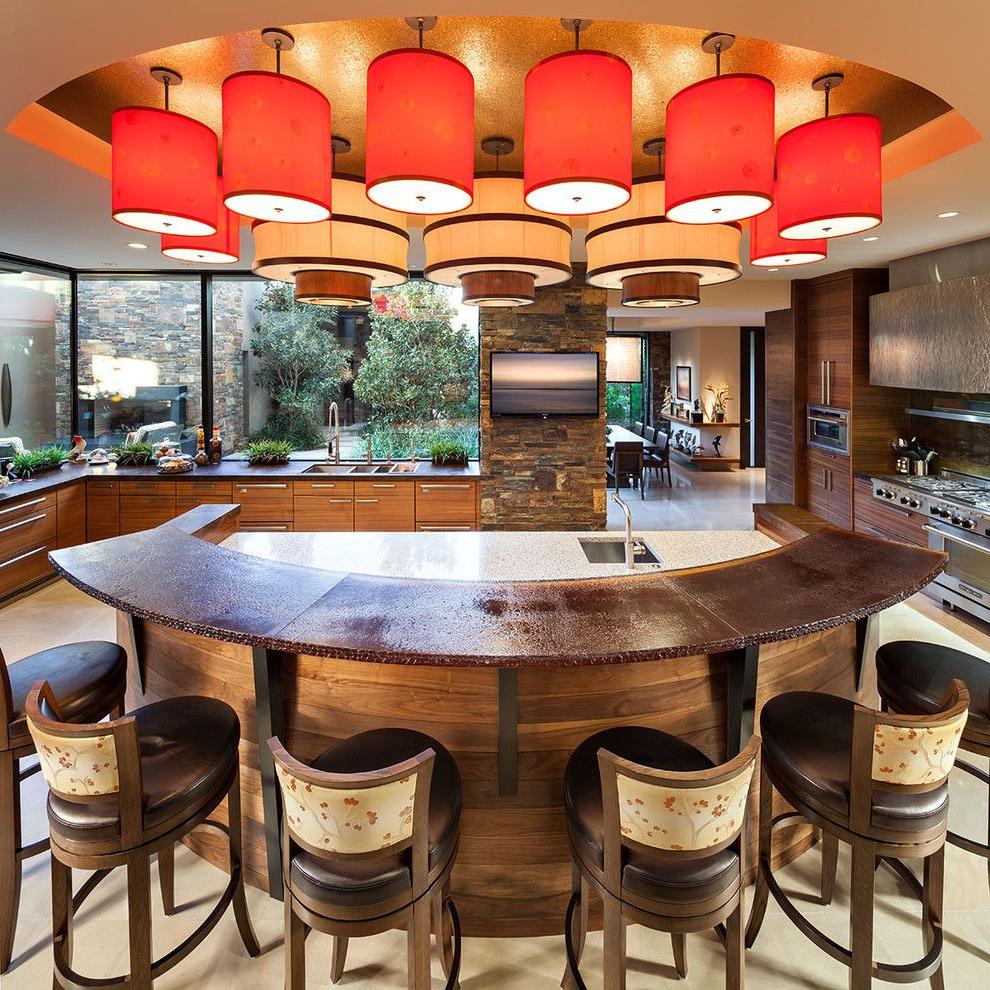 In this immense kitchen has a half moon of glowing lanterns lighting the ample breakfast bar to further emphasize the drama of this space. LED bulbs have been placed inside cylindrical lampshades in bright red on the side with a glowing white circle at the bottom that diffuses the light and casts a very warm glow over you while you eat breakfast. Paper lanterns are a fun way to manipulate light and it becomes simple when paired with the tried and true LED.
34. Dramatic Ballroom Ceiling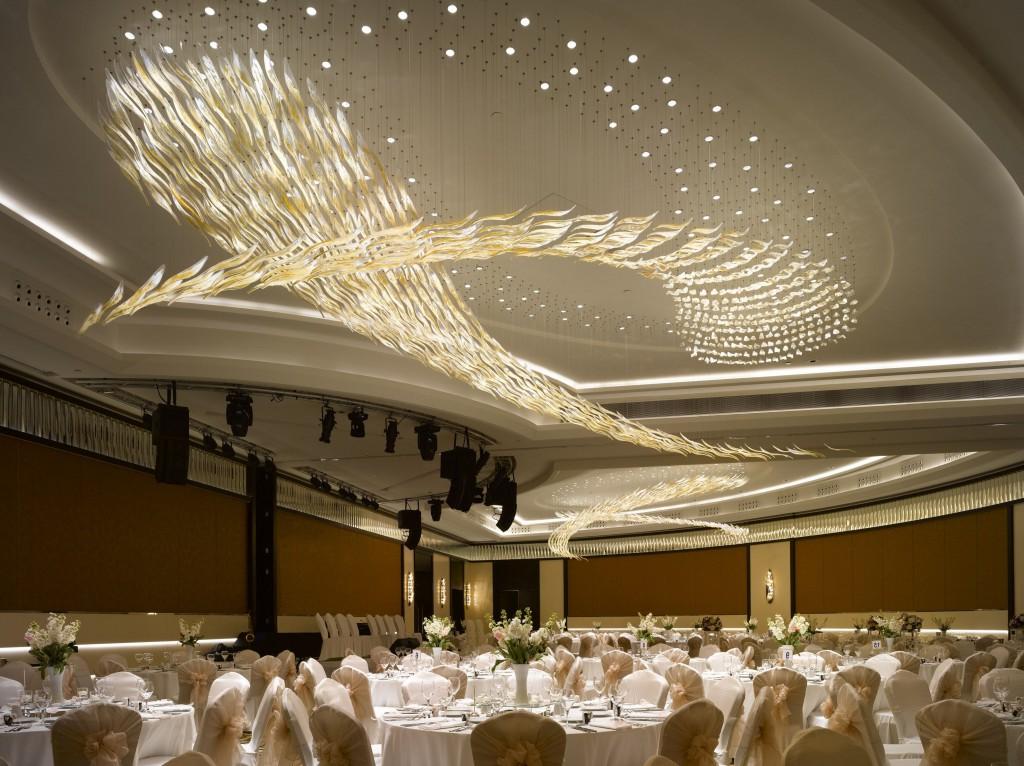 LEDs are an amazing way to create multi dimensional artworks like this huge multi leveled ceiling covered in swooping lit up shapes. Small LEDs in the ceiling have been paired with a lightweight hanging sculpture that comes to life when it is lit by the carefully placed swathes of little LEDs within the material and makes it look alive. The resulting art piece creates a breathtaking view for those in the elaborate dining room and steeps the space in true glamour.
35. Rippling Light Across the Ceiling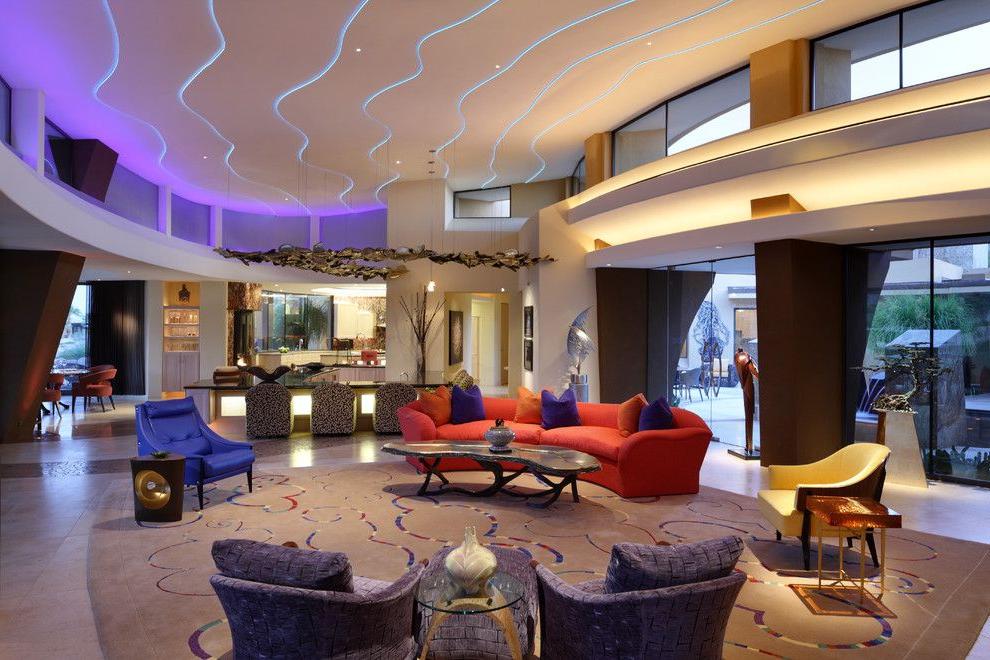 This huge double volume room is lit by LEDs in the uplighter above the large patio door as well as in the statement ceiling lighting that features thin rippling lines that span across the whole surface of the ceiling. The twisting strip lights are paired with UV lights at ceiling height that light this lounge in a spooky and fun manner. The electric colours are brought through into the space in the eclectic furniture and the bright pattern mimicked in the pattern of the large rug.
36. Collaging Ceiling Panels with Light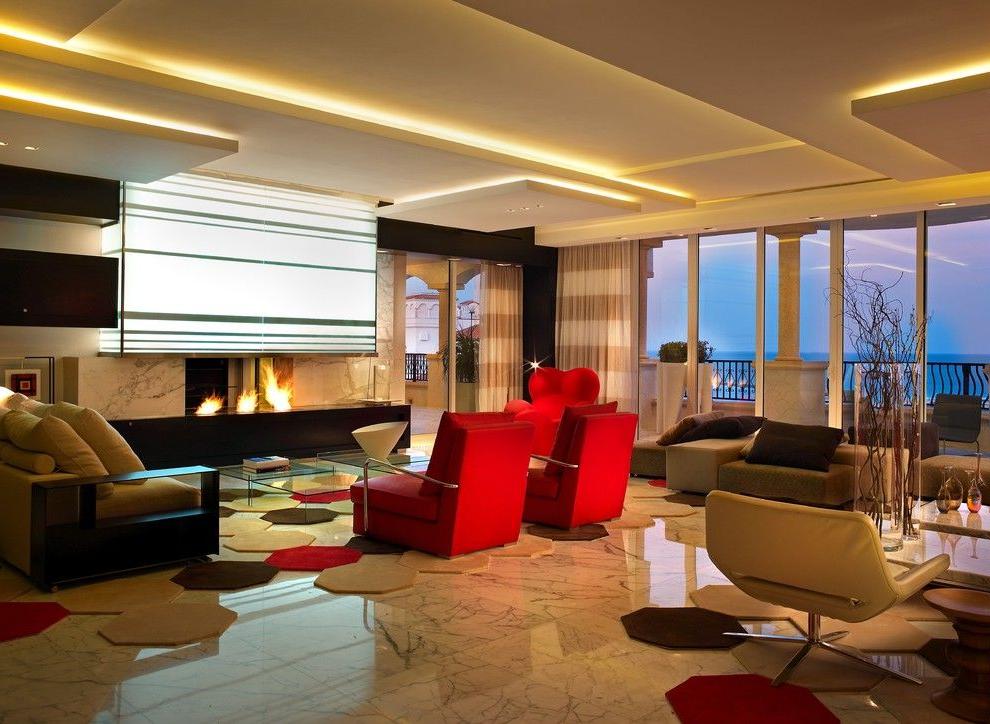 In this graphic lounge LED lighting has been collaborated with multiple levels of suspended ceilings that overlap one another across the open plan living space. Strips of led lights run just inside the ceiling panels to light up the bright white paintwork that creates glowing edges around each panel. The bright white paint used across the ceiling helps reflect the light and to get more out of your light across a multi use space. A box of LED light has also been used above the bio fireplace in place of the chimney rendered in a translucent material that glows gently. This space therefore ends up with three different light sources, all of which are not harmful to the environment.
Conclusion
From dramatic statement lighting to you everyday bulbs, LEDs have proven themselves to be the superior choice in every circumstance. They help the planet, they help your bank account and they are adaptable and low maintenance, where could you go wrong? They are also really beautiful when used in multiple forms in once space to really customize your lighting and tailor your homes ambiance down to the smallest detail.
So the next time a bulb goes out in your house be sure to bypass the outdated old bulbs and make a beeline for the LEDs to make your life that little bit better and greener.