From small private patios to huge back gardens, strategic lighting can make your outdoor spaces not only usable at night but create an ambiance at the same time. Light fixtures in an outdoor space can be permanent and weather proof so all you need is to flip and switch and boom! Atmosphere! Or some temporary lighting like lanterns or fairy lights can be strewn through the space to decorate for a themed party. The possibilities that lighting can bring to a space are only limited by your own imagination.
20 Best Ceiling Outdoor Light Fixtures To Illuminate Your Entertainment Spaces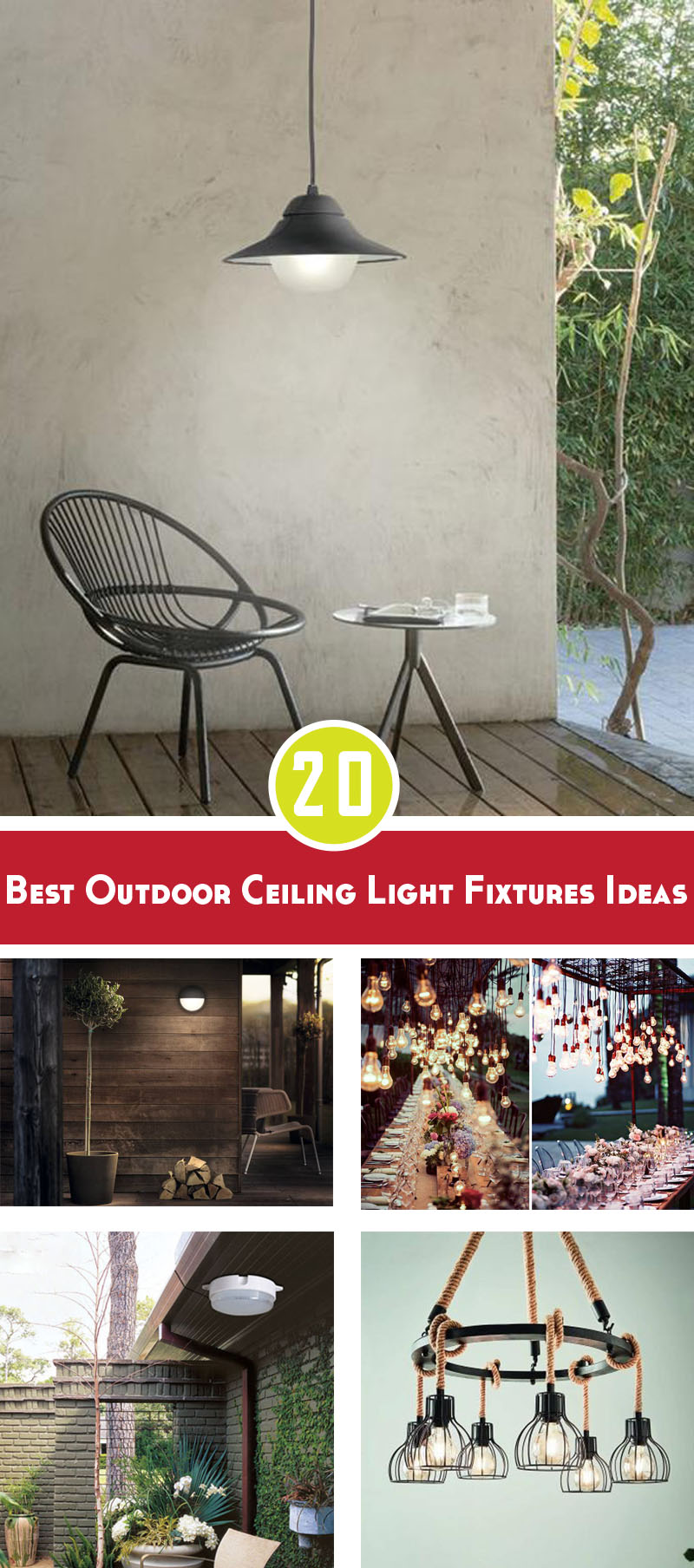 If you're a fan of hosting large gatherings incorporating your garden space is a great way to contribute not only more space but also a more varied social experience within your home. Lighting these spaces with interesting and atmospheric fixtures is an easy way to make a statement and make your outdoor spaces feel like some special.
So if you have a space that needs some brightening up here are:
1. Pergola Ceiling Fan And Light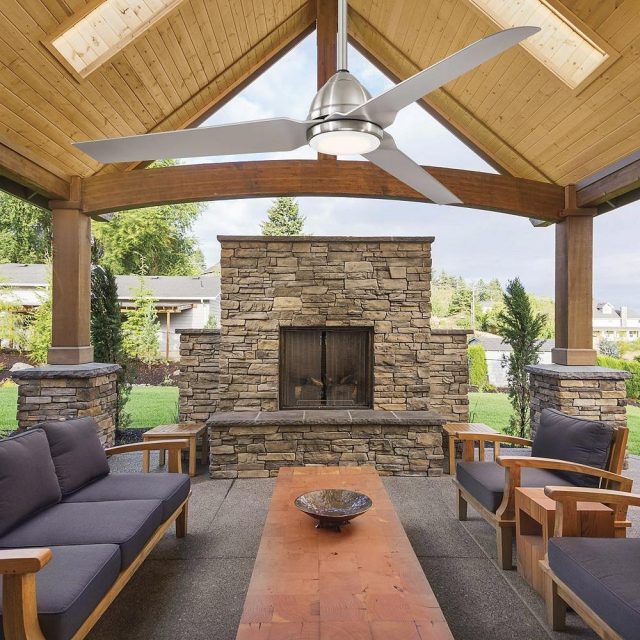 This spacious garden pergola is equipped with a high, pitched ceiling with a skylight in each pitch. This is an ideal outdoor entertainment space with its very own stone barbeque built to match with the columns that hold up the pitched roof. The fireplace can warm the space in winter while the fan that hangs over the outdoor lounge to cools the space in summer so it used all year around. The outdoor ceiling light fixtures that is built sleekly into the fan also means that you can use the space at night too. The fixture is multi use and fits in perfectly with the sleek surroundings without interrupting the layout.
2. Glowing Rings Of Light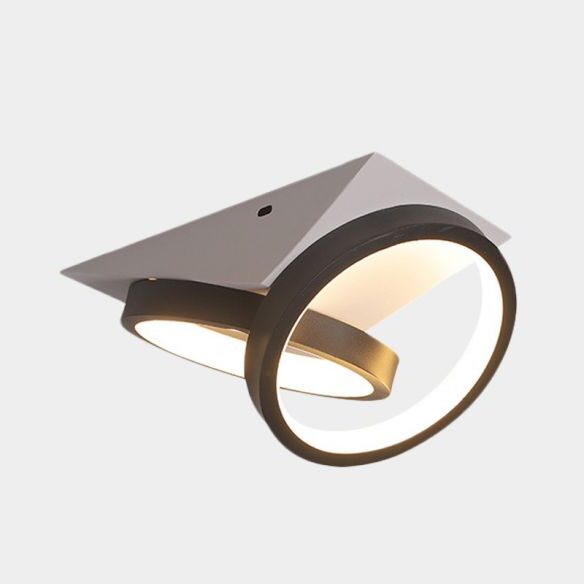 This beautiful little ceiling mounted light fixture may be small and sleek but manages to also be multidirectional. The fixture consists of two rings that overlap one another encased in a black housing with a frosted LED light that makes the rings glow. They face in opposite directions to make the most efficient use of the light in one small unit while the white triangular base blends into a white ceiling seamlessly.
3. Modern Curved Wall Mounted Light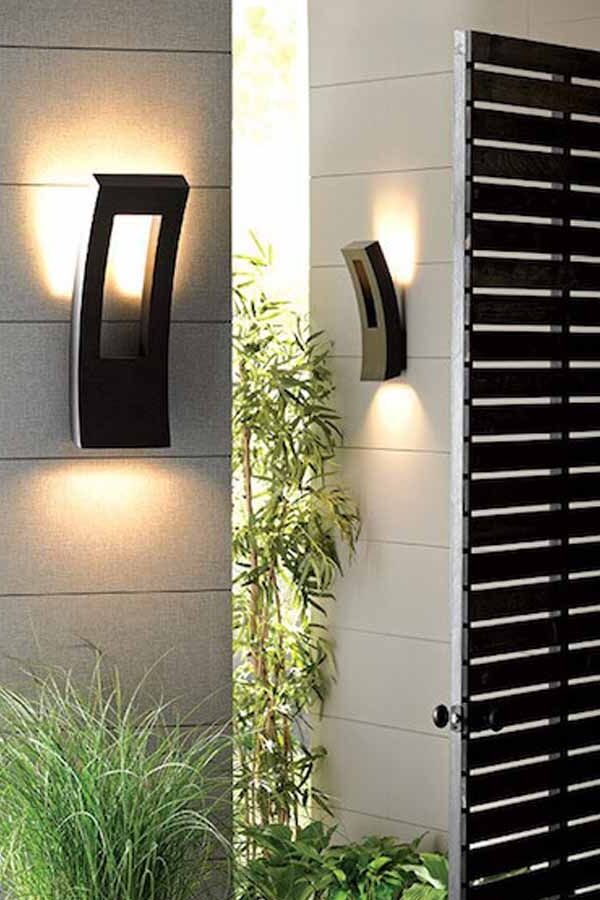 These unique rectangular lights lean casually away from the wall and use its pale surface to bounce the light off and into its surroundings. A strategic slot has been cut out of the centre, which allows more light to escape and illuminate from both top and bottom. These are an eclectic and unusual choice that manages to remain minimal by twisting up a simple piece of geometry and maintaining a neutral colour palette.
4. Multi Coloured Garden Up Lighters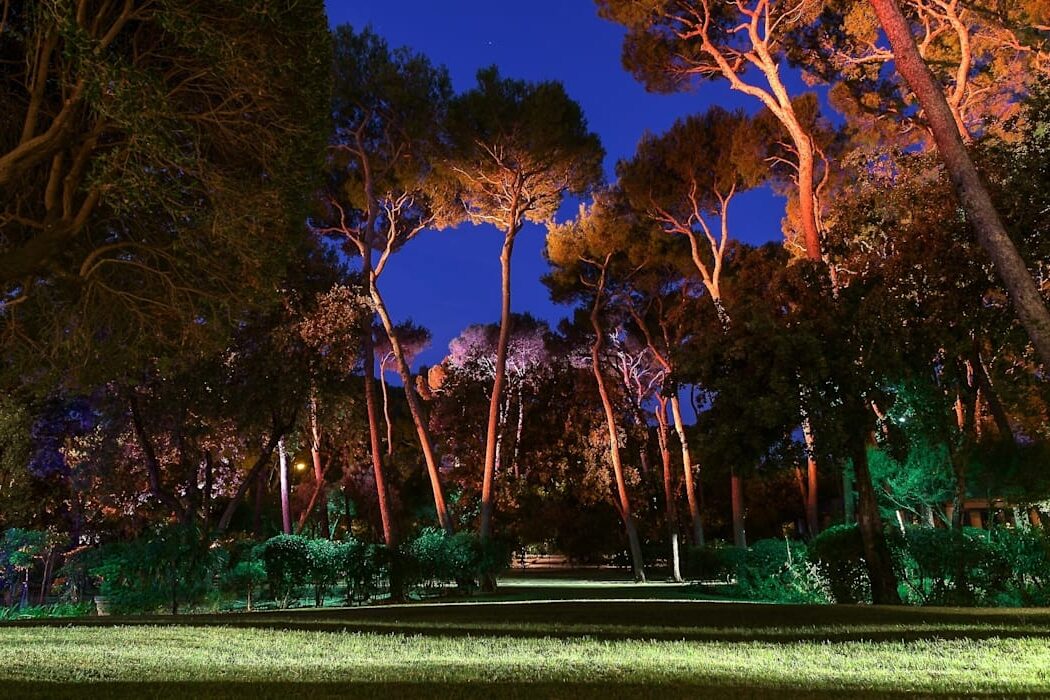 These cleverly placed up lighters placed within a huge garden have been used to highlight the tall, layered trees and allows you to takes advantage of the beautiful garden even in the dark. A combination of different colours bulbs have been used to enhance the plant life at different levels with red lighting the taller trees and green lighting the bushes below. The resulting aesthetic is spooky but ethereal and shows the large garden to its full potential.
5. Simple Domed Wall Lamp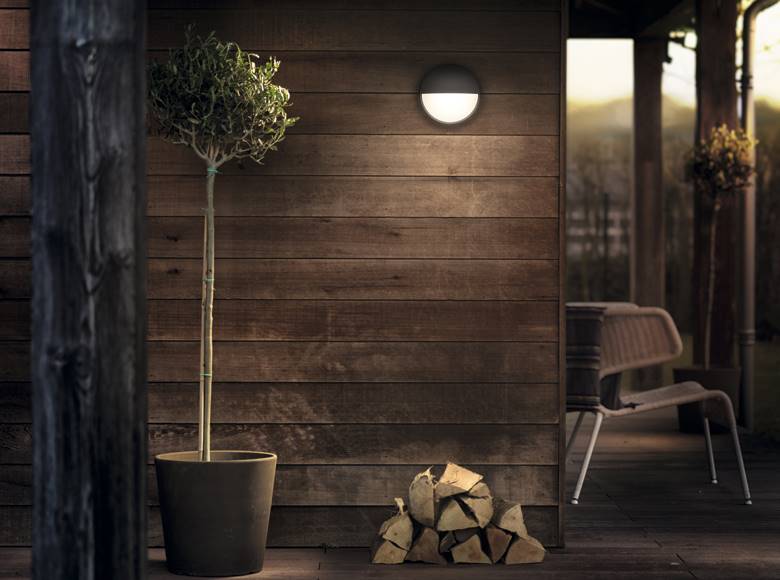 An outdoor wall light in the form of a simple frosted dome has been used to light this rustic exterior. The dome is divided in two, one half obscured by the dark casing to direct the light downward on to the beautiful wood paneling of the house. This shape is basic but efficient and, due to its frosted shade, casts a glow of light rather than a harsh beam that pleasingly lights your way in the darkness.
6. String Of Dancing Orbs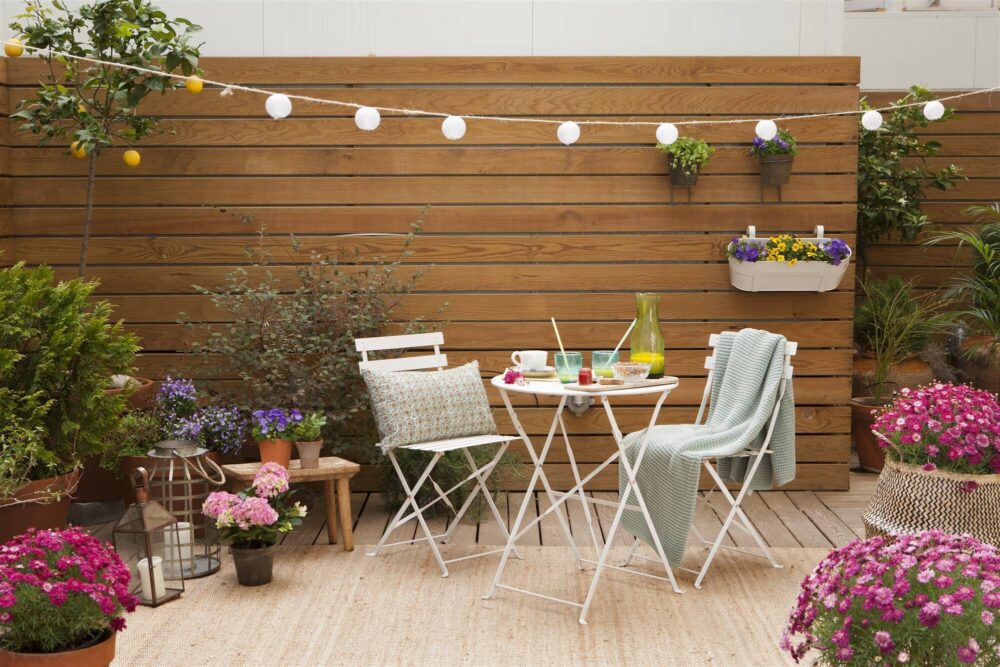 This delicate little string of globes are the perfect accessory to light a small patio. These are a very cheap and simple to install alternative that doesn't require you to mess around with wiring. They can come in a variety of bulb styles and colours to suit whatever style you like to transform your patio into a romantic dining space as soon as they sun goes down.
7. Naked Hanging Bulbs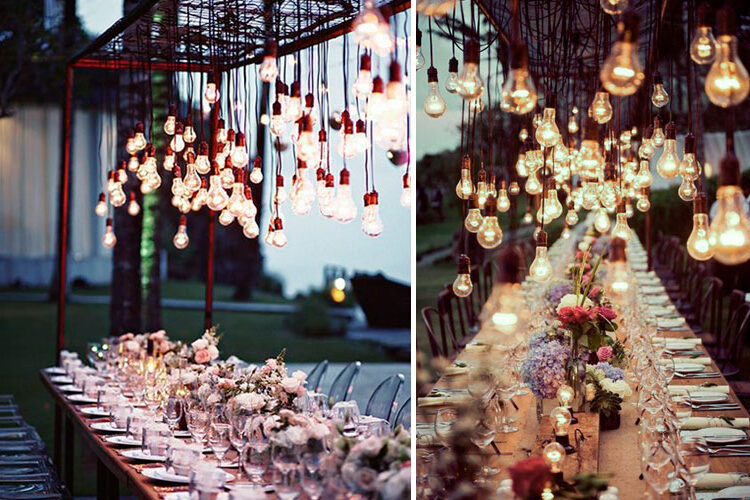 This fantastical, trendy aesthetic of naked hanging bulbs is stunning lighting technique especially for outdoor events like weddings. This look is deceptively simple to execute with bare bulbs hanging on black cables that form a twisted net overhead. By hanging the bulbs at different heights you can add texture and visual interest that makes this outdoor dining experience whimsical and all encompassing.
8. Hanging Glowing Chrysalis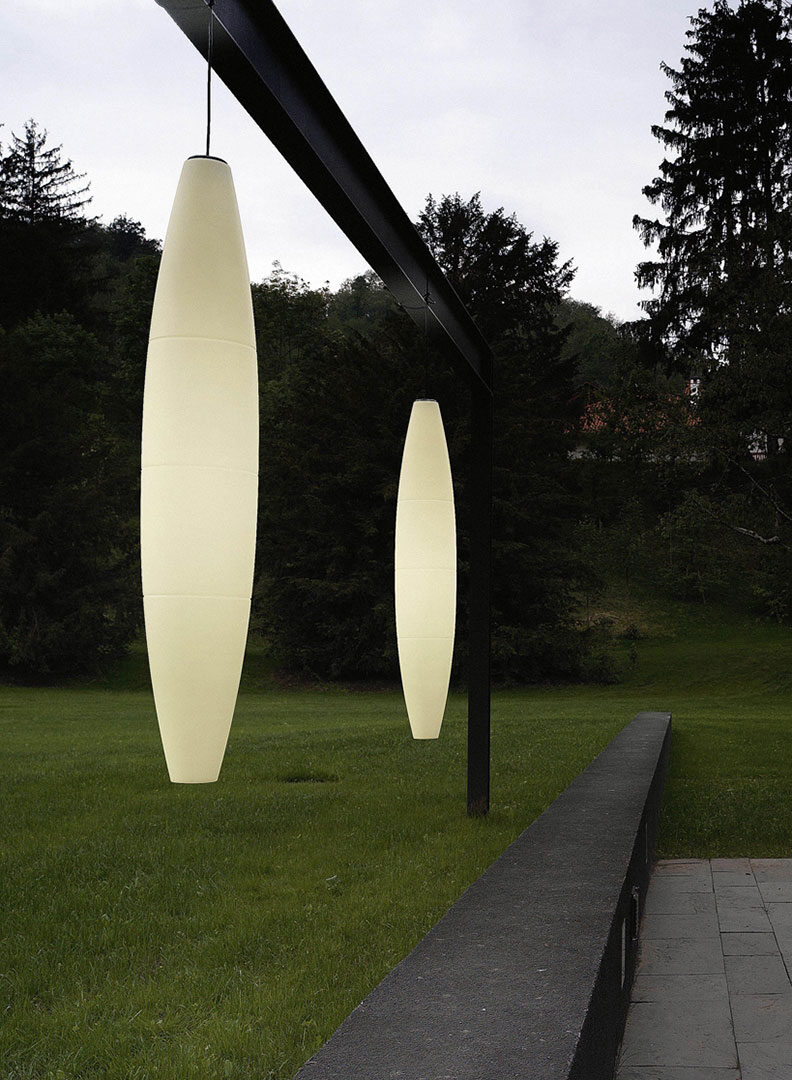 This scifi style lighting is a great way to make your lighting a modern sculptural feature of your outdoor entertainment space. These strange chrysalis shaped bulbs light you from head to toe, wrapping you in an ethereal glow. The pair are hung on a tall black frame built purely to hold the lights that disappears when the sun goes down so they lights appear to float, contributing to the haunting atmosphere.
9. A Galaxy Of Paper Lanterns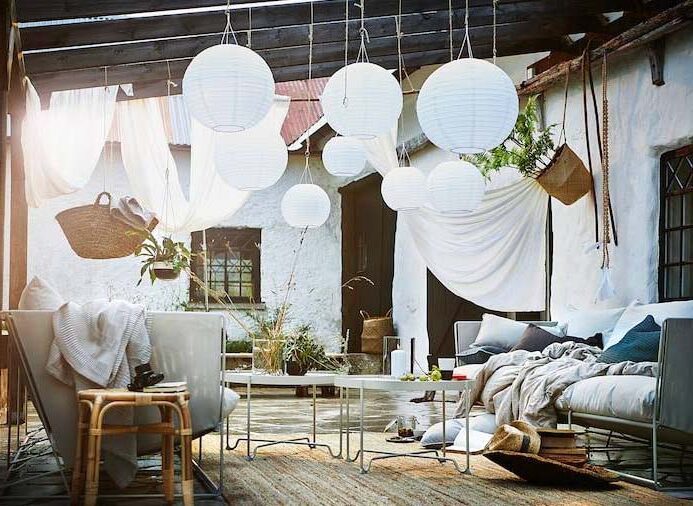 Paper lanterns are a classic DIY lighting solution that are lightweight, cheap and simple to install like these have been hanging from the exposed beams of the patio ceiling. By using lanterns of different sizes hung at different heights a dancing pattern of light is created hovering over the patio area. The strings that hang them up disappear when it is dark so they appear to be suspended over the outdoor space to enhance the ambiance.
10. Patio Pendant Light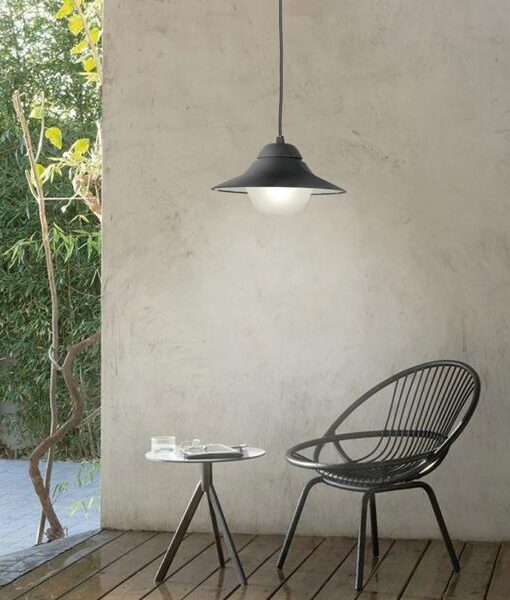 A single flared black pendant light with a frosted domed centre illuminates this intimate space and creates a little glowing haven of light in the darkness on this elegantly minimal patio. This solitary area has been coordinated from the light itself to the little table and chair so even when the sun is up the chic space remains cohesive. Large patios like these are sometimes hard to furnish without leaving zones of dead space but by using directional lighting like this you can create specialized areas within the larger space that are used for different functions. Lighting has the power to divide up a space visually without interrupting the flow of the space with some careful planning.
11. Simple Outdoor Down Lighter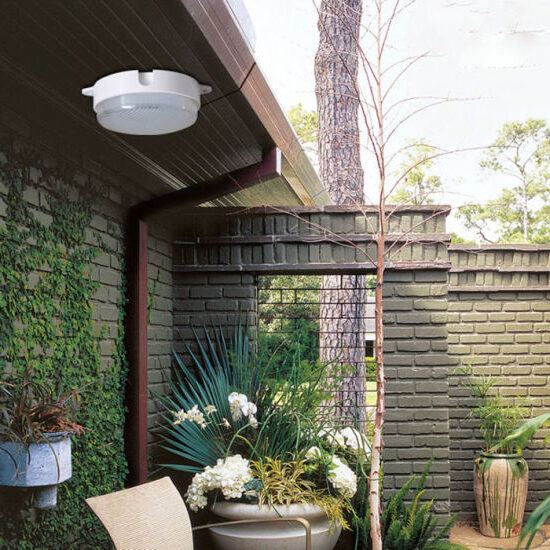 This chunky plastic down lighter is a basic but bright outdoor light that you could buy at any hardware store. The fixture has made use of the closed eaves that project away from the house and illuminates the creeper-ridden wall and outdoor dining space below it without having to worry about dealing with electrical issues outdoors at the mercy of the elements.
12. A Glowing Outdoor Entertainment Space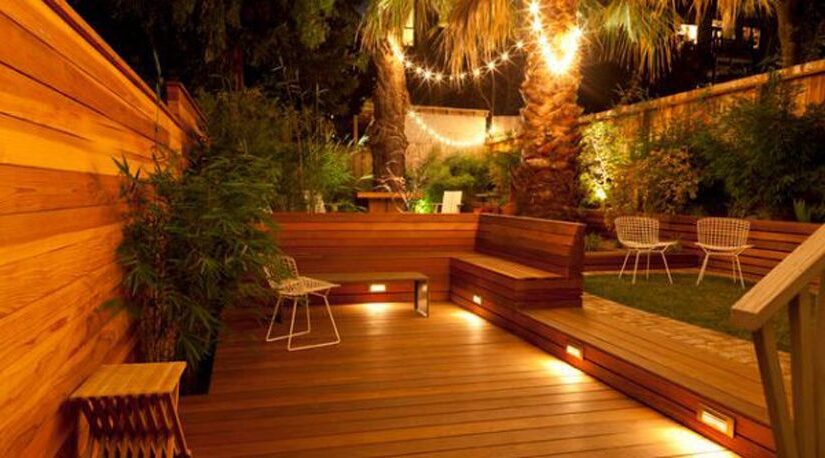 This warm, wood paneled outdoor entertainment space perfectly exhibits how to use lighting to create a distinct ambiance. Areas of wood paneled floors and seating create gathering spaces throughout the garden that are lit by floor level lighting that reflects of the shining floorboards and makes the space glow. This fantastical aura is enhanced by the string lights hanging between the palm trees overhead to finish off the magical location.
13. Dainty Square Wall Light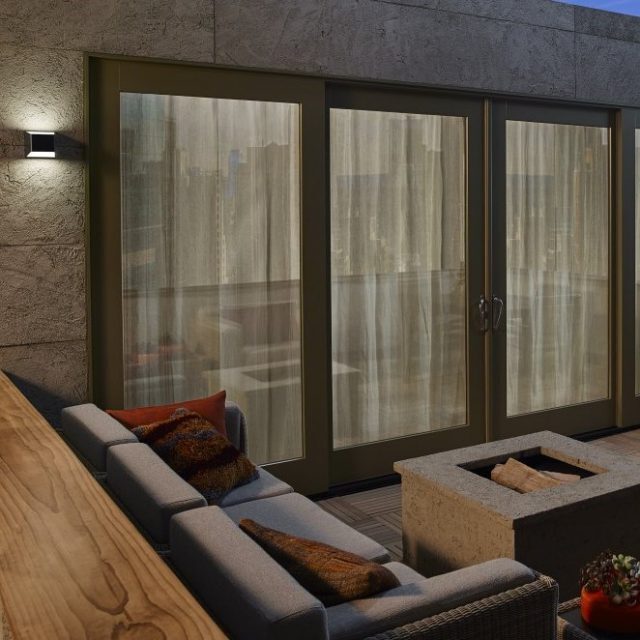 A small unobtrusive light fitting that highlights the texture of the house's stone facade lights this intimate open patio. The fitting combines an up and down lighter which, manages to provide a bright spot of illumination that takes up very little wall space. The soft glow of light creates a romantic ambiance within the outdoor space as a supplement to firelight emitting from the modern fire pit at the patios centre.
14. Sparkling Little String Lights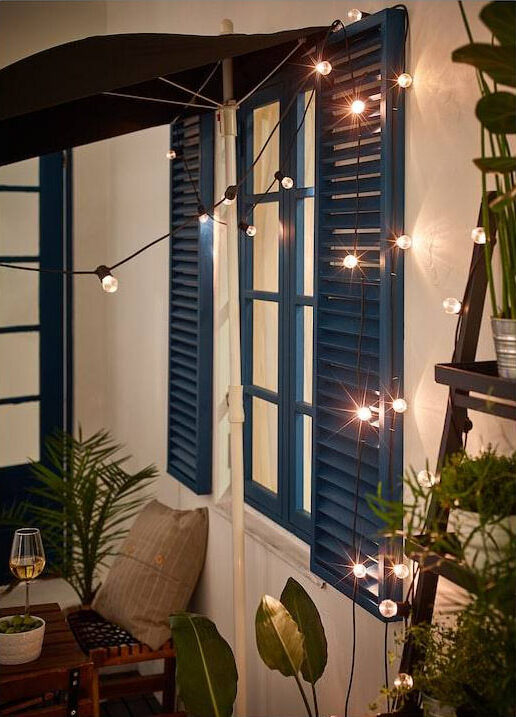 This rustic shuttered patio has been adorned with a string of tiny lights that give off a bright star of light across the little outdoor nook. The small round bulbs are suspended on a sleek black cable that makes these more chic than your average fairy lights. Draping them organically over the blue shutters and throughout the outdoor space is beautiful and makes them easy to install, light and easily adjustable to depend on what you're using the space for and the look you want to achieve.
15. Abstract Triplets Of Hanging Lights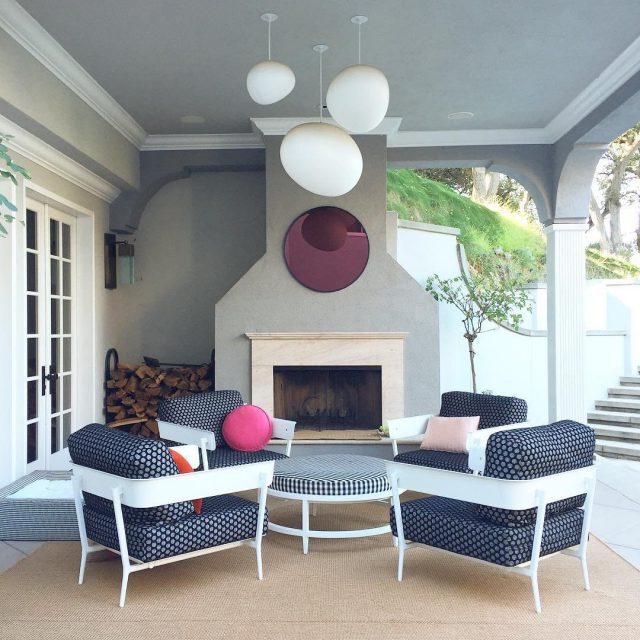 This tranquil muted patio is a very simple and classic design until you glance up that the ceiling light. Three amorphous white pebbles of light hang from the grey ceiling at different heights that emit a soft glowing light that bathes the outdoor lounge below. The translucent material is opaque during the day and become a hanging sculpture that transforms into an almost supernatural being. The effect is futuristic and fun which adds a little flavour and quirkiness to the space.
16. Trio Of Bright Porch Lights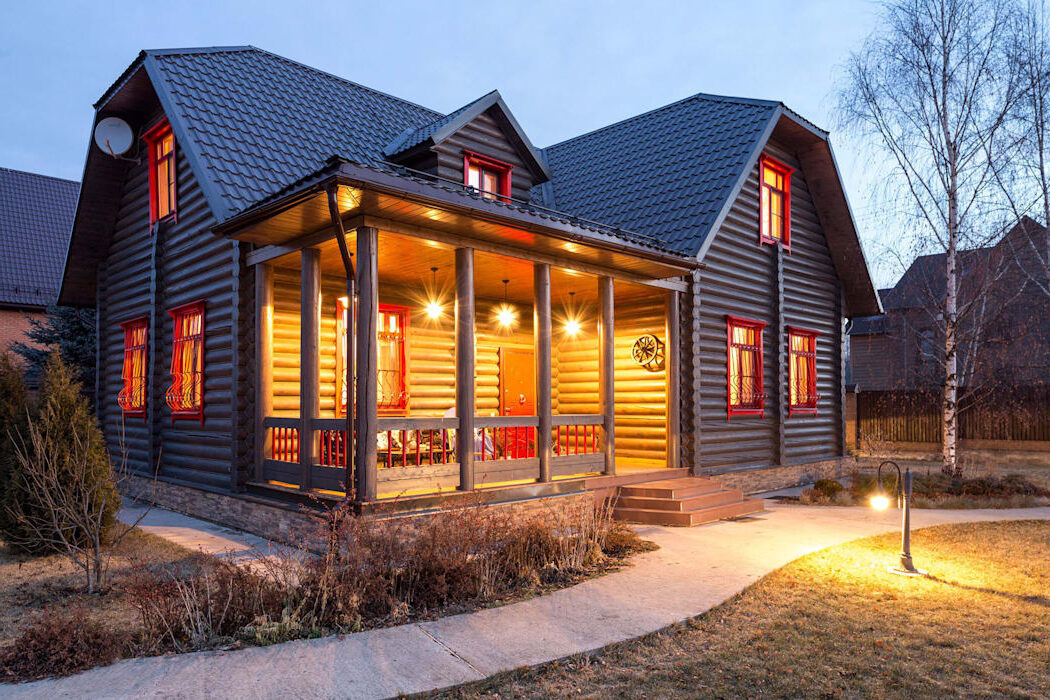 This classic American style ship lapped house has coordinated its lighting inside and out so the whole structure appears to emit a warm light that glows out of the windows. The timber porch is lit by three hanging light bulbs that are left bare so the rustic space is just as useful and appealing at night than in the daylight. The combined power of these lights makes this whole home radiate a feeling of warmth and hospitality to greet every guest.
17. Contemporary Outdoor Chandelier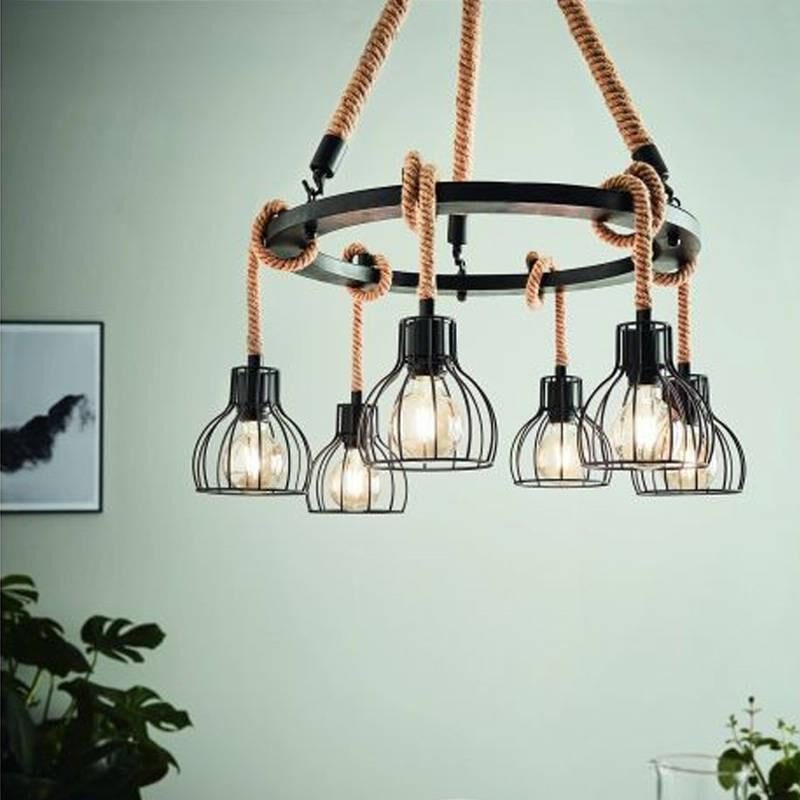 No glamorous outdoor dining area without a statement ceiling light and this contemporary chandelier is the perfect candidate. The uniquely beautiful fixture is made out of a black, wooden ring hung from the ceiling by a trio of thick ropes. The delicate round light bulbs are encapsulated by wire mesh shades and hung by more thick rope that has wound itself around the black circumference. It's the small details like the coordination of materials and articulated junctions that makes this design so clean and aesthetically pleasing.
18. Large Round Outdoor Ceiling Light Fixtures For Patio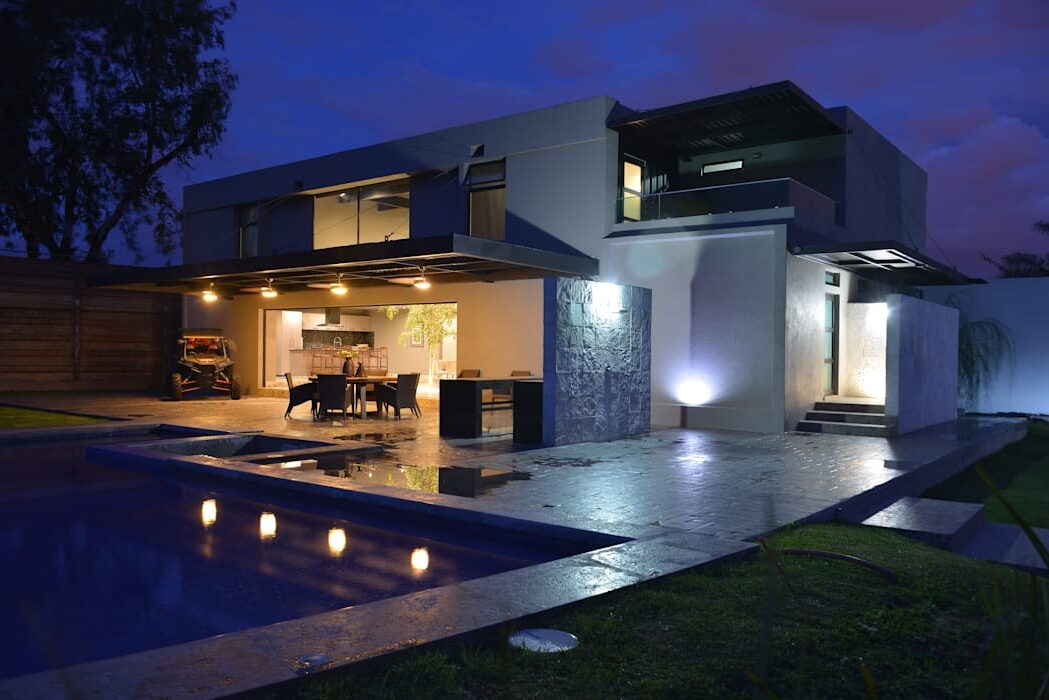 This geometric modern house has used a simple set of ceiling lights to light the large cantilevered covered patio. The quartet of round lights are evenly spaced across the ceiling and fitted with warm bulbs that cast a comforting light across the dining area. The rest of the house has been lit with cool up lighters to highlight the nooks and crannies around the houses exterior. This is a beautiful example of how easy it is to change up the lighting design of your home by merely swapping warm bulbs for cool in specific spaces.
19. Trees Wrapped In Light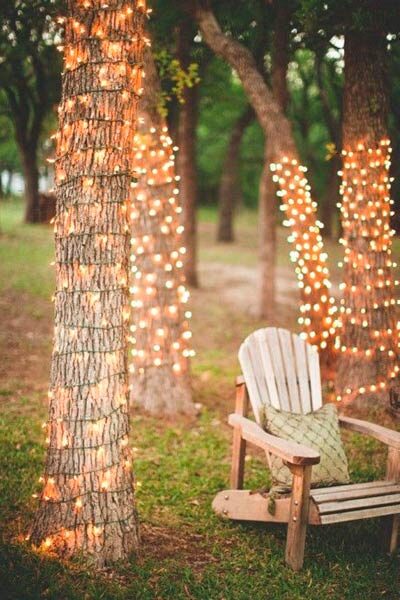 Your garden can be transformed into a beautiful outdoor venue for special occasions merely using some craft store battery powered fairy lights. The trees in this large garden have been wrapped in strings of small bulbs of orange light on a thin wire that blends into the richly textured bark and make them glow like ethereal beings. When a collection of trees are similarly treated the resulting space is calming and whimsical, perfect for a party during the summer or even as wedding décor.
20. Wicker Outdoor Ceiling Light Fixtures
This outdoor dining area is rustic from top to bottom. The reclaimed wooden dining set sits on richly patterned ceramic tiles contrasted against the black wood paneled walls. This collection of colours and textures culminates in the wicker bell jar ceiling light. The dramatic hanging shade is made of a loose weave that allows the bright light to escape through the holes in a dancing pattern across the space. The beautiful light quality and the intricacy of the shade itself makes the ceiling light the feature of the outdoor dining area day or night.
Conclusion
As you can see the possibilities for outdoor ceiling light fixtures are beautiful and so varied that you can find one to fit whatever purpose you need. Hanging lights, pendants, strings of fairy lights, wall lights; the world is your oyster! The aesthetic of a space can be completely transformed using different styles of shade or even the types of light itself so you can tailor the atmosphere of the room to your precise specifications.
So why not have a look at your outdoor space and see if it couldn't be given a new lease on life with the perfect outdoor light.