Outdoor lamps is a really flexible and impactful element of home decor. It is both a useful and a tasteful way of decorating your garden, pathways or any other outdoor areas to express your taste and enhance your existing space. These designs are also weatherproof and waterproof so you don't have to concern yourself with maintenance or worry about electrical issues in order to decorate your home.
Lighting in an outdoor setting can come in many forms. They can be used to light a pathways, illuminate pergolas or patios, mounted as wall lamps or be strategically placed throughout the garden to highlight and draw attention to certain features of points of interest even at night. They can also be used as quirky garden decor in interesting and novelty shapes to bring an air of magic and whimsical fun to an average garden. Whatever your style you can express yourself in your lighting in anyway that fits you and your home.
32 Charming Outdoor Lamps for Enhancing Your Garden Decor

Temporary lighting can also be used for outdoor parties and special occasions to enhance the overall ambiance and help set the mood for the whole evening. String lights, lanterns and hanging lights are a classic and beautiful way of decorating that serves to set the mood at the same time.
So if you're ready for some inspiration for how to to bring a little light into your life here are:
1. Computer Game Inspired Cube Flower Bed Light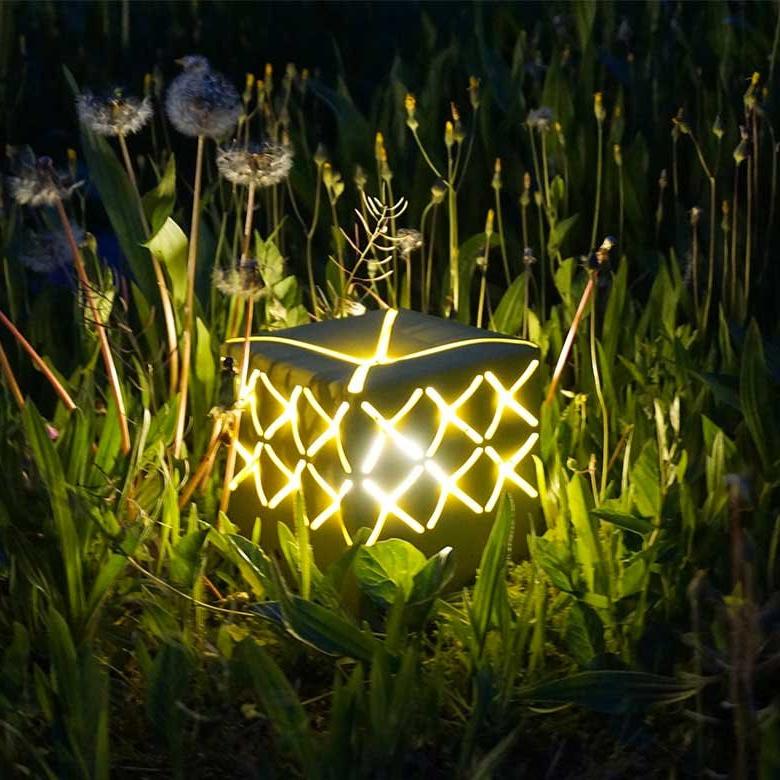 This modern cube light could be an item you collect in a video game. Strategic slits have been cut into the opaque material, which controls the how the light escapes to create this stylized man-made pattern amongst the greenery. The recessed centre in the top of the cube and at the centre of each 'X' makes the material appear almost soft. LED lights are important to use in this case to make it safe to place into foliage and create a novel and whimsical garden light without the risk of fire. Pairing many of these together can create little glowing spots of light throughout your garden like giant fireflies.
2. Portable Plastic Waterproof Lights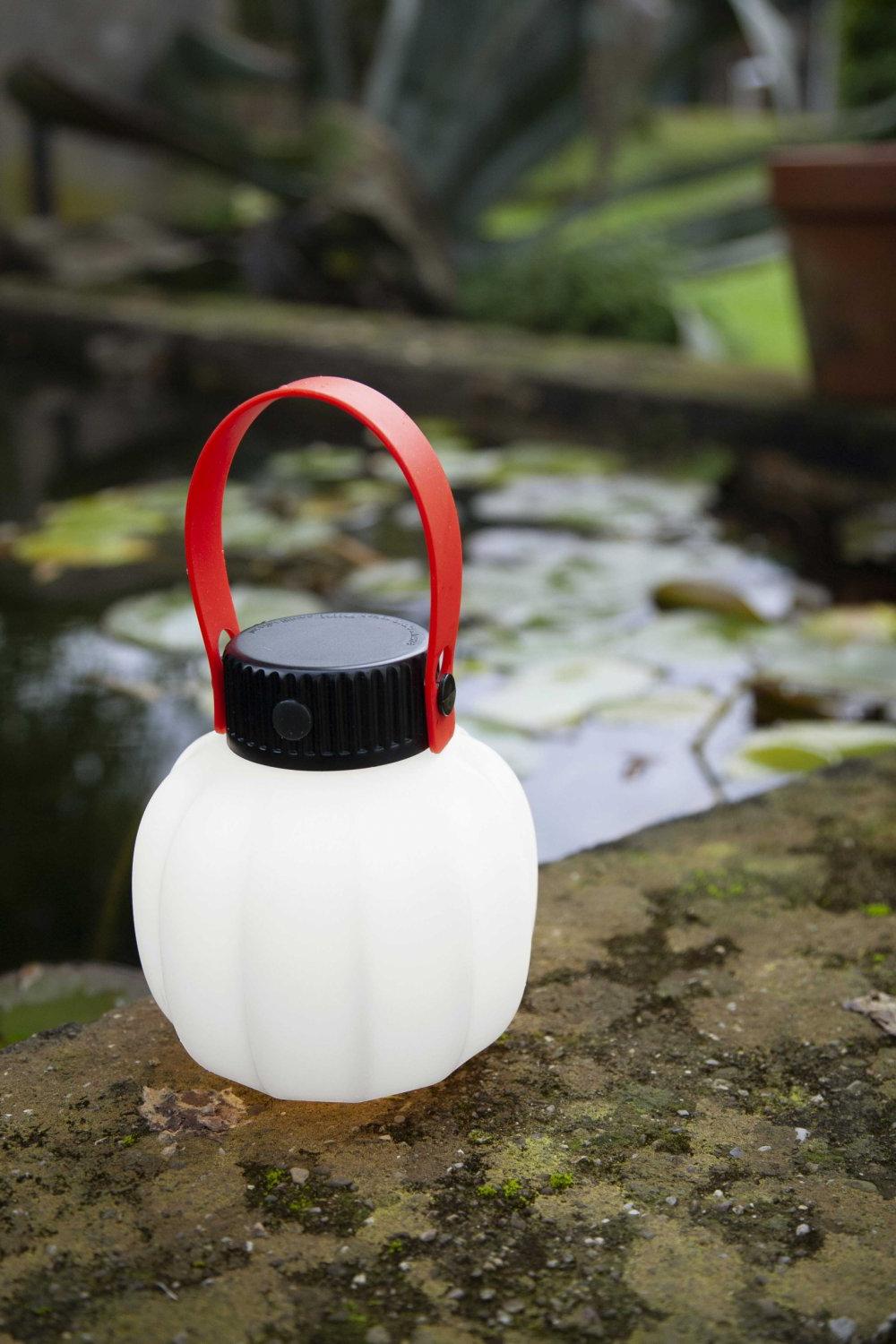 A reworking of the traditional waterproof camping light, this spherical handheld light is a more contemporary and attractive camping accessory. These small lights have a convenient handle for simple transportation that adds a pop of colour to the design. However they aren't just reserved for camping trips, a series of these little outdoor lamps can be used to decorate an outdoor party that can be easily removed and simply stored away for later.
3. Gleaming Half Moon Outdoor Table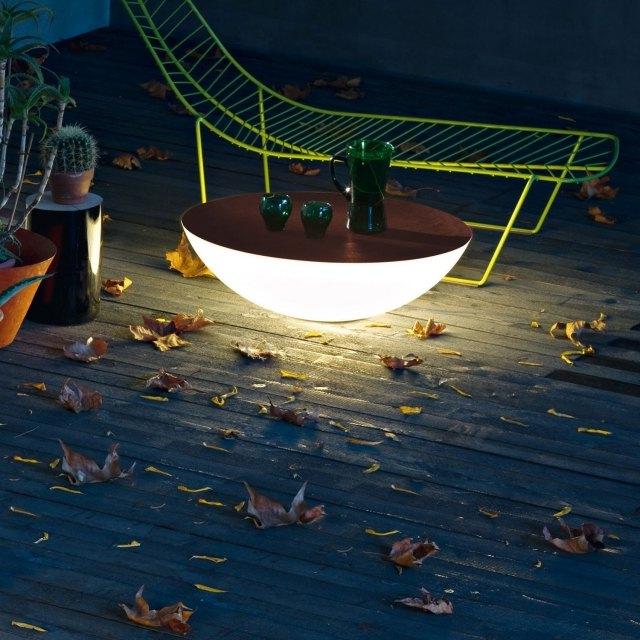 Outdoor lights can actually be mixed use items as this striking table demonstrates. The flat wooden top makes the table functional and completely opaque from above while below the half moon glows like its sky bound counterpart and bathes the patio in a gentle romantic light. The contemporary and novel design goes well with the brightly coloured wire framed sun lounger and marks this patio as unique.
4. Floating Multicoloured Orbs In A Swimming Pool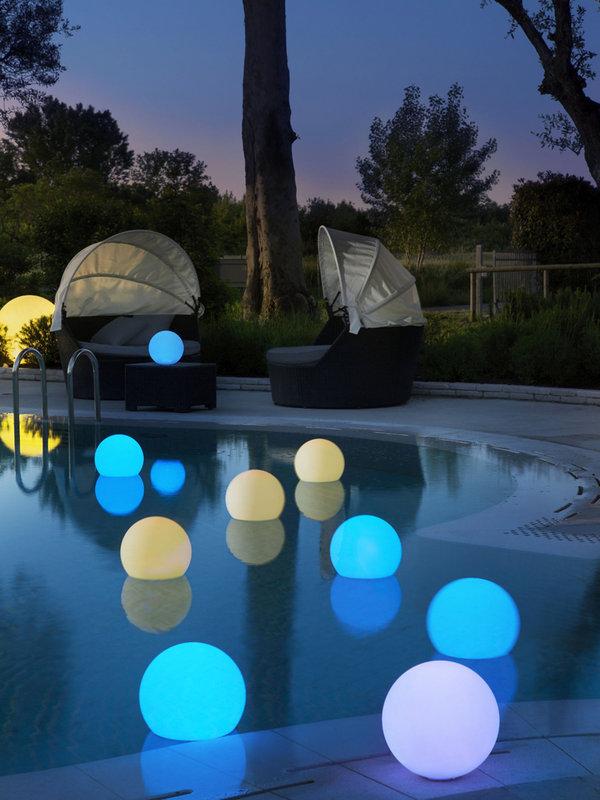 Light can be a beautiful medium to decorate with even if it doesn't cast actual useful light, sometimes all you need is an ambiance. These battery operated fully watertight spheres trail all the way through the pool and up onto a poolside tables. Their larger counterparts can even be seen in the garden beyond. The reflection of the glowing multicoloured bubbles paint a layered pattern of colour and light across the water's surface that changes as they float around of their own accord.
5. Novelty Gorilla Lamp Holding a Flashlight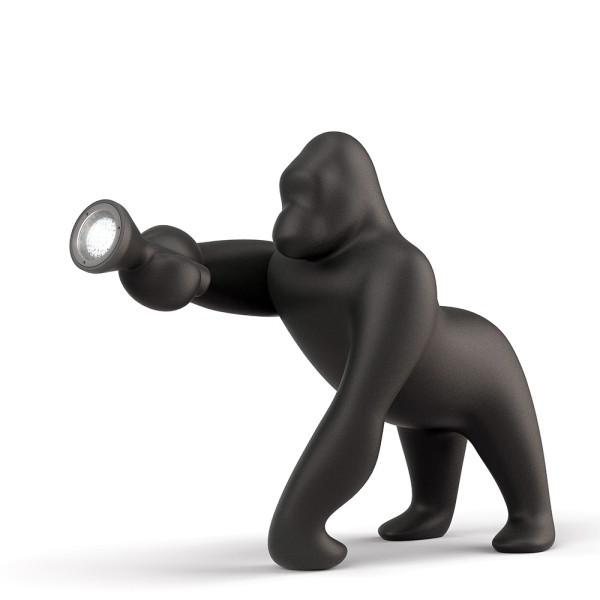 A stylized smooth novelty shape is a contemporary way to make your lighting fun without being tacky. The cartoonish image of a gorilla lighting your way through a garden with a flashlight is cute and shows that you don't take yourself too seriously. The shape can come in many forms so you can choose your favourite animal to highlight as a entertaining design feature. This style could work at any scale depending on your garden size and how much whimsy you feel like decorating your garden with.
6. Leather and Glass Hanging Candle Holder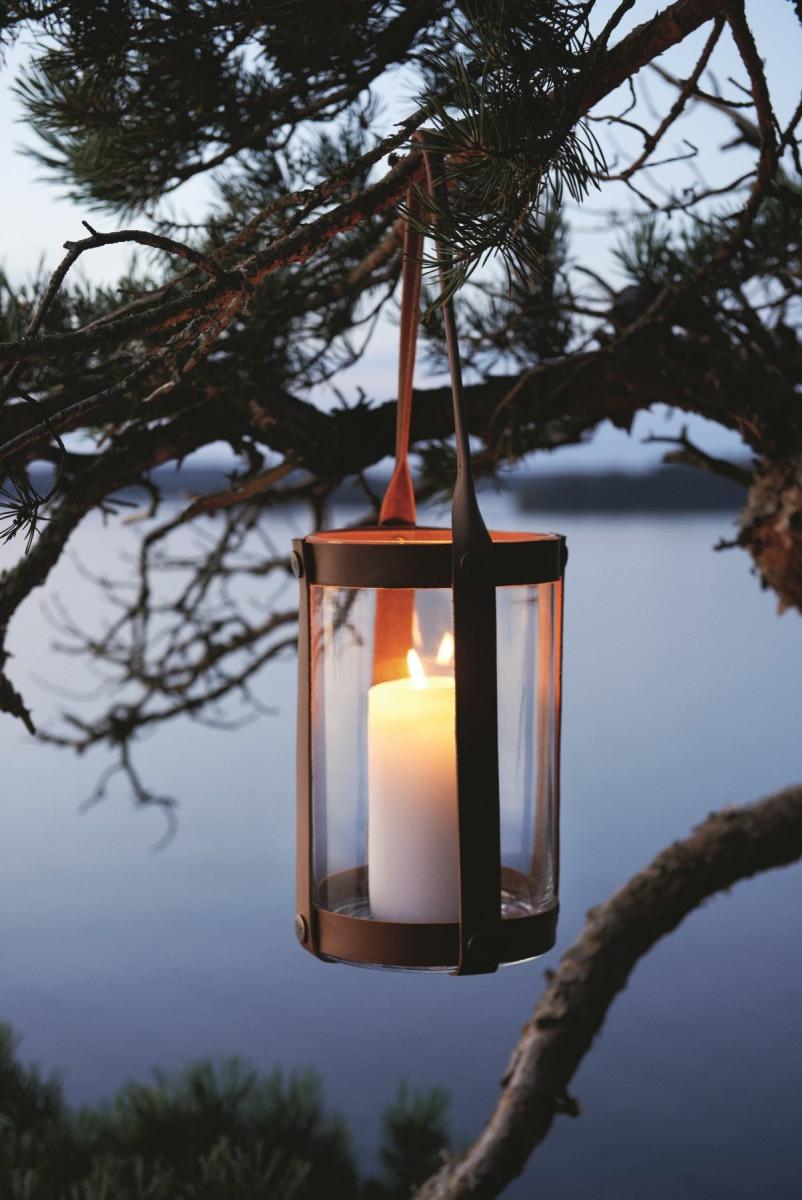 Candlelight is a romantic way to set the mood but they can be risky especially if you have a lot of vegetation around you. These portable glass and leather candle holders are perfect for tall pillar candles to decorate for outdoor parties. Not only are these charmingly rustic and prevent your candles from blowing out in the slightest breeze but they are also much safer than exposed candles. Usually candles are decorations that are limited to tabletops but these candle holder have a leather strap that allow you to bring the candlelight into the air They are also an easy decoration to move around and store away for later.
7. A String Of Lights On A Terrace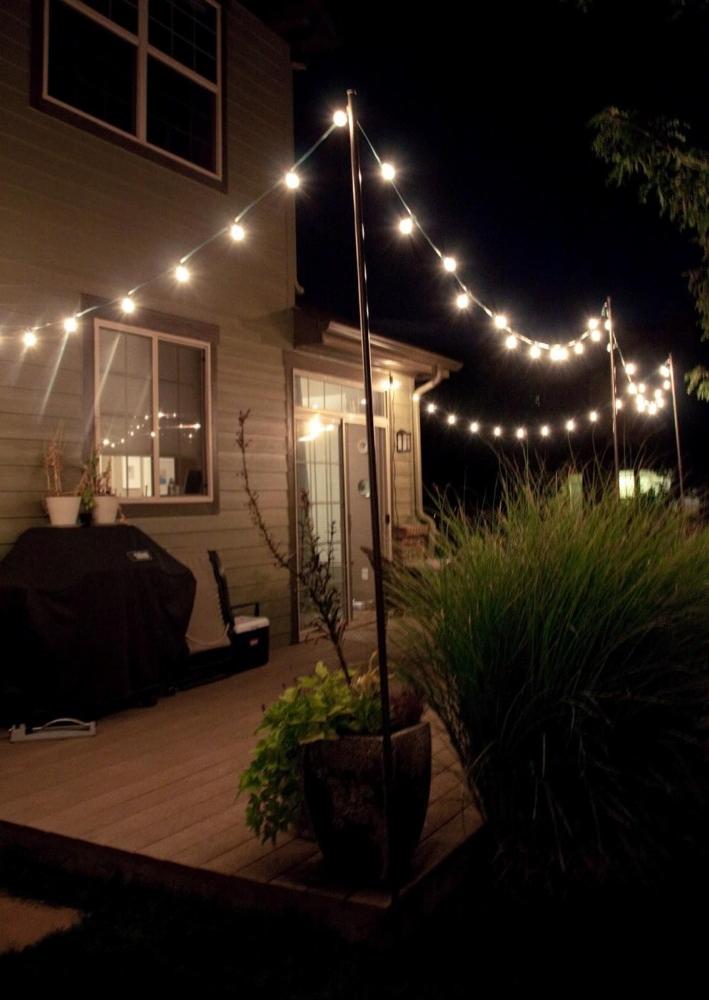 A painted clapboard traditional house like this with its raw wooden decking is the perfect traditional backdrop to decorate with a string of fairy lights. Thin poles at regular intervals hold up strings of draped round lights for a nostalgic terrace lighting option. The soft, romantic light they cast is perfect for an outdoor family barbecue or a little outdoor dinner date. This is a style of lighting that can be permanent or temporary and easily DIY'd using very low cost materials. All you need is a few wooden poles, some waterproof fairy lights and some cable ties to make your average front porch feel new and different.
8. Strip Lighting Built Into Minimal Pergola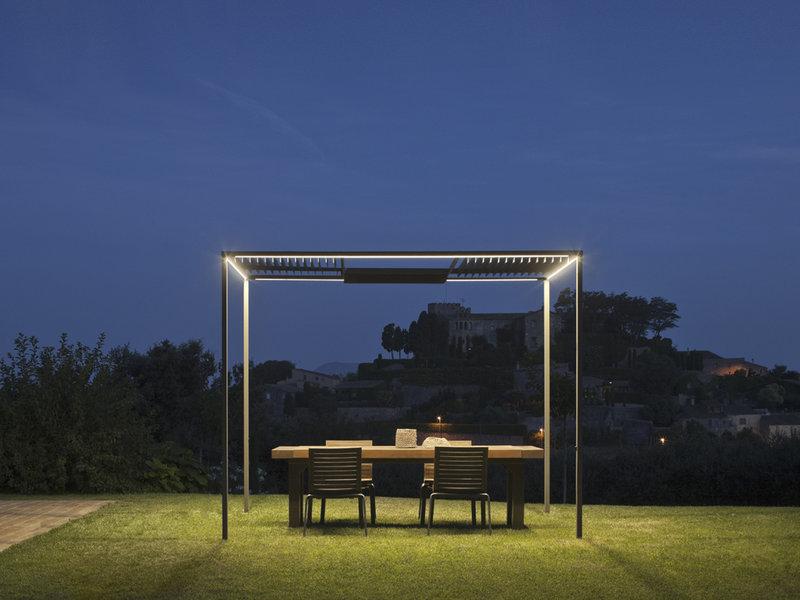 This hilltop lawn pergola has very minimalistic design with a thin almost invisible metal framework. A strip of high powered LED lighting has been built into this sleek frame to cast a bright light over outdoor dining area from two side while being barely perceptible. This provides ample light to eat and socialize by while being surrounded by a beautiful view at dusk.
9. Wizard Staff Lamp Posts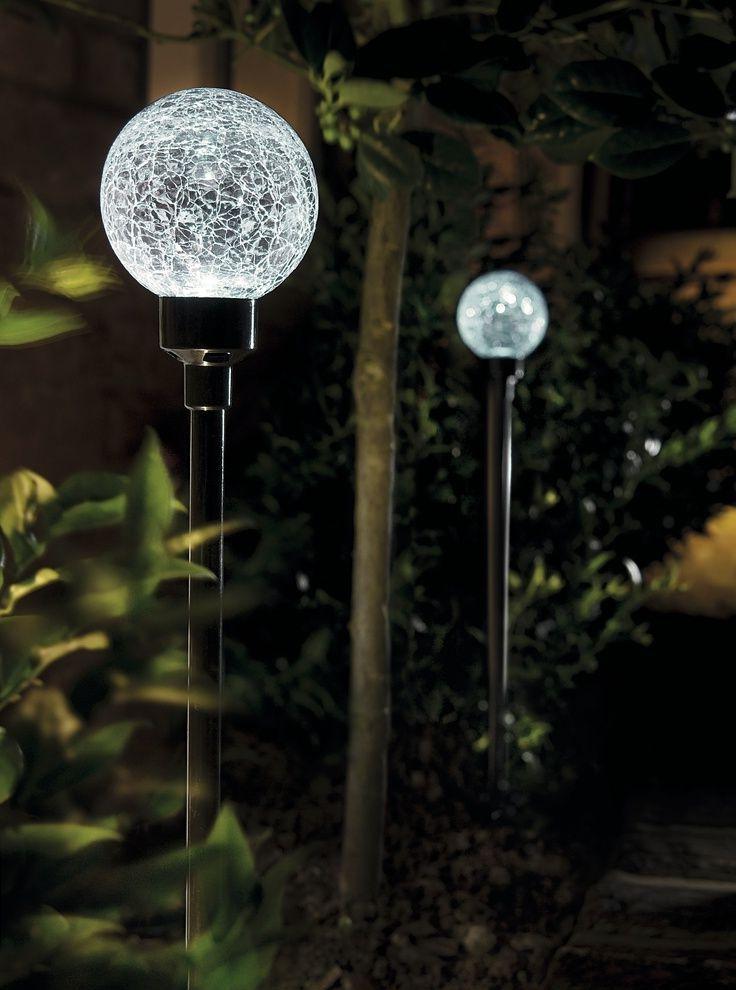 The gleaming orbs sitting on top of the black staffs wouldn't look out of place in a fantasy novel held by a Gandalf like figure. When the black poles disappear when the sun goes down so the lights seem to float. The cracked effect of the glass make the light glow in a mysterious way. Paired together along a pathway creates a magical ambiance and feeling of excitement as to where these glowing orbs will lead.
10. Wall Mounted Up And Down Lighters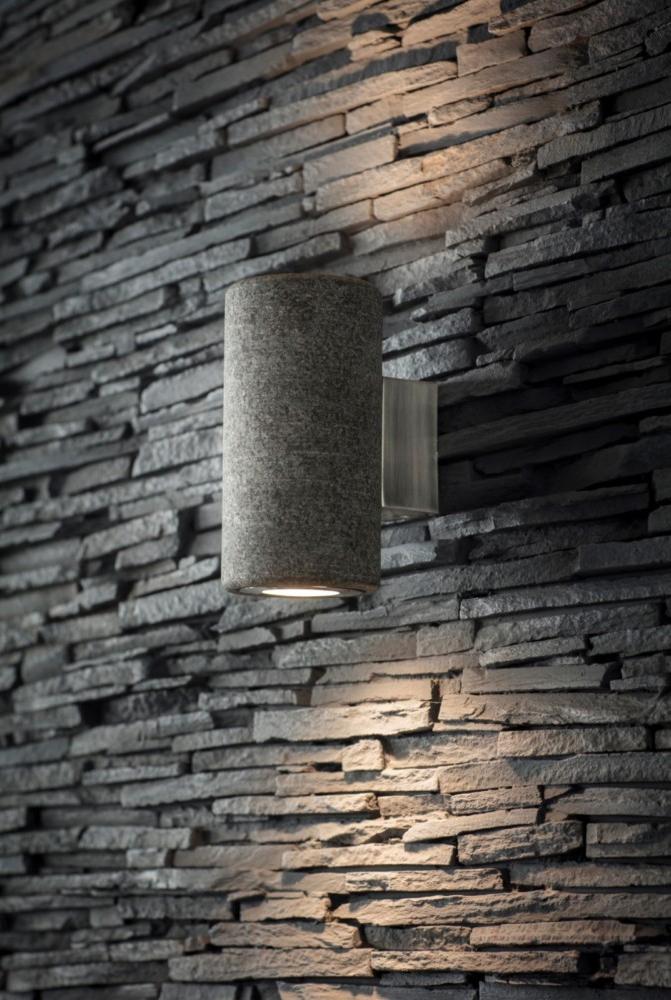 Wall mounted directional lighting like these are a very modern and space saving lighting option. The material and texture blends in with the walls colour and texture when the sun is out and when the sun's gone down rough texture of the thin stone cladding of the wall is emphasized by a combined up and down-lighter.
More Outdoor Lamps Design Ideas On The Next Page…