A barbecue is the perfect way to bring the people you love together around food. Communing around a fire with the nostalgic scent of smoke in the air creates an atmospheric and welcoming environment for a relaxed and cozy dining experience all year round.
Now you may be thinking that you can't possibly jump on the BBQ train because you don't have the space, but never fear! The BBQ areas in this list range from large permanent outdoor entertainment areas to compact, portable options; which are perfect for apartments or houses without a garden. Gas grills can even be brought indoors and incorporated into your kitchen to provide the BBQ experience in climates that may not be ideal for cooking and socializing outdoors.
25 Outdoor BBQs To Inspire You To Get Your Grill On

Wood fired pizza ovens are a beautiful and useful element to add to a larger outdoor dining space that can be used for many dishes, not just an authentic pizza, that imbues your culinary creations with a tantalizing smoky flavor. Switching up your cooking routine by moving your kitchen outdoors and swooping you oven for an open flame is all the inspiration you need to take your home cooking to the next level.
So if you're keen to show off your grilling skills to your friends and family here are:
1. Concrete Freestanding BBQ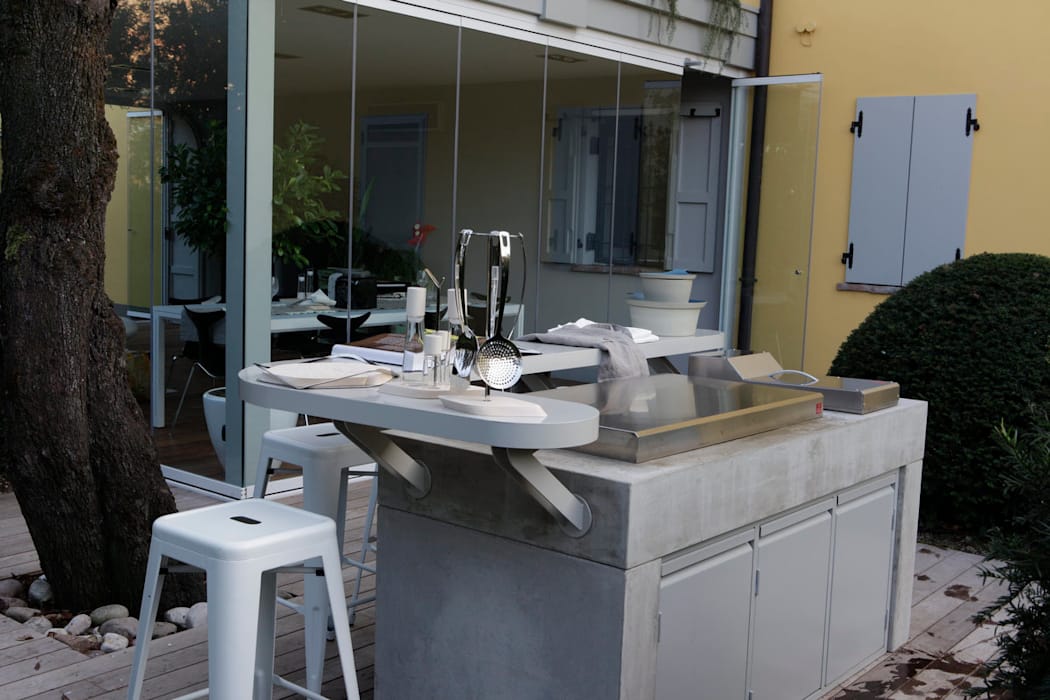 This high tech style BBQ is a freestanding, compact unit with innovative technology like induction plates built right in. A table that is raised on brushed metal arms to create a built in dining or serving space surrounds the cooking area so the diners can chat with the designated cook. The solid grey concrete unit has built in surreptitious storage underneath to create a self-contained cooking zone. The style fits in perfectly with the modern glazed exterior and bright yellow feature wall.
2. Modern Geometric Freestanding BBQ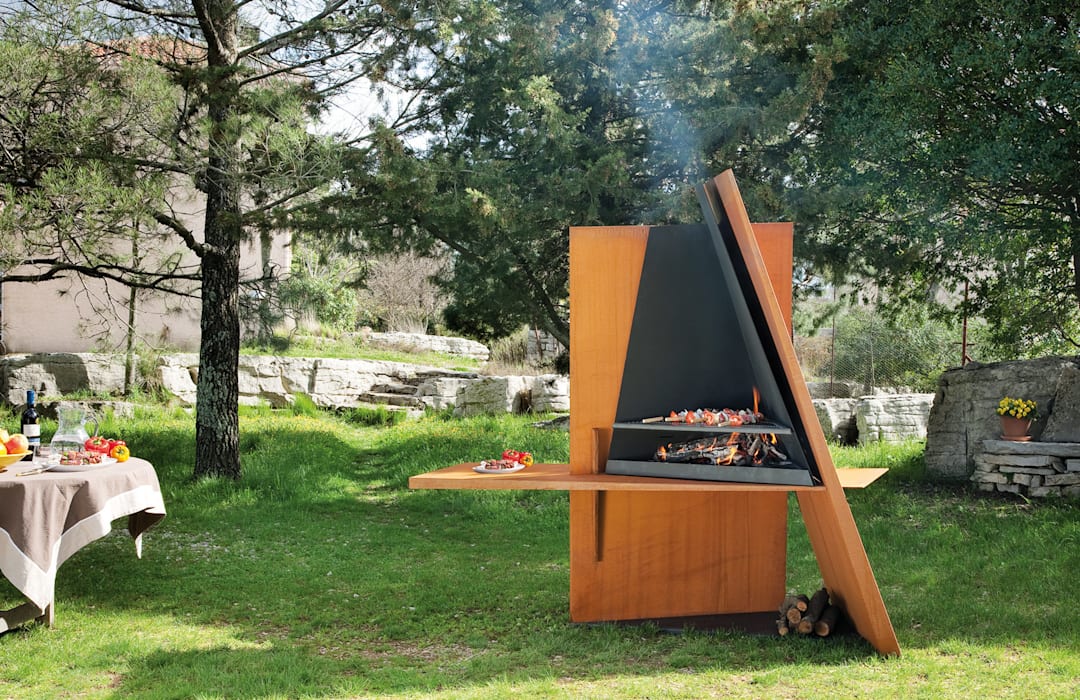 This modern BBQ is constructed of three pieces of wood, two leaning precariously over a third; which is wedged between the two and cantilevers to form a prep area. This BBQ becomes a lightweight piece of outdoor modern sculpture that stands out against rural, slightly over grown environment for a unique contrast. An outdoor dining area can be set up alongside it for summertime outdoor dining that can be neatly packed away afterwards.
3. Rustic Built In Terracotta BBQ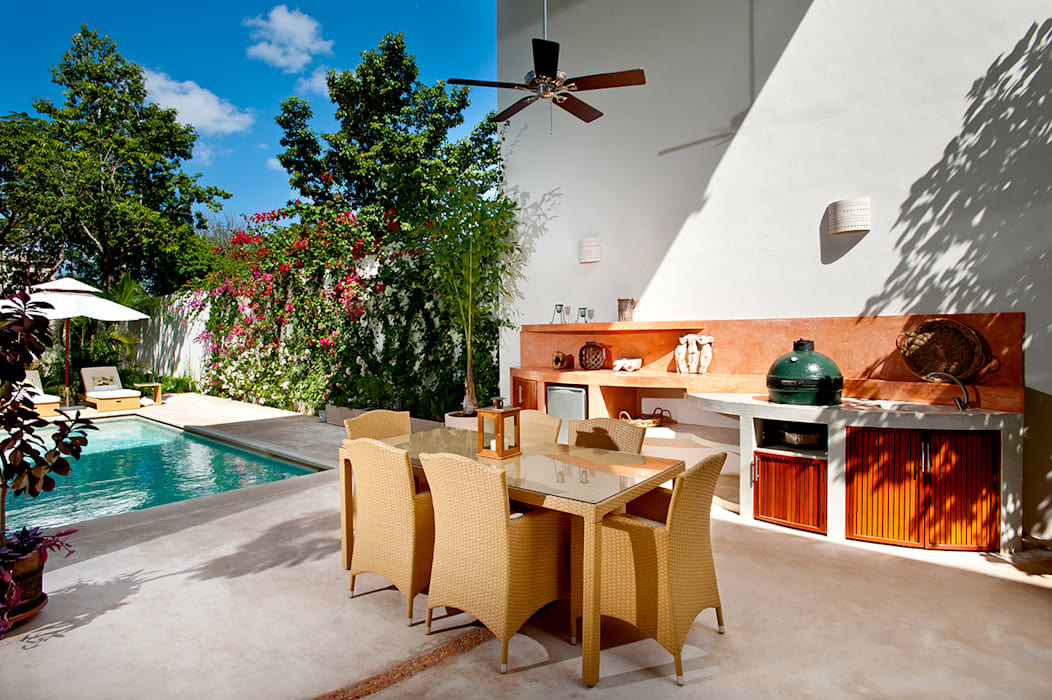 This large wall mounted BBQ is a fixture set up next to a luxurious pool to create a social area around food and recreation. The classy outdoor dining table is set up right next to the BBQ for serving food straight off the grill. The set up combines a small counter-top cast iron grill with generous counter spaces and under counter storage and fridges for easy access to cold beverages on a hot day. The warm terracotta design evokes the feeling of warmth and summer, ideal for this luxurious outdoor space.
4. Novelty Beer Keg Secret BBQ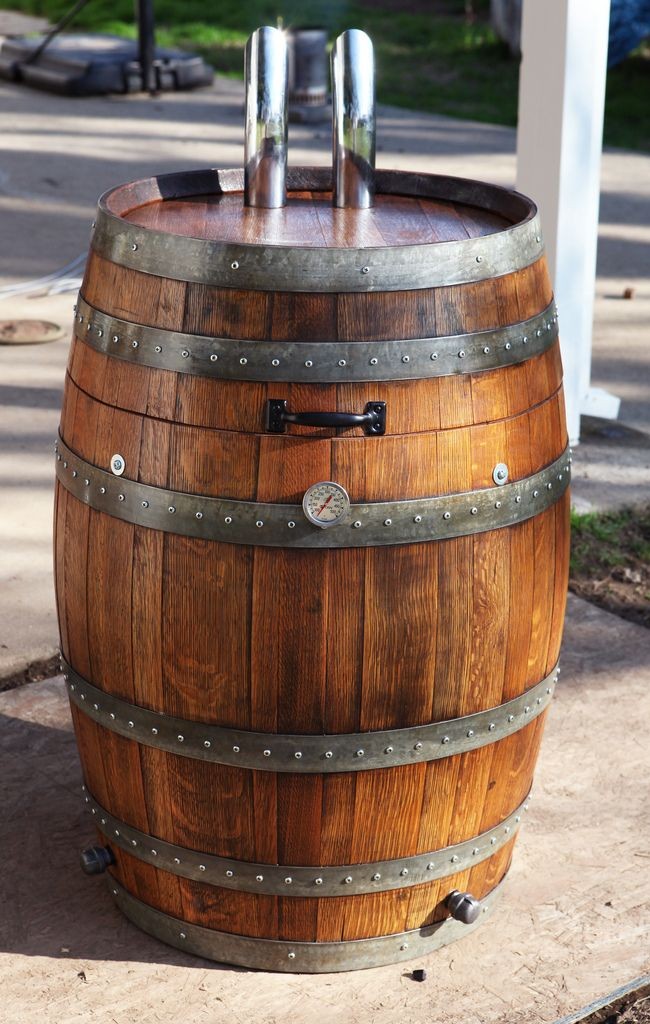 This small scale barbecue masquerading as something else is a quirky style; which is perfect for beer enthusiasts and those of us that like to have some fun with their interior décor. This little grill can fit into a small space and is portable so it can be moved and stored away with ease.
5. Imitation Coal Stove With Chimney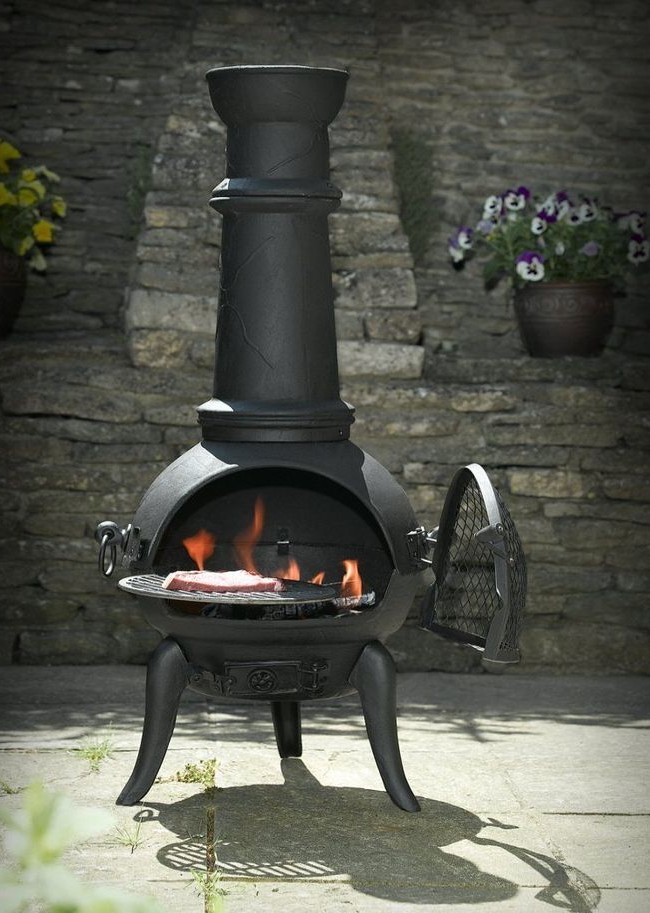 This matte black BBQ imitates an old coal fire stove that used to find its home indoors in the days before electricity. The short chimney feeds off of the potbellied body on a tripod of little legs. The wood fire adds a beautiful smoky flavor to your meat without smoking out your dining area because of the tall chimney. This BBQ also features an easy access swing out grid and mesh guard to prevent you, or any little ones that might be running around from burning themselves.
6. Brick Social BBQ Area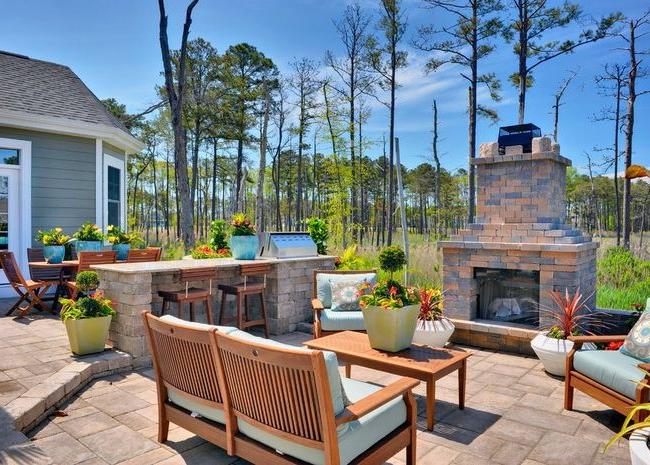 This comfortable social area has been built around the brick outdoor fireplace surrounded by trees. The brick of the BBQ itself as well as the paving surrounding it absorbs heat creating a cozy area outside to gather around the food being made. This rural home has taken full advantage of its beautiful natural surroundings with an outdoor breakfast bar and dining area with a gas grill for a comfortable outdoor socializing zone.
7. Colourful Mosaic BBQ With Outdoor Dining Table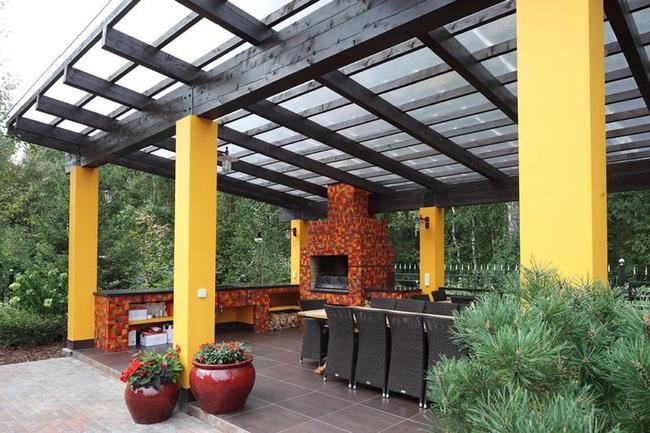 This huge outdoor dining space has taken inspiration from the fire to inform the bright yellow columns and orange tiled mosaic that decorates the BBQ area itself. This space is protected from the elements by a lean to roof so can be used all year round while still being open to the fresh air. All these details make this the perfect space for large social gatherings, family get-togethers and special occasions.
8. Rustic Gas BBQ Patio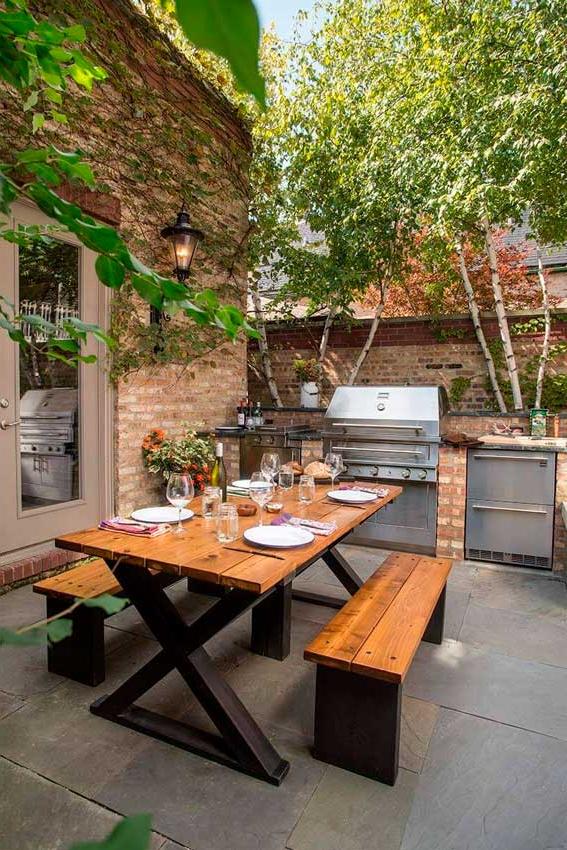 This contemporary courtyard BBQ area is built from the same bricks as the house to create a cohesive housing for the stainless steel grill, oven and under counter storage. Taking advantage of the naturally beautiful exposed brick combined with the large paves makes this space feel rustic chic. This bolt hole has plenty of seating near the cooking area at the contemporary wooden dining table with bench seating. The vines creeping over the walls and the surrounding trees creates an area that feels private and intimate.
9. Compact Outdoor BBQ On Wheels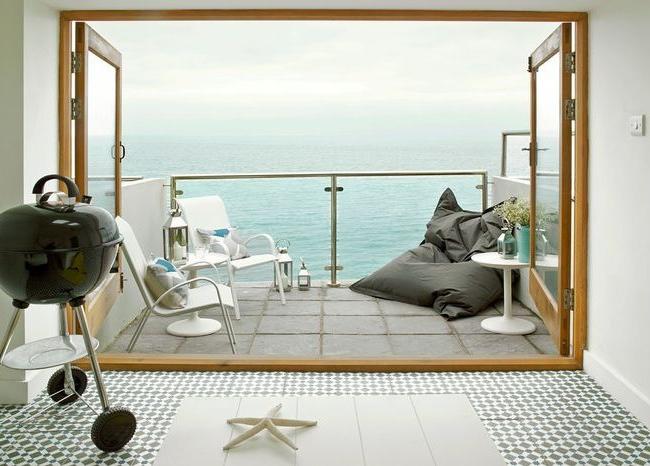 This small steel BBQ on a tripod of wheels is great for apartments or houses with very little space to spare. It is lightweight so its easy to move around requires very little space and storage when aren't using it. It come with a lid which allows you to use it as a smoker or to create a camp oven, allowing you to get even more bang for your buck. This nifty BBQ allows to utilize a small outdoor space to its full advantage.
10. Country Style Canopy Grill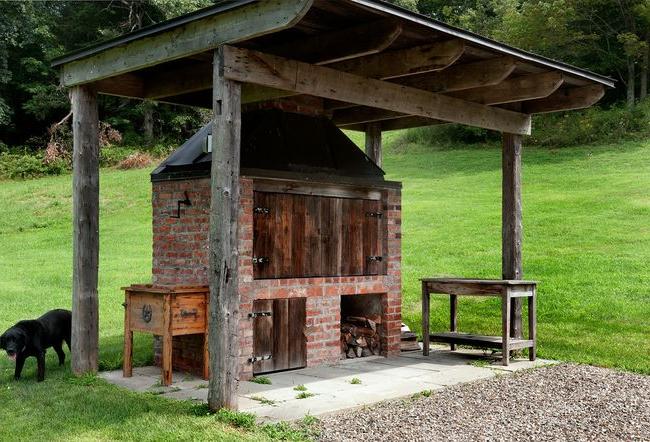 This large brick grill sits in the middle of a huge lawn to create a spot away from the house to socialize. The lean to roof provides a little cover to keep the log storage underneath and rustic wooden doors protecting the grill dry. This stand alone style is good for large gardens or farm-style houses to feel like you're eating right in nature.
11. Outdoor Kitchen Grill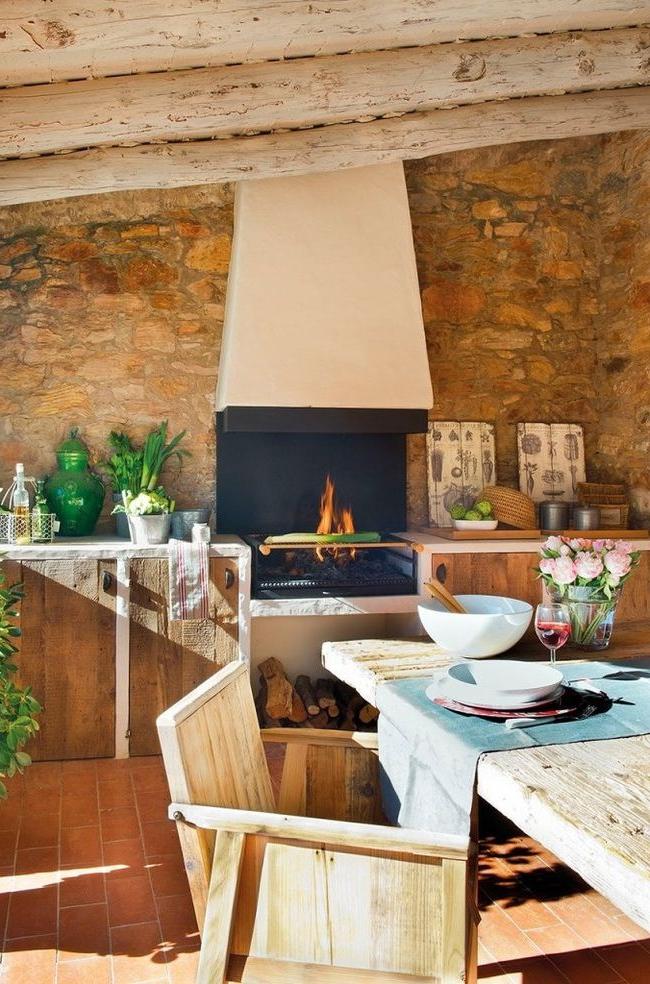 This gorgeous outdoor kitchen provides the unique experience of cooking meals over a flame in the sunshine. The rustic design is rich in texture from the rough wooden table and cupboards doors, the red brick paving, white washed roof beams and the exposed stone wall that the BBQ sits against. A rough wooden roof makes this outdoor dining areas useful all year round which is helped along by the cozy feeling evoked by a real fire.
12. Patio BBQ With Innovative Vented Roof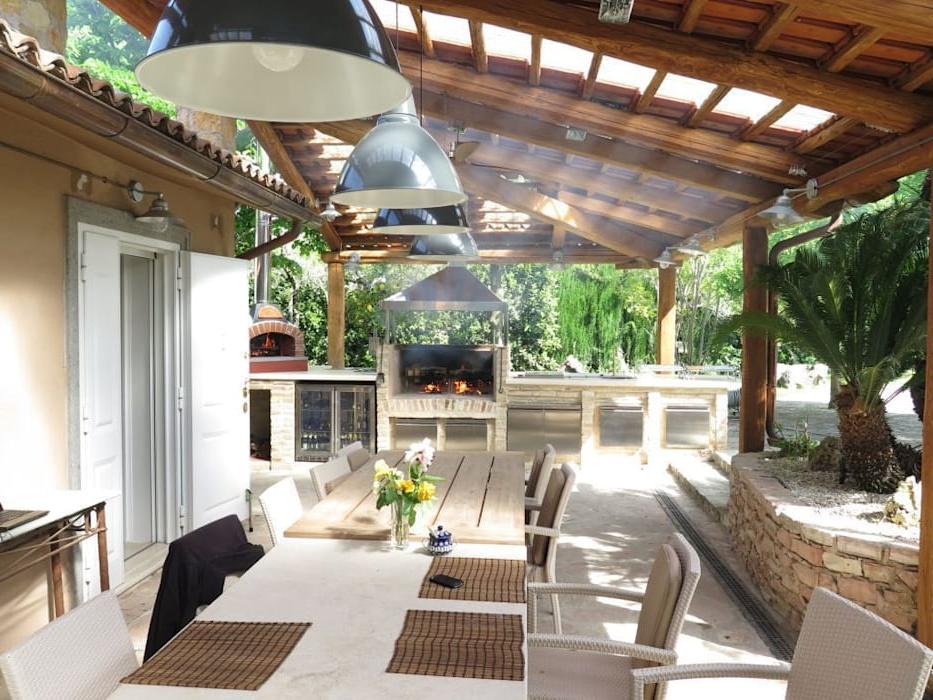 This wrap around patio creates a spacious outdoor dining space with plenty of space for a big raised fire pit with red brick pizza oven. The stone BBQ has an under bar beer fridge and a long prepping and serving area for easy catering. What makes this space unique is the vented roof; which can be open or closed to let in light and allow the smoke from the BBQ to escape so you don't choke your guests.
13. Indoor Pizza Oven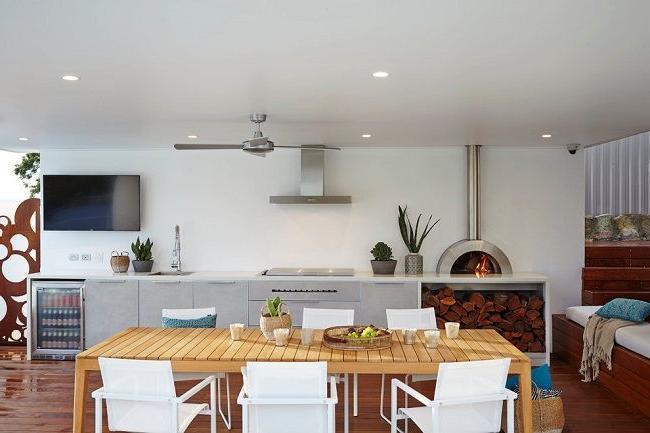 This sleek modern dining area is an inside/ outside space created by stacking doors to let nature into the home with ease. This additional ventilation along with the thin silver chimney allows you to have a wood fire pizza oven right in your home. The oven is constructed out of a polished stainless steel to coordinate with the rest of the kitchen and blend in with its modern design. The wood storage below the oven is both necessary a very attractive textural addition to the kitchen decor.
14. Gas Grill Built Into Your Kitchen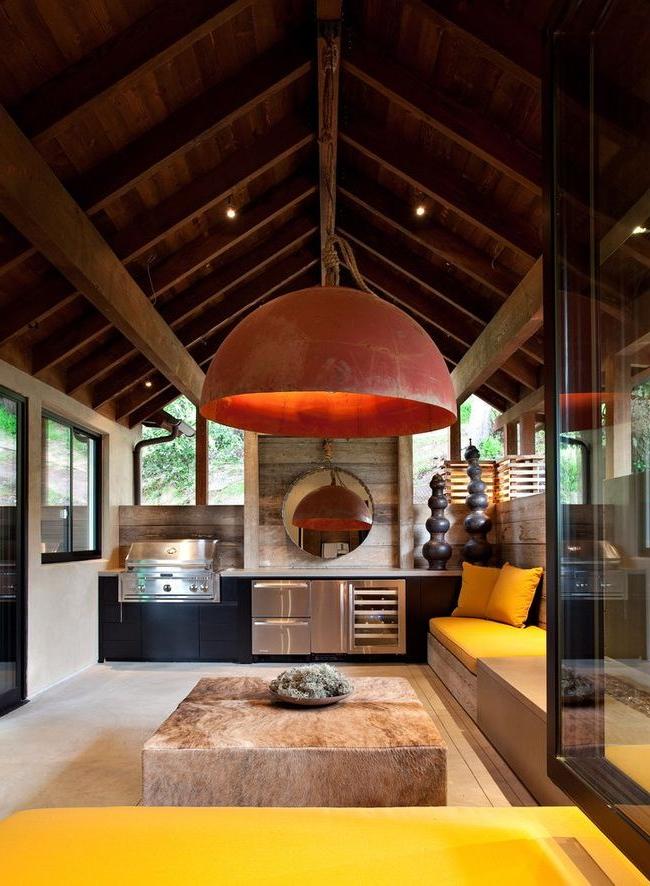 A gas grill has been built right into this very unusual kitchen. This works without the need of extra ventilation because a gas grill doesn't produce the smoke that a wood or charcoal BBQ would. This is a perfect solution if you live in a cold climate but still feel the urge to grill. This huge double volume space with exposed beams has a country house vibe depicted in warm colors that enhances feeling of comfort that this whole kitchen exudes.
15. Portable BBQ With Prep Table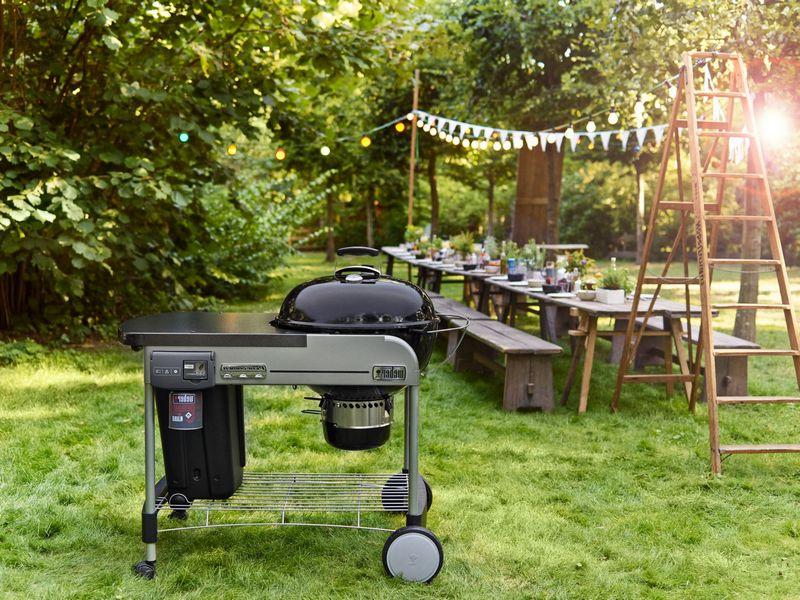 This is another great example of a handy wheeled BBQ this time with a convenient table to store meat and cooking tools while you're cooking. Its wheels and lightweight design means you can easily move it to different locations and store it away out of sight. It can even be moved under cover which makes it useful in all weathers. It can be used hand in hand with the large rustic outdoor dining table for catering special occasions or just celebrating summer.
16. Indoor/ Outdoor Kitchen With Pizza Oven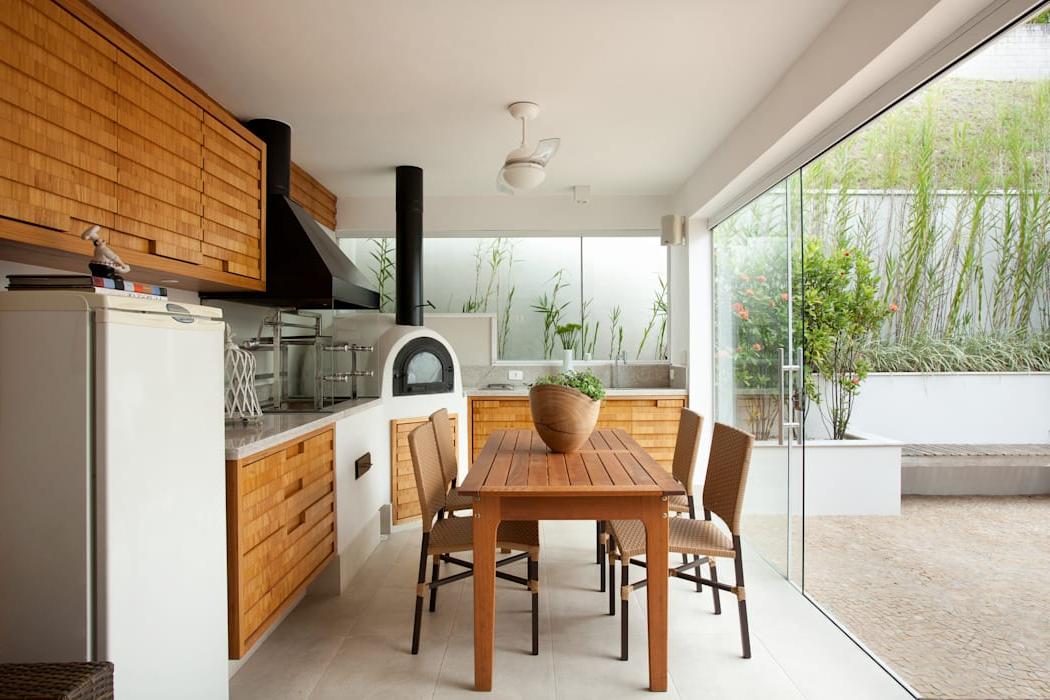 Nature is part of the interior décor of this contemporary kitchen; the simple act of opening the thin sliding doors makes your kitchen suddenly appear to be outside. A wood fired pizza oven fits in sleekly with the light floors and appliances and warm wooden kitchen cabinetry and furniture in a rustic minimalism style. The pizza oven has a long black chimney and hatch at the front to prevent your room filling with smoke if you wish to use it with the doors closed.
17. Built In Gas Grill In Covered Patio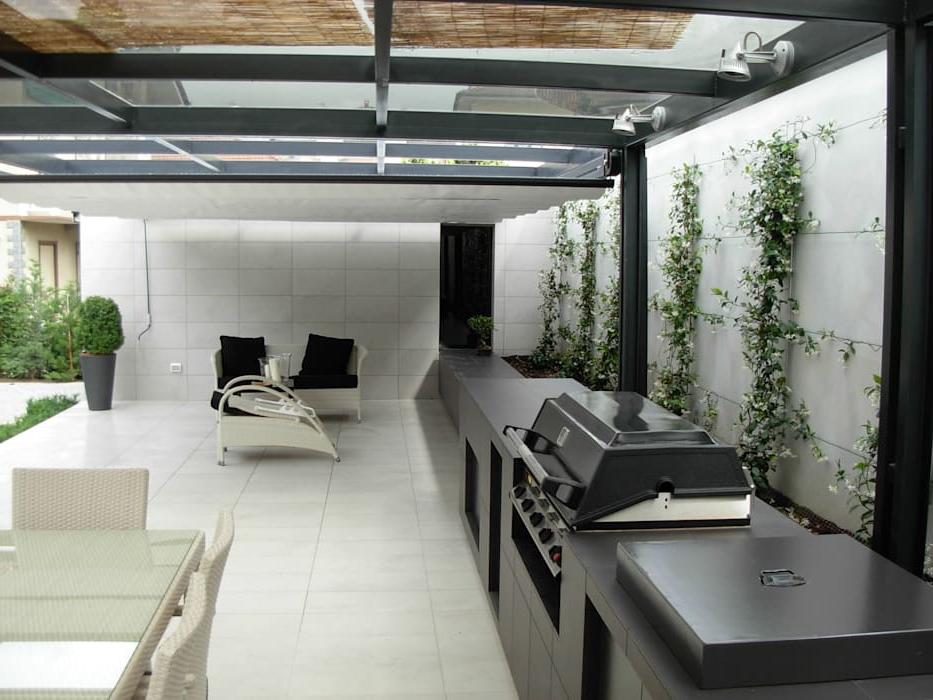 A chunky rustic grill would ruin the monochromatic exterior design in this modern house so a custom gas grill has been used to blend in seamlessly with the black band of counter tops and seating. The minimal patio design is protected by clear roof with a clean black framework that ties in with the BBQ area so beautifully. A simple cream dining table is all that is needed to finish off this simple outdoor dining space.
18. Country House Spit Barbecue And Pizza Oven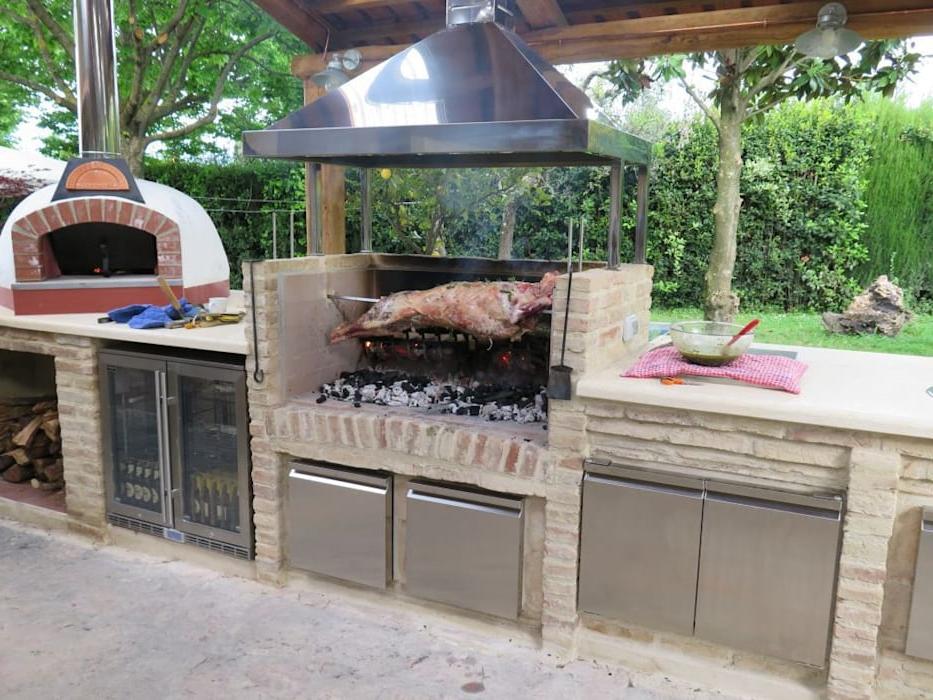 This all in one grill set up features a built in spinning spit roast and wood fire pizza oven with a fridge full of beer underneath to keep you refreshed while you cook. The rustic brickwork structure incorporates with under counter storage and wood store for the ultimate is convenient cooking outside. This style is traditional and homey making it the quintessential family dining area.
19. Secret Garden BBQ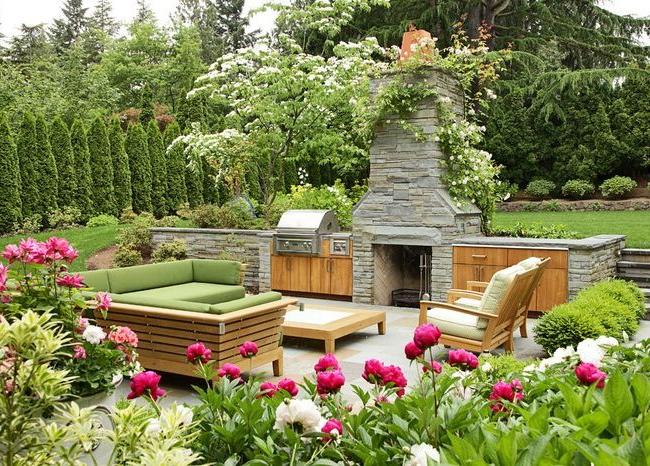 This tucked away outdoor dining and social space appears to have grown from the garden itself. The sunken space is surrounded by flowers which even creep over the BBQ chimney itself. The timber couches surrounding the cooking area are upholstered in a rich green; which further speaks to its natural setting. The BBQ area offers both gas and fire options with plenty of storage and a wide prep area. This outdoor dining and entertainment space in totality is a relaxing space to that is useful day or night.
20. Brick Covered Patio With BBQ And Pizza Oven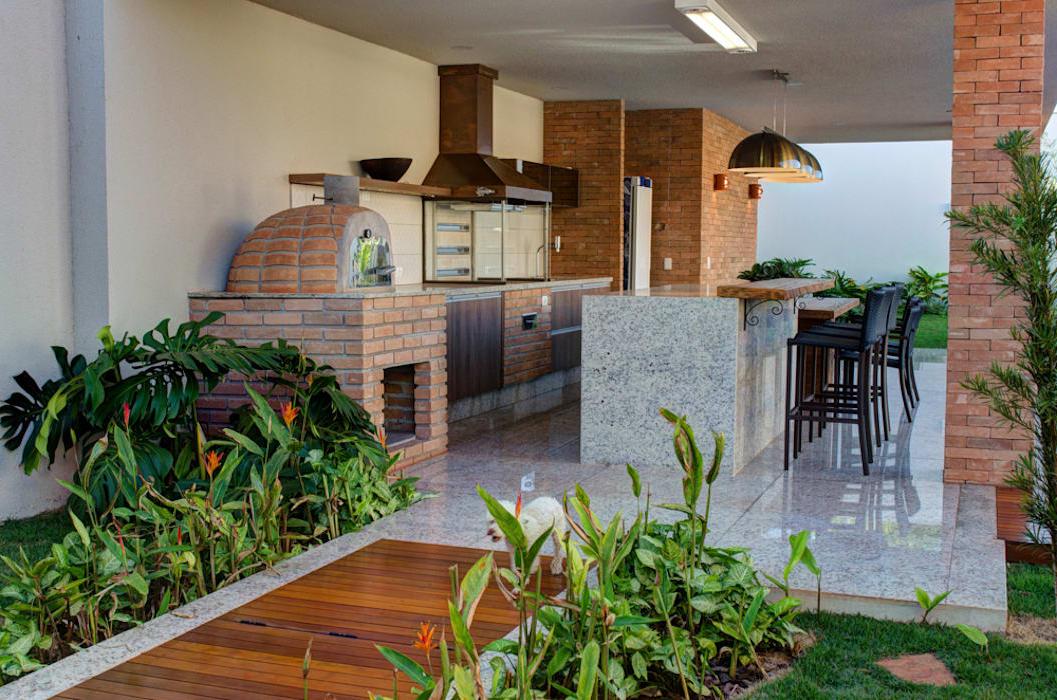 From the main house a timber, stone lined pathway leads you to an enormous covered BBQ area with a hilltop view when the weather is clear. The outdoor cooking space is kitted out with a pizza oven, grill, ample storage and a large fridge for food and beverage storage. Apart from the utility aspect this space is also aesthetically pleasing and rich in materials; raw red brick, stone like tile and the solid wooden breakfast bar and dining table combine in a feast for the eye and the stomach.
21. Grey Brick BBQ And Pizza Oven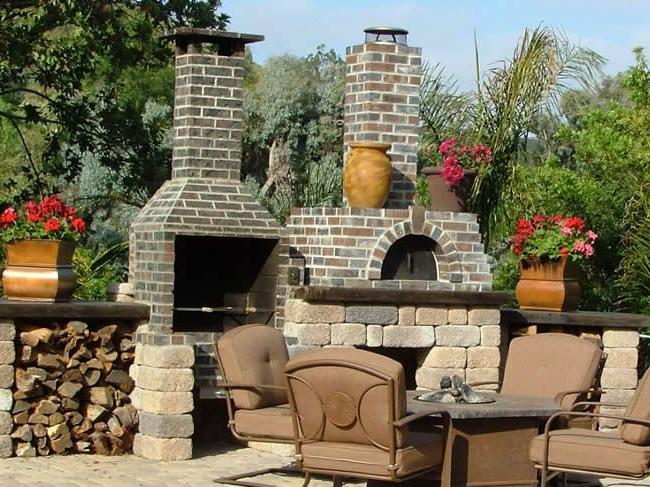 This design has taken advantage of the natural color of texture of stone in order to achieve a rustic design that blends in with the natural surroundings. Bigger blocks are used at the foundation level to support the large grill area and wood fired pizza oven while incorporating log storage and shelving. This is a set up that's built for socializing with a large cooking and preparation area and copious amounts of space for relaxation and socializing.
22. Ultra Modern Cantilevered BBQ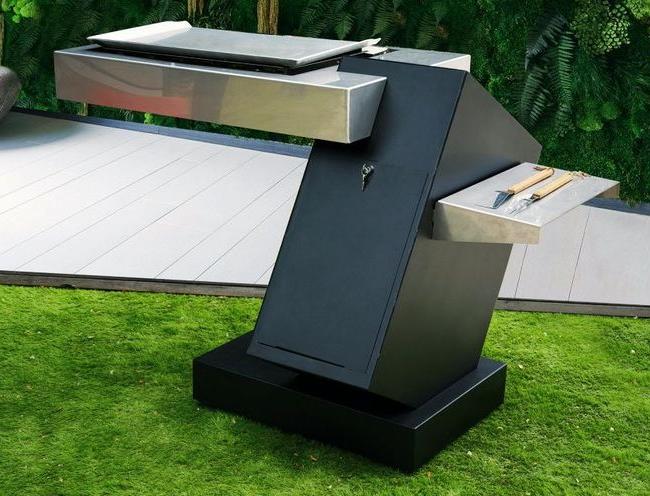 This super innovative design is almost unrecognizable as a BBQ. The leaning black metal base supports two stainless steel shelves projecting off each side; which provide ample grill space and storage for cooking equipment. The sculptural quality of this grill makes it perfect for the garden of a radically modern house. This is the complete opposite to the rustic style we expect from a classic BBQ and takes up very little space; which makes this set up completely unique.
23. Small Table Top BBQ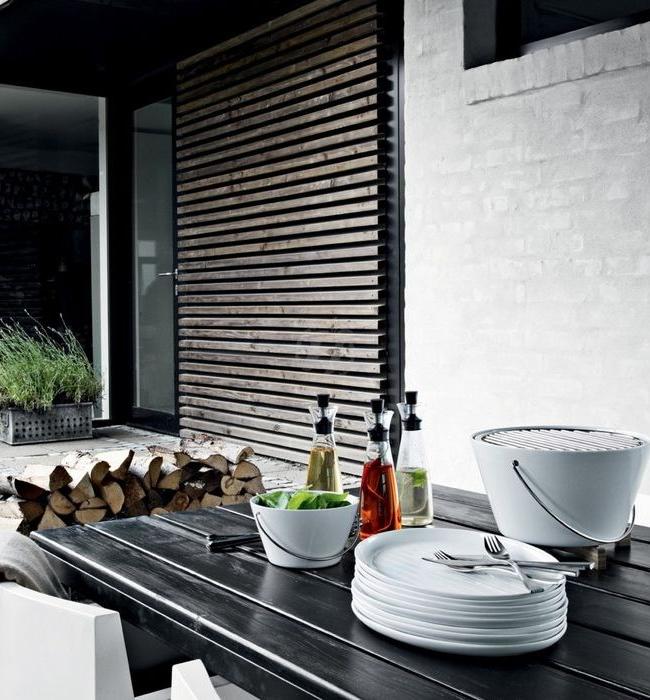 A small tabletop BBQ is the pinnacle of portable and adaptable design. The body resembles a small white bucket that sits unobtrusively on your tabletop which makes it ideal for a in a small space or apartment. This miniature option is cute and easy to set up and clean to make your BBQs as stress free as possible. It also gives you the chance to try a unique 'grill your own' style dining experience.
24. Arched BBQ Baked In Clay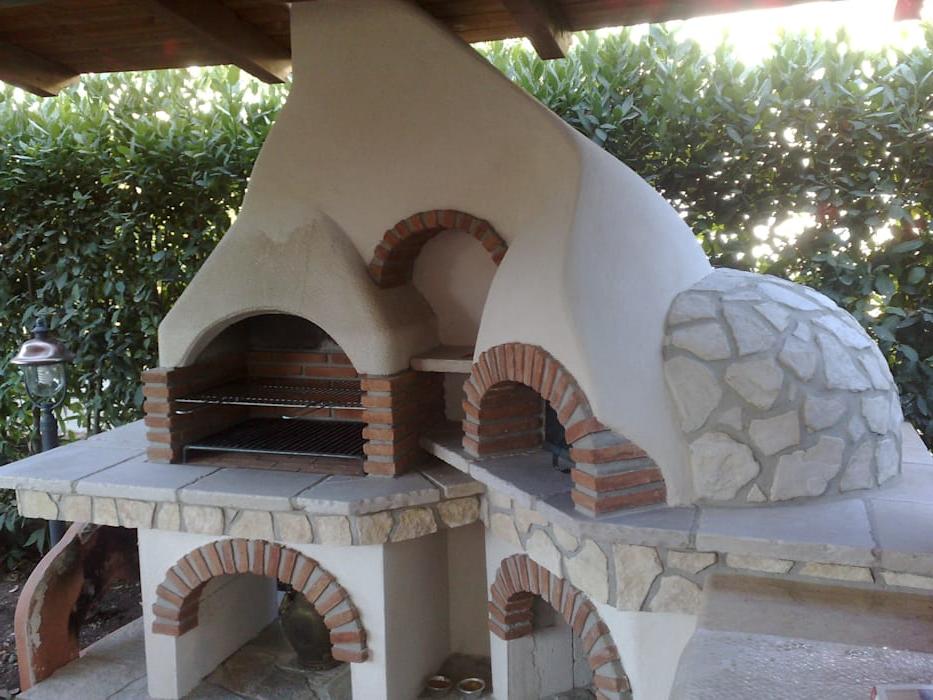 A tortoise shell pizza oven and wood grill are defined by thin brick arches that are echoed in the multi use compartments between and underneath them. However, the thing that makes this design special is the way they are connected by an amorphous pouring of clay to produce a shape that appears to be hew from rock.
25. Large All In One BBQ Station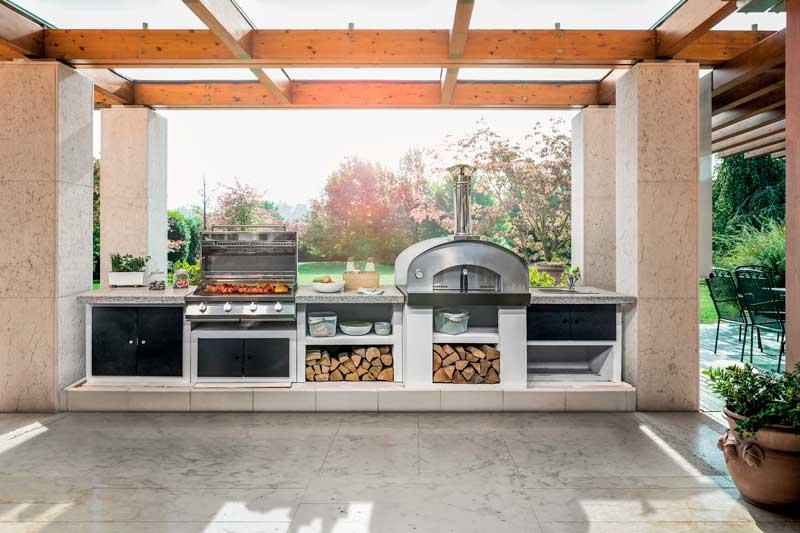 This large all in one modern BBQ station has it all: built in storage, a log store, a stainless steel pizza oven and gas BBQ set and concealed gas canisters. The necessary log storage adds a beautiful natural texture to the otherwise clean layout. Little prep and serving nooks have been incorporated next to and in between the cooking stations for the most efficient use of space with a beautiful view of the garden while you cook. This marble clad covered patio provides plenty space for entertaining and mingling with dining table off to one side ready for your offerings from the fire.
Conclusion
From sleek and modern to earthly rustic; these outdoor BBQ spaces can be adapted to suit any home regardless of taste or size. The possibilities are endless.
The social space created around a warm fire with the smell of cooking meat (or vegetables for our vegan or vegetarian friends) in the air is something special that can't be matched by your average house party or night in a crowded club. The beauty of food is the innate way it has of bringing people together in harmony with full bellies and hearts full of love.
So why not bring some fire into your life with your very own outdoor BBQ and start reaping the benefits for your soul and stomach today!