Ceiling and wall molding (s) are a common household feature usually seen in cornicing and skirting boards, however, they can be so much more than that. They can take the form of layered suspended ceilings, gypsum plaster relief sculptures and decorative ceiling roses. These often overlooked features can be used to create an all encompassing experience and really tie your room's interior design together from floor to ceiling. Although these features are commonly white against white walls and ceilings but, in fact, their colours and finishes are completely customizable to suit the effect you wish to achieve.
25 Unique Ways And Classy Ways To Use Wall And Ceilings Moldings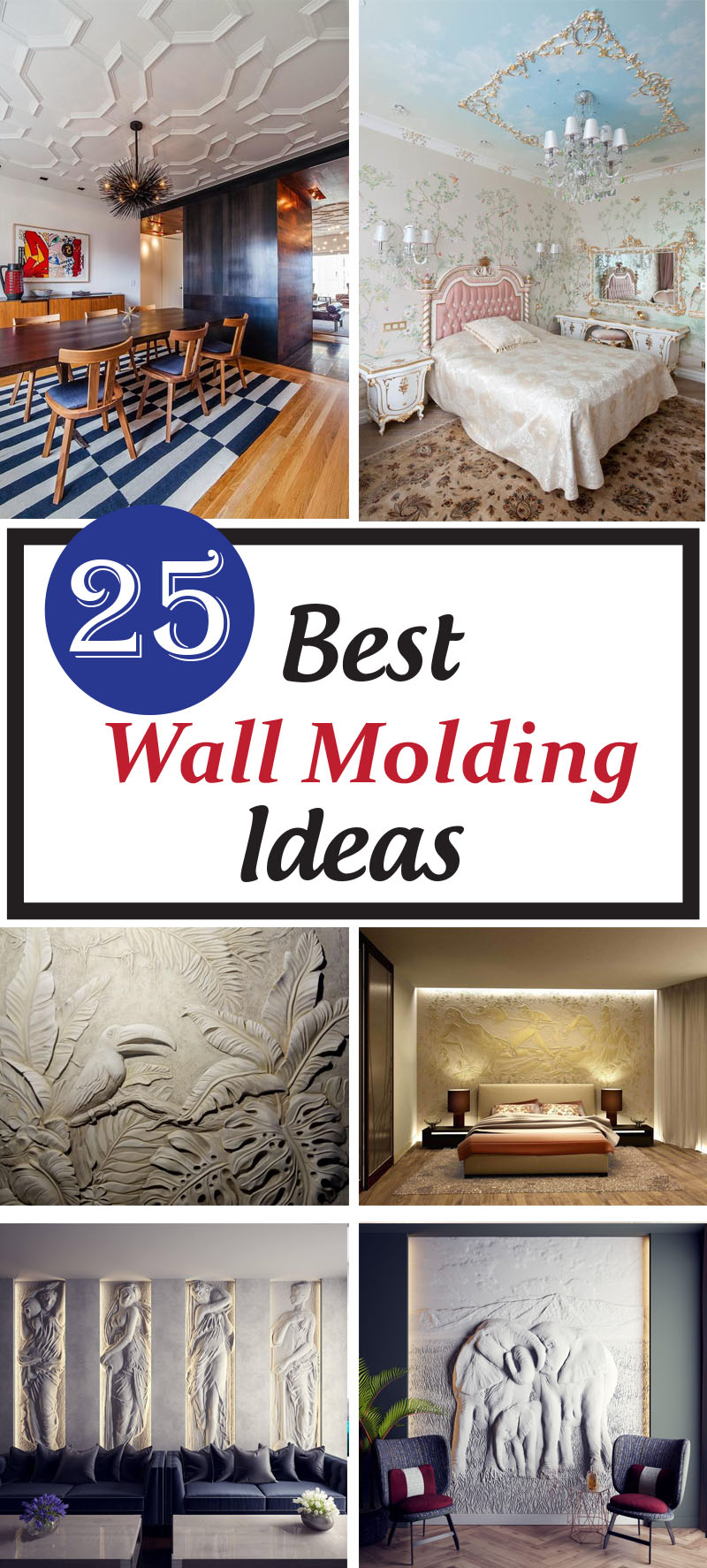 Relief is a sculptural technique where the sculpture has a fixed solid backing of the same material from which the image projects. This has been used for centuries and can be found in art from ancient Egypt, Greece and Rome among others, and its still relevant today. It can be used inside and out to create permanent works of art with the very walls of your home.
To get some insights into how to apply these modern and ancient techniques to make your own home pop here are:
1. An Unexpected Source Of Colour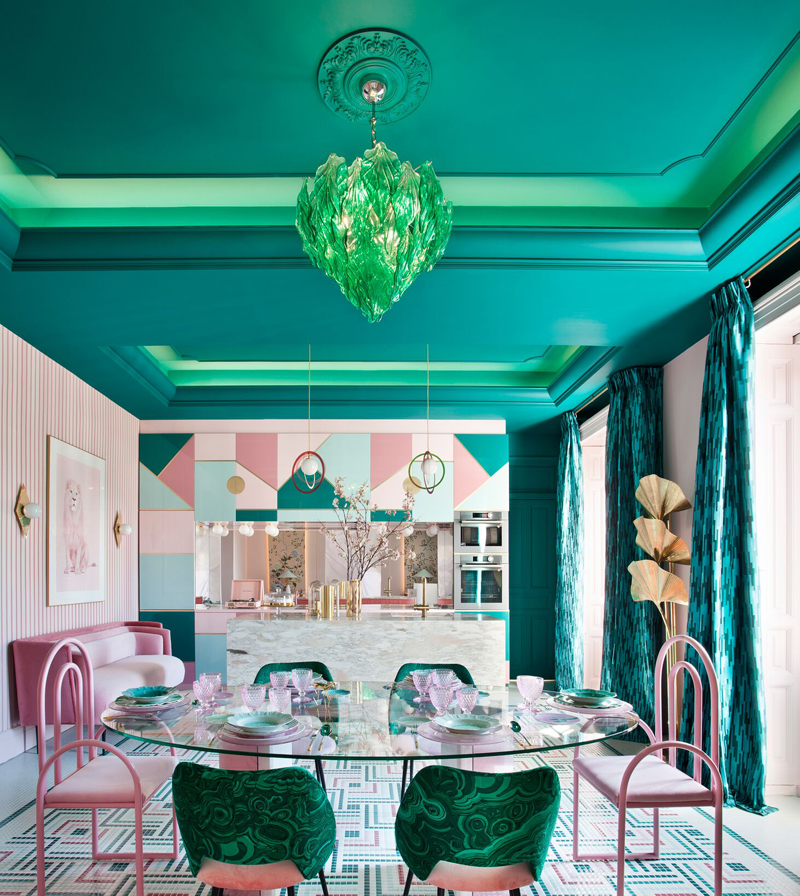 This in your face veranda green suspended ceiling subverts the usual boring white ceilings we have come to expect. The effect is really dramatic and creates an all-encompassing experience when combined with the quirky patterned pink interior. The ceiling molding is multilayered with the recessed area surrounded by a lighter shade emphasized by hidden lighting. The ceiling rose in the same shade adds texture and creates an anchor point for the statement hanging light.
2. Gilded Stepped Cornice and Ceiling Rose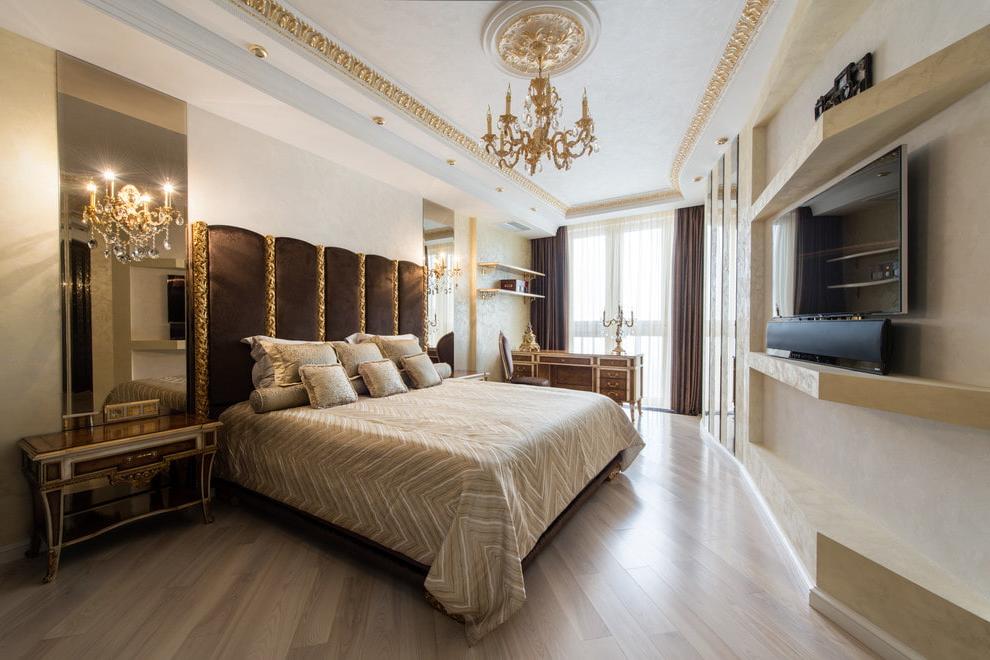 This large bedroom is the definition of luxury with its enormous bed lavish décor and the ceiling only served to emphasize that. The gilded cornicing and ceiling rose encircles the elaborate golden chandelier; which acts as a heading to this opulent bedroom. Gold details have been used throughout the space in the furnishings and headboard to create an air of glamour in every facet of the room, floor to ceiling.
3. Gold Trimmed Ceiling With Wall Mural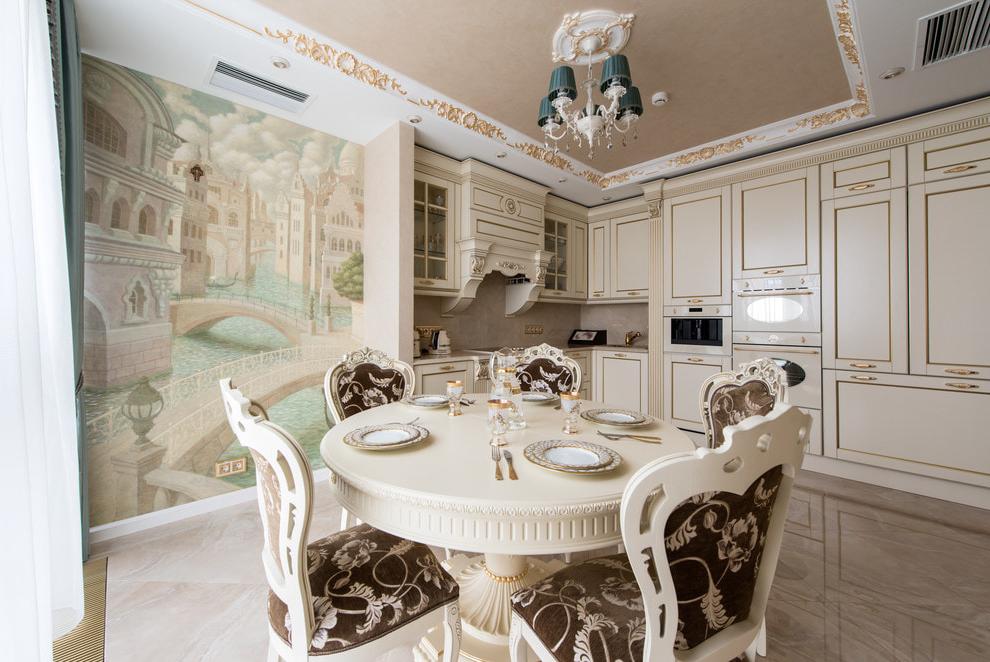 This kitchen would go very well with the bedroom we saw before this. A detailed white and gold cornice with a ceiling rose sits above a cream interior for a very vintage glam look that is unique in a kitchen setting. The gold details are also found throughout the room in the cabinet handles, crockery, cutlery and chairs. This kitchen has also taken advantage of wall decoration with a floor to ceiling mural that makes you feel like you're eating breakfast in Venice.
4. Italian Inspired Wall Mural With Relief Sculpture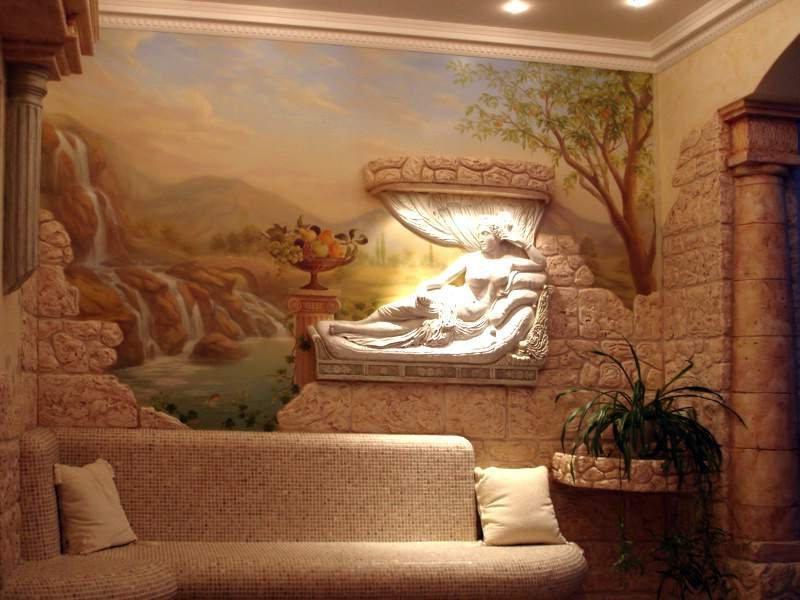 The inspiration for this home comes straight out of Italy. A mural depicting a Tuscan countryside provides a backdrop to classic relief sculpture of a reclined woman lit by a bright spotlight. Another layer is added by the stonework cladding; which frames the whole scene and cantilevers out to form a shelf to incorporate a pot plant. This whole aesthetic creates a little novel nook to recline in and imagine you're lying in the hot Italian sun.
5. Flowers And Vines With Crystal Chandelier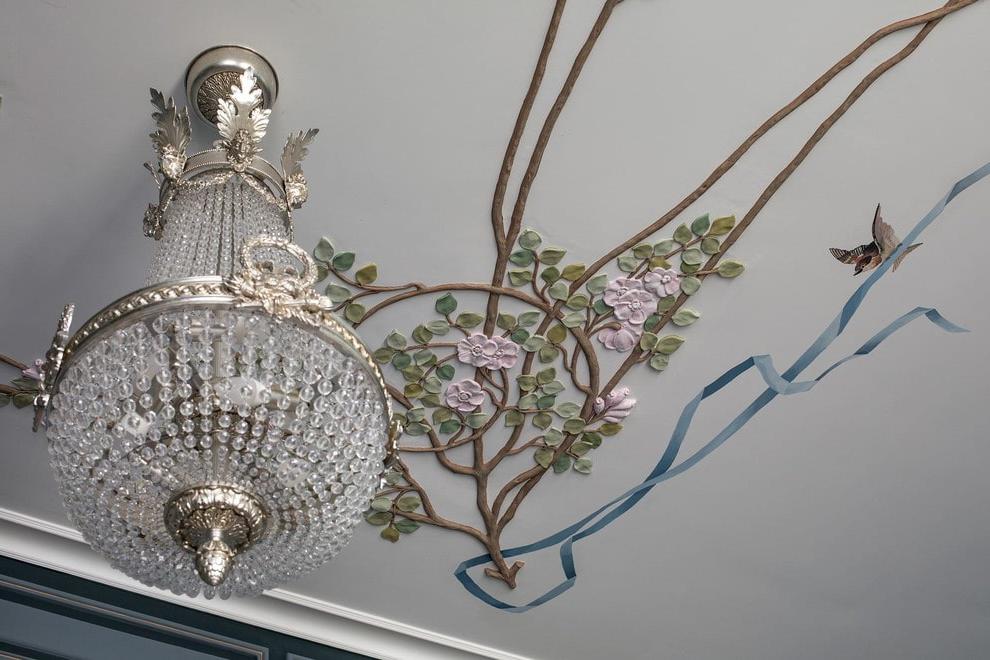 This nature inspired design combines plaster moldings and paint to create a spray of vines and flowers spreading across the ceiling trailing a painted blue ribbon. The delicate silver leaves that adorn the chandelier's framework inform this floral design. This allows these two elements to team up and create a dramatic ceiling decoration of dripping crystals framed by leaves and branches.
6. Dramatic Carved And Curved Wall Molding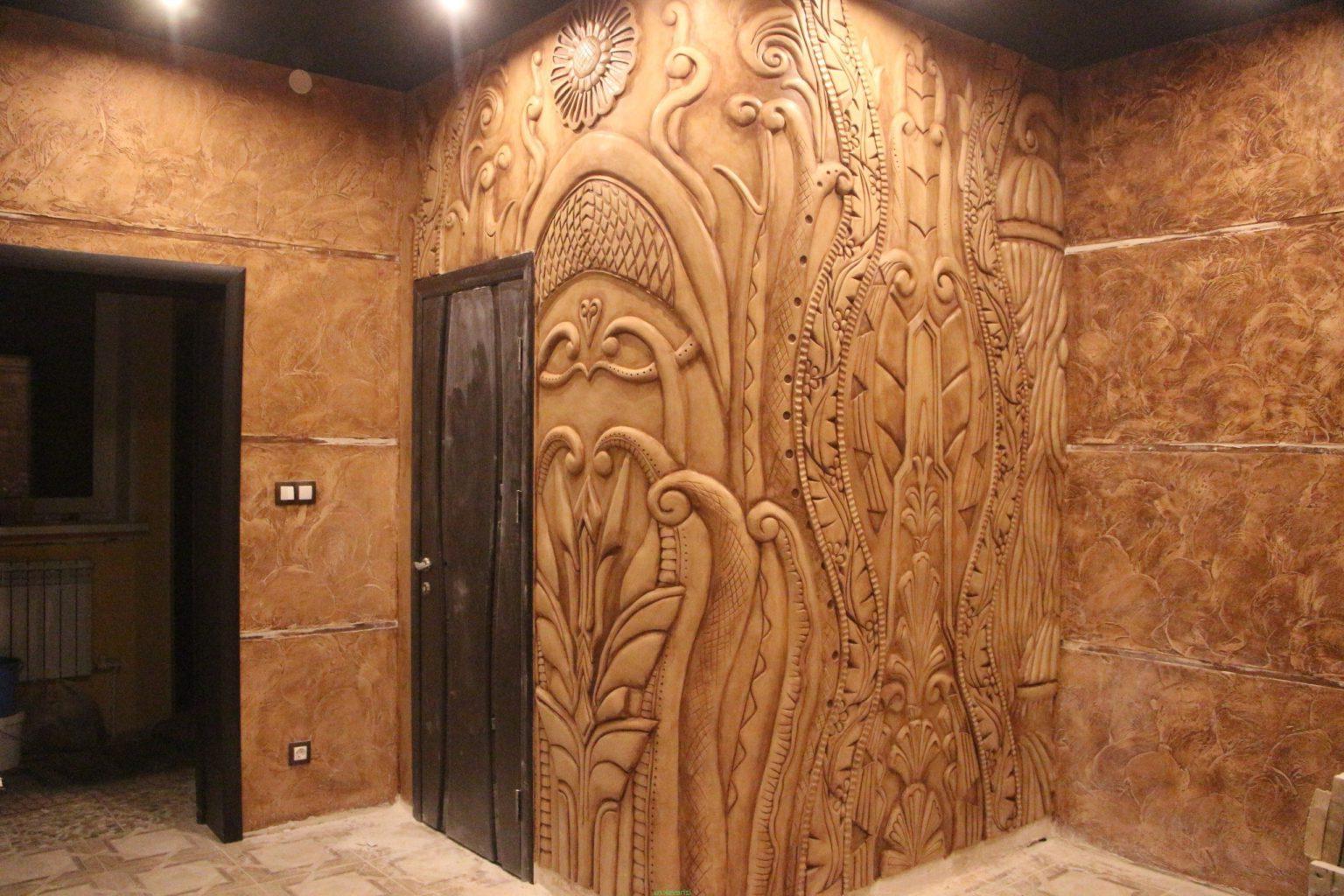 This hallway has used wall moldings in a new and interesting way. The walls are a warm stone colour almost as if the hallway has been carved from rock. The molded storage cupboard even curves like a real stone wall might and makes a feature out of a room that is usually utilitarian and unattractive. The moldings resemble authentic stone carvings filled with both large and small scale patterns. Its immense visual impact due to the fact that the bold yet intricate design has been artfully shaded to make it stand out.
7. Plaster Wall Molding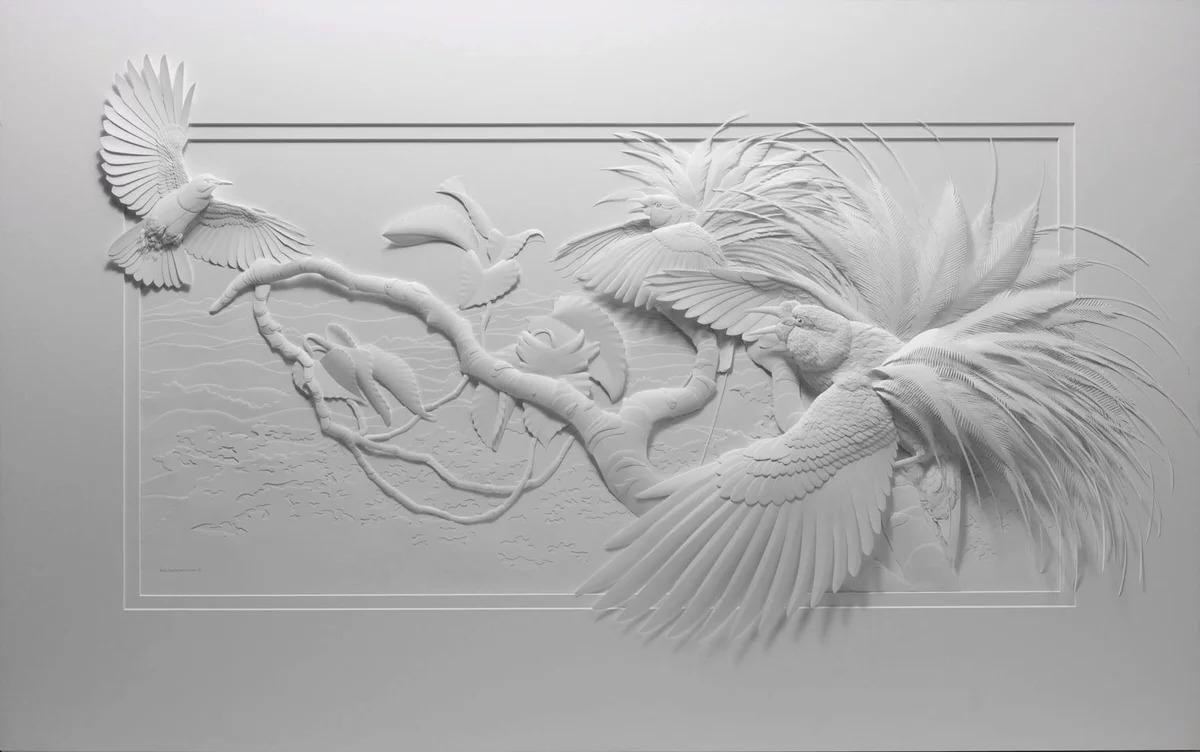 This nature inspired relief sculpture has a delicacy that seems almost too fine be molded from plaster. The white on white design blends in with the wall until you notice the gorgeous feathered birds flitting across the surface. A small scale relief sculpture like this adds a gorgeous natural element as well as a surprise textural feature to a plain wall that is something more unique than a traditional hanging picture.
8. Polygonal Ceiling Molding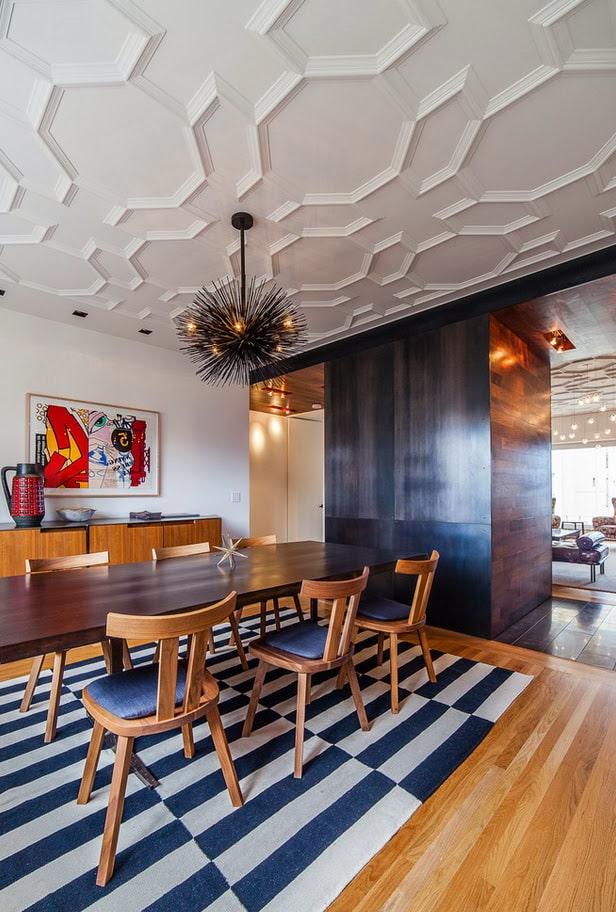 This graphic dining area shows how ceiling moldings can be used successfully in a more contemporary setting. The white polygonal pattern adds a richness that a blank white expanse can't achieve on its own. The navy blue soft furnishings combined with warm wooden floorboards and chairs to create a calming space that is tied together by the iconic ceiling that makes this design so special.
9. Gold Moldings in Trompe L'oeil Bedroom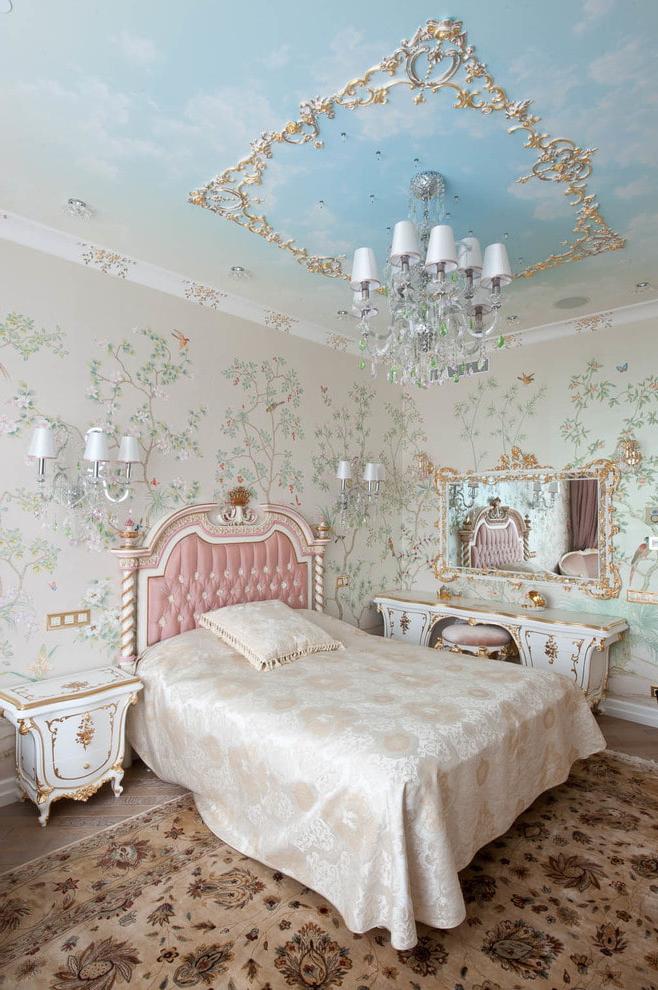 This luxurious tromp l'oeil bedroom is one a Disney princess would covet. Tromp l'oeil is a decades old interior design technique where the walls and ceiling are painted to look like a real life scene. The soft pastel room uses golden moldings on the wall around the mirror as well as in a rectangle around opulent crystal chandelier hovering in a blue sky. The painting technique and moldings along with the pastel colour scheme creates a dreamy, one of a kind sleeping experience.
10. Gypsum High Relief Sculptures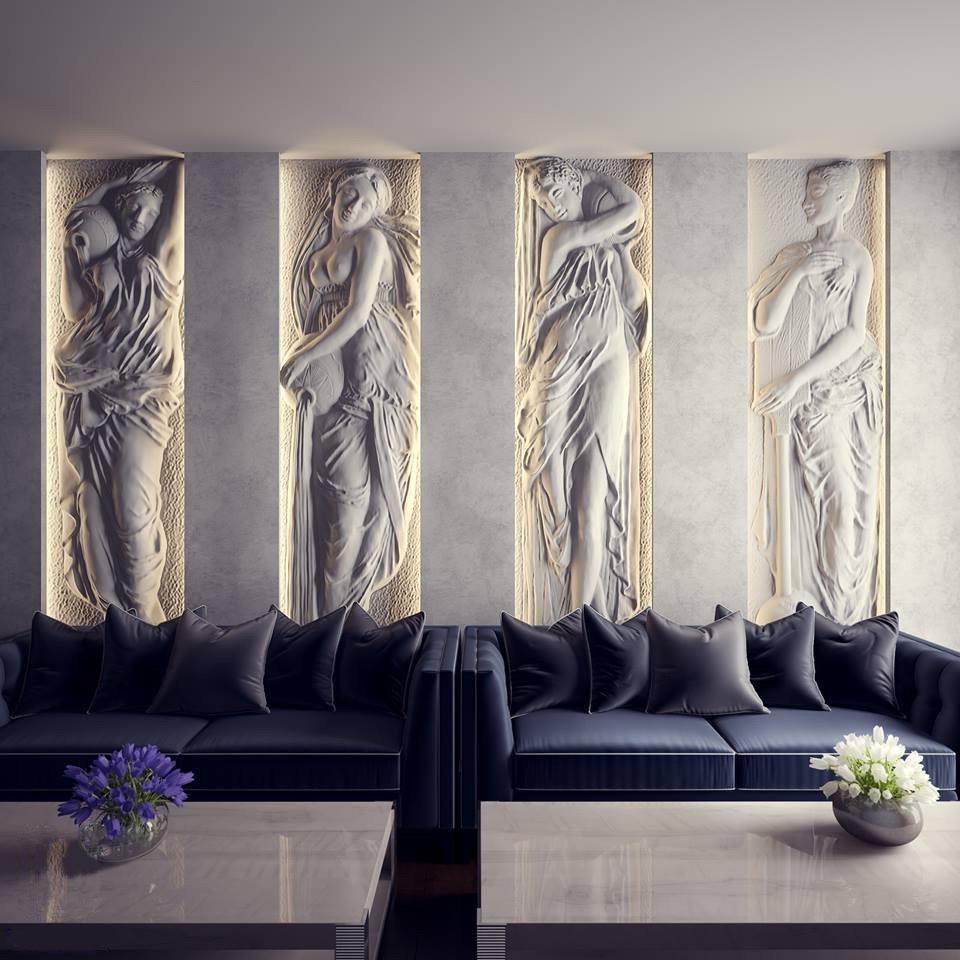 High relief sculptures project further from their supporting walls than their low counterparts for a more three dimensional effect. This chic contemporary living room has taken advantage of this style for an incredibly beautiful wall décor. The ancient Greek inspired women have been sculpted in their own back-lit recesses that makes them stand out for an even more dramatic effect.
11. Intricate White Cornicing With Simple Wall Moldings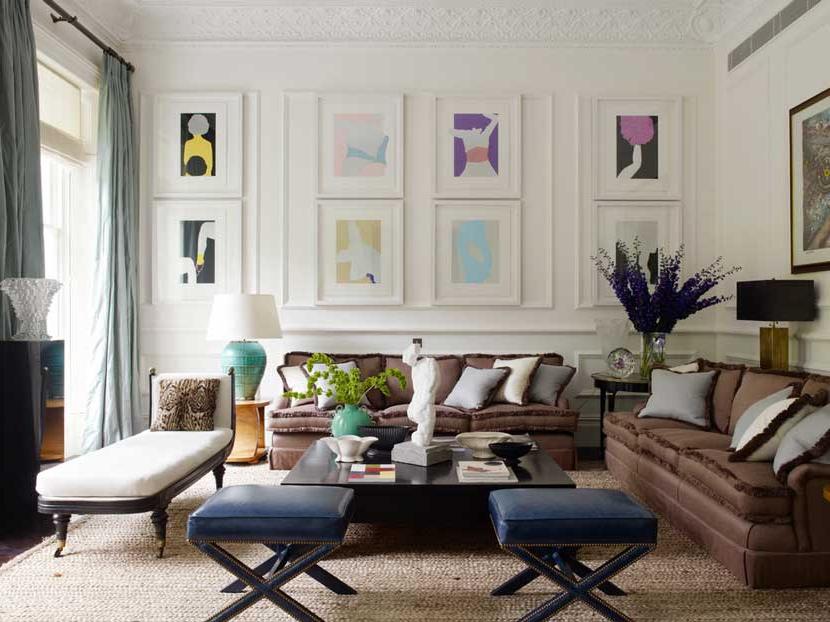 This cornicing is your classic white molding on white wall but elevated to something a little more intricate. The design is a delicate repeated pattern that provides a subtle layer of texture to the stark white wall. Beneath it a very classic dado rail and rectangular wall moldings frame the colourful modern art prints to harmoniously contrast the old and the new.
12. Intertwined Elephants Gypsum Relief Sculpture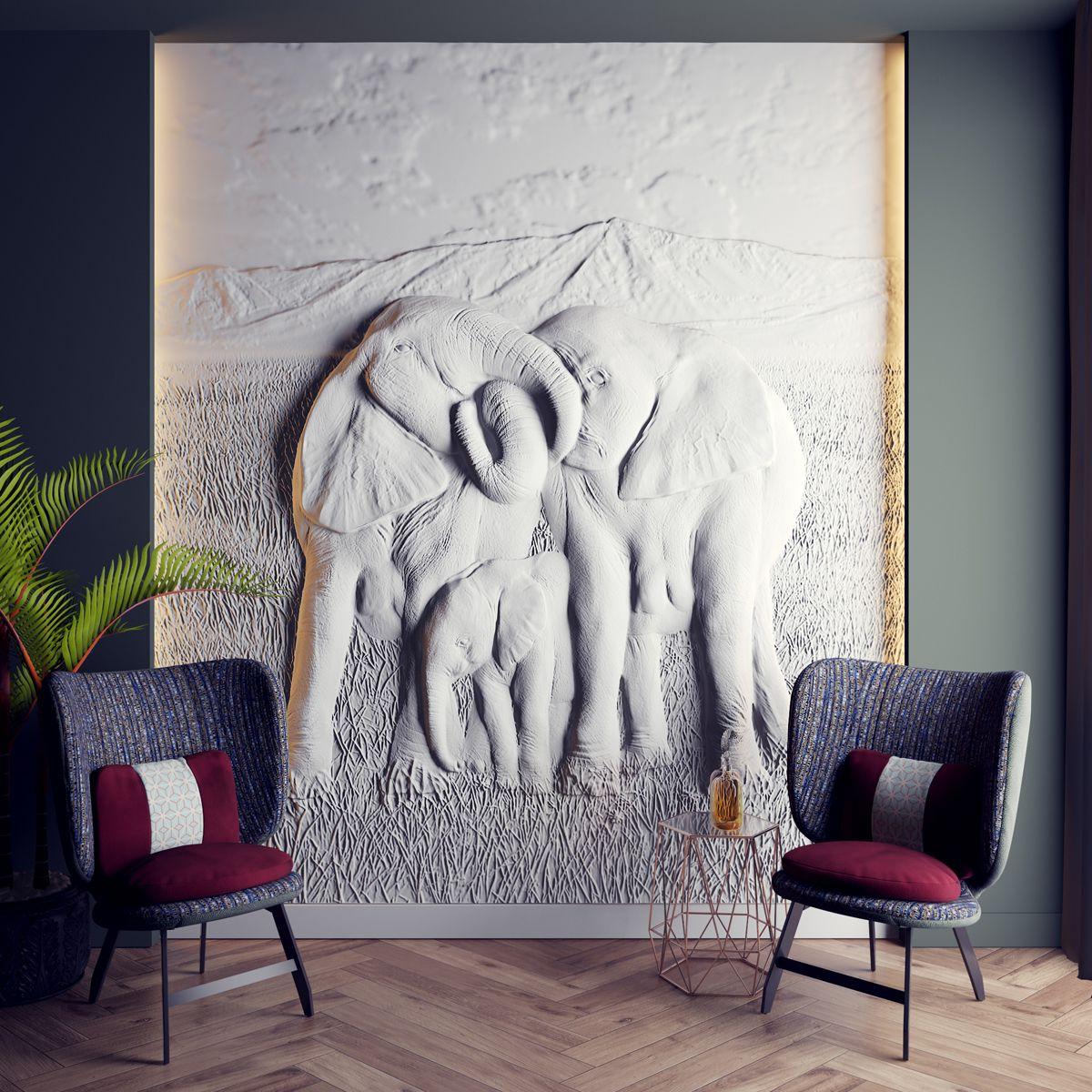 This dark impeccably styled room with plants incorporated for a pop of green has a pale chevron flooring pointing right at the main event: the gypsum elephant sculpture. This multidimensional white sculpture stands out so brightly against the dark grey wall and totally steals the show. The artwork is masterfully evokes the feeling of depth by combining both high and low relief sculpture techniques to bring the elephants to the forefront with the mountain far in the distance. The subject of this feature wall molding could be inspired by any element of nature that you choose for the same dramatic effect.
13. Opulent Plasterboard Suspended Ceiling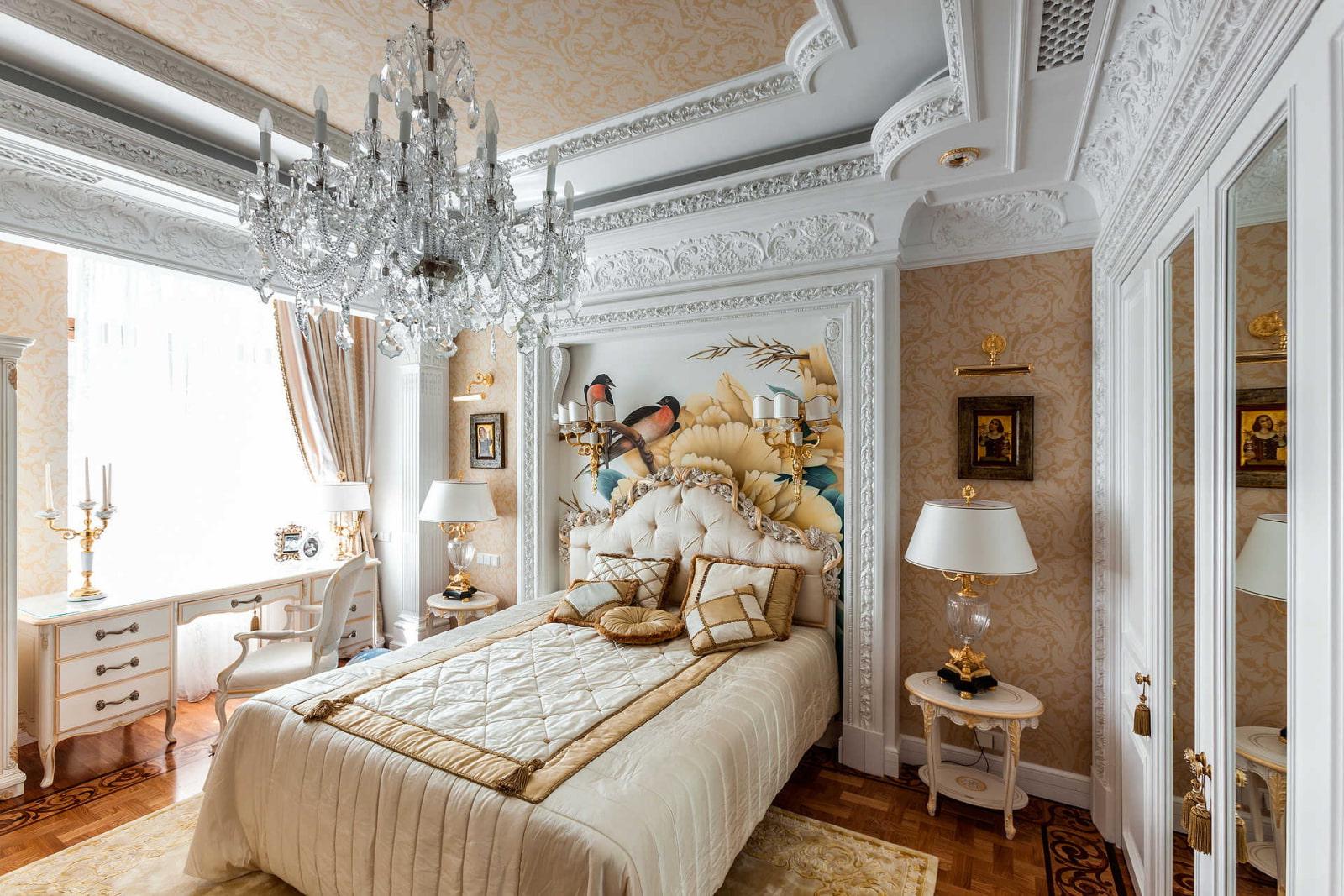 This elaborate bedroom has to have the most decadently over the top moldings yet. The intricate wall moldings create a frame for the bed and nature inspired mural behind the headboard. These richly patterned columns flow up into the thick cornicing and layers of suspended plasterboard ceiling in a pale blue hue. The huge crystal chandelier, gold hued bedding and warm wooden parquet flooring just serve to emphasize the feeling of grandeur. This is a bold example of how moldings can be used to totally transform a room at the ambiance it excudes.
14. Nature Inspired Wall Molding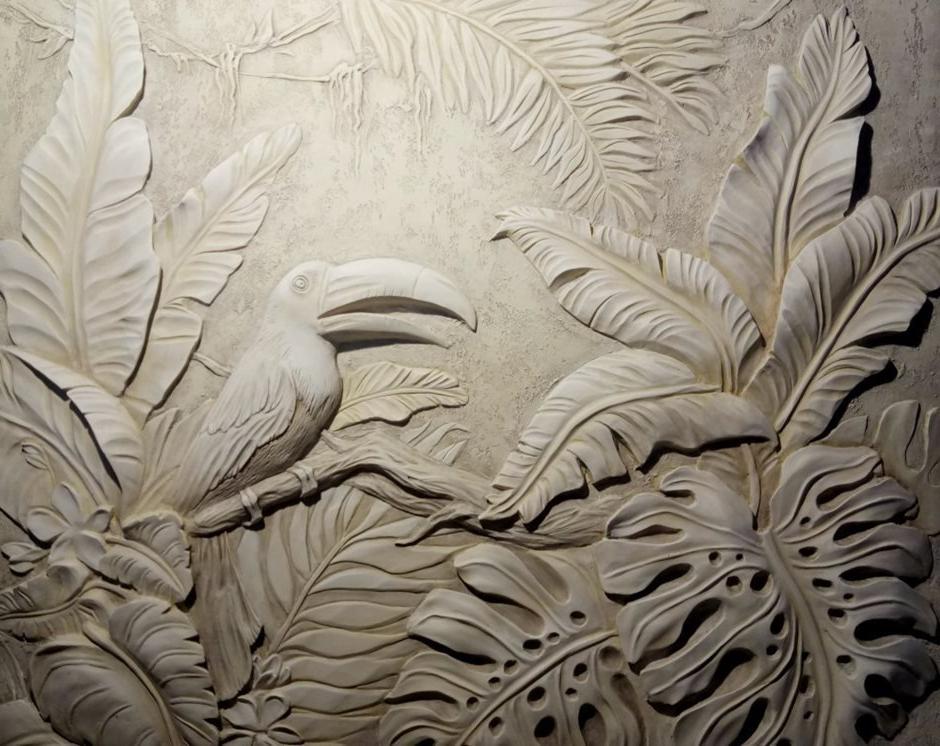 This nature inspired relief sculpture is a less delicate version of example 7. This bold tropical design evokes a feeling of depth which is created using a combinations of high and low relief sculpture to make some objects appear to be receding. Artworks like this allow you to show your love of nature and give a tropical vibe to your room using the walls themselves as the medium. Commissioning a piece like that gives you the freedom to choose a subject that works with your space and tastes that your rooms or outdoor areas can be designed around; anchoring your space around art.
15. Life Size Plaster Sculpture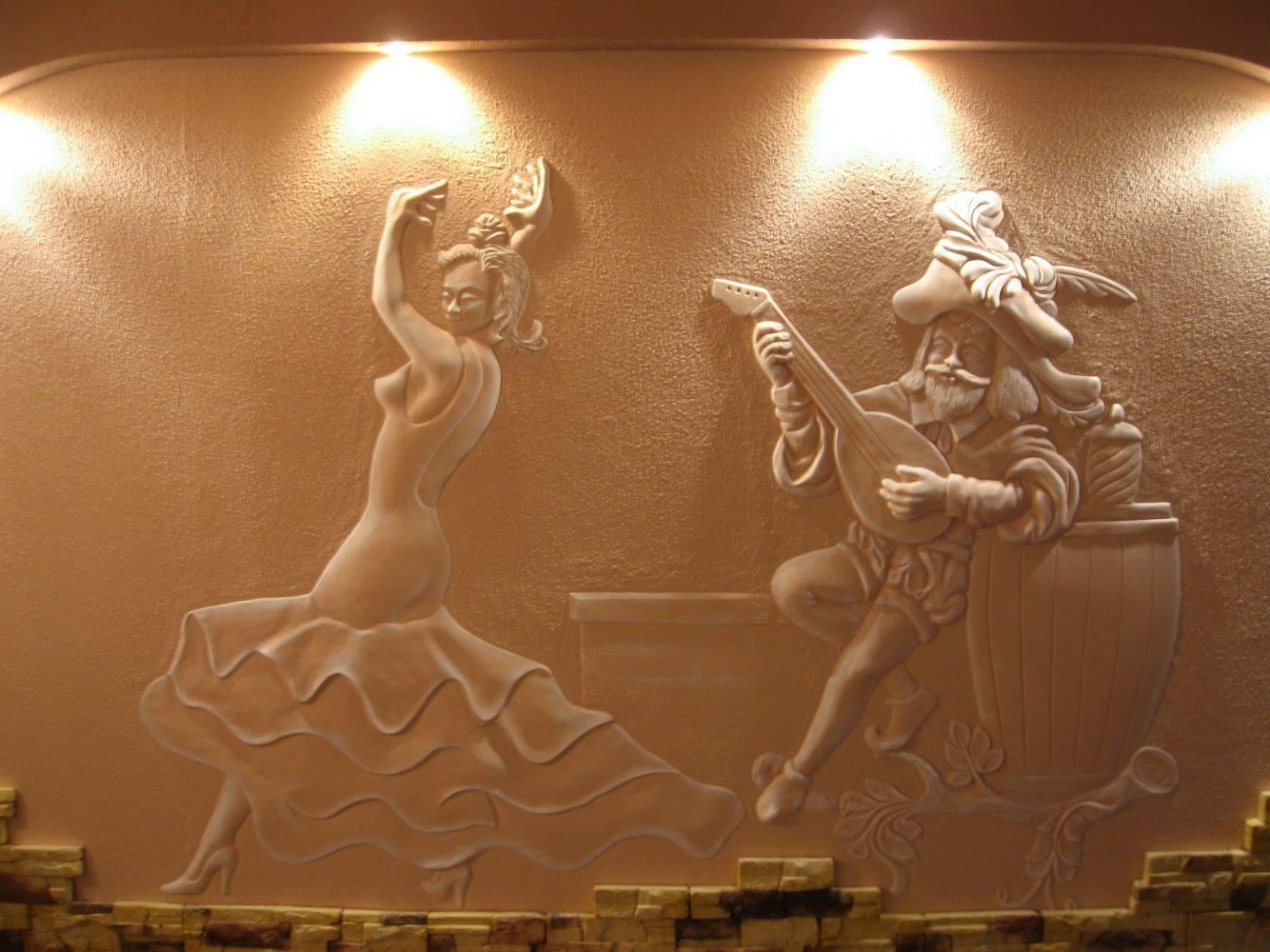 Wall moldings aren't just reserved for inside the house. This life-sized Spanish inspired relief sculpture is a statement addition to an outdoor area or walkway to add an element of drama to your home's exterior. Down lighters have been strategically placed to cast light over the rises and falls to show the figures to their greatest advantage. The rough imitation brick tiles surround the musician and dancer and act as a natural frame to finish off the design.
16. Dramatic Floor To Ceiling Wall Molding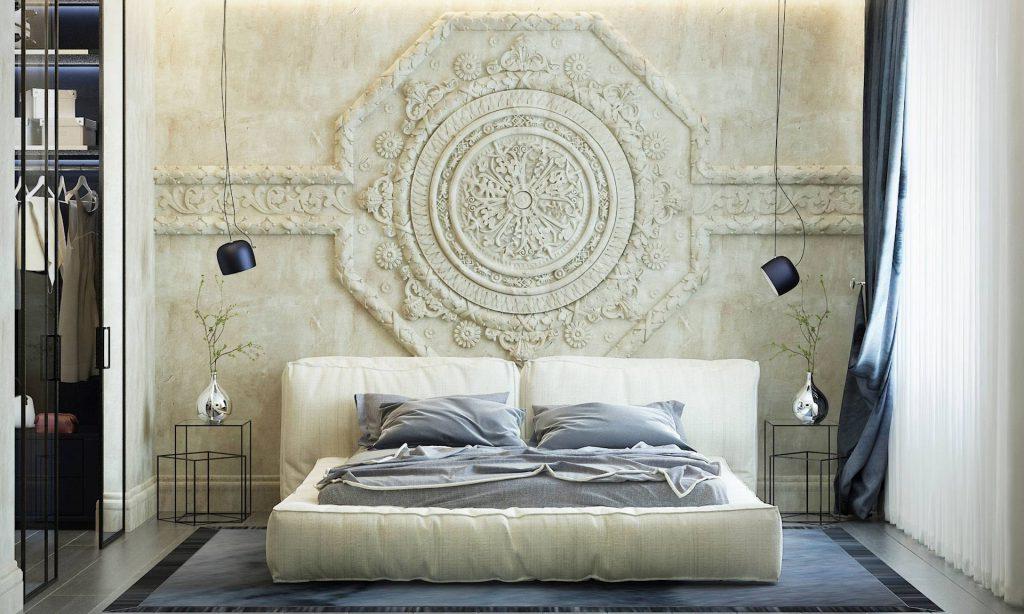 This Mayan inspired floor to ceiling wall molding dominates the room and tricks the eye into thinking its made of real stone. The symmetrical design radiates from the centre in a series of rings contained in a thick rope like hexagon in a mesmerizing whirl of texture. The rest of the bedroom is sparsely decorated with fine wire and glass side tables and a low futon bed which allows the wall molding to take pride of place. The combination of the rustic imitation stone and the minimalist room creates an aesthetically pleasing dichotomy.
17. Nature Inspired Molding Over A Fireplace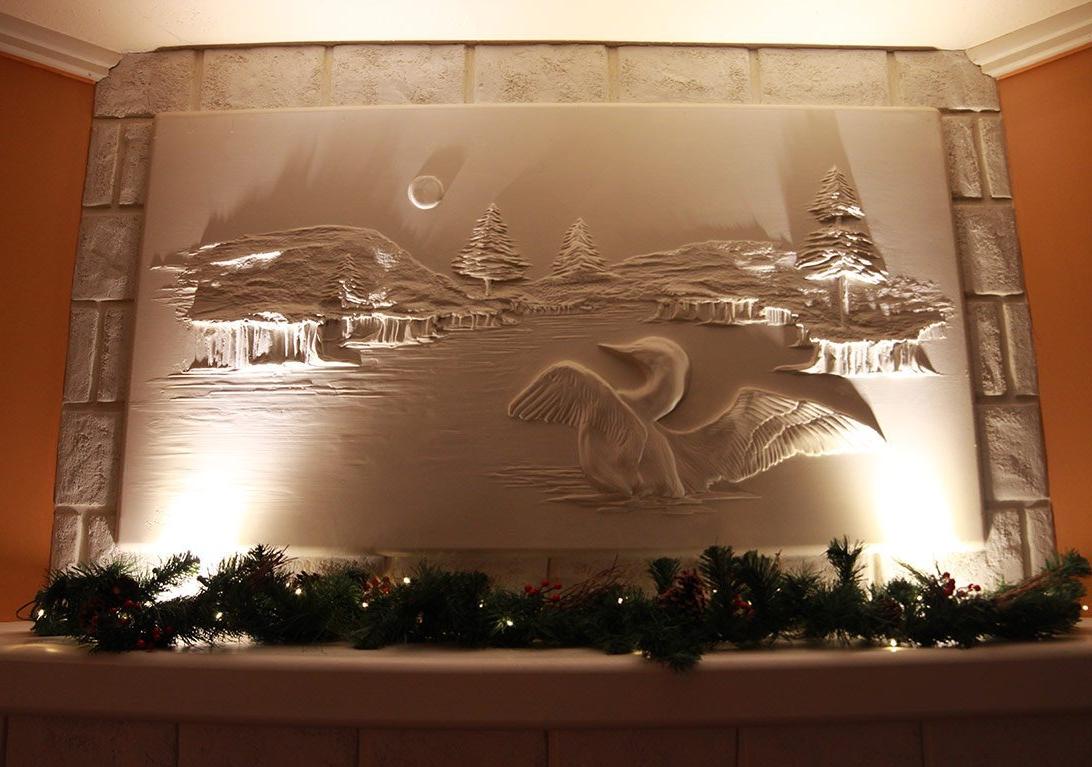 This is yet another nature inspired wall molding, this time in pride of place over a mantelpiece like a permanent painting. The river scene with elegant water bird framed by stone cladding is lit from beneath to enhance the details of the sculpture and cast theatrical shadows on the surrounding walls. The mantelpiece has been utilized to add some texture and light to the mantelpiece décor with a spray of natural branches wrapped in fairy lights.
18. Huge Hallway Dandelions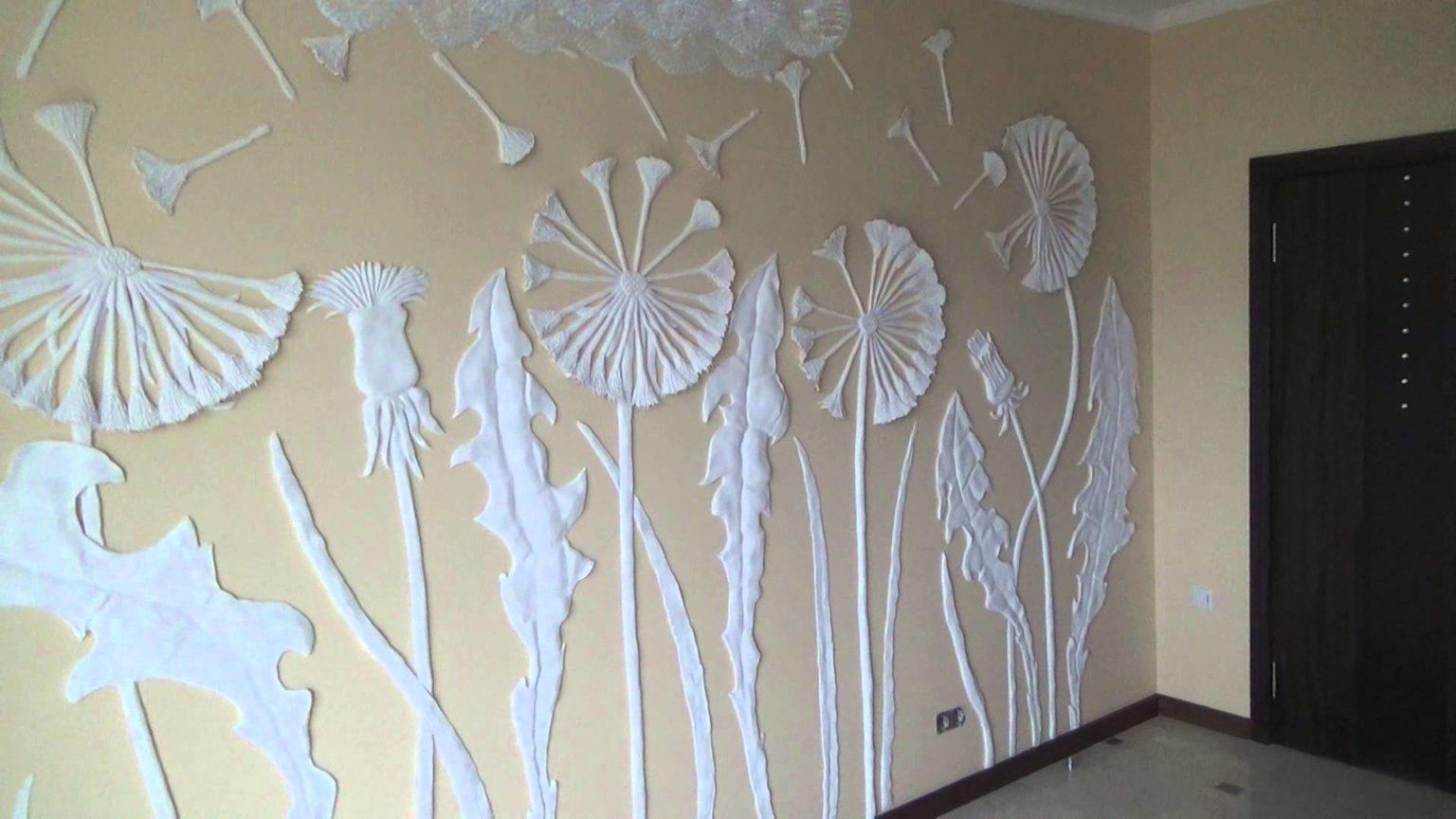 Hallways are usually a rather dead space within a house and the last place you'd expect to find yourself surrounded by giant dandelions! As you walk in the door beautiful white weeds letting their seeds free in the breeze over a buttercup yellow backdrop greet you. The scale of the design and its realistic texture is whimsical and fun and imbues your home with lighthearted atmosphere.
19. Classic Decorative Ceiling Rose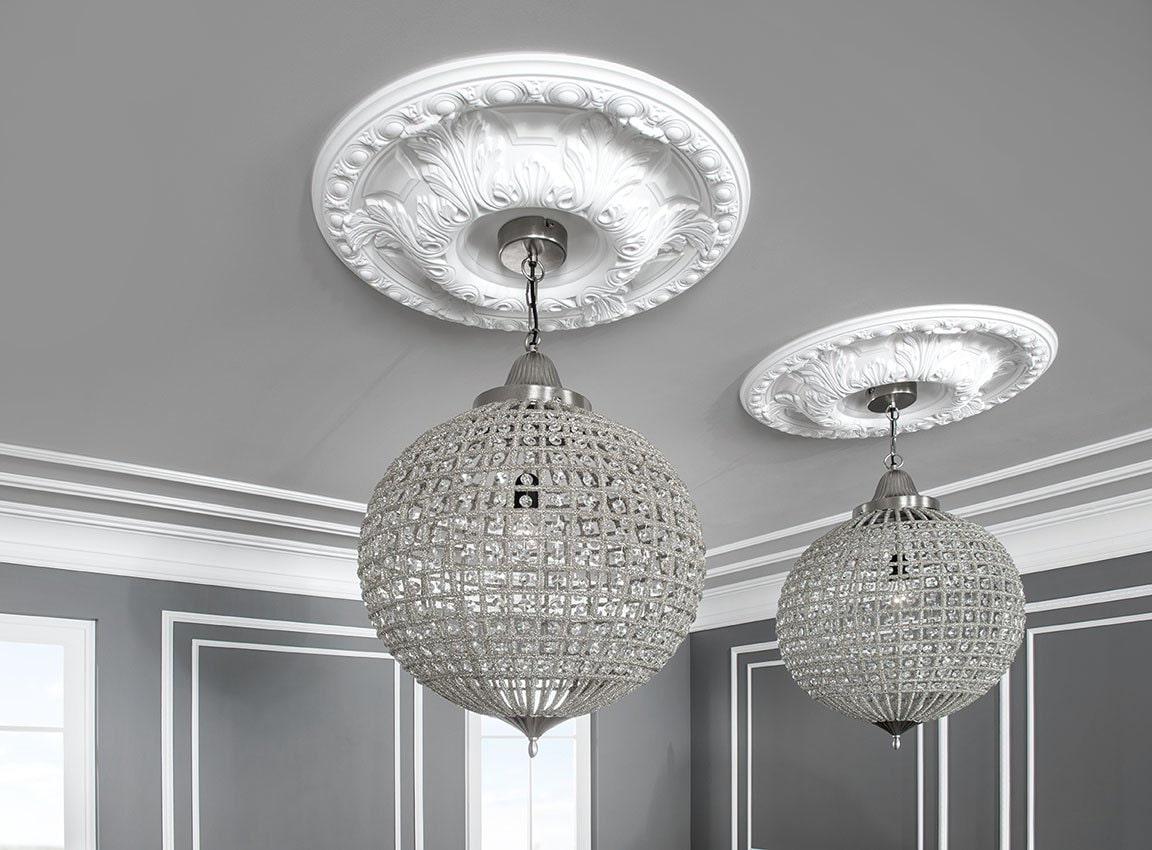 This unique interior design uses shades of grey with white highlights to create a monochromatic room straight out of a black and white film. The walls and ceiling are in two shades of grey that are outlined by bright white piping and cornicing to create a striped pattern. The unique round chandeliers are in yet another shade of grey and highlighted by a bright white ceiling rose. The traditional decorative ceiling rose stands out against both the pale grey ceiling and the highly contemporary design in a pleasing juxtaposition.
20. Shiny And Matte Ceiling Molding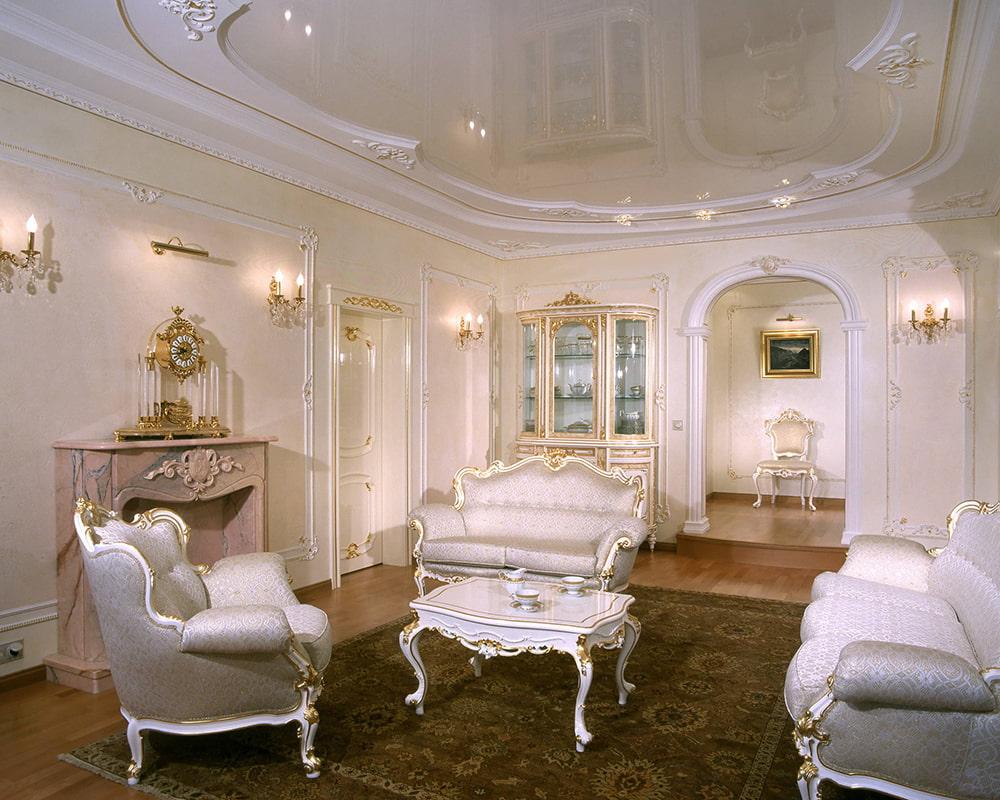 This vintage sitting room has used classic moldings on the walls and ceiling in tandem Doric columns to accentuate the elegant doorway and surround each wall sconce with subtle gold accents which tie in with the sconces themselves. This trend continues on the ceiling where the undulating molding surrounds a polished centre that reflects the light from the room below. The walls and moldings are rendered in off white with furniture to match while dark wooden flooring acts as an anchor, keeping it grounded.
21. Circular Modern Ceiling Moldings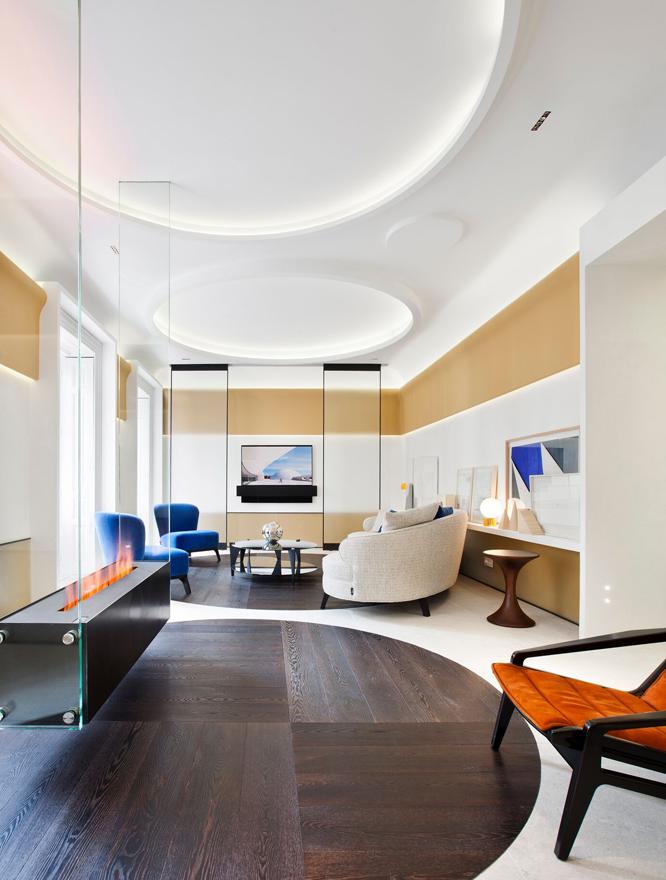 This pair of rings formed by up lit futuristic ceiling moldings together with their dark wooden flooring reflections on the floor divides this large room into manageable zones. Large rooms can be very challenging to furnish effectively so dividing an open plan area into zones based on different activities makes it far easier. The first ring forms around the fireplace while the second creates a gathering space around the TV. This technique is modern, minimal but effective.
22. Suspended Ceiling With Ornate Ceiling Rose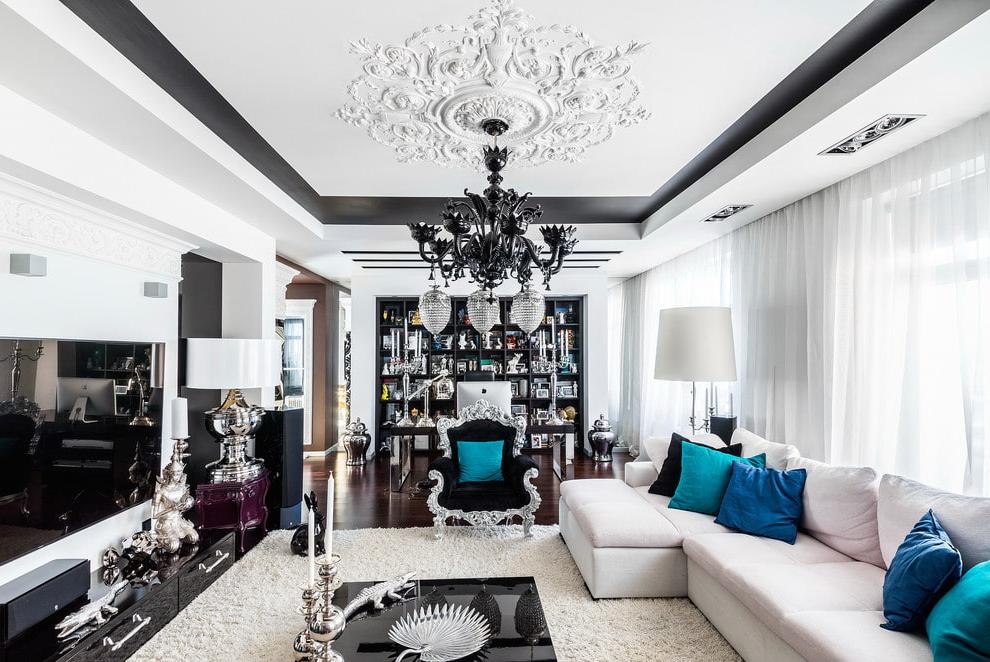 This black and white décor with bright pops of blue is a very contemporary eclectic style. The ceiling design reflects that with a series of rectangles created by the white suspended ceiling with a thick black border around white centre with the chandelier at its core. An ornate white ceiling rose echoes the goth black chandelier with its twisting curlicues and dripping black crystal.
23. Gilded Bedroom Feature Wall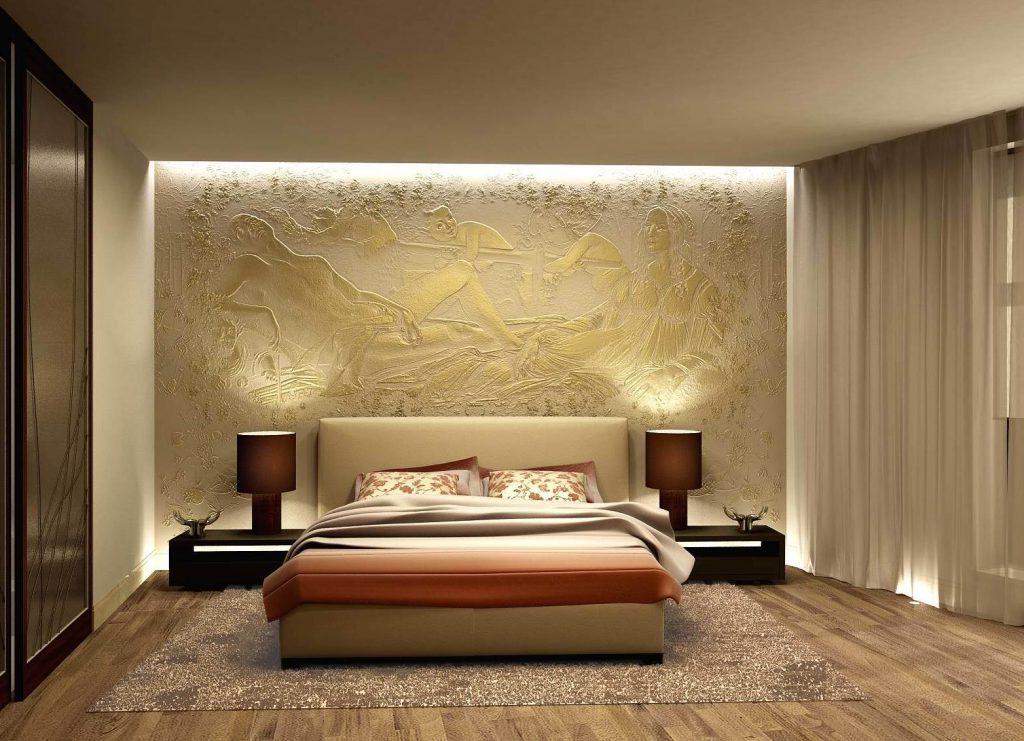 The warm tones in the room work seamlessly with the gold without stealing the limelight from the feature behind the bed. The gilded slightly raised scene towers over the bed from floor to ceiling in a very luxurious and over the top fashion. The bedside lamps are open at the top to cast light across the golden surface to make it shine. This is no cheap option but the effect created by it is astonishing.
24. Custom Made Relief Sculpture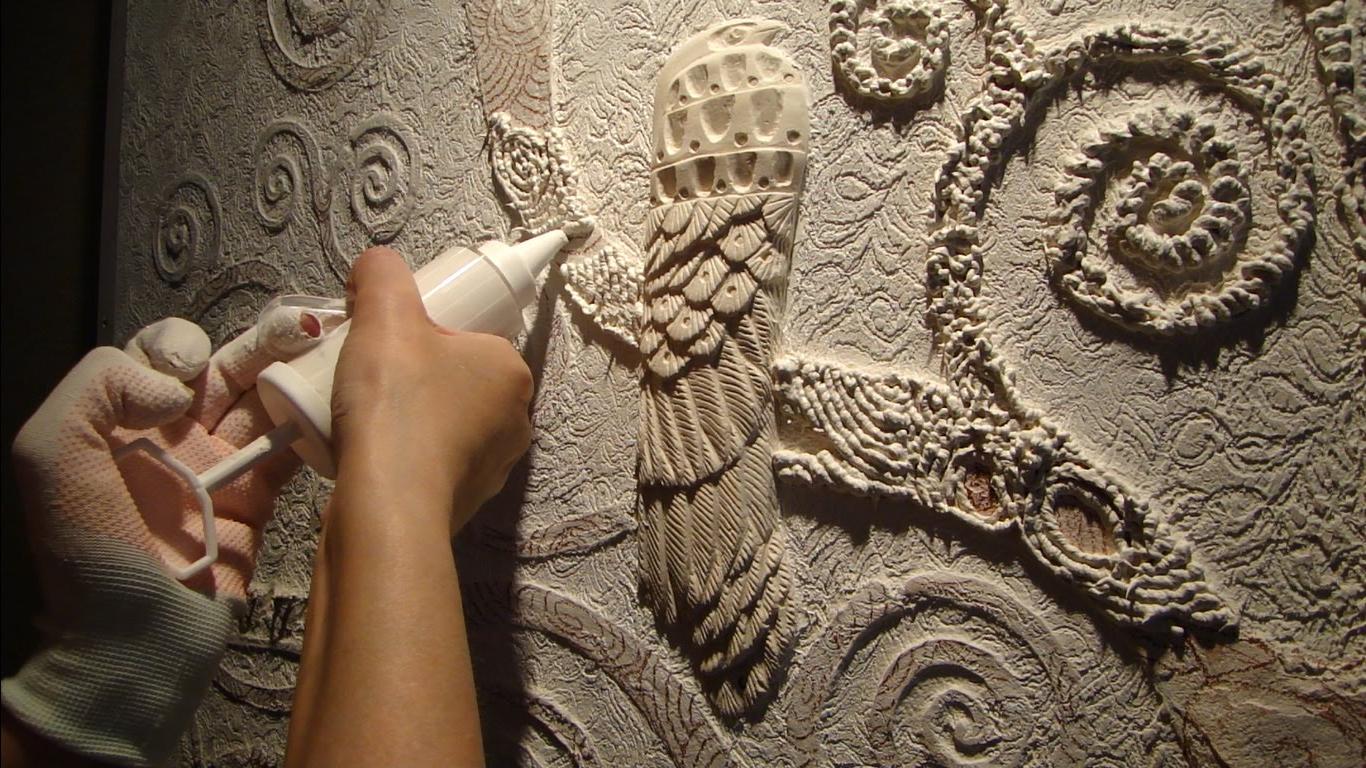 Commissioning your own artwork means your wall feature will be one of a kind and designed to fit your personal style. This plaster relief sculpture has been created by piping, carving and spreading the plaster onto the wall to form a richly layered design. The patterns can be hand picked by you in collaboration with an artist to create a piece that is unique to you and your home.
25. Making Zones With Suspended Ceilings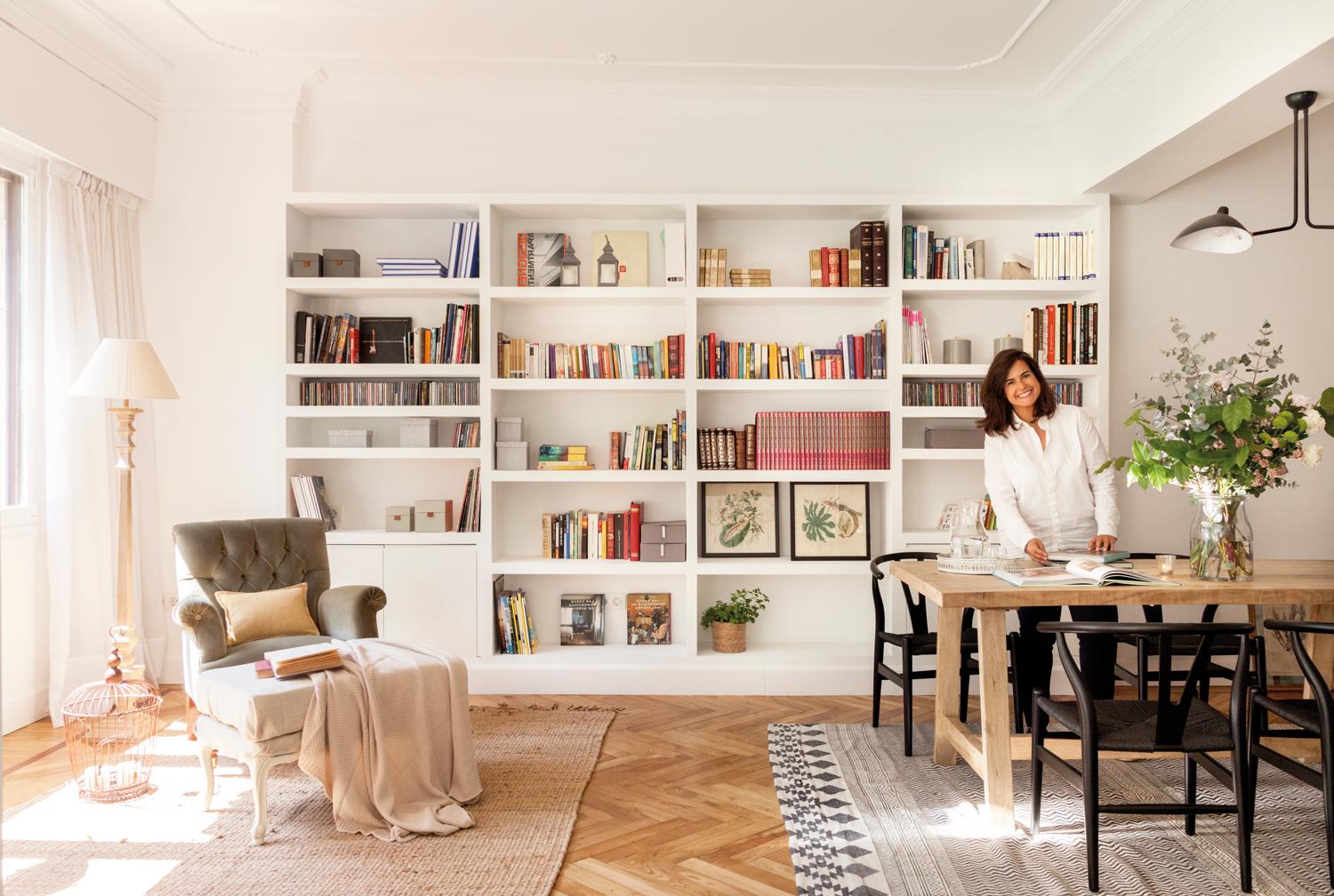 As in example 21, ceilings have been used to demarcate spaces within a large room. A dropped ceiling the thickness of an average wall separates the sitting room and the dining room from above instead of dividing them with a solid wall. This choice allows the spaces to permeate one another and take advantage of the natural light from the large window. Within each zone subtle white on white ceiling moldings outline the area with subtle curves for a nice finishing touch.
Conclusion
And there you have it, all the inspiration you need to help you enrich your interior design by highlighting the most unexpected places. These humble ceiling and wall moldings are so versatile and can be designed together for one cohesive room design. From quirky colour to opulent gilding you can find the perfect fit for expressing yourself in your home.
Wall moldings flip the traditional solid colour feature wall on its head and allow you to make art one with your walls in a striking and surprising manner while new life has been given to the plain white ceilings of the past. So the next time you decide to give your home a makeover why not try giving your wall and ceiling moldings some consideration.