The pure beauty of having rustic outdoor furniture is to create an entire space and perfect getaway with elegance. Rustic Outdoor Furniture Ideas and Designs tend to boast sheer charm, a touch of calming effect and elegant touch to your outdoor living. They stand out and attracts crowd creating wonder in your backyard. Additionally, they add functional character to your garden that is prominent and elegant. They are relatively maintenance free. Let's explore the fabulous Rustic Outdoor Furniture Ideas and Designs.
47 Ways to Simplify Your Decoration With Rustic Outdoor Furniture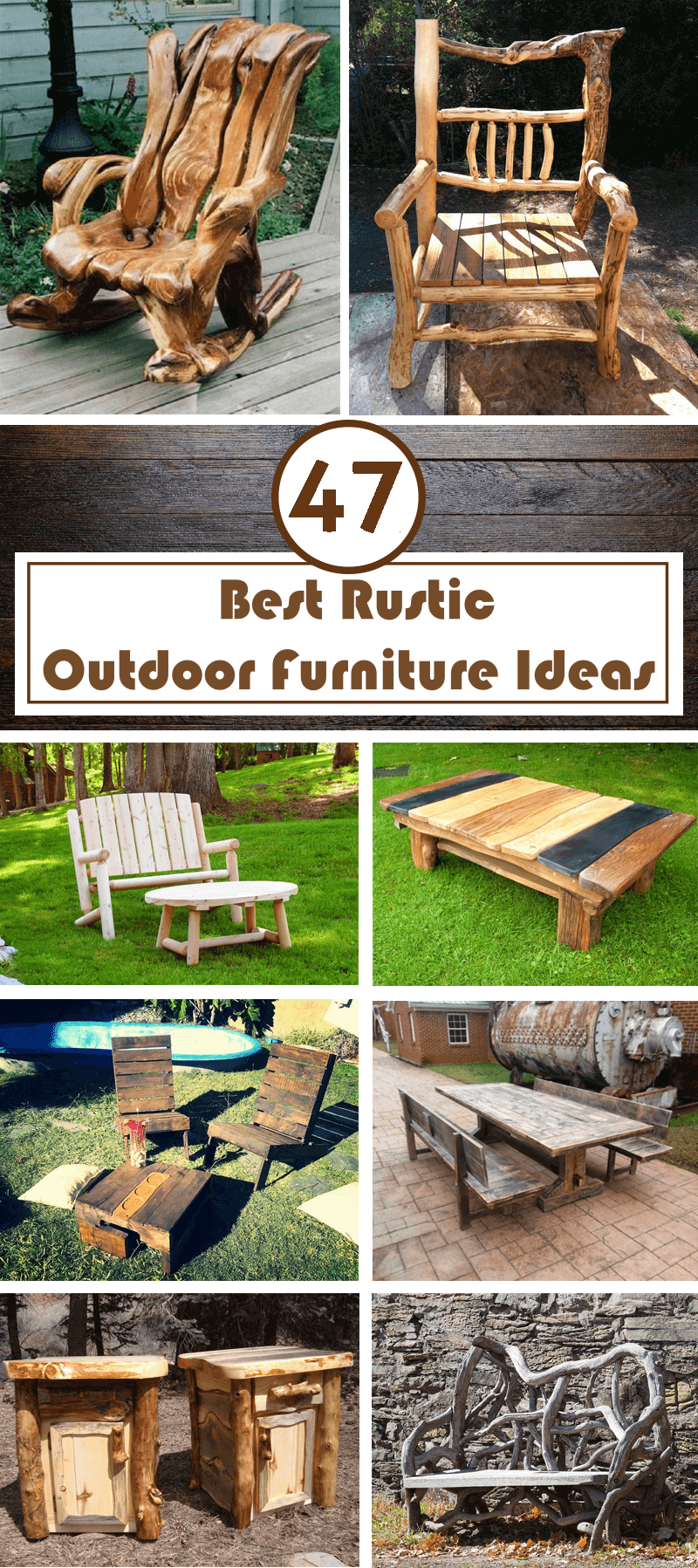 Awesome Rustic Chair for Garden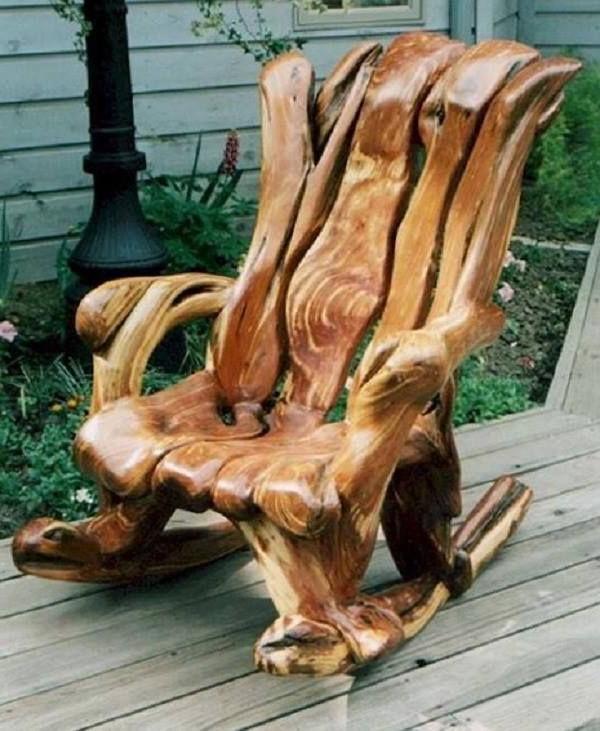 Subtle but with beautiful and significant curves, elegant arms and high back this is the rustic chair for garden brings out its symmetrical design and very durable outdoor furniture. It's a hard wearing and waterproof chair with a distinctive appearance and able to quickly harmonize with other furniture's in your garden. The rustic chair is traditionally influenced and it posses contemporary qualities that add the significant value of style to your garden.
1. Cheap Rustic Outdoor Chairs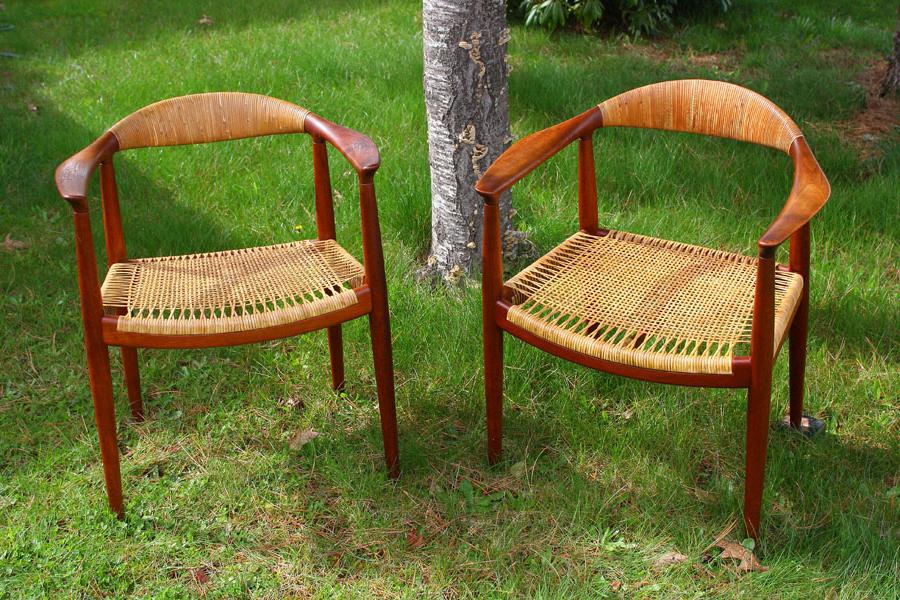 This cheap outdoor chair has a coastal cottage vibe with a cheerful look. It offers a broad seating design with comfort and best for an exquisite place to enjoy relaxation within any area of your outdoor space. It's the ideal chair for relaxing while reading a book or two under the sun.
2. Cheap Rustic Outdoor Furniture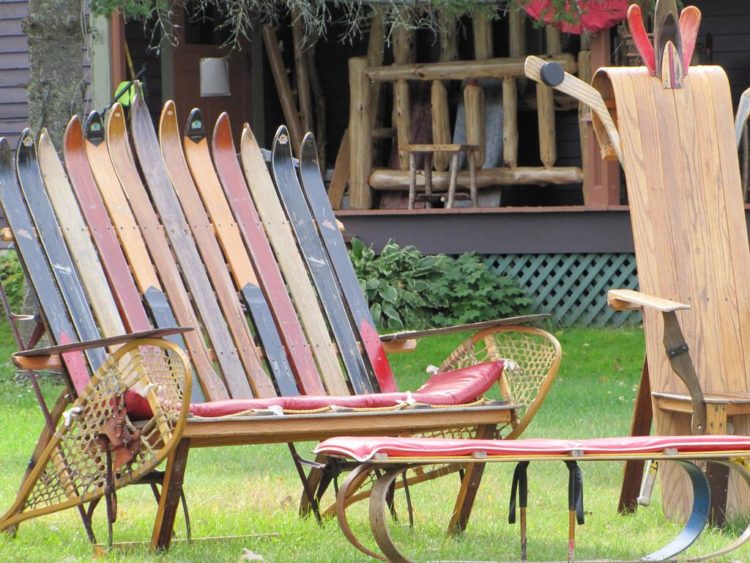 Beautifully designed to fit any outdoor space, this outdoor furniture seats and a unique table adds elegance and beauty to your home. They are ideal for an afternoon chat while taking a cup a tea, reading about or just relaxing. The table is made of pure design with home materials and sturdy enough to hold your stuff while the seat is supported by an old tennis bat adding the more rustic look to the furniture. The seating area is comfortable sufficient since it has a padded cushion making you feel comfortable.
3. Cheap rustic stool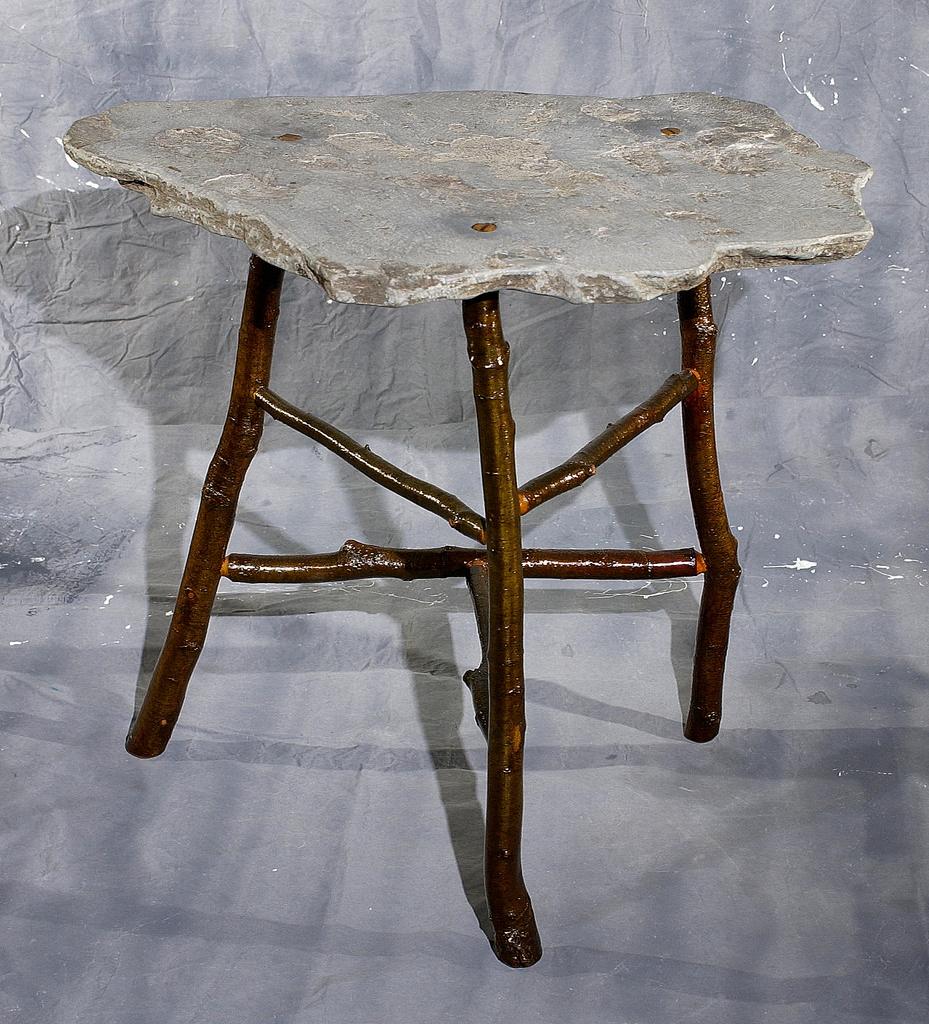 This rustic stool makes an ideal companion for your outside bar with its elegant looking shape that is attractive and adds beauty to your outdoor space. The stool is well crafted with rustic and robust oak finishing on the legs, and the seat is contoured and not cushioned giving the stool versatility.
4. Contemporary rustic outdoor furniture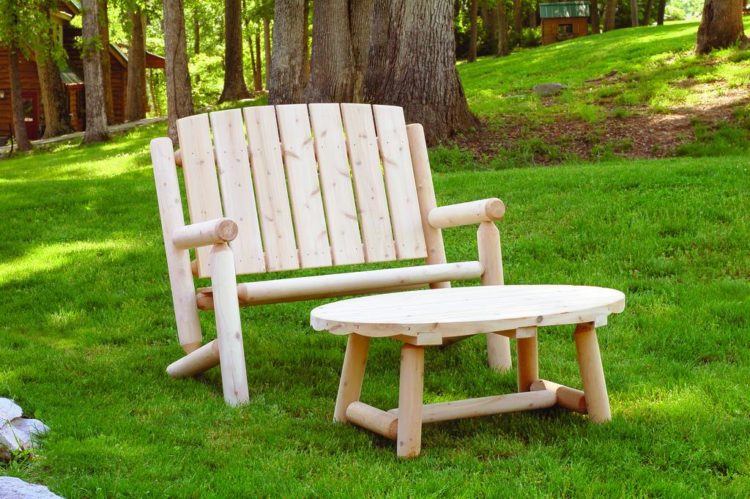 This Contemporary outdoor furniture offers tranquility through the unique art of contrast. It's made of natural wood and handcrafted into a modern rustic furniture design from the slabs of woods. Each of this outdoor furniture has its inherent character with the table uniquely designed to complete the bench. The bench is made with a bit of slanting design to make you comfortable as you relax and enjoy your day in the garden with a base finishing that complements your nursery.
5. Country rustic outdoor furniture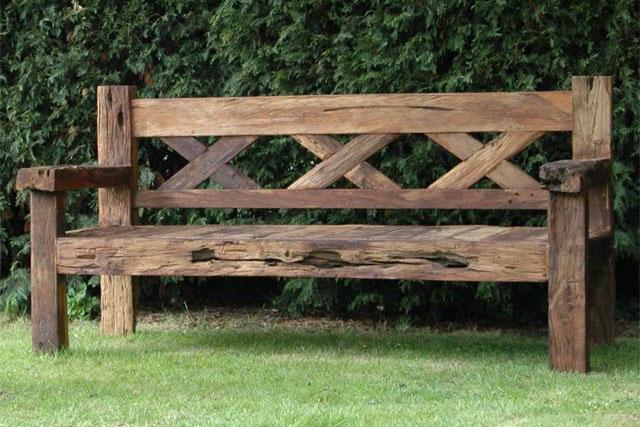 The beautiful and the long outdoor country rural seat is carefully made of hand peeled logs and stained with honey pine stain to offer a classy and precise finishing. It has a hand peeled logs that give it a combined and styled back look to compliment a country cottage outdoor sitting.
6. DIY Rustic Side Table for Garden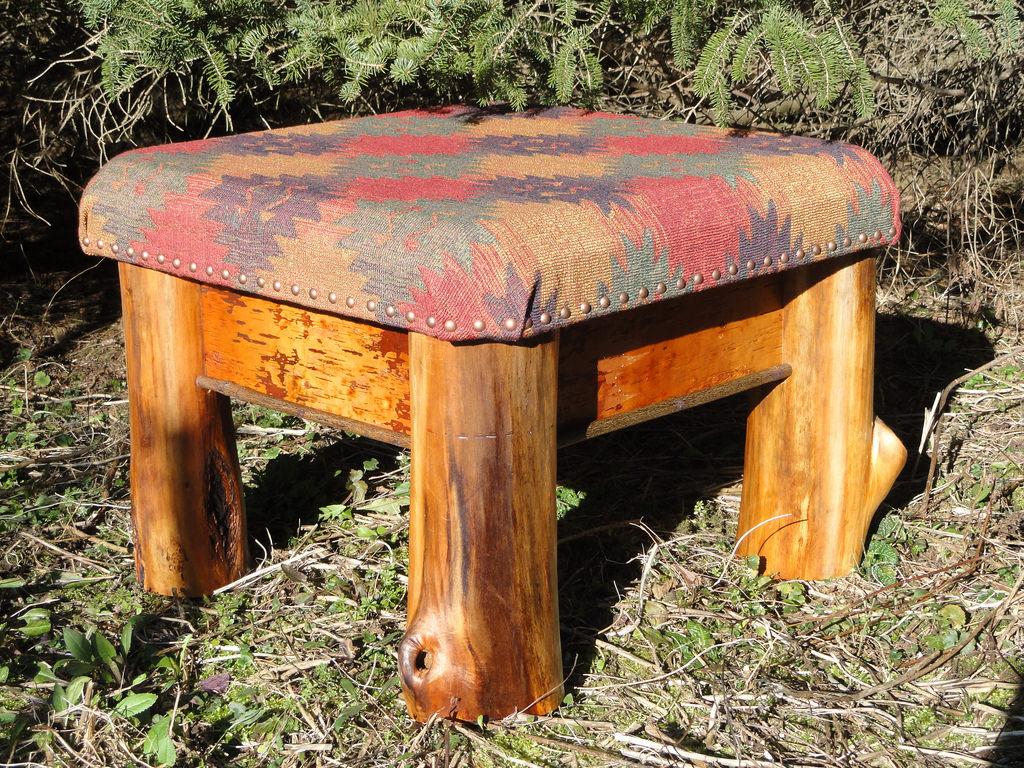 This rustic side table suits well in any garden and its crafted to match with other outdoor rustic furniture. The table is made of firm logs with rustic finishing, and on tops, a well embroidered DIY table cover gives the table complete look. It's a versatile table to use on both inside and outside the house and its robust offering long-term services. Easy to assemble and stick the fabric around at the comfort of your home.
7. Luxury Outdoor Furniture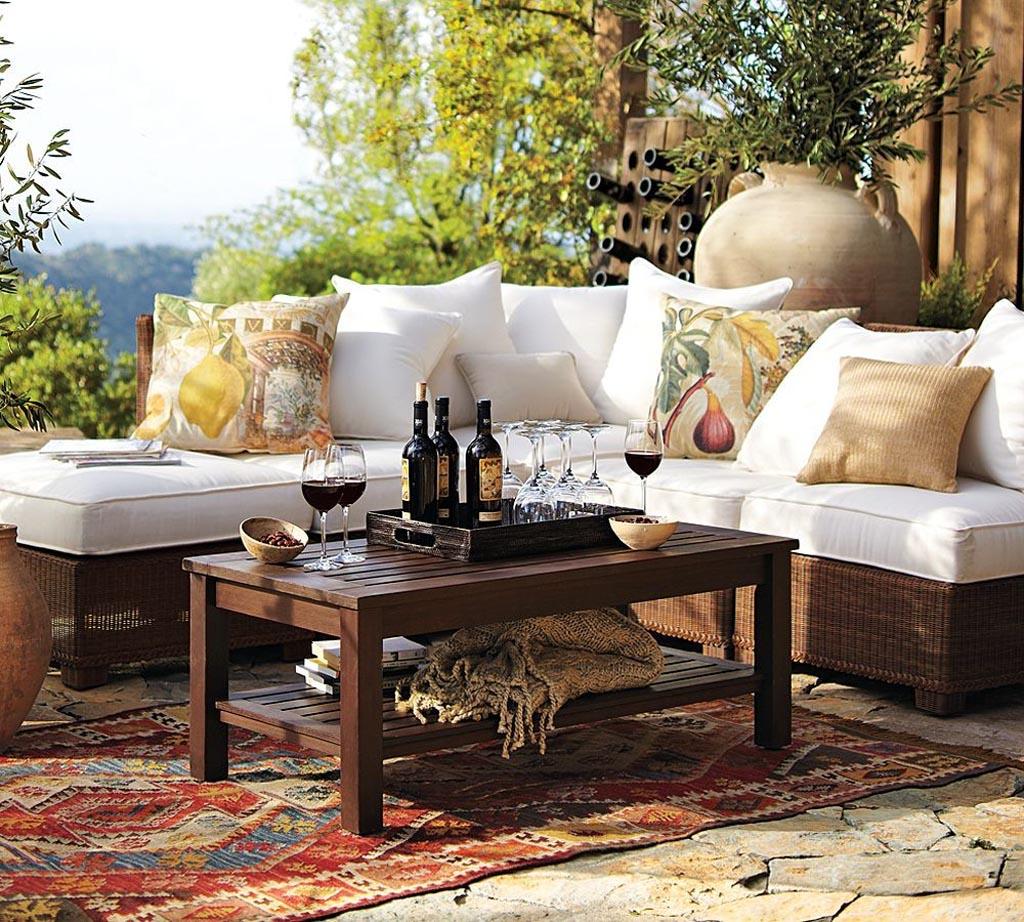 This outdoor luxury set is designed to achieve a flawless of function and form with cushions and frames that are comfortable, elegant and impervious to the elements. The handcrafted and large-scale teaks offer the perfect collection to help enhance your outdoor space. The brown and white finishing with softly rounded cushions provides the best comfort and compliments the nature while the table is well crafted to give a magical look.
8. Old Rustic Outdoor Furniture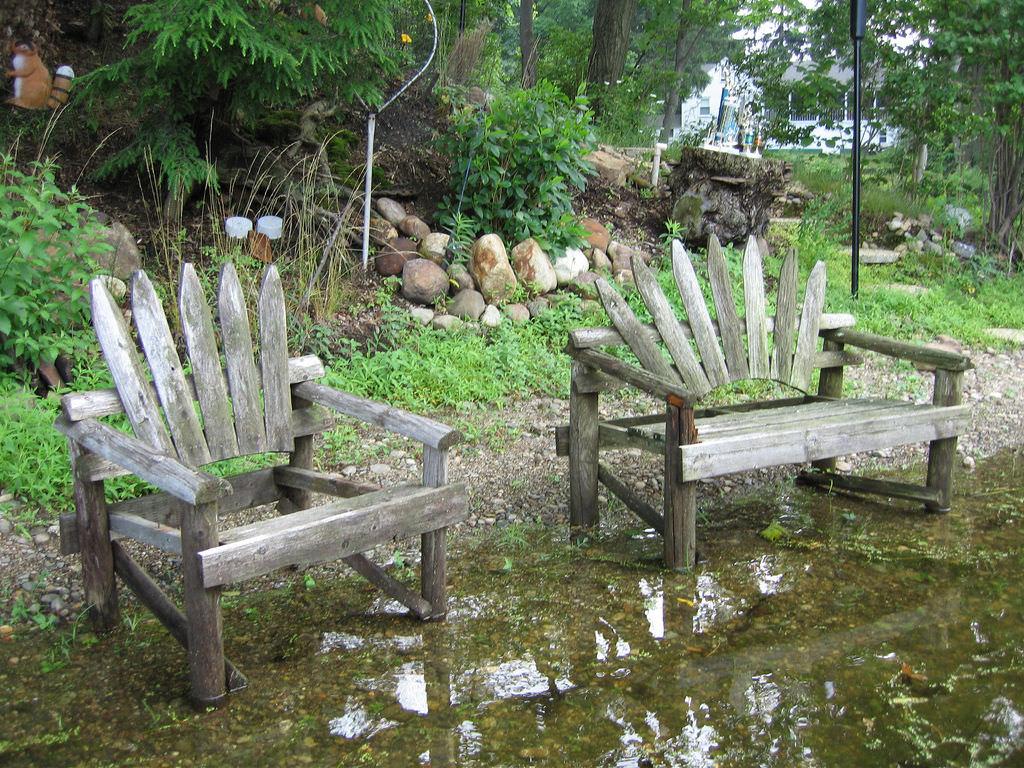 The old rustic outdoor furniture offers the excellent companion for your outdoor fishing excursions. The seats made of old and natural wood are well designed to give your backyard a beautiful look, and they are strong enough to overcome strong water waves and sturdy enough to stick to one place as you move forward and backwards while fishing.
9. Outdoor Furniture Rustic Style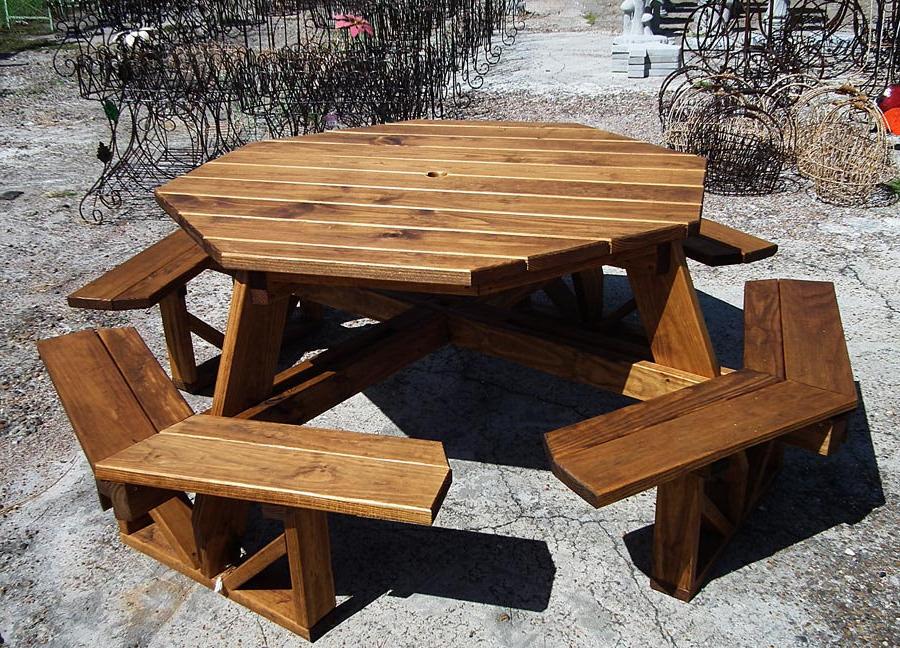 This is one great outdoor picnic set that gives your loved one plenty of space to relax, eat, sits, and talk outdoors comfortably. The table and bench design provide a classic picnic look and it's made of solid pine wood with smooth and finished look that compliments any setting.
More Rustic Outdoor Furniture Ideas On The Next Page…