DIY projects are something that is fun to occupy your time but when they actually result in a piece that is useable in your everyday life it gets even better. Making things yourself is not only far friendlier on your wallet but can also be designed to be eco friendly if you add upcycling into the mix. Upcycling is the process of taking materials they would have otherwise been discarded and transforming them into something new that reduces waste and eliminated unnecessary spending on new factory made pieces.
26 DIY Garden Furniture Ideas For Your Dream House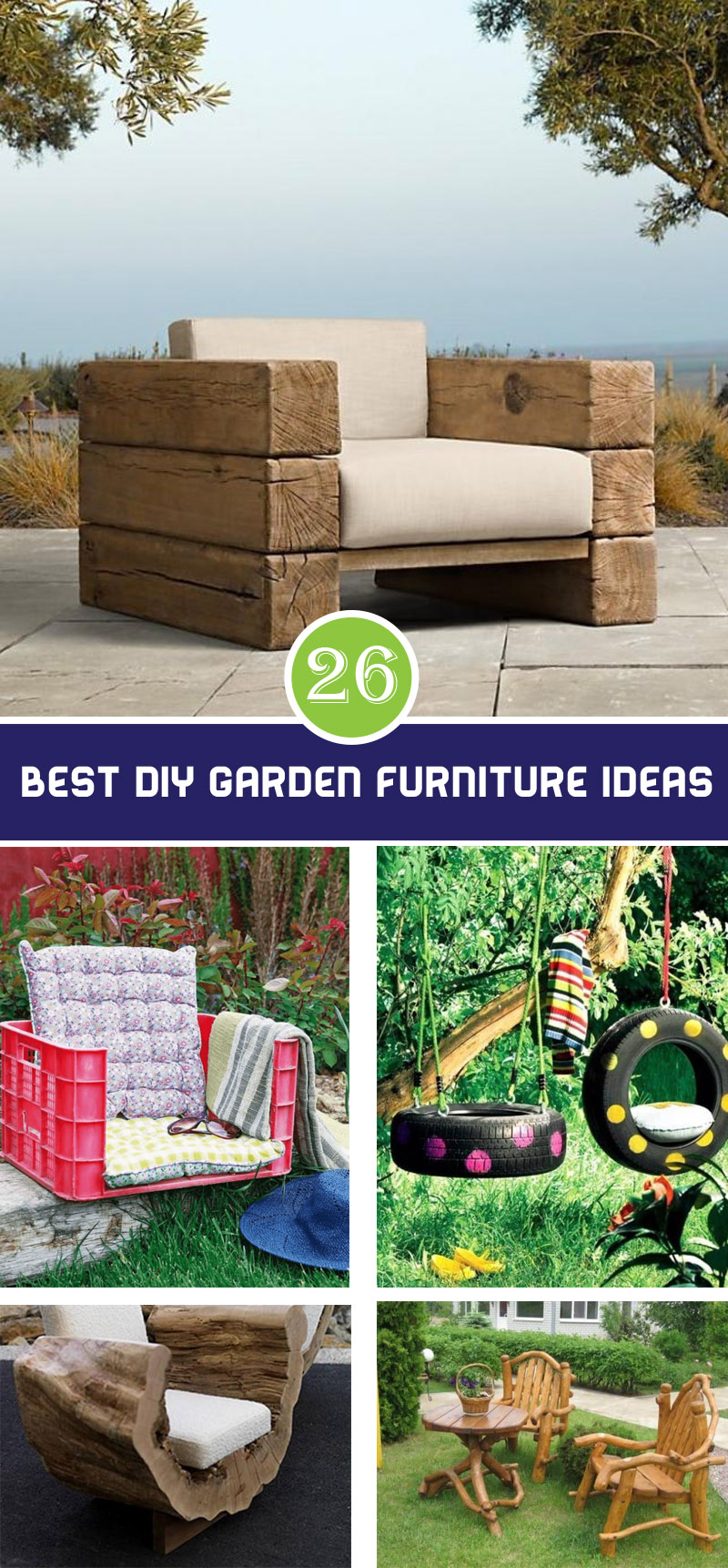 Materials that are ideal for upcycling into furniture are shipping palettes, reclaimed timber and old car tyres. These materials are easy to acquire cheaply, or even for free, that reduce waste and are relatively easy to work with. They can be transformed using simple paint or manipulated further depending where the mood takes you. Thrifting old furniture and revamping it is also a great way to get into DIYing and learn new skills to make your outdoor space beautiful and true to you and your lifestyle.
Some of the projects we will be discussing will require some skills in woodworking and concrete casting so please do your research and assess what you have at your disposal when it comes to skills and materials.
So if you're ready to take on a fun project and upgrade your outdoor space here are:
1. Curving Cast Concrete Bench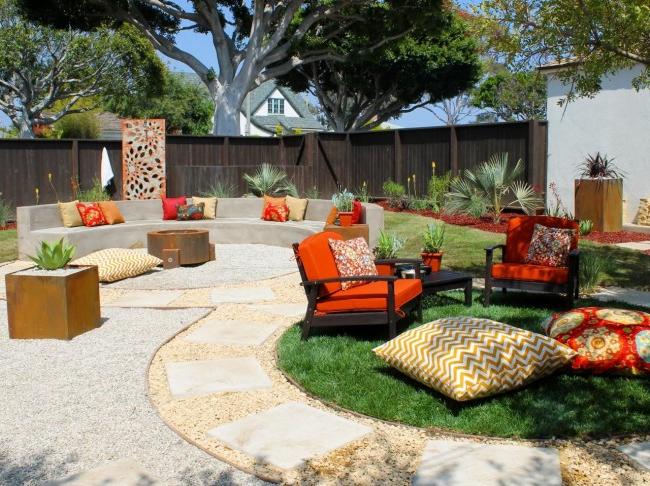 If you have some experience with concrete and would like to take on a new project you could try cast your own outdoor couch. By constructing this yourself instead of purchasing furniture you can personalise it to fit your home and adjust it to fit your garden exactly. The shape is simple in a gentle arch so all you need to do is build your formwork, put in your reinforcing, cast the concrete, cure and set it. If you want to decorate the bench you can cast mosaics, coloured glass, coins or any other decorative detail into it to modify the look.
2. Upcycled Outdoor Chairs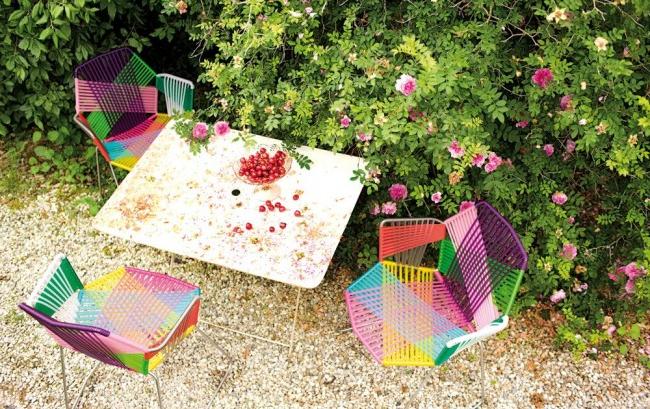 This colourful design is a stunning way to breathe new life into old thrifted outdoor furniture by using the metal frame as a base and recovering in a unique way. The seat, arms and backrest are created using layers of stretched water resistant threads that intersect with one another to create a gorgeous patchwork of colour that can be changed up per chair if you feel like it.
3. Reclaimed Wood Armchair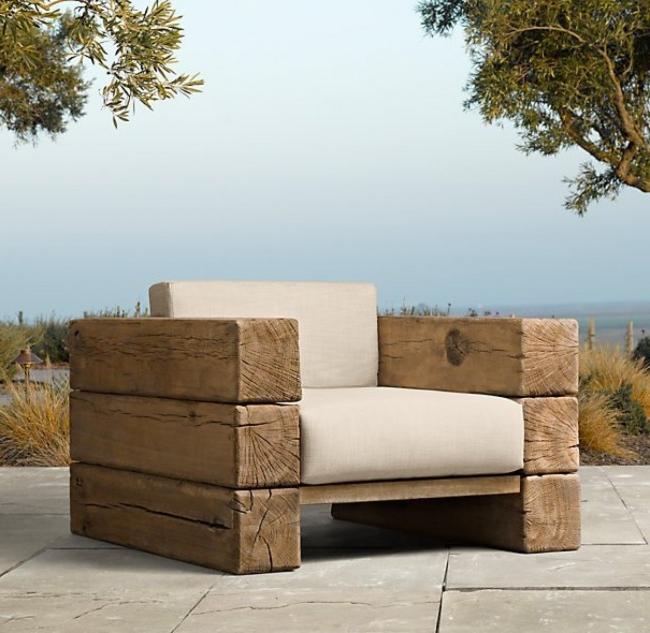 This chunky armchair is a sophisticated piece constructed from large square reclaimed timber logs that you can build yourself. The whole structure is made of a slim timber base set between a three sided frame holding up some simple self upholstered cushions. For a project like this you will need access to woodworking tools as well as some water resistant fabric and foam for the cushions so make them easy to clean.
4. Reclaimed Wire Coil Table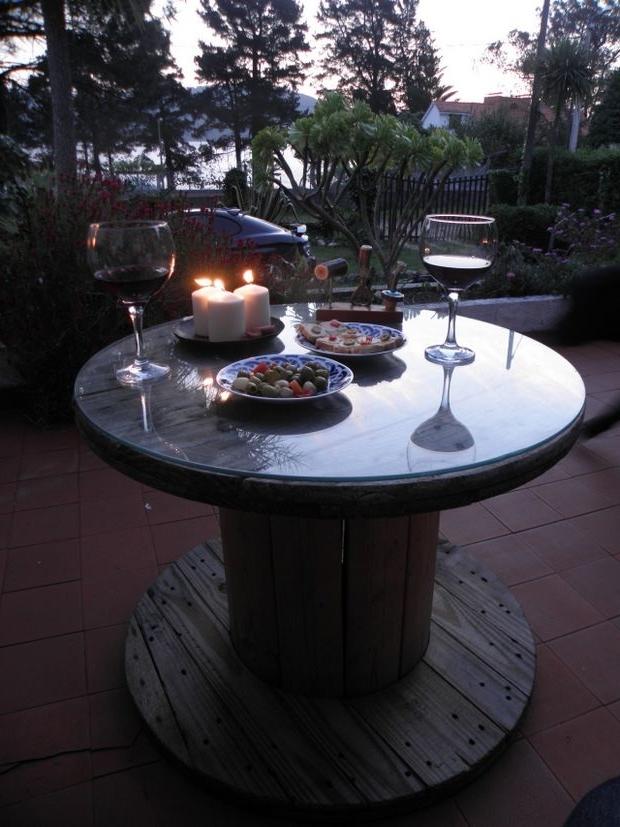 These large chunky timber spools are usually used to hold cables on an industrial level, which means they are very big and heavy that makes for a very sturdy table when turned on its side. As an added bonus the base forms a footrest when you're seated at the table. A thin glass tabletop has been fixed to the top to make it look more finished and sophisticated. This upcycled DIY project can be personalized with paint and any other adornment that suits your fancy to make the table fit in with your aesthetic perfectly.
5. White Washed Coil Tables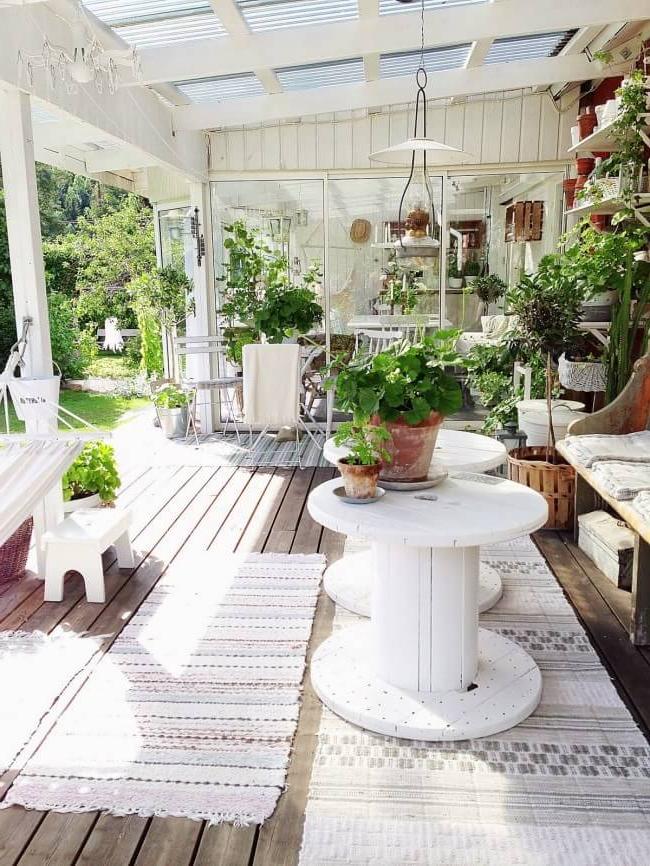 This patio uses the same upcycled coils as above but on a smaller scale. The timber spools have been turned on their side and white washed to fit into stunning bright patio contrasted with ample plant life. These little patio coffee tables are an eco friendly design that suits a rustic space while being a really cheap DIY that is very easy to execute.
6. Plastic Crate Chair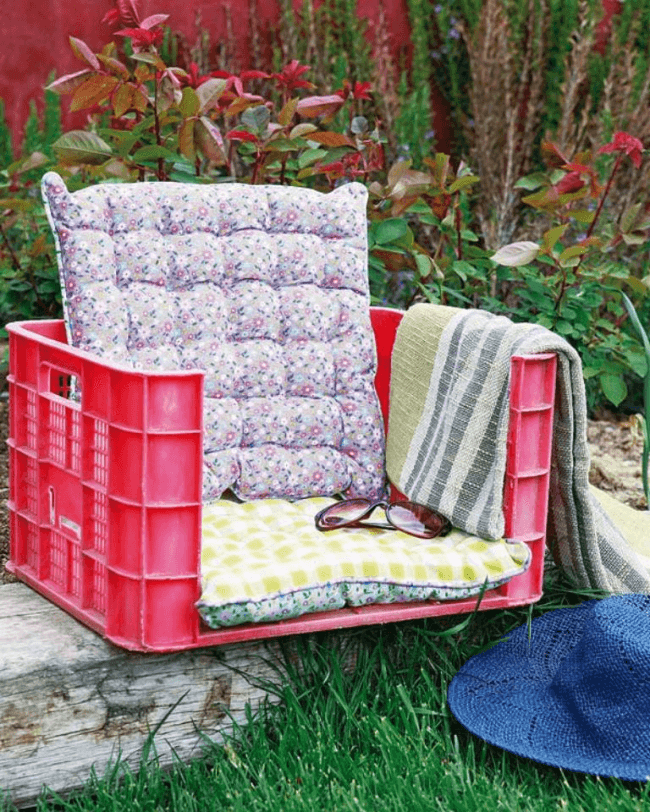 This little individual chair is a really simple eco friendly upcycle project that creates some quirky little seats to use throughout the garden. To make the chairs you simply need to cut out one side of an old drinks crate and decorate it using either purchased or homemade cushions that can use scraps of patchwork fabric if you want to take the upcycle and eco friendliness to the next level. The result is cute, fun and can be easily changed up day to day depending on the cushions you use.
7. Curved Bench by the Fire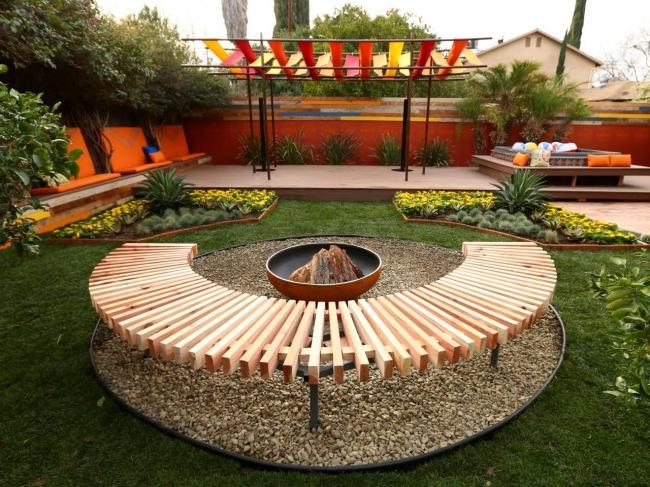 This DIY isn't for the faint hearted but if you have some wood working skill why not give it a go. This little social space around the fire has been created by an isolated circle in the grass filled with pebbles to prevent fire hazards. The DIY bench curves around a little fire pit providing plenty of space to gather around the fire. The seat is constructed from reclaimed timber slats of the same length that have been sanded and stained and separated evenly with little timber blocks. The frame supporting it could also be constructed from timber or, as in this case, set on top of a welded base that you can have made by a skilled artisan.
8. Built in Pergola Bench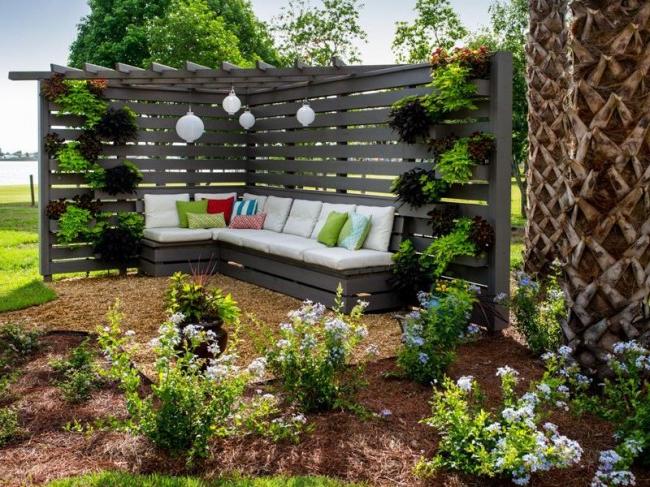 The beauty of DIYing your furniture is that you can build it to perfectly fit like this L shaped bench underneath this garden pergola to personalise your outdoor space. To make the bench cohesive it has been built using off cuts from the pergola to upcycle and reduce the resultant building waste. To make it comfortable its been topped with simple cushions that you could sew yourself or pick up cheaply in an outdoor friendly fabric from a fabric store.
9. Palette Furniture Set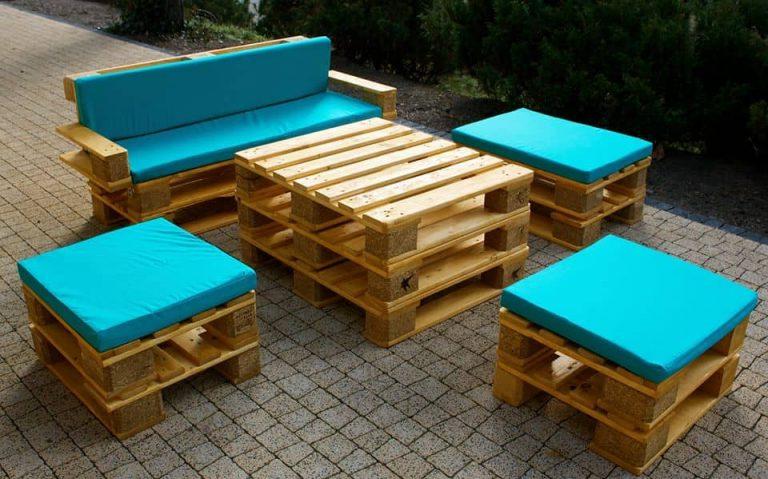 This beautiful coordinated patio set is a great example of how well palettes lend themselves to furniture construction. The palettes have a built in structure so you have a sturdy base to design around. A stack of sealed palettes forms the table at the centre with three little individual seats and a full armchair encircling it. The set is covered with some simple brightly coloured home made cushions that have been cut from square foam and upholstered in waterproof fabric.
10. Eco Friendly Outdoor Coffee Table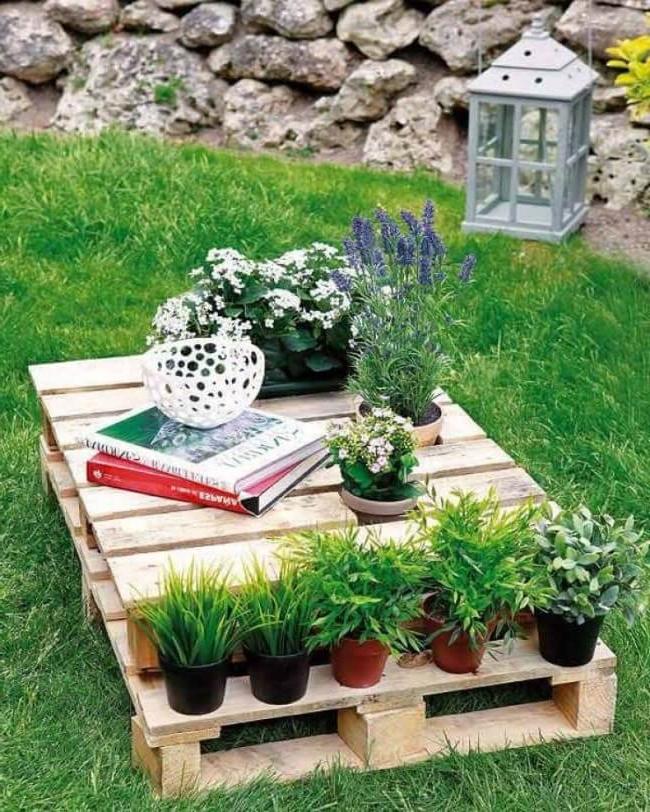 Using the same palettes as above, this low coffee table is constructed from two tiers of palettes sitting upon the lush grass. The wooden panels have been decorated with a series of potted plants. The top palette is slightly offset from the base to form a shelf for plants on one side with little niches cut into the tabletop that little pots slot into for a novel décor. This style of table needs to be specially treated to protect the wood from weather damage.
11. Furniture That's Grown from the Earth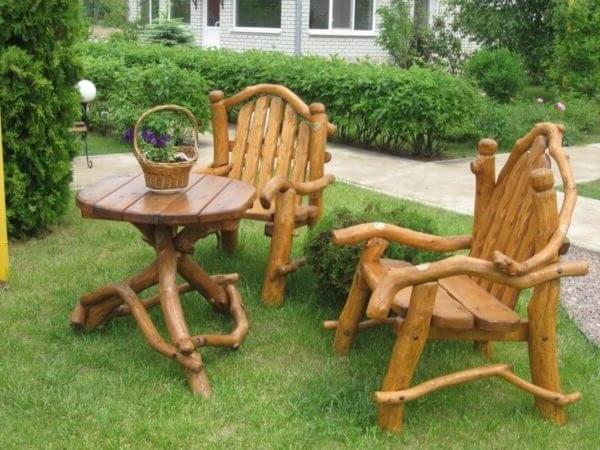 This beautiful timber outdoor dining set is another DIY that requires some wood working know how and tools. The timber for this project could be collected over time or salvaged from a felled tree and given new life. The branches have been left in their true form, just stripped of their bark, and stained a warm brown. The only more finished planks are the seat and tabletop so they are functional pieces of furniture. To build the furniture you can let the branches themselves dictate where they go and what part of the furniture they become.
12. Palettes: the Magic DIY Material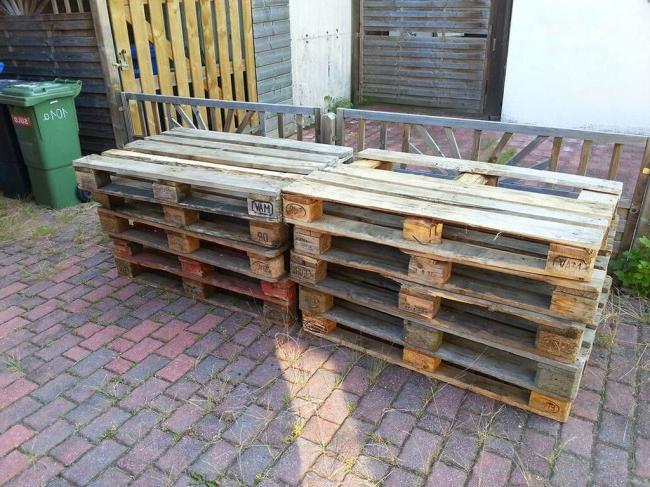 These are the palettes we've seen transformed in the previous examples in their true raw form. Since they are a byproduct of the shipping industry they are often found for free online if you agree to fetch them or you can source them from a junkyard for a small fee. From this stage you can sand them down and manipulate them as much as you need to transform them into something completely new. Be sure to seal all your palette furniture that will be left outdoors to prevent them from water damage.
13. Swinging Sun Lounger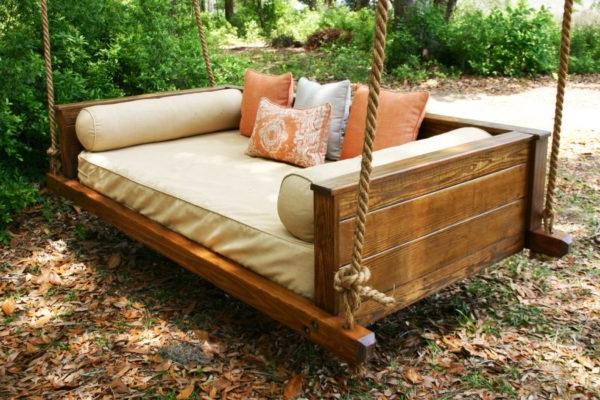 This large swinging sun lounger is a big DIY project that needs some skill and a very large strong tree to achieve. The bed's basic shape is an open three sides box tied on each corner with thick marine rope that hangs it from the tree. The frame is filled with large upholstered cushions with space for multiple people so sit and socialize while you swing gently in the breeze.
14. Rustic Garden Swing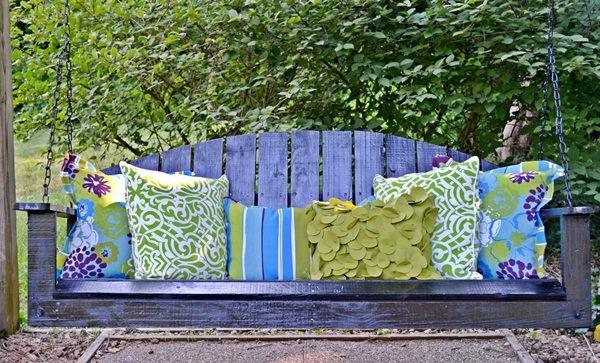 This lovely rustic bench swing has been created by cleverly upcycling an old bench. In order to transform the old bench and make it swing all you would need to do is sand it down, stain it and give it a little love and care. Then the legs can be cut off and chains attached at four points to keep it stable. The bench swing needs to hang off something, which can be a freestanding custom built support frame out of timber, a patio or a large sturdy tree like the last example. This beautiful DIY swing is a calming little spot for you to relax outside the house.
15. Fun Kid's Tyre Swings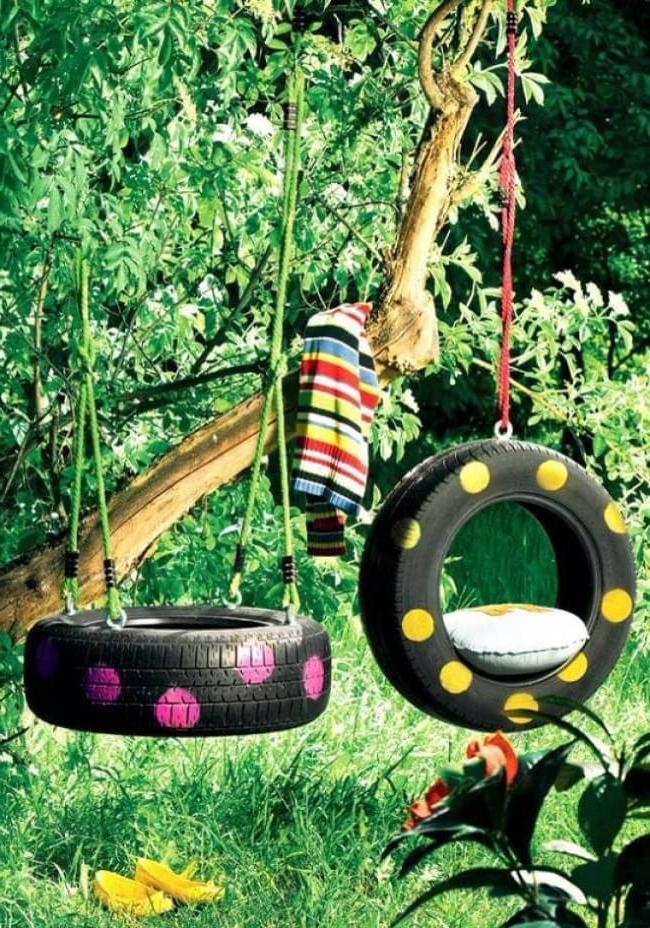 Upcycling tyres is an easy way to DIY some eco friendly swings to encourage your kids to play outside. The construction is simple; all you need to do is drill circular steel rings into the rubber, attach colourful strong rope and hang them from a sturdy tree. For the first swing you only need to attach a ring to the top so you can slide through the hole of the tyre and swing. For a different look, like the second one, you attach rings at four points so you can swing on it while sitting in it like a chair. The tyres swings are decorated with simple spray painted spots that you can customize to whatever pattern you like.
16. Whimsical Hanging Day Bed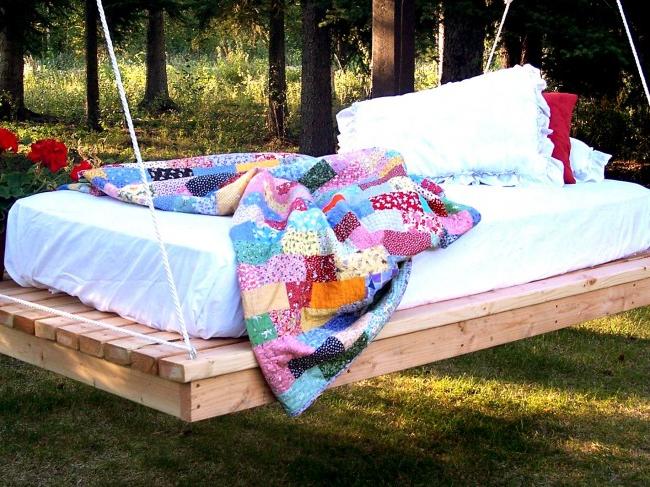 This magical little hanging bed is a slightly simpler version of example 13. The singles mattress, that you can upcycle when you upgrade your child's bed, sits on a simple rectangular wooden frame with boards nailed across it. The timber platform can then be stained and sealed to suit the look you're going for. The whole structure is hung on a triangular hanging system that is looped through between each corner and hung from a large, strong tree. This DIY will give you a whimsical place to swing and read your book outside in perfect harmony.
17. Dinky Folding Chairs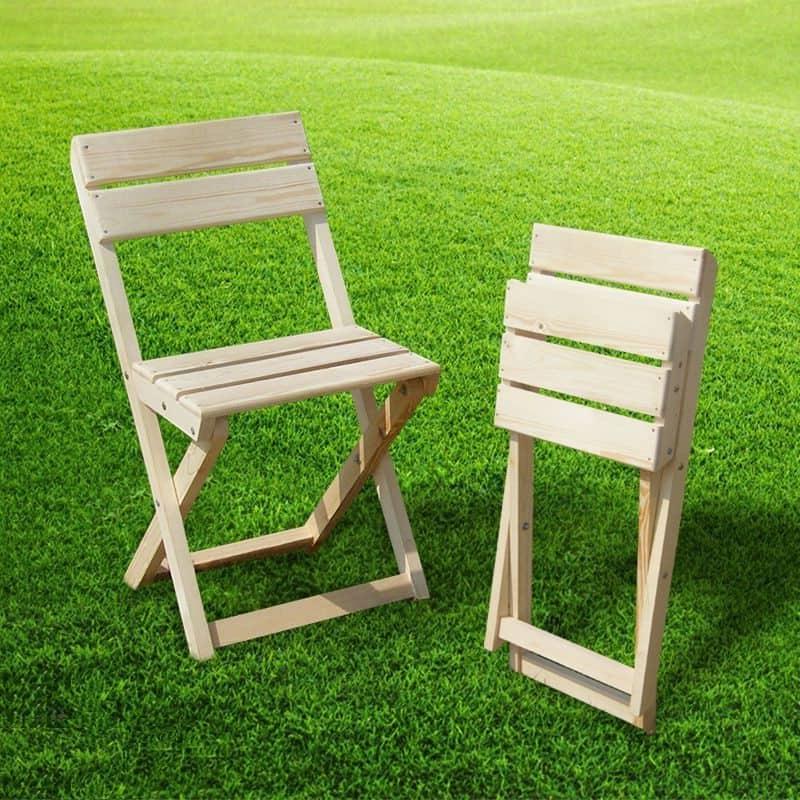 This little foldaway chair is a DIY project that is a level up from basic woodworking that can help you learn a new skill to add to your arsenal of skills. They are made up of three timber frames connected together with a hinge system that allow you to fold them away and tidied up for later. They can be stained fun colours or a natural tone to bring out the natural wood grain depending on your garden design.
18. Natural Finish Patio Set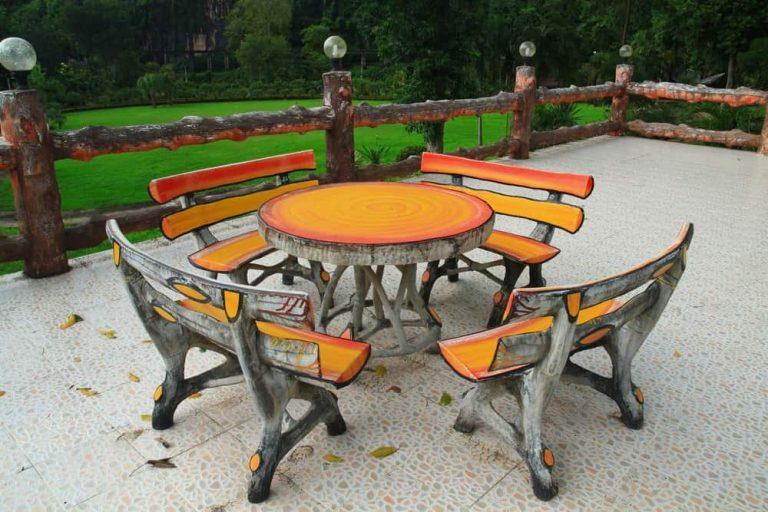 This organic looking patio set is a DIY project that will put your wood working skills to the test using reclaimed timber. The timber can be sourced from your own garden or rescued from a felling in your area in order to uses the wood in its natural form as much as possible. The gently carved structures have just been sanded down with the cut down sides stained a really bright red and yellow to emphasize the wood grain.
19. Palette Chair and Table Set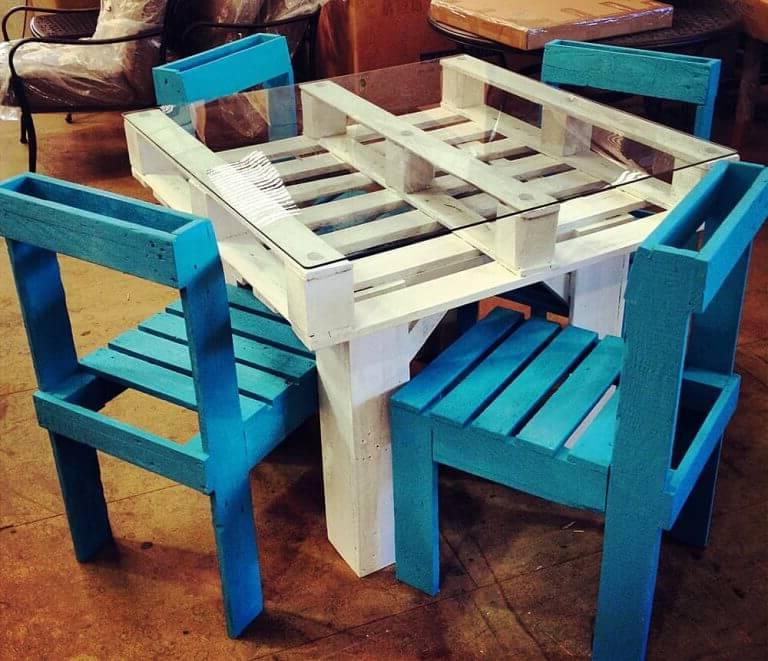 This bright seaside inspired dining set has used palettes for everything but the tabletop itself. The palettes that form the chairs have been chopped up and reconstructed and painted a vivid blue to contrast with the bright white table. The tabletop has been constructed from a palette with the top layer removed and replaced with glass to reveal the ivory structure underneath. The only additional material to the palettes is the chunky wooden chair legs.
20. Plastic Crate Bench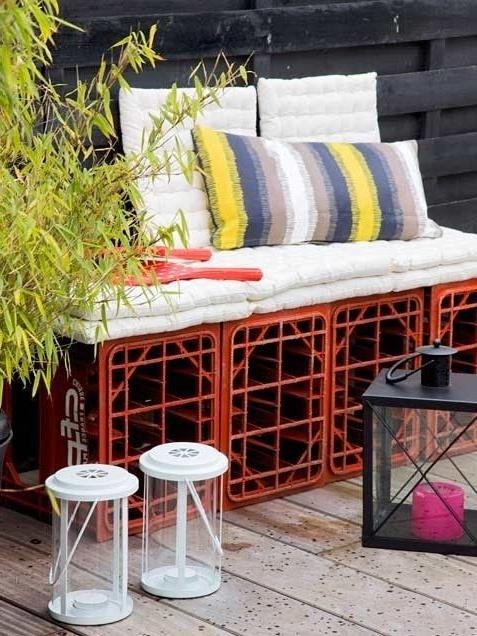 This simple upcycled balcony bench is simply made from four plastic drinks crates attached together with cable ties or adhesive. The crates have a built in sturdy structure you can take advantage of to form a really sturdy bench. These can be spray painted or left raw like this to celebrate the upcycled material. Then all that's needed is to cover it in outdoor cushions and place it against a wall so you don't have to build a backrest. This contemporary eco conscious piece feels perfectly at home on this eclectic patio.
21. Natural Stone Bench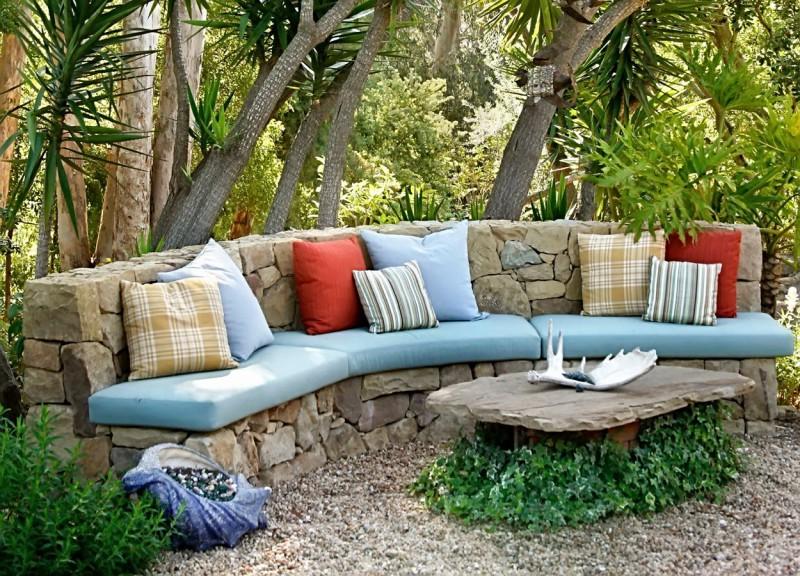 This curving outside bench has been constructed using traditional stone wall building techniques. The whole structure can be put together like a puzzle, piling the rocks on top of one another and fixing them together with mortar. The wall has been built up to a level to form the seat with the backrest continuing behind it. The stone is made a little cozier with a spray of colourful cushions to create with a beautiful permanent seat in the garden.
22. Hollowed Tree Trunk Chairs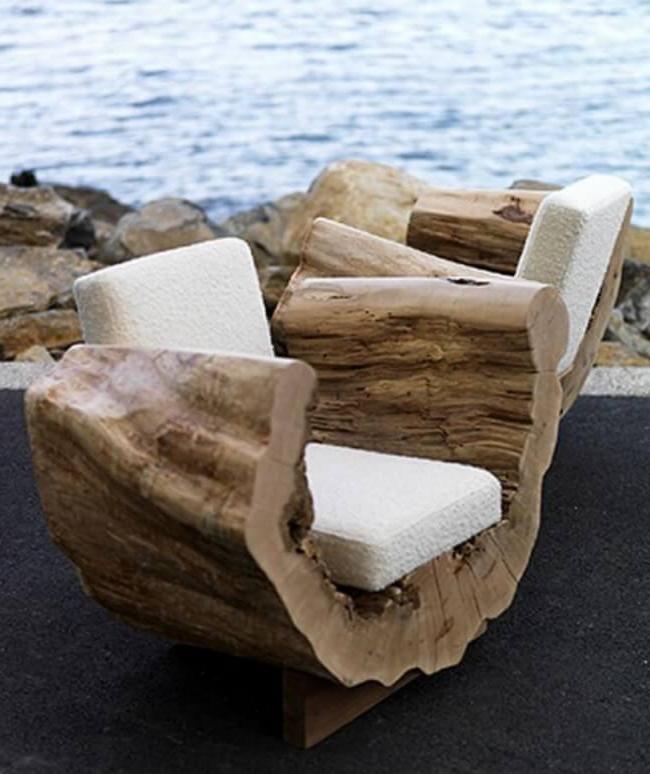 The stunning seaside armchairs are made from immense chunks of reclaimed timber taken from chunks of a very large felled tree to let it live on in a new form. To create these chairs one side has been cut out and the whole form has been stripped of its bark and then sanded smooth. Then the stump has been lain on its on its side and fitted with cushions. The only additional structure that needs to be added is one piece of timber fitted at the back to support backrest and a flat base the bottom to hold it steady.
23. Palette Couch and Tyre Table
This entire colourful patio is decorated in eco friendly designs using upcycled materials to build the furniture. Classic palettes like we've seen before have been used to build the L shaped bench, painted a bright teal and decorated with beautiful cushions. But it doesn't stop there, the coffee table has been built out of two old tyres that have been stacked on top of one another and spray painted bright lime green and topped with a glass tabletop so keep the tyres on display. The two pieces in their bright finishes makes this patio a riot of colour while reducing your carbon footprint.
24. Wooden 'Bean Bag' Chairs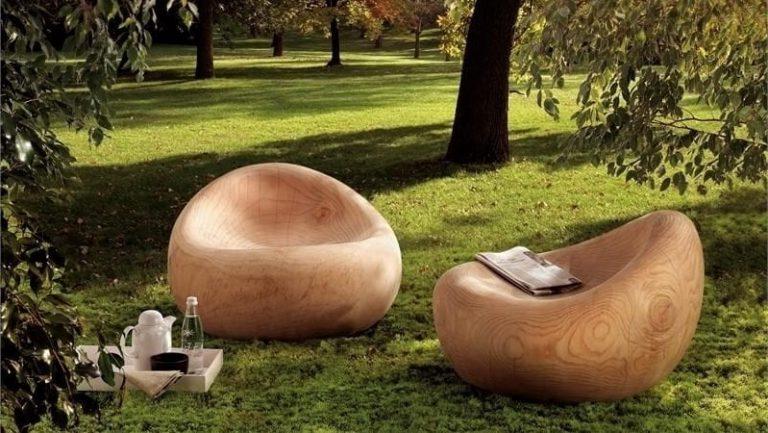 The smooth, stone like wooden 'bean bag' chairs need some really masterful woodworking skills so these are not a beginner DIY project. If you are ready to take the project on you will need a very large chunk of wood to carve each chair out of and a variety of specialized tools. The raw wood has been sculpted into smooth, polished bowls that create comfortable dips that hold you gently while you sit in the garden taking in the outdoors.
25. Contemporary Timber Framework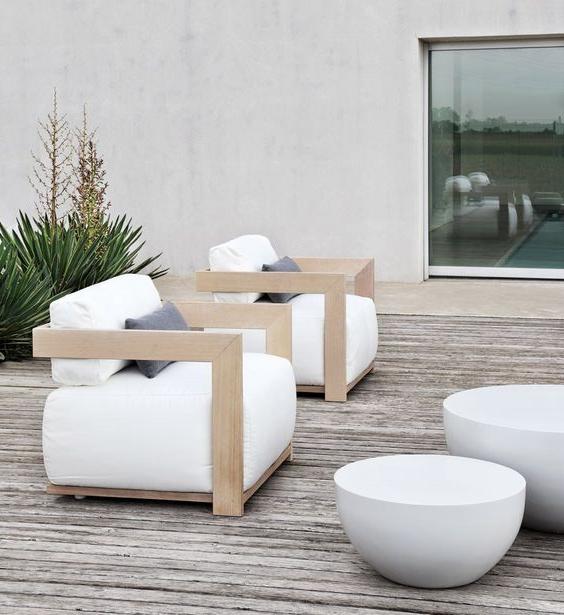 This is a minimalistic DIY that only requires you to build a basic timber frame that forms this beautiful outdoor chair. The chair has a slatted base supports a very large deep cushions with a smaller backrest that cradles you in its softness like a marshmallow. The statement armrests grow out of the base, turn at right angles and wrap all the way around the back where they join to form the backrest. The look is simple but sophisticated and totally achievable on your own at home.
26. Stacked Log Coffee Table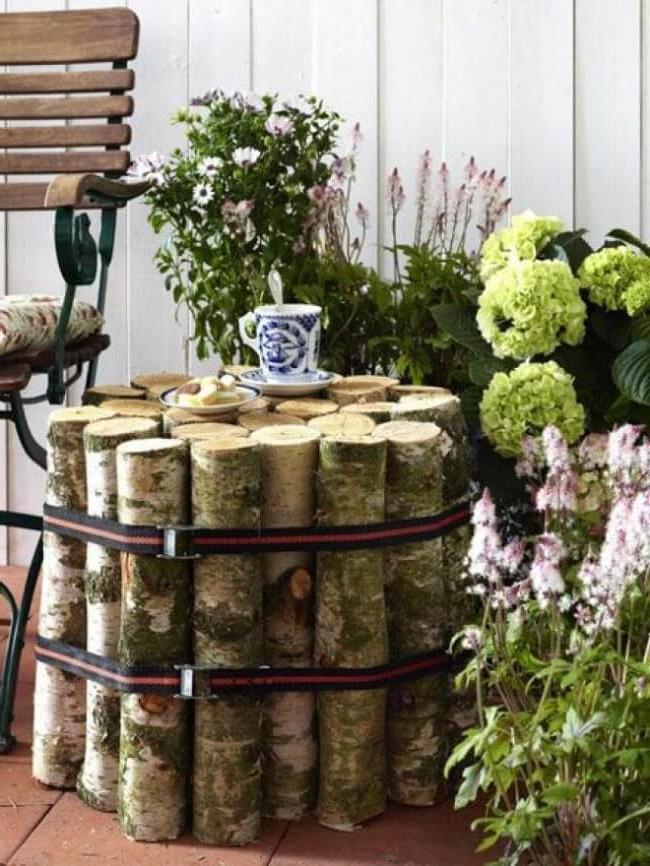 This little patio coffee table is a really simple upcycled design that is effective and beautiful. The table is made out of reclaimed timber logs that have all been cut to exactly the same height and tied together to form a tabletop. In this case they are bundled together with adjustable straps but you could easily choose something more aesthetically pleasing to suit your style like hessian rope or string.
Conclusion
Well, if you're not inspired to flex your DIY muscles by now, I don't know what to tell you. These pieces of homemade outdoor furniture have brought new life into these spaces while at the same time instilling a feeling of satisfaction and accomplishment into those who have created them. The perfect win win situation.
The most of the DIY projects are eco friendly and will help you learn valuable skills while you continue your mission to reduce your carbon footprint. So the next time you feel like you need a new piece of outdoor furniture, don't rush to the shops, stop a second and consider trying something new and do it yourself at home. You won't regret it.